---
Best air fryers in Singapore
---
Nothing can ever replace the shiok factor of biting into freshly deep-fried food, but few among us like the mess and clean-up of deep-frying at home. Enter the air fryer: fuss-free, contained mess, producing food with results almost as good, with minimal hassle. If you're looking to add one to your kitchen, but don't know where to start, here's our guide to the best air fryers in Singapore for all budgets.
Why you should get an air fryer
Air fryers produce delicious food. We should know—we've tested viral TikTok recipes and made 15-minute air fryer recipes in ours. We've even showed you how to coax ASMR-worthy sio bak from an air fryer. Thanks to the technology behind how the air fryer works: very hot air circulates very quickly in a small space, and you get to skip adding oil to your food—or add just the littlest bit for improved flavour and texture.
Philips claims 90% less fat is required, while The Telegraph touts it to be the "must-have kitchen gadget you never knew you needed". Because the air fryer cooks faster, your food is less likely to dry out, while crisping it up perfectly. And in a time-starved, space-crunched world, that's a win on many fronts. How much counter space it takes up is proportionate to the capacity of your chosen machine, which ultimately is more efficient than both the convection and toaster oven.
TL;DR: delicious, crisp food in less time, mess, and fuss, with up to 90% less oil.
Tips for choosing an air fryer
Before you start on your search for an air fryer, think about how much counter space you can dedicate to it, and how many people you'll be feeding with your new gadget most of the time. This helps you to decide how large a fryer you should be looking at: as a rough gauge, a 3.5L is good for a family of three to four, but the basket is a bit of a tight squeeze for a whole, small chicken. If you're into the details, have a look at the basket sizes as well, as wider baskets mean you get to lay more food in it, rather than have them piled up and not crisping as they should.
You'll also need to consider what you'll be using your air fryer for: if it's primarily going to be used to reheat small portions of food, or to make nuggets for a solo supper, you wouldn't need a large-capacity machine.
Similarly, the functions on your chosen machine should suit your needs: how long the timer goes for, if you prefer a knob dial or digital screen, pre-programmed functions, viewing window, and so on.
Then, of course, you'll look at factors such as budget, aesthetics, and ease of cleaning. Nobody ever said adulting was easy.
Roast Pork Recipe: Easy Air Fryer Or Toaster Oven Recipe For An ASMR-worthy Crackling
---
1. Mayer MMAF3000 ($99)
---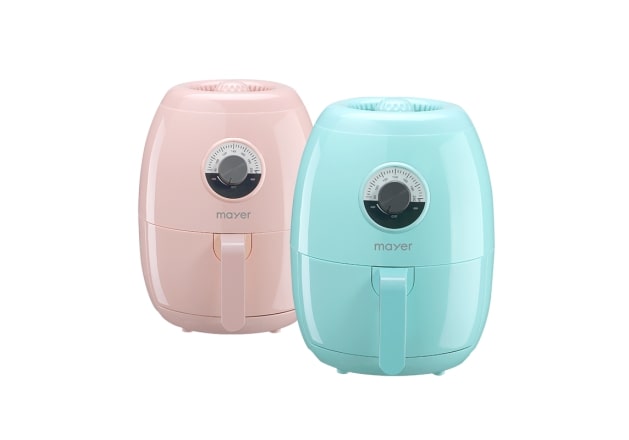 Image credit: Shopee
Kicking off the list is the most wallet-friendly option: the Mayer MMAF3000. This 3L air fryer is also the smallest we've included—just nice for cosy nights in for you and your plus one. It's sold on Shopee for just $69 on the official Mayer store, and comes in baby pink or mint. Otherwise, frequent Disney collaborations mean air fryers and other gadgets printed with popular characters, if you're a fan.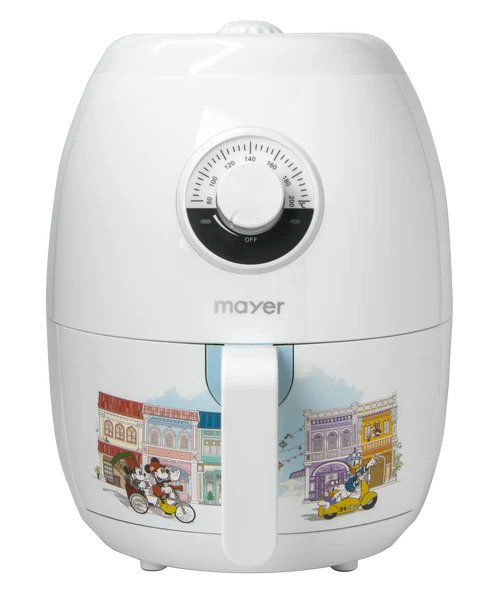 Image credit: Mayer Singapore
While its round shape means it errs on the unwieldy side of things, its dimensions measure in at just 34.5cm by 26.7cm. The temperature range on this 1,350W air fryer goes from 80°C to 200°C, with a timer of 30 minutes, overheating protection, and an auto-off switch.
Its basket and tray are easily removable for washing, and non-slip pads on the bottom mean the air fryer won't slip around. If all that's not reason enough, it's got a 4.9-star rating on Shopee, with 4,800 reviews from the 11,100 units sold.
Why you should buy it:
Budget-friendly (under $100)
Compact
Easy to clean
Comes in multiple colours, with occasional Disney collaborations
3 Super Cheesy Air Fryer Recipes Under 15 Mins—Triple Grilled Cheese, Loaded Nachos And Mac N' Cheese
---
2. Xiaomi Mi Smart Air Fryer ($109)
---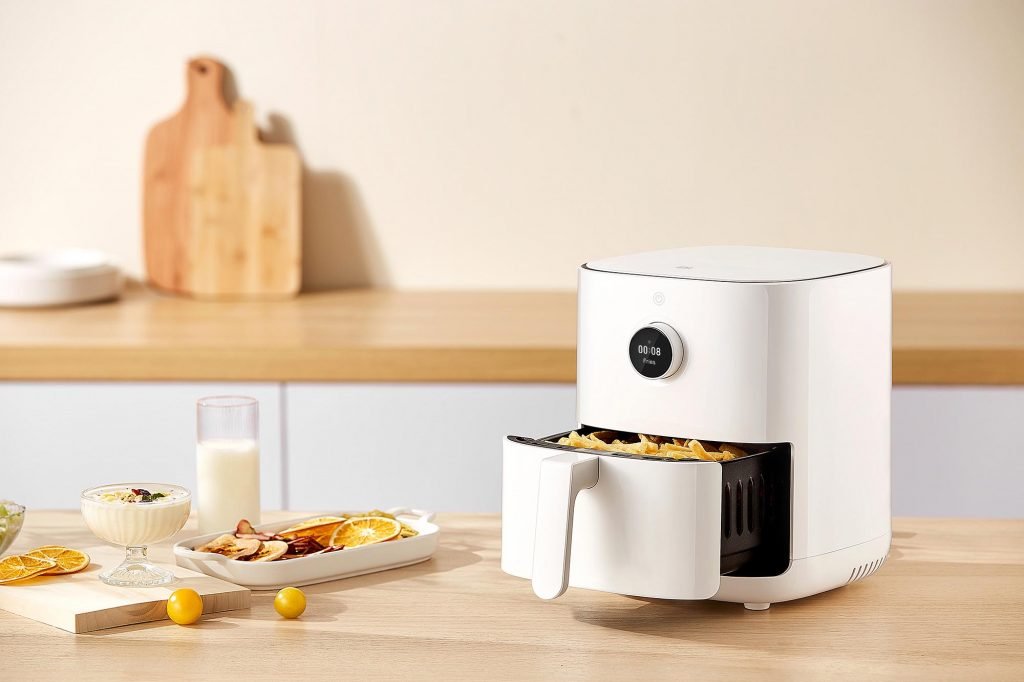 Image credit: Xiaomi
Next up is the Xiaomi Mi Smart Air Fryer, which rings in the till at just over $100 on Shopee and Lazada for a slightly larger, 3.5L capacity, though it's got similar dimensions at just 33.5cm by 25.2cm and comes in a nicely square-ish shape. This smart gadget is equipped with an OLED customisable touchscreen display, with a database of more than 100 recipes which you can refer to through their Mi Home app.
Besides being an air fryer, it doubles up as a yoghurt maker, and even a fruit dehydrator, with temperature settings going from 40°C to 200°C. You're even able to schedule and preset the air fryer up to 24 hours ahead. For those of us looking to make fruit chips, the timer goes on for as long as 24 hours, too. Included in the box is a grill to double your cooking capacity as well.
It'll also beep at the halfway mark, for cook times above eight minutes, to remind you to flip your food!
Its 1,500W power also means quicker heating and shorter cooking times. Then, there's the seven-layer wear-resistant, non-stick basket that's durable and easily removable for cleaning. It's dishwasher-safe too! Built-in safety features mean the fryer won't start unless the basket is properly inserted—some reviews have mentioned this takes a little fiddling to get right.
Why you should buy it:
Dishwasher-safe
Wide temperature range
Multiple functions: yoghurt maker, fruit dehydrator
Compatible with Mi Home app that has recipes
You can schedule cooking ahead of time
---
3. Powerpac (PPAF351) Digital Airfryer 4.5L ($129.90)
---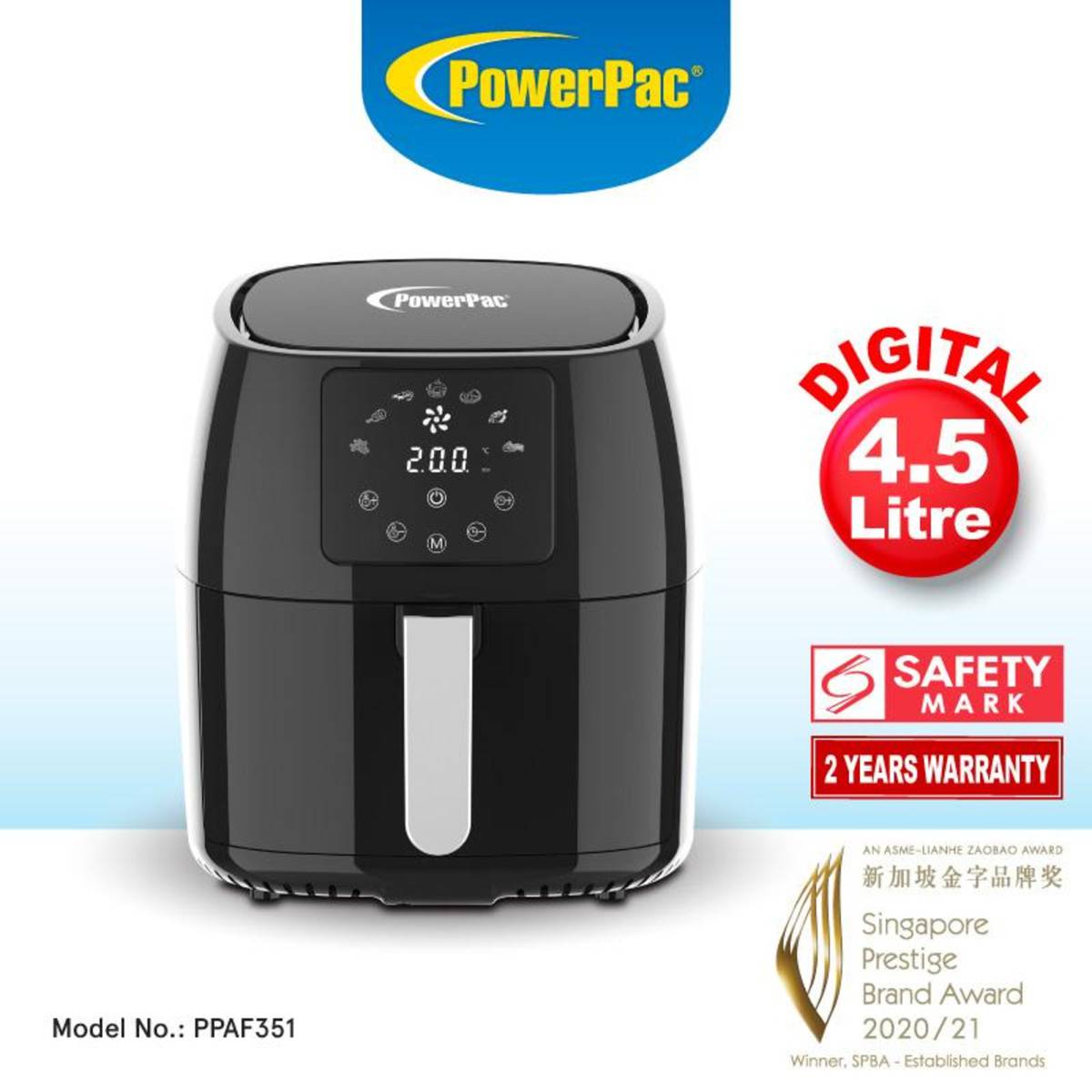 Image credit: Powerpac
Although the recommended retail price (RRP) for the Powerpac PPAF351 is $129.90, you can get it on FairPrice, Shopee, and Lazada from as little as $59.90! Its larger, 4.5L capacity comes in spite of its relatively nifty, space-saving size: 28cm by 21cm, with a basket size of 21.5cm by 21.5cm. It's powered by a 1,400W motor, and a digital touch screen, with seven preset functions for frozen food, chicken, beef, seafood, and cakes.
The maximum time this air fryer goes for is 30 minutes, with temperature settings between 80°C and 200°C. It's equipped with an overheat-protection function for added safety, with a removable, dishwasher-safe grill tray.
Why you should buy it:
Affordable when on sale (under $100)
Space-saving design, good for mid-sized families
Seven preset functions
Overheat-protection
Dishwasher compatible
---
4. Simplus 5L Air Fryer (from $156.90)
---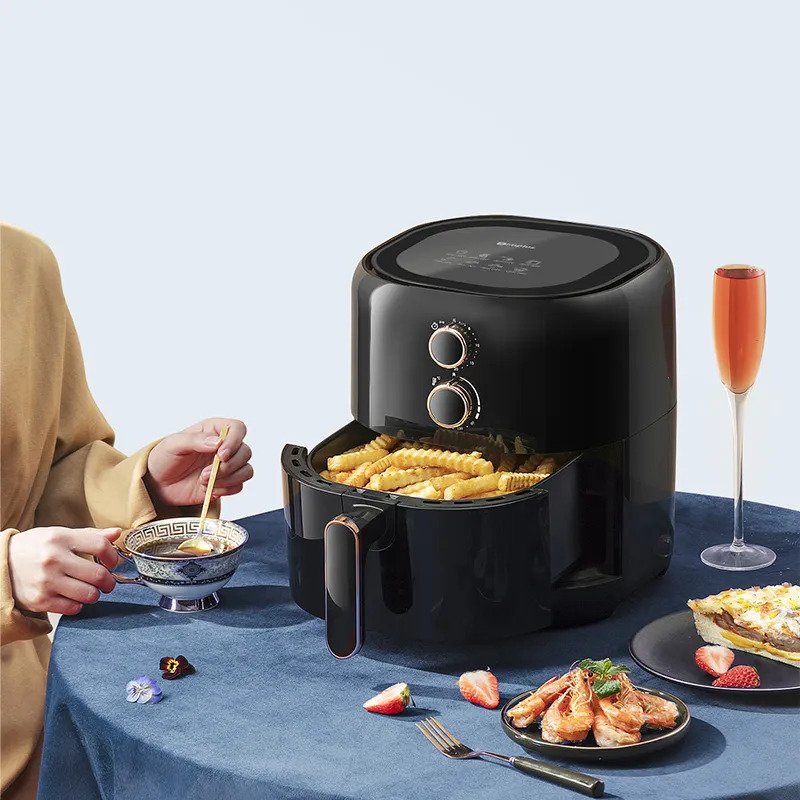 Image credit: Simplus Singapore
The Simplus 5L Air Fryer comes in three models, named like British secret agent spies: 005, 008, and 009. Get them on their official Shopee or Lazada stores for just $49.80 for the 008 model, which is the only version with a knob control. Its timer has a maximum setting of 30 minutes, and it's powered by a 1,300W motor—this is also true for the Simplus 009, which is currently priced at $59.90, but has a digital LCD touch screen.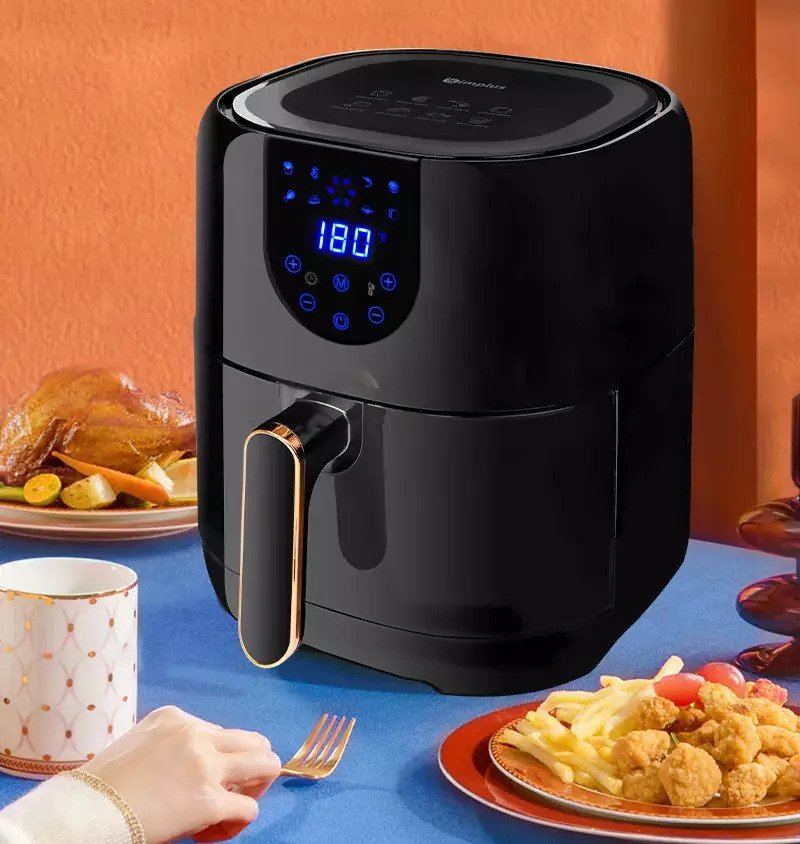 Image credit: Lazada
For just a little bit more, at $65.90, you can get the zhnged-up 005 model, which also has a digital touch screen, but a stronger 1,500W motor and eight preset functions. It also cooks for up to 60 minutes at a shot, which combined with the 5L capacity means it can fit a whole chicken in the non-stick basket.
All three will take up just 32.4cm by 26cm of your kitchen counter, with a basket measuring 20cm by 20cm. The heat-resistant handle is also non-slip! It's also received a consistent 4.9-star rating across almost 1,000 reviews on Shopee and Lazada, with reviewers loving its chic black finish with rose-gold accents.
Why you should buy it:
Budget-friendly (under $100)
Large capacity
Digital touchscreen
Five preset functions
Sleek design
High-powered
3 Viral TikTok One-Cup Breakfast Recipes Including Lava Biscoff Baked Oats And More
---
5. Cornell 3.5L Air Fryer CAF3601 ($159)
---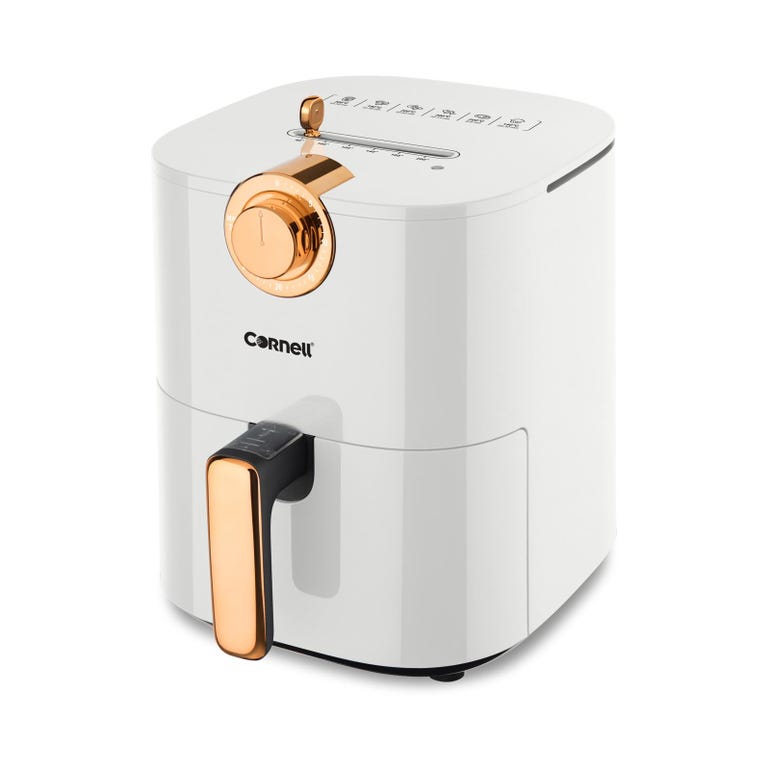 Image credit: Courts
Another air fryer you can consider for a wallet-friendly, sub-$100 option is the Cornell CAF3601, sold at Courts and Harvey Norman for $69. This, however, comes in a smaller-sized 3.5L capacity, with dimensions of 25cm by 35.5cm, and runs on 1,300W. Like the Mayer air fryer, you can look forward to this coming in elegant green and white, with pretty gold touches.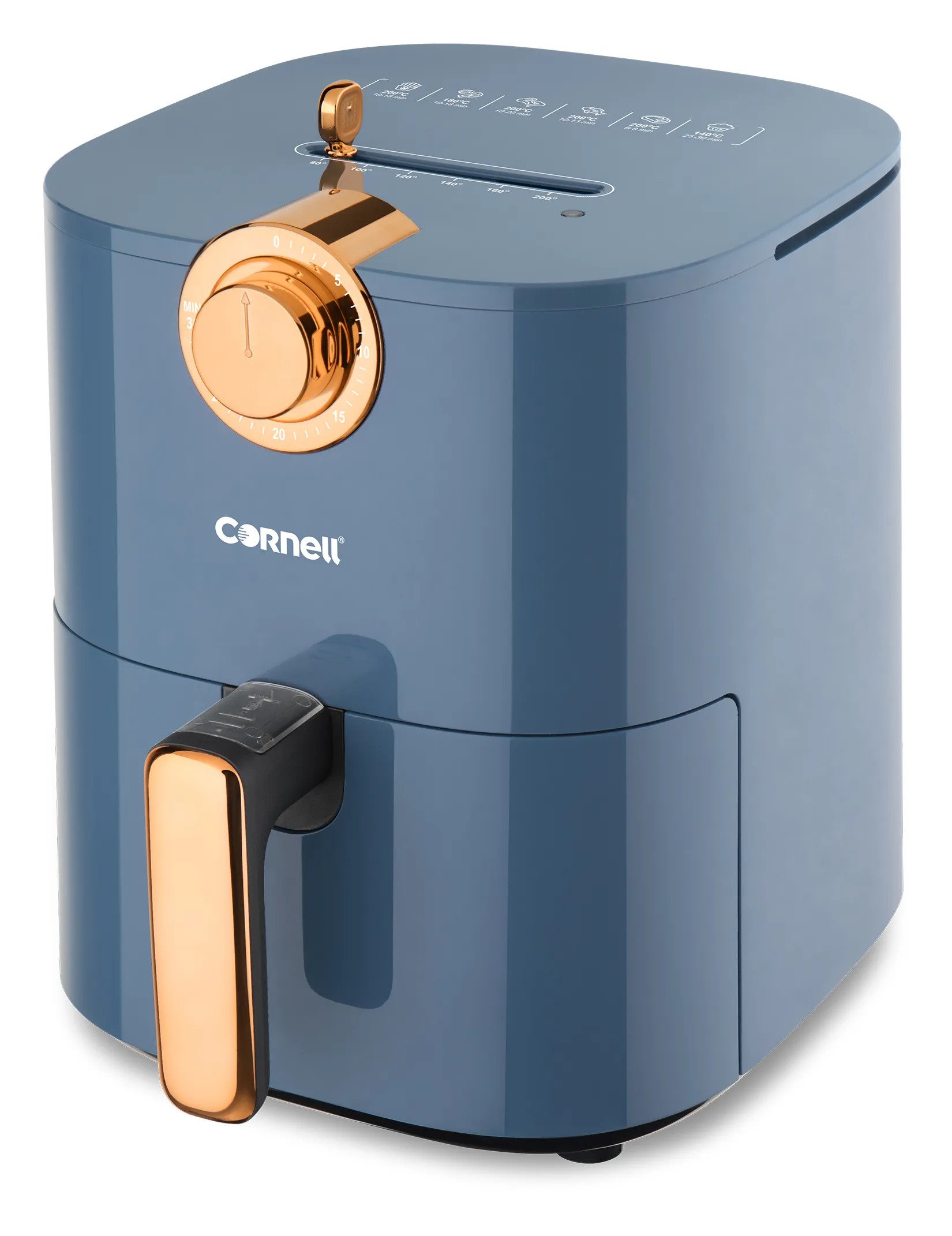 Image credit: Lazada
For something more unique, there's a Lazada exclusive blue edition, priced at $56.90. Whichever colour you choose, the temperature is controlled by a sliding knob on the top, to a maximum of 200°C. The timer goes for up to 30 minutes. While there aren't preset cooking functions, the lid is printed with suggested temperatures and cooking times for various categories of food. Both the BPA-free basket and tray are removable for easy cleaning!
Why you should buy it:
Affordable option (under $100)
Comes in pretty colours with elegant gold touches
Compact size
---
6. Philips Essential Air Fryer HD9200 ($199)
---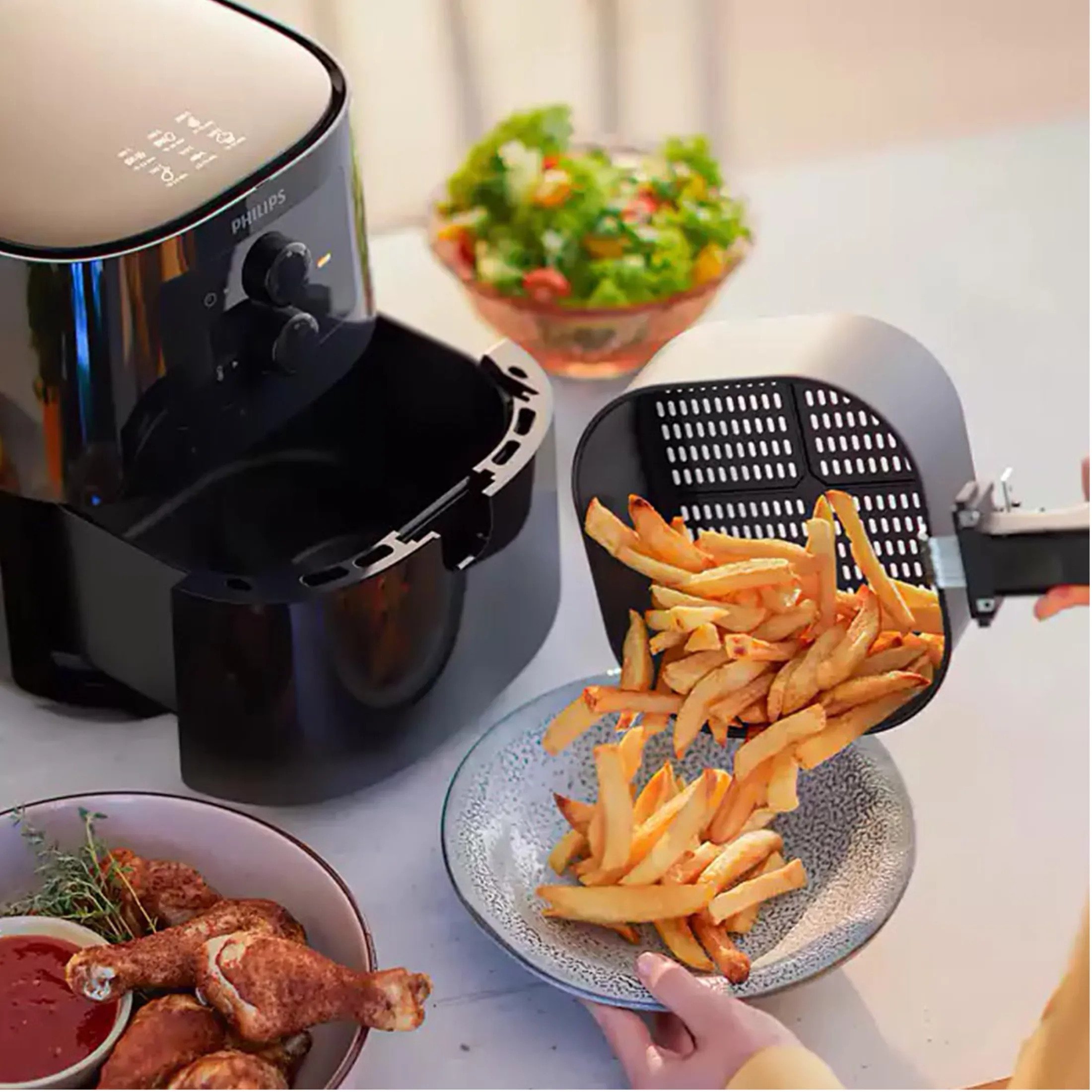 Image credit: Philips Singapore
We previously reviewed the Philips Airfryer Essential XL Connected on our site, a massive 6.2L heavyweight, but a more popular model is the Philips Essential Air Fryer HD9200, which you can score for $98.99 on Shopee, or $119 on Lazada. If you're looking for a solid, reputable brand—they've been making air fryers for more than 10 years—then this is it for you.
The HD9200 is a smaller, 4.1L model than the XL Connected, without the WiFi connectivity and digital touchscreen, but runs on 1,400W and the same Rapid Air Technology: a unique starfish design that swirls hot air within the basket for crisp, tender food.
You may not be able to connect it to the NutriU app for remote cooking capabilities, but you can still download the app to access their recipes! The basket and tray are both dishwasher-safe, and it comes with a timer of up to 60 minutes, with a knob-controlled temperature gauge that goes up to 200°C.
Why you should buy it:
Reputable brand
Patented Rapid Air technology for crispier food
Sleek finish
Dishwasher-safe
Good for mid-sized families
---
7. Tefal Easy Fry EY5018 ($269)
---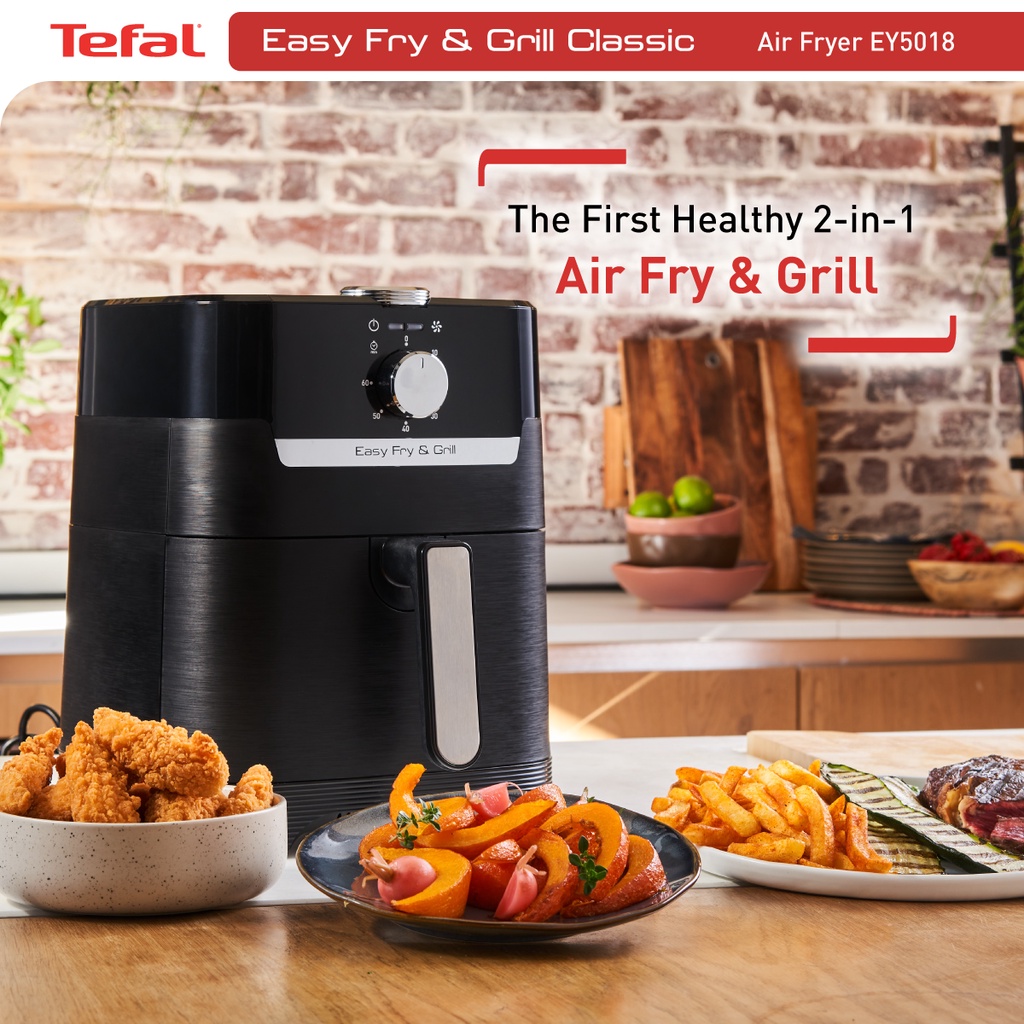 Image credit: Shopee
Moving up the price scale, we have the Tefal Easy Fry EY5018, which you can get on Lazada for $135, or $149 on FairPrice and Shopee. It's marketed as a two-in-one product that both air fries and grills, for which function it comes with a die-cast aluminium grid grill that's said to be easy to scrub and clean.
This 1,400W, 4.2L air fryer-grill is also equipped with Tefal's Extra Crisp technology for quick, tasty cooking—according to Tefal, it's 49% faster, and more energy efficient. With the grill plate, you're gonna be able to get those photo-worthy grill marks on your food, without the mess. This Tefal fryer comes with a 60-minute timer, and recommended food settings to take the guesswork out of cooking.
Why you should buy it:
Trusted brand
Grill function included, with die-cast aluminium grill provided
Extra Crisp technology
Fast-heating
---
8. Ninja Foodi Air Fryer Max AF160 ($299)
---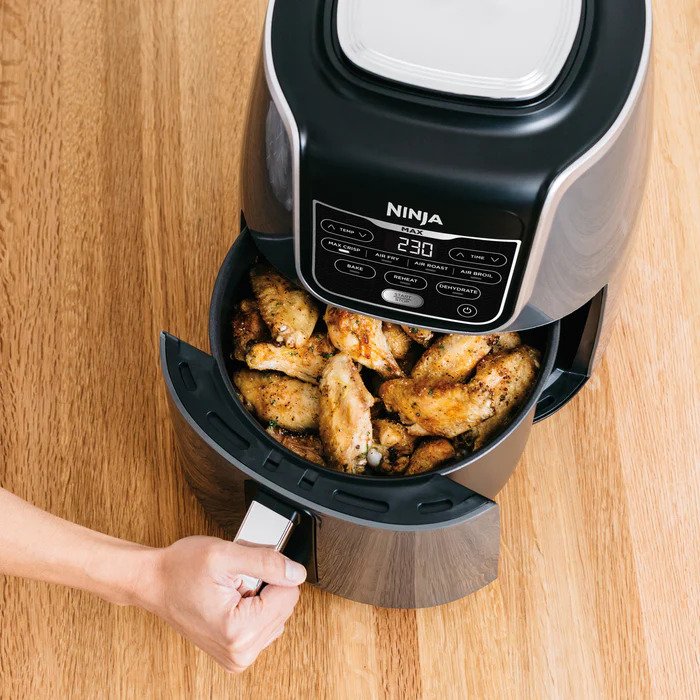 Image credit: Ninja Shark Singapore
Also known as the Ninja Foodi Air Fryer Deluxe, the Ninja Foodi AF160 can be found at Crate and Barrel or Shopee for the marked-down price of $199, which is quite a steal for this XL-sized, 5.2L gadget. If you're not familiar with Ninja, it's the number one small kitchen appliance brand in America! Its ceramic-coated basket itself has a capacity of a whopping 3.8L that fits up to 1.3kg of fries! This, on top of its 1,780 wattage, and a super wide temperature range of 40°C to 240°C, all controlled via a digital screen.
Then, there are the six Auto IQ functions—to dehydrate, reheat, bake, roast, air fry, and Ninja Foodi's Max Crisp technology, which works with the higher max temperature, super-fast air flow, and precision temperature controls for even crispier finishes in less than half the time as compared to convection ovens. The removable cooking pot and crisper plate are non-stick and dishwasher-safe.
Why you should buy it:
XL capacity
Number one brand for small kitchen appliances in USA
High-powered, with Max Crisp technology for faster, better results
Six auto functions: dehydrate, reheat, bake, roast, air fry, Max Crisp
---
9. Cosori CP158-AF ($319)
---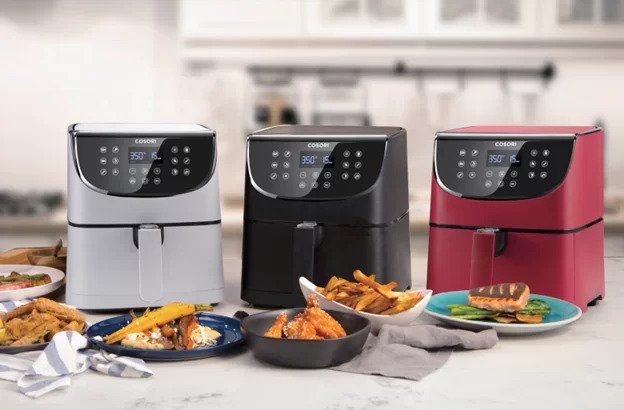 Image credit: Cosori
Winner of the 2019 Red Dot Design competition is the Cosori CP158-AF, which was recognised for its brushed matte black finish, high-quality metal elements, and large LED touch-panel display. If you're unfamiliar with the brand, Cosori is an American company, so you'll only be able to get the imported air fryer off Shopee or Lazada, with discounted prices starting from $189, depending on which colour you choose.
It comes in black, red, or white, all of which are fitted with the same large, square non-stick 5.5L basket. The square basket means better efficiency than the rounded ones we're more used to seeing, but like most others on this list is dishwasher-safe. Another nifty feature is the fingerprint-resistant surface of this air fryer, which adds to both its practical and aesthetic appeal. It's also got user-friendliness in mind: the touch-screen display is ergonomically angled, so you won't have to deal with light reflections affecting the visibility of the screen.
Topping the charts is their 11 preset cooking functions for steak, poultry, seafood, shrimp, bacon, frozen food, French fries, vegetables, root vegetables, bread, and even desserts. The temperature range on this air fryer is 77°C to 205°C, and cooks for a maximum of 60 minutes. Every purchase comes with a 100-recipe cookbook with original Cosori recipes.
Why you should buy it:
Award-winning design, with fingerprint-resistant finish
Available in three colours
XL capacity
11 preset cooking functions
Square basket: greater efficiency
---
10. Tefal FW5018 Easy Fry 9 in-1 Air Fryer Oven & Grill ($399)
---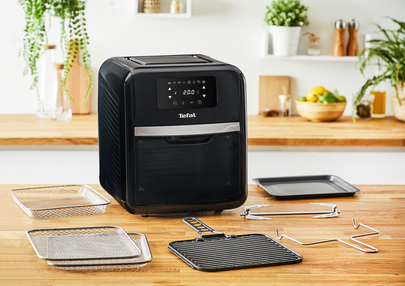 Image credit: Tefal
The most expensive air fryer we've got is the Tefal FW5018 Easy Fry 9 in 1 Air Fryer Oven & Grill, which unlike the other fryers on this list more closely resembles a convection oven, and has a massive 11L capacity. It brings together nine functions—air frying, roasting, grilling, baking, broiling, dehydrating, toasting, rotissering and reheating—in a 32cm by 31cm package. It's available for purchase on Lazada for $268, FairPrice at $299, and Shopee for $339.
On top of these nine functions, there are eight preset programmes for fries, chicken, meat, fish, pizza, dessert, grill, and dehydrating, powered by Tefal's Rapid Air technology. You could also manually set the machine via its digital touch-screen display. The temperature range here goes from 45°C to 200°C, with a max cooking time of 60 minutes, or 24 hours in dehydrate mode.
Accessories included when you purchase this air fryer are a die-cast grill grid, drip tray, turnspit fork for rotisserie meats, fries basket, and two racks, which allow you to prepare up to three meals at once! The cherry on top is the glass-fronted door, so you can keep a closer eye on your food without opening the air fryer.
Why you should buy it:
Nine functions, with eight preset programmes
Glass door
Multiple accessories
XXL, 11L capacity that can cook three meals at once
10 Air Fryer Recipes To Make Roast Pork, Prata Curry Puff, "McMuffins" And More
---
These are the best air fryers in Singapore
---
And there you have it: a round-up of the best air fryers in Singapore to consider for your kitchen across all budgets, sizes, and functions. Besides the recipes linked above, we've also curated 10 easy recipes you can make in an air fryer, including prata curry puff and more!
Feature image adapted from Tefal, Cosori, Ninja Shark Singapore and Philips Singapore
This was an independent post by Eatbook.sg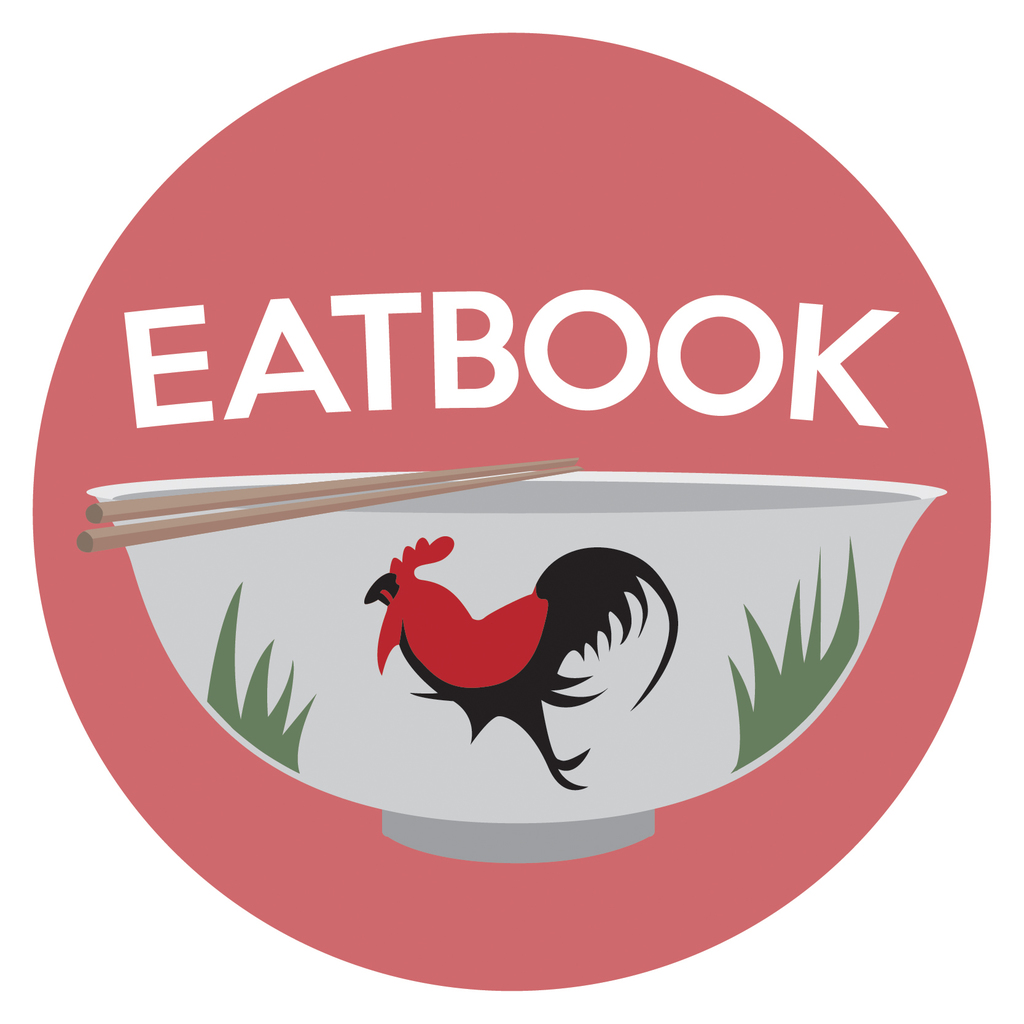 Drop us your email so you won't miss the latest news.