---
Best pig's organ soup in Singapore
---
Pig's organ soup, also known as 猪杂汤, is a Teochew dish that has taken on a life of its own in Malaysia and Singapore. Typically, a bowl comprises a light, clear broth that's packed with a variety of pig offal: liver, intestines, stomach, heart, and pig's blood are commonplace. The soup is enriched with preserved or fresh vegetables, as well as fried or fresh onions for flavour. Rice and a zingy chilli sauce finish the meal.
While the ingredients sound straightforward, the preparation of pig's organ soup can be a tricky one. Offal can be "smelly" and offputting when not cleaned properly. So, if you're looking for the best pig's organ soup stalls in Singapore that do it right, look no further than this guide.
---
1. Cheng Mun Chee Kee Pig's Organ Soup 
---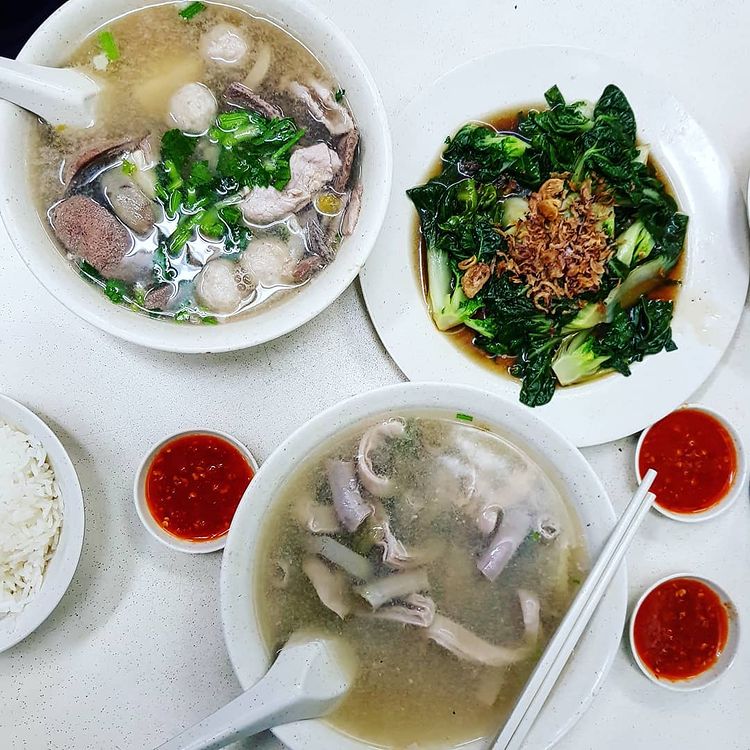 Image credit: @emomotamus
The Mun Chee Kee family name is associated with two of the best pig's organ soup stalls in Singapore, as both often draw long queues round the clock. Cheng Mun Chee Kee is one of these stalls, and a beloved suppertime haunt for Singaporeans. The broth here is cloudier and has much more depth than the average, so it's one to try if you're a fan of pork-rich soups. As for the offal, you get pig's stomach and liver crowding the bowl, along with meatballs, tofu cubes, salted veggie, and two types of pork: lean meat and belly.
Prices start at $4.70 for their Signature Pig's Organ Soup, with the option to add on small intestines or kidneys. They also sell other zi char dishes, including a popular Steam Minced Meat with Chestnut & Salted Fish ($3).
Address: 24 Foch Road, Singapore 209263
Opening hours: Sun-Thurs 10am to 2:30am, Fri-Sat 10am to 3am
---
2. Authentic Mun Chee Kee King of Pig's Organ Soup 
---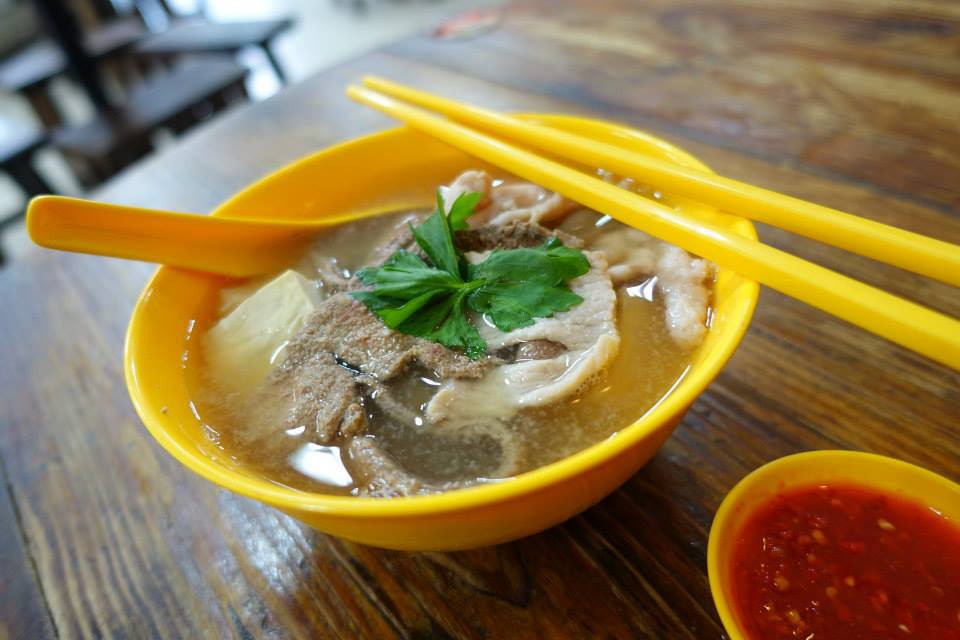 Image credit: Authentic Mun Chee Kee King of Pig's Organ Soup
Located just a quick walk away from our earlier mention is Authentic Mun Chee Kee King of Pig's Organ Soup. They also prepare a recipe that is learned from the OG Mun Chee Kee family, though the brand has since been acquired.
Expect lighter, cleaner tasting broth here, as well as tender cuts of meat and offal cooked just right. Apart from stomach, liver, lean pork, and pork belly, the soup (from $5) comes with cubes of tofu, as well as fresh chye sim greens. Complete the meal with their selection of claypot dishes, including a Sesame Oil Pig's Liver ($8). Else, they also have Lu Rou Fan, which you can opt for instead of plain rice, for just $2.50! P.S.: the soup is refillable here.
Address: 207 Jalan Besar, Singapore 208893
Opening hours: Daily 10:30am to 2am
Tel: 8678 0207
Website
---
3. Soon Huat Pig's Organ Soup 
---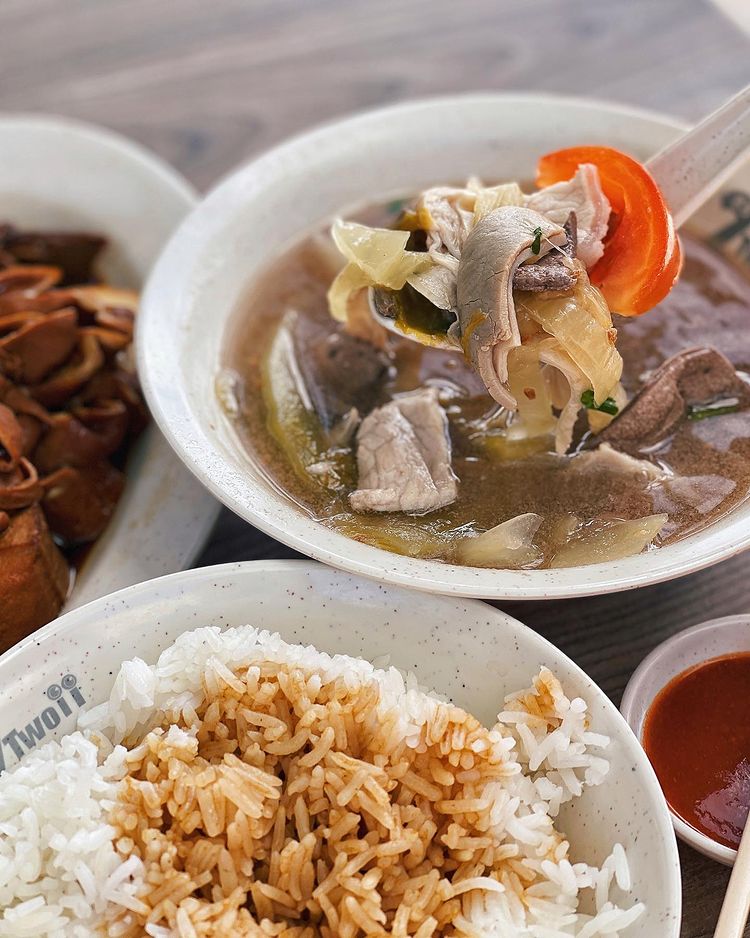 Image credit: @leslie.koh
Soon Huat Pig's Organ Soup is open only in the morning, till the early afternoon, so it's a great brunch option if you're looking for something hearty. The soup here is very strong on the kiam chai, and you'll find huge chunks of preserved vegetables vying for space in your bowl, along with a range of offal, including small intestines. Thick-cut pork belly is also used, instead of thin slices.
There are three sizes available, with prices starting at $4 for the smallest portion, and $6 for the largest. If you're dining with friends who aren't fans of offal, they also have Pork Belly Soup and Handmade Meatball Soup, both priced from $5.
Address: 49A Serangoon Garden Way, Stall 42, Serangoon Garden Market & Food Centre, Singapore 555945
Opening hours: Wed-Sun 9:30am to 2pm
---
4. Koh Brother Pig's Organ Soup 
---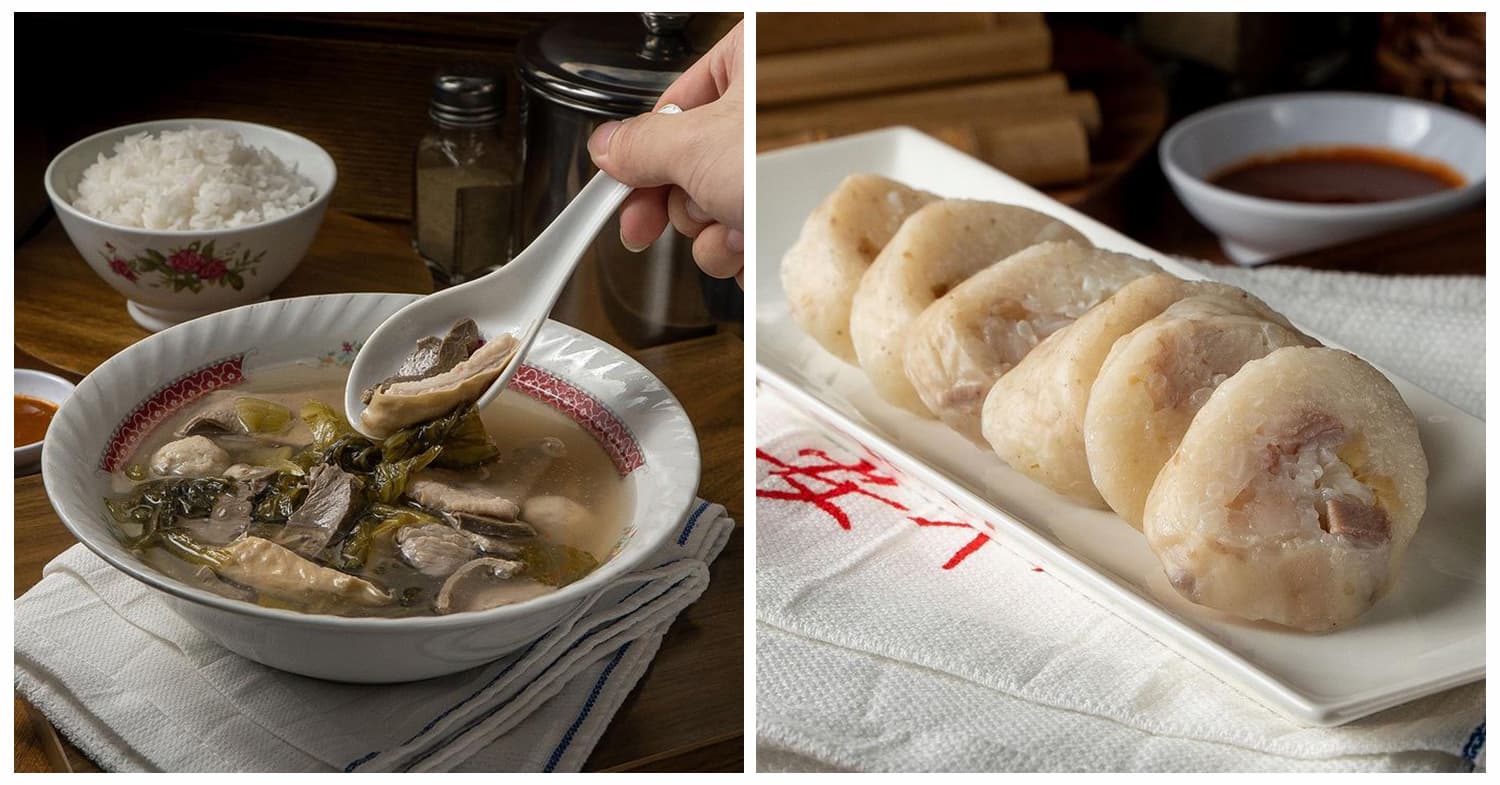 Image credit: @kohbrotherpigsorgansoup
Koh Brother Pig's Organ Soup has a history dating all the way back to the 1950s, and is still run by the OG Koh family. The soup ($5) here is clear and made from boiling pig's bones with offal flown in from Germany, and preserved vegetables, though take a sip and you'll notice that the sweetness of the pork is what first shines through. As for organs, a bowl comes with all the usual trimmings, as well as slices of tripe.
Aside from the signature dish, Koh Brother is also one of the rare few hawker stalls where you can get Teochew Glutinous Rice Cakes ($3). These are made by stuffing large intestines with glutinous rice and tender chestnuts, served with a sweet, dark soya sauce. 
Address: 30 Seng Poh Road, #02-29, Singapore 168898
Opening hours: Tue-Sat 9am to 2:30pm, 5pm to 7:45pm, Sun 9am to 2:30pm
---
5. Ah Keat Pig's Organ Soup and Kway Chap 
---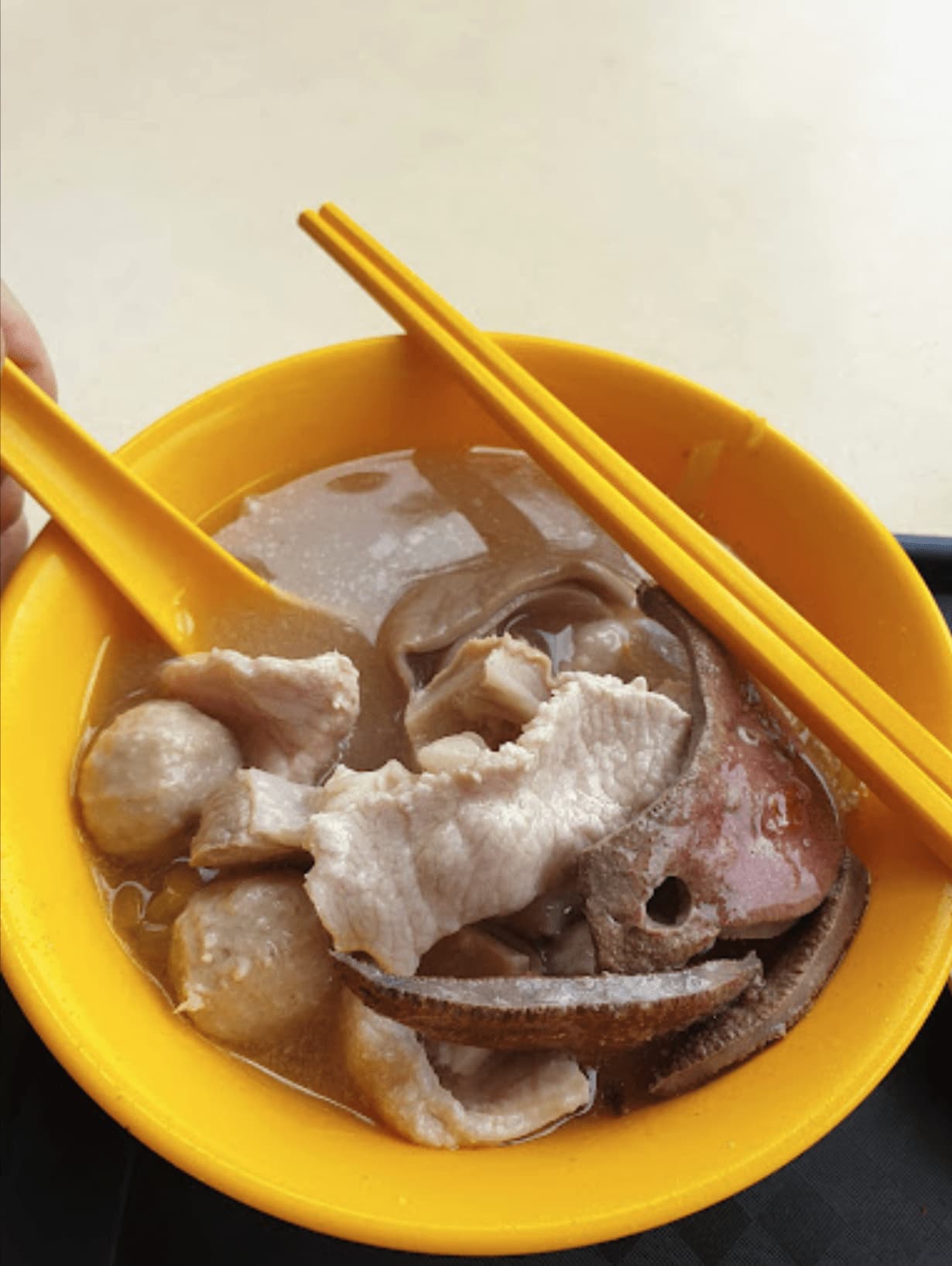 Image credit: Kwan
Get your offal fix two ways at Ah Keat, a Marsiling stall that has been around for 30-odd years. While the stall is best known for their affordable kway chap with tender braised innards, they also do a delicious organ soup for only $3.50, packed with preserved greens, as well as organs cooked just right. They also serve a Kidney Soup Mee Sua ($4.50) on the menu, if you prefer. 
Address: 211 Marsiling Crescent, Singapore 730211
Opening hours: Thurs-Tue 7am to 8:30pm
---
6. Jia Jia Xing Pigs Organ Soup 
---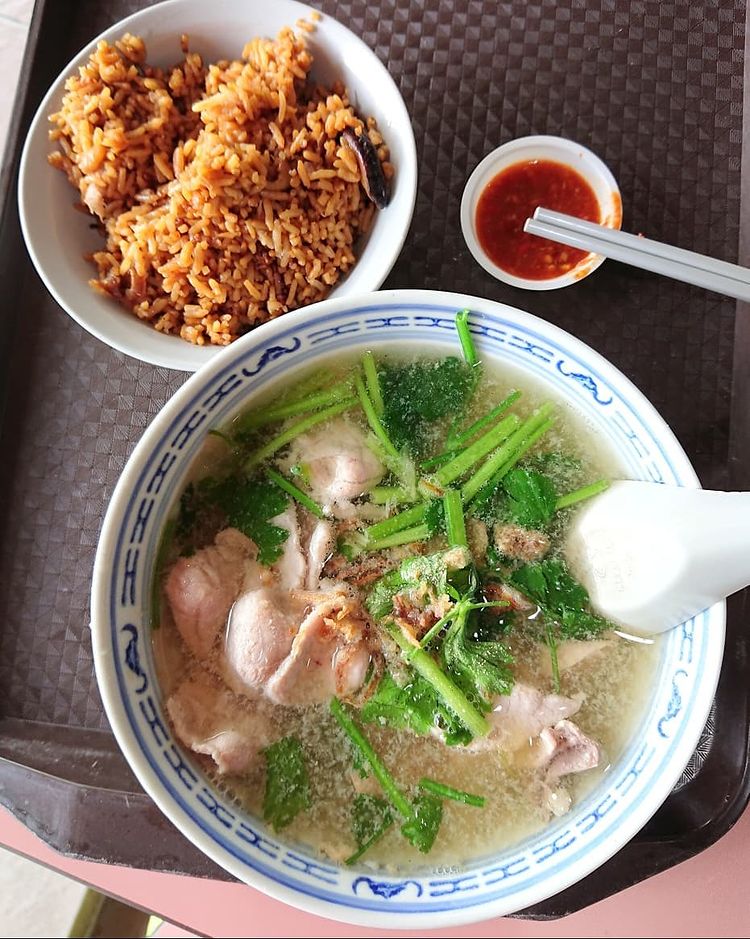 Image credit: @tamkokseng
If you're a big fan of really clean-tasting, light broths, then Jia Jia Xing in Sembawang Hills Food Centre is a must-visit. Their pig's innards soup is priced at $5, and you get a bowlful of expertly cooked organs, as well as a generous serving of lean pork slices and meatballs. Instead of white rice, you can opt for Yam Rice ($0.50) instead.
The stall is also very well known for their Pig's Trotter (from $5.50), braised in a vinegar-soy mix till the fat is well-rendered, and the meat falls off the bone with ease.
Address:  590 Upper Thomson Road, #01-10, Sembawang Hills Food Centre, Singapore 574419
Opening hours: Daily 10am to 7:30pm
---
7. Ri Tao Fu 
---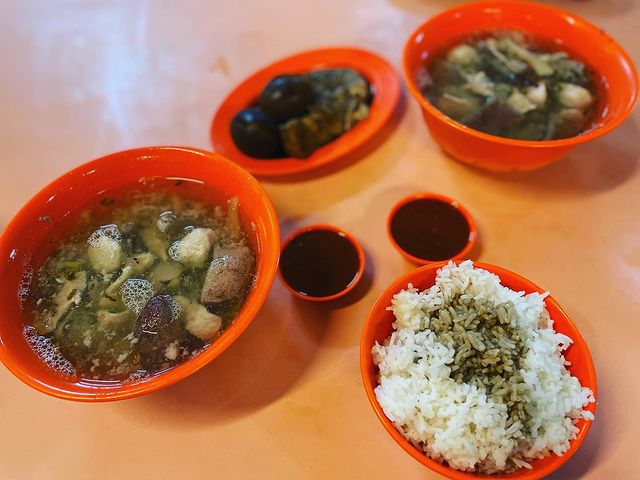 Image credit: @k2359k
Jalan Kukoh Food Centre may be slightly off the beaten path for most of us, but it is worth the trip if you'd like to enjoy Teochew-style pig's organ soup from Ri Tao Fu, which has been around for almost four decades now.
Priced from $4, the soup here is loaded with offal, including gelatinous pieces of pig's skin. The broth here is definitely murkier, as it is boiled with the innards to order, but the addition of mustard greens helps add a lightness to the overall dish. Don't skimp on their house-made chilli, which takes the dish to new heights with its full-on spice.
Address: 1 Jln Kukoh, #01-11, Jalan Kukoh Food Centre, Singapore 161001
Opening hours: Mon-Sat 10:15am to 9pm 
---
8. Kelantan Kway Chap 
---

Image credit: @woofy73
Kelantan Kway Chap made its way on the Michelin Bib Gourmand 2022 list, for their unique, lighter take on kway chap. Though the braised Teochew dish is what the stall is best known for, don't sleep on their Pig's Organ Soup (from $4.50).
Fans praise how generous the stall is with the amount of offal that goes into the bowl, and how the liver is cooked till just the right doneness—tender, with a bit of bite. Definitely be prepared to queue if you're headed down during peak mealtimes.
Address: 166 Jalan Besar, #02-39, Berseh Food Centre, Singapore 208877
Opening hours: Tue-Sun 8am to 8pm
---
9. Soon Lee 
---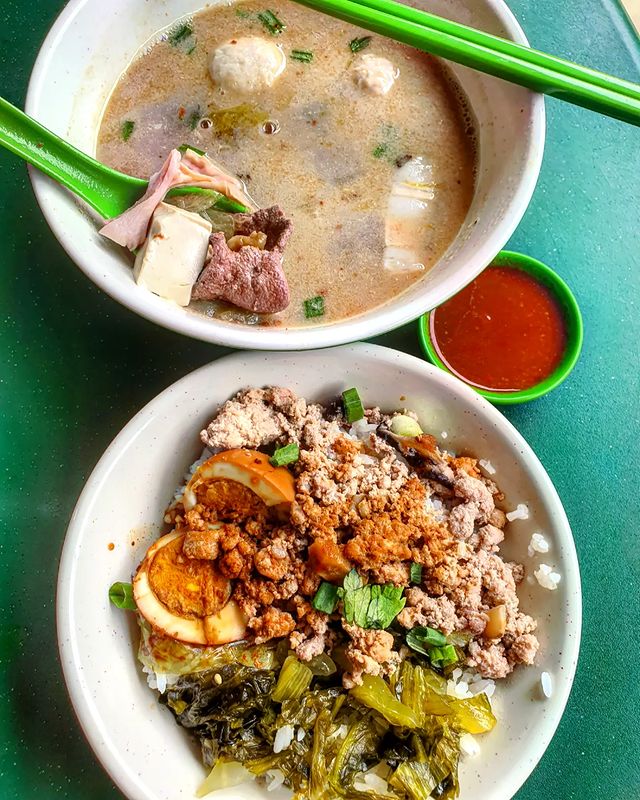 Image credit: @ivanbotakyong
Soon Lee is a decidedly modern pig's organ soup stall, as they offer set meals where you get the soup served along with a bowl of Minced Pork Rice—think lu rou fan but without fatty belly—for $6.30. The soup here comes with both small and large intestines, as well as liver, slices of pork, silken tofu, and mustard greens. The broth here is definitely on the peppery end, akin to bak kut teh, but richer. If you'd like to have the soup on its own, it'll cost $4.20.
Address: 70 Zion Road, Stall 13, Zion Riverside Food Centre, Singapore 247792
Opening hours: Daily 11am to 1:30pm, 6pm to 7:30pm
---
10. Aik Kee Haslet Soup 
---

Image credit: @poppycock
Aik Kee Haslet Soup is anything but stingy with their ingredients. A bowl of their pig's organ soup comes generously studded with offal, including intestines both small and large, QQ pork balls, and thick-cut pork belly slices layered with fat. The broth is on the peppery end, mellowed out by pork's natural sweetness. $4.50 gets you a single serving, but you have options up to $7 that are easily shared between two. They also serve ngoh hiang here, priced at $1.50. 
Address: 117 Aljunied Ave 2, #01-56, Geylang East Market & Food Centre, Singapore 380117
Opening hours: Tue-Sat 10:30am to 7:30pm, Sun 10:30am to 3pm, 5pm to 7:30pm, Mon 10am to 3pm
---
11. Heng Heng Pig's Organ, Fish Soup
---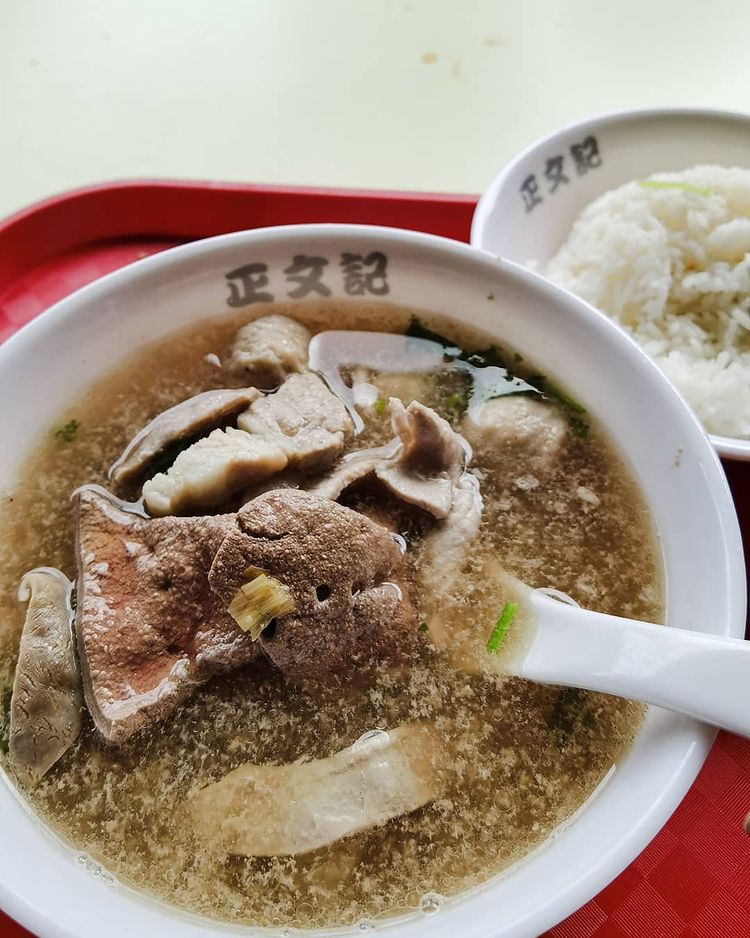 Image credit: @julianxtan
Pig's organ soup and fish soup are two things you wouldn't expect to find in the same stall, but Heng Heng put two and two together. The pig's organ soup here is made with a lighter, fish soup-style broth, so you can really taste the offal. Fans praise the stall for how value-for-money the $4 portion is, and the spiciness of the house-made chilli here. 
Address: 79 Circuit Road, #01-41, Singapore 370079
Opening hours: Daily 11am to 9pm
---
Where to eat pig's organ soup in Singapore
---
Check out these stalls for the best pig's organ soup in Singapore! For other offal dishes to try, check out our best kway chap guide, and our mutton soup guide.
17 Kway Chap Stalls In Singapore To Try, Including Stalls Open Till 3am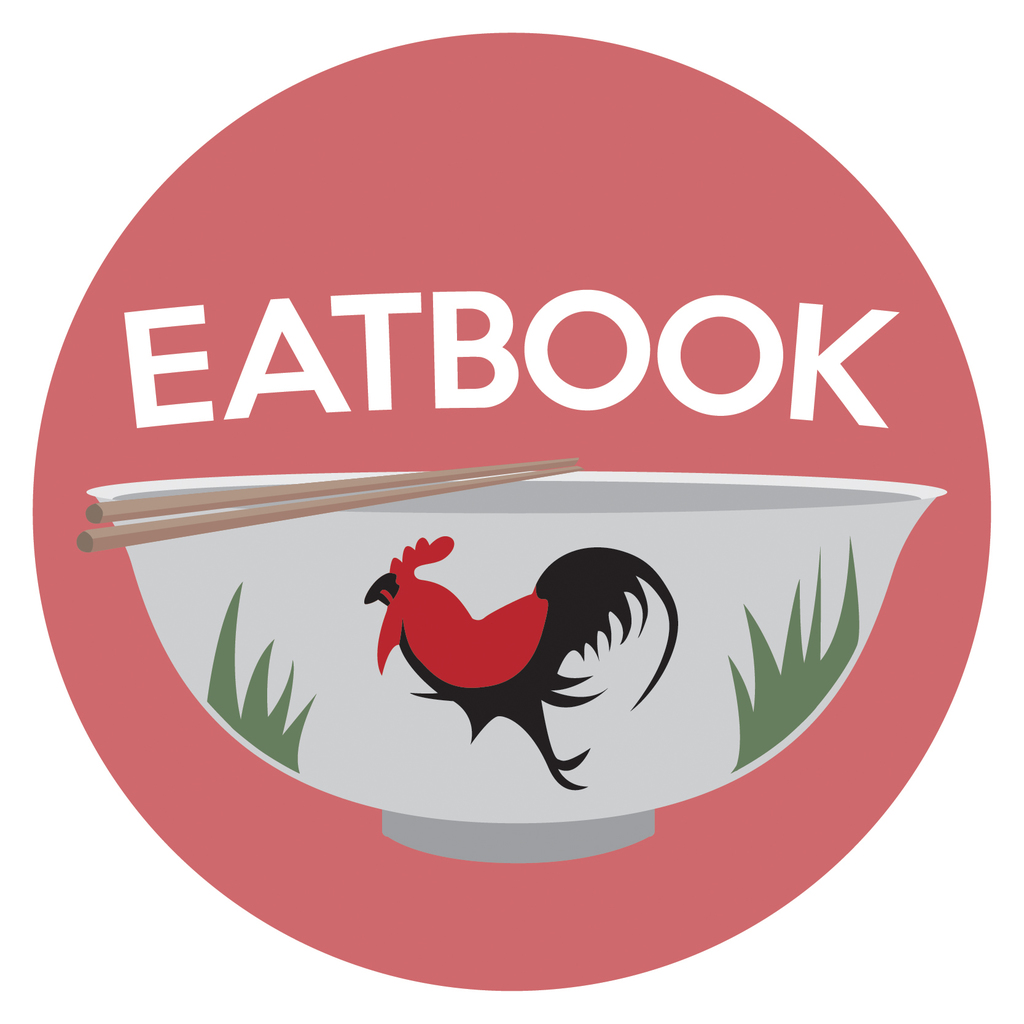 Drop us your email so you won't miss the latest news.