---
Best pineapple tarts in Singapore for Chinese New Year 
---
For many of us, the ubiquitous pineapple tart ranks top on our list of favourite Chinese New Year (CNY) goodies. Whether you belong to Team Pineapple Ball or Team Open-Faced Tart, this guide to some of the best pineapple tarts in Singapore will help you suss out the ones that are worth the calories! 
---
1. Ding Bakery
---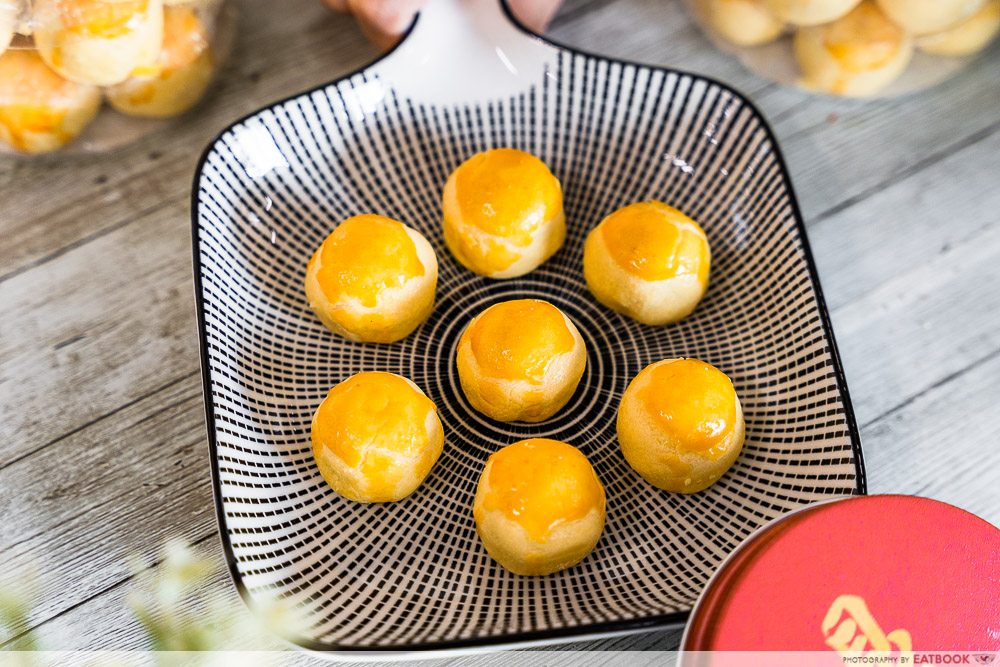 If you're looking for premium pineapple tarts in unique flavours, Ding Bakery is not to be missed. The homegrown bakery comes up tops when we mention CNY goodies—just look at the slew of raving reviews online! Go straight for their Award-Winning Premium Melt-In-Your-Mouth Pineapple Balls (from $24.90), which are handmade and baked fresh daily without added preservatives. You get around 26 morsels of pineapple jam-filled rounds that boast a melt-in-the-mouth texture. Fans love them as they're not too sweet, which makes them addictive. Those who prefer a crunchier, golden brown tart can opt for the Award-Winning Nyonya Pineapple Tarts (from $21.90), an open-faced version that's equally satisfying.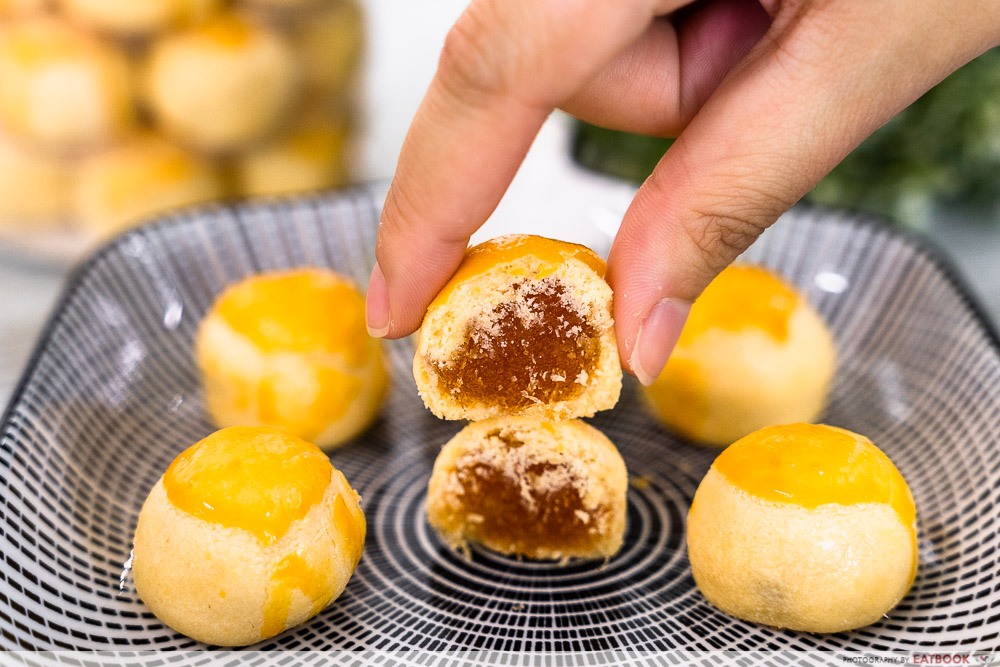 Alternatively, impress your guests with the French Butter (from $26.90) option, which incorporates premium French butter for a distinct creaminess that's a step up from regular butter. Other must-try pineapple tart flavours include Matcha (from $26.90) and a green-hued Pandan (from $26.90), which spotlights hand-extracted pandan flavour. 
Enjoy free delivery for all orders above $100. Otherwise, delivery costs $8 per location. Self-collection is available too.
Address: 140 Paya Lebar Road, #03-13, AZ @ Paya Lebar, Singapore 409015
Tel: 8890 9055 (WhatsApp)
Website
---
2. Pineapple Tarts Singapore
---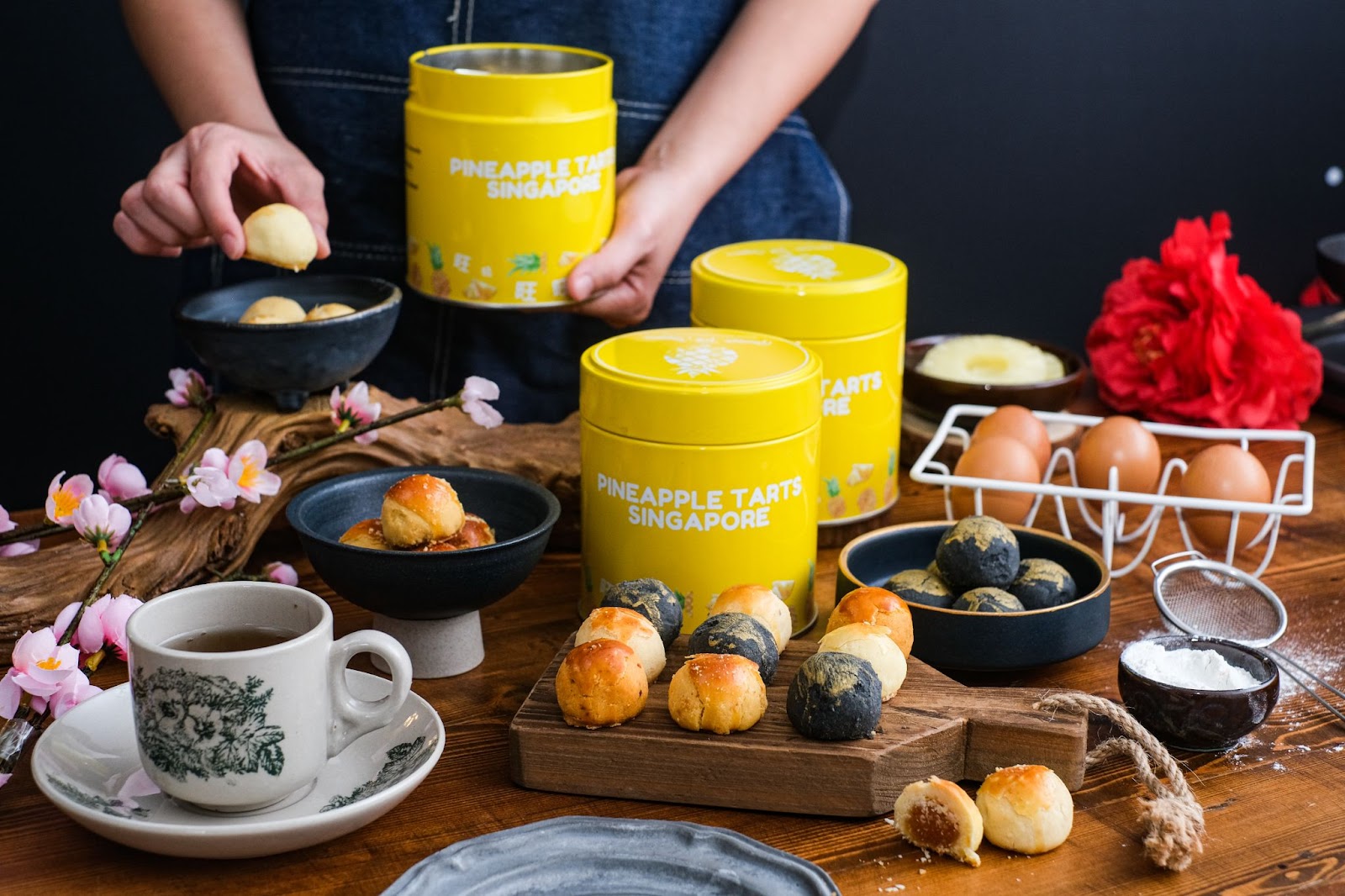 Image credit: Pineapple Tarts Singapore
Pineapple Tarts Singapore offers 100% homemade and handmade pineapple tarts, all based on award-winning recipes passed down through generations. These CNY goodies are beloved by over 100,000 Singaporeans, so these will definitely please the fam.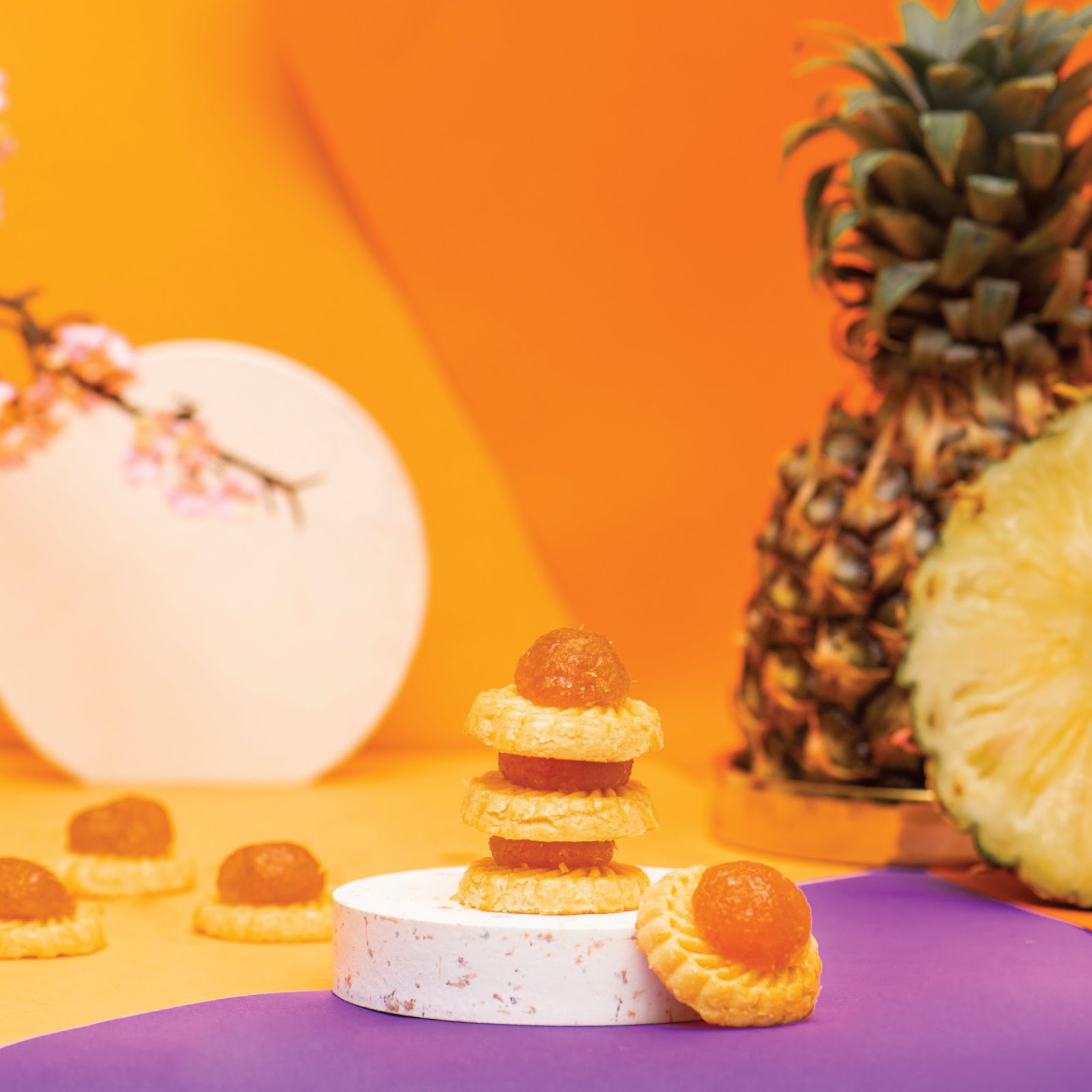 Image credit: Pineapple Tarts Singapore
Their Melt In Your Mouth Pineapple Tarts (from $23.90) are a bestseller and a signature. These closed tarts are made with premium ingredients, resulting in a buttery snack, with a honeyed, pineapple centre. Fans of open-faced tarts can instead go for the Hu Wei Traditional Nyonya Pineapple (from $20.90), which features the same buttery base topped with pineapple jam that has a slight tang. If you prefer to get experimental, Pineapple Tarts Singapore also has flavours such as Cheese (from $28.90) and Salted Egg (from $30.90). Get free delivery when you spend above $100!
Order via their website below.
Website
---
3. Wang Lai Bakery
---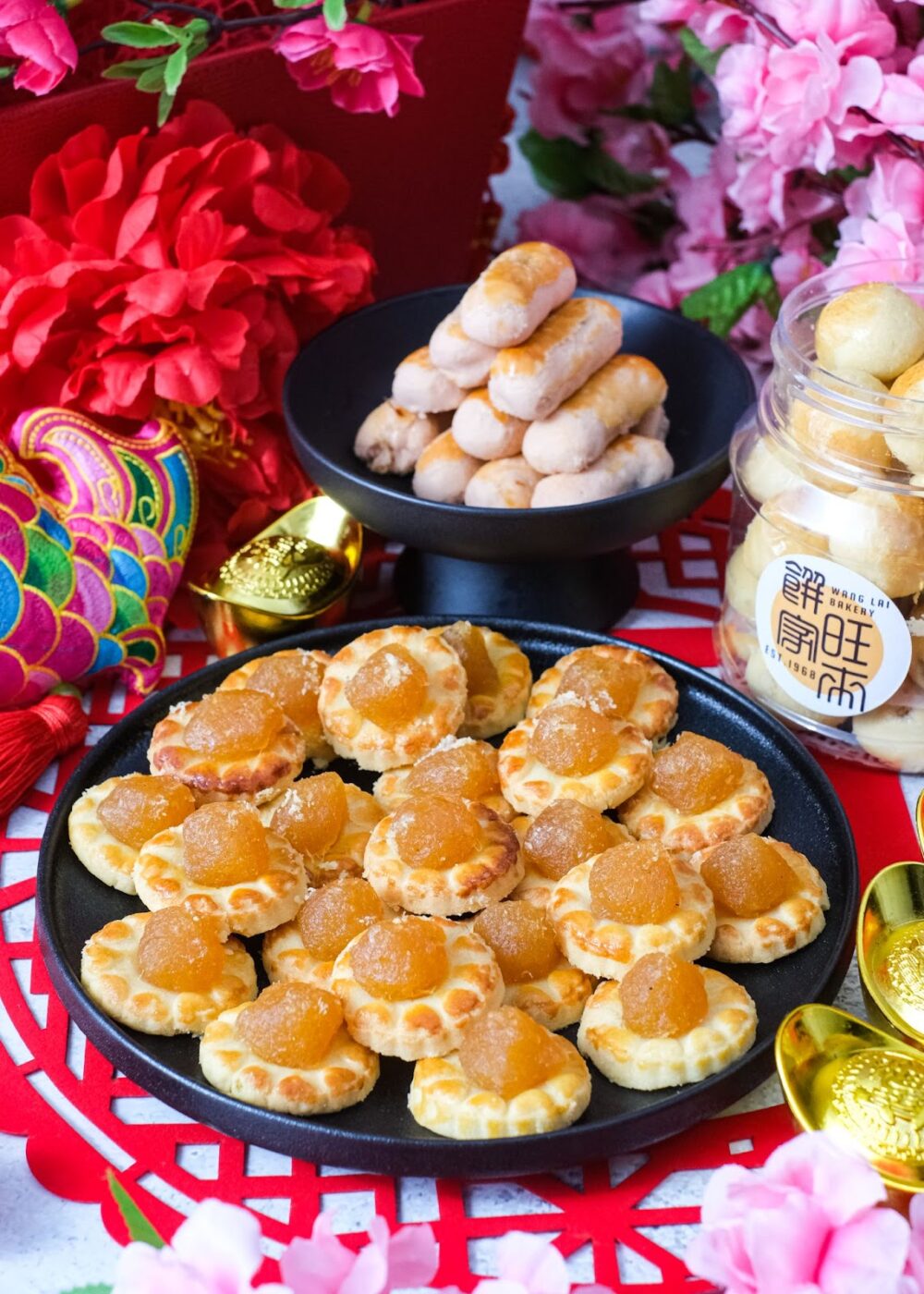 Image credit: Wang Lai Bakery
Wang Lai Bakery has been around since 1968, selling their delicious pineapple tarts in Chinatown. The recipe here is another multi-generational one, and Wang Lai Bakery takes great pride in handmaking their tarts to this day. Because of this attention to craft and detail, orders are limited each year, so hurry to get yourself some of their CNY goodies!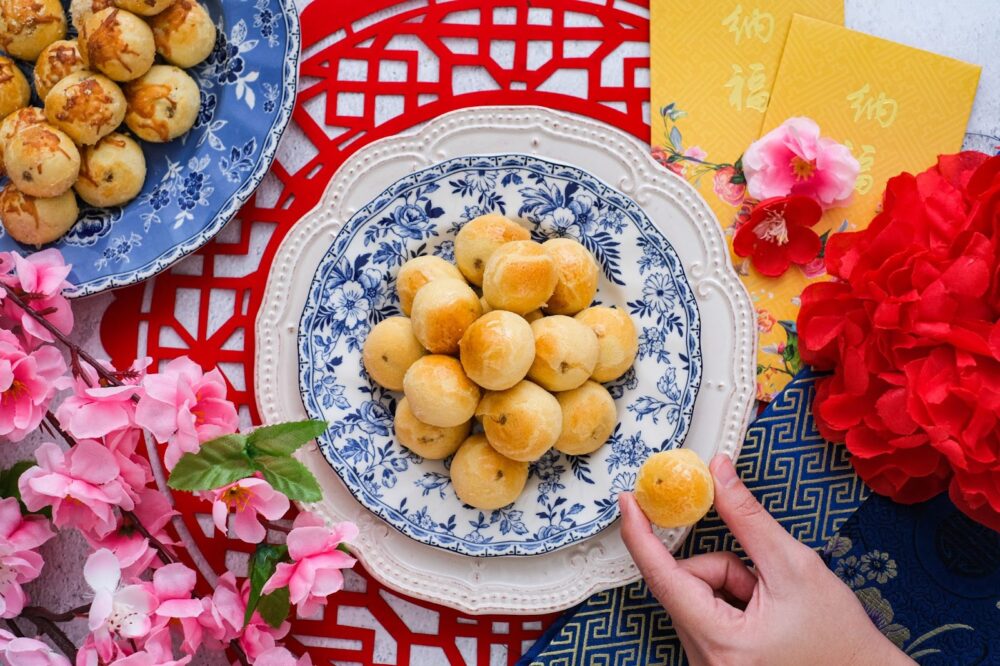 Image credit: Wang Lai Bakery
Their Melt In Your Mouth Pineapple Tarts (from $21.90) are a great choice for fans who love super buttery, thick pastry, with a generous dose of jam. These ball-shaped tarts are also sold in a Cheese flavour for $22.90, offering a savoury-sweet combo. Open-faced tart fans can get a tub for $21.90 as well, and enjoy the crumbly pastry tarts dressed with slightly tart pineapple jam. Get free delivery when you spend above $100!
Order via their website below.
---
4. Old Seng Choong

---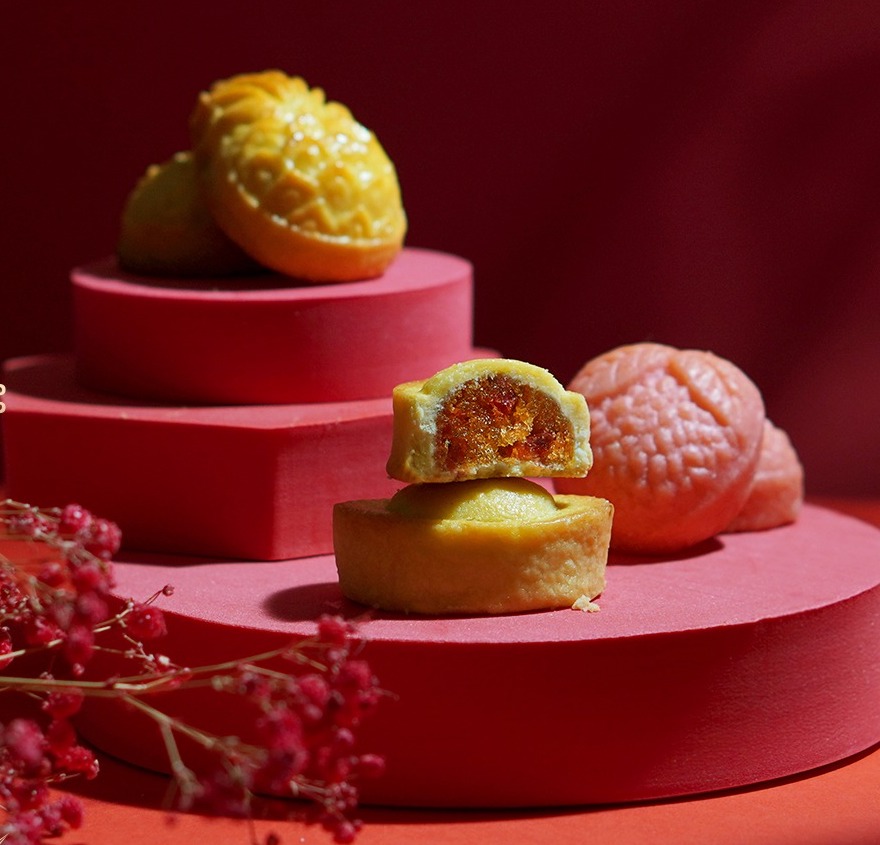 Image credit: Old Seng Choong 
For something more unique, try the Bak Kwa Pineapple Tart ($36.64) from Old Seng Choong. Each individually wrapped tart features a pineapple jam filling zhnged-up with smoky bak kwa for a sweet-salty combo. You get 12 cute ingot-shaped pieces neatly arranged in a presentable metal box—perfect for gifting to your relatives this season. 
---
5. The Marmalade Pantry
---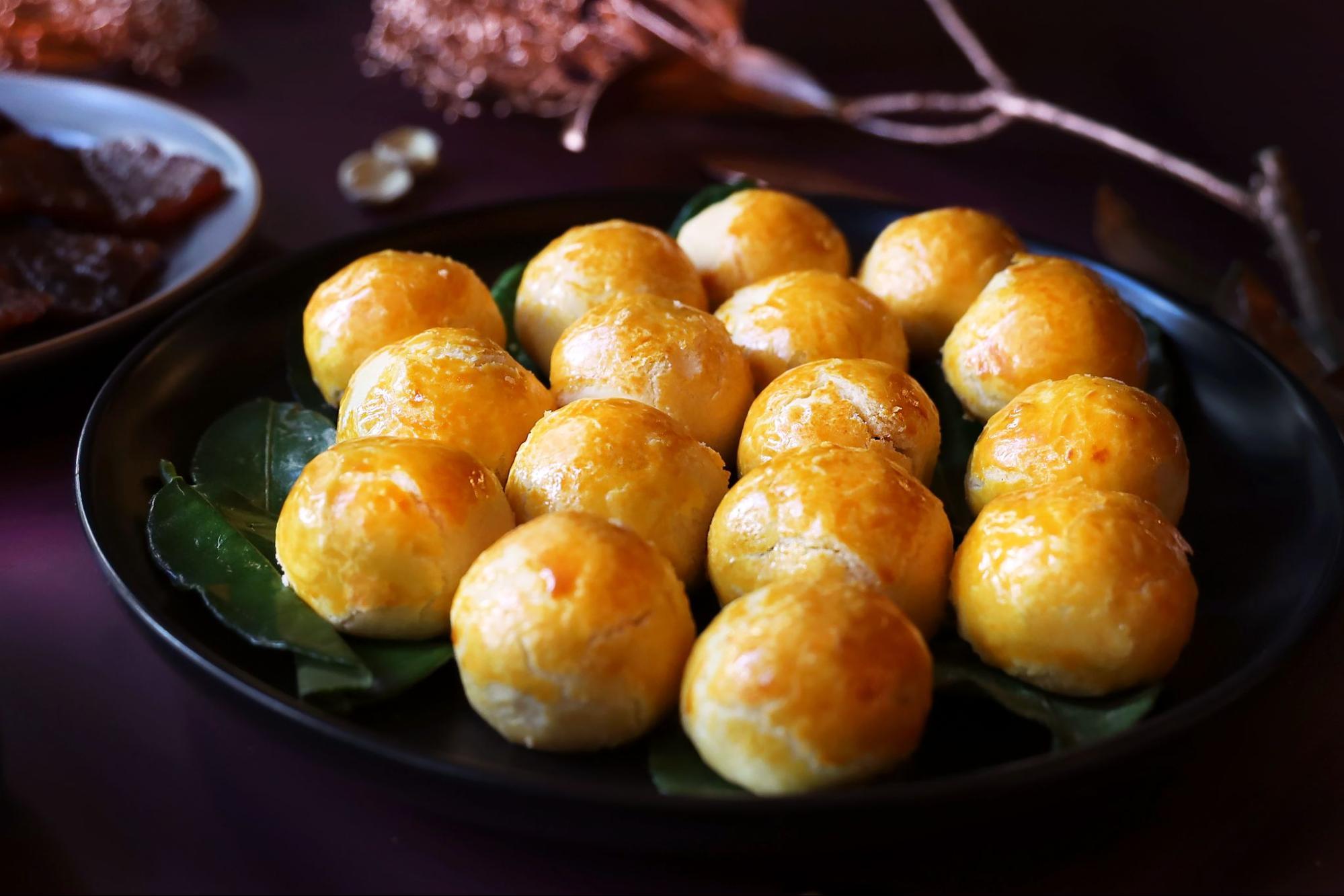 Image credit: The Marmalade Pantry 
The Marmalade Pantry's 2022 lineup of CNY goodies is packed in gift-worthy, octagonal boxes in striking colours of teal, pink, and yellow. The aptly-named Golden Pineapple Tarts ($30+) feature perfectly baked orbs of melt-in-the-mouth pastry, hand-rolled and encased with a lightly spiced pineapple jam. What's unique about the jam is that it's slow-cooked with Thai pineapple, and spiked with notes of pandan and cinnamon. 
The online store also offers sets at discounted prices; The Traditional Classics ($80+, U.P. $82+) include the pineapple tarts, Petite Chicken Bak Kwa, Osmanthus Cranberry Cookies, and Sambal Shrimp Rolls, presented in a premium gift bag. The goodies can be ordered online and in-stores from now till 5 February 2022. 
---
6. Whiskdom
---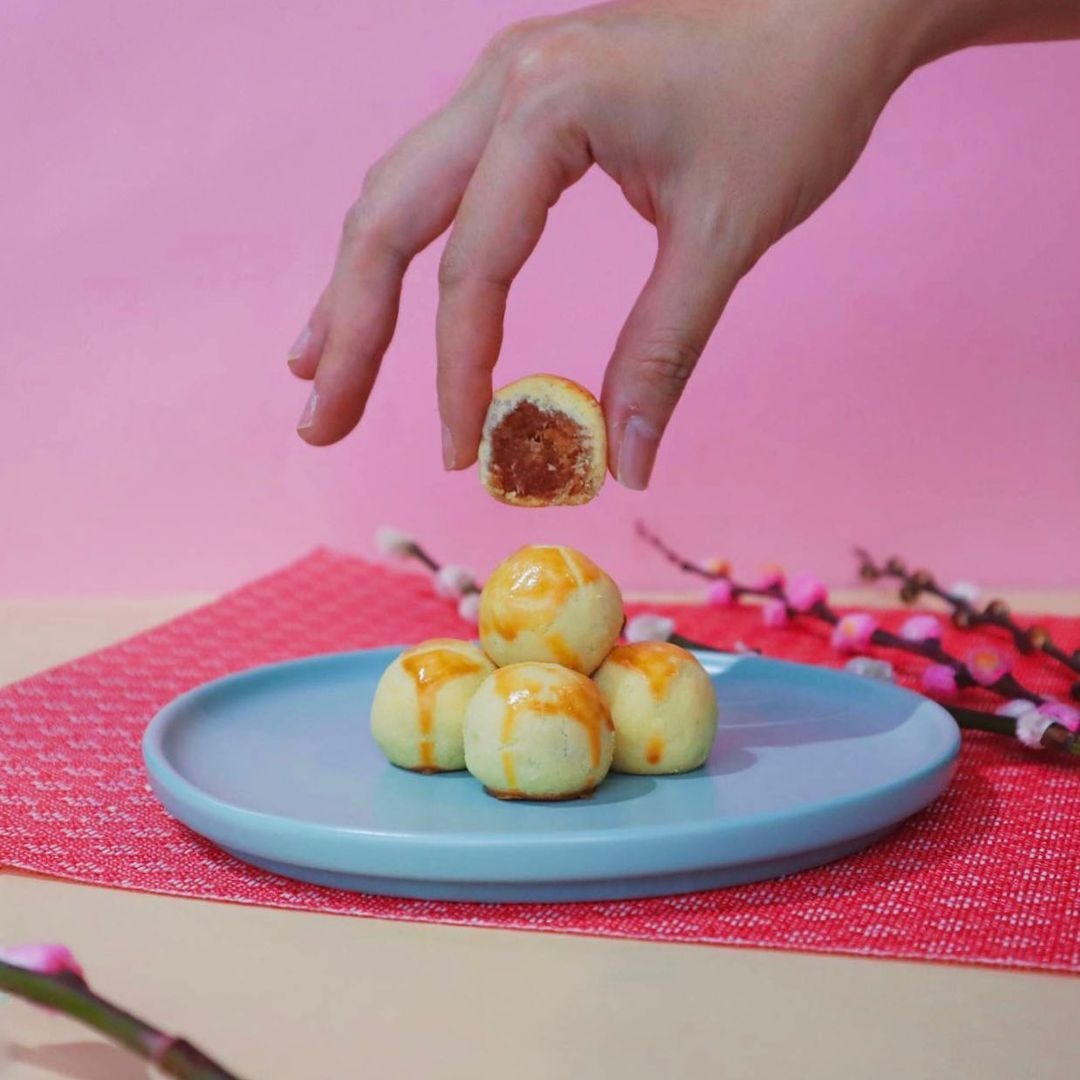 Image credit: @whiskdom
We love Whiskdom for their lava-centred brownies and chunky cookies, and now they've launched CNY goodies exclusively for this season! A must-order is their Classic Pineapple Balls ($25.80), which sees a tangy pineapple jam filling that's subtly tinged with cinnamon, wrapped by buttery pastry skin infused with Madagascar vanilla. Those who love tea can go for the Earl Grey Pineapple Balls ($28.80), which feature pastry skin with specks of earl grey tea for a fragrant finish. 
Delivery is free for orders above $120. 
---
7. Janice Wong
---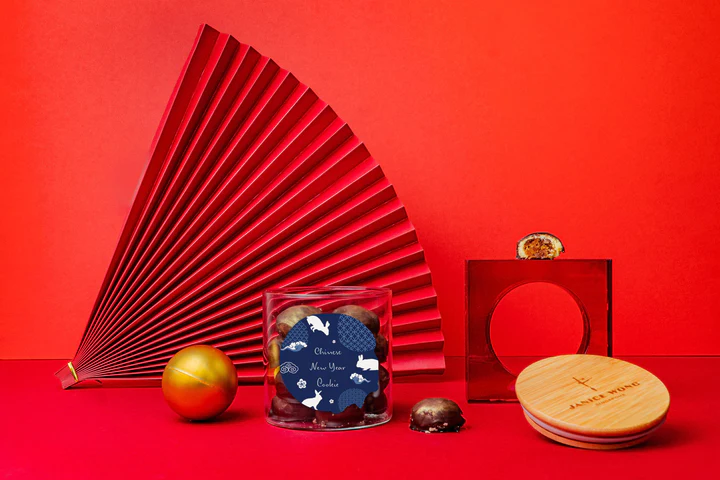 Image credit: @janicewongsg
We can't think of a better way to zhng up pineapple tarts than to drench them in premium dark chocolate. Here, the Chocolate Coated Pineapple Balls ($37) make a comeback this year on Janice Wong's CNY lineup. Each mount sees a pineapple jam-filled ball coated with a generous amount of rich chocolate, and dusted with gold powder for even more huat. Purists who prefer an unadulterated taste of the fruit can go for the Pineapple Balls ($33) instead. 
Delivery costs $15 per location. Alternatively, opt for self-collection at one of their outlets.
---
8. Kele
---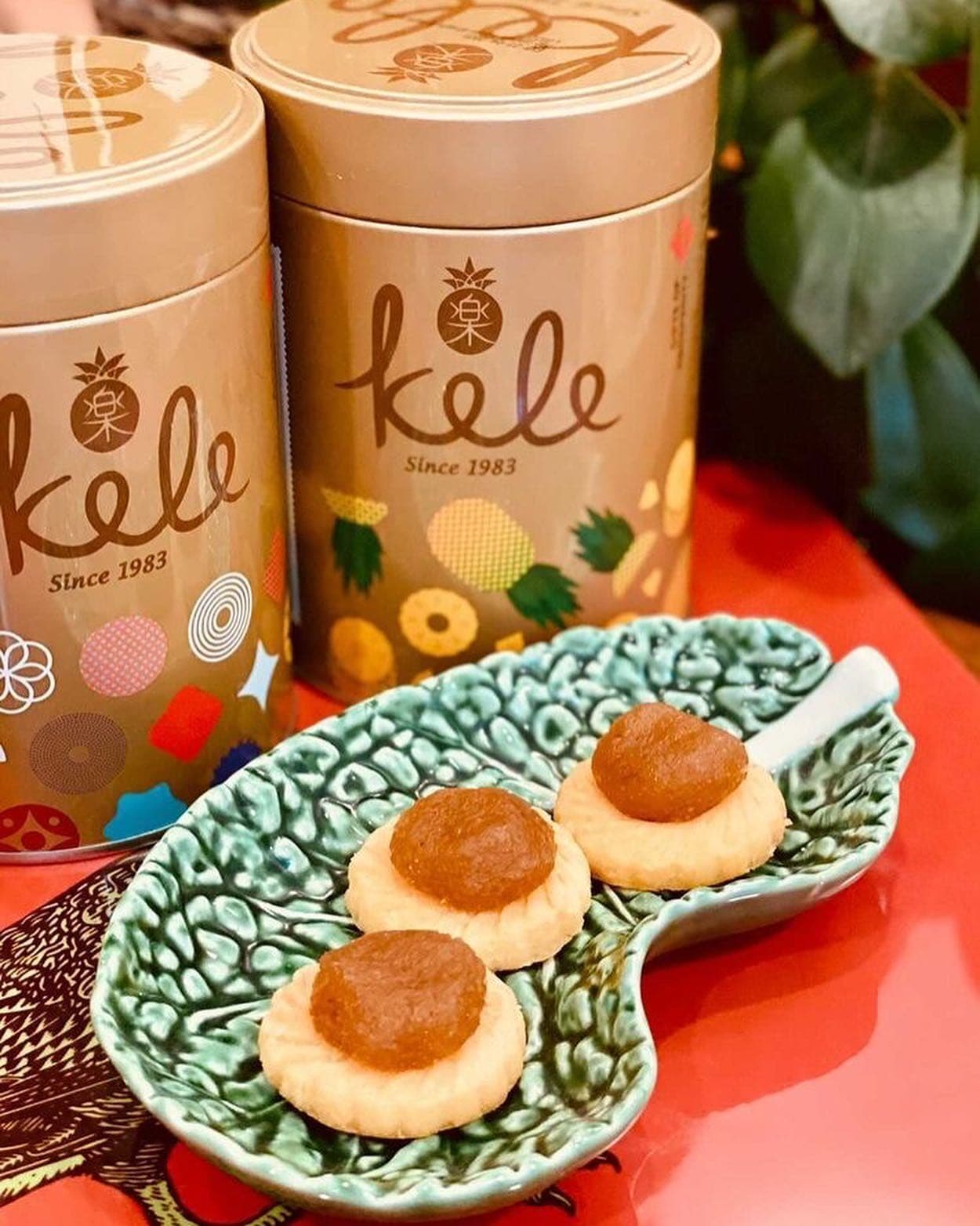 Image credit: Kele
Kele has been around since 1983, and pineapple tarts have always been part of their repertoire. Their acclaimed goodies sell out every Chinese New Year, so be sure to get your hands on these soon. We highly recommend their open-faced Traditional Pineapple Tarts or Golden Pineapple Balls, both priced from $29.52. Each star a buttery, almost milky crust, and a zesty pineapple jam. Else, try any of their unique flavours,  from their Rose Pineapple Tarts to their Matcha Pineapple Tarts, all of which are priced at $32.22 per tin. These comprise a flavoured crust, topped with the same beloved pineapple jam.
Order via their website below.
---
Where to buy pineapple tarts for CNY
---
From open-faced tarts topped with house-made pineapple jam, to bite-sized orbs that melt-in-the-mouth, we're blessed with plenty of options when it comes to pineapple tarts. If you're looking for more treats to add to your stash of CNY goodies, check our best CNY goodies guide for 2023.
10 Best Chinese New Year Goodies In 2023, Including Nian Gao Tarts And Durian Kueh Lapis
This post is brought to you by Ding Bakery, Pineapple Tarts SG, and Wang Lai Bakery.
Photos taken by Melvin Mak and Chew Yi En.
Featured image adapted from Kele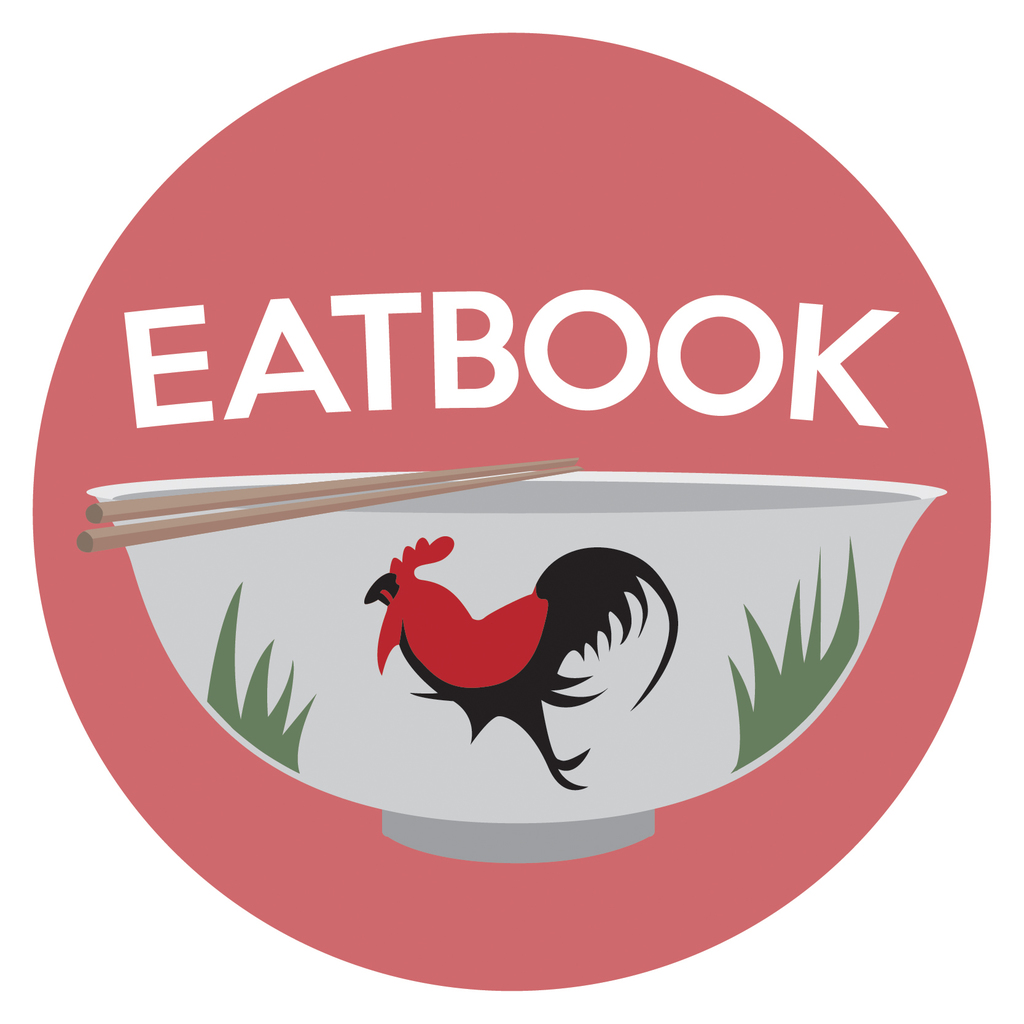 Drop us your email so you won't miss the latest news.