---
Best teh in Singapore
---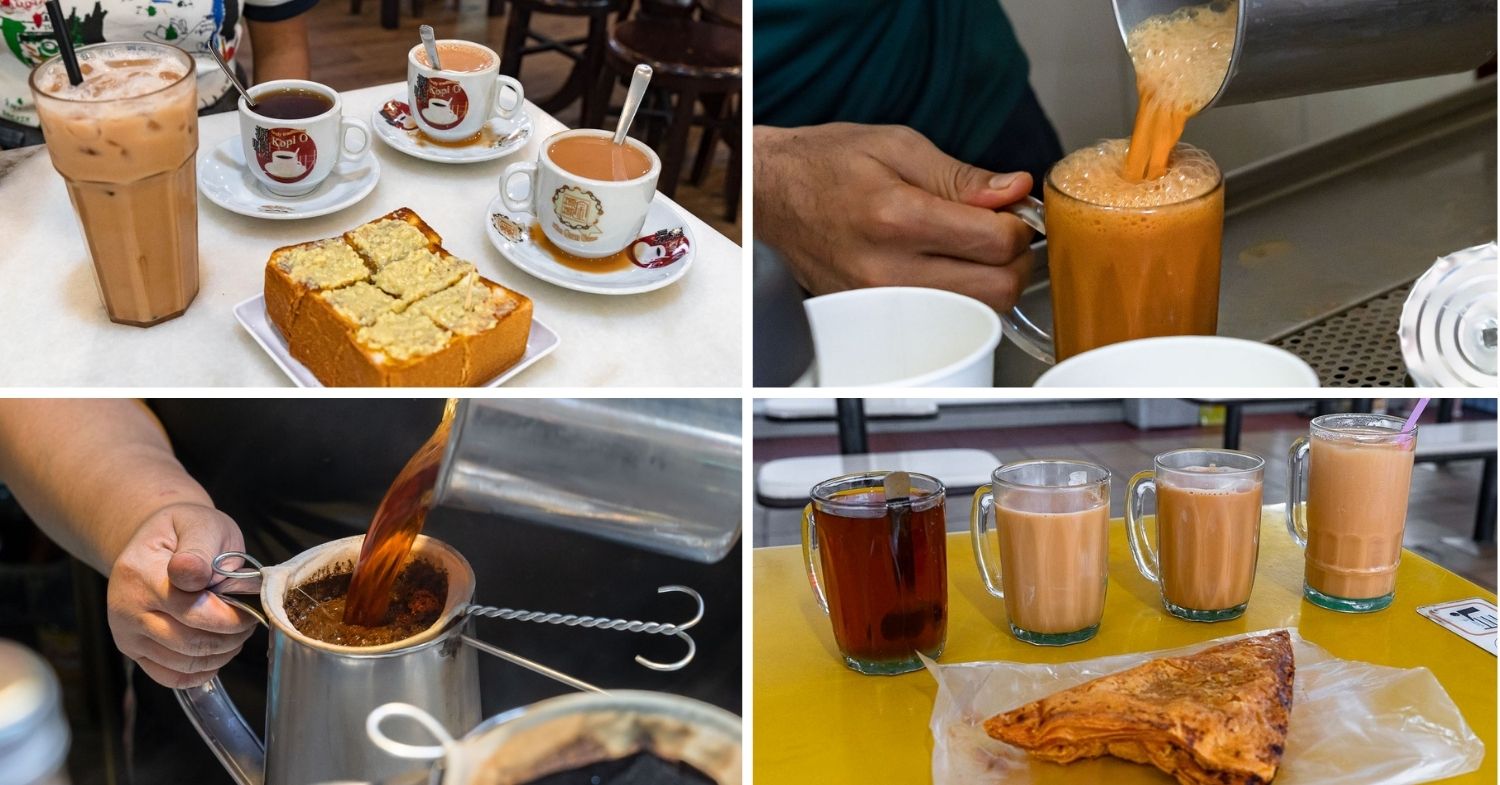 Not too long ago, my colleague went on a hunt for the best traditional kopi in Singapore. While kopi is almost vital for me to get through the day, teh is just as important to me. To do the drink justice, we scoured the entire city to find the best places to get it, including well-known coffee shops, hidden gems, and more. After exactly 40 cups of different tea that led with upset stomachs, we've come up with a ranked list of the 10 best teh stalls in Singapore!
---
The criteria
---
Before I delve into the stalls, here's my criteria for determining a good cup of teh:
Ratio: Depending on the drink, it shouldn't be overly sweet or milky. The ratio of tea to condensed or evaporated milk and sugar should be well-balanced.
Taste: It should not be too diluted. We should still be able to discern the tea's floral or aromatic qualities. The final drink shouldn't be too acidic or bitter either.
Value: Affordable and/or reasonably priced—better if it's $1.50 and below.
We ordered four drinks at each stall: Teh O, Teh C Siu Dai, Teh Peng, and a specialty tea. For stalls that didn't have any specialty tea, we went with a standard cup of teh.
---
10. Bhai Sarbat
---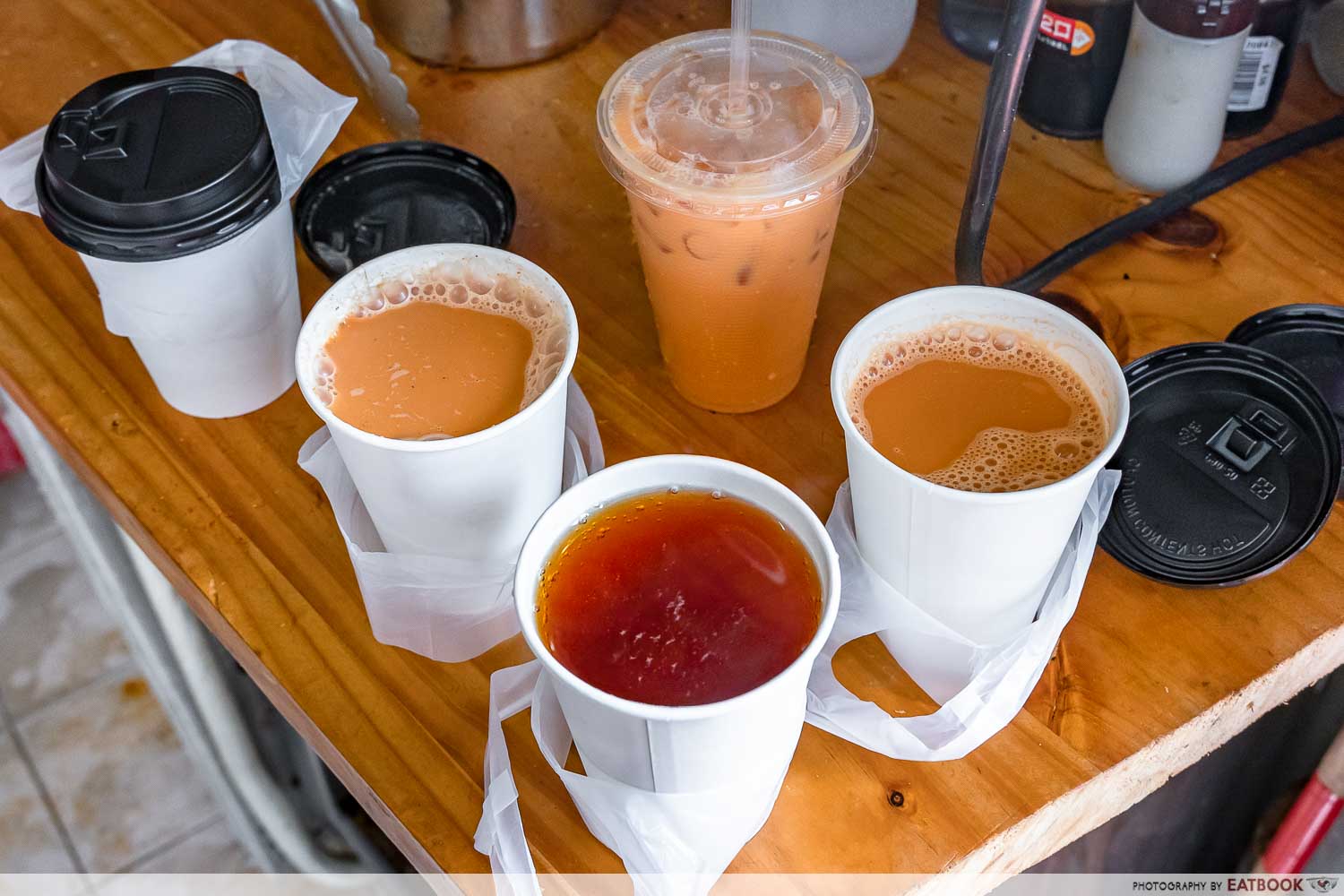 Coming in at number 10 is Bhai Sarbat, one of the most popular and legendary tea stalls in Kampong Glam. Formerly known as No Name Teh Sarabat Stall, they've been open since 1977, drawing long queues daily for their masala tea and teh sarbat, AKA ginger milk tea.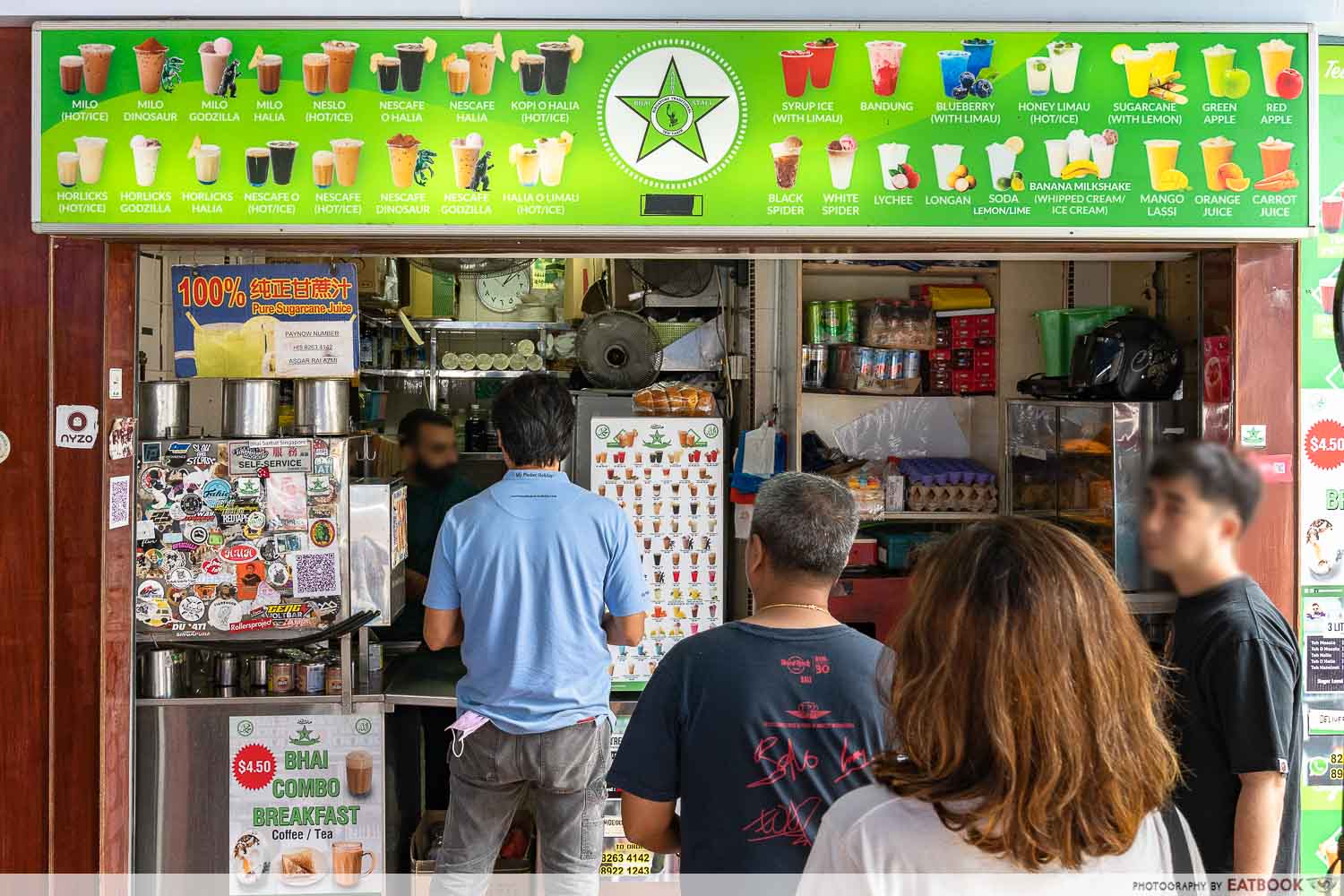 This quaint stall is tucked in a corner along Bussorah Street. It was initially difficult to find, but the stall's bright green signboard was what caught our attention.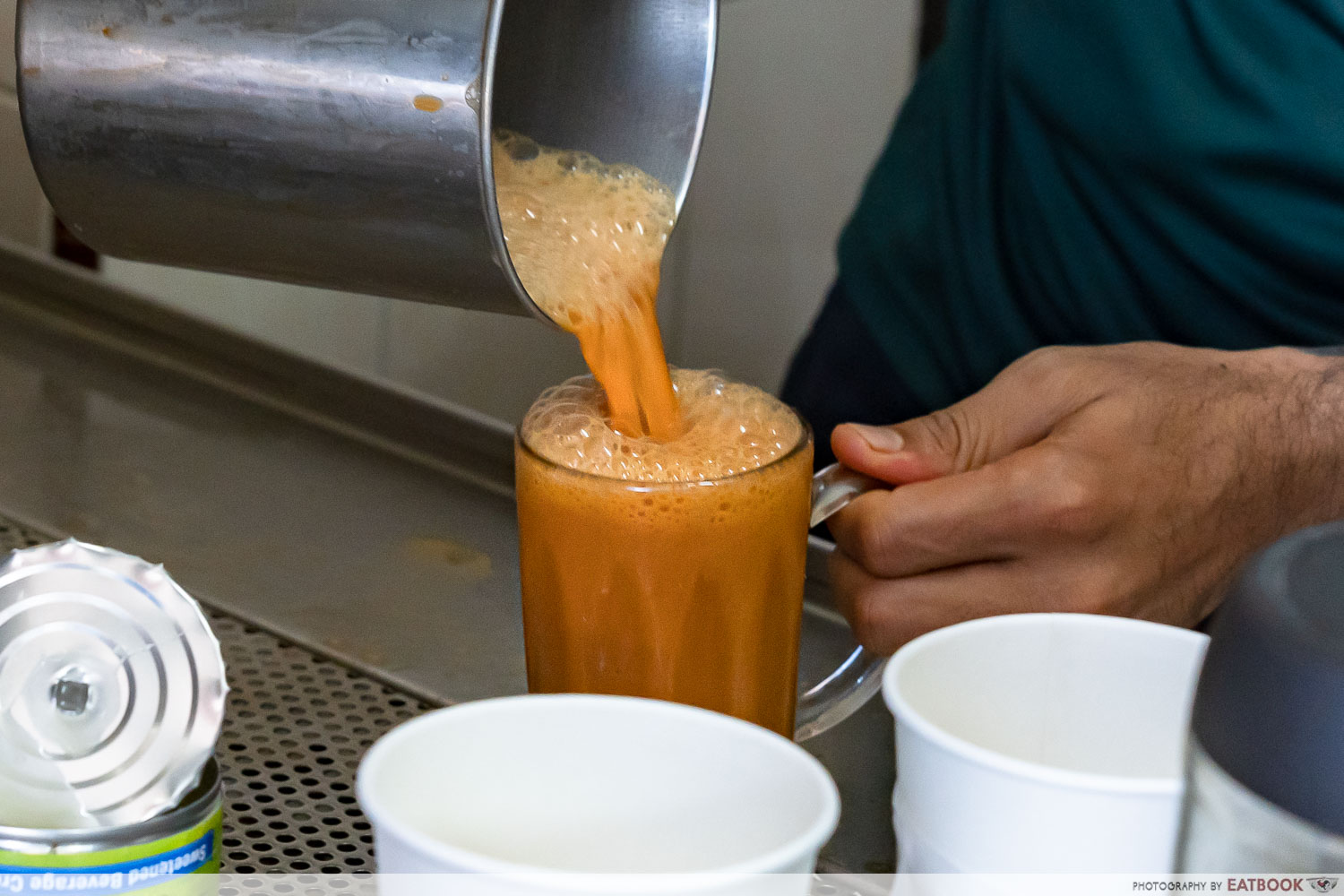 While I did appreciate the effort that went into making a cup of tea, the Masala Tea ($2.50) and Teh Ice ($2.20) here were unfortunately way too sweet for my liking. Both drinks also leaned closer to the thinner and diluted side, with the tea taste being overshadowed by the milk, sugar, and masala. They were also served lukewarm, which was a bummer.
The Teh O ($1.50) and Teh C Siu Dai ($1.60) further disappointed me, as they were bland yet astringent. Perhaps our luck was bad that day, so maybe a future visit would change my mind.
Ratio: 2.5/5
Taste: 2.25/5
Value: 3/5
Total: 52%
Address: 21 Bussorah Street, Singapore 199439
Opening hours: Daily 6:30am to 1am
Tel: 8263 4142
Website
---
9. Bismillah Yunos Teh Tarik
---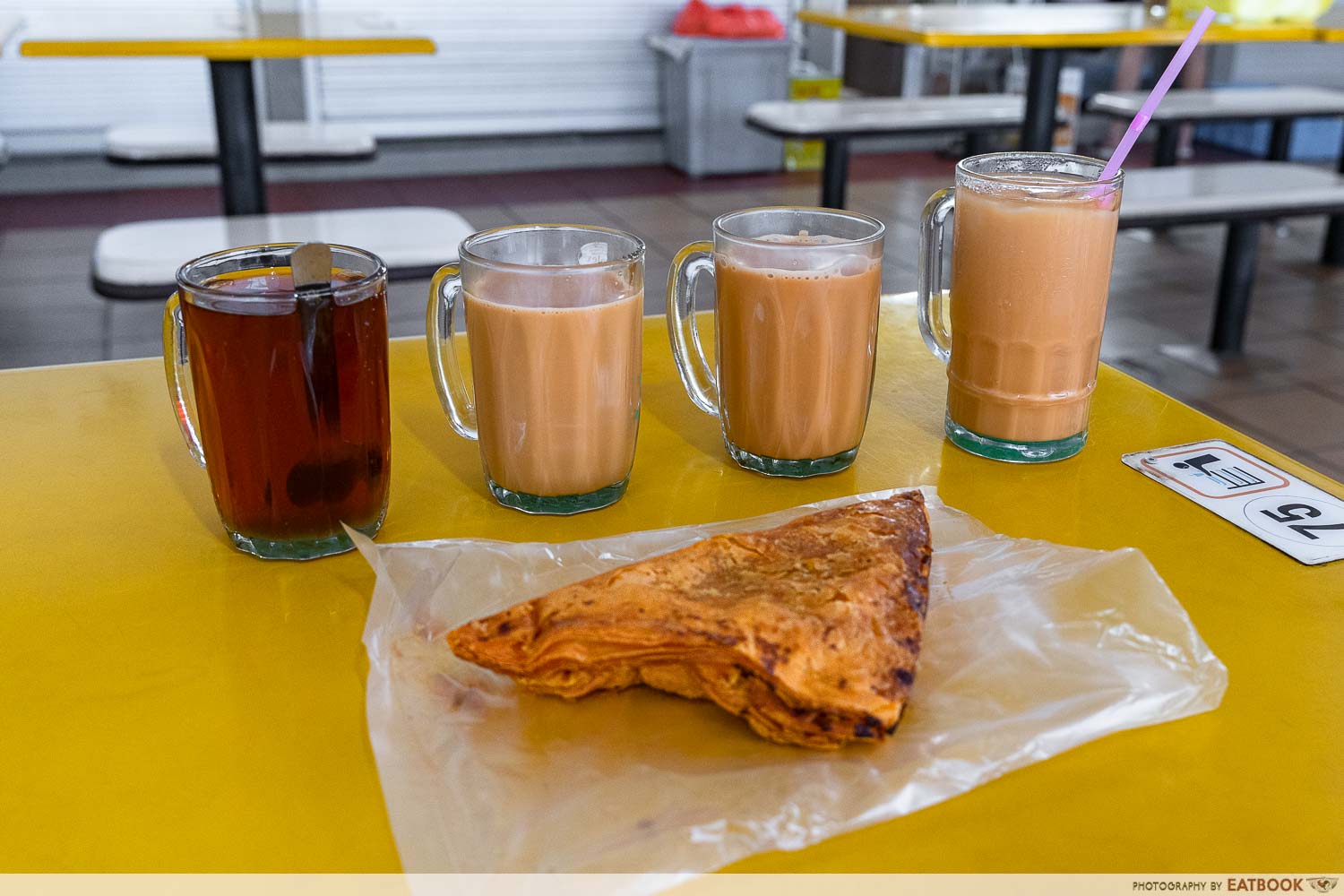 Next up is Bismillah Yunos Teh Tarik in Tanglin Halt Market, a stall that was ranked quite highly by the popular Instagram account: Teh Tarik Connoisseur. It's also received plenty of praise by regulars.
However, I was a tad disappointed by how diluted the drinks here were. The Teh Tarik ($1.30), their most well-loved drink, was a little too thin for my liking, and lacked that iconic milk foam one would expect in a cup of this beverage. I did appreciate the strong tea flavour though, but that was sadly absent in their Teh C Siu Dai ($1.20).
Their Teh O ($1) and Teh Ice ($1.50) were also too diluted, but I appreciated that they weren't overly sweet. The taste of evaporated milk was very strong here, which may be good for those who prefer milkier tea.
Ratio: 2.5/5
Taste: 2.5/5
Value: 4/5
Total: 60%
Address: 48A Tanglin Halt, #01-26, Tanglin Halt Market, Singapore 148813
Opening hours: Sat-Thurs 6am to 7:45pm
---
8. The 1950s Coffee
---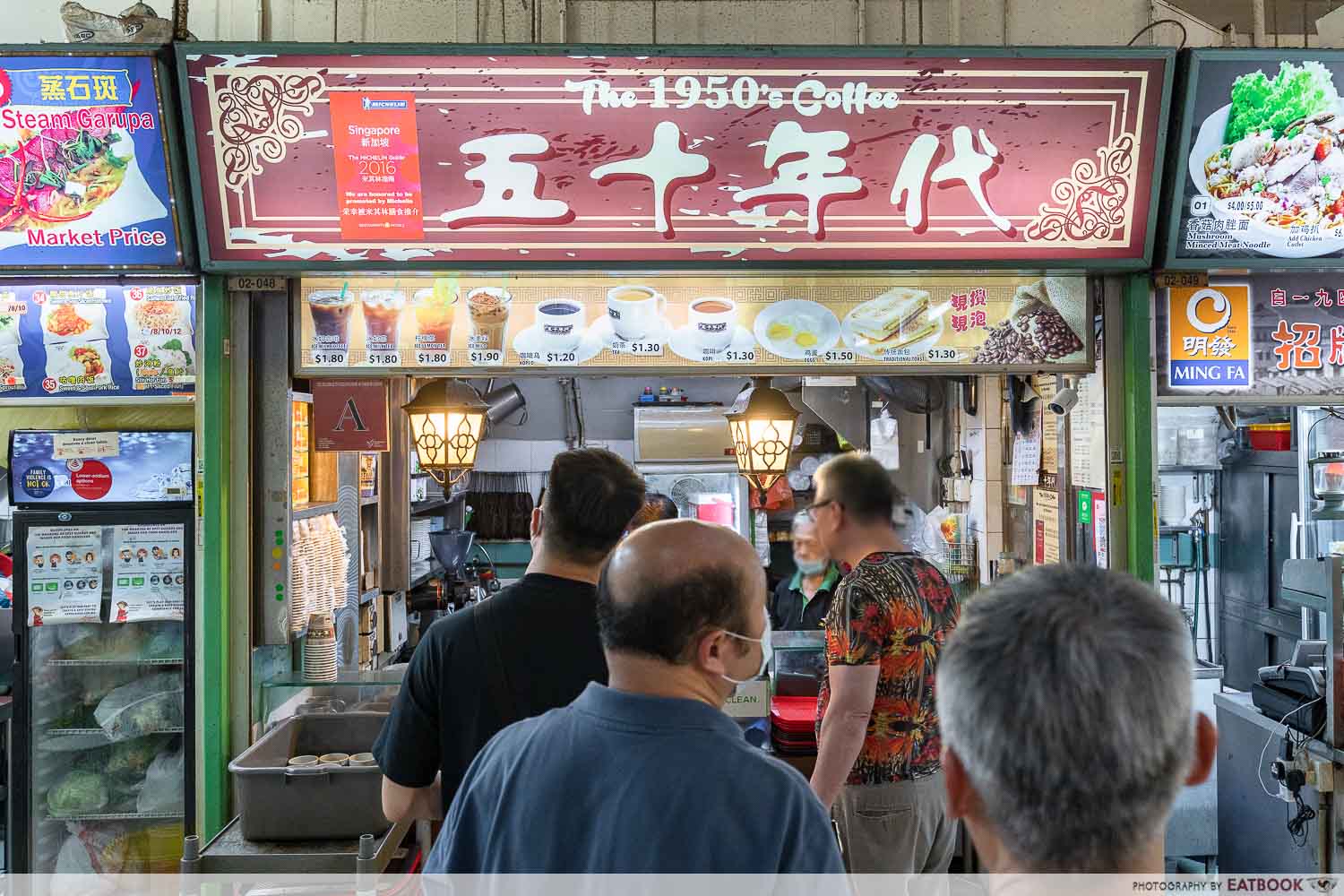 The 1950s Coffee, which is tucked in a corner of Chinatown Complex Food Centre, was my colleague's top pick for traditional kopi,. They've been awarded a spot in the Michelin Guide for serving Nanyang kopi O and kaya toast that has a "classic Singaporean taste." Out of curiosity, I decided to give them a shot and see whether their teh was also up to standard.
Unfortunately, despite the long queue and hype, I felt that their range of teh fell short and were mostly a little too sweet for my liking.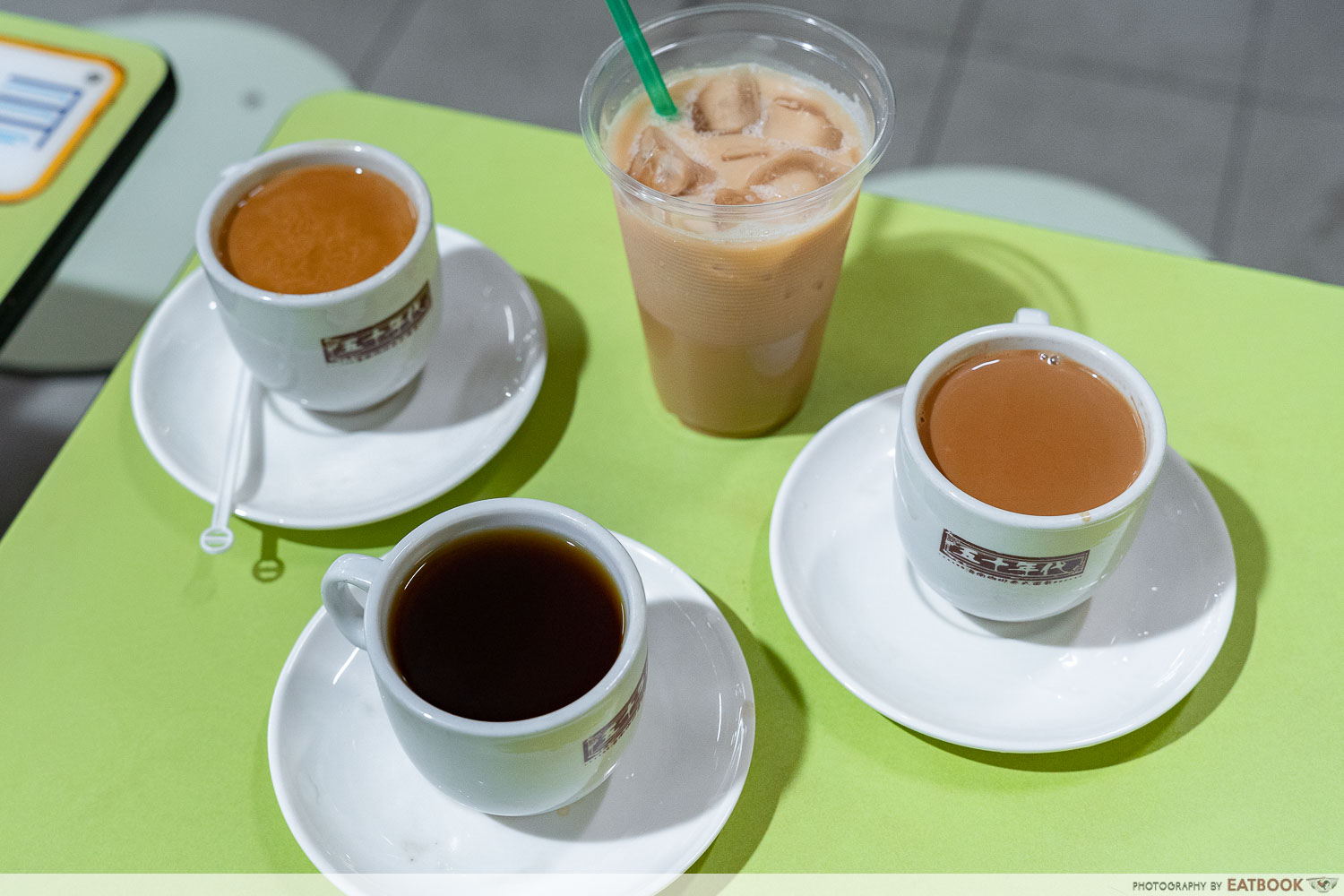 Their Teh O ($1.20) was too diluted and bland for my liking, and could've done with some sweetness. Their Teh ($1.40) on the other hand, though milky and smooth, was too sugary, and the same could be said for their Teh Peng ($1.80).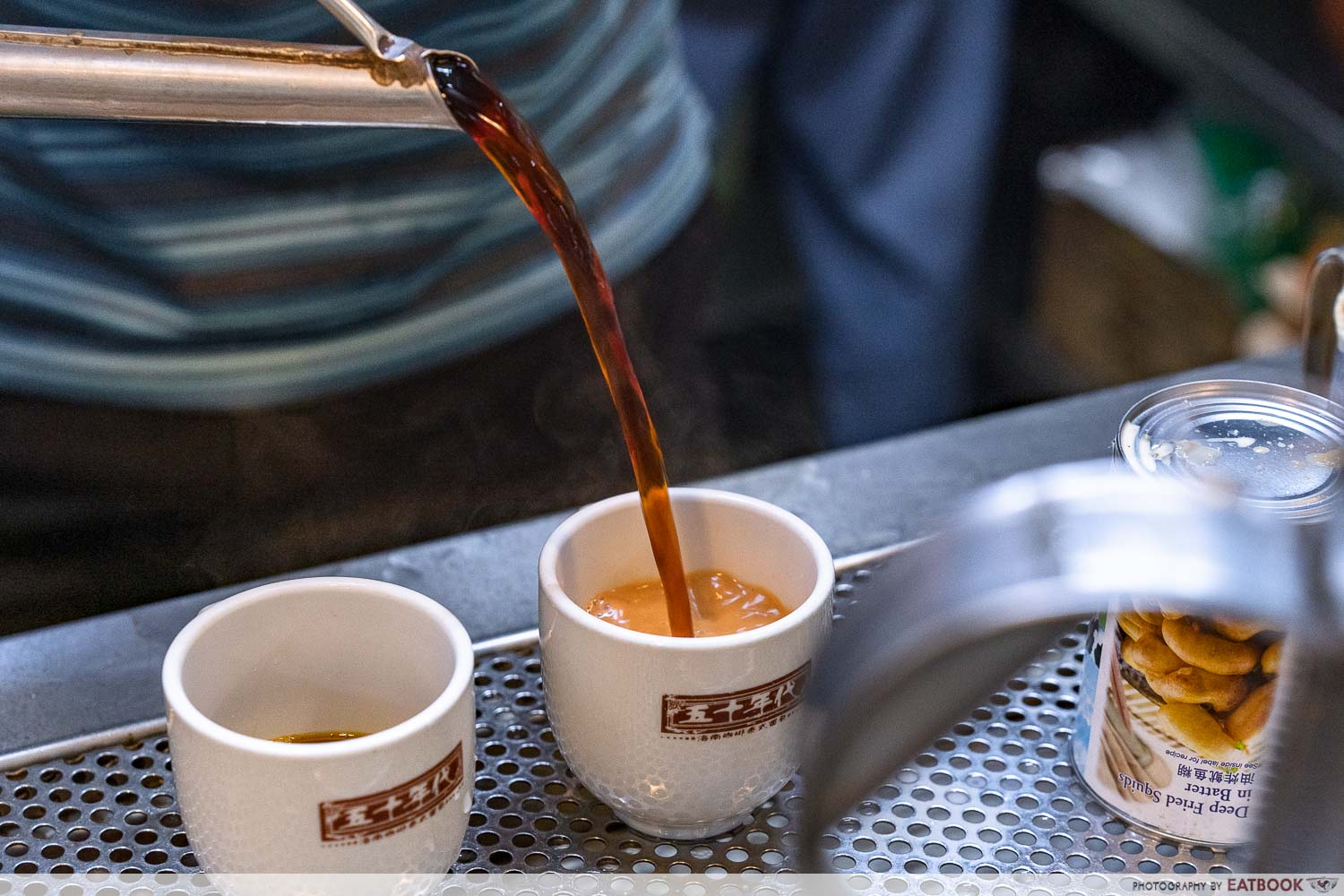 What we did find interesting though, was that it had a caramel-like sweetness to it—perhaps those with a sweet tooth will enjoy it more than we did. Otherwise, the Teh C Siu Dai ($1.30) was a decent cup of teh that boasted a strong earthy aroma—it had a mildly astringent aftertaste.
Ratio: 2.5/5
Taste: 3.5/5
Value: 3/5
Total: 60%
Address: 353 Smith Street, #02-0418, Singapore 050335
Opening hours: Tue-Sun 7am to 5pm
Tel: 8923 3870
---
7. 1970s Best Coffee
---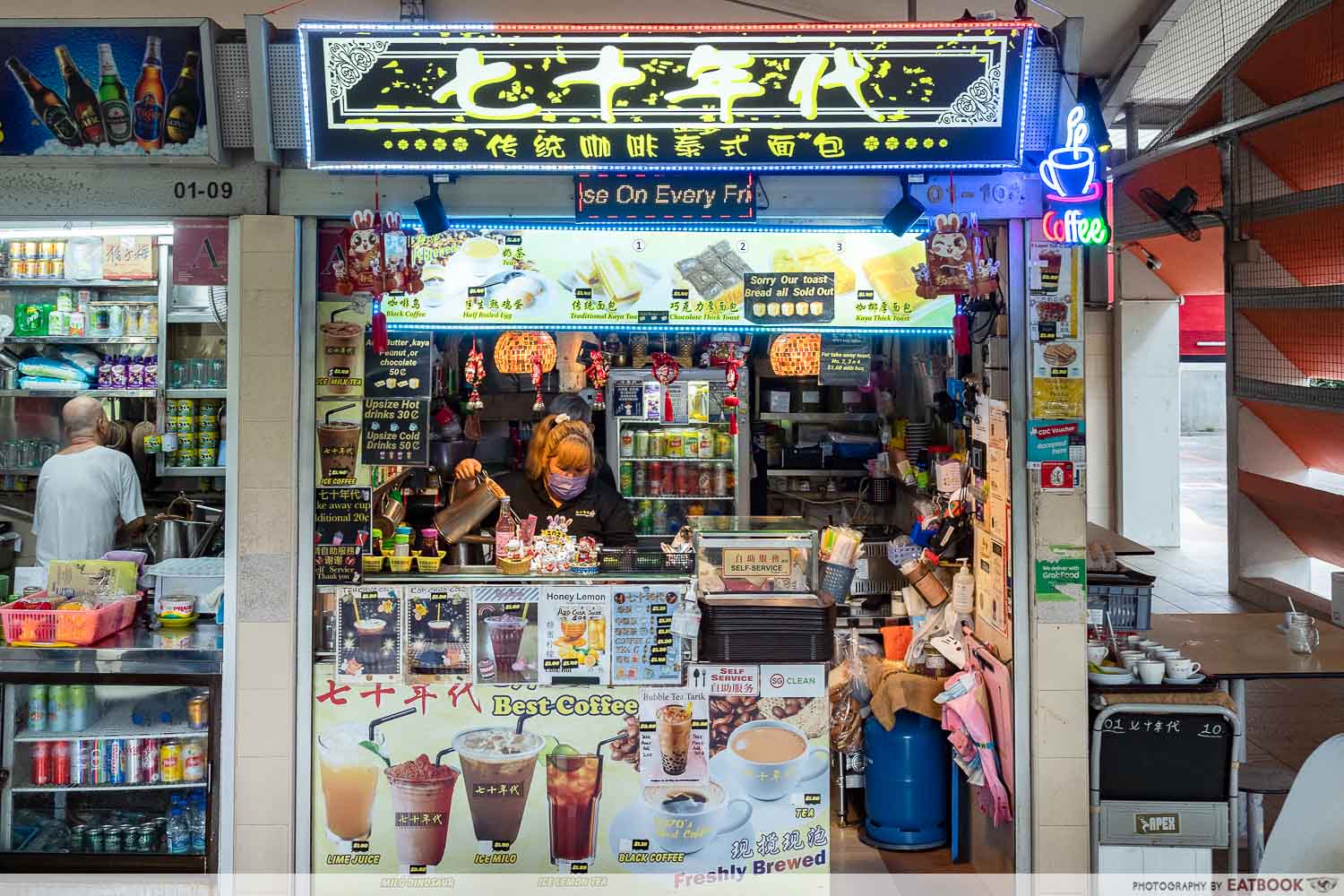 1970s Best Coffee is a hidden gem in Telok Blangah Food Centre that's well-loved for its thick toasts and kopi. When we arrived though, they were out of their famous thick toasts, so we settled for just their drinks instead.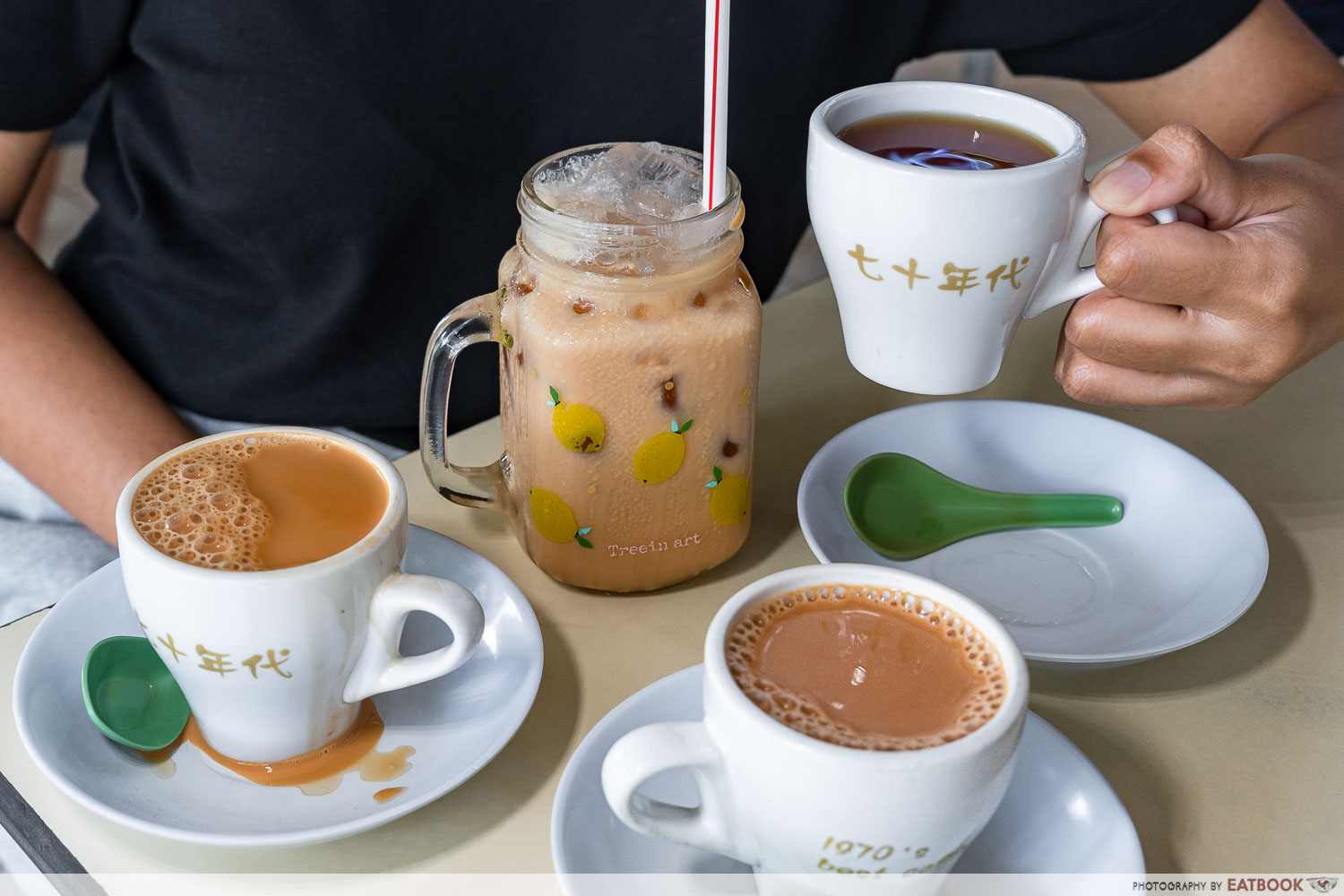 Unlike other stalls, their Teh Peng ($1.40) was served in a fancy mason jar, and had a unique honey-like sweetness—which I personally felt was a bit overwhelming. Otherwise, we enjoyed the milkiness of the drink.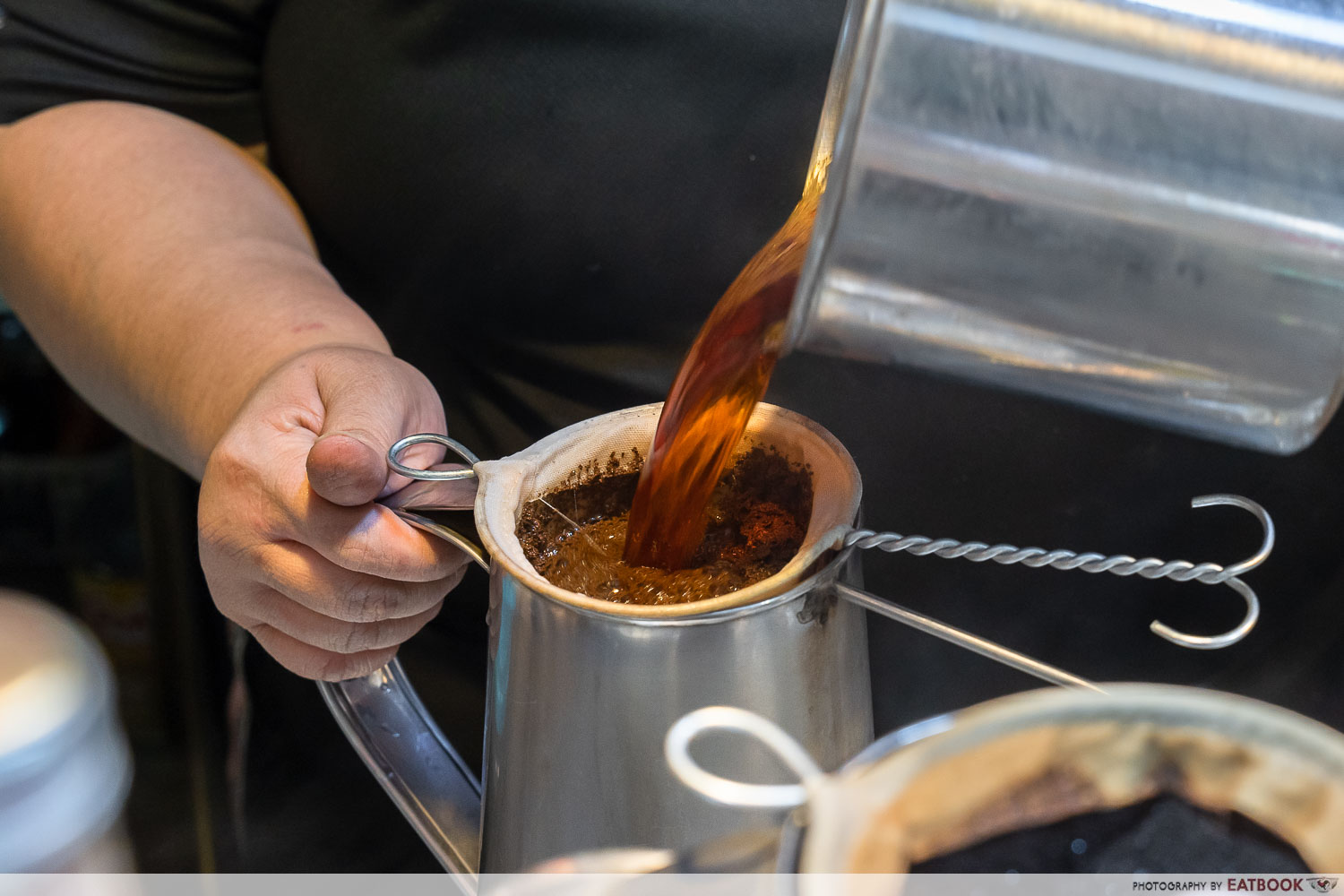 The tea notes, though, could have been more pronounced, which was also the case for their Teh ($1.20) and Teh C Siu Dai ($1.30). The only difference between the two was that the teh was a little more bland than the teh C. We recommend coming for their Teh O ($1.10) instead, which was very pleasant and allowed the natural fragrance of the tea to shine the most.
Ratio: 3.25/5
Taste: 3.25/5
Value: 4.5/5
Total: 73%
Address: 79 Telok Blangah Drive, #01-10, Singapore 100079
Opening hours: Sat-Thurs 8am to 3:15pm
Tel: 8889 9778
---
6. Charcoal Traditional Toast
---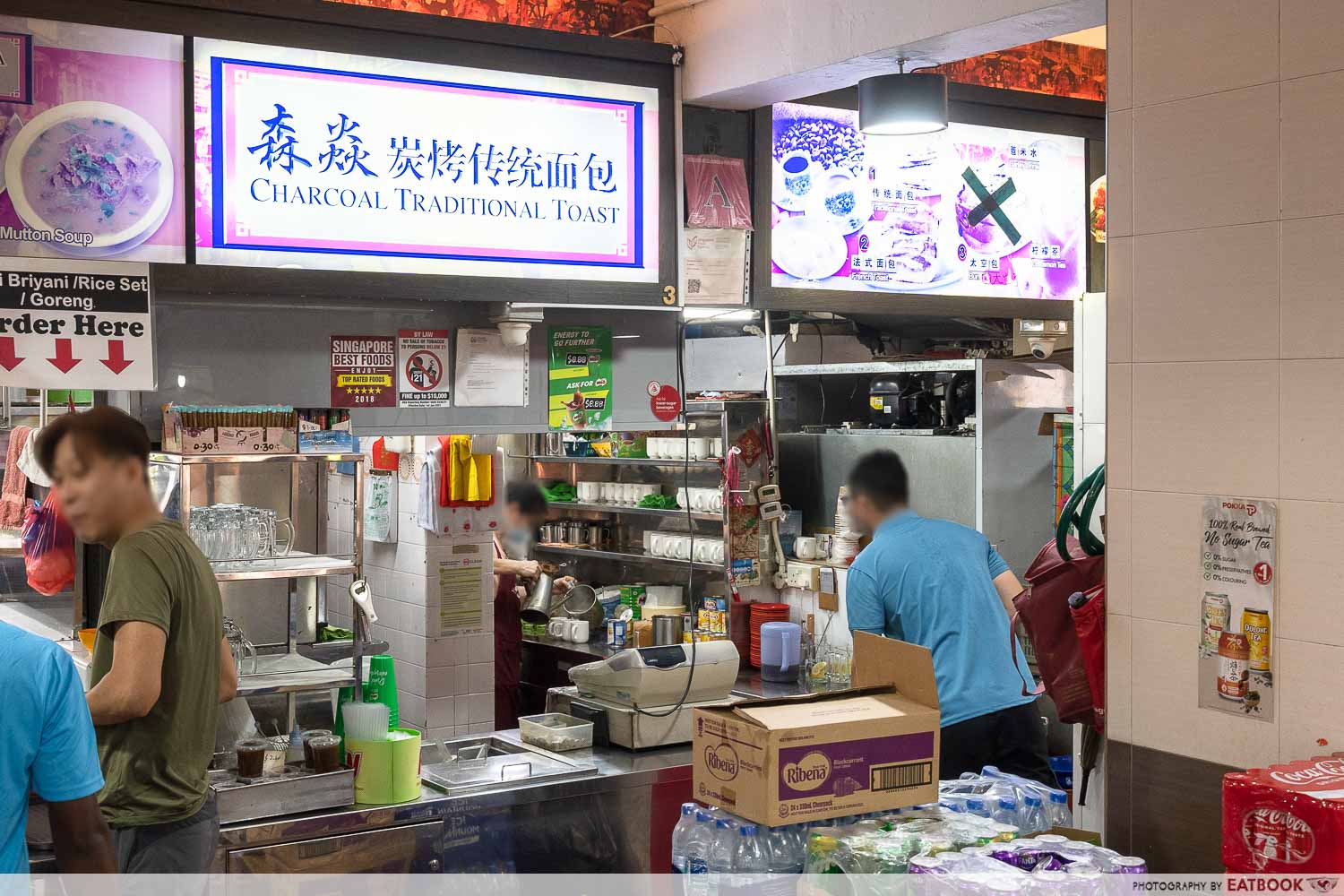 Located right beside Sin Ming Roti Prata in Jin Fa Kopitiam is hidden gem: Charcoal Traditional Toast, well-loved by residents in the area for its charcoal-toasted kaya buns. Prices here are also kept below $1.50, making it super affordable.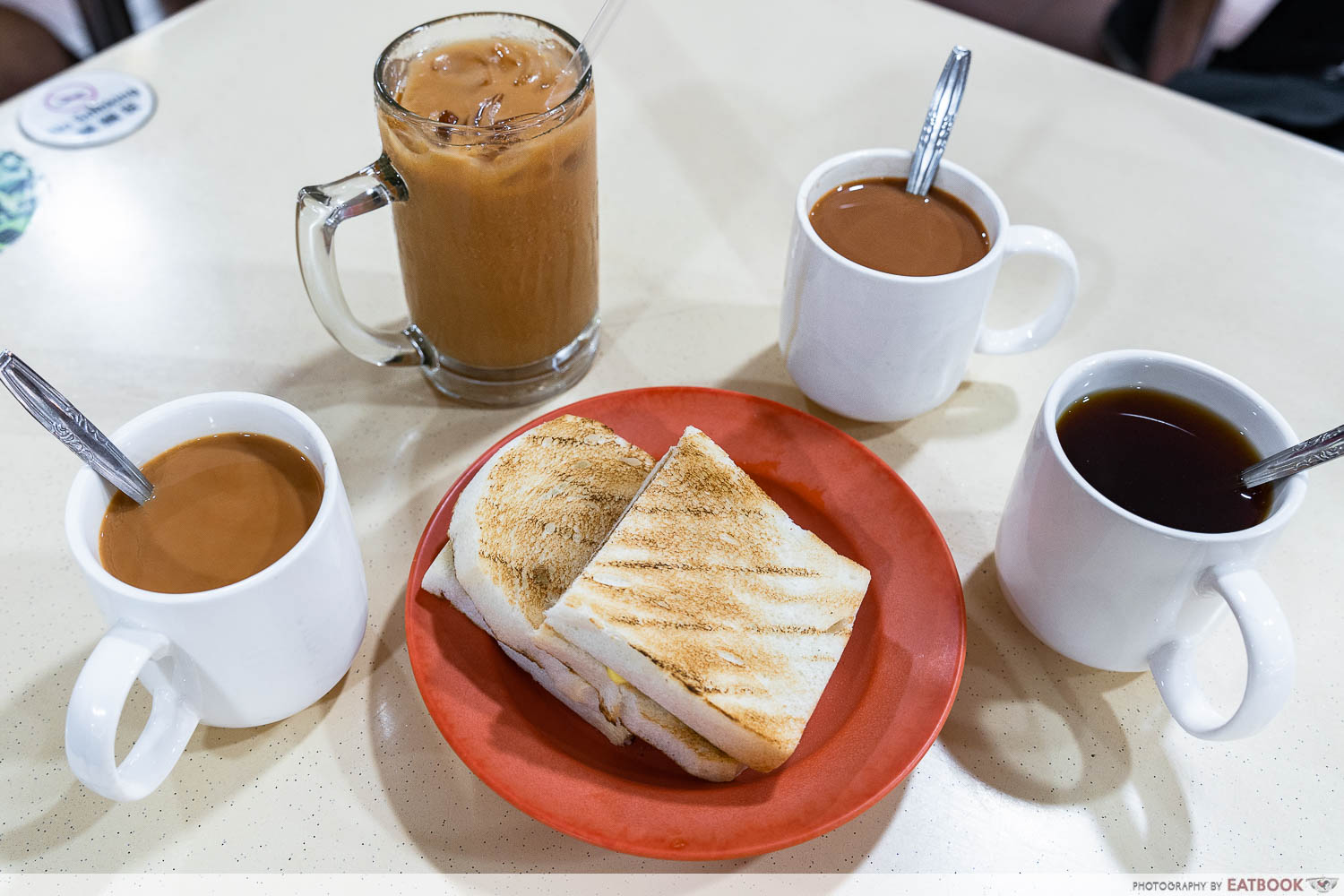 The kaya buns were unfortunately sold out that day, so we got the Kaya Toast ($1.40) instead, which was indeed, very delicious. The bread had a fragrant charcoal aroma and crispy exterior, with sweet kaya and salty butter slices nestled in between each slice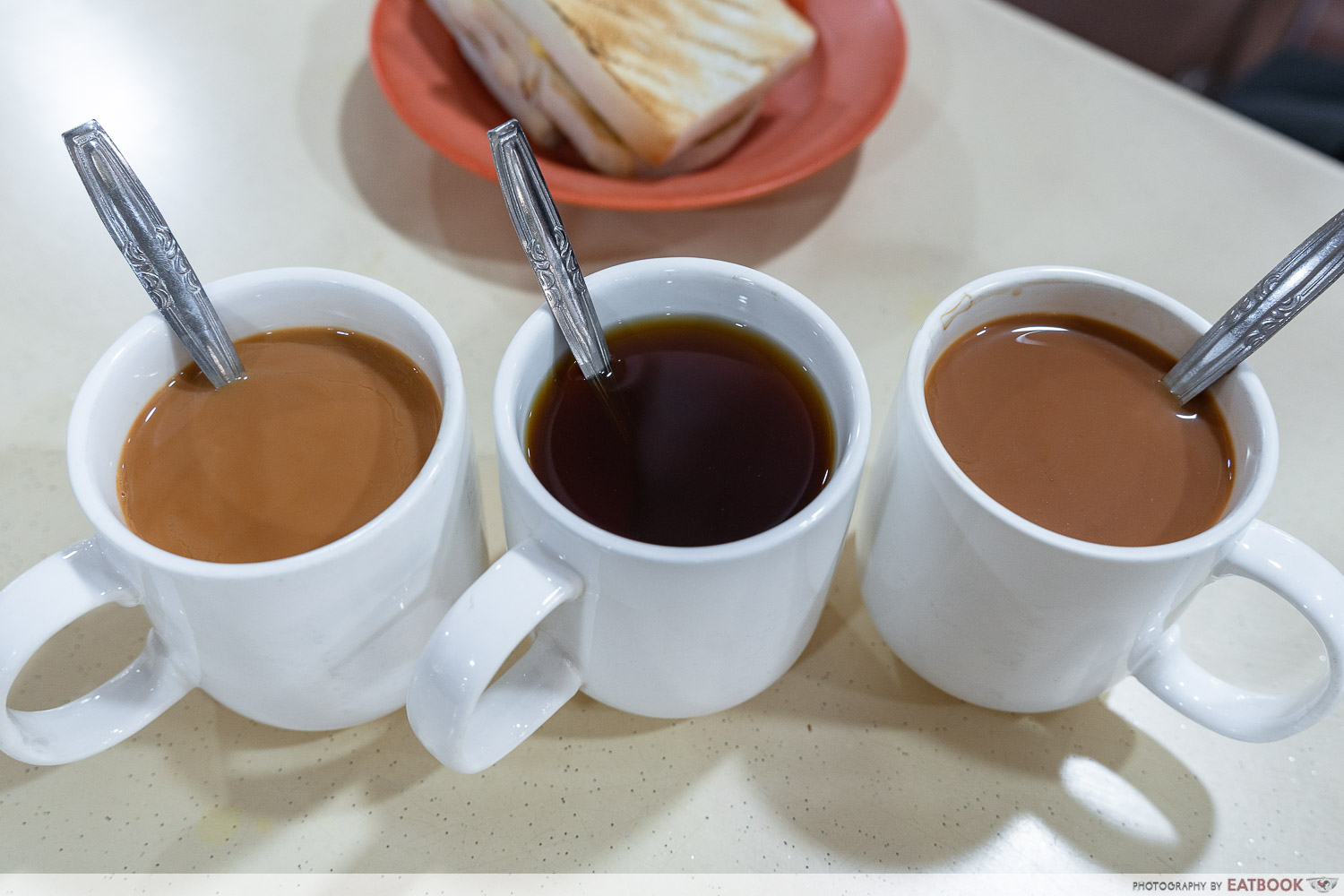 But of course, we're here to judge the Teh ($1.30), which turned out to be very pleasant. It was my favourite out of the bunch, for it had a good balance of evaporated milk and sugar that didn't overpower the tea flavour. It did, however, leave a mildly acidic aftertaste with each sip, which was consistent across all of the drinks we tried here. Their Teh C Siu Dai ($1.30) was a lot stronger though, with bitter notes shining through—even as someone who likes stronger brews, this was a little too much for me.
On the other hand, I felt the Teh Peng ($1.50) could have been more milky. Their Teh O ($1.20), however, was definitely the star of the show as it was the most well-balanced of the bunch.
Ratio: 3.25/5
Taste: 3.5/5
Value: 4.5/5
Total: 75%
Address: 24 Sin Ming Road, #01-51, Jin Fa Kopitiam, Singapore 570024
Opening hours: Mon-Fri 7am to 9pm, Sat-Sun 5:30am to 5pm
Website
---
5. Soon Kee Cafe
---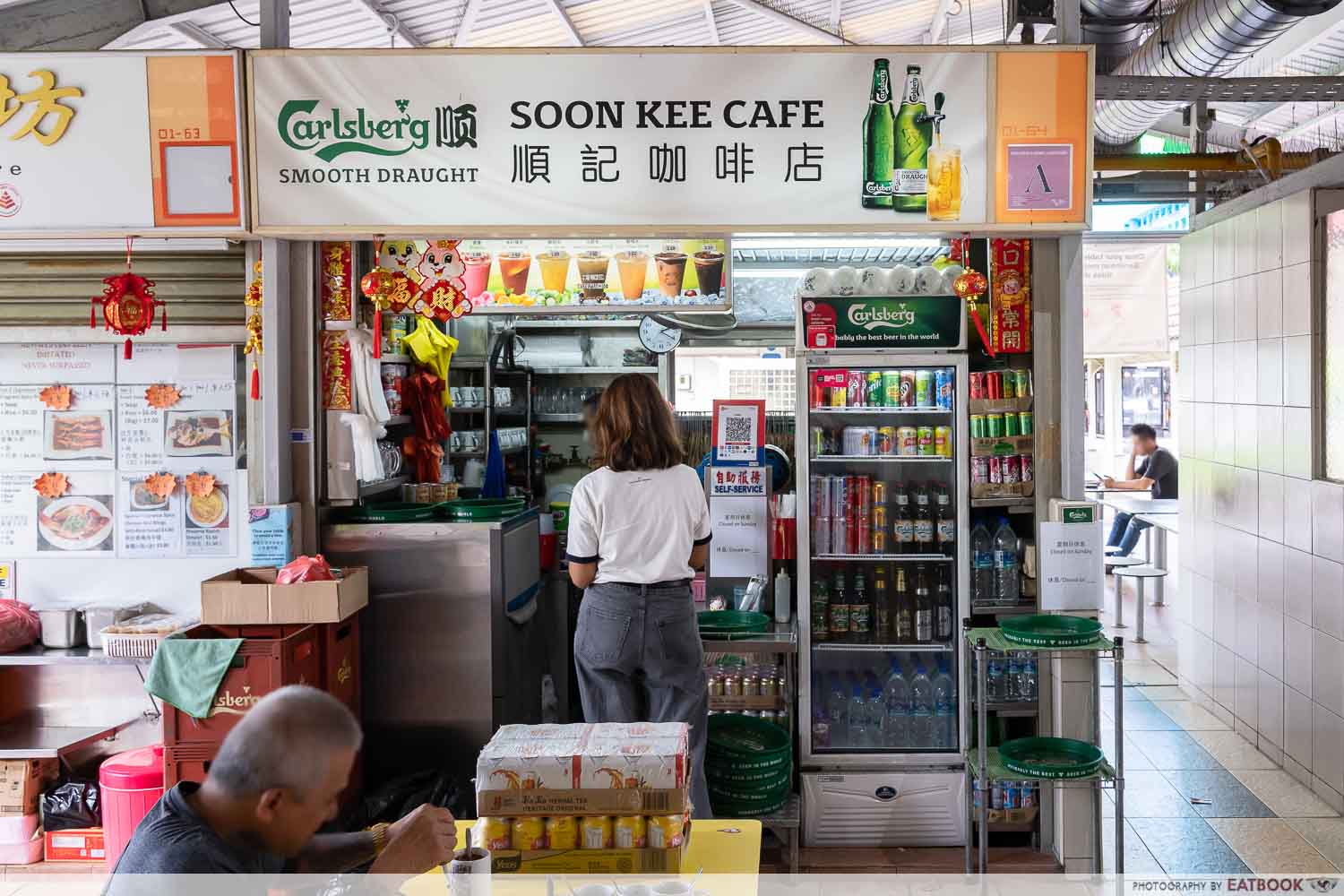 If you're on TikTok, you might have come across Soon Kee Cafe which went viral for their kopi and tea-making videos. They're located at Circuit Road Hawker Centre, and have got a variety of drinks to choose from, including teh cino, bandung, milo dinosaur and more.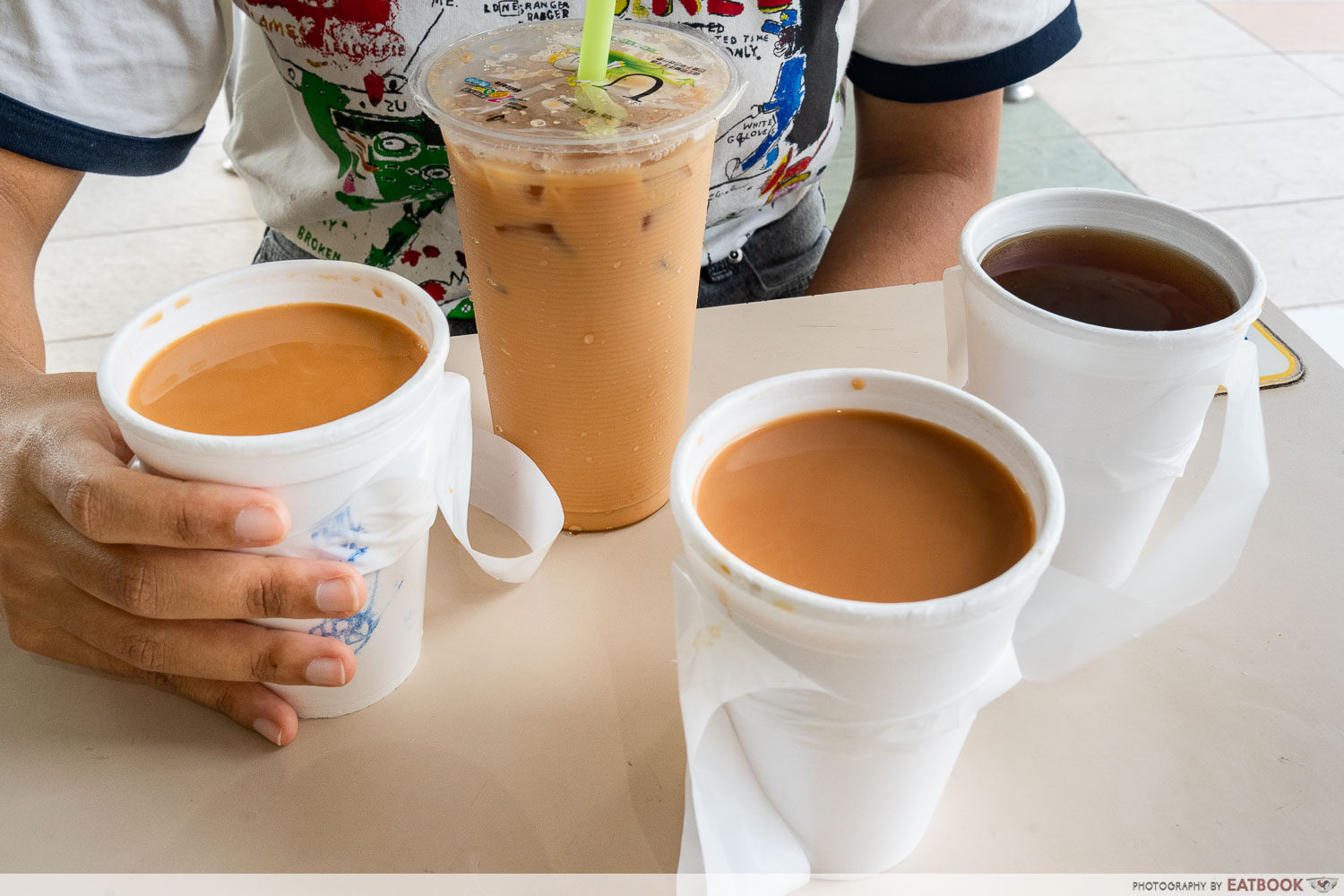 All the drinks we ordered were pretty decent and solid, and there wasn't much to criticise other than the fact that the Teh Peng ($1.70) was on the slightly pricier side. I'd still pay for it though, as the cup was relatively large, and the teh was balanced and delicious.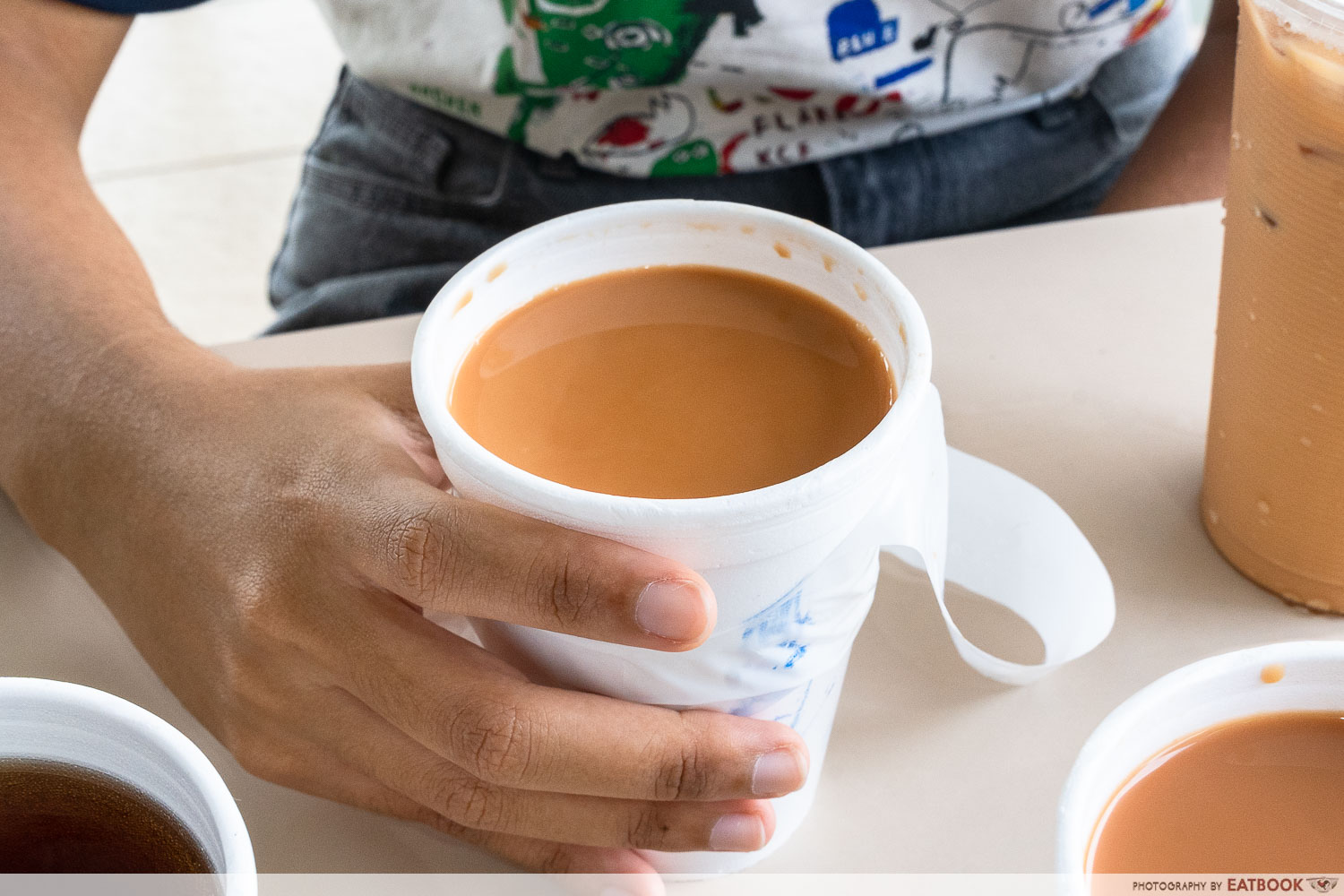 Their Teh ($1.40) was also great, as it was robust without being too intense and cloyingly sweet. If I were to nitpick, what was slightly lacking was the Teh C Siu Dai ($1.30), which was on the thinner side. Their Teh O ($1.20), however, had a mildly bitter and "siap" aftertaste.
Ratio: 3.75/5
Taste: 4.25/5
Value: 3.25/5
Total: 75%
Address: 79A Circuit Road, #01-64, Circuit Road Hawker Centre, Singapore 371079
Opening hours: Mon-Fri 8am to 4pm, Sat 8am to 2pm
Website
---
4. Da Zhong Cafe
---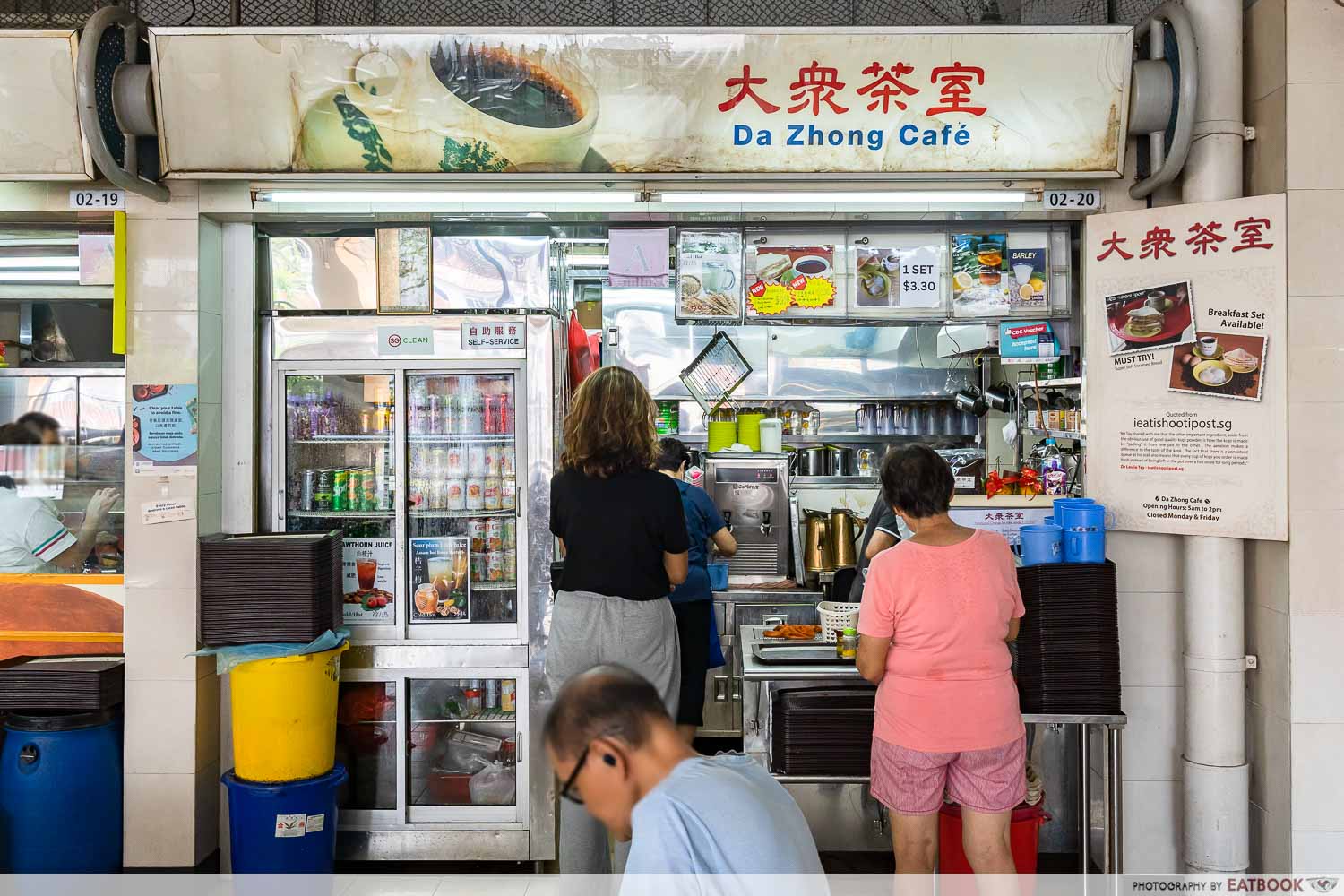 Next on the list is Da Zhong Cafe, located in Hougang. With over 50 years of experience in making traditional sock-pulled coffee and tea, the stall garners a long, steady queue daily.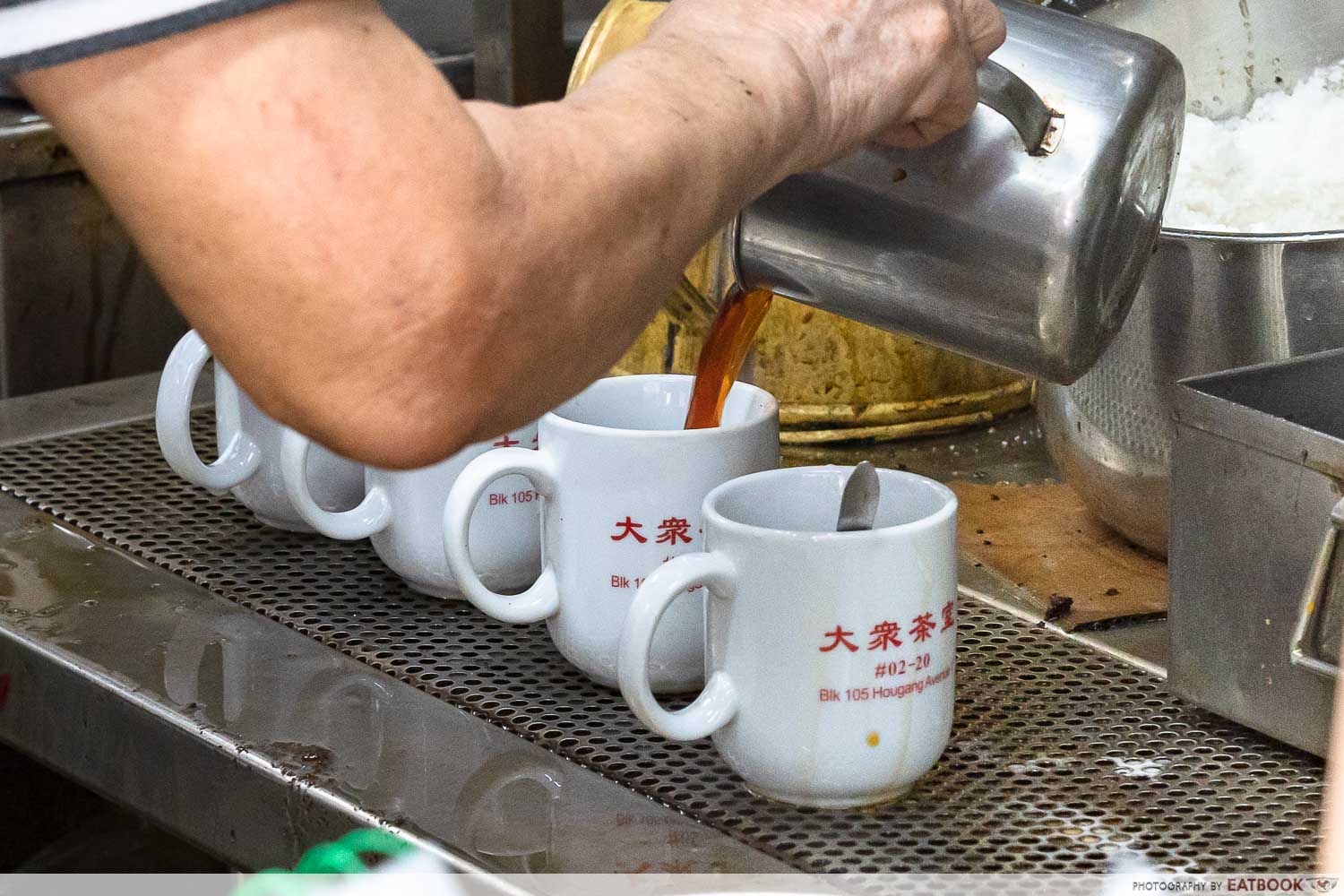 The owner also uses a "pulling" method to aerate the coffee and tea, which allows the natural aroma and flavour of the coffee beans and tea leaves to shine. Besides their excellent tea and coffee, patrons also love their kaya toast and soft-boiled eggs.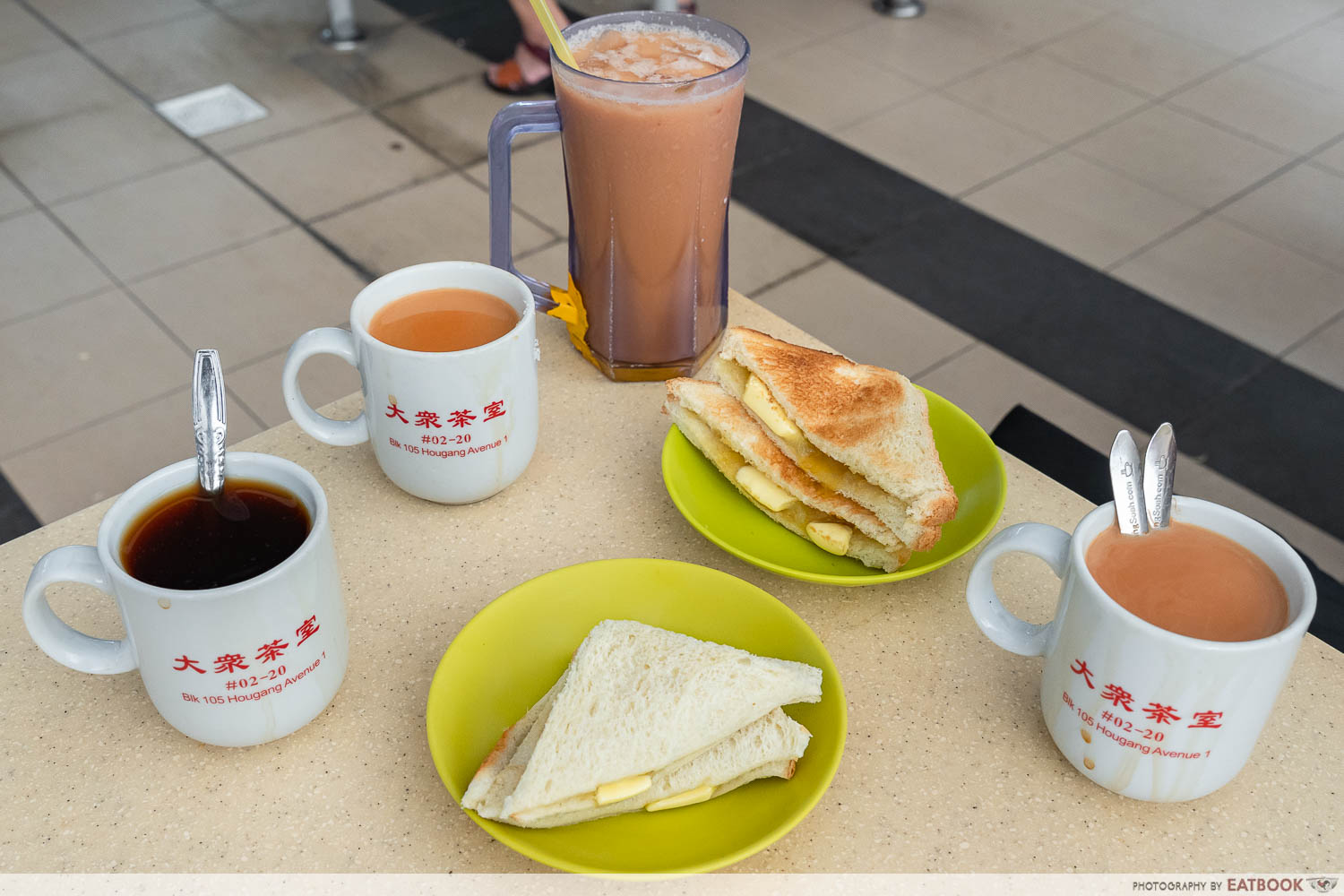 We enjoyed the Teh Set ($3.30), which came with kaya toast, soft-boiled eggs, and a drink of choice.
Just a heads up if you dislike strong brews: their Teh O ($1.10) packs an acidic and bitter punch. Both the Teh C Siu Dai ($1.30) and Teh ($1.20) were incredibly rich and full-bodied, with the tea taste being more pronounced as compared to the milk and sugar. The ice in the Ice Tea ($1.50) also melted way too quickly, which resulted in a thinned-out milk tea. Temperature aside, it was still fragrant, pleasantly sweet, and milky, so there isn't much I can fault with.
Ratio: 3.75/5
Taste: 4.25/5
Value: 4.5/5
Total: 83%
Address: 105 Hougang Avenue 1, Hougang Village Centre, Singapore 530105
Opening hours: Sat-Sun, Tue-Thurs 5am to 2pm
Website
---
3. Good Morning Nanyang Coffee
---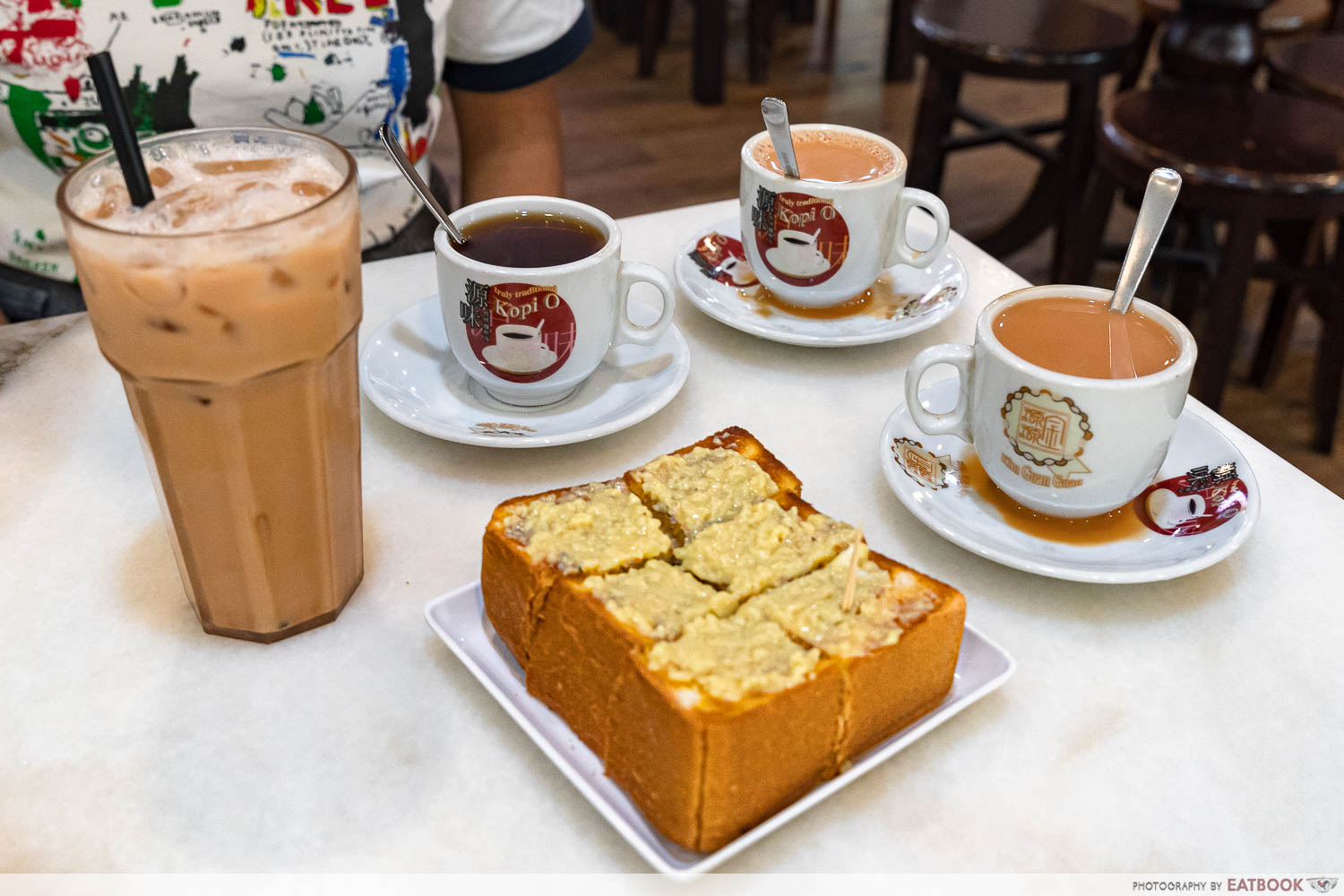 It was a tough fight in determining our top three picks, but Good Morning Nanyang Coffee deserves all its recognition for its Cold Tea ($2.90) AKA teh peng. Prices here are slightly more expensive, as they're located in town.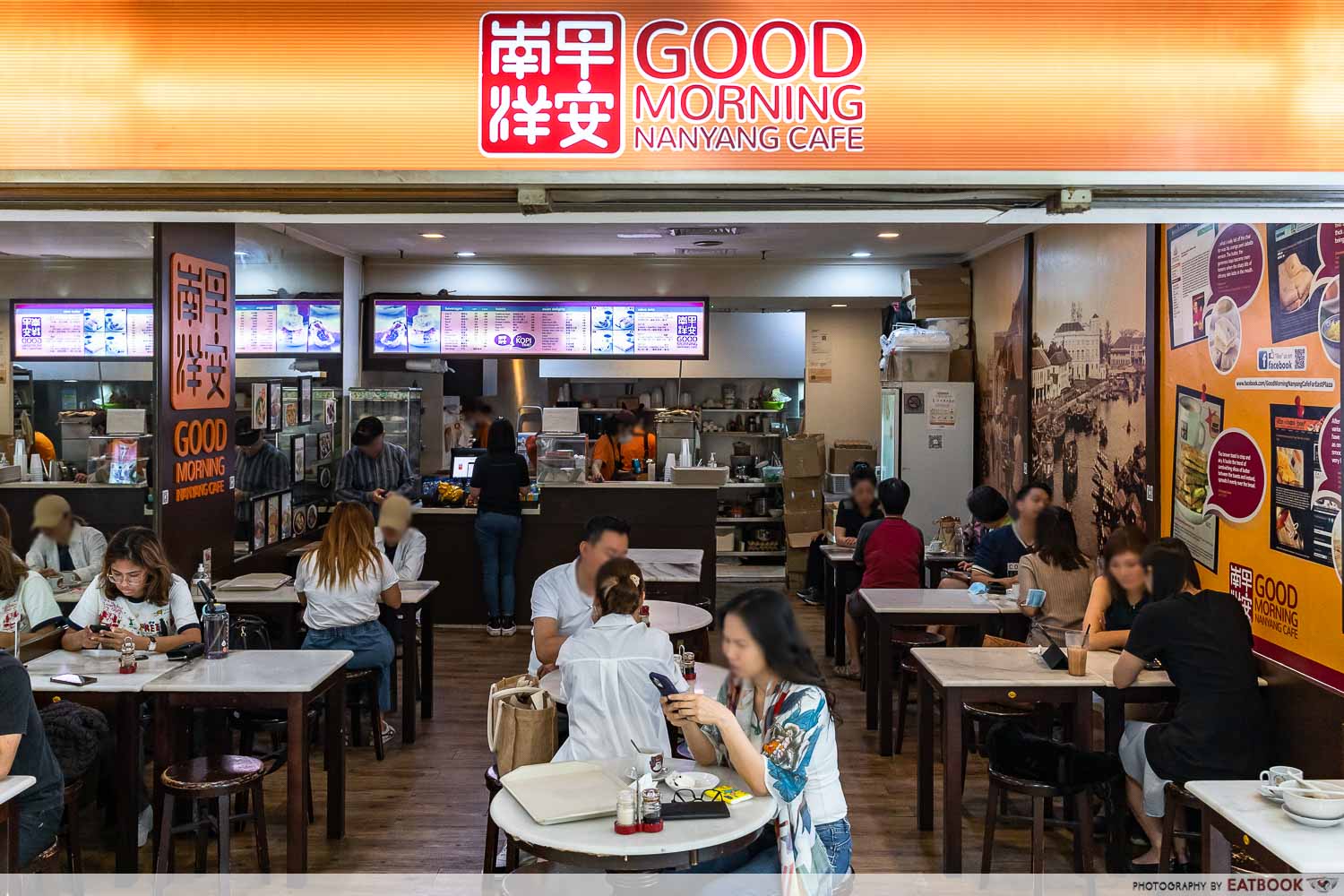 They're a popular breakfast spot tucked away in a corner of Far East Plaza, with plenty of Google reviews raving about their kaya toast, traditional Nanyang coffee, and teh.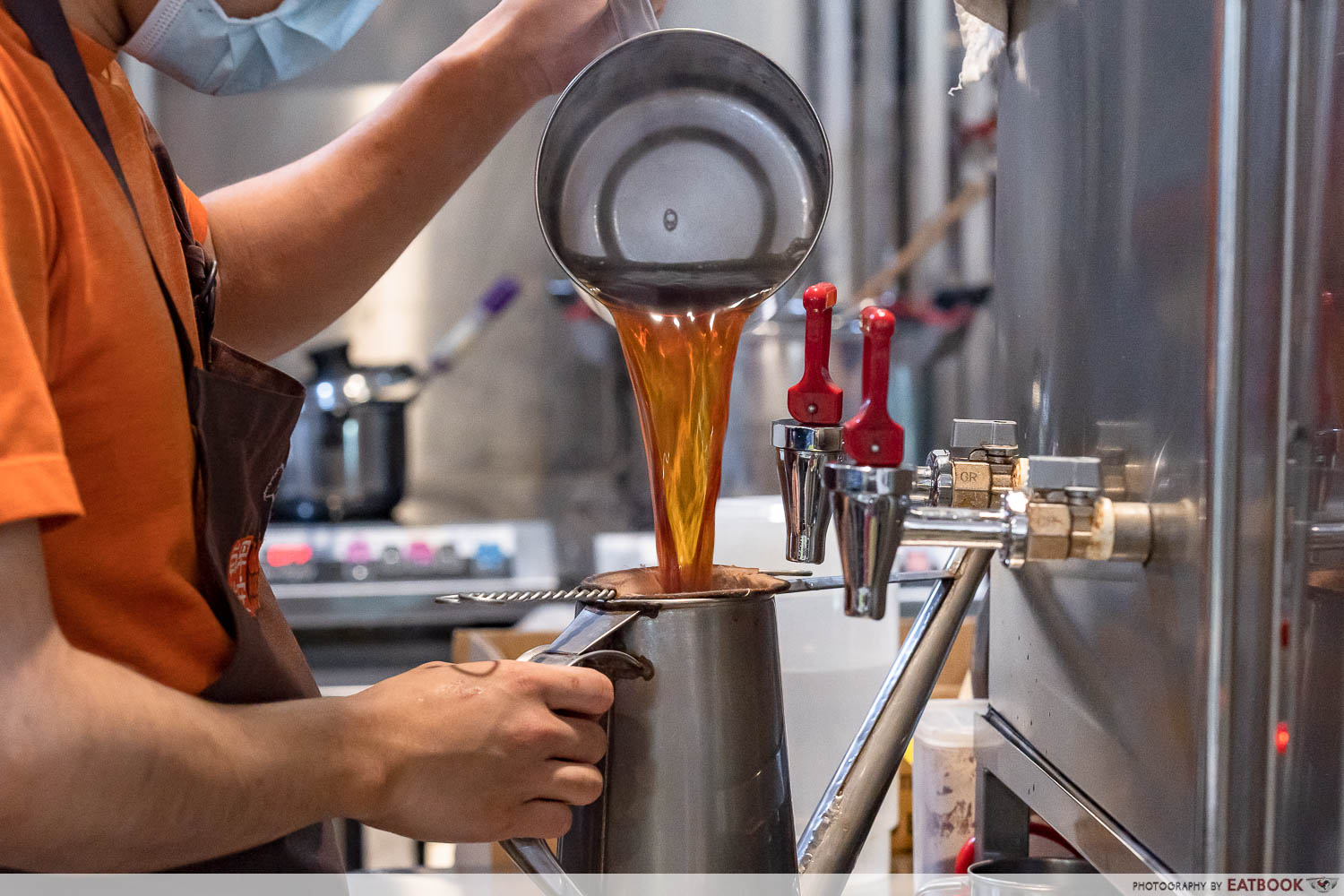 The place was relatively crowded when we arrived on a weekday morning, and the kiasu Singaporean in me somehow knew it meant there was good stuff to be found. Upon our first sip of their teh peng, my colleague and I immediately went, "Wah…" and took a moment to pause and appreciate our tea—it was simply that good. It boasted a smooth, milky, and mildly sweet taste, with the perfect ratio of ice to evaporated milk, and tea.
Their Teh C Siu Dai ($2.10) was equally delicious and served piping hot. The fragrant tea notes were the most prominent in this drink, and were perfectly complemented by the evaporated milk and sugar without being too overpowering or overly sweet.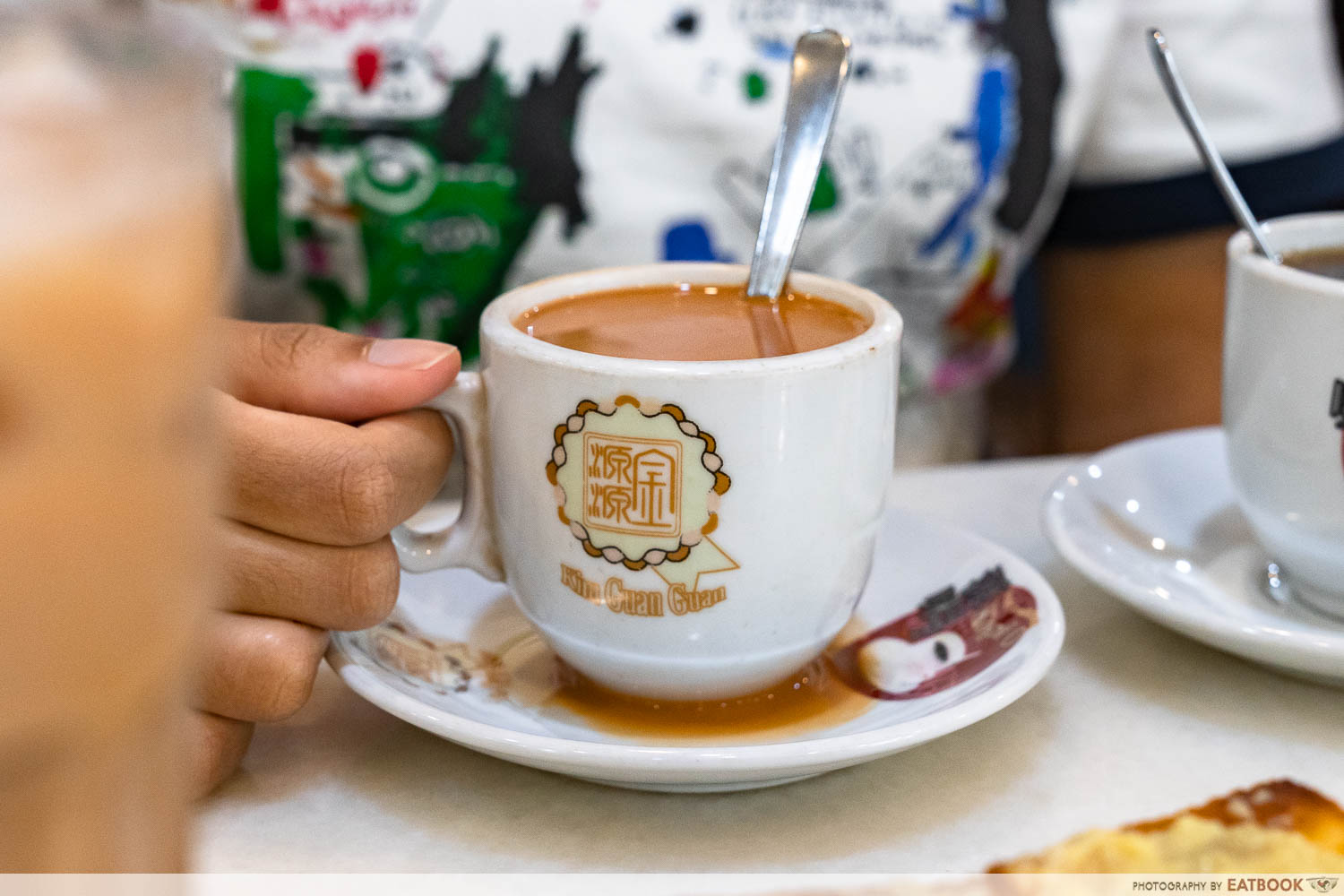 What we didn't enjoy as much though, was the Teh Halia ($2.70), which leaned sweet. I felt that its ginger taste was a bit muted too, for the spice only hits you after each sip. The tea notes of the Teh O ($1.70) could have also been stronger, although it hit the spot in terms of sweetness.
Ratio: 4.75/5
Taste: 4.75/5
Value: 3/5
Total: 83%
Address: 14 Scotts Road, #02-23, Far East Plaza,Singapore
Opening hours: Mon-Sat 8am to 8pm, Sun 8:30am to 8pm
Tel: 9650 3256
---
2. Tong Ah Eating House
---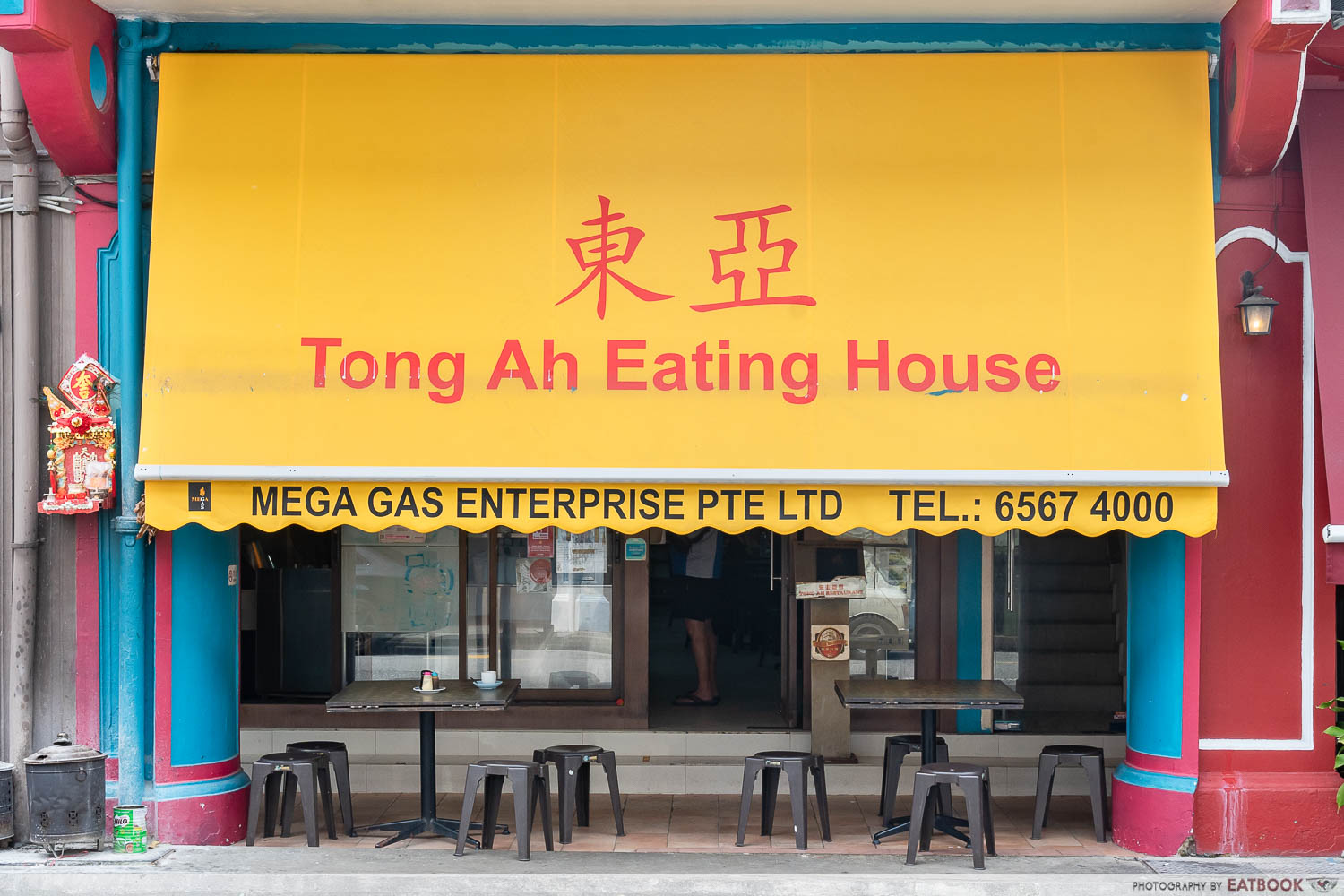 Tong Ah Eating House is one of the most famous spots in Singapore to get your hands on a classic Singaporean breakfast. They were originally located along Keong Saik Road, and they've since moved just a stone's throw away, drawing long queues almost daily. The eatery has been around since 1939, and when I finally tried their teh, I could understand why they were so popular.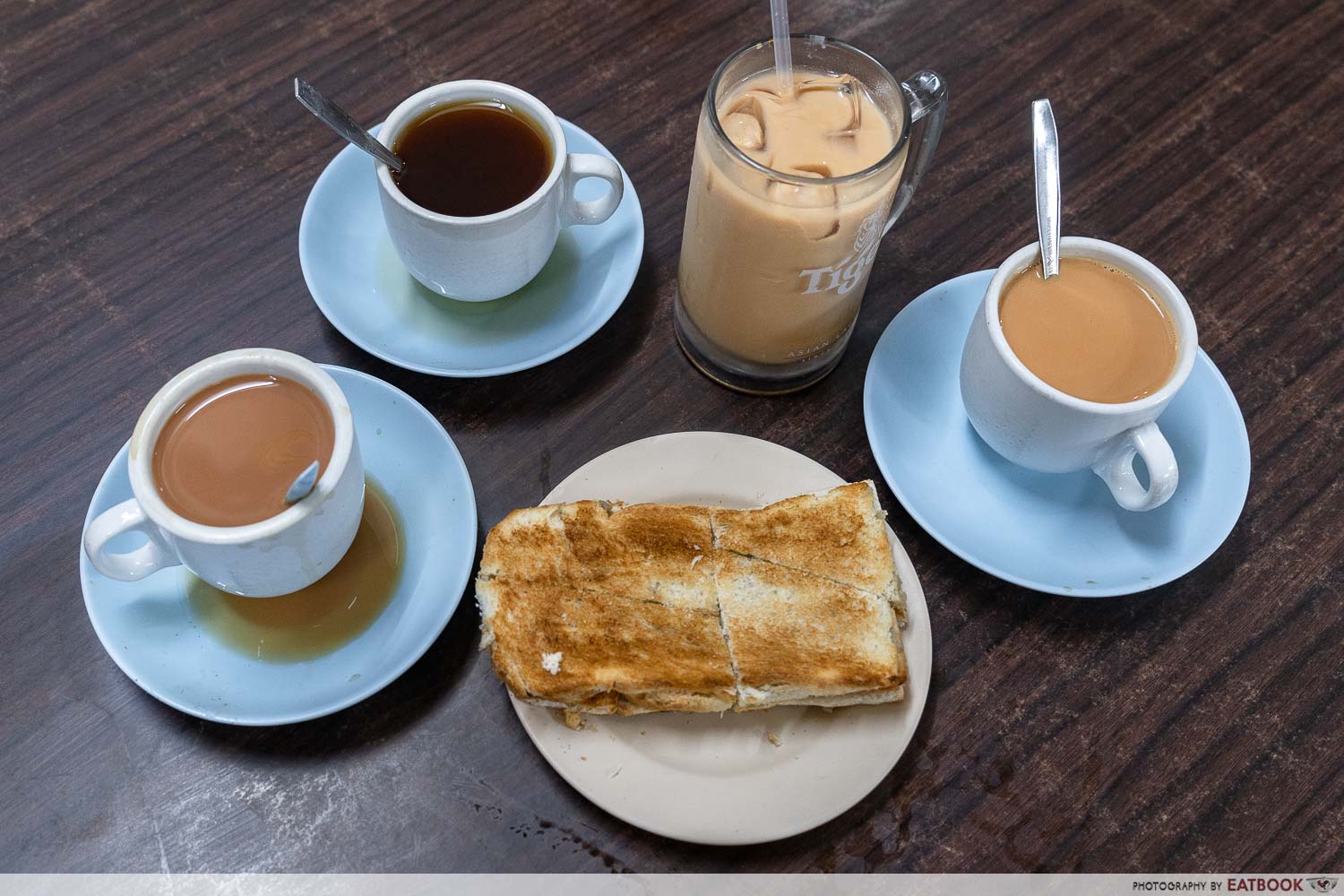 If there's one word to describe the drinks here, it would be "consistent". Our top pick at Tong Ah Eating House has to be their Teh ($1.90), which hit all the right spots—it had the right ratio of tea to milk and sugar. I loved that it was milky and smooth without that bitter aftertaste too.
Their Teh C Siu Dai ($2) also had similar traits, and it wasn't diluted or too thin at all. While I didn't mind that it wasn't too sweet, my dining companion felt that it was a tad bland for his liking.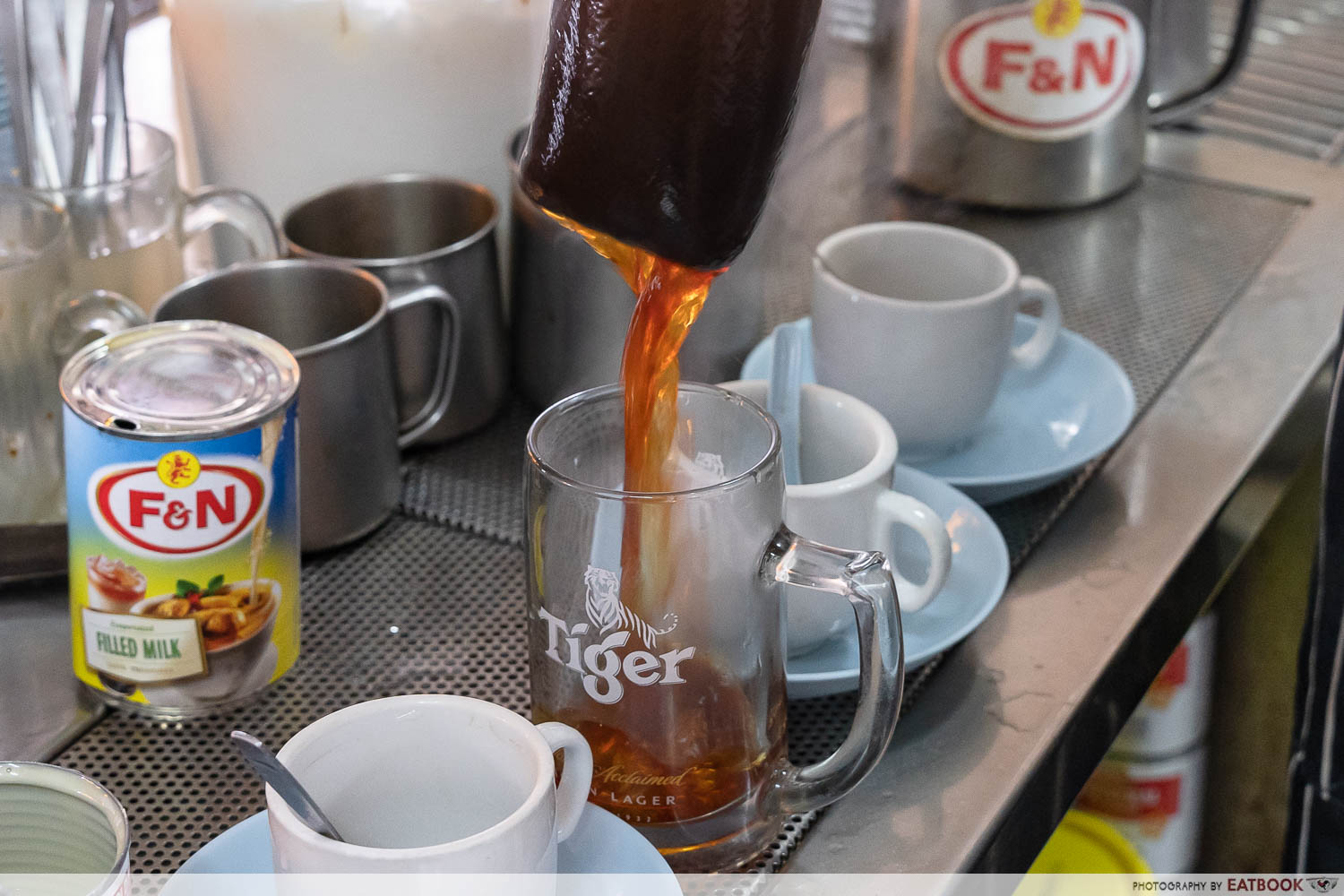 Otherwise, we enjoyed the Teh O ($1.80) too, which was very pleasant and comforting. Their Teh Peng ($2.40) was also pretty good, as it had that distinct creaminess and stronger tea taste that I was hoping for.
Their kaya toast also happened to be the best ones that we tried, as it had a beautiful golden-brown crust, with sweet and aromatic kaya and butter.
Ratio: 4.5/5
Taste: 4.75/5
Value: 3.75/5
Total: 87%
Address: 35 Keong Saik Road, Singapore 089142
Opening hours: Thurs-Tue 7am to 10pm, Wed 7am to 2pm
Tel: 6223 5083
Website
---
1. Wan Gui
---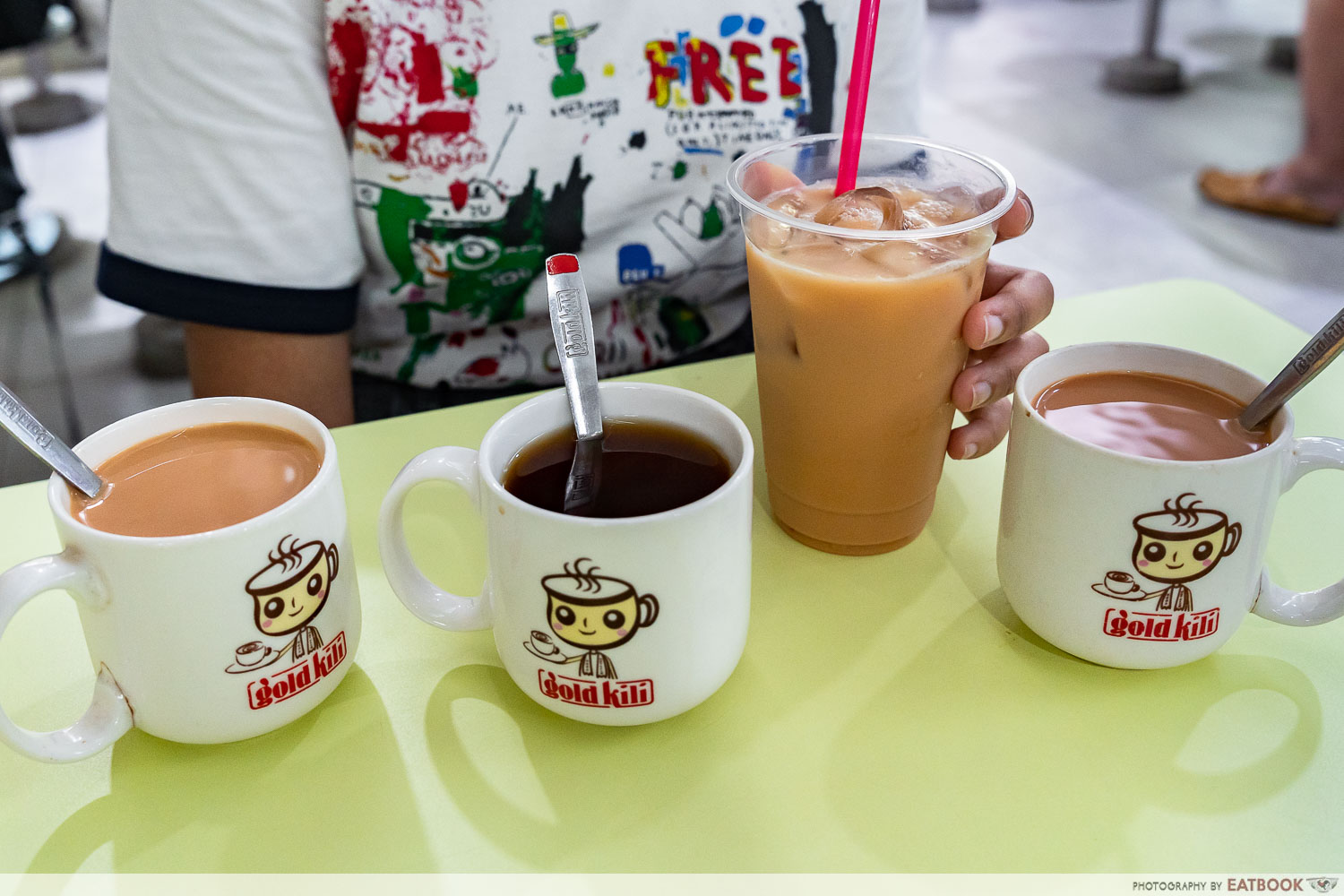 Wan Gui was one of the top five entries in our previous kopi listicle, and it has emerged as our top pick for the best teh. This under-the-radar Bendemeer Food Centre stall is a hot favourite amongst the Eatbook team, as it's located just minutes away from our office. The drinks here are one of the most affordable you can find, with prices as low as $1.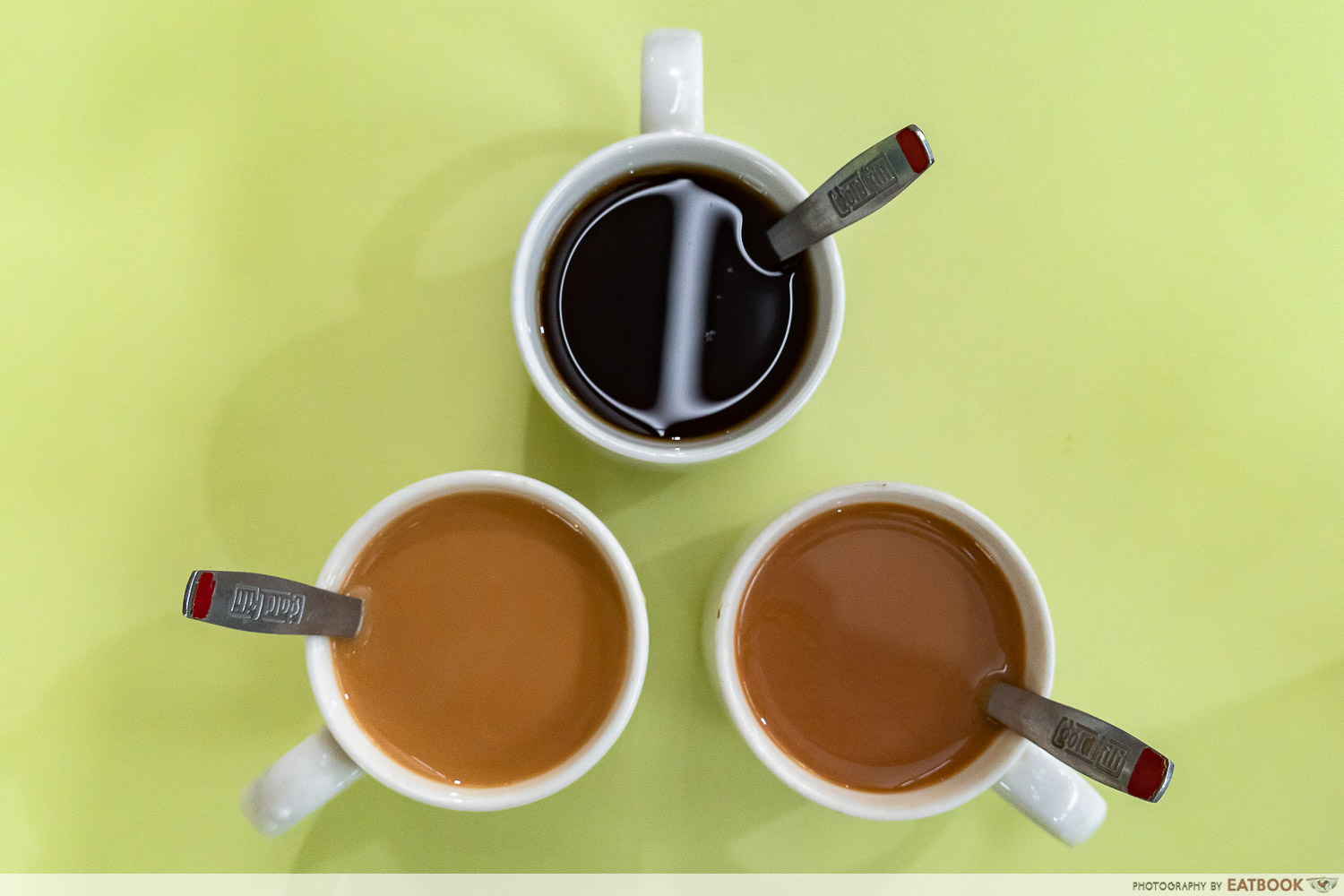 Each drink we tried here struck the perfect balance between all of our criteria listed. What stood out here was definitely the fragrance and taste of the tea—it was strong and full-bodied without being too overpowering. Their Teh ($1.10) had a great milky and smooth consistency, and was perfectly gao without leaving an astringent aftertaste on the tongue.
Their Teh C Siu Dai ($1.20) was where the tea taste shone the most, but its consistency was what impressed us—it was very silky and pleasant on the palate. This was also the case for their Teh O ($1), which boasted a light floral aroma and sweetness that highlighted the freshness of the black tea. I also appreciated that all of these drinks were served hot and not lukewarm, making it incredibly comforting.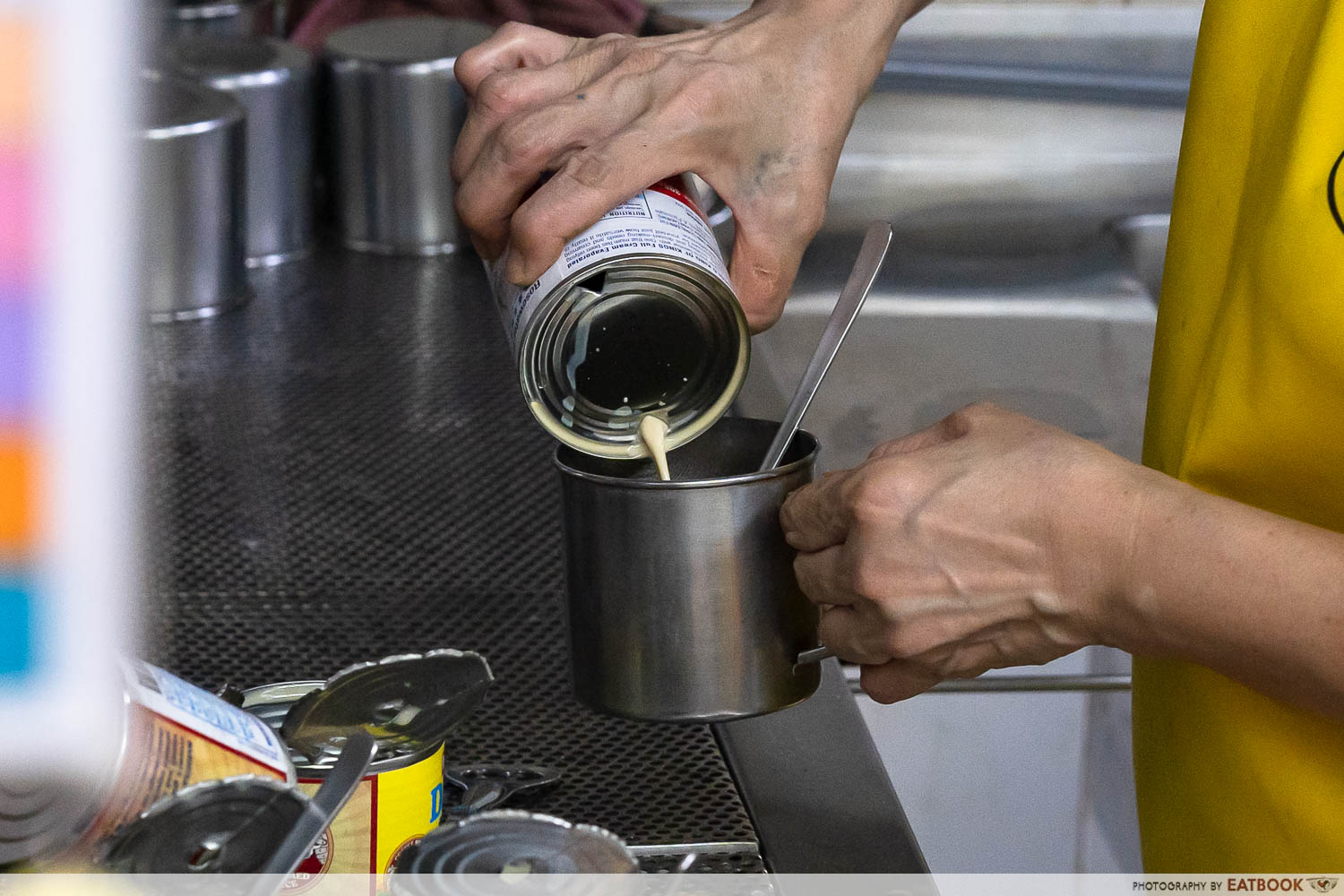 Our personal favourite had to be their Teh Peng ($1.30), which also happened to be the cheapest out of all the ones we tried. Cold, milky, and perfectly sweet—it's a refreshing drink that's value for money!
Ratio: 4.75/5
Taste: 4.75/5
Value: 5/5
Total: 97%
Address: 29 Bendemeer Road, #01.07, Bendemeer Market & Food Centre, Singapore 330029
Opening hours: TBD
---
Where to get the best teh in Singapore
---
With that, we've ranked the 10 best places to get teh in Singapore! As with all ranked listicles, it is purely subjective, so some of the ones we've recommended might not be your cup of tea. However, we're always on the lookout for more delicious food and drinks, so do let us know if you've got any suggestions!
Otherwise, check out our ranked list of the 10 best kopi places in Singapore. If you love old-school waffles, we also have a ranked list of the 10 best old-school waffles in Singapore!
10 Best Kopi Stalls in Singapore Ranked, Including One With 58 Years Of History
Photos taken by Jasper Juay.
This was an independent article by Eatbook.sg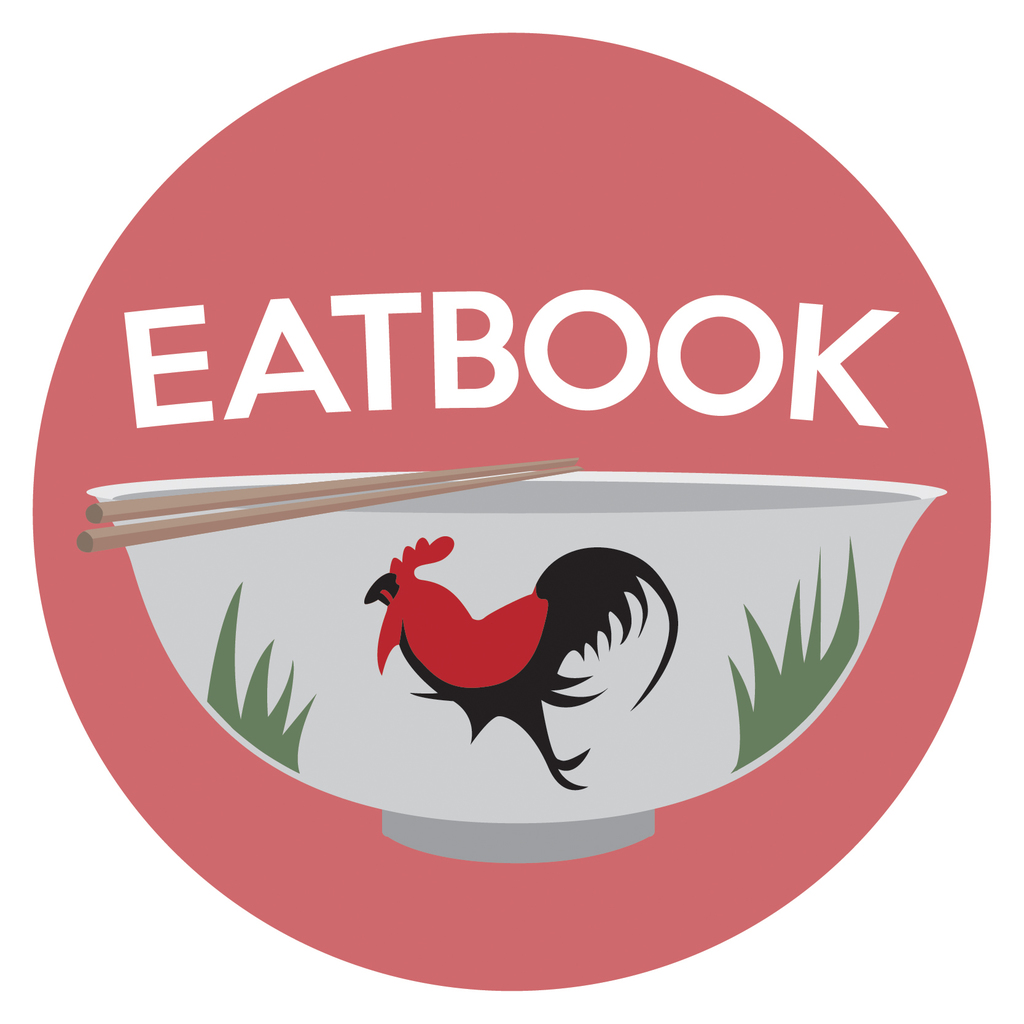 Drop us your email so you won't miss the latest news.