BIG BOYS Sizzling at Beauty World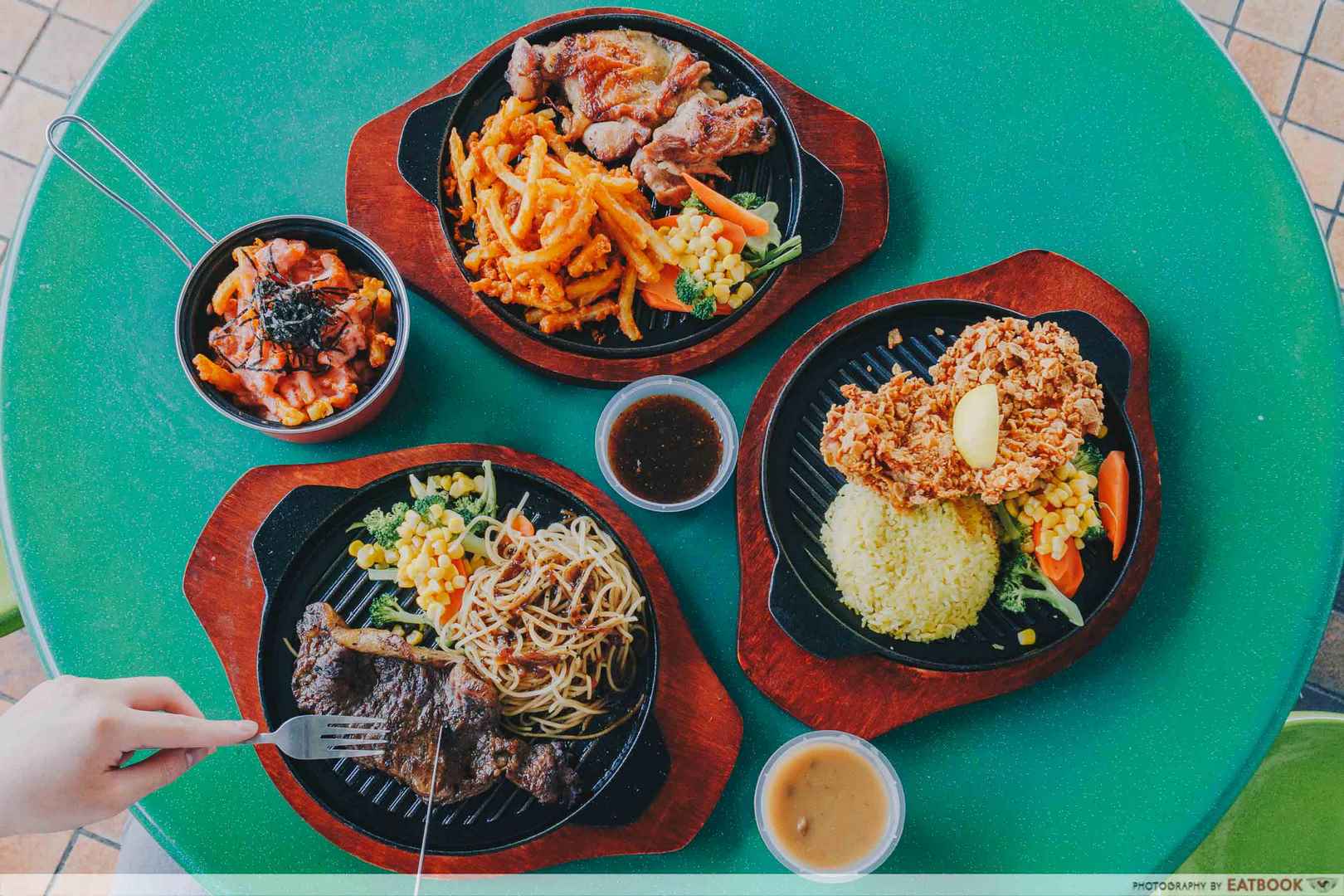 My girlfriend and I were having ramen at Buta Kin when we stumbled upon BIG BOYS Sizzling. It felt like just another token Western stall – except it's not. We quickly realised that the owner once worked in The Ritz-Carlton as a commis  chef and has since run a few cafés.
Colony Review: Most Value-For-Money Hotel Lunch Buffet With Snow Crab, Dim Sum And More
What really held my attention was that the dishes were mostly under $10, yet came in large portions. Being a chump for all things cheap and huge, I knew a review had to be done for BIG BOYS Sizzling.
Food at BIG BOYS Sizzling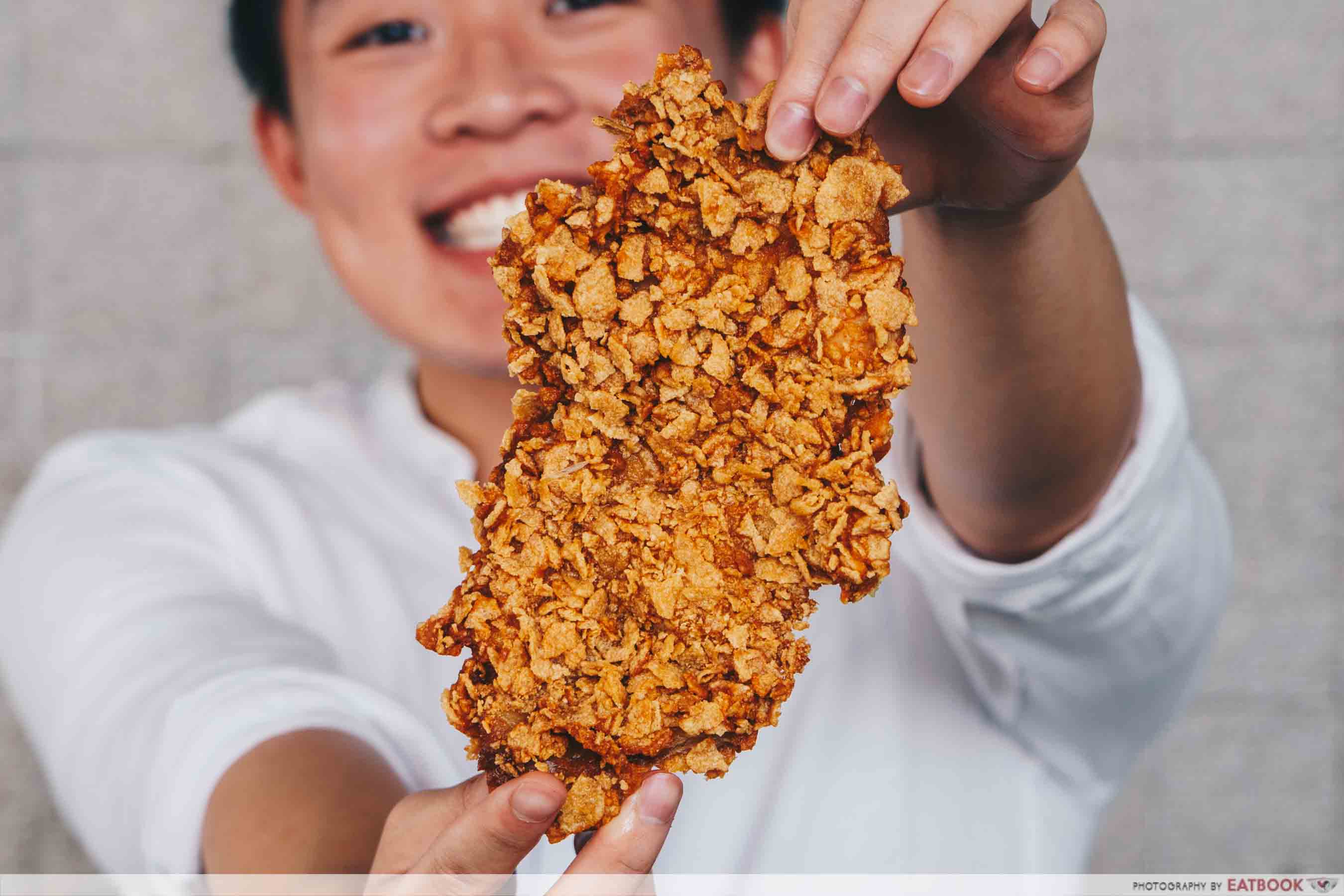 Let's start by saying how huge this Cornflake Chicken ($7.90) is. Holding it up to my head, the chicken easily stretched across my face.
Despite my apparent enthusiasm, I'm not usually a proponent of large cutlets. Improper equipment and cooking techniques usually render a soggy crust.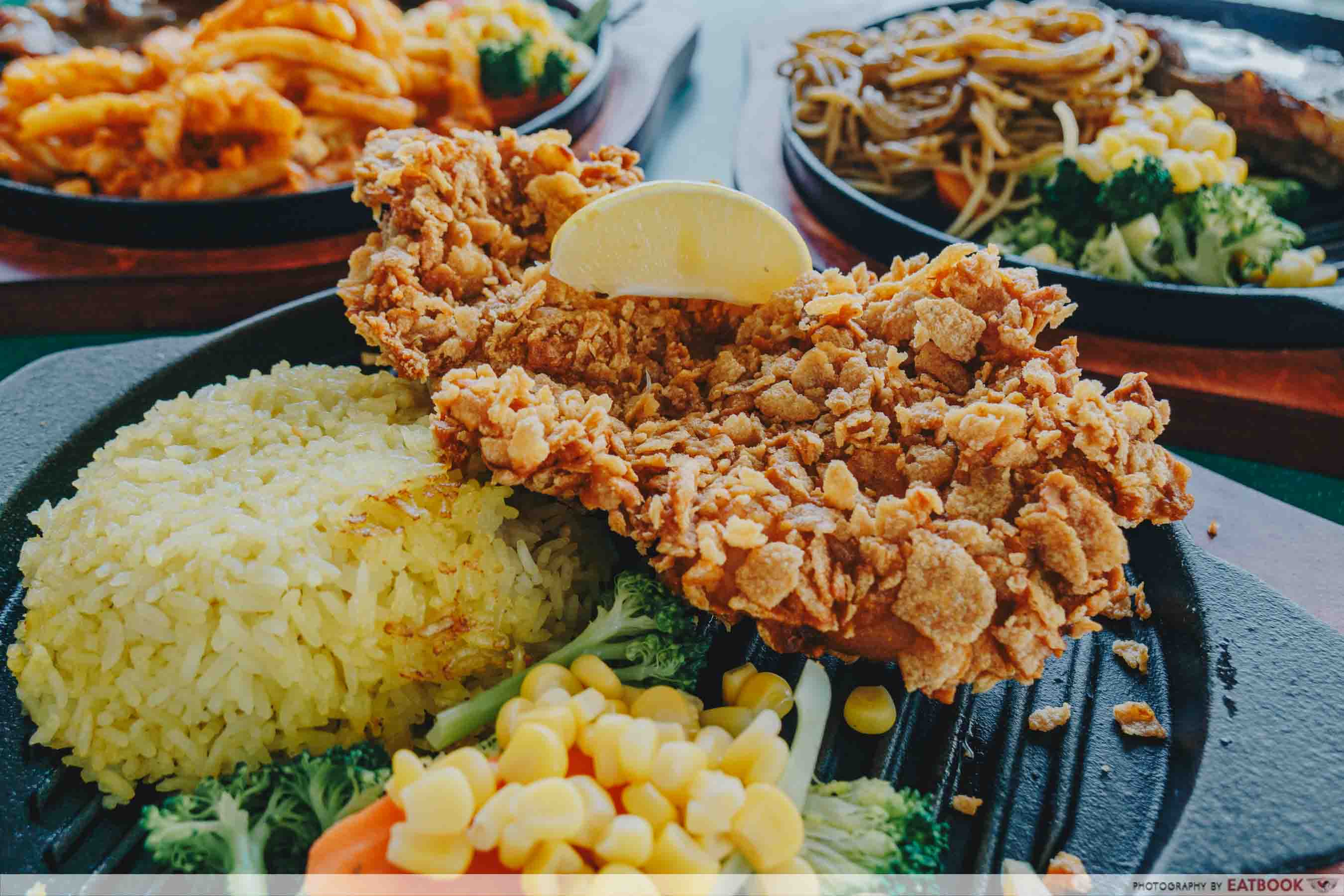 Thankfully, this cutlet was anything but soggy. It had a crispy crust that was reinforced by the crunchy cornflakes.
Our chef described the crust as a hybrid between the batter used in goreng pisang and fish and chips. Indeed, you do see these elements in the cutlet; its crusty ridges scream goreng pisang, and the lightness reminds you of fish and chips.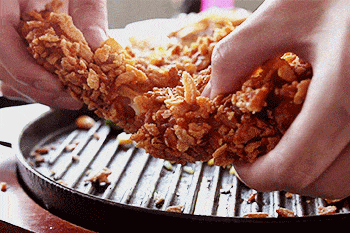 As I tore the chicken apart, the cornflakes crust shattered across the table, revealing a glistening chicken thigh.
Tasting it, I was reminded of har cheong kai —  just without the funk of shrimp paste. There was an oomph of umami that struck me on every bite.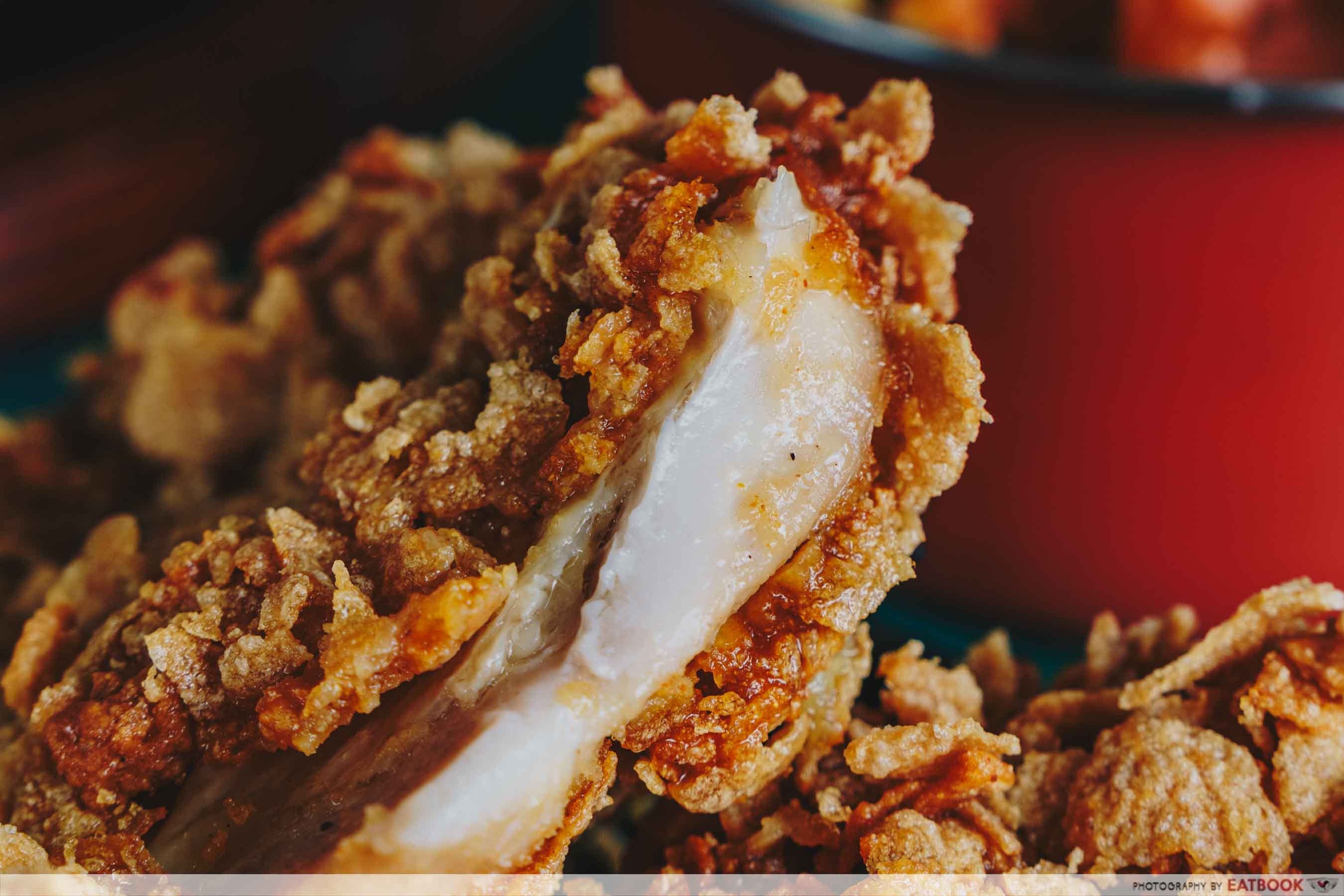 Chicken oil also oozed from the flesh, making every mouthful extra unctuous. Because they used thigh meat, the cutlet was tender yet firm to the bite.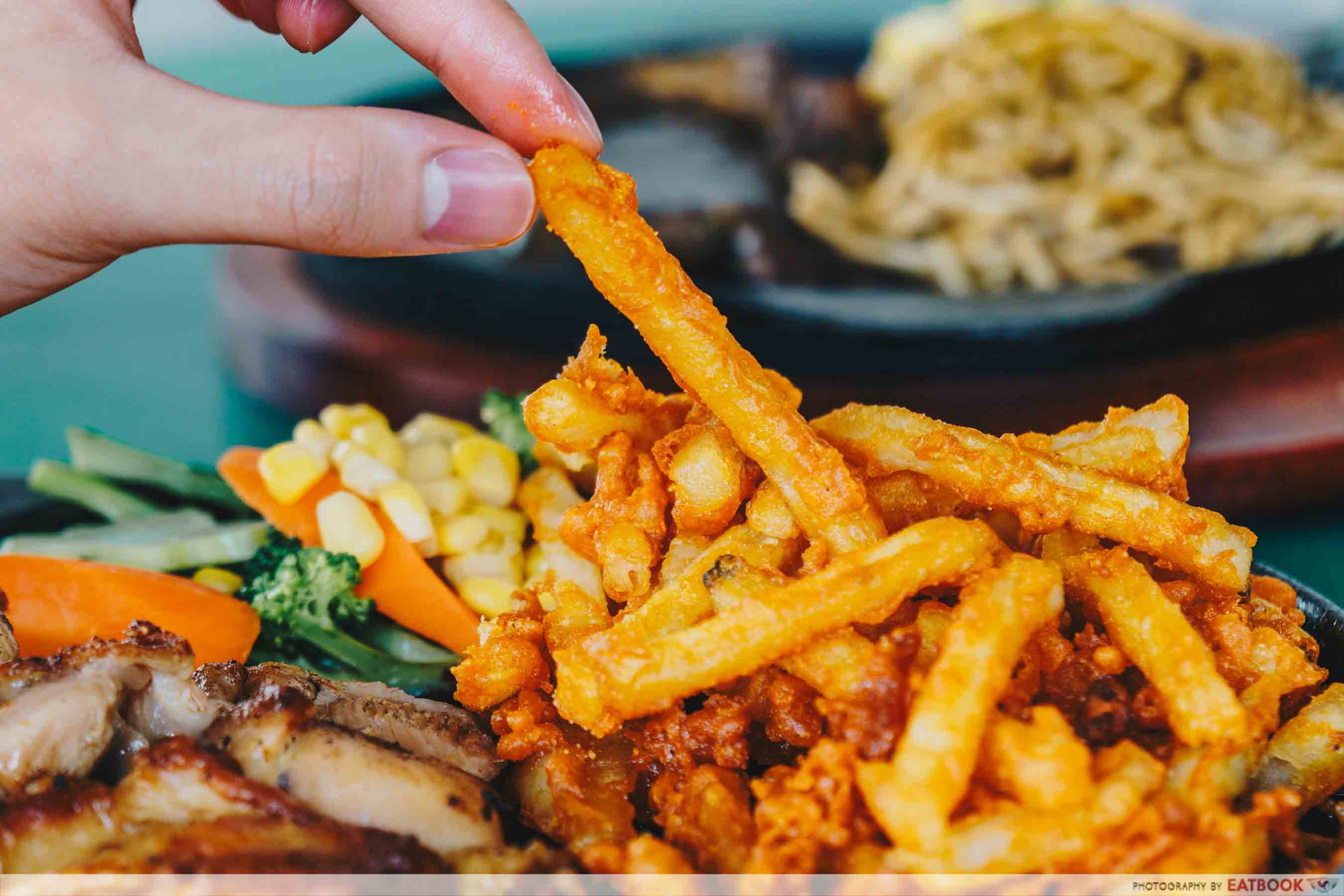 The same batter was also used in the fries. The result is a porous and crispy shell that juxtaposed beautifully against the soft, pillowy potato centre.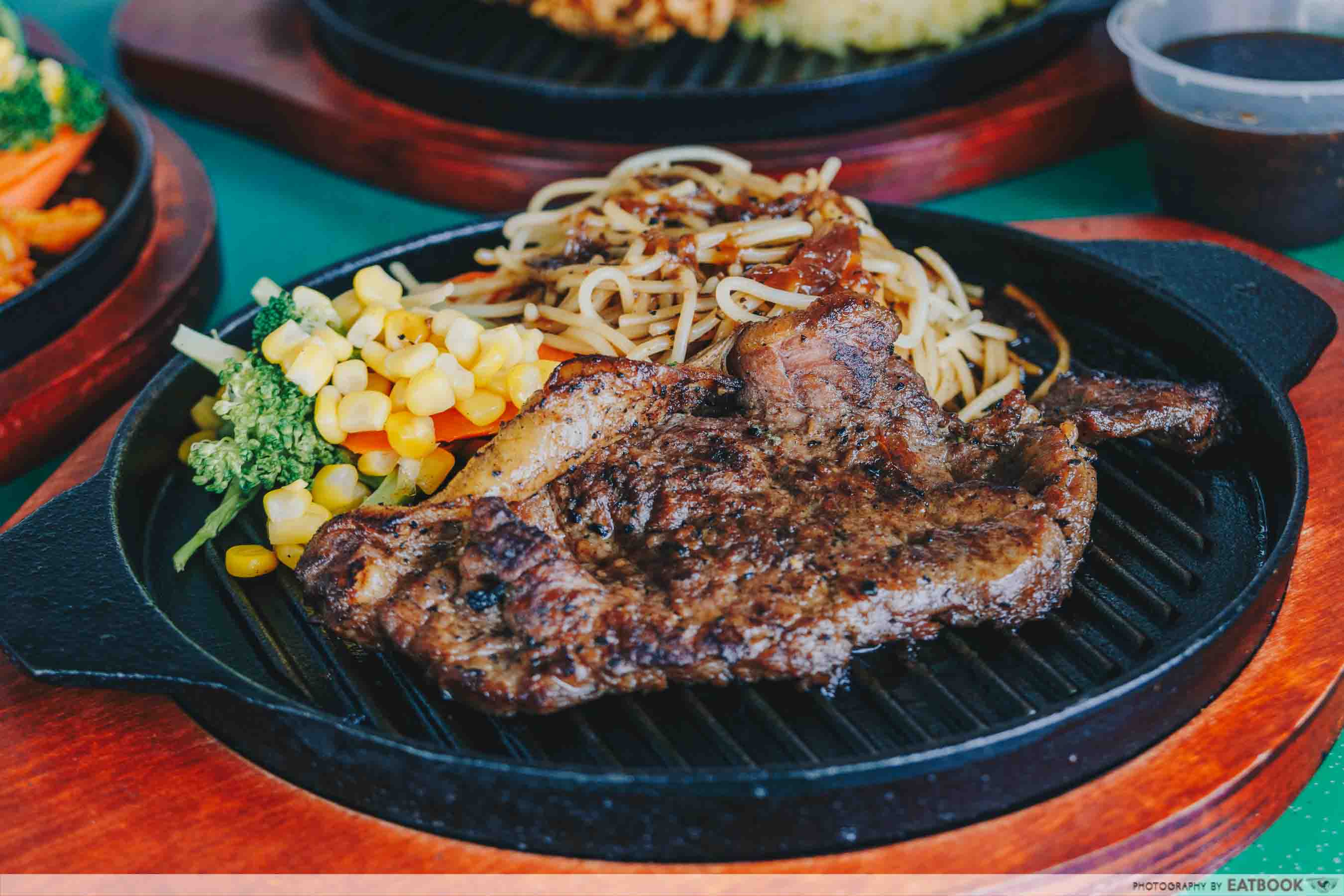 The New Zealand Sirloin Steak ($9.90) came sizzling in a cast iron hot plate with a light smoky perfume emanating from the beef.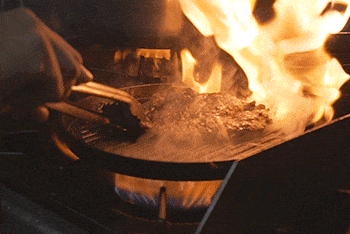 We soon realised that the char came from a flambé. It's a French technique used to impart a depth of layer to the dish — a throwback to the chef's Ritz-Carlton days.
Its impact on flavour was impressive. The steak had a certain smokiness, oddly reminiscent of Korean barbecued meats. That said, I was somewhat disappointed by the beef's texture. There was too much gristle, and it lacked the tenderness I have come to expect from New Zealand cattle.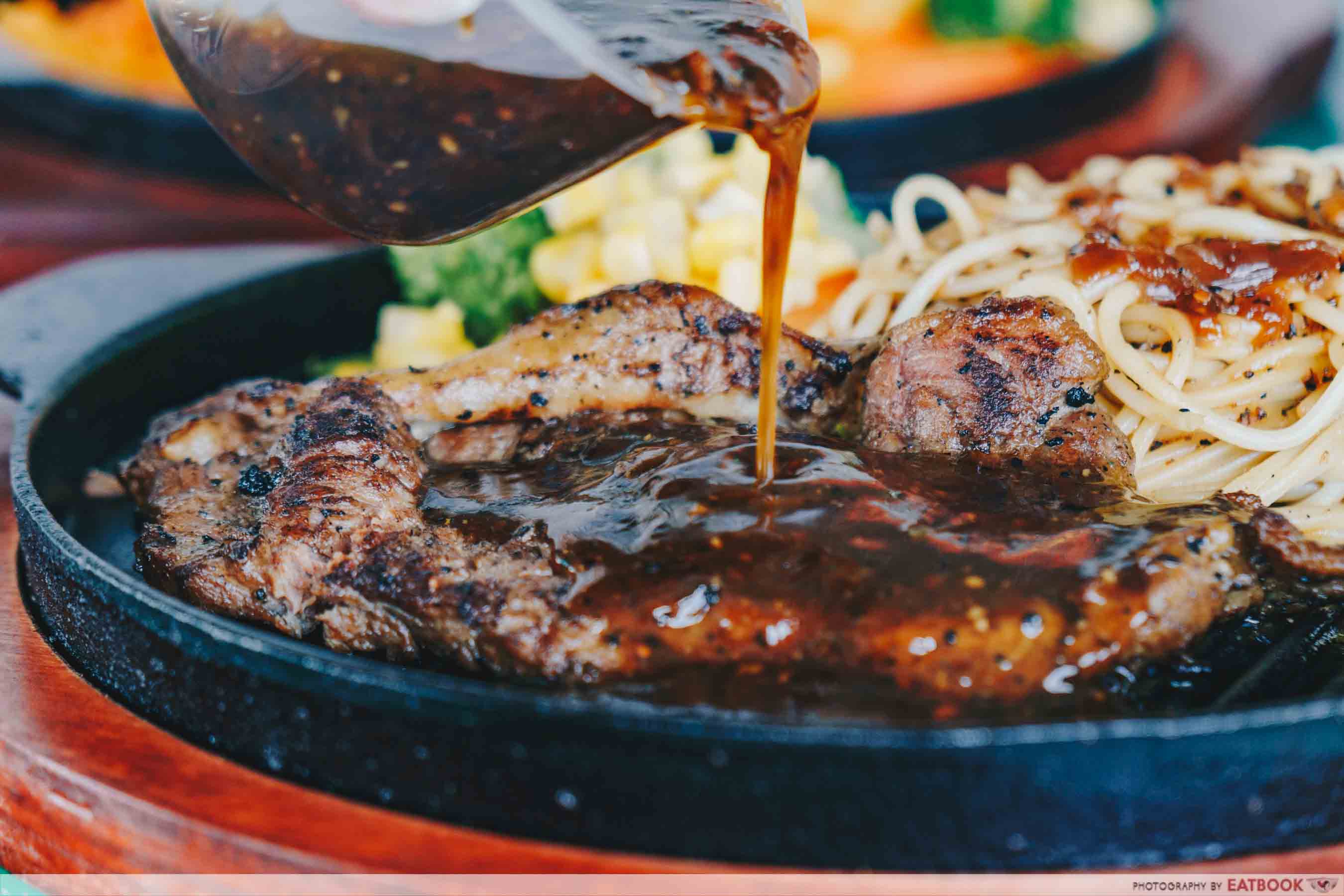 Personally, I refuse to put any sauce on my steak, as it just ruins the beef. Yet, for the purpose of a good picture, our producer insisted we pour the Black Pepper Sauce. I'm thankful she did.
This sauce is made from Sarawak pepper, ground on a mortar and pestle. A spicy kick first hits you, followed by notes of thyme, citrus and chocolate. We were in awe of the complex flavours.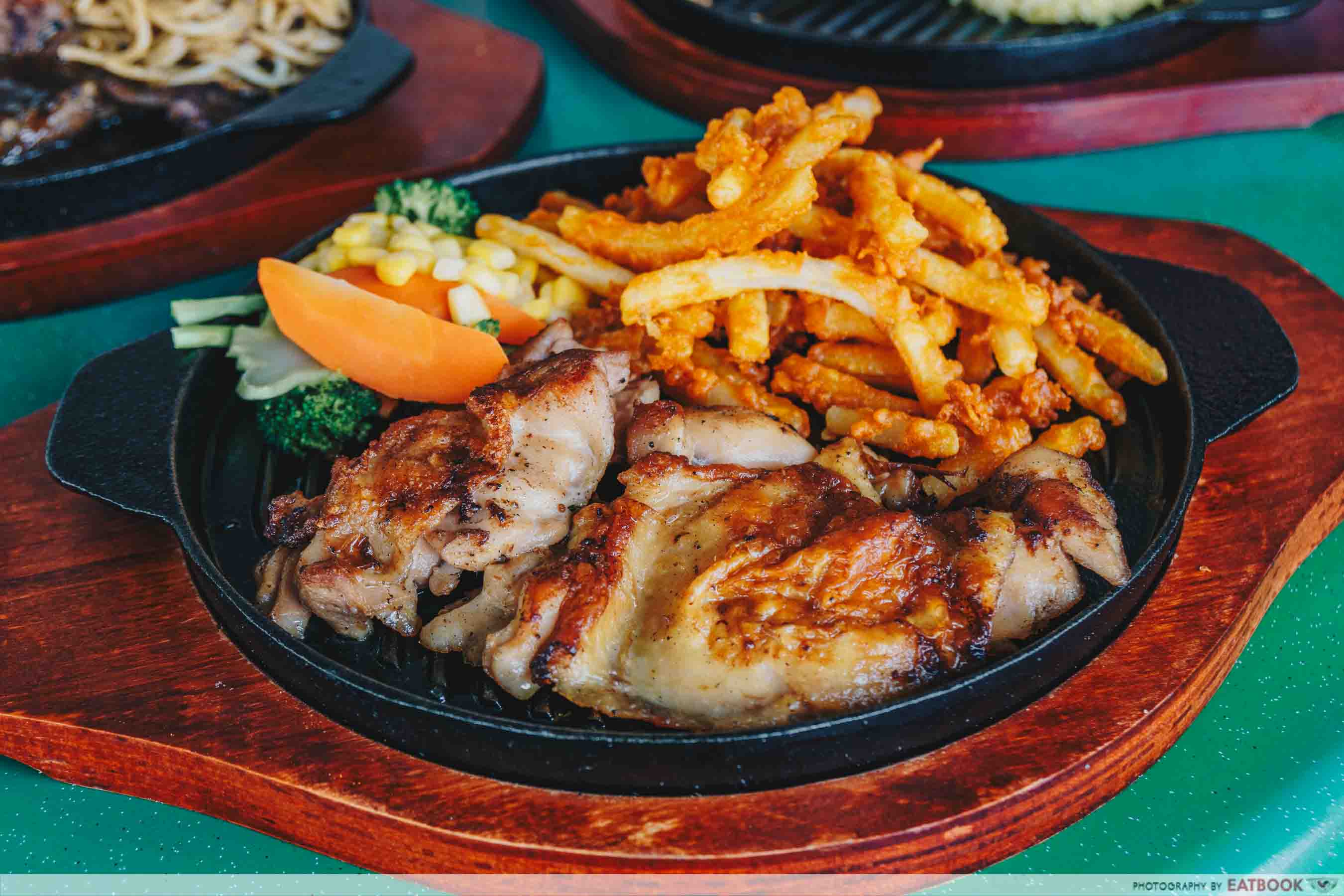 The Chicken Chop ($6.90), on the contrary, was rather mediocre.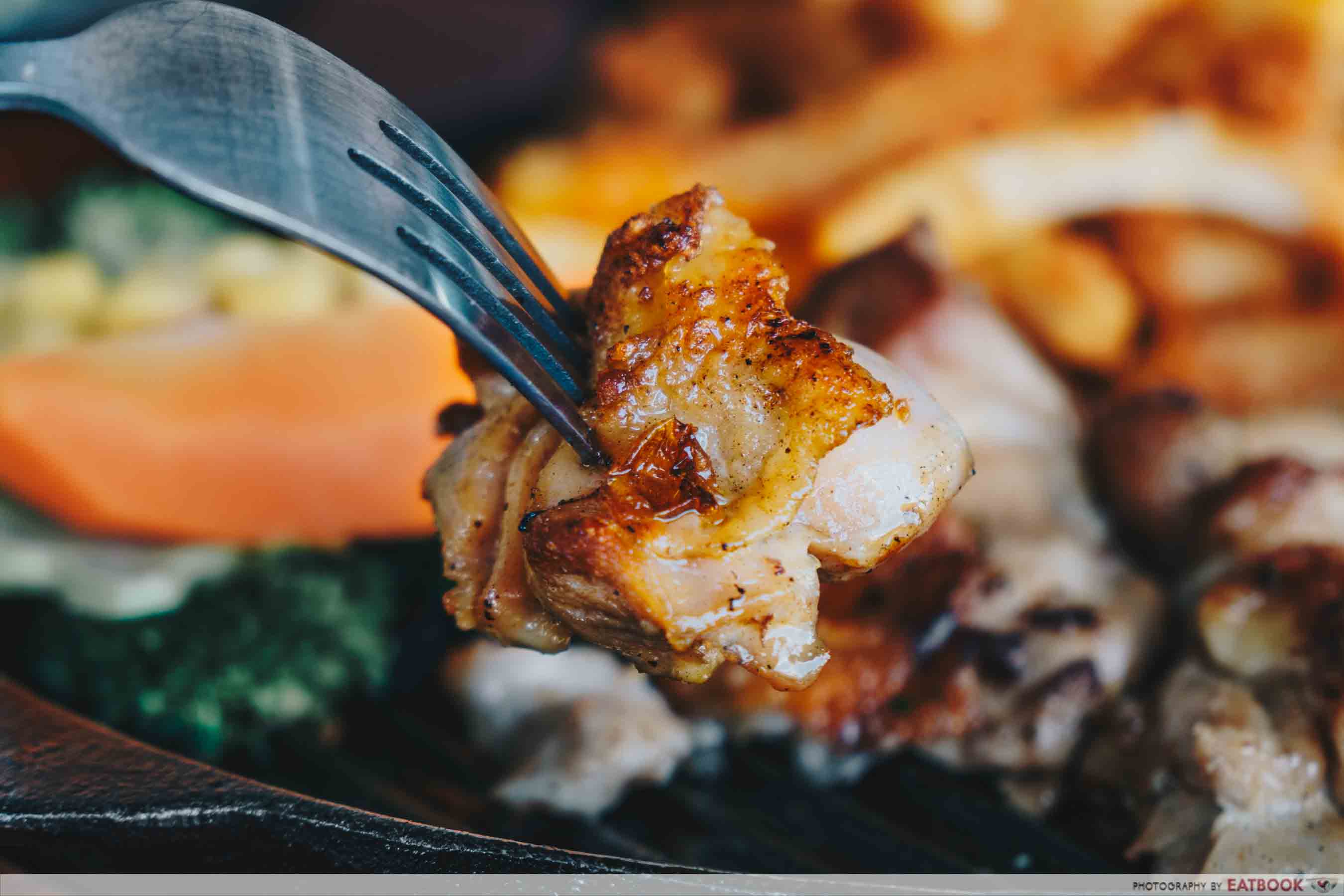 It was tender and had a juicy flesh, allowing my knife to easily sink into the chicken when cut.
However, it lacked a certain X-factor that differentiated itself from the other chicken chops around the area.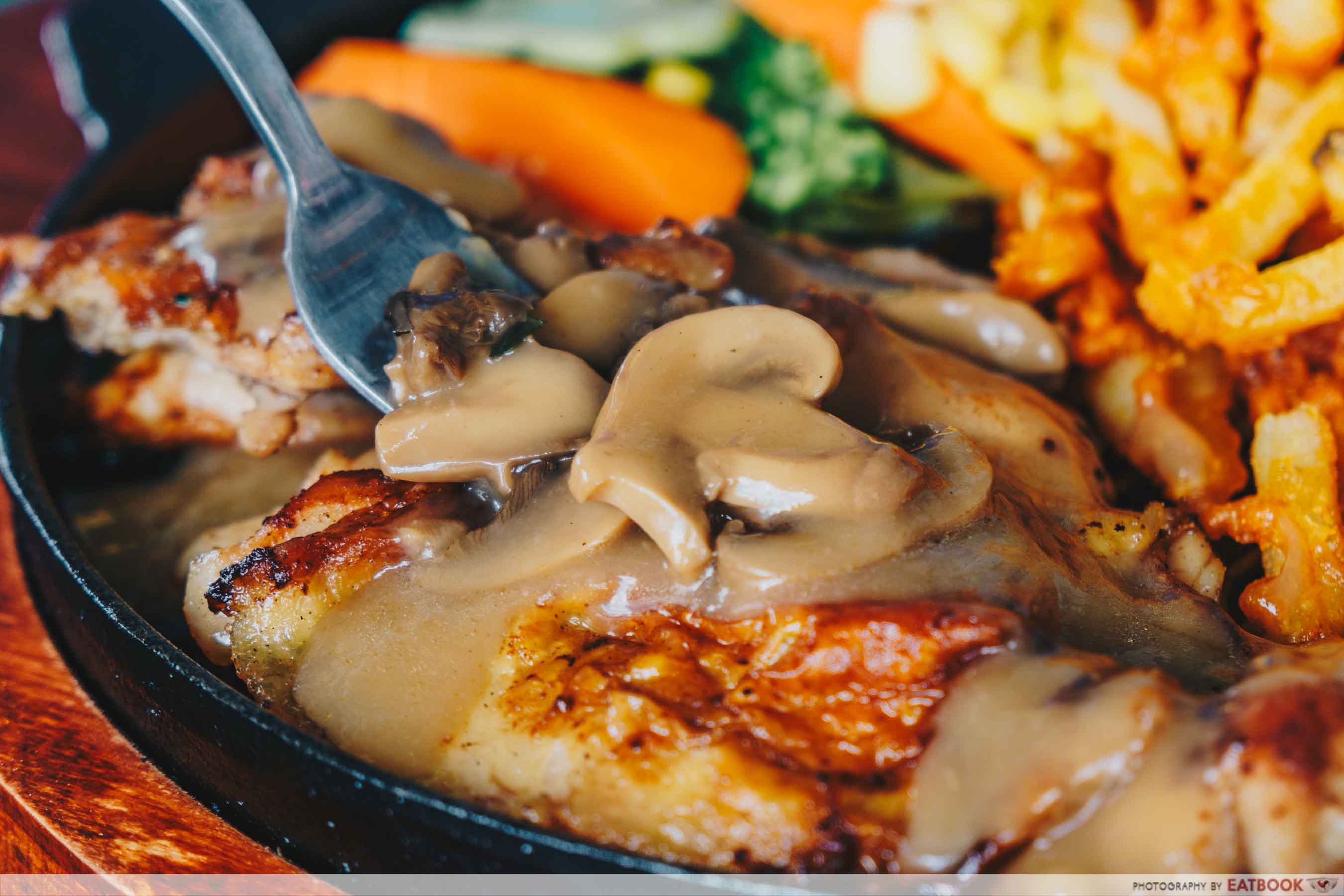 We then proceeded to lather the Mushroom Sauce on. It was creamy and tasted like the meatball sauce you'd get at IKEA.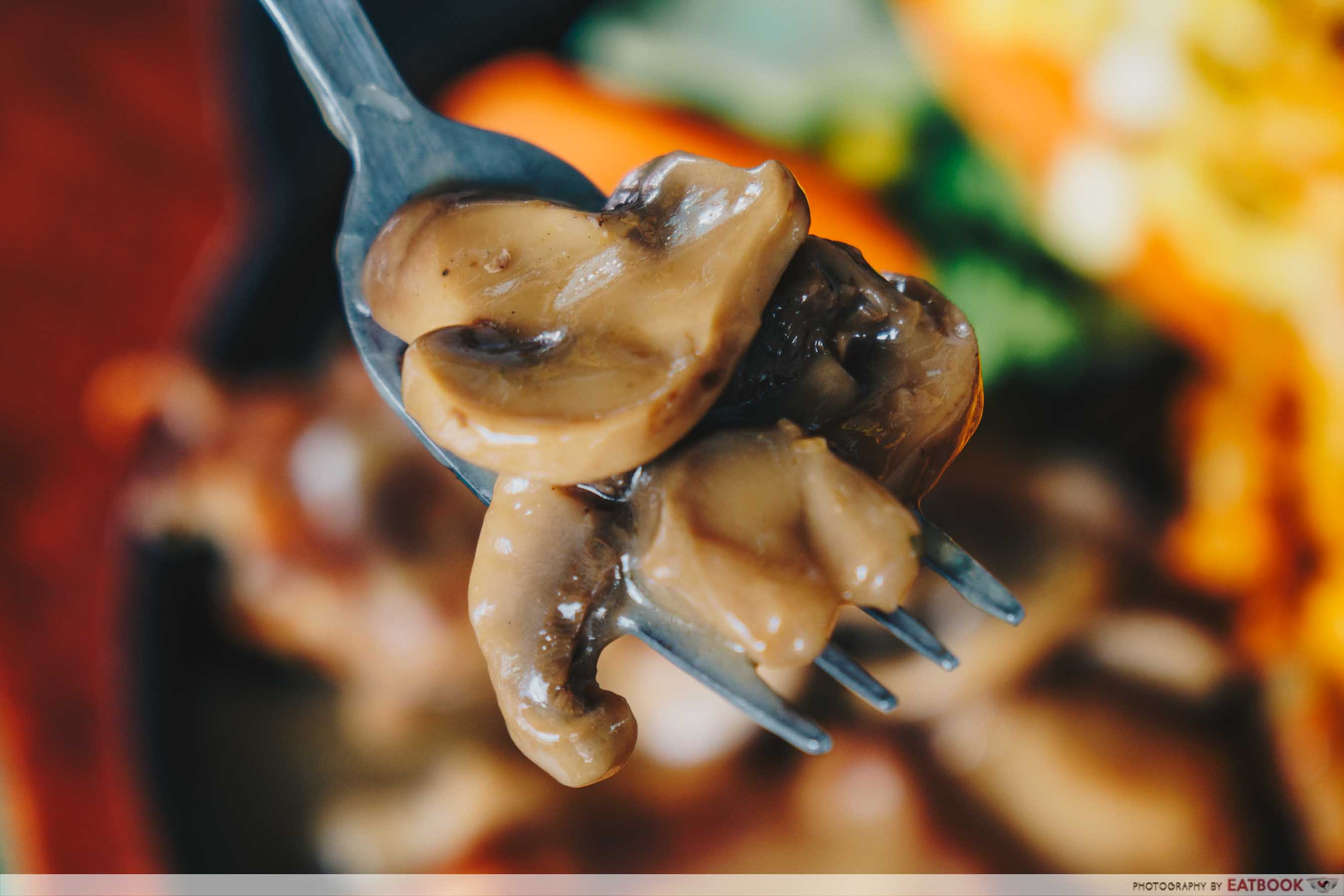 Unlike the Swedish furniture store's meatball sauce, the sauce here had chunks of mushrooms to give body. I even spotted bay leaves, which provided a floral fragrance.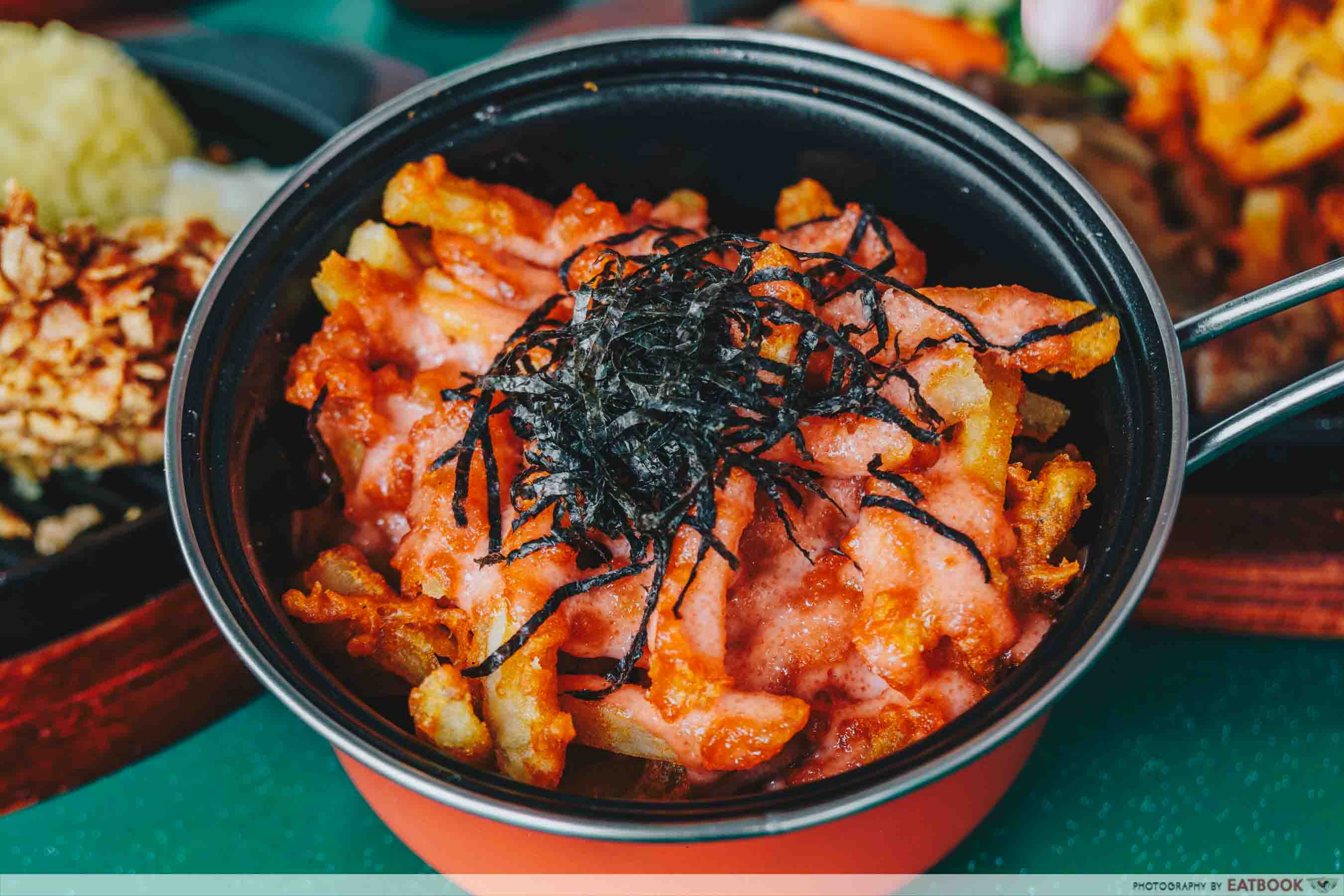 The Mentaiko Fries ($4.90) were served in a fancy mess tin. You can see beads of fish roe that sparkle like pearls in an ocean of pink.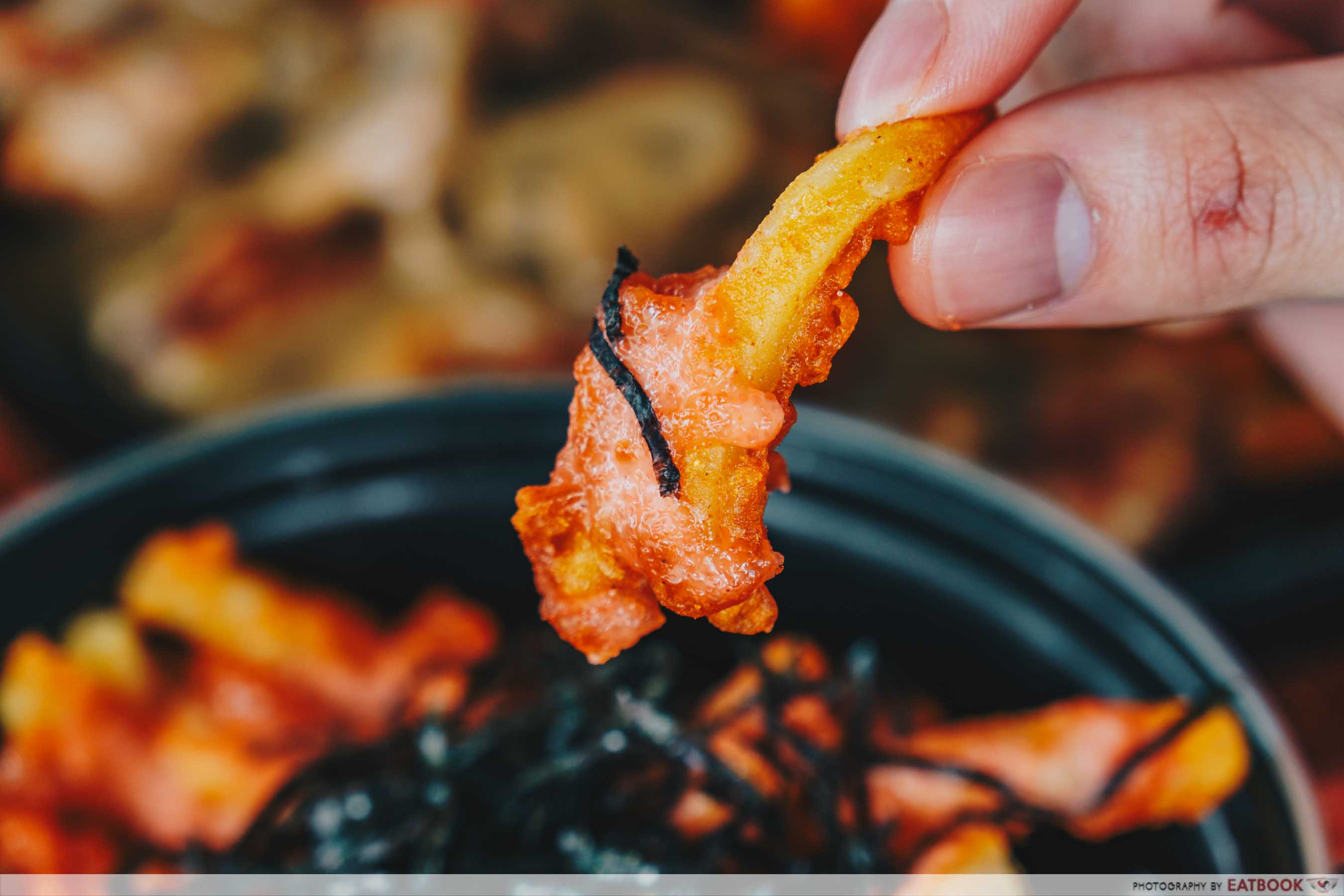 It looks legit because real mentaiko is used in the sauce. As you eat it, a harmony of seafood flavours serenade your mouth. The taste slowly mellows down, allowing the subtle spices of the fries to shine through.
Ambience at BIG BOYS Sizzling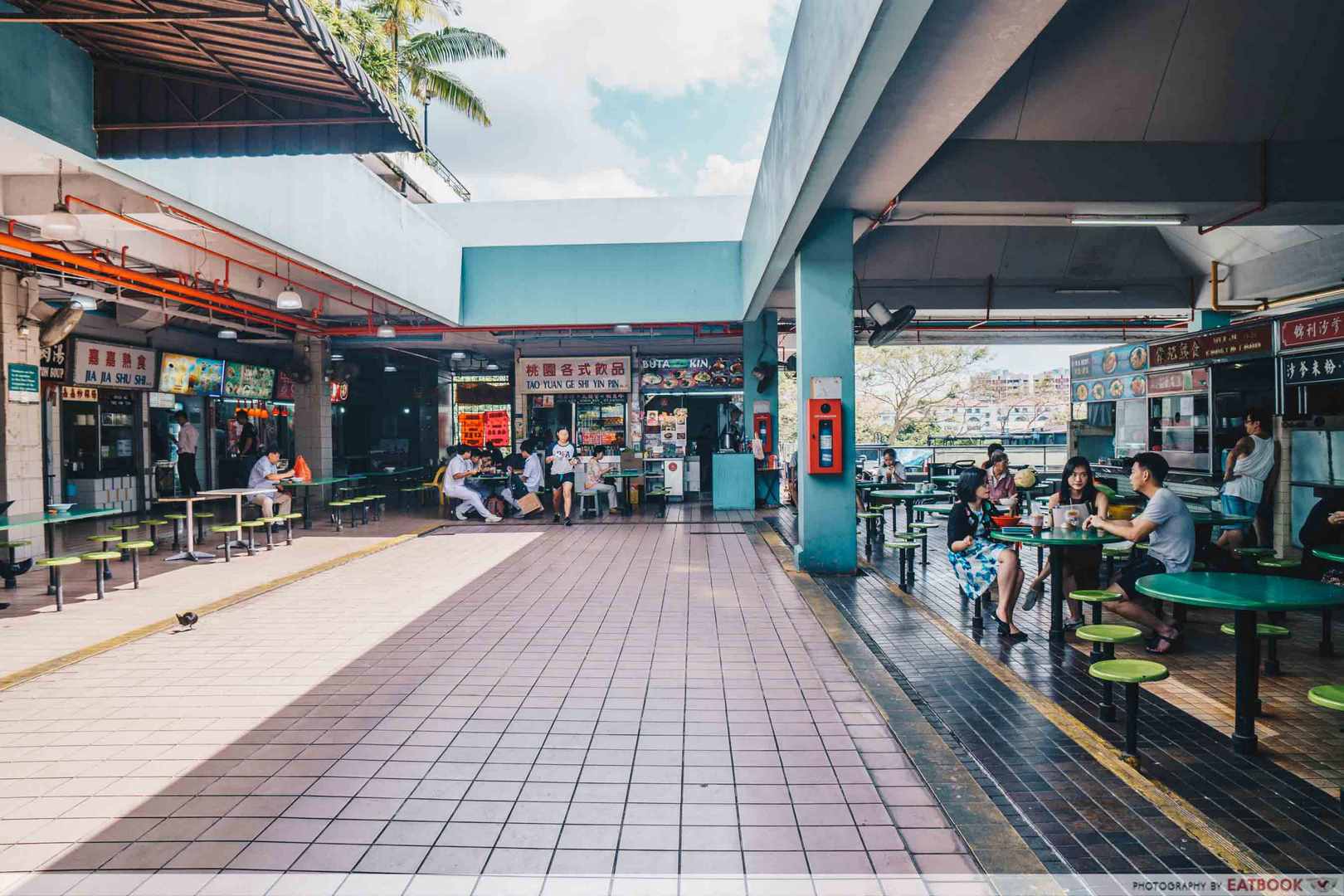 Beauty World Food Centre has a certain old school vibe that's untouched by redevelopment. I really appreciated the retro vibe of this place. Granted, the heat does get to you but that just adds to its timeless charm.
The verdict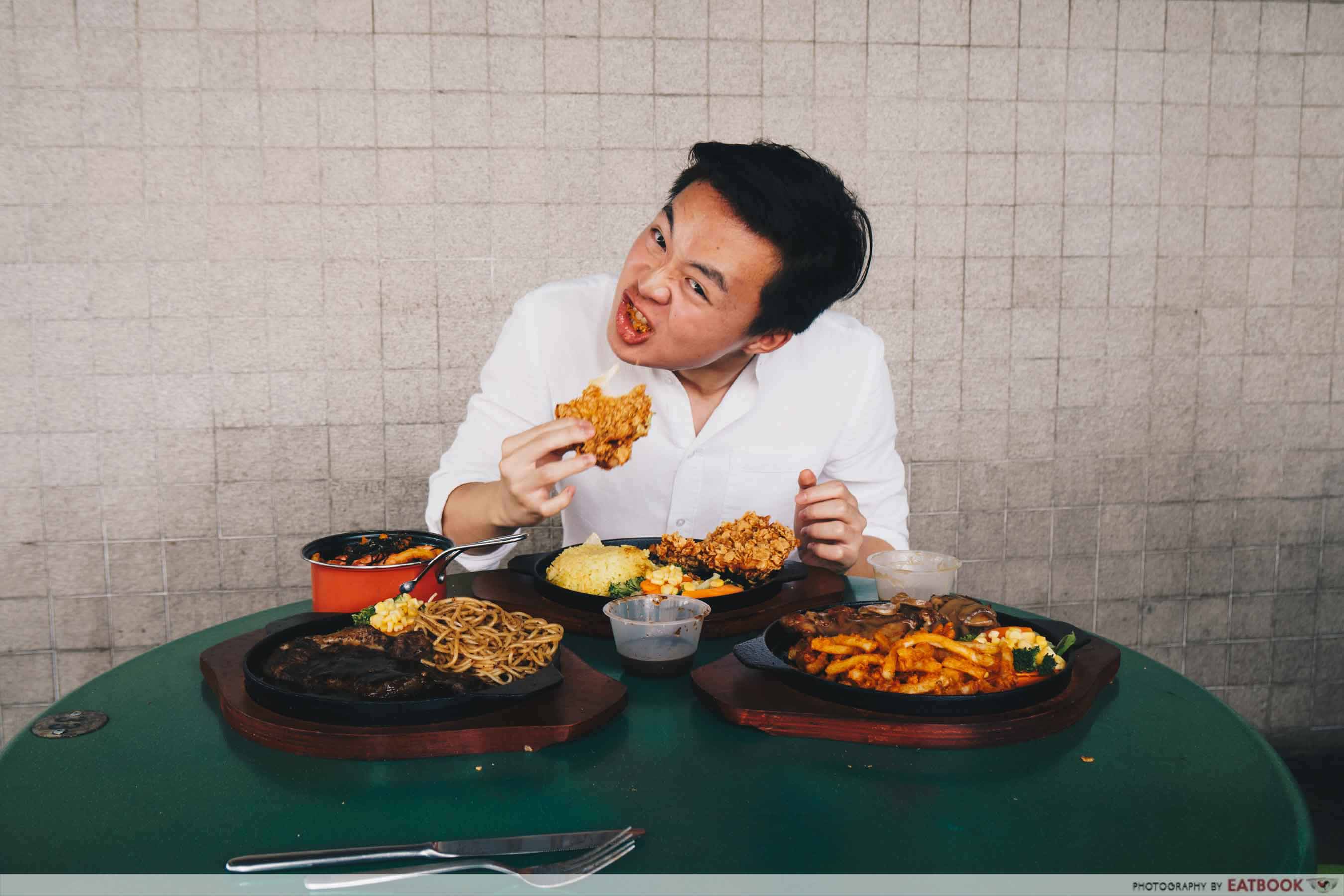 Whilst eating, we realised what a head-turner the dishes were. I think it alludes to the aesthetic charm of the food here. In many ways, it stems from BIG BOYS Sizzling's dedication to quality. Their artful sourcing of ingredients and cooking methodology supersedes many franchised Western eateries.
Honestly, I'm just excited to see what more they have to offer when I visit them again. Except when I do, I'll be bringing a portable fan along.
Address: 144 Upper Bukit Timah Road, #04-25, Beauty World Centre, Singapore 588177
Opening hours: Mon-Sun 11:30am to 8:45pm
Tel: 9383 7475
Website
BIG BOYS Sizzling is not a halal-certified eatery.
Photos taken by Leong Kit Shan.
This is an independent review by Eatbook.sg
Summary
Pros:
– Located near the MRT Station
– Value-for-money
– Large portions
Cons:
– Hot environment
Recommended dishes: Cornflake Chicken ($7.90), Mentaiko Fries ($4.90)
Operating hours: Mon-Sun 11:30am to 8:45pm
Address: 144 Upper Bukit Timah Road, #04-25, Beauty World Centre, Singapore 588177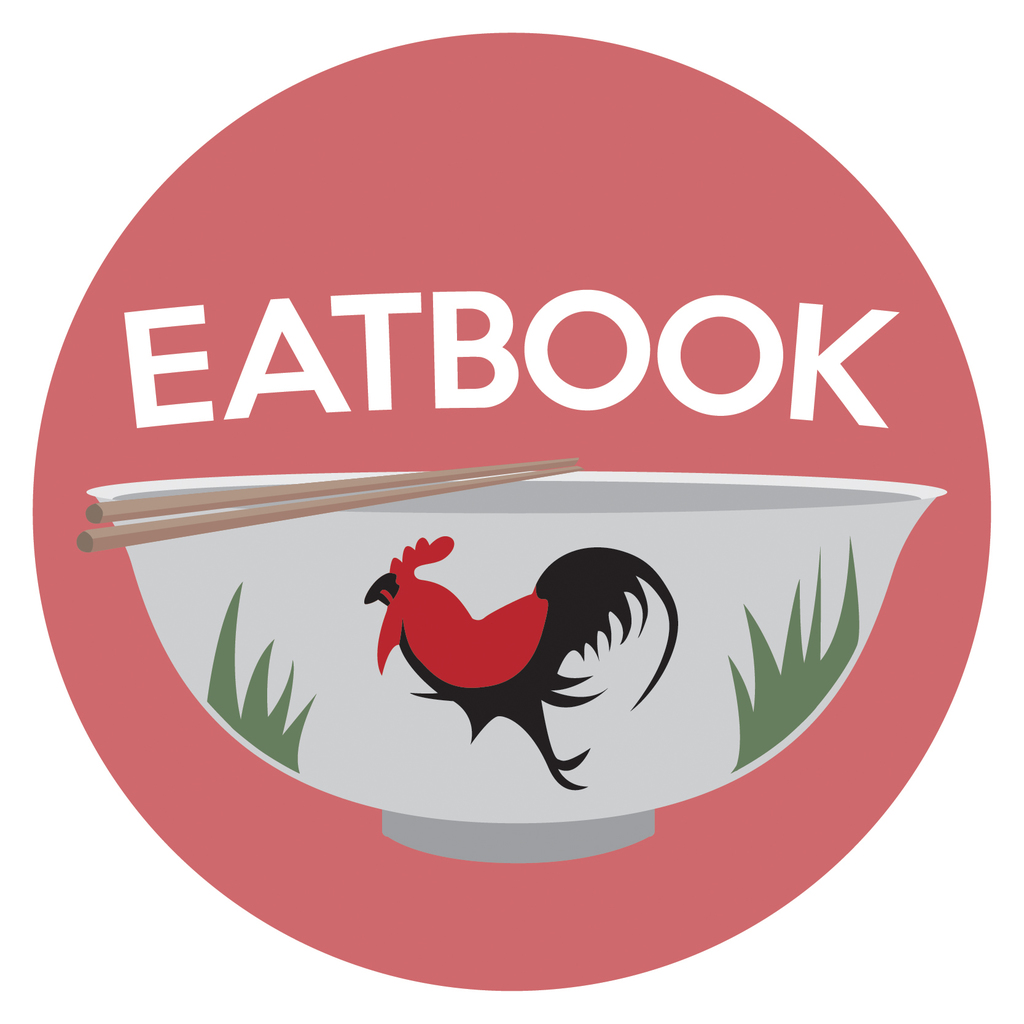 Drop us your email so you won't miss the latest news.