CAF Clickafood in Bartley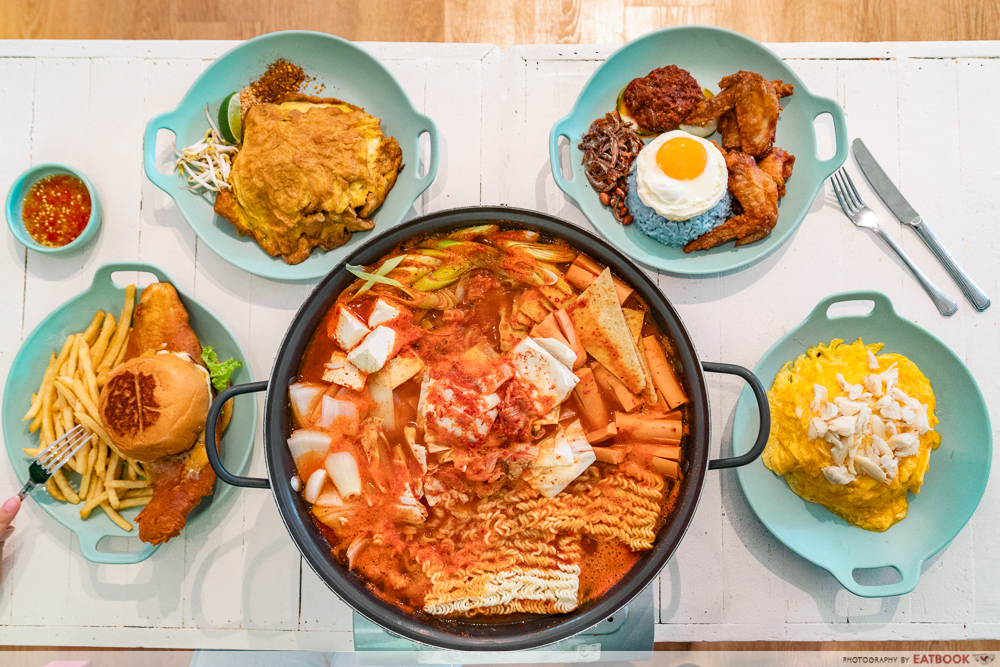 I'm an indecisive person when it comes to food—there are just so many cuisines to pick from, and I honestly love them all. So when I heard about CAF Clickafood, a new multi-concept cafe with menus from four cuisines to its name, it's a no-brainer that I zipped down to try their food with a colleague.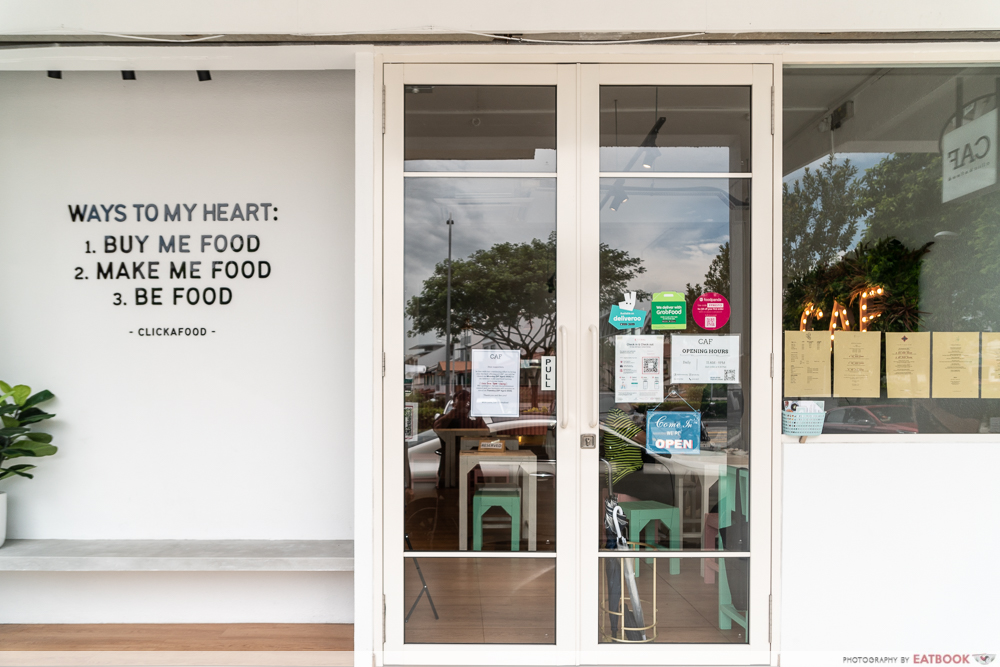 This cafe was started by local singer Hong Junyang─a marriage of all his favourite cuisines under one roof: Singaporean, Thai, Korean, and Western. They also have a beverage selection, which includes bubble tea, and specialty coffees sourced from PPP Coffee.
Ramen Keisuke Niku King Review: New Keisuke Outlet Has Tonkotsu Ramen Overloaded With Chashu
Food at CAF Clickafood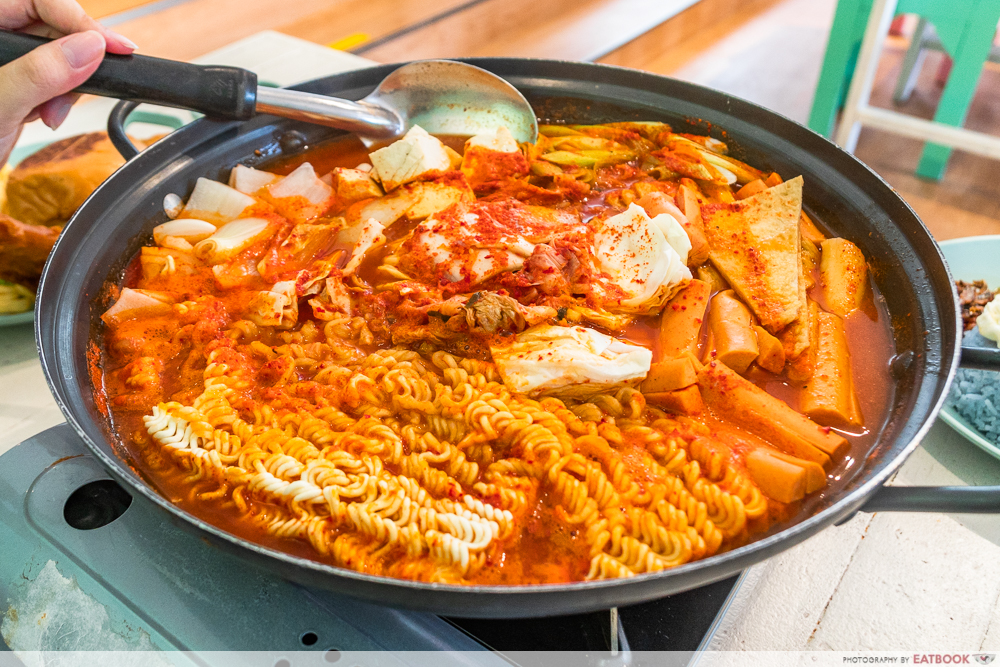 Off their Korean concept menu, we started our meal with the Seoul Army Stew ($19.90++), which feeds two comfortably. This came chock full of sausages, fish cakes, rice cakes, kimchi, tofu, and ramyeon noodles.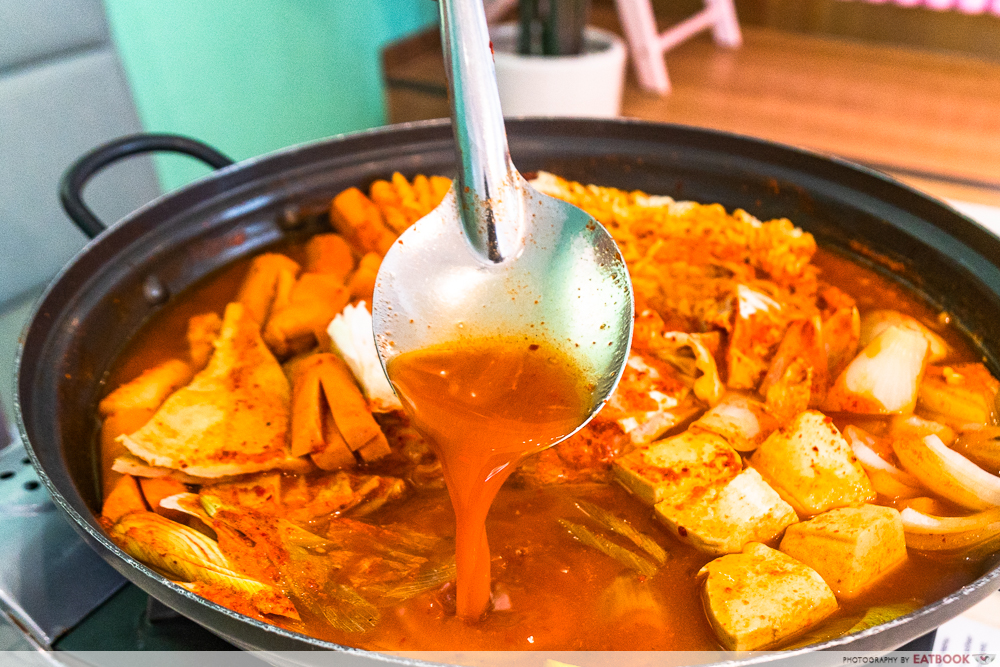 The broth tasted salty, with a slight kick. I felt that it lacked body, and perhaps a more robust stock could be used as the base, for a deeper, tangier flavour.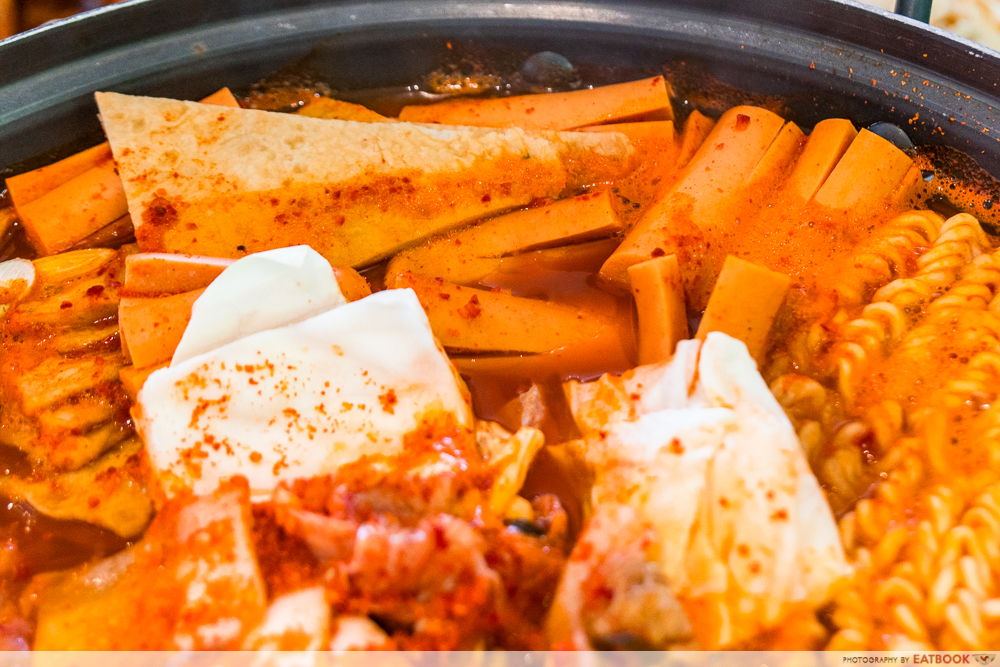 Ingredient-wise, I enjoyed the addition of fresh kimchi, as it brought a sourish element that I crave in army stews. I also liked the tofu, and rice cakes, which made great vessels for the broth.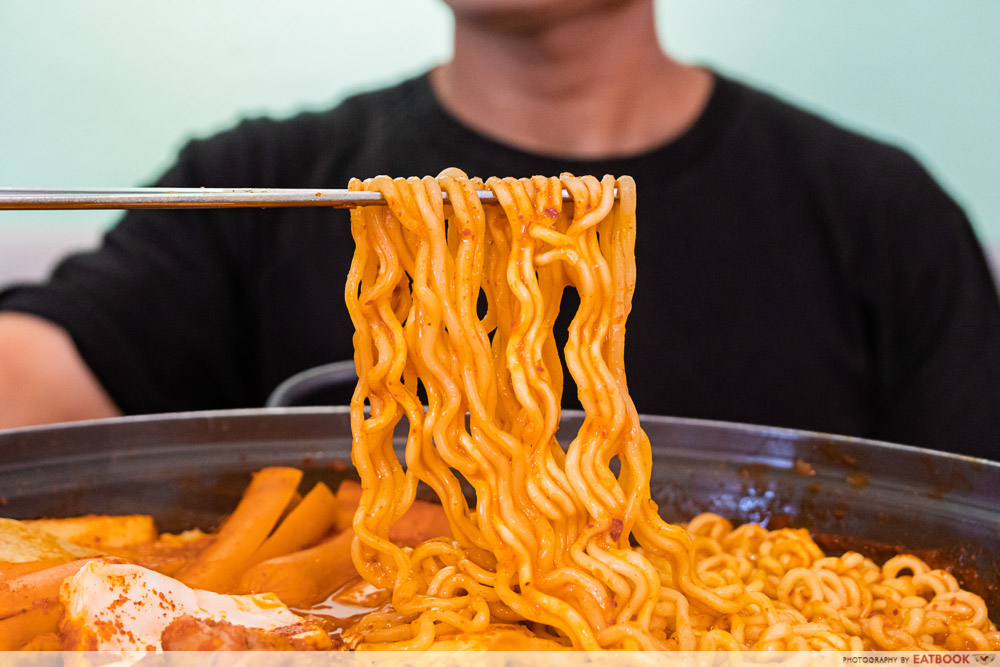 No army stew is complete without the quintessential ramyeon noodles. These were a touch soggy, though CAF Clickafood cannot be faulted for this, as we had taken some time to photograph the dishes. I imagine that the noodles would be springy and easy to slurp, had they been eaten fresh.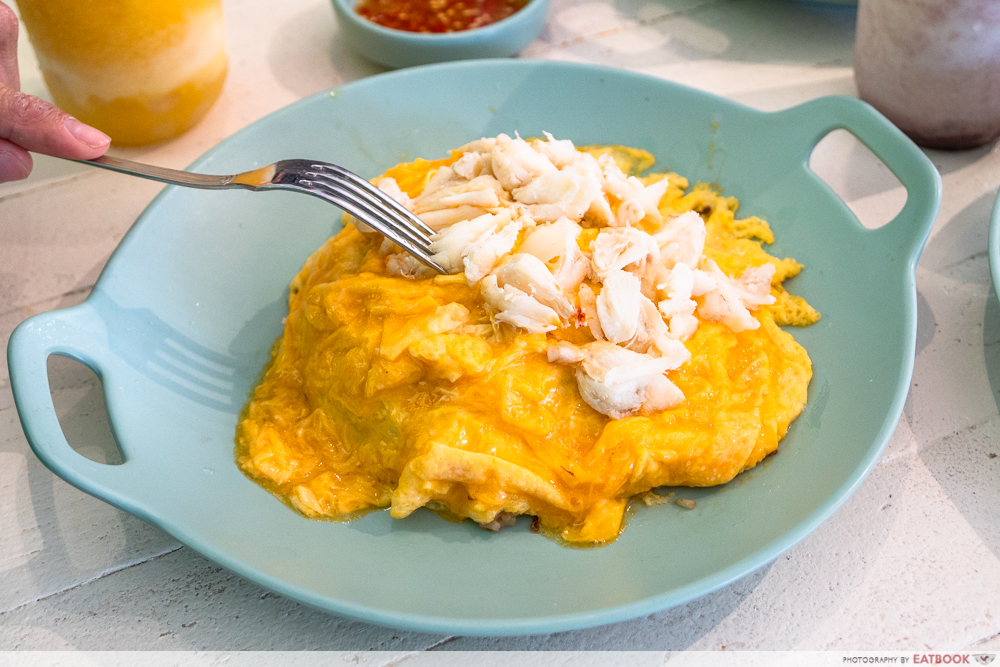 Moving on to their Thai concept, we had the Crab Meat Omelette Fried Rice ($10.90++), which is a special off-menu item. Visually, this reminded me of the crab omelette rice we had at Flying Pig, with creamy omelette draped over fried rice, topped with dollops of crab meat.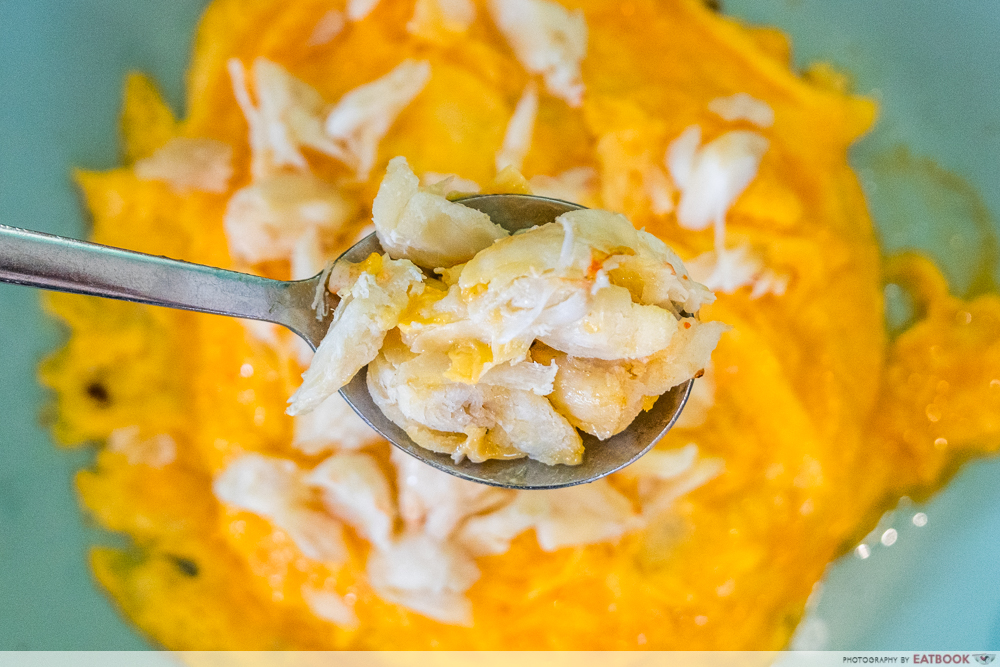 This dish was served with a generous amount of chunky crab meat, and I liked how it retained a firm bite, as opposed to the mushy, flaky crab meat I've personally had at other stalls. It also sported a sweet brine—an indicator of its freshness.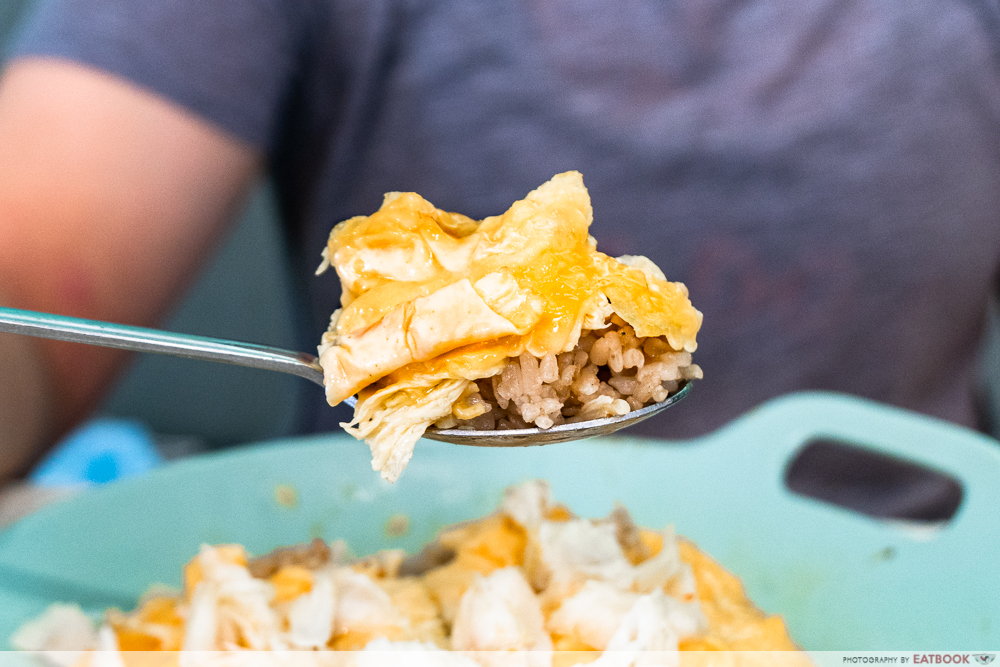 I found the omelette a tad greasy, but I enjoyed its creaminess. Texturally, this contrasted well against the fried rice, which kept their distinct grains. 
I was also pleasantly surprised by the fried rice, as it was flavourful, with hints of garlic, and a savouriness from what I suspect to be fish sauce.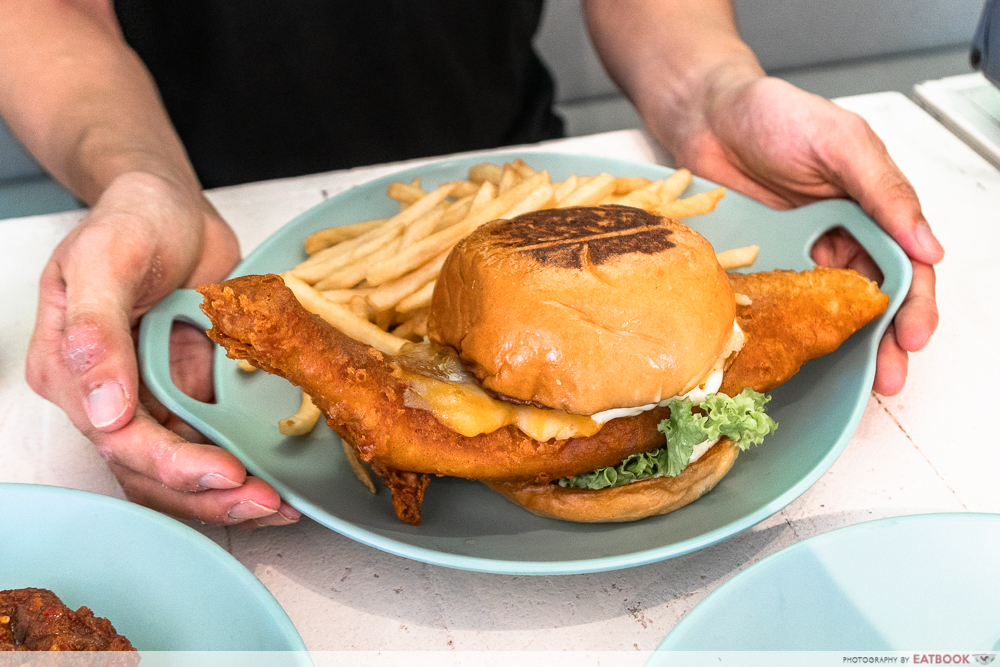 The last dish we tried on our visit was the Nemo Burger ($9.90++) from the Western concept menu, which we paired with fries for an additional $2.90++. This saw a large fish fritter alongside cheese, lettuce, and mayo, sandwiched between two buttered buns.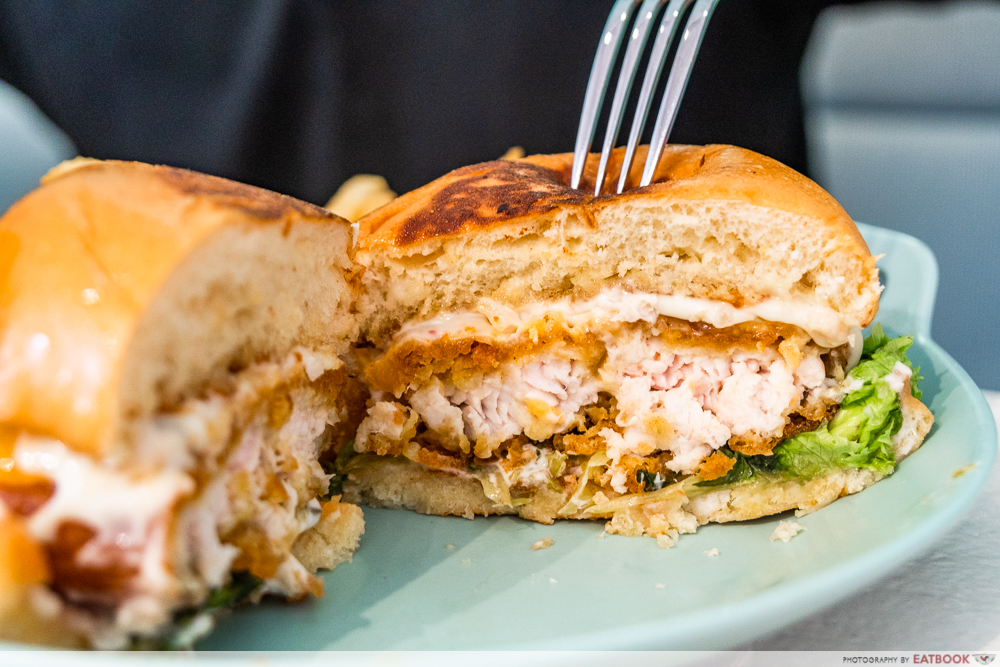 I found the burger a touch too greasy overall, exacerbated by the cloying mayo. Meanwhile, the fish sported a mushy interior, though I liked the crisp and airy batter. What I enjoyed most in this burger was the buns, as they were pillowy soft, with a buttery aftertaste.
Flying Pig Review: $10 Thai Crab Meat Omelette Rice And More At Golden Mile Complex
Ambience at CAF Clickafood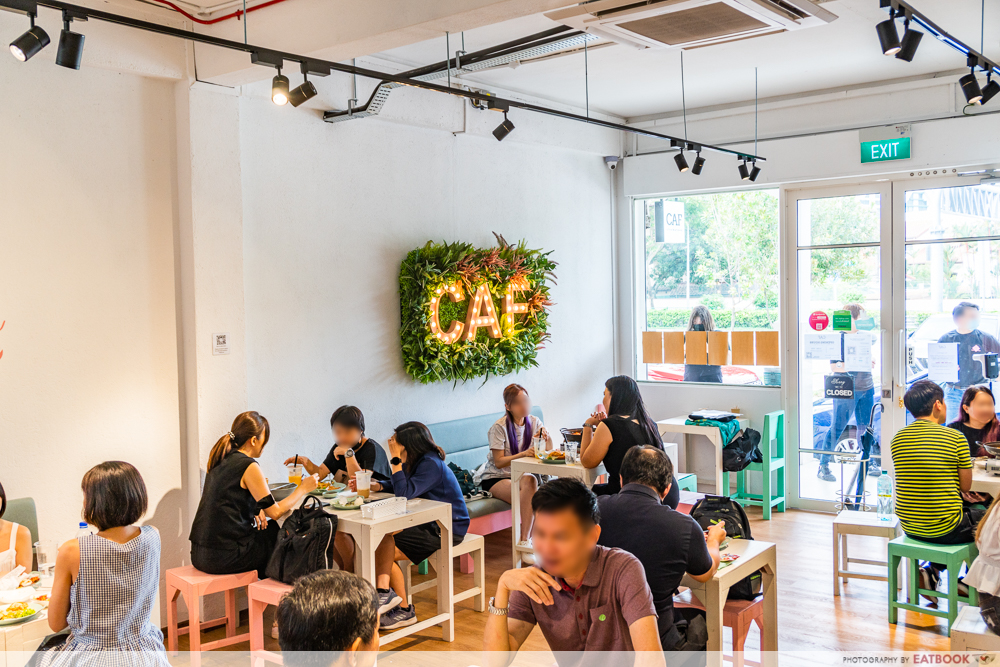 CAF Clickafood is located a 10-minute walk from Bartley MRT Station. Alternatively, there are buses from Serangoon MRT Station, requiring a 10-minute ride to get to this cafe.
The cafe is decked in pastel hues of pink and green, with word art murals and lit botanical signages, making for IG-worthy material at every spot.
15 Best Coffee Cafes In Singapore, Including Local Roasters To Get Coffee Beans From
The verdict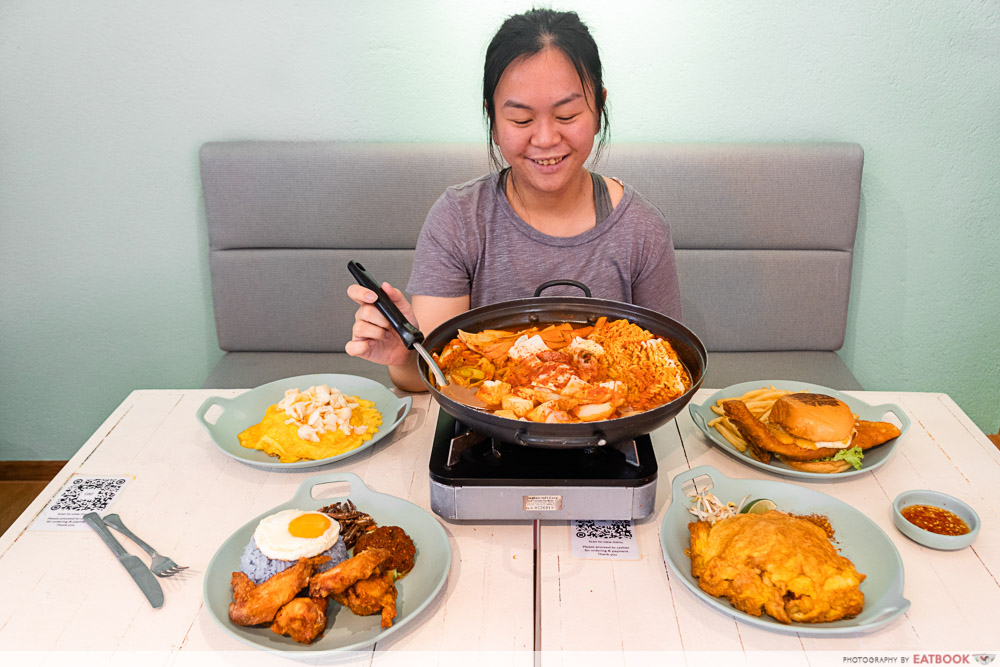 While the food has room for improvement, I enjoyed the variety offered at CAF Clickafood, with my favourite dish being the Crab Omelette Fried Rice. This cafe is especially good for those in a group of friends with scattered opinions over what cuisine to eat. With that, do head down to CAF Clickafood if you're in the area.
If you're looking for more cafes to dine at, check out our Knots Cafe And Living review, a popular cafe decked in potted plants and hanging botany. There's also our review of The Bravery, a Muslim-owned cafe with seafood alfredo and breakfast steak.
Address: 339 Upper Paya Lebar Road, Singapore 534953
Opening hours: Daily 11am to 9pm
Tel: 6970 5077
Website
CAF Clickafood is not a halal-certified eatery.
Knots Cafe And Living Review: Popular Cafe With Bali Vibes Serves Brunch In MacPherson
Photos taken by Aaron Lin and Priscilla Tay.
This was a media tasting at CAF Clickafood.
CAF Clickafood Review: New Multi-Cuisine Cafe With Crab Meat Omelette Fried Rice And Army Stew
Summary
Pros
– Good variety of cuisines
– Crab Omelette Fried Rice was flavourful
Cons
– Army stew lacked flavour
– Nemo Burger was too greasy
Recommended dishes: Crab Meat Omelette Fried Rice ($10.90++)
Opening hours: Daily 11am to 9pm
Address: 339 Upper Paya Lebar Road, Singapore 534953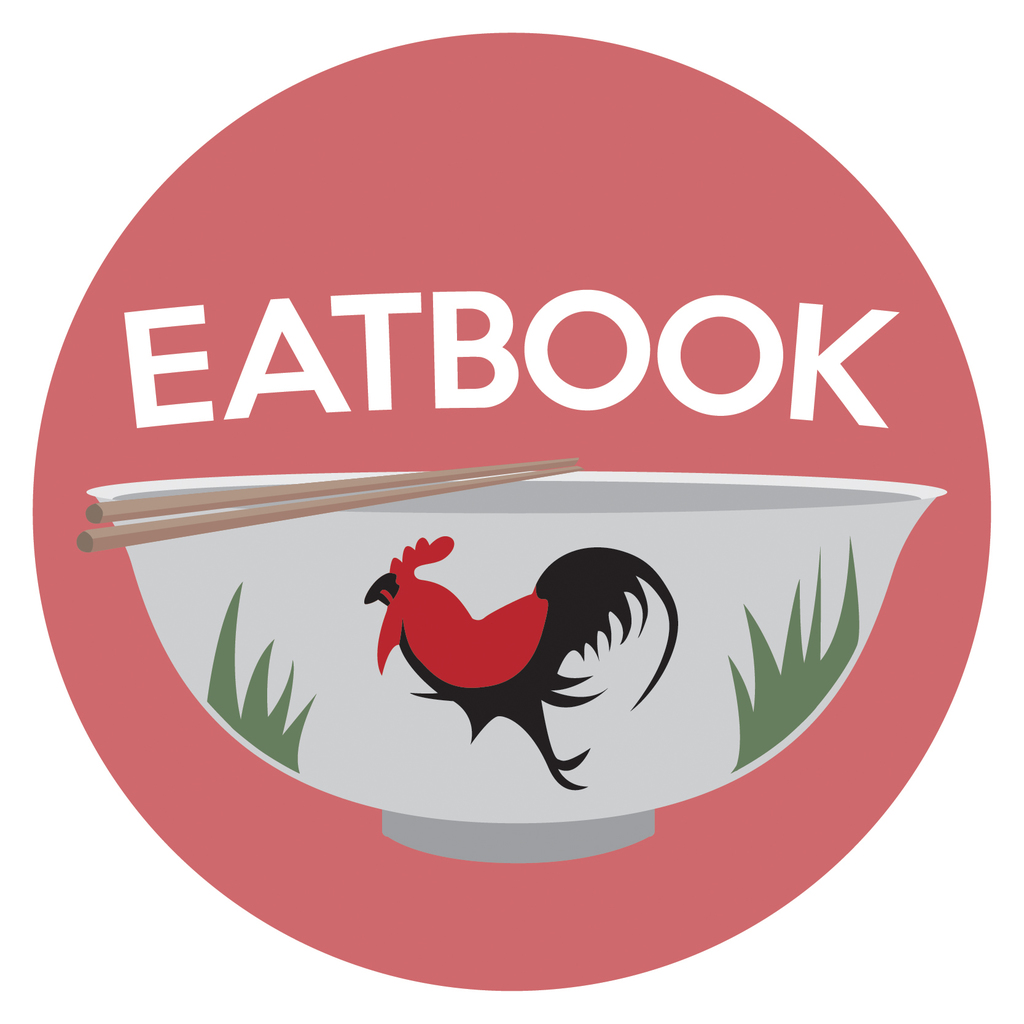 Drop us your email so you won't miss the latest news.