Canopy HortPark near Alexandra
I'm always on the lookout for pet-friendly cafes  that don't require me to travel to far-flung parts of Singapore, ones where I can also chill with my friends, and have a good meal. When I found out that Canopy HortPark offers all of these, with gorgeous interiors to boot, I knew I had to drop by for a visit.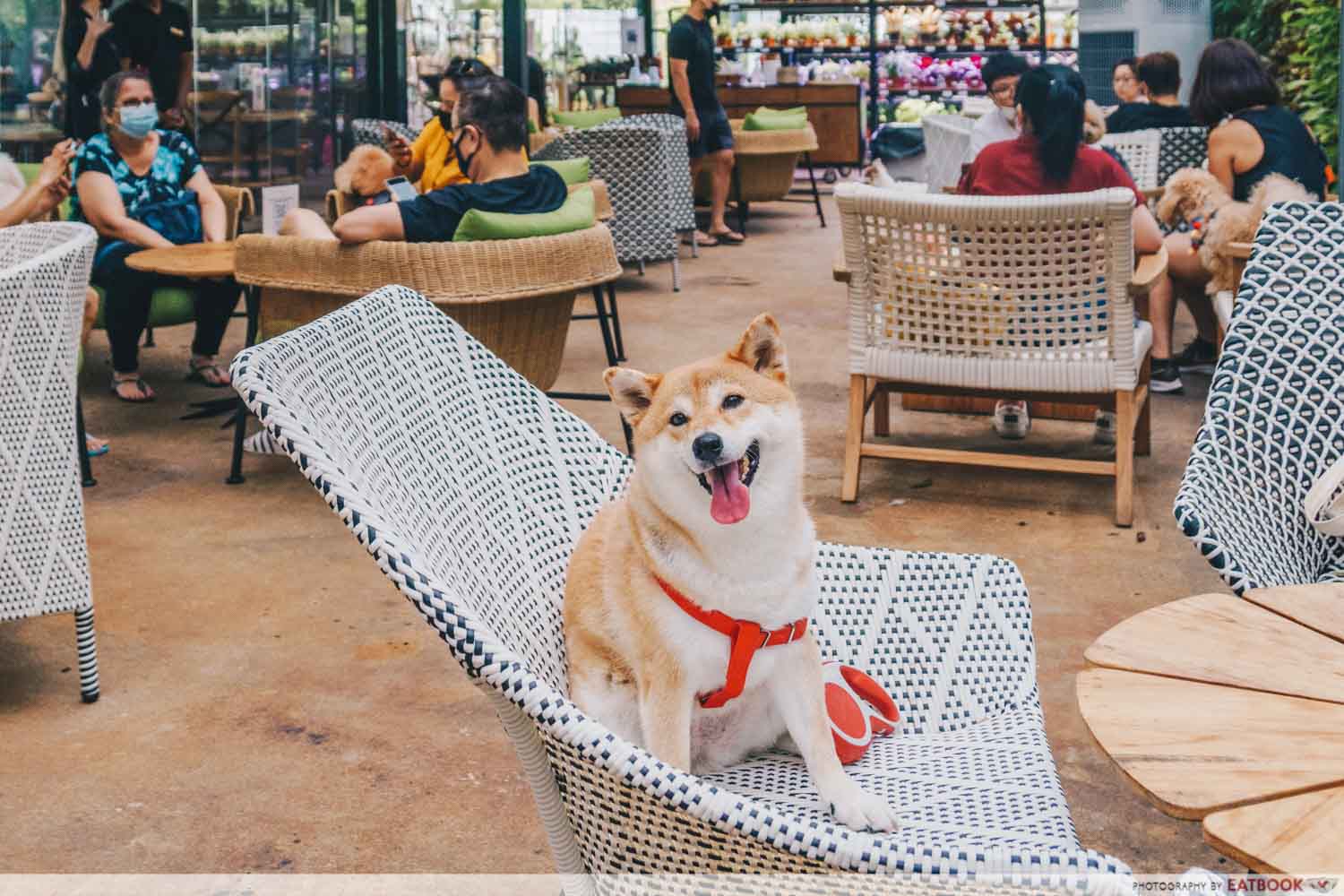 10 Gorgeous Restaurants In Parks, Including Pet-Friendly Cafes For Your Next Weekend Out
Food at Canopy HortPark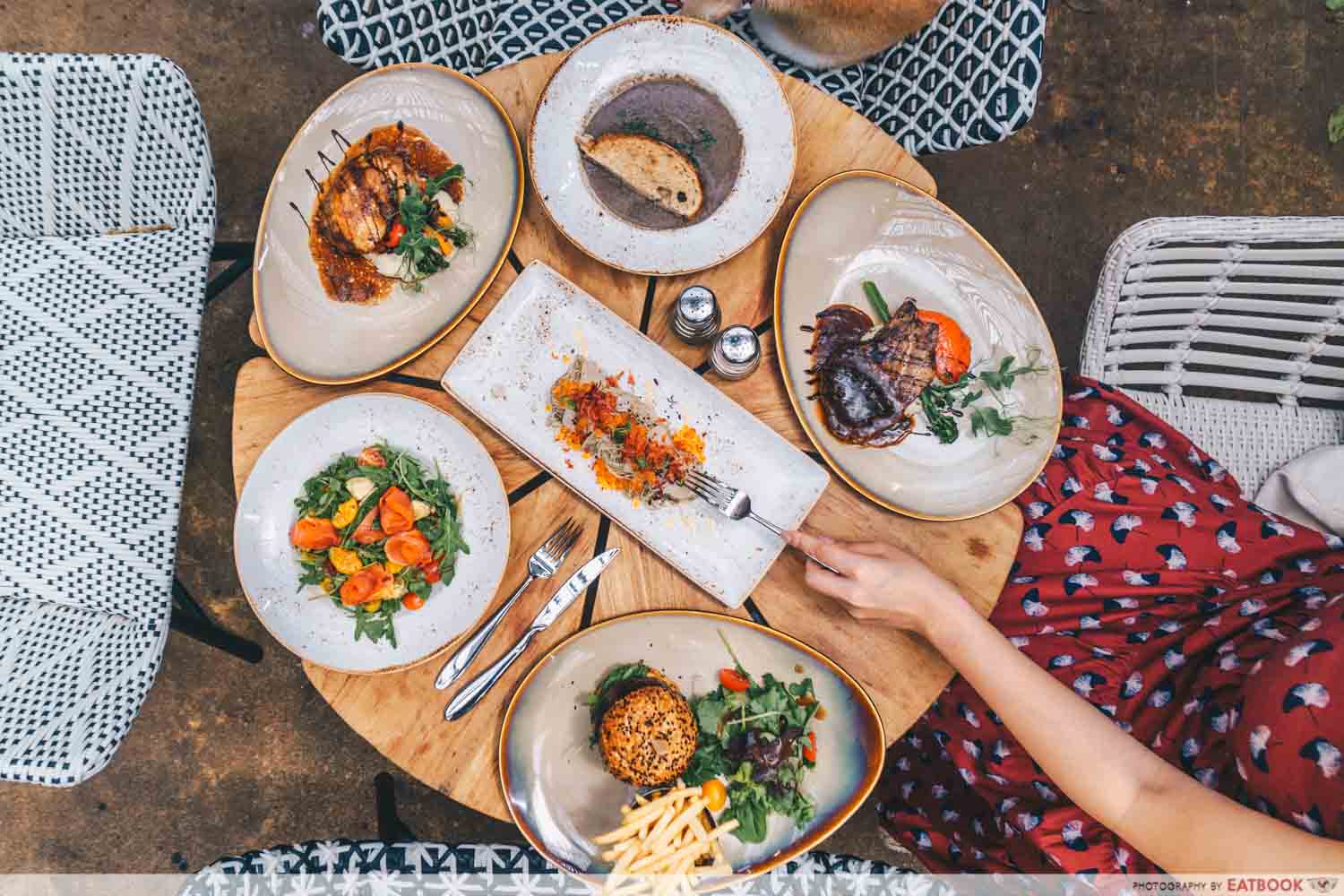 We had a spread of mains and starters, including the Smoked Salmon Salad ($19++) and Wild Porcini Mushroom Soup ($10++). These were nothing to shout about, and the salad, while bright-tasting and fresh, was a bit clunky with the thick rolls of smoked salmon.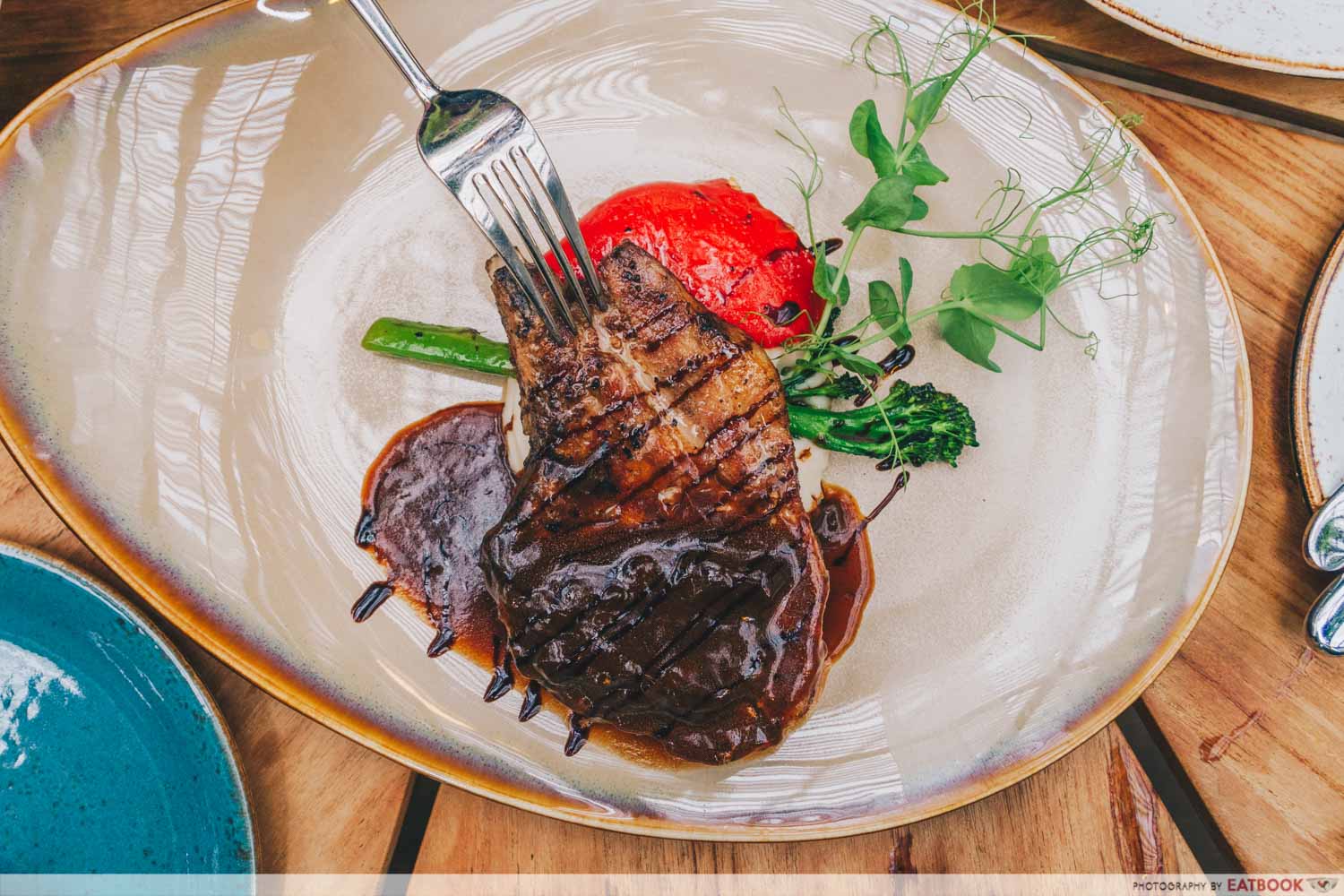 On the other hand, the Grilled Spanish Pork ($27++) featured a well-cooked and hefty pork chop. This came drenched in a caramelised onion gravy, and drizzles of sweet balsamic vinegar.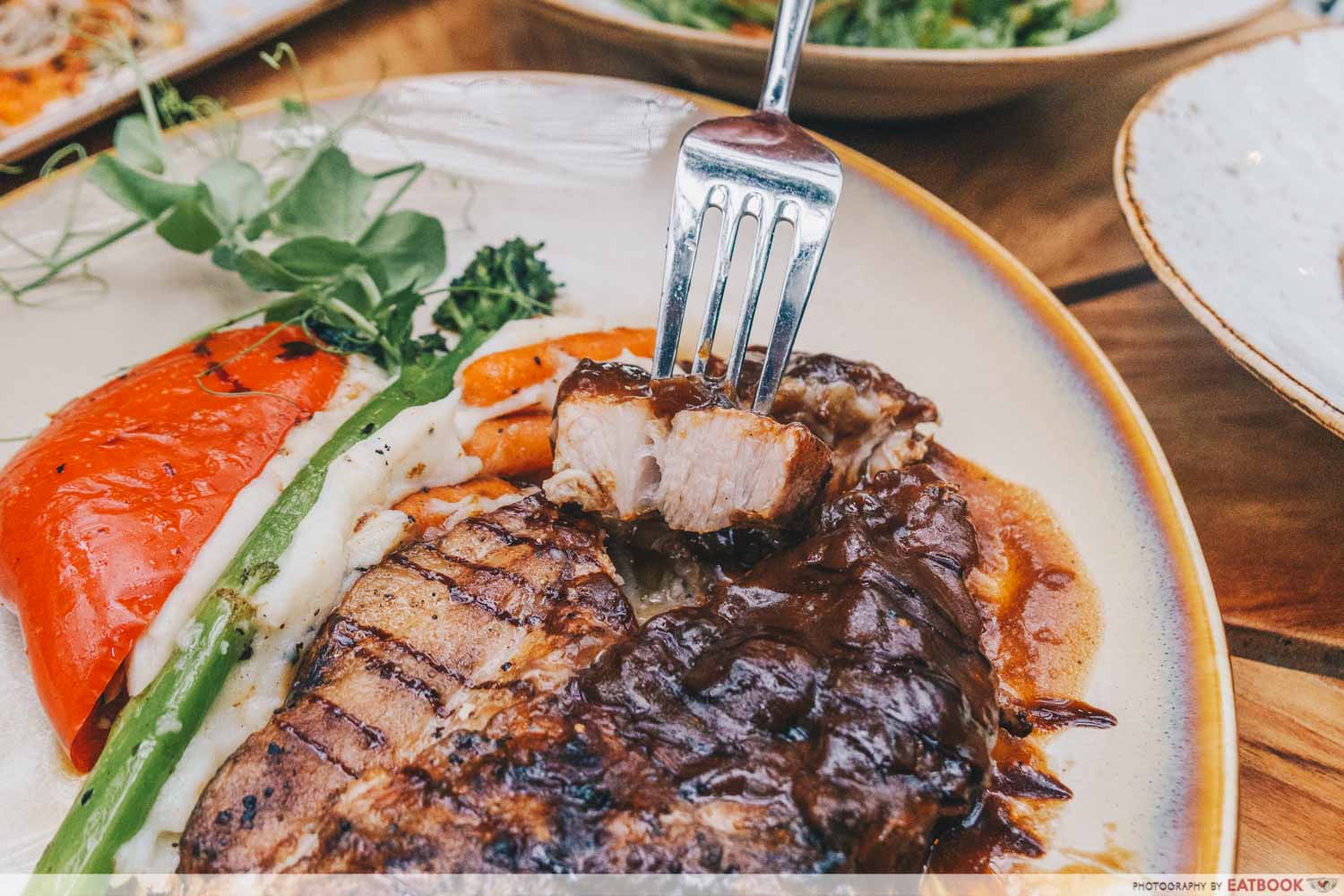 I appreciated that the pork was not overdone. Rather, it was mostly tender and moist. The use of Spanish pork meant the meat was more buttery, and less gamey-tasting. However, my dining companion found some bits slightly drier, and tougher.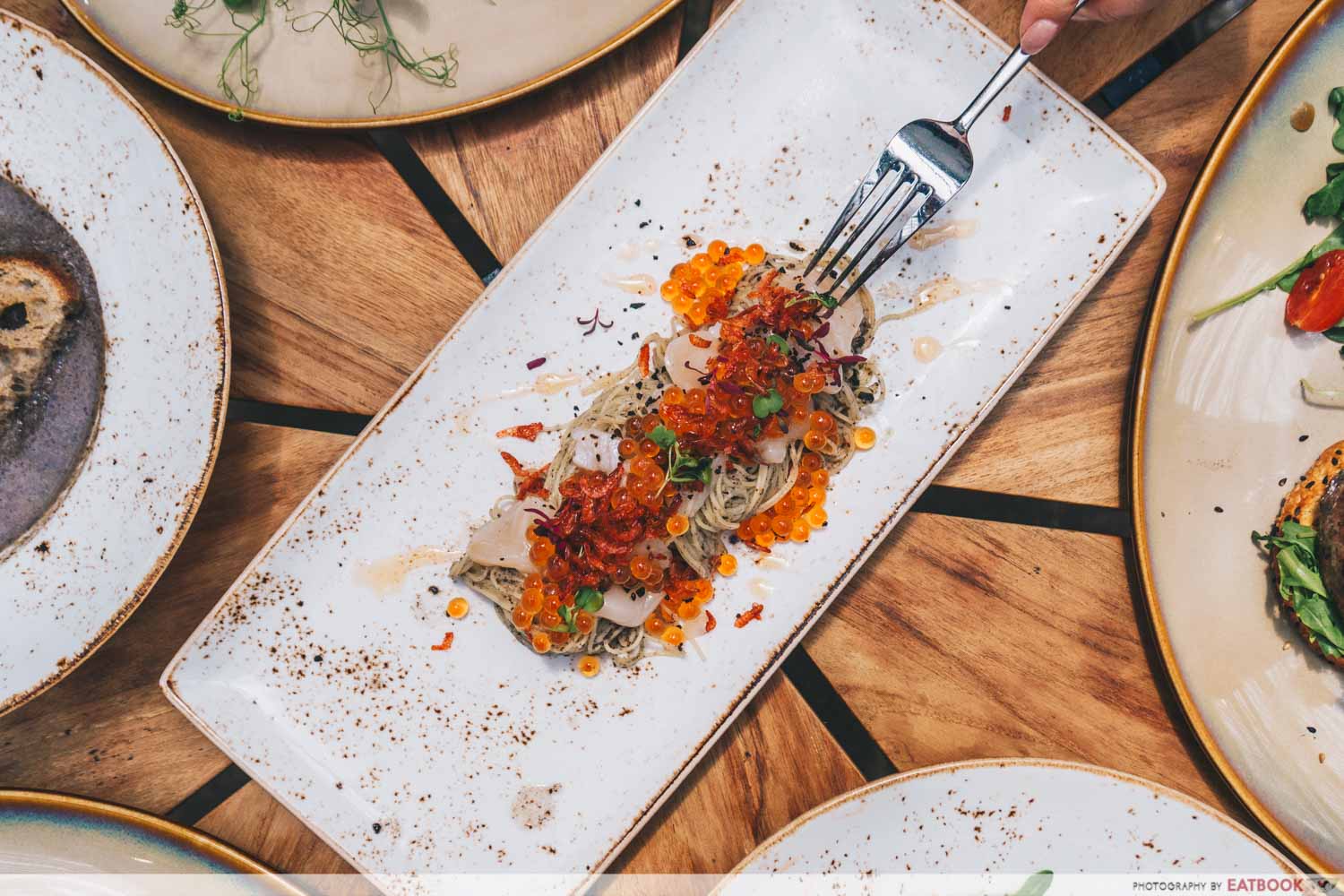 The Cold Angel Hair Pasta ($42++) was easily the show-stopping highlight of our meal here. I'm a sucker for capellini dishes, and this version was blinged with white truffle oil, a truffle-butter sauce, sashimi scallops, and ikura.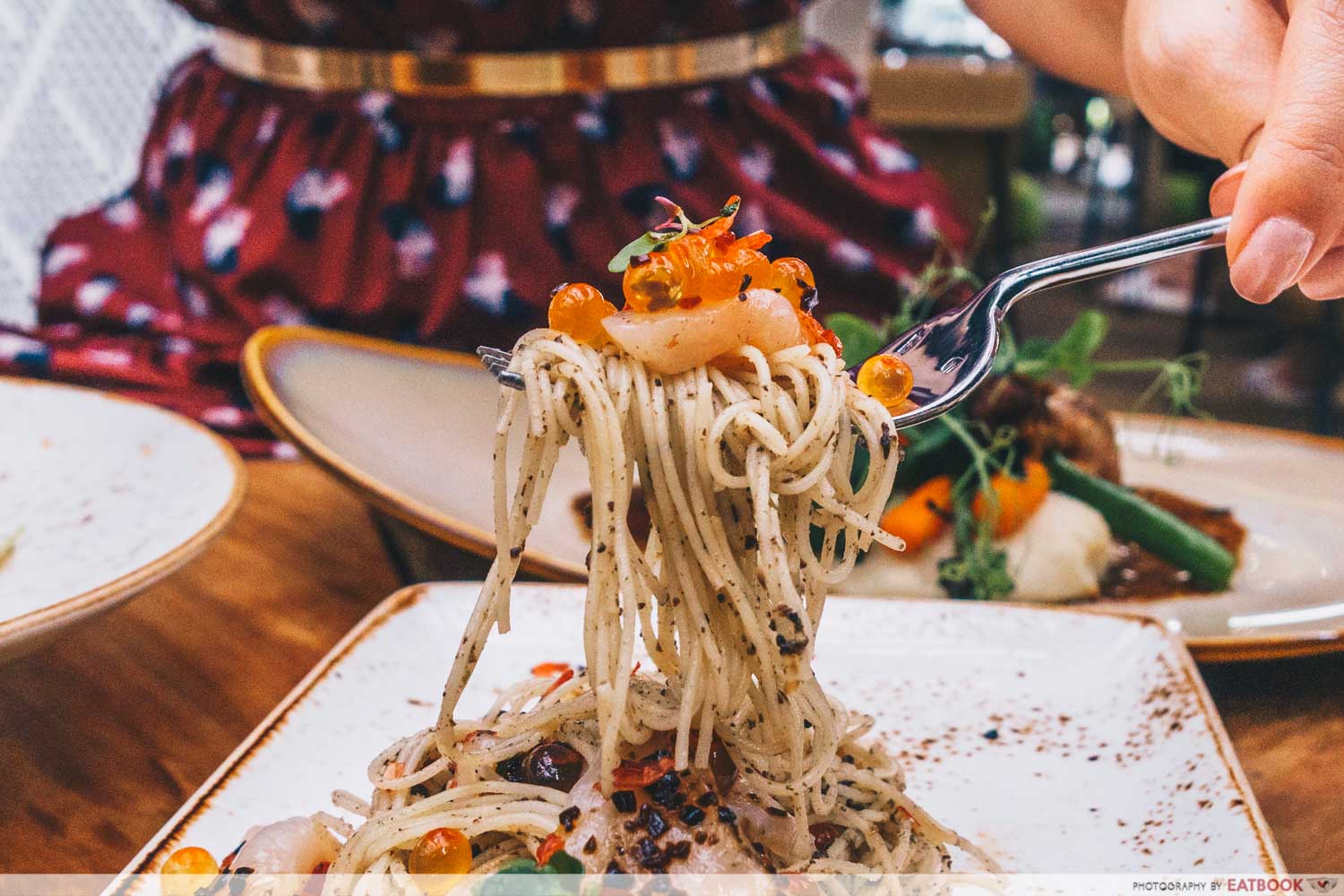 It's good for at least two to share, which sort of justifies the $42++ price tag. But at the same time, the dish didn't blow me away as much as I wish it did. The pasta could have been just the slightest touch less cooked. While tasty, we also felt that its flavours could be punchier.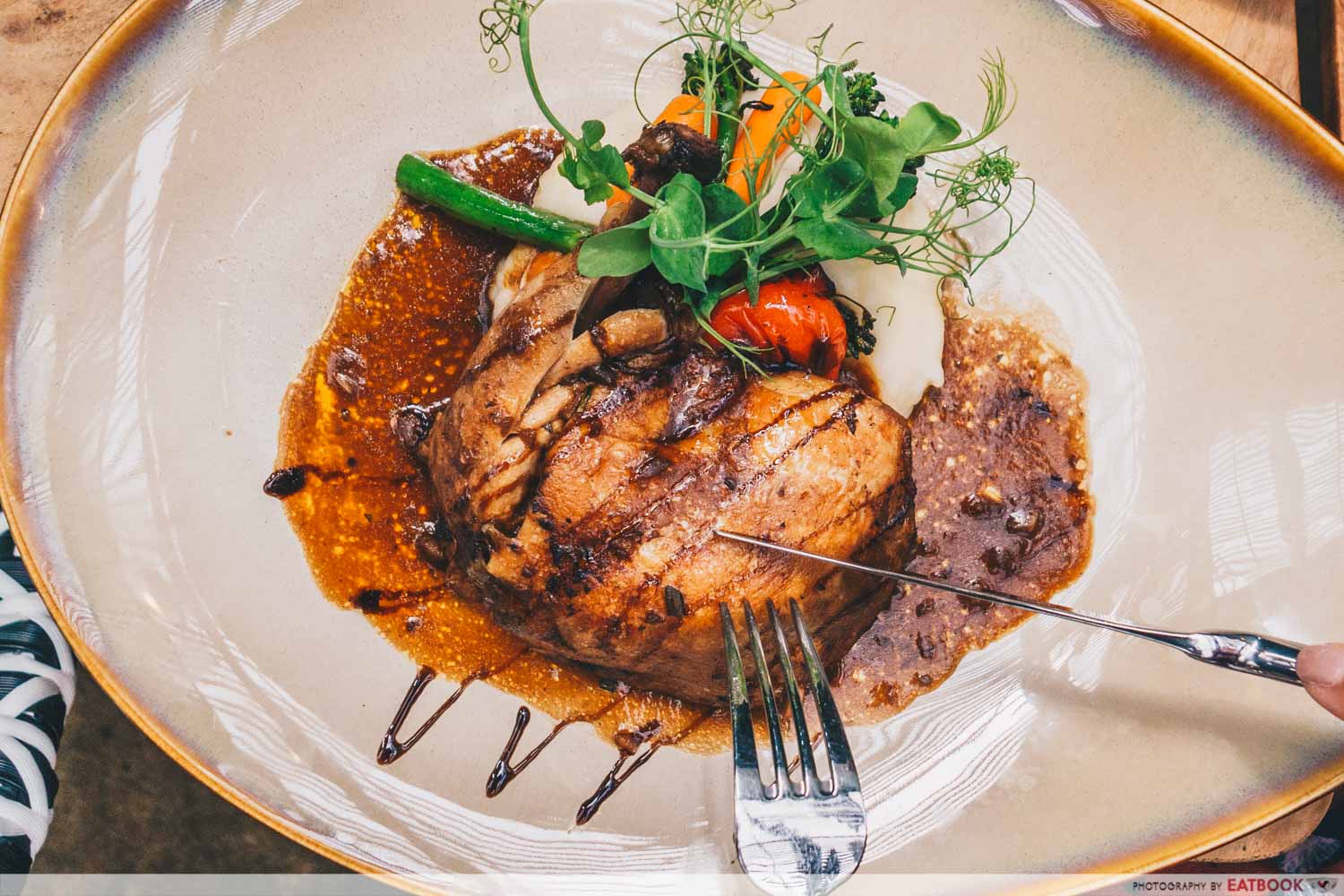 I don't usually order chicken when I dine out, but the Rosemary Chicken ($25++) was done well here. In particular, the rosemary garlic sauce stood out for its savoury notes, without being overpowered by the herb.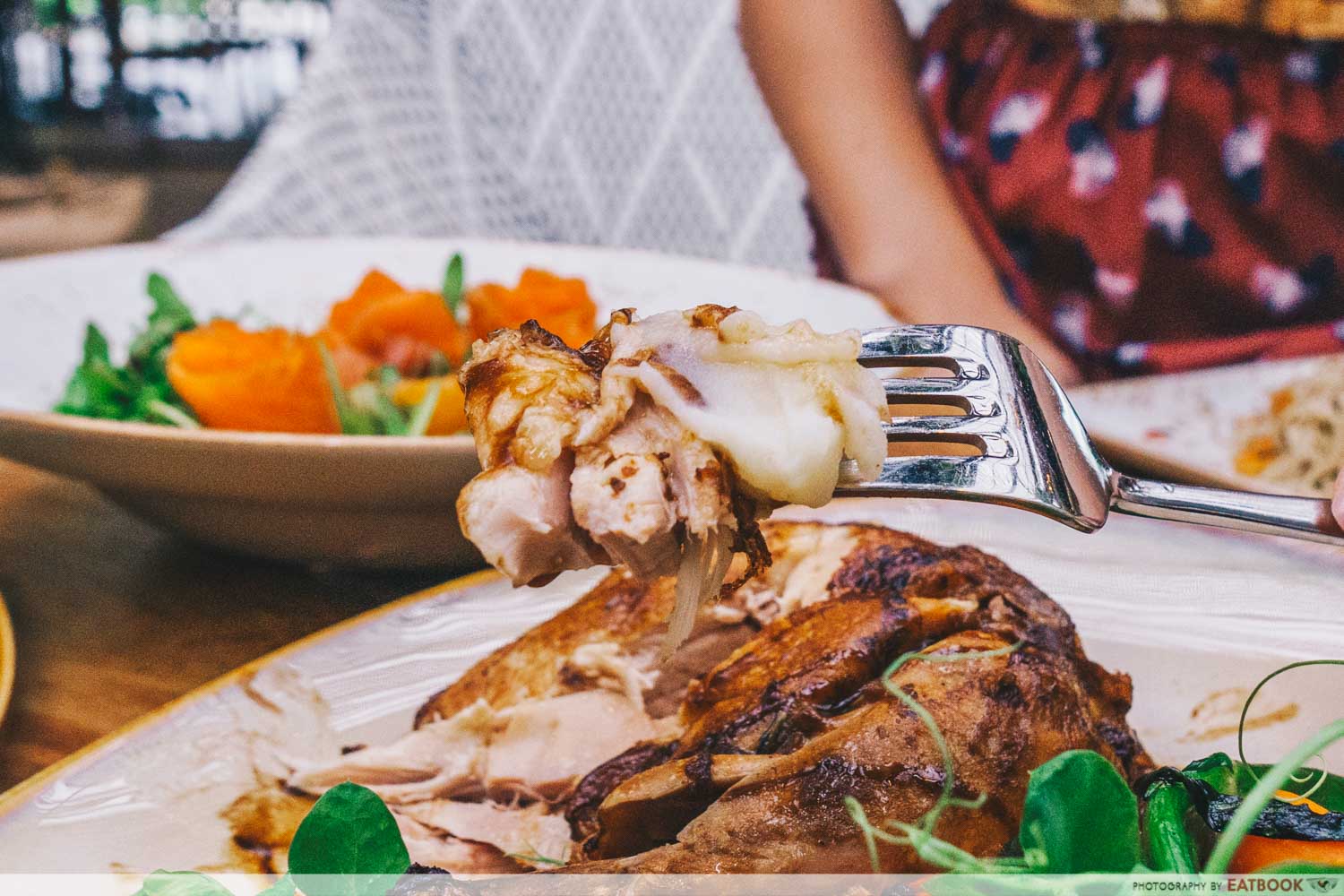 It came paired with a buttery, smooth mash that complemented the chicken.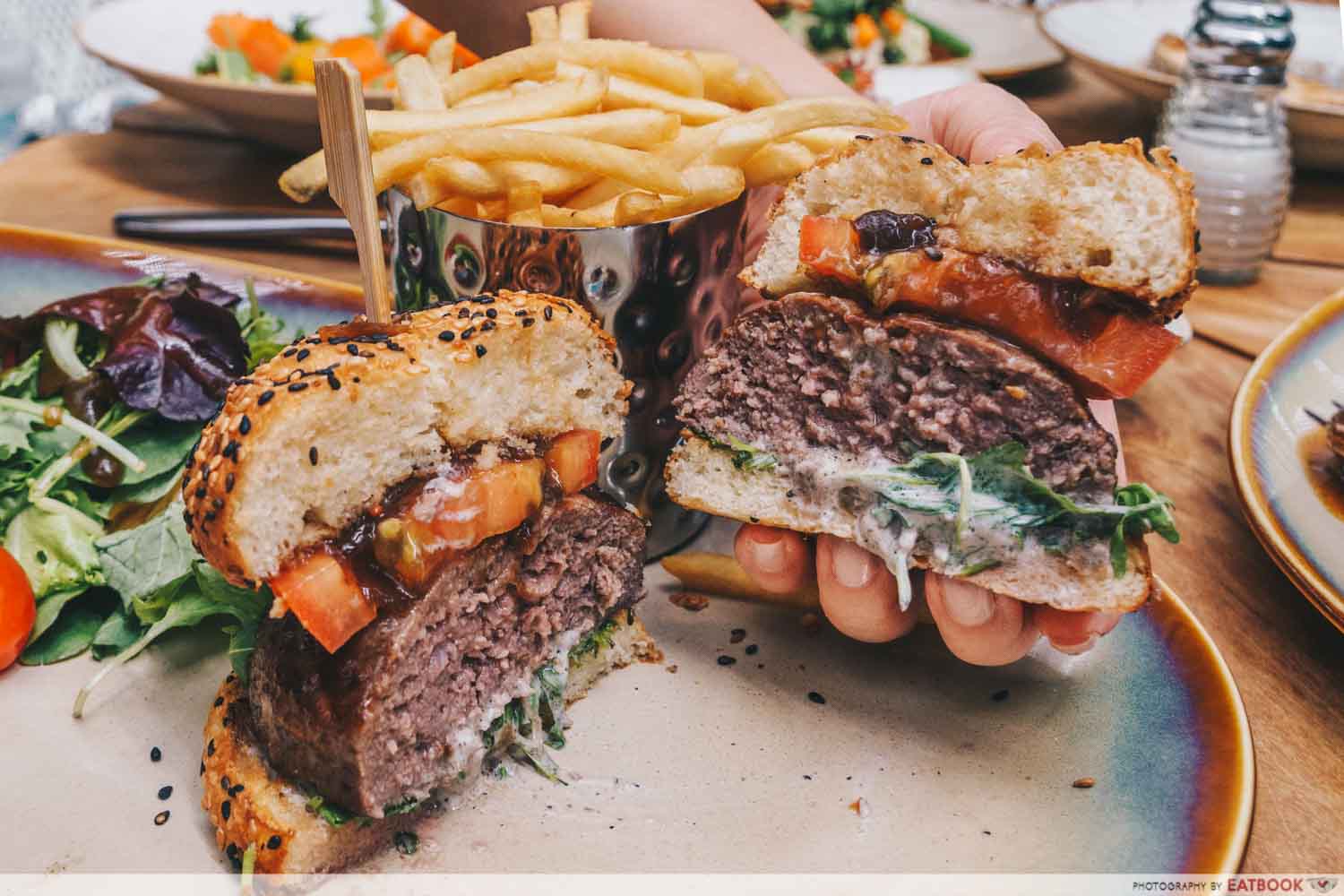 We were disappointed by the Dry-Aged Beef Burger ($32++), because the beef patty was rather dense and dry. It was also too well-done for our tastes. The patty is generously-sized, though, so perhaps it would be more satisfying when cooked less.
Kream & Kensho Review: Ikura Pasta And Grape Matcha Toast In Outram Park
Ambience at Canopy HortPark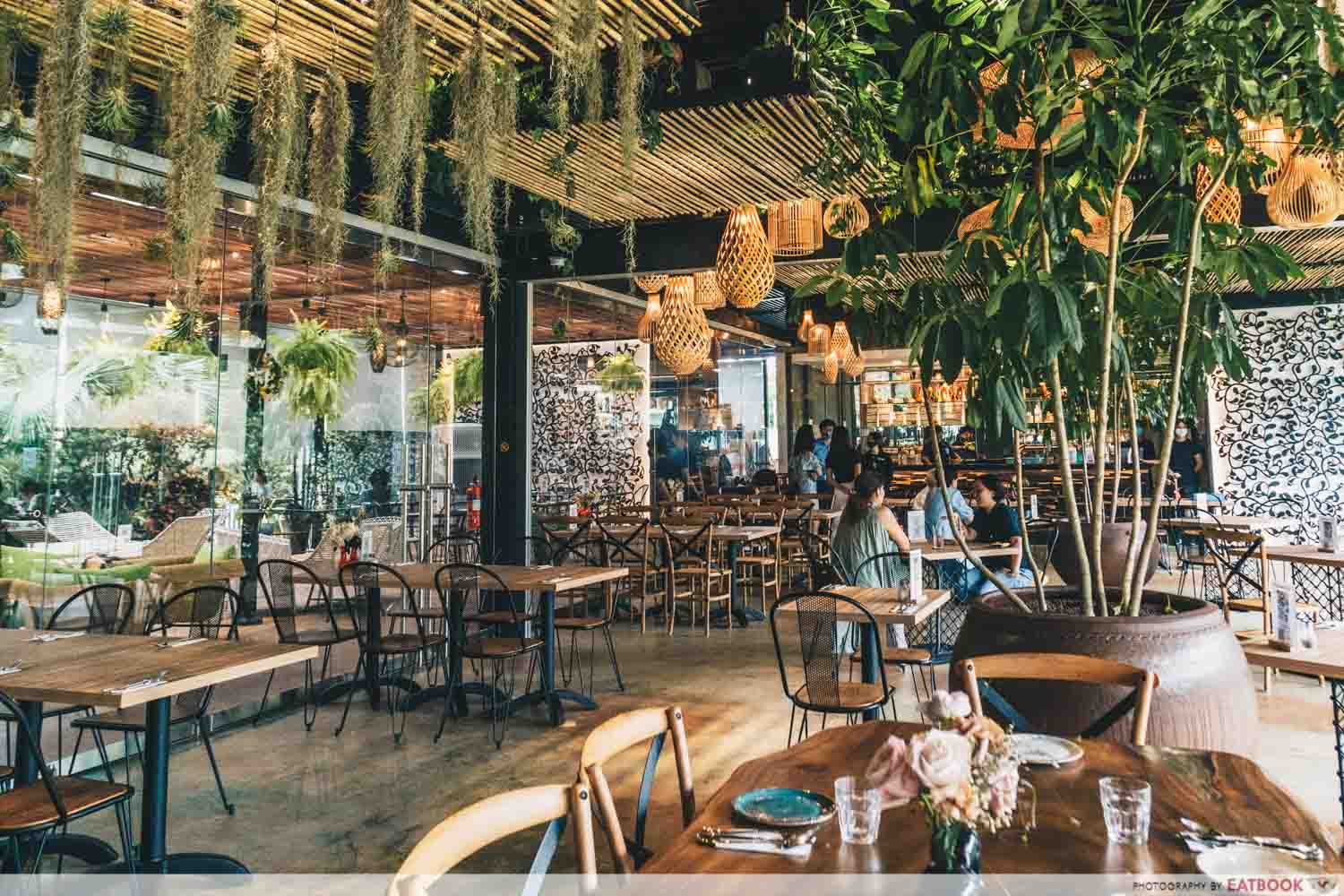 Canopy HortPark is split into an indoor dining area which is lined with full-height glass windows, as well as an al fresco area for diners with pets. The decor here is reminiscent of Balinese resorts, with hanging cane lanterns, and lush greenery that is an extension of the gardens outside.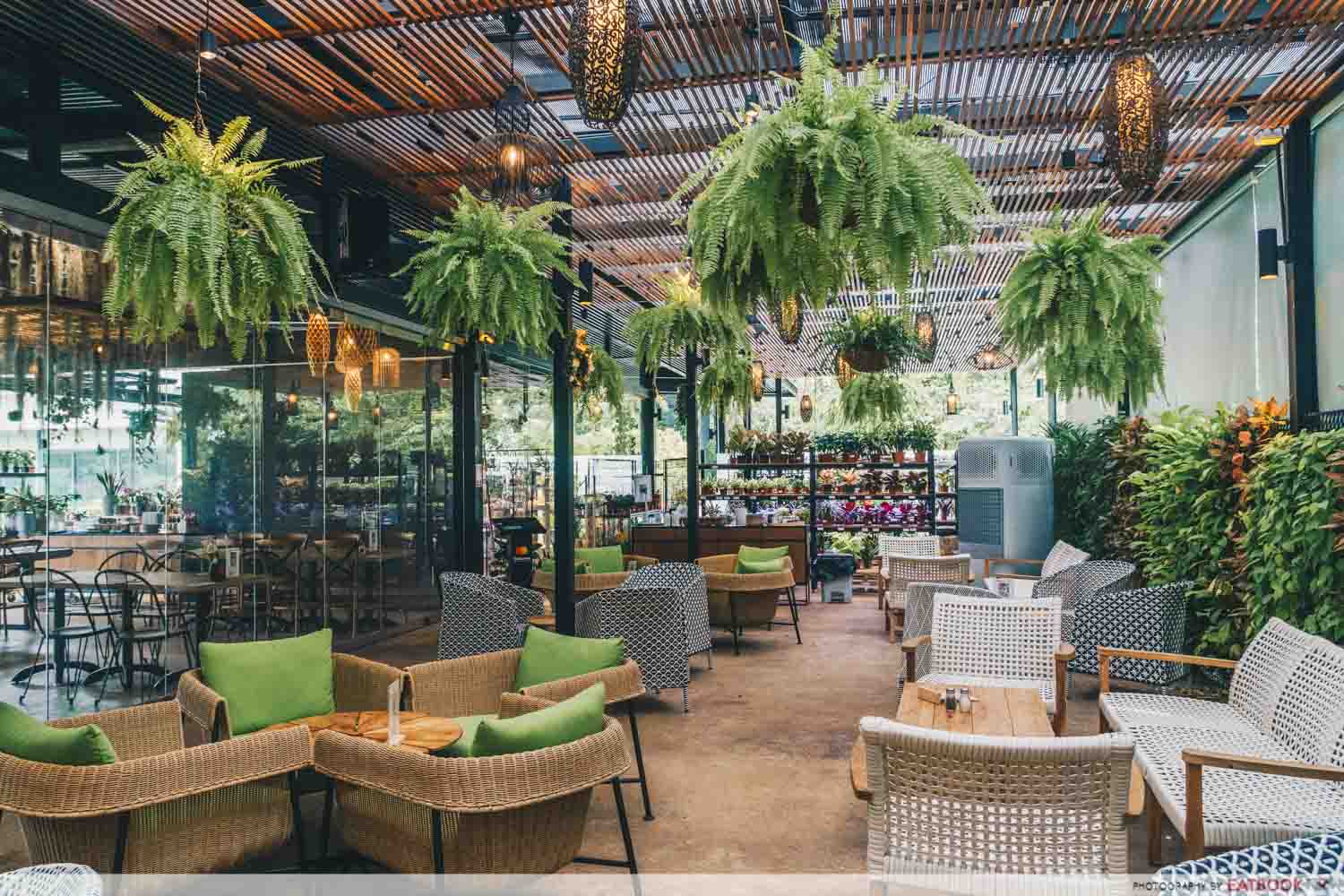 We liked the comfortable seats in the pet-friendly al fresco area, great for having furry friends share the space with us. The area is fenced in with walls of greenery and ventilated with portable air conditioners that keep the place cool.
The verdict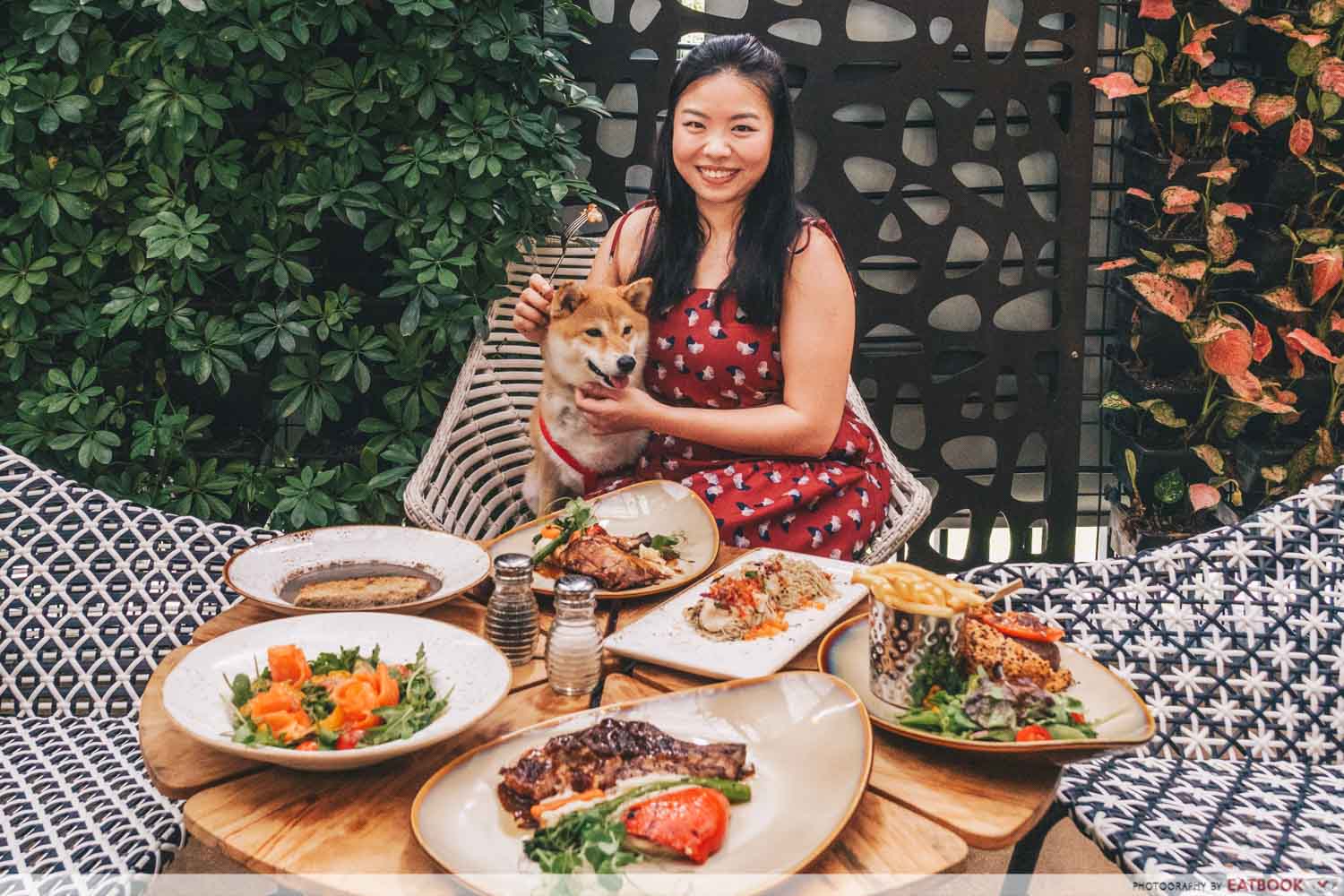 I wasn't the only happy camper at Canopy HortPark when we visited. I'd think my pup was thrilled to be allowed on the seats, rather than left to wander on the floor waiting for us to be done with the food. I do wish there was a pet-friendly menu so both of us could be fed, however.
The food at Canopy HortPark is not particularly outstanding, with improvements needed in some dishes such as the Dry-Aged Beef Burger. Don't come here expecting wallet-friendly prices, although the portions are pretty big so it's not exactly a rip-off either. Since pet-friendly cafes aren't the easiest to find in Singapore, I'd say that they've done well in positioning themselves as such, and by providing a pleasant environment for both pets and pet-owners, as well as the general customer.
For other new openings, check out our guide to new restaurants in February, or our Downstairs cafe review, where we visit a cafe that looks like an old-school void deck!
Downstairs Review: Retro Void Deck Cafe With Lu Rou Mian And Salted Egg Chicken Nasi Lemak In Suntec City
Address: 33 Hyderabad Road, #01-01, HortPark, Singapore 119578
Tel: 6556 1533
Opening hours: Daily 8am to 10:30pm
Website
Canopy HortPark is not a halal-certified eatery.
Photos taken by Chew Yien.
This was a media tasting at Canopy Hortpark.
Canopy HortPark Review: Pet-Friendly Garden Cafe With Truffle Ikura Pasta And More
Canopy HortPark Review: Pet-Friendly Garden Cafe With Truffle Ikura Pasta And More -

7.5/10
Summary
Pros
– Pet-friendly
– Beautiful ambience
Cons
– Food is on the pricey side
– Beef burger patty was dry
Recommended dishes: Cold Angel Hair Pasta ($42++), Rosemary Chicken ($25++)
Opening hours: Daily 8am to 10:30pm
Address:33 Hyderabad Road, #01-01, HortPark, Singapore 119578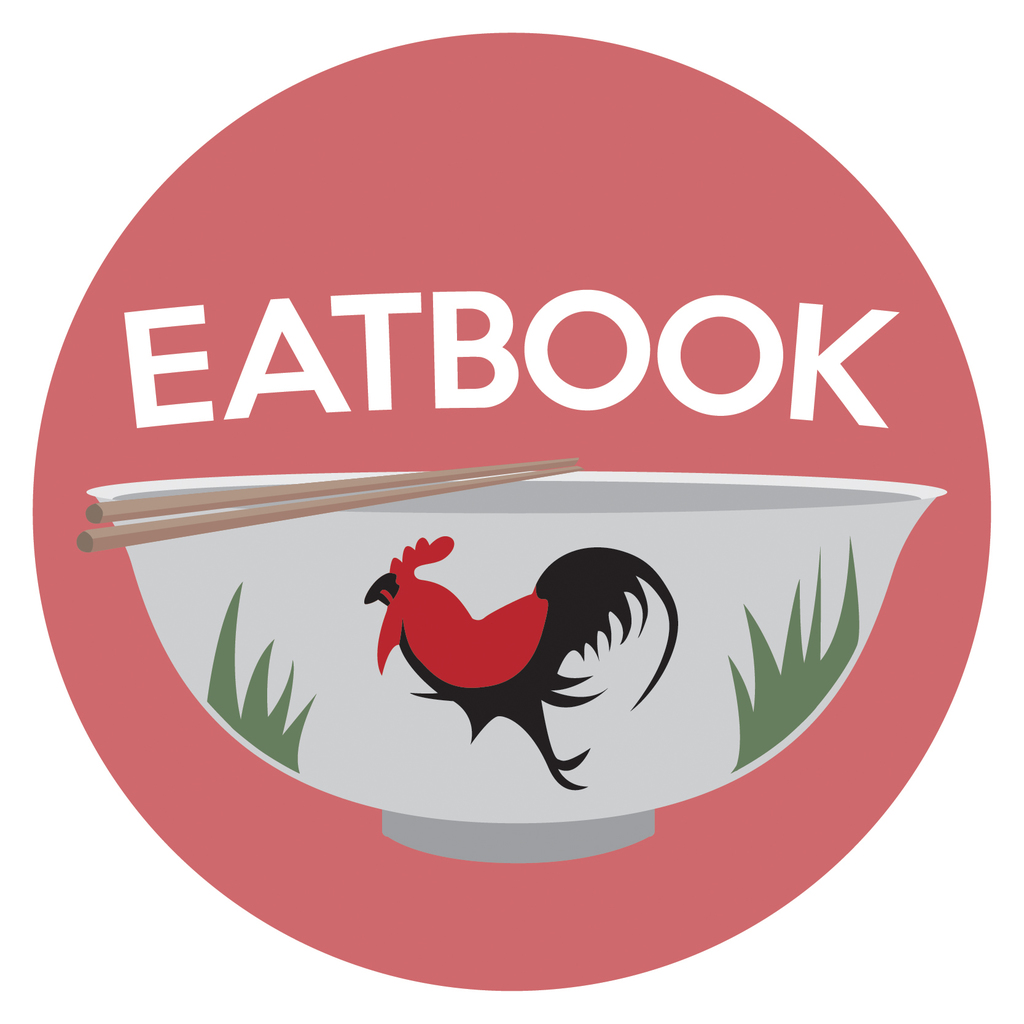 Drop us your email so you won't miss the latest news.