---
New restaurants this February 2021
---
With the end of the pandemic nowhere in sight, I'm sure most of us are experiencing serious travel withdrawals. Don't be disheartened, as there's still so much to do in our sunny island, and even more new restaurants to eat at.
From IG-worthy Neapolitan burnt cheesecake to Taiwanese lu rou mian in a void deck-style eatery, check out these 9 new restaurants in Singapore this February 2021. You may not be able to fill your wanderlust, but you're sure to fill your belly.
---
1. Downstairs
---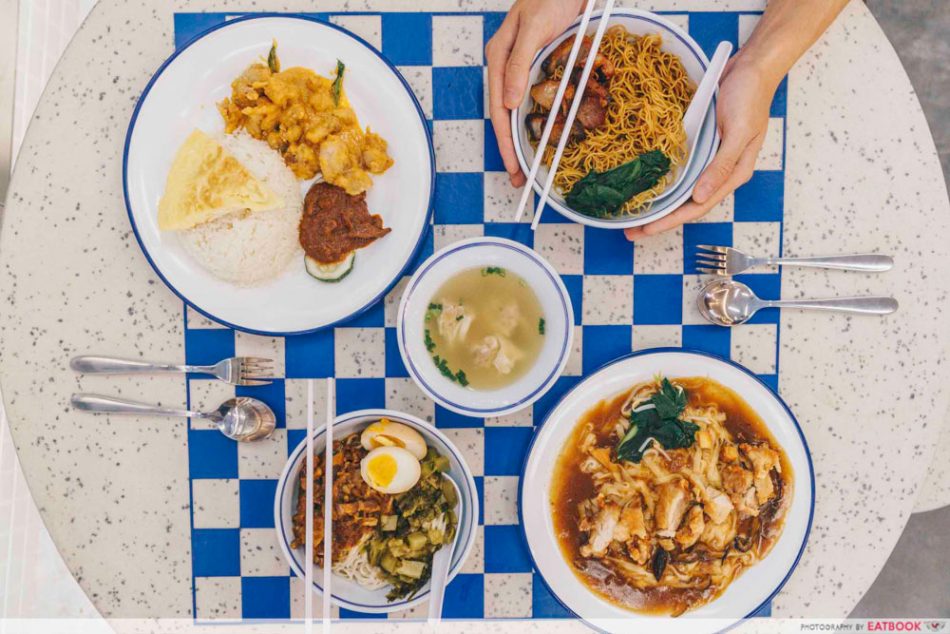 Downstairs is an old-school-style eatery decked in chess-inspired tables and metal letterboxes, imitating, quite literally, your void deck downstairs. IG-worthy aesthetics aside, they serve up wallet-friendly Taiwanese and local fusion dishes.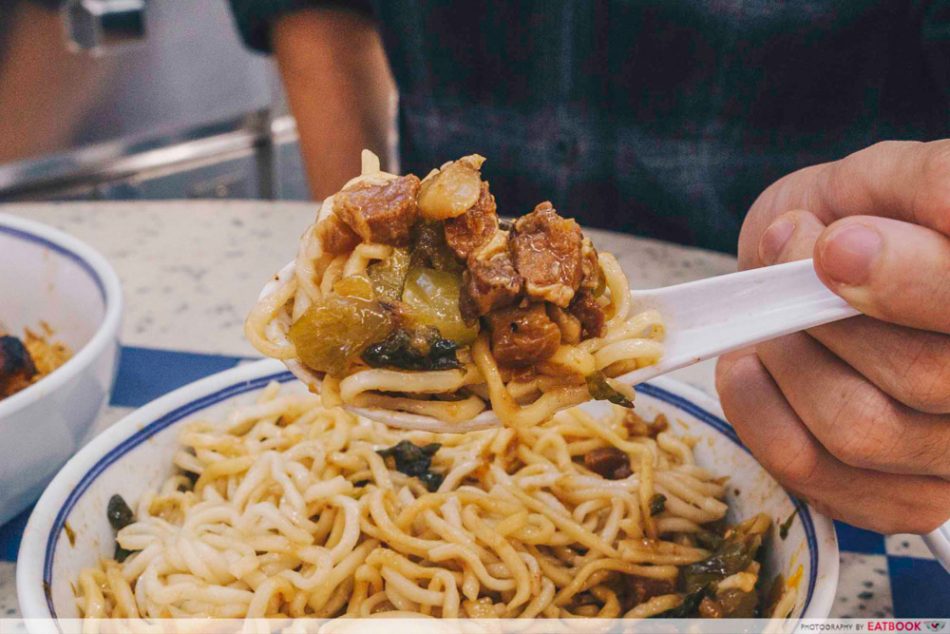 We enjoyed their Lu Rou Mian ($6), an alternative to the usual lu rou fan, with springy noodles, braised meat, egg, and salted vegetables. Another hearty option would be the Salted Egg Chicken Nasi Lemak ($8.90), which sees creamy salted egg chicken alongside fragrant coconut rice. Located within Suntec City, this makes for an affordable meal, if you're tired of fast food or food courts.
Check out our Downstairs review!
Address: 3 Temasek Boulevard, #B1-132, Suntec City, Singapore 038983
Opening hours: Mon-Fri 8:30am to 9pm, Sat-Sun 9am to 9pm
Website
Downstairs is not a halal-certified eatery.
Downstairs Review: Retro Void Deck Cafe With Lu Rou Mian And Salted Egg Chicken Nasi Lemak In Suntec City
---
2. Syohachi Yakiniku
---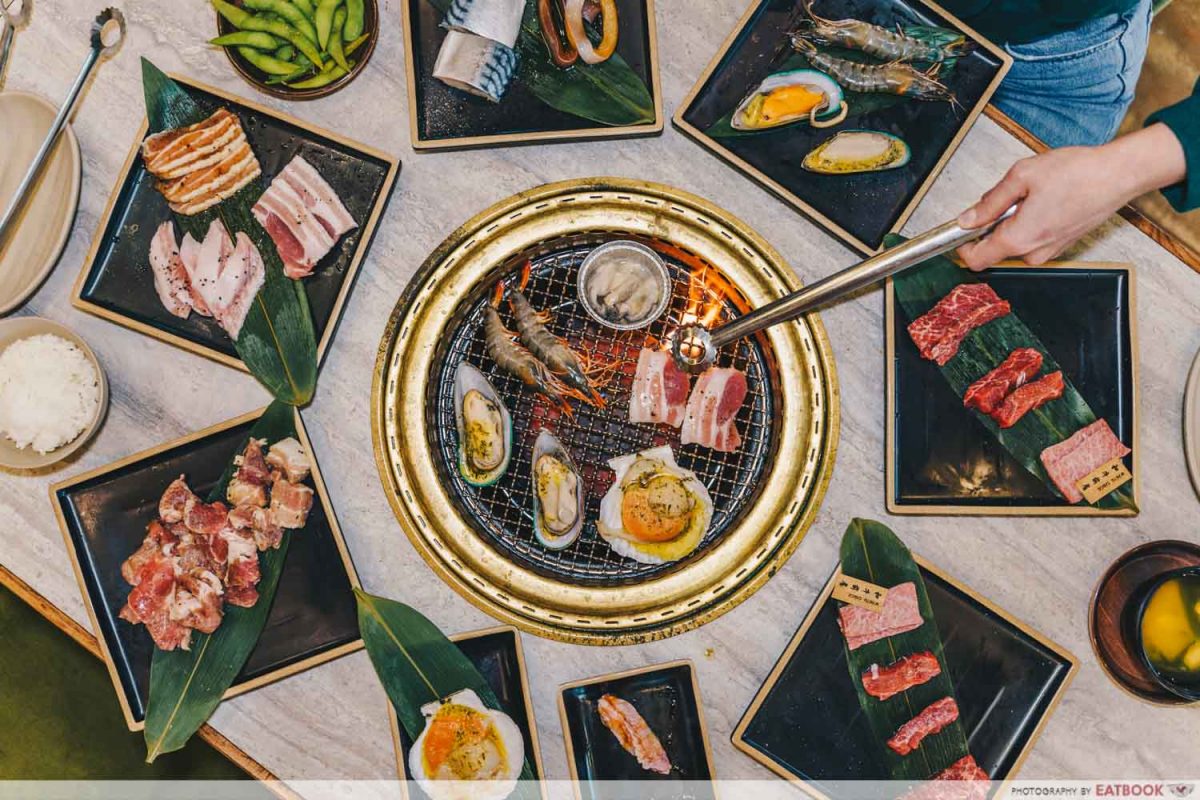 While we can't fly to Japan right now, yakiniku spots remain aplenty in Singapore, with the newly opened Syohachi Yakiniku to add to the list. Conveniently located within Guoco Tower at Tanjong Pagar, we tried their 90-minutes Yakiniku Ala Carte Lunch Buffet ($30++ per person) which runs from Mondays to Thursdays, between 11:30am to 3pm.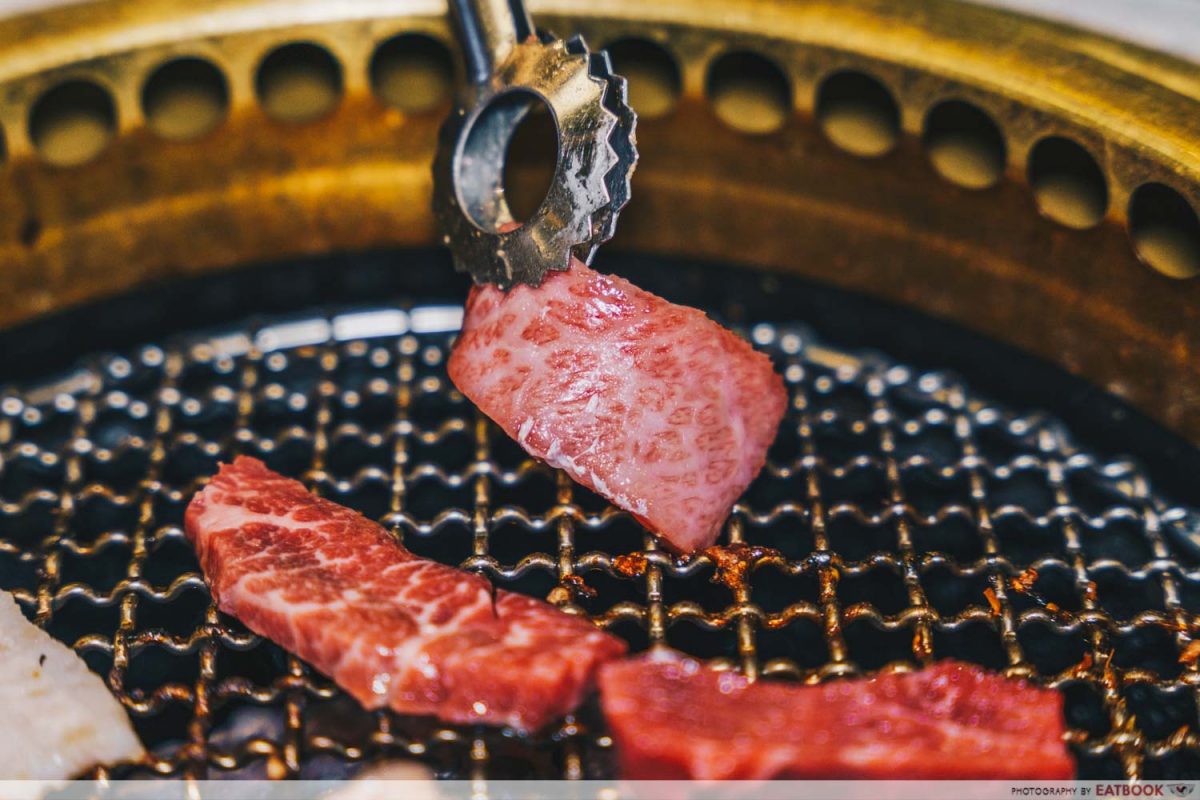 The price tag spans across 42 items including pork, chicken, and seafood. Do note that the beef isn't free-flow, though you can top up for additional beef, starting at $6++ per four slices. While their meats were well-marinated, their service left much to be desired, so do proceed with caution.
Check out our Syohachi Yakiniku review!
Address: 5 Wallich Street, #01-13, Guoco Tower, Singapore 078883
Opening hours: Daily 11:30am to 3pm, 5pm to 1am
Tel: 9431 8804
Website
Syohachi Yakiniku is not a halal-certified eatery.
Syohachi Yakiniku Review: Yakiniku Buffet With Wagyu Tasting Platter For $30++ Per Person
---
3. Zodiac
---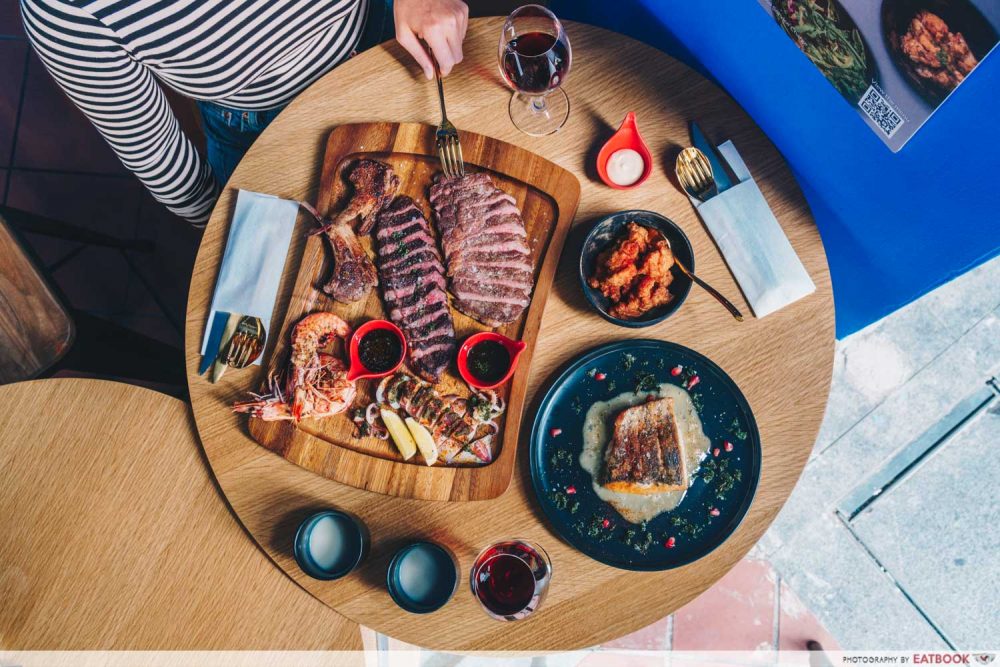 Telok Ayer is a foodie haven, and joining its trail of eateries is Zodiac, a contemporary restaurant-bar with dinner classics and affordable wines. Their food uses quality ingredients and condiments thoughtfully sourced from around the world.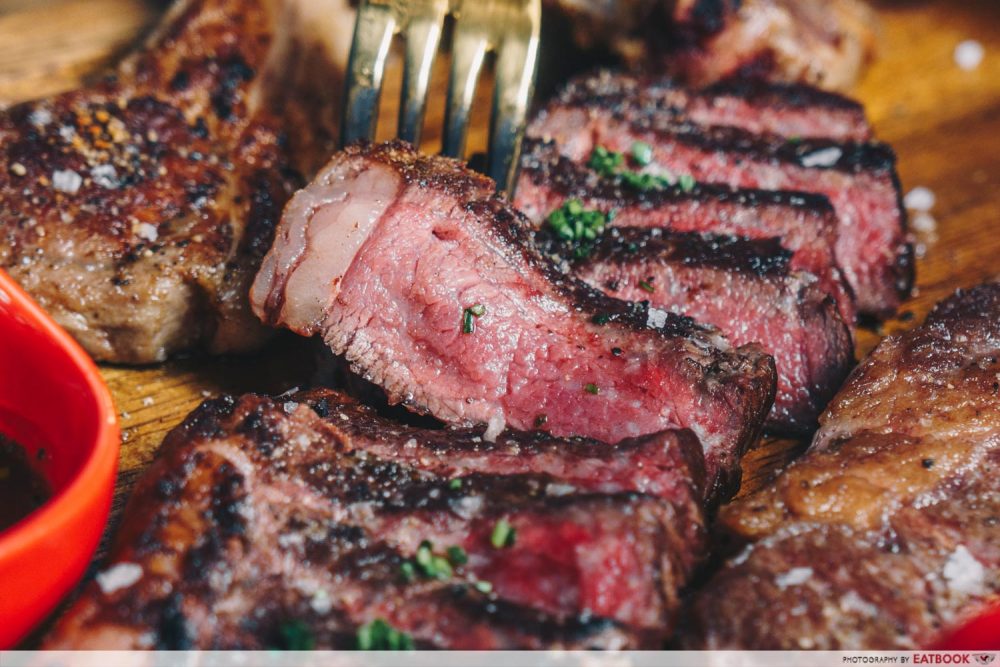 Priced at $125++, the Premium Surf 'n' Turf consists of flame-grilled steaks, lamb lollipops, wild-caught prawns, and flame-torched squid. The platter feeds two, with premium ingredients that make the price worth it. For bar bites to go along with your beverage, get the Cognac Karaage Chicken ($13++). These boozy pops are marinated in Réviseur VSOP Cognac, with a cognac aioli to dip.
Check out our Zodiac review!
Address: 159A Telok Ayer Street, Singapore 068614
Opening hours: Mon-Sat 11:30am to 10:30pm
Tel: 8950 5975
Website
Zodiac is not a halal-certified eatery.
Zodiac Review: $15.90 Wagyu Burgers, Steak Platters And 1-For-1 Wines In Telok Ayer
---
4. Juparo Coffee
---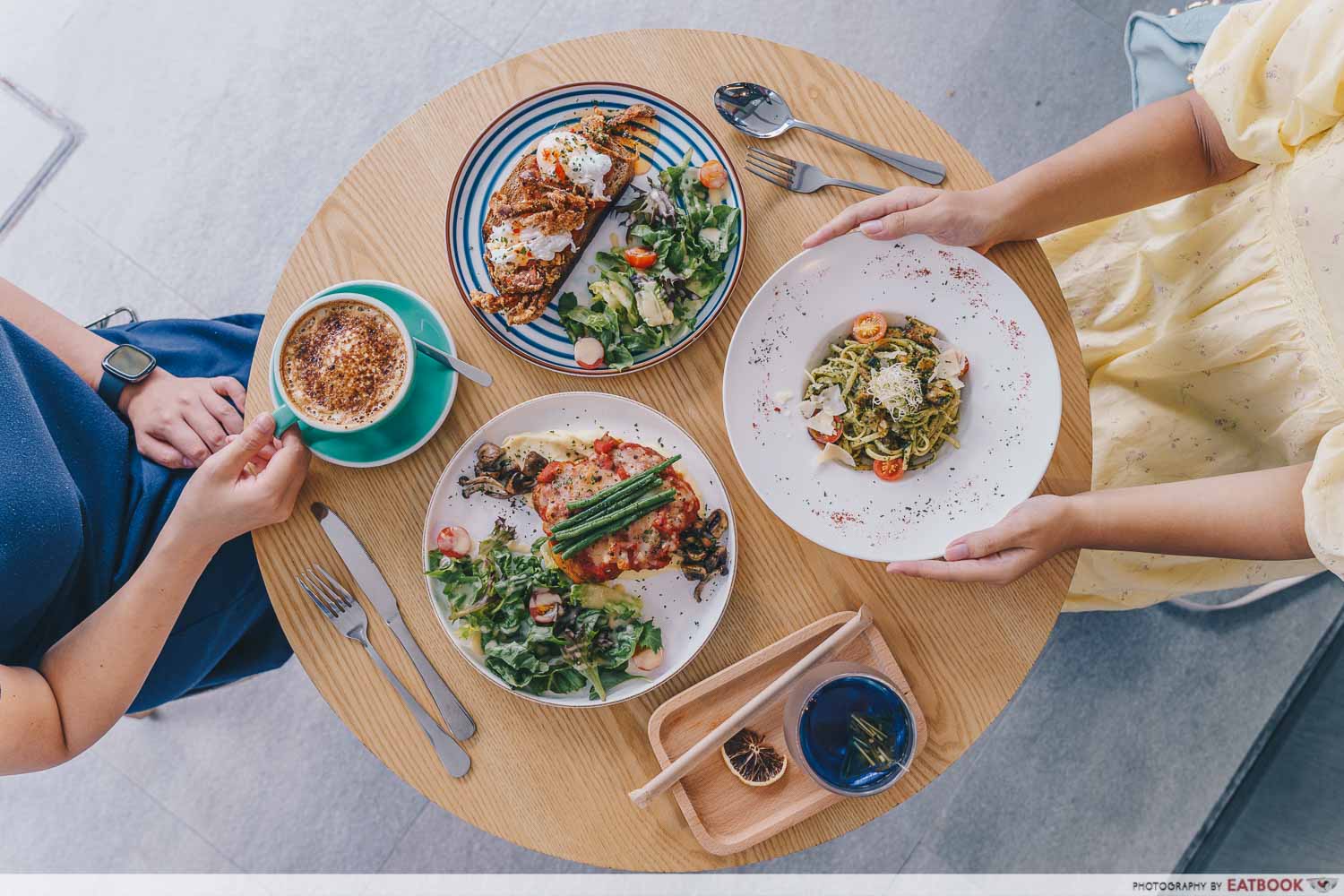 Cafe-hopping is a national pastime, though damaging to the wallet. You won't have to break the bank at Juparo Coffee, where all mains go for under $20 nett. Reminiscent of chilli crab, The Crab ($13.90) comprised soft shell crab and poached eggs on sourdough. It was generously portioned, despite the friendly price point.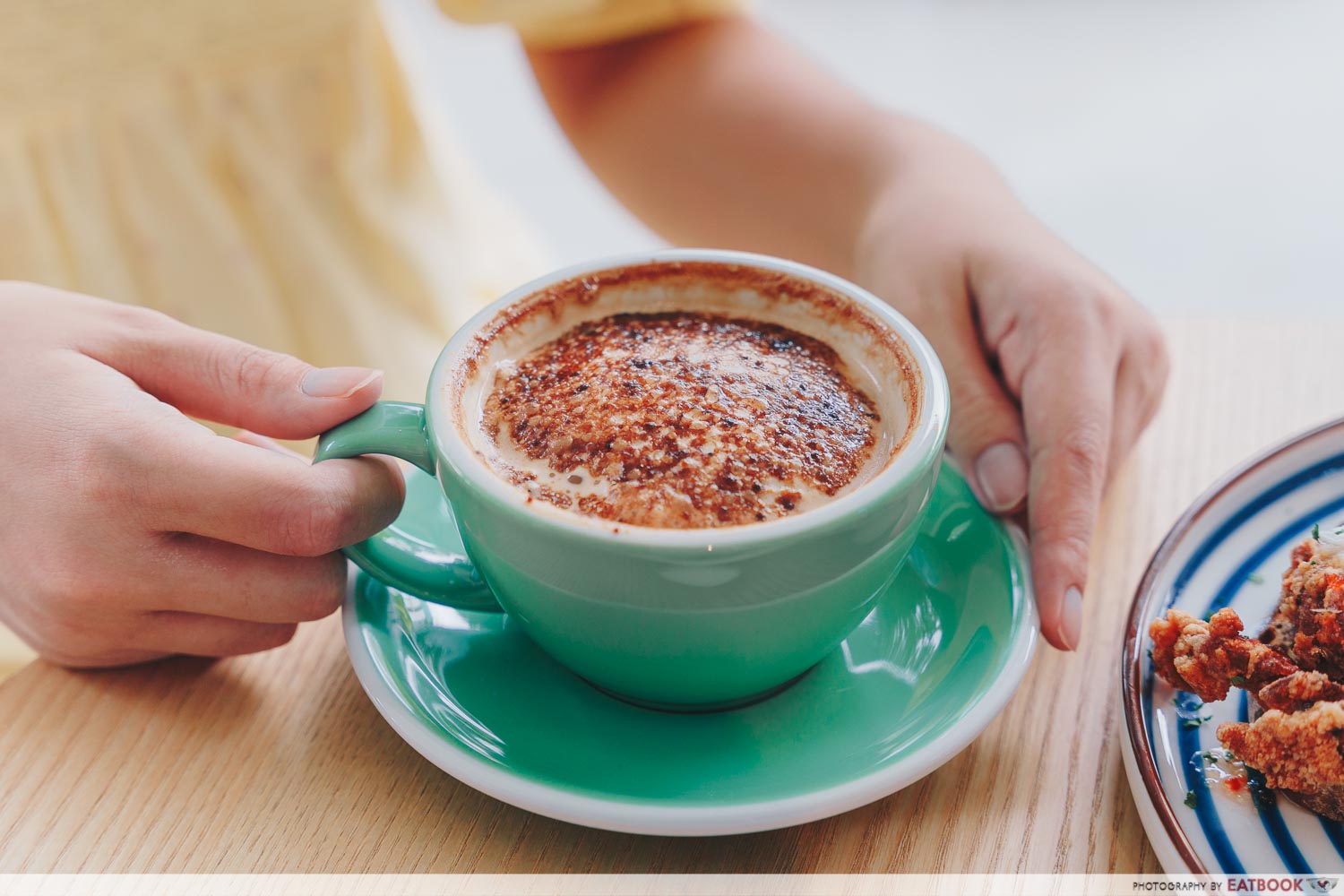 Coffee is a must here if you aren't already convinced by the aroma wafting around the cafe. Sweetened by Japanese molasses, we got the Kogeta Cappuccino ($6), which tasted like crème brûlée.
Check out our Juparo Coffee review!
Address: 51 Upper Serangoon Road, #01-59, Poiz Centre, Singapore 347697
Opening hours: Tues-Sun 10am to 9pm
Tel: 6241 4041
Website
Juparo Coffee is not a halal-certified eatery.
Juparo Coffee Review: Crab Toast, Chicken Parmigiana And Blue Iced Tea At Potong Pasir
---
5. Tipsy Bunny
---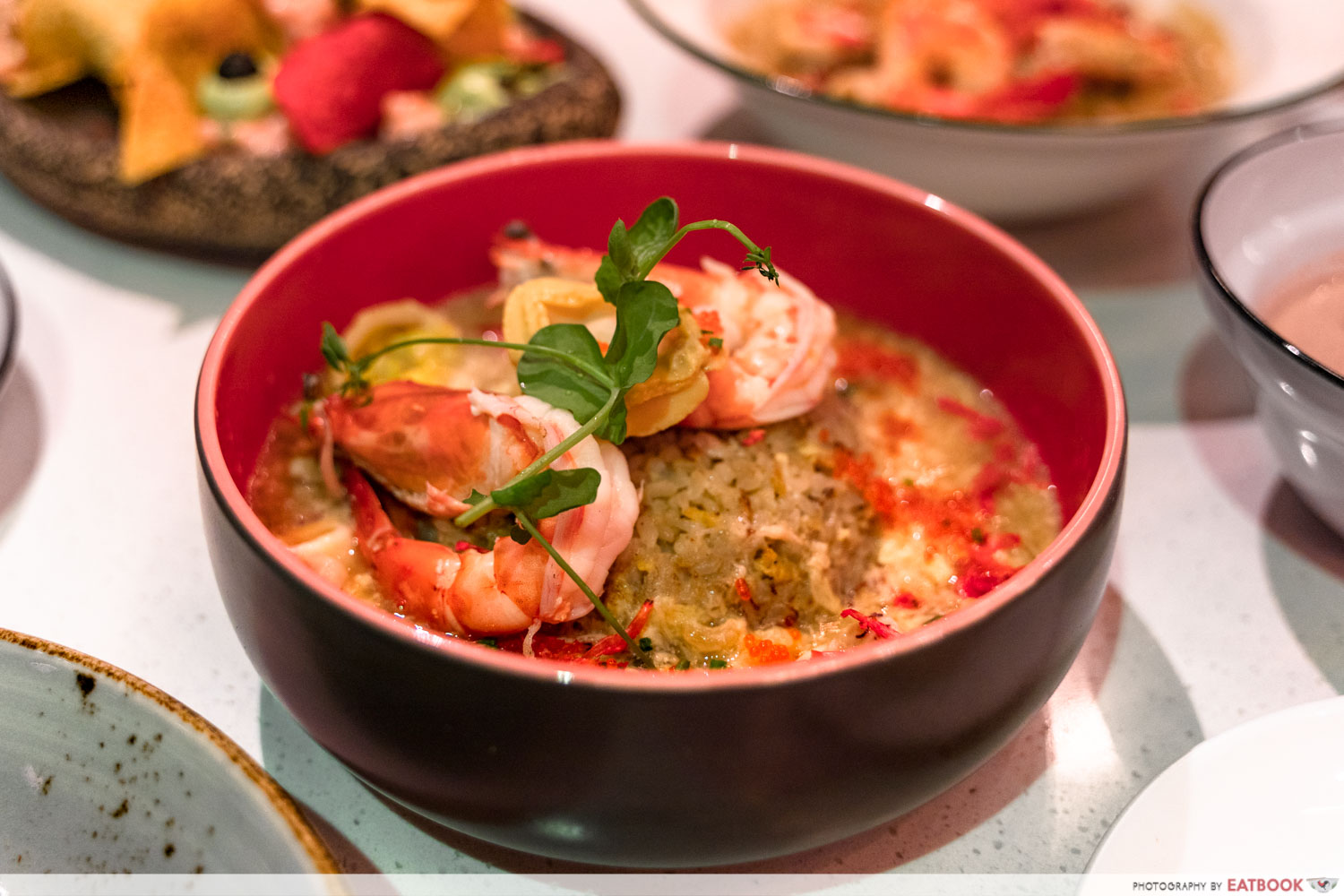 Tipsy Bunny is the newest addition to Westside mall JEM, serving up fusion dishes and alcoholic beverages. Adorned with neon lights, in a purple and orange theme, this makes for a chill place to hang with friends over drinks.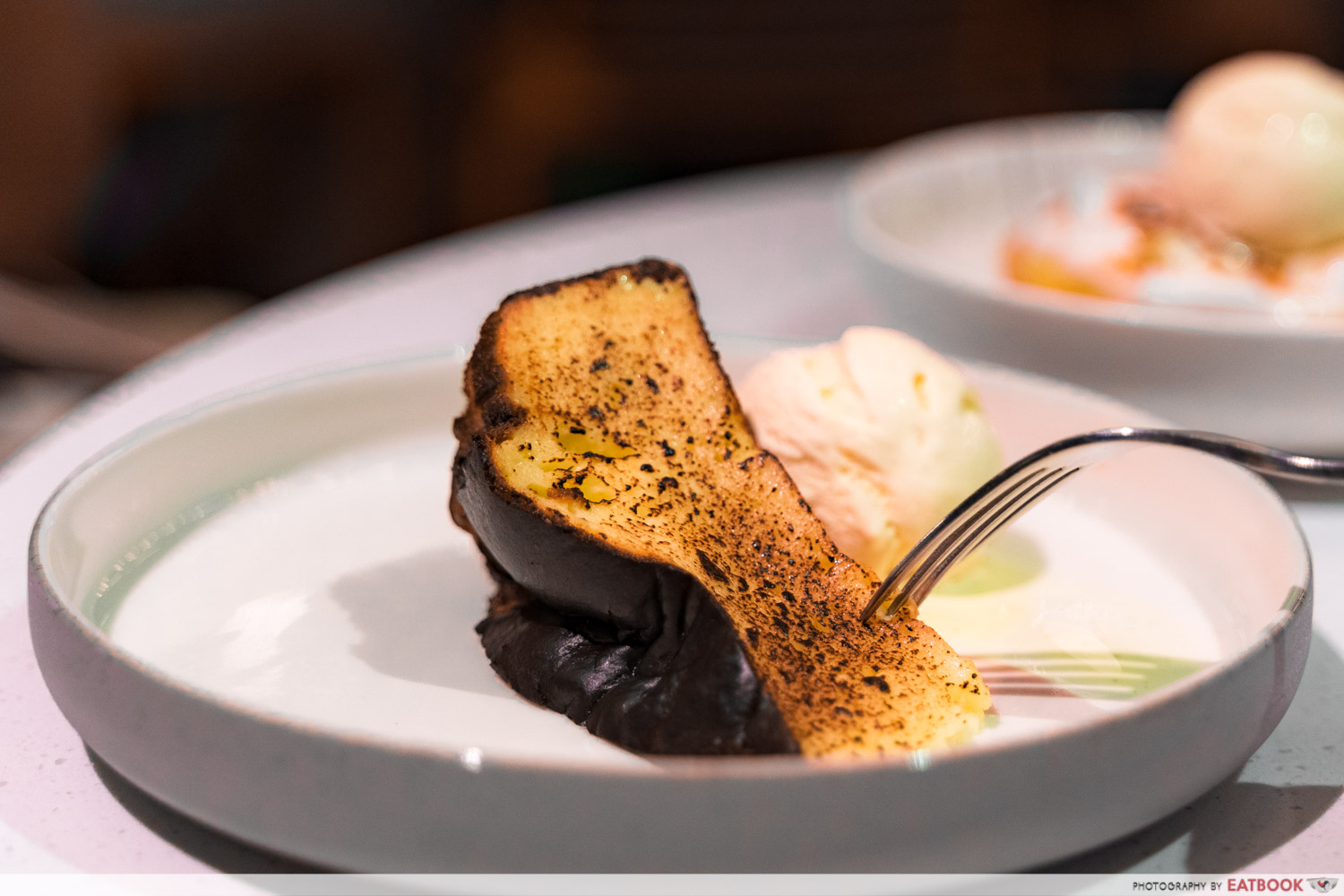 Their signature XO Fried Rice Mui Fan ($32++) boasts dried scallops and seafood stock made from abalone, with a sauce that's infused with fish maw. If you're feeling like Western cuisine, get the Guanciale Truffle Pizza ($23++), complete with a 63-degree poached egg in the middle. To end your meal on a sweet note, order the Tipsy's Burnt Cheesecake ($10++). 
Address: 50 Jurong Gateway Road, #01-05, JEM, Singapore 608549
Opening hours: Daily 12pm to 10:30pm
Tel: 8028 0093
Website
Tipsy Bunny is not a halal-certified eatery.
---
6. La Pasteleria
---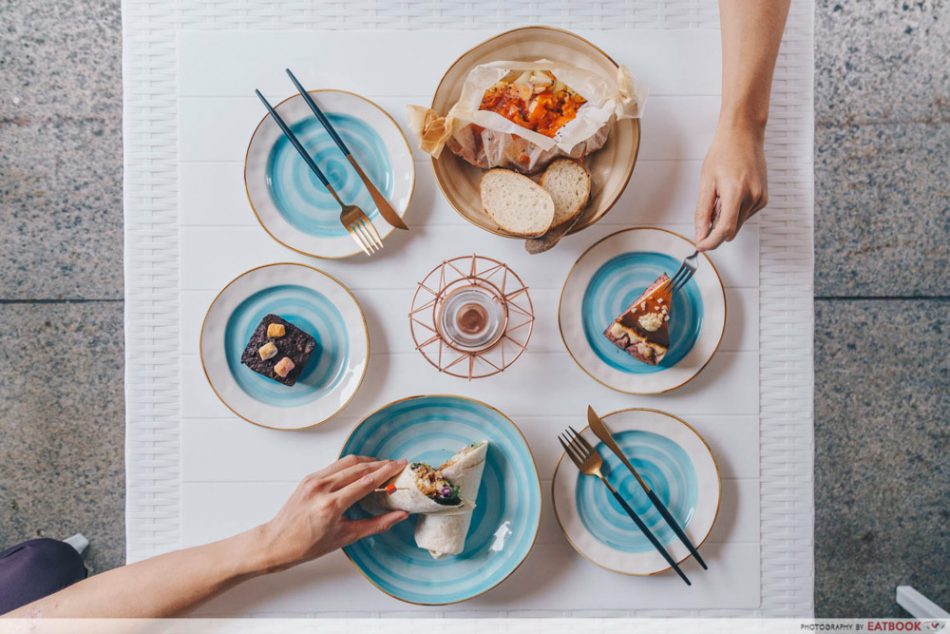 The circuit breaker saw a boom of home-based bakers, and La Pasteleria is a success story of one, with two physical stores to celebrate. We visited the newly-opened outlet at UE Square in Robertson Quay for their IG-worthy Neapolitan Basque Burnt Cheesecake ($9++). Neapolitan ice cream is a childhood favourite, so it's refreshing to see this take on burnt cheesecake.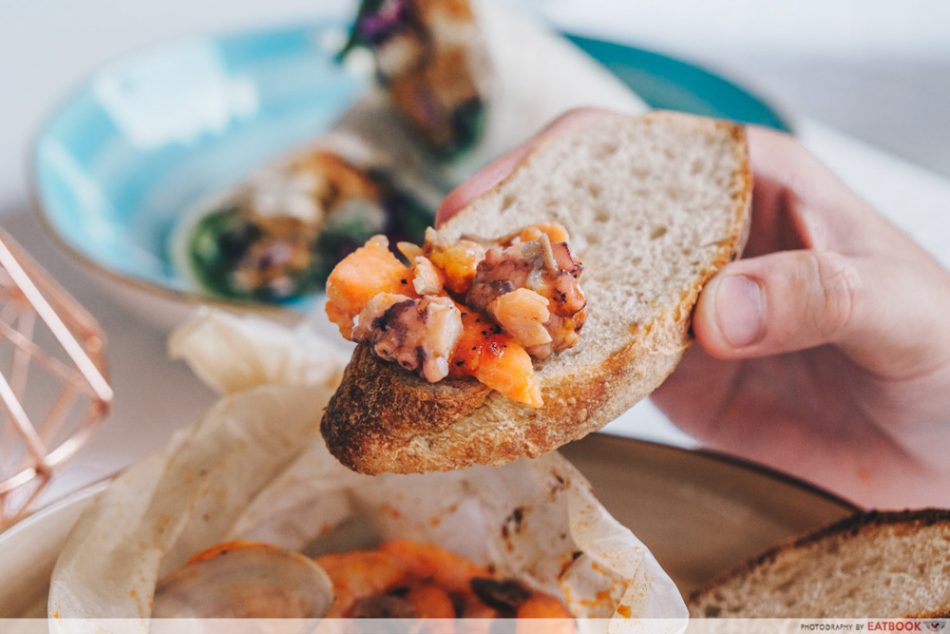 Though sweets-centric, we actually preferred their mains. The Baked Seafood With Olives And Tomato Sauce ($16++) is highly recommended, comprising fresh seafood and tomato sauce, served with sourdough.
Check out our La Pasteleria review!
Address: 81 Clemenceau Ave, #01-22, UE Square, Singapore 239917
Opening hours: Daily 8am to 11pm
Tel: 6369 2688
Website
La Pasteleria is not a halal-certified eatery.
La Pasteleria Review: Neapolitan Burnt Cheesecake, Mala Pork Belly Wrap And More In Robertson Quay
---
7. Cult Sliders
---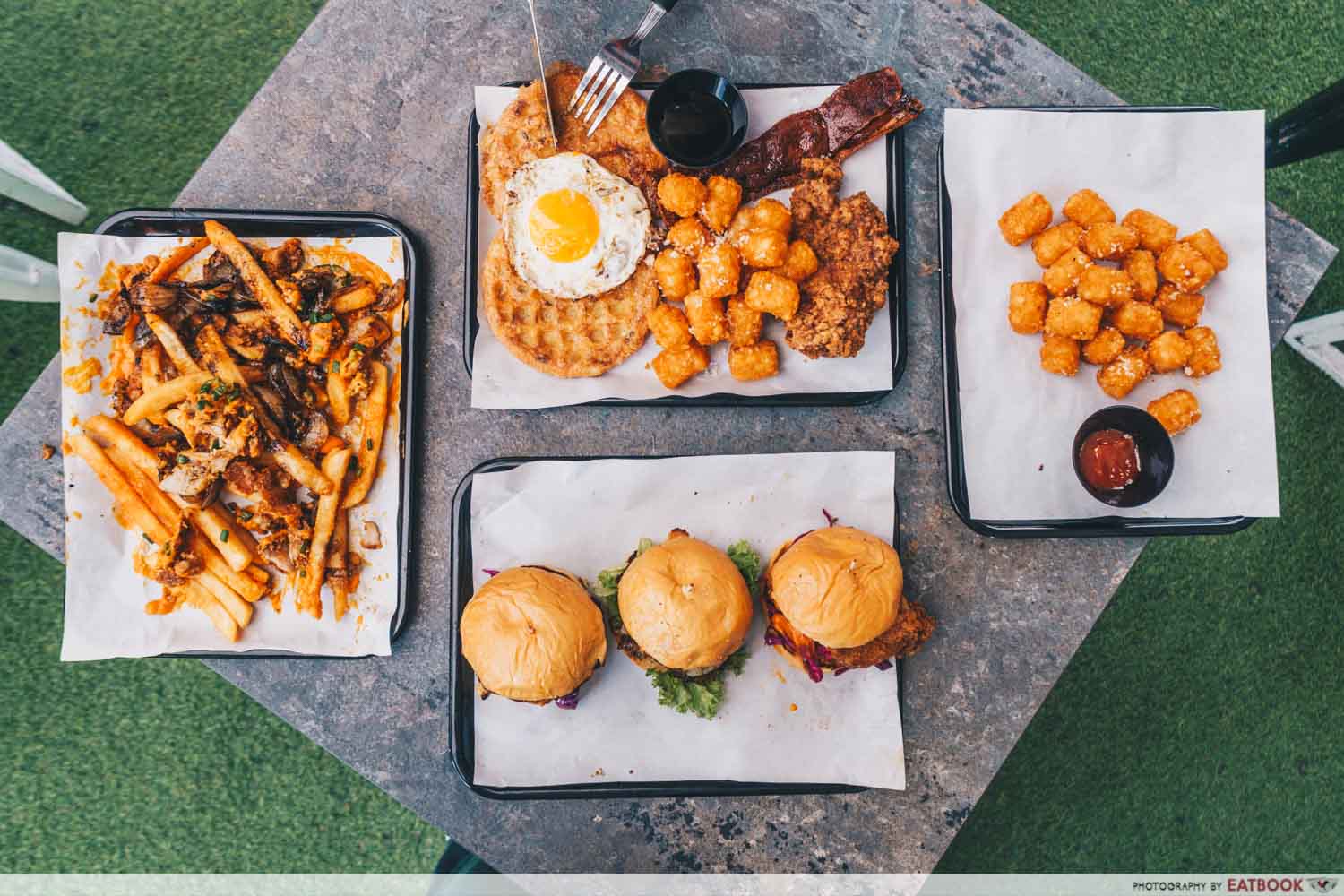 You might have seen 21 Sliders at the Geylang Serai Bazaar. They have now rebranded to Cult Sliders, with a temporary physical space in Boat Quay, selling $5 sliders that make for affordable grub. Get The Wrangler for fried chicken slathered in spicy buffalo sauce, or The Oriental Whiplash for shoyu-marinated chicken alongside grilled pineapple.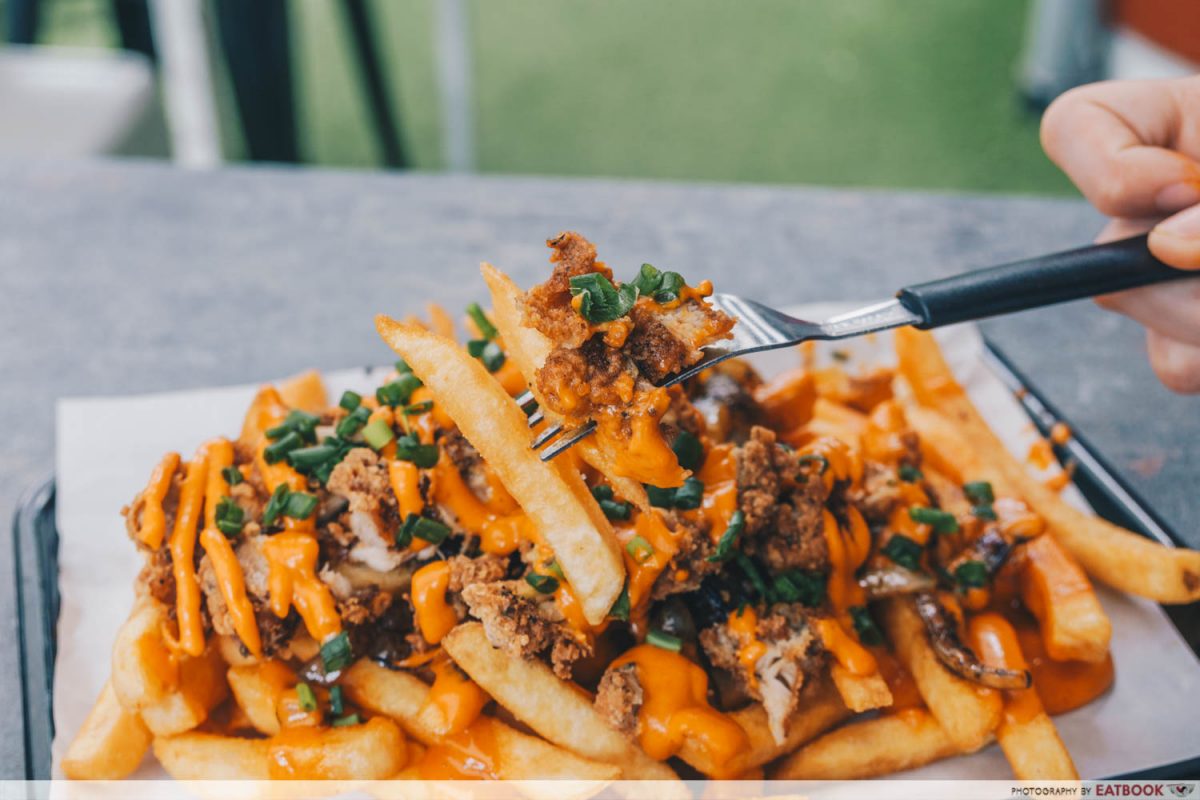 Cult Sliders also offers sides for sharing. We particularly enjoyed their Cult Fries ($12), which were loaded with caramelised onions, popcorn chicken, and buffalo sauce.
Check out our Cult Sliders review!
Address: 18 Circular Road, Singapore 049374
Opening hours: Mon-Sat 11:30am to 10:30pm
Website
Cult Sliders is not a halal-certified eatery, but it is Muslim-owned.
Cult Sliders Review: $5 Mini Burgers In Boat Quay By Geylang Serai Bazaar's Famous 21 Sliders
---
8. Paris Baguette 313@Somerset
---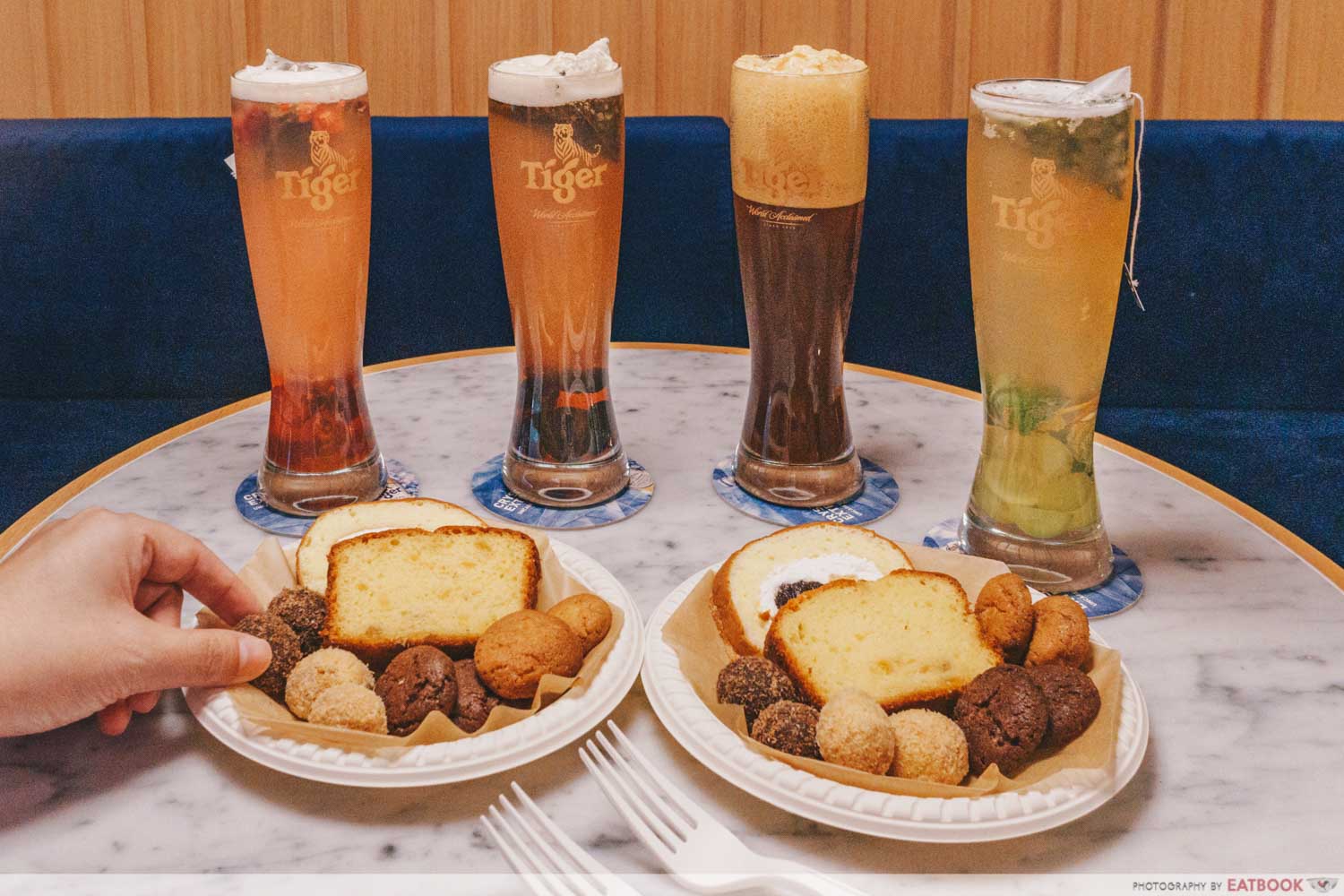 Paris Baguette is no stranger to Singaporeans, with outlets scattered over the country. Their newest one resides at 313@Somerset, taking over the space where Brotzeit used to be.
Unique to this outlet are their Beer-Based Cocktails (from $11), made with Tiger Crystal beers and Paris Baguette's TEATRA teas. The Hadong Green Tea Crystal ($13) got our stamp of approval, with its refreshing blend of green tea, green grapes, and mint leaves.
Check out our first look at Paris Baguette 313@Somerset's two-storey cafe.
Address: 181 Orchard Road, #01-27, 313@Somerset, Singapore 238896
Opening hours: Sun-Thur 10am to 10:30pm, Fri-Sat 10am to 11pm
Tel: 6509 4802
Website
Paris Baguette is not a halal-certified eatery.
---
9. Five Guys NEX
---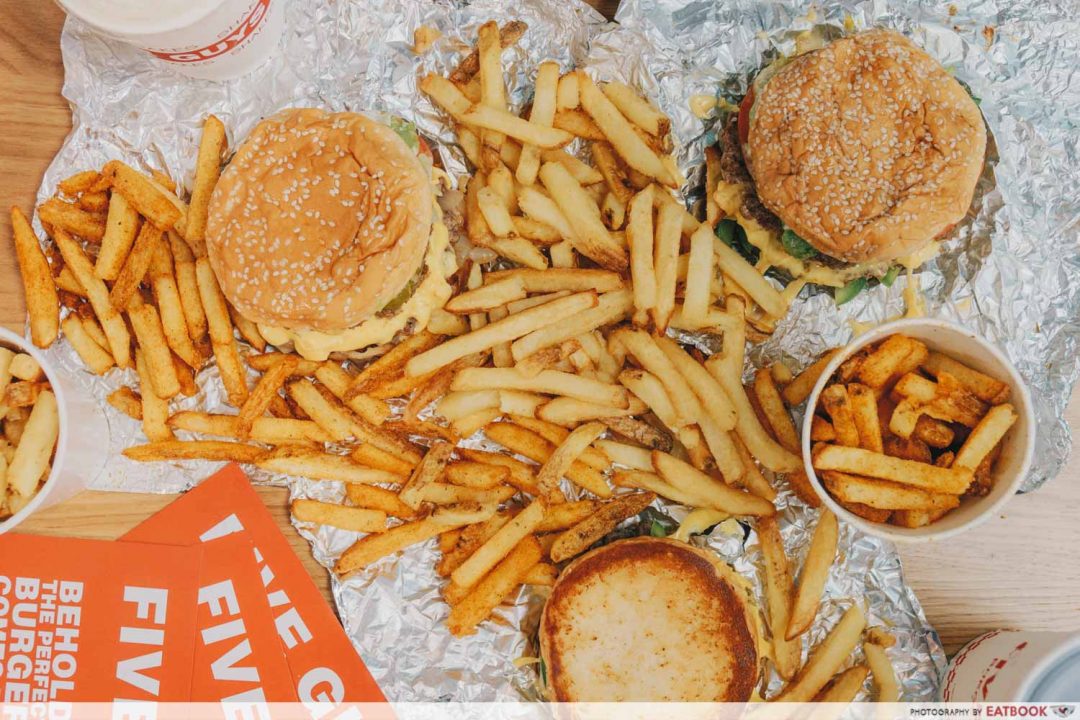 Popular American burger chain Five Guys has opened a second outlet at NEX, alongside their first one in Plaza Singapura. Their basic Cheeseburger goes for $15, customisable with up to 15 toppings. Load your burger with mayo, ketchup, lettuce, pickles, however you like it.
Like Shake Shack, Fries (from $7) are available ala-carte. You can get them Five Guys style or Cajun Style. Wash everything down with their Five Guys Shake ($10). Consisting of peanut butter, salted caramel, crushed bacon, and whipped cream, this drink is a dessert on its own.
Check out our Five Guys review!
Address: 23 Serangoon Central, #B1-41/42/43, NEX, Singapore 556083
Opening hours: Daily 11am to 10pm
Website
Five Guys is not a halal-certified eatery.
---
Try these new restaurants this February 2021
---
Singapore is a dreamland for foodies, with new eateries cropping up on the regular. We've curated a list of 9 new restaurants to visit this February 2021, so you can eat your way through the CNY holidays and more.
Dong Fang Hong Sotong Ball Seafood Soup Review: Handmade Fishball Noodles By Three Sisters In Chinatown
We've also visited places that aren't new, but worth trying for the food. Check out our Dong Fang Hong Sotong Ball Seafood Soup review for handmade fishball noodles, or our The Breakfast Club review for brunch food at hawker prices.
The Breakfast Club Review: Hawker Stall Has Cafe Breakfast And Rosti From $3.90 At Kovan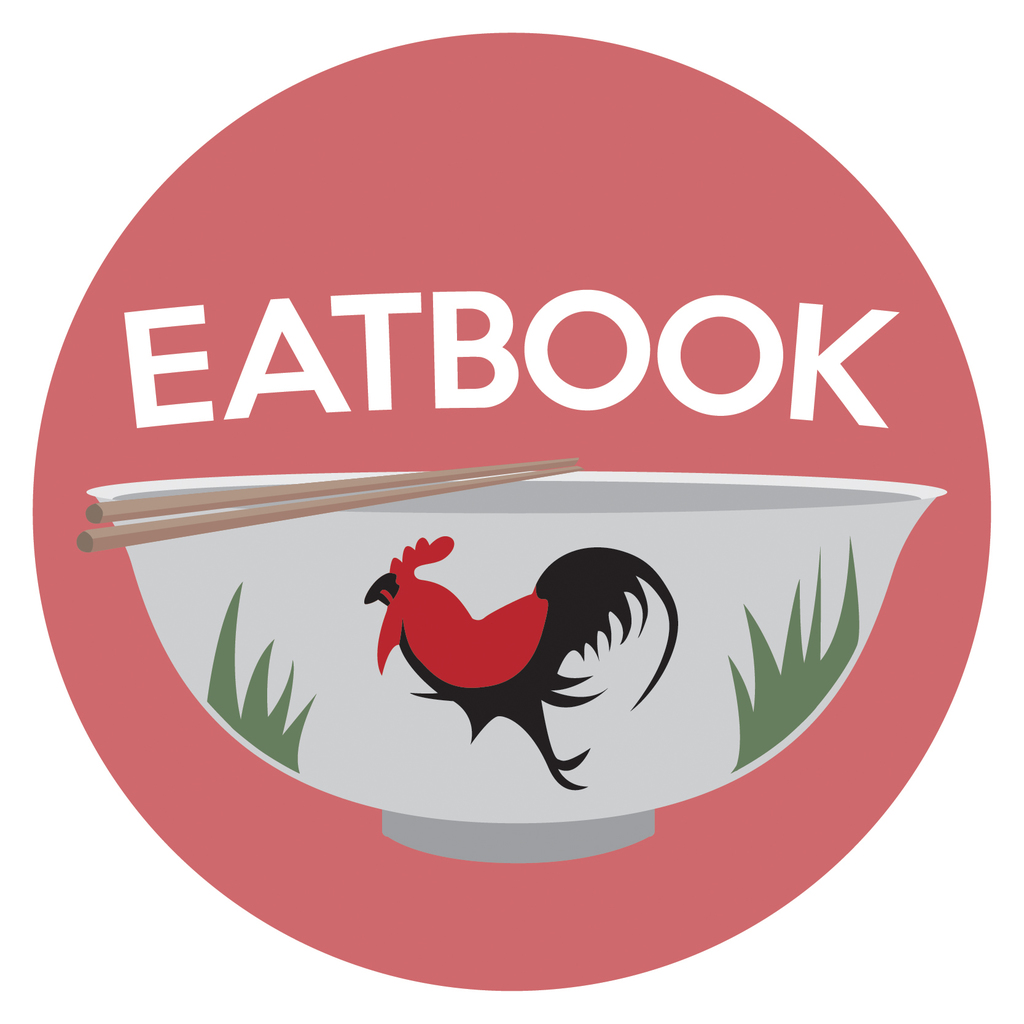 Drop us your email so you won't miss the latest news.