Cult Sliders in Boat Quay
Update: Cult Sliders is no longer operating in Boat Quay.
Anyone who has ever been to a Geylang Serai Bazaar or a festival like Neon Lights will instantly recognise 21 Sliders. The pop-up stall is beloved for their bite-sized burgers, available in a number of locally-inspired flavours. Given that pop-ups are a thing of the past for now,  21 Sliders fans will be happy to know that they have set-up a semi-permanent home in Boat Quay, rebranding as Cult Sliders.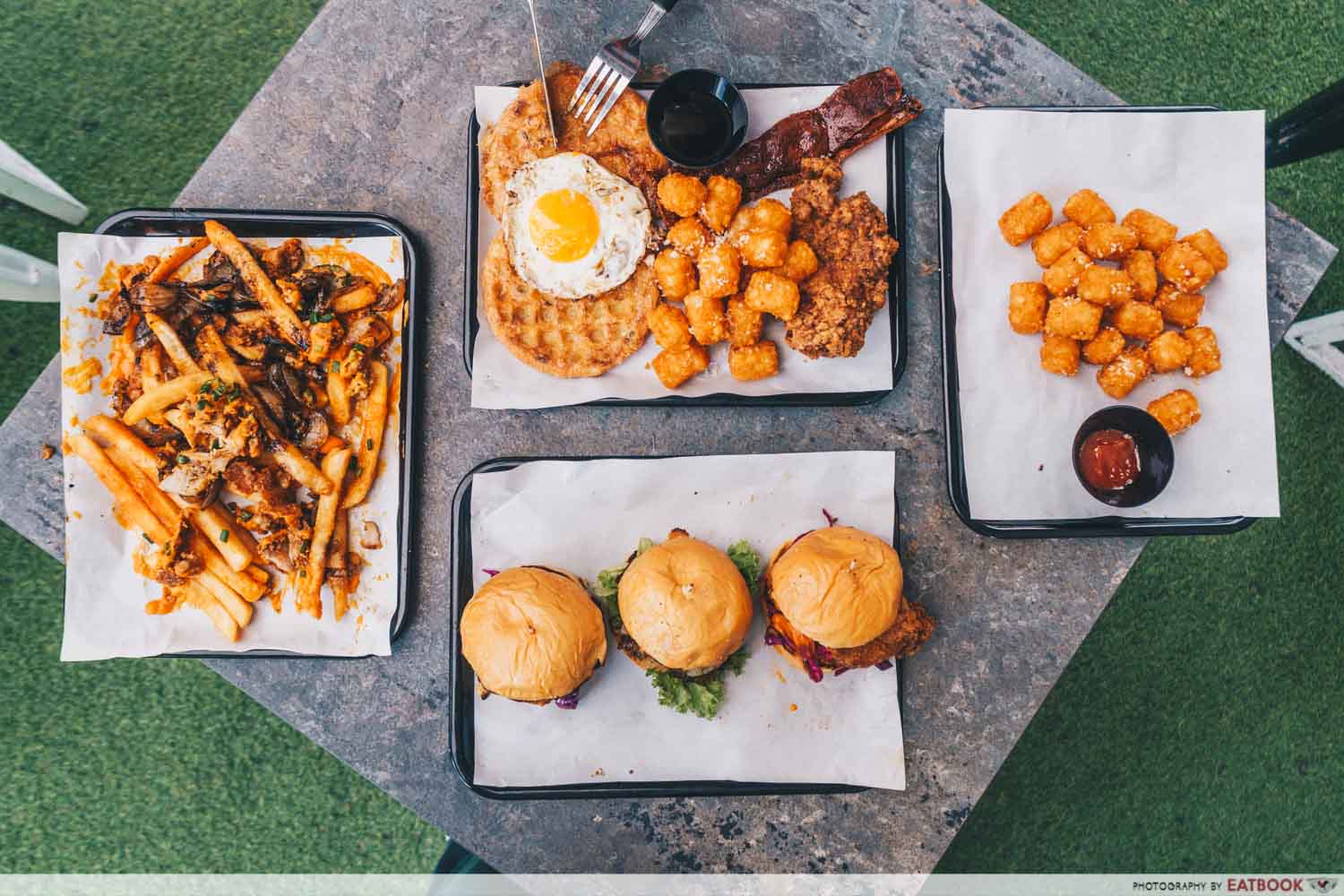 Located in a Hermano by Sleeping Giants, Cult Sliders has cranked up their menu to move beyond burgers, into delivering mains, sides, and pasta too. The menu is affordably priced, especially for the location, starting from $5 for a slider, and going up to $16.90 for select mains. Interested to see whether this new haunt held up to 21 Sliders' pop-up heydays, I went down for a meal.
Food at Cult Sliders 
Of the 13 sliders on the menu, we tried a couple.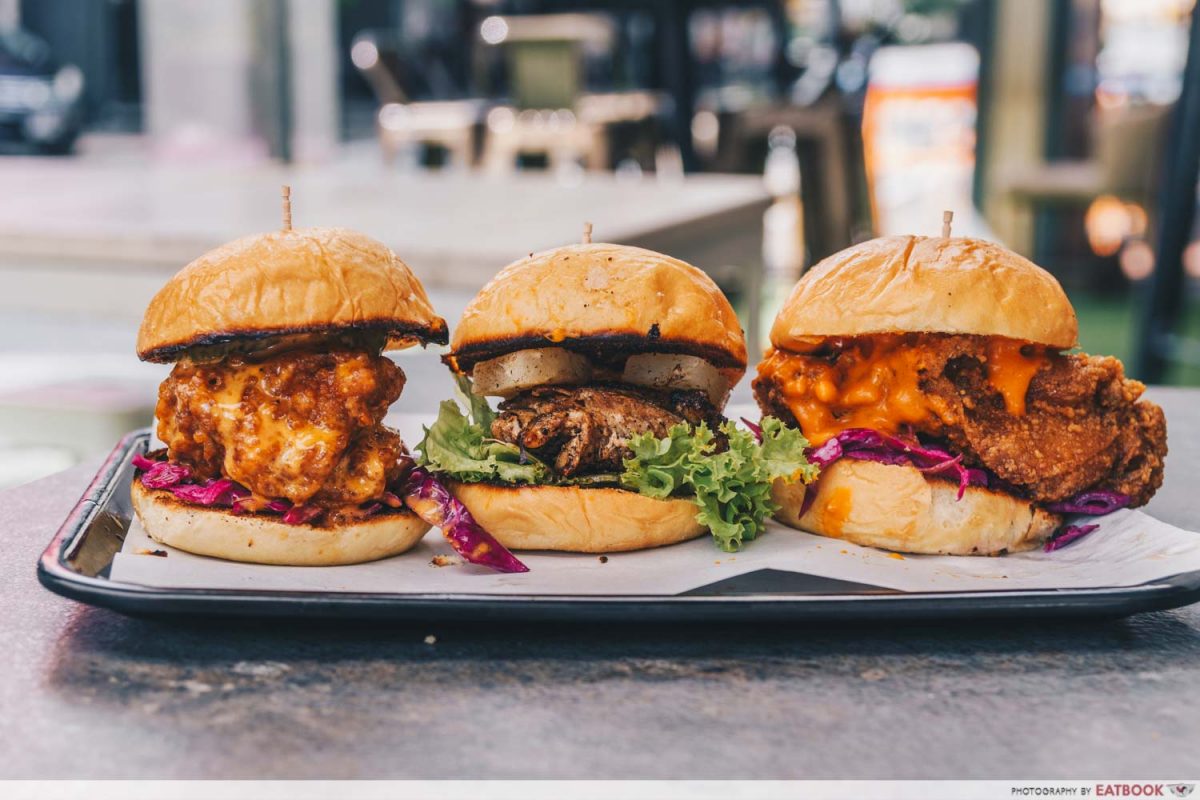 First, The Wrangler ($5). A take on a Southern spicy chicken sandwich, this fist-sized slider featured a juicy slab of fried chicken, purple slaw, and a spicy buffalo sauce. This gets messy to eat, but is so worth it thanks to the fatty, juicy chunk of chicken that middles crunchy and tender.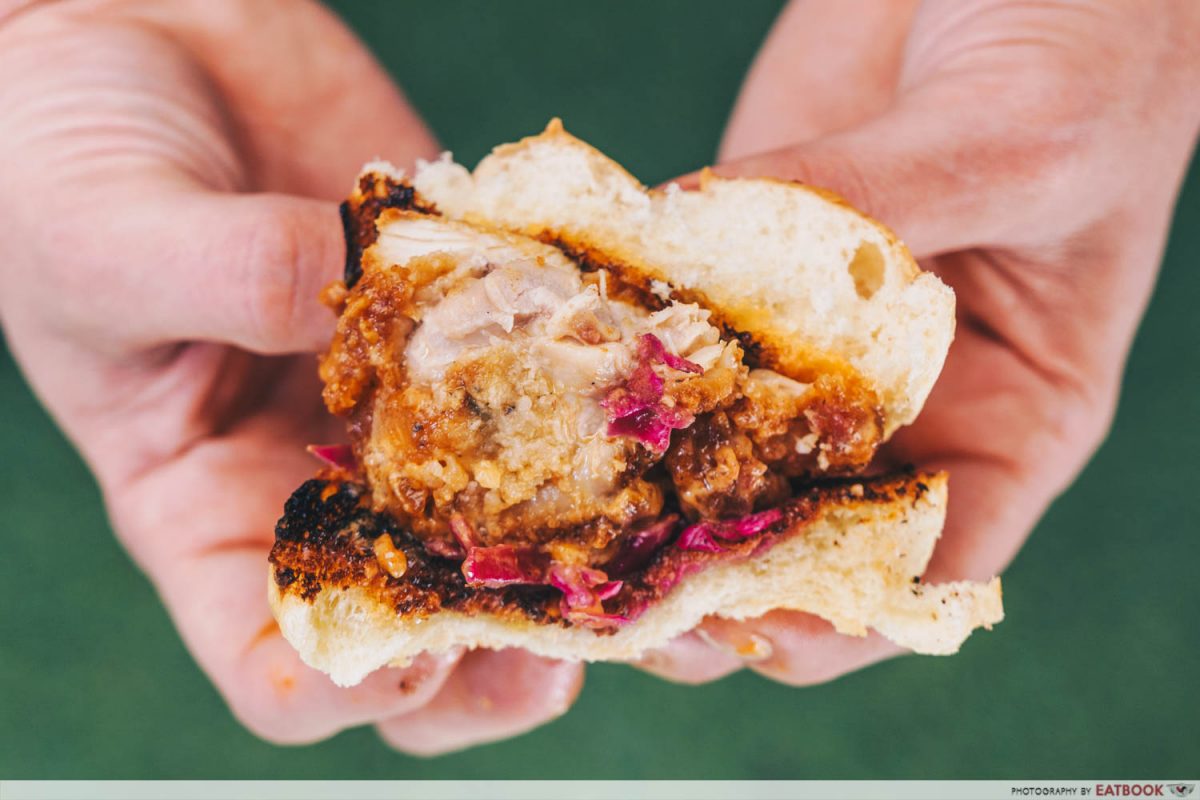 Silky with the addition of butter, the buffalo sauce brought a slight zing to the overall burger. Pickled purple slaw also helped cut through the chicken fat.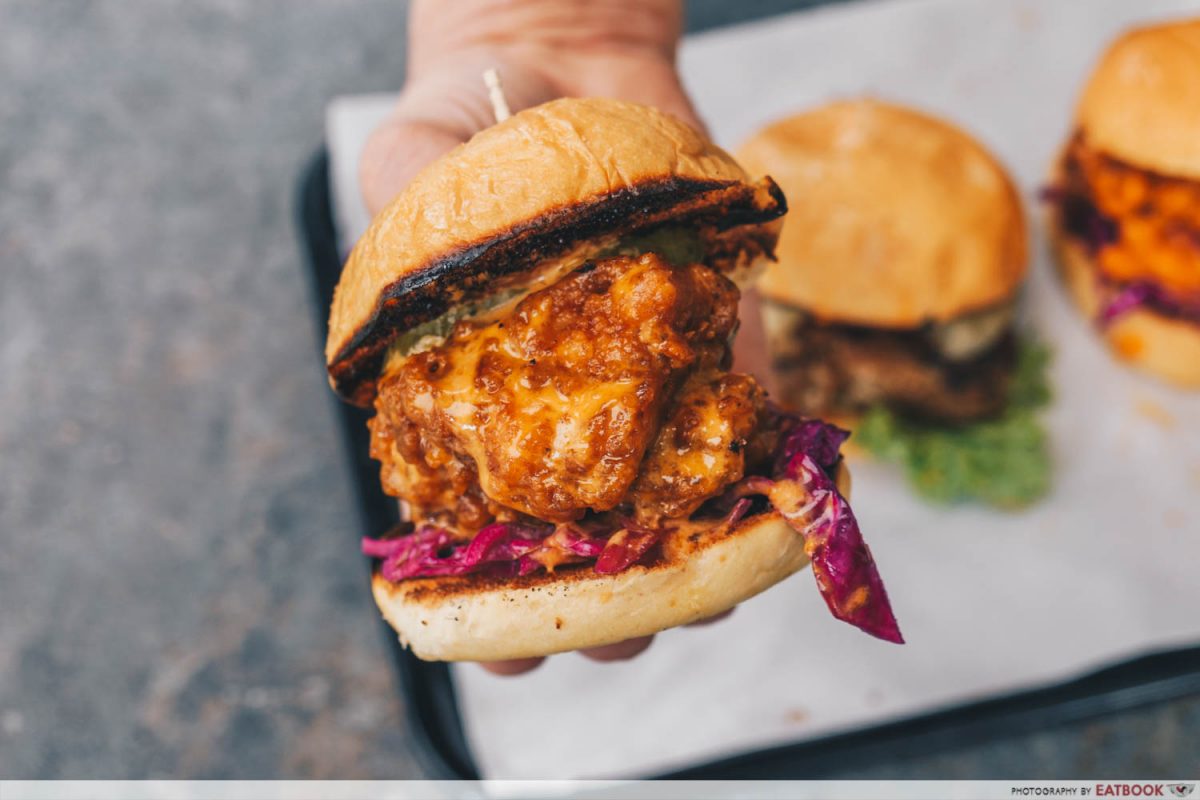 Buffalo can be too mild a kick for some, so we cranked up the heat to try The Bloody Mary ($5). Most of the components are similar to The Wrangler, but this time, buffalo sauce is replaced with Cult Hot Sauce.
We pressed for the recipe of the hot sauce, but to no avail. What we can share, though, is that it is tongue-burner. The Cult Hot Sauce has the vinegary spice found in Sriracha sauce, though with the heat taken a couple of notches up.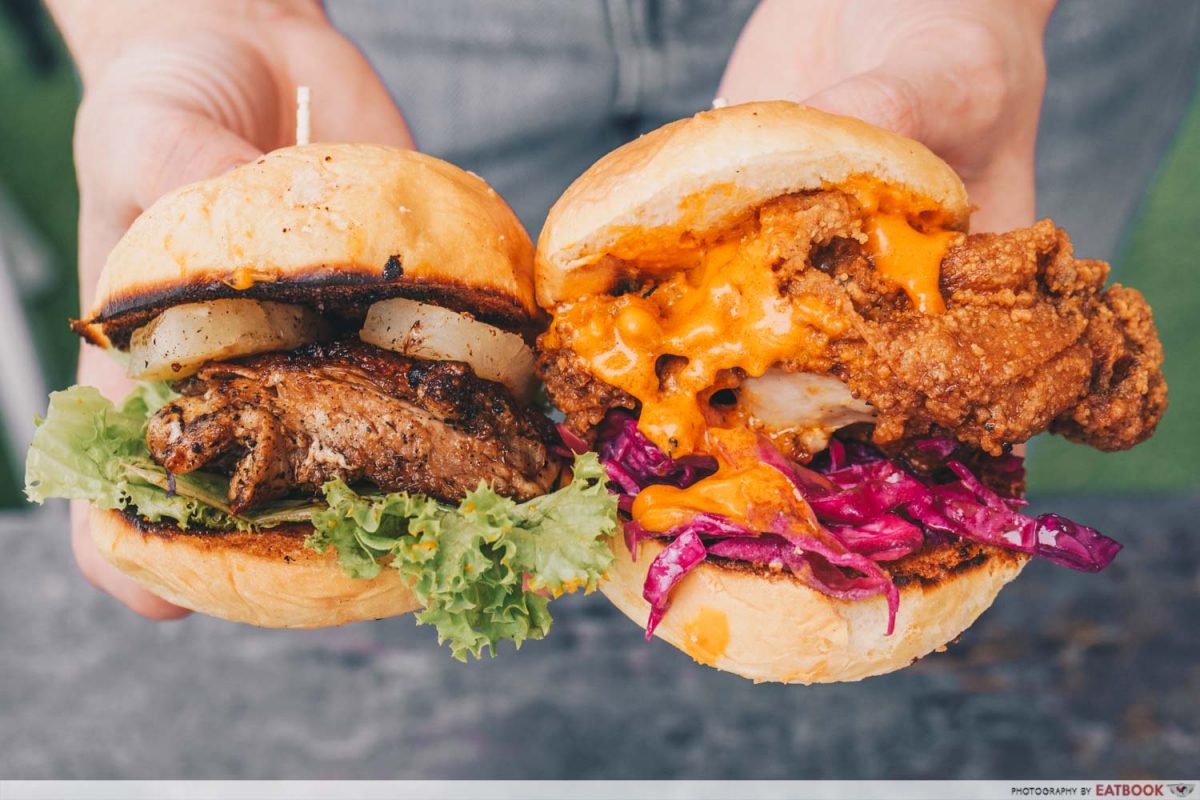 No matter if you cannot take spice at all, as the menu still has plenty to offer. On the sliders front, The Oriental Whiplash ($5) stars a chicken patty marinated in shoyu, then grilled. The end result tasted a bit like yakitori, with a fruity, pickled dash thanks to the grilled pineapple and jalapeno toppings.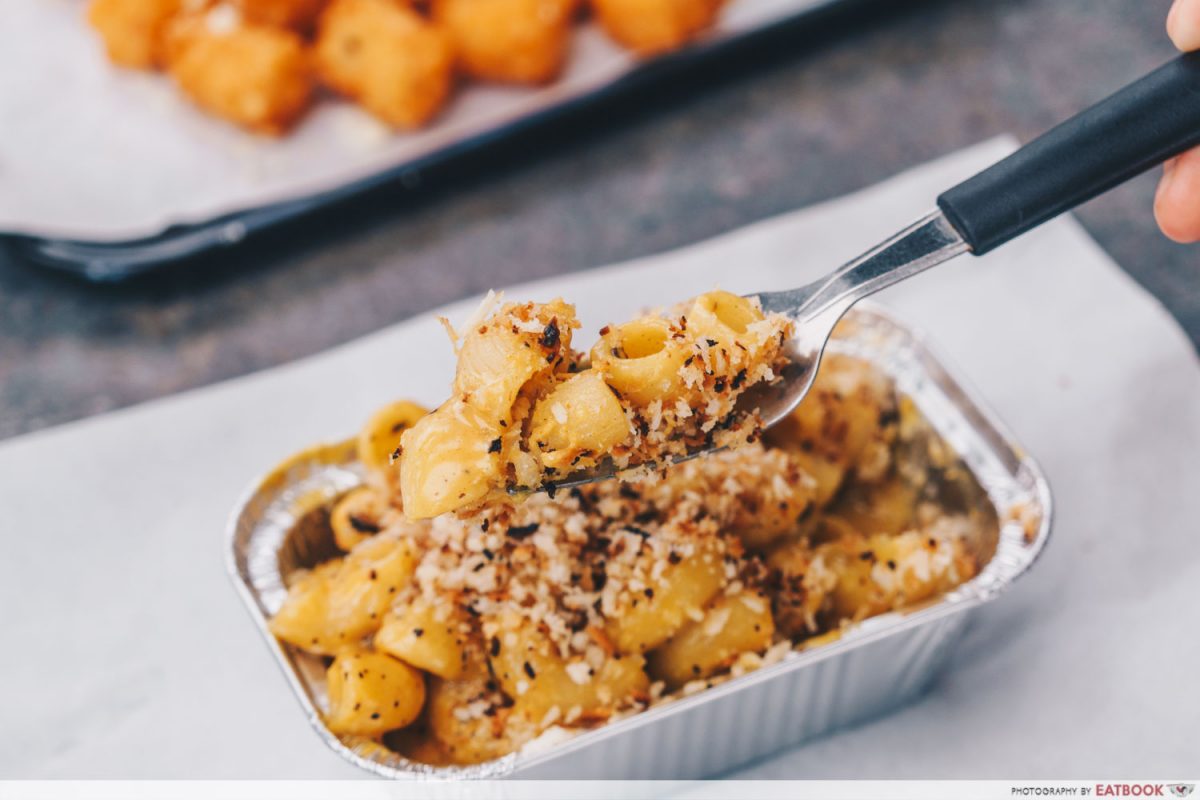 We also ordered from Cult Sliders' new range of mains, sides, and pasta dishes. The Mac & Cheese Miller ($12.90) came highly recommended, as it had both a cheese mix and the Cult Hot Sauce coating the macaroni. This was a touch too sweet for our liking, in spite of the spice. The breadcrumbs were a welcome textural contrast though.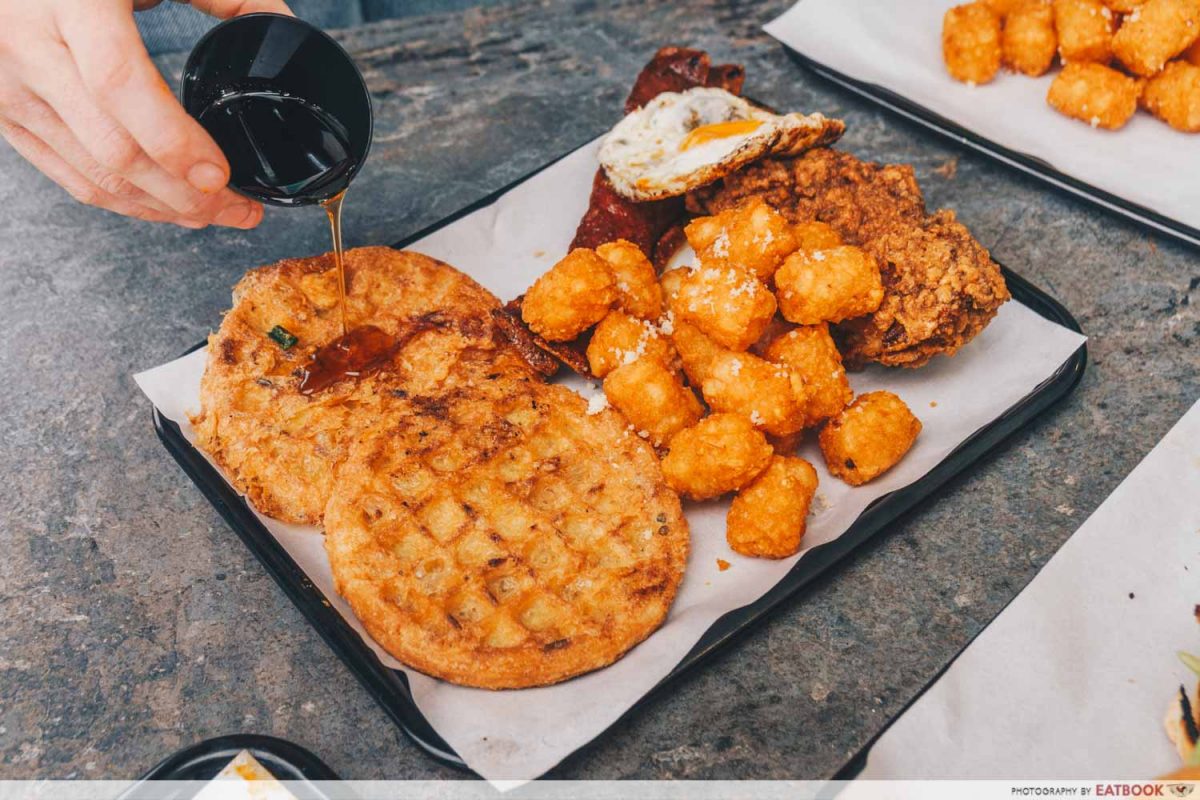 Next, we tried The American Dream ($12.90), a breakfast-style platter with two deep-fried waffles, a sunny-side-up egg, turkey bacon, fried chicken, and tater tots. 
It is the kind of dish you order if you want to start your evening at peak indulgence, though fair warning,  it does get jelak if you're ploughing through it solo.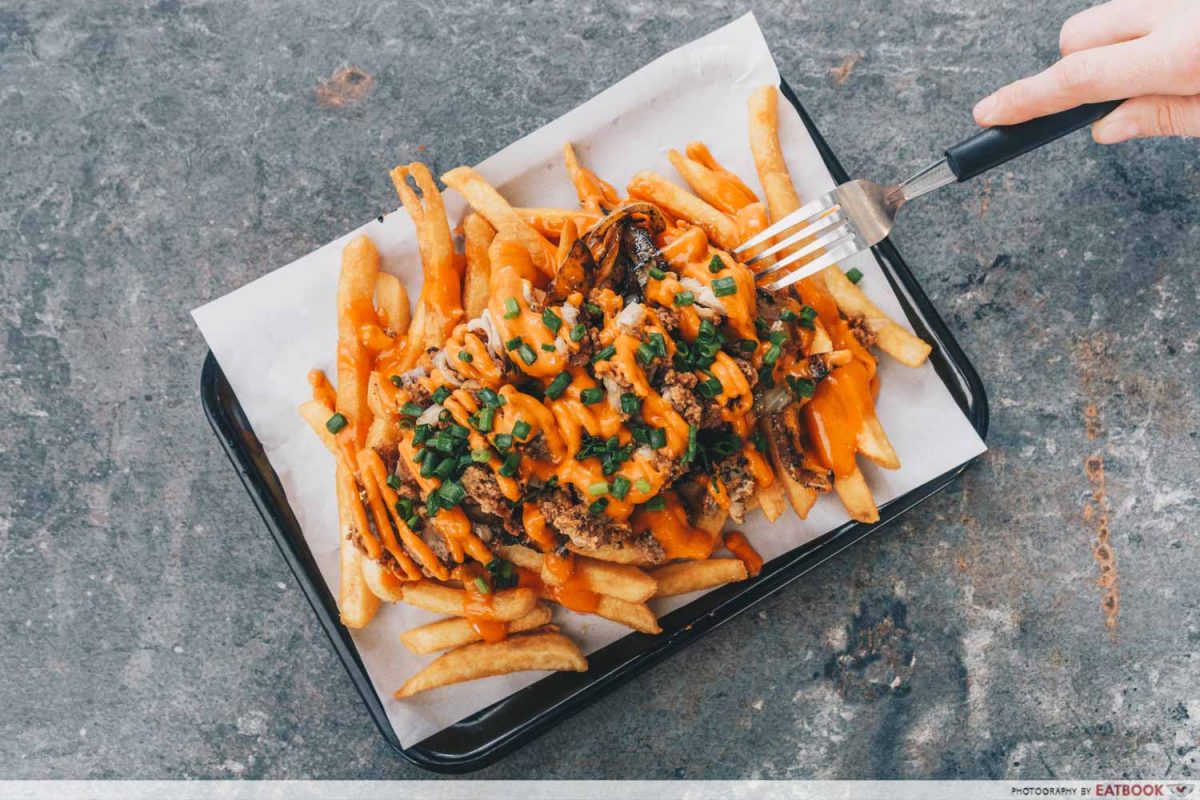 As for sides, the Cult Fries ($12) and Truffle Tater Tots ($10) are both musts. The Cult Fries will best suit fans of loaded fries, given that it's a substantial portion topped with caramelised onions, spicy buffalo sauce, and popcorn chicken.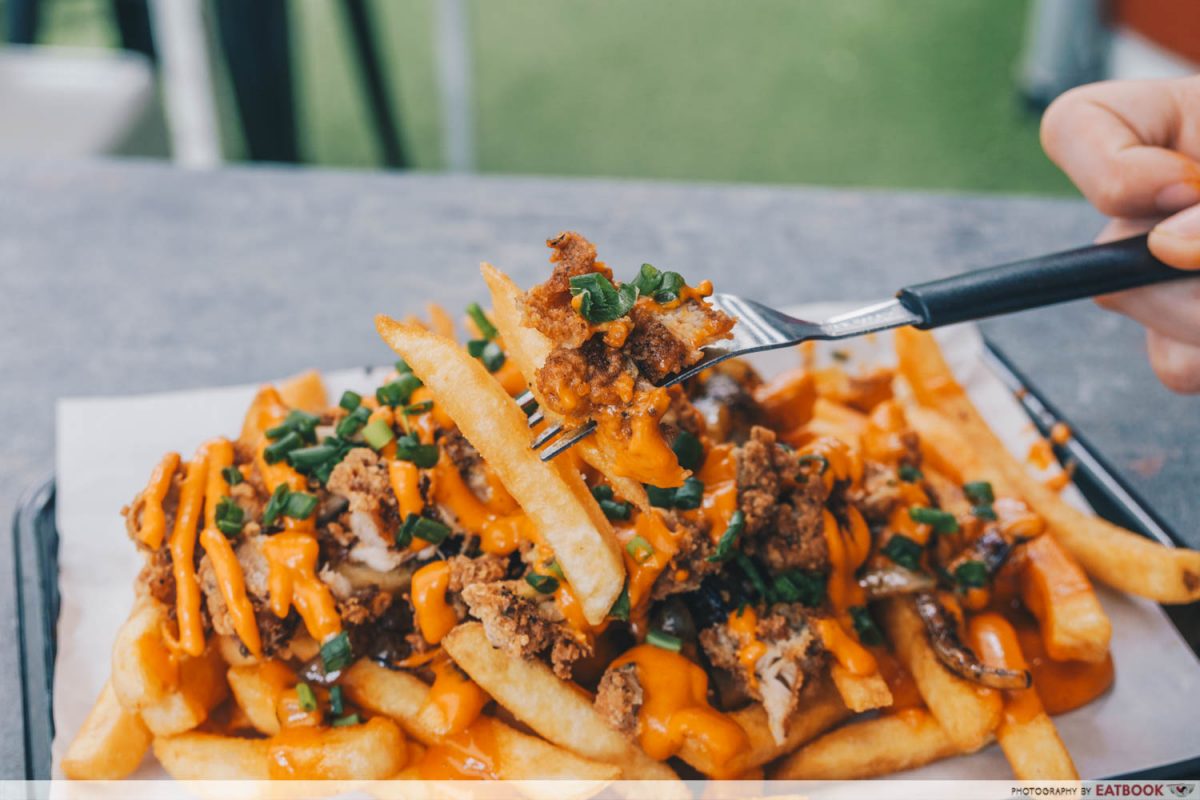 Props to the addition of the fried chicken in the fries— the batter brought on the crunch, while the chicken took the savouriness of the dish a notch up.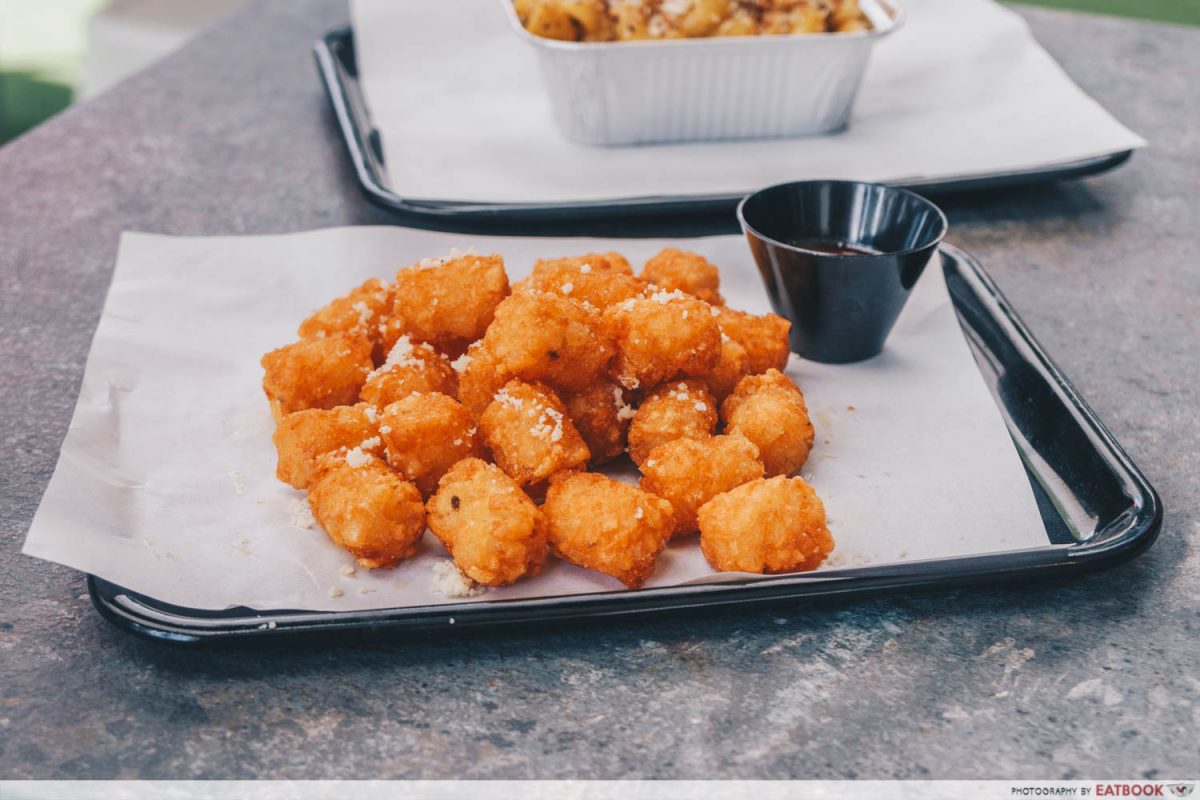 If you're a truffle fries person, then the Truffle Tater Tots are much more satisfying than the original, with chunky potato tots offering more real estate for the truffle oil to cling to.
The Dragon Chamber: Secret Restaurant Hidden Behind A Kopitiam Fridge At Boat Quay
Ambience at Cult Sliders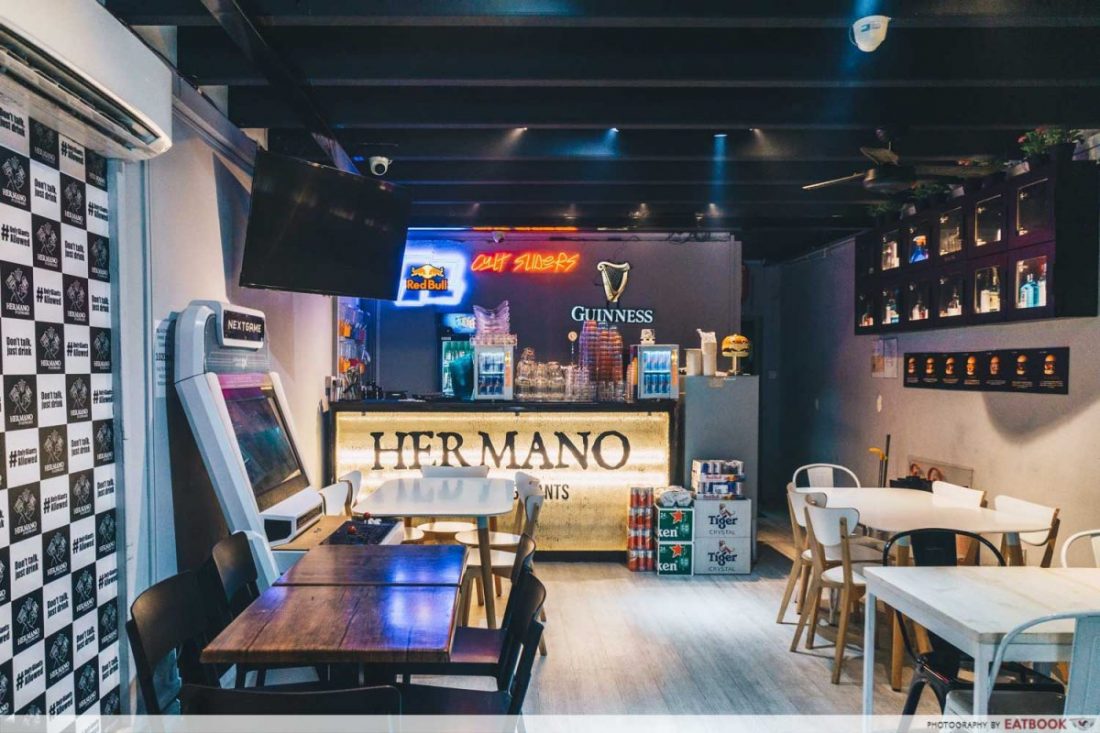 Cult Sliders is not permanently housed at Hermano by Sleeping Giants, but the bar does make for a good fit to the laidback, sinful menu. There are both indoor and outdoor seats available, both of which carry a nice buzz after-hours to help you unwind.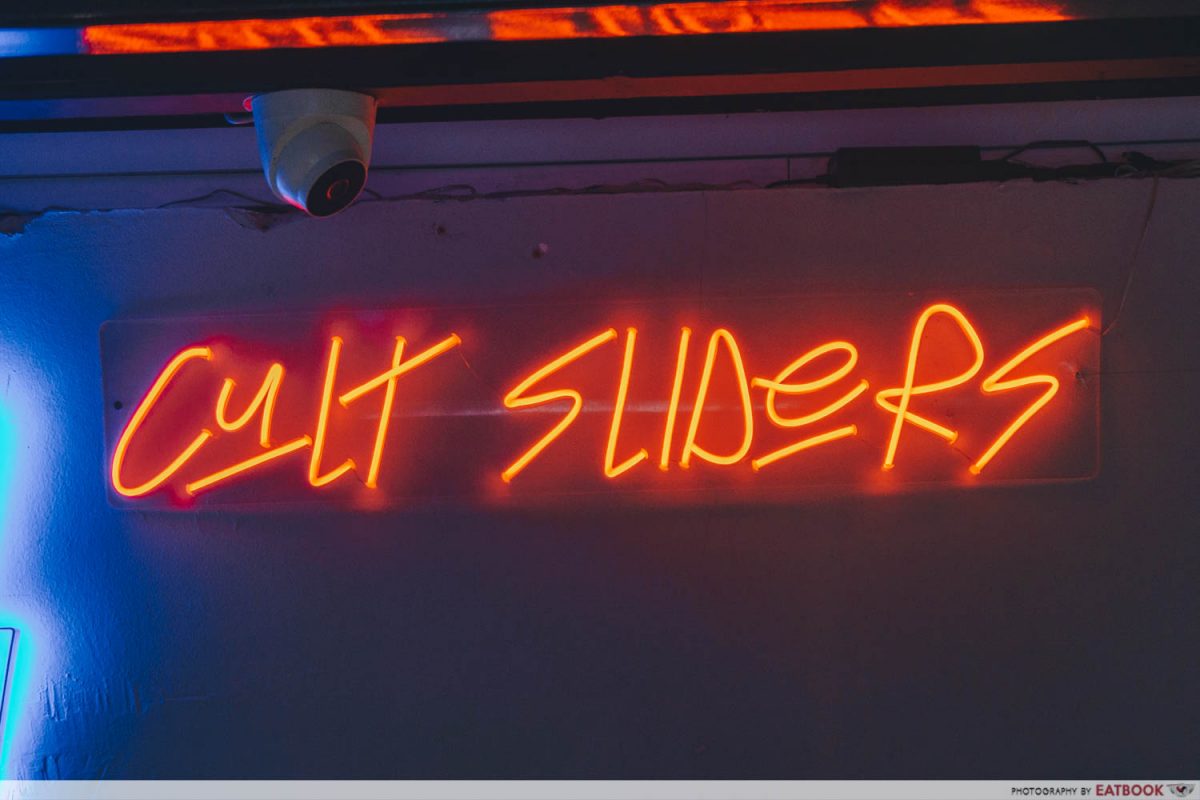 Located just a short walk from Clarke Quay and Raffles Place MRT Stations, the eatery is also fairly easy to get to. Be sure to visit soon, as they plan to only stay for a year. 
The verdict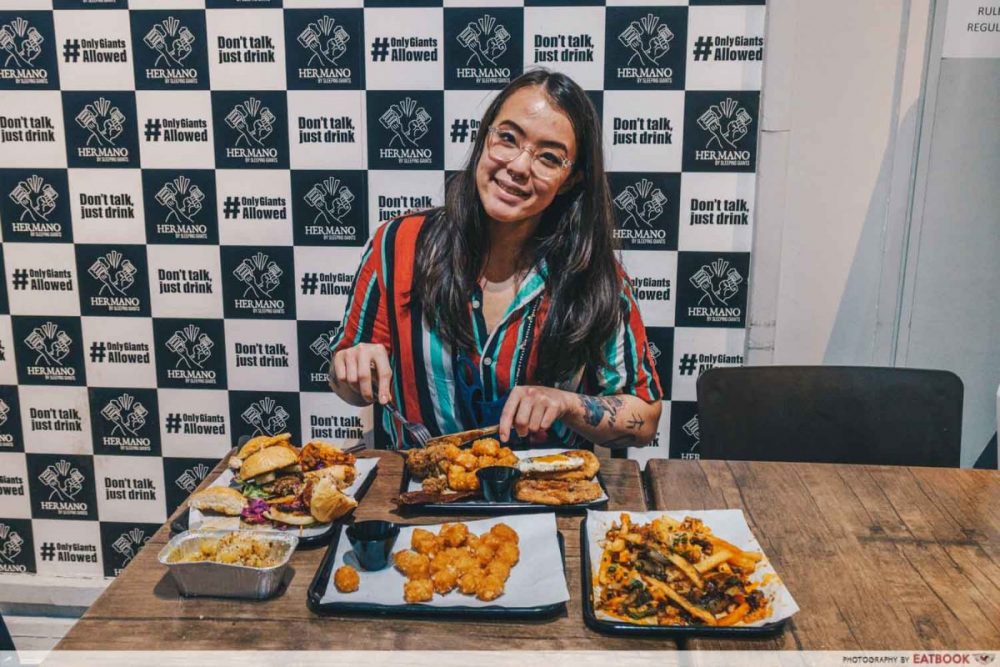 As much as I miss food bazaars, I'm happy that crowd favourites have managed to adapt to find new homes, with Cult Sliders being one of them. The extended menu does enrich your options there, though my personal favourites were still the burgers, alongside the Cult Fries. Other new items were a touch one-dimensional or could use some refining— the sweet mac and cheese, for one.
Anyhow, if you're nearby and on the prowl for a good place to unwind over bites, and a drink or two, then Cult Sliders is a solid bet. They also have wallet-friendly deals, like a $7.90 combo that includes a slider, a non-alcoholic drink, and a side, or an $11.90 combo, with two sliders, a non-alcoholic drink, and a side. Beers also start at $5 for half a pint, definitely cheaper than most bars in the area.
For more dining options nearby, check out our Boat Quay restaurants and bars guide. Also down the road is The Dragon Chamber, a hidden mod-Chinese restaurant hidden behind a beer fridge doorway.
Address:18 Circular Road, Singapore 049374
Opening hours: Mon-Sat 11:30am to 10:30pm
Website
Cult Sliders is not a halal-certified eatery, but it is Muslim-owned.
10 Boat Quay Restaurants And Bars For CBD Workers To Celebrate TGIF
Photos taken by Hay Thi.
This is a media tasting at Cult Sliders.
Cult Sliders Review: $5 Mini Burgers In Boat Quay By Geylang Serai Bazaar's Famous 21 Sliders
Summary
Pros
– Great bar bites
– Juicy fried chicken burgers
– Value-for-money combos
Cons
– Mac & Cheese Miller was too sweet
Recommended dishes: The Wrangler ($5), Cult Fries ($12), The Bloody Mary ($5)
Opening hours: Mon-Sat 11:30am to 10:30pm
Address: 18 Circular Road, Singapore 049374