Carmen's Best is a new ice-cream spot at Capitol Piazza
Update: As of 19 November 2020, the SINGA-POUR ($10.90) is no longer available.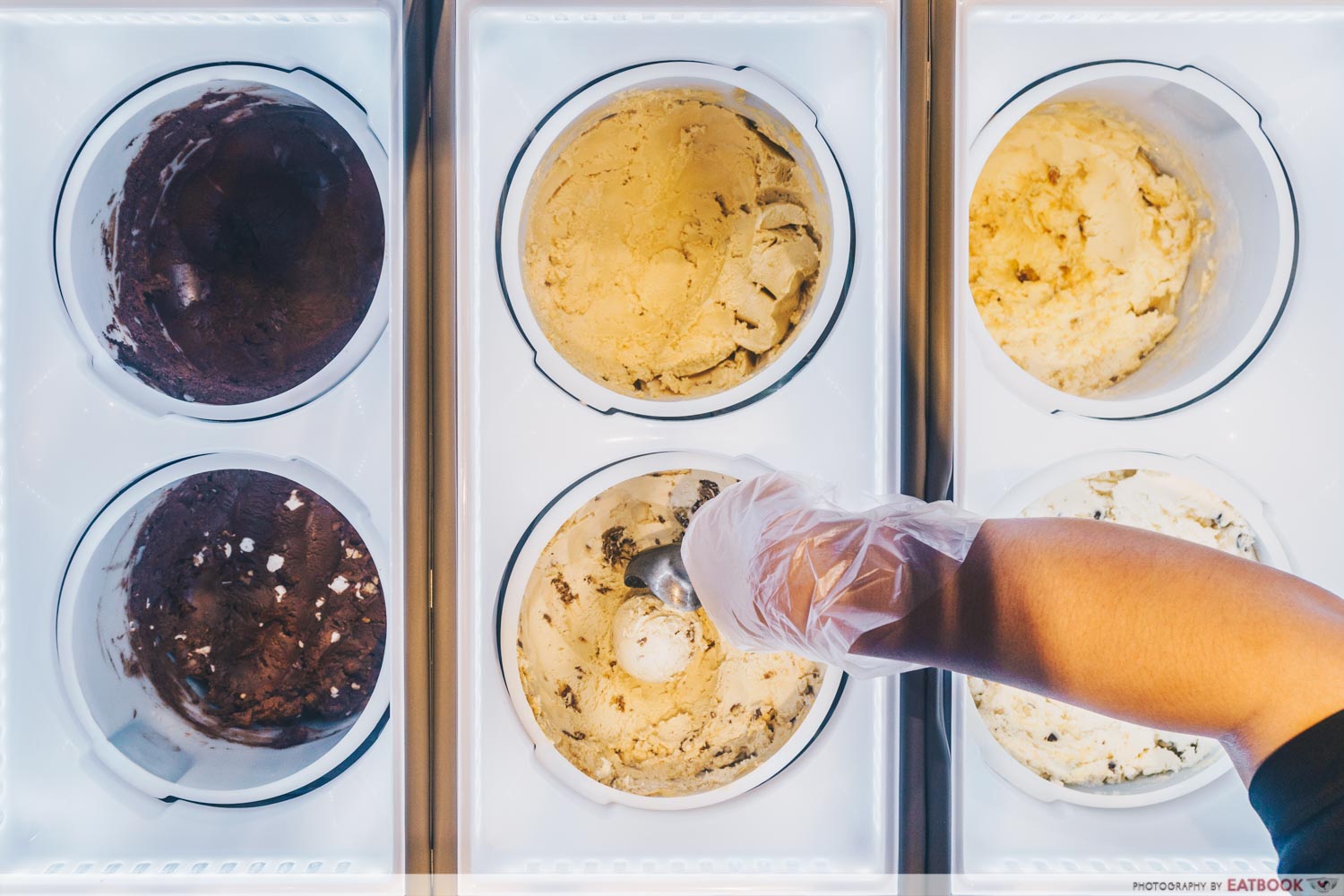 Famous Filipino ice-cream brand Carmen's Best has landed in Singapore with their very first international outlet in Capitol Piazza. 'Carmen' is the only daughter of Francisco "Paco" Magsaysay, the founder of Carmen's Best who started making ice cream simply because he had way too much milk left in his dairy farm. 
Initially, he wanted to just get rid of the excess milk rather than to rack in any huge profit. But as it stands, their small scale business quickly boomed into one of the Philippines' biggest ice-cream brands.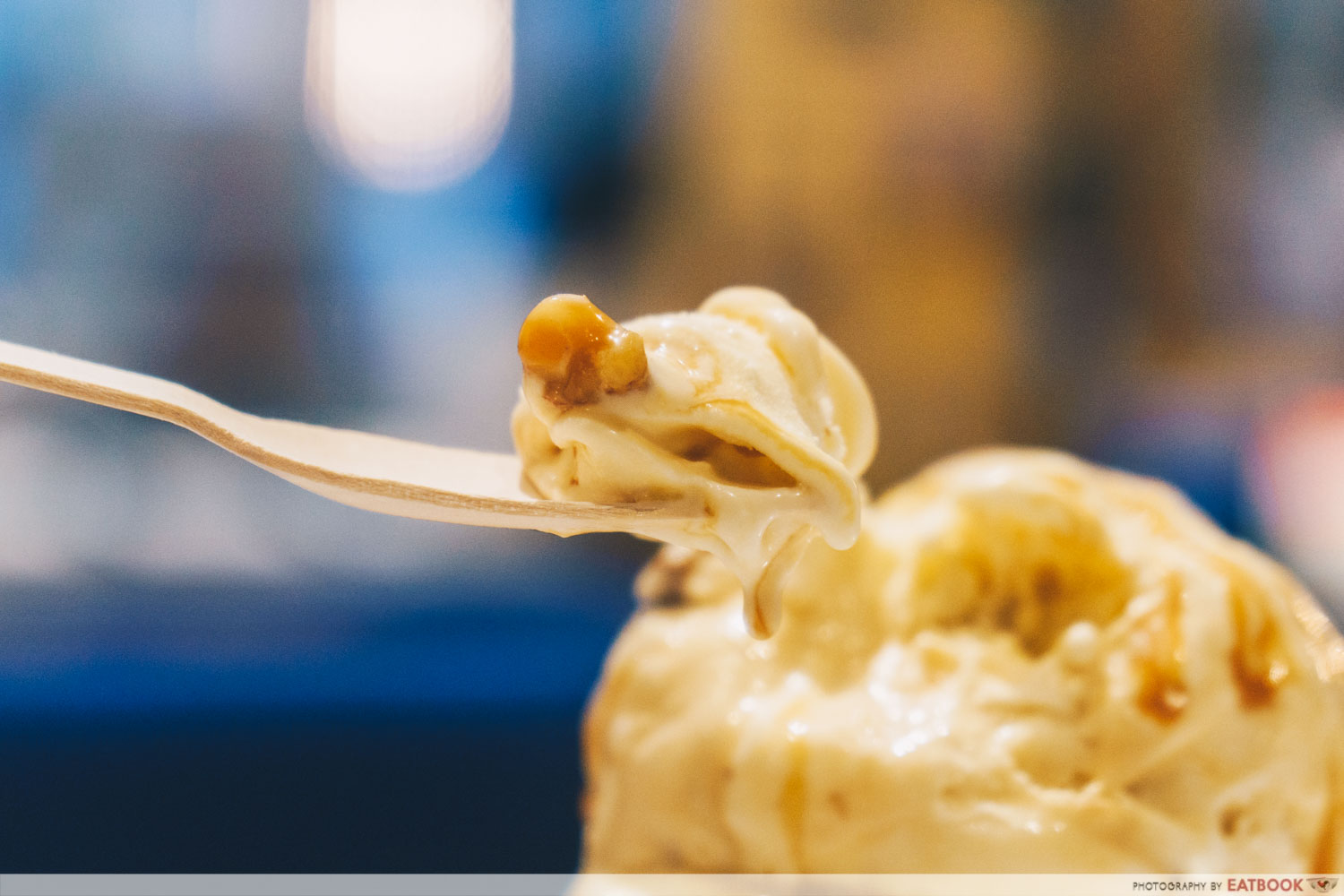 Francisco's vision was pretty simple: he wanted to make solid ice-cream for solid ice cream lovers. With this in mind, the ice cream is, accordingly, free from additives, water, and any of the maladies that usually come with mass production. The milk is from his own family farm and the nuts and chocolates are imported from the best sources he could find. 
Prices are pretty standard, with a single scoop going at $4.90 and a double scoop going at $5.90. You can also opt for a house-made waffle cone with an extra $0.60. 
Food at Carmen's Best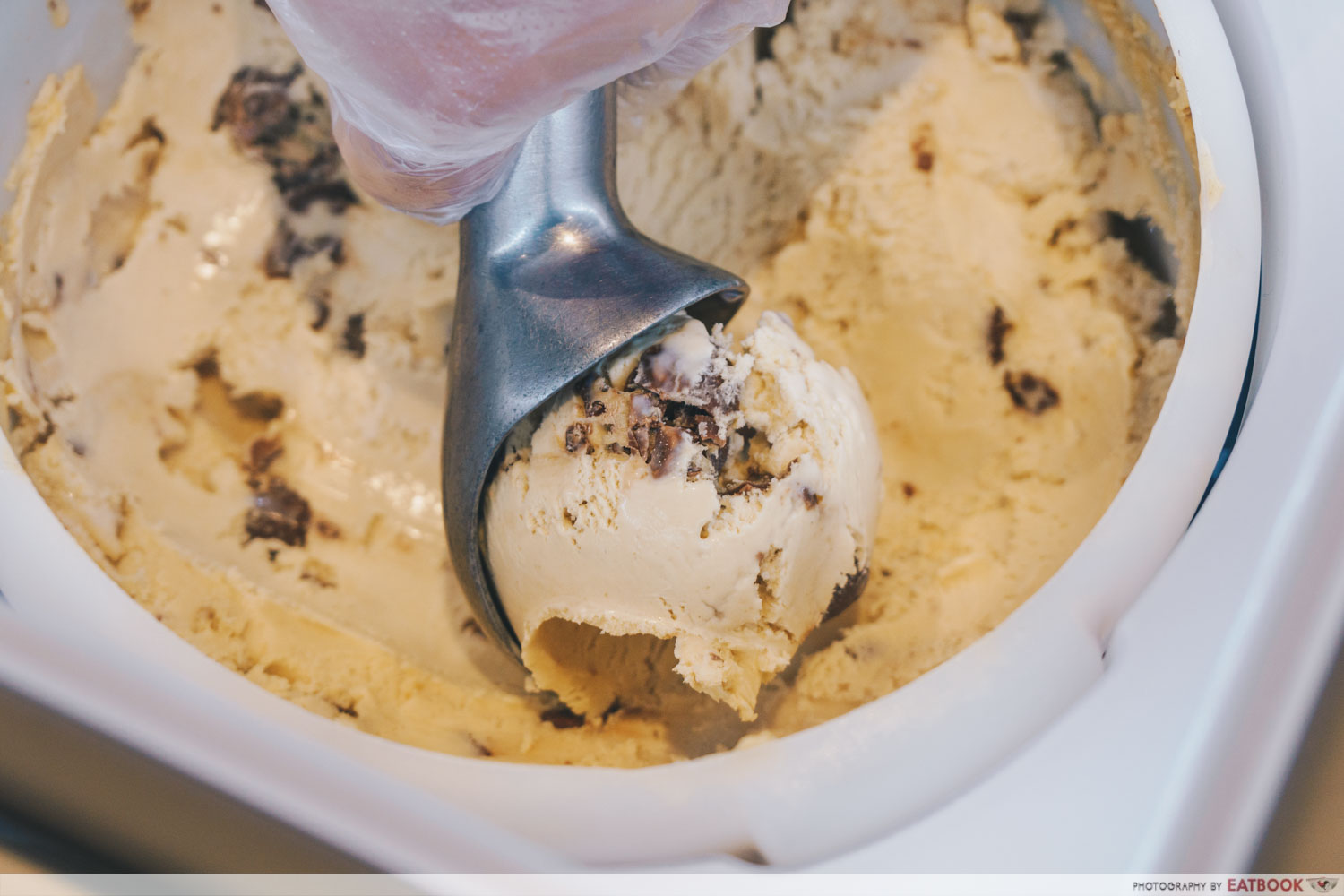 I first started out with a scoop of my favourite flavour, Cookie's & Cream ($4.90). A lady in a BTS Army shirt gave me a big smile as she rolled up her sleeves for the scoop. For good reason too, as the ice-cream was really solid. It took her two tries to dig the scoop out. 
Ice cream that's hard like bricks is usually a sign of very little added water. These guys really don't mess around when it comes to milk content. The ice cream was rich and very, very milky. As far as generic Cookies & Cream ice cream goes, the vanilla in Carmen's Best was to die for.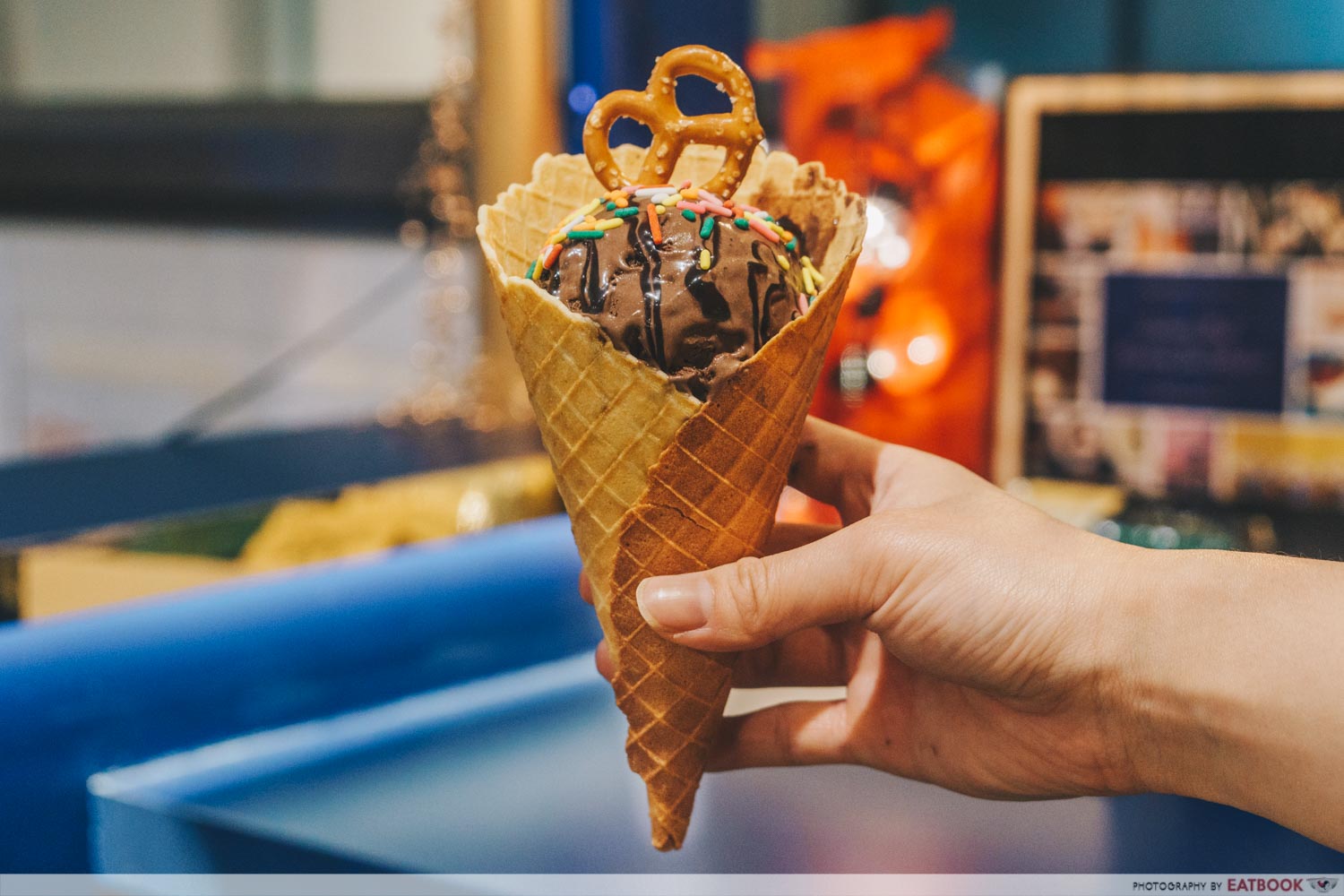 I went on to try a scoop of He's Not Worth It ($4.90), this time in a Waffle Cone ($0.60). Named playfully as a nod to post-break-up ice cream eaters, He's Not Worth It is a concoction of chocolate fudge, walnuts, and cookies.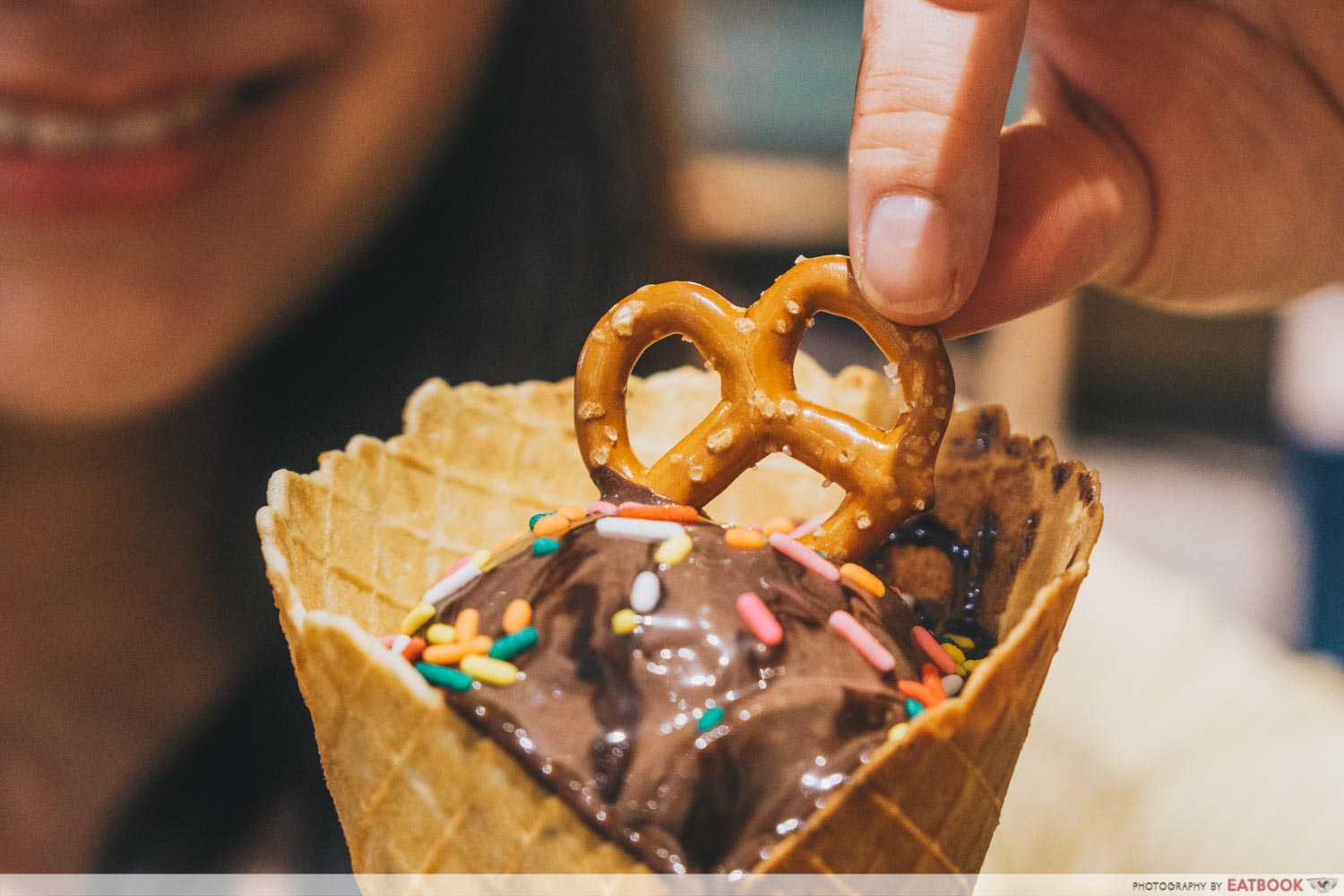 The waffle cone came with a selection of toppings to choose from. I asked for chocolate sauce, rainbow sprinkles and a pretzel.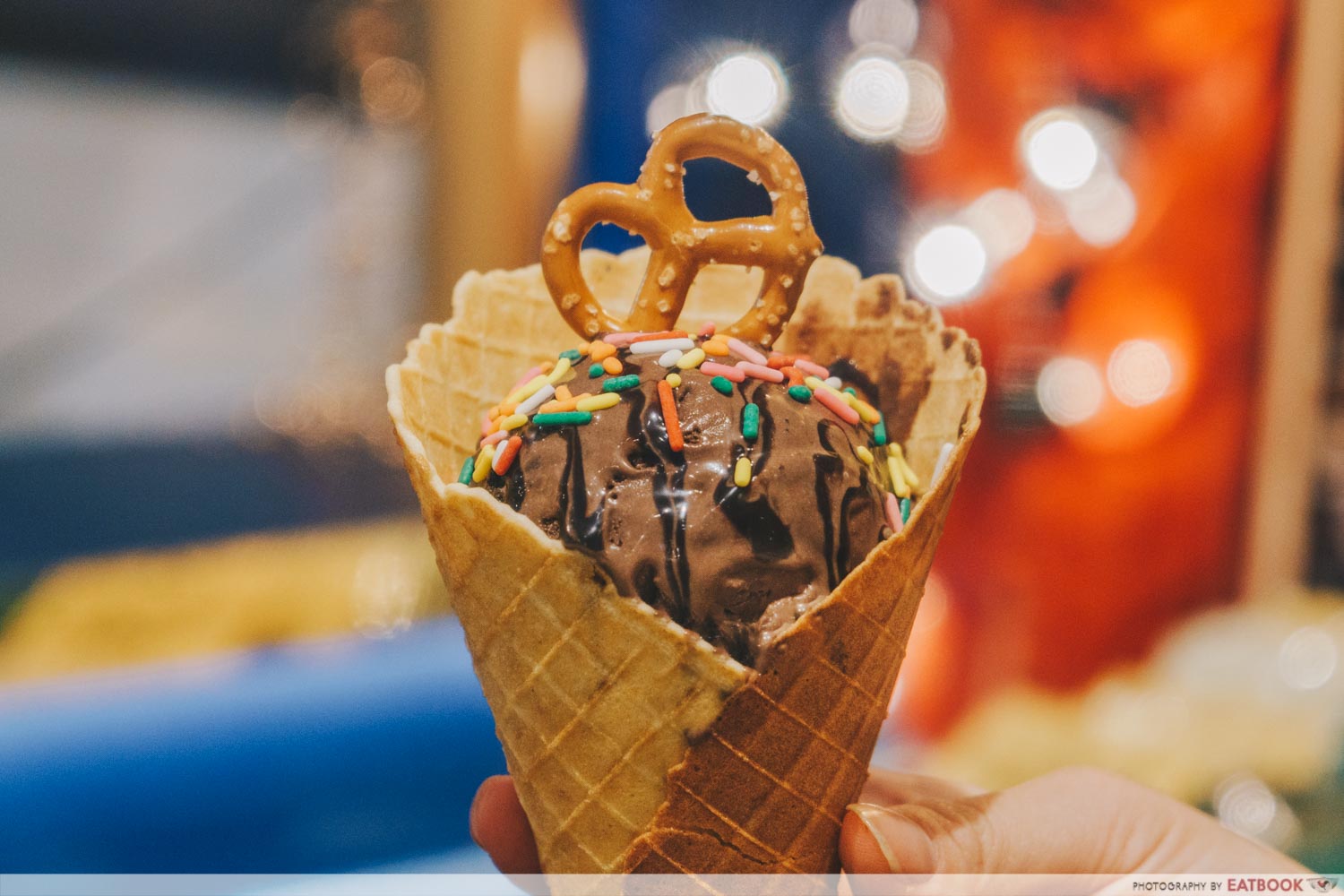 You don't really need the toppings as the ice cream, by itself, really stole the show. Just like the Cookies & Cream, this one didn't mess around either. The chocolate flavour was strong and darker in nature than other chocolate-based ice cream I've had in the past. The milky base was just as rich and indulgent as the Cookies & Cream. 
10 Best Desserts In Singapore For Ice-Cream, Brûlée French Toast, And Beautiful Eclairs – Eatbook Top 50 Awards 2019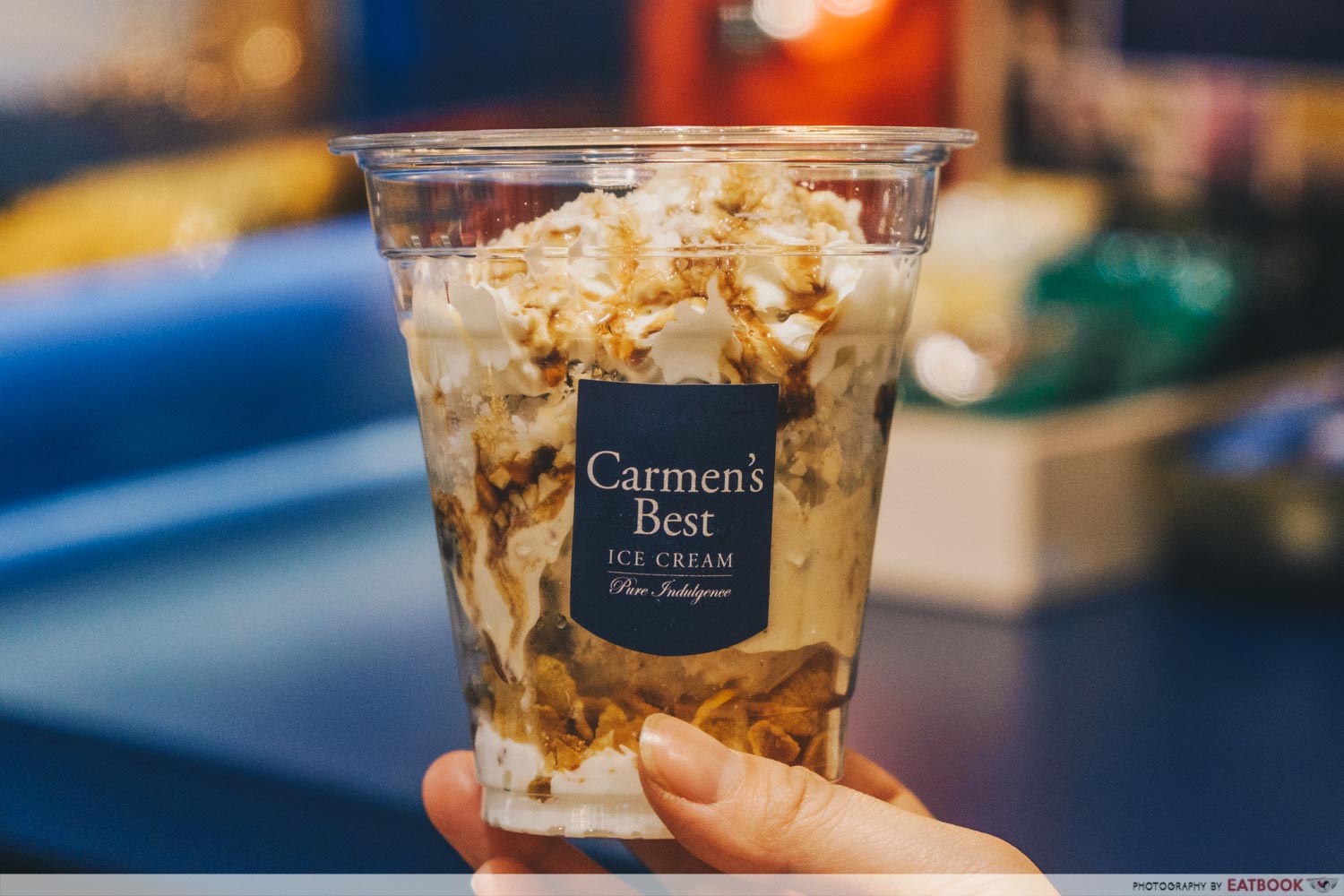 The menu also has a selection of sundaes to choose from. I originally wanted to try their Singapore-exclusive 3RIPLE TREATS SPECIAL ($10.90) that comes with a scoop of cheese ice cream with candied almonds, figs, and orange-saffron syrup. But it had already sold out by the time I visited in the afternoon. Instead, I went for the SINGA-POUR ($10.90), another Singapore-exclusive that came with a scoop of Malted Milk ice cream, cornflakes, coconut flakes, nuts, and gula melaka. 
Naturally, the gula melaka complemented the Horlicks-like base, while the cornflakes and nuts gave the sundae a nice crunch. The little broken pieces of Maltesers wedged into the ice cream became more like deliciously chewy chocolate clusters in the cream.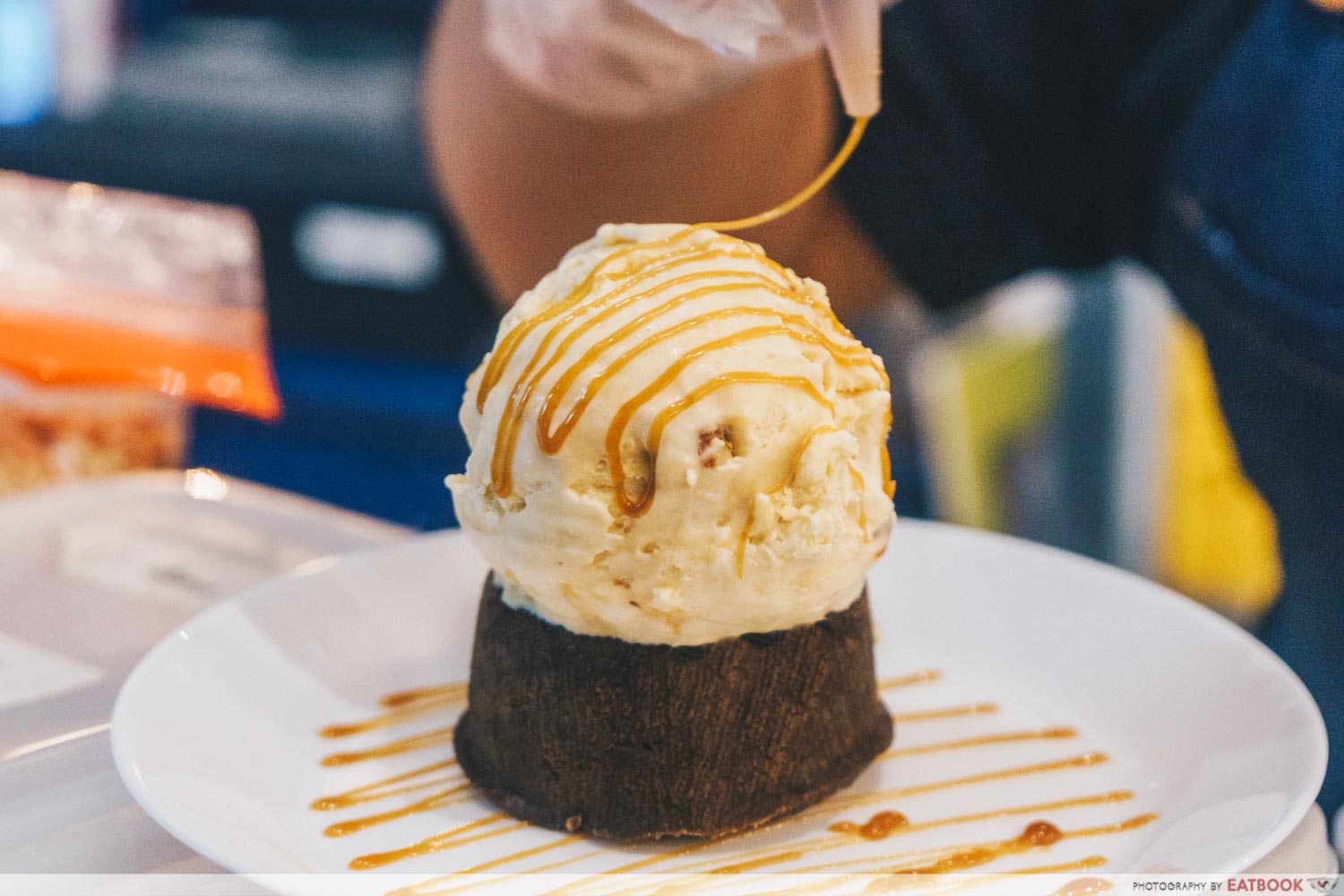 The menu also includes waffles, brownies, and chocolate lava cake, each coming with a single scoop ($9.90) or double scoop ($11.90) and your choice of sauce. The double scoop chocolate lava cake was colossal! The scoop of ice cream was nearly two times in size than the cake itself.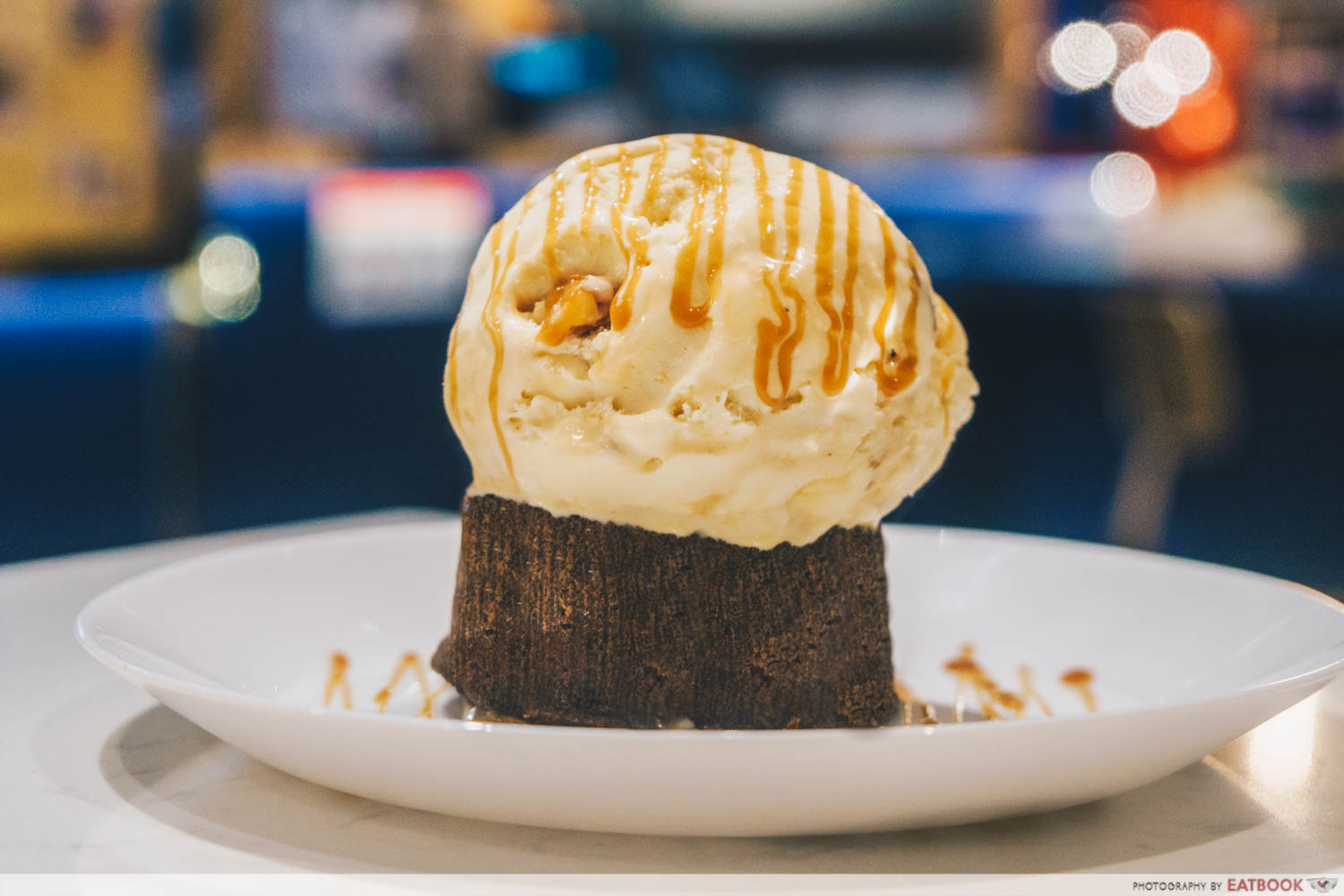 The ice cream I chose was the Brown Butter Almond Brittle. It has a flavour between caramel and custard and is not commonly found in Singapore. The almond brittle helped to balance the ultra sweet base. It was simply divine.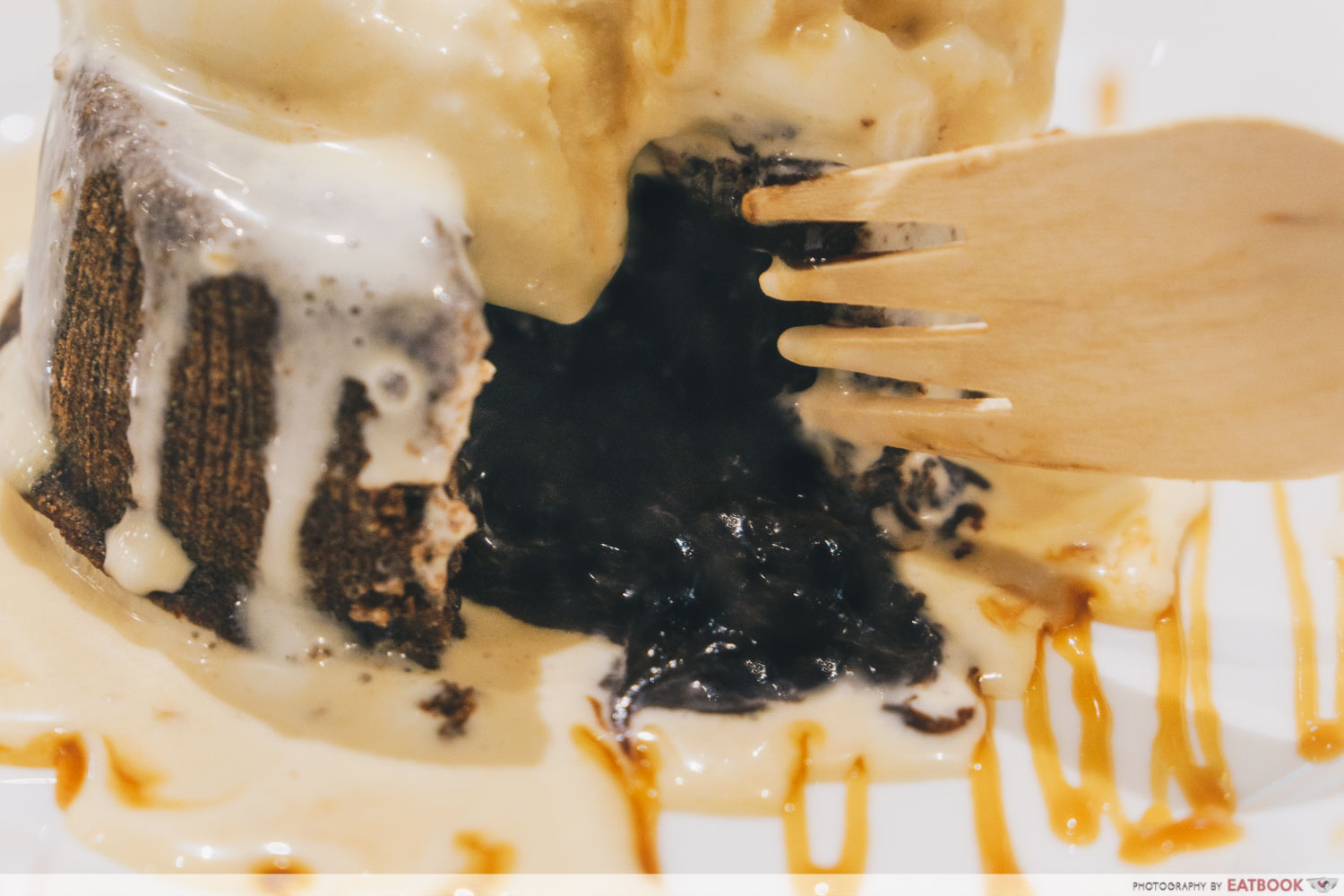 I couldn't say the same for the actual lava cake itself. It tasted like it was microwaved, and the outer layer was hard as rubber. It's best to just stick to their ice cream alone. 
Ambience at Carmen's Best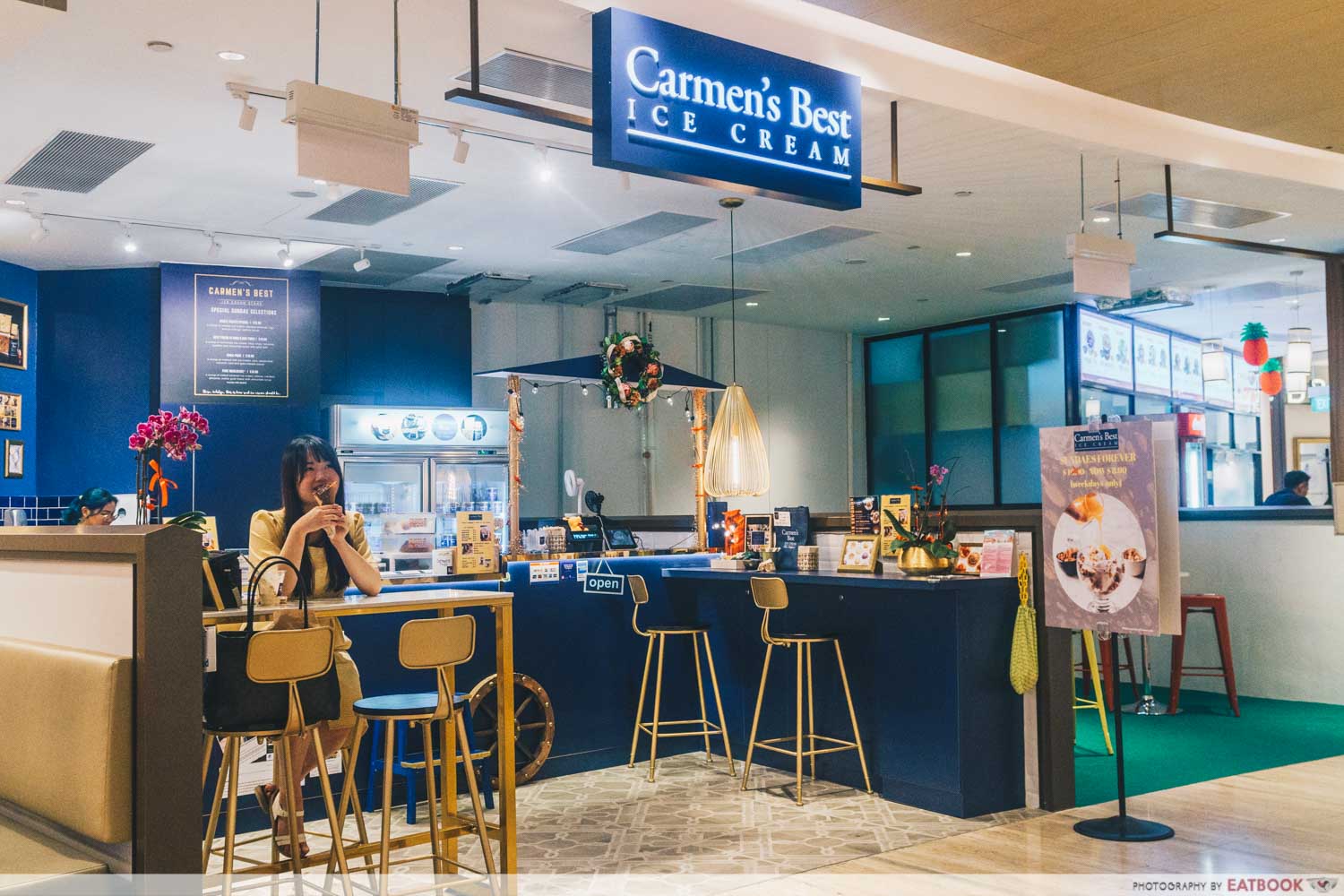 The kiosk is inspired by old-school ice cream street wagons that are often found throughout the Philippines. The blue and yellow colours, the single wheel, along with the decorations at the counter are all small nostalgic reminders of a simpler time. The kiosk is small, with only a few seats. The two friendly ladies working behind the counter blast out K-pop as they clean their stations. They'll happily guide you through all the flavours and will let you sample them too. 
The verdict

Carmen's Best maintains their quality by keeping everything small in scale. Their milk is sourced from the family's farm, while their almond brittle is, according to their staff, made in their home in the Philippines! The Singapore outlet has all the basic flavours down: Cookies & Cream, Vanilla, Chocolate, Pistachio, and so on. Carmen's Best also pulled their Singapore-exclusives off well with the SINGA-POUR sundae. I'll definitely be back again to satisfy my stomach for these very soon. 
Denzy Gelato Review: Ice Cream Cafe With Unique Flavours Such As Saffron At Bishan
Address: 13 Stamford Road, #B1-32, Capitol Piazza, Singapore 178905
Opening hours: Mon-Fri 11am to 9pm, Sat 11am to 10pm, Sun 11am to 9pm
Website
Carmen's Best is a halal-certified eatery.
Photos taken by Lim An.
This is an independent review by Eatbook.sg.
Summary
Pros
– Rich, good quality ice cream
– Cheerful staff
Cons
– Expensive
Recommended Dishes: Brown Butter Ice Cream ($4.90), SINGA POUR Sundae ($10.90)
Opening hours: Mon-Fri 11am to 9pm, Sat 11am to 10pm, Sun 11am to 9pm
Address: 13 Stamford Road, #B1-32, Capitol Piazza, Singapore 178905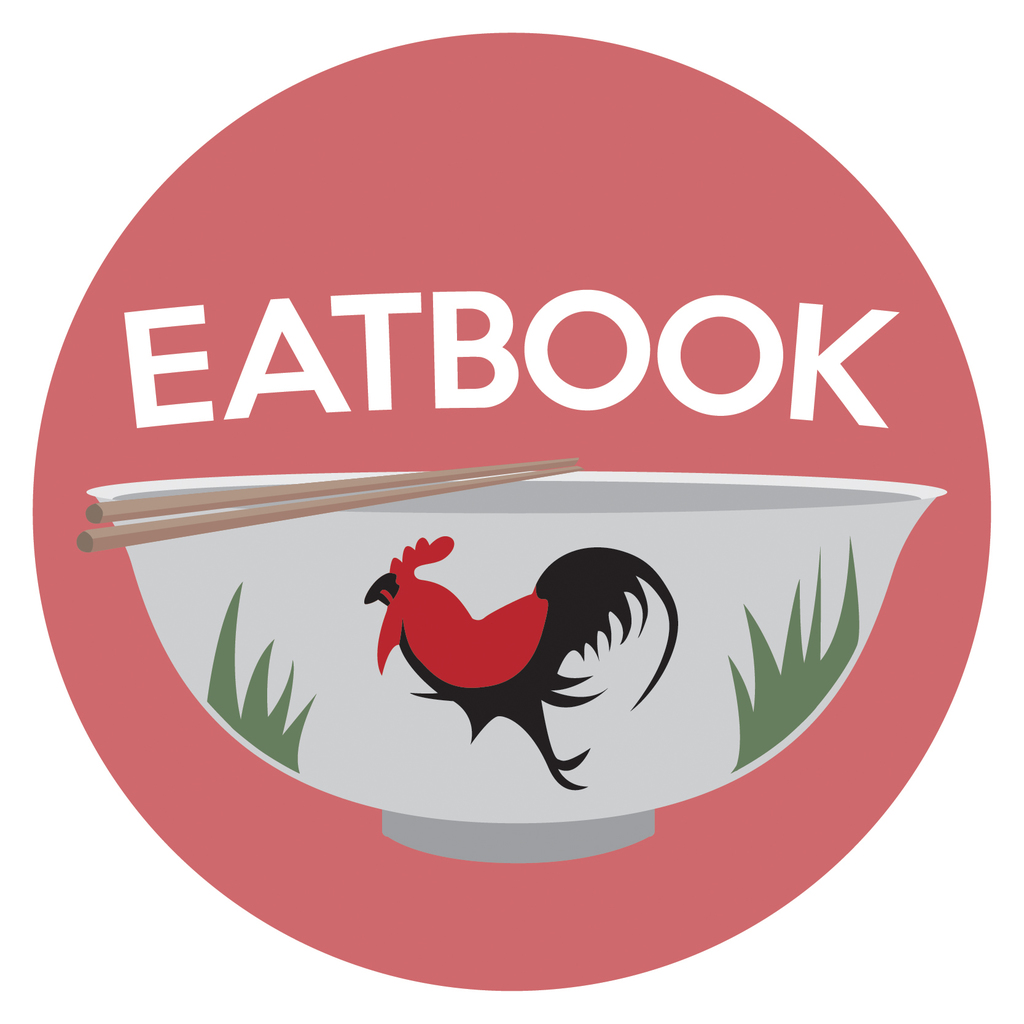 Drop us your email so you won't miss the latest news.