---
ShopBack GO offers 1-for-1 lunch deals
---
Food in the CBD can be a bit pricey. If your office is right smack in the middle of the city, you might end up struggling to find affordable food options for your daily lunch break. ShopBack GO is here to fix that by giving you cashback at restaurants IRL. This is on top of their dozens of offers— 1-for-1 deals, vouchers, and loyalty rewards! 
From 1 January to 31 March 2020, you can enjoy these discounts and deals easily. Just link your credit or debit card to the ShopBack app, and you can redeem these vouchers on the spot. You'll also automatically receive cashback if you pay by card at a restaurant linked to ShopBack. 
First-time users can enjoy a $5 welcome bonus by using a referral code, so scroll down to the bottom to find out what it is! 
Hundreds of promos are up for grabs during their Super Season, and you can get 1-for-1 deals and loyalty promos for free! Here are some of the places you can get discounted dishes at.
---
1. Pho Street
---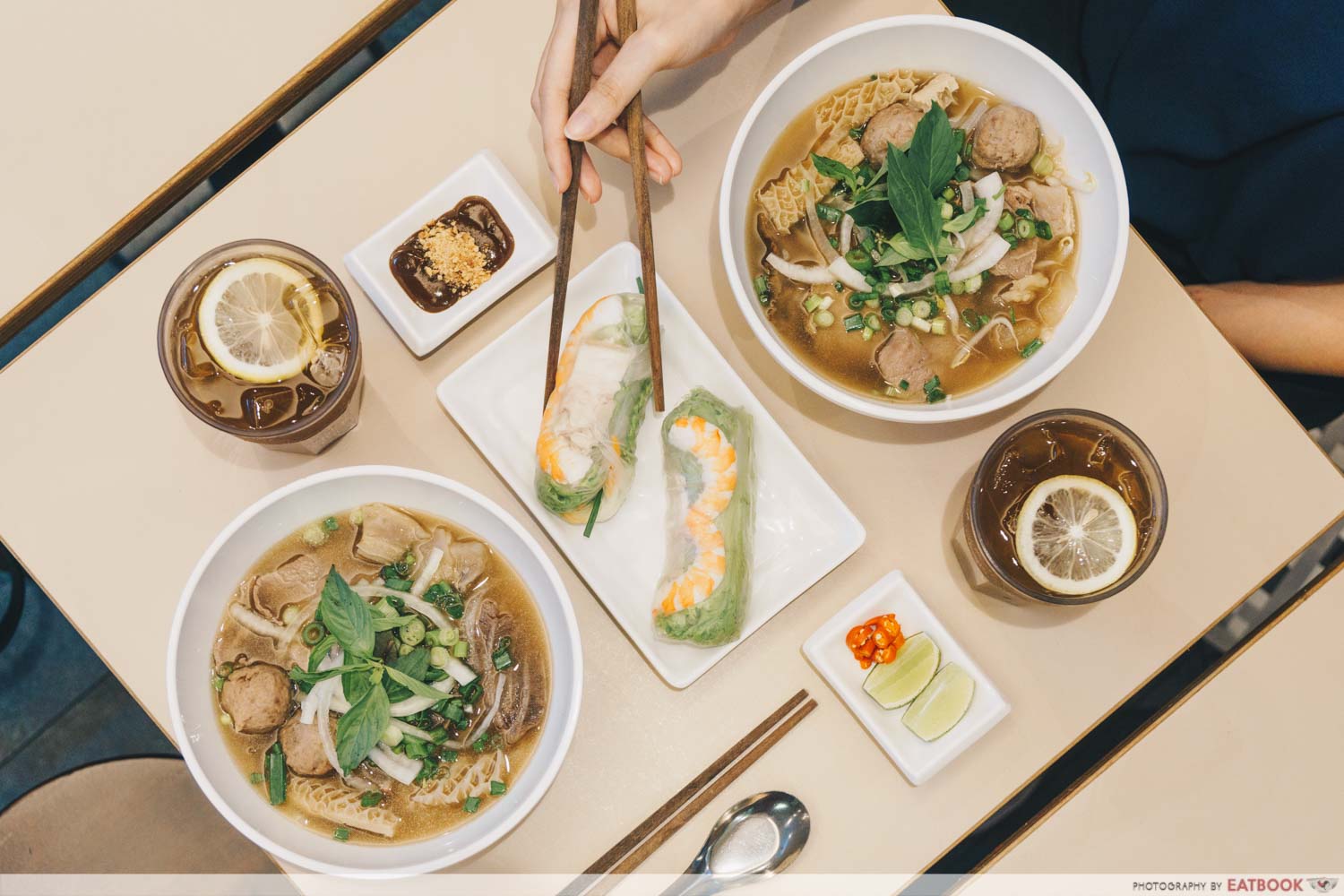 The lively and bright Pho Street is a Vietnamese restaurant that sells banh mi, street snacks, and of course, bowls of savoury pho. ShopBack GO's 1-for-1 deal can be used to get their Pho Beef Combination Set ($14.90), which comes with beef balls, brisket, shank, tendons, and tripe!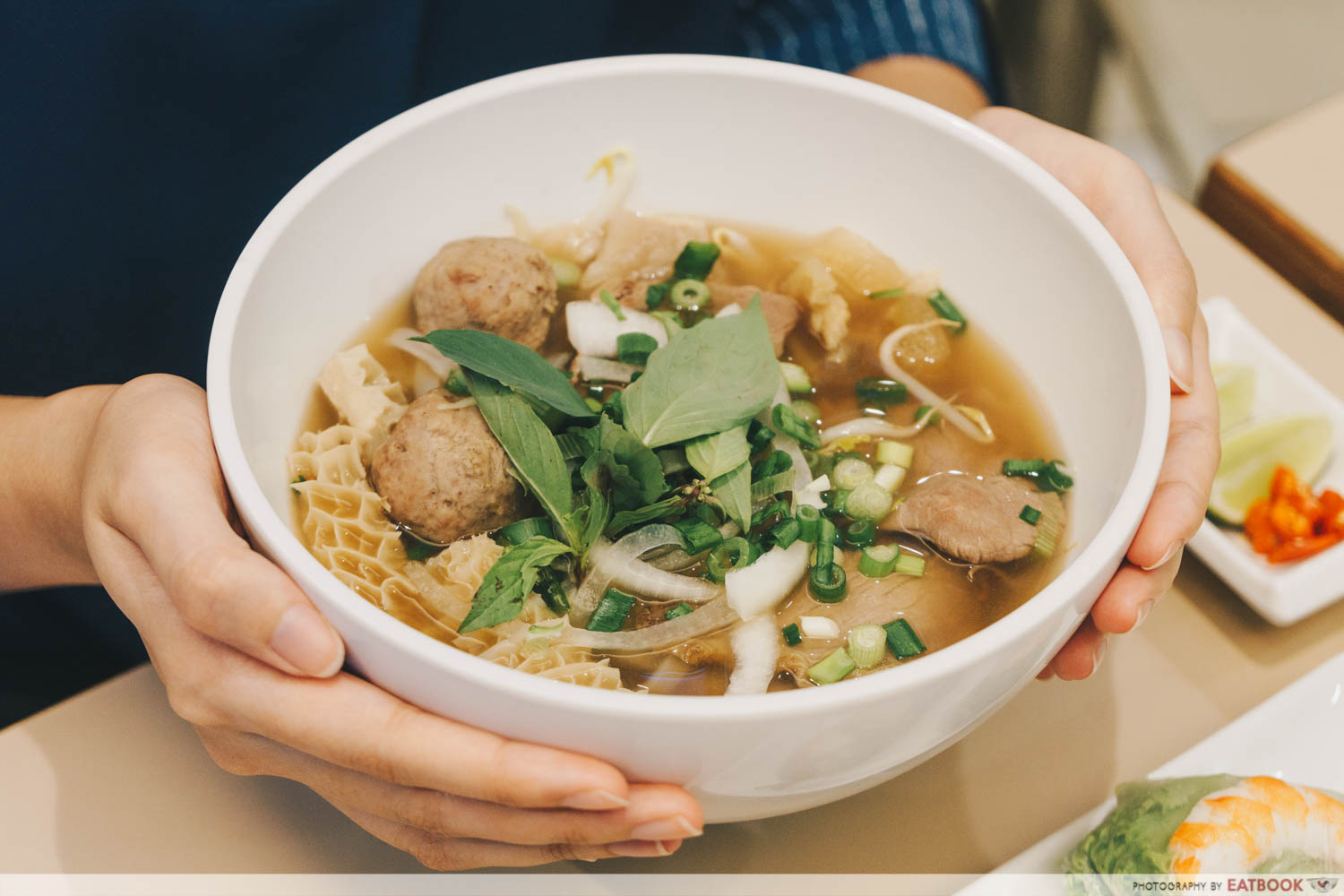 The warm, nourishing bowl of soup was filled to the brim with meat. The rice noodles were chewy and soft, and the tender beef was packed with flavour. Come along with a friend and enjoy two bowls of this delightful dish for the price of one! What's more, you'll get 5% cashback when you use this promo.
Address: 16 Raffles Quay, #B1-29/30, Hong Leong Building, Singapore 048581
Opening hours: Mon-Fri 11am to 3pm
Tel: 6887 8300
Website
Redeem here
---
2. Rookery
---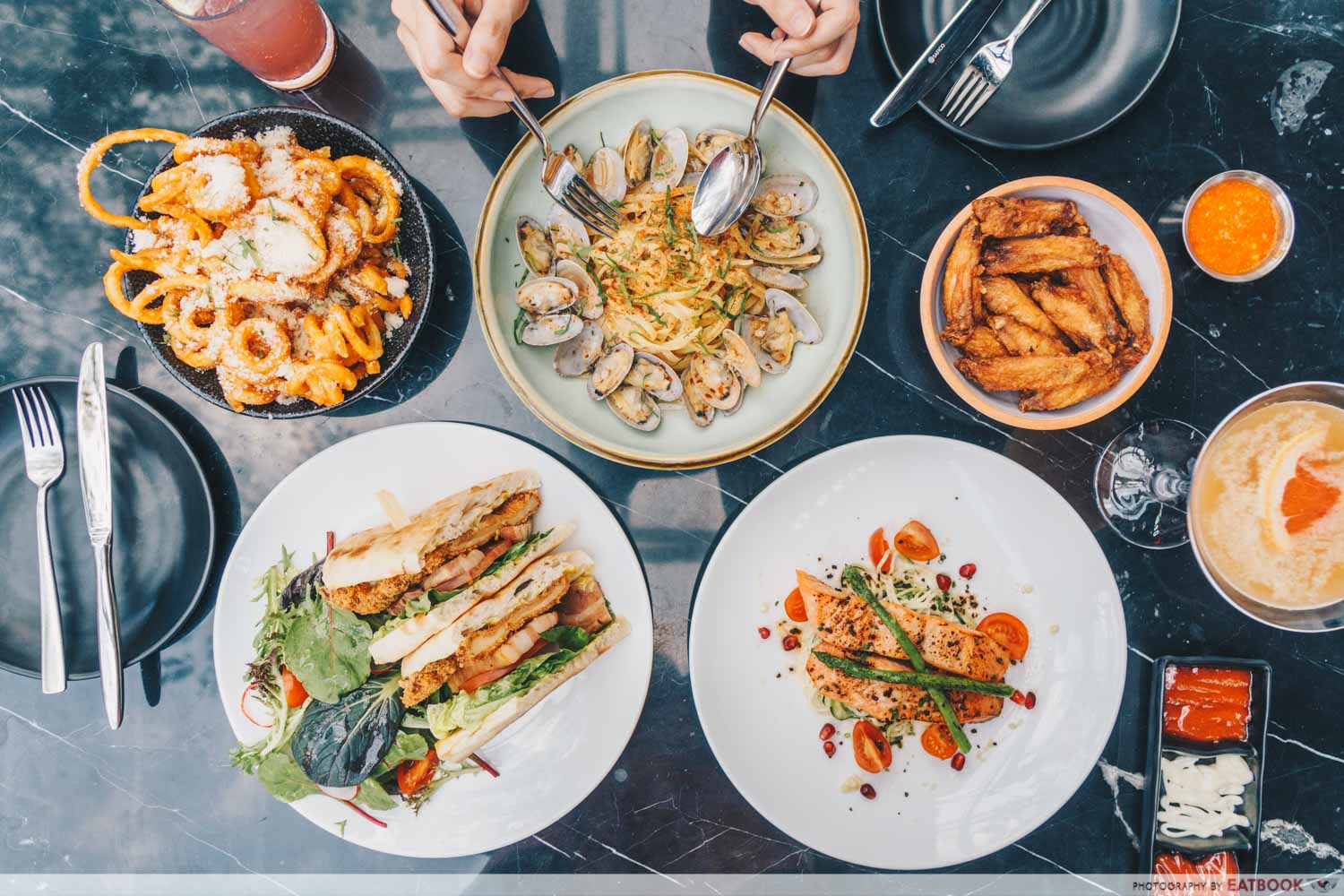 Rookery at Hong Leong building serves up sumptuous, generous portions of Western fare. Lunch is served after 11:30 am, and the restaurant-bar offers huge dishes such as the Miso Glazed Norwegian Trout ($28++) and Vongole Aglio Olio ($22++). If you don't want a full meal, you can get sides such as Truffle Fries ($14++) or Har Cheong Gai Wings ($16++).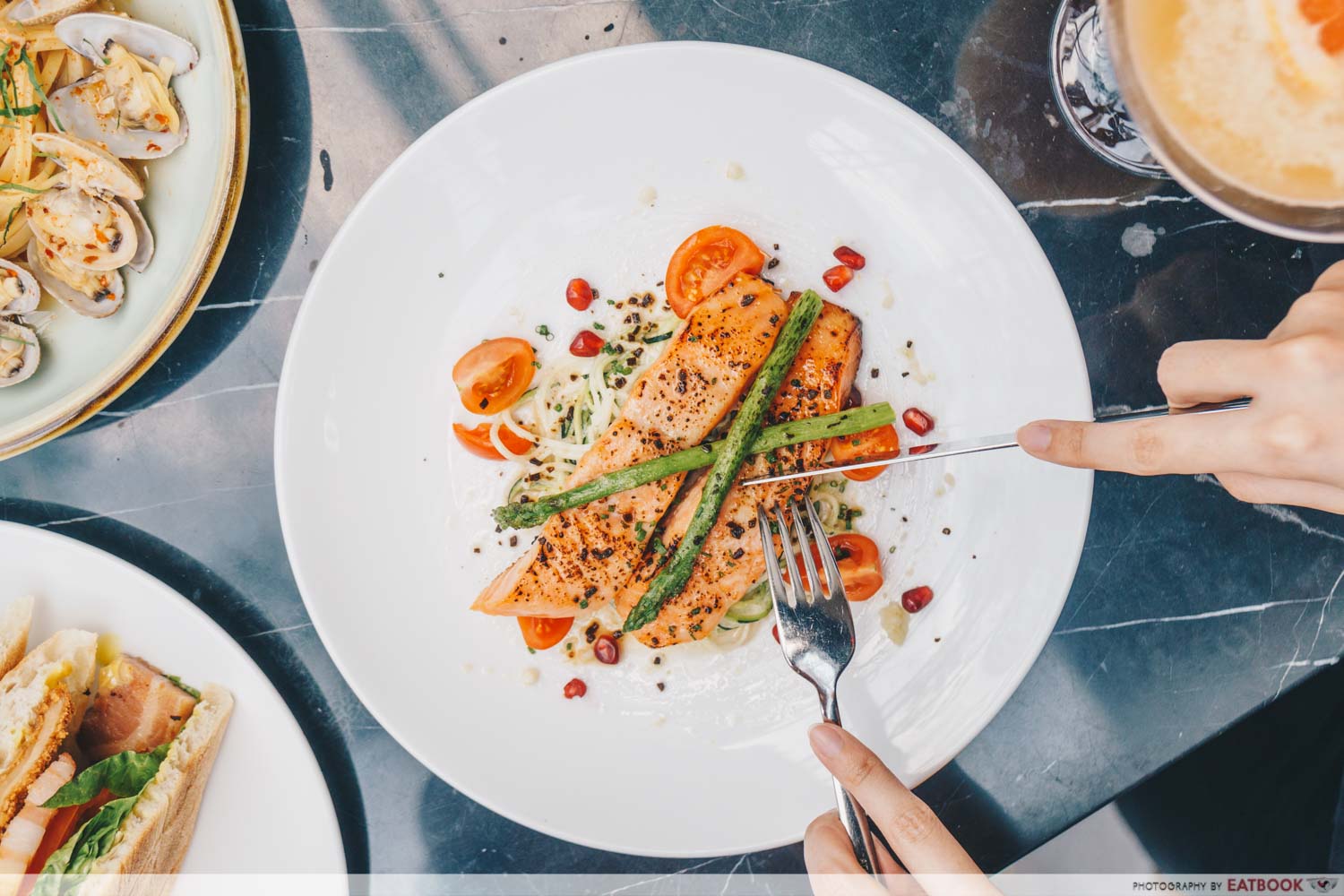 Their Miso Glazed Trout was definitely our favourite. The delicate, mild texture of the fish was boosted by the tangy miso glaze. It's crisp on the outside, but the inside is delightfully flaky, soft, and tender. It comes with a side of chewy zucchini noodles and flavourful asparagus. 
All mains courses are 1-for-1, so you and your dining buddy can each get a whopping meal at half price. And for every $60 spent, you get a free main or pasta—the more diners, the merrier! On your first visit, you can also get 20% cashback, and 5% cashback for subsequent visits.
Address: 20 Cross Street, #01-19, China Square Central, Singapore 048422
Opening hours: Mon-Fri 8am to 11pm, Sat 11am to 9pm
Tel: 6221 0968
Website
Redeem here
---
3. Aburiya
---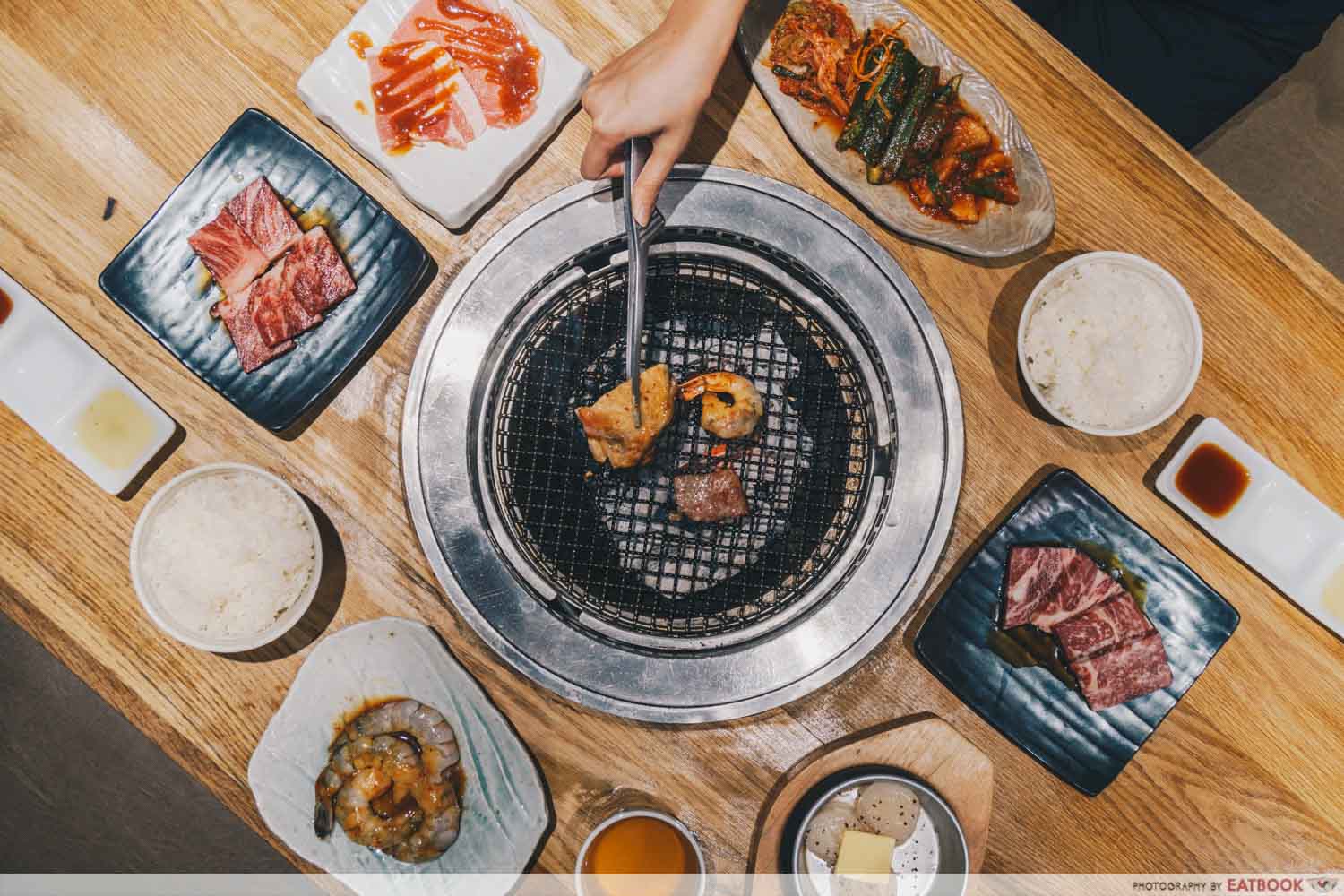 A luxurious meal at Aburiya is better suited for a Friday team lunch, after another long week on the grind. The wagyu and yakiniku grillery serves up portions of beautifully marbled, tender, fatty beef and pork. We got the Tokachi Rib Rosu ($20++) beef, Buta Sirloin ($13++) pork, the Hotate Butter Yaki (13++) scallops, and juicy Ebi Miso (15++) shrimp.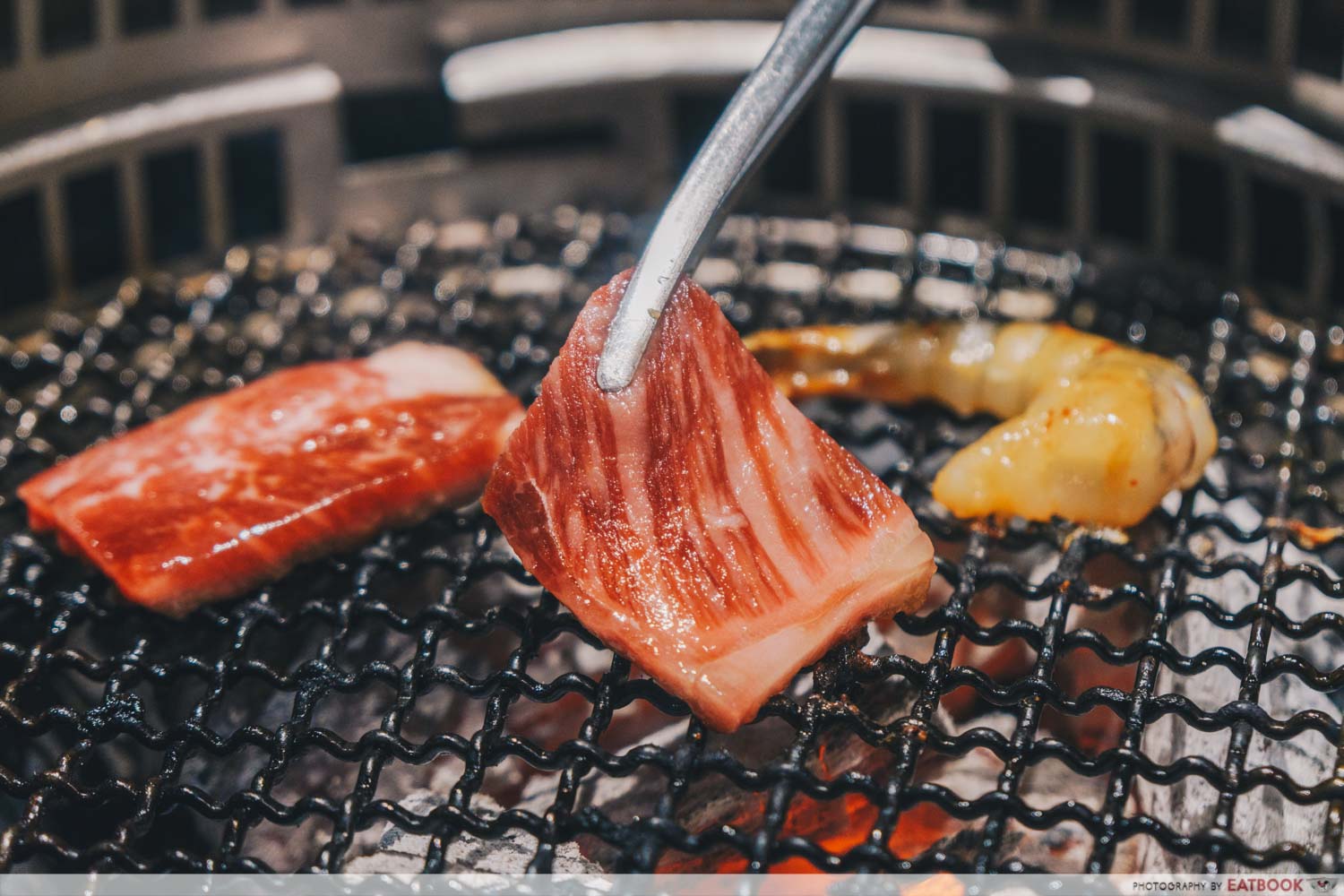 Up close, we could see the distinct marbling on the meat. Streaks of white fat ran through the meat, marking it as high-quality, tender tokachi beef. It smelt heavenly when being grilled up, and we couldn't wait to scarf down the slabs of grilled, fatty beef.
The huge spread of meat and seafood won't cost you that much, since the Tokachi Beef/Pork/Seafood selection is going at 1-for-1 this Super Season. For every $150 spent at this lively grillhouse, you get a $15 off voucher. There's also 5% cashback with each meal! Come on down with your colleagues and celebrate the end of a week of hard work. 
Address: 78/79 Boat Quay, Singapore 049867
Opening hours: Mon-Fri 11:30am to 2:30pm, 6pm to 11pm, Sat 6pm to 11pm, Sun 6pm to 10:30pm
Tel: 6532 0365
Website
Redeem here
---
4. Winnie's 
---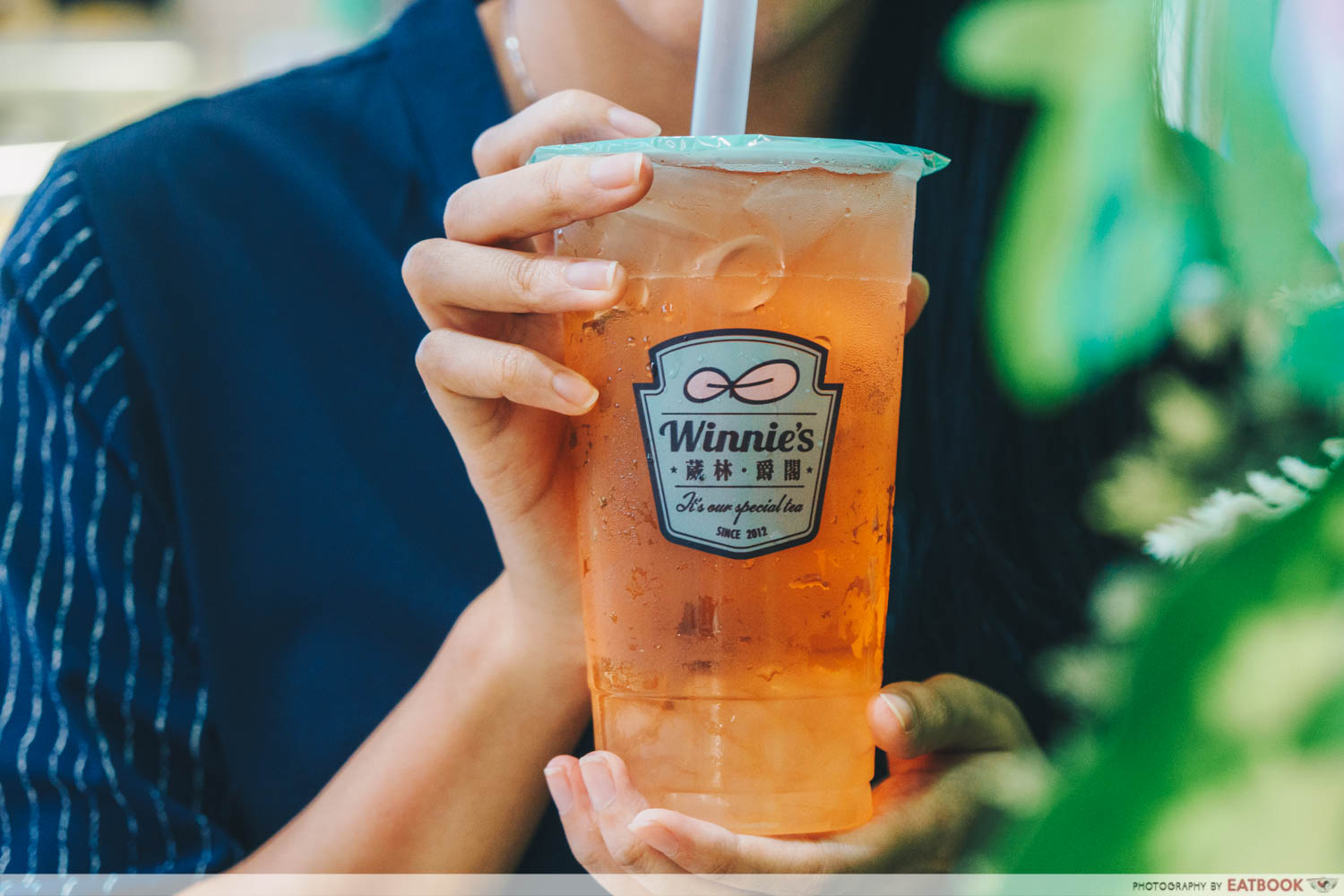 Hailing from Taiwan, Winnie's brews their bubble tea with fresh, high-quality ingredients. Their chewy pearls are made in-house, and are completely preservative-free. They even have a special method of filtering their water, so it has the same quality as their Taiwan branches. Our favourite was the Lychee Rose Nectar ($5.20). The drink was light, sweet and fruity, with the lychee providing most of the flavour. The rose had a more subtle floral aroma. It came with chunks of crunchy aloe vera, which complemented the sweet drink.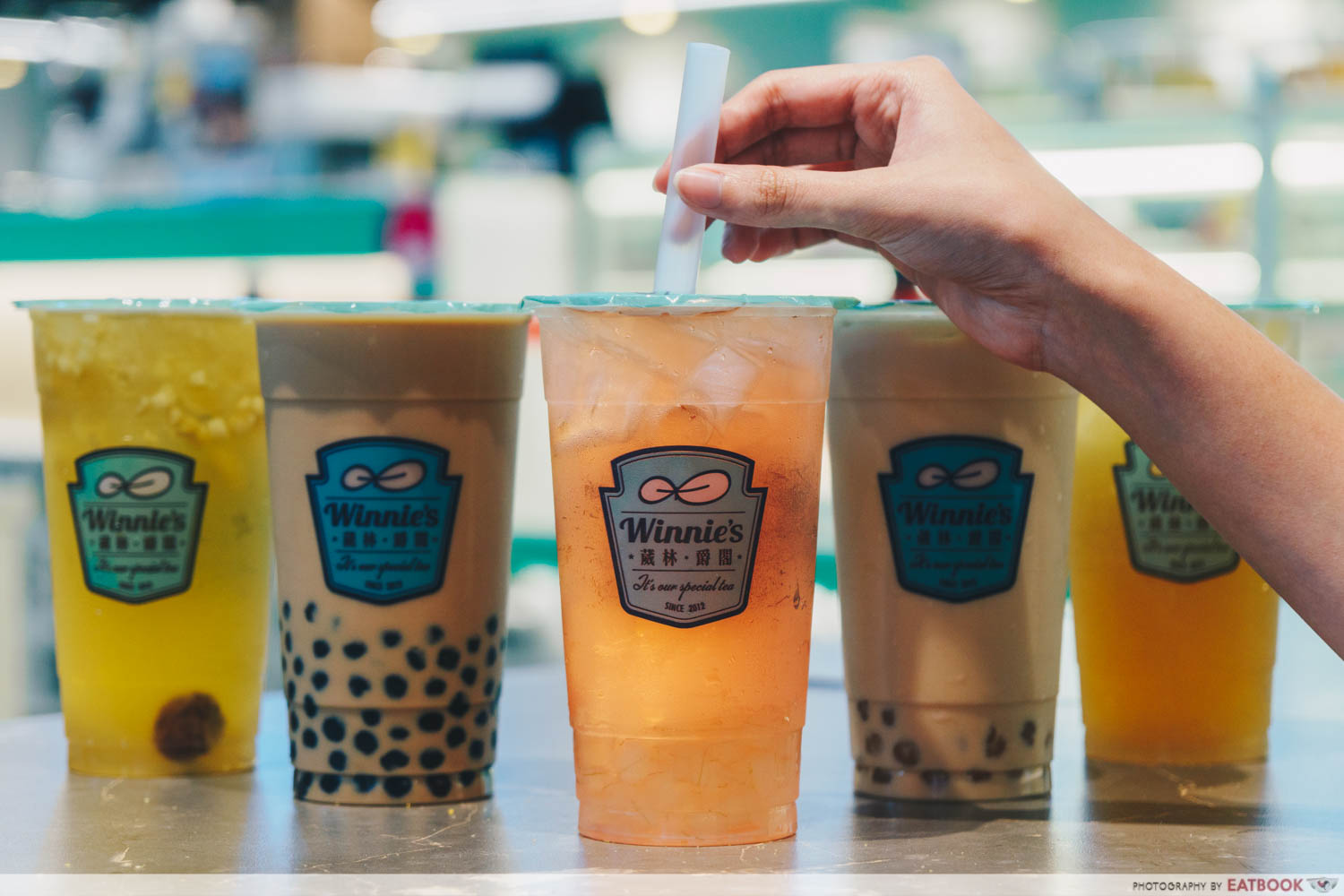 Some of the other cups available are the Classic Afternoon Milk Tea ($4.40), Almond Collagen Milk Tea ($4.50), Fresh Apple Green Tea ($5.50), Fresh Lemon Green Tea ($3.90), and the Legendary Jinxuan Tea ($4). The 1-for-1 deal is applicable for all drinks, and for every $10 spent, you can get a cup of the Classic Afternoon Milk Tea for free! There are good reasons to head down here to satisfy your midday sugar cravings, especially with the 5% cashback too.
Address: 9 Raffles Place, #B1-17, Republic Plaza, Singapore 048619
Opening hours: Mon-Fri 10am to 8pm
Tel: 9771 4847
Website
Redeem here
---
5. DePizza
---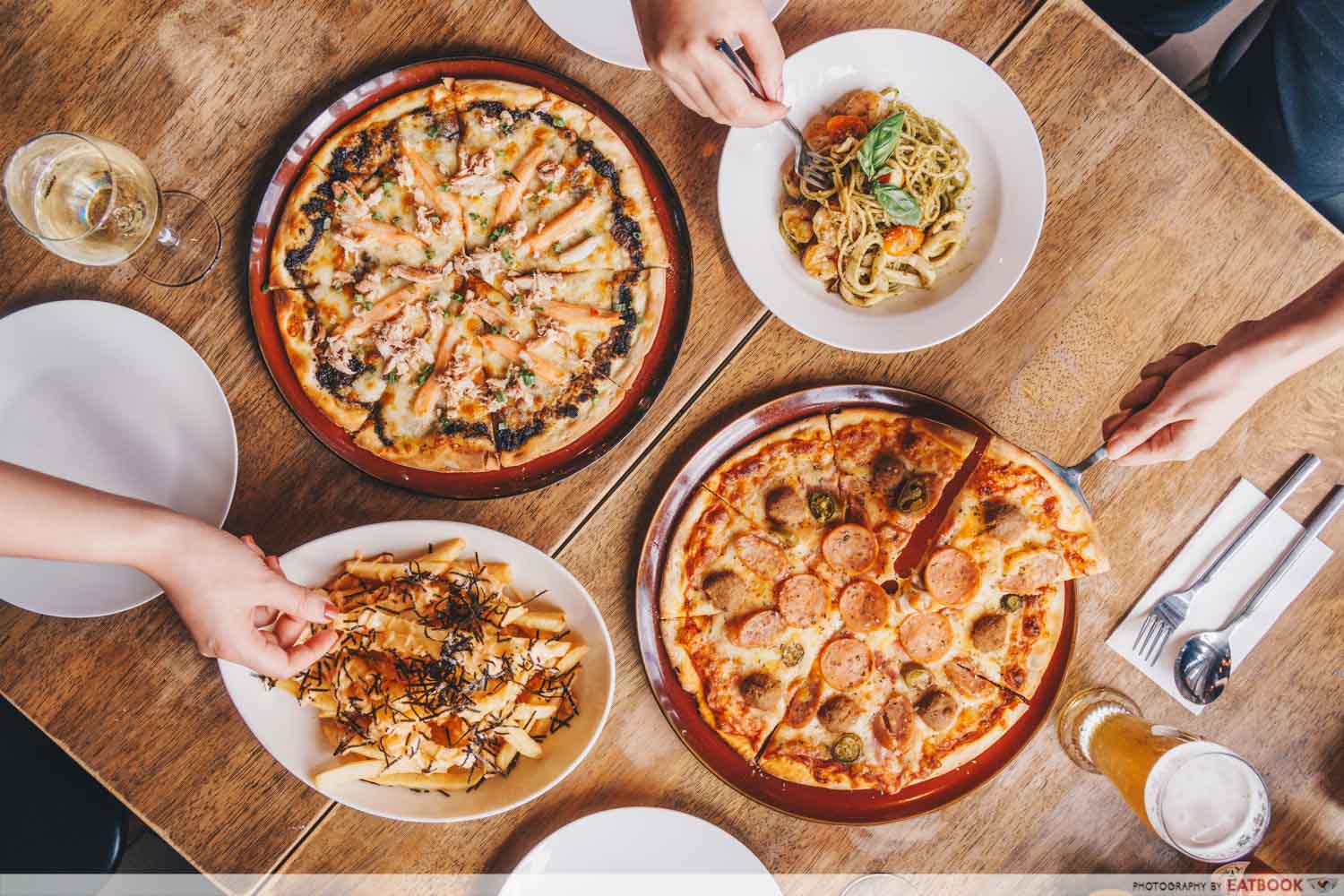 This modern pizzeria serves up fusion pizza with tons of unique flavours based on local cuisine. DePizza has flavours such as nasi lemak, chilli crab, and even sushi pizza. It's located along Boat Quay, and is a great spot to get dinner and enjoy the relaxing ambience. Their pizzas are 1-for-1 when you use ShopBack GO's vouchers, so it's a good opportunity to try a bunch of their unique flavours at once. The two that we got were the Hei Hu Hei Hu Pizza ($29++) and the All About Them Proteins Pizza ($24++).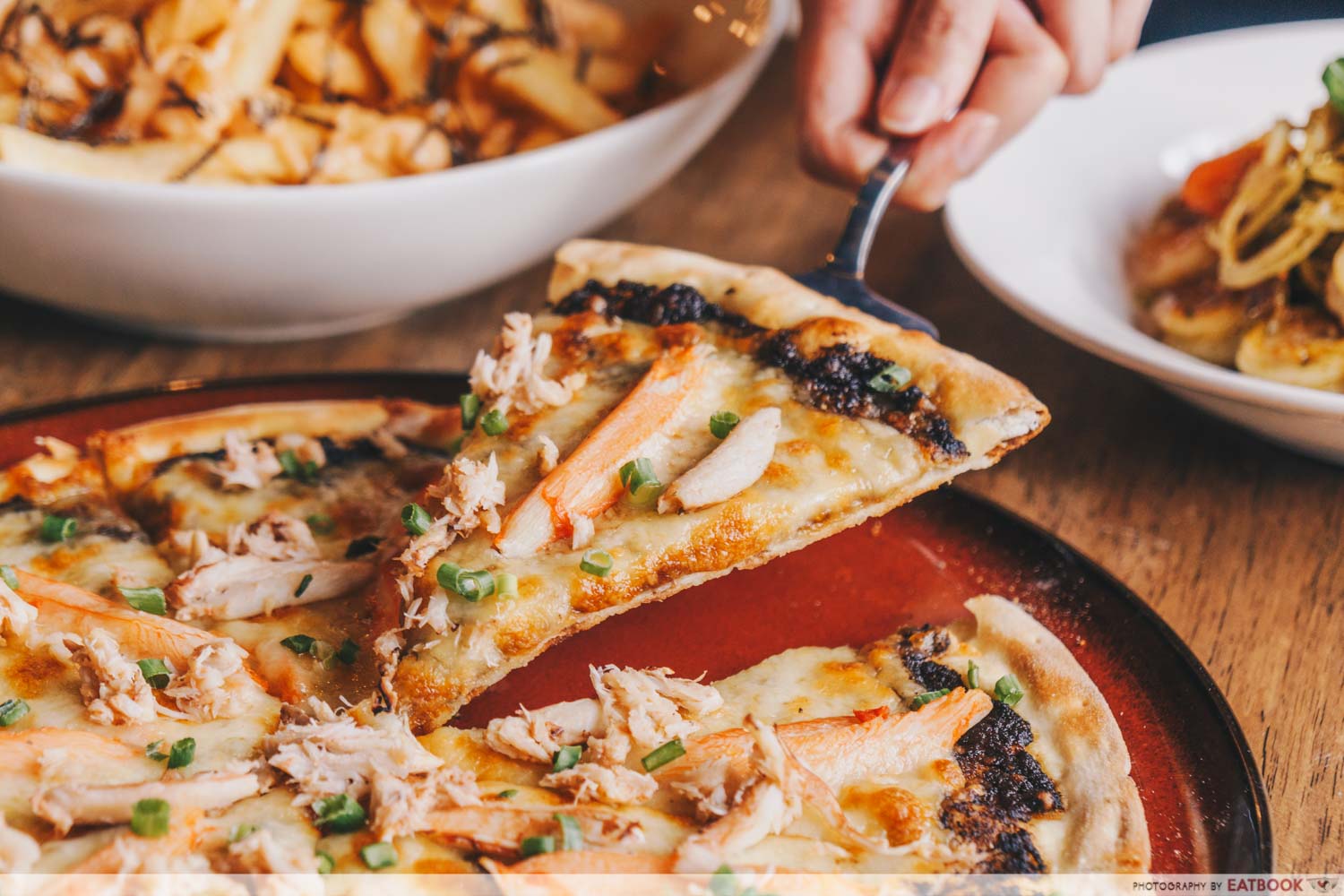 Hei Hu Hei Hu is a black pepper crab pizza, covered in real crab meat that was delicate, flavourful, and sweet. It had a hearty kick of spice from the black pepper, and I found myself grasping for a drink after a few bites. The other pizza, the All About Them Proteins, was a more classic pizza, covered in pepperoni, meatballs, and bacon, along with sticky, gooey cheese. As a self-professed carnivore, this pizza was my favourite of the two. 
On top of the 1-for-1 pizzas, you can also enjoy a 3% cashback when paying with a card linked to ShopBack GO!
Check out our full review of DePizza!
DePizza Review: Nasi Lemak Pizza And Gu Lou Yok Pizza At A New Restaurant
Address: 35A Boat Quay, Singapore 049824
Opening hours: Mon-Thurs 12pm to 3pm, 5pm to 9:30pm, Fri 12pm to 3pm, 5pm to 10:30pm, Sat 5pm to 10:30pm, Sun 5pm to 9:30 pm
Tel: 6588 1359
Website
Redeem here
---
6. MỘC Cottage 
---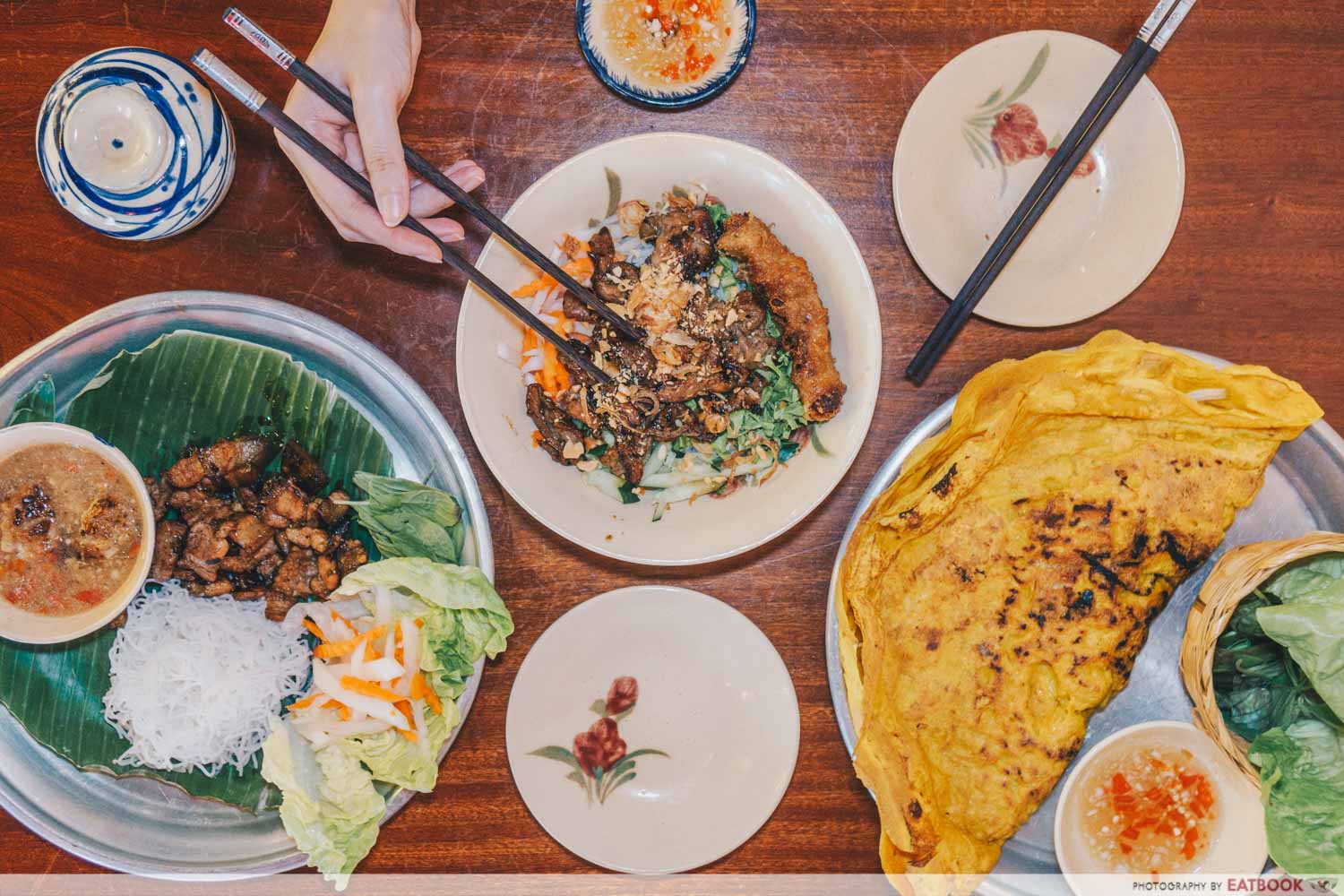 MỘC Cottage is a Vietnamese restaurant found at Tanjong Pagar. The interior has a dark, rustic vibe to it, with bamboo walls and paper lanterns. You can get a 1-for-1 deal on the Bun Cha Ha Noi ($17++) and Bun Thit Nuong, Cha Gio ($17++). The latter comes with rice noodles, spring rolls filled with crunchy veggies, and lightly charred, fatty pork on the side.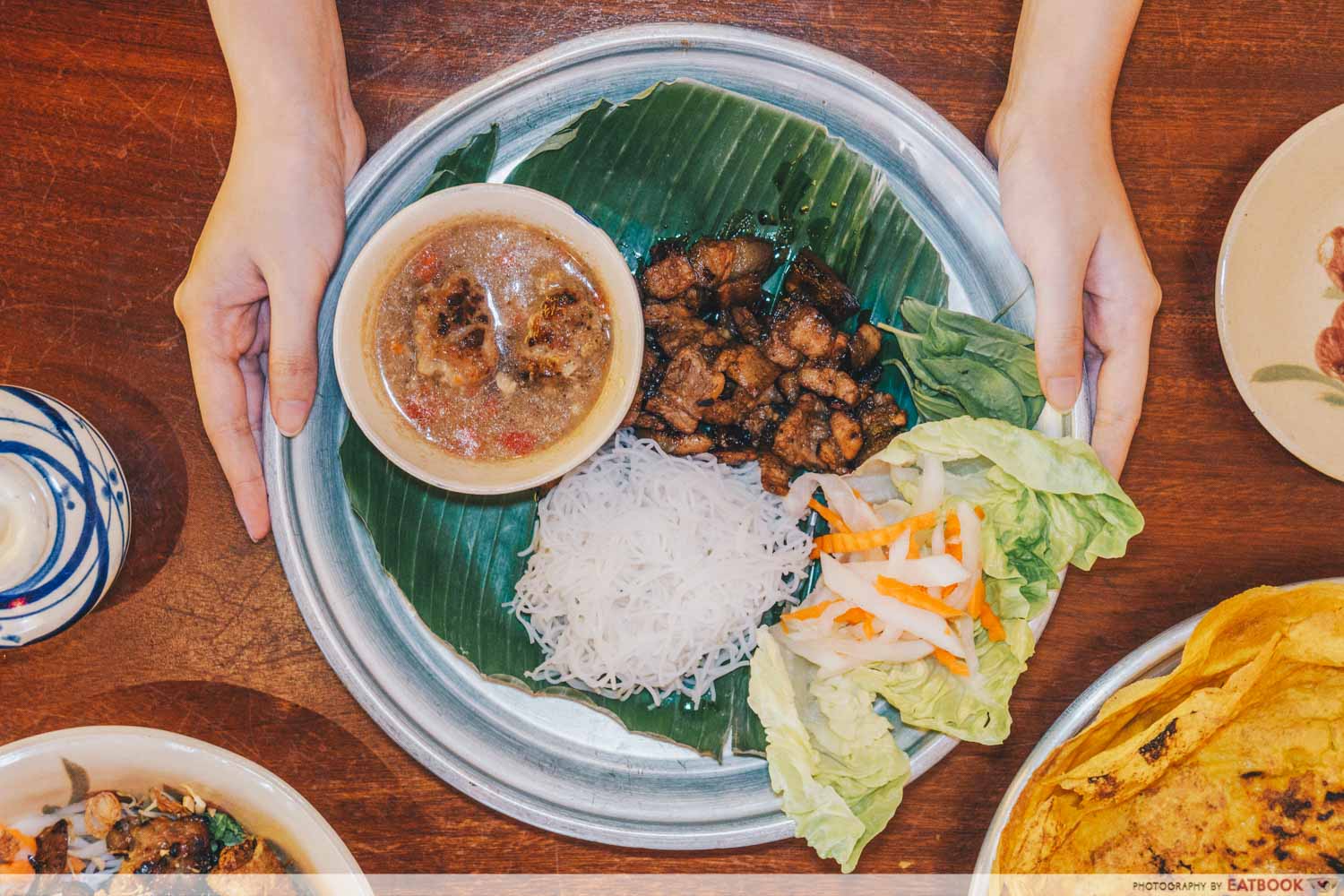 The Bun Cha Ha Noi is a plate of Hanoi-style vermicelli, with a serving of grilled pork as well. It comes with a bowl of light fish sauce, which gives a salty, umami flavour to the thin noodles. A refreshing salad is also there on the side, to cut through the fattiness of the rich meat. Come with a colleague and get the 1-for-1 deal on this filling, affordable meal, and get 5% cashback at the same time. 
Address: 26 Tanjong Pagar Road, Singapore 088449
Opening hours: Daily 12pm to 12am
Tel: 6226 1022
Website
Redeem here
---
7. Sarnies
---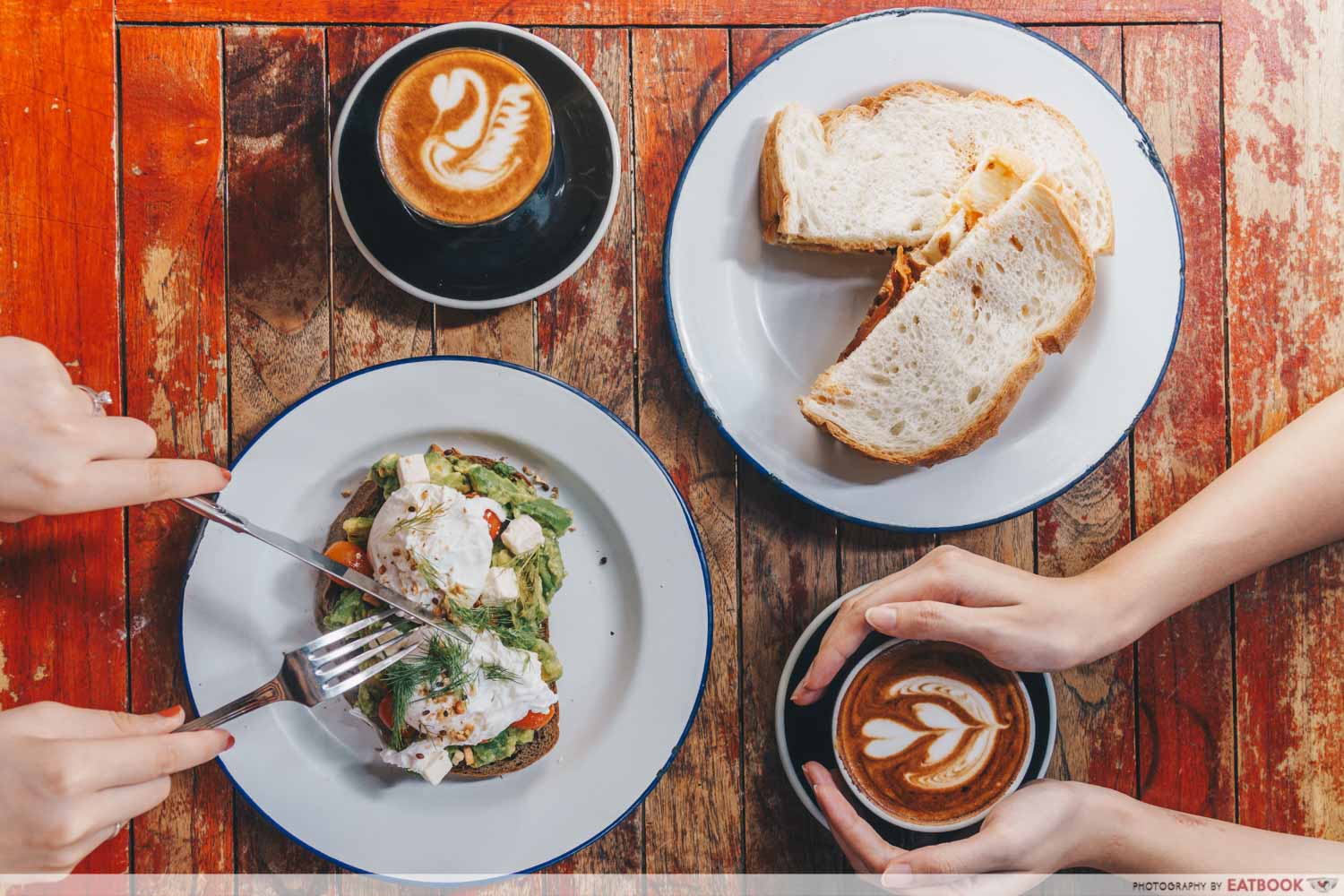 Sarnies is another place where you can get your coffee fix. The brunch cafe has plenty of bites you can enjoy, such as the Avocado Toast ($11.50), which comes with a scoop of feta cheese and diced tomatoes. The avocado is silky and creamy, with an almost puree-like texture.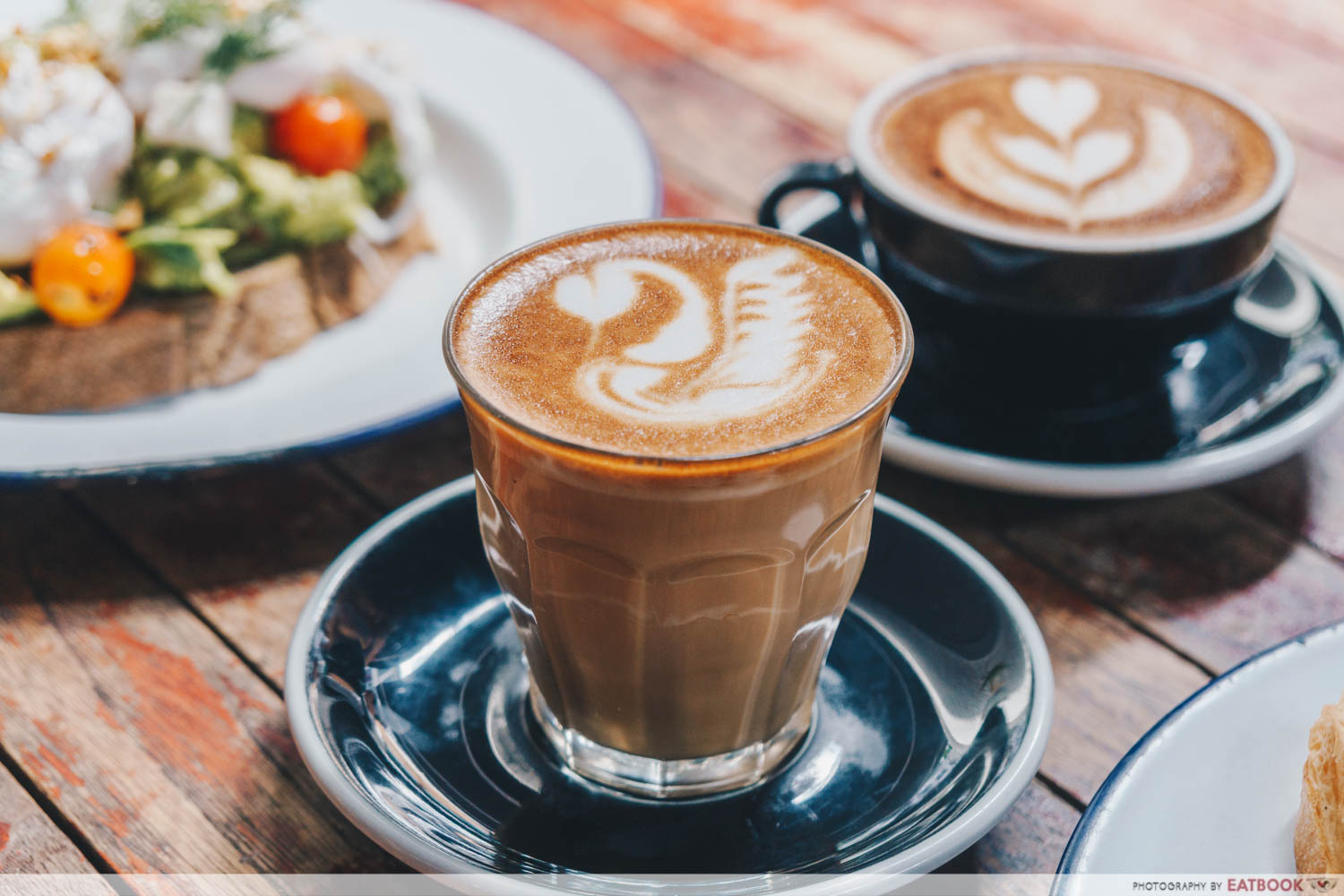 Their Lattes ($5) are rich, creamy, and foamy, and are strong enough to get you through the rest of the afternoon. Sarnies roasts all their beans in-house, making sure they're as fresh as can be. You can get a 1-for-1 on their coffee, so you can enjoy options such as the Chai Latte ($6) and the Iced Coconut Long Black Coffee ($6). And if your meal adds up to $30, you can get a free coffee or tea! Last but not least, you get 5% cashback when you use a ShopBack GO-linked card.
Address: 136 Telok Ayer Street, Singapore 068601
Opening hours: Mon-Tue 7:30am to 10:30am, Wed-Fri 7:30am to 12am, Sat-Sun 8:30am to 4pm
Tel: 6224 6091
Website
Redeem here
---
8. Avogrinch
---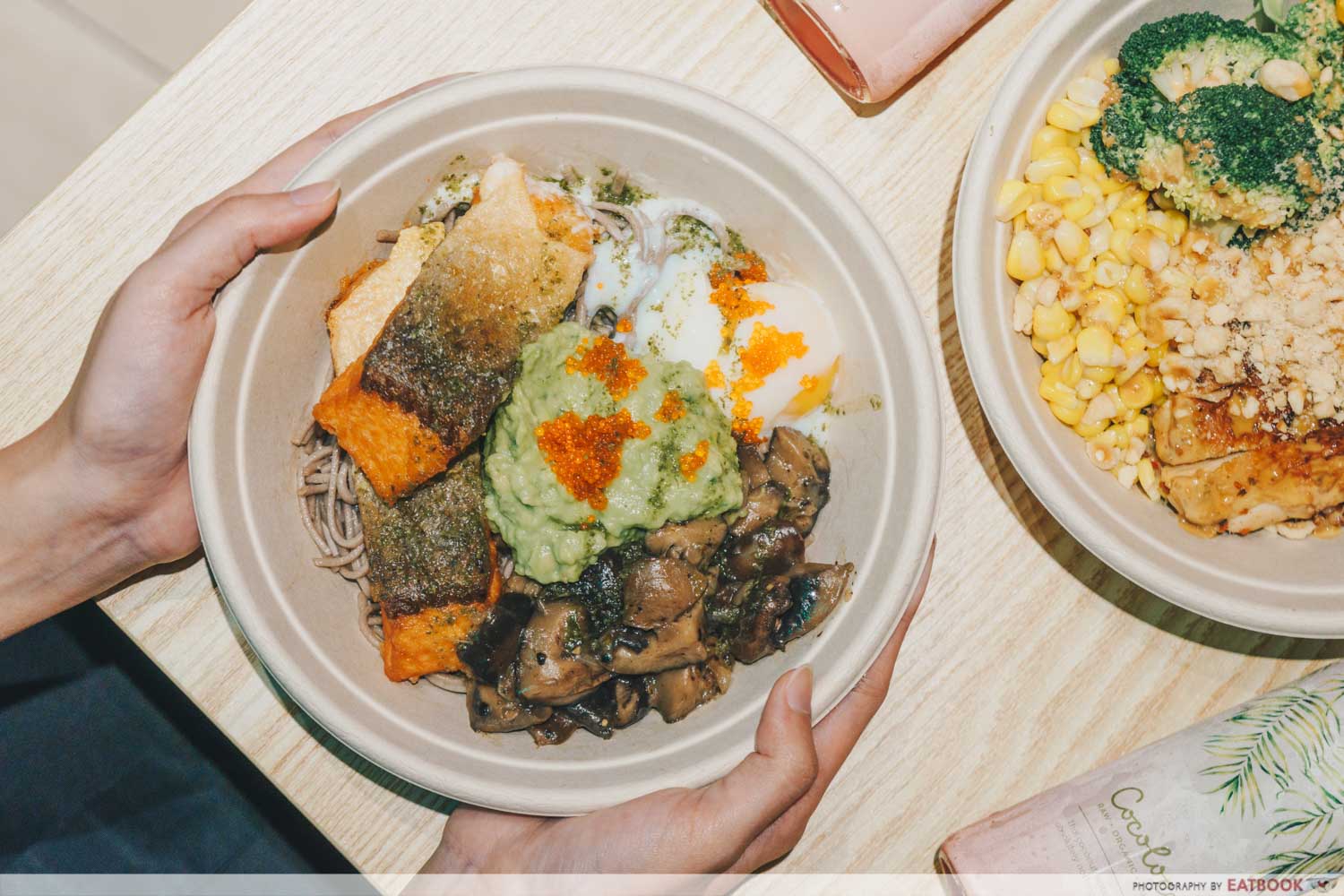 Avogrinch provides healthy lunch bowls, for those looking to eat fresh and clean. The 1-for-1 deal applies to their Large Bowls ($15), which come with two proteins, a base, three side dishes, a topping, and dressing. The portion size is quite good, and there's a lot of variety in what you can get.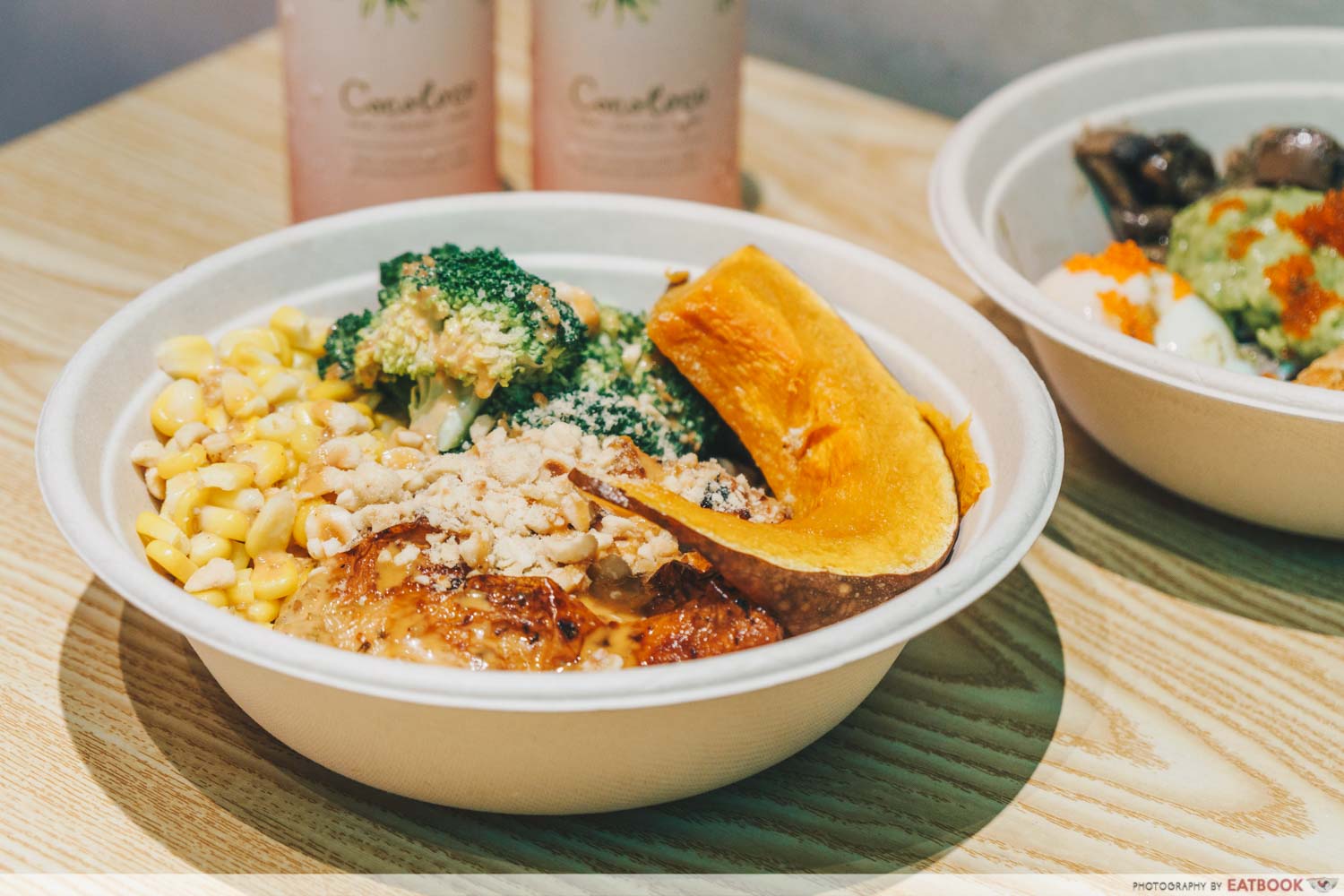 Some of the items we got were the sweet and smooth Pumpkin, the tender Thai-Grilled Chicken, and the crispy and fresh Seared Salmon ($2). Avo bowls are a great option for those who want to get a quick, easy meal, especially if you're the sort who prefers to dapao and head back to the air-conditioned office. You can enjoy a 20% cashback on your first trip here, and 5% cashback afterwards.
Address: 10 Marina Boulevard, #B2-68, Marina Bay Link Mall, Singapore 018983
Opening hours: 8am to 7:30pm
Tel: 6908 3937
Website
Redeem here
---
9. Ah Sam Cold Drink Stall
---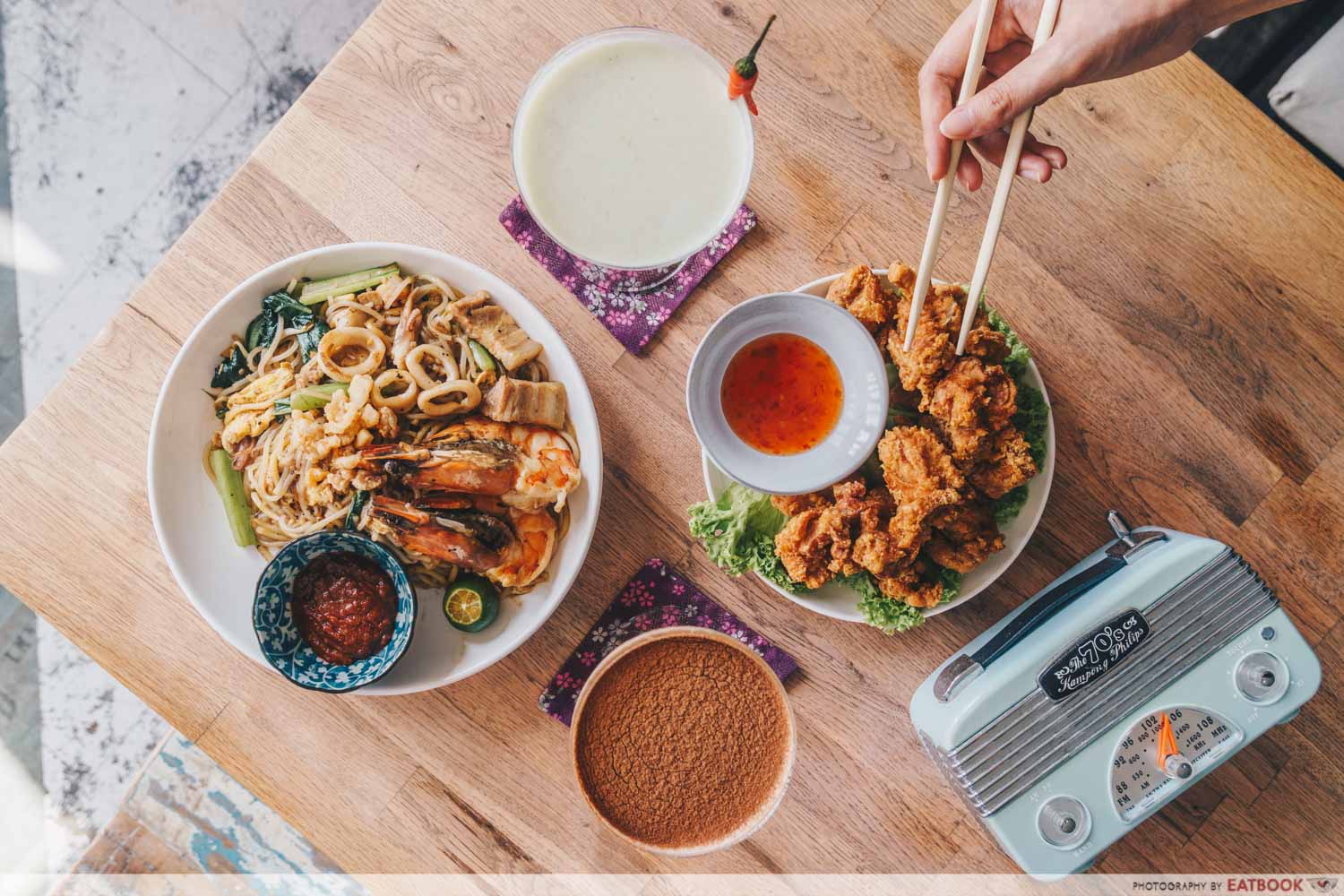 Contrary to its name, Ah Sam Cold Drink Stall isn't a generic coffeeshop drinks stall. The cosy bar is set inside a shophouse, and the decor maintains that vintage, old-timey Singapore style. They have mains such as the Singapore Style Hokkien Prawn Mee ($15++), which is expensive for local food, but has a whopping heap of tiger prawns and impressive portions. The Shrimp Paste Chicken Kaarage ($12++), or har cheong gai, is sweet, tender and meaty, with a well-seasoned and crisp layer of batter.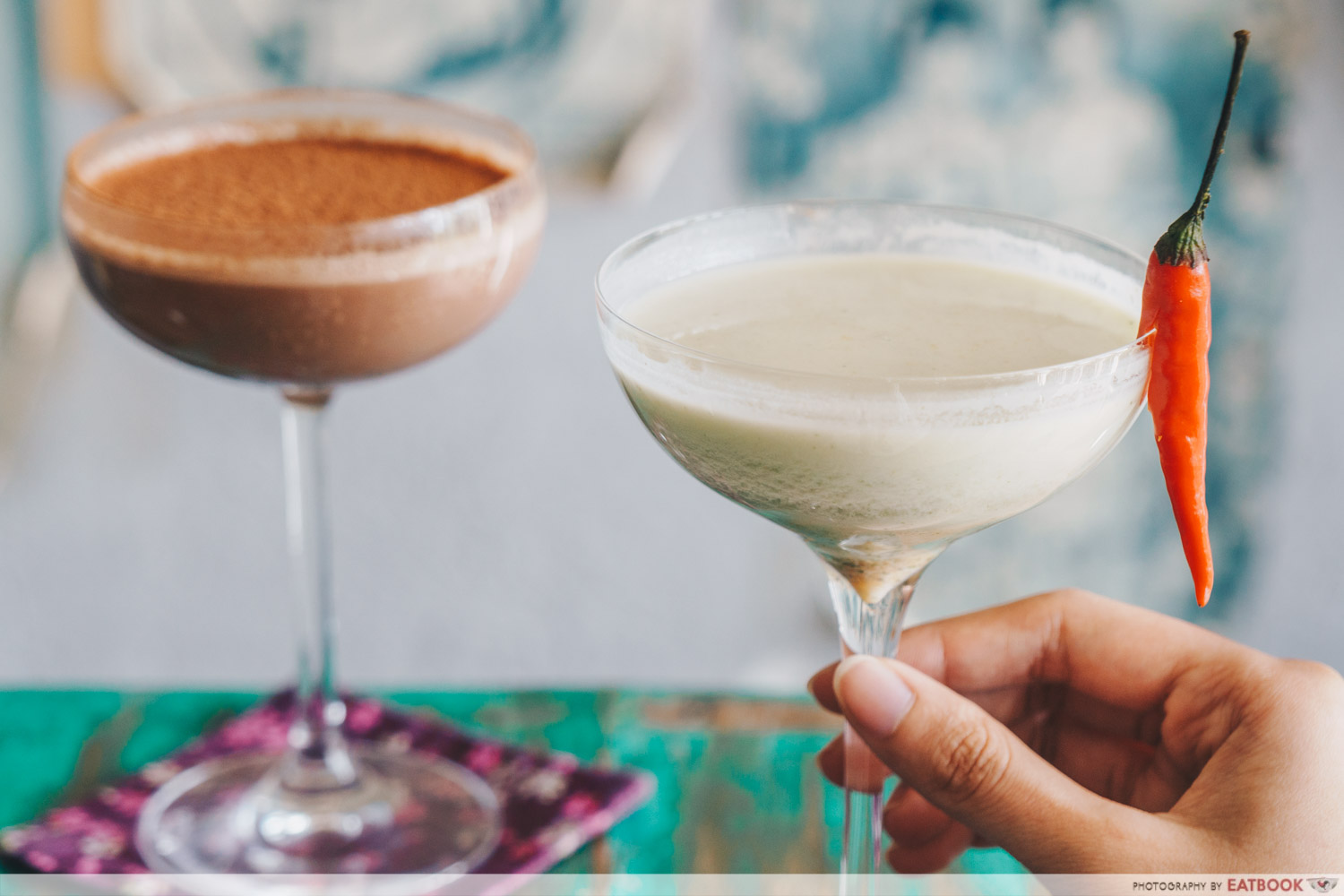 Ah Sam's signature drinks take on local flavours— for example, the Milo Dinosaur ($24++) and Laksa ($24++) cocktails. The Milo Dinosaur is a mix of Milo and Wild Turkey bourbon whiskey, port wine and egg yolk to finish it off. The familiar taste of Milo and the bitter whiskey mix together harmoniously, and the drink is reminiscent of irish cream. 
The Laksa cocktail is a lot more unique. It contains dried hae bee, vodka, coconut cream, lime and lemongrass, laksa leaves, and chilli padi. The end result is a bizarre drink that tastes surprisingly similar to the real dish. I wouldn't order it regularly, but it's great for adventurous drinkers and is certainly a unique experience. 
The 1-for-1 deals are applicable to all cocktails, and the 5% cashback applies to all items here. And for every $150 you spend, you get a free house cocktail; so come down with a friend after work and check it out! 
Address: 60 Boat Quay, Singapore 049848
Opening hours: Mon-Thurs 2:30pm to 12am, Fri-Sat 2:30pm to 2am
Tel: 6535 0838
Website
Redeem here
---
10. Spinelli Coffee
---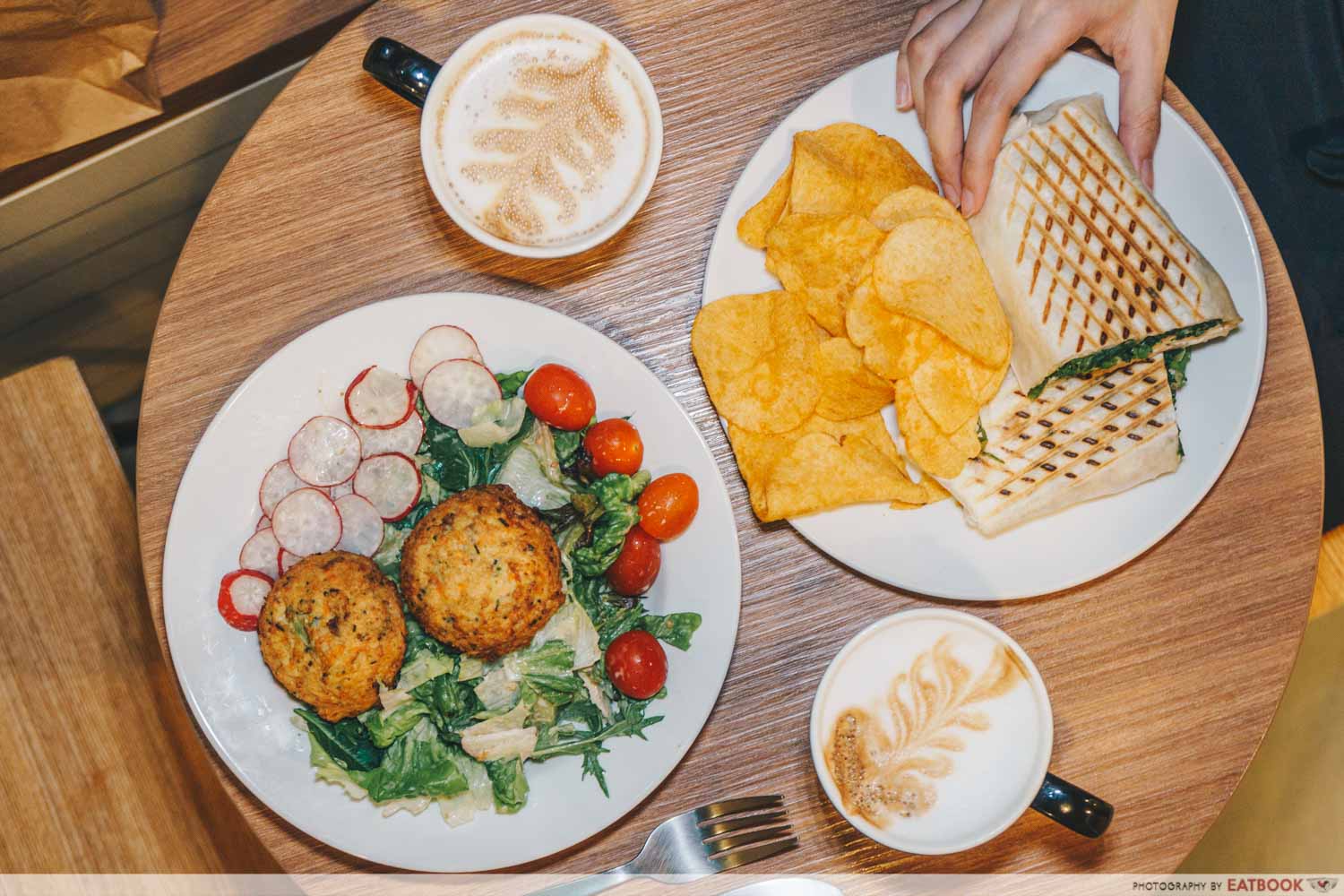 If you need a boost to keep you awake for a long, slow day at work, Spinelli Coffee at One Raffles Quay has you covered. Get your caffeine fix at lunchtime with a Large Latte ($6.30++), which has a 1-for-1 deal going on, as well as 3% cashback on all items! Bring a friend along, unless you're tired enough to drink two large cups by yourself. You can also grab a healthy bite, in the form of their Caesar Chicken Wrap ($10.80++), which comes with a side of potato crisps.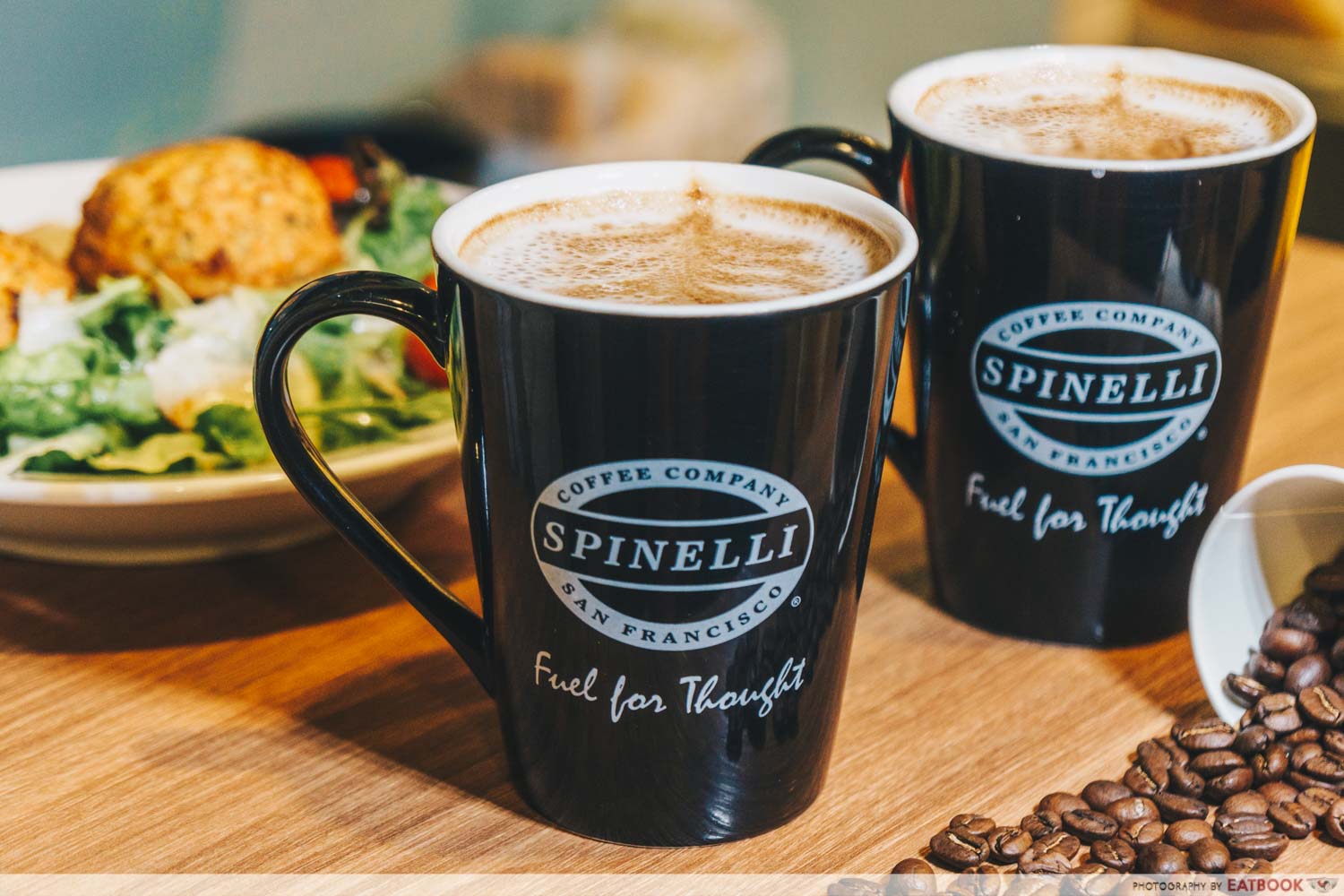 Spinelli coffee has their own roasting plant here in Singapore, so they prepare all their fresh beans weekly and deliver it to the outlets, unlike big international brands who import their roasted beans from overseas. Their coffee is fresh, strong, and filled with robust flavours. 
Address: 1 Raffles Quay, #B2-01, One Raffles Quay, Singapore 048583
Opening hours: Mon-Fri 7am to 7pm
Tel: 6536 6354
Website
Redeem here
---
ShopBack GO's 1-for-1 lunch deals in the CBD
---
ShopBack GO is easy to get started with::
Download the ShopBack app.

Link your credit or debit card to the app.

Pay with your card and redeem vouchers using the app.

Get cashback in the app, which you can withdraw back into your account!
New customers can get a $5 welcome bonus by using the code EATBOOK in the ShopBack app. Click here to use our code, or key it in manually during signup.
If you're an existing customer, you can earn up to $9 by referring a friend with the app. Grab all your lunch buddies and find new places to eat together! These promos will only last till 31 March 2020, so act fast if you want to enjoy these 1-for-1 deals.
This post is brought to you by ShopBack GO.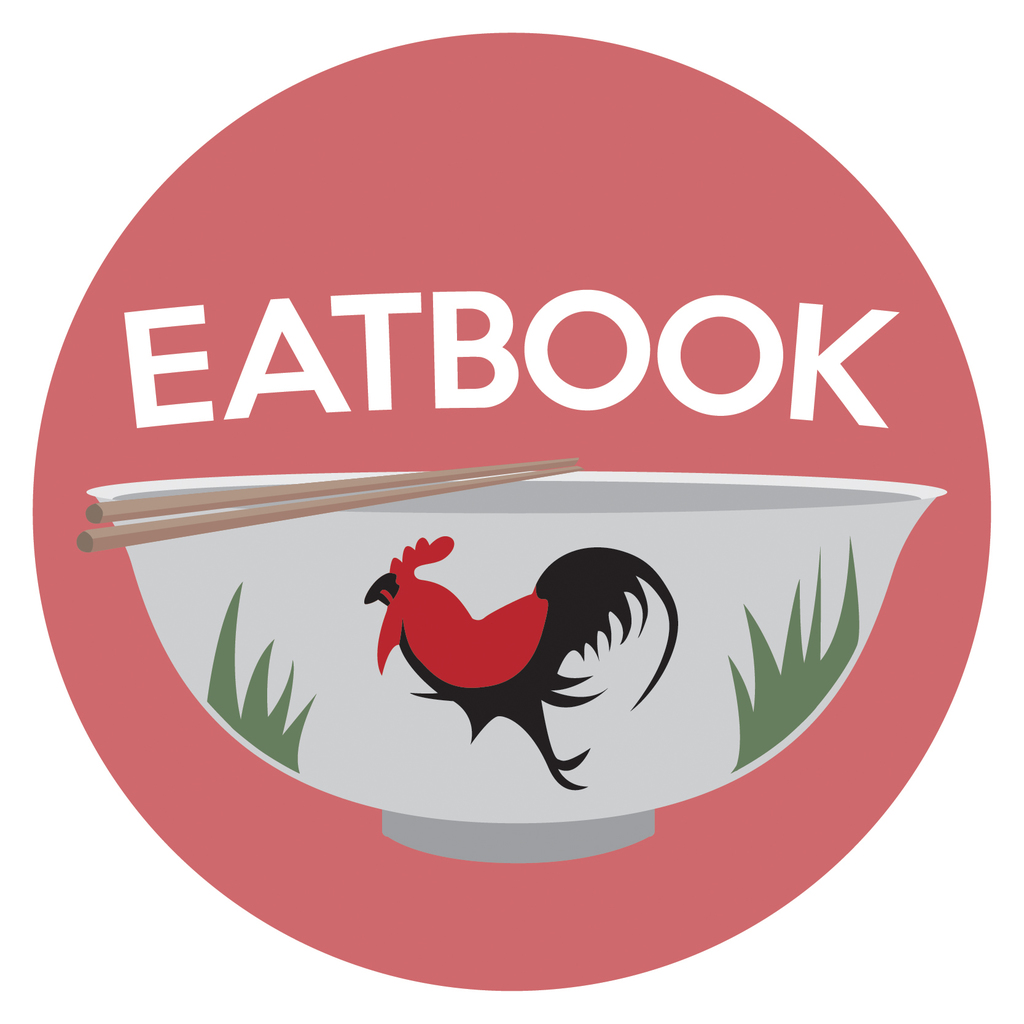 Drop us your email so you won't miss the latest news.