DePizza offers nasi lemak pizza at Boat Quay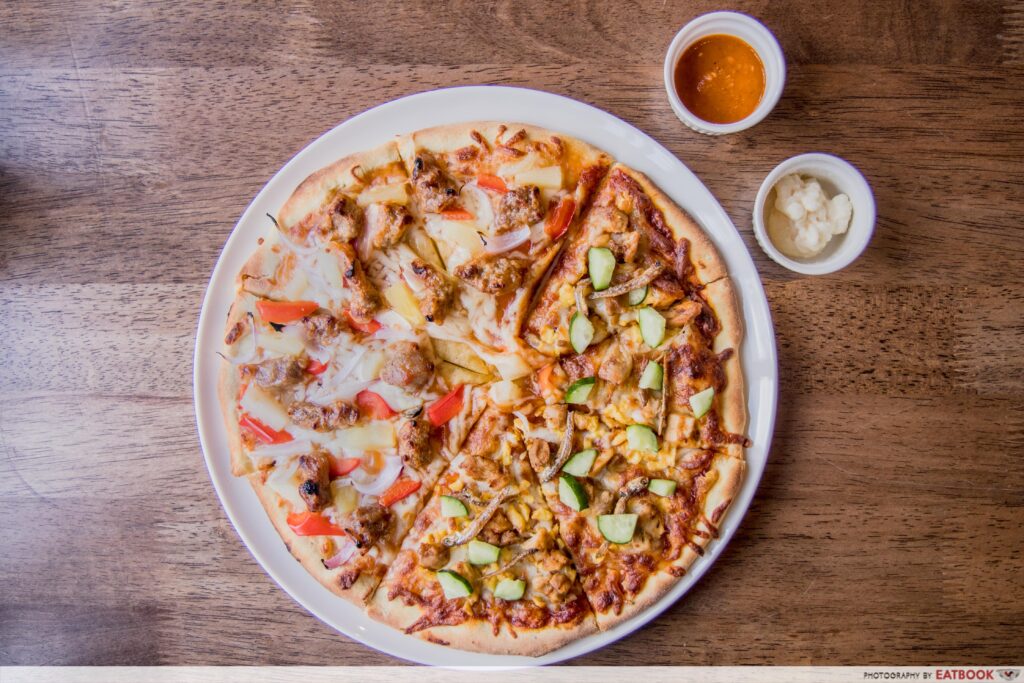 I don't care what anyone says, pizza is bae and pineapples are meant to be on pizzas. That being said, even though I love Hawaiian pizza, I would never miss out on a chance to try a new topping. So when I heard about DePizza and their nasi lemak pizza, I didn't waste a second.
Food at DePizza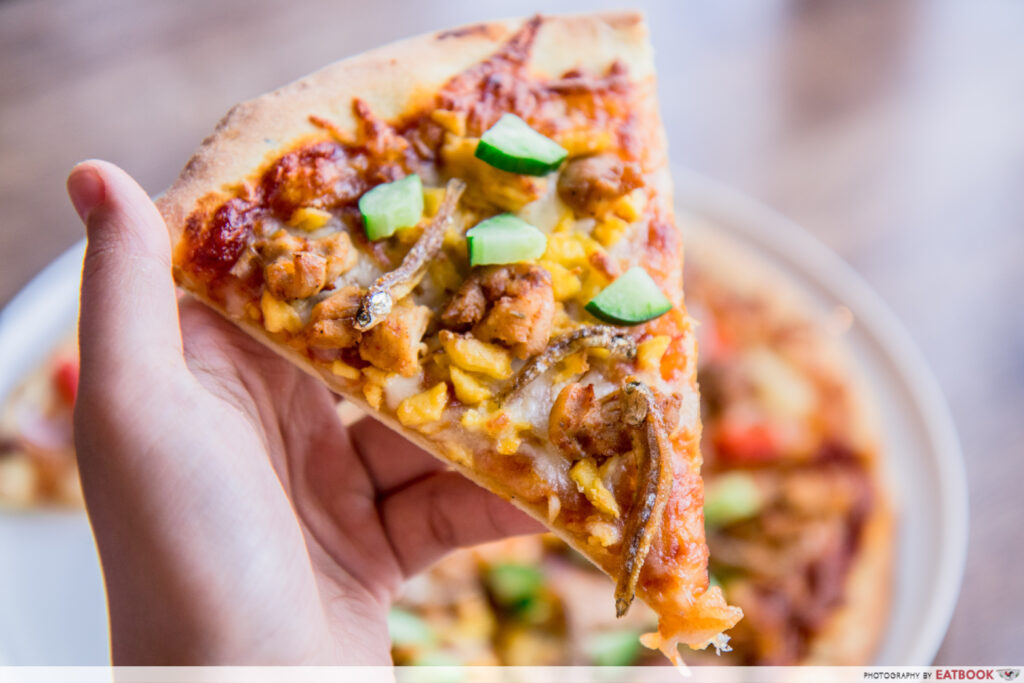 With the creation of Nasi Lemak Burger and Nasi Lemak Curry Puff, I was not surprised to find out that one of DePizza's signature dishes is their Nasi Lemak Pizza ($24+). With house-made sambal spread across a crust made with coconut cream, this pizza was topped with cheese and typical nasi lemak ingredients such as ikan bilis, cucumber, bits of fried egg, and chicken.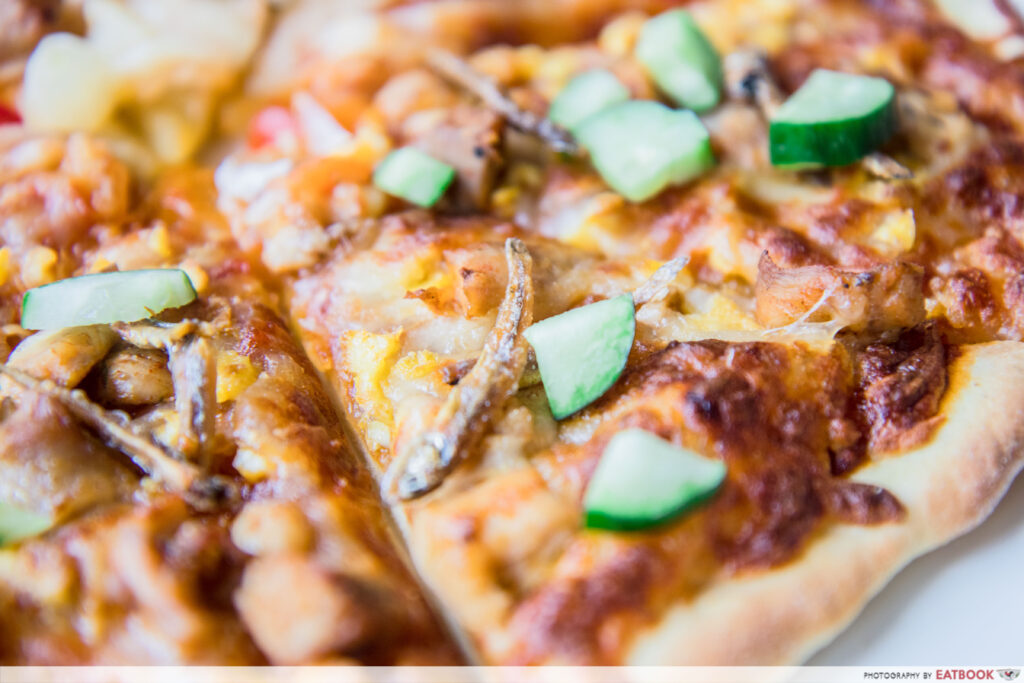 I was pleasantly surprised by the burst of flavours at first bite. The punch from the fiery sambal was complemented by the coconutty fragrance from the crust. I would have liked it better if the sambal had a slight sweetness to it. The cucumbers and ikan bilis fell off pretty easily, which made eating it a mess.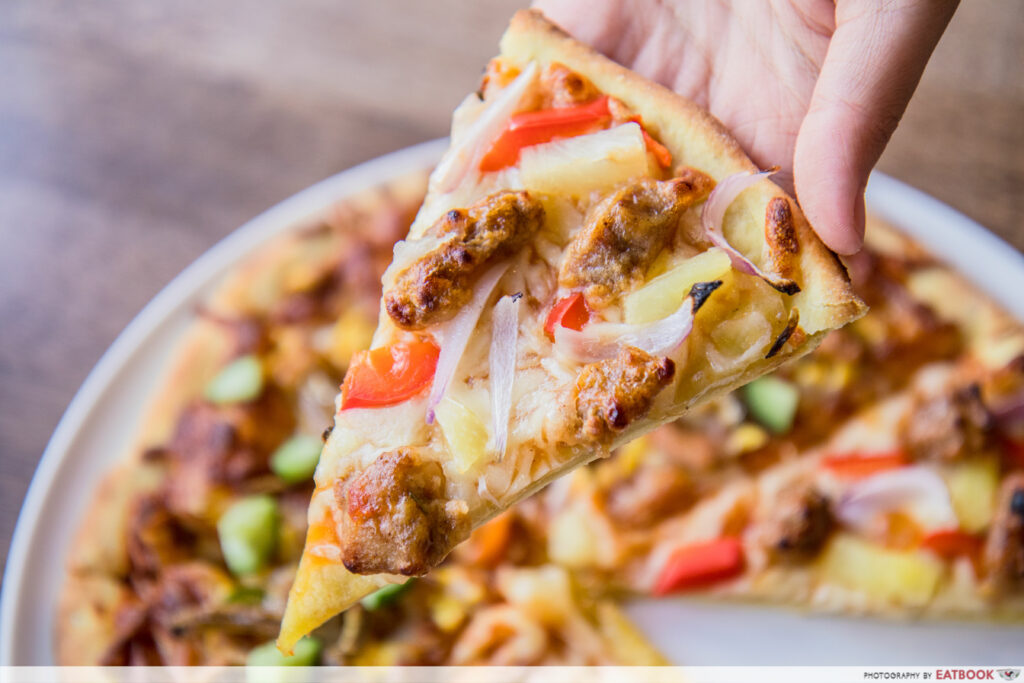 The bright colours on their Gu Lou Yok Pizza ($22+) was what attracted my attention. The Asian version of a classic Hawaiian pizza, this pizza was smothered with DePizza's very own sweet and sour sauce, then topped off with chunks of juicy pork.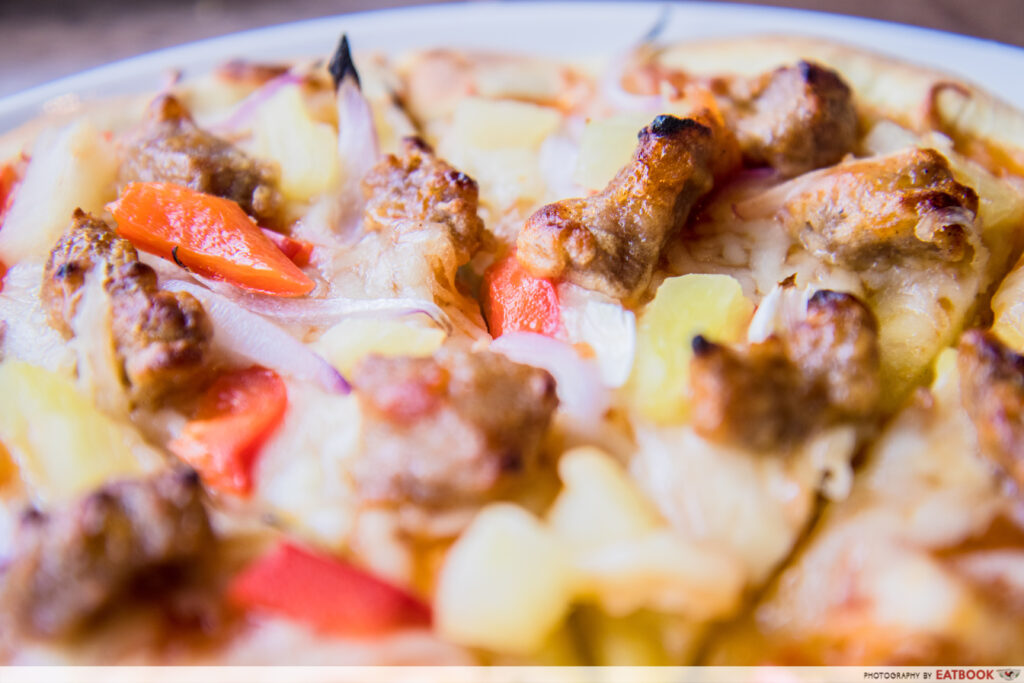 While the concept of this pizza is interesting, the execution still lacked a little something. Each ingredient tasted good on its own; the meat was juicy and slightly crispy on the outside, while the sauce was a good combination of sweetness and sourness. Yet, the dish just lacked an oomph factor that pulled them all together.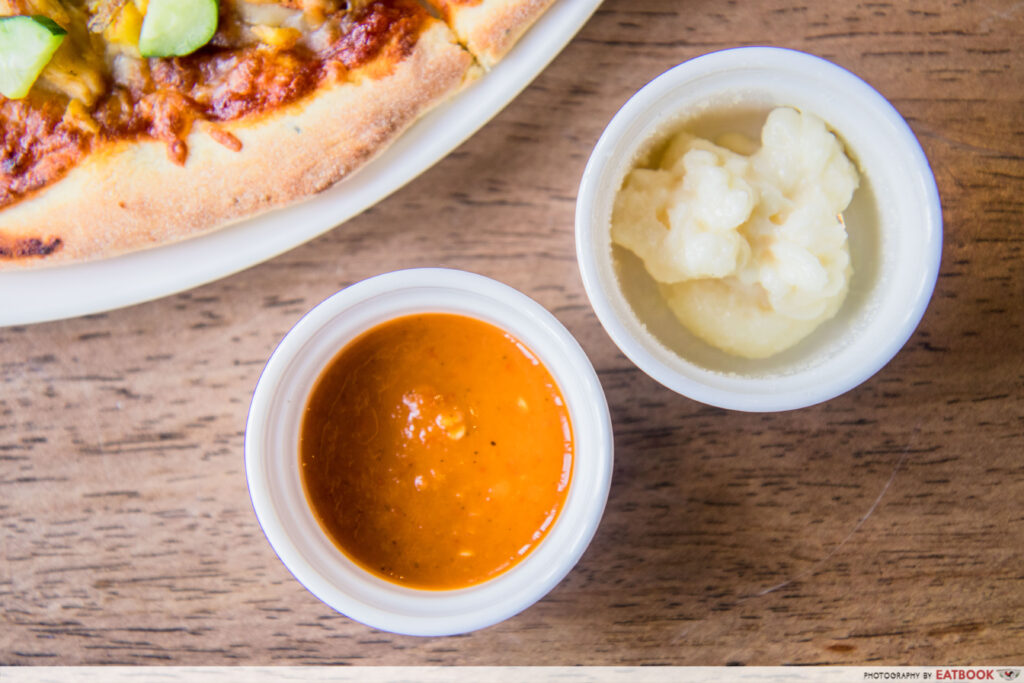 The house-made sauces that were offered lacked depth. Being the garlic lover that I am, I went straight for their garlic mayo. Unfortunately, it tasted more like garlic butter. But putting aside the fact that it was supposed to be garlic mayo, it was a good sauce. The underwhelming sambal sauce fall short of the sweet, spicy and savoury combination a good sambal should have.
Ambience at DePizza

Situated along Boat Quay, it may be easy to miss out on this small restaurant located on the second floor, especially when there are so many restaurants distracting you. Look out for their white signboard amongst all the dark ones.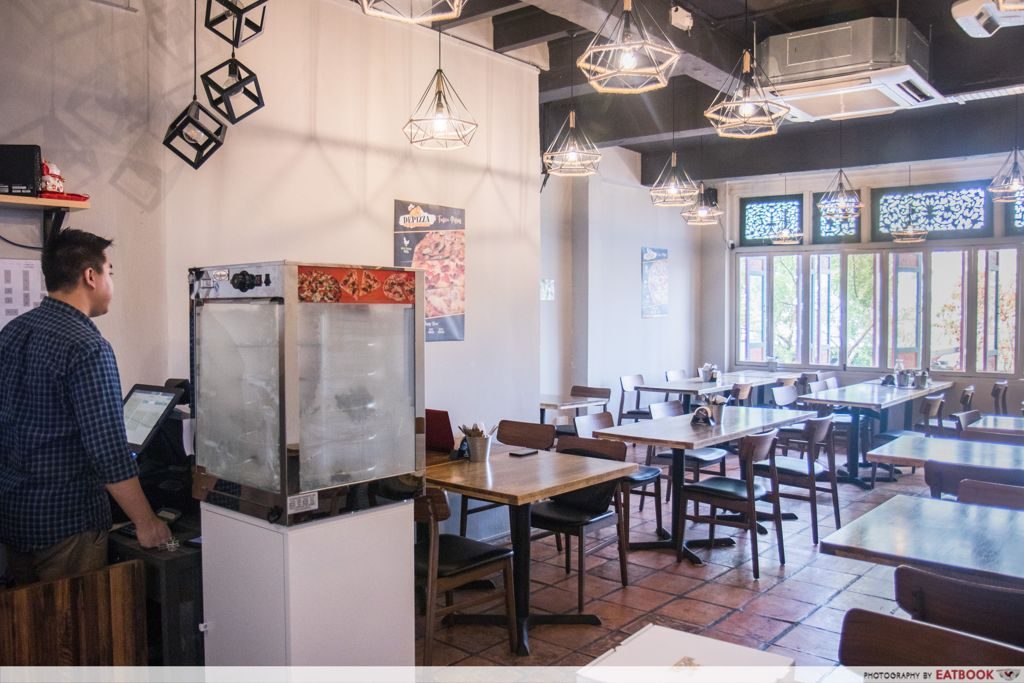 Found right above FatBoy's, DePizza has an amazing view of the Singapore River. So remember to go early to chope the window seats, as it gets pretty busy during lunch and dinner hours. The wooden tables and chairs, together with the aesthetic lamps, give this small restaurant a cosy feel. It was a pity we didn't get to try their Chilli Crab Pizza ($26+) made with actual crab meat and mantou crust, which is a crowd-favourite.
The verdict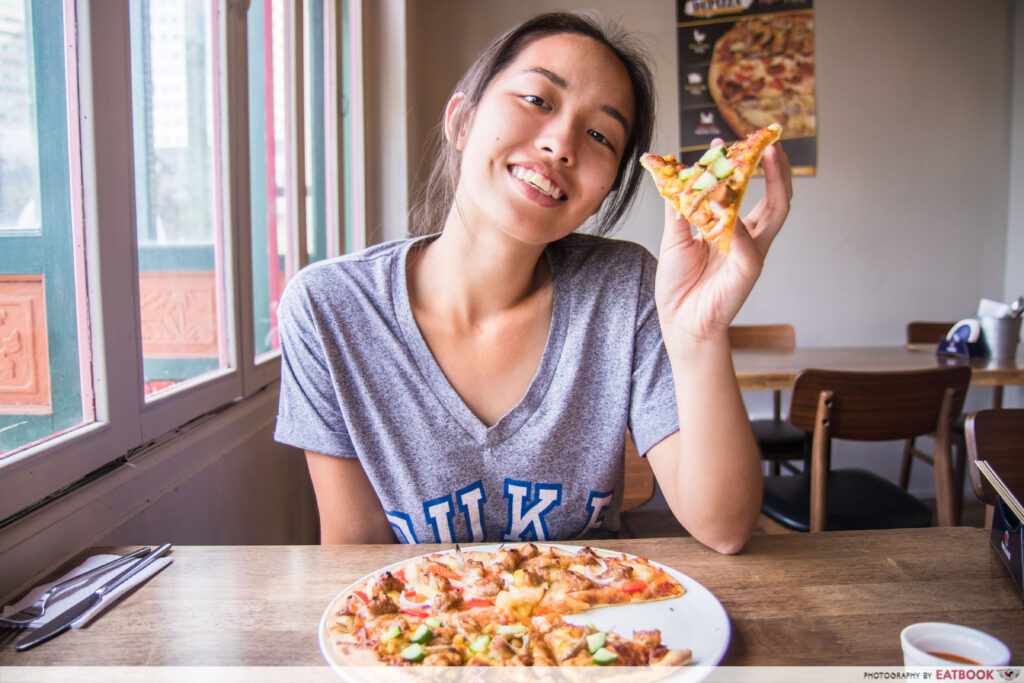 While it was a great effort by DePizza, their pizzas lacked a certain factor and therefore failed to blow my mind. I would rather just eat actual nasi lemak and sweet and sour pork and stick to old-school Hawaiian pizza. However, I will come back just for the Chilli Crab Pizza. They also offer traditional flavours for all those who prefer tried-and-tested pizzas!
For more interesting pizzas, check out Prata Alley's Pizza Prata or Rhombus Pizza's DIY mini pizza buffet!
Address: 35A Boat Quay, Singapore 048624
Opening hours: Mon-Sat 11am to 3pm, 5pm to 10pm, Sun 11am to 3pm
Tel: 6588 1359
Website
This is an independent review by Eatbook.sg
Summary
Pros
– Creative pizza toppings
– Friendly servers
– Convenient location
Cons
– Flavours didn't come together
Operating Hours: Mon-Sat 11am to 3pm, 5pm to 10pm, Sun 11am to 3pm
Tel: 6588 1359
Address: 35A Boat Quay, Singapore 048624