---
Date night doesn't have to cost a bomb
---
I'm pretty sure when you think of the word "fancy", fine dining and upscale bars come to mind. But there are actually a bunch of fancy places that you can take your date to that will not only impress him or her, but let you go home without an empty wallet. From bistro lounges to hipster cafes, this list has got you covered for date night this week!
---
1. Hyde & Co.
---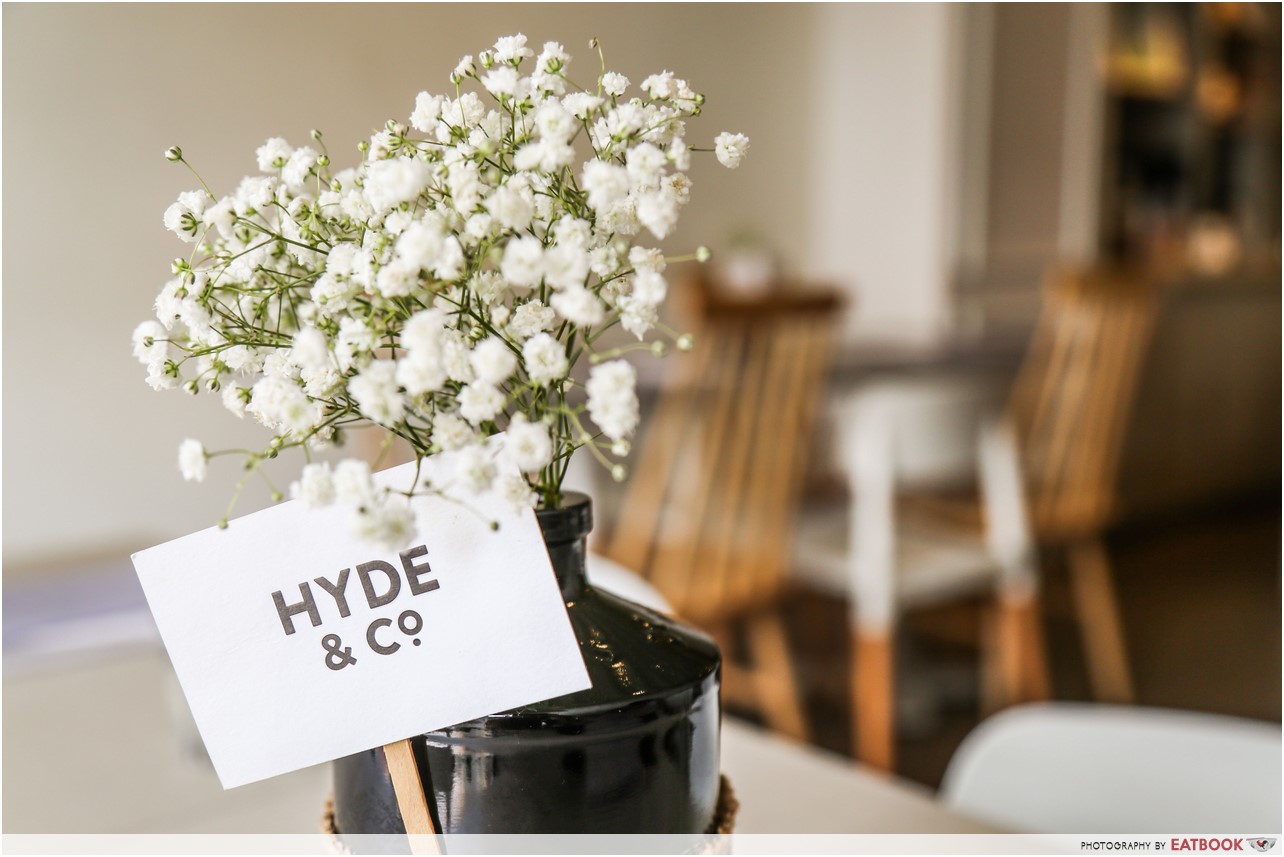 With its contemporary English theme and clean white walls, Hyde & Co. exudes a minimalist charm that could make you forget you are in Singapore. Offering an extensive dinner menu, the cosy café serves interesting dishes such as Salted Egg Crawfish Mac & Cheese ($22) and Har Cheong Kai Chicken Waffle ($18). Desserts include Ondeh Ondeh French Toast ($15) and Grandma's Bread & Butter Pudding ($8). Switch up the usual date nights with this halal cafe's unique combinations!
Address: 785 North Bridge Road, Singapore 198753
Opening hours: Mon 12pm to 6pm, Wed-Fri 12pm to 10pm, Sat 11am to 10pm, Sun 11am to 6pm
Tel: 6635 5785
Menu
Read our full review here.
---
2. Chapter 55
---
Opened by the founder of Ice Edge Café, Chapter 55 is a relatively new establishment offering Italian fare at reasonable prices. With chandeliers, brick walls and an extensive display of gelato, this humble bistro takes you away into a tranquil space filled with European vibes. Mains include pastas ($16++ to $28++), pizzas ($16++ to $28++) and risottos ($22 to $24). They've also got Ice-cream Waffles ($14++ for single scoop, $18.50++ for double scoop) so you don't even need to go elsewhere for dessert. 
Address: 55 Tiong Bahru Road, #01-37, Singapore 160055
Opening hours: Mon-Sun 11:30am to 11pm
Tel: 6221 2219
---
3. My Awesome Cafe
---
Not gonna lie, My Awesome Cafe is actually pretty awesome. Occupying the old space of Telok Ayer Chung Hwa Free Clinic, My Awesome Café is dotted with retro inspirations and hanging lights that add a soft touch to the vintage interior. Serving simple and healthy dishes such as My Awesome Salad ($17++) and various sandwiches, the café is pretty affordable and will certainly fulfill your casual date night expectations. It can get really crowded for dinner so you're definitely in for a night of rousing atmosphere and good food!
Address: 202 Telok Ayer Street, Singapore 068639
Opening hours: Mon-Sun 9:30am to 12am
Tel: 6222 2007
---
4. Lepark
---
Located at the inconspicuous rooftop of People's Park Complex, Lepark is a casual tapas bar serving craft beers and Asian bites at a cool and hipster environment. With live music and graffiti art plastered all around, the bar exudes an old-school charm that would certainly make it a memorable experience. Innovative dishes such as Salted Egg Yolk Soft Shell Crab Slider ($14) and Slipper Lobster with Sambal Butter Sauce ($12) are what you can expect from their signature mains. Apart from individual plates, there are also sharing platters like Lepark Platter ($18), which comes with Poached Chicken Sushi, Thai Basil Pork Tau Pok, Otah Bomb, Chicken Skin and Nacho with Spicy Salsa.
Address: 1 Park Road, #06-00, People's Park Complex, Singapore 059108
Opening hours: Tues-Thurs 4pm to 11pm, Fri 4pm to 12am, Sat 12pm to 12am, Sun 12pm to 10pm
Tel: 6908 5809
Menu
---
5. The Public Izakaya
---
Filled with traditional Japanese vibes thanks to wooden tables and hanging lanterns, The Public Izakaya by Hachi offers a casual gastro pub experience. Try a variety of Japanese snacks such as Buta Kakuni ($14++), Gyoza Croquette ($9++) or Tori Karaage ($11++). Grab beers like Suntory Premium Malt Kaoru Premium ($9.80++) or Suntory Premium Malt Black Draught ($9.90++) and you can very well remain within the $50 budget!
Address: 100 Tras Street, #01-09, 100AM, Singapore 079027
Opening hours: Mon-Fri 11:30am to 2:30pm, 5:30pm to 12am, Sat-Sun 5:30pm to 12am
Tel:  6604 9622
---
6. Camp Kilo Charcoal Club
---
Camp Kilo is a fancy BBQ place with full outdoor seating that makes it perfect for a lazy dress-down date. In an almost barbaric fashion, BBQ items are roasted on the whole to give you charcoal-infused meats at reasonable prices. Chipotle Pork Ribs ($15 for half rack, $30 for full rack), Roast Chicken ($10 for half, $18 for whole) and Boneless Lechon ($12 for 100g) are some of their popular meats. Though the heat in Singapore might turn you off quite a bit during the day, Camp Kilo can be quite romantic at night with fairy lights that add a nice touch to balance the rustic atmosphere.
Address: 66 Kampong Bugis, #01-01, Singapore 338987
Opening hours: Fri 5:30pm to 11pm, Sat-Sun 11am to 11pm
Tel: 9830 6252
Menu
---
7. The Flying Squirrel
---
With its dark wood theme and gorgeous warm lighting, The Flying Squirrel can be pretty charming especially if you are there with your beloved. Dinner mains include Foie Gras Aglio Oglio ($29++) and Kurobuta Pork Curry Rice ($27++), and they've got entrees such as Truffled Ebi Fry ($15++). The main draw here is perhaps their sushi bar, which serves a TFS Chirashi ($28++) that you must try, and other sashimi varieties like Salmon Belly ($2.50++ per piece), Hamachi ($3.20++ per piece) and even Uni Shooters ($22++) that come with sake, yuzu ponzu and uni. TFS might be a tad difficult to find as it is tucked away in a back alley, but it could potentially be part of a romantic night!
Address: 92 Amoy Street, #01-02, Singapore 069911
Opening hours: Mon-Thurs 11am to 11pm, Fri 11am to 12am, Sat 12:30pm to 12am
Tel: 6226 2203
Menu
---
8. Vatos Urban Tacos
---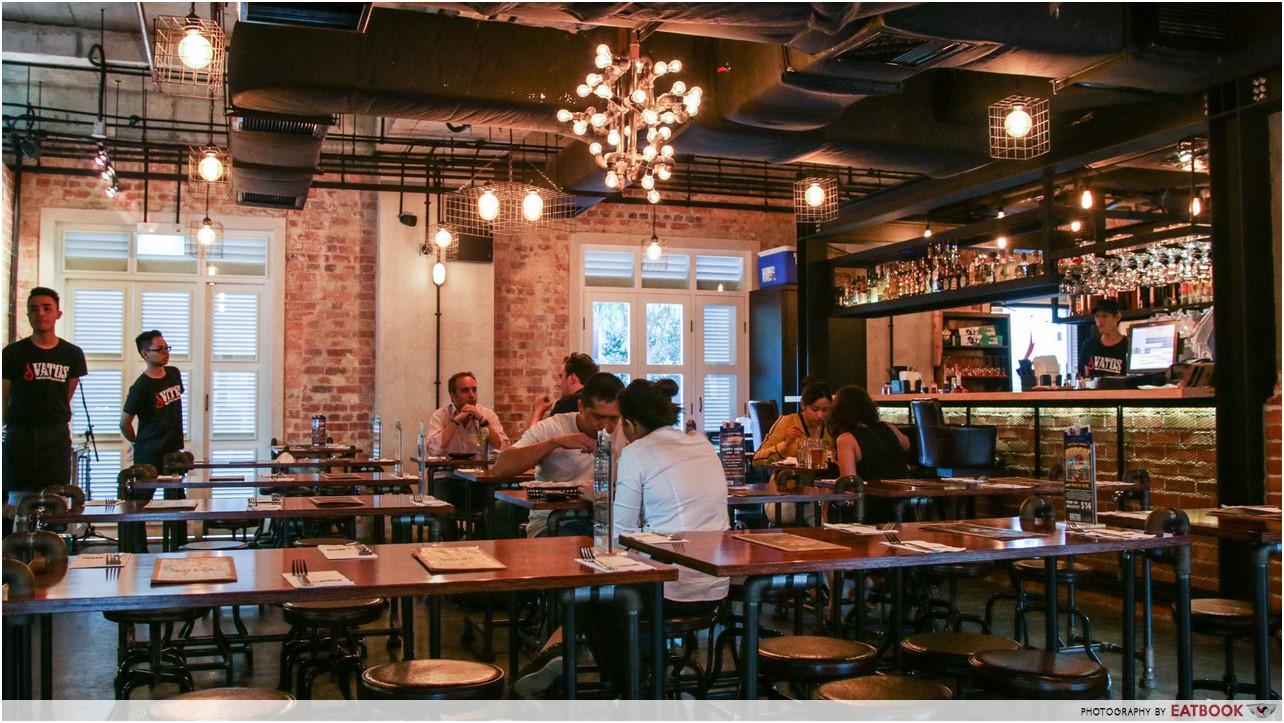 A Korean-Mexican restaurant complete with a full drinks menu, Vatos Urban Tacos is perhaps every tacos lover's dream come true. My personal favourites are Baja Fish Tacos ($11++ for 2 tacos, $15++ for 3 tacos) and Kimchi Carnitas Fries ($18++), though there are also other flavours like Galbi Short Rib Tacos ($12++ for 2 tacos, $17++ for 3 tacos). There is an extensive drinks menu with options such as Makgeolitas ($25++) and Frozen Margaritas ($20++). With dim lighting and various seating options – communal tables and bar – you could even go for a double date with your BFF.
Address:  36 Beach Road, South Beach Quarter, Singapore 189677
Opening hours: Sun-Thurs 12pm to 11pm, Fri-Sat 12pm to 12am
Tel: 6385 6010
Read our full review here.
---
9. Wilder
---
Walk into Wilder and you will be greeted with cement walls and small wooden tables illuminated by soft lighting. Wilder is a cosy halal cafe that offers homely fare such as Salted Egg Taters ($11), Homemade Gnocchi with Cheese and Shrooms ($10.80) as well as Wilder's Beef Burger with Homemade Buns and Taters ($14). With such an affordable menu, you can even order drinks like Iced Lychee Mojito ($7) or desserts such as Carrot Cake ($8.50) and Choc Caramel Tart ($7). Given that there aren't many halal cafes in Singapore at such affordable prices, Wilder is perfect for those who are looking for new and cool spots to dine at!
Address: 749 North Bridge Road, Singapore 198717
Opening hours: Tues- Sun 12:30pm to 10pm
Tel: 6635 1136
Menu
---
10. Burp Kitchen & Bar
---
Directly facing Bedok Reservoir in a quiet neighbourhood, Burp Kitchen and Bar is a corner cafe offering a variety of western fusion delights. It is spacious with dim lighting, which could make the dining experience an intimate one. Baja Fish Tacos ($12) and Crabby Patty Burger ($18) are some of the mains offered. Sides include Salted Egg Tofu Fries ($8), Burp Kitchen Wings ($10) and Salted Egg Wings ($14). If your other half is vegetarian and you would love to show how thoughtful you are, Burp allows you to do just that. Vegetarian options include The Vegetarian Burger ($10), Mushroom Quesadilla ($9) and a must-have Mushroom Melt ($10) for all grilled cheese lovers. Since it is located so near to the reservoir, taking a stroll before or after the date would certainly up the romance factor.
Address: 740 Bedok Reservoir Road, #01-3165, Singapore 470740
Opening hours: Tues-Sun 12pm to 12am
Tel: 9711 9030
Menu
---
Date night settled
---
Pay day may still be some time away but that doesn't mean you can't bring your date somewhere nice. With 10 places to choose from, surprising your other half with a fancy night has never been easier!