Chen's Mapo Tofu has Michelin Bib Gourmand mapo tofu in CBD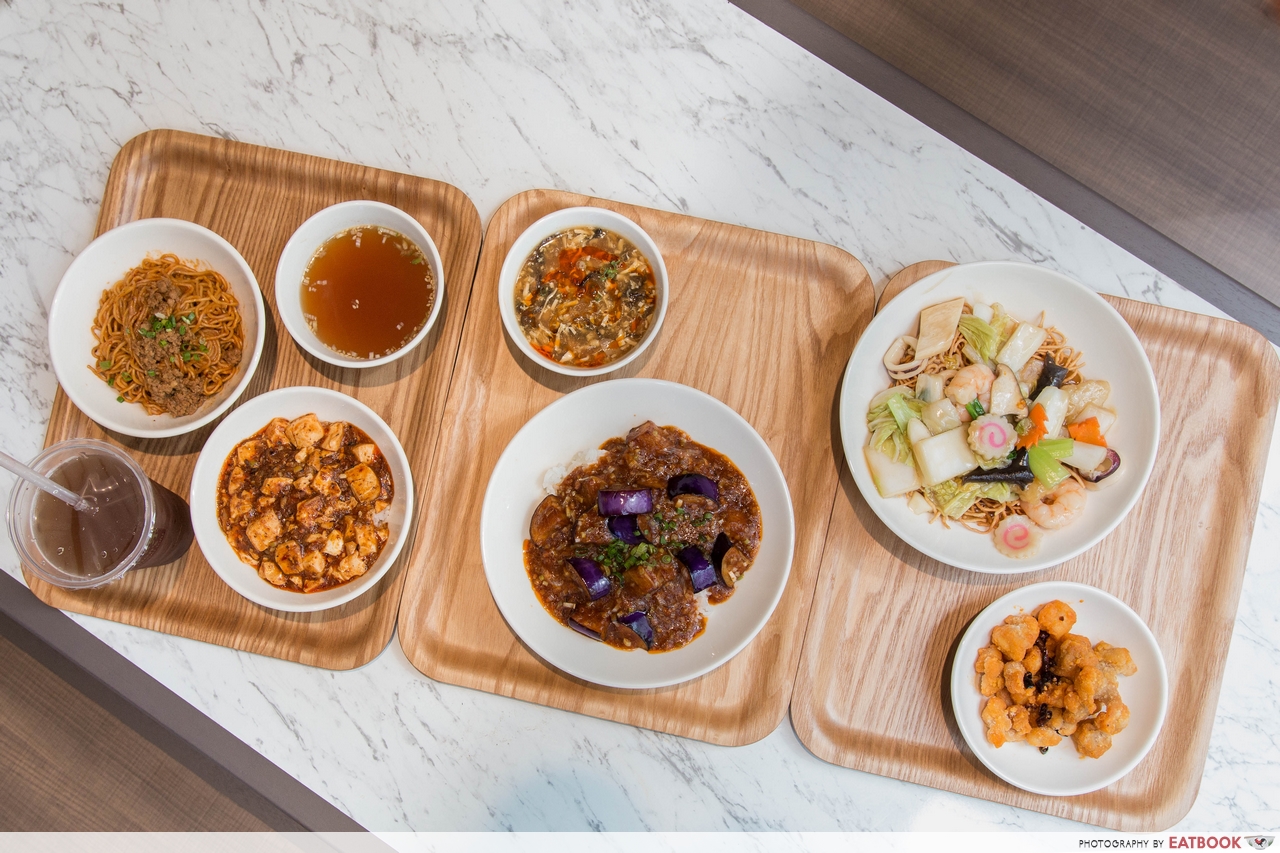 I'm not a huge fan of Sichuan cuisine, 'cause it brings back bad memories of my first and last ma la experience where I basically went into shock from the spices and numbing heat. I did, however, manage to let go of my past animosity with Sichuan food after stumbling upon Chen's Mapo Tofu. Offering Sichuan cuisine with a Japanese twist, this casual eatery in OUE Downtown Gallery Mall is opened by Michelin-starred chef Chen Kentaro of Shisen Hanten fame, and has been listed as a Michelin Bib Gourmand restaurant!
Food at Chen's Mapo Tofu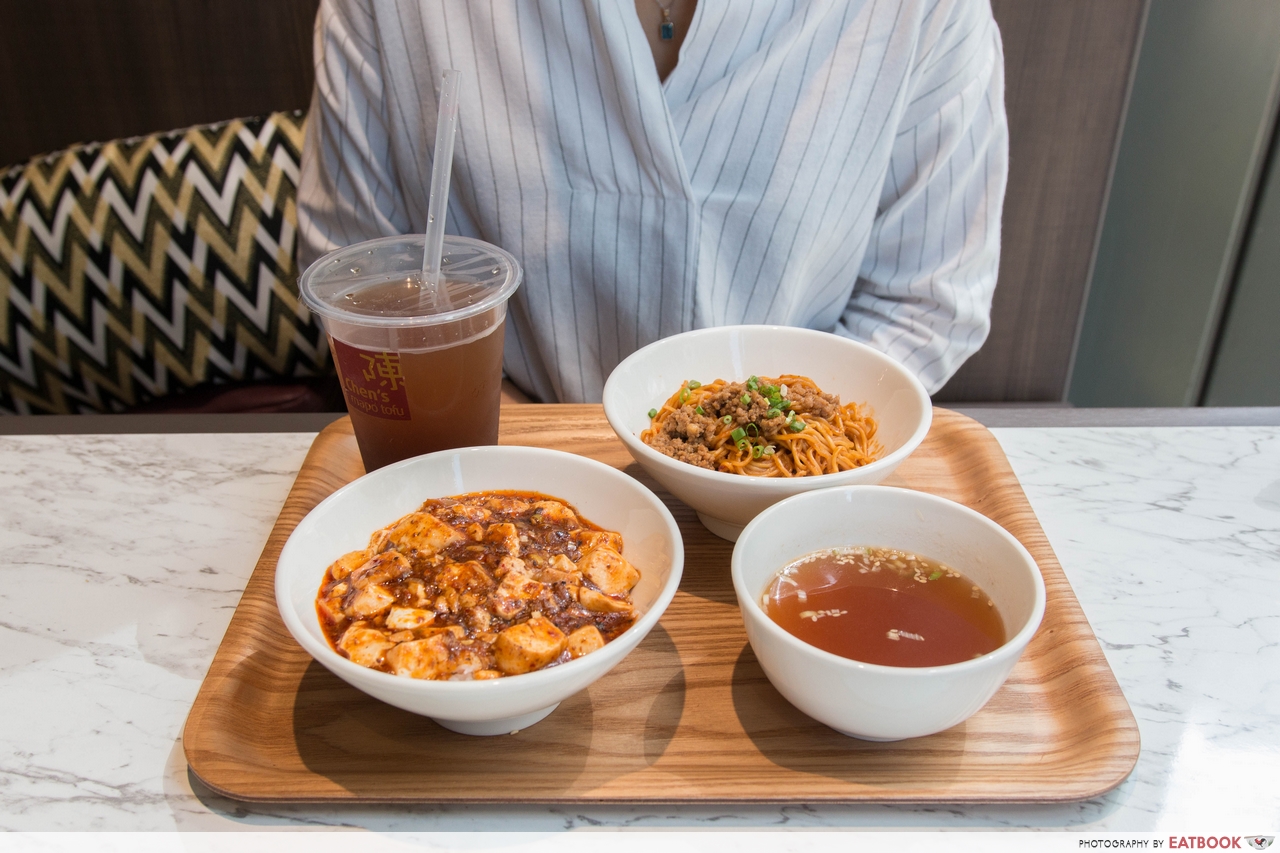 To get the best of both worlds, we ordered Signature Combo ($15++), which came with half portions of Mapo Don and Dan Dan Mien, and a drink.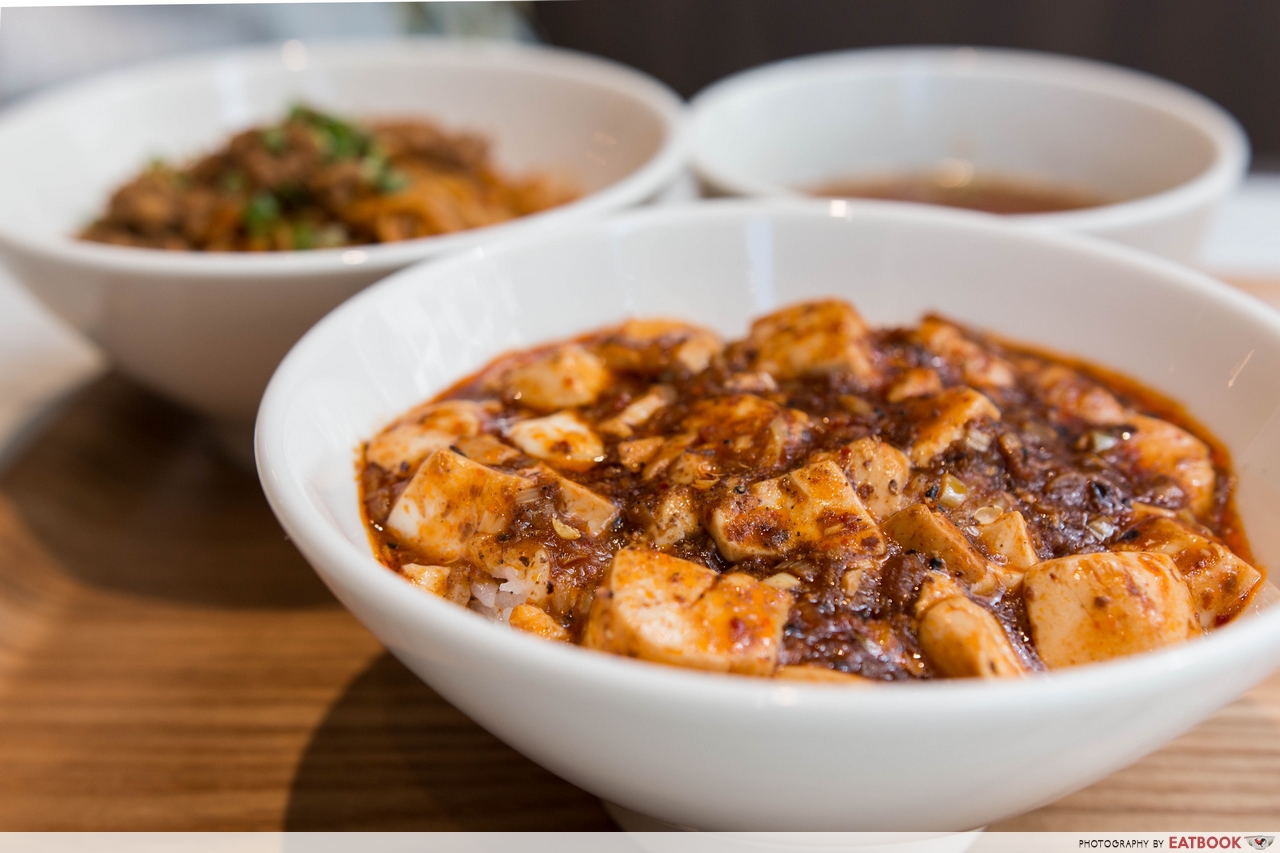 Though Mapo Don looks like a mountain of mush on first sight, you'll find a bed of rice under all that cubed tofu.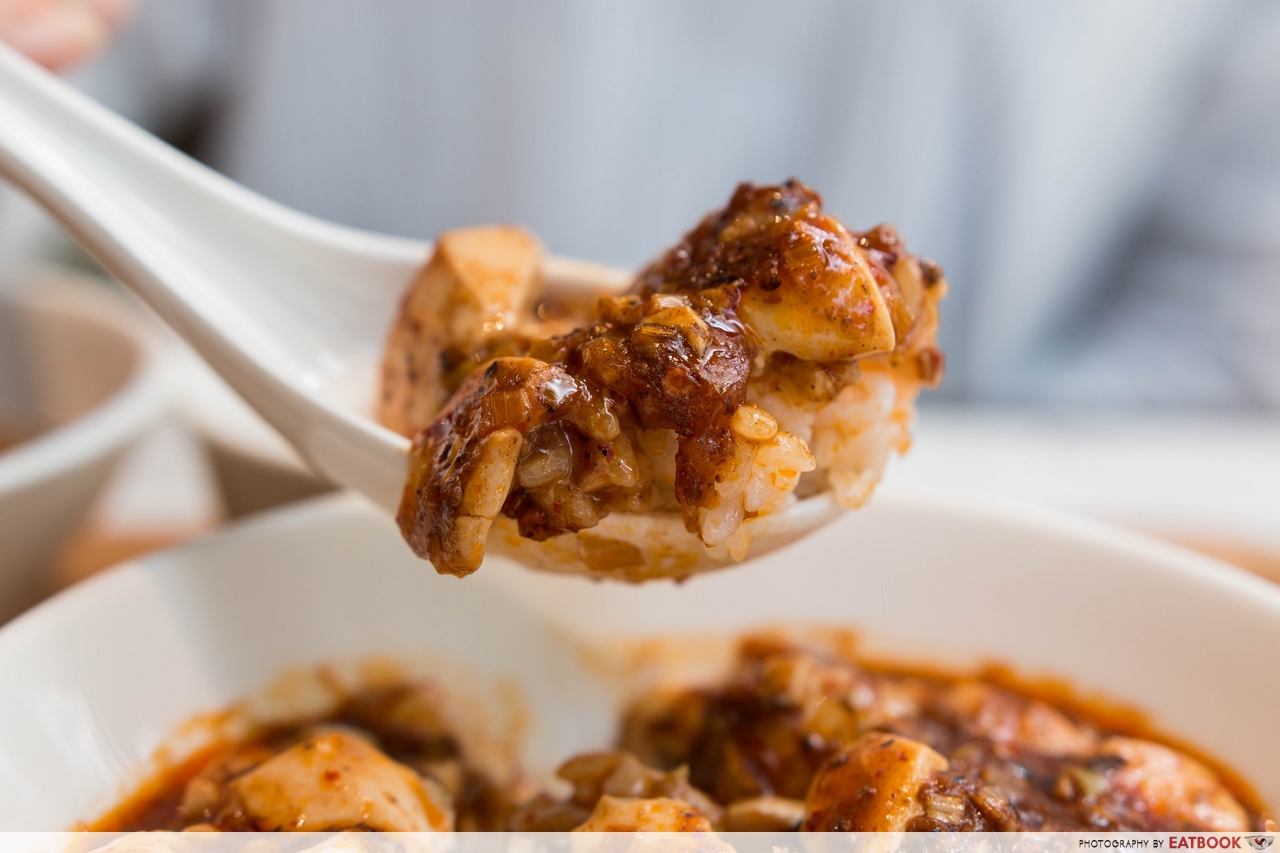 Being a spice wimp, I expected myself to tear up after a few mouthfuls when I saw bits of peppercorn mixed into the gravy. Surprisingly, this dish proved to be largely manageable, with the flavour of fermented beans masking some of the spiciness. It was only when I reached the halfway mark that the heat started to slowly rev up with a slow burn from the back of my tongue.   
Japanese short-grain rice was used, and it proved to be a great complement to the silken tofu; its chewiness created a slight contrast to the creamy tofu.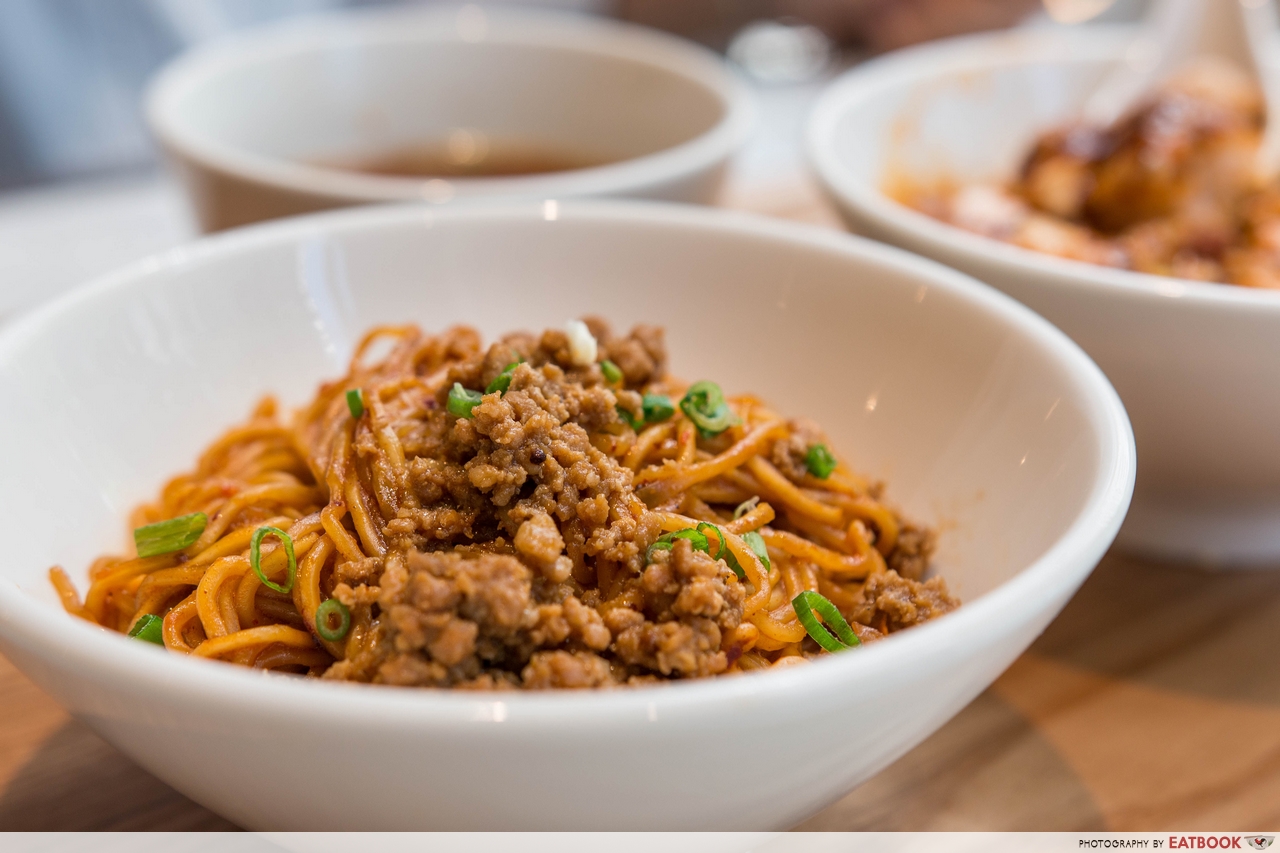 We then moved on to the Dan Dan Mien. We got this dry, as we wanted to savour the soup on the side by itself. The noodles were topped with a sprinkling of minced meat and chopped spring onions.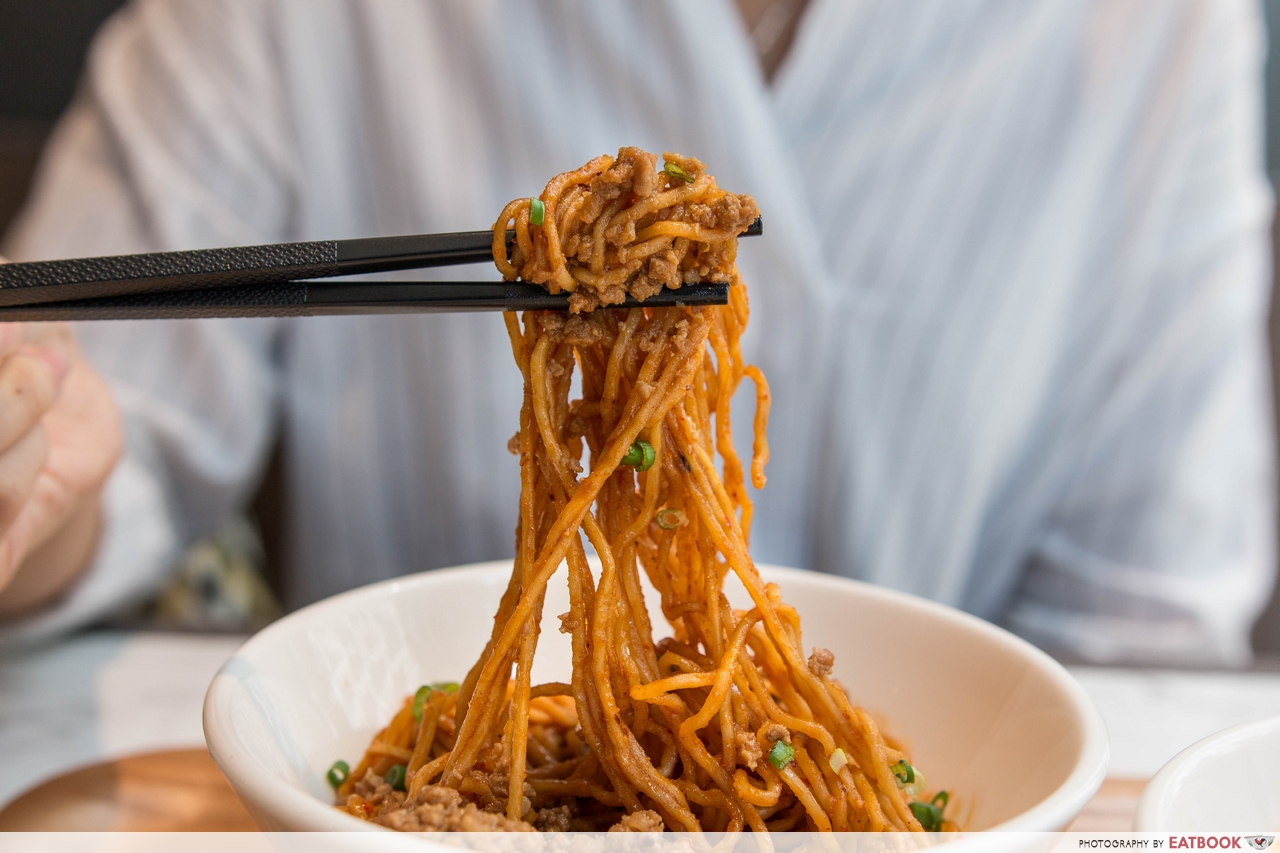 Each strand of noodle was evenly coated in a thin peanut sauce, boasting a nutty, addictive fragrance. Coupled with the salty minced meat, this combi has gotta be the food scene's #powercouple of the year.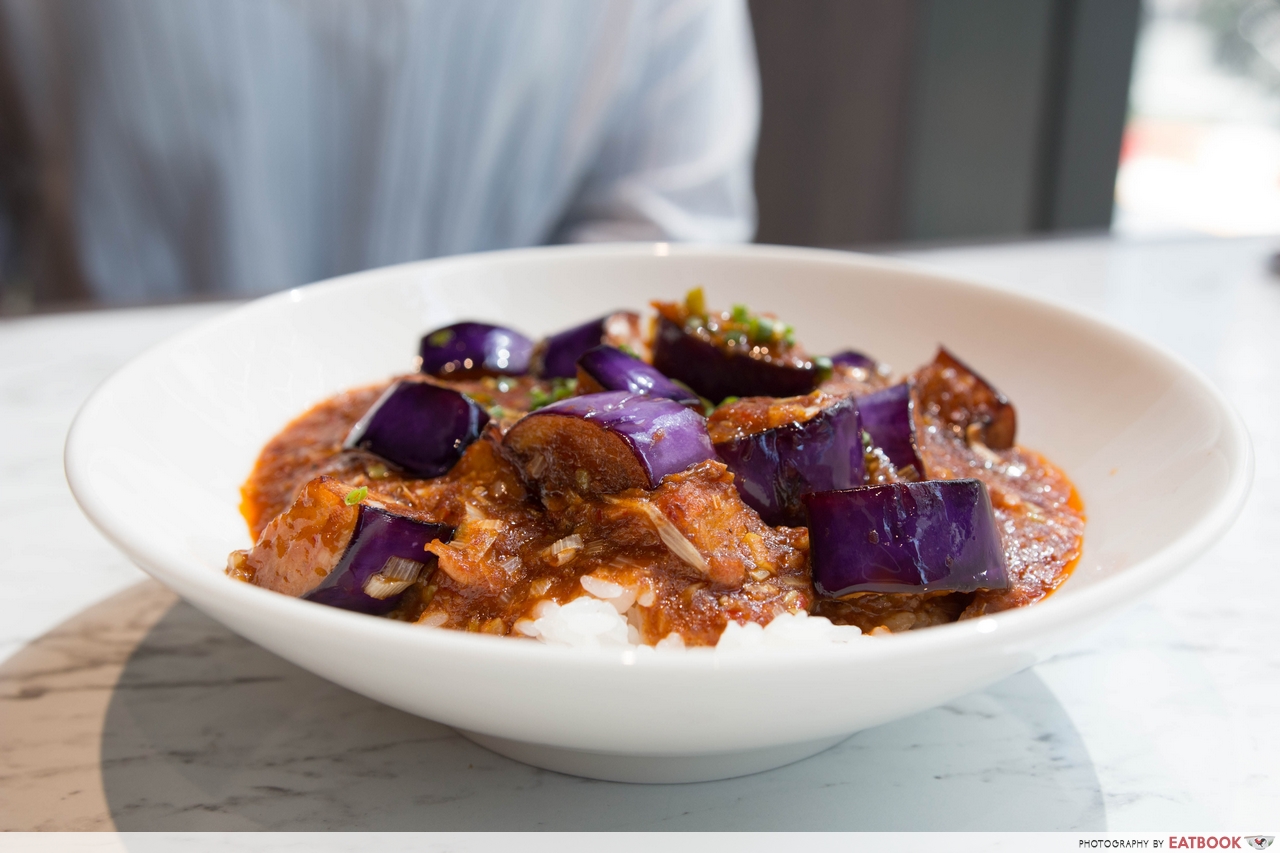 Miso Nasu Don ($13.90++) was the most aesthetically pleasing dish we had, as it showcased a beautiful pop of colour from vibrant pieces of eggplant.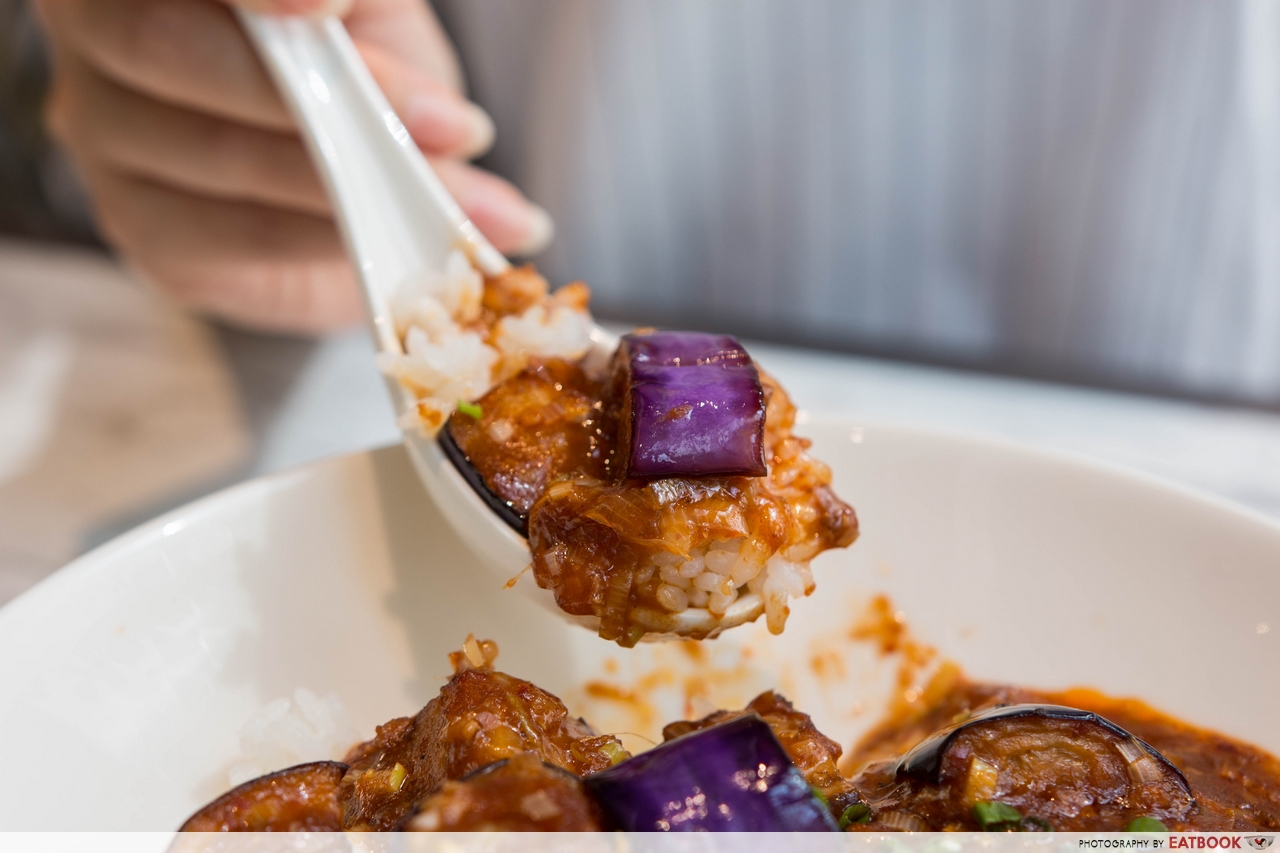 Compared to Mapo Don, the sauce in this dish was slightly thicker, almost like a gravy. The addition of thinly sliced onions imparted a mellow, sweet flavour, and the minced pork provided a chewy bite to the sauce.  
The eggplant pieces were burst-in-your-mouth juicy, and though glistening, didn't taste as oily as they looked. Having had my fair share of undercooked and tough eggplants, I liked how these had a thoroughly cooked and soft centre.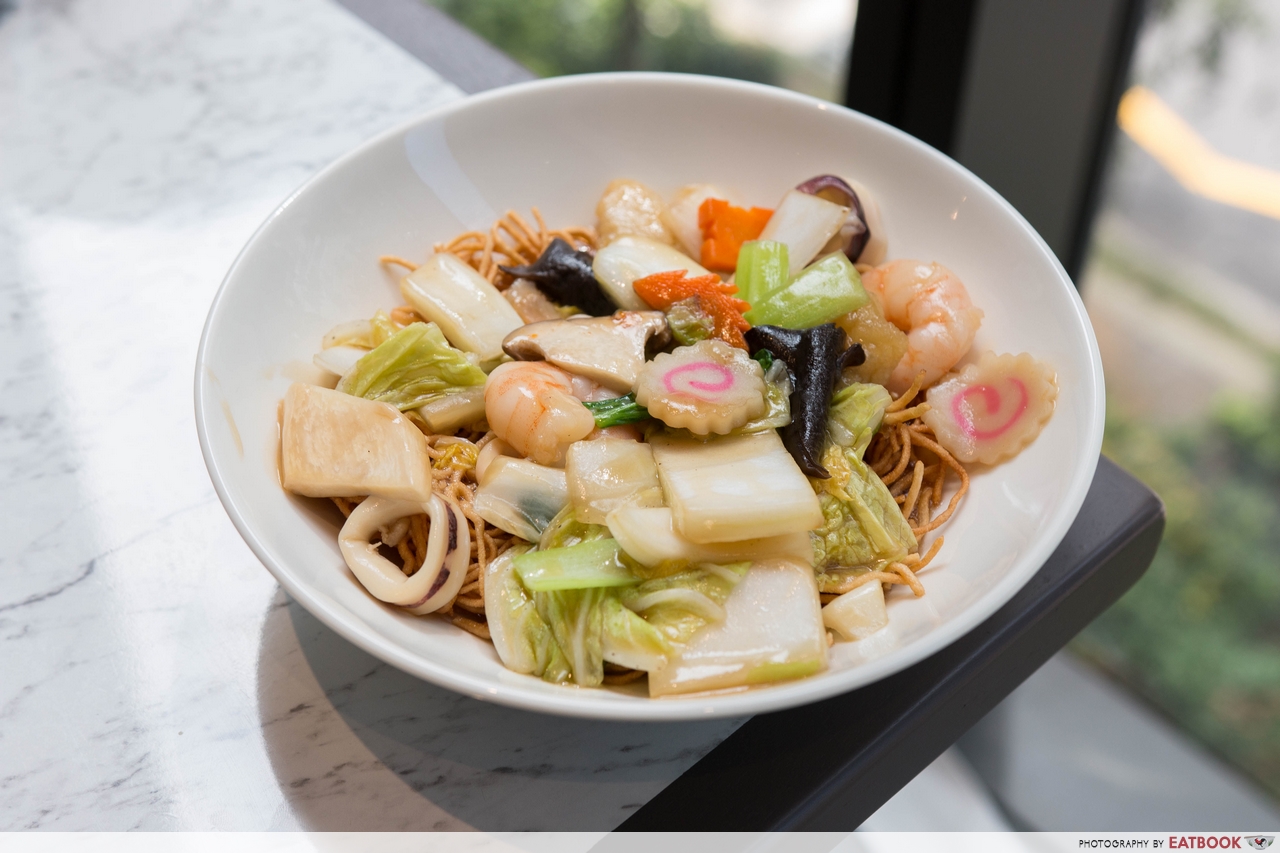 Kaisen Katayaki ($16.90++) reminded me of the classic crispy seafood noodles or sheng mian found at zi char stalls. Deep-fried noodles doused in a starchy gravy were served with prawns, sotong rings, fried fish, cabbage, black fungus, and mushrooms, all of which were coated in the same gravy.  
Unfortunately, the seafood had a fishy smell, which overwhelmed most of the natural flavour of the other ingredients.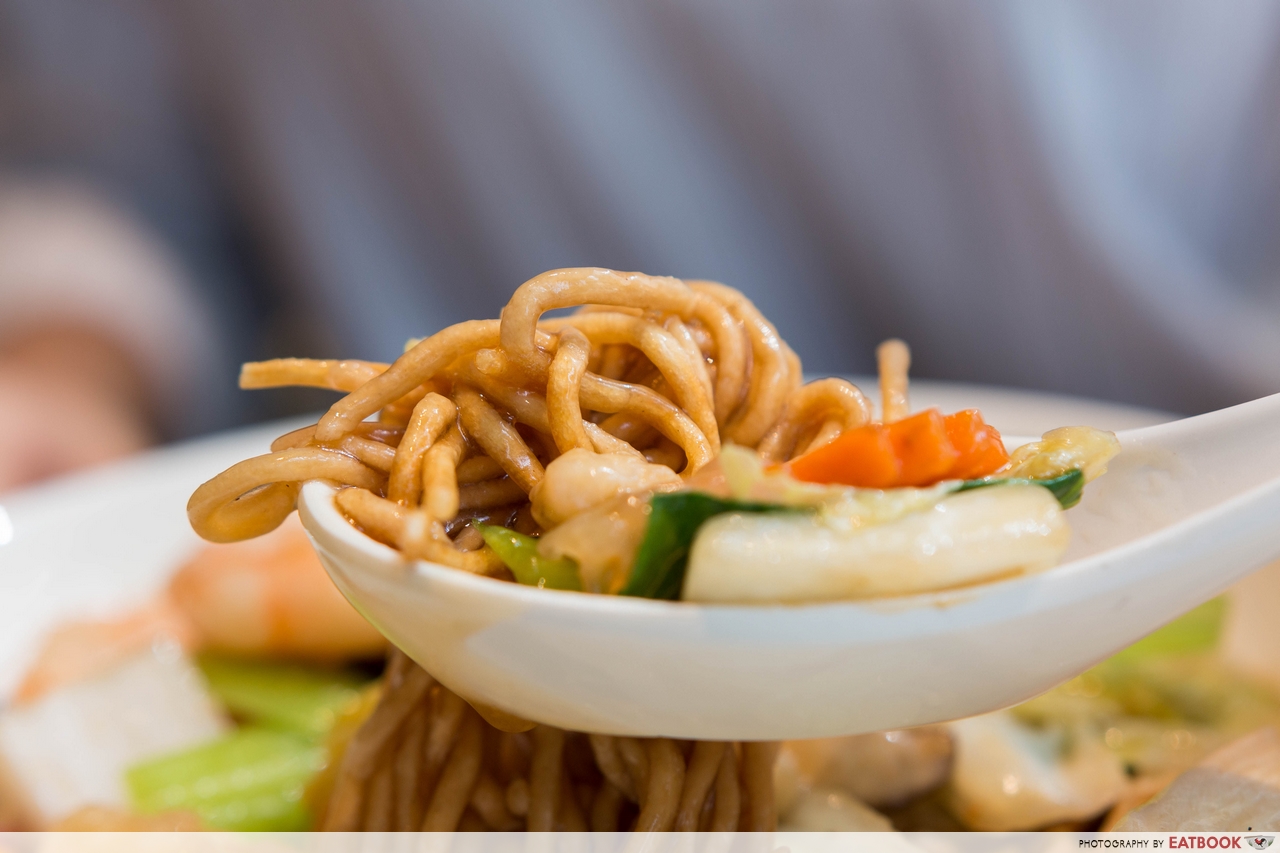 The noodles itself boast an interesting texture; some strands soaked up the gravy well, while the rest remained dry and crisp. This gave each mouthful a pleasant textural contrast, from the crunchy strands, to the moist and starchy ones.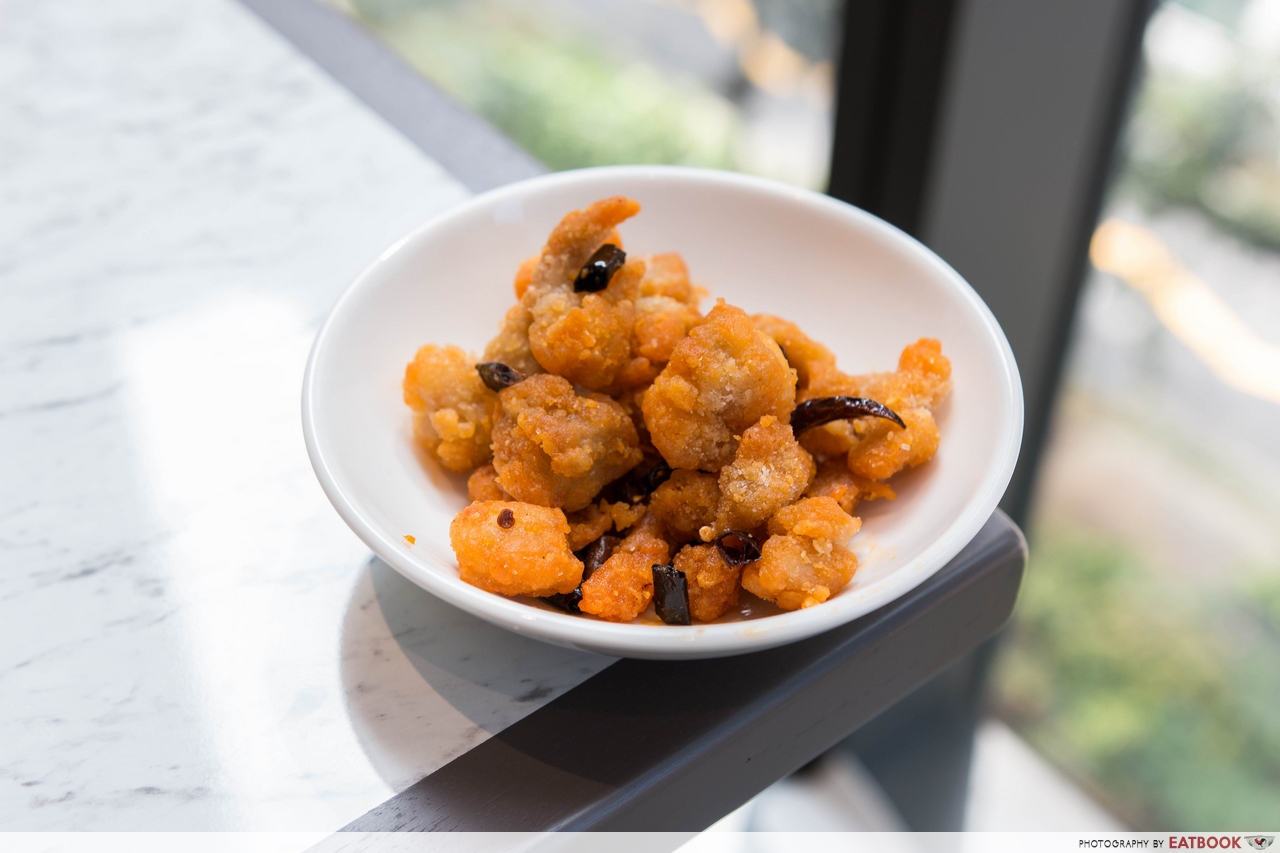 We were famished that day, and decided to spend a little extra moolah on some sides. One that stood out from the menu was Szechwan Popcorn Chicken ($5.90++), which featured tiny pieces of chicken breaded in a spicy Sichuan spice mix before they're fried.
Though small, these tiny bites packed a punch! The initial sting from the heat built up slowly into a full-blown numbing sensation after I popped a few into my mouth. Dried chilli was also tossed with the final dish, providing an extra oomph to the crispy, well-seasoned exterior. My only grouse would be how these weren't evenly salted, and had areas that were concentrated with salt.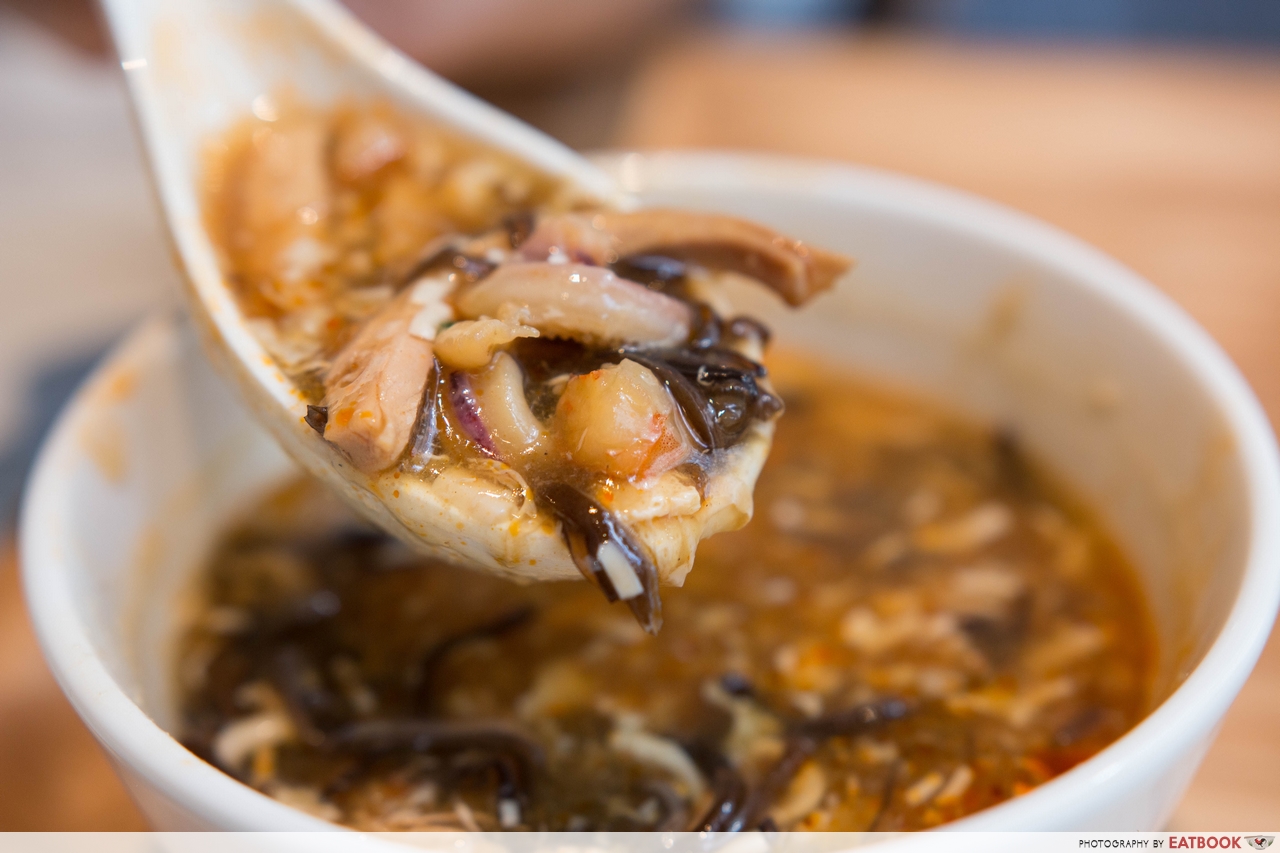 Hot and Sour Soup ($5.50++) was filled with a chockful of ingredients, including squid, black fungus, strips of egg, shredded pork, and diced prawns. A drizzle of chilli oil was the finishing touch on this.
As much as I appreciate the generous serving of ingredients, their flavour was overwhelmed by the vinegar. Nonetheless, I enjoyed the different textures, from the crunch of the black fungus and prawns to the chewy meat and smooth soup.    
Ambience at Chen's Mapo Tofu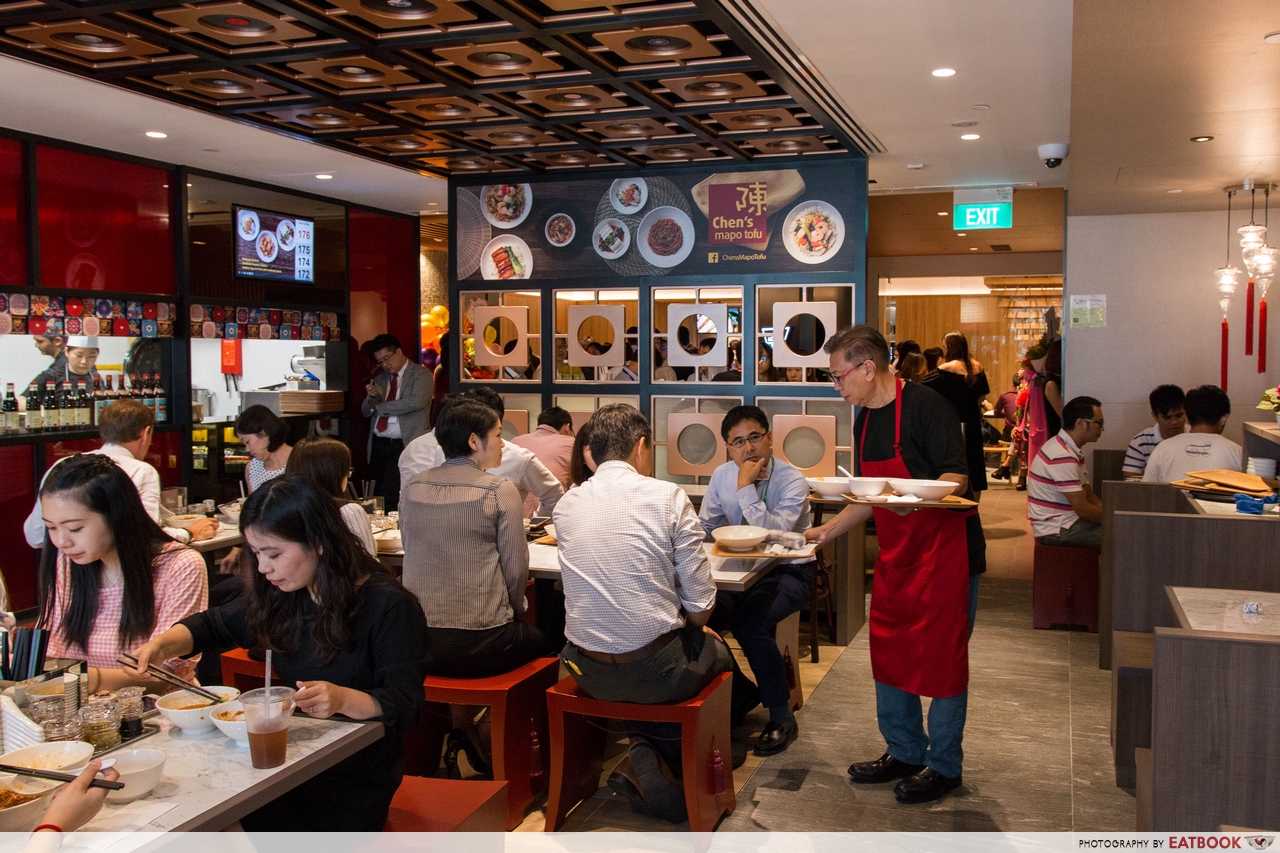 OUE Downtown Gallery Mall is just across the road from Shenton Way MRT Station, or 650m from Downtown MRT Station. We arrived slightly before peak period hit, and couldn't be more thankful for our great timing as the crowd started to build up during lunch. A long queue formed while we were digging in.
The verdict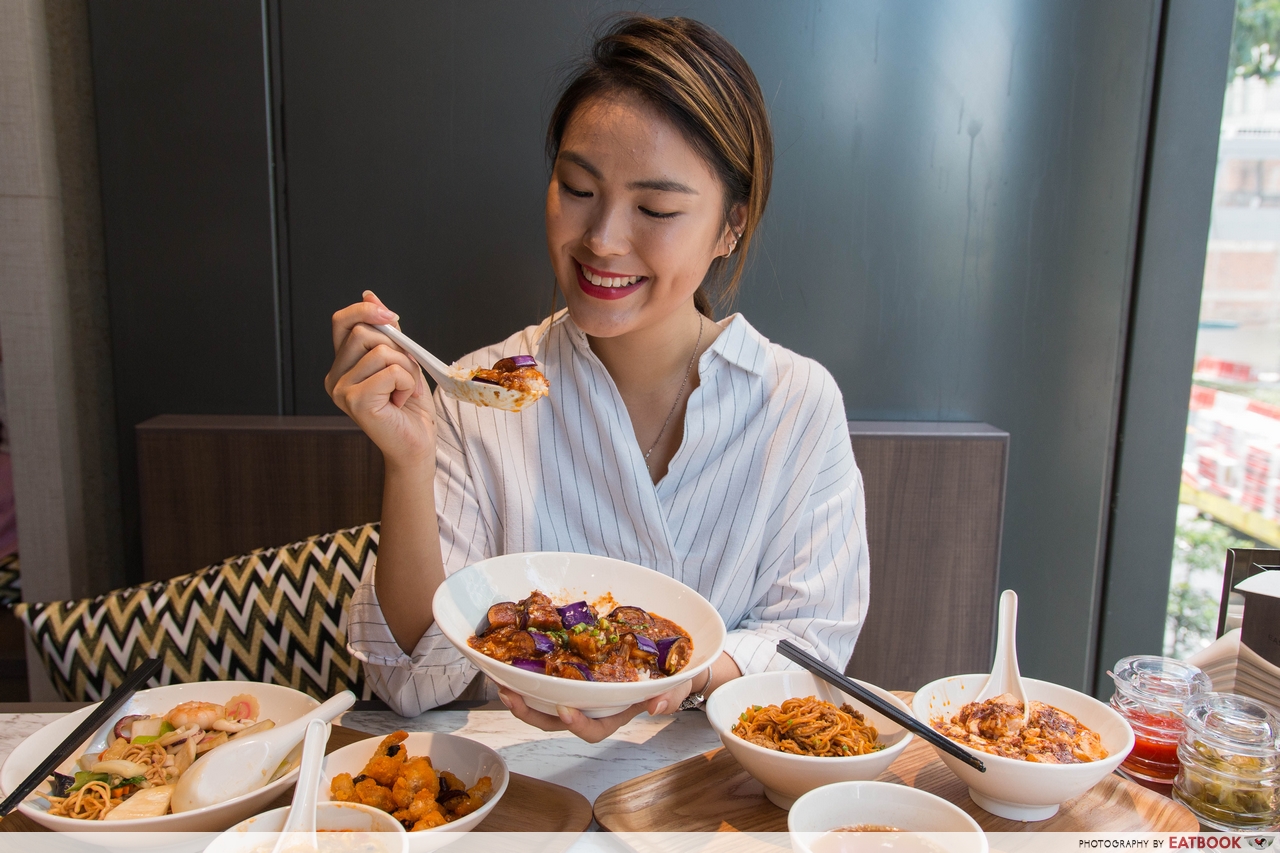 If there is one thing I learnt after dining at Chen's Mapo Tofu, it would be how Sichuan food doesn't necessarily equate to spicy. I thoroughly enjoyed the idea of combining both Sichuan and Japanese flavours into one dish, and would definitely revisit this place outside peak hours. Furthermore, given the quality and taste, most of the dishes here are value-for-money.
If you don't mind splurging for a fancy occasion, check out the Michelin-starred Shisen Hanten, which is also run by Chef Chen Kentaro. If you feel like having Vietnamese food, check out Pho Stop, which is also at Downtown Gallery.
Address: 6A Shenton Way, #02-29, Downtown Gallery, Singapore 068809
Opening hours:  Daily 11am to 8pm
Tel:  6221 3206
Website
Chen's Mapo Tofu is not a halal-certified eatery.
This was an independent review by Eatbook.sg.
Chen's Mapo Tofu Review: Michelin-Recognised Japanese-Sichuan Donburi In CBD
Chen's Mapo Tofu Review: Michelin-Recognised Japanese-Sichuan Donburi In CBD -

8/10
Summary
Pros
– Value for money
– Tasty mains
Cons
– Expensive sides considering the small portion
– Long queue during peak hours
Recommended Dishes: Miso Nasu Don ($13.90++), Signature Combo ($15++), Szechwan Popcorn Chicken ($5.90++)
Operating Hours: Daily 11am to 8pm
Tel: 6221 3206
Address: 6A Shenton Way, #02-29, Downtown Gallery, Singapore 068809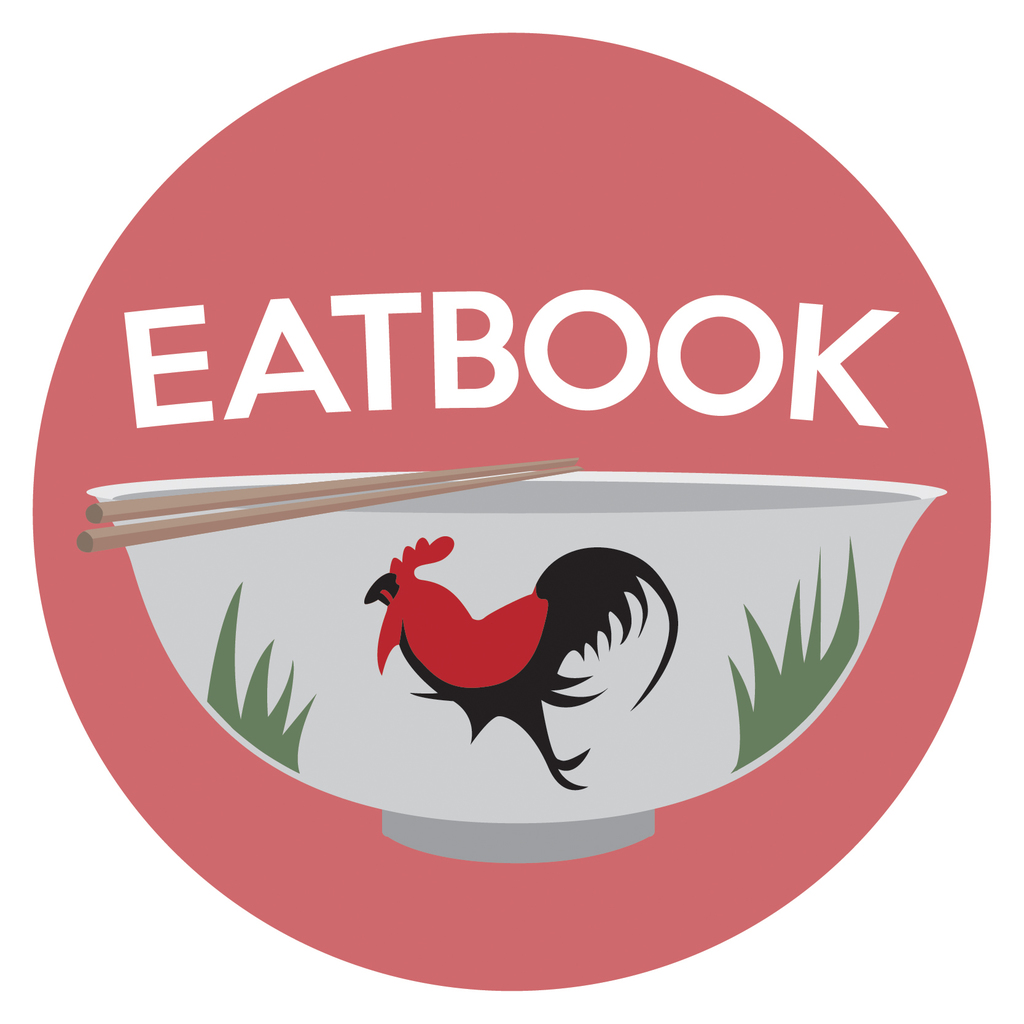 Drop us your email so you won't miss the latest news.