Fried Chicken Cutlet Curry Noodles on a secret menu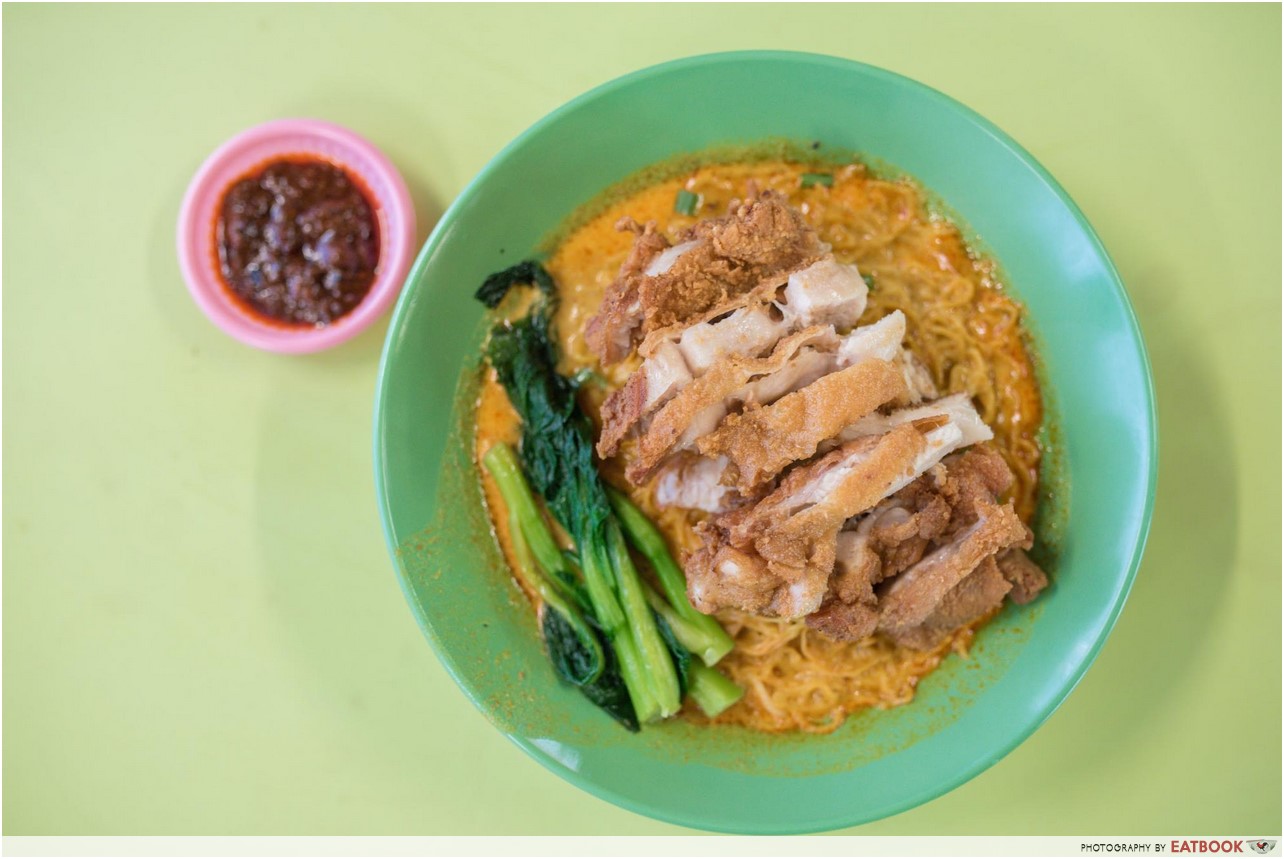 The signboard of Cantonese Delights says they've got wanton mee and laksa yong tau foo, but the star of this popular stall at Hong Lim Market & Food Centre is Fried Chicken Cutlet Noodles. With its name buried in a long list of dishes on a piece of A4 paper, it's easy to miss this gem. But when you do get a plate of this delicious noodles drenched in curry and topped with a huge chicken cutlet, you'll realise what it feels like to find gold at a thrift store.
Fried Chicken Cutlet Noodles at Cantonese Delights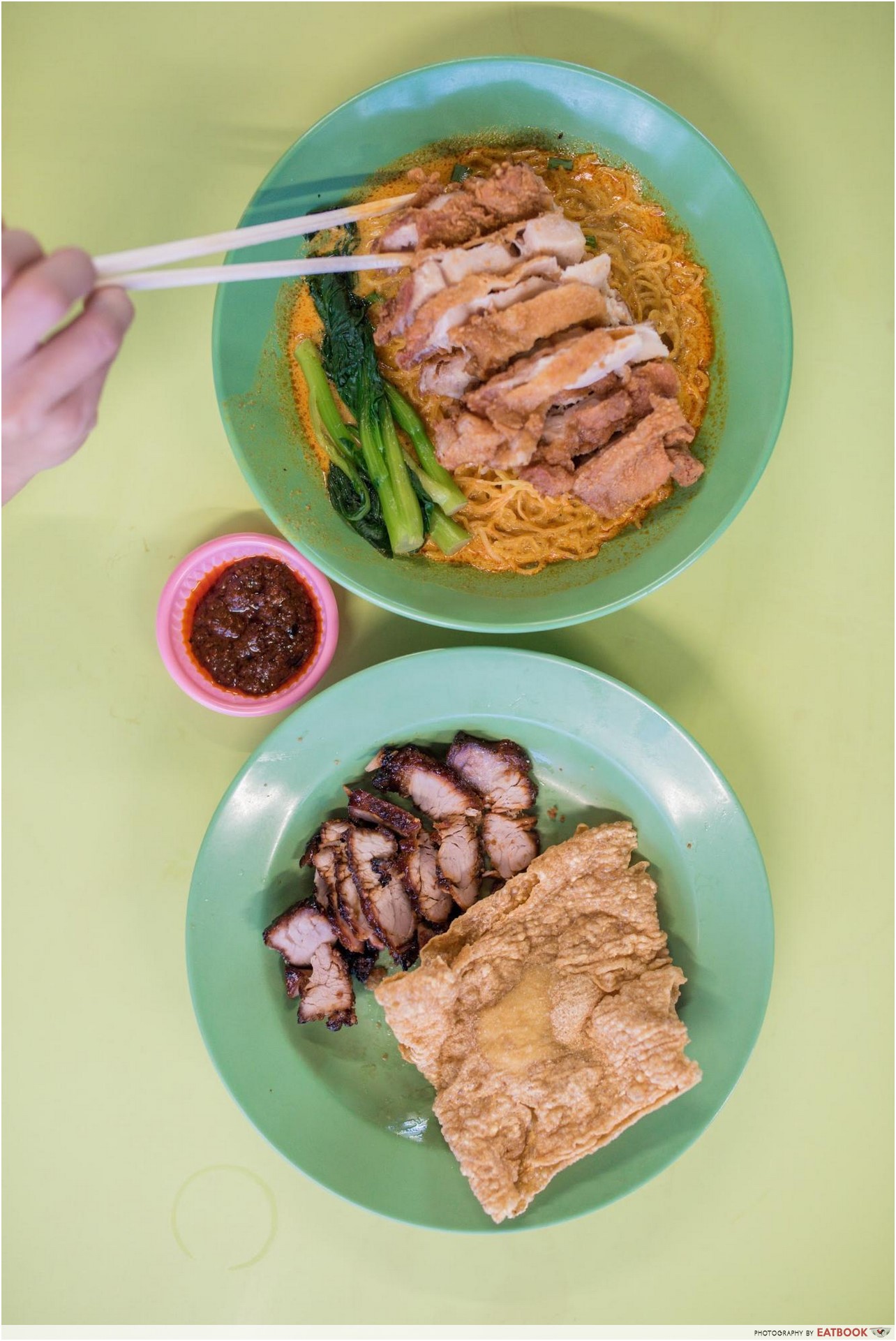 Here's what we got: Fried Chicken Cutlet Noodle ($4) with additional Char Siew ($1) and Fried Beancurd Skin ($0.40). Let me start off by saying this is one of the most value-for-money lunch I've ever had. There's a whole deep fried chicken thigh topped on a decent portion of mee kia drowned in fragrant curry gravy.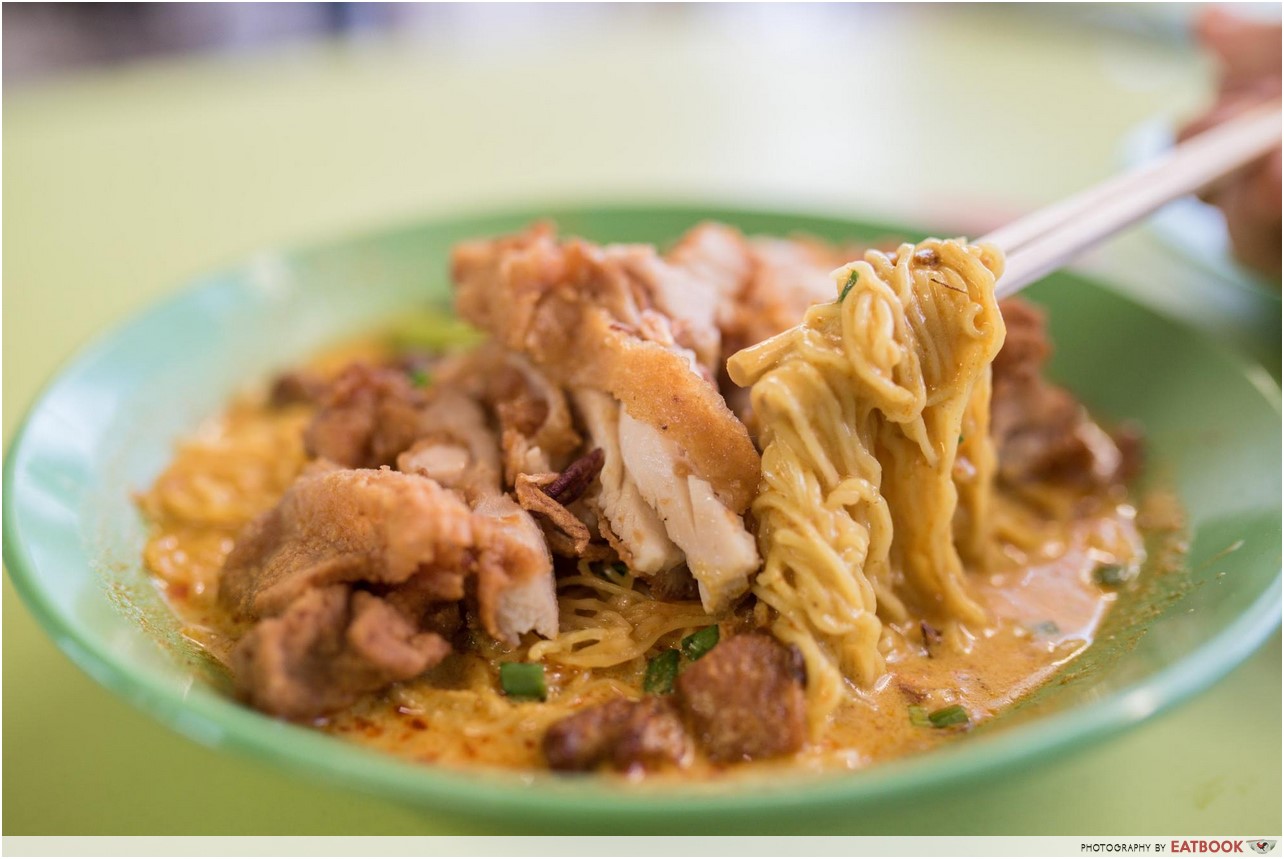 The noodles retained its eggy undertone in a bed of seemingly overpowering curry gravy. The curry was gravitating towards what you'd expect from curry vegetables at a economical rice stall, instead of the umami and thick version in curry chicken. With a consistency that lies between soup and gravy, the flavourful curry coated the wanton mee with a bold taste of curry spice and coconut fragrance.
If you're not a fan of noodles, you can have it with rice at $4 too!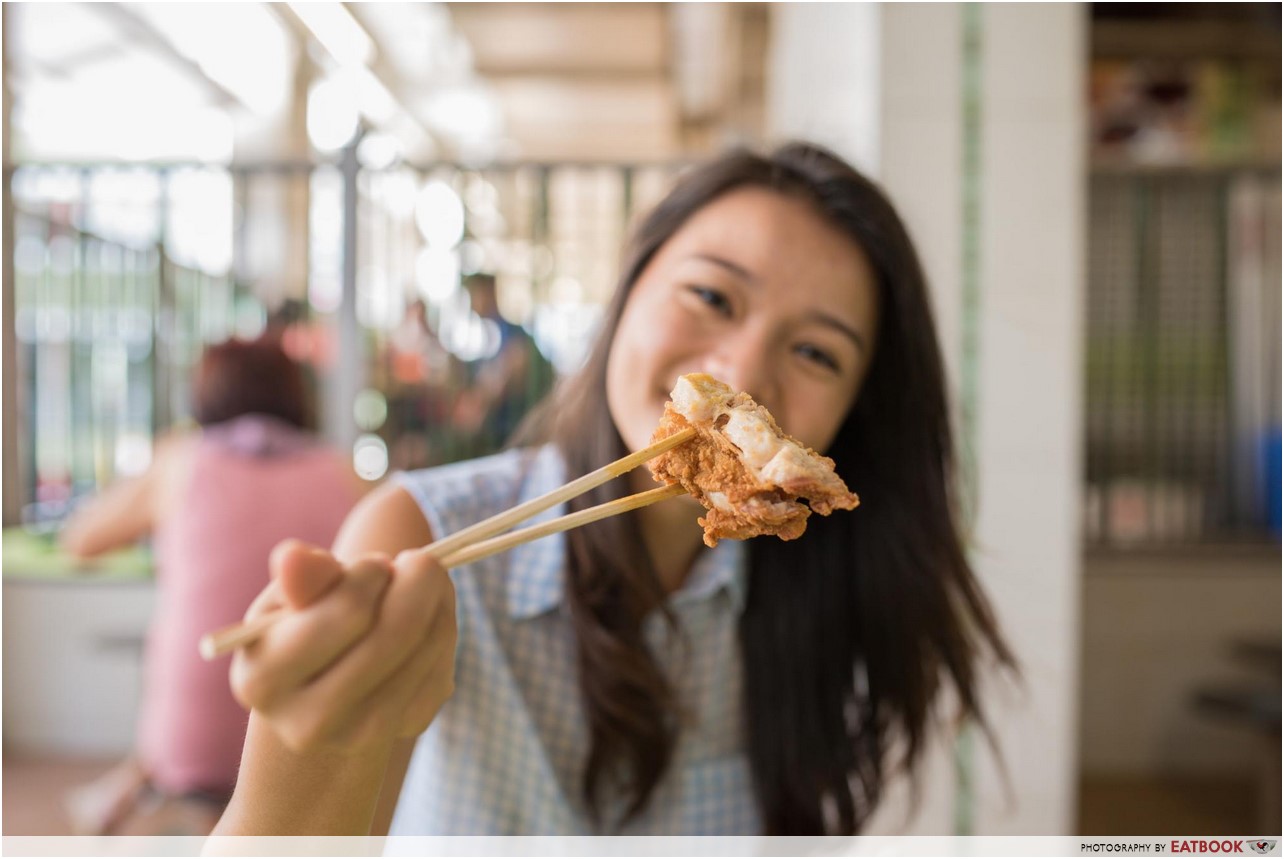 The deep fried chicken cutlet on our plate came piping hot, with tender and juicy thigh meat encased in crispy golden brown skin. Dipping it into the curry was sinful but worth every calorie. This crispy chicken is a 10/10 in my books, no wait, 11/10.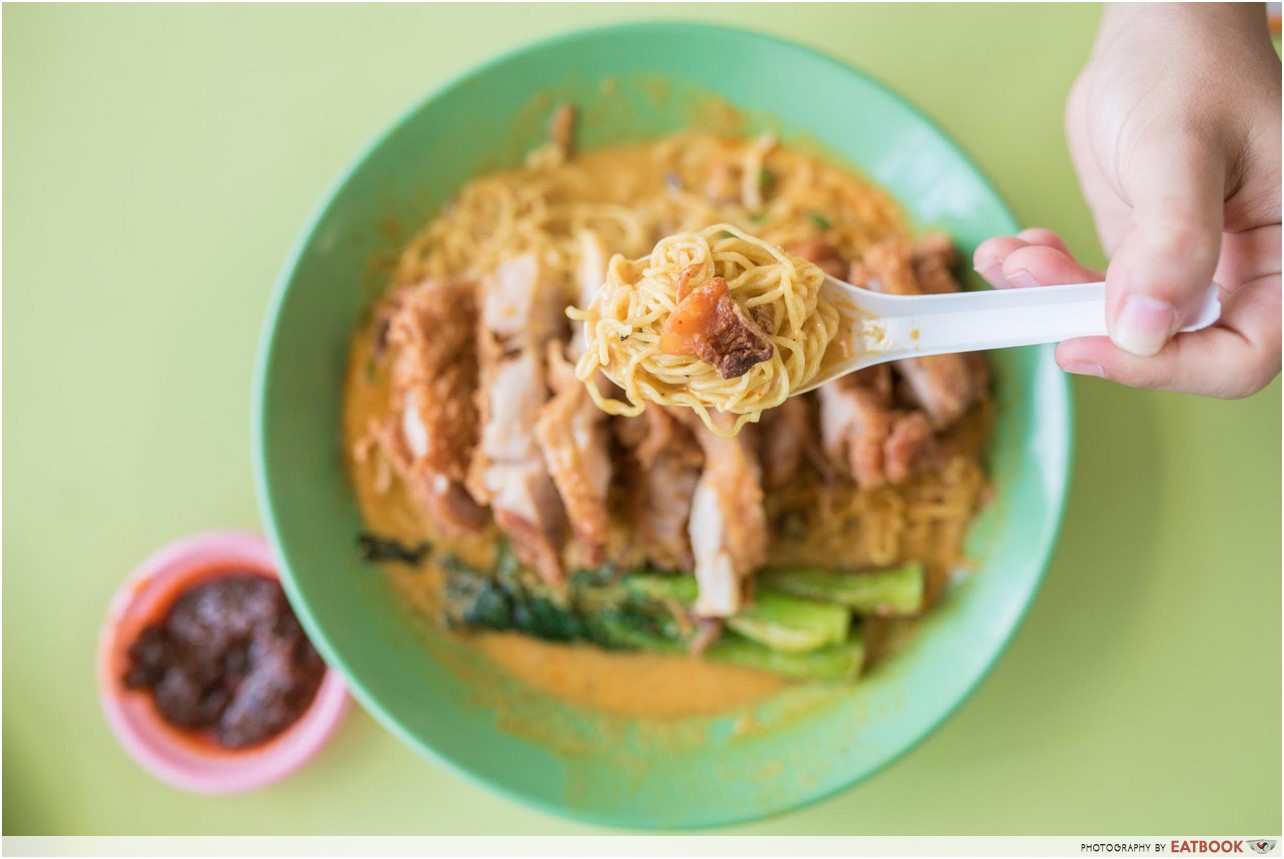 What completed my satisfaction was the FREE-FLOW deep fried pork lard. Instead of the usual scant topping of fried onions, fresh scallions and pork lard, Cantonese Delights lets you help yourself to these. The pork lard was so crispy it didn't even feel as oily as it should have!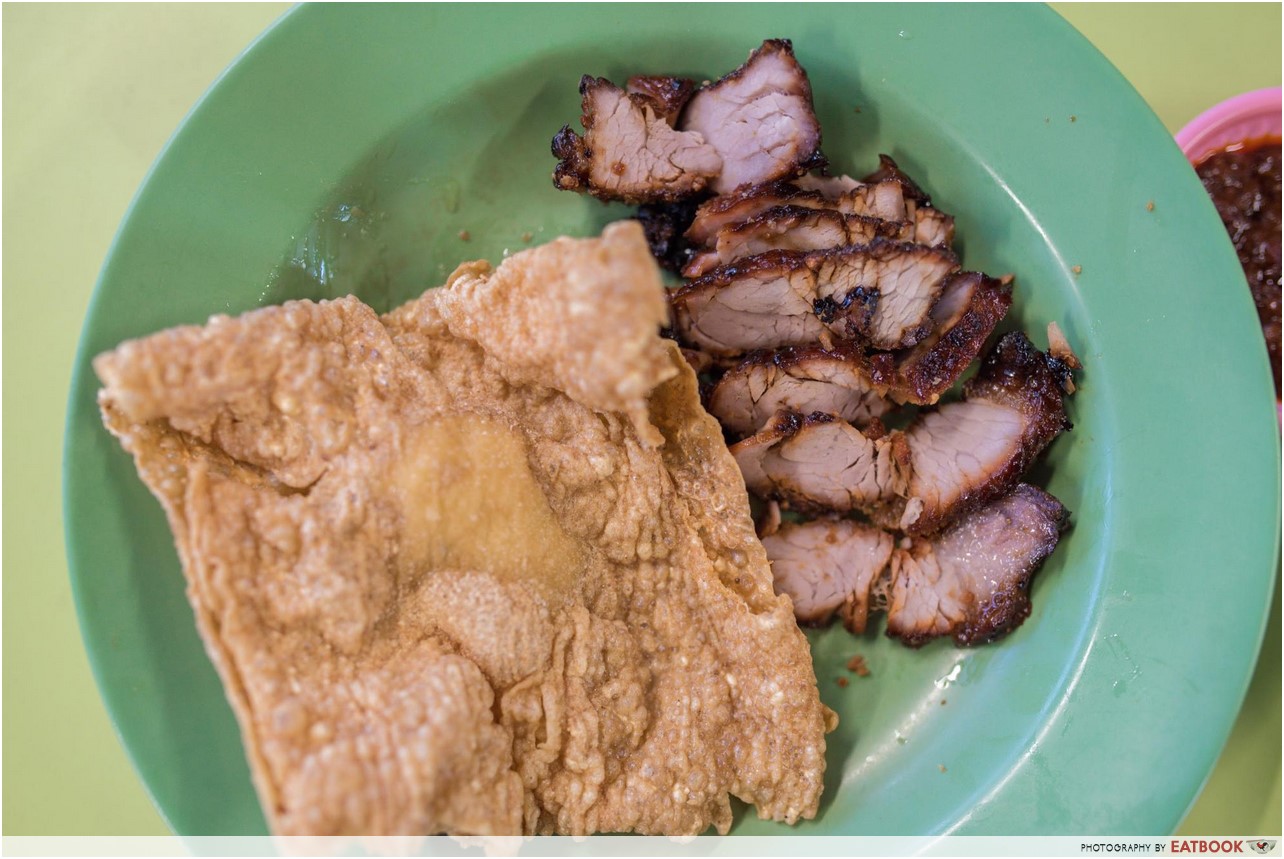 As they also sell laksa yong tau foo, I decided to add on one of my favourite yong tau foo items: Crispy Beancurd Skin ($0.40). What's different about their crispy beancurd skin is it comes with a fish paste centre that was a great touch to the plain crispy treat. The fish paste was soft and juicy. My only gripe would be it being a little lao hong (soft).
Meat lovers, add a portion of char siew to your meal. I was expecting three to four slices of it when I paid $1, but got double of what I expected.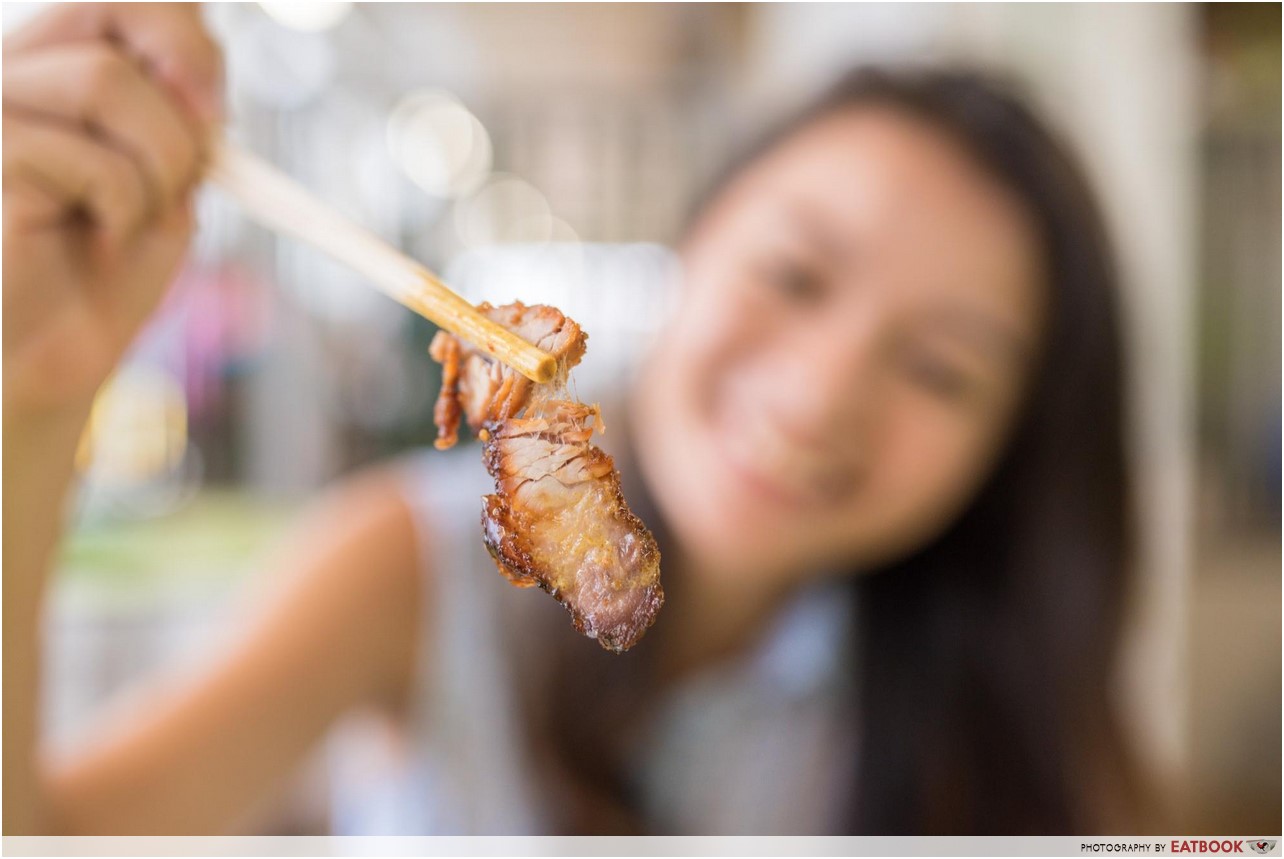 The char siew might not be the most succulent I've had but the flavour was definitely to my liking. Its marinade tasted sweet at first and ended off with a charred, almost bitter note. I have always loved the slightly charred BBQ taste when it comes to meat so this was right up my alley. It could have been better if the char siew was a little fattier.
Ambience at Cantonese Delights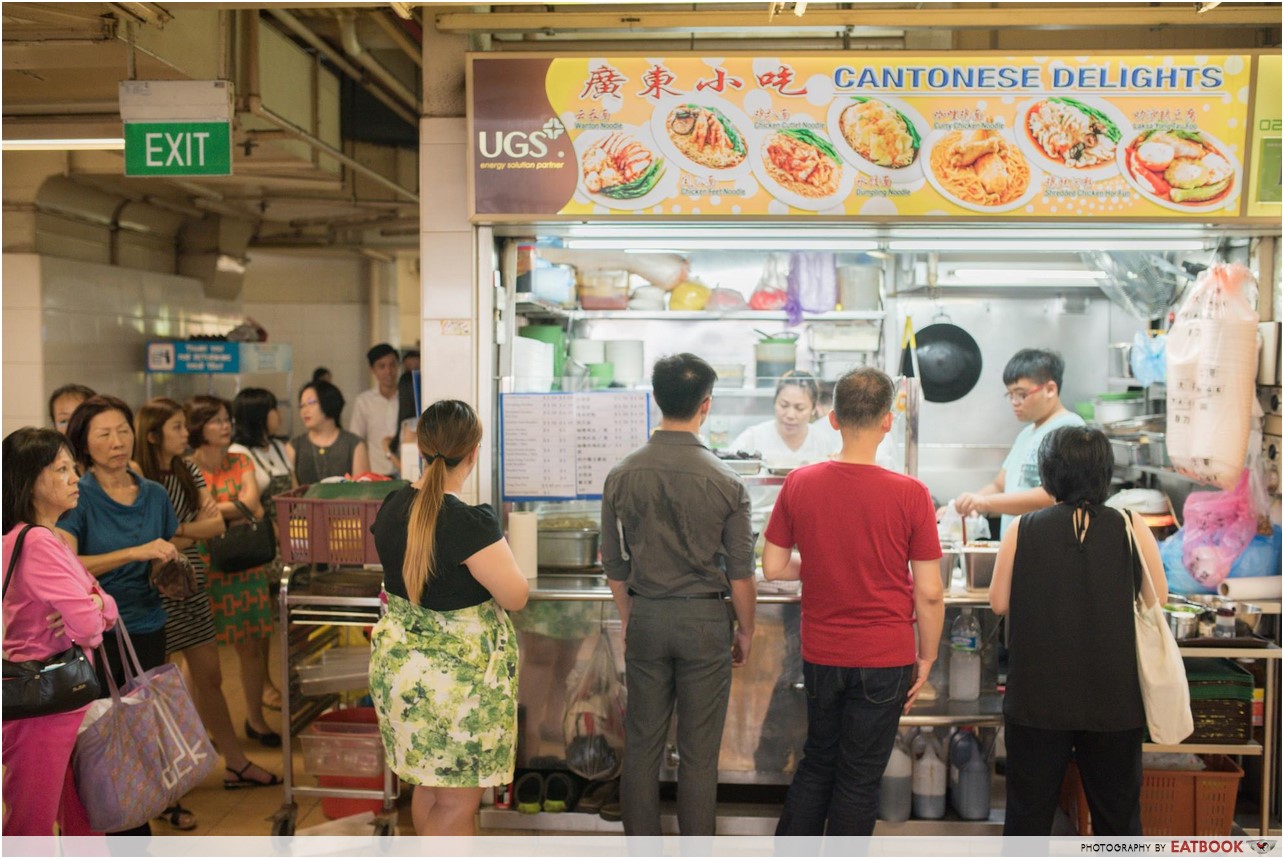 Even though the queue can be crazy during lunch hours, the food was prepared pretty fast. I waited 10 minutes with four to five people in the queue before me.
I requested to add a bit more curry to my plate as my curry gravy got soaked up after a while and they were very nice to do so without any charge.
The verdict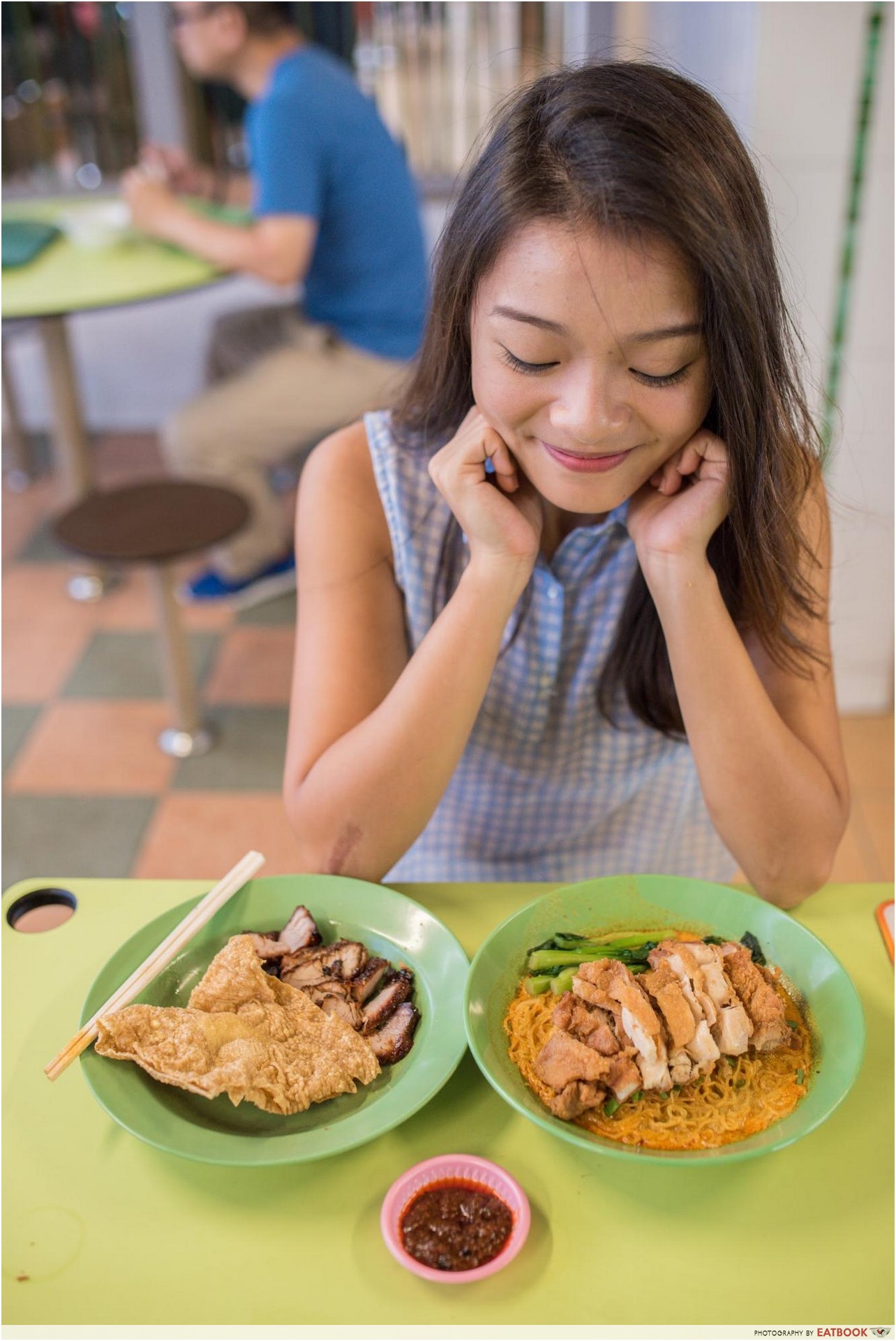 I usually hate queueing for food but this fried chicken cutlet noodles was worth the wait. On my next visit, I'll try out their other dishes like laksa yong tau foo!
This is an independent review by Eatbook.sg.
Summary
Pros
– Cheap
– Value for money
Cons
– Long queue
– Sells out fast
Recommended Dishes: Curry Chicken Cutlet Noodle ($4) with additional Char Siew ($1) and Crispy Beancurd Skin ($0.40)
Operating Hours:
Tuesday – Sunday 8:30am to 3:00pm
Address: 531A Upper Cross Street, #02-03, Hong Lim Market & Food Centre, Singapore 051531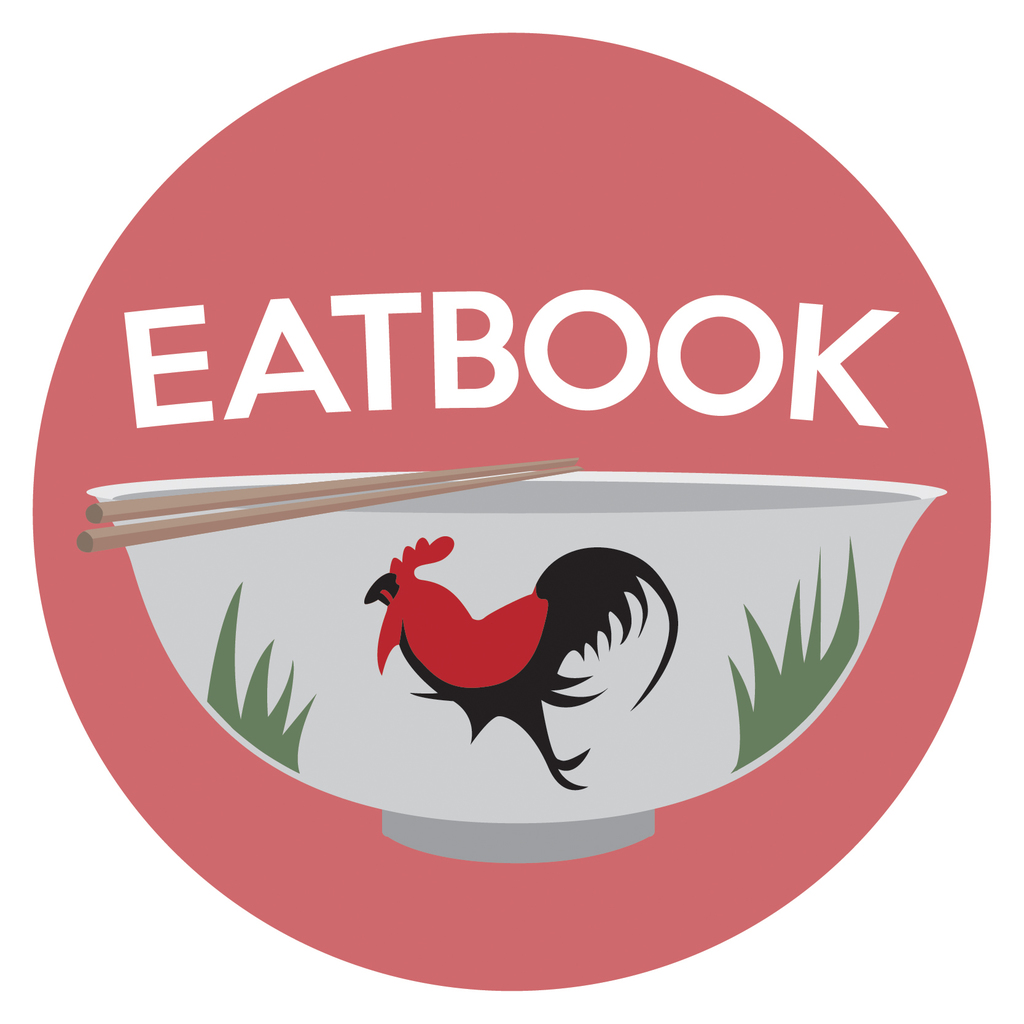 Drop us your email so you won't miss the latest news.