Chinatown Food Street buffets
Update: Chinatown Food Street is now permanently closed.
The heritage haven that is Chinatown Food Street has reopened, and with it comes 17 reopened and new dining concepts, as well as other exciting promotions.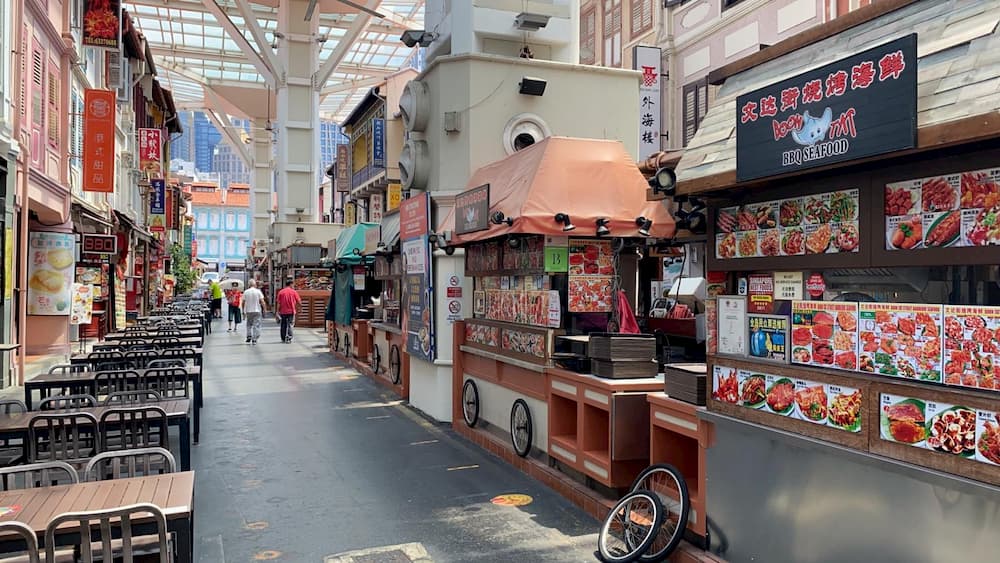 Image credit: @chinatownfoodstreet
While your eyes may be drawn to the $1.99 char siew rice promotion from Tiong Bahru Meng Kee Roast Duck available on the stretch, we're here to remind you that there are also six new buffet stalls on the block.
Chinatown Food Street Reopens On 1 Dec With $1.99 Char Siew Rice For First 30 Customers Daily
Chinatown Food Street's new buffet army takes you on a tour of steamboat and barbecue types from around the world, so you have plenty of options within reach. As part of the street's reopening, prices are going as low as $9.90 per adult for a buffet of their choice from 1 to 6 December, limited to the first 30 customers a day.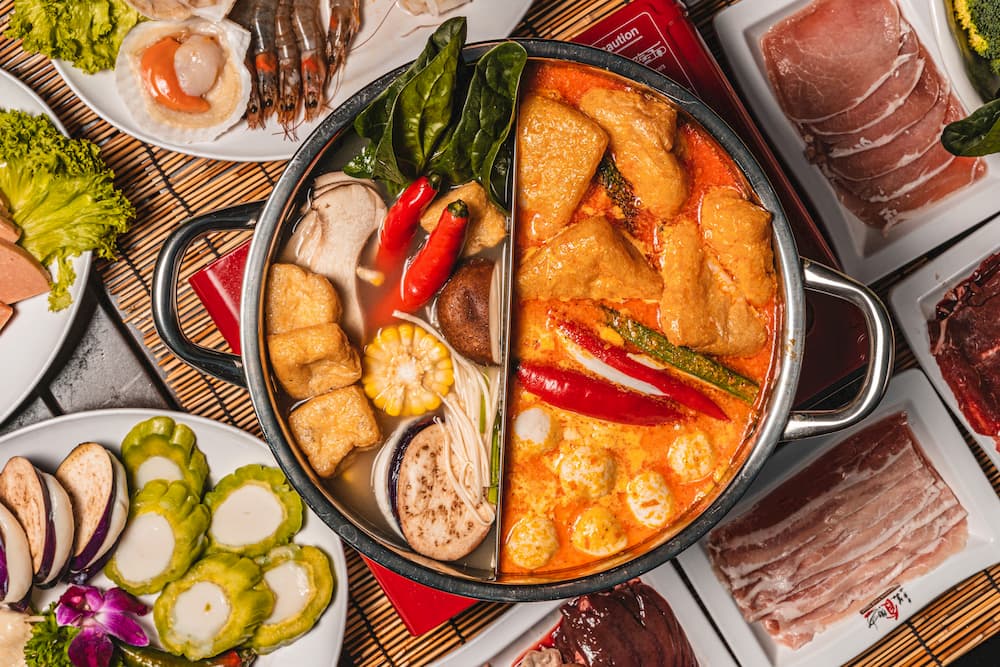 Image credit: @chinatownfoodstreet
If you love Chinese cuisine and laksa, go to Chinatown Laksa Steamboat. You can choose from broths like laksa, pork stomach, or herbal chicken soups to go with your choice of meats, seafood, and vegetables. Buffet prices normally start at $21.90 per adult, and you get a free flow of Poached Hainanese Chicken for diners.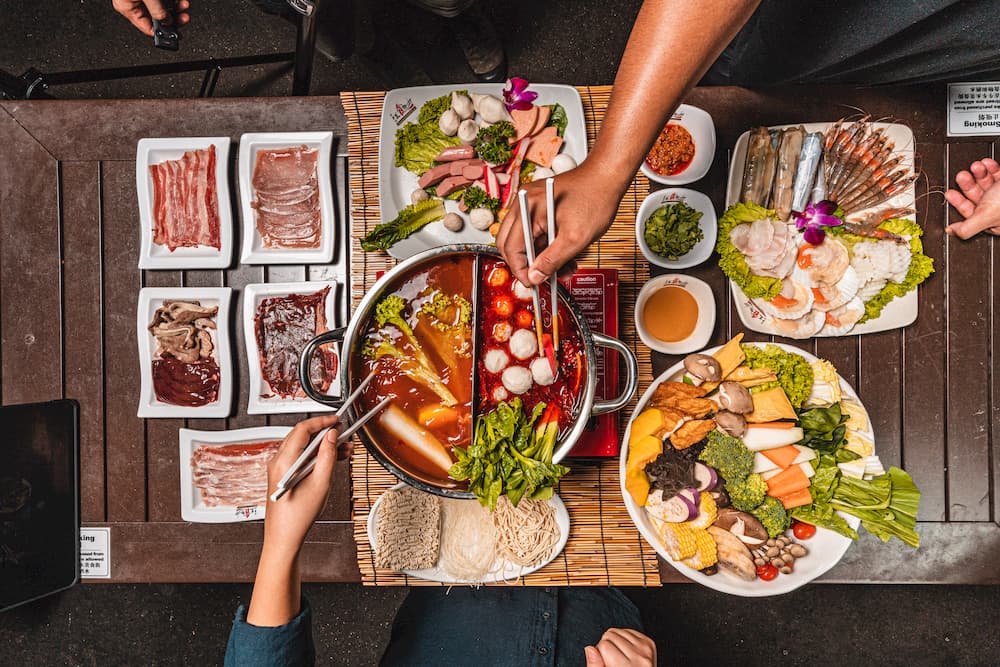 Image credit: @chinatownfoodstreet
For ma la xiang guo fans, there is She Jian Sheng Mala Huo Guo instead, for a mouth-numbing, fiery experience. A ma la buffet here is usually $19.90 per adult with free-flow guo tie (fried dumplings) as a side dish.
Image credit: @chinatownfoodstreet
Milder, but no less delicious flavours can be found at Nabemono Shabu Shabu, which serves shabu shabu, oden, and meats with your choice of either sukiyaki, soy milk, or miso soup from $23.90 per adult outside of the promotion.
Suki-Suki Thai Hot Pot Review: Halal-Certified Buffet With Unlimited Meats From $17.90++
Those in camp Mookata can opt to dine at S88 Mookata, with Thai barbecue and steamboat options available, usually priced at $21.90 per adult. Get unlimited sides like Chicken Drumlets with Spicy Thai Sauce, Spring Rolls, or Thai Fish Cake to go with your order too.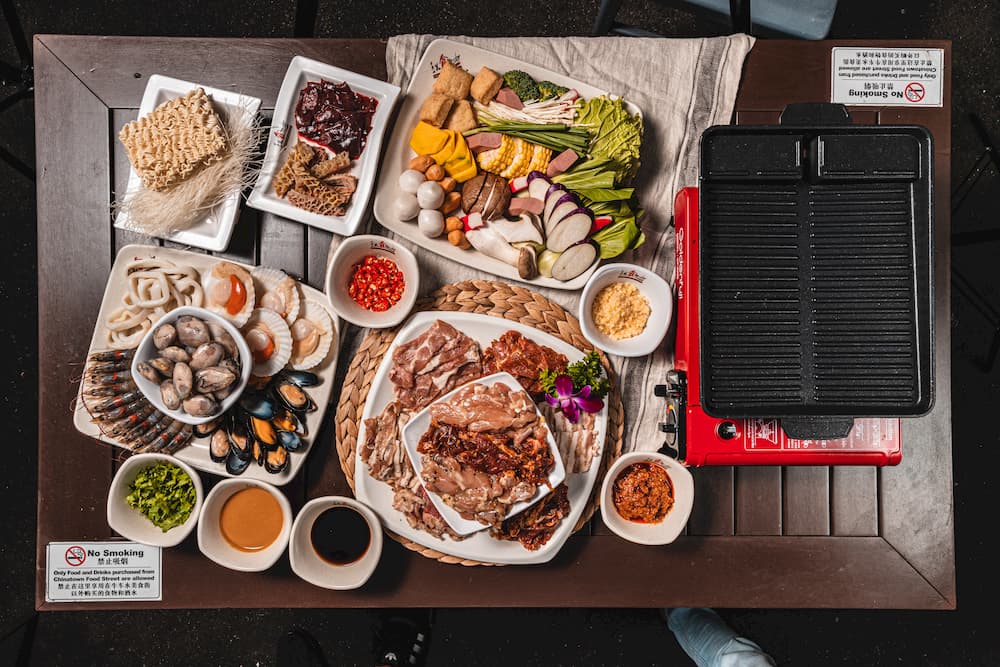 Barbecue lovers can choose either to go for K-barbecue at Hongdae Korean BBQ, priced at $23.90 per adult with free tteokbokki and kimchi pancake, or Chinese-style barbecue at Lao Dong Bei Shao Kao, from $19.90 per adult. The complimentary sides at the latter are Sichuan Chicken or Wontons, both served with a chilli oil sauce.
Diners can mix-and-match as well, ordering from two different stalls at any one time with a minimum of four diners per table.
10 Ma La Xiang Guo Spots All Over Singapore That Serves Ma La Worth Queuing For
Chinatown Food Street will also make its comeback with a number of hawkers to look out for, like Famous Eunos Bak Chor Mee, as well as Katong Keah Kee Fried Oysters. The next time you're in Chinatown hungry for a place to dine, explore this stretch and get the best of all worlds.
For more dining spots near Chinatown, check out our Maxwell Food Centre guide, or round-up of Telok Ayer cafes for brunch.
20 Maxwell Food Centre Stalls Including $1 Noodles, Curry Chee Cheong Fun, And Ondeh-Ondeh For CBD Lunches
Address: Smith Street, Chinatown Food Street, Singapore 058938
Opening hours: Daily 11am to 11pm
Website