Get chicken and waffles at Cluck Cluck
Update: Cluck Cluck is now permanently closed.

With chicken and waffles being a running theme in their menu, Cluck Cluck would leave you filled to the brim. Tucked away in NAFA, this eatery has recently opened its doors in June. Those with a tight budget would be happy to know that Cluck Cluck offers all-day dining promotions on top of nett prices!
Food at Cluck Cluck
Just like what the store name sounds, chicken is the star of the show at this joint. You'll be spoilt for choice with their weekday promotions. For breakfast, you score free-flow coffee or tea with any main from 10am to 12pm. Their dinner deal gives you the most bang for your buck as you get one-for-one mains! During our lunchtime visit, we enjoyed a complimentary serving of iced lemon tea and soup for each order of main course ordered. You can enjoy this lunch offer from 12pm to 5pm on weekdays.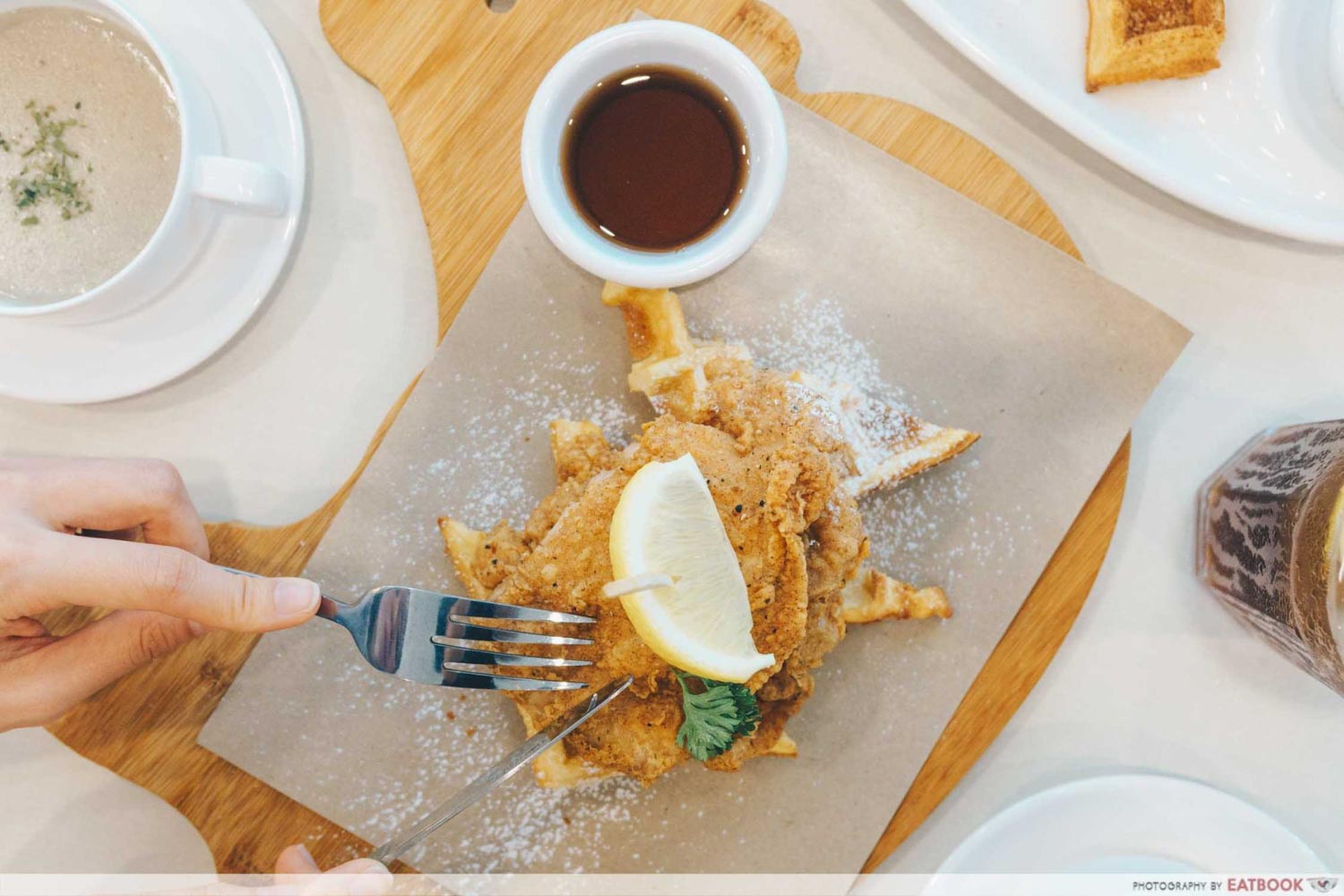 It would be a crime to skip one of Cluck Cluck's star dishes, their Crispy Chicken and Waffles ($11.80). It is a sight to behold for any fried chicken fanatic. This sinful dish features two thick chicken thighs, deep-fried to golden perfection, resting on waffle slices.
10 Fried Chicken Dishes From Around The World Including Nashville Hot Chicken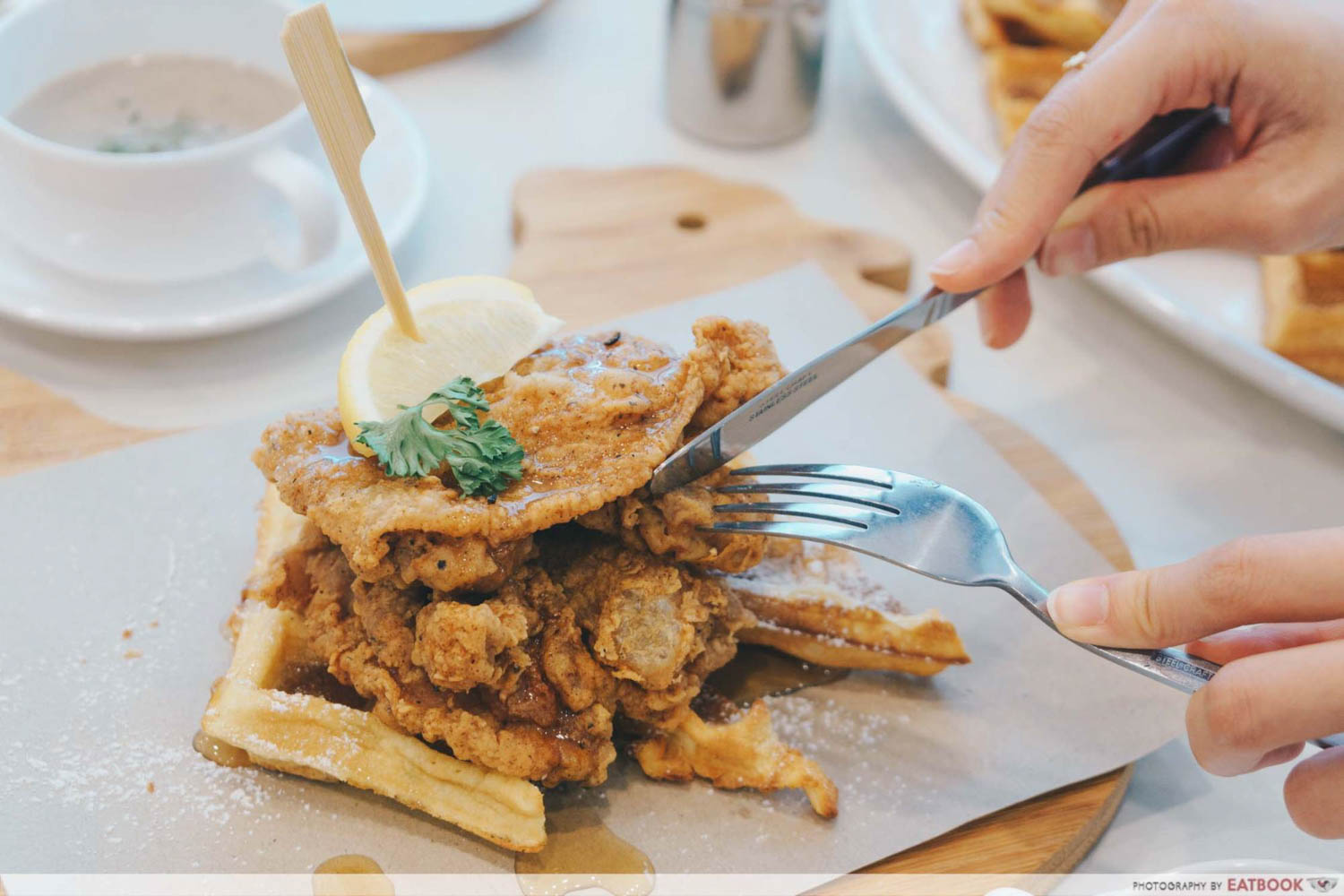 As I cut through the crispy skin and into the tender meat, natural juices oozed out of the chicken. The chef's choice of using chicken thighs ensured the meat stayed succulent even after the frying process.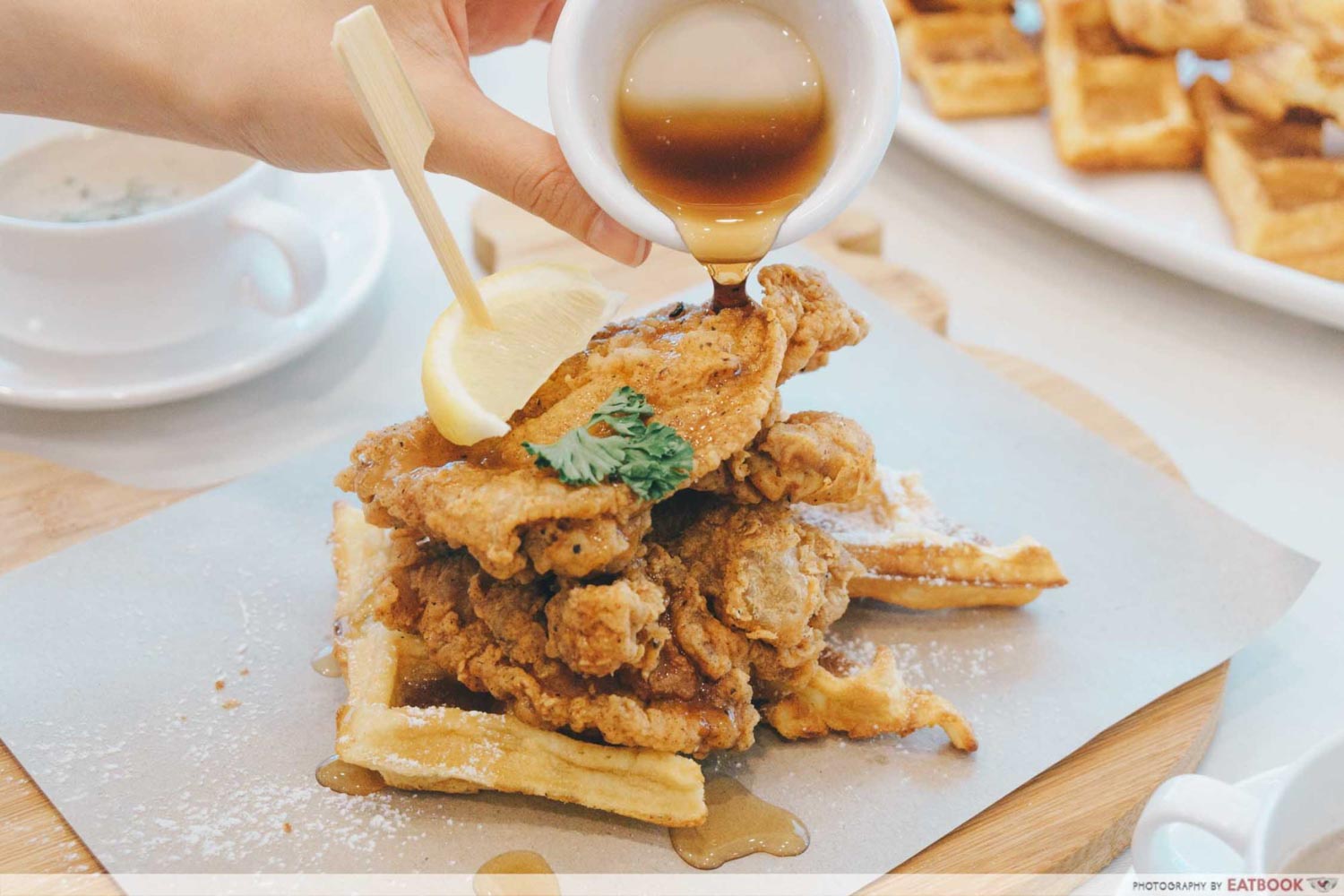 Although it was deep-fried, the chicken was not soaking the waffles with its grease. I was tempted to just eat the chicken on its own as the meat was well seasoned and tasty. But let's not forget to pair this fried goodness with the waffles and drench it all with maple syrup.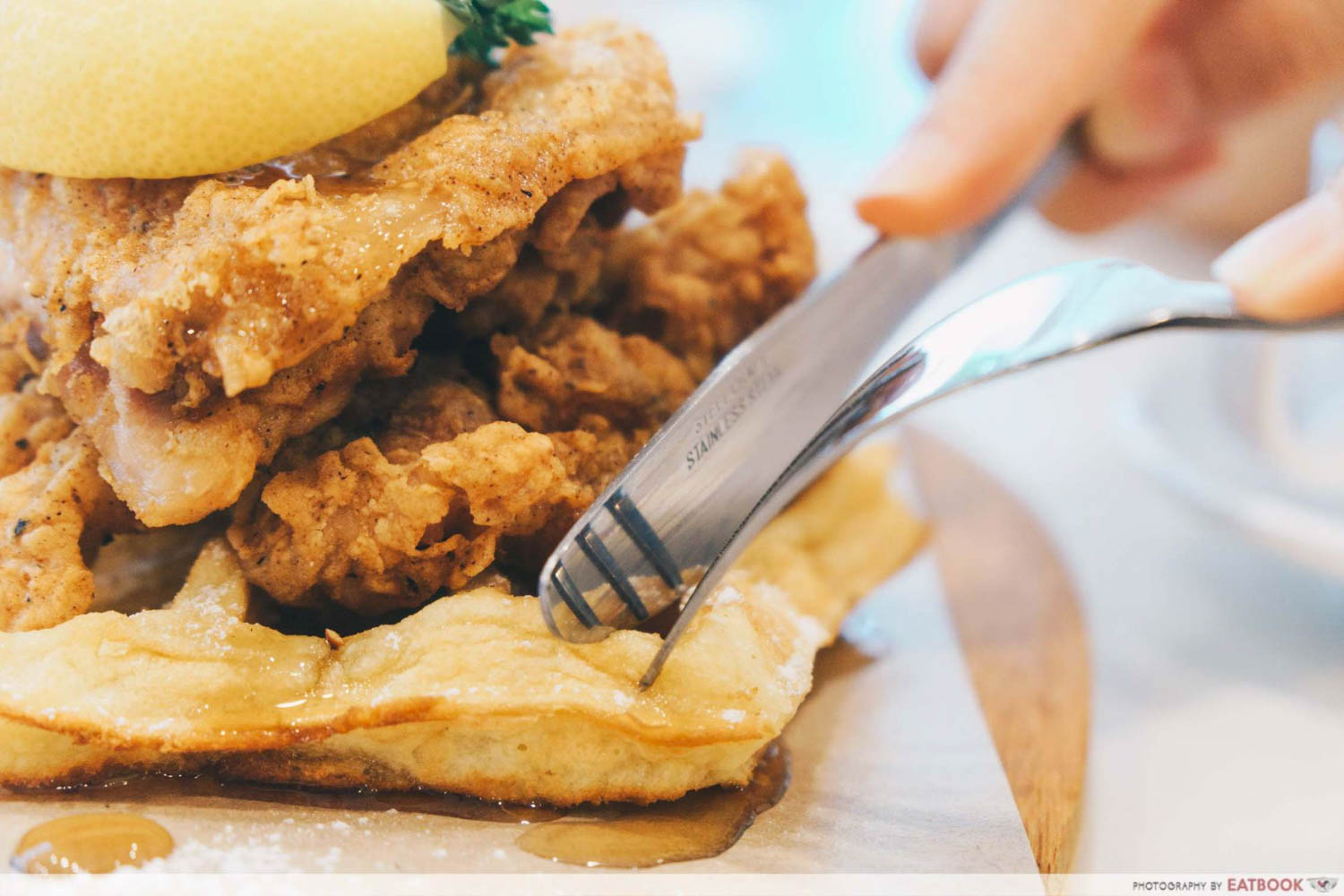 Generously drizzling the dish with syrup creates this mingling contrast of sweet and savoury flavours, making it all the more delicious.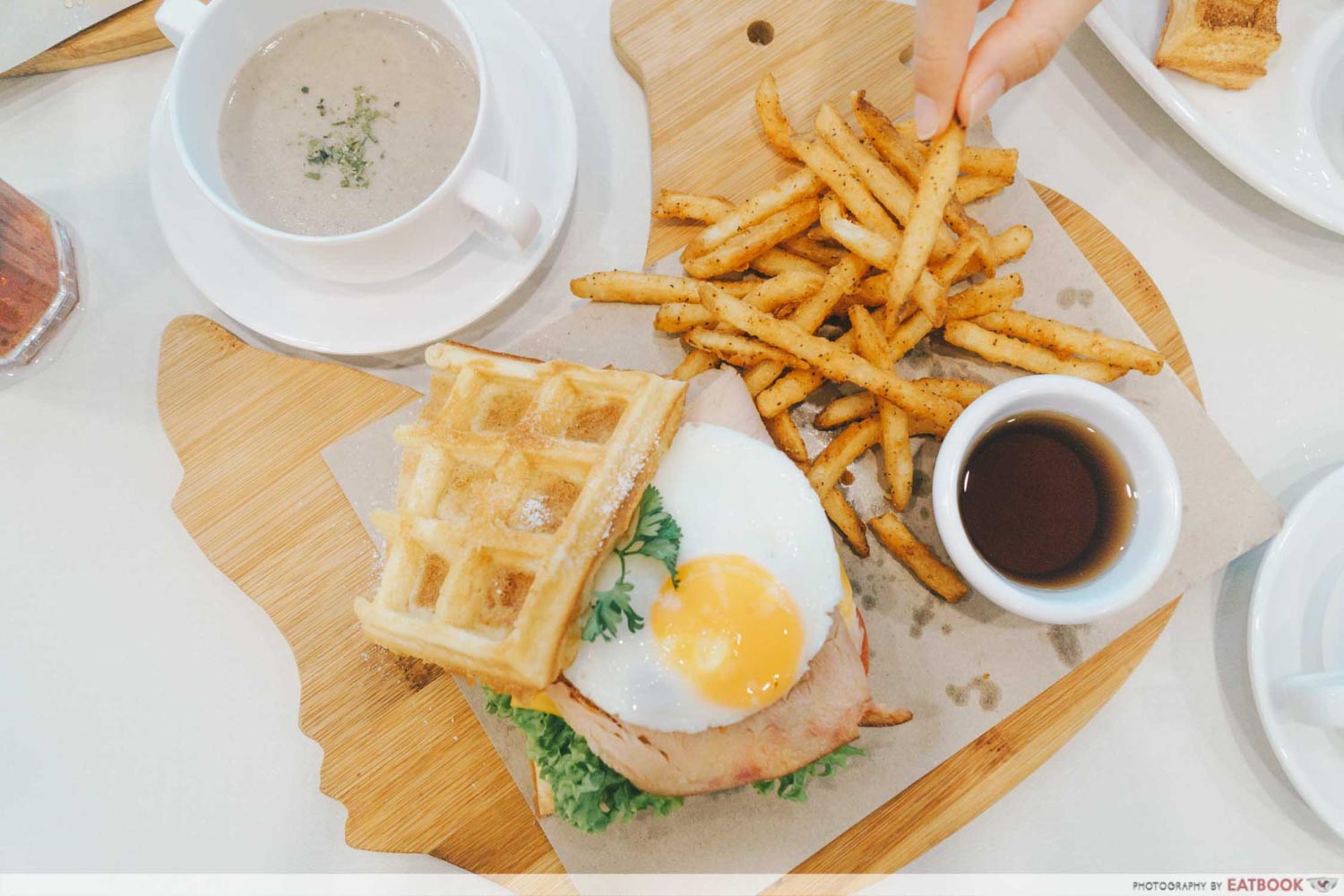 Apart from fried chicken, Cluck Cluck also offers other dishes such as Smoked Turkey with Egg and Cheese Waffle Sandwich ($12.80). As a small eater, I felt that the serving was not filling, and I foresee bigger eaters hankering for more.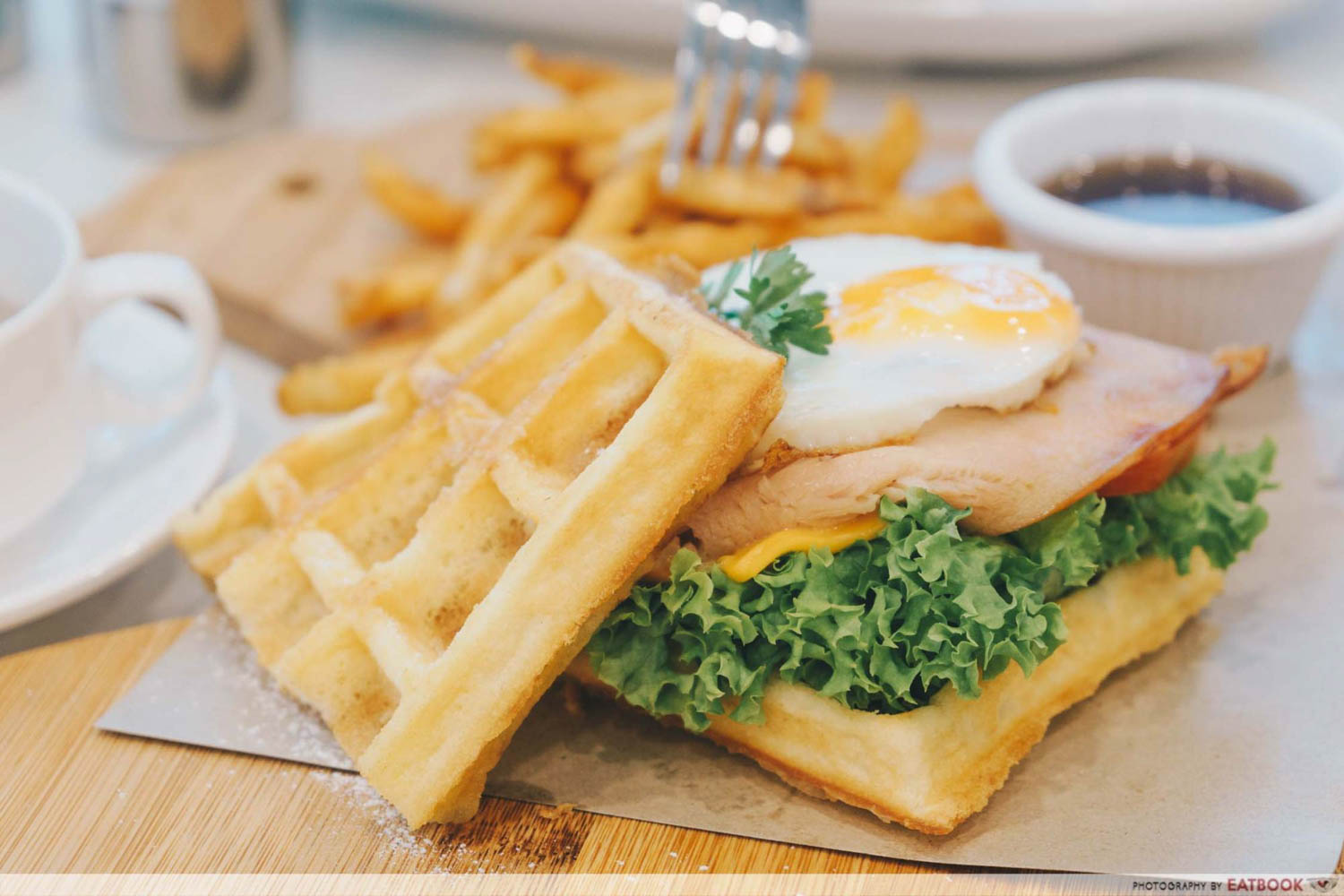 With that being said, all the elements did come together in harmony to result in a flavour-packed dish. The mysterious spread, which had hints of honey mustard, really brought out the savoury notes present in the smoked turkey. The added sliced cheese lent the waffle a salty flavour, and the accompanying maple syrup balanced this out with its natural sweetness.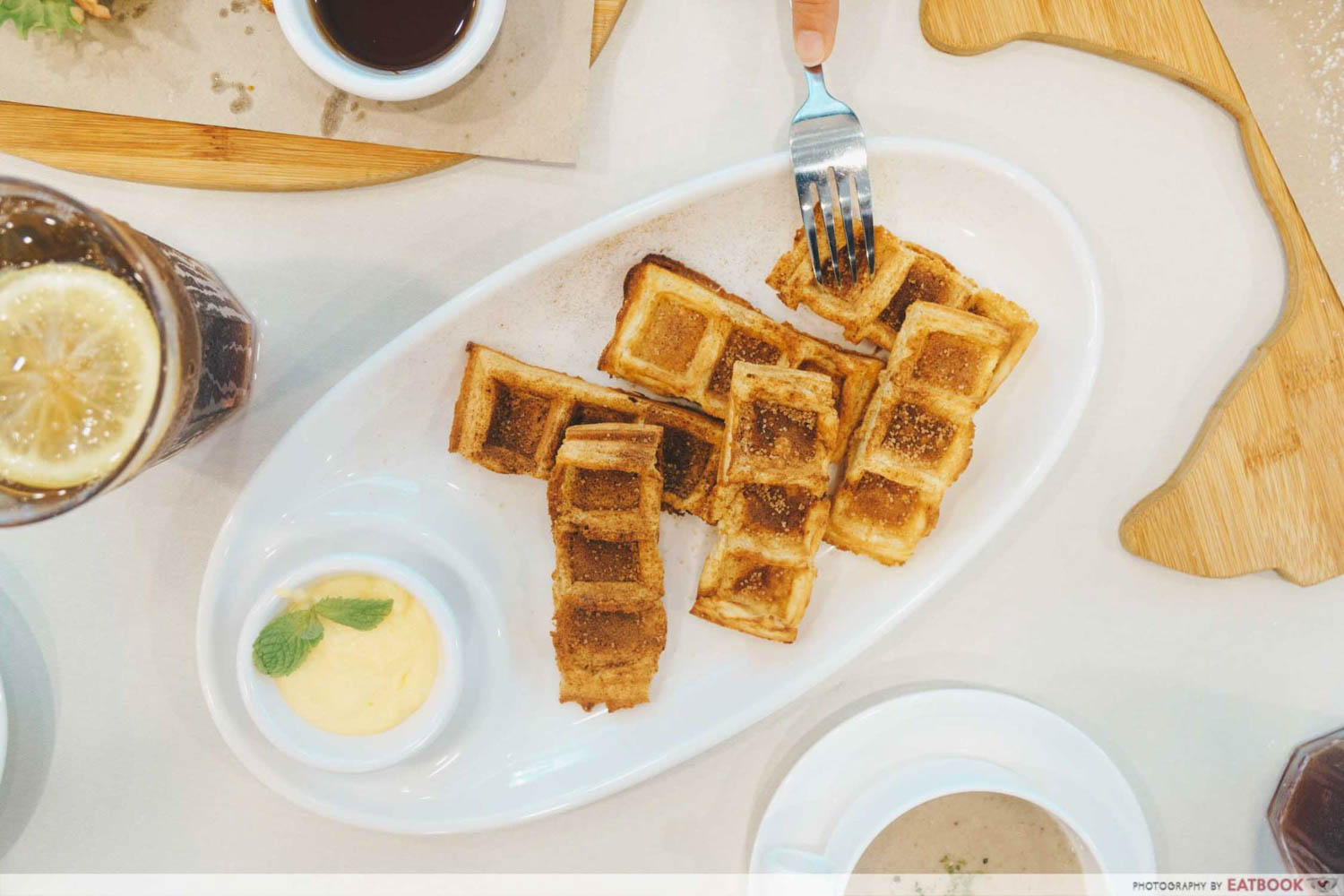 The Waffles Churro ($6.90) sounded interesting on the menu, but I was left disappointed when it arrived. I was expecting churros fried in a waffle shape, but was instead served strips of waffles coated with cinnamon and brown sugar.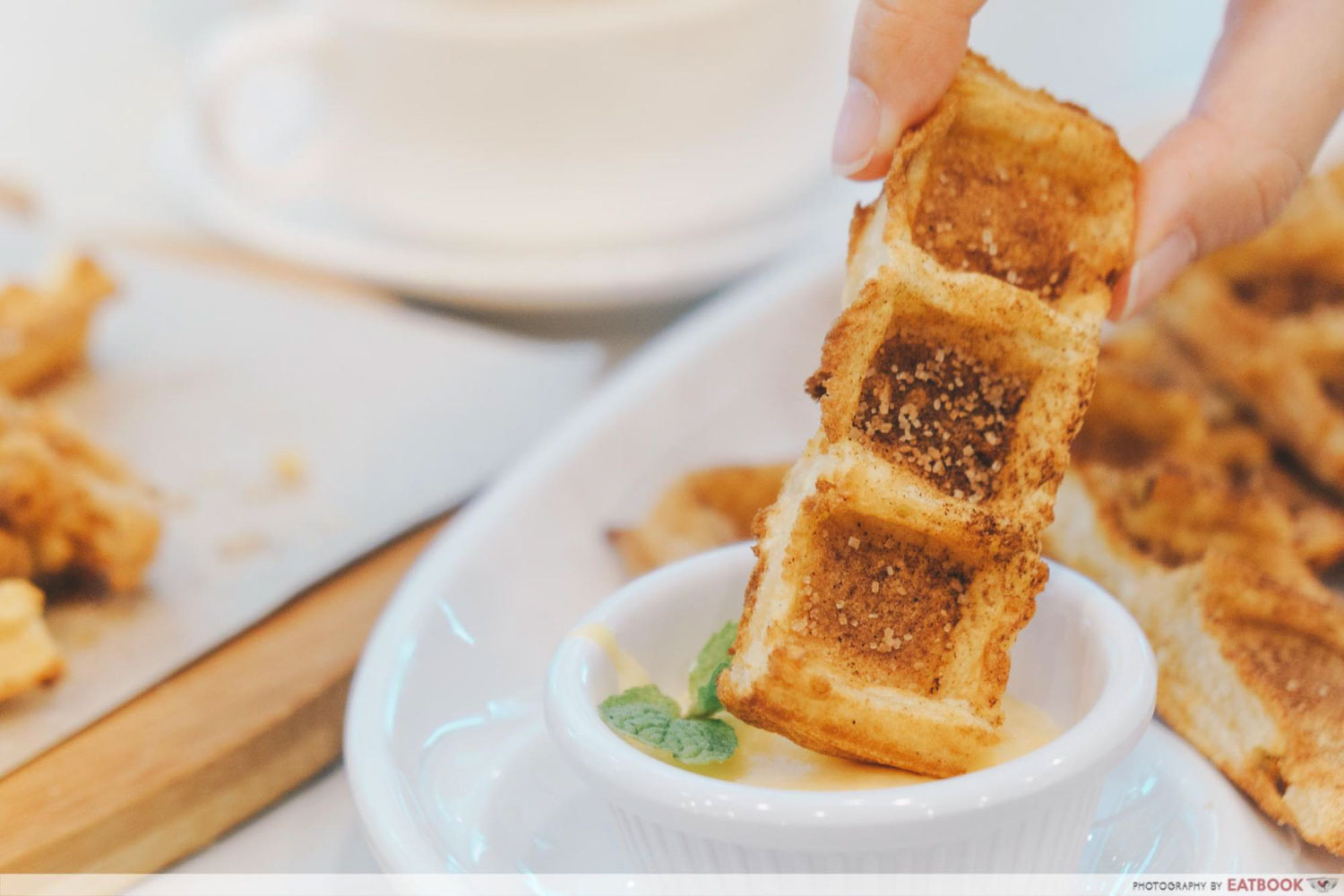 The accompanying cream cheese overpowered the sweetness of each waffle strip with its savouriness. I would prefer if the waffles were sweetened with maple syrup to better complement the salty cream cheese.
Ambience at Cluck Cluck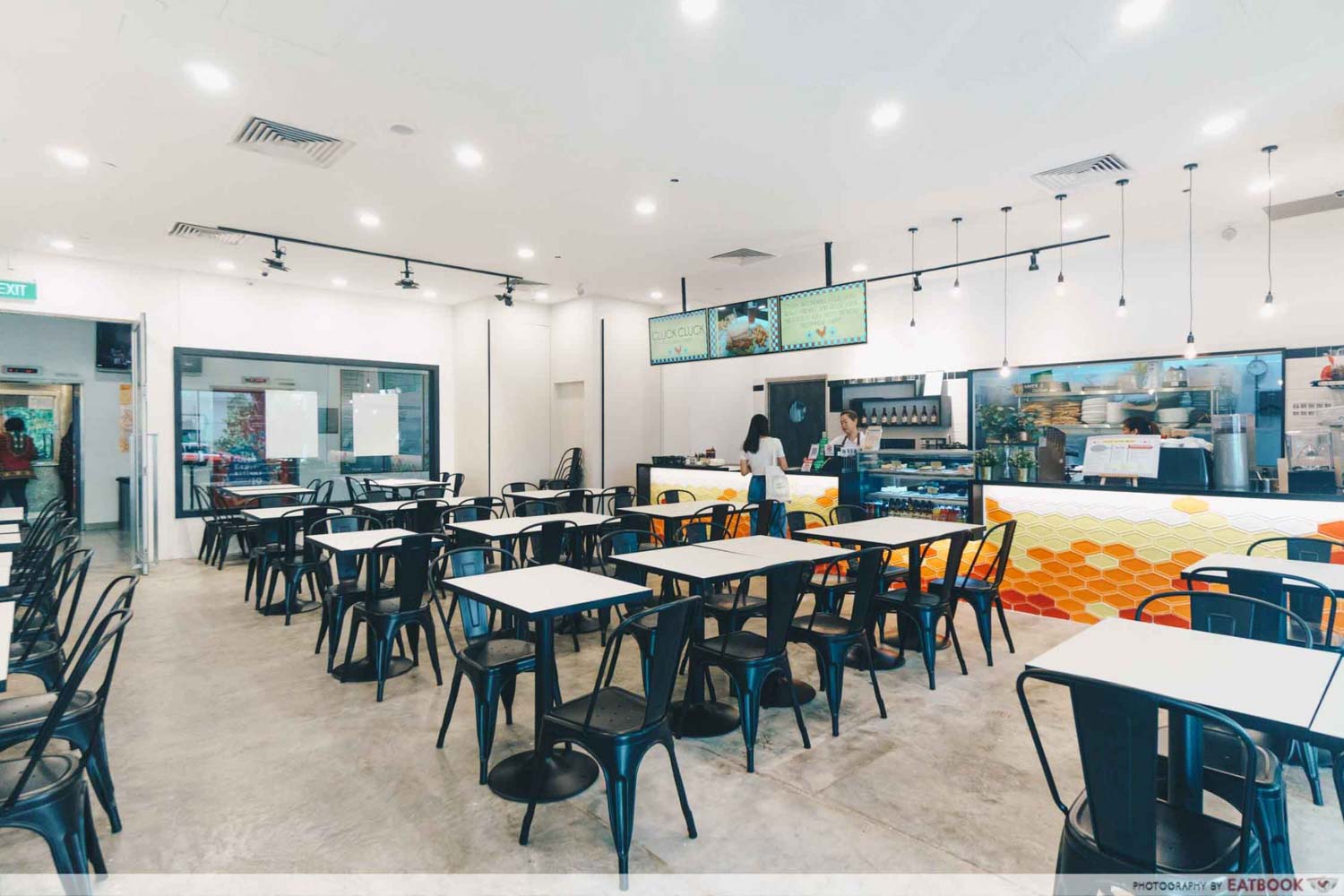 With Cluck Cluck's attractive dining promotions, it's not surprising to find a large lunchtime crowd streaming in from schools and offices around the vicinity. This joint makes a good place for big groups as it has plenty of indoor seating and food is quickly pushed out of the kitchen. 
The verdict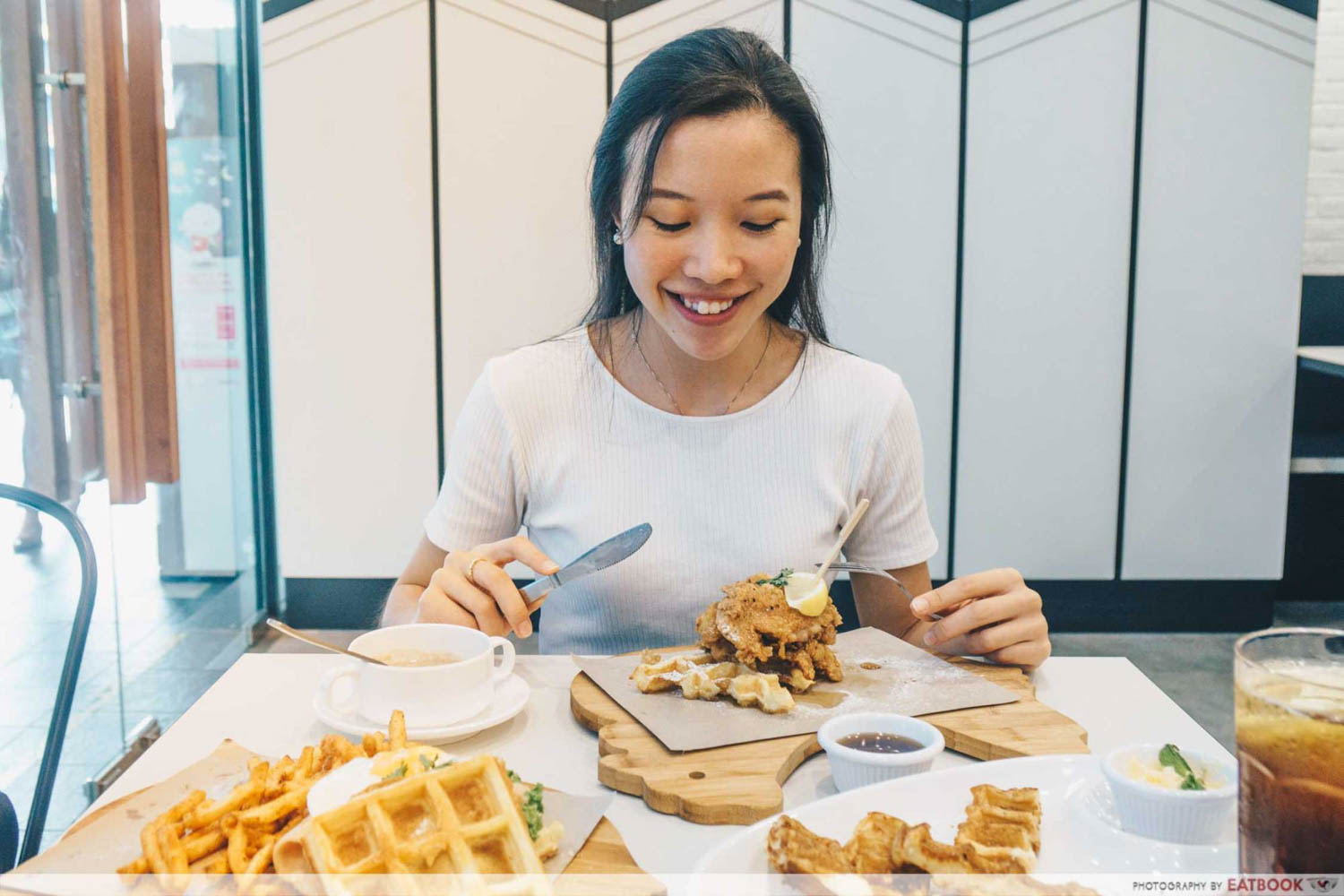 Cluck Cluck was average at best, as the portions were rather small and the flavours fell a little flat in some dishes. But the nett prices and all-day dining promotions do make up for this. As this joint is barely a month old, perhaps some time is needed to fine-tune their dishes. I look forward to returning later on in the year to try out their other dishes.
For more fried chicken, check out our review of Otoké Chicken!
Otoké Chicken Review: New Korean Fried Chicken Fast Food Joint With Seaweed Fries Opens In Orchard
Address: 80 Bencoolen Street, #01-15, Wing A, NAFA Campus 1, Singapore 189655
Opening hours: Daily 10am to 9pm
Tel: 9198 2673
Website
Cluck Cluck is not a halal-certified eatery, but their food contains no pork or lard.
Photos taken by Cindy Yong.
This is an independent review by Eatbook.sg.
Summary
Pros
– Value for money
– Accessible location
– All-day dining promotions
Cons
– Small portions
– More flavour in some dishes
Recommended dishes: Crispy Chicken and Waffles ($11.80)
Opening hours: Daily 10am to 9pm
Address: 80 Bencoolen Street, #01-15, Wing A, NAFA Campus 1, Singapore 189655