Colico coconut shakes at Toa Payoh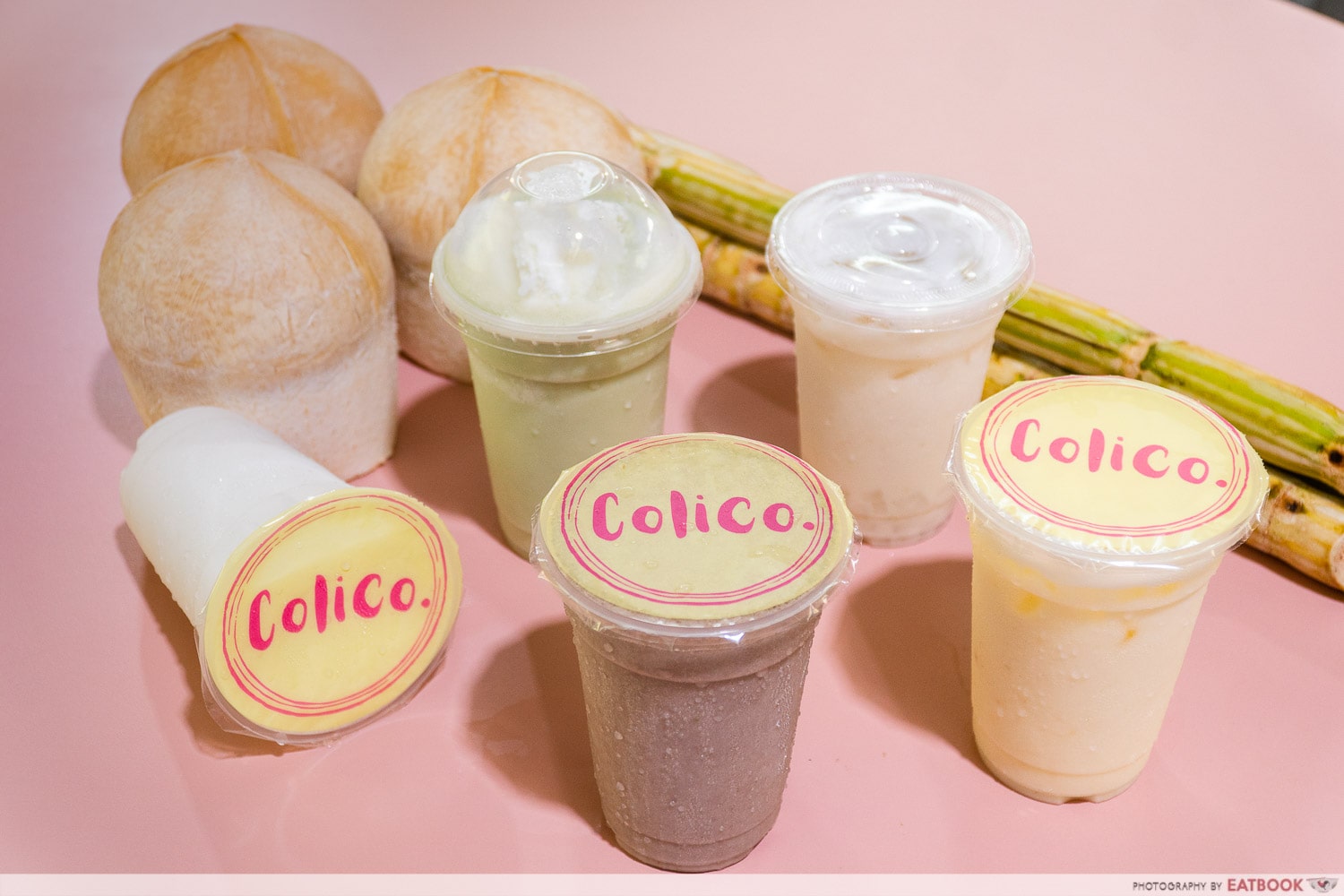 Coconut shakes are undeniably popular in Singapore. With Mr Coconut taking most of the spotlight, I was determined to find another store to avoid the snaking long queues. Wallet-friendly prices would be a bonus. That's when I chanced upon Colico, located at Lorong 8 Toa Payoh Hawker Centre. Colico is run by a mother-and-daughter duo, and they offer coconut and sugarcane beverages at affordable prices.
8 Coconut Shake Brands In Singapore That Can Rival Mr Coconut
Drinks at Colico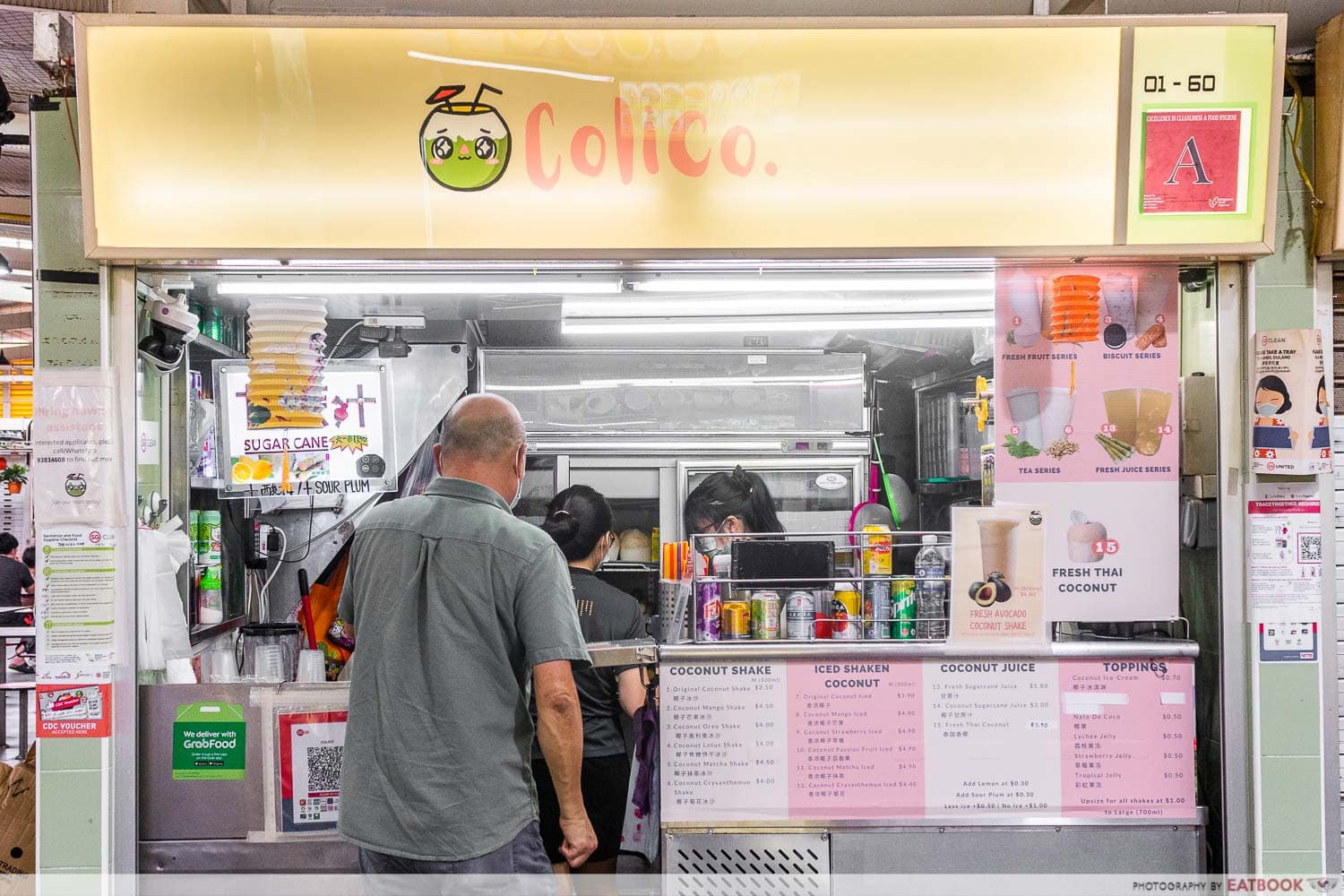 Colico's menu may be viewed in two ways: by category or by series. Their categories include Coconut Shakes, Ice Shaken Coconut, and Coconut Juice, or Fresh Fruit, Tea, and Fresh Juice series. Similarly to Mr Coconut, Colico's beverages come in two sizes, medium and large, where upsizing is charged at an additional $1.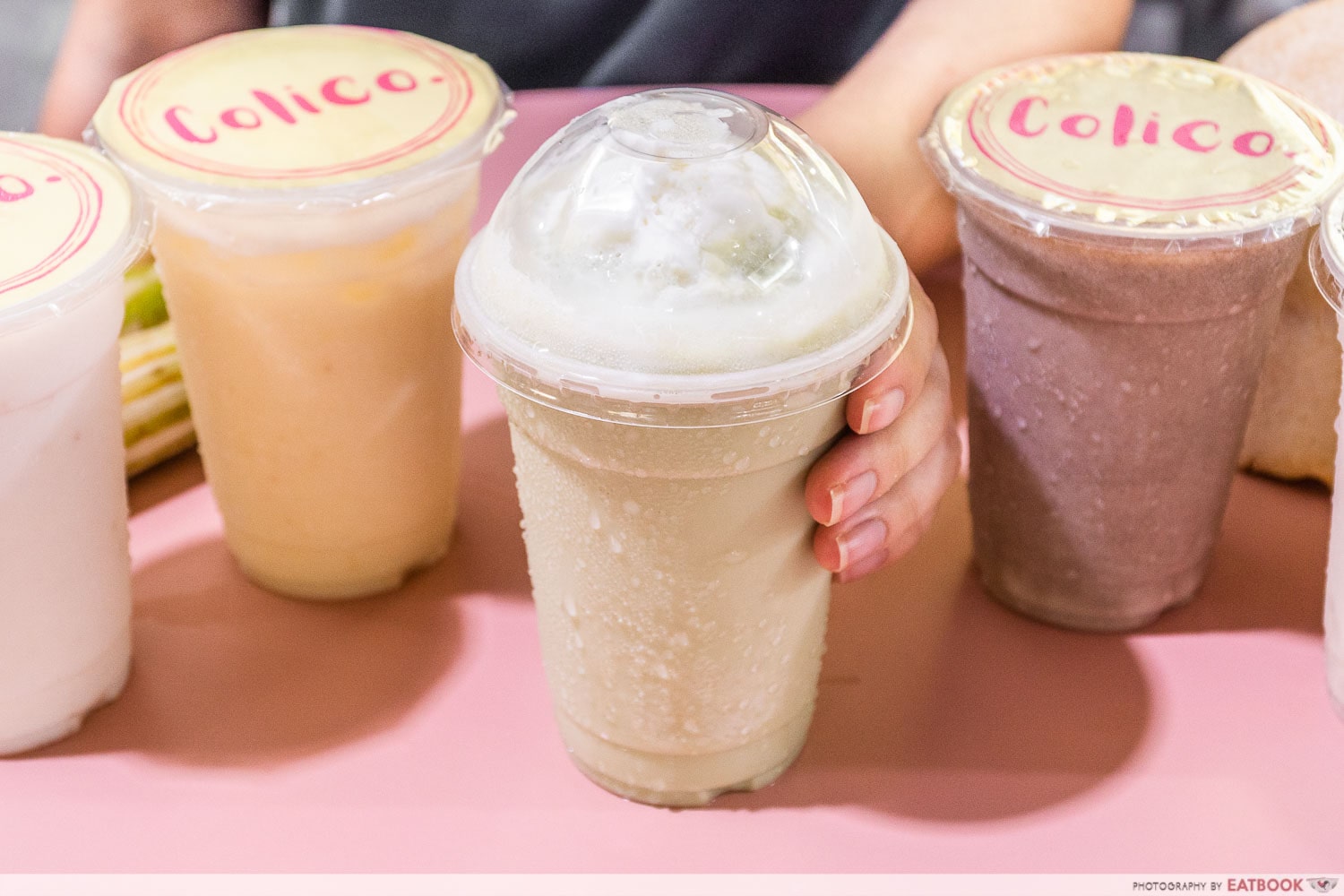 I started my experience with the Coconut Matcha Shake ($4.50). To zhng it up, I opted for a scoop of Coconut Ice Cream ($0.70) to the drink.  
Visually, the drink had a very faint green hue, which immediately suggested that it might be lighter in taste. True enough, I felt that the matcha flavour was lacking. However, this allowed the coconut to shine through. It was naturally sweet, which balanced the earthy and bitter undertones from the matcha.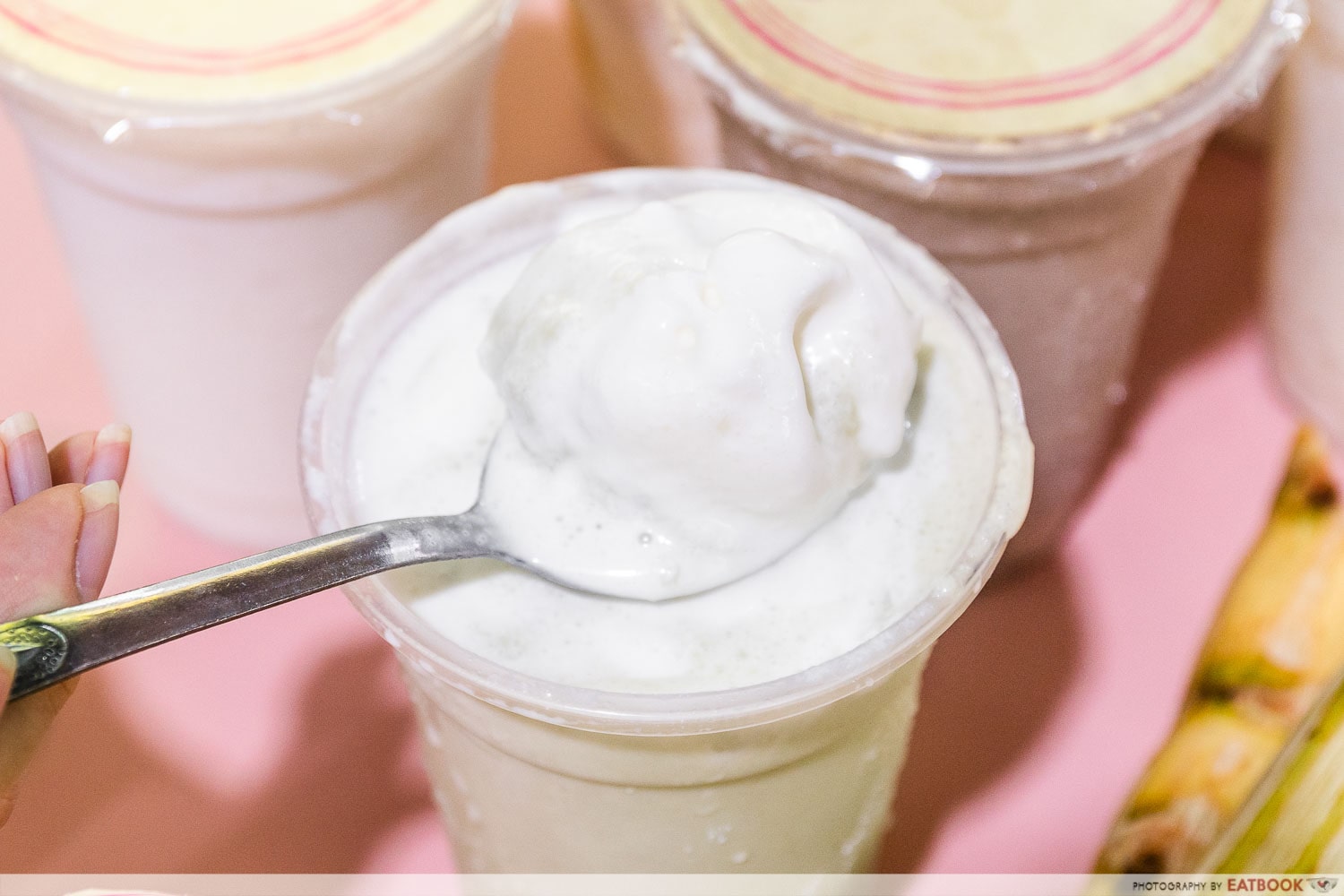 The coconut ice cream was a nice touch as it added creaminess to the drink. The downside, however, was that the ice cream diluted the matcha flavour even further. It was so milky that it felt like a coconut milkshake with hints of green tea. So, if you are a huge fan of matcha, I wouldn't recommend this pairing.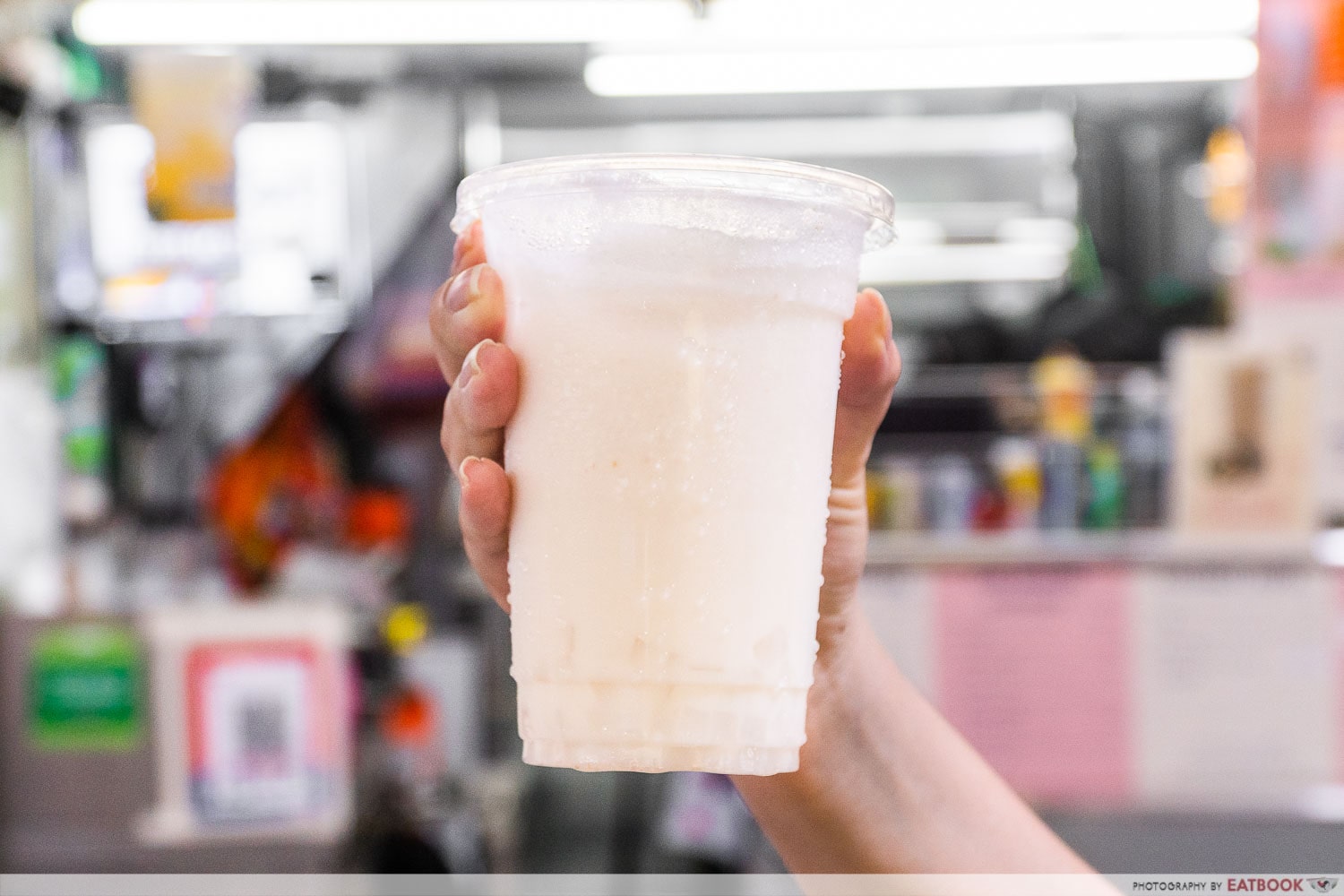 Another flavour that we tried from the Tea series was the Coconut Chrysanthemum Ice ($4.40) with Nata De Coco ($0.50). Instead of going for the Shake, I tried it as an Ice Shaken beverage. 
The difference between the Shake and the Ice Shaken series lies in the preparation. The former has your drink blended with ice cubes and coconut ice cream, while the latter is simply filled with ice and coconut water. After having tried both, I personally prefer the shakes as they are thicker and colder, akin to smoothies. 
Unfortunately, I felt that the sweetness from the Nata De Coco was too overpowering, and masked the lighter chrysanthemum and coconut flavours.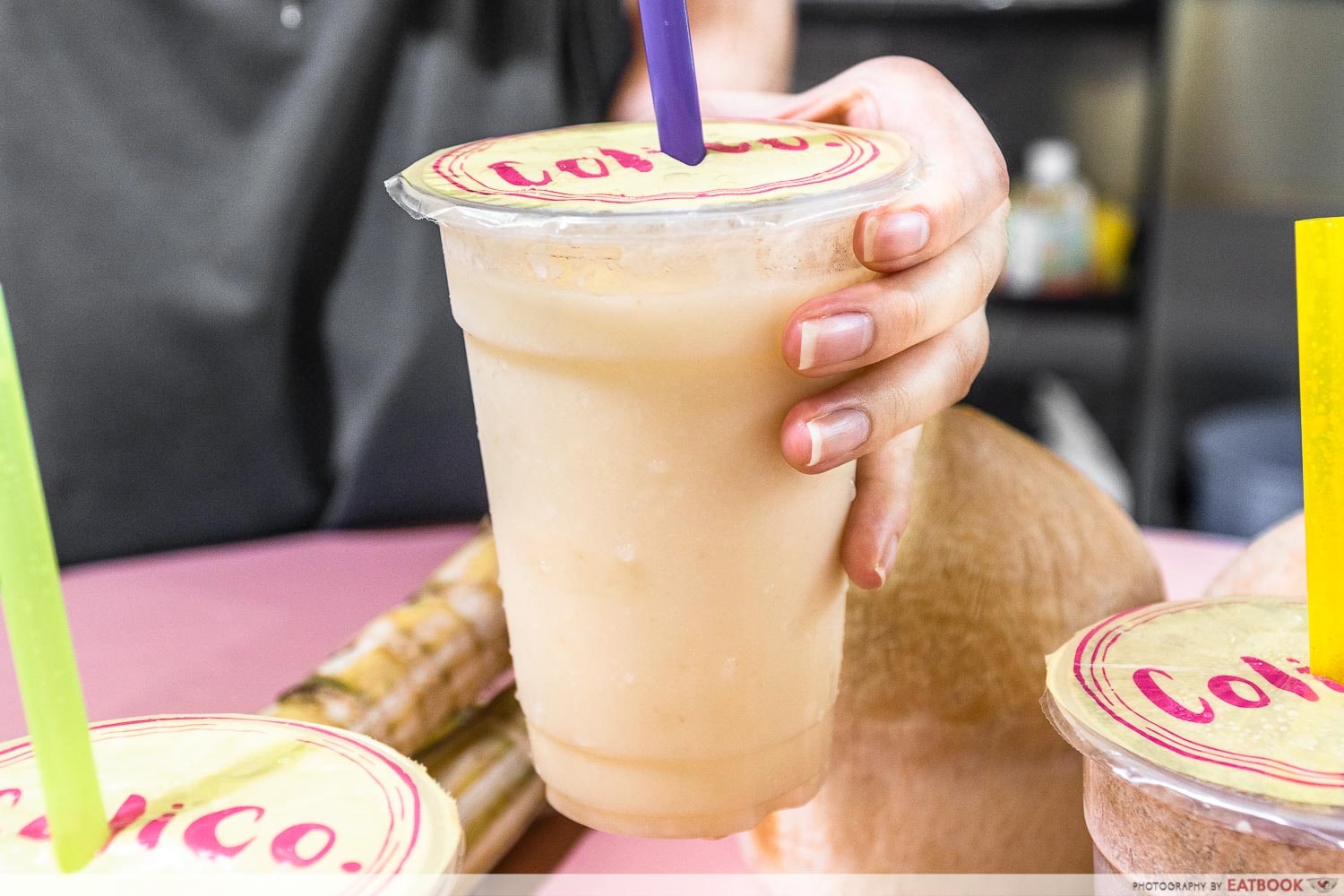 If I had to choose, I'd say that the Coconut Mango Shake ($4.50) was my least favourite item. Although I could taste both mango and coconut, I felt that the mango flavour was a tad artificial and sweet for my liking. However, if you have a sweet tooth, you might like this drink.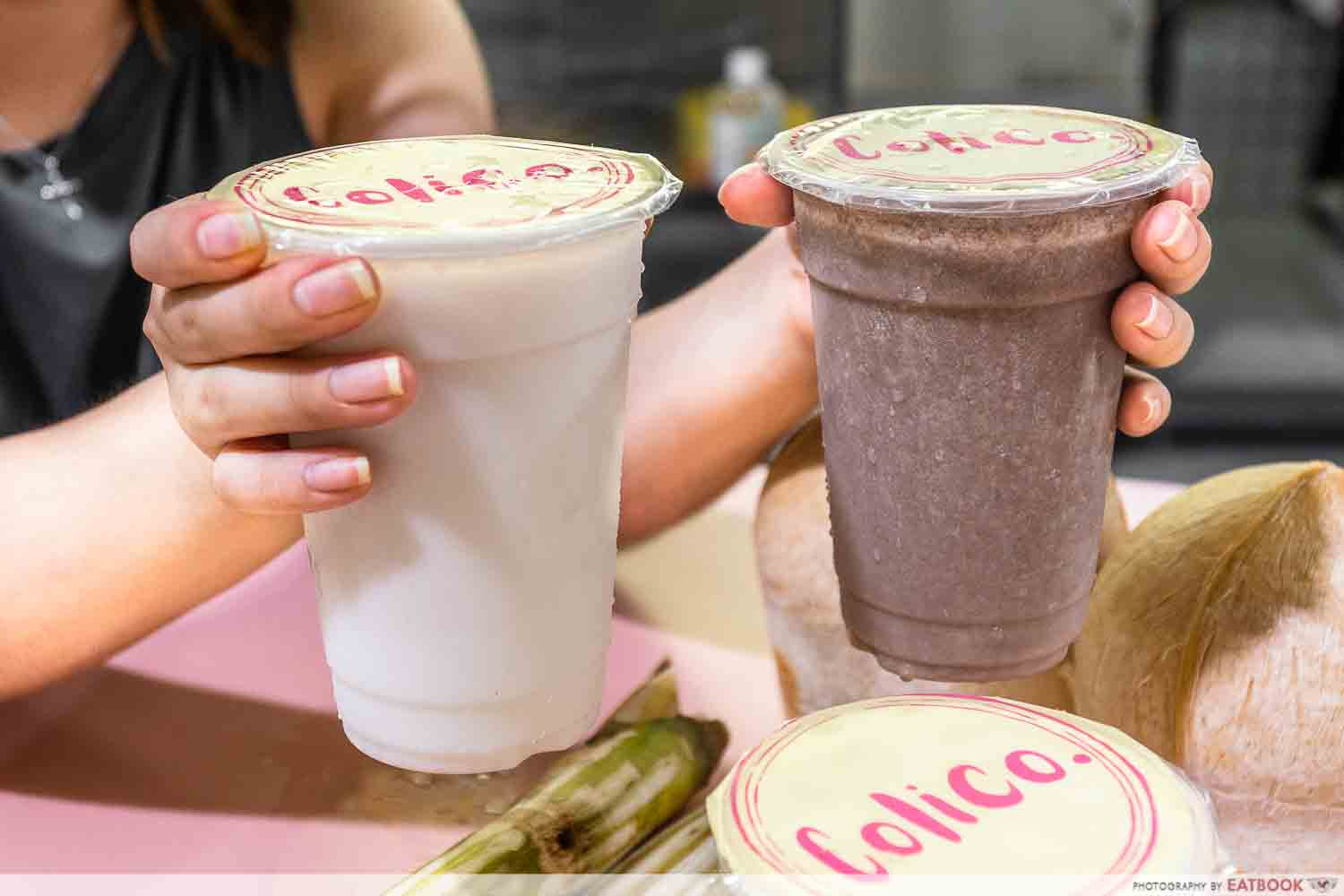 Lastly, I ended my experience with the Original Coconut Shake ($3.50) and the Coconut Oreo Shake ($4). The former was light and refreshing. There was no option to adjust the sugar levels, so the coconut shake was simply filled with its natural sweetness, which I truly appreciated. I also really enjoyed the small bits of coconut flesh here. 
The Oreo shake, on the other hand, was a little thick in consistency, and chocolatey in flavour. It had a pleasant malty note, reminiscent of chocolate Horlicks, so it wasn't as rich and jelak as I expected. I recommend finishing this drink ASAP as the Oreo shake will thicken as the cookie crumbs absorb the liquid, giving it an unpleasant slurry-like consistency. 
Ambience at Colico  

Lorong 8 Toa Payoh Hawker Centre is a neighbourhood hawker centre, which is a 10-minute bus ride from Braddell MRT Station, or a 17-minute ride from Toa Payoh MRT Station. The hawker centre houses four to five rows of hawker stalls, and a wet market on the side, so it is rather big and spacious. 
When we arrived in the late afternoon, most of the stores were already closed. However, this might be due to the fact that the market was scheduled to undergo a deep clean the following day. That left us with plenty of seats to choose from, and a very quiet food centre for our shoot. 
The verdict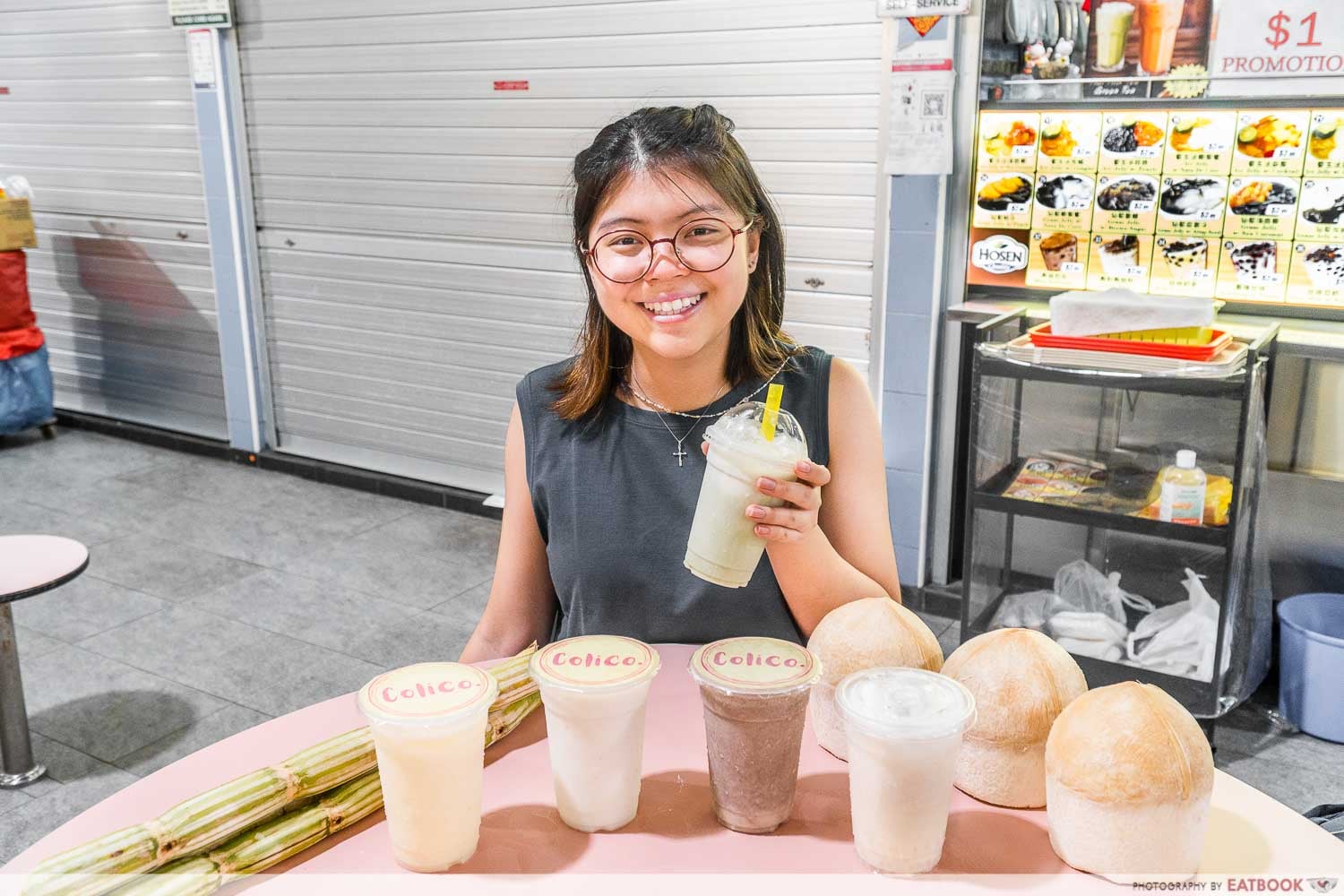 Overall, I felt that Colico's beverages are all reasonably priced for their quality. However, there were more misses than hits for me during this visit. This may be due to the drinks that I ordered, or the toppings that I chose, but I felt that most of their drinks were a tad too sweet for my liking. That being said, I will still return for their Original Coconut Shake if I am ever craving one! 
If you are looking for more coconut shake options, check out our list of coconut shake brands in Singapore that we think can rival with Mr Coconut. Alternatively, check out Coco.Cado, a new coconut shake stall at Jem with flavours such as durian, Nutella and more.    
Coco.Cado: New Coconut Shake Stall In JEM With Flavours Including Nutella, Durian And More
Address: 210 Lorong 8 Toa Payoh, #01-60, Lorong 8 Toa Payoh Hawker Centre, Singapore 310210
Opening hours: Thurs-Tue 12pm to 8:30pm
Colico is not a halal-certified eatery. 
Photos taken by Emily Teu.
This is an independent tasting at Colico.
Colico Review: Fresh Coconut Shake And Coconut Blends From $3.50 At Toa Payoh
Colico Review: Fresh Coconut Shake And Coconut Blends From $3.50 At Toa Payoh -

7/10
Summary
Pros
-Wide variety of flavours
-Original Coconut Shake was refreshing and naturally sweet
-Value-for-money 
Cons
-Can't let the drinks sit out for too long
-Some of the drinks were too sweet
Recommended dishes: Original Coconut Shake ($3.50), Coconut Matcha Shake ($4.50)
Opening hours: Thurs-Tue 12pm to 8:30pm
Address: 210 Lorong 8 Toa Payoh, #01-60, Lorong 8 Toa Payoh Hawker Centre, Singapore 310210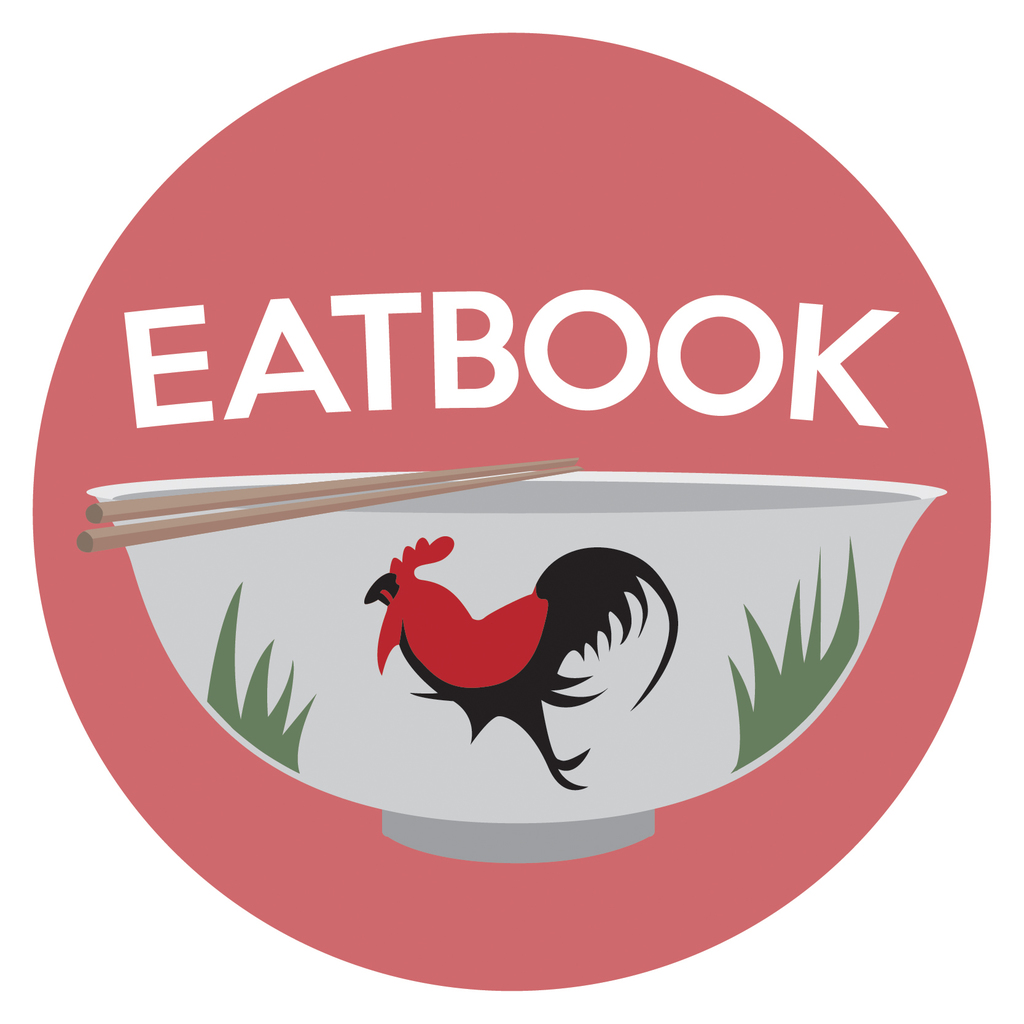 Drop us your email so you won't miss the latest news.