---
Mid-Autumn Extravaganza at Compass One
---
Time-check: Mid-Autumn Festival is about a week away. As the countdown to 13 September is reaching its end, mooncake shopping is at an all-time high. Despite the plethora of flavours out there, scouring multiple locations for the right mooncake might be a hassle for some. 
Thankfully, Compass One is pulling through for all you last-minute shoppers with their Mid-Autumn Extravaganza, which houses over 20 mooncake merchants at one convenient spot. Held from now till 13 September 2019, the fair will sell the likes of truffle, durian, and even alcohol-infused mooncakes. Here are 10 mooncake stores you can expect at the fair.
---
1. Fu Chong
---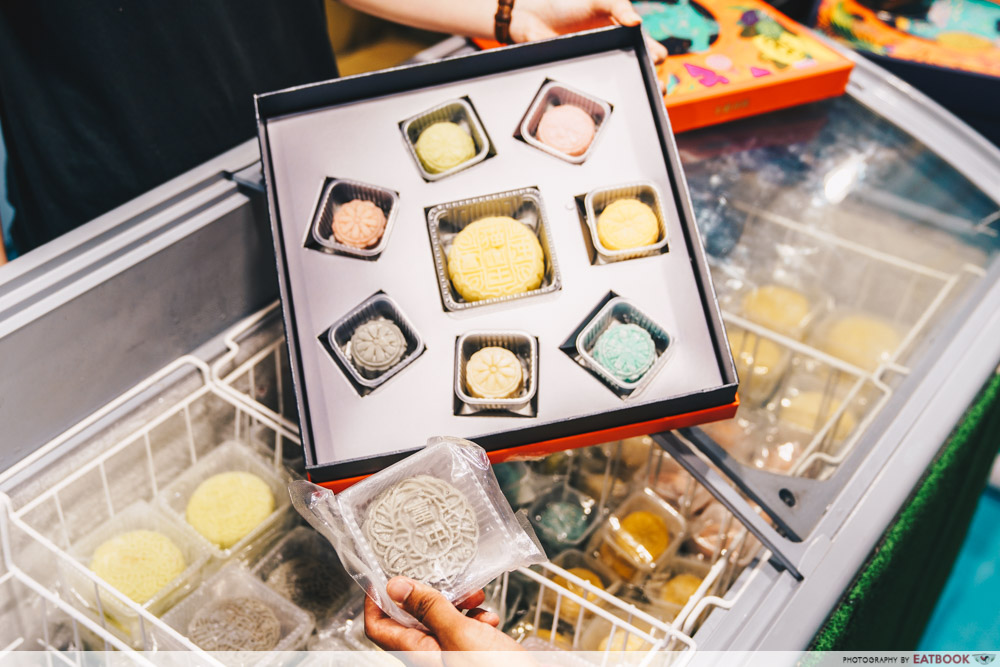 In a sea of alcohol and lard-based mooncakes, Fu Chong's halal-certified goodies are a welcomed sight. With over 10 flavours in their arsenal, customisation is key here. At just $45, their box of eight comprises one huge snowskin mooncake and seven mini ones. 
All you gotta do is pick the flavours you want. These include ondeh-ondeh, cempedak, and soursop—all of which are made with 100% fruit. We tried the soursop variant, and instantly felt refreshed thanks to its juiciness and citrusy notes.
---
2. Baker's Well
---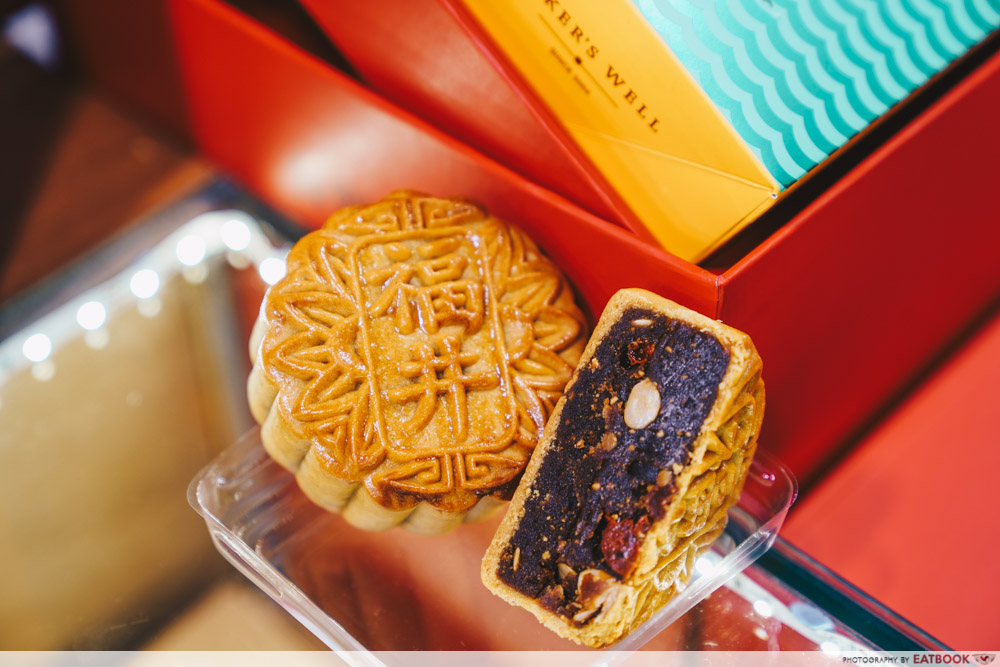 Despite the advent of snowskin variants, traditional pastry-based mooncakes will always have a place in our hearts. Baker's Well's new Traditional Aged Ginseng Red Jujube & Wolfberry With Roasted Melon Seeds ($50 for a box of two) reminded us how a sweet, crumbly skin can elevate a mooncake's flavours. The pastry has a toasted and mellow filling, courtesy of the jujubes and roasted melon seeds. They meshed beautifully with the sweet crust—preventing an overly medicinal taste from forming.
---
3. Goodwood Park Hotel
---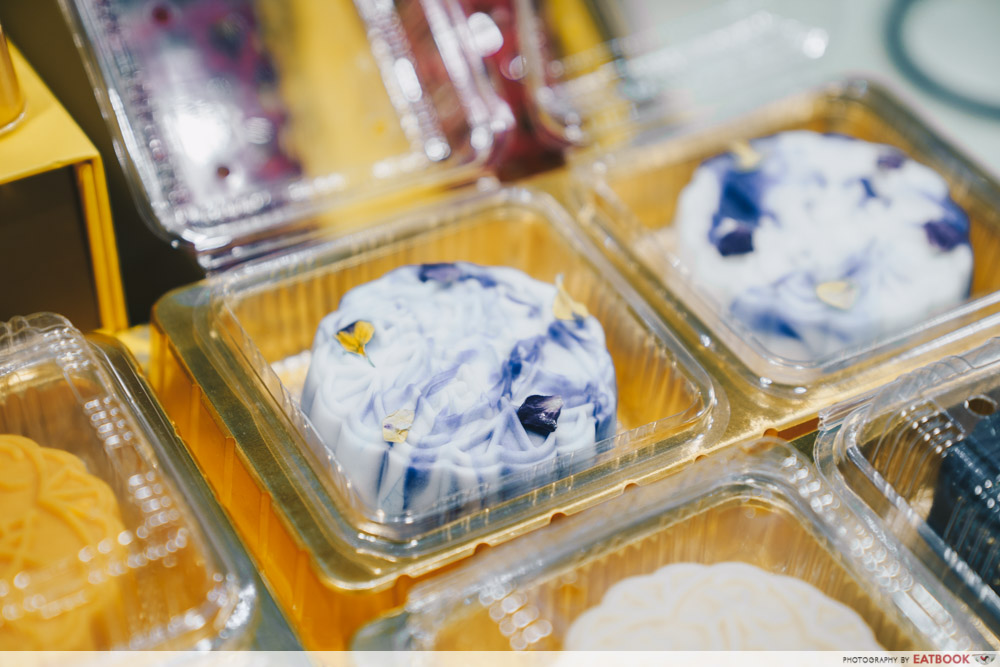 Aesthetics is the order of the day with Goodwood Park Hotel's treats. Their Blue Pea Flower with White Lotus Seed Paste and Melon Seeds ($42.80 for two pieces) boasts brilliant white streaks against a blue canvas—a combo that'll garner all the likes on IG.
On the other hand, Kiwi Dragonfruit Manuka Honey Snowskin Mooncake ($36 for two pieces) is filled with kiwi puree and cubed fresh dragon fruit, so you'll have a nice mix of sweet and sour flavours in each bite.
---
4. Central Perk
---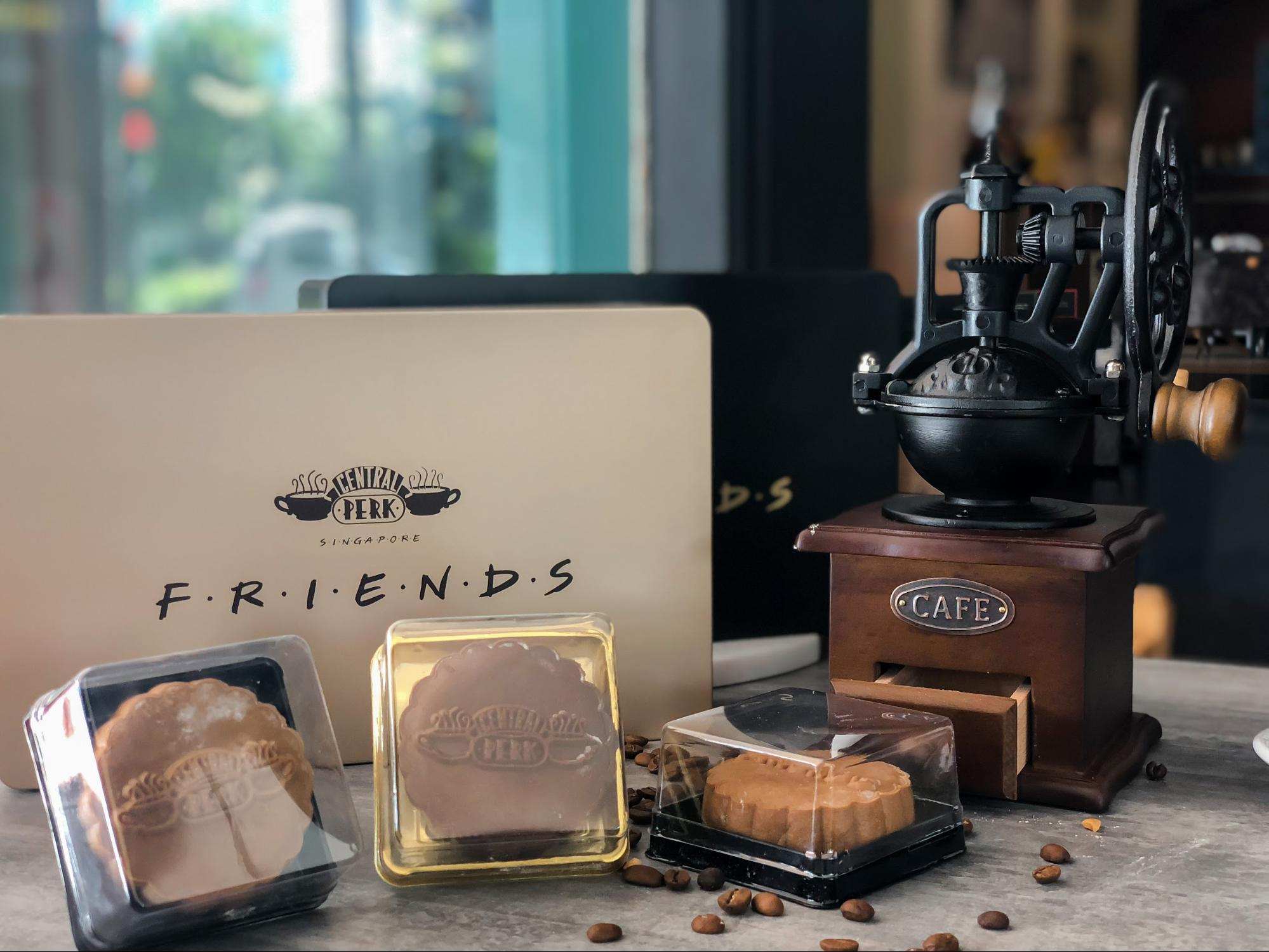 It doesn't matter if "your job's a joke or you're broke" 'cause Central Perk will be there for you with their coffee mooncakes ($76 for a box of six). Any hardcore FRIENDS fan will wanna pivot towards their two aptly named pastries: The One With Pistachio and The One With Coffee Bits & Pistachio.
Both mooncakes boast roasty flavours that'll throw you to the fav' hangout of the six friends. For a dash of quirkiness that'll make Phoebe proud, pair the box with a 260-millilitre bottle of Durian Whisky at $158.
---
5. Golden Moments
---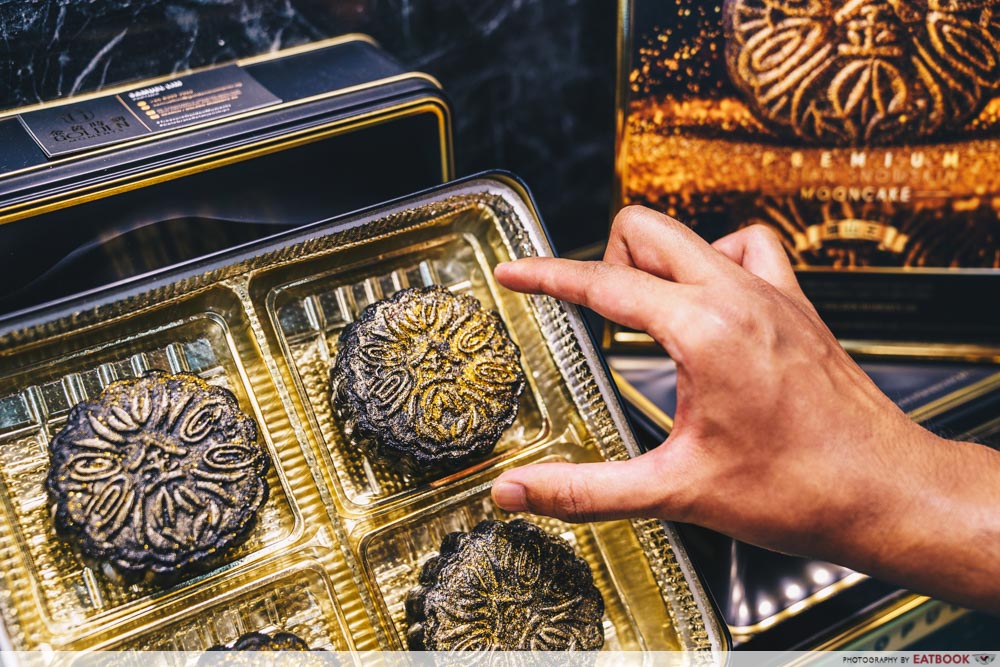 For those who are indubitably on #TeamDurian, Golden Moments will be right up your alley with their sole menu item: Premium Durian Snowskin Mooncake ($80.80 for a box of four). Inside each jet black cake is Mao Shan Wang durian pulp that's imported from Pahang. The creation is then finished with edible gold powder for a touch of luxe.
---
6. Hong Kong Mei Xin
---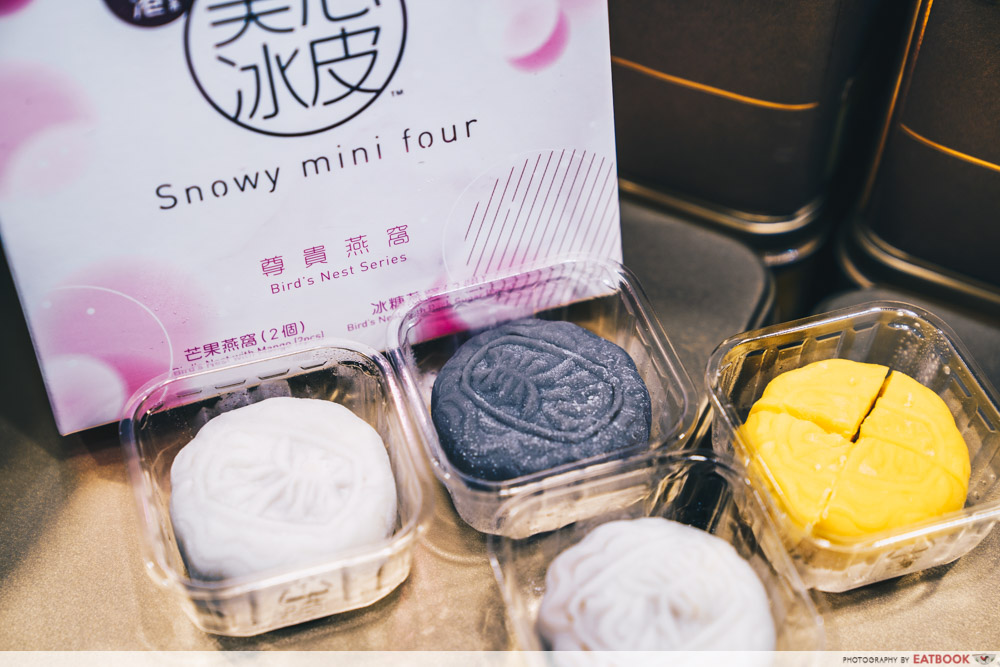 Made using ingredients imported directly from Hong Kong, the Snowy Mini 4 ($13.80 for a box of four) comes in a lot of quirky flavours. We're talking the likes of Bird's Nest, Coke, and even Iced Lemon Tea. Those last two flavours are good enough reason to make the trip here; we were blown away by how legit they tasted. It was as if someone managed to squeeze Slurpee into mooncakes.
---
7. Intercontinental Hotel
---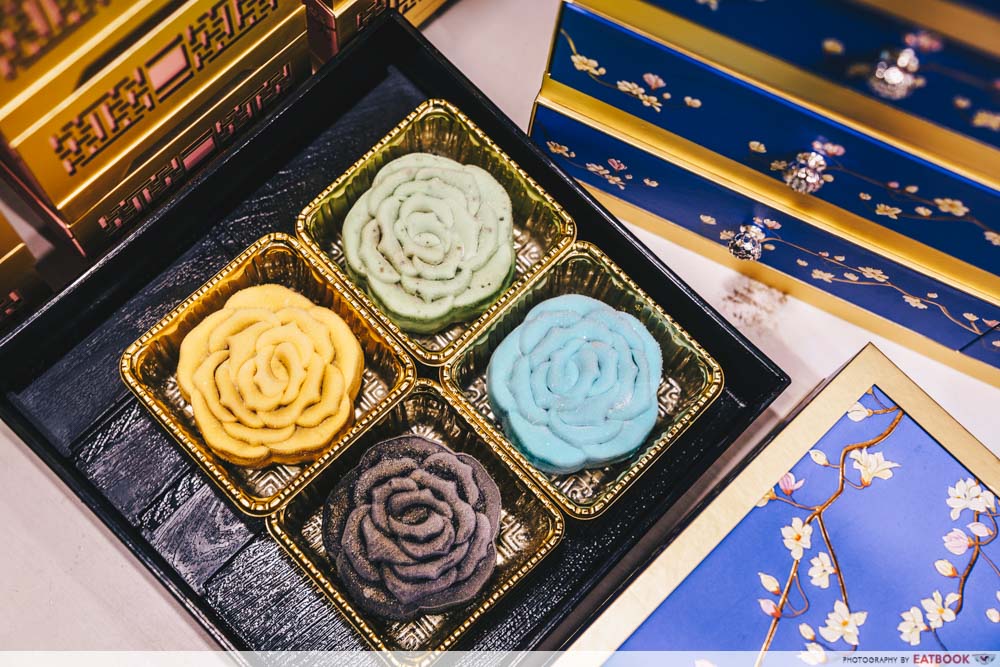 Spill the tea with Intercontinental Hotel's collection of tea-infused mooncakes ($76 for a box of four) which comprises four different flavours: Irish Whisky Cream Assam Tea, Morgentau Tea, Peppermint Tea, and Soft Peach Tea. 
We tried the peppermint and Morgentau tea variants, and realised that the soothing vibe extended to both design and taste; both mooncakes had a smooth finish. The deciding factor will be your preferred aftertaste; the former sports a cool one while the latter is more astringent.
---
8. East Ocean Teochew Restaurant
---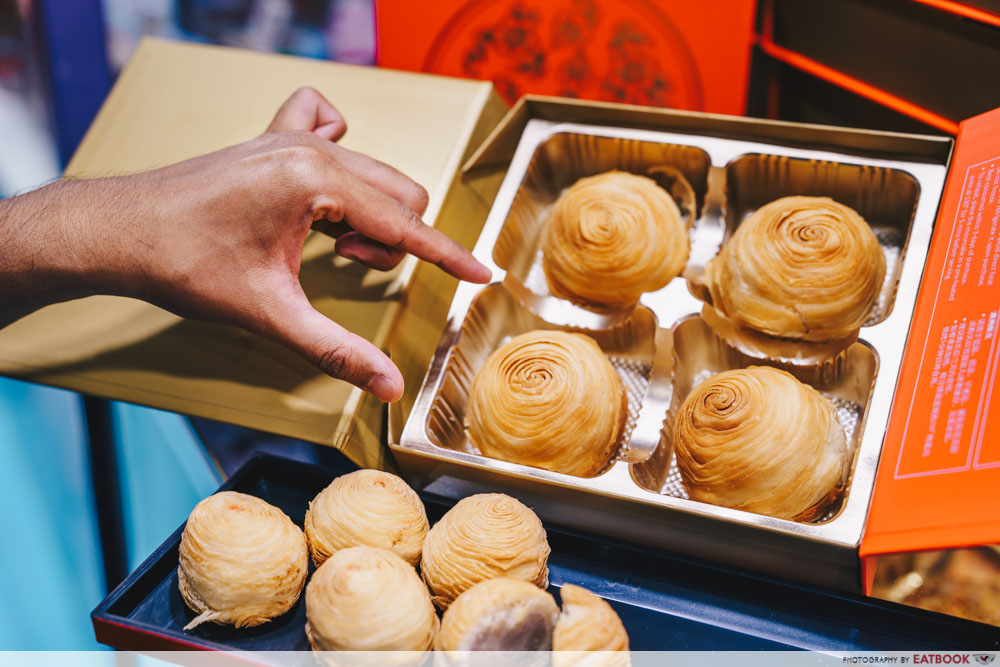 East Ocean Teochew Restaurant's range of mini crispy mooncakes ($60 for a box of eight) will definitely catch your eye with their flaky crust that's akin to curry puff. Inside, you'll find either purple sweet potato or yam fillings. If you prefer a larger portion, opt for the Crispy Yam with Whole Egg Yolk ($68 for a box of four) that's uber rich.
---
9. Aroma
---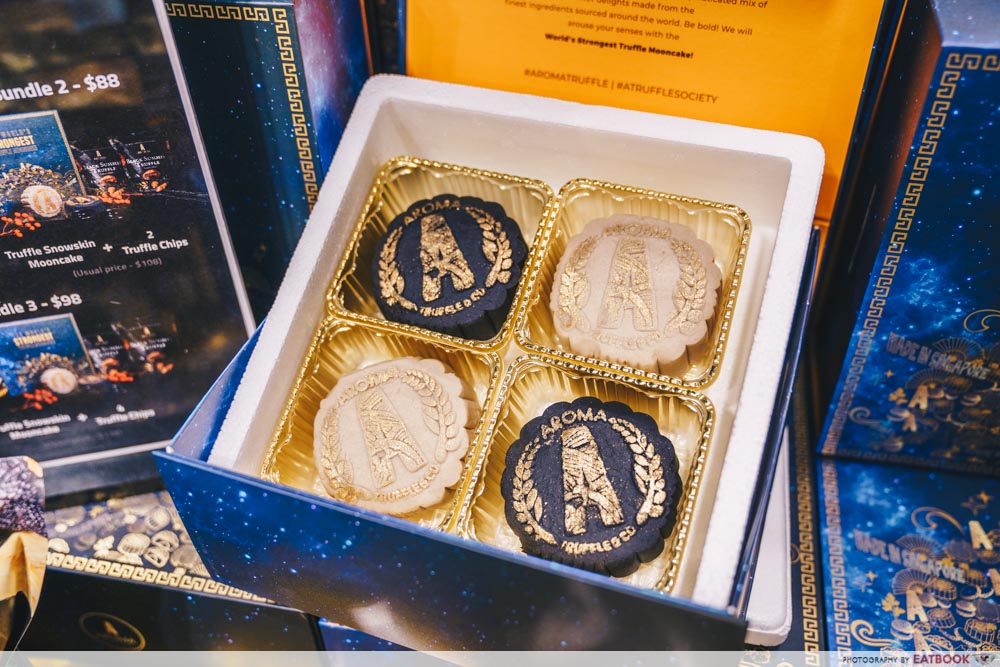 At $78 for a box of four, Aroma's truffle snowskin mooncakes cost about the same as regular lotus paste ones. Considering the wealth of luxe ingredients in each pastry, that's an absolute steal. They come in two flavours: durian and chocolate. The former sports a bamboo charcoal snowskin that's packed with luscious Mao Shan Wang filling, mixed with black Italian truffles. On the other hand, the latter will entice you with a flowy truffle lava. 
If you wanna max out on the truffle goodness, top up $10 to score two packets of truffle chips which are extremely gao!
Oreo Mooncake Is Now In Singapore And It Comes In Flavours Such As Brownie Chocolate
---
10. TCC
---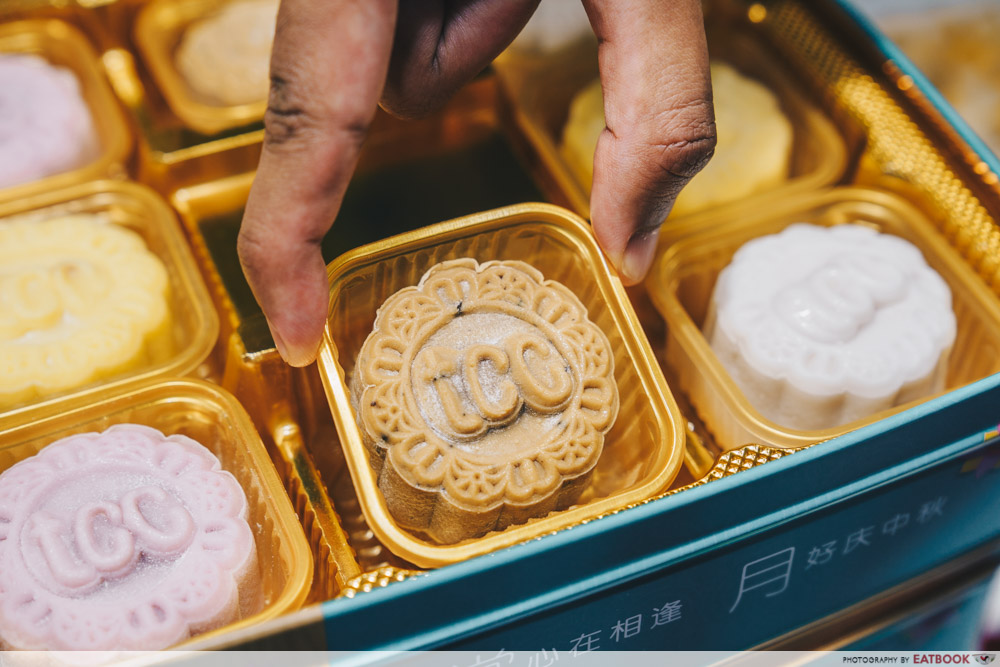 Alcohol-infused food is always a plus in our book, and TCC's Royal Elixir Mini Snowskin ($69 for a box of eight) are on track to be the highlight of Mid-Autumn Festival. In each box are four tipple-tastic treats such as Bailey's Amore, Strawberry Vodka, Lychee Martini, and Orange Gin. Out of the four, the Orange Gin was our favourite with its zesty and sour notes. Huge props also to the strong smack of gin.
The store will also have an insane promo where you can buy any two boxes of mooncakes for $90, and score a free box of non-alcoholic mooncakes. That adds up to just $30 per box!
---
Enjoy tasty mooncakes at Compass One
---
If your kitchen's devoid of mooncakes even till now, fret not as not all hope is lost. Compass One's Mid-Autumn Extravaganza will fill your abode with all the pastries you need. Held from now till 13 September 2019, the event has over 100 different mooncakes including truffle- and alcohol-infused ones.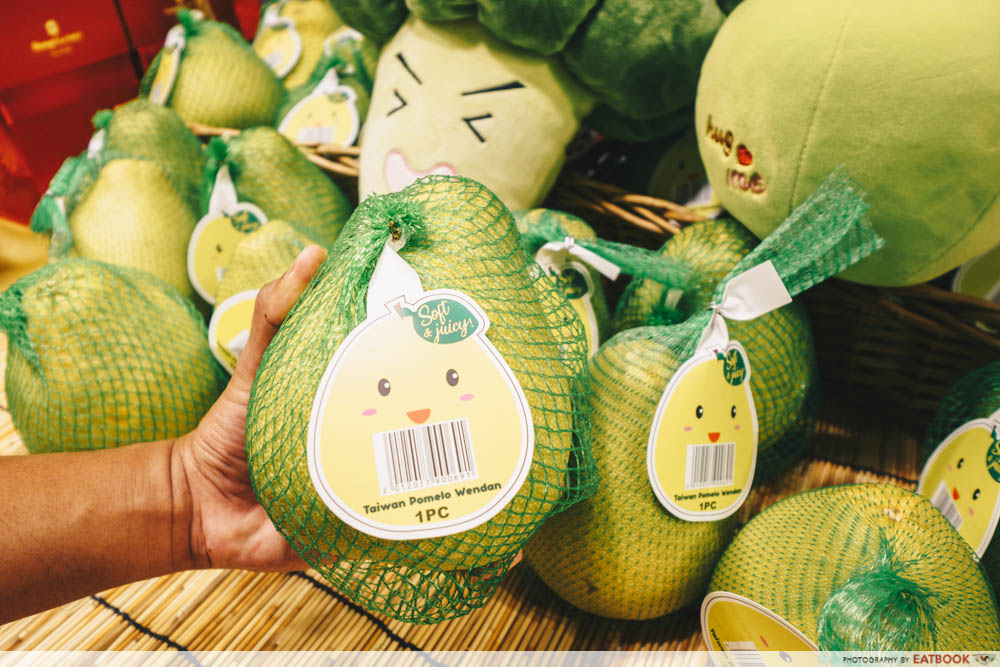 For a greater reason to splash the cash, simply spend above $388 to win either a Taiwanese pomelo or mooncake towel.
Address: 1 Sengkang Square, Level 2, Singapore 545078
Opening hours: Daily 11am to 9pm
Website
Photos taken by Pepita Hope Wauran.
This is a sponsored post.