Corgi and The Gang Pet Cafe offers fun with furry friends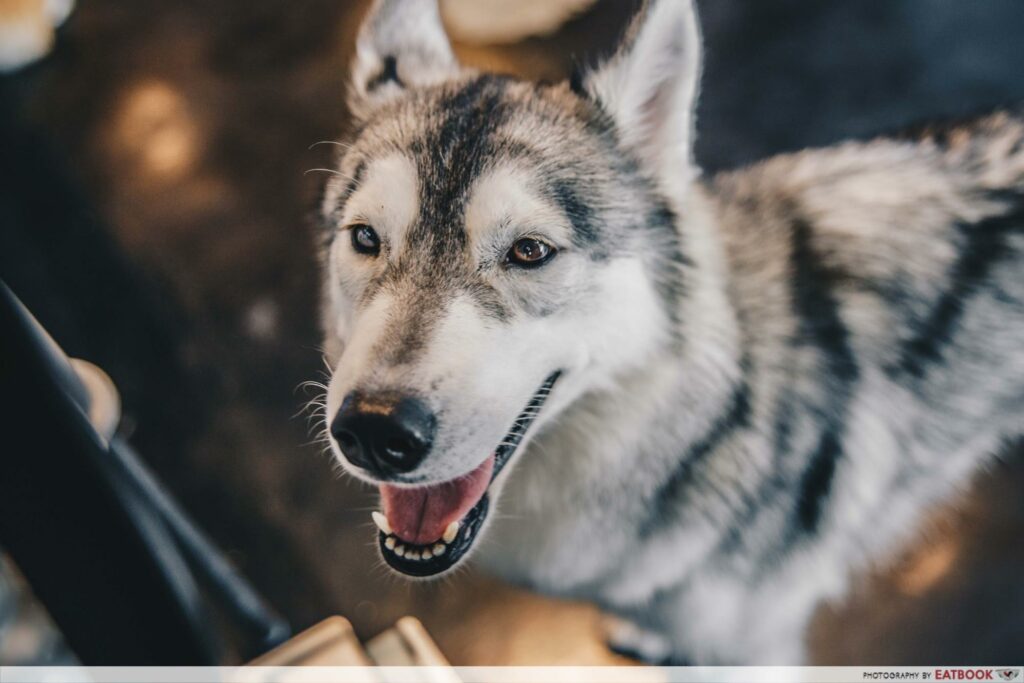 Since the one time I got second in class in primary two, I've been begging my parents for a furry friend – a cute little doggy to be exact. Opposition from my sister led me to settle with friends' or even stranger's pets. Corgi and The Gang Pet Cafe in Penang drew me in like a moth to flame once I heard about it, and I decided it was time for my very first pet cafe visit.
Ambience at Corgi and The Gang Pet Cafe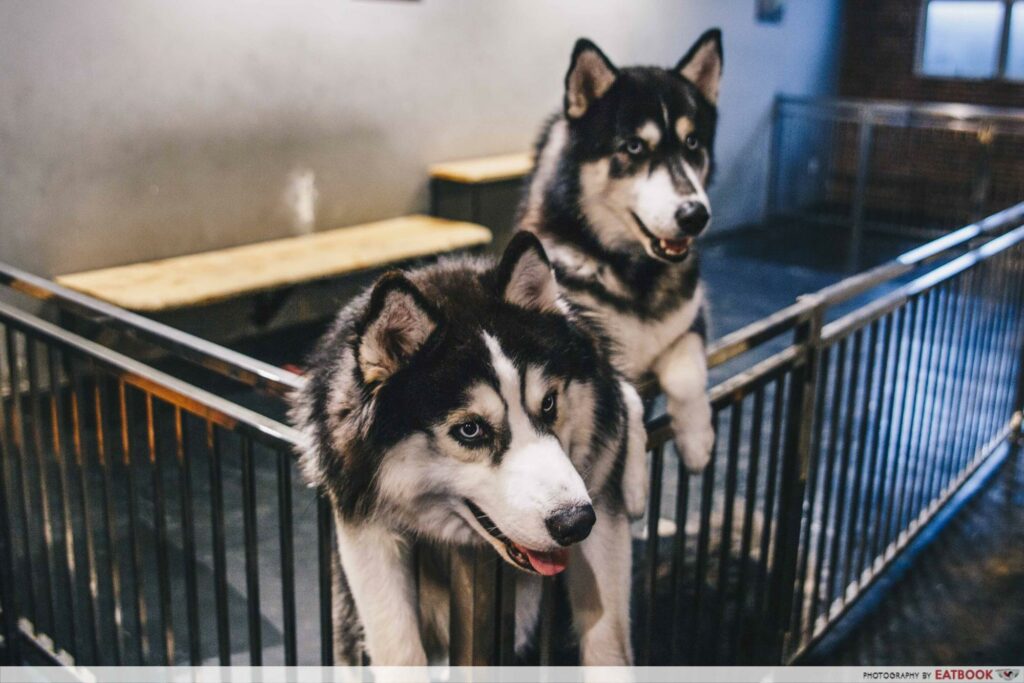 From the number of dogs to the cleanliness of the space, Corgi and The Gang Pet Cafe surpassed my expectations. There were three huge dogs in their pen – black and white huskies and a majestic Malamute. Out of the pen, there were two more white huskies, a handful of toy poodles, and two adorable corgis with fluffy hearts as tails.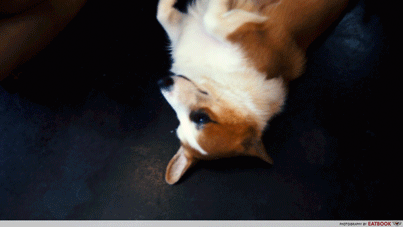 The staff told us that the corgis are not always in the cafe, so it would be best to check with them via a Facebook Message before coming down.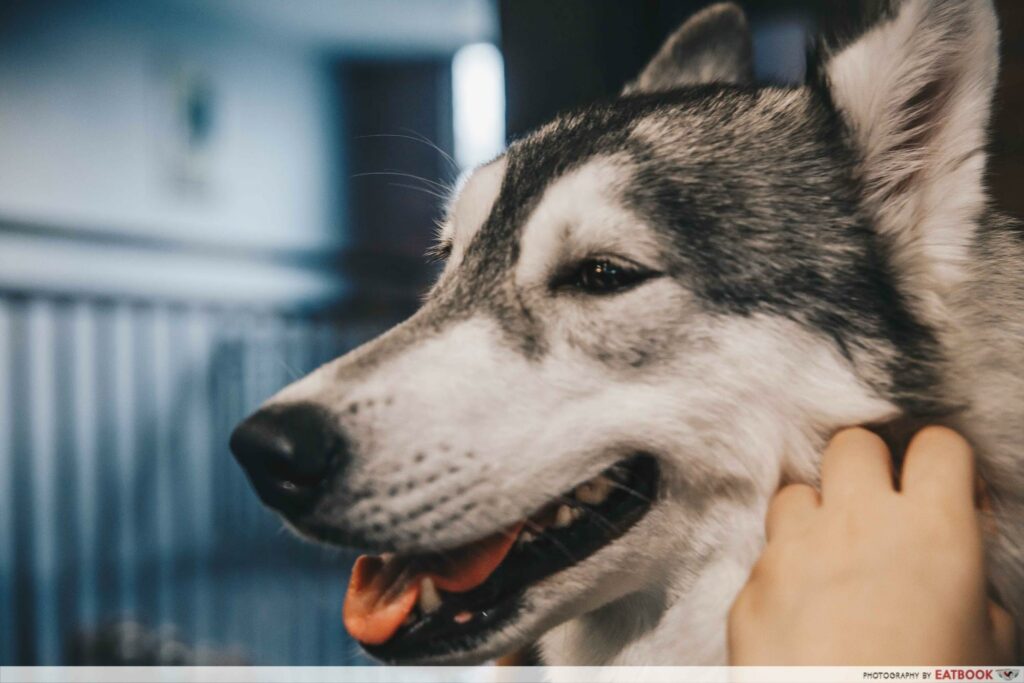 The cafe is tucked away from the busy city centre of George Town, Penang. I could tell the owners have a heart for these little animals; they even have a pen where they fostered dogs for adoption.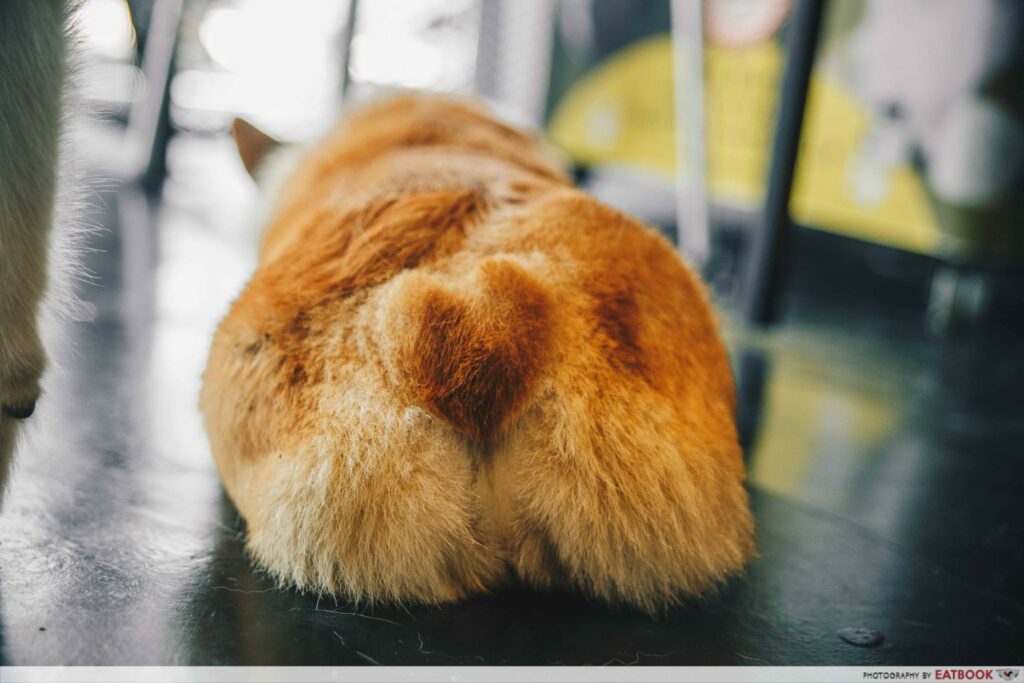 The doggy love and affection were blissful though short-lived. You can purchase treats for the dogs at RM10 (~S$3.37) for three packets, but they would only be your furry BFFs as long as the treats last. Tip: skip tempting them with treats. Instead, give them some real love with a good ol' belly rub or scratch under their chins to keep them coming back for more.
Food at Corgi & The Gang Pet Cafe

On our way to the cafe, our Grab driver raved excitedly to us about her recent visit to Corgi & The Gang, and she recommended both the savoury and sweet waffles offered in the menu.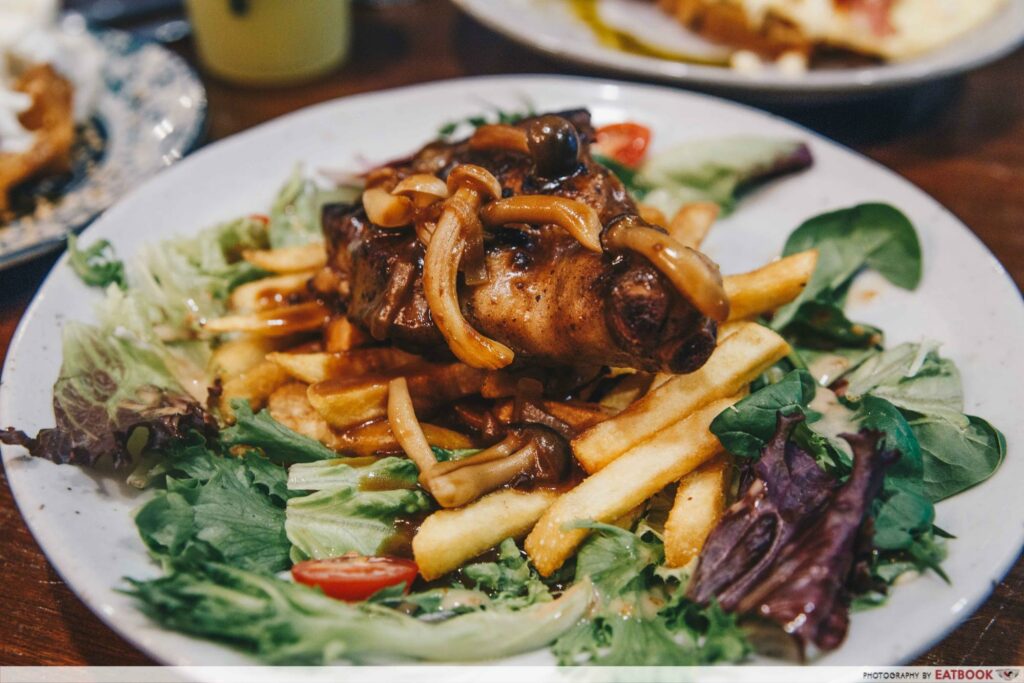 We ordered a savoury waffle, a sweet waffle, and a Grilled Chicken (RM23.90/~S$8.07) that the staff recommended. Dripping with mushroom gravy, the grilled chicken sat gingerly on top of a bed of salad and fries.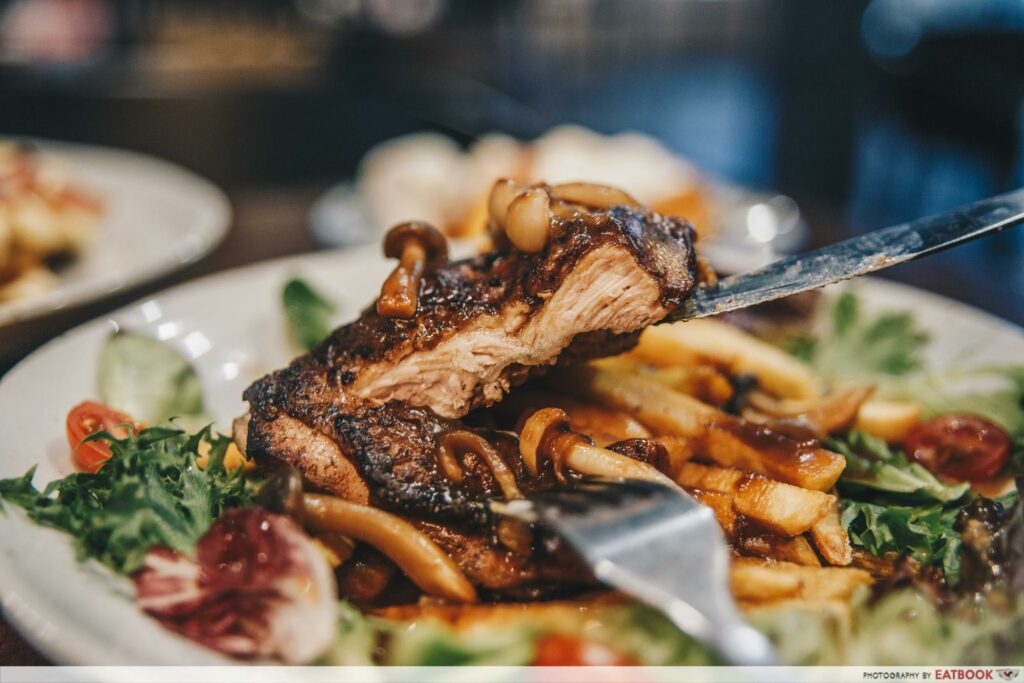 Tanned to a golden brown, the grilled chicken had a crispy, charred skin and tender meat underneath. The sauce drizzled atop was salty, but was balanced out when paired with the chicken. The shimeiji mushrooms also provided a delicious crunch, adding a better mouthfeel to the hearty dish.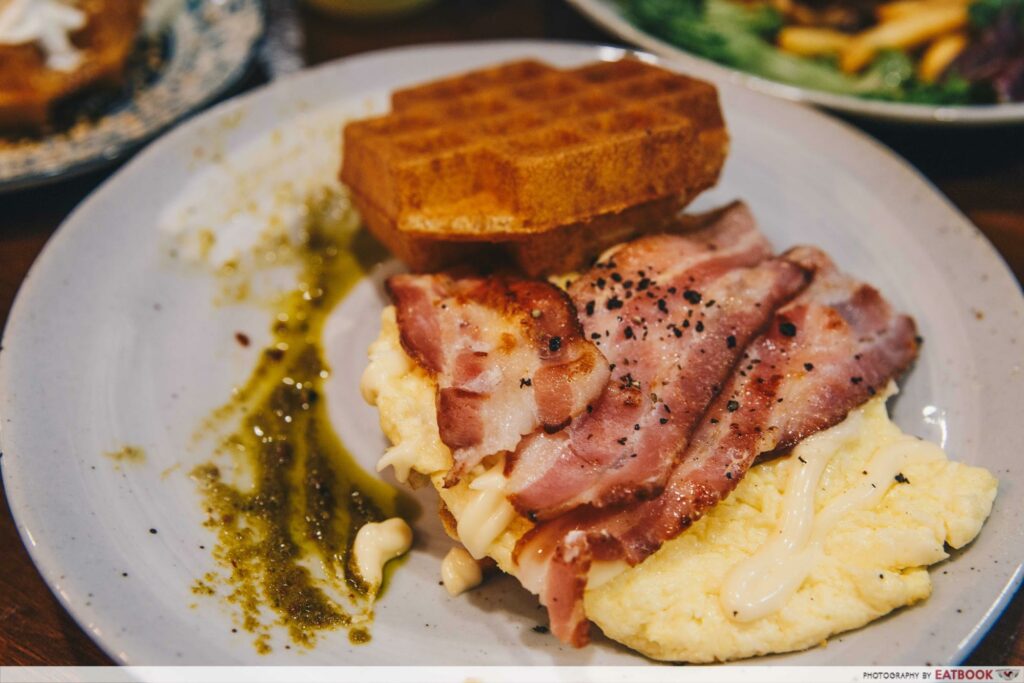 We decided on Bacon Waffles (RM19.90/~S$6.72) from the selection of savoury waffles. It was minimally adorned with bacon, scrambled egg, and mayonnaise. There was nothing to shout about, except for the slice of cheese hidden underneath the layers, giving each mouthful a more full-bodied flavour. If I wasn't sharing the dish, I would have eaten this like a waffle sandwich with my hands just for the novelty.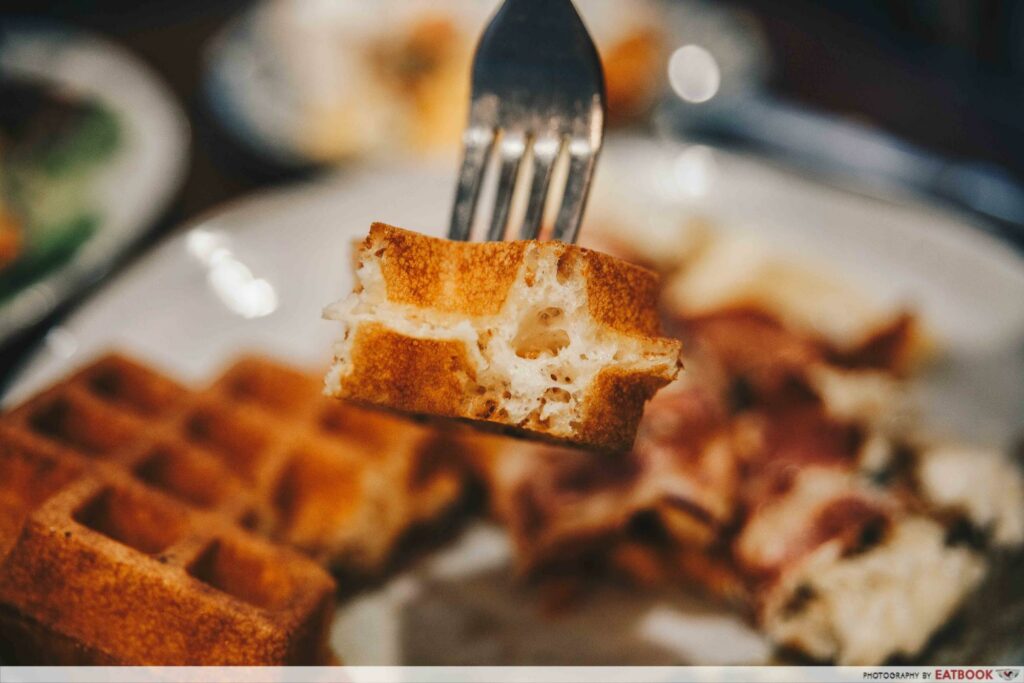 The waffle on its own tasted underwhelming and plain, serving more as a vessel for the other ingredients than a component of the dish to be enjoyed by itself. There was, however, a nice contrast of crispiness on the outside and the eggy chewiness on the inside.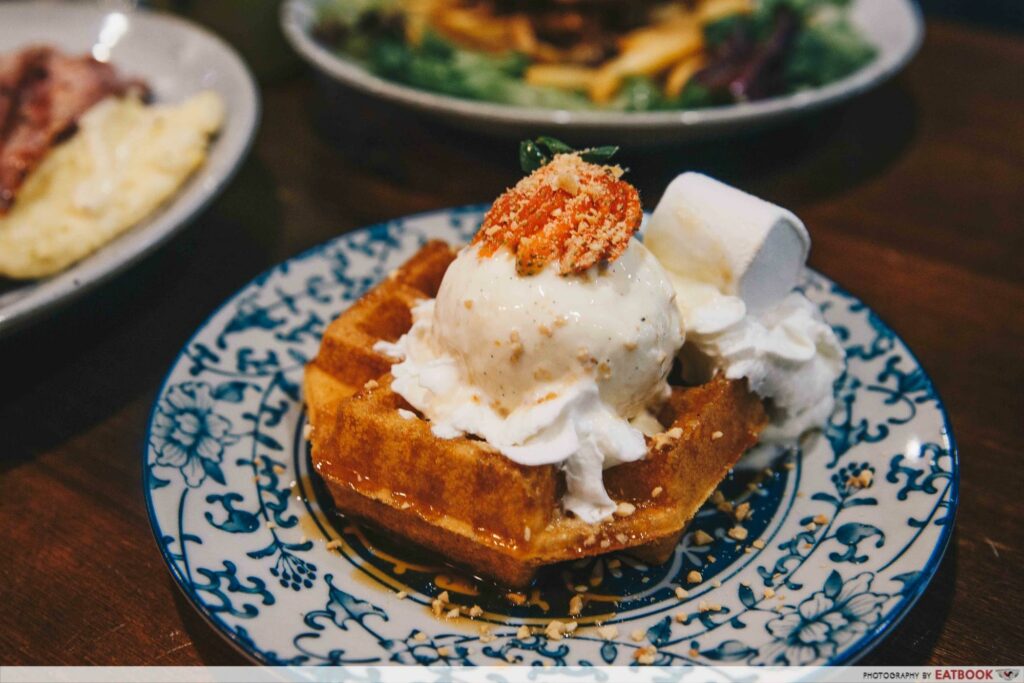 Our Grab driver's favourite was this Vanilla Bean Ice-Cream Waffles (RM13.90/~S$4.69), so we ordered it to try. It features a small waffle with ice-cream and toppings such as a strawberry, peanuts, a torched marshmallow with whipped cream, and salted egg yolk sauce.
When it first came to the table, I was dismayed. This was a classic case of expectations being the mother of all frustrations. There was just a single, fist-sized layer of waffle and a mere dollop of salted egg yolk sauce. From the way our Grab driver described it as her favourite dish, I expected more.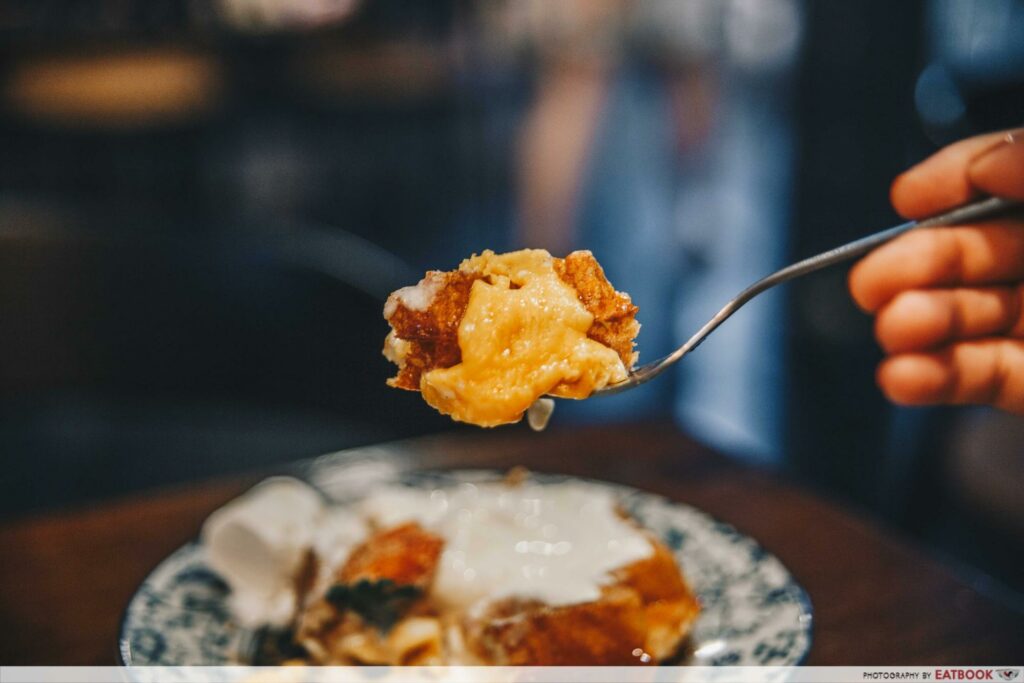 As though the same scoop was used without rinsing to serve a previous customer, our vanilla ice-cream tasted like durian. It complemented well with the plain waffle, but when paired with the more sweet than salty salted egg yolk sauce, became strange.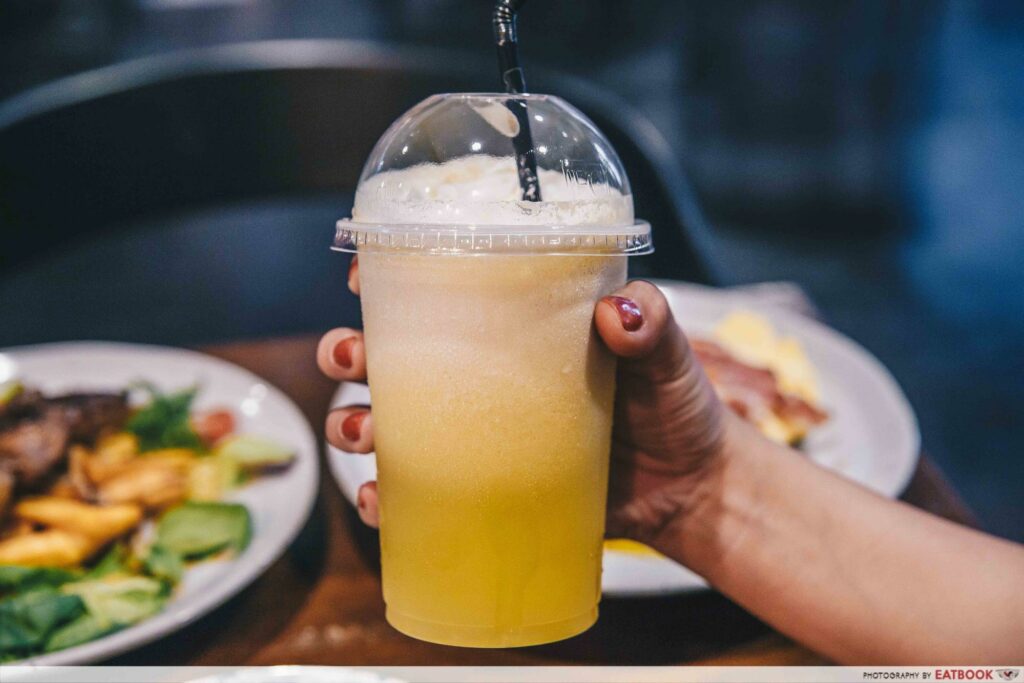 For the sustainability of the cafe and its furry friends, every customer is required to purchase an item from the menu. If your main aim of coming down to Corgi & The Gang Pet Cafe is to indulge in some furry love rather than food, get a drink instead. We tried their yoghurt smoothies, and our favourite was Passionfruit Apple (RM13.90/~S$4.69). The smoothies were definitely refreshing and were a great way to quench our thirst after a hot day out in Penang.
The verdict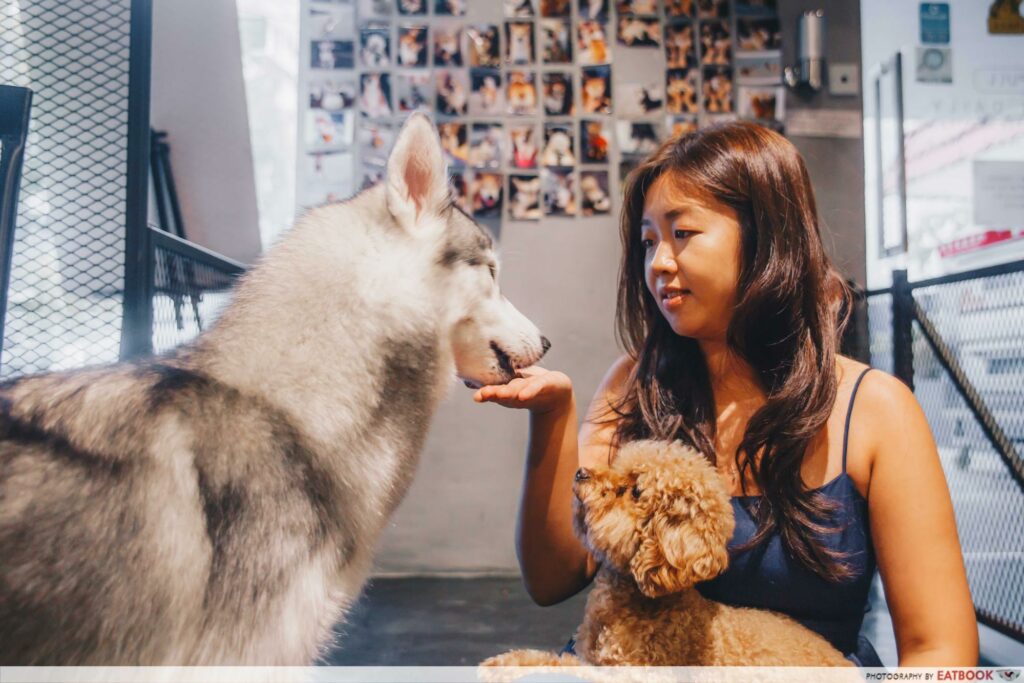 If, like me, you've always wanted a dog as a pet but was vetoed by a heartless family member or two, check out Corgi & The Gang. Head there for some quiet time after scurrying around beautiful sights and feasting on good food in Penang. Their savoury grilled chicken got my seal of approval. It was still good despite being left out for a while as we got distracted by the dogs. The cafe definitely warrants a return visit if it was located in Singapore.
If you already have a fur baby of your own, check out these pet-friendly cafes in Singapore. If you're thinking of heading to Penang, check out this fun-filled Escape Theme Park which is located near George Town.
Address: 80P, Jalan Mount Erskine, Mount Erskine, Tanjung Tokong, Penang, Malaysia 10470
Opening hours: Mon-Fri 12pm to 10pm, Sat-Sun 10am to 10pm
Tel: +60 4-890 1708
Website
This is an independent review by Eatbook.sg.
Summary
Pros
– Well-flavoured dishes
– Great ambience
Cons
– Small portions for some dishes
Recommended Dishes: Grilled Chicken (RM 23.90/~S$8.07)
Operating Hours: Mon-Fri 12pm to 10pm, Sat-Sun 10am to 10pm
Tel: +60 4-890 1708
Address: 80P, Jalan Mount Erskine, Mount Erskine, Tanjung Tokong, Penang, Malaysia 10470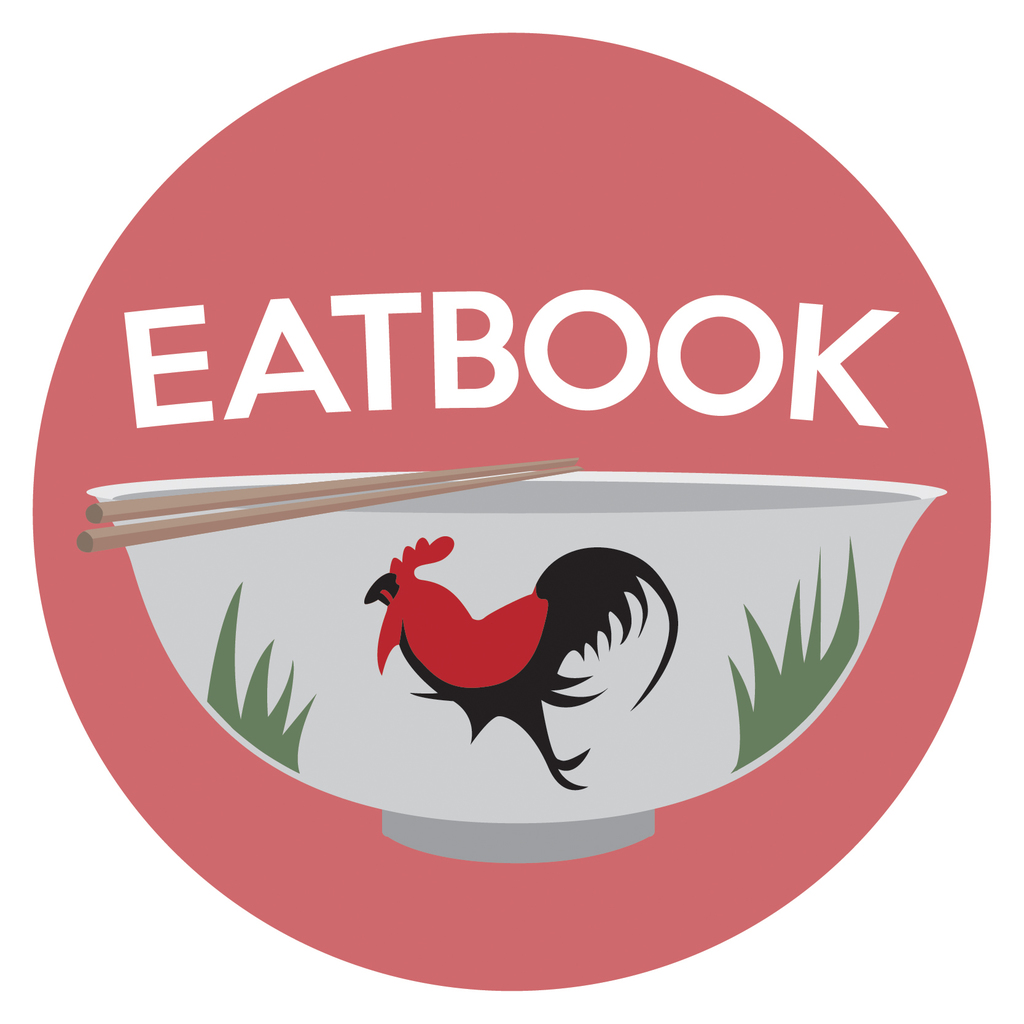 Drop us your email so you won't miss the latest news.