---
Crab delivery in Singapore
---
One of the things I enjoy the most is having zi char suppers with my homies after the daily grind. Of course, no zi char meal is complete without some seafood. In our case, we always get a mountain of crabs. Thanks to technology, nomming on the crustacean's briny meat is still possible even on lazy days when I prefer to dine at home—thanks to these restaurants offering crab delivery.
Whether it's meaty chilli crabs or seafood bags, there's something for every taste bud on this list.
---
1. 8 Crabs
---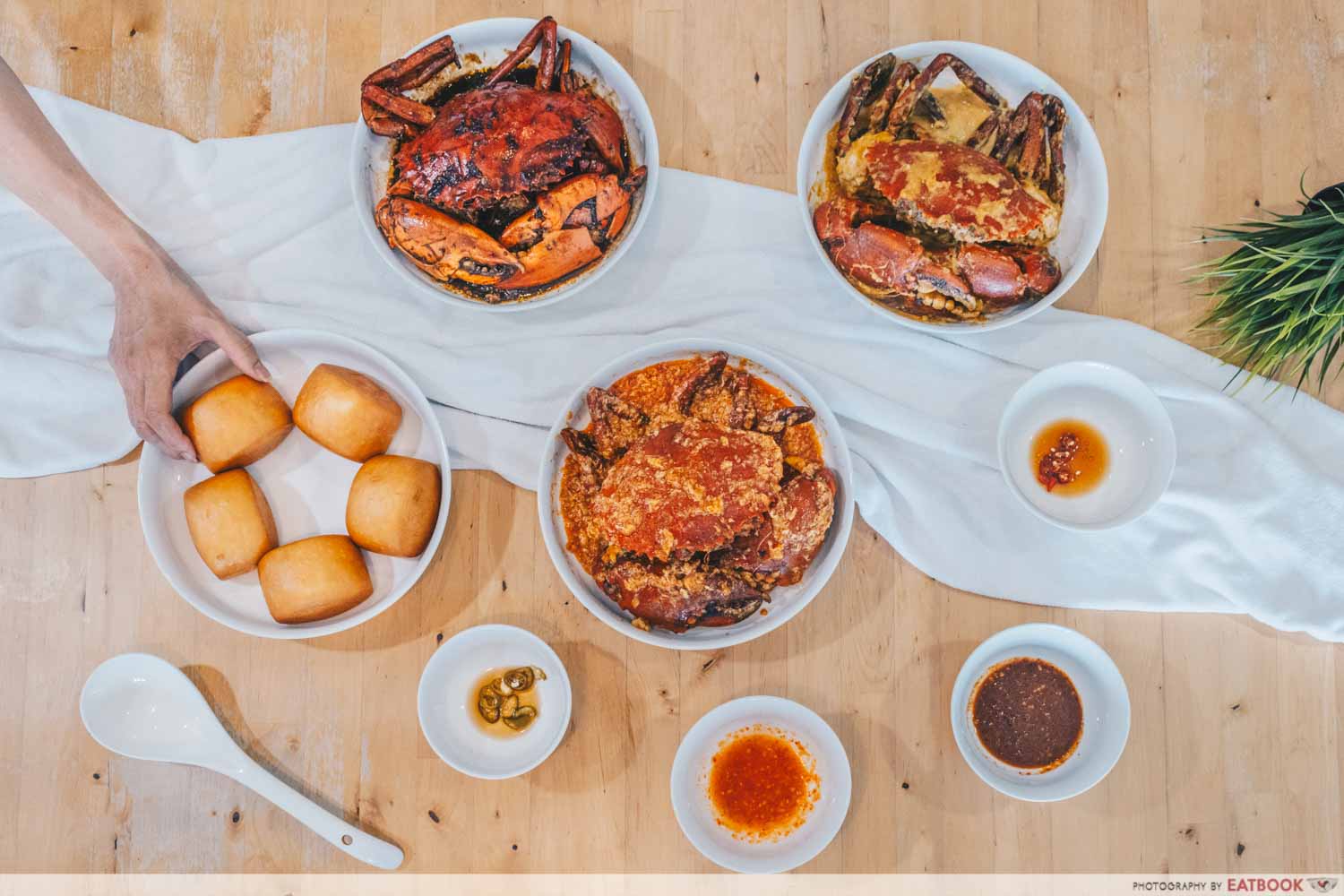 8 Crabs' dishes differ from most of the ones on this list—in that they're made with wild Sri Lankan crabs, as opposed to farmed ones. As a result, the crabs are bigger and meatier, and are free from any ammonia traces. Choose from three delectable flavours—black pepper, chilli, and salted egg—all of which start at a reasonable price of $60 for two medium-sized crabs.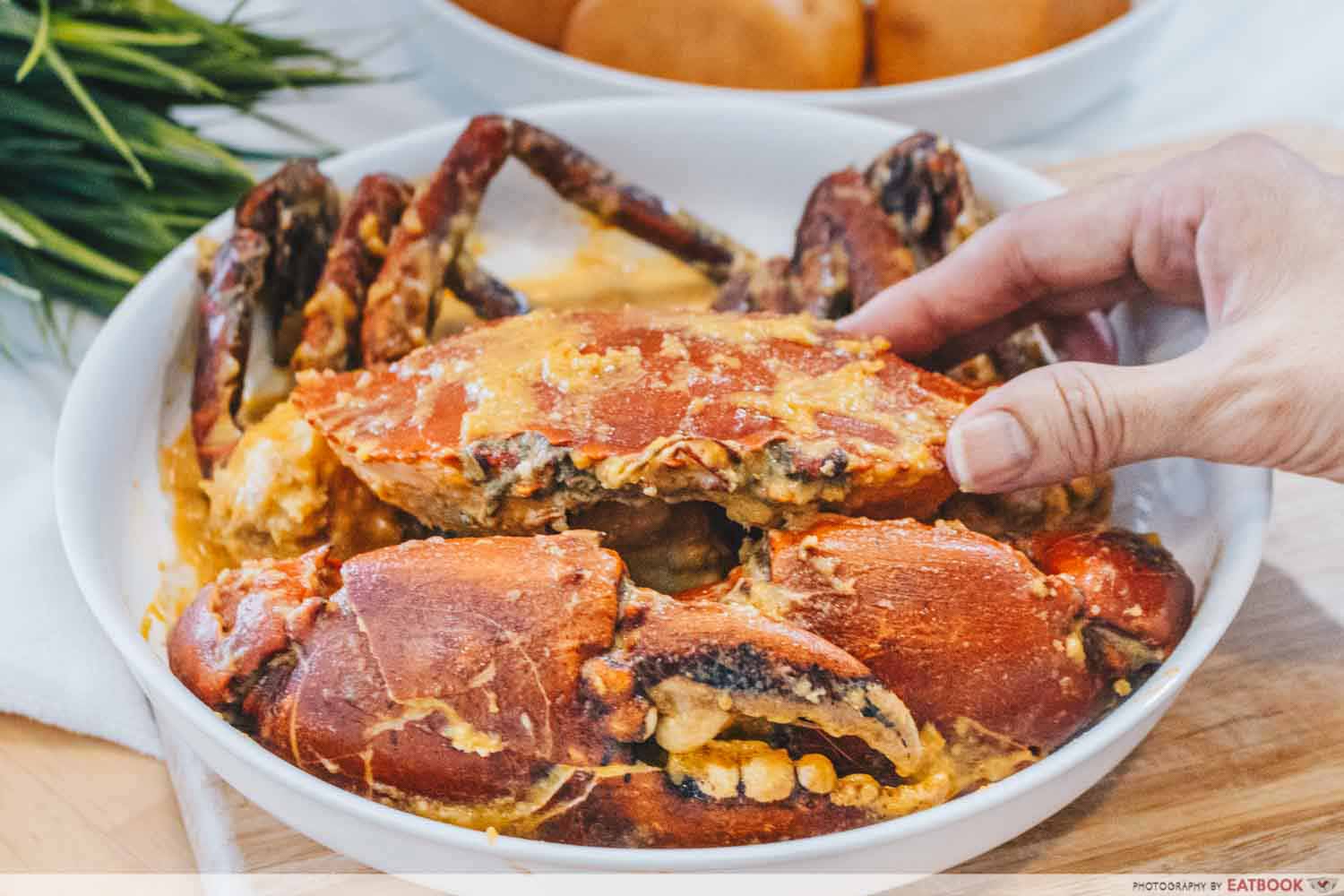 We especially loved their Award-Winning Salted Egg Crab that's doused in rich salted egg yolk sauce, infused with chilli padi for a slightly spicy kick. The sauce comes in an extremely generous amount, so be sure to add on a set of Fried Mantou ($6 for five pieces) to mop up all that remaining gravy.
There's a maximum of 12 hours between catching the crabs in the wild and delivering them to the customer, so you can be assured of their freshness. Order above $120 to score free delivery. Alternatively, you can opt for their Express One Hour Delivery for $18.
---
2. Kai Xin Crabs
---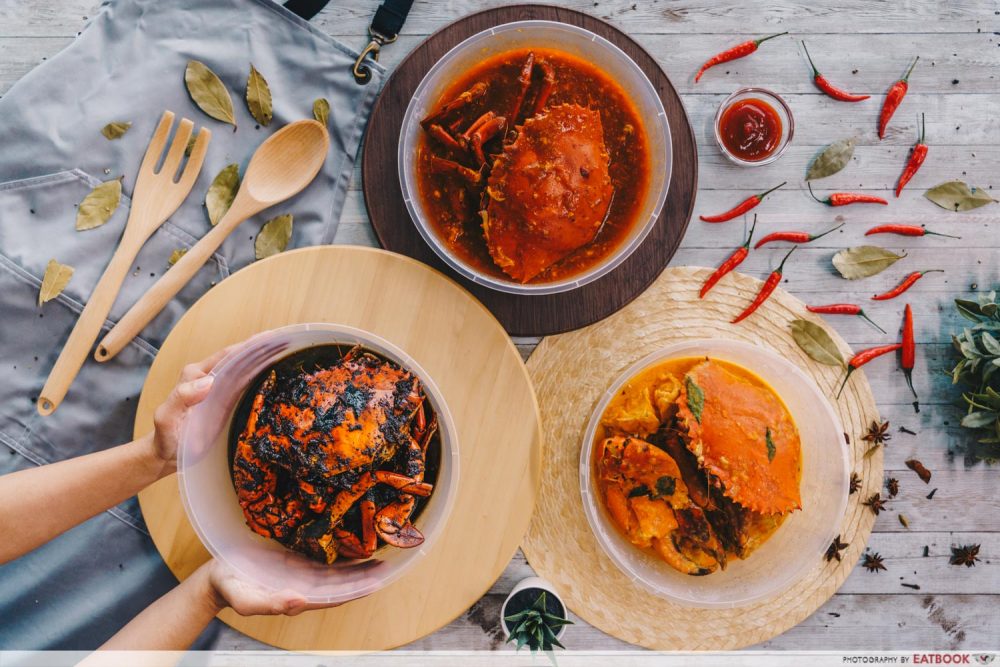 With over 50,000 satisfied customers, Kai Xin Crabs is one of the most reputable crab delivery services in Singapore. They only sell Sri Lankan mud crabs that are air-flown in daily directly from their own farms, available in flavours like Steamed, Chilli Crab, Salted Egg Yolk, Butter, and Black Pepper.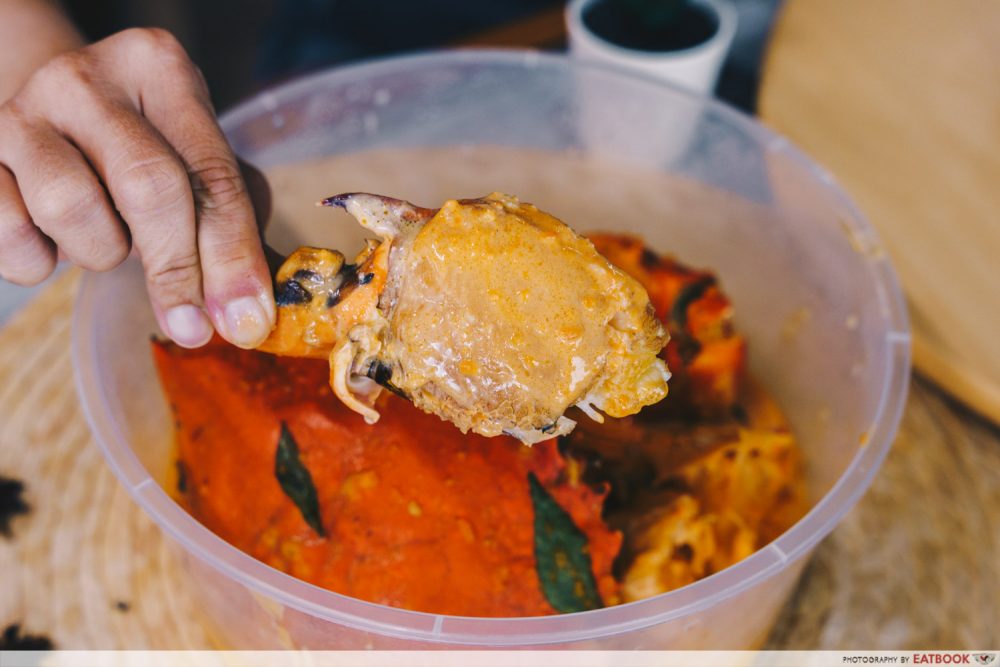 We especially enjoyed the Salted Egg Yolk crab, as the sauce was very creamy and rich with salted egg yolk's quintessential flavour. The addition of curry leaves also helped make the sauce more aromatic. For those who prefer a spicier kick, their Chilli Crab is one to try, with a silken chilli sauce enhanced with garlic.
Prices start from $57.90 for medium crabs, up to 700g, to extra-large crabs, priced at $87.90, up to 1kg. They also sell other dishes such as prawn and fish if you want to have a seafood feast at home. Islandwide delivery is available hourly from 12pm daily, priced at a flat $8. Spend above $100 and get free delivery!
---
3. Momma Kong's
---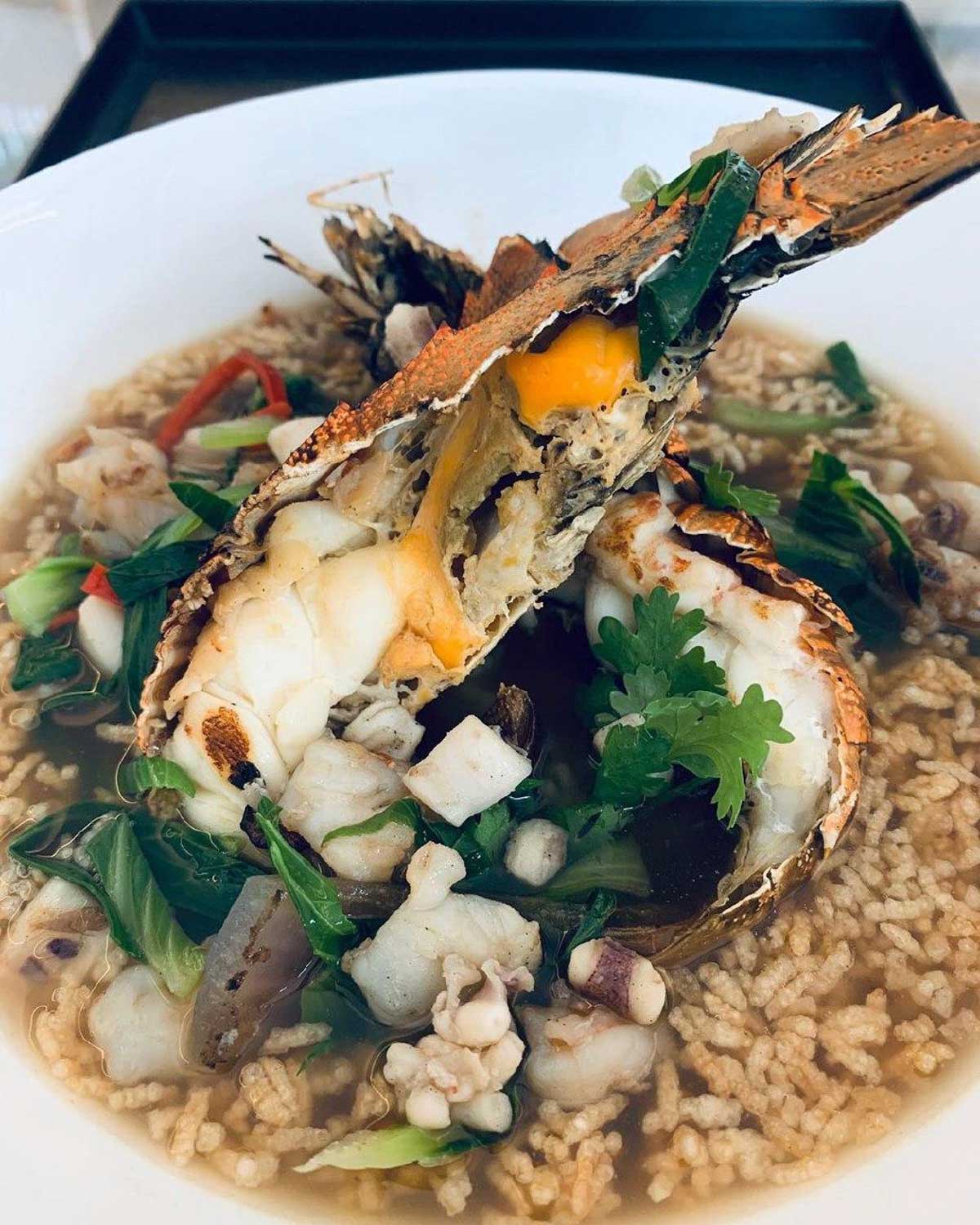 Image credit: @momma_kongs
Pao fan—rice drenched in broth—is a traditional Teochew dish that's hard to find in Singapore these days. So you can only imagine the uniqueness of Momma Kong's Crab Pao Fan ($58). The filling dish comprises an entire crab, diced prawns, and sakura ebi cooked in a gao seafood broth, before being decorated with crispy rice.
If you're sharing with your sibling, get the Meal For Two ($125) which will fill you up with a crab dish, a crayfish dish, four pieces of mantou, a small side, a plate of veggies, and two drinks. Do note that a minimum order of $50 is needed for delivery.
---
4. Yassin Kampung
---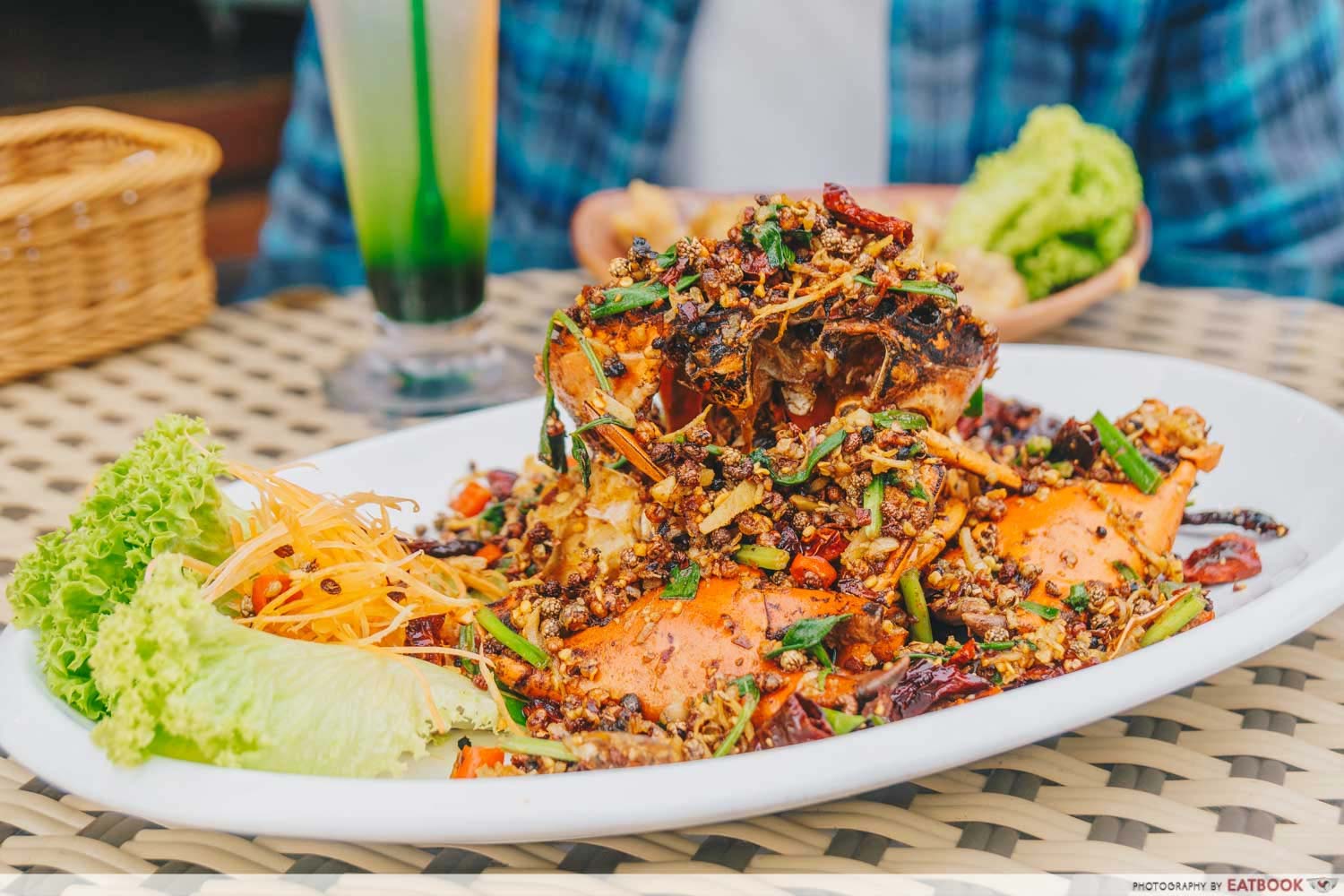 Yassin Kampung is one of the few halal zi char restaurants in Singapore, with four outlets islandwide. Spicy food lovers will enjoy their Sichuan Mala Fried Crab (from $47.08) that's blanketed in a sea of peppercorn—giving you a strong dose of that tongue-numbing sensation. The crab meat itself is succulent and can be found in almost every inch of the crab.
You can order their eclectic range of dishes on their website or via GrabFood. Do note that the availability of certain dishes is dependent on the outlet you choose. For instance, you can only get mala crab from their Admiralty outlet.
Yassin Kampung Review:  Halal Zi Char Restaurant Serving Durian Chicken And Ma La Crab
---
5. Uncle Leong Seafood
---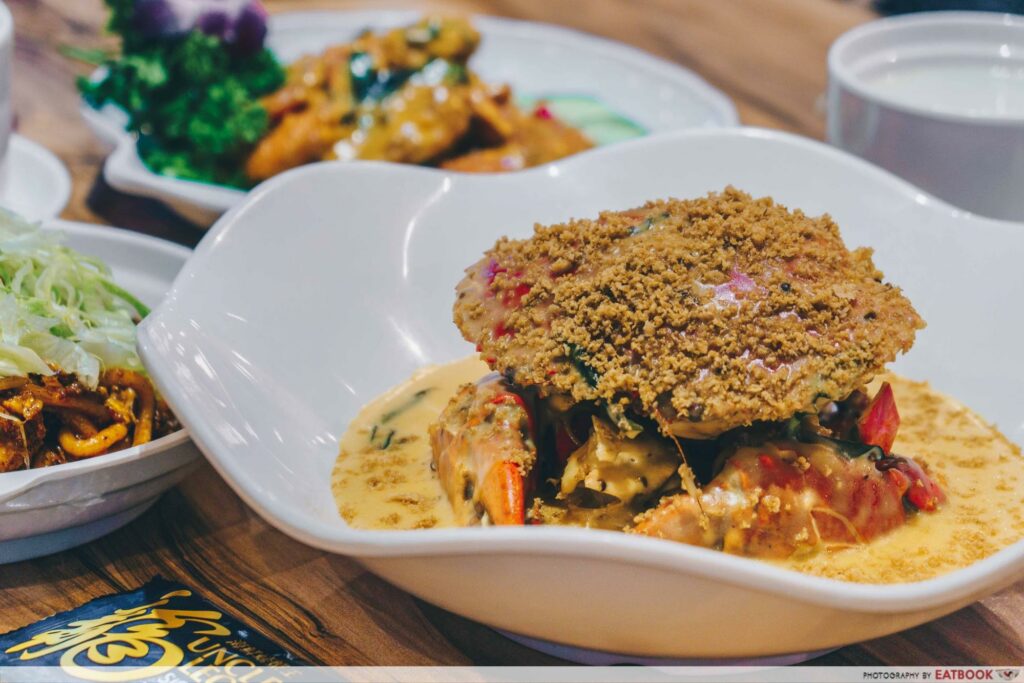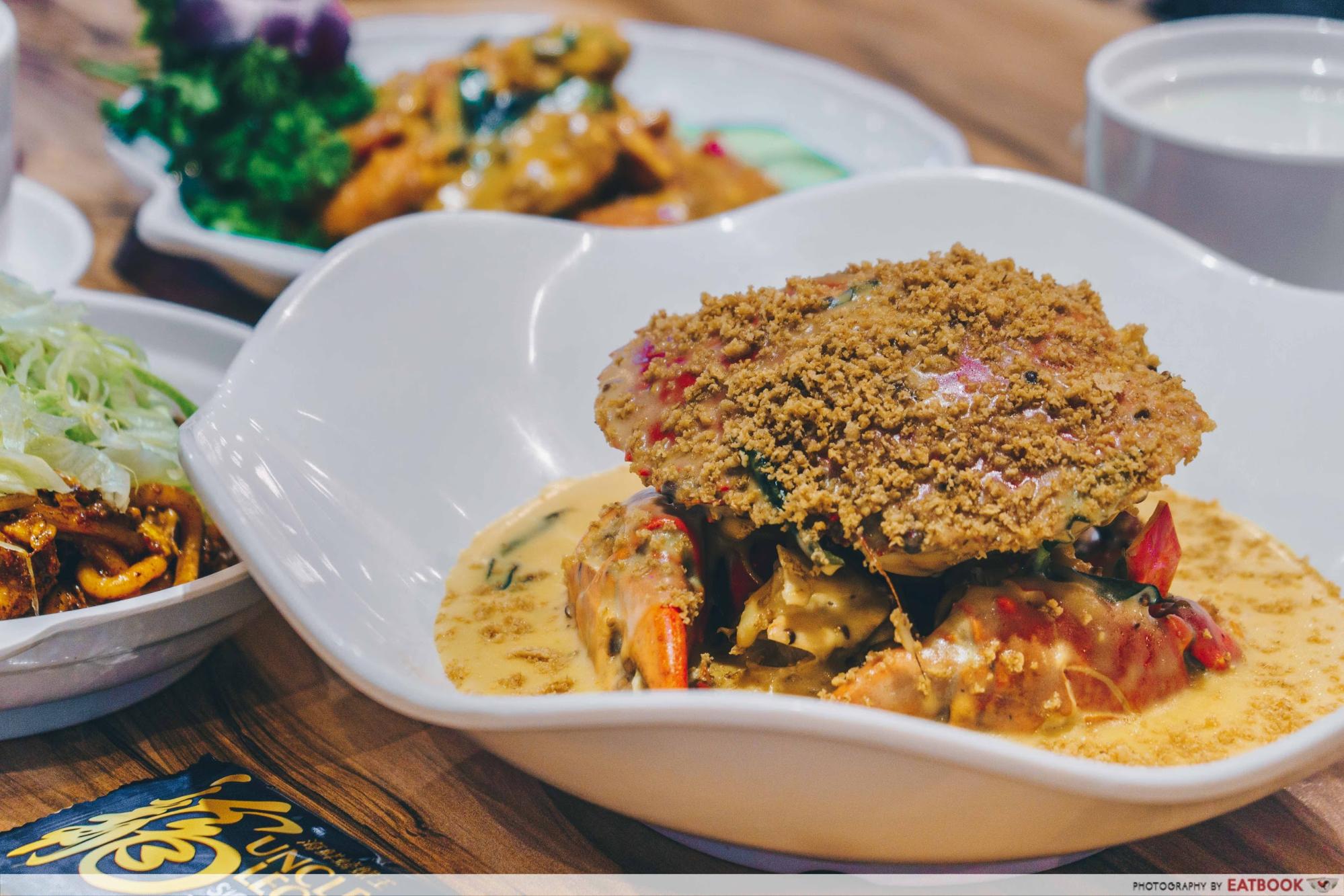 Uncle Leong Seafood offers a unique crab dish that makes it stand out from competitors: the Shimmering Sand Crab Delight ($59.50). Here, a crab is cooked in creamy butter sauce that's infused with curry leaves—before being topped with oats. The result is a rich and sinful dish that's addictive. 
The restaurant currently has a promotion where you'll get a free dish with every three dishes ordered. It'll do you well to kope this offer as Uncle Leong Seafood provides free delivery for orders above $120!
Uncle Leong Seafood order form
---
6. House Of Seafood
---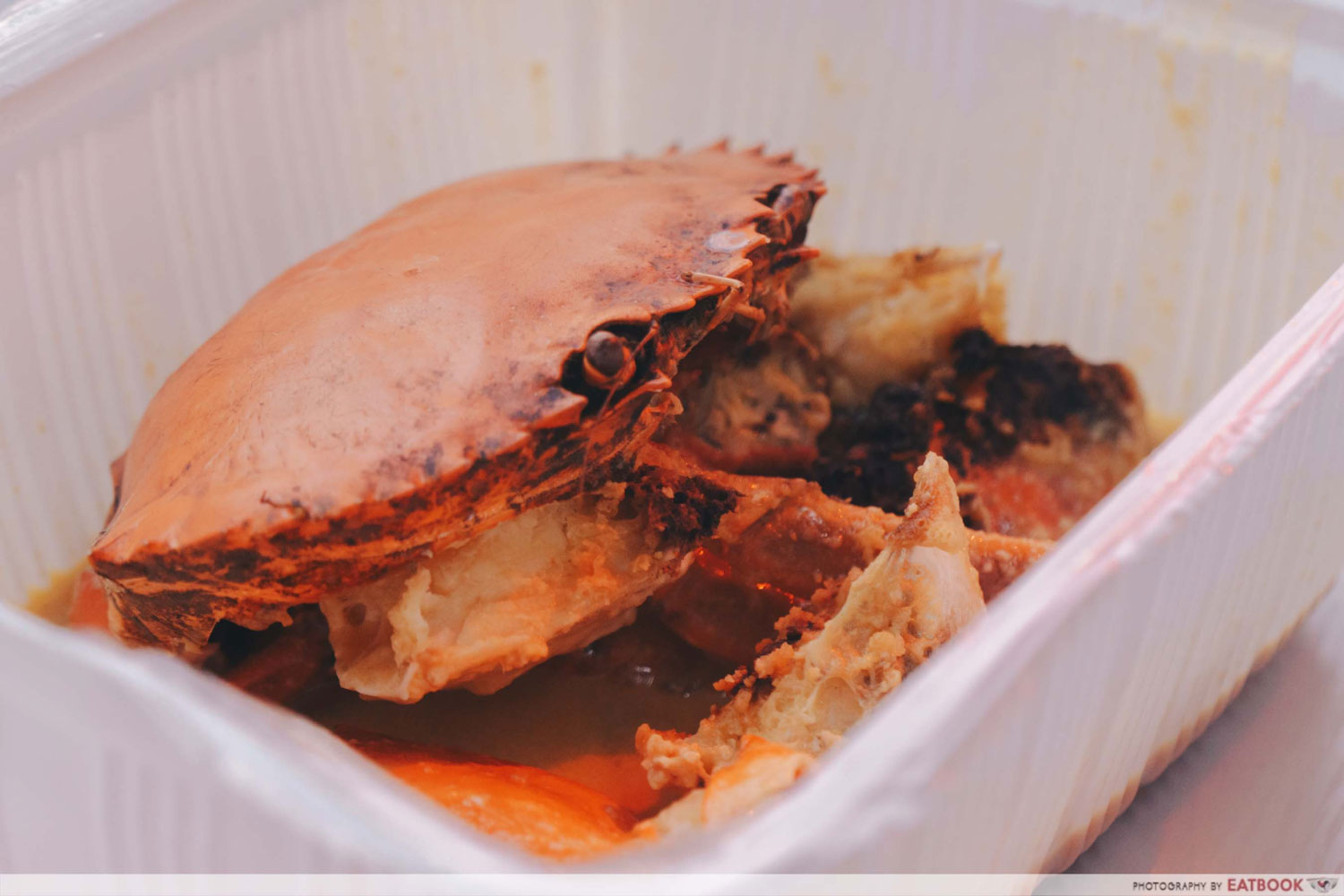 Besides the usual catch of the day, House Of Seafood offers frozen vacuum-packed crab dishes ($59.90) for those who wanna munch on their meaty goodness any time of the day. The crabs come in three flavours, do not contain any preservatives, and can be kept for a year. Simply reheat it in a microwave oven for eight minutes to enjoy a juicy crab.
The restaurant offers free delivery for orders above $50, which is pretty easy to achieve as all the crab dishes cost higher than that.
House Of Seafood Review: Milo And Oreo Flavoured Crabs At The Punggol Settlement
---
7. New Ubin Seafood
---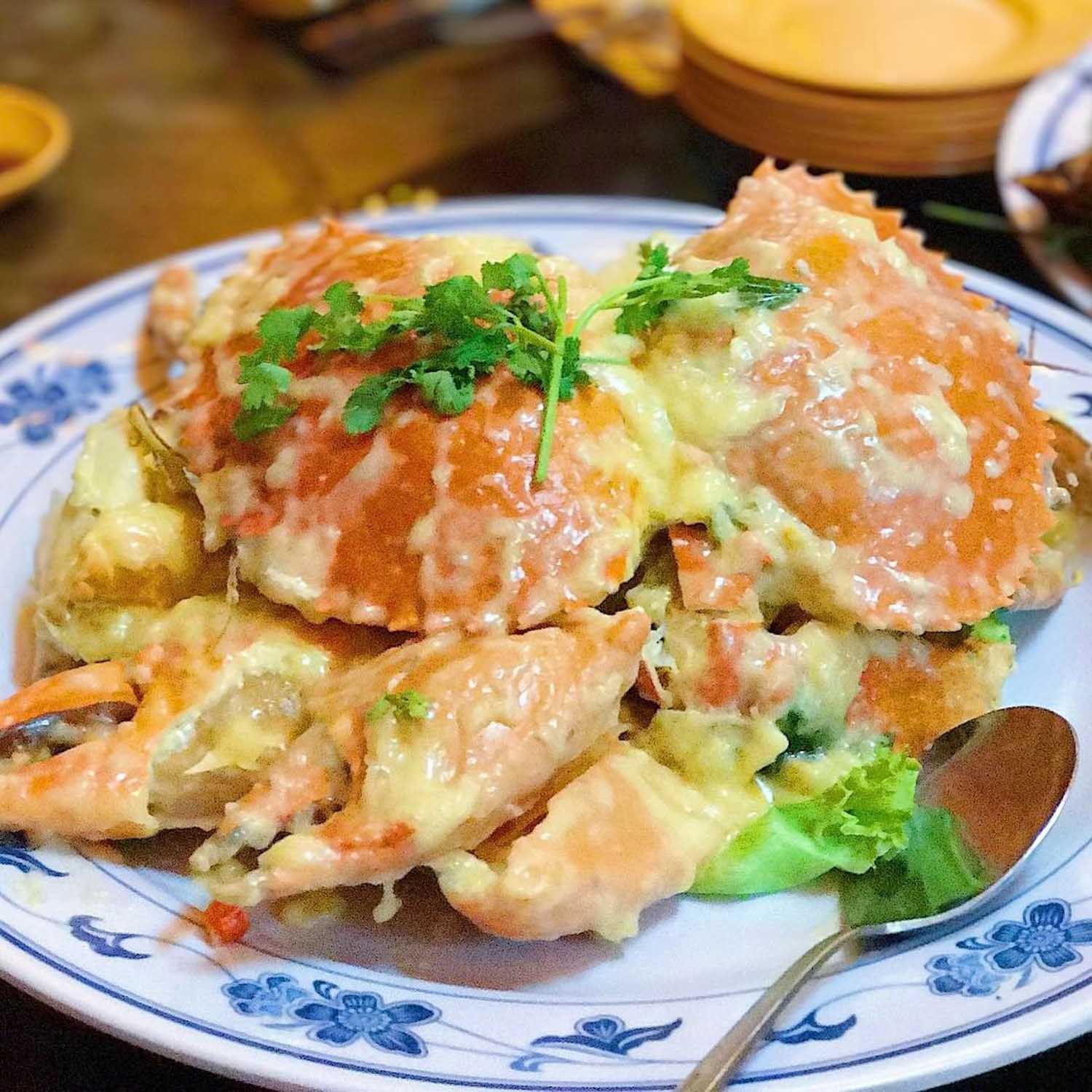 Image credit: @jozegal
At $50 for a 500g crab, New Ubin Seafood's crabs are one of the cheaper options on this list. Their crabs are cooked in a myriad of styles, such as Garlic Baked, Salted Egg, and Chilli, at no extra cost. For those who wanna zhng their order, you can add Braised Bee Hoon to your dish for an additional $12. The restaurant also offers free delivery for orders above $200.
---
8. 8 Crabs Live Crab Delivery
---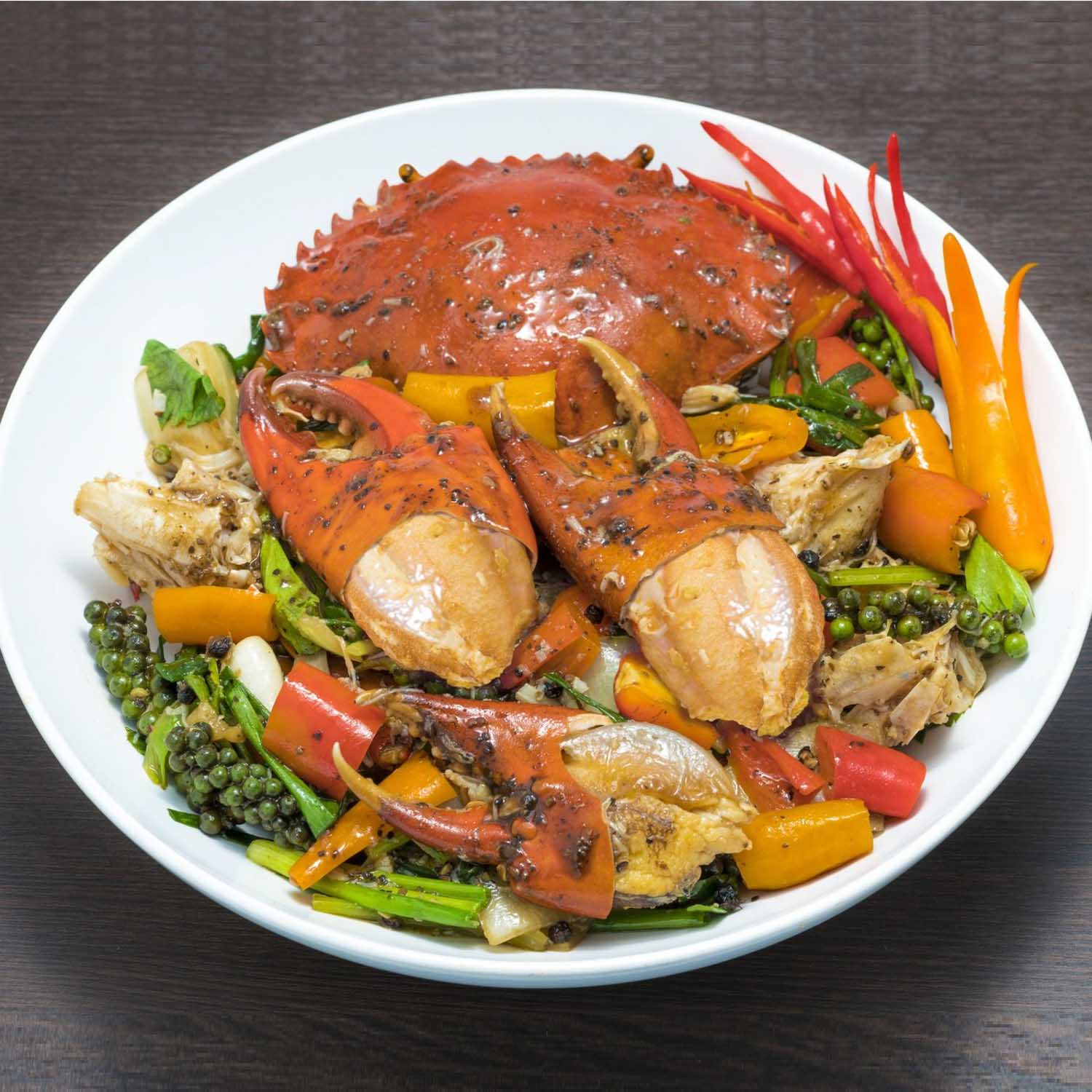 Image credit: @8crabs
For braver souls who want to try cooking your own crab feast, check out 8 Crabs' live crab delivery service. Currently, they offer just one option—Live Premium Sri Lankan Mud Crab, starting from $42.95 for 600g. The crabs are guaranteed to reach your doorstep live, so you'll get it absolutely fresh. Island-wide delivery is free for orders above $70. No worries if your order is smaller, as you'll just need to top up $9 for delivery. 
8 Crabs Live Crab Delivery order form
---
9. Big Fatty Crab
---
Image credit: Big Fatty Crab's Facebook page
All of Big Fatty Crab's crabs weigh 1kg, which makes them one of the heftiest featured here. That being said, their flavour options are limited to just two: Signature Chilli Crab and Big Fatty Black Pepper Crab—so you win some and lose some. 
One crab goes at $59.90, but they currently have a promotion where two and more pieces of crabs will go at $49.90 each. So if you're buying for the fam, the restaurant's dishes will be value-for-money!
---
10. Cajun On Wheels
---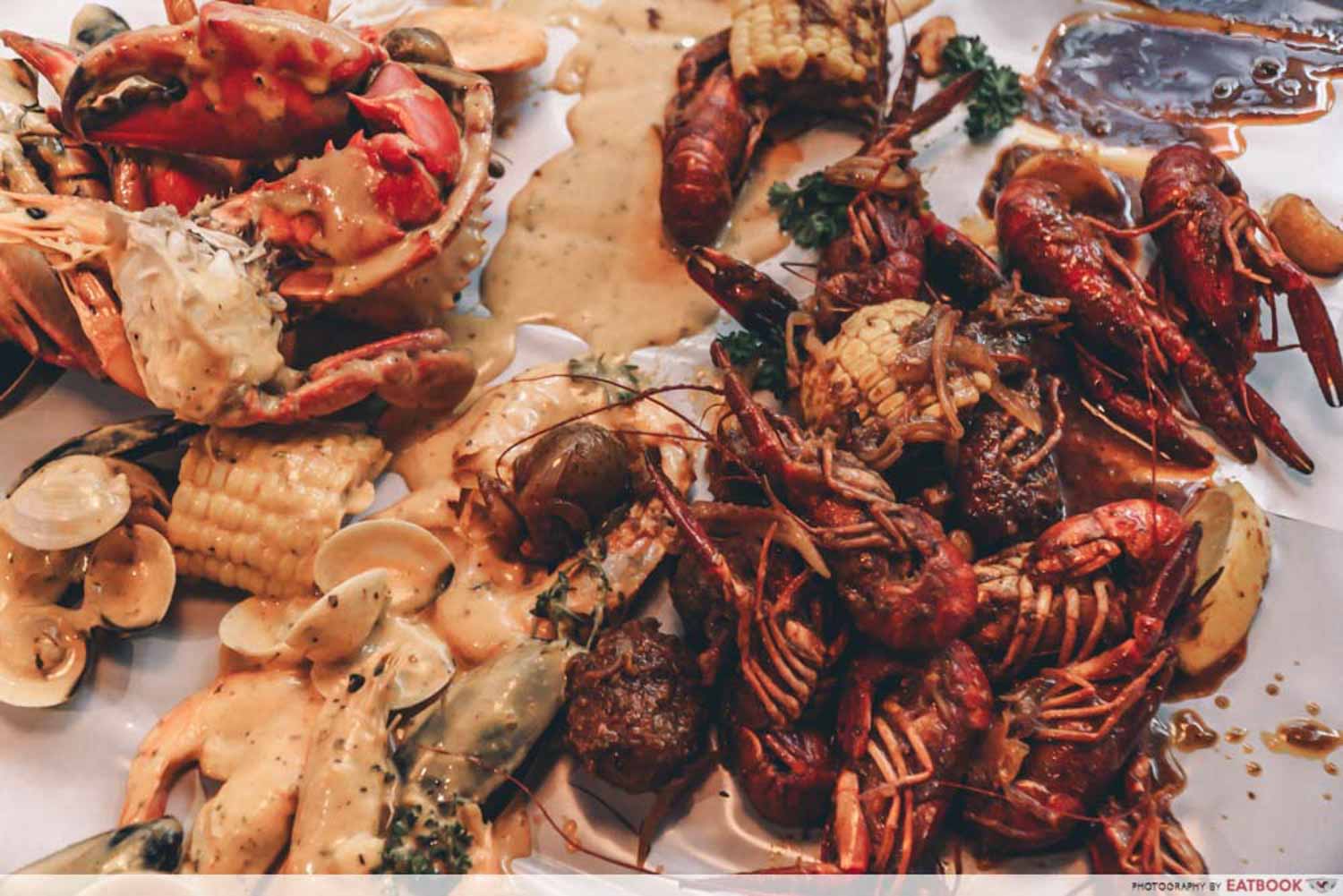 One of the most indulgent ways to enjoy crab is via a shellout dinner, and no restaurant does that better than Cajun On Wheels. The halal joint has a plethora of crab dishes, with the cheapest one being the Soft Shell Crab Platter ($18). The platter comes with juicy soft shell crabs, a choice of carbs, a sunny side up and a side.
Shellout dinners start from $100 but those with a ravenous appetite can opt for the Olympian Bucket ($246) which comes with four pieces of 500g Sri Lankan crab, a 500g Boston lobster, 500g of prawns, 500g of white clams, 500g of blue mussels, eight pieces of sweet corn, sixteen pieces of baby potatoes, and your choice of sauce.
---
Get fresh seafood with these crab delivery services in Singapore
---
If you're hankering for fresh crab dishes no matter what time of day, these restaurants with crab delivery will have something to your fancy. Places such as 8 Crabs will even go the extra mile to ensure that you can eat your crustacean within one hour of ordering 'em.
For more tasty food options this Circuit Breaker, check out our list of nasi lemak, claypot, and ice cream delivery services.

14 Ice Cream Delivery Services In Singapore For You To Cool Down During Circuit Breaker
This post is brought to you by 8 Crabs and Kai Xin Crabs.
Photos for 8 Crabs taken by Kerrianne Goh. Photo for Kai Xin Crabs is taken by John Lery Villanueva.