---
Zi Char stalls with islandwide delivery
---
With the newest Phase 2 heightened measures in place, many of us are confined to our own homes and dining options suddenly seem a lot more limited. Not to fret though, many restaurants and hawker stalls still remain open, and some have thankfully made arrangements to cater to their stay-home customers. We've compiled a list of zi char stalls offering islandwide delivery services, so you can enjoy hearty dishes at the comfort of your home. 
Do show your support for these zi char warriors as we weather through the tough season together!
---
1. 8 Crabs
---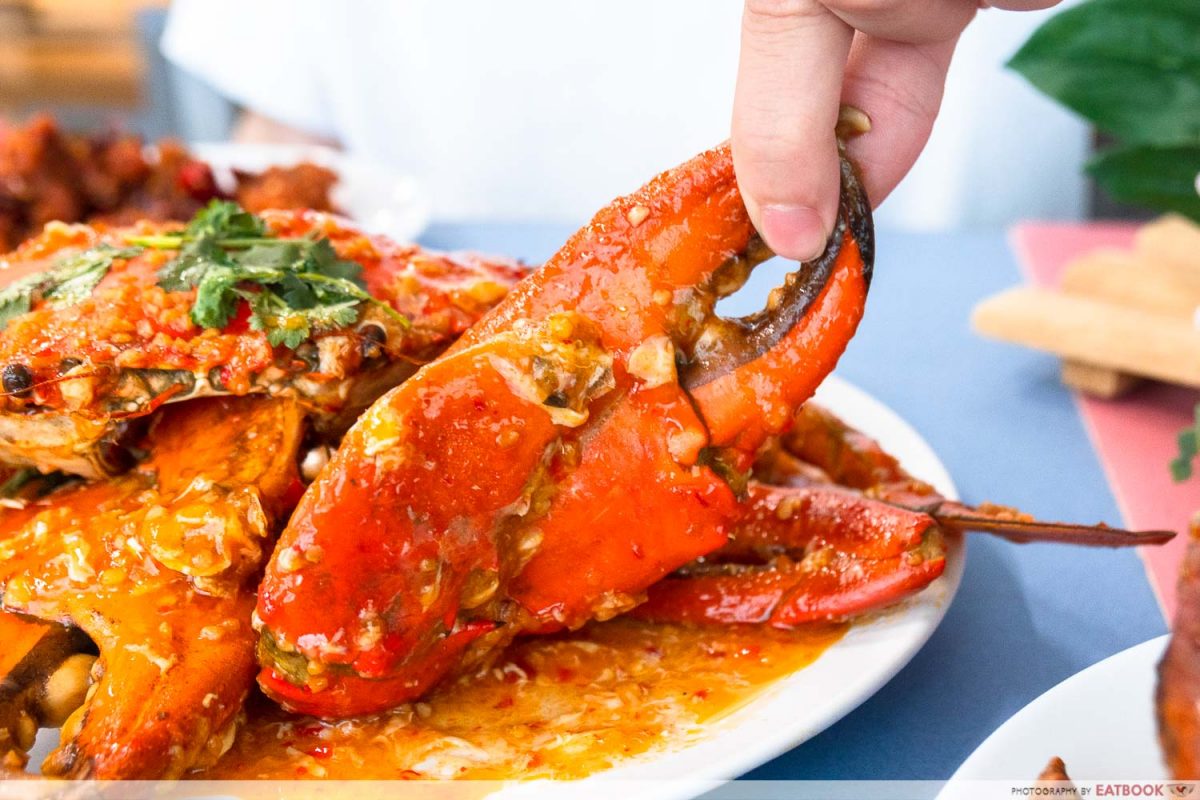 Priding themselves on offering crabs of the highest quality, 8 Crabs certainly delivers on the zi char front too with their extensive menu catering to more than just the seafood lovers. They happen to be the only delivery service around that uses grade AAA wild-caught Sri Lankan crabs, which are said to be meatier than usual. Begin with the fresh Salted Egg Crab or Chilli Crab, both starting from just $45.90 for a regular-sized crab.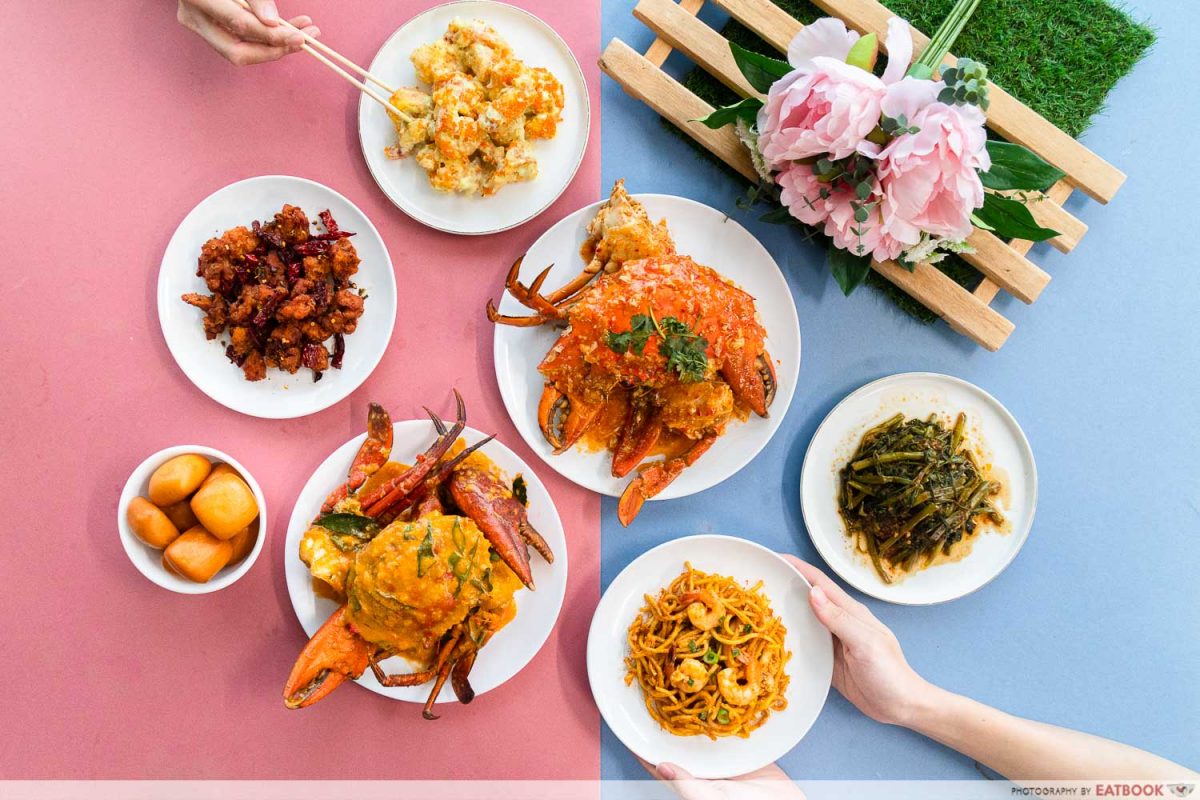 Pair your crabs with ideal accompaniments from their zi char selection, including the Deshelled Prawns With Wasabi Mayo (from $25) and Diced Organic Chicken Thigh In Dried Chilli (from $18.90). For your carb of choice, we would recommend the Mee Goreng (from $6) or Fried Man Tou ($6 for five pieces) to fill you up even more.
For orders below $120, there will be a flat $8 islandwide delivery fee. Your delivery fees will be waived for orders of $120 and above.
---
2. Kai Xin Crabs
---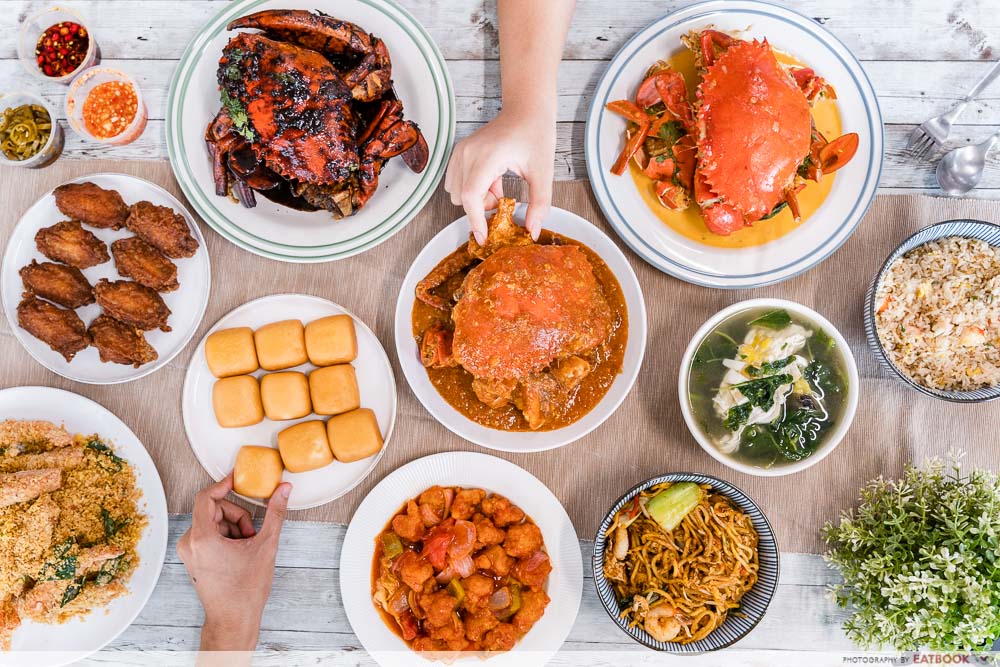 Kai Xin Crabs is an award-winning brand that specialises in crab deliveries, using only Sri Lankan farm-bred crabs, air-flown into Singapore daily. They also offer an extensive array of dishes to supplement your crab order, an easy way to enjoy a zi char-style feast at home. These include the Fried Chicken With Prawn Paste (from $13.90), whose fermented savouriness we thoroughly enjoyed. There's also the Cereal Prawn (from $24.90) that comes generously doused in cereal bits, a sure hit amongst children.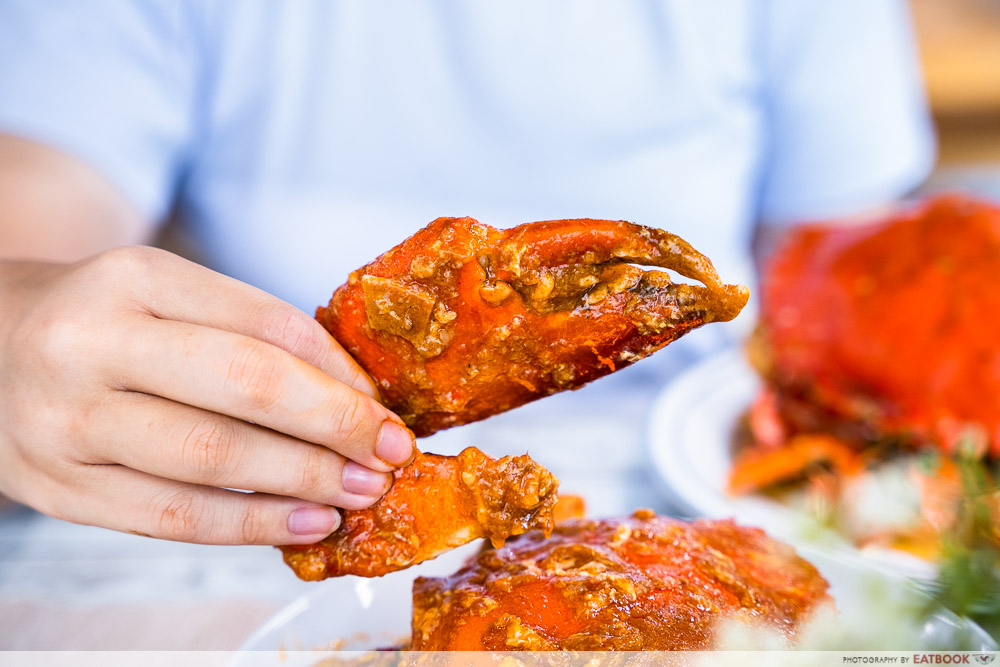 Of course, the star of the show goes to their crab selections, of which their Signature Chilli Crab (from $48.90) is a must-try. Order some Fried Man Tou ($2) on the side to mop up the spicy-sweet, egg-laden sauce. Their Signature Salted Egg Crab (from $48.90) is also one of our favourites, as the sauce was creamy and fragrant without being jelak. To make things sweeter, Kai Xin Crabs has a 1 for 1 crab promotion where you can get two crabs of your choice from $86.90, a deal that's not to be missed out on.
Here, delivery is charged at $10, though this fee is waived for orders above $100. If you're rushing to get a meal together, they also provide express one-hour delivery at a fee of $20.
Order from Kai Xin Crabs here!
---
3. Hai Yan BBQ Seafood
---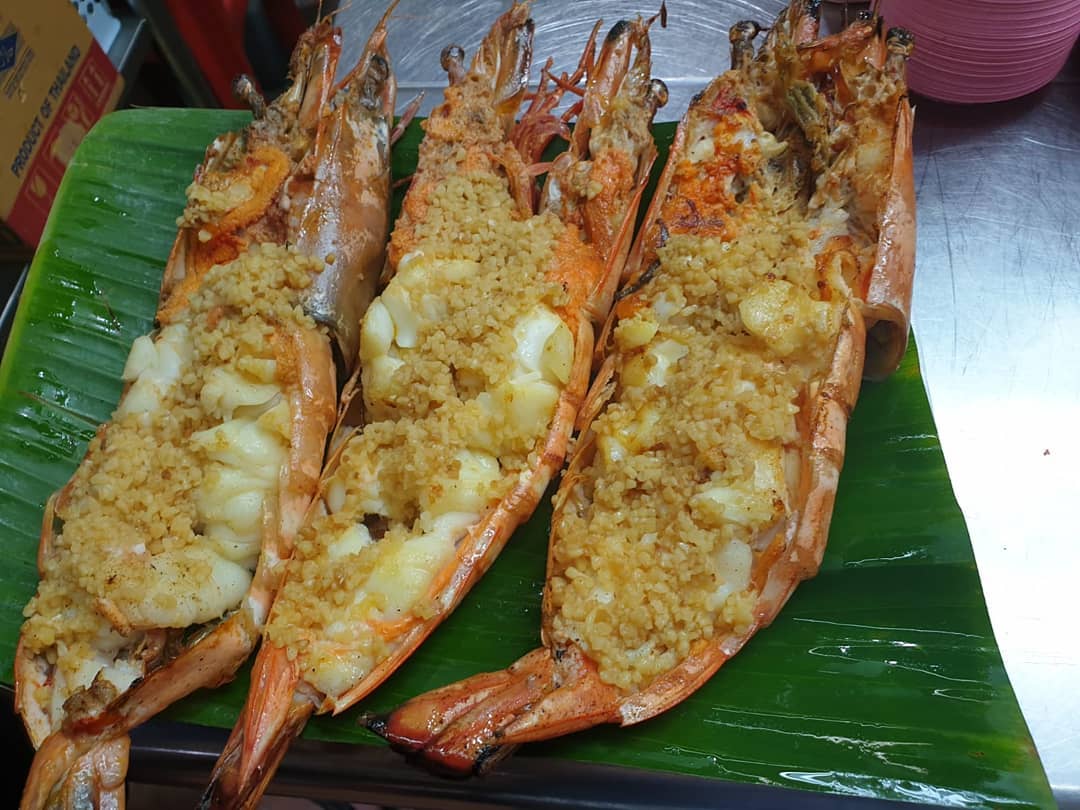 Image credit: @haiyanbbqseafood
Operated by the same family since 1983, Hai Yan BBQ Seafood is a popular zi char stall in Newton Food Centre, selling cheap and good seafood dishes. Their impressive Tiger Prawns ($16 for 200g) are plump with succulent meat and topped with piquant garlic. If you're craving salted egg, go for their Salted Egg Crab ($38/$42) that comes drenched with the umami-filled sauce.
Enjoy free island-wide delivery for orders above $100. For orders below $100, there's a flat $10 delivery fee with no minimum spend.
Address: 500 Clemenceau Avenue North, #01-11, Newton Food Centre, Singapore 229495
Opening hours: Tue-Sun 4pm to 11pm
Tel: 9452 6293
Website
---
4. Kelly Jie Seafood
---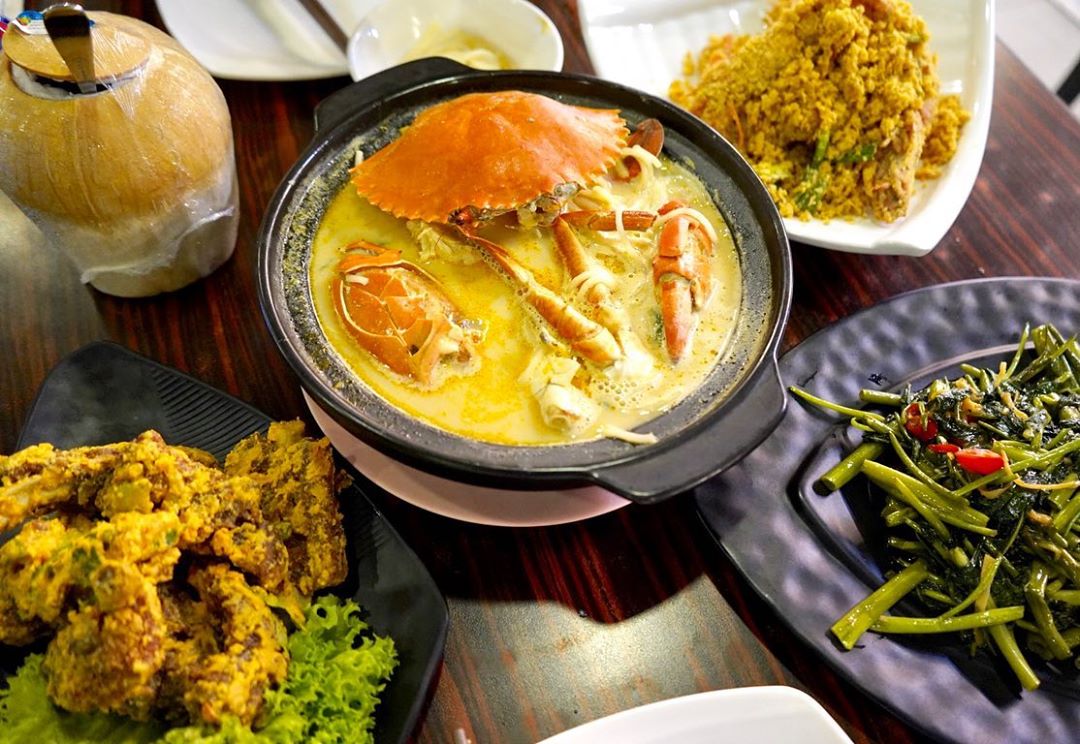 Image credit: @choisum814
Kelly Jie Seafood, formerly known as Toa Payoh Mellben Seafood, is a zi char restaurant that has been opened since 1989. Amongst elaborate seafood items such as crab, abalone, and scallops, the eatery also offers wok-fried favourites including "Yuan-Yang" Crispy Fried Rice ($11.50) and the Signature "Kan Xiang" Mee Tai Mak ($11.50) that comes topped with juicy stir-fried prawns. 
Currently, their islandwide delivery services don't require a minimum spend, with delivery fees varying depending on location. If not, turn to other platforms such as GrabFood or Foodpanda to satisfy your cravings.
Address: Block 211 Lorong 8 Toa Payoh, #01-11/15, Singapore 310211
Opening hours: Daily 12pm to 10:30pm
Tel: 6353 3120
Website
---
5. White Restaurant
---
Image credit: White Restaurant's Facebook page
It all started out with White Restaurant's famous Original White Beehoon ($7.70+), which grew the small eatery from its first outlet in Sembawang into a household name with multiple outlets across Singapore. The signature dish boasts sweet seafood flavours along with a potent hit of wok hei, and is best enjoyed alongside a plate of crispy Signature Meat And Seafood Roll ($15.18+).
With outlets across the island at IMM Jurong, Suntec City, and Sun Plaza in Sembawang among others, White Restaurant is offering islandwide delivery for orders above $50, with a flat $4.90 delivery charge.
Address: 30 Sembawang Drive, #03-12, Sun Plaza, Singapore 757713
Opening hours: Daily 11am to 9.30pm
Tel: 6483 2002
Website
---
6. Mellben Signature
---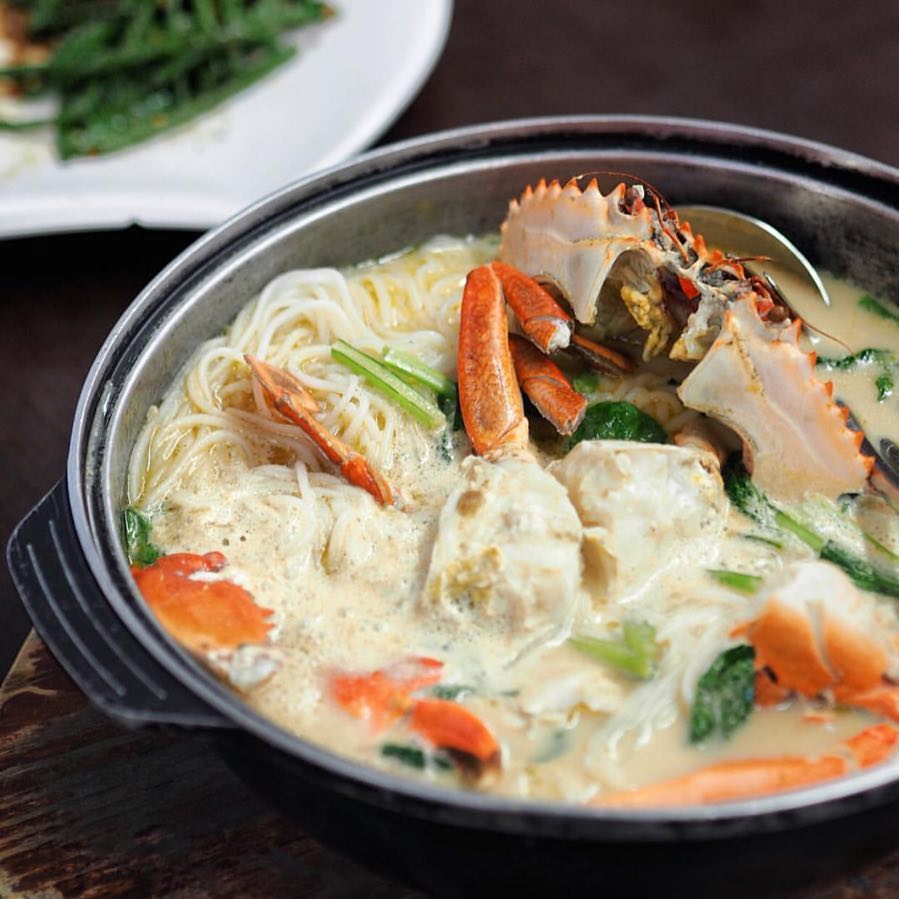 Image credit: @mellbensignature_sg
Mellben Signature is offering island-wide free delivery during this stay-home period. One of their most popular dishes is the Claypot Crab Vermicelli Soup ($89.10+ for 900g), which features a whole crab stewing in a pot that is filled with creamy soup infused with seafood flavour. They also have meal sets, such as the Mellben Prawn Bento Set ($15.80), which is perfect for hassle-free deliveries. 
They have an islandwide delivery service with a minimum order of $50, together with a flat $10 delivery fee too. Otherwise, opt for other delivery platforms such as GrabFood and Foodpanda to get your dose of their food.
Address: 7 Tanjong Pagar Plaza, #01-105, Singapore 081007
Opening hours: Mon-Fri 10.30am to 10.15 pm, Sat 12pm to 10.15pm, Sun 5pm to 10:15pm
Tel: 6220 5512
Website
---
7. Sin Hoi Sai Eating House
---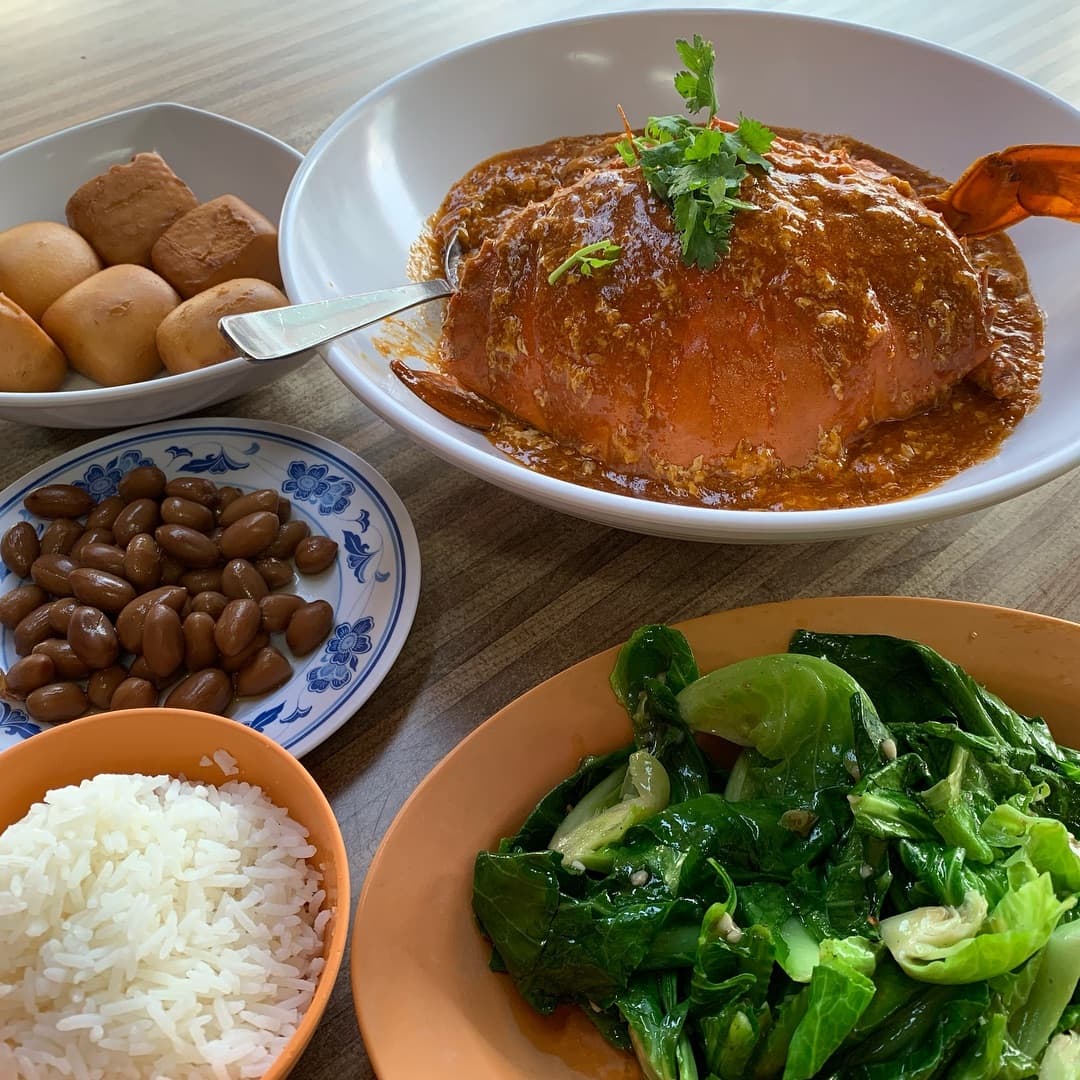 Image credit: @writing_the_third_chapter
Sin Hoi Sai Eating House is a popular supper spot in the East that has been open since 1971. Their menu features a large selection of Chinese noodle dishes, including Fish Head Bee Hoon Soup ($6/$9/$13) and the hearty Moonlight Hor Fun ($7/$9/$12), which is sweet and savoury from dark soy sauce, and creamy from a runny sous-vide egg. 
Luckily, they do have islandwide delivery services available, with fees charged based on distance. Remember to call in or text them for the full menu or more information on their delivery rates!
Address: 187 East Coast Road, Singapore 428893
Opening hours: Daily 3pm to 3am
Tel: 6440 6956
Website
---
8. Kok Sen Restaurant
---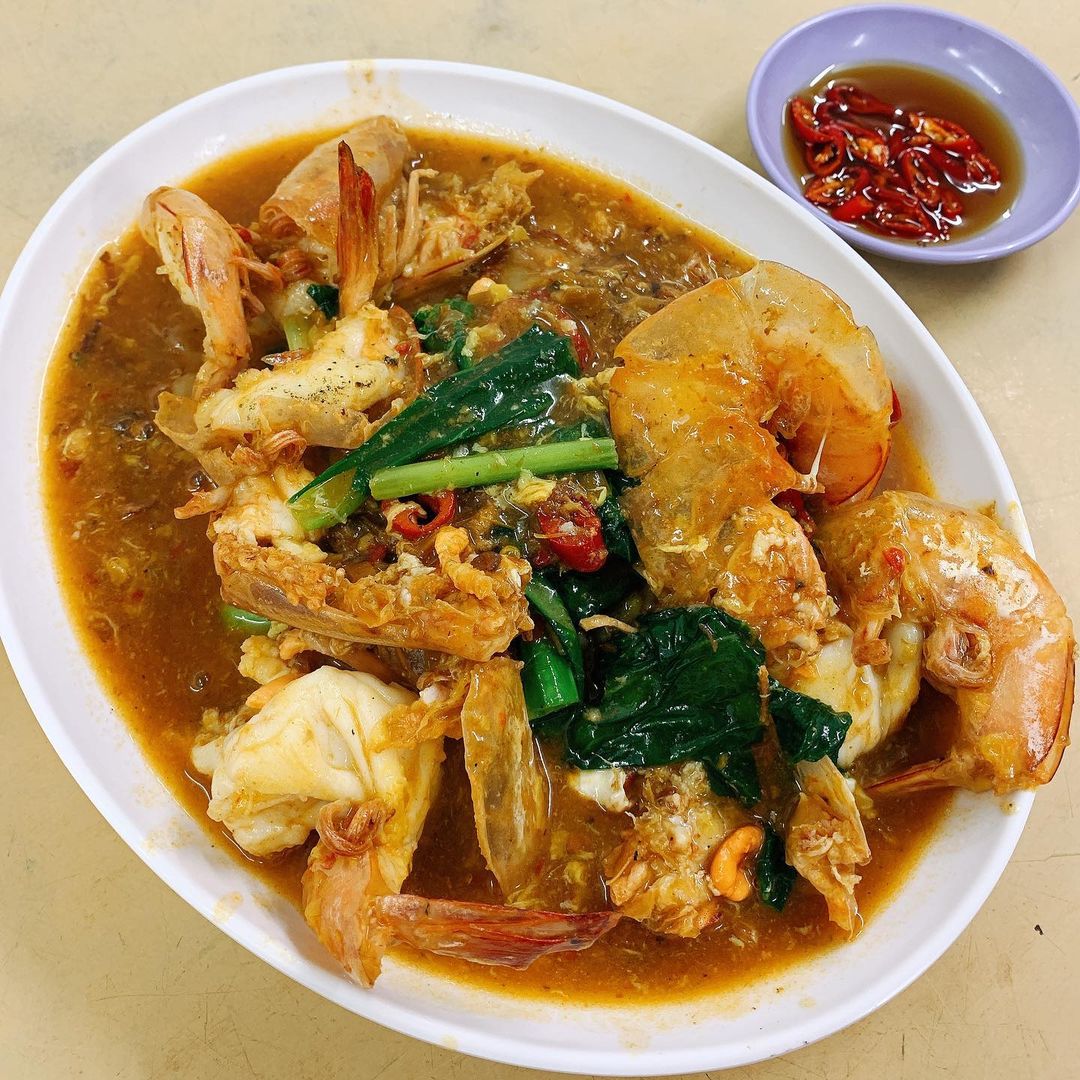 Image credit: @feedmybelly
Frequenters of Keong Saik Road would find this particular eatery familiar, as Kok Sen Restaurant is indeed a household name in the midst of it. This restaurant serves Cantonese-style zi char and the family behind it has been in the business for about 50 years and running. 
Awarded the Michelin Bib Gourmand in 2019, it's no surprise that popular dishes such as their Big Prawns Hor Fun ($21+ for small) and Claypot Yong Tau Foo ($17.55+ for small) remain a hit with their regular crowd of all ages.
For their islandwide deliveries, they charge a flat $8 delivery fee, on top of a minimum spend of $50. Alternatively, turn to food delivery platforms such as GrabFood or Foodpanda too.
Address: 30 Keong Saik Road, Singapore 089137
Opening hours: Tue-Sun 12pm to 2.15pm, 5pm to 10pm
Tel: 6223 2005
Website
---
9. Xing Hua Delights
---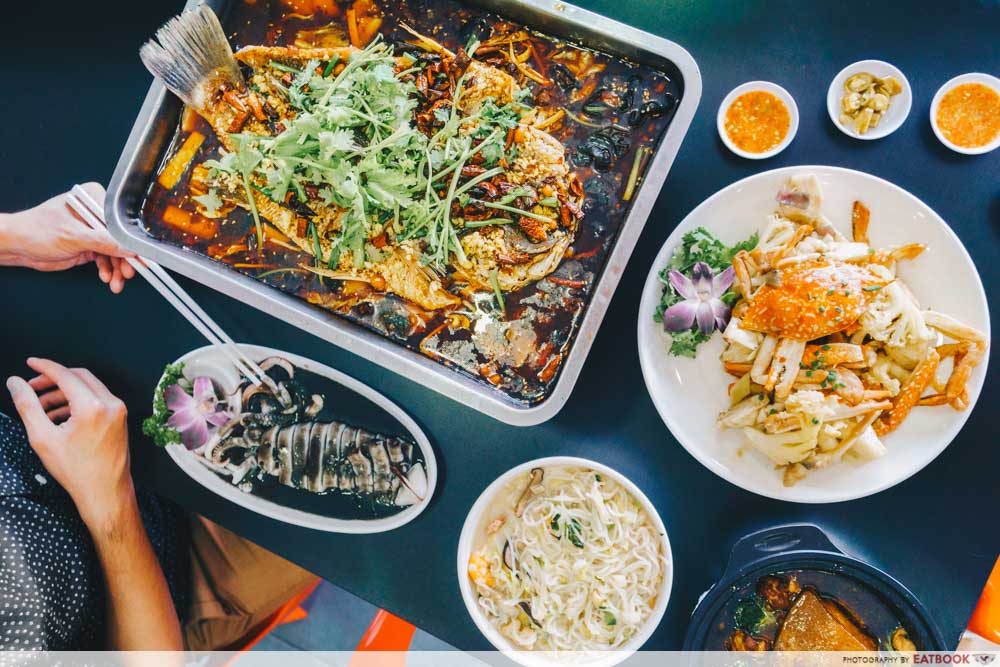 For a reasonably-priced alternative to the popular one-Michelin starred PUTIEN, turn to Xing Hua Delights for your taste of quality Heng Hwa cuisine in Singapore. Unlike the usual Hokkien hawker dish we're accustomed to, their Xinghua Lor Mee ($6.90+ for small) is an equally rich version, with ingredients such as prawns, clams, Chinese cabbage, and bok choy to make the broth extra gao. For something lighter, go for the Xinghua Bee Hoon ($6.90+ for small) if it's up your alley.
Their food delivery service requires a minimum order of $60, together with a flat islandwide delivery fee of $5. If not, look to food delivery platforms such as GrabFood as well.
Check out our Xing Hua Delights review!
Address: 7 Jalan Legundi, Singapore 759272
Opening hours: Daily 11am to 10pm
Tel: 9755 4036
Website
---
10. Jia Yuen Eating House
---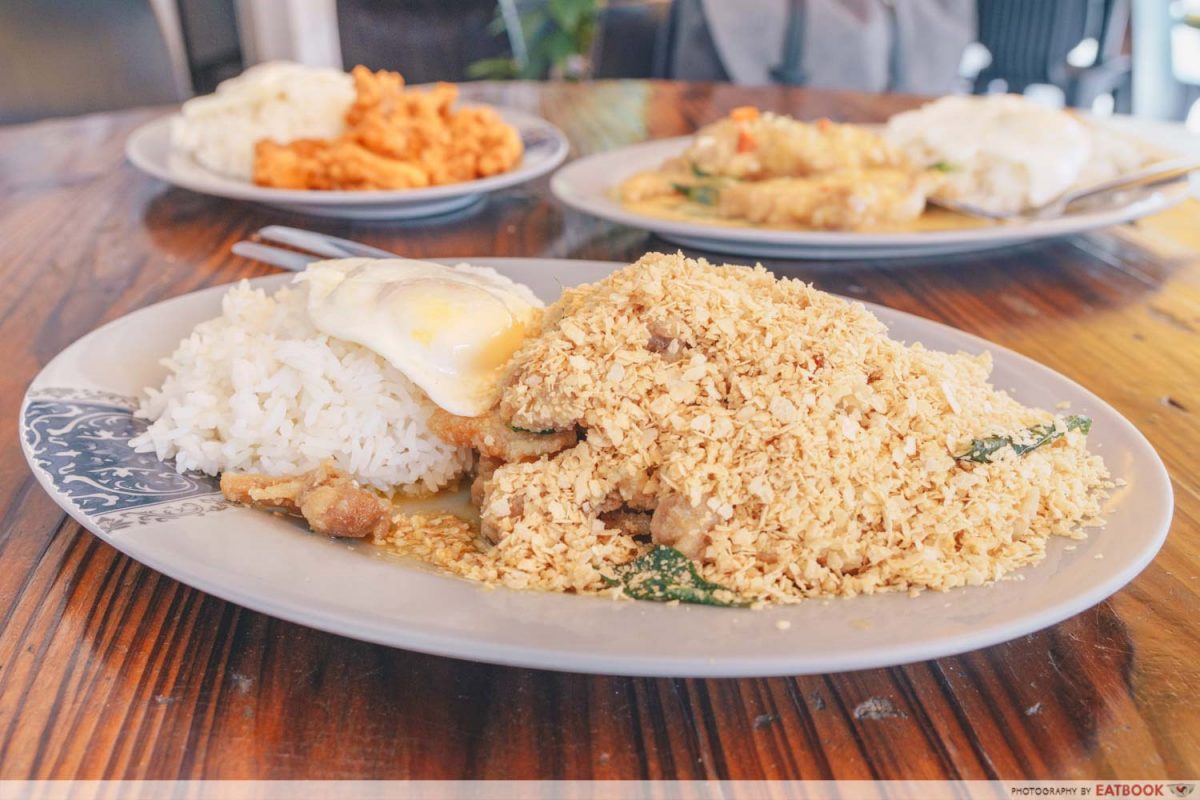 Probably better known amongst NSmen and boys serving in the camps nearby, Jia Yuen Eating House is indeed a source of comfort food for most of us to look forward to. We'd recommend you try out the signature Creamy Salted Egg Butter Chicken Bento ($9.90) for a rich and savoury meal option. Alternatively, if you like that extra crunch, go for the Cereal Chicken Bento ($9.90) too, which also comes with rice and a sunny-side up egg to go along with. 
Islandwide delivery for their food is available through platforms such as Deliveroo and Foodpanda among others.
Read our Jia Yuen Eating House review too!
Address: 15 Crane Road, Singapore 429359
Opening hours: Daily 11am to 10pm
Tel: 9712 0259
Website
Jia Yuen Eating House Review: Luscious Salted Egg and Buttermilk Chicken Rice In A Quiet Joo Chiat Coffeeshop
---
11. Lai Huat Signatures
---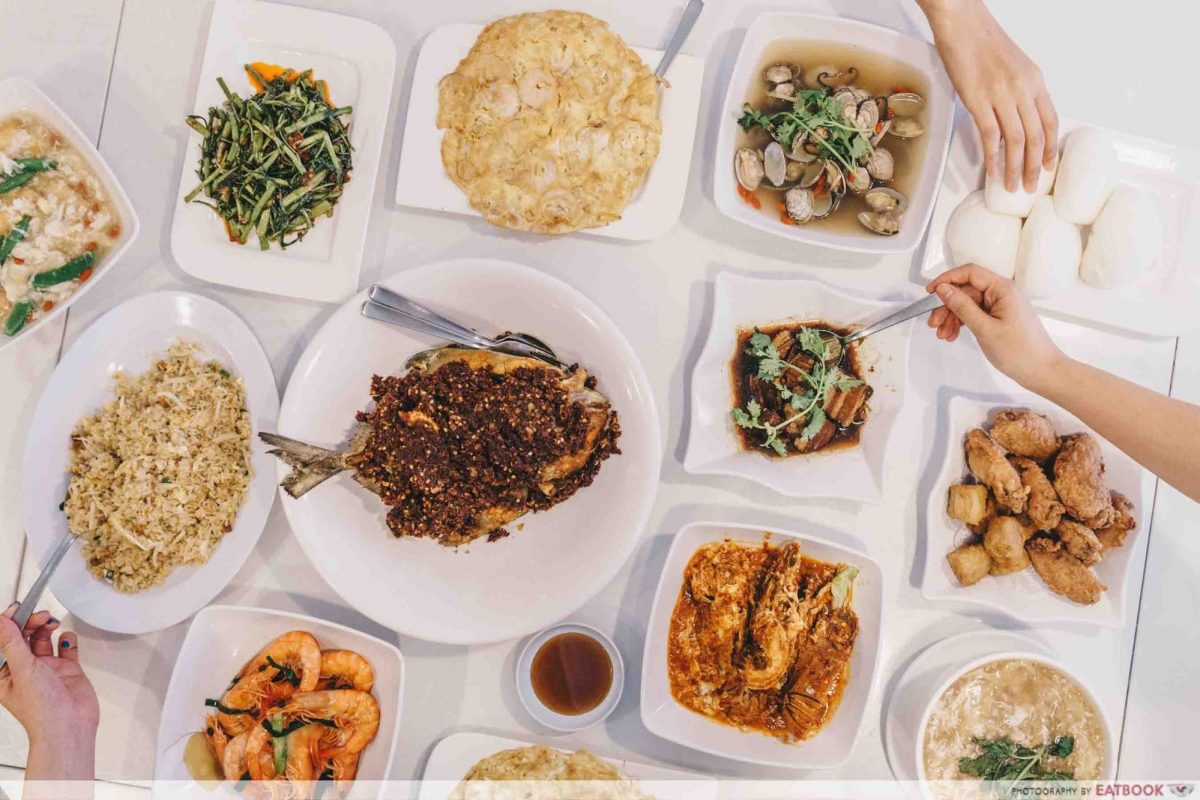 If their name does ring a bell, chances are you probably know Lai Huat Signatures more for their sambal belacan fish than anything. If you haven't already tried it, consider ordering in the Famous Sambal Pomfret Fish ($35 for small) or Famous Sambal Sole Fish ($32 for small), especially for the spicy food lovers among us. Alternatively, their meat and seafood dishes are a catch too, with dishes such as Coffee Pork Ribs ($12 for small) and the Superior Stock Lala ($14 for small) popular as well.
For their islandwide delivery service, there is a minimum order of $20, with delivery fees varying depending on your location. If not, order through Foodpanda and GrabFood among others.
Check out our Lai Huat Signatures review.
Address: 23 China Street, #01-01, Far East Square, Singapore 049565
Opening hours: Daily 11.30am to 2.30pm, 5pm to 10pm
Tel: 8028 3328
Website
Lai Huat Signatures Review: $29.90++ Zi Char Buffet With Over 70 Unlimited Dishes Including Coffee Pork Ribs
---
12. Yassin Kampung
---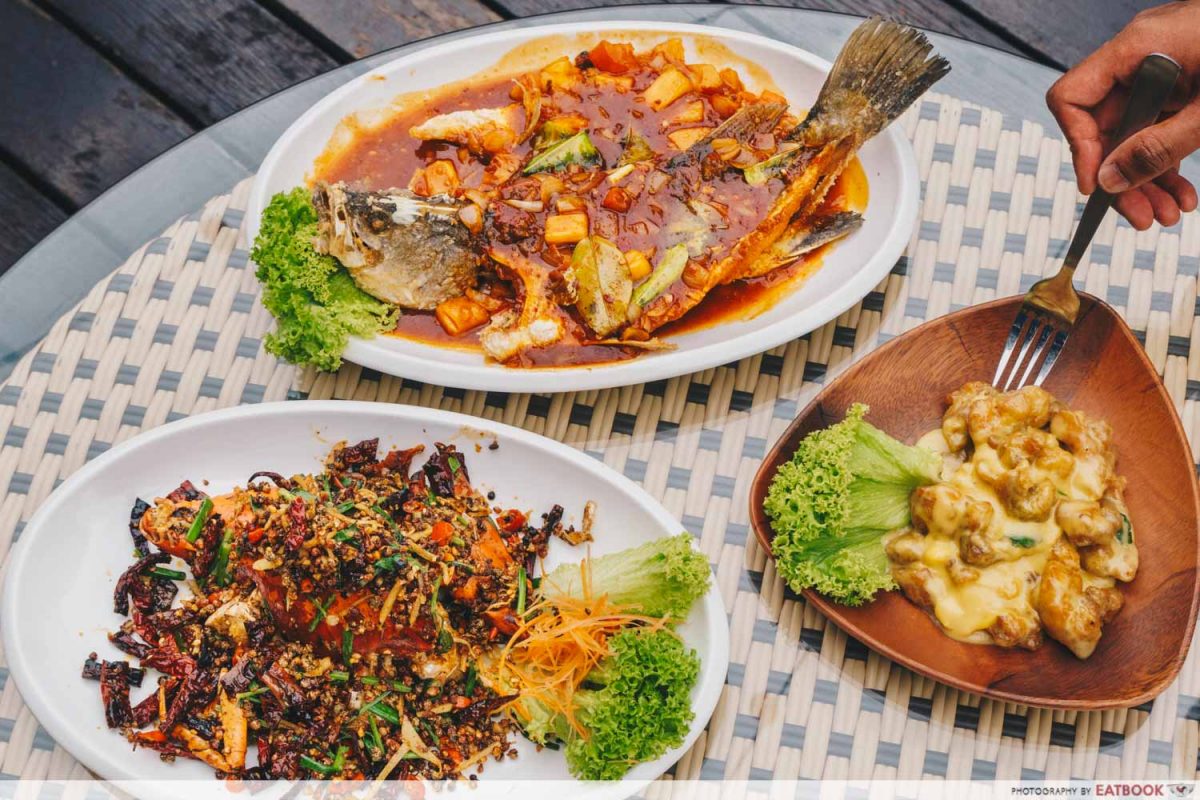 Boasting over 30 years of culinary experience, the chef behind Yassin Kampung is well-known for her interesting interpretations of traditional zi char, with modern and halal takes on most of her dishes. One of such examples would be the Sichuan Mala Fried Crab ($47.08 for regular), made for those who crave that numbing sensation from ma la xiang guo. Another unusual creation is the Kampung Durian Chicken ($23.54 for regular), that's certainly worth a try.
They do offer islandwide delivery, with your delivery fees waived off if you make an order of $100 and above. Otherwise, turn to other delivery services such as Foodpanda and Deliveroo.
Do read our Yassin Kampung review!
Address: 106 Clementi Street 12, #01-56, Singapore 120106
Opening hours: Daily 11am to 12am
Tel: 6717 1717
Website
Yassin Kampung Review:  Halal Zi Char Restaurant Serving Durian Chicken And Ma La Crab
---
13. Nic & Tom Eatery
---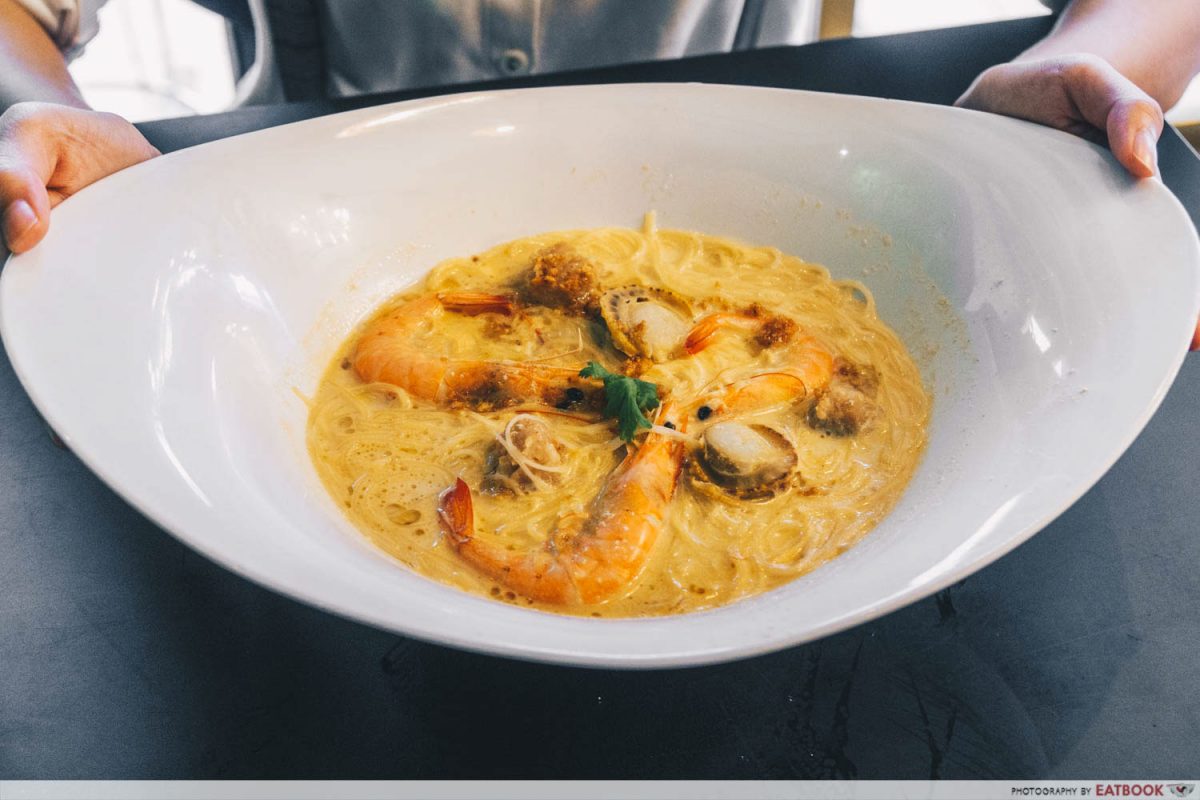 Started by two Gen-Z cousins, Nic & Tom Eatery has gained more traction, especially on social media, for their wallet-friendly dishes that are slightly unconventional at nett prices. Their unique rendition on the classic white bee hoon dish, the Seafood Cheese Bee Hoon ($12.30) is a more creamy and gao version, accompanied by the juiciness of seafood to form a tasty dish altogether.
Luckily, they do have an islandwide delivery service, with a flat $8 delivery fee for all orders below $50. Your delivery fees are completely waived off if you make an order of $50 and above. Otherwise, look to delivery platforms such as Foodpanda to send your food to your doorstep.
Do give our Nic & Tom Eatery review a read!
Address: 55 Serangoon Garden Way, Singapore 555951
Opening hours: Daily 10am to 10pm
Tel: 6789 9696
Website
Nic & Tom Eatery Review: Seafood Cheese Bee Hoon, Pork Trotter Rice And More From $1.90 At Serangoon
---
14. 333 Kitchen Singapore
---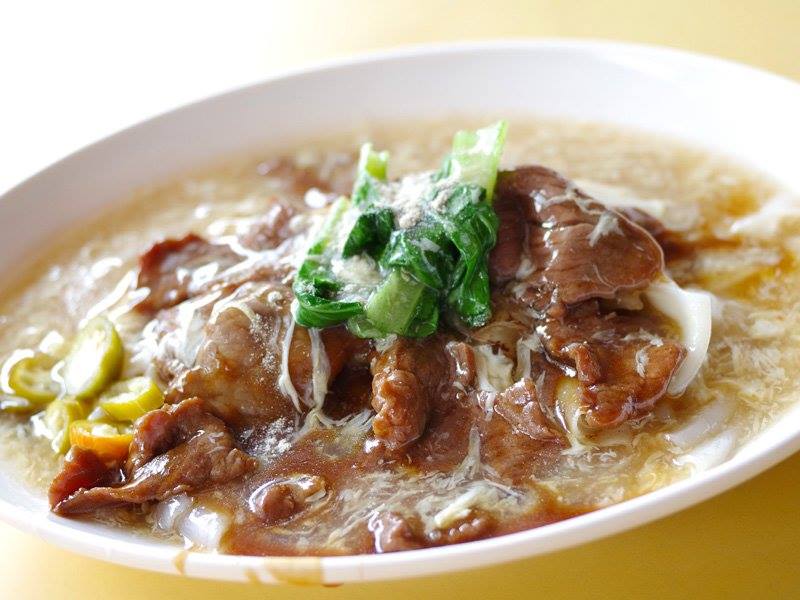 Image credit: 333 Kitchen Singapore's Facebook page
Located along Geylang Road, 333 Kitchen is a well-known zi char haunt in the area with an extensive selection of dishes. Pick from Chinese classics such as the sauce-drenched Egg Gravy Hor Fun ($4.50/$8/$12) and wok-fried Yang Zhou Fried Rice ($4/$7$10). They also have numerous seafood options including the chef-recommended Curry Fish Head ($25) and Superior Seafood Pot ($20).
They offer free delivery services across the island, and the minimum order is calculated based on your location, starting from $10. Call in to place your orders and check out their Facebook page for the full menu!
Address: 291 Geylang Road, Singapore 389338
Opening hours: Daily 4pm to 2.30am
Tel: 6844 4404
Website
---
Get your zi char fix with islandwide delivery
---
This period of time is not the easiest for most, and the least that we can do is to stay protected, stay indoors, and bring you mealtime solutions instead. Thanks to these stalls that have pledged #SGUnited, we can still enjoy hearty zi char meals from the safety of our own home!
If you are looking for more delivery options during this tough period, check out our list of healthy food delivery services in Singapore. Alternatively, check out these famous zi char stalls for more classic Chinese dishes to dapao from. 
10 Healthy Food Delivery Services In Singapore For Meal Preps And Guilt-Free Snacks
This article was originally written on 13 April 2020. 8Crabs purchased the top placement on this post. Kai Xin Crabs purchased the second placement on this post.