Seafood cheese bee hoon at Nic & Tom Eatery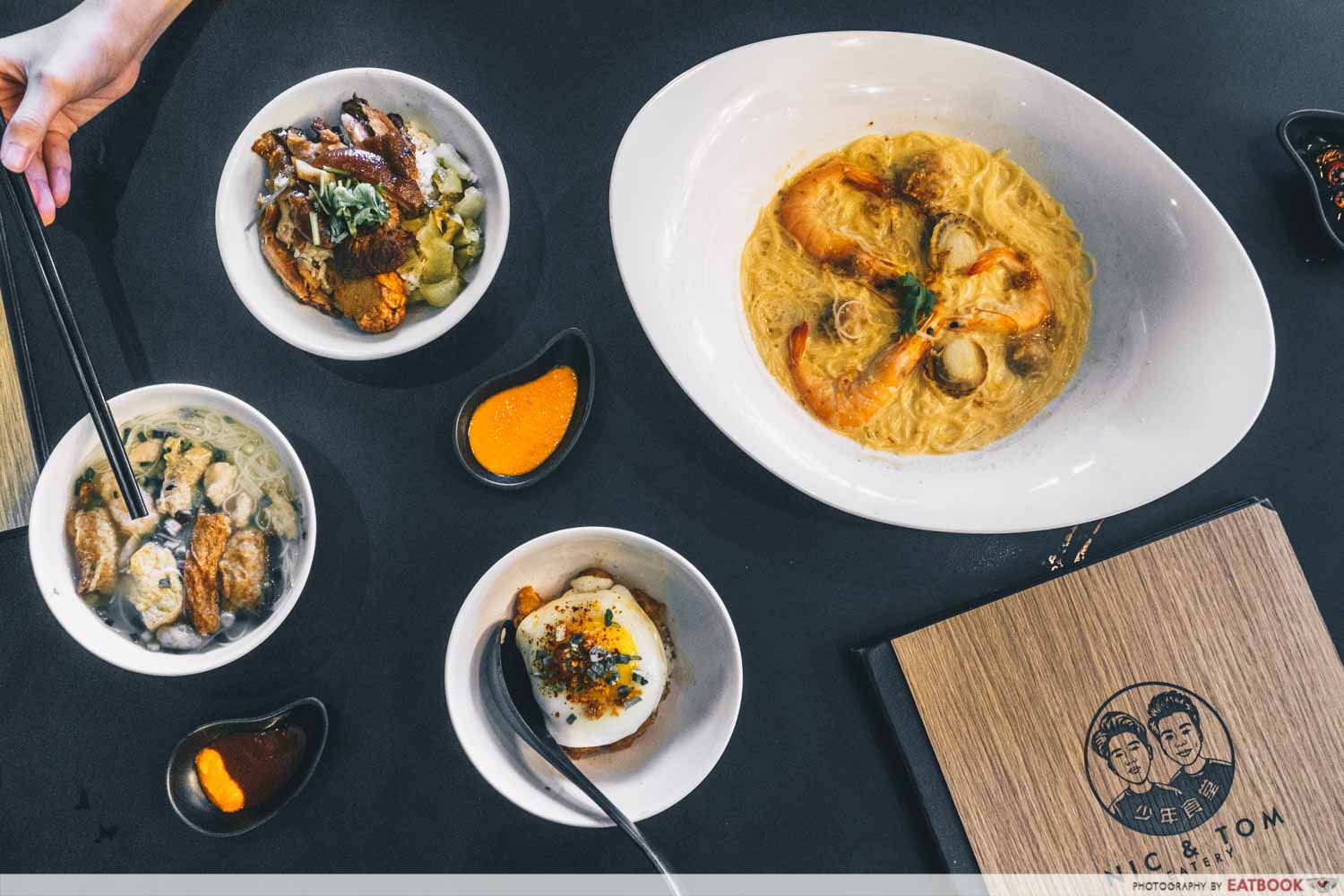 At the mention of seafood bee hoon, White Restaurant's signature rendition—also fondly known by Northies as Sembawang white bee hoon—often comes to mind. Recently, I heard of a new white bee hoon in the scene, Nic & Tom Eatery, which makes their own version with an unconventional cheesy twist. As one who loves both seafood bee hoon and cheese, I had to give them a taste.
10 Signature Bee Hoon Dishes That Propelled These Eateries To Fame
For those who are unfamiliar with Nic & Tom Eatery, they are a start-up founded by two Gen-Z cousins, Nicholas Lim and Tommy Pang. Despite their young ages of 20 and 23 respectively, their restaurant has garnered the attention of many with their interesting dishes at affordable prices.
Food at Nic & Tom Eatery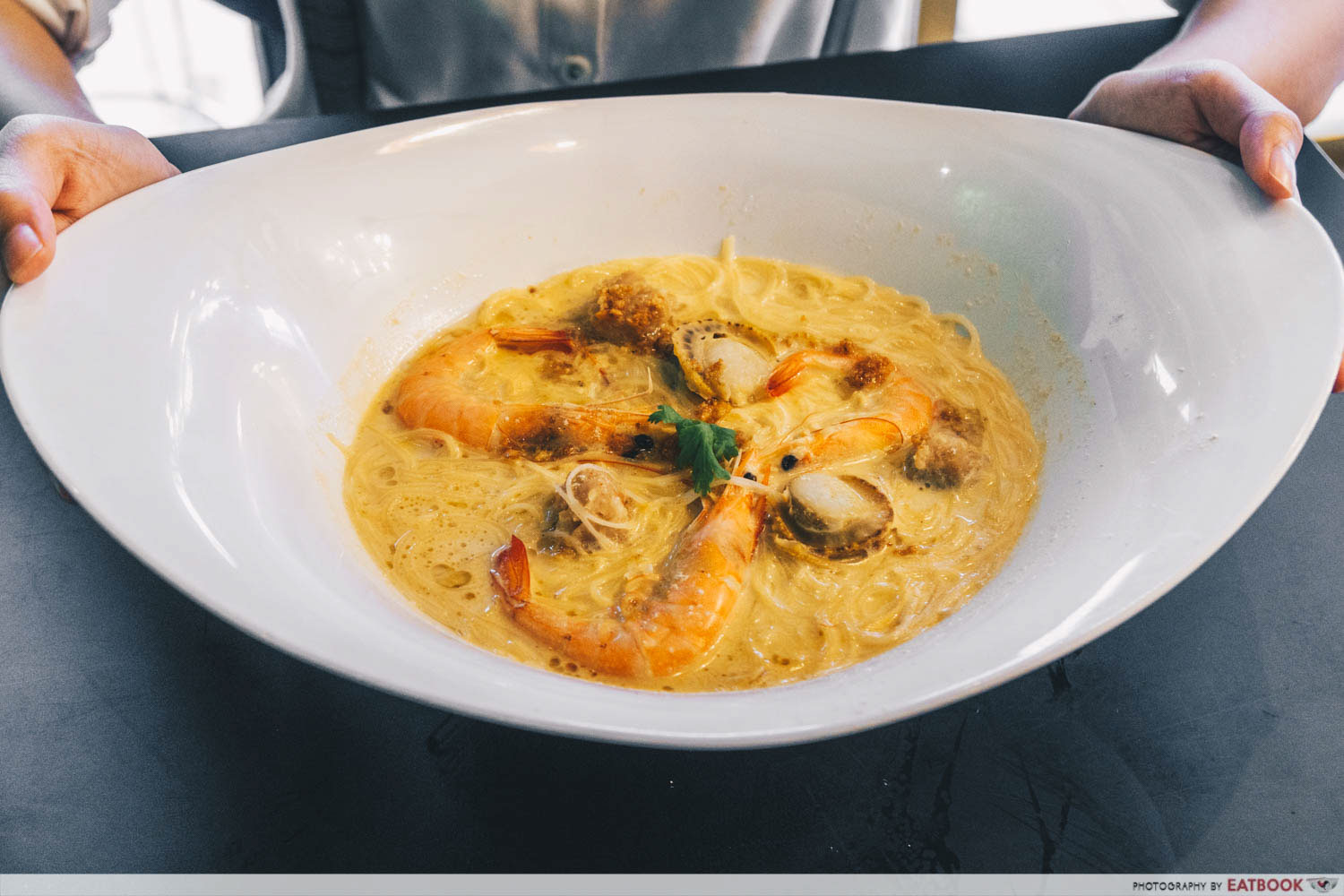 As our plate of Seafood Cheese Beehoon ($9.90) arrived, the tantalising aroma of cheese immediately greeted us.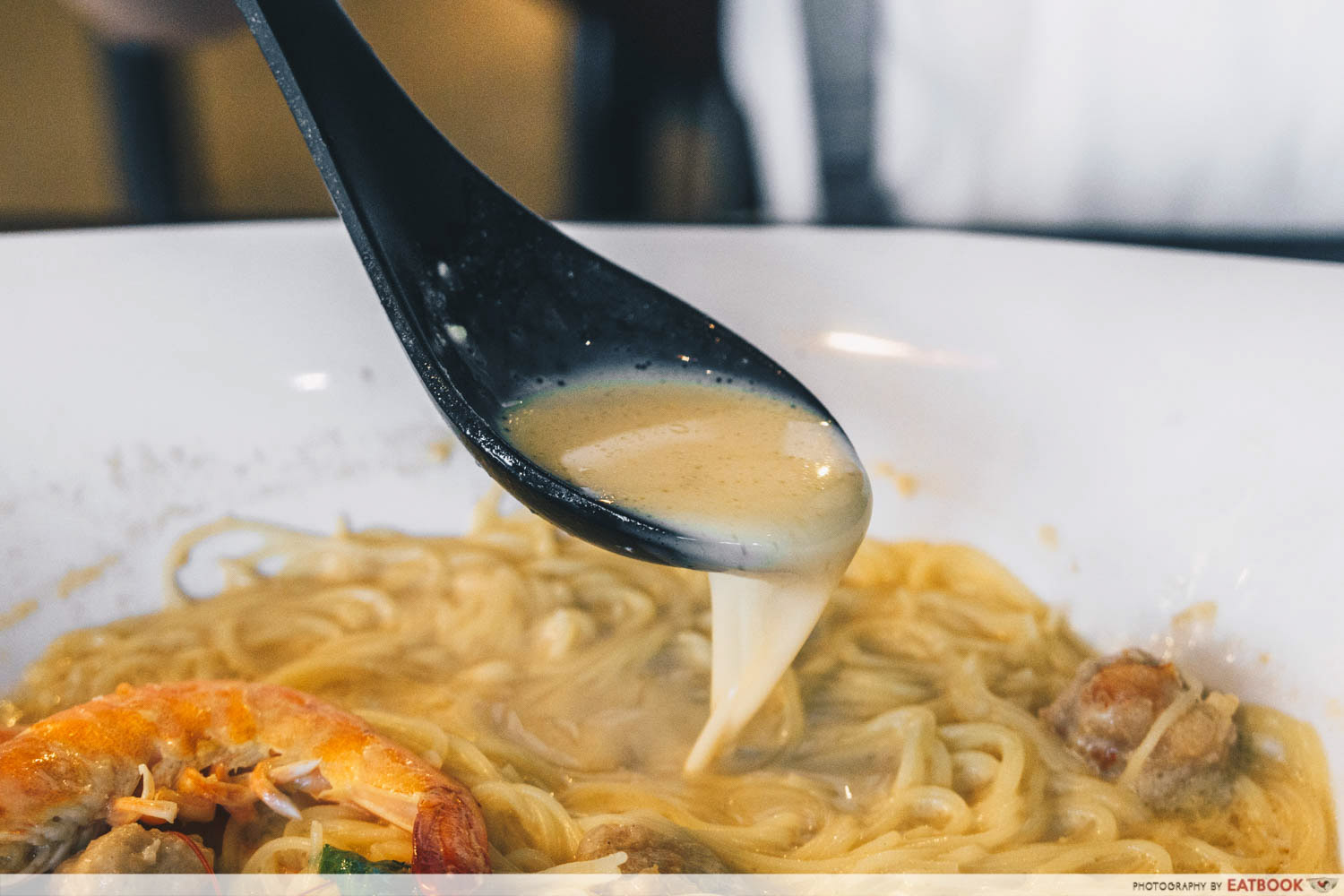 I was first enamoured by the flavourful gravy as I dug into the dish. While it was slightly sweet, the gravy was also rich with a mild yeasty, almost alcoholic, aftertaste. This infusion of cheddar cheese elevated their gravy, much to our delight.
Their bee hoon also came with a bit of a bite. Rather than the softer bee hoon that many zi char stalls served, Nic & Tom Eatery's version was springy, pairing well with the buttery gravy.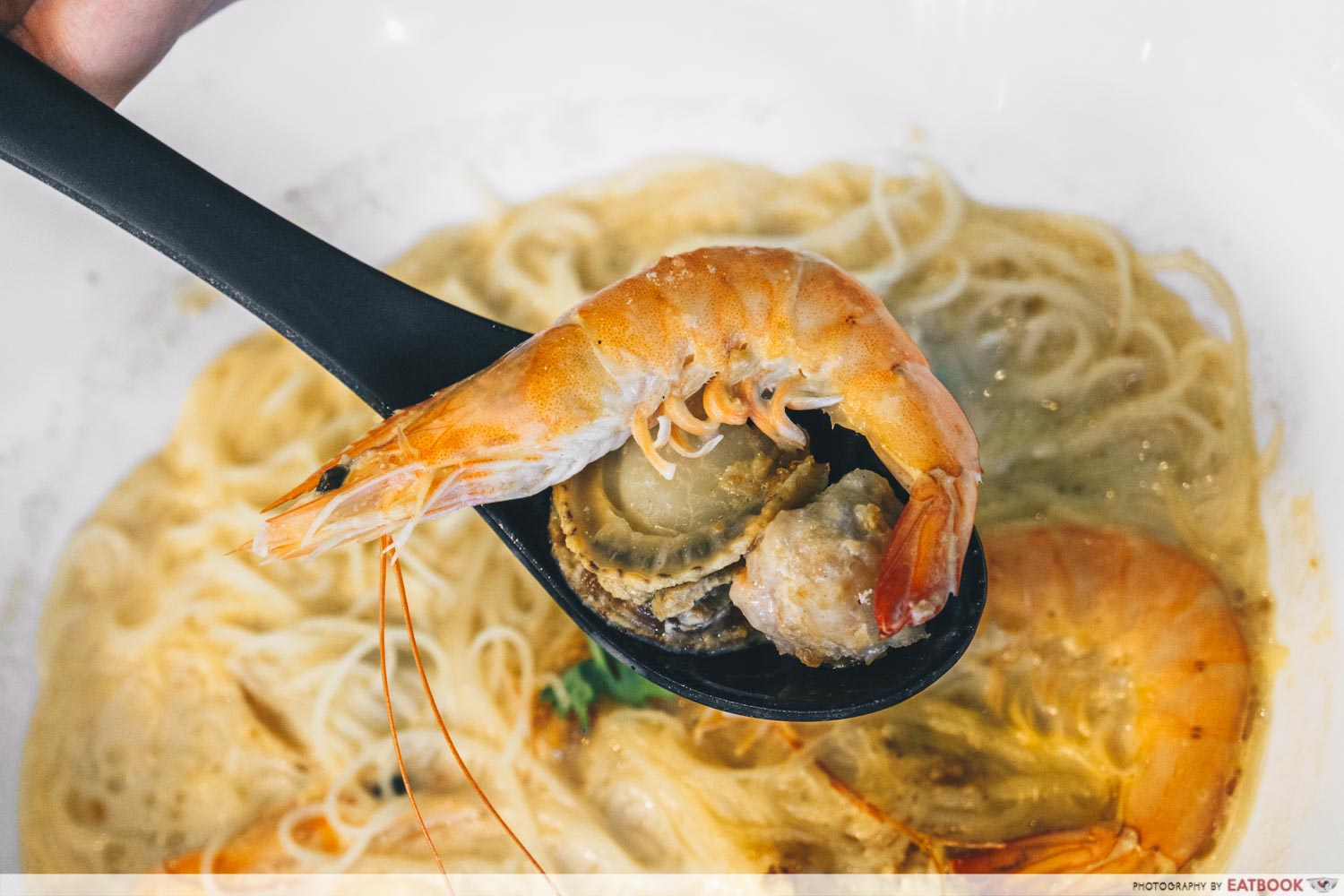 I was also impressed with the generous amounts of fresh prawns and scallops served with the bee hoon. Chunks of QQ prawn paste also paired well with the sweeter gravy.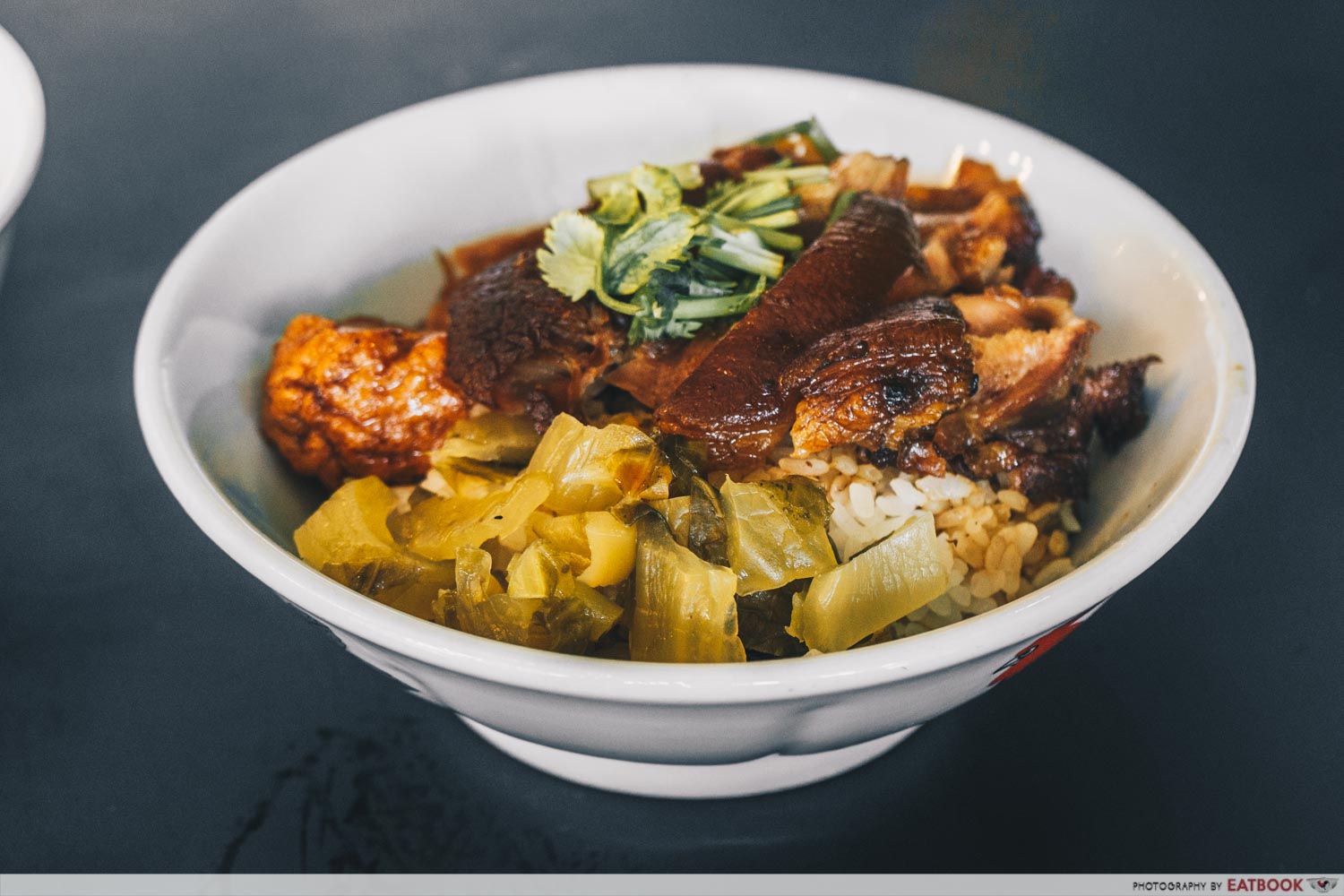 While the eatery is best known for their cheese bee hoon, their extensive menu also comprises rice dishes. Seeking to switch up my carb choices, I went for the Long Jiang Pig Trotter Rice ($4.90).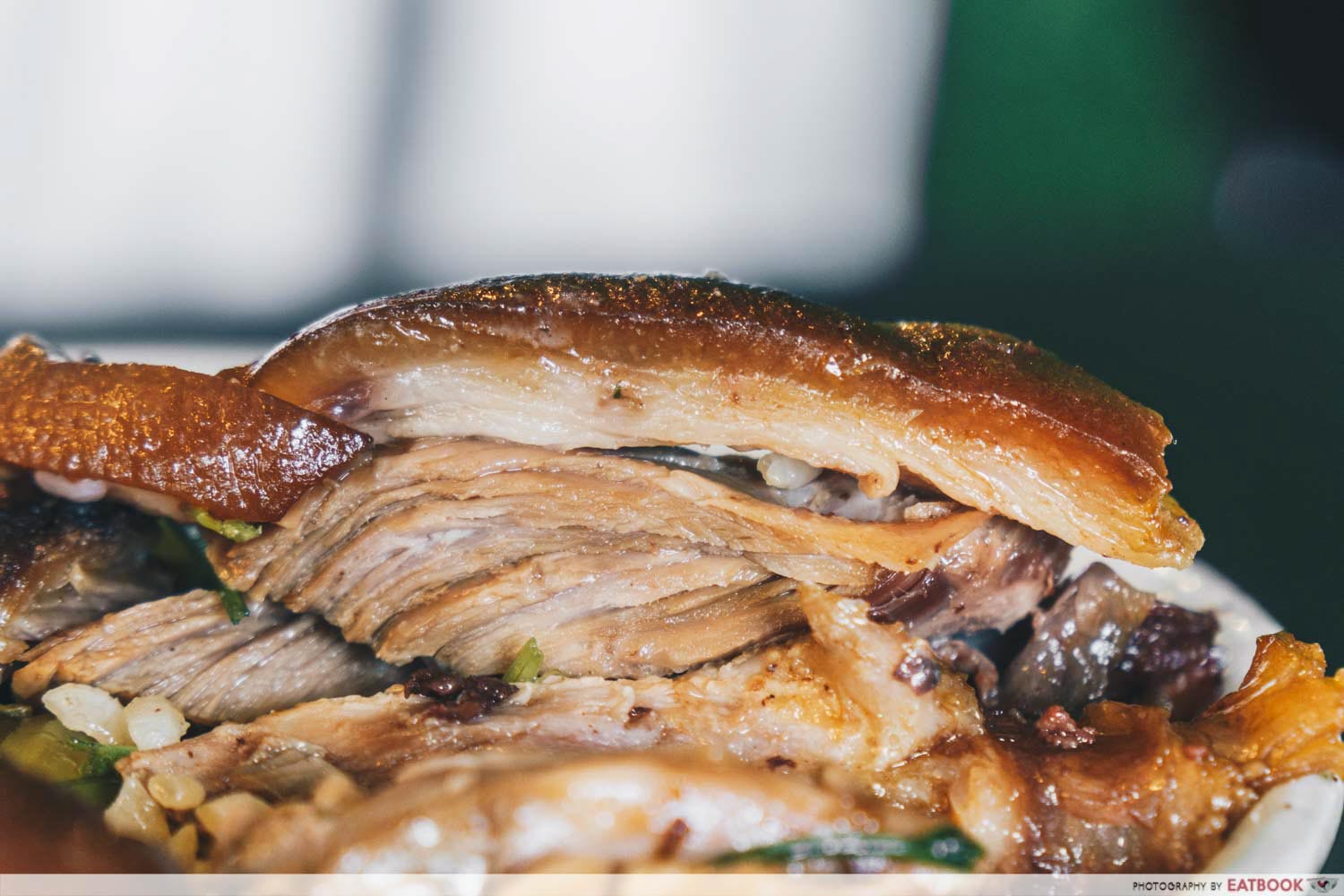 For those who love your braised pork trotters fatty, this one's definitely for you. Boasting melt-in-the-mouth skin and fat with an almost jelly-like texture, these pork trotters also had tender, juicy meat.
10 Pork Trotters Dishes In Singapore Including Pork Trotter "Agar-Agar" And Pandan Braised Pork
Preserved vegetables and a salty meat cake are also served atop fluffy, fragrant pearl rice for an extra umami punch. At just $4.90, this comforting bowl of rice was well-worth every cent.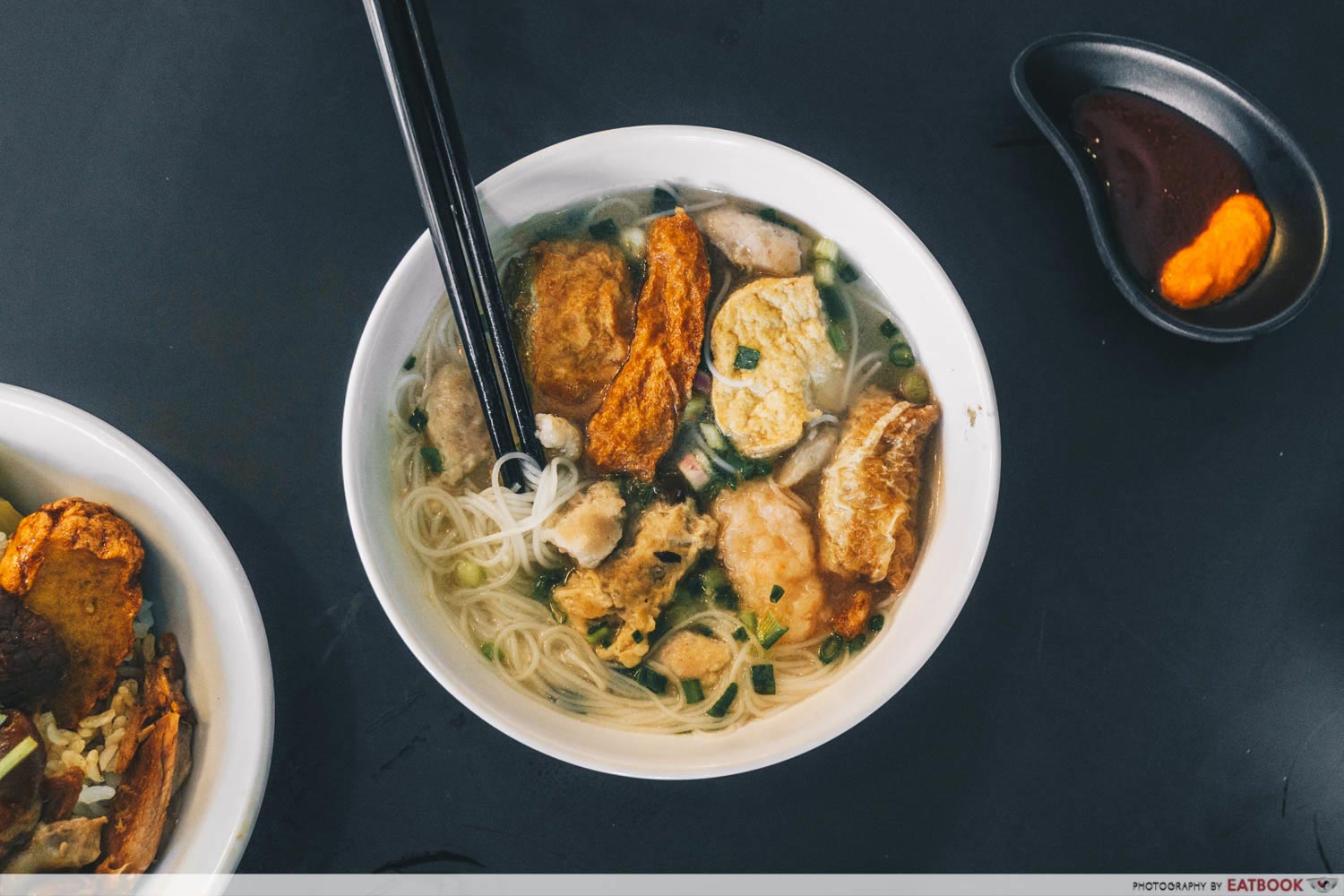 If you're one who appreciates Hakka food, Nic & Tom Eatery also has the Bai Nian Yong Tau Foo (from $4.90).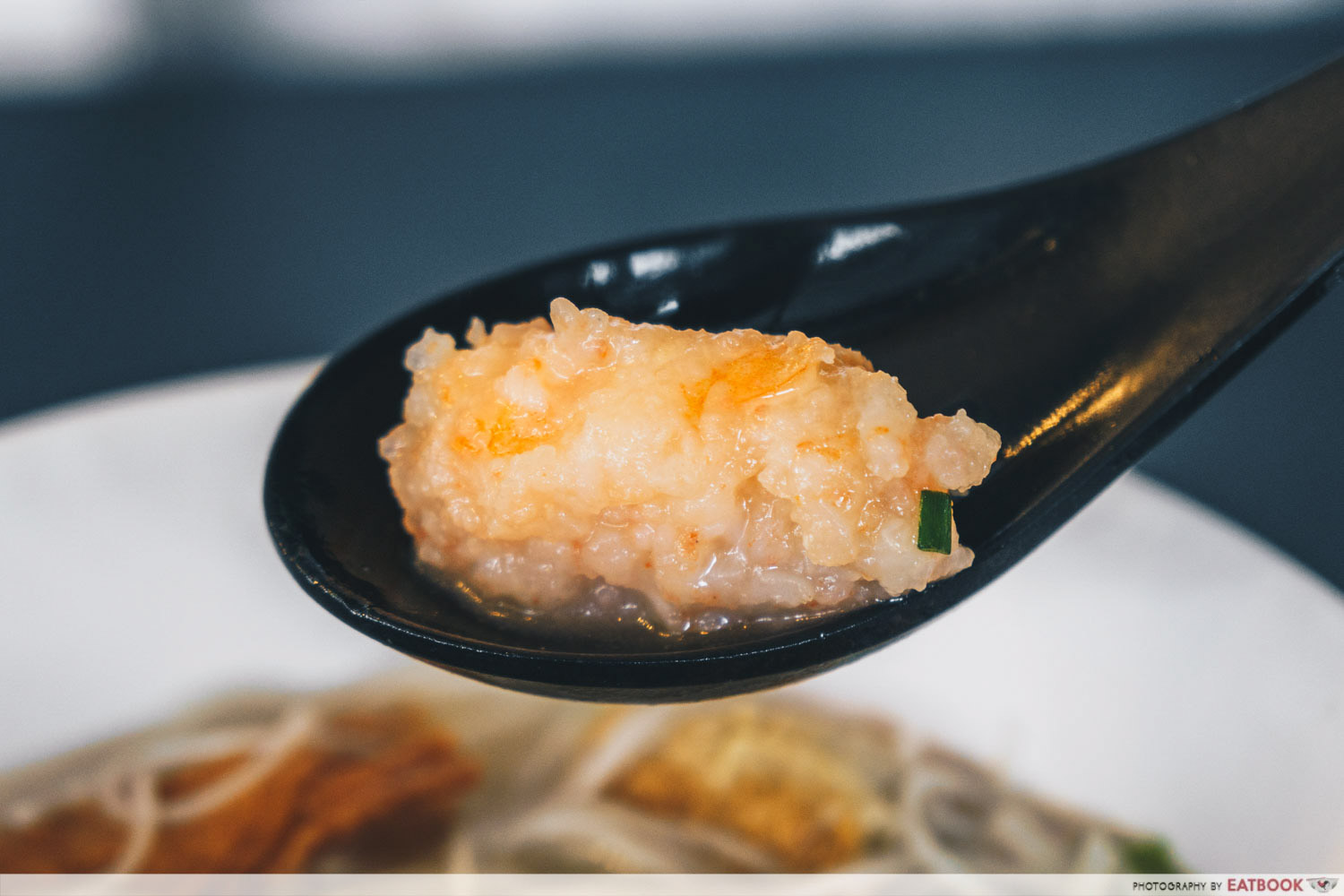 This piping hot dish came with a variety of ingredients including juicy prawn and pork paste, which had an extra crunch from bits of earthy mushroom. My companion especially enjoyed their bitter gourd, as it had a good melon to pork paste ratio, just right to balance out the bitterness. Enjoy the yong tau foo with some of their chilli. It packed some serious heat.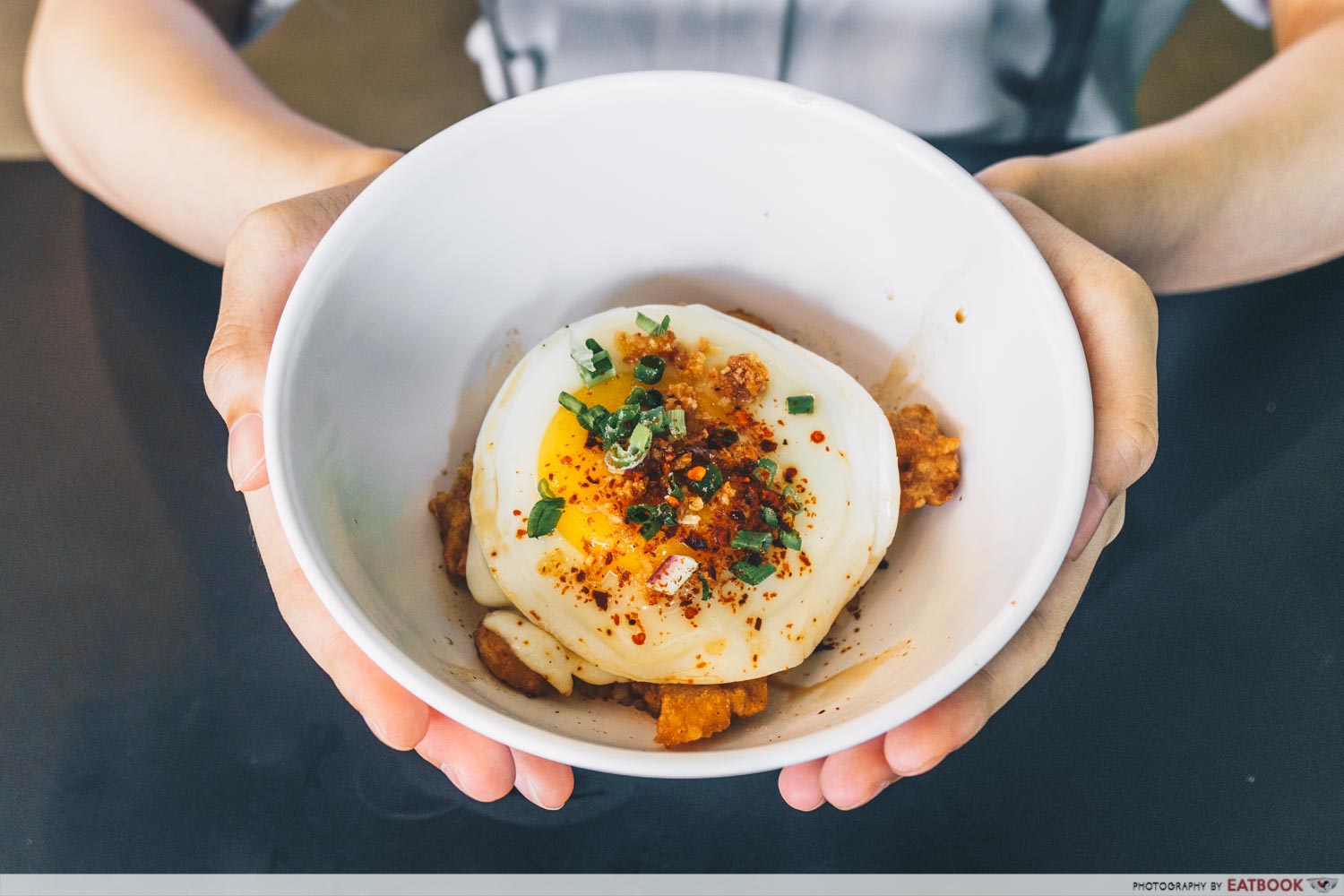 If you're feeling peckish after your meal, Nic & Tom Eatery also has small cute bowls of Tuckshop Rice ($1.90). Don't let the size of this little bowl of rice fool you because it was brimming with a generous amount of tasty ingredients.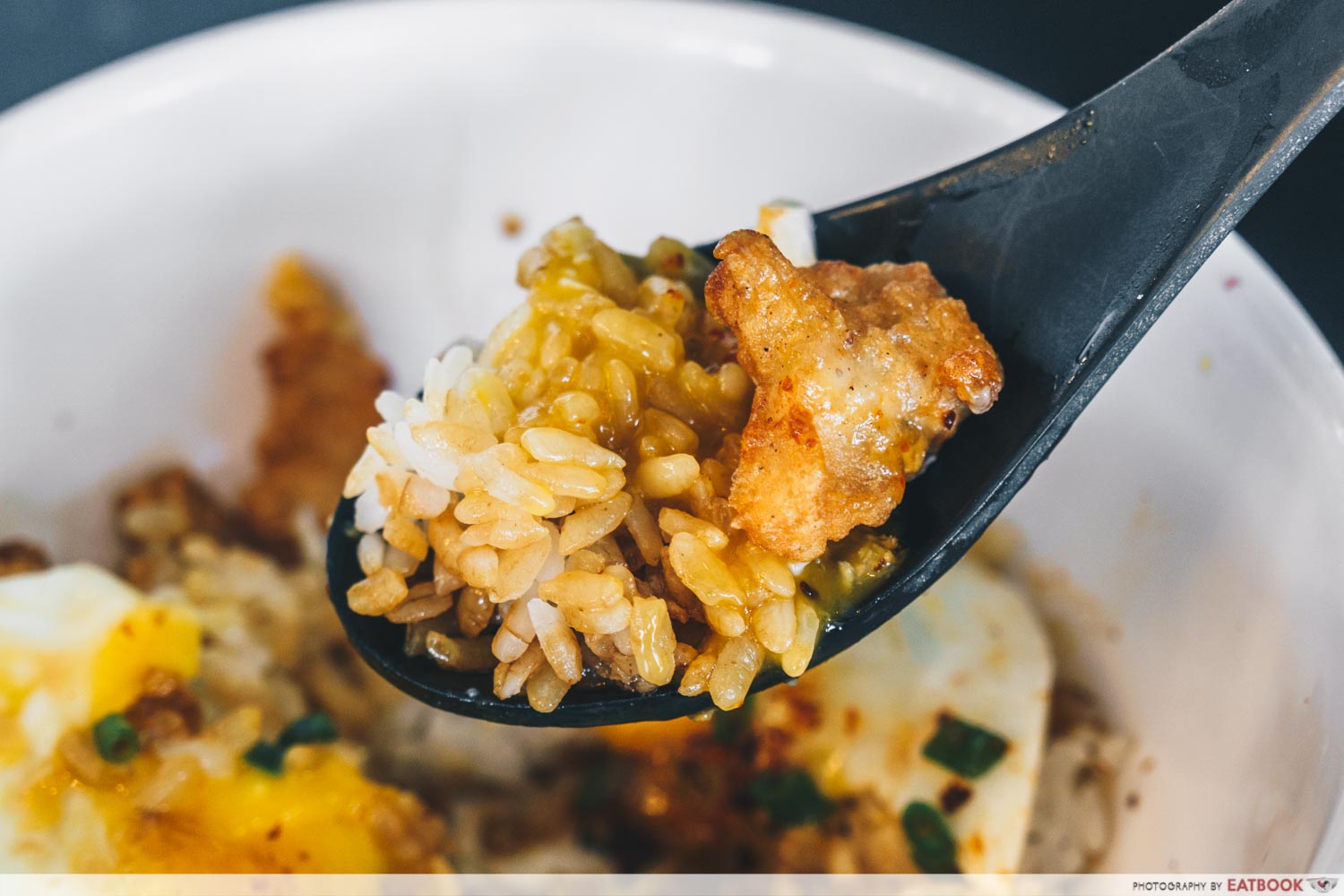 The tuckshop rice comprises sweet, well-fried pieces of pork, topped with a sunny-side-up egg and is finished with a savoury secret sauce. Tearing the yolk apart also gave the rice some extra creaminess. It's worth noting, however, that each person is limited to ordering only one bowl of tuckshop rice. This dish is also only available for dine-in.
Ambience at Nic & Tom Eatery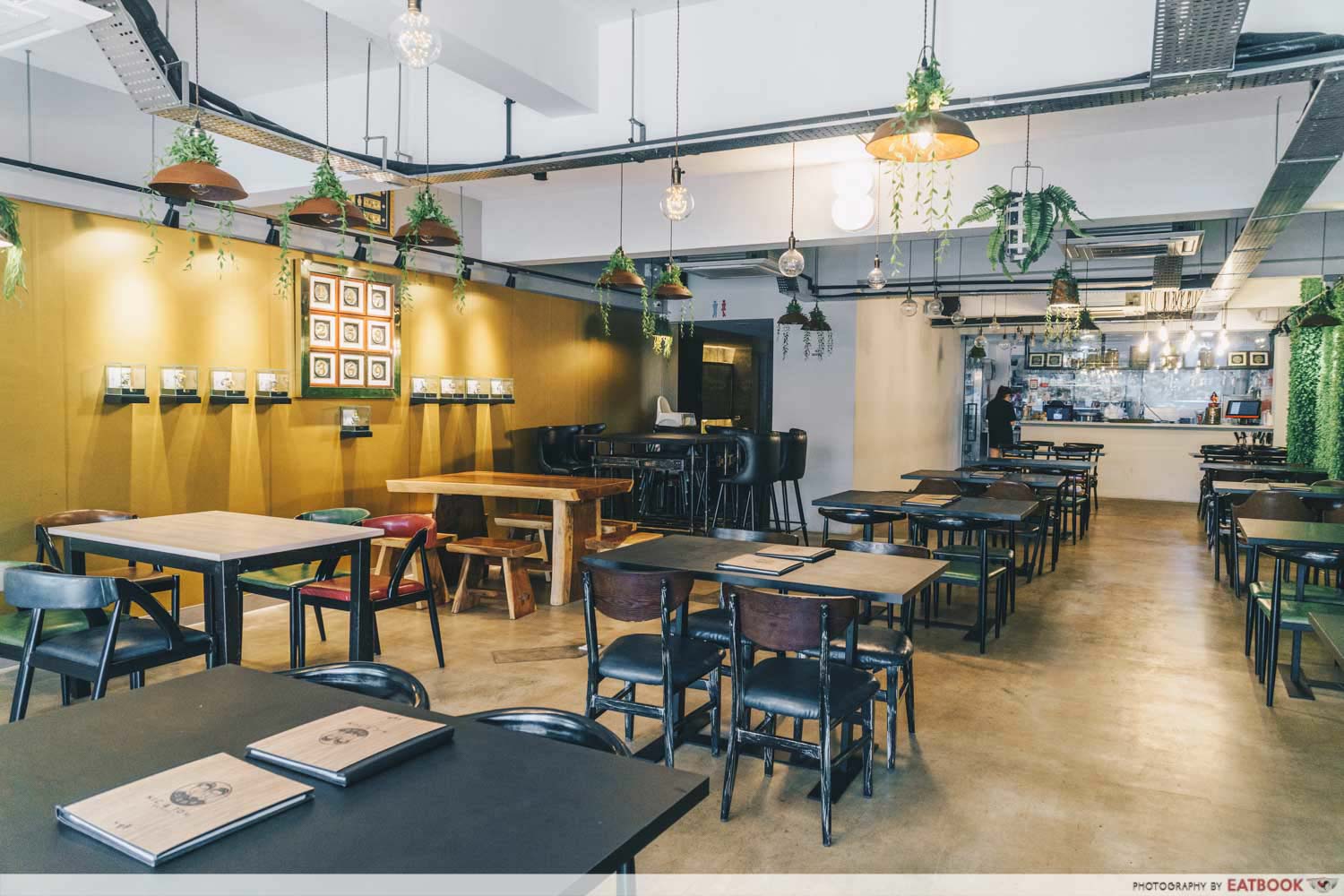 Nic & Tom Eatery is located at Serangoon Garden Way—a 10-minute bus ride from Lorong Chuan MRT Station. The restaurant's interior is spacious, with plenty of seats, though it gets crowded during lunchtime.
The verdict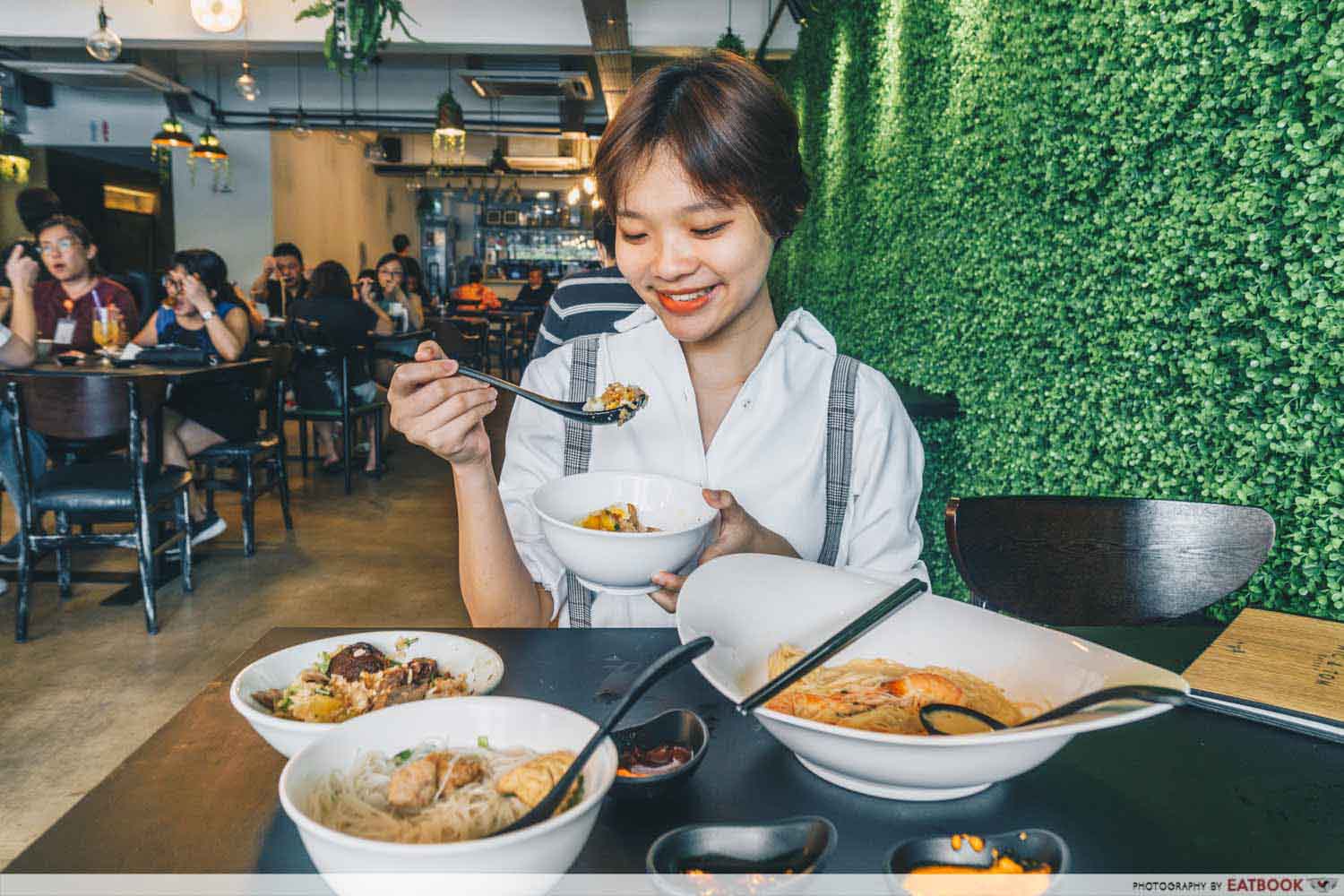 Nic & Tom Eatery is home to a wide array of familiar local dishes. I definitely enjoyed each dish despite having only tried a fraction of their menu. Unconventional dishes are often a hit or miss, yet this restaurant nailed their cheese bee hoon. I can see myself coming back again for more. Additionally, their affordable price point and generous portions also made the visit even more worth it.
If you love noodles, also check out our list of laksa places. For those who like ramen too, check out Tsuta's new menu as well.
15 Laksa In Singapore With Lemak Broth, Springy Noodles, And Fresh Prawns
Address: 55 Serangoon Garden Way, Singapore 555951
Opening hours: Daily 10am to 10pm
Tel: 6789 9696
Website
Nic & Tom Eatery is not a halal-certified eatery.
Photos taken by Hay Thi.
This is an independent review by Eatbook.sg.
Nic & Tom Eatery Review: Seafood Cheese Bee Hoon, Pork Trotter Rice And More From $1.90 At Serangoon

Summary
Pros
– Affordable prices
– Large portions
– Extensive menu
Cons
– Inaccessible location
Recommended dishes: Seafood Cheese Beehoon ($9.90), Long Jiang Pig Trotter Rice ($4.90), Tuckshop Rice ($1.90)
Opening hours: Daily 10am to 10pm
Address: 55 Serangoon Garden Way, Singapore 555951