Seafood cheese bee hoon at Nic & Tom Eatery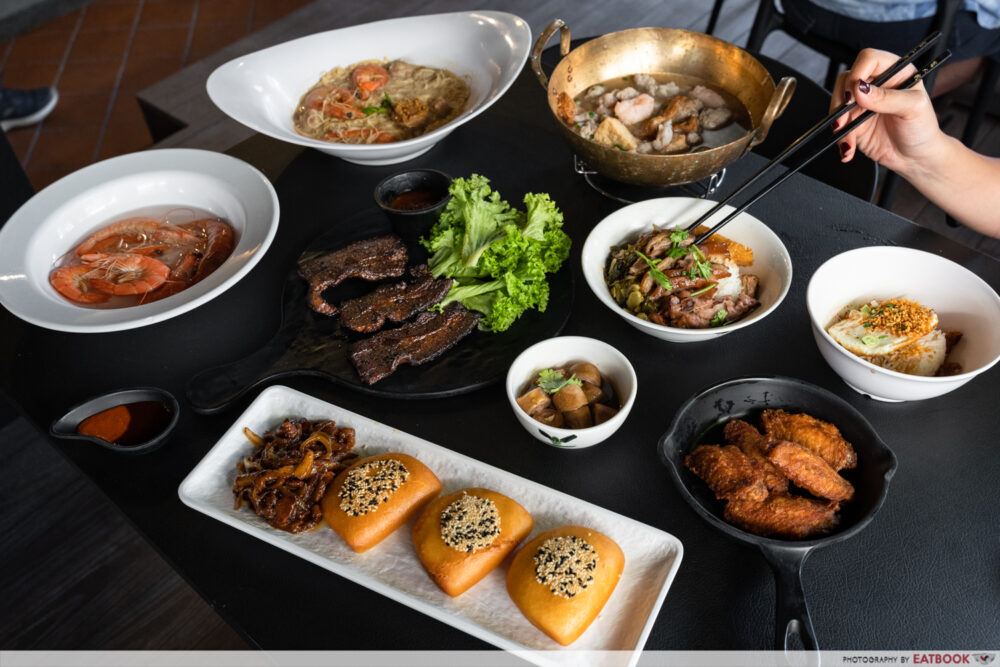 At the mention of seafood bee hoon, White Restaurant's signature rendition—also fondly known by Northies as Sembawang white bee hoon—often comes to mind. Nic & Tom Eatery, which gained fame at their now-defunct Serangoon Gardens outlet for their seafood cheese bee hoon, has just reopened at their new Chinatown location, with an incredible opening promotion.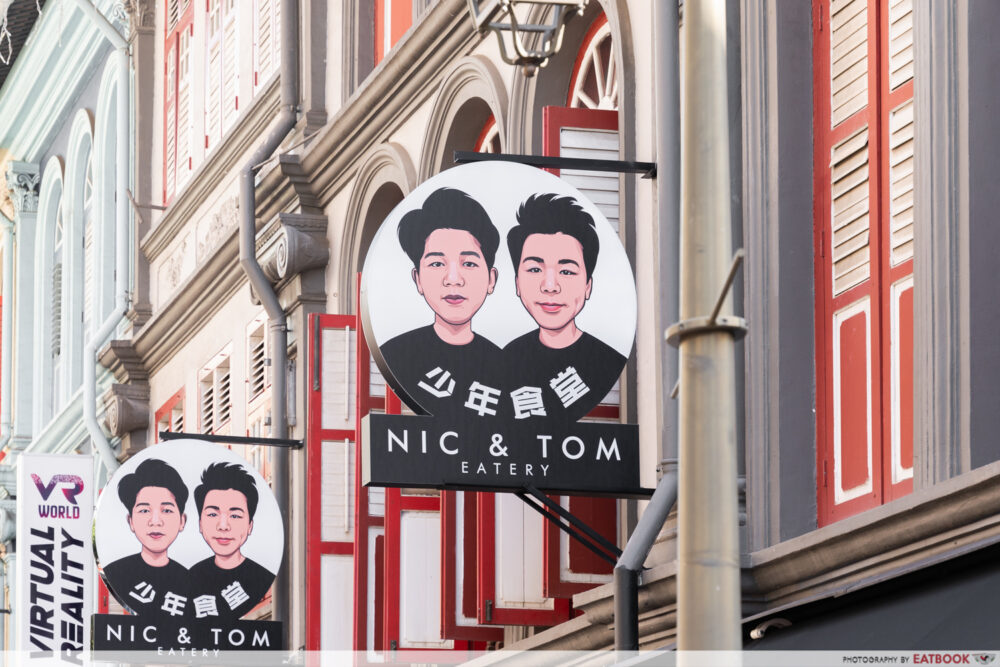 For those who are unfamiliar with Nic & Tom Eatery, they were founded by two Gen-Z cousins, Nicholas Lim and Tommy Pang, whom the eatery is named after. Their faces also grace the eatery's logo, so you'll definitely recognise them should they be around!
Food at Nic & Tom Eatery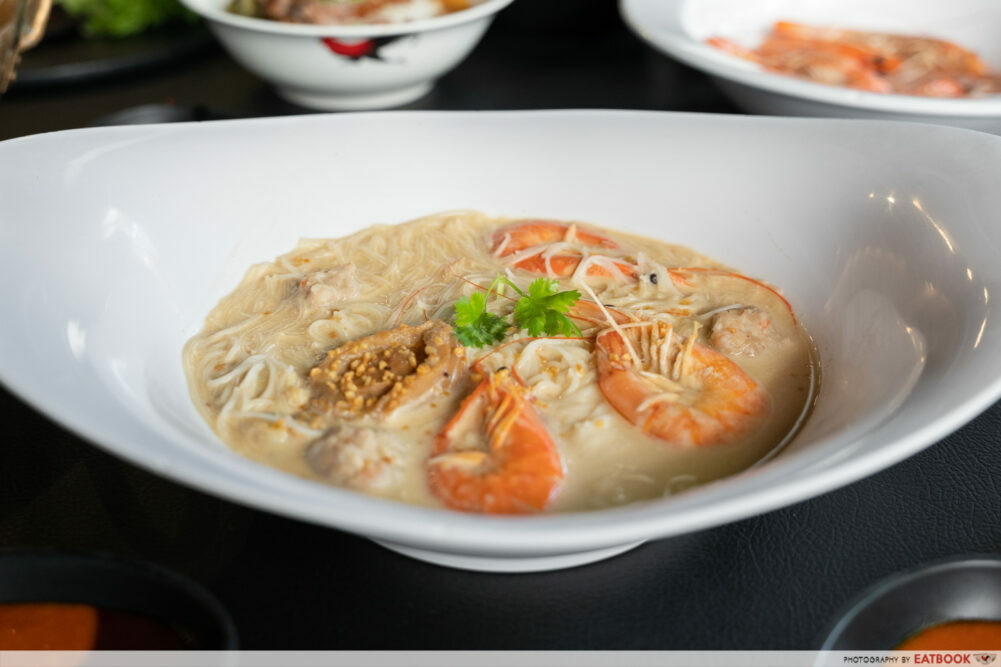 We started our meal with Abalone Cheese Beehoon ($15.90++), which is one of four cheese bee hoon dishes here, differing only in the ingredients they are served with. The most basic Seafood Cheese Beehoon ($9.90++) comes with fresh prawns, scallops, and prawn paste balls, while the Abalone, and Big Scallop Cheese Beehoon ($15.90) are the most expensive.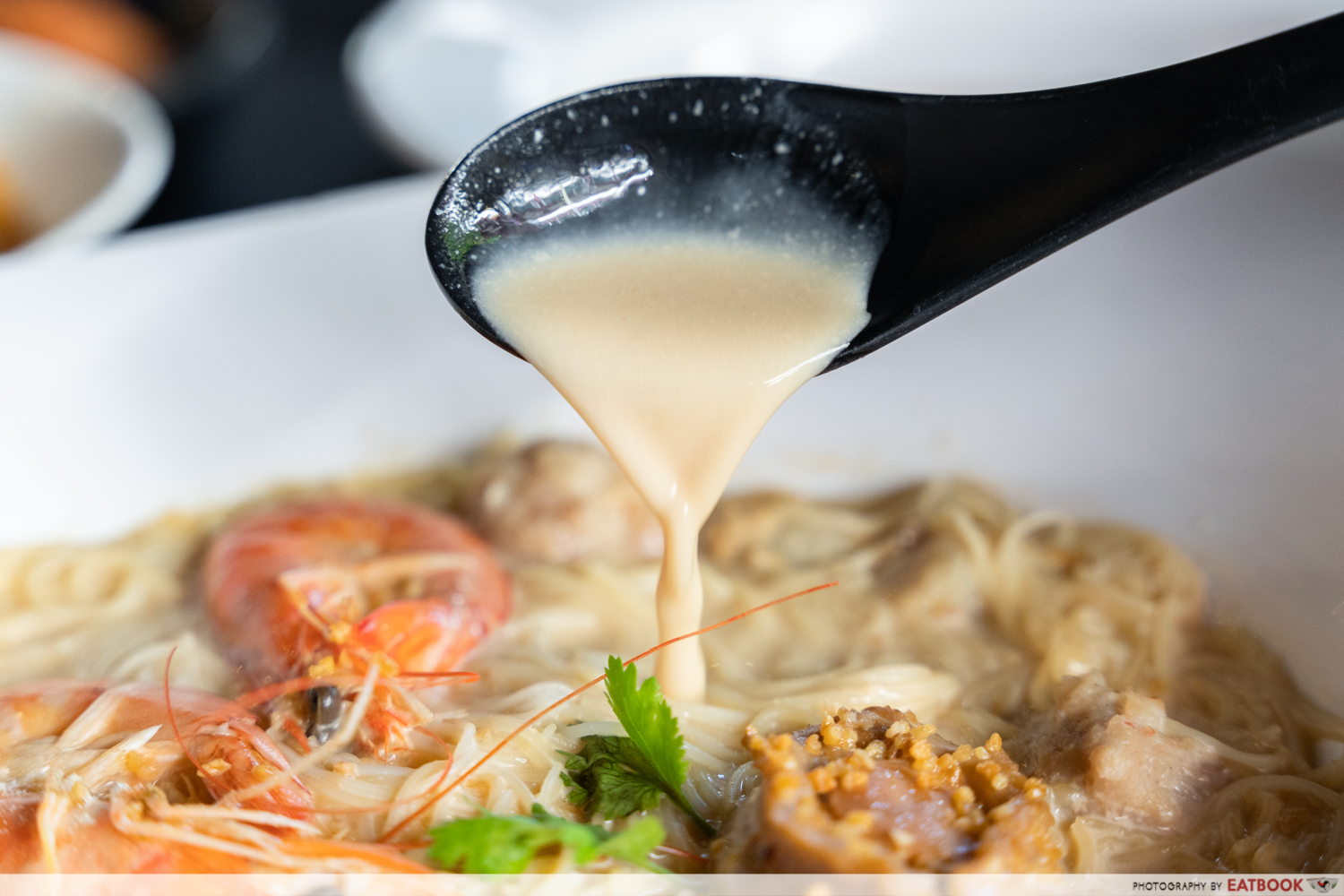 I had heard good things about the cheese broth and was expecting a rich, robust flavour. However, I found it a little thin, though this could be due to it being their first morning in the new kitchen. My colleague, who was with me, said that it had tasted much better on previous visits to their Serangoon Gardens store.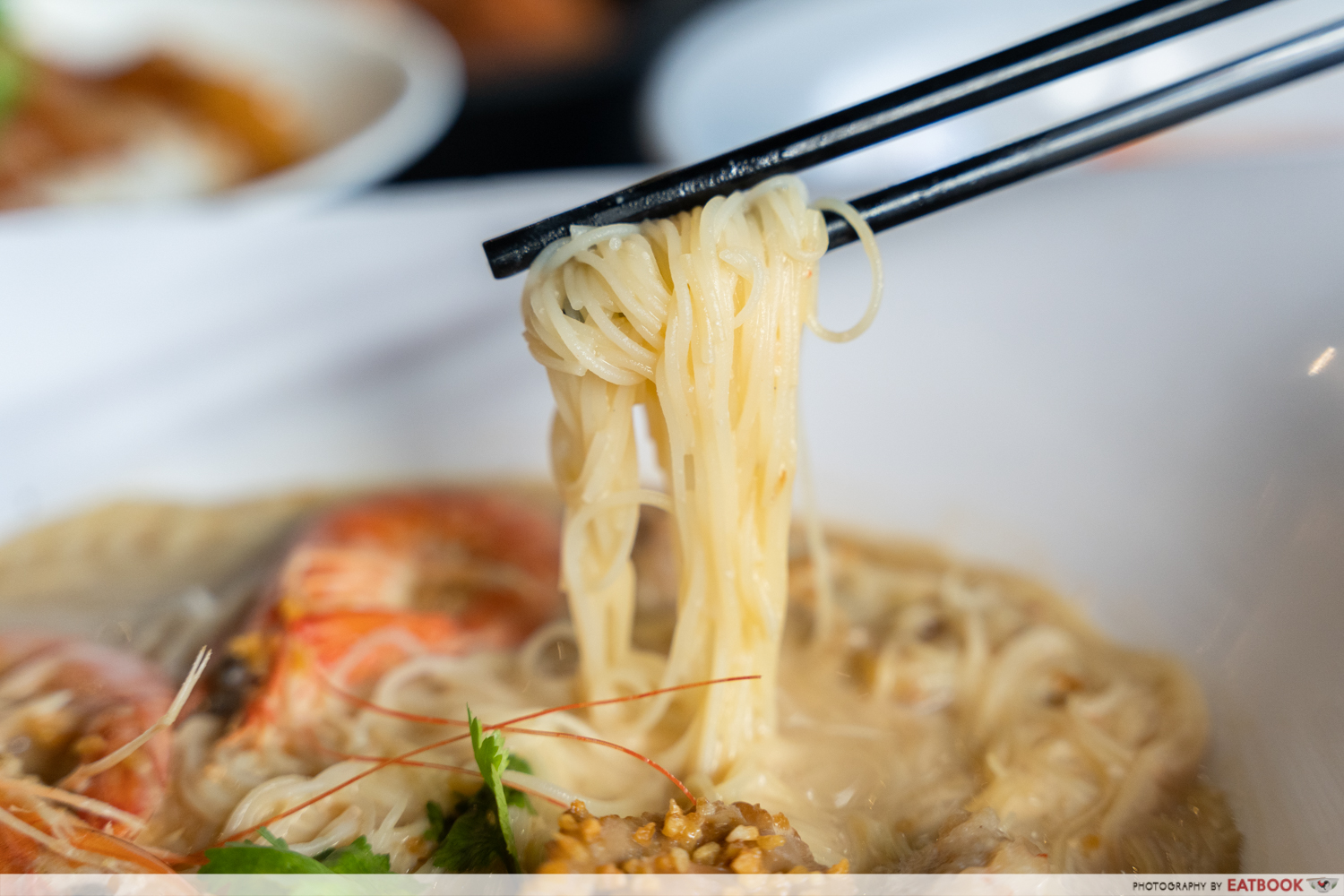 Their bee hoon also came with a bit of a bite. Rather than the softer bee hoon that's absorbed all the gravy, Nic & Tom Eatery's version was springy, which I personally don't quite like.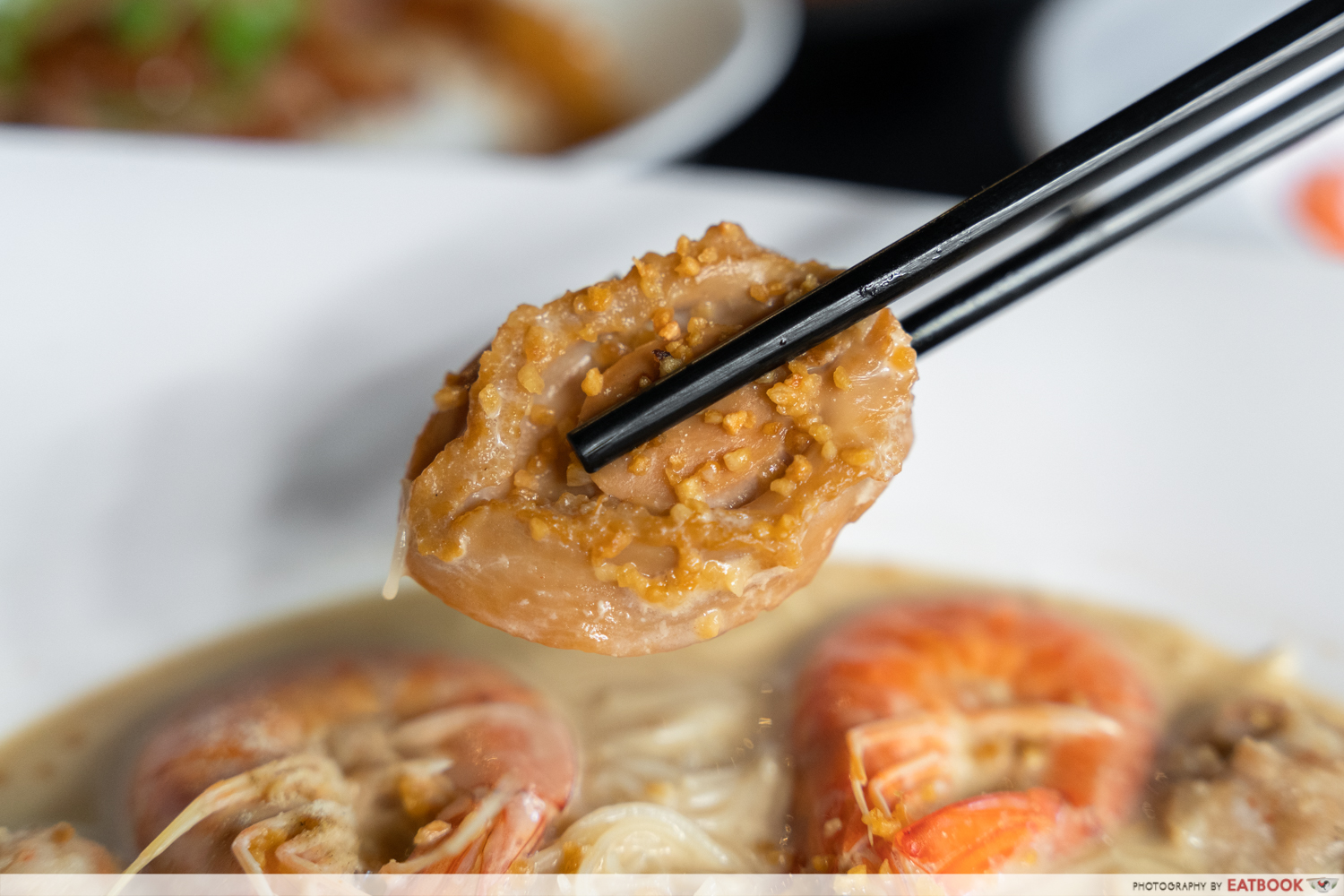 It also comes with actual abalone, albeit of the canned variety. For $15.90++, together with the other seafood on the plate and a sizeable portion of bee hoon, it's a pretty good deal.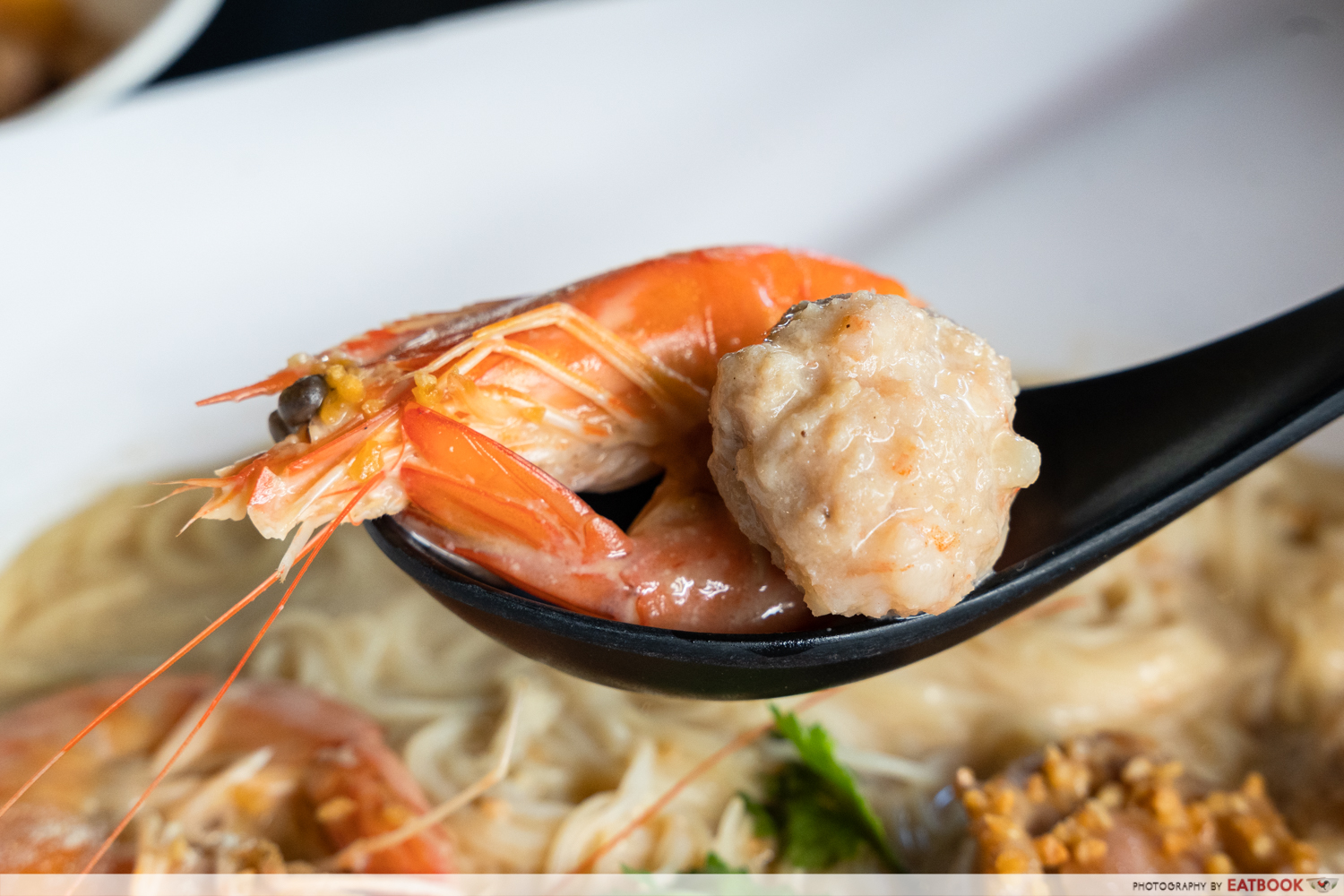 I would have preferred if they had taken the shells off the prawns, but the integrity of the flesh is probably better preserved this way. You'll also get house-made prawn balls and mini scallops.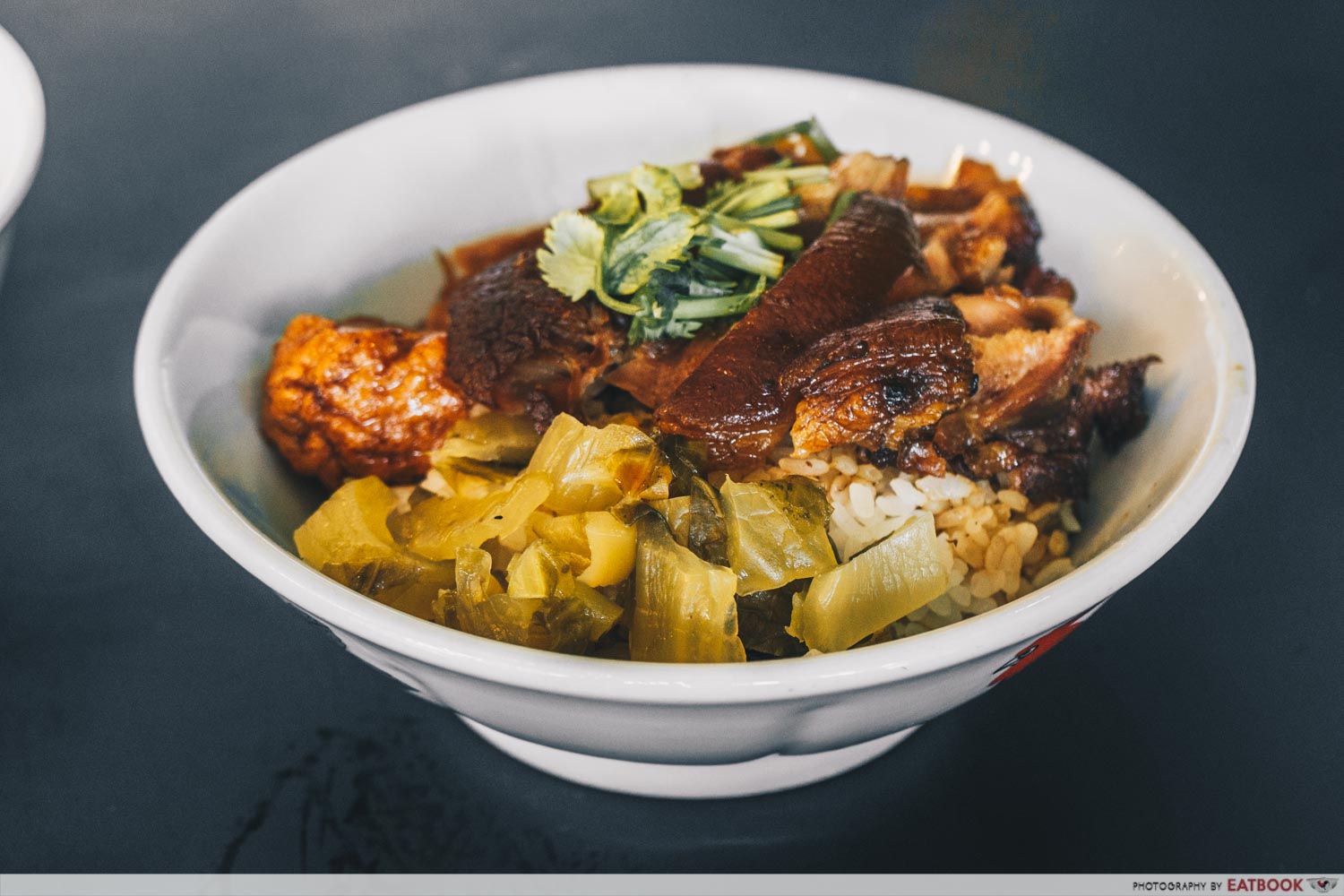 While the eatery is best known for their cheese bee hoon, their extensive menu also comprises rice dishes, one of which is the popular Pig Trotter Rice ($5.90++). Mee sua lovers can also get a Pig Trotter Mee Sua ($6.90++), which comes in a savoury braised gravy.
You can also let the staff know if you'd prefer meat with skin and fats, or the trotter cut, for both.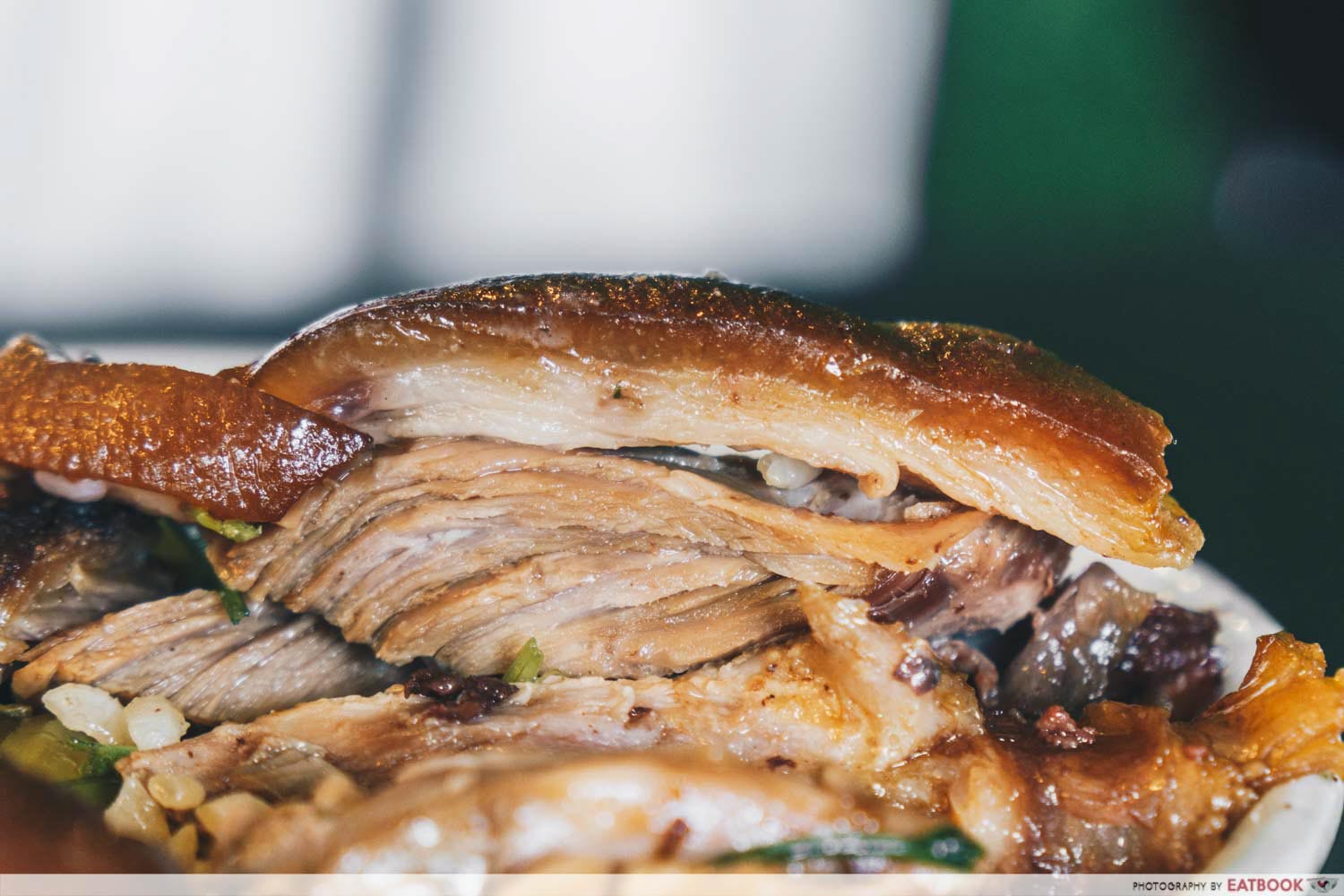 For those who love your braised pork trotters fatty, this one's definitely for you. Boasting melt-in-the-mouth skin and fat with an almost jelly-like texture, these pork trotters also had tender, juicy meat. The bowl of rice also comes topped with preserved vegetables and a salty meat cake.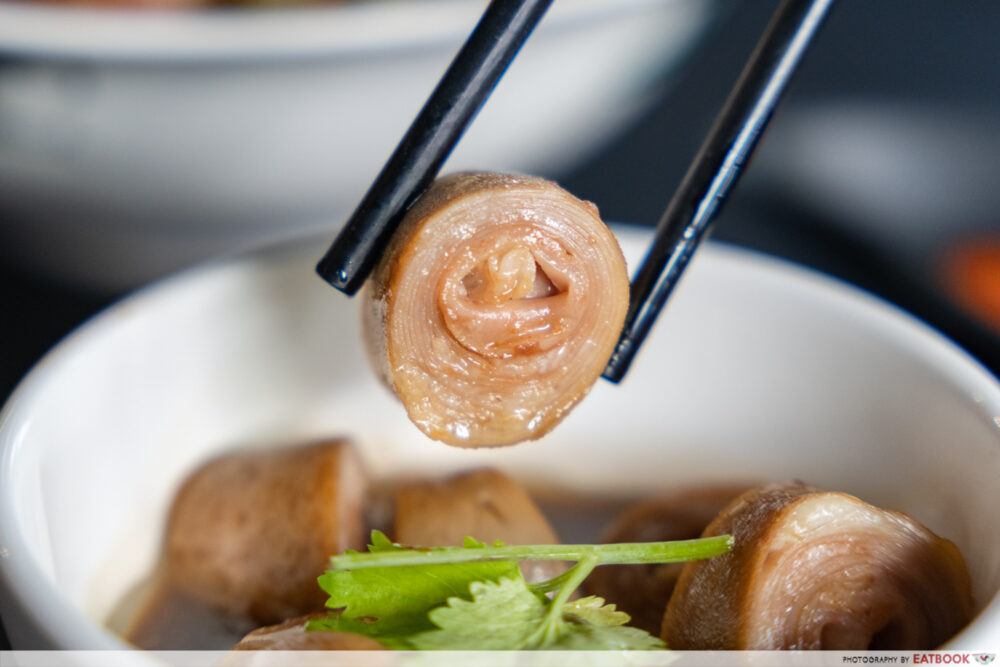 A new dish on the Nic & Tom menu is Swirly Intestine ($9++), which comes in a little soup bowl of lightly herbal gravy.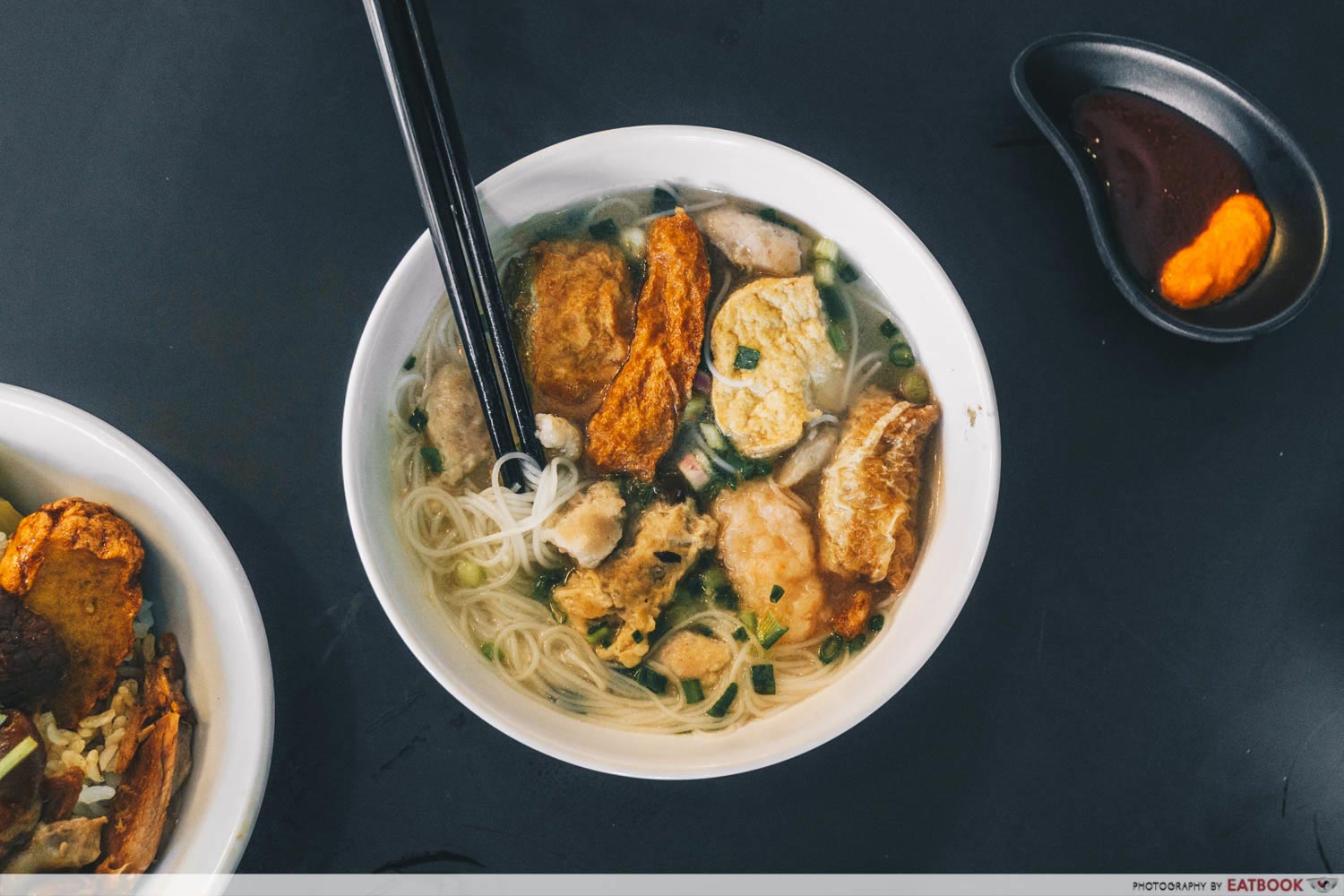 If you're one who appreciates Hakka food, they've also got Bai Nian Yong Tau Foo ($5.90++).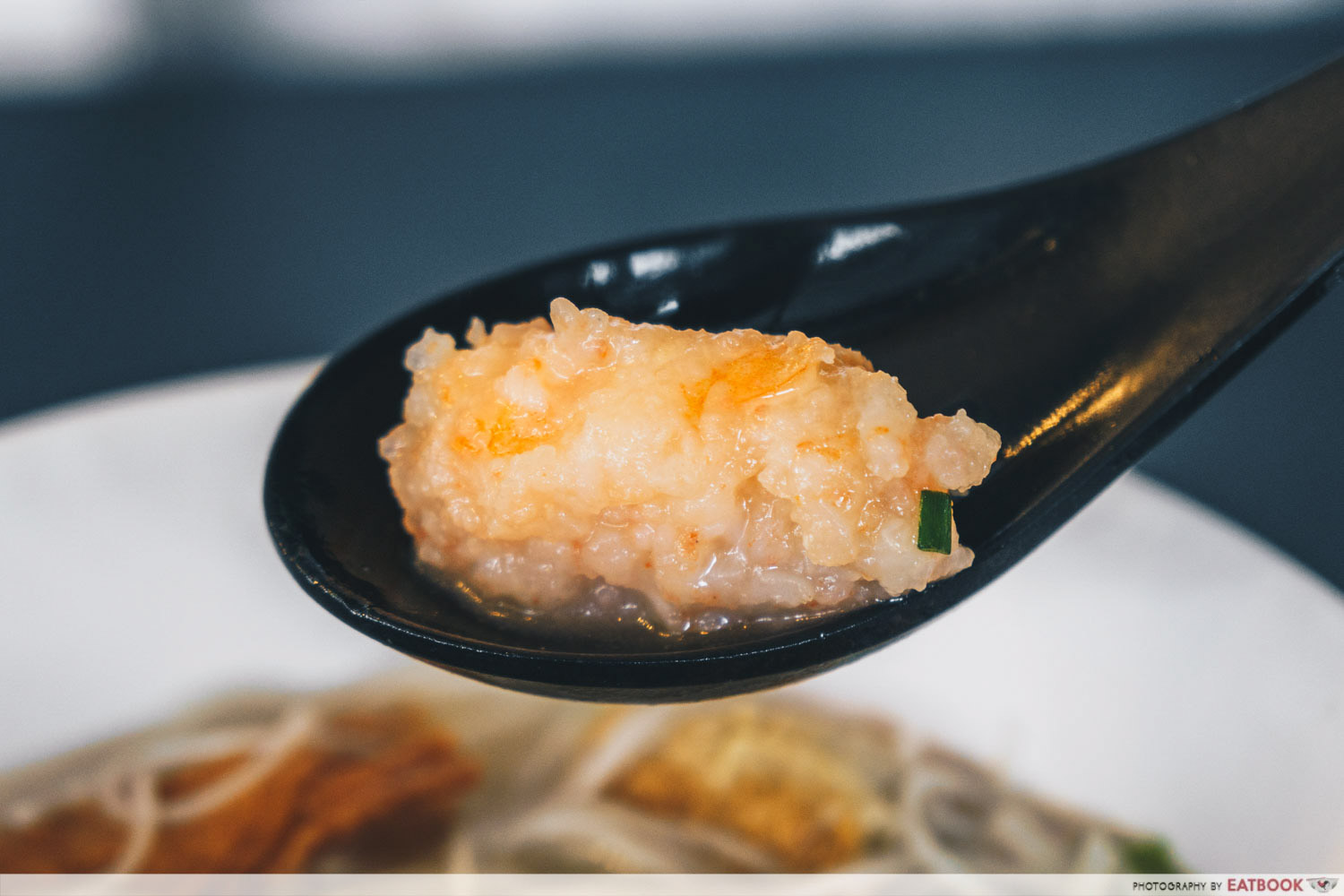 This piping hot dish comes with a variety of ingredients including juicy prawn and pork paste, which had an extra crunch from bits of earthy mushroom.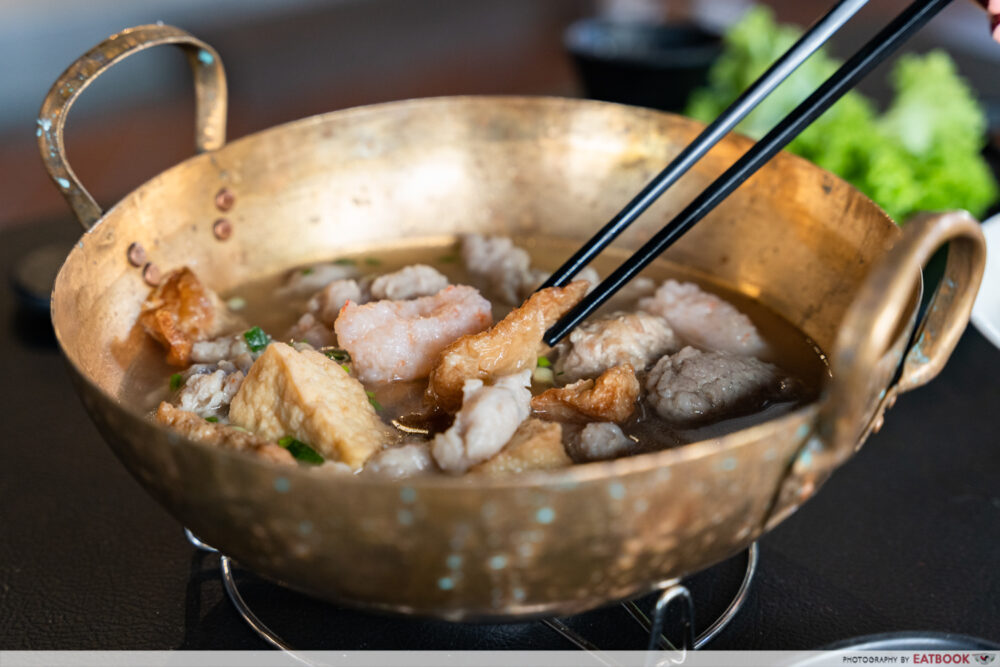 If you're looking to order the YTF to share with your dining companions, get the Tofu Pot ($17.90++). Here, it's served in imperial-looking gold pot, loaded with the same traditional Hakka-style, meat-stuffed pieces.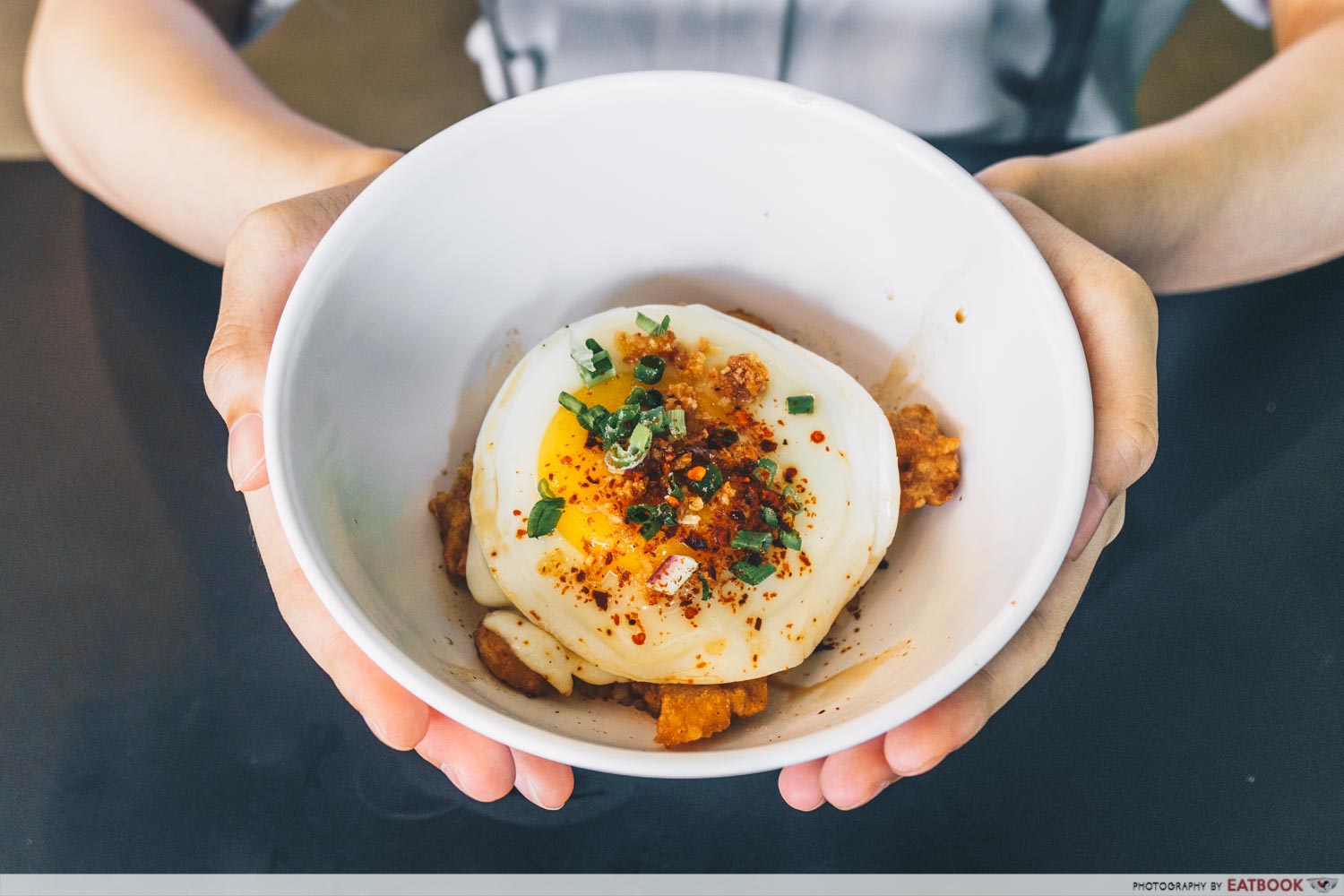 If you're feeling peckish after your meal, Nic & Tom Eatery also has cute little bowls of Tuckshop Rice ($1.90). Don't let the size of this little bowl of rice fool you, because it brims with a generous amount of tasty ingredients.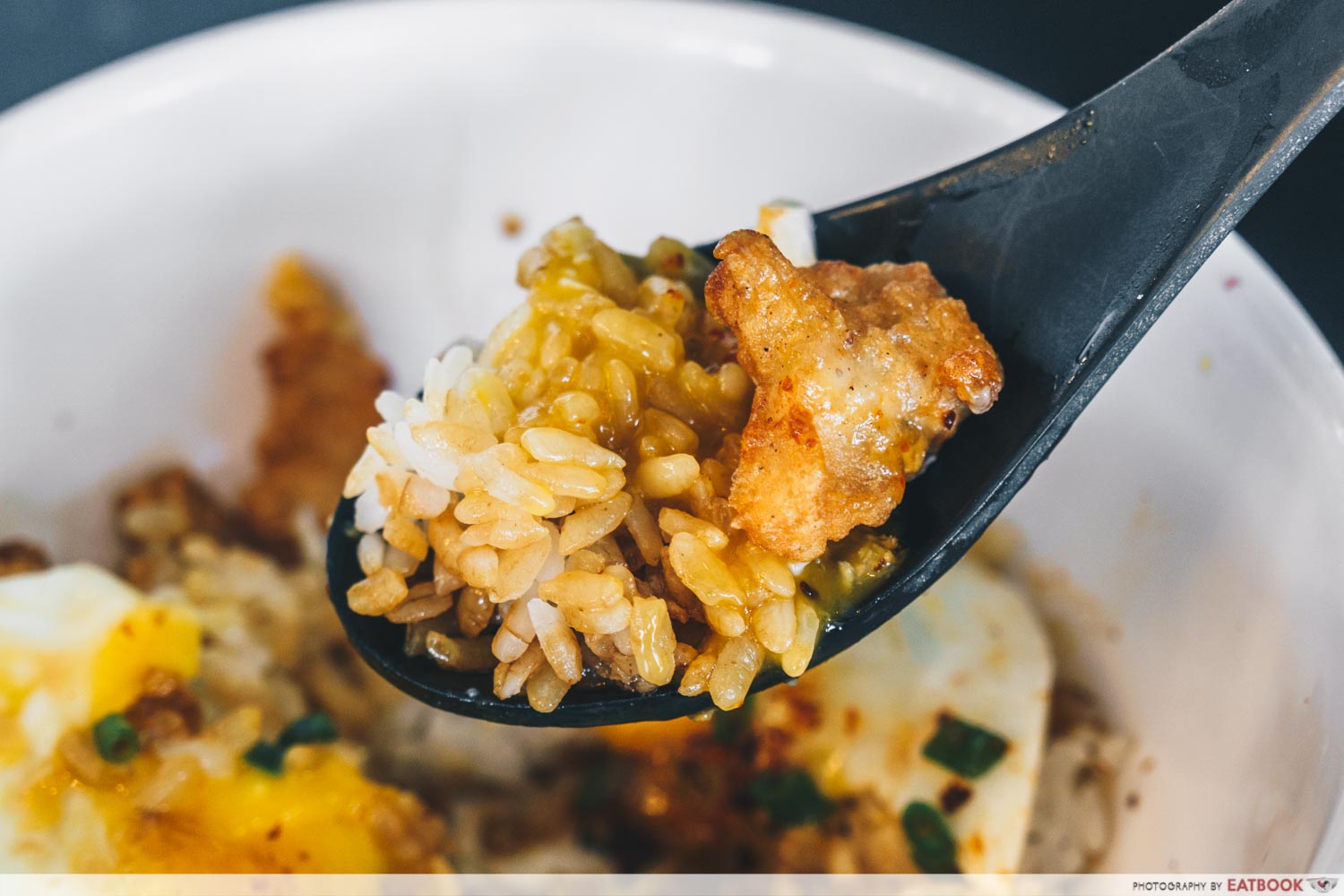 The tuckshop rice comprises sweet, well-fried pieces of pork, topped with a sunny-side-up egg and finished with a savoury, secret sauce. Break the yolk into the rice to add a creamy touch to the bowl. It's worth noting, however, that each person is limited to ordering only one bowl of this. This dish is also only available for dine-in.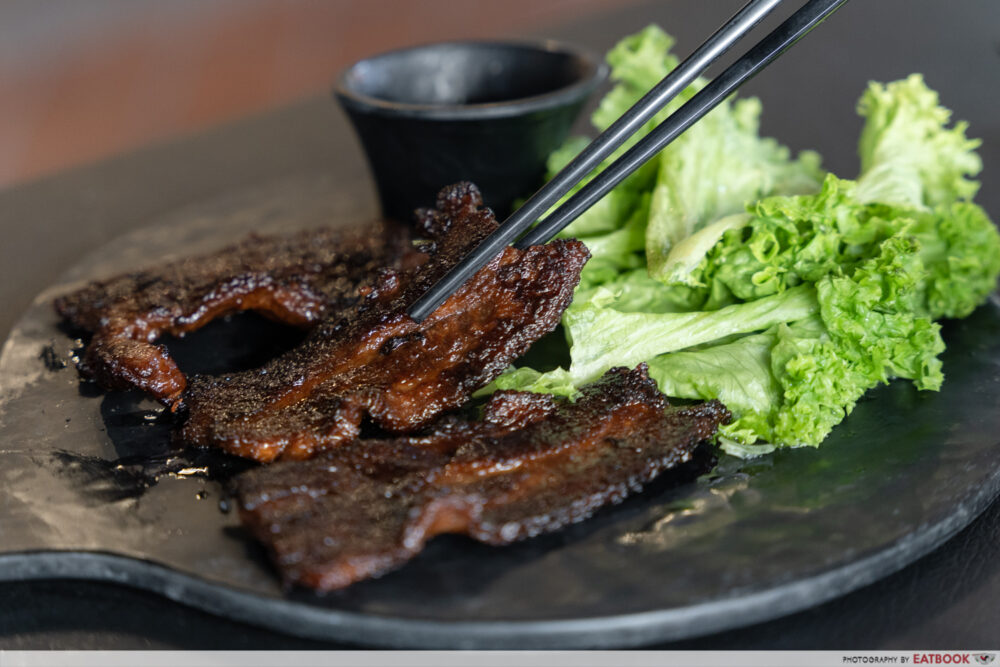 Also on the meat front is Pork Wrap ($9.90++), which is their spin on ssambap. Here, you get grilled pork belly with fresh lettuce, and you're given scissors to cut up the meat before you dip it in house-made chilli to enjoy.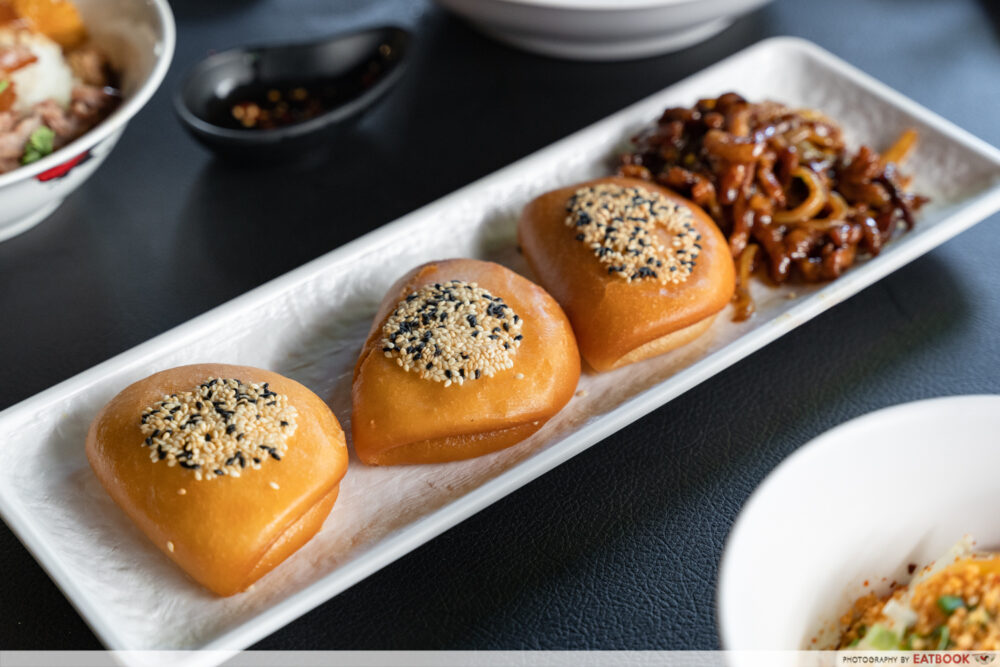 Alternatively, if meat-in-vegetables doesn't cut it for you, order their all-new Nic & Tom Sesame Buns ($3.90++ each) which is only available if you dine in, and with a minimum order of three pieces.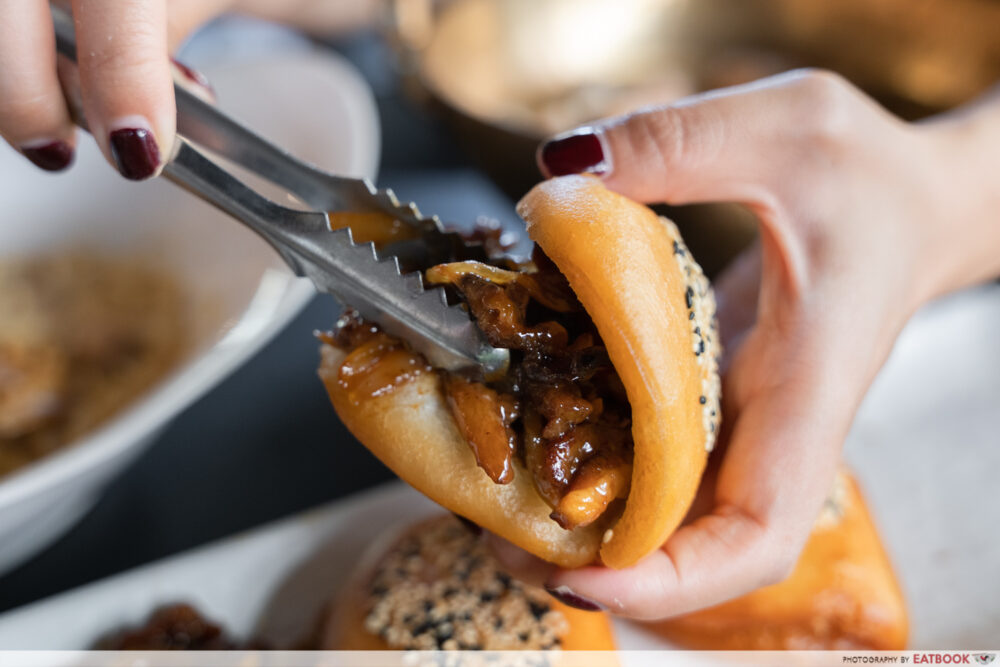 The deep-fried man tou is speckled with black and white sesame seeds that match the monochromatic colour scheme of their new Sago Street digs. A slightly modern take on the traditional kong bak bao, these buns come with stir-fried pork and onion in a glossy, savoury glaze.
What I appreciated was how the meat and buns were separate, so that the buns didn't get soggy.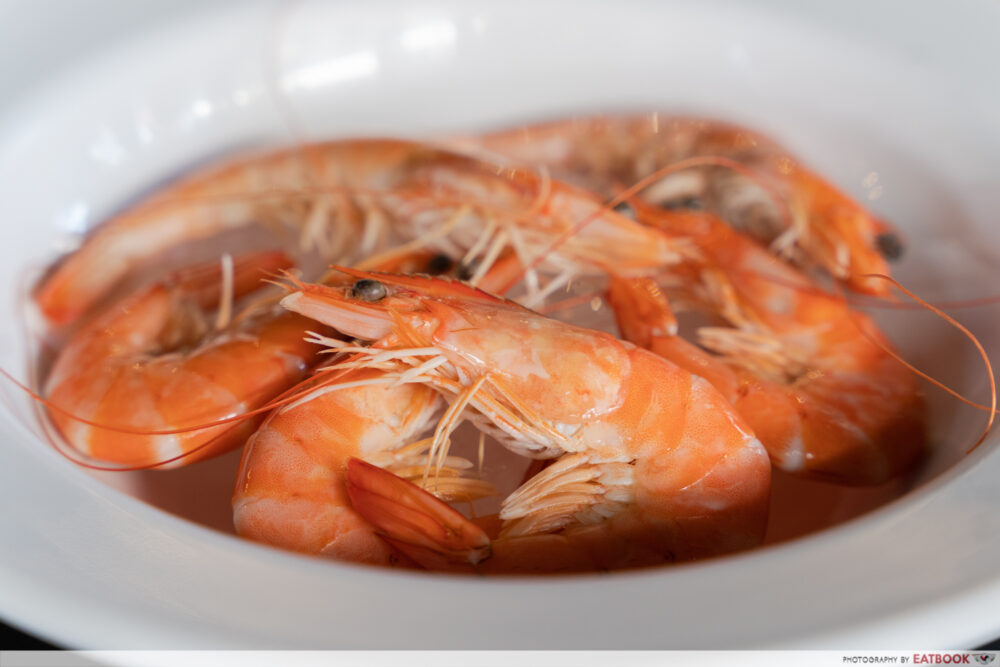 The last of the new dishes here is Arabic Dancing Prawns ($8.90++), where fresh Saudi Arabian prawns are simply boiled and served on a bed of ice.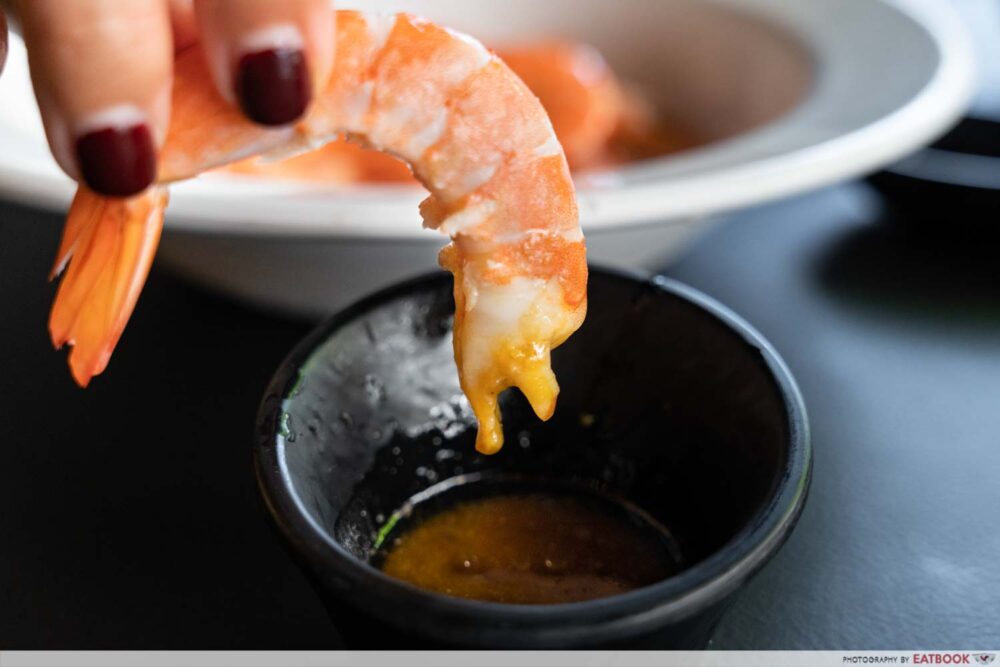 Fresh seafood is best enjoyed without frills, and the Arabic Dancing Prawns show this off well. The shells peeled off with ease, while the sweetness of the shellfish was highlighted by the accompanying wasabi dip.
This Thai Food Stall Sells $4 Braised Trotter Rice And Thai Kway Chap In Kovan
Ambience at Nic & Tom Eatery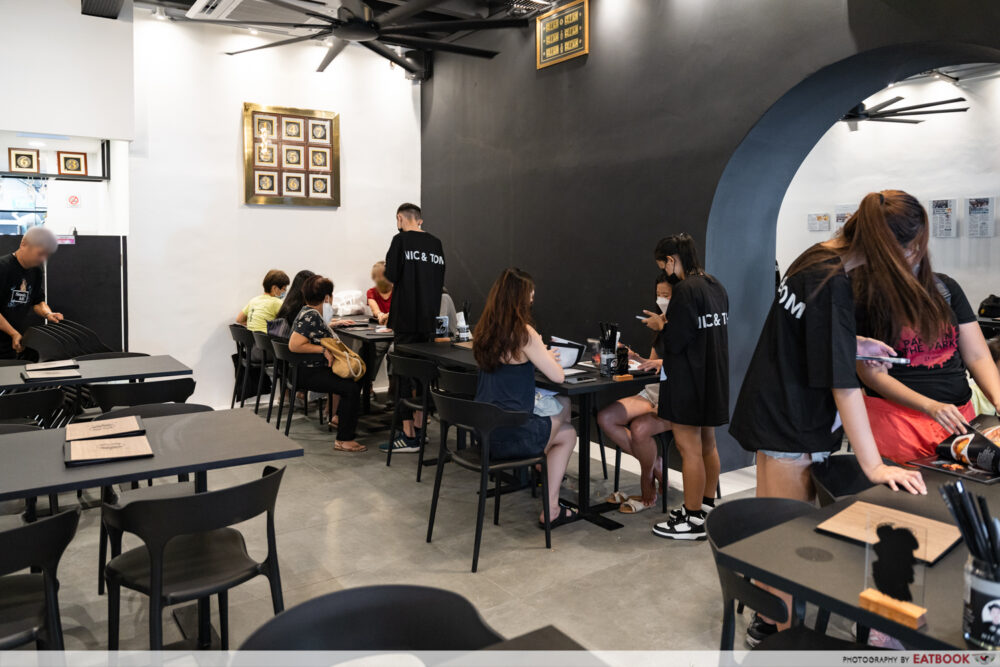 Located a short four-minute walk from Chinatown MRT Station, it's most convenient if you take Exit A of the station to get to Nic & Tom Eatery.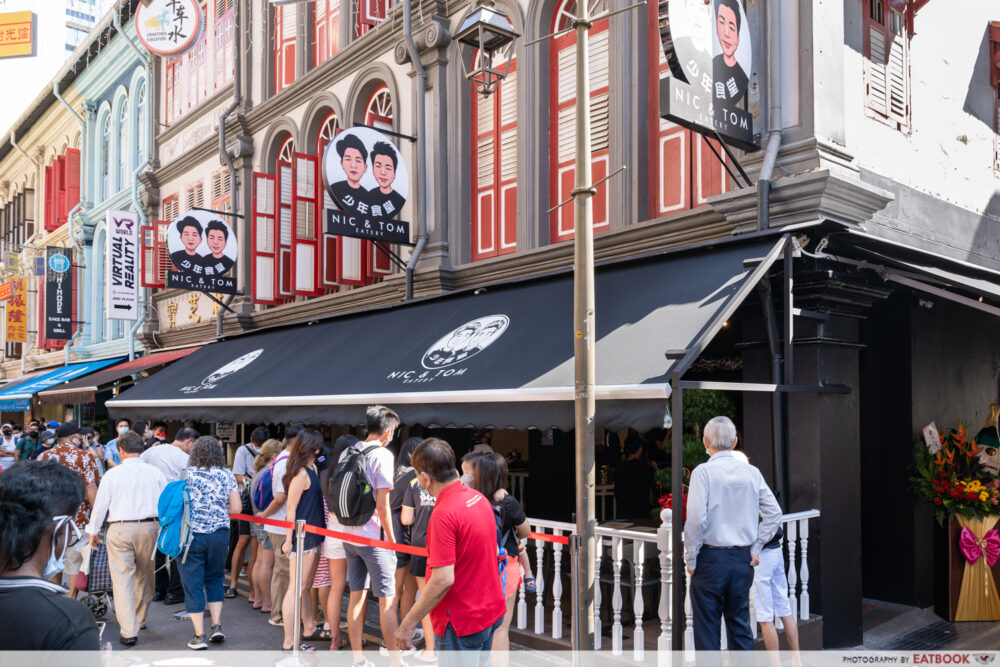 They've got two shop spaces in the old shophouses right behind Chinatown Complex, seating more than 90 at full capacity. The seating area expands to a sheltered deck under the awnings in front of the shop, but you won't have to worry about it being too warm, because they've got outdoor air-conditioning too!
The verdict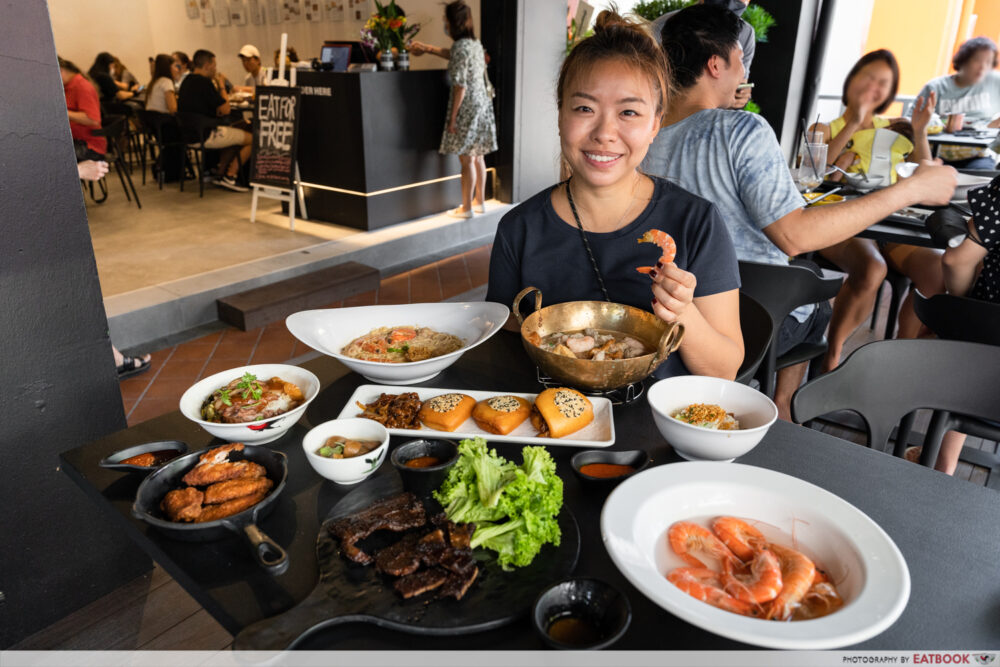 With their new, uber central location, I can see Nic & Tom gaining popularity with locals and tourists alike for their novel takes on traditional dishes. That's not to say you can't get the classics here too, with the pig trotter rice and YTF being some of these. On top of that, the prices are pretty wallet-friendly too! I'd come back and give their cheese bee hoon a second chance.
For real old-school YTF, check out Yong Xiang Xing Dou Fu that's also in Chinatown! Otherwise, Pong Cheer Cheer has got Thai-style pig trotter rice.
Address: 6 Sago Street, Singapore 059011
Opening hours: Daily 10am to 10pm
Website
Nic & Tom is not a halal-certified eatery.
Yong Xiang Xing Dou Fu Review: Famous Yong Tau Foo In Chinatown With House-Made Fish Paste
Photos taken by Lau Hui Hui.
This was a media tasting at Nic & Tom Eatery.
Nic & Tom Eatery Review: Seafood Cheese Bee Hoon, Pork Trotter Rice And More From $1.90 In Chinatown
Nic And Tom Eatery Review: Seafood Cheese Bee Hoon, Pork Trotter Rice And More From $1.90 In Chinatown -

7.5/10
Summary
Pros
– Affordable prices
– Large portions
– Extensive menu
Cons
– Seafood cheese gravy was a bit thin
– Bee hoon could be cooked into the seafood cheese gravy more
Recommended dishes: Pig Trotter Rice ($4.90++), Tuckshop Rice ($1.90++), Arabic Dancing Prawns ($8.90++)
Opening hours: Daily 10am to 10pm
Address:6 Sago Street, Singapore 059011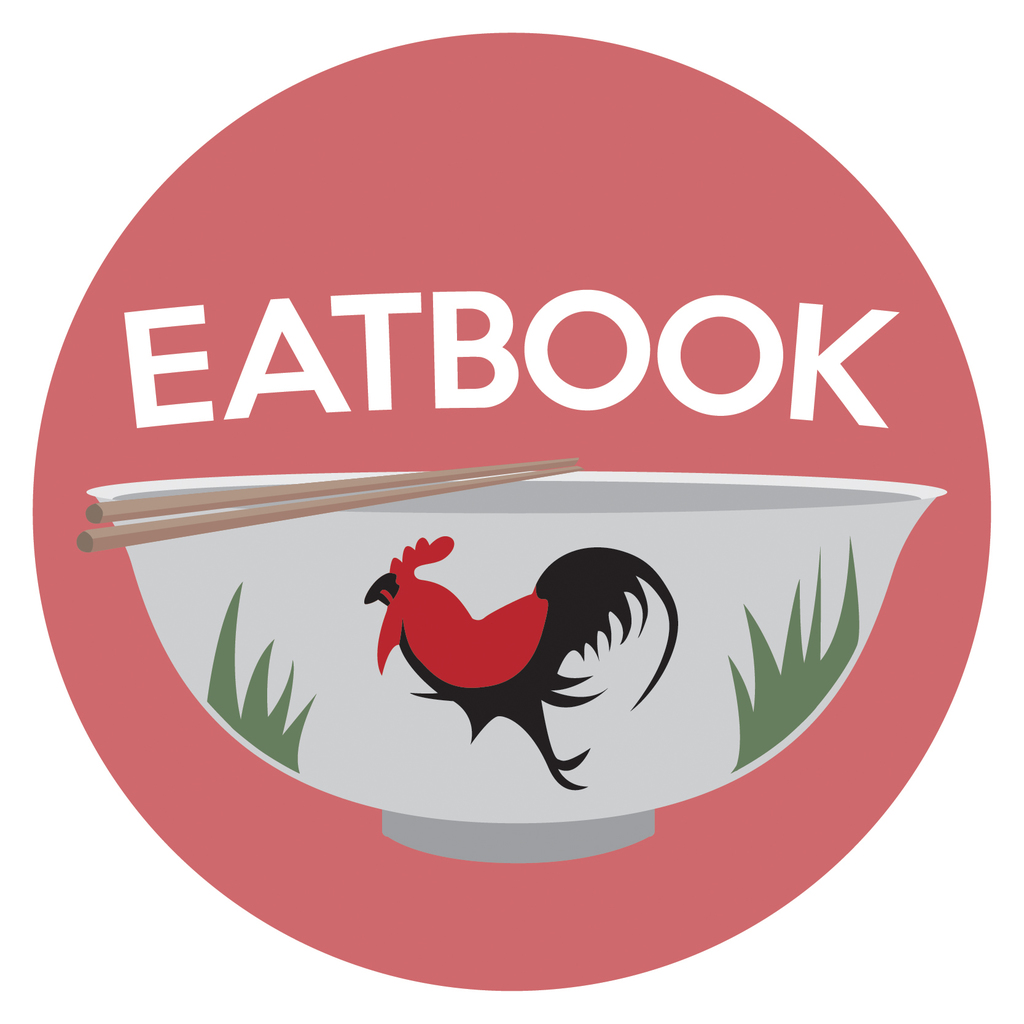 Drop us your email so you won't miss the latest news.