D9 Saturday High Tea Buffet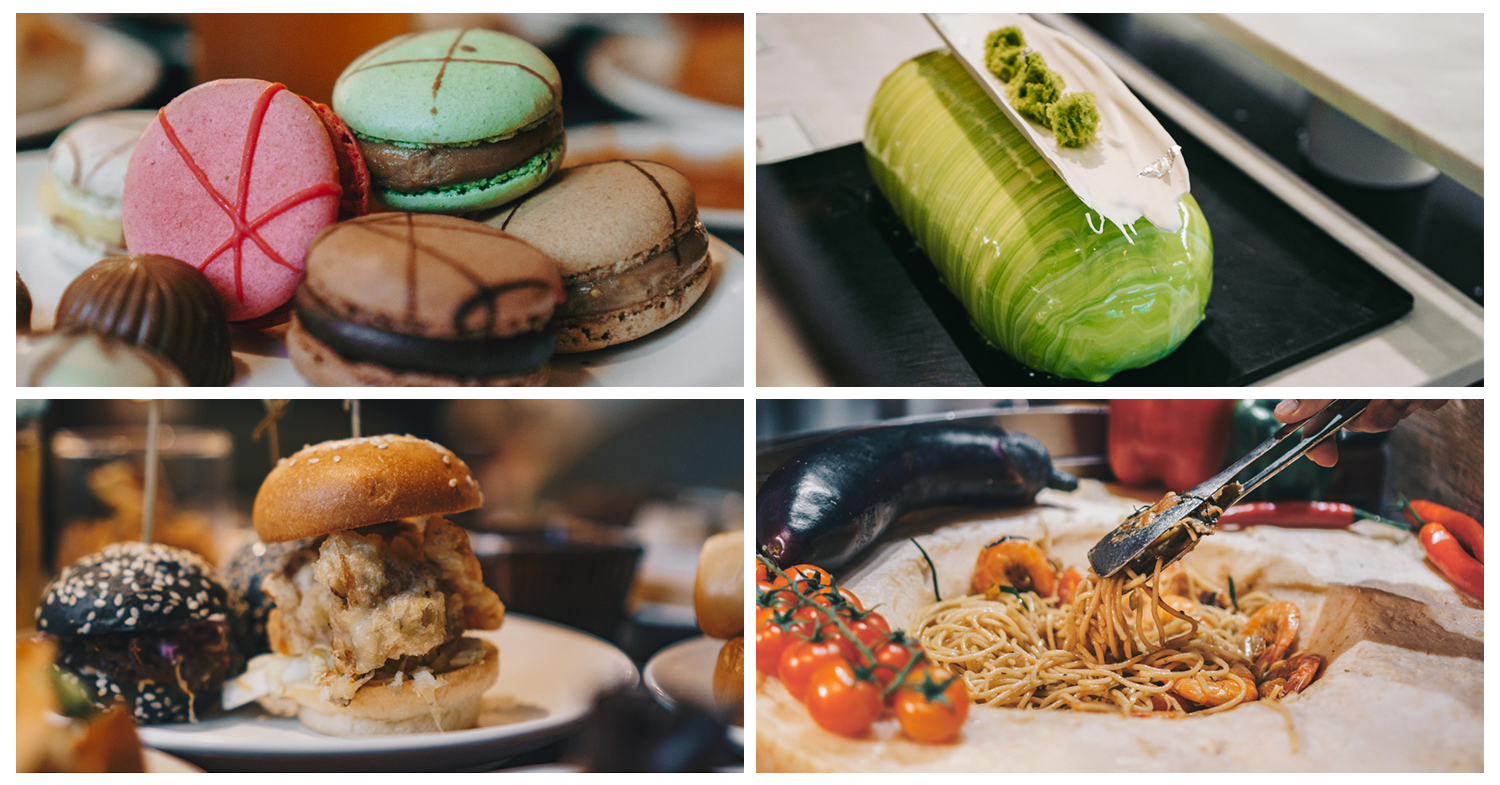 Bite into D9 Cakery's artisanal bakes and you'll know that their reputation as one of the best dessert places isn't just for show.
So the idea that you can have limitless rounds of these treats, plus over 30 choices of international and local delights, for just $48++ is too enticing to pass up. We headed down for their Saturday High Tea Buffet with one goal in mind: to stuff our faces silly with all these desserts.
Food at D9 Cakery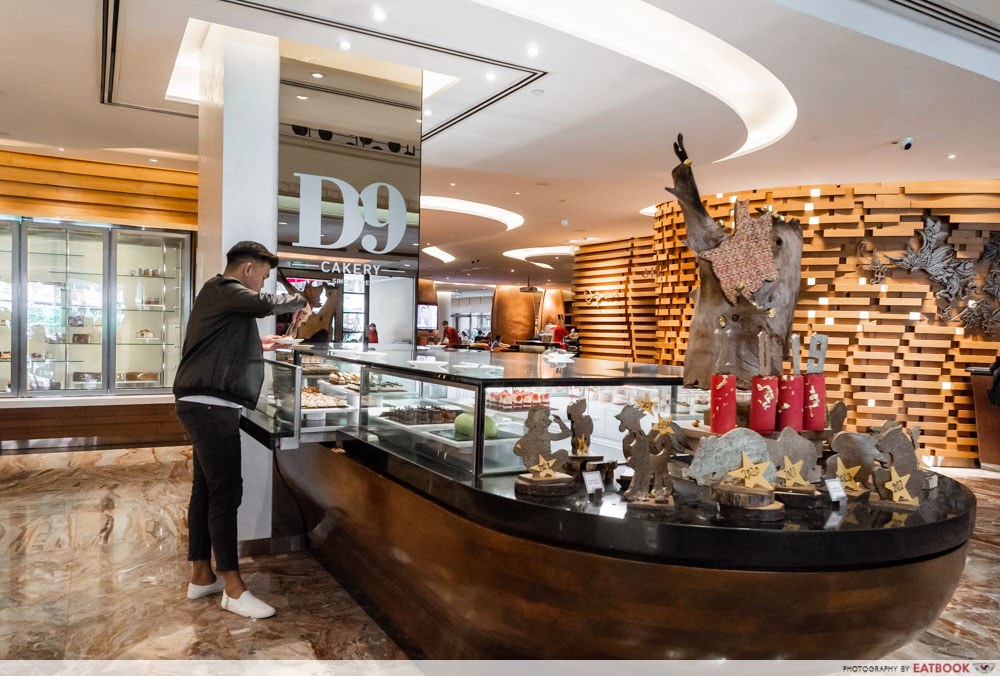 The first thing that greets your eye as you enter the restaurant is the grandiose six-meter long showcase. Inside is a slew of beautifully handcrafted desserts by Executive Pastry Chef Cindy Khoos, from macarons to pralines and tarts.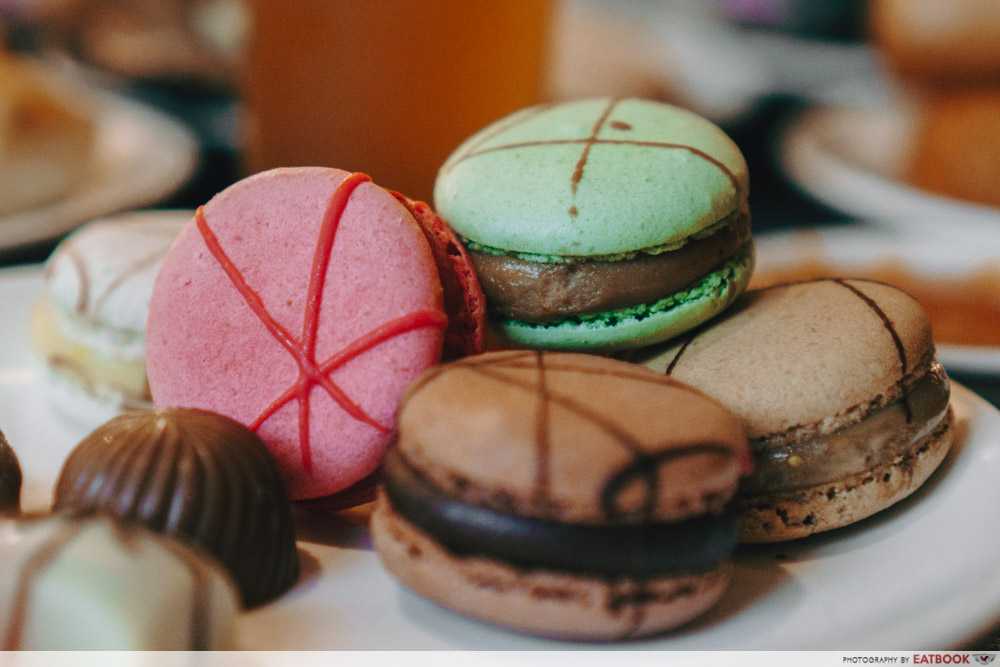 In my years of living, the words "free-flow" and "macarons" have never been paired together, which was why I made a beeline for these round pops of bliss. We counted five different sorts of macarons including rose, chocolate, and matcha.
I loved how smooth and ganache-like the fillings were. The surfaces were also bump-free, signalling that the almonds used were grounded finely. Taste-wise, the flavours were prominent without being overpoweringly sweet.
That being said, my colleague did deduct some points off the macarons, as she felt that the crust was a tad too hard for her liking.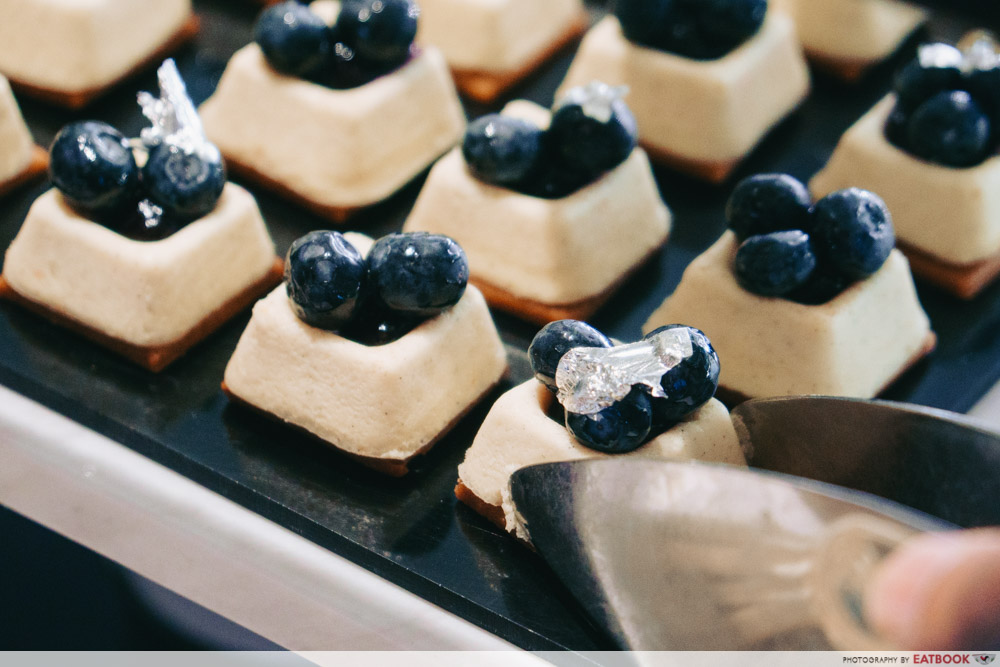 The design of the blueberry cheesecake was simply sublime. From the evenness of the cream cheese to the ripeness of the blueberries, you could see that great attention was put into crafting it.
Despite the small size, the cheesecake packed many flavour profiles that worked in tandem to create an exquisite mouthfeel.
The cream cheese was rich, and had the right amount of firmness without crossing into rock hard territory. It had a slightly salty aftertaste, which highlighted the mellow tartness of the blueberries.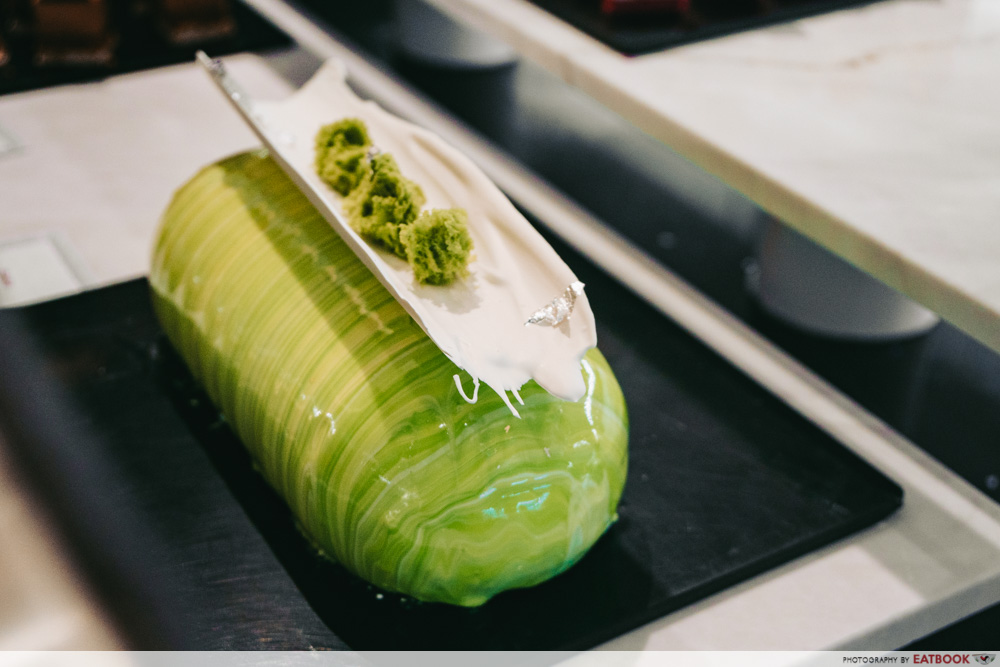 Listening to my colleague wax lyrical about the Belle last year made me eager to try this luxe cake. Beneath the green, striated shell lies bergamot pudding and a thin bed of crispy roasted pistachio streusel, surrounded by smooth coconut cream.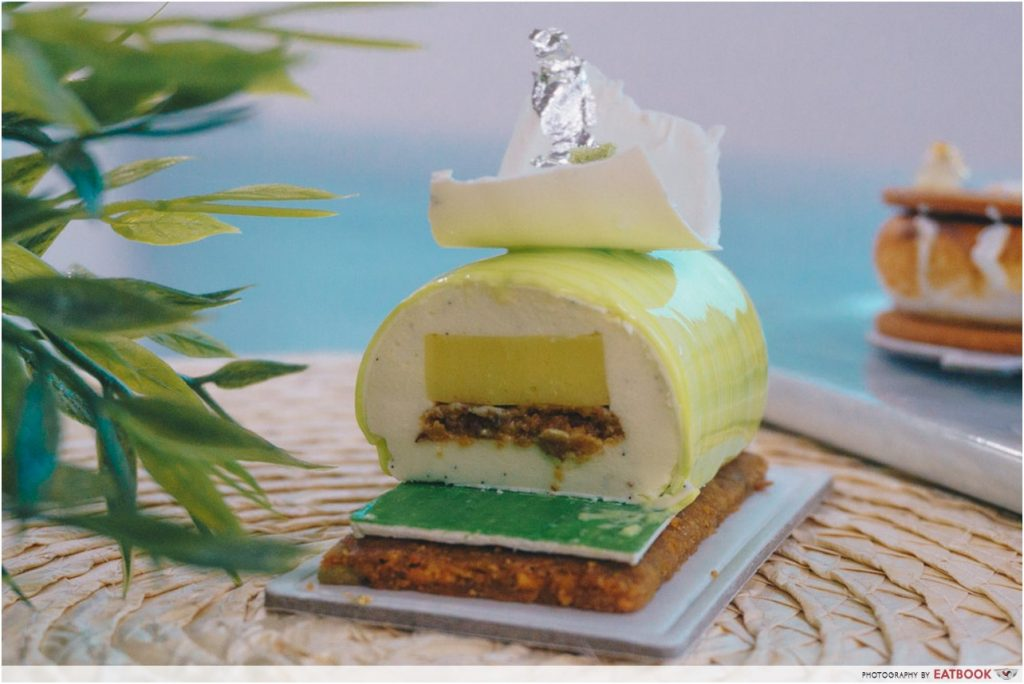 Despite knowing that bergamot was a citrus fruit, I wasn't prepared for how sour the cake was going to be. We're talking lip-pursing, face-scrunching sour. It's a shame, as the other components were wonderfully prepared, but the sourness put a damper on the experience.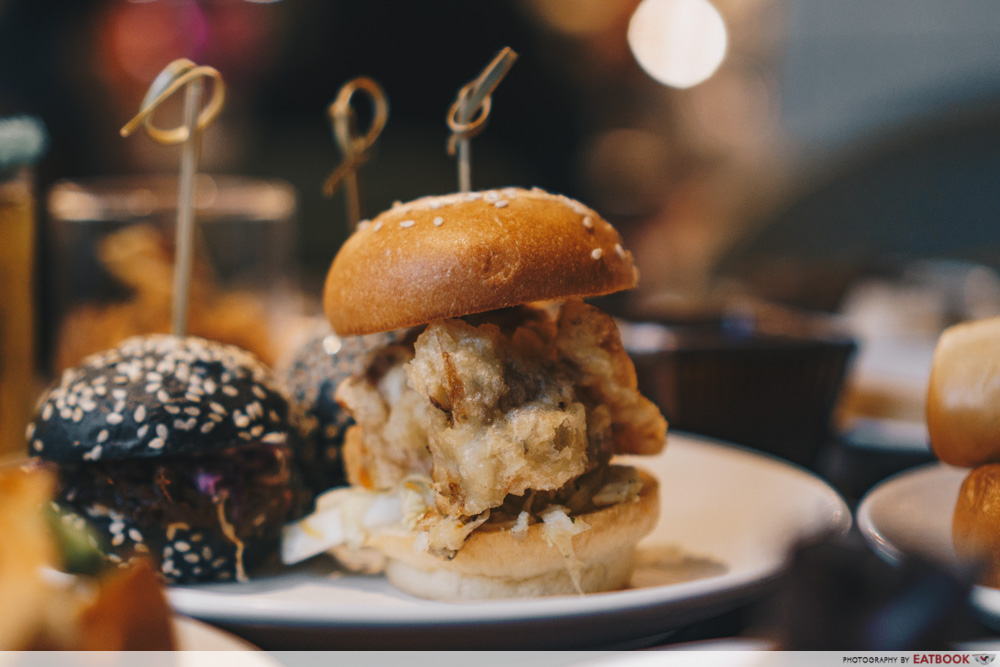 Thankfully, desserts aren't the only items on the menu at this buffet. Included in the line-up of dishes are wagyu leg, dim sum, and cheese wheel pasta. One of our favourites was the soft-shell crab slider.
It consists of a crispy soft-shell crab tucked between buttery brioche buns. Thanks to the light batter, you could taste the full brunt of the crab flavours, without any oiliness. A mini-hack you could try is to douse the slider with chilli crab sauce provided near the mantou station.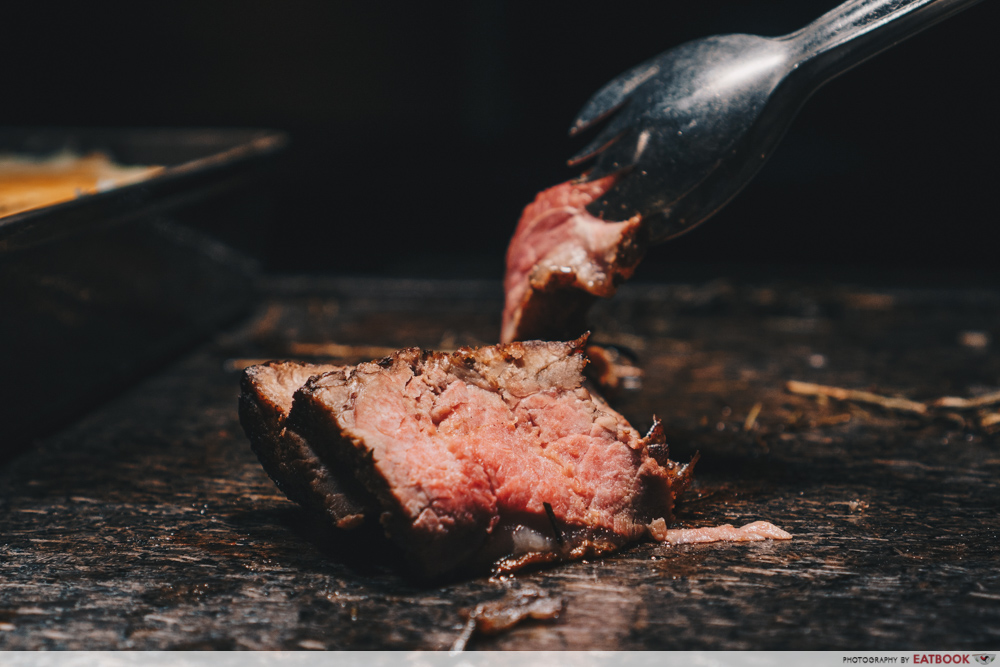 It took some time for the chefs to prepare the wagyu beef leg, and unfortunately it wasn't worth the wait. Small portions aside, the beef was simply disappointing. It was tough and dry, lacking delicate and sweet flavours you'd expect from wagyu.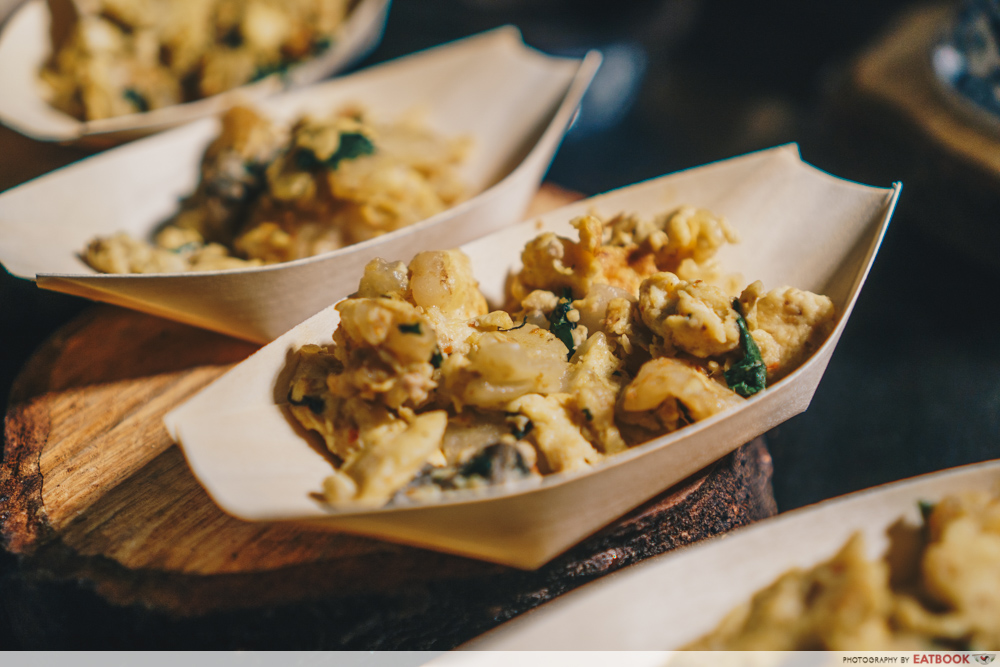 The same could be said for their oyster omelette. I didn't mind that they were served in minuscule paper boats, 'cause I could simply take more. What bugged me was how dry and flavourless the omelette was. It didn't have enough wok hei and the oysters were scant.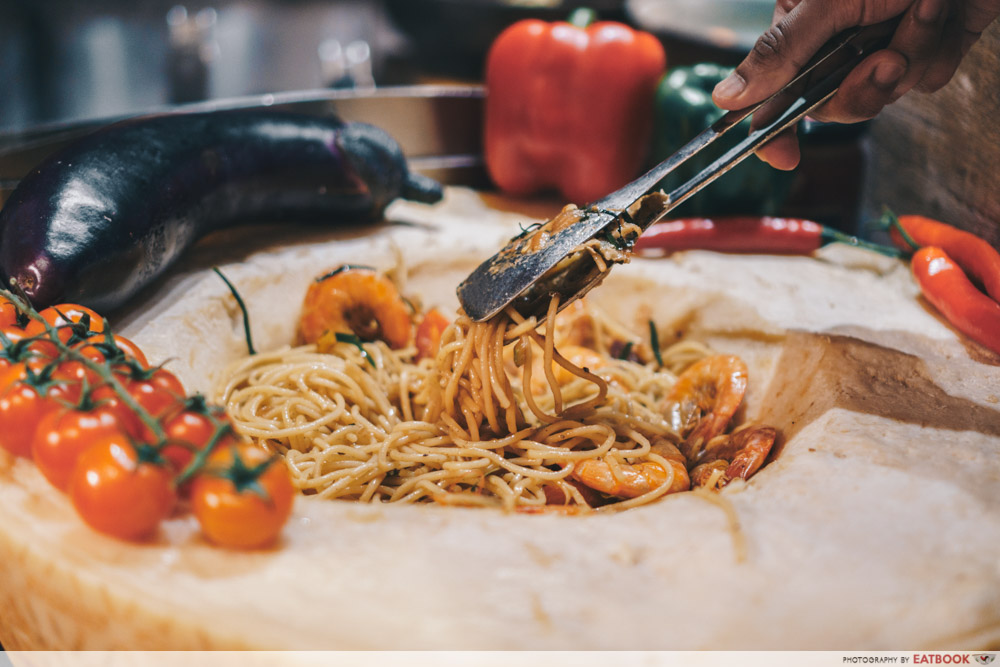 Fortunately, the parmesan cheese wheel pasta brought us back on track. Freshly cooked king prawn tom yam pasta sits in a hollowed out parmesan cheese wheel. This arrangement bodes well for all you cheese lovers out there, as it means you can scoop as much of that sinful cheese as you want.
The pasta was evenly cooked and had a distinctive spicy and sour flavour, characteristic of tom yum. If you're sensitive to heat, stack up on the cheese to take the edge off.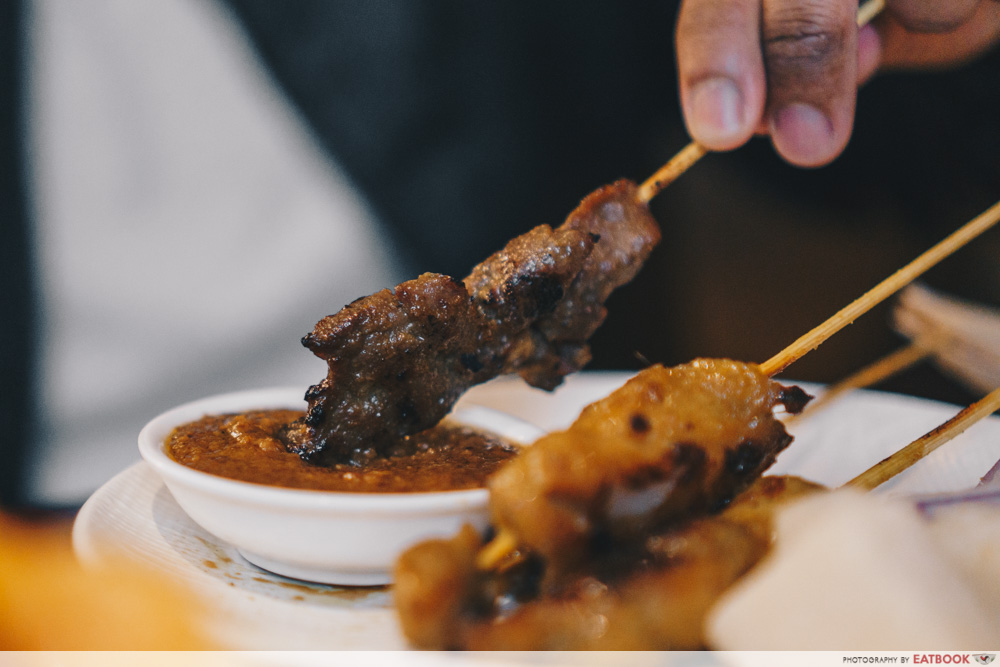 Local delights are usually an afterthought at international buffets, but I'm glad D9 didn't skimp on their lamb and chicken satay. Hands down, these were some of the thickest satay I've ever had. Despite their large size, these skewers were evenly cooked and had a beautiful char to boot.
Out of the two, the lamb satay gets my pick for MVP. There was nary a trace of gaminess and the meat was so tender, I barely used any effort to bite it off.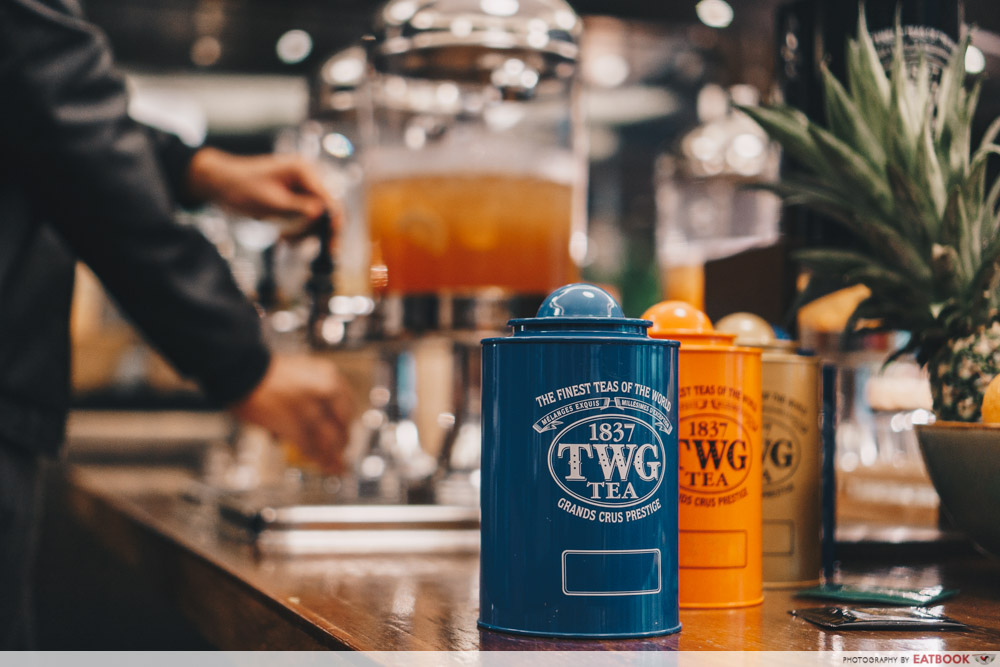 Your inner tai tai will scream once you see the wide variety of TWG tea here, which includes popular choices like English Breakfast and, my personal favourite, Crème Brûlée. Adding to the experience are the sugar-rimmed glasses, which gave the drinks a gentle sweetness.
Ambience at D9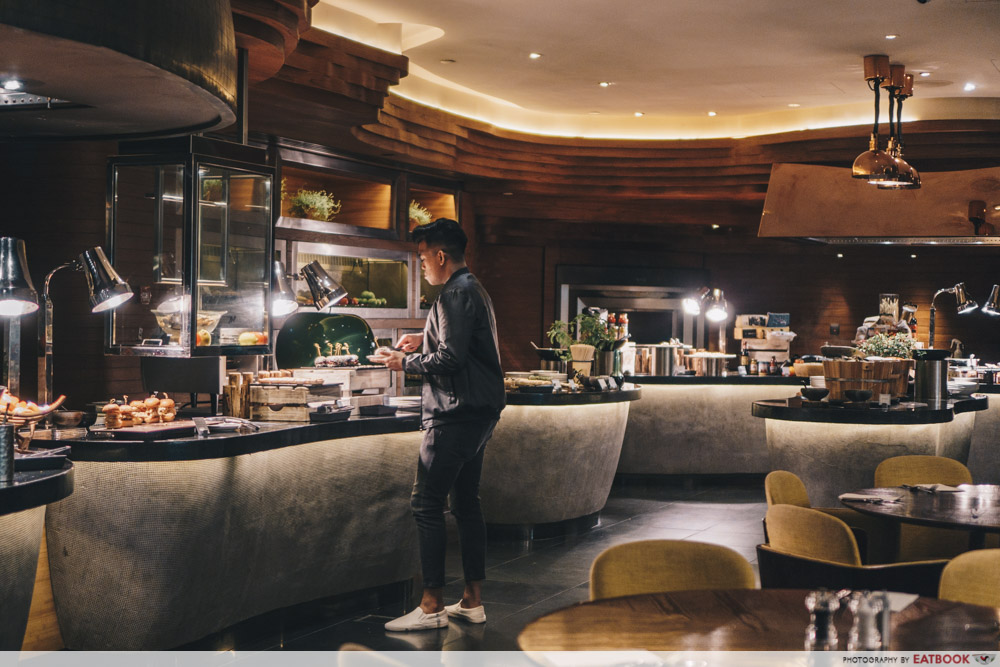 The thing about buffets is that you're gonna be walking a lot, navigating past a sea of tables and chairs in an effort to pile on your plate. That's why I absolutely love how spacious D9 was. The tables and chairs are widely spaced apart, and it's easy to grab your grub without bumping into people.
A minor gripe I had was that the dining area wasn't well-lit, although one could argue that it makes for a more romantic setting.
The verdict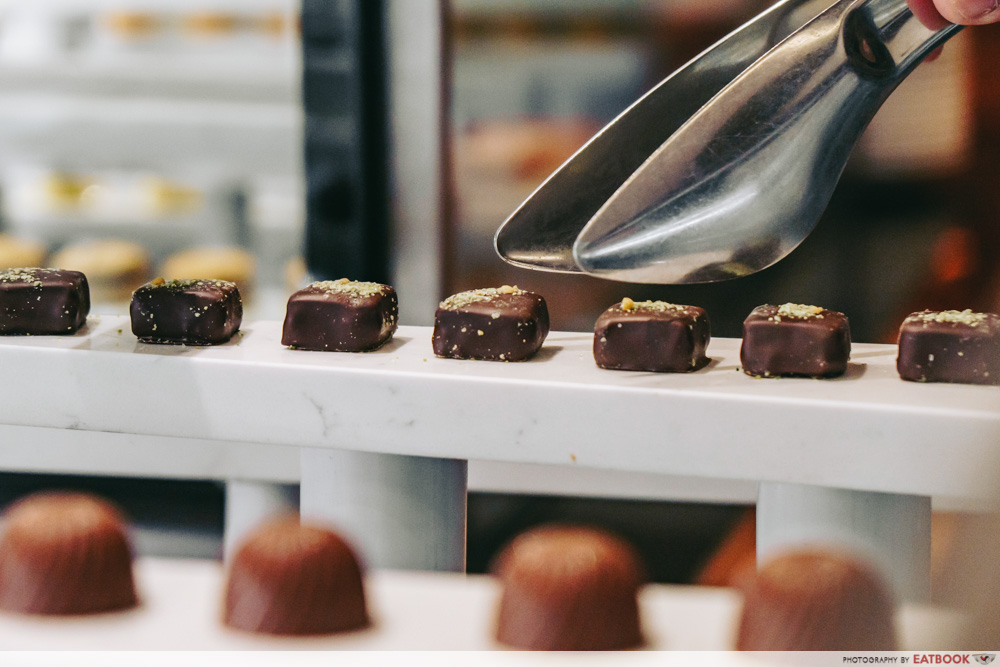 $48++ is a reasonable price to pay for this spread, considering the myriad of premium items you're getting. The desserts are incredible and are arguably worth the price of admission alone.
Admittedly, I was turned off by the wagyu and oyster omelette. However, every other main we tried was a complete knockout. If you've got a sweet tooth and are looking to de-stress from a hectic work week, D9's high tea buffet is definitely for you!
Address: 581 Orchard Road, Lobby, Hilton Singapore, Singapore 238883
Buffet hours: Sat 12pm to 3pm
Tel: 6730 3392
Website
Photos taken by Nadia Elijanto
This was a media invitation at D9.
Summary
Pros
– Wide selection of food
– Desserts were top-notch
– Spacious
Cons
– Some mains were disappointing
Recommended Dishes: Macarons, Blueberry Cheesecake, Soft Shell Crab Slider, Parmesan Cheese Wheel Pasta
Opening hours: Sat 12pm to 3pm
Address: 581 Orchard Road, Lobby, Hilton Singapore, Singapore 238883