Dumplings Cafe is a quaint eatery with vintage feels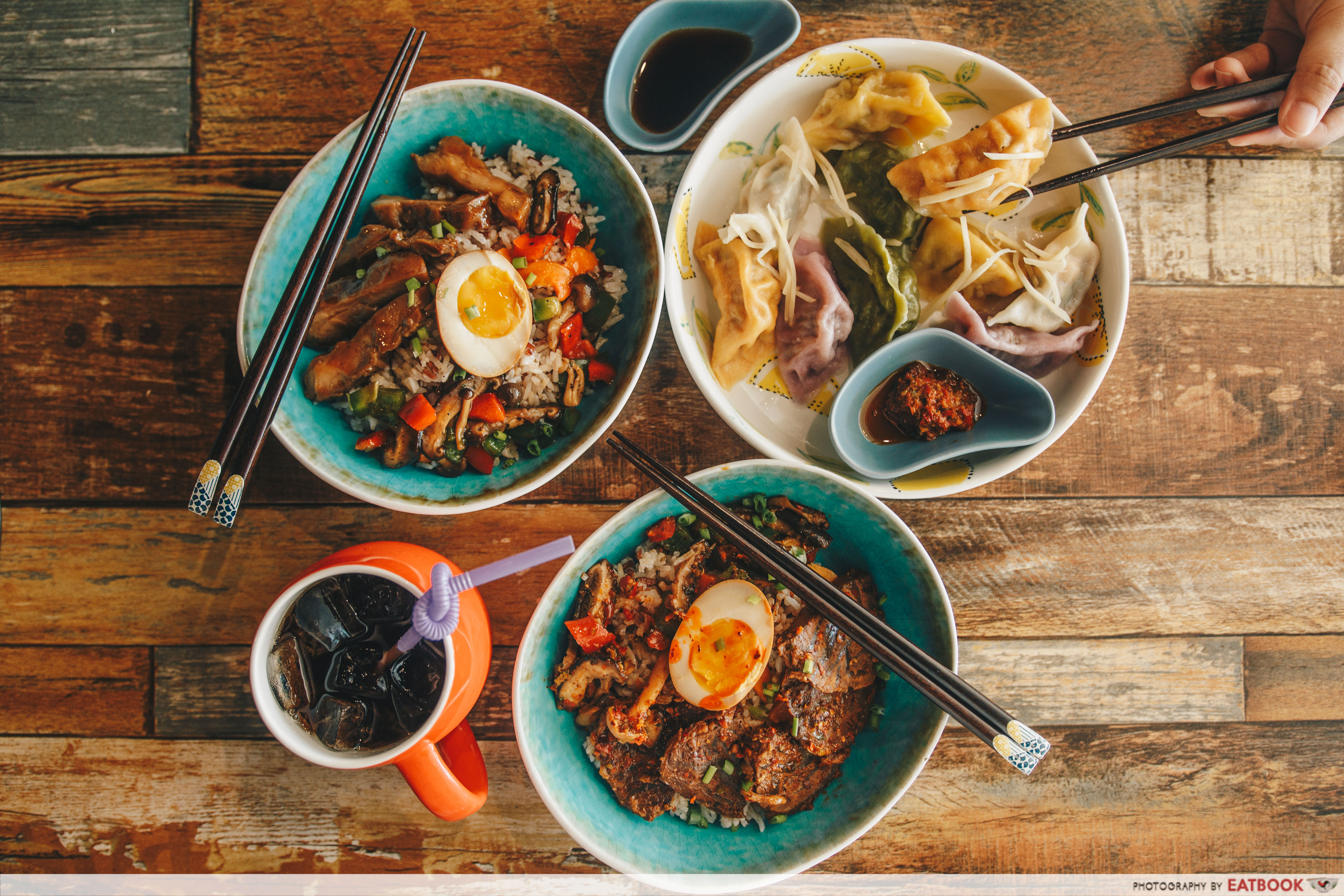 As someone who is a sucker for pretty packaging, Dumplings Cafe lured me in with their aesthetically pleasing food and cool vibes. They are located at Thomson Plaza, a place for respite from the usual hustle and bustle in town. Adding to the list of eateries and good food at the Upper Thomson area, this cafe has set itself apart from the rest. They boast a menu of delicious food that is relatively healthy and nourishing, with a good experience to boot.
Food at Dumplings Cafe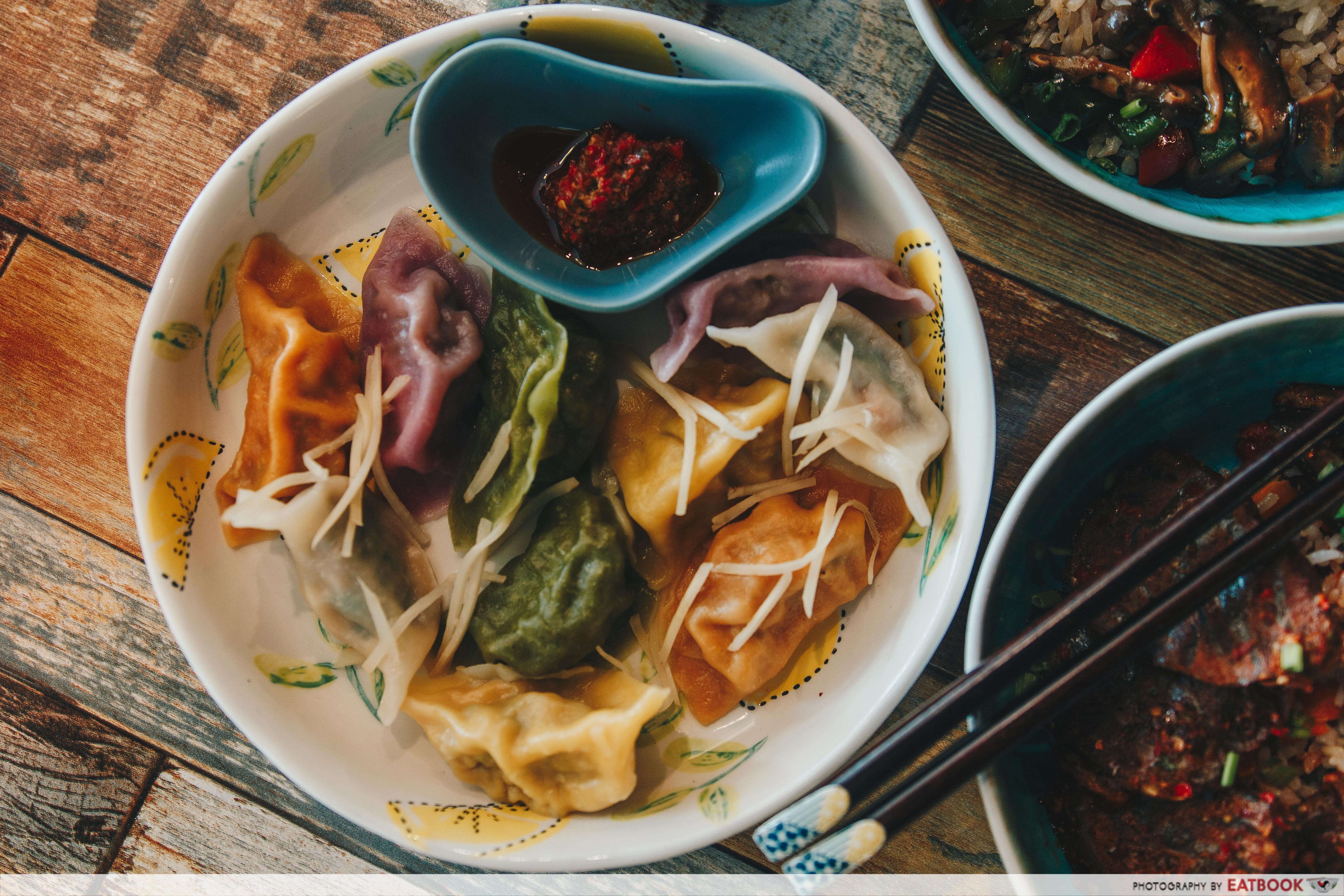 Dumplings Cafe's Dumplings Platter ($13) was what really caught our attention. It features a plate of dumplings that come in pairs of the following colours: white, yellow, orange, purple, and green. The dumpling skins are naturally dyed and made fresh daily with vegetables, and each dumpling pockets different kinds of fillings. My colleagues and I have only heard of colourful xiao long bao, and colourful dumplings are definitely a first.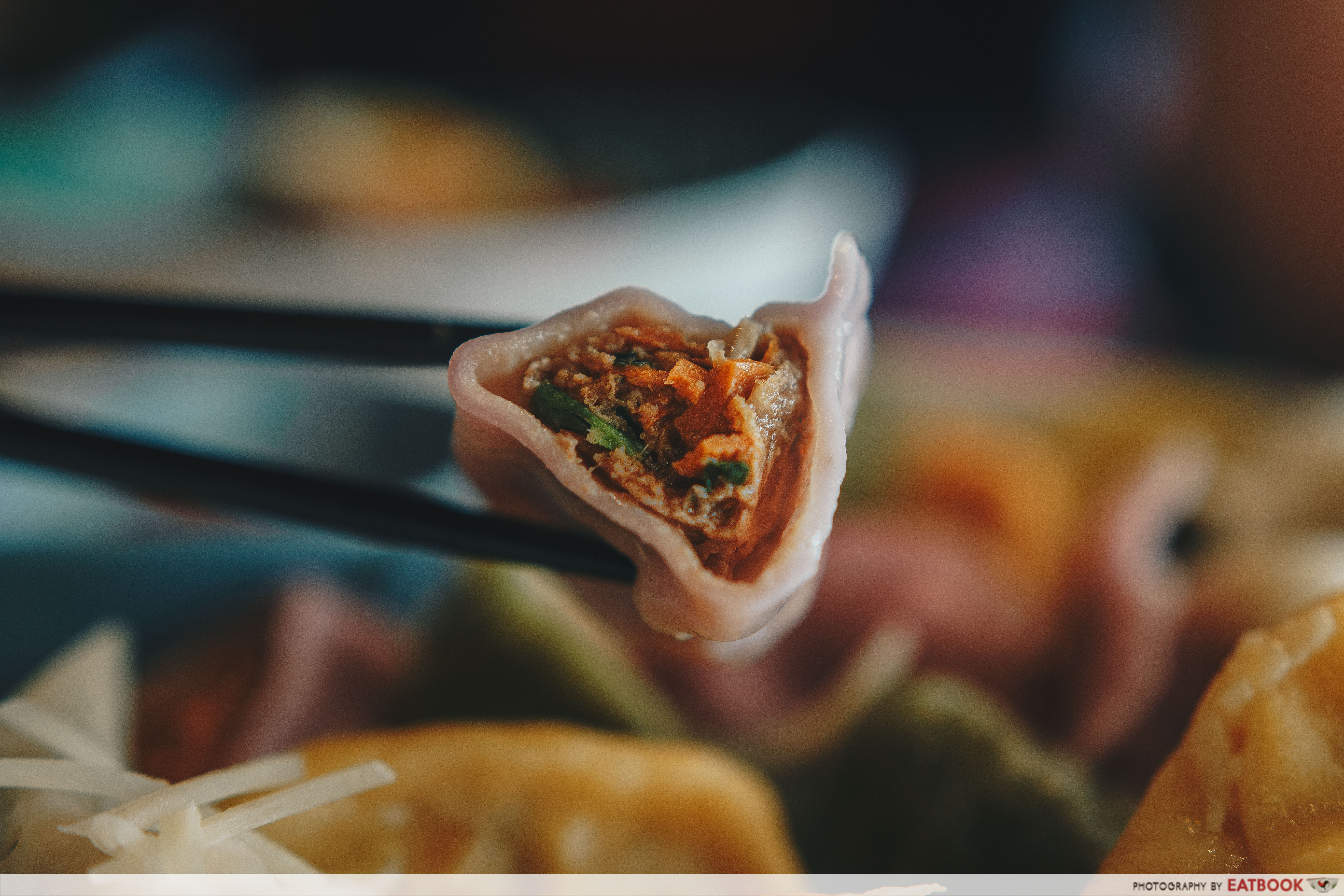 The violet dumplings were my favourite out of the five. Made purple with sweet potatoes, these dumplings burst with the distinct taste of beef. The fillings are sweetened with cabbage, which also added a slight crunch and a better mouthfeel. Each dumpling was robustly flavoured, so give the vinegar or sauce a pass for this one and eat it plain on its own.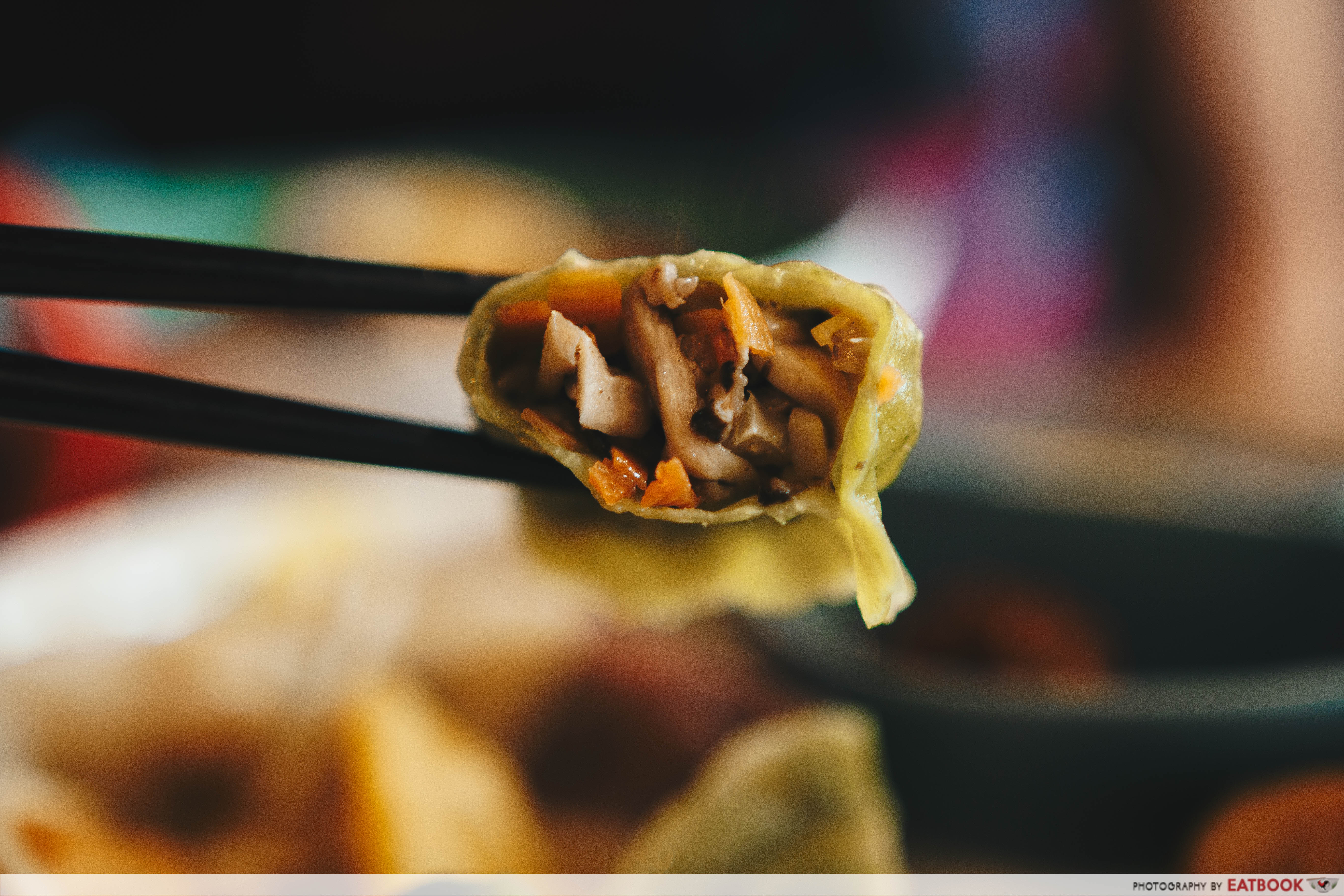 To my surprise, the green dumplings came in a close second. Even though it is a vegetarian one, it made the eyes of a meat-lover (me) light up. Dyed with the juices from spinach, these green dumpling skins hide ingredients such as carrots, mushrooms, and cucumbers. It reminded me of a mini soon kueh, but with its flavours intensified.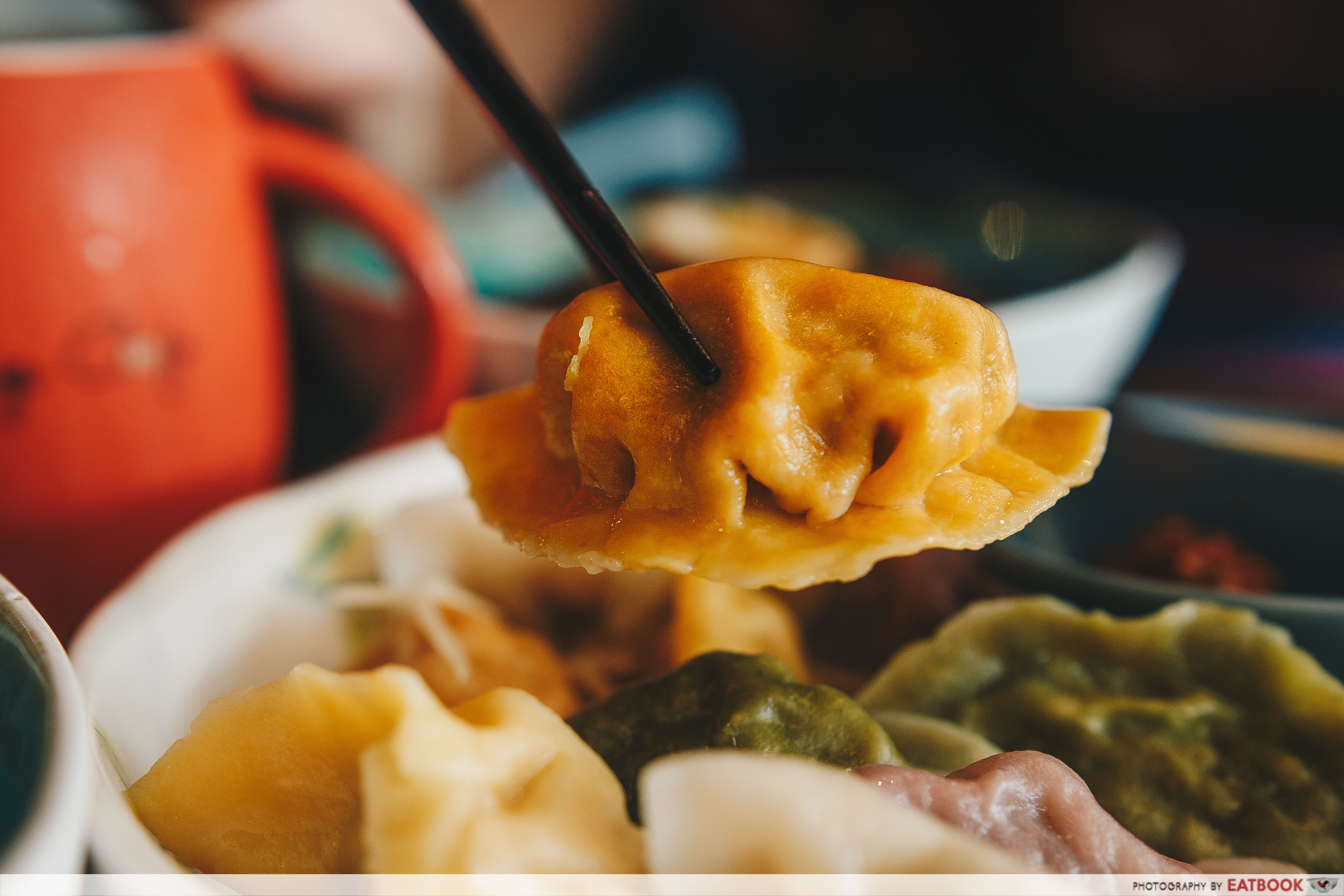 The other dumplings were also moreish savoury parcels we couldn't get enough of. I don't want to spoil the fun of finding out how every one of them tastes like for you, and all I can say is lovers of prawn, pumpkin, and ma la are in for a treat.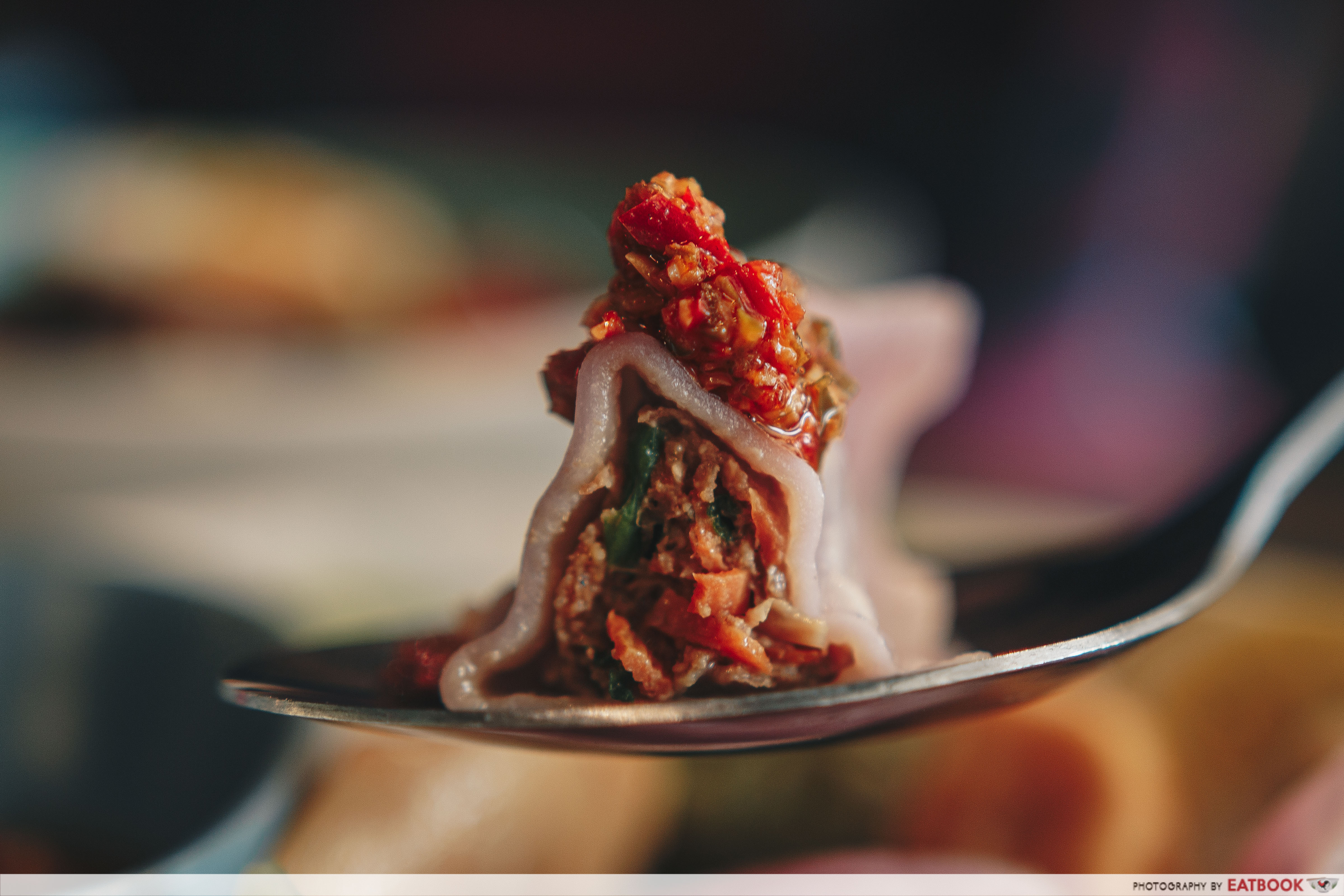 The platter of 10 dumplings also comes with house-made chilli that is made from fresh ingredients handpicked by the owner. It packs a sour, spicy, and garlicky punch all in one. Heat things up by adding a good dollop of it atop the dumplings.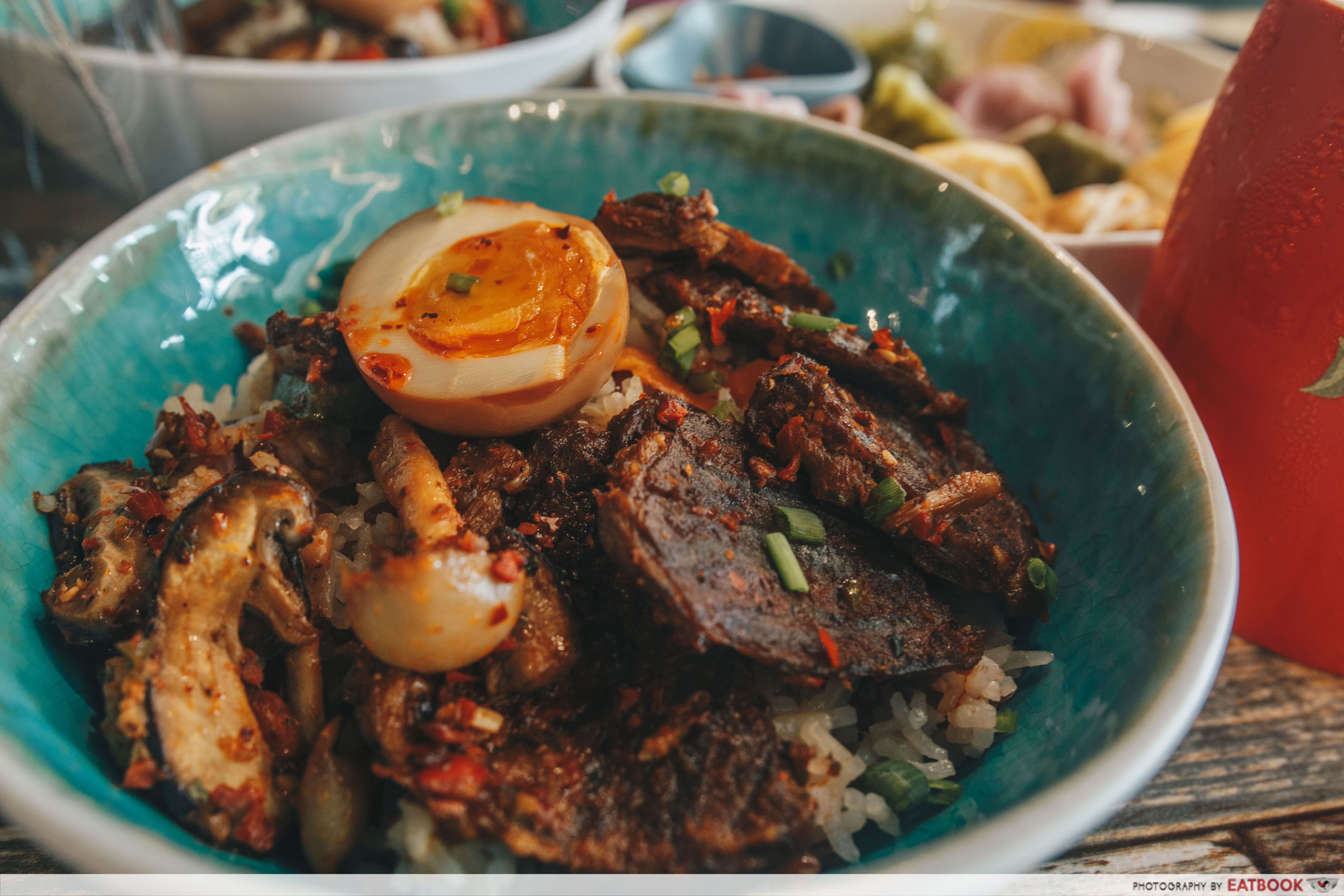 The next dish we tried was their Homemade Mala Beef Fragrant Rice ($16). Ma la spices can be seen all over the bowl – from the beef slices to the vegetable side. A dangerously red oil is also evident, even on the braised egg.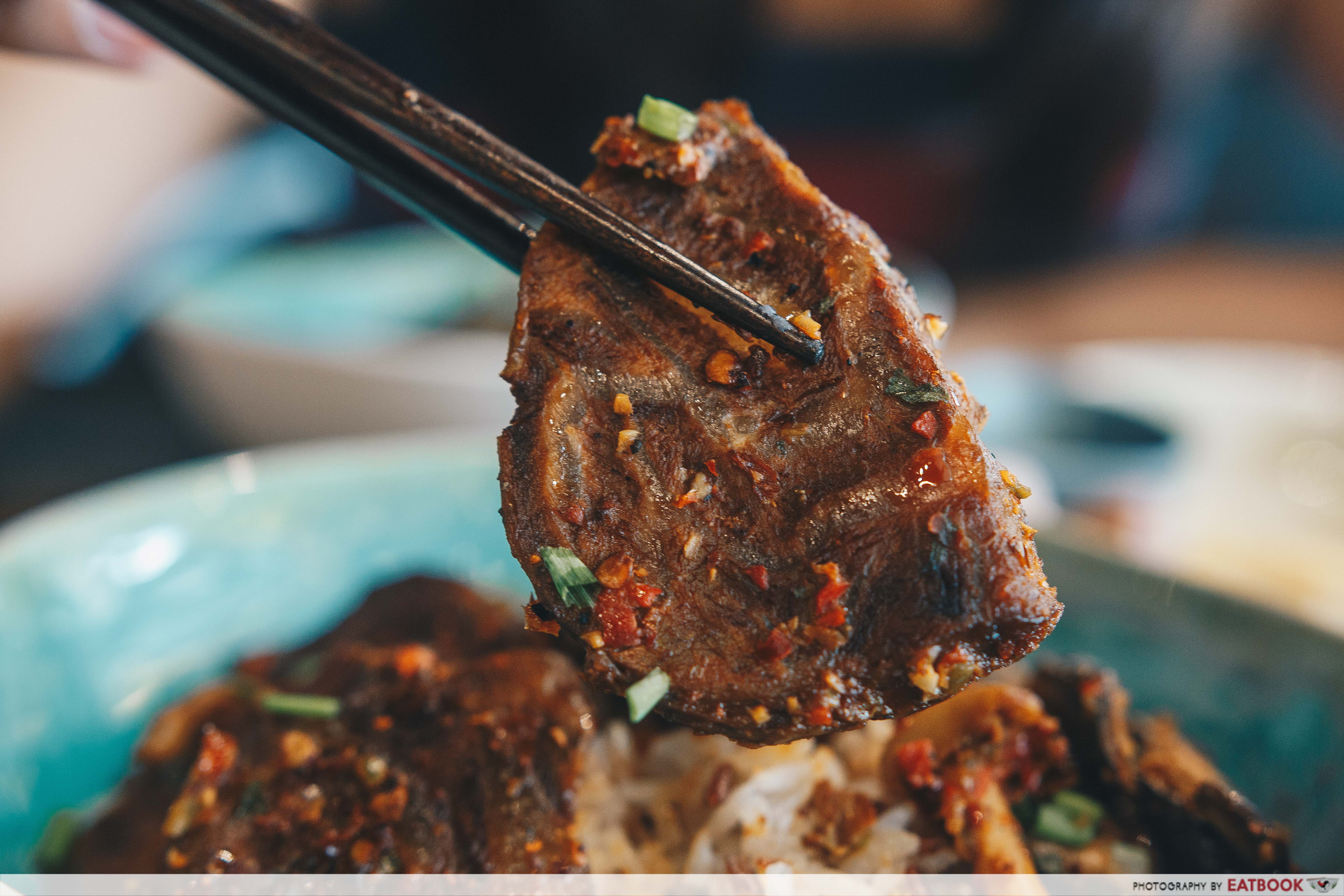 Each bite of beef was savoury. It was as if the meat was soaked to the bone with the ma la marinade for nights. Ma la can prove to be a strong, overbearing character in many dishes, but here it lifts and romanticises the components of the dish. The only thing I wished for is for the beef to be a tad more tender.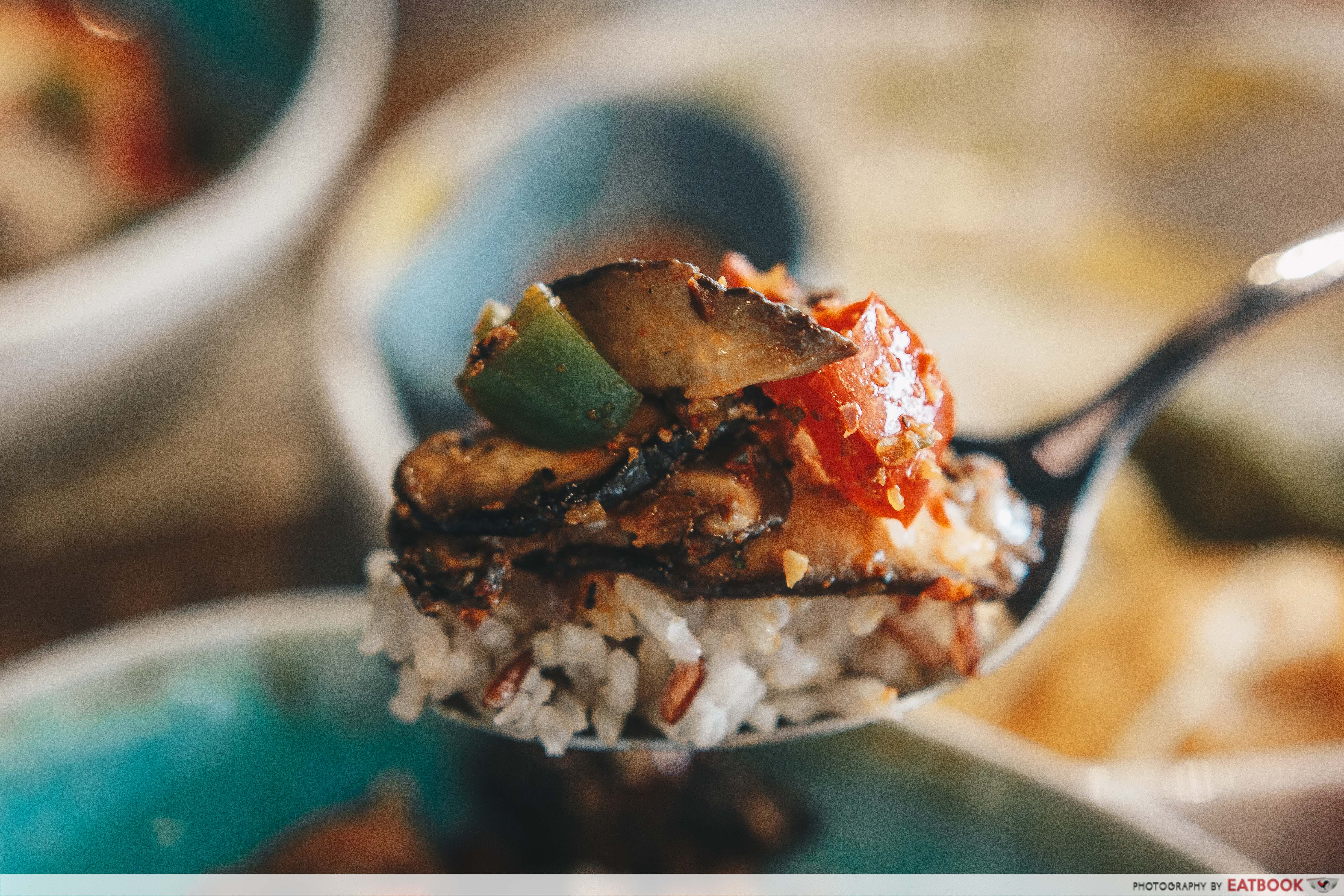 The vegetable side is made up of a medley of shiitake mushrooms, white shimeji mushrooms, and diced green and red peppers. The combination was sweet and aromatic at the same time, a great addition to the bowl. The bed of fragrant multigrain rice is also commendable; do not be fooled by how plain it looks. Steamed with carrots and onions, it is actually as tasty as chicken rice!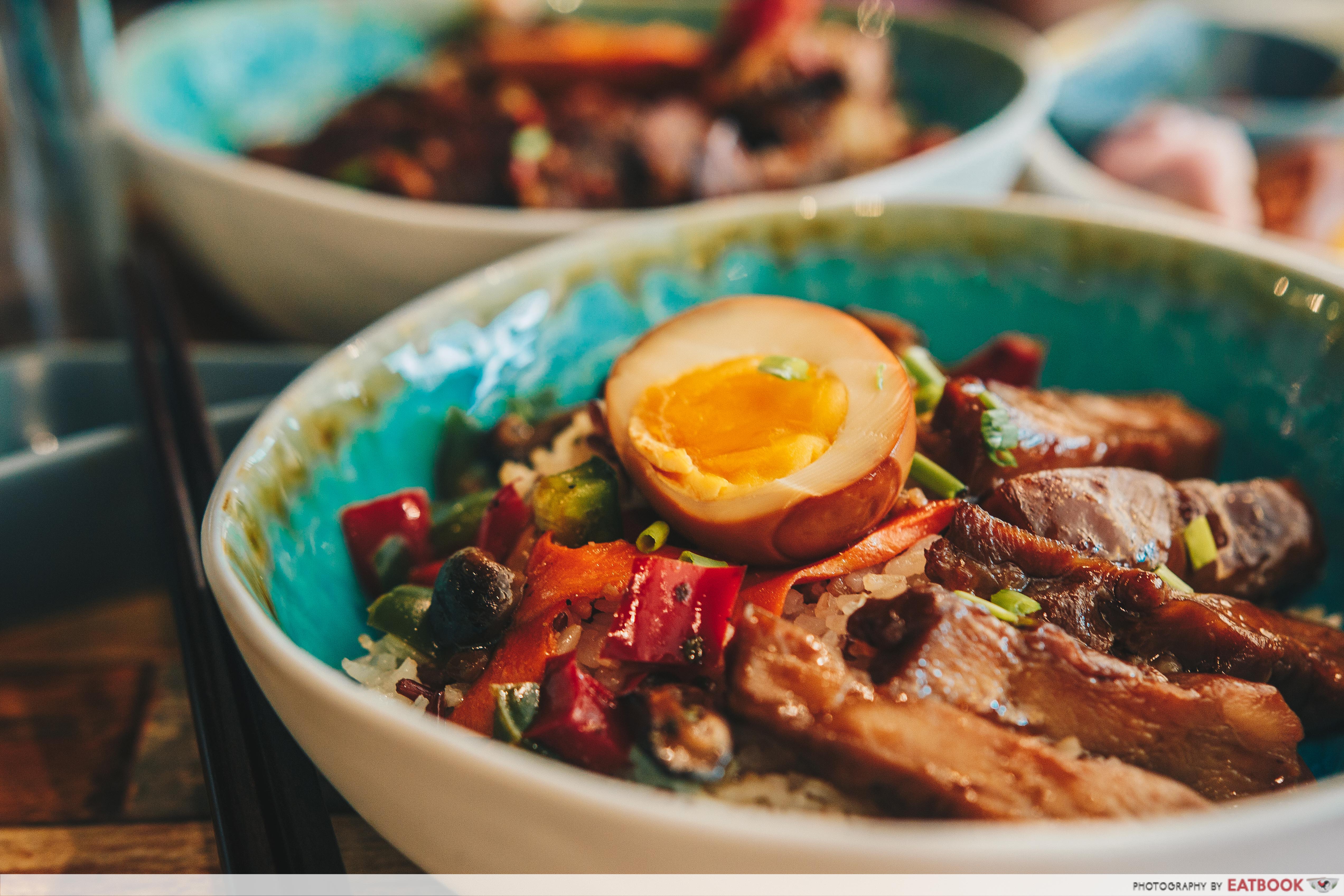 The cafe also offers Teriyaki Chicken Fragrant Rice ($9.90). If you order it during lunch or dinner, you will get a canned soft drink of your choice too. It comes with the same vegetable side and braised egg as the ma la beef rice, but without the spices.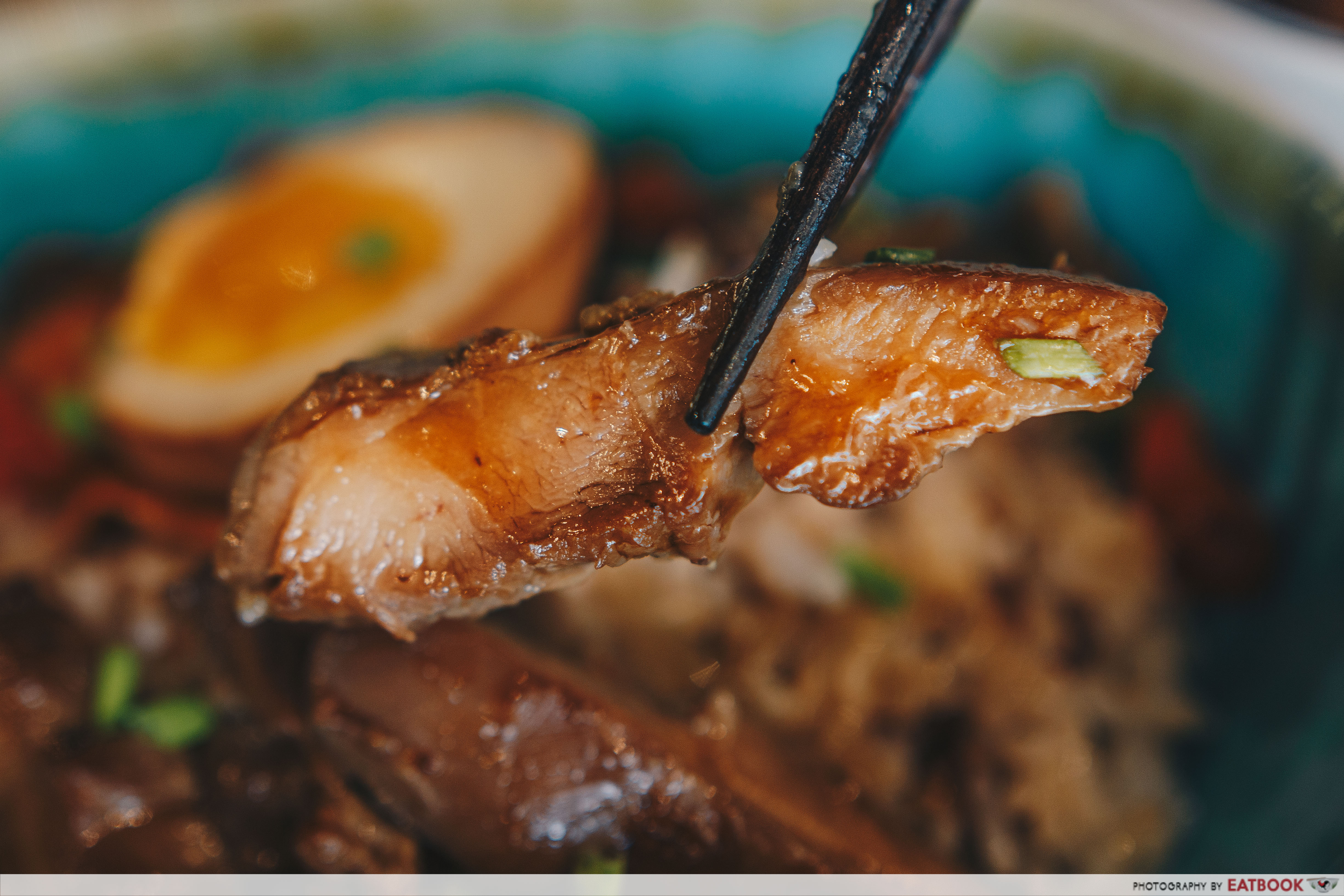 Teriyaki chicken dishes are common, you can even find them at hawker centres. Many places just drizzle teriyaki sauce onto a plain chicken cutlet. Here at Dumplings Cafe, even their chicken is in a shade of light brown on the inside. The meat has probably been marinated as well. The saltiness of the chicken is balanced by the sweetness of the sauce doused on it. When savoured with a spoonful of the fragrant rice, it is like eating a guilt-free chicken rice.
Ambience at Dumplings Cafe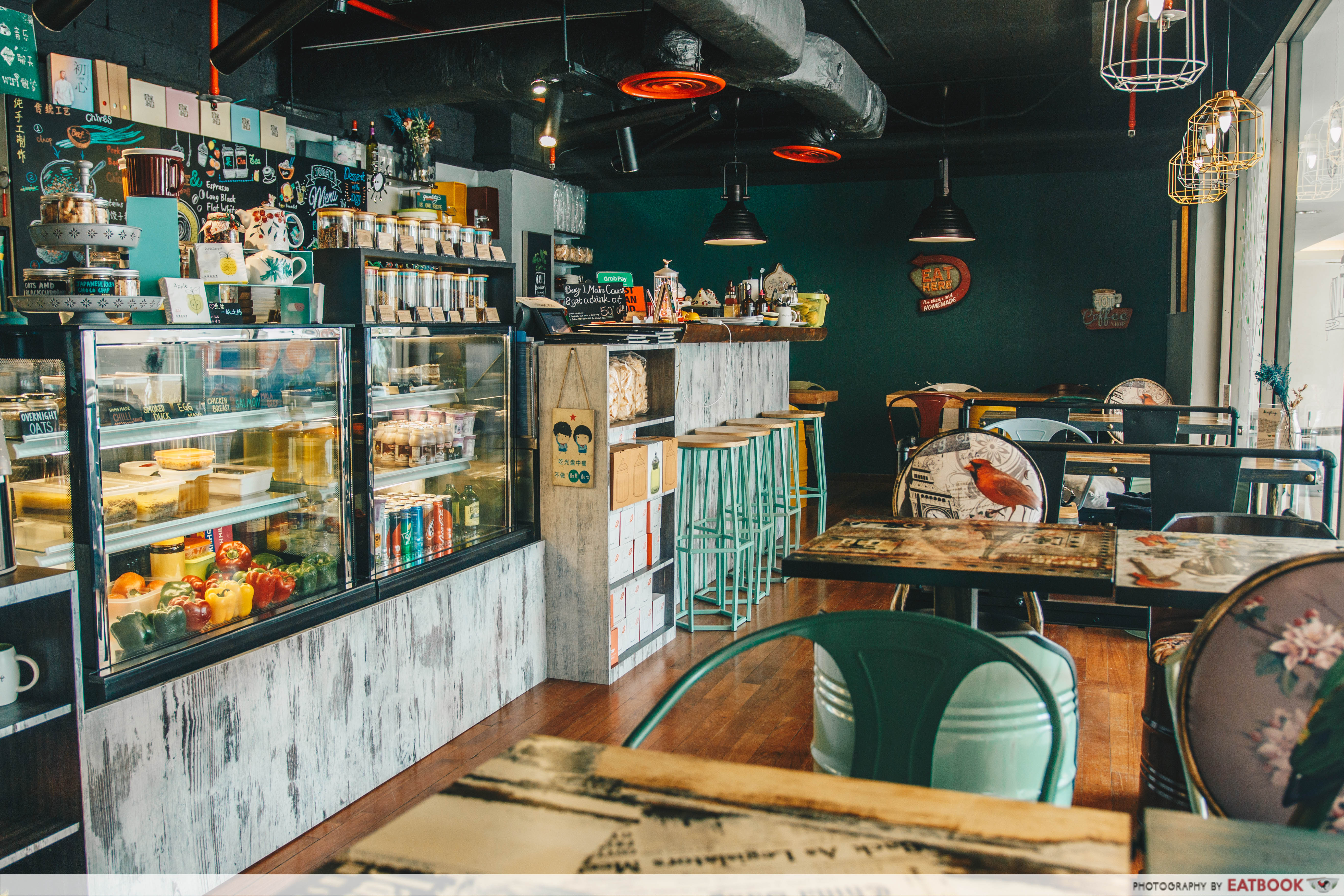 When I first walked into Dumplings Cafe, it felt like I was instantly transported back to my trip to Taipei a few years ago. The interior design had a vintage vibe to it. Even the colourful chalkboard menu decorated and drawn free-handedly by the owner and her daughter were totes adorable. This cafe is a good pick to bring your parents for a hearty meal or your friends for a chill weekend brunch.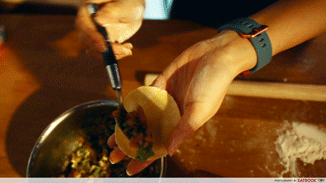 If you're lucky, you might get to see the owner gently making dumplings on the kitchen island in the cafe as well. Her skills in cooking and decorating her cafe are seriously future mothering #goals for me.
The verdict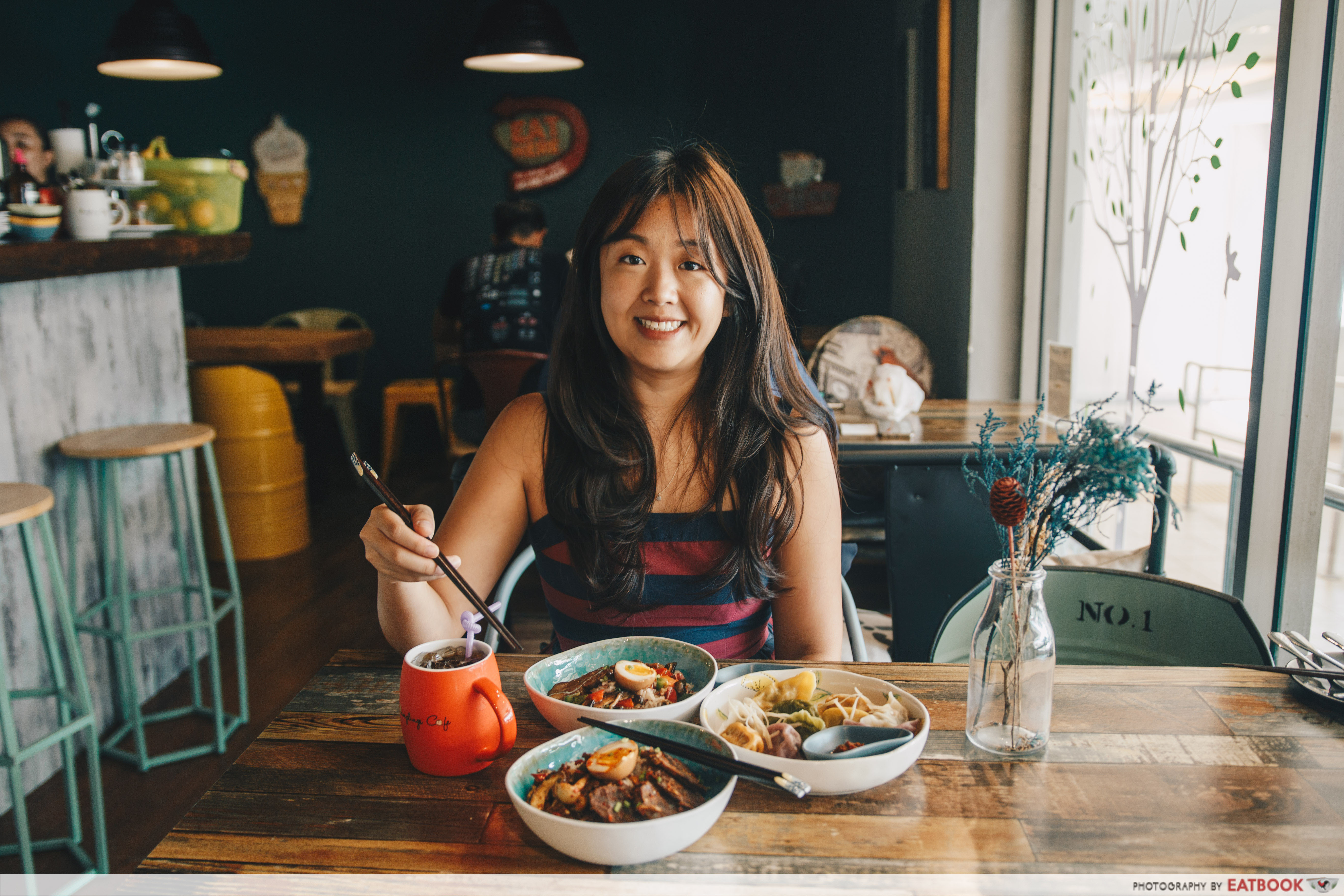 Being a Westie, Thomson Plaza is not the most convenient place for me to revisit Dumplings Cafe. However, if I'm trekking through MacRitchie Reservoir, dubbed possibly as "the most zen pocket of space" in an Instaworthy trails listicle, I would bring my friends down to the cafe for a post-walk refuel. Do note that they only accept cash and GrabPay, so pop by an ATM before heading down.
Dumplings Cafe also offers pre-ordering of their handmade dumplings and other treats like cookies. Do check out their Facebook page for more information!
If you're looking for more hearty food options, check out our review on Empress Porridge which serves a wholesome scallop and pork porridge, and Aw's Signature which serves a zhnged-up braised pork mee pok.
Address: 301 Upper Thomson Road, #01–57, Thomson Plaza, Singapore 574408
Opening hours: Daily 8:30am to 9pm
Tel: 8818 4634
Website
Dumplings Cafe is not a halal eatery.
This is an independent review by Eatbook.sg.
Summary
Pros
– Quality ingredients
– Well-flavoured dishes
– Nett prices
– Cosy ambience
Cons
– Limited seats
– Cash or GrabPay only
Recommended Dishes: Dumplings Platter ($13), Teriyaki Chicken Fragrant Rice Set ($9.90)
Opening Hours:
Daily 8:30am to 9pm
Address: 301 Upper Thomson Road, #01–57, Thomson Plaza, Singapore 574408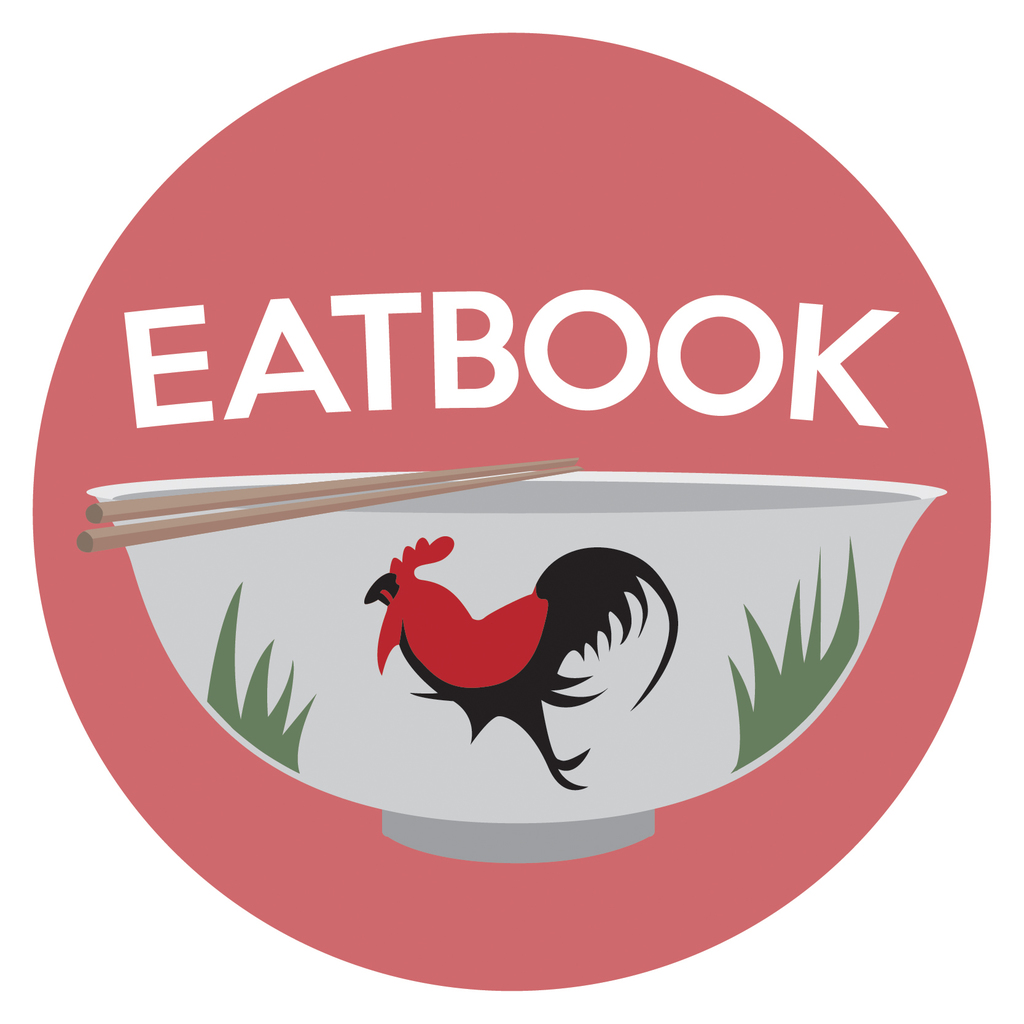 Drop us your email so you won't miss the latest news.