Hearty food at Emmanuel Peranakan Cuisine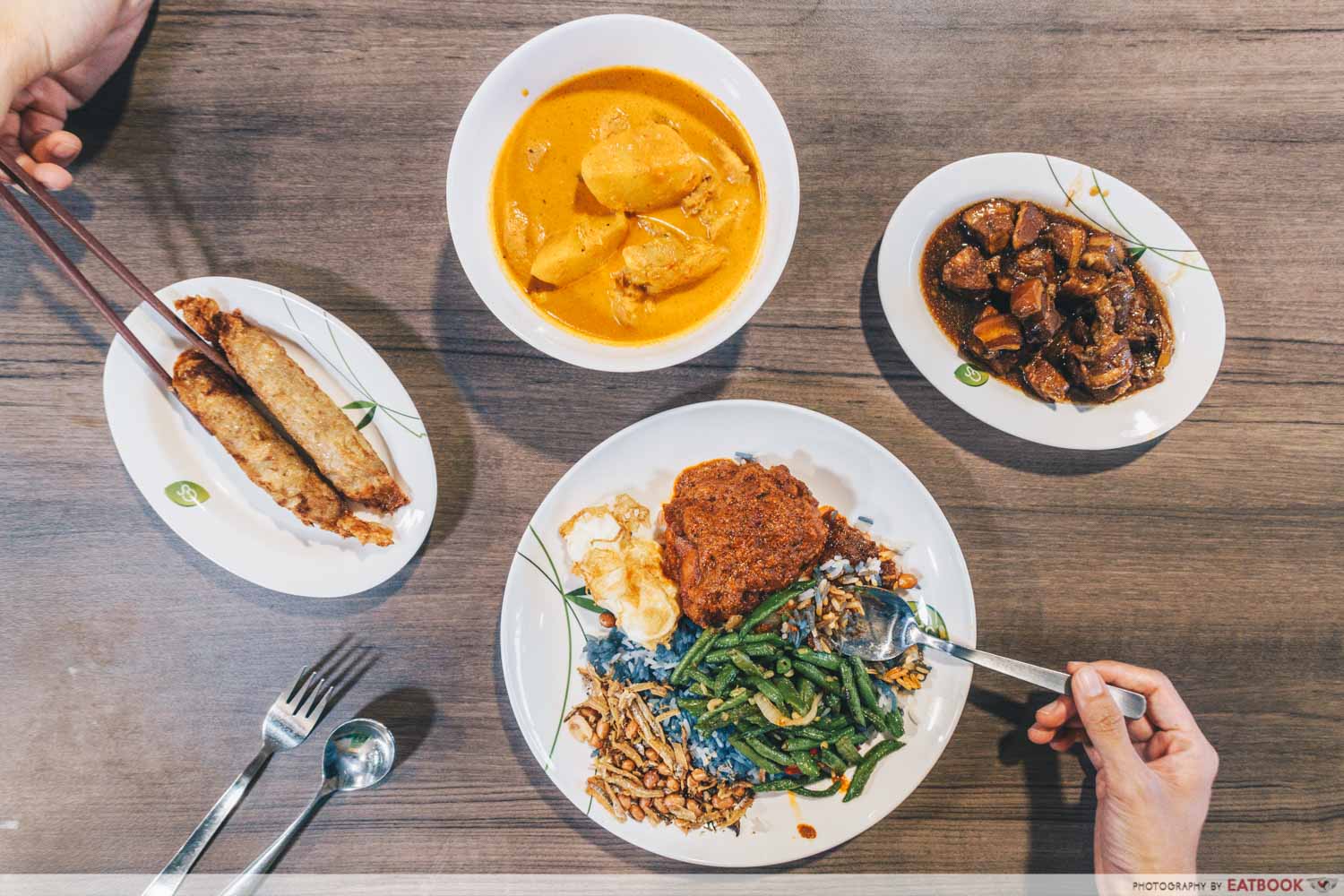 Having grown up around Marine Parade, Marine Parade Food Centre holds a special place in my heart. I fondly remember having my meals there after a long school day, with the abundance of delicious food always perking me up. Homely dishes always hit the spot, and Emmanuel Peranakan Cuisine does it splendidly.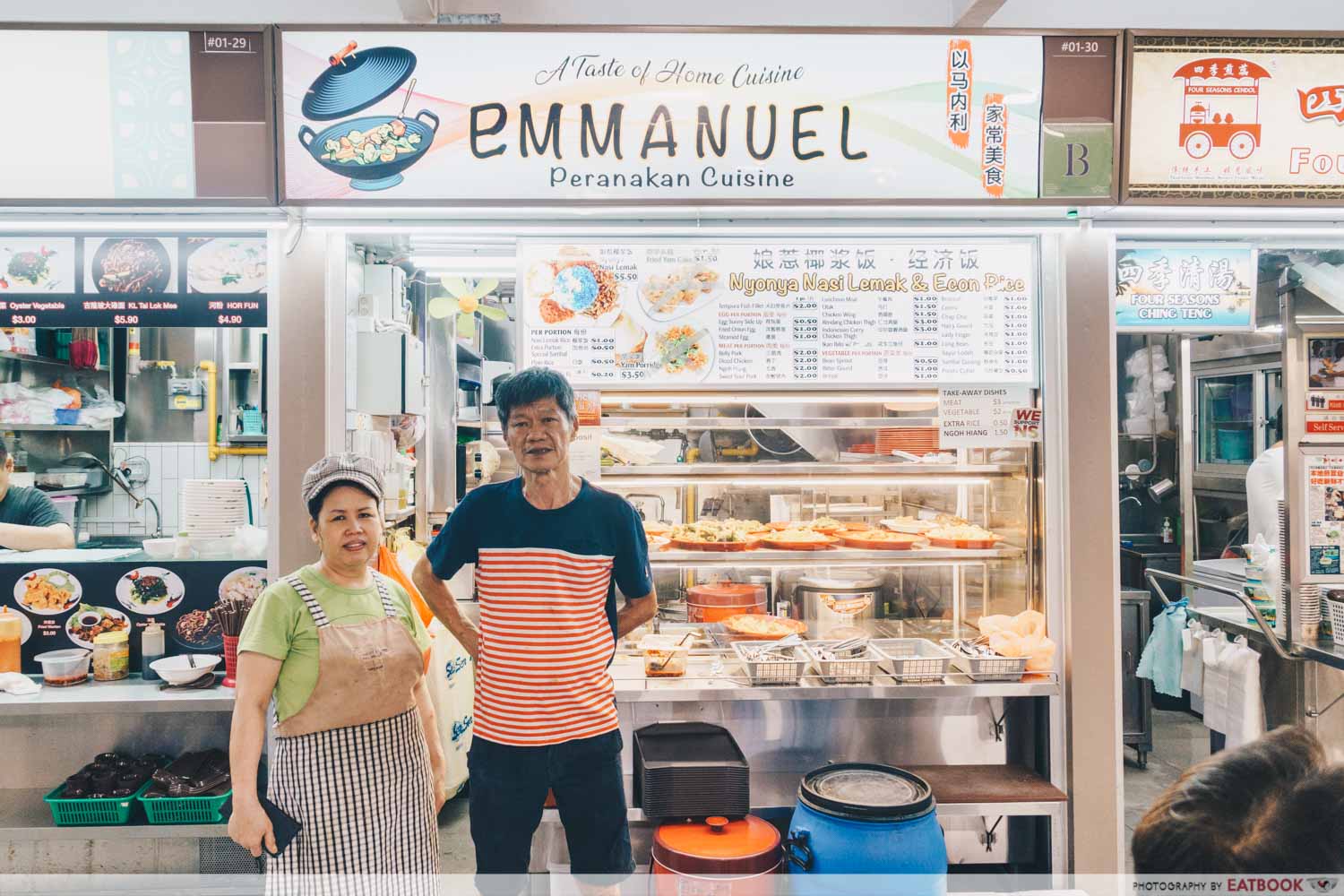 Emmanuel Peranakan Cuisine is the brainchild of Annie, a jovial woman who has more than 30 years of experience at the famous Xing Long Cooked Food, which was started by her mum. Wanting more room to explore food and to add a personal touch to her dishes, Annie decided to open Emmanuel Peranakan Cuisine. Together with her husband, Annie tirelessly serves up hearty and homely dishes, all from the heart.
Food at Emmanuel Peranakan Cuisine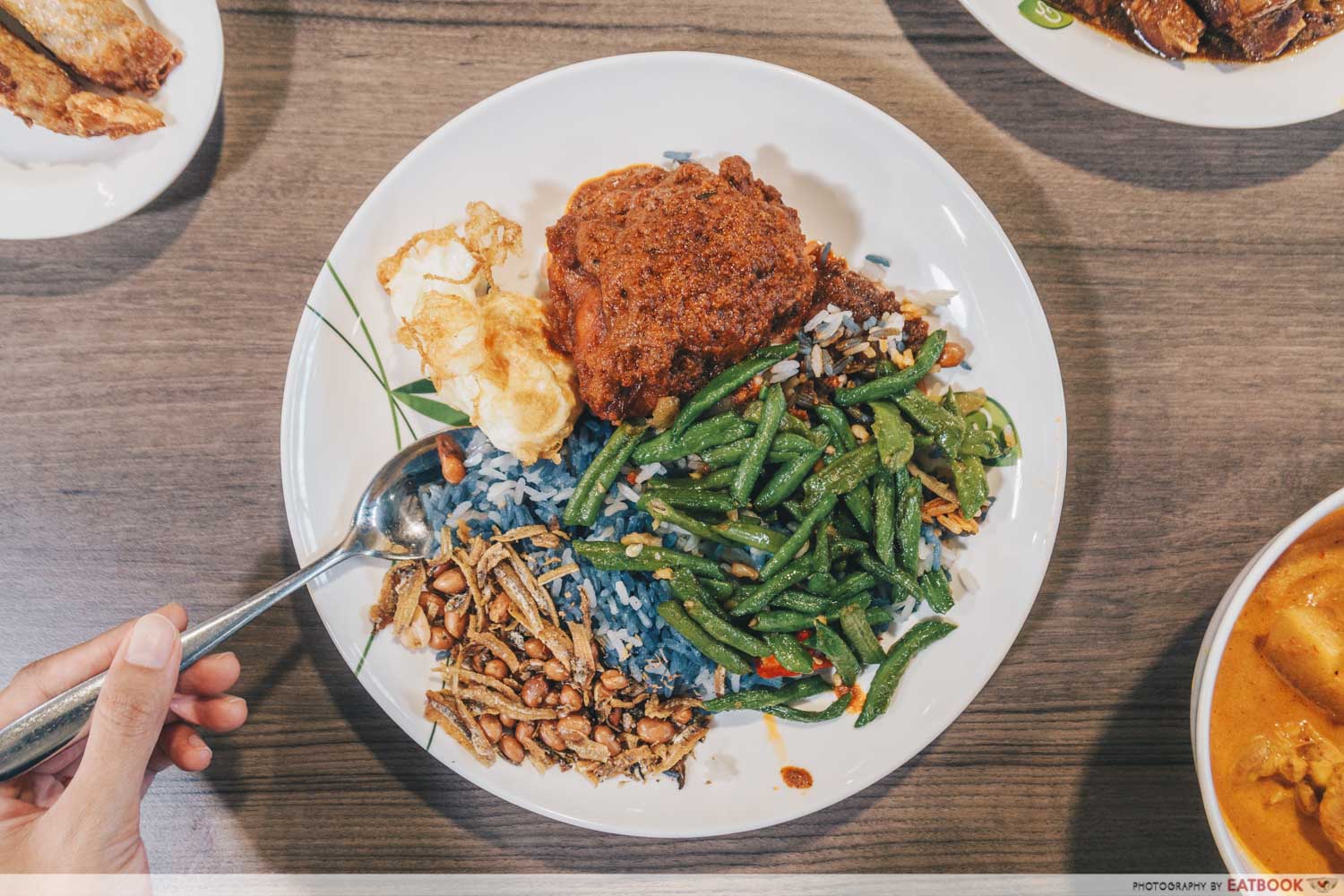 Nasi lemak is a traditional dish with Malay origins. Hence when I spotted the Nyonya Nasi Lemak ($5.50) on the menu, I was excited to see how Annie incorporated Peranakan elements into this popular dish.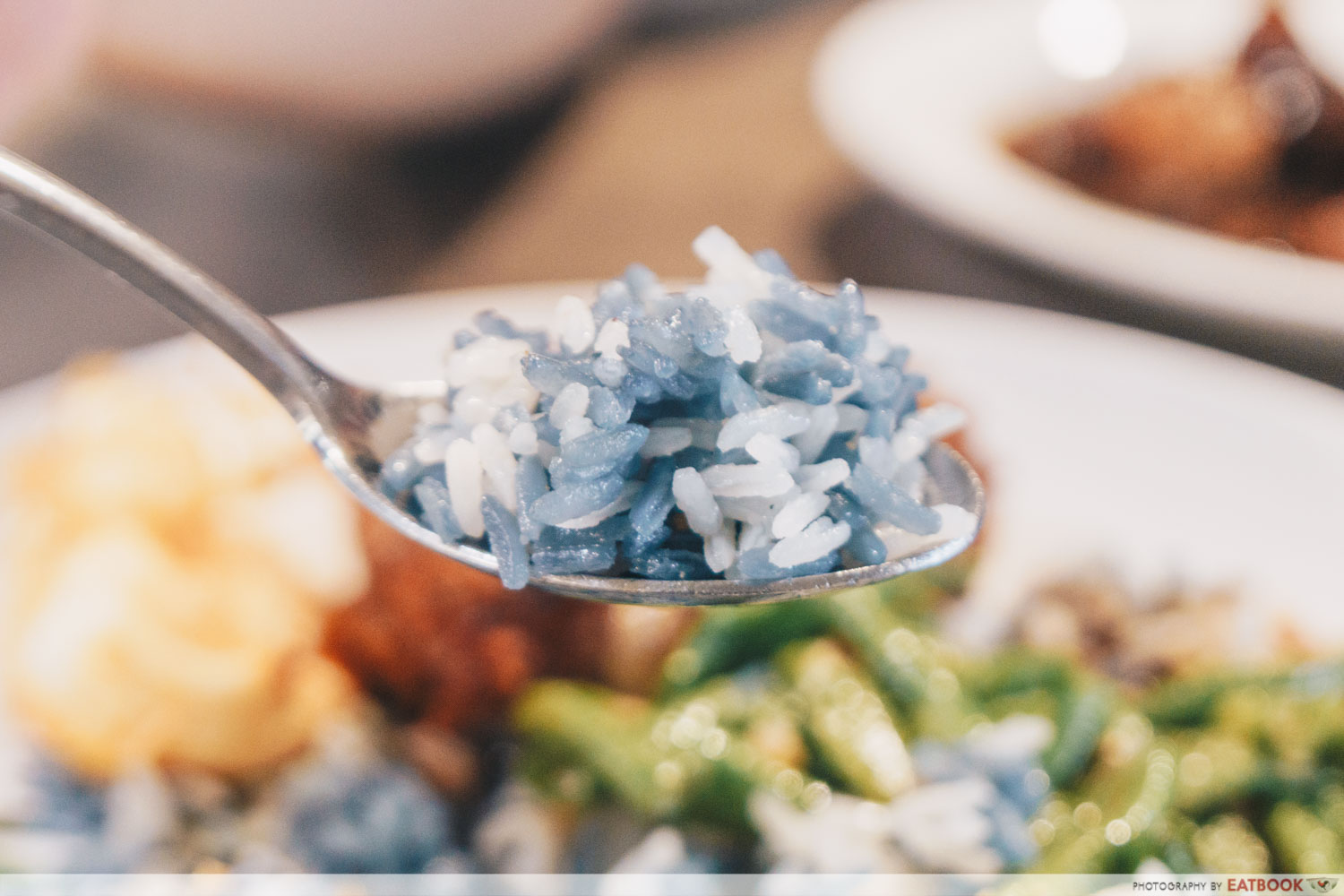 Butterfly blue pea flower is used to cook the rice, which explains the grains' distinct blue hue. This flower is traditionally used in Nyonya kueh, and is said to have many health benefits, such as improving skin and eyesight. Sticking to her mantra of only using fresh ingredients, Annie sources fresh butterfly blue pea flowers from her in-laws' plantation in Melaka.
The taste of blue pea flower is usually hard to detect, but in this spoonful of rice, I could taste a slight earthy tang from the flowers. Unlike traditional nasi lemak where rice is cooked in coconut milk, the taste of coconut milk in each spoonful of rice was rather subtle, and it didn't possess the right amount of richness.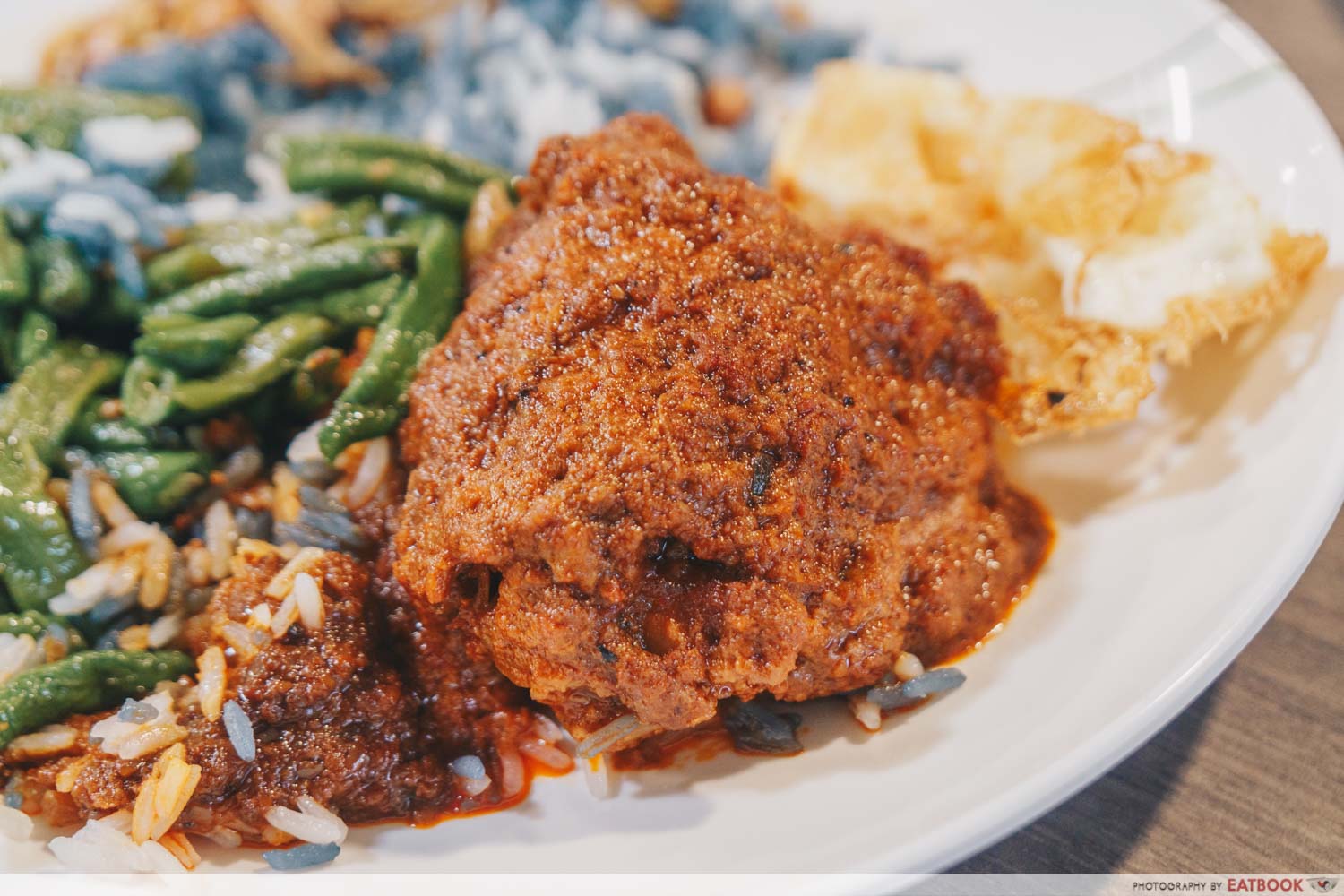 The chicken rendang was fiercely aromatic, as I could detect its fragrant smell even before I dug into the nasi lemak. Knowing I'm a spicy food amateur, my dining companion playfully requested for more of the bright red gravy, and I was truly worried.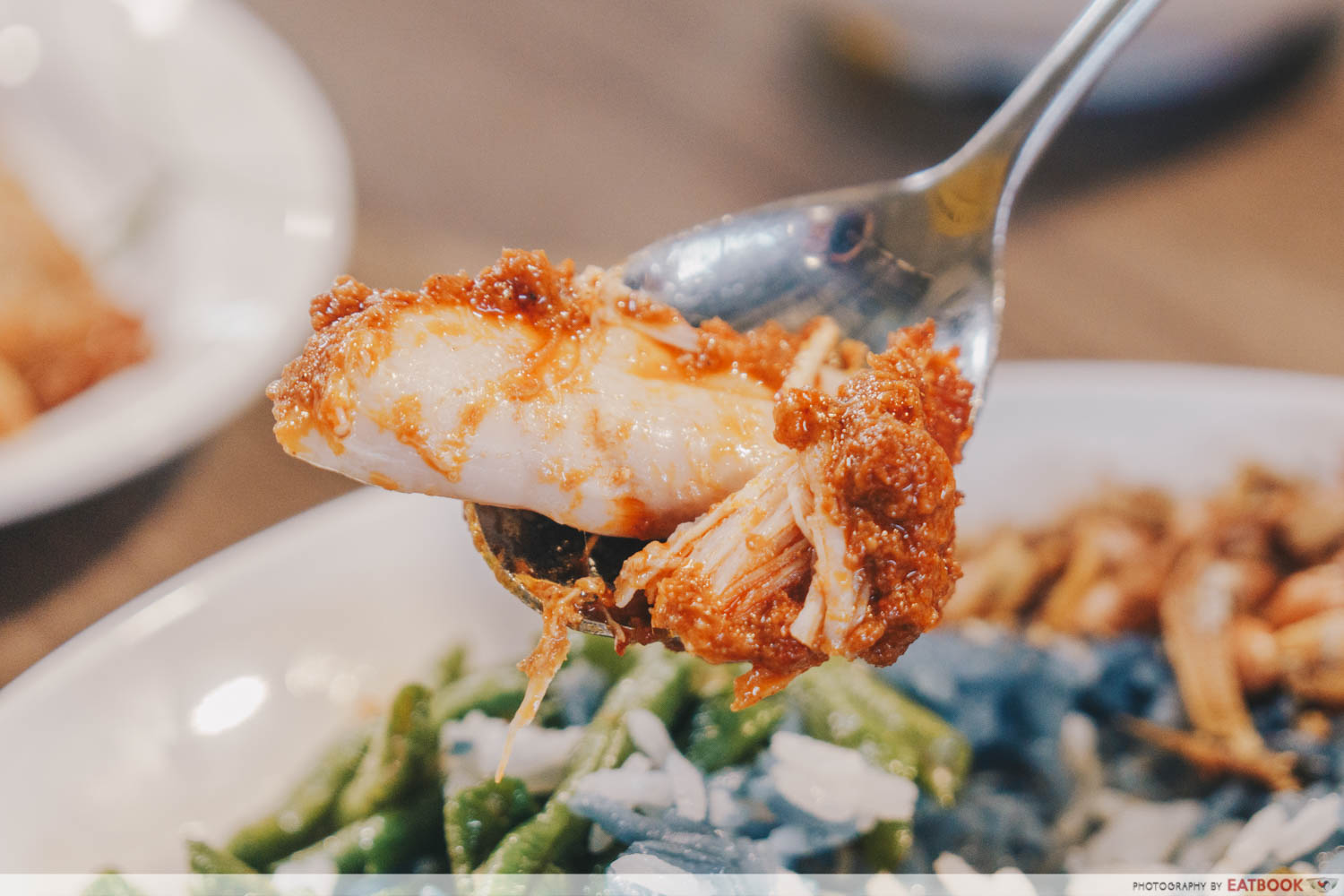 Each morsel of chicken was juicy, tender, and sinfully oily. The wetness of the gravy made for a smooth mouthful, and though it had a spicy kick, it was pleasantly sweet.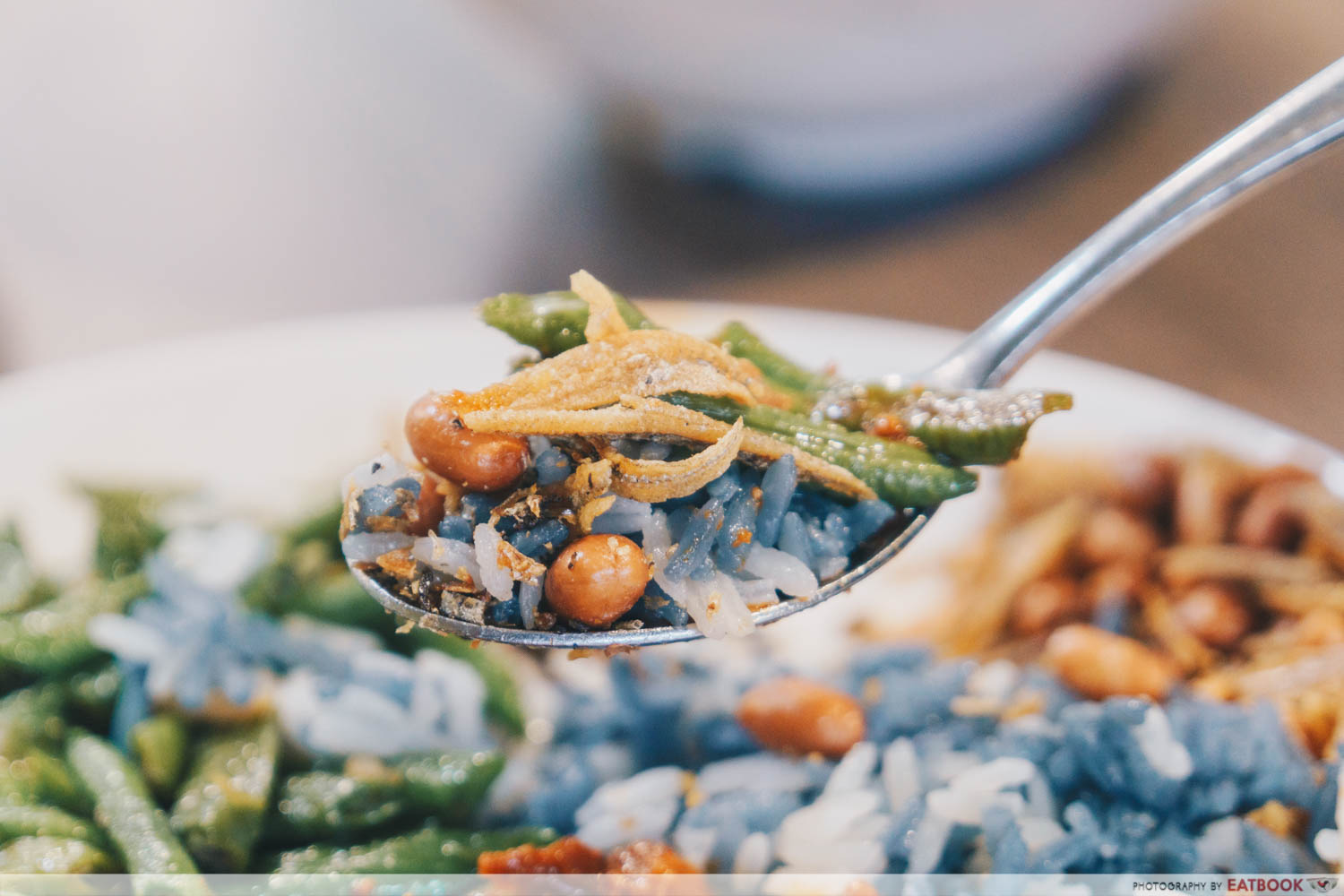 The rendang's intense flavour made me rather jelak, hence the earthy taste of long beans was refreshing. Munching on the crunchy peanuts and ikan bilis was undeniably addictive, and they provided a welcome saltiness to the palate.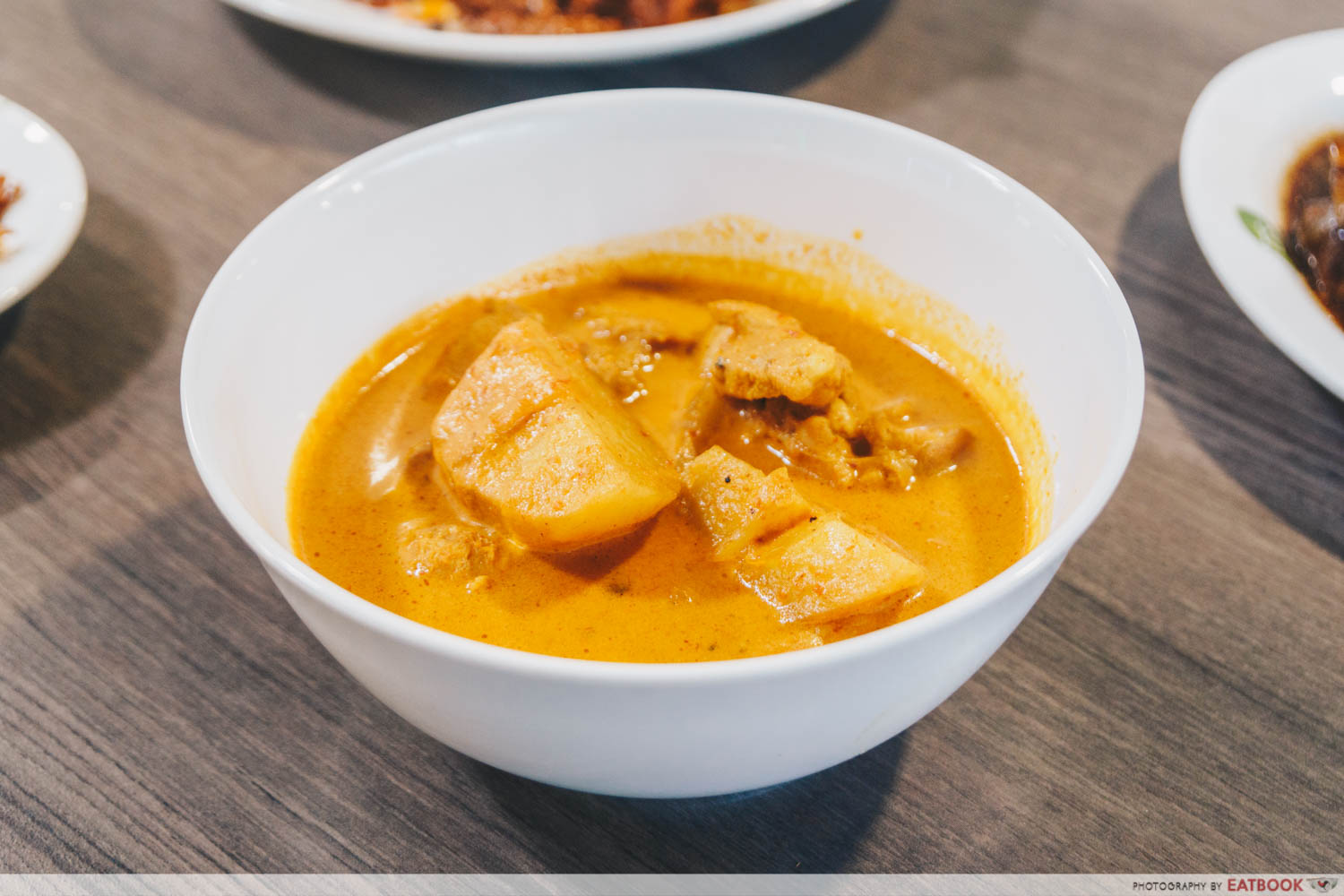 Though I'm not a fan of spicy food, I love curry. Its fragrance and deep flavour profile never fail to excite me. Hence, I opted for the Indonesian Curry Chicken Thigh ($3). I was delighted to hear that Annie uses chicken thigh instead of chicken breast, which is usually dry and bland.
The bowl was filled with bountiful chunks of chicken thigh and plump potatoes, all in a nice warm bed of gravy.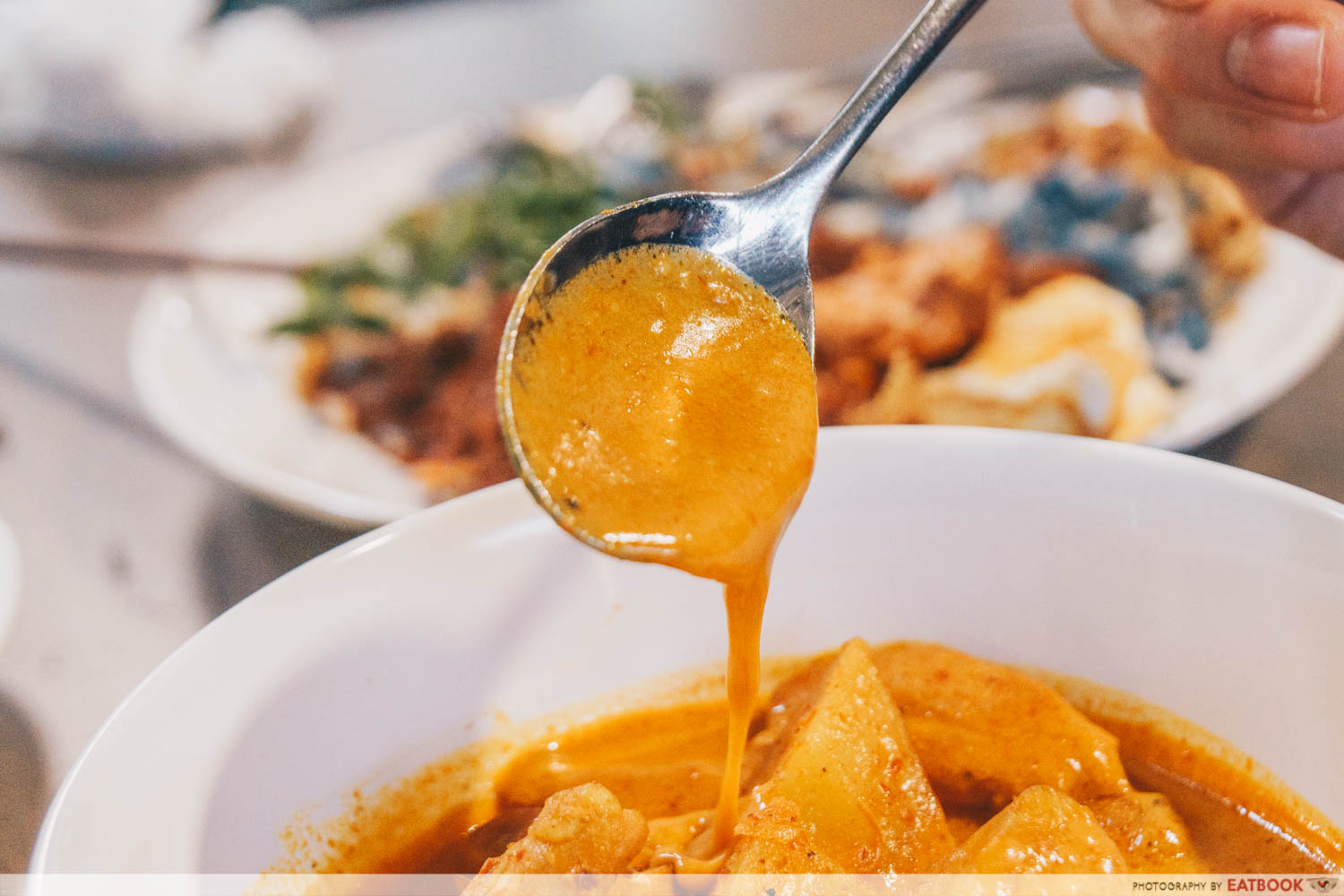 The curry was not too thick, as it flowed off the spoon with ease. It coated my tongue beautifully, allowing me to savour its earthy and rich flavour. Thankfully, its spicy kick was not too intense, and I thoroughly enjoyed each spoonful.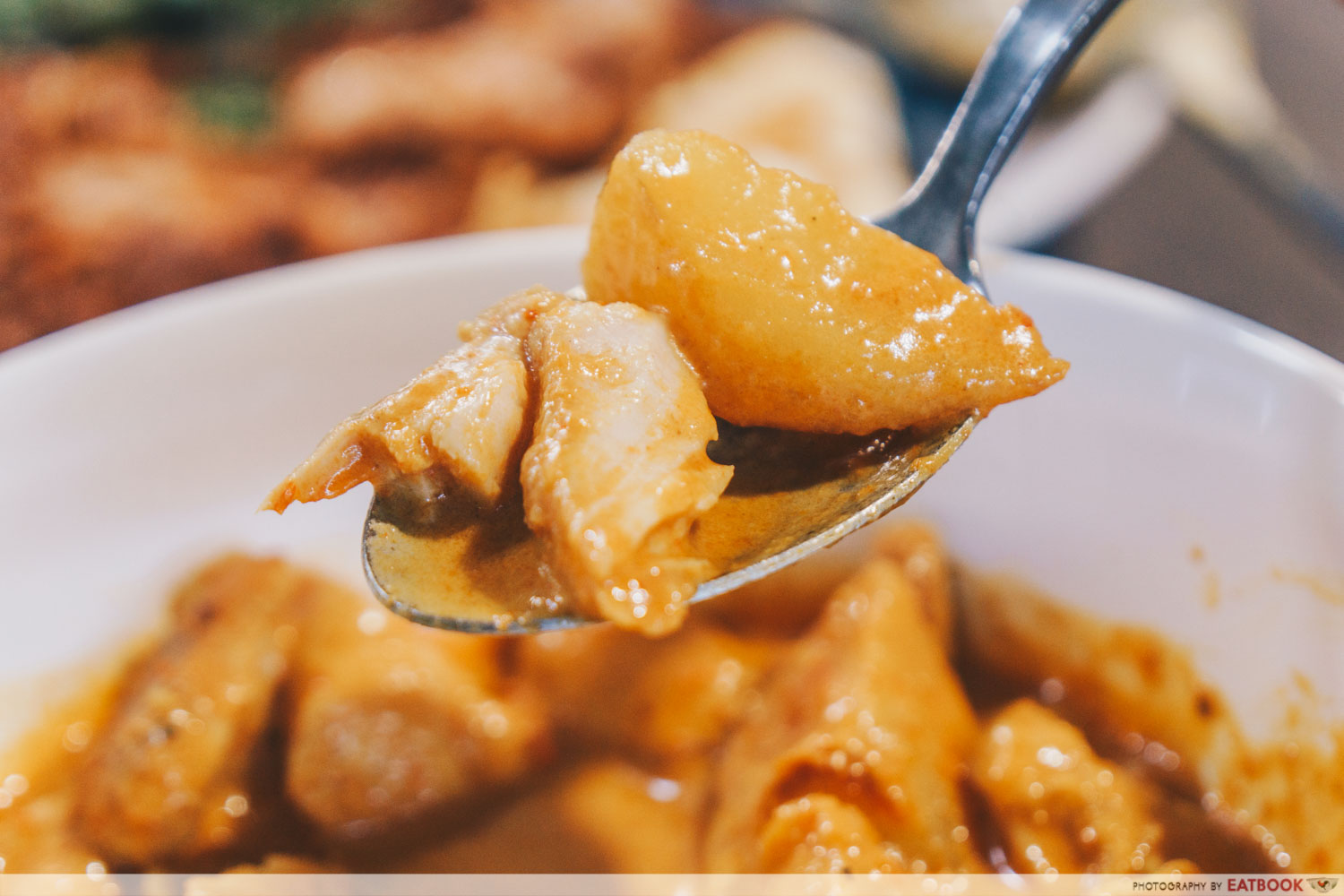 The bite-sized pieces of chicken thigh were moist, succulent and, when eaten together with the flavourful curry and starchy potatoes, felt decadently rich and satisfying.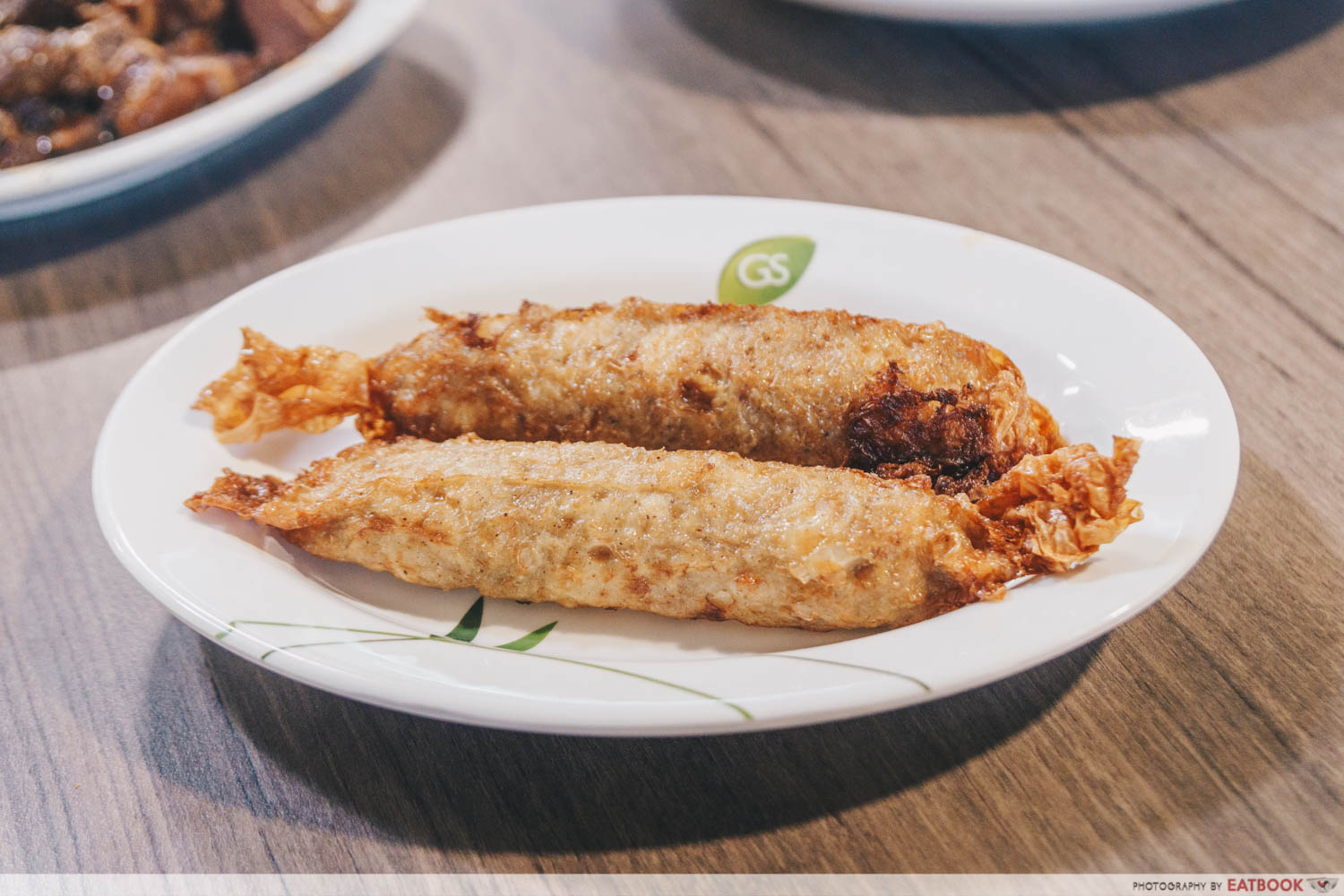 A staple in many Peranakan households, Annie's Ngoh Hiang ($2) is simple and comforting. It features marinated sliced pork that's seasoned with five-spice powder, wrapped in a delicate salted beancurd skin, and then deep-fried to a beautiful golden brown.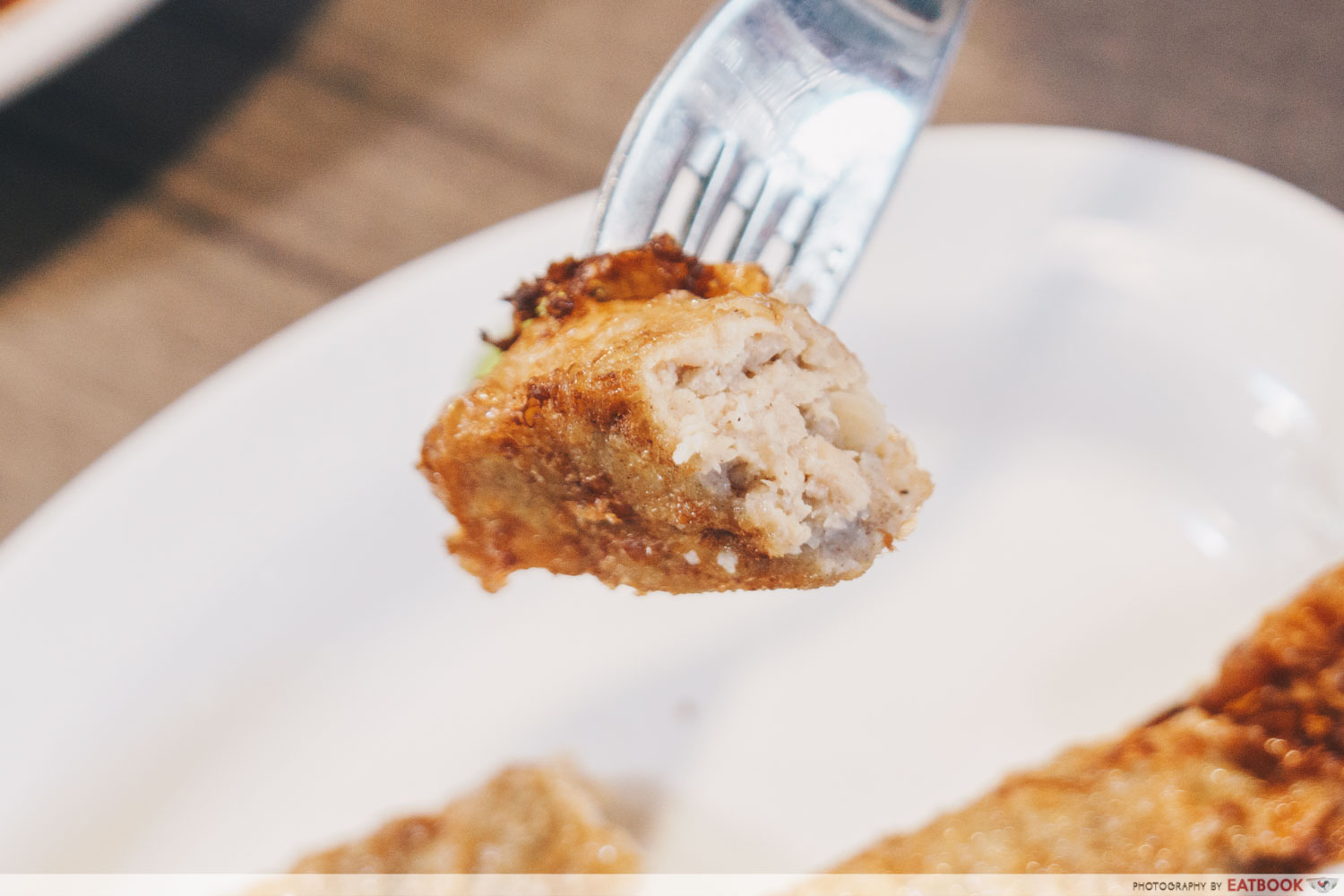 The ngoh hiang had a crispy exterior, and upon biting through it, I was met with juicy chunks of minced pork and a tinge of savouriness from the five-spice powder. However, the saltiness from the ngoh hiang wasn't well balanced. It's a pity that sweet dipping sauce was missing, as the dish did not feel well rounded.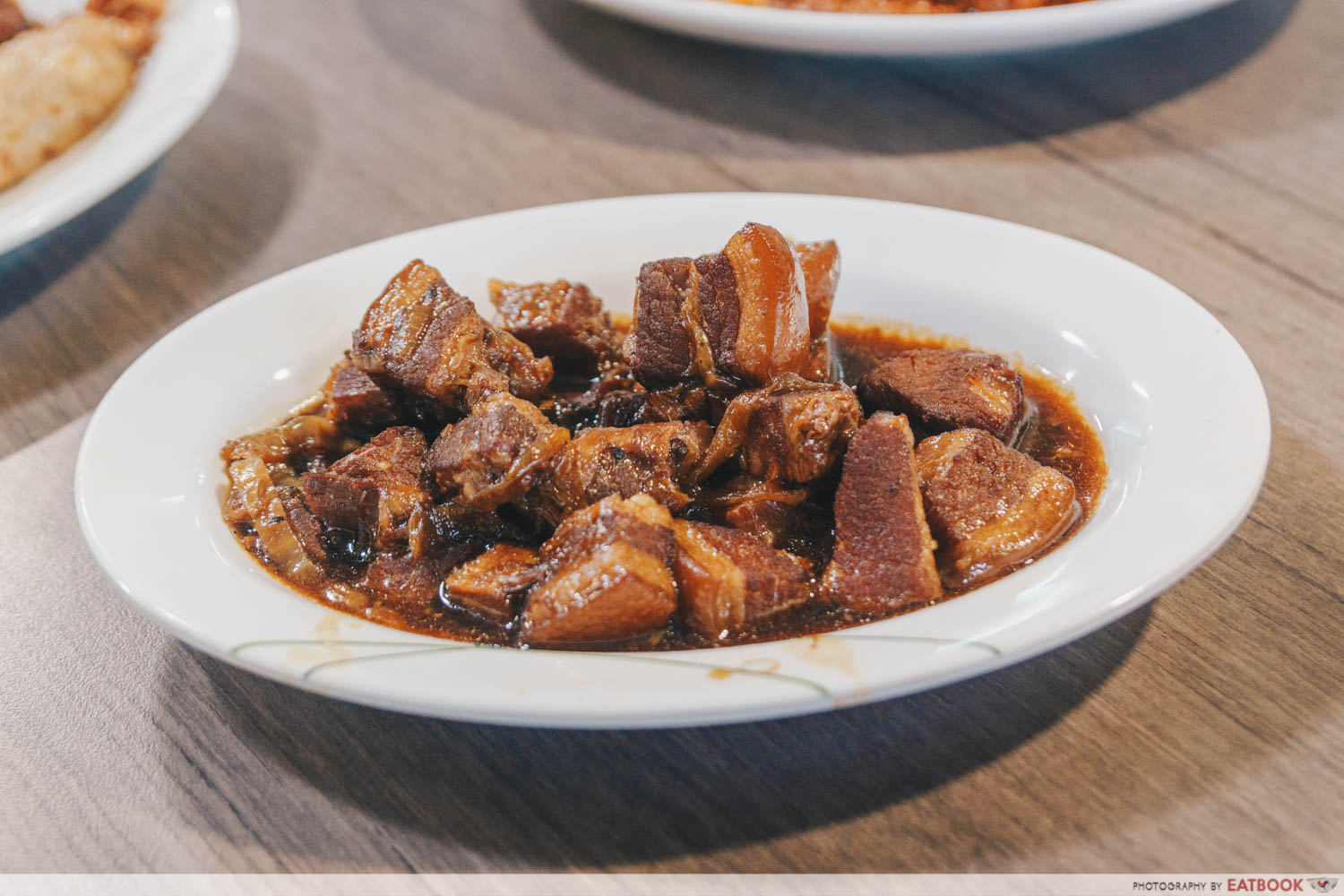 There's something so inexplicably mouthwatering about the pork belly ($2) here, as each juicy chunk of meat is connected to a wonderful layer of fat.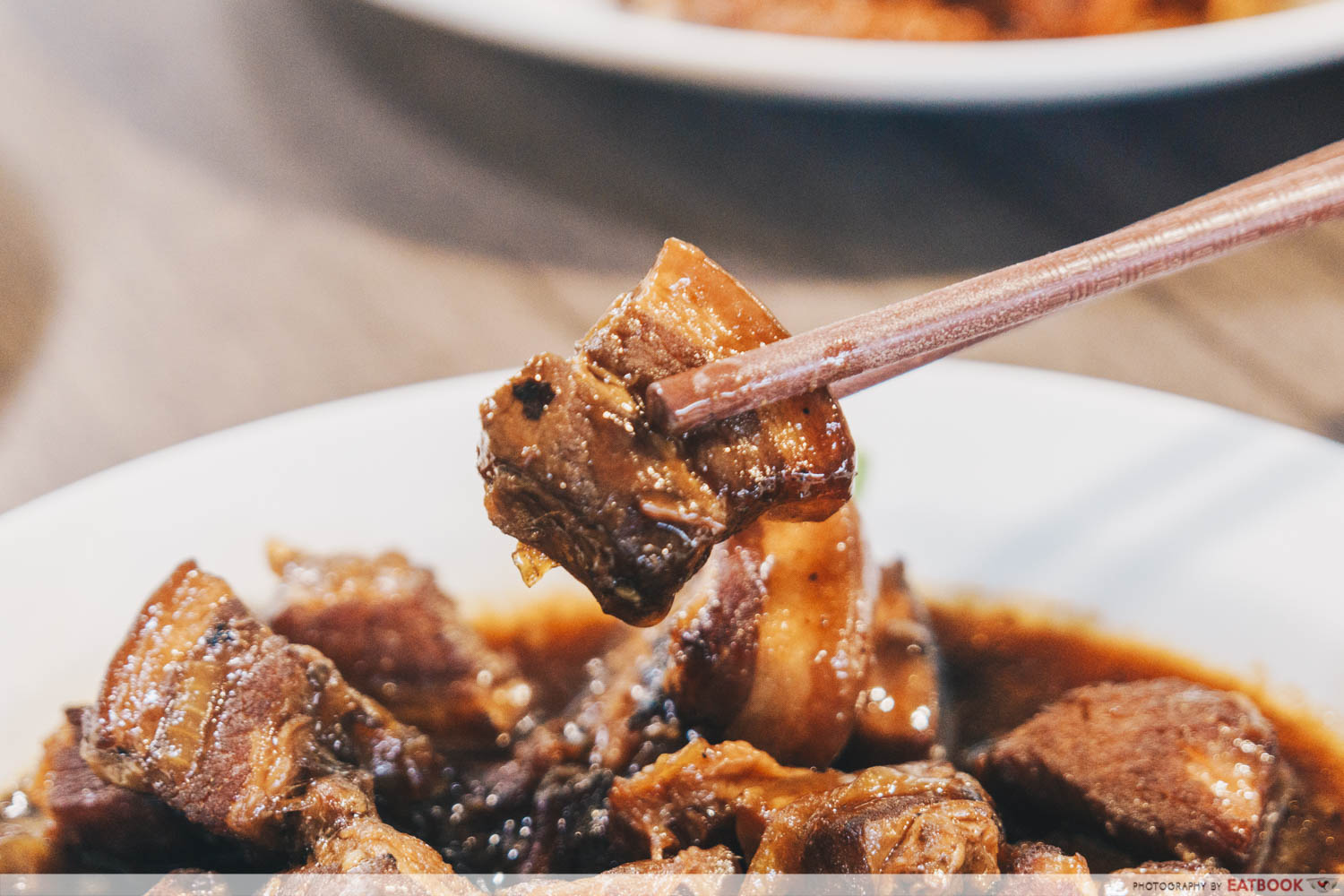 The pork was sweet and tender. Coupled with the creamy, melt-in-the-mouth fat, the meat was divine. The braising sauce further elevated its taste, providing a certain smoky richness to the mouthful. My only qualm was that there could've been more generous servings of pork belly, especially since I ordered double portions of it.
Ambience at Emmanuel Peranakan Cuisine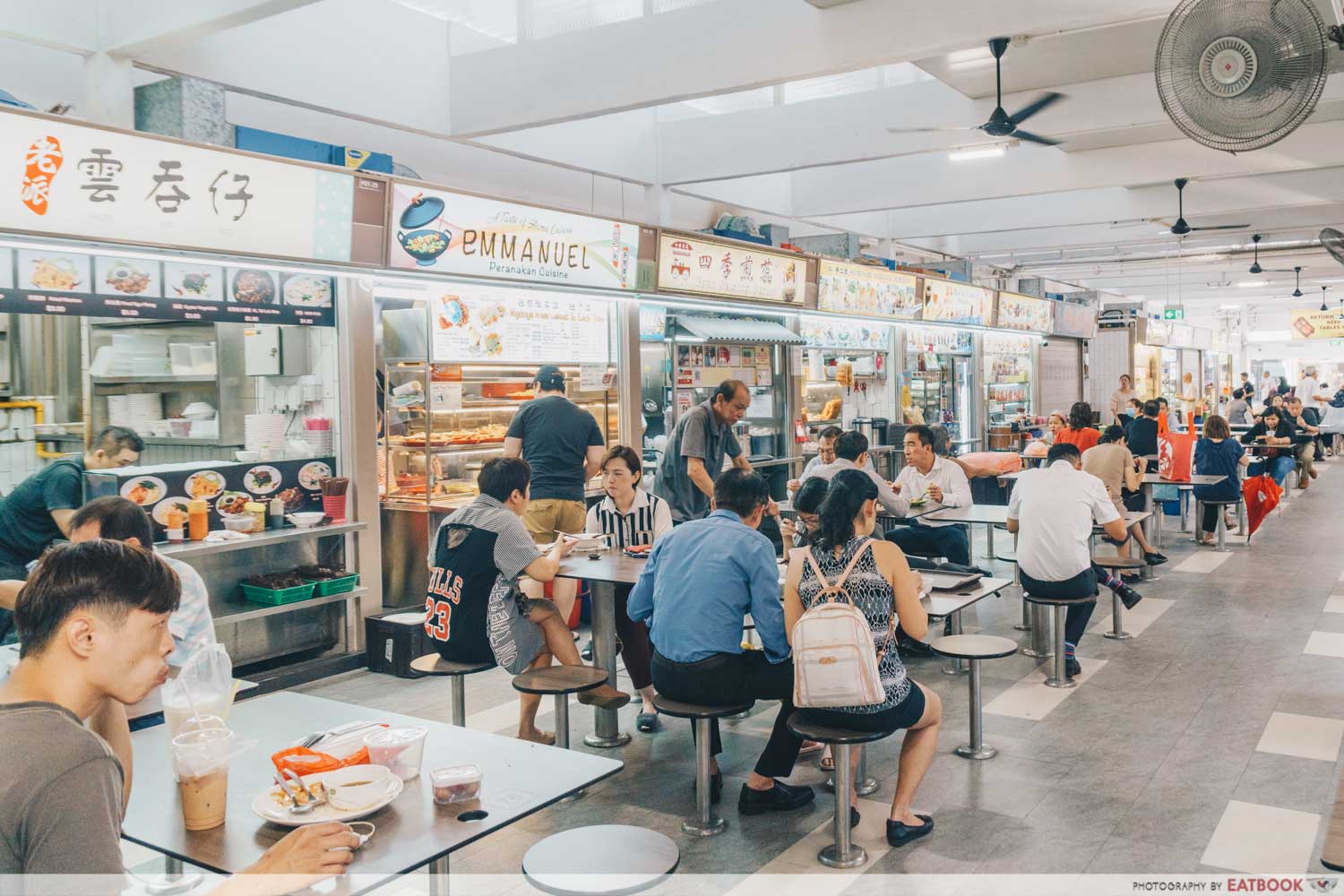 Marine Parade Hawker Centre has finally opened its doors after one and a half years of renovation, explaining its recent popularity. With squeaky clean tables and floors, good ventilation from the numerous ceiling fans, you are sure to dine in comfort. This hawker centre gets really crowded during mealtimes, so come during non-peak hours for a chill meal. Do visit the new selection of food stalls across the food centre as there are many hidden gems around.
The verdict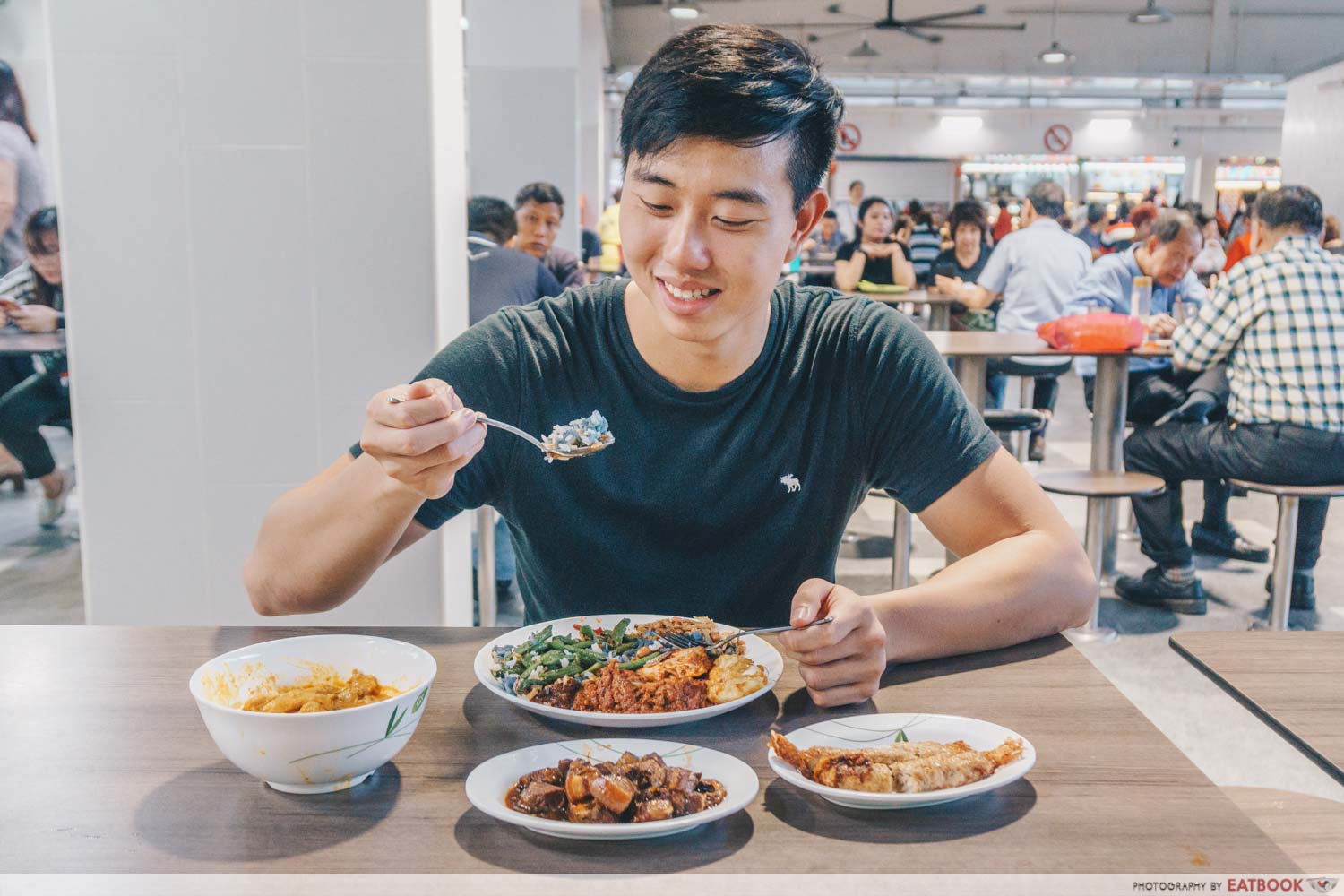 It's hard to stand out among other economical rice stalls as they usually sell the same types of dishes. However, Emmanuel Peranakan Cuisine serves up unique dishes made with fresh ingredients, and the food is nothing short of homely. Annie's passion for cooking and dedication to her craft really shows in her food, and that's enough for a repeat visit.
Apollo Fresh Cockle Fried Kway Teow Review: Famous Wet-Style CKT With Over 40 Years Of History
For more delicious food in Marine Parade Food Centre, check out Apollo Fresh Cockle Fried Kway Teow and Tip Top Western Food. 
Address: 84 Marine Parade Central, #01-30, Singapore 440084
Opening hours: Thurs-Tue 9am to 6pm
Tel: 9757 4143
Emmanuel Peranakan Cuisine is not a halal-certified eatery.
Photos taken by Chng Jia Yan.
This is an independent review by Eatbook.sg.
Emmanuel Peranakan Cuisine
Summary
Pros
– Fragrant chicken rendang
– Delicious curry
– Meats were tender and nicely cooked
Cons
– Small portions
– Ngoh hiang did not come with a sweet sauce
Recommended dishes: Nyonya Nasi Lemak ($5.50), Belly Pork ($2), Ngoh Hiang ($2), Indonesian Curry Chicken Thigh ($3)
Opening hours: Thurs-Tue 9am to 6pm
Address: 84 Marine Parade Central, #01-30, Singapore 440084