---
About Equilibrium
---
Update (4th April 2019): Equilibrium has permanently closed down.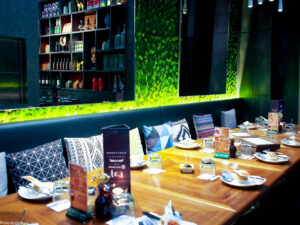 Brought to you by the very same guys behind Supply & Demand, Equilibrium is the second brainchild of the Cre8 group. Inspired by Venetian cuisine and dining culture, this Italian restaurant aims to be the equilibrium between modern techniques and rustic flavours. However, as with economics, balance isn't something that's always achieved easily.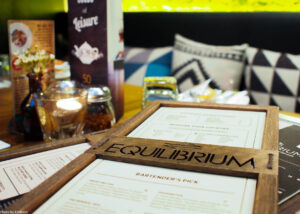 The menu seemed to be far too ambitious, and the modernist techniques of the desserts in particular were quite out of place in this setting. Their food is enjoyable, but somehow the menu lacked cohesiveness. The modernist desserts and rustic main courses stretch the tone of the experience to opposite ends, and it feels like the crew has bitten off more than they can chew.
---
Drinks
---
Equilibrium serves a unique selection of tea-based cocktails like the Smoky Nectar ($18), and Imperial Seal ($17).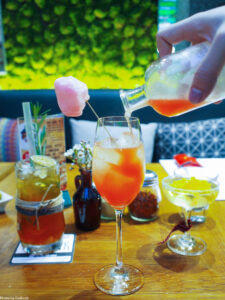 The Smoky Nectar is a mixture of bulleit bourbon, muddled raspberries, st george spiced pear liqueur, raspberry nectar tea with smoked hickory wood and syrup. I didn't enjoy the smoky flavour of the hickory in the cocktail, and I preferred the Imperial Seal.
Made from aromatic chamomile tea, tequila bianco, cointreau, dehydrated chrysanthemum, lemon and fresh chrysanthemum flower, I can definitely see this as one of my go-to cocktails. It's delicate and cleanses your tastebuds, but packs a boozy punch from the tequila.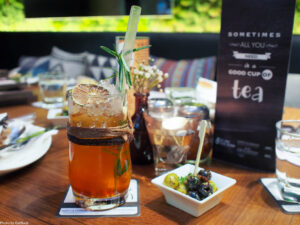 For people who prefer non-alcoholic drinks, go for The Earl ($8). It's a unique tea-based mocktail concocted from a blend of earl grey tea, yuzu, and rosemary. The use of yuzu and rosemary gives this mocktail a refreshing spin, and differentiates it from a normal iced tea.
---
Appetisers
---
Calamari Alla Griglia -$15
---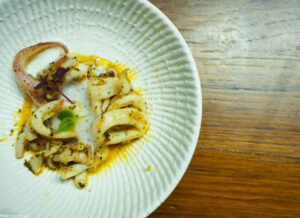 This classic Italian appetiser features grilled squid with citrus air, butter infused fennel, chili and mint. I had high hopes for this as Italian crustacean starters rarely disappoint. However, this dish failed to shine, with its over-acidic dressing and rubbery squid. While the dressing can be overlooked, it is hard to forgive an overcooked squid.
---
La Bombette – $9.50
---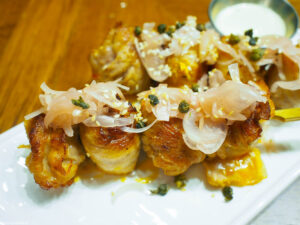 This sinfully rich indulgence consists of a spicy parmesan-oregano mix cradled in a bed of thinly sliced fatty pork belly. This meaty dumpling is then skewered and barbequed.
Gritty texture of the parmesan aside, the sweet pork belly complements the savoury cheese mixture really well. The pickled onions also gives this heavy combination a touch of much needed acidity. Given the richness of this dish, it would have fared much better as part of a main course.
---
Panelle – $12
---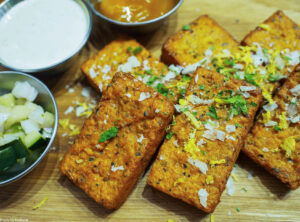 These Sicilian inspired fried chick-pea fritters were an absolute crowd pleaser. They were served with three dips: a refreshing cucumber salad, spicy garlic aioli, and mango chutney. The dips complement the fritters in different ways, making this an extremely versatile dish.
The cucumber salad not only provides a textural contrast, it also cuts through the oiliness of the fritters. The tart mango chutney provides some sweetness to the fritters, and brings out the flavour of the italian spices in the chickpea flour. My favourite however would be the garlic aioli with its fiery and fragrant notes.
---
Crostini Al Fegato E Proscuitto – $15
---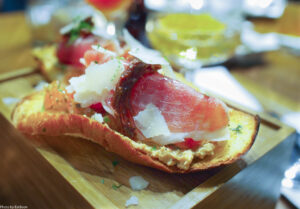 This garlic crostini with parma ham, foie gras pate, herb tomato concassé, shaved grana padano, and sun-dried tomatoes sounds impressive. But once you bite into it, you'll realise there is too much going on for a slice of toasted bread. The parma ham and garlic completely overwhelms the foie gras, making it almost redundant in this dish. I would have prefered two different types of crostinis instead of having them together on a single crostini.
---
Mains
---
At Dusk – $27
---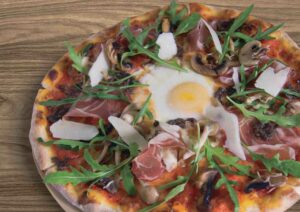 Equilibrium also does a fantastic range of pizzas, just like its sister restaurant Demand & Supply. This one features a hand-opened thin crust, with generous servings of mozzarella, coppa ham, mushrooms, truffle paste, and rucola leaves topped with a runny egg in the middle. The pizza was saltier  than I would have liked it, because of the coppa ham and cheese. But this could be easily remedied with more rucola leaves.
---
Pork and Mushroom Alio Olio – $19
---
This bak chor mee inspired aglio olio is more bak chor mee than aglio olio, which makes it quite surprising if you're expecting a traditional italian pasta.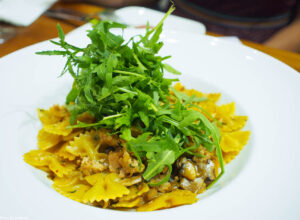 Springy farfelle is tossed together with sautéed bacon, farm mushrooms, and minced pork, before being finished off with a dash of white wine vinegar and a handful of arugula. The flavours of the pasta take some getting used to. The acidity of the vinegar will throw you off initially, but as the dish cools down, the flavours mellow and create an amazingly well-balanced dish.
I applaud the effort of the chef who hopes to pay homage to his roots through this dish. However, I felt this was a little out of place in the menu. I wouldn't recommend this to purists who scorn the use of extra ingredients like vinegar in aglio olio. But if you're a die-hard bak chor mee fan, this may just be the dish for you.
---
Dessert
---
Deli Dolce – $21
---
I wasn't expecting such an elaborate array of desserts at Equilibrium because of the whole bistro vibe of their space at Capitol. But I was pleasantly surprised at this delightful spread of 'savoury' cold cuts. Yes, these are desserts made to look like they're savoury when they are in fact sweet.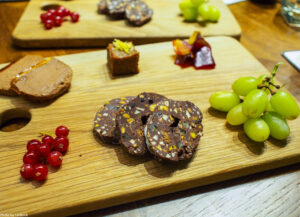 This charcuterie plate features raspberry and green apple prosciutto, chocolate salami, milk chocolate and caramelised onion mousse,and bacon jam. The selection makes for an interesting time experimenting for various combinations with your friends.
I'm partial towards the chocolate onion mousse with whiskey caramel jelly, but I really disliked the idea of a super salty bacon jam on this otherwise lovely dessert platter.
---
Carpaccio Di Anguria – $14
---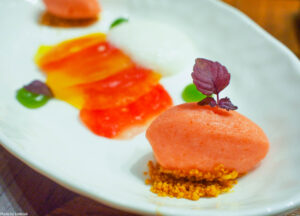 Just like the Deli Dolce, this was another unexpected dessert. It would certainly fit into a swanky rooftop restaurant or a fine dining establishment, but not a bistro. Admittedly, I do love the flavours, but the presentation could be altered to suit the mood of Equilibrium more.
Compressed watermelon slices are served alongside milk cheese foam, brown butter milk powder, mint basil jelly and watermelon sorbet. This is a refreshing dessert, which perfectly complements a heavy meal. The crunchy watermelon carpaccio accentuates the sharpness of the cheese foam, and the basil gel gives a superb burst of minty flavour.
This post was brought to you by Equilibrium.
Summary
Pros:
Interesting flavours
Some good starters
Cons
Incohesive menu
Some dishes had too much going on
Overcooked squid
Recommended Dishes:
Mocktail
La Bombette
Watermelon Carpaccio
Opening Hours:
Mon – Sun: 1130am – 230pm / 6pm – 12pm
Address:
#01-86, Capitol Piazza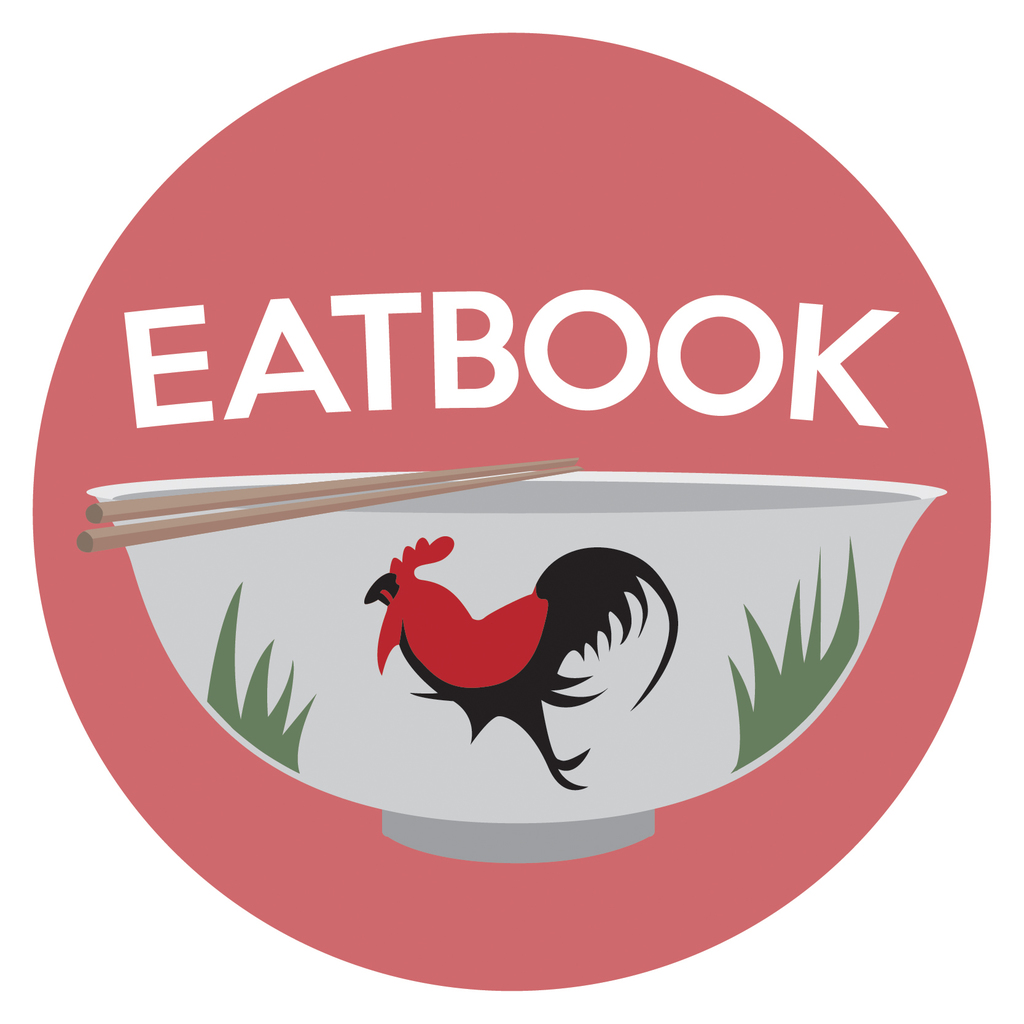 Drop us your email so you won't miss the latest news.