Ezo Hokkaido Eats offers pocket-friendly Japanese lunch sets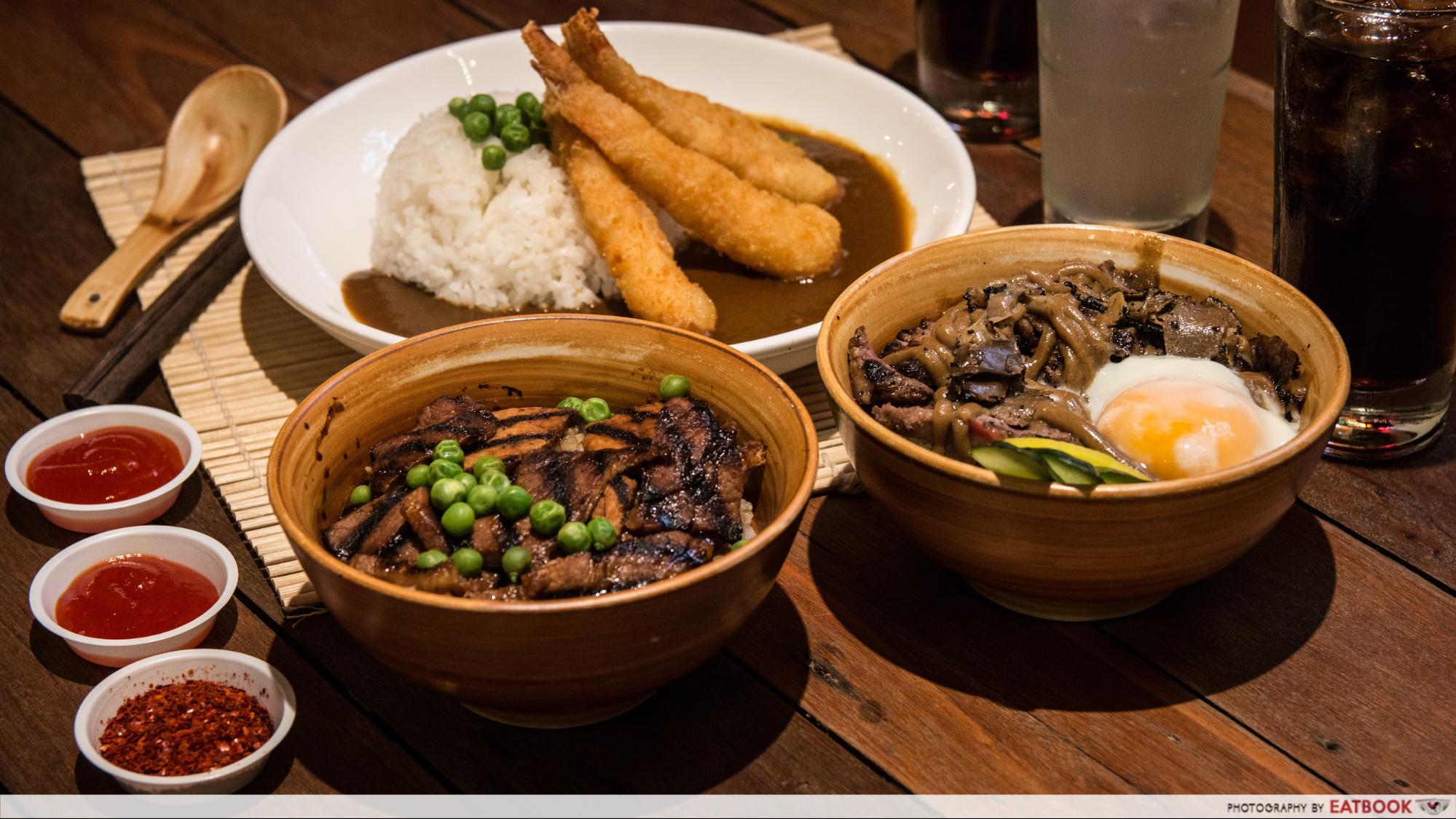 I once was told that I'm someone who enjoys ambience as much as food when dining. I guess I crave a complete experience. Though malls are full of restaurants and choices, I grumble if I have to eat amongst the hustle and bustle. It turns out though that Picnic answers to my woes.
To be honest, it's one of the few uptown eateries I've been interested to enter. Bathed in low lighting and dressed with hanging plants, the garden-themed food hall is alluring. It being walled off from the rest of the mall made it all the more mysterious and elusive to me.

I easily blow off more than I save on food whenever I'm in town. Lucky for me, Picnic is offering lunch set promotions from 11:30am to 2:30pm on weekdays, where a main and a drink go at $9.90+ at the eateries it houses. Japanese food is my favourite cuisine, so between the 13 food trucks and stalls within, my lunch money was on Ezo Hokkaido Eats.
Food at Ezo Hokkaido Eats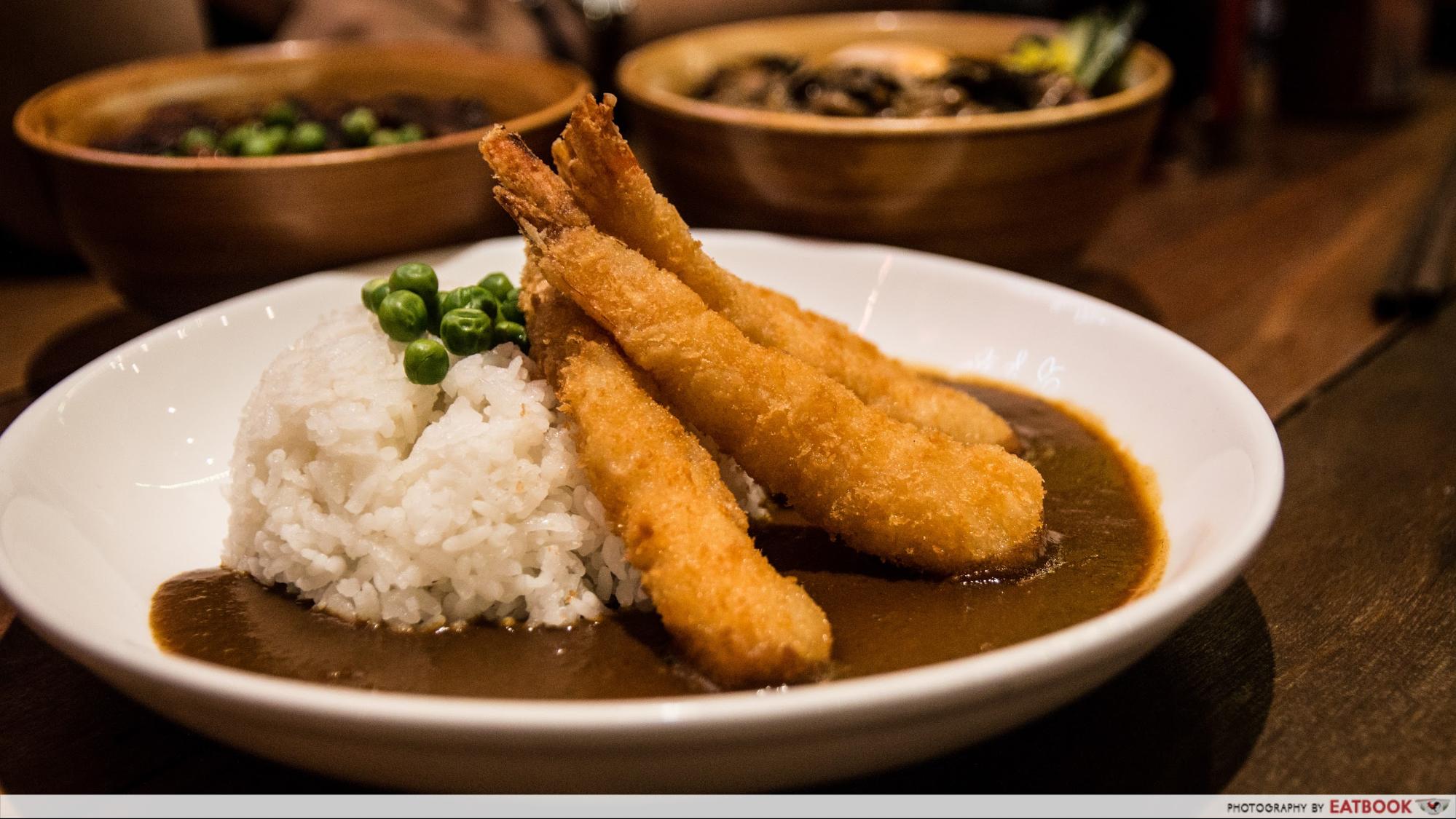 Our first dish was their Japanese Curry (U.P. $13.50+), which offers a choice between pork and prawns. We opted for the latter, and got four pieces of ebi fry resting on Japanese rice in a pool of curry.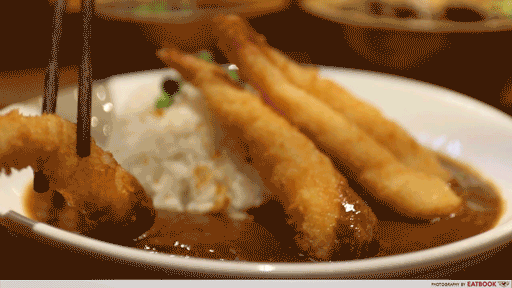 Neither too thick nor grainy, the curry roux made a pleasant mild burn at the back of my throat and had a welcoming tinge of spice. Its saltiness was nicely balanced off by the mound of distinct white grains.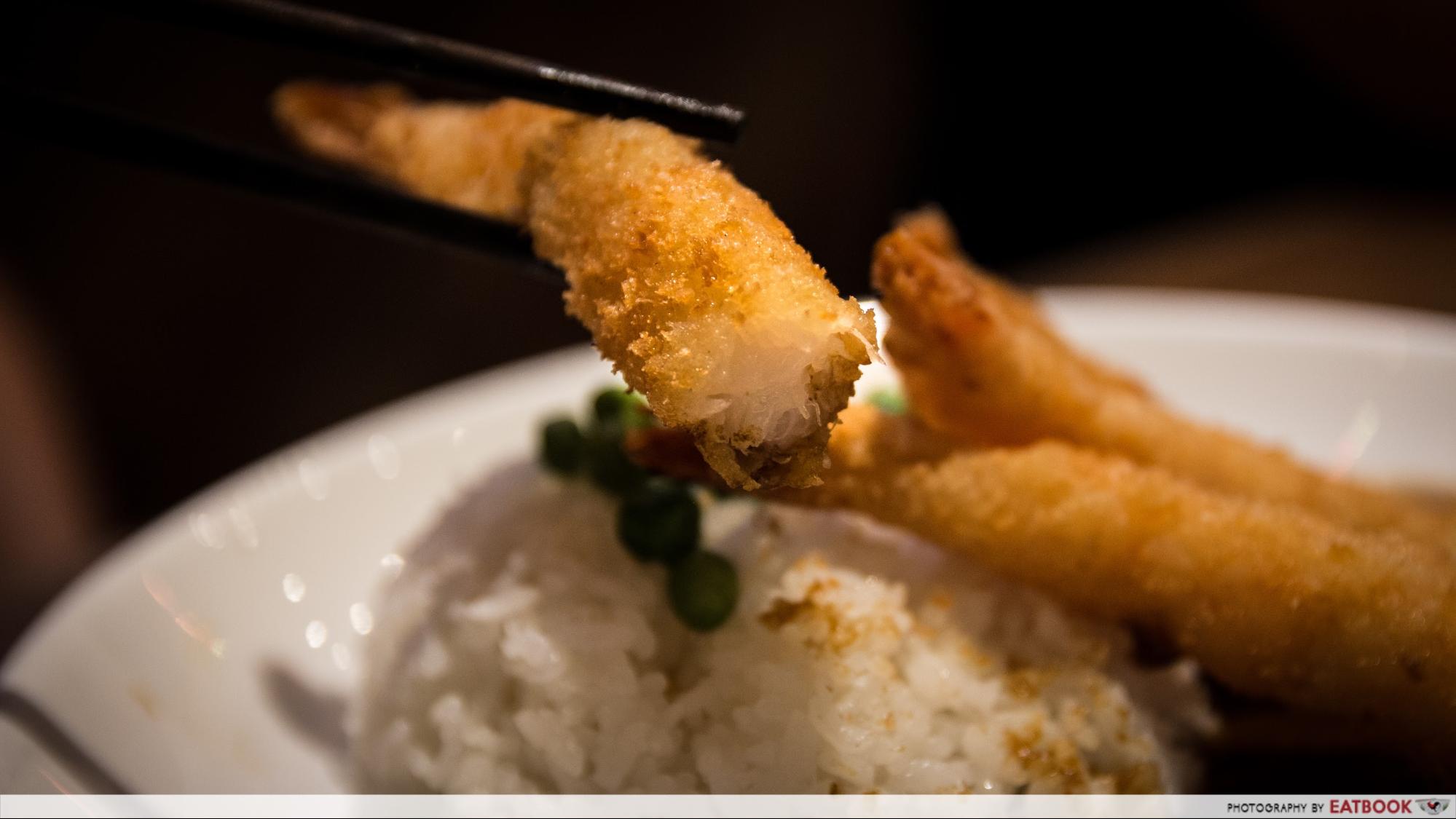 My chopsticks picked up a limp ebi fry, and that worried me slightly. But biting in, it was a mouthful of crunchy breading with a light batter encasing succulent meat. It's not the best Japanese curry meal I've had but it's an affordable and filling one when in need of a fix.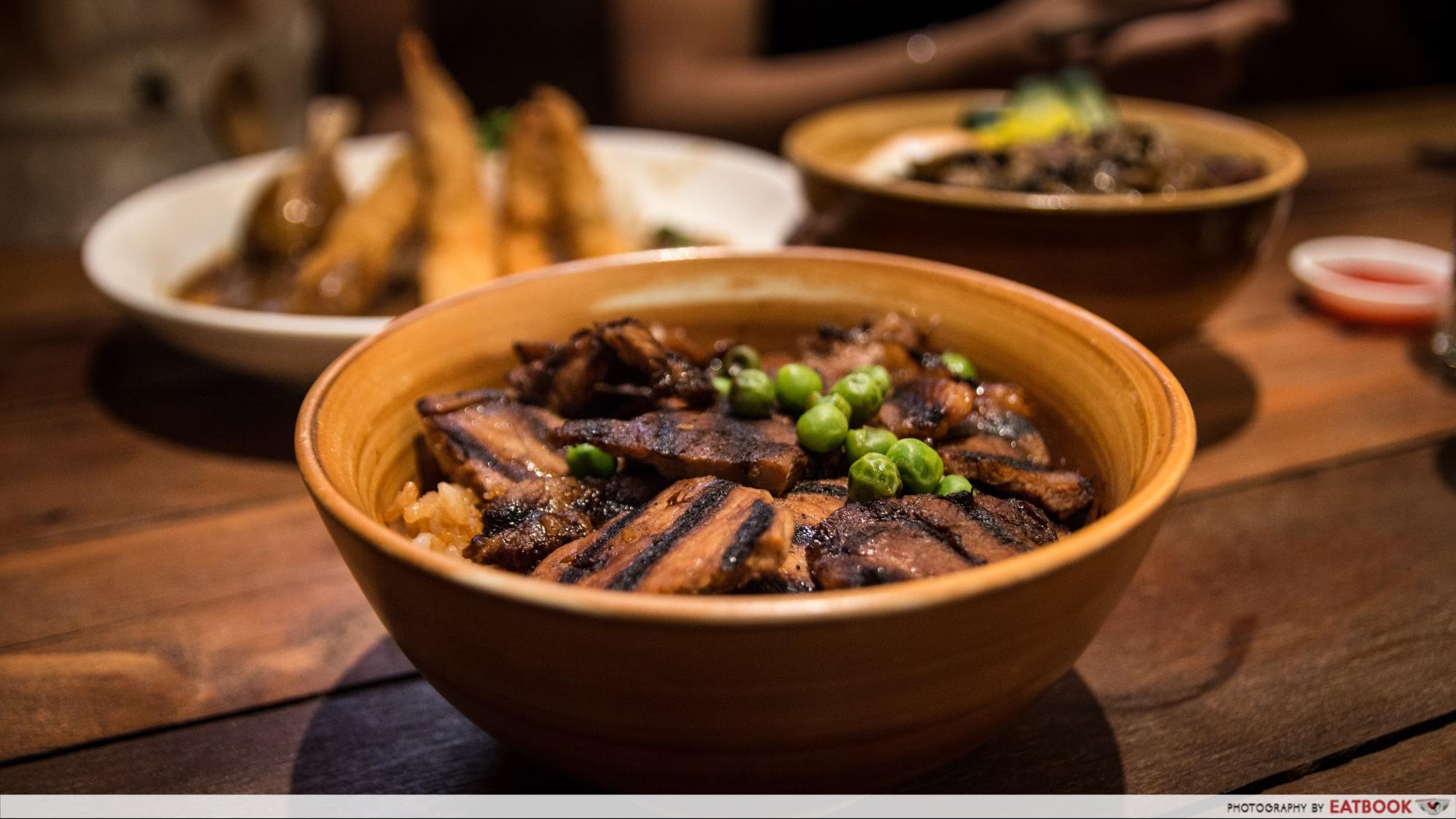 After this was our bowl of Butadon ($14+). Generous slices of pork covered a bed of rice, with each piece decorated on one side by neatly charred lines.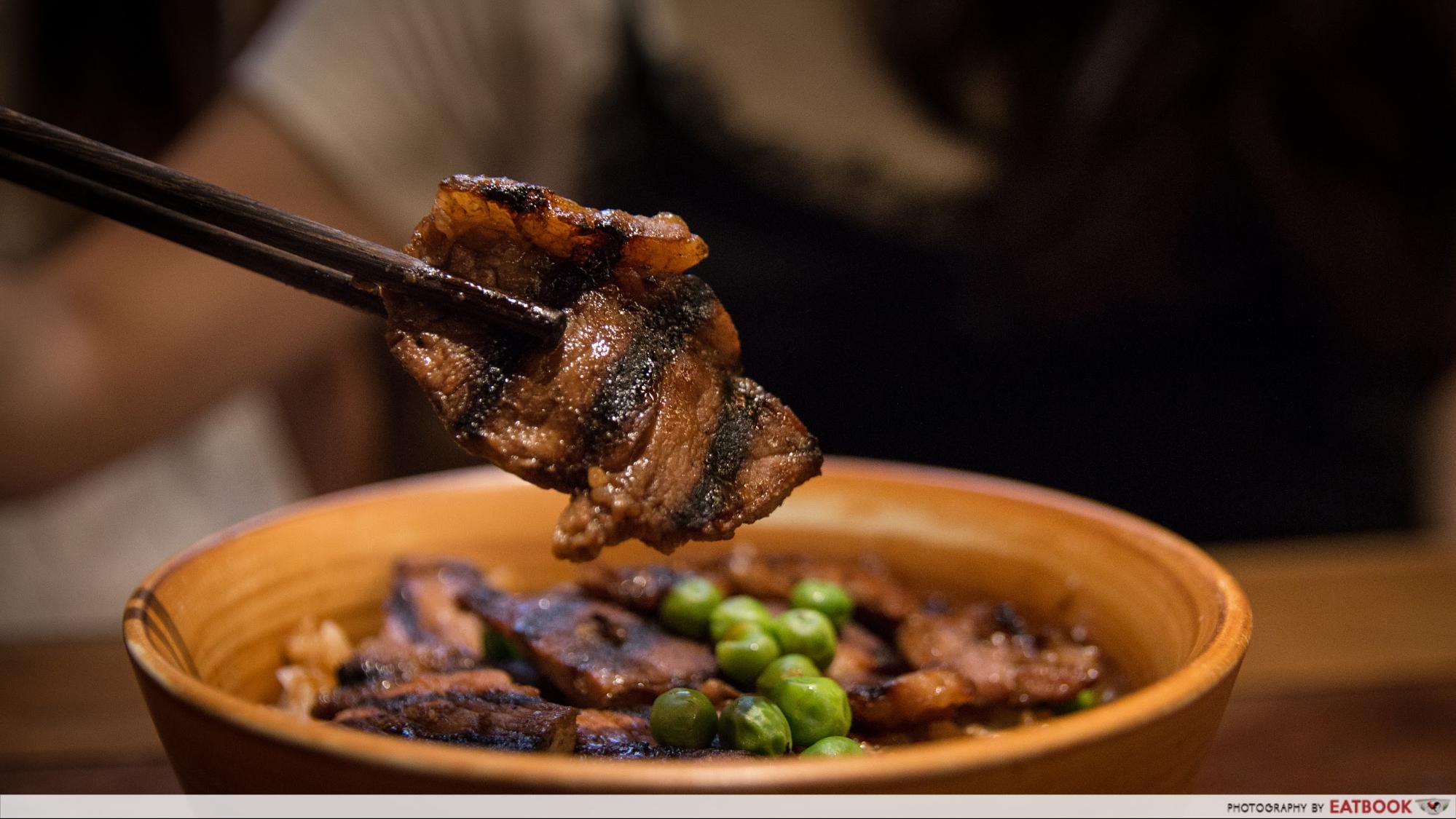 I had high expectations for this signature so I was disappointed when it arrived appearing overdone and dry. The pieces of pork collar, loin and belly were tough. However, this could easily be improved on with less time over the fire.
One bite into a slice immediately reminded me of the familiar taste of bak kwa sans the sweetness. The tare sauce created this unexpected taste and I wished there was more of the glistening marinade to moisten the pork slices.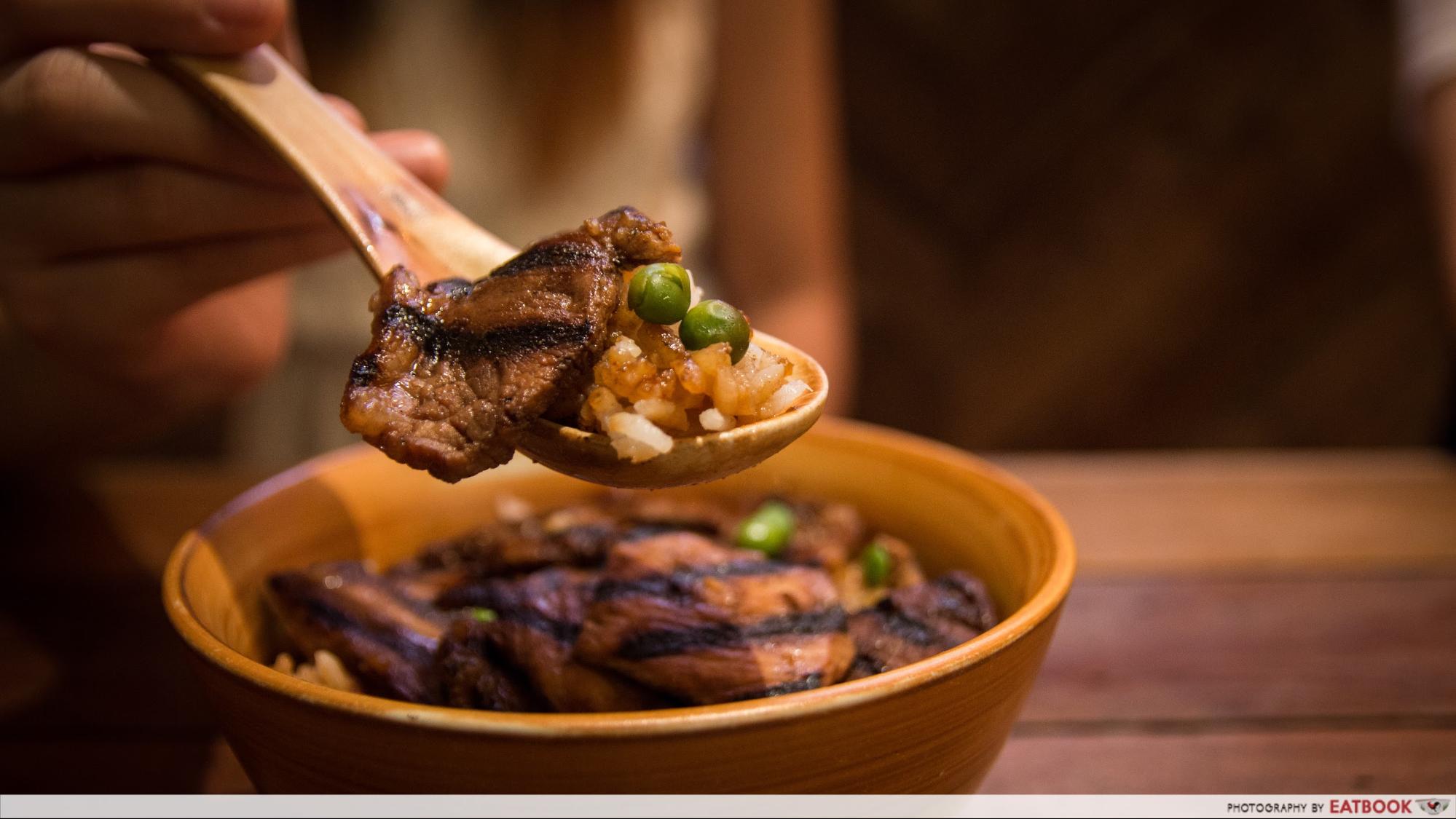 The grains underneath were clumpy instead of fluffy, as well as bland from the lack of seasoning. It would easily have fared better doused with more shoyu.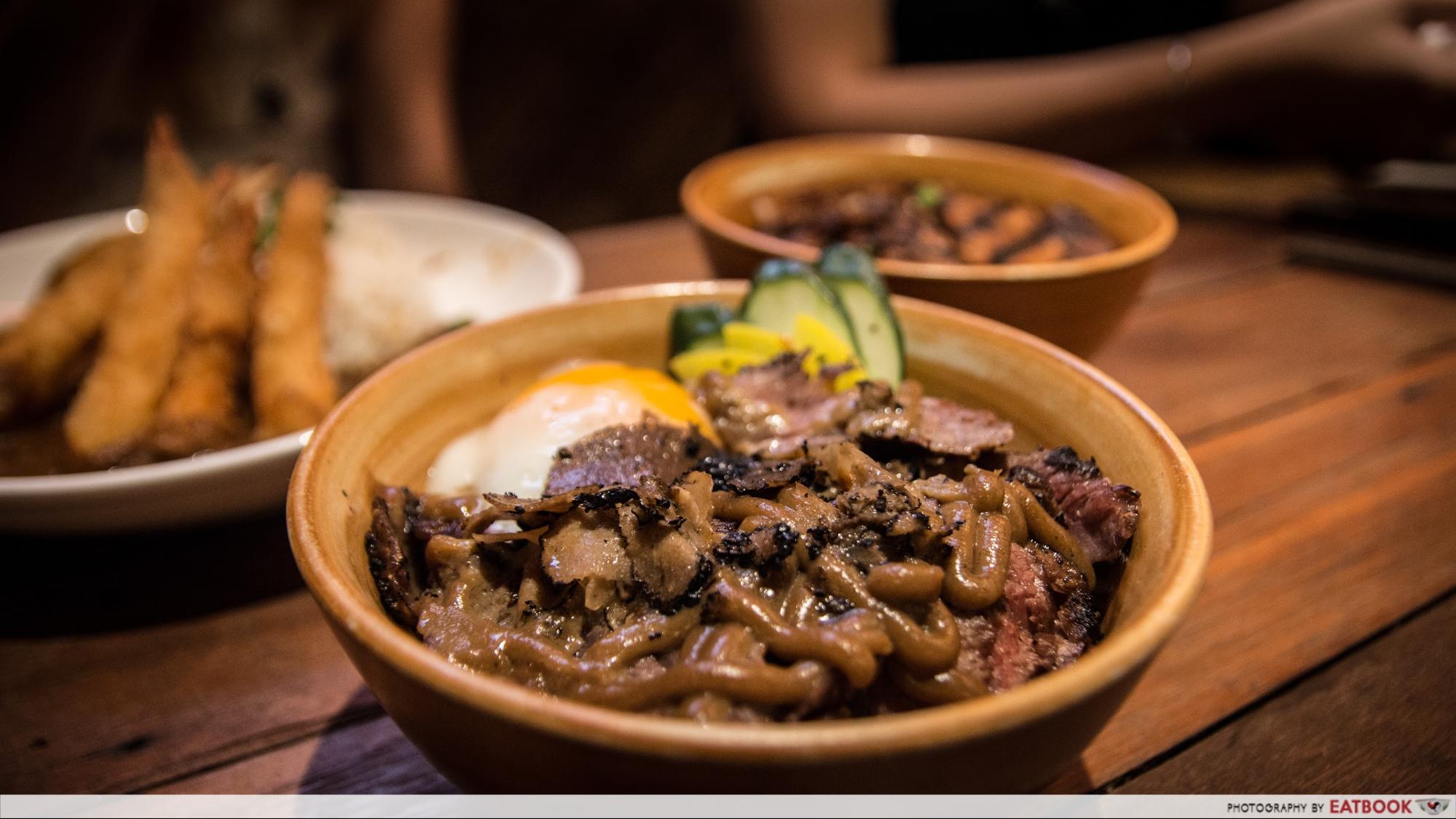 The moment I saw truffle with foie gras on the menu, I knew we had to order this. The strong scent of truffle wafted up the moment this Foie Gras Ricebowl ($18+) was set on the table and I was more than eager to sink my teeth into it. This one did not disappoint. Truffle shavings garnished the blushing pink slices of grilled U.S. beef. Interestingly, the French foie gras was mashed into a dressing sauce instead of being served as it is.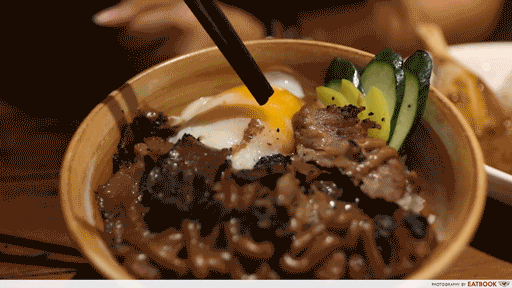 Breaking the yolk, the stream of yellow enhanced the texture of each bite. It was a delightful dip that added richness to the meat while complementing the rice by moistening each mouthful.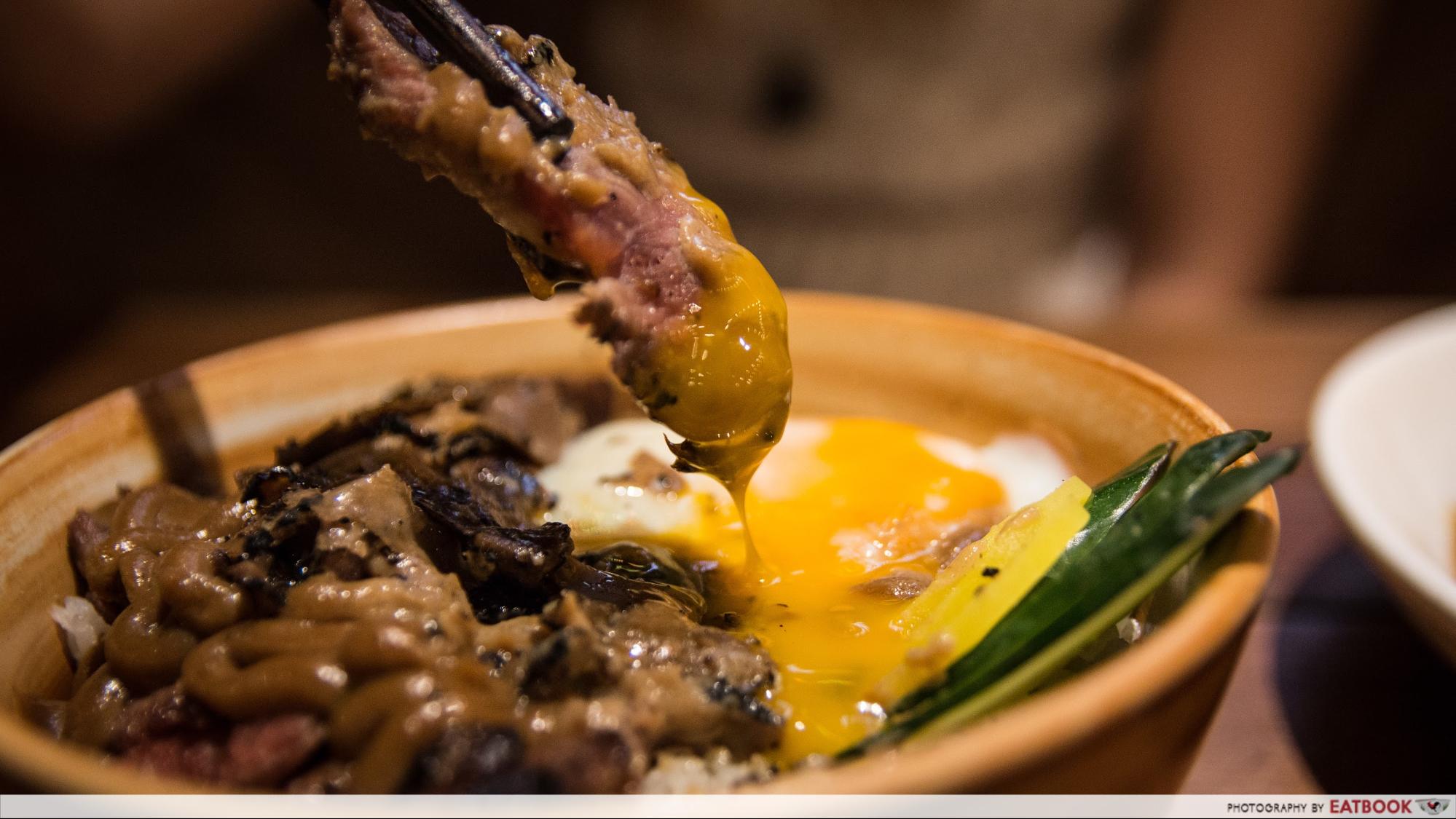 The tender pieces of beef were pleasantly soft and chewy, with the foie gras sauce adding both sweet and savoury tastes to it. A generous shaving of truffle enveloped my mouth in its scent, while a piece of pickle lifted the overall flavour of the dish with a refreshing sweetness. There was enough flavour to be distributed throughout the bowl, and I devoured most of this dish myself, unabashed.
Ambience at Ezo Hokkaido Eats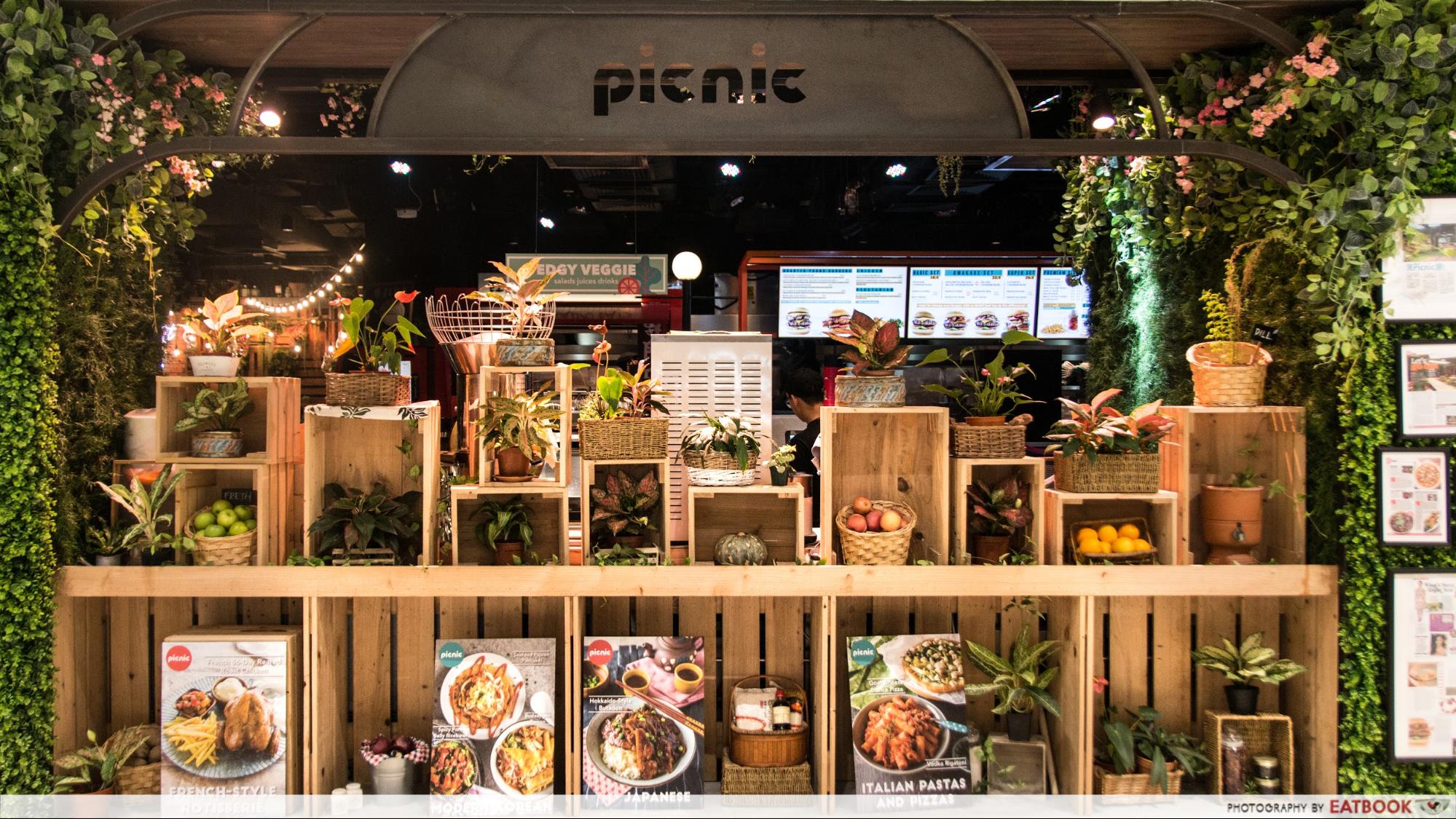 Being outdoors once every few hours helps me recharge my mind but sometimes, the blazing afternoon sun in Singapore just adds angst. In that sense, Ezo Hokkaido Eats strikes me as a cool and relaxing place to switch off from the bustling life. It's a breakaway from the concrete structures of modernity as you can dine in a Flower Garden, Picnic Garden, or Beer Garden. I saw groups of colleagues and couples that lingered to chat after their meal.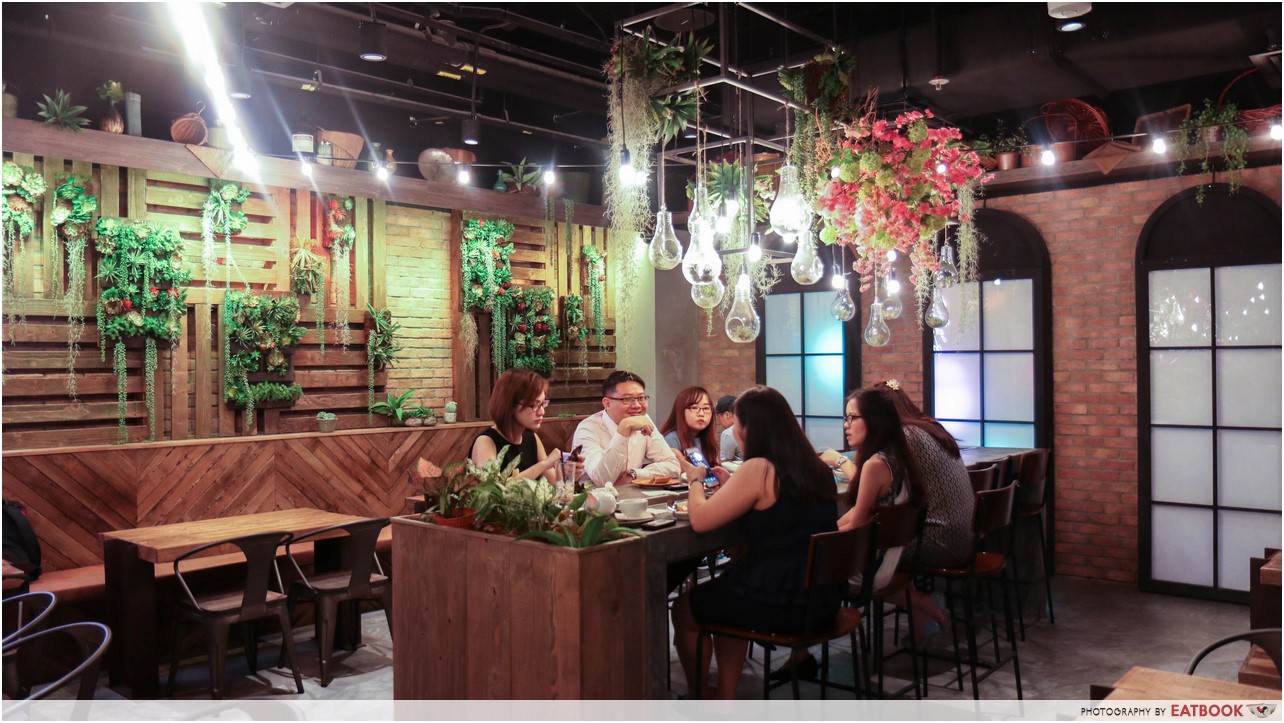 Although we walked in during lunch hours, there were still pockets of empty tables. I felt immersed in the pleasant low buzz of dynamic city life that you get from chilling out at the end of a long week.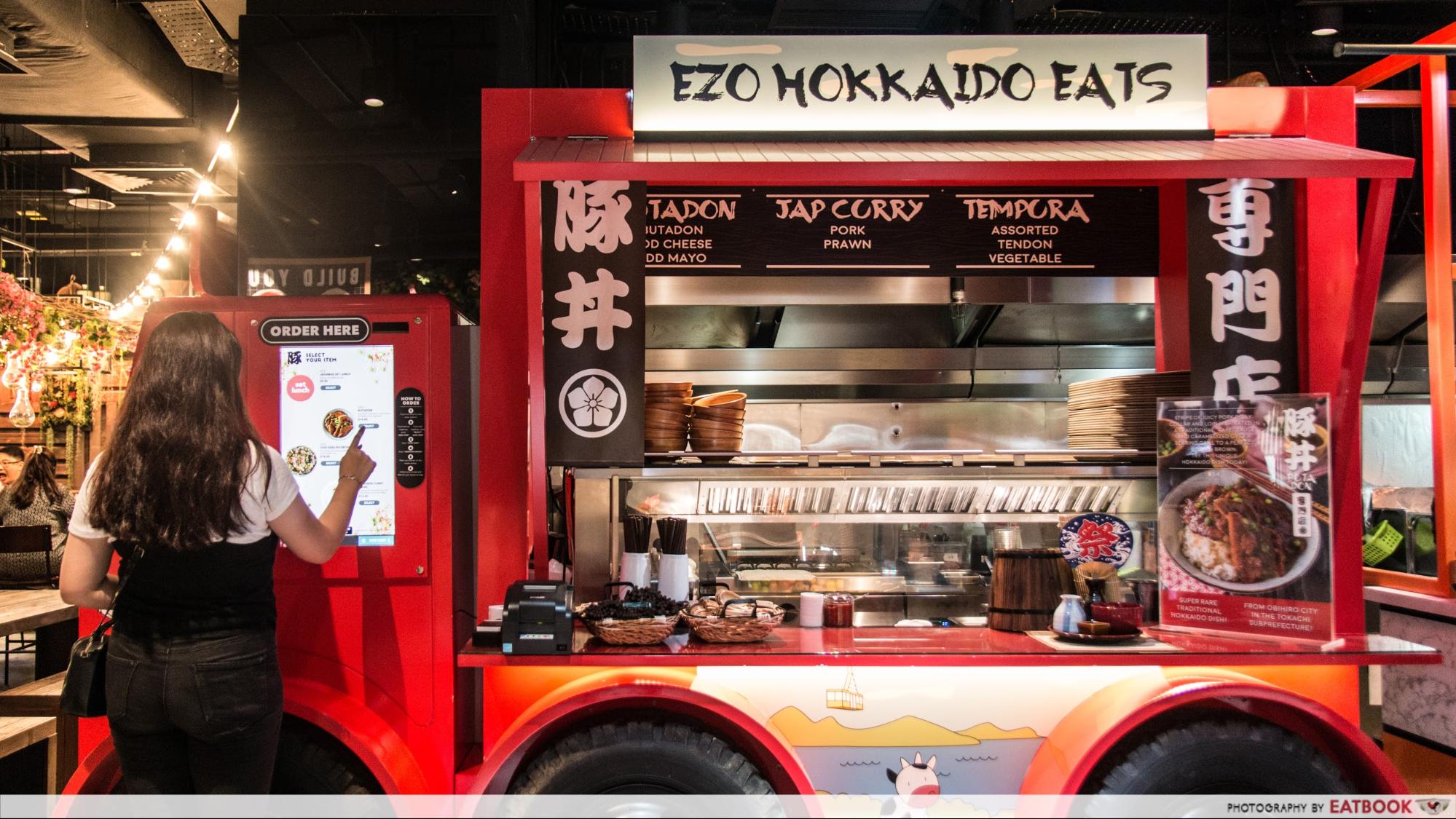 Upon entering, we each received a buzzer. All you need to do is place it on the reader at the vending machine, and choose the dish you want. The buzzer records your orders till you pay at the checkout before exiting. It was about 10 minutes before our buzzer vibrated for collection.
The verdict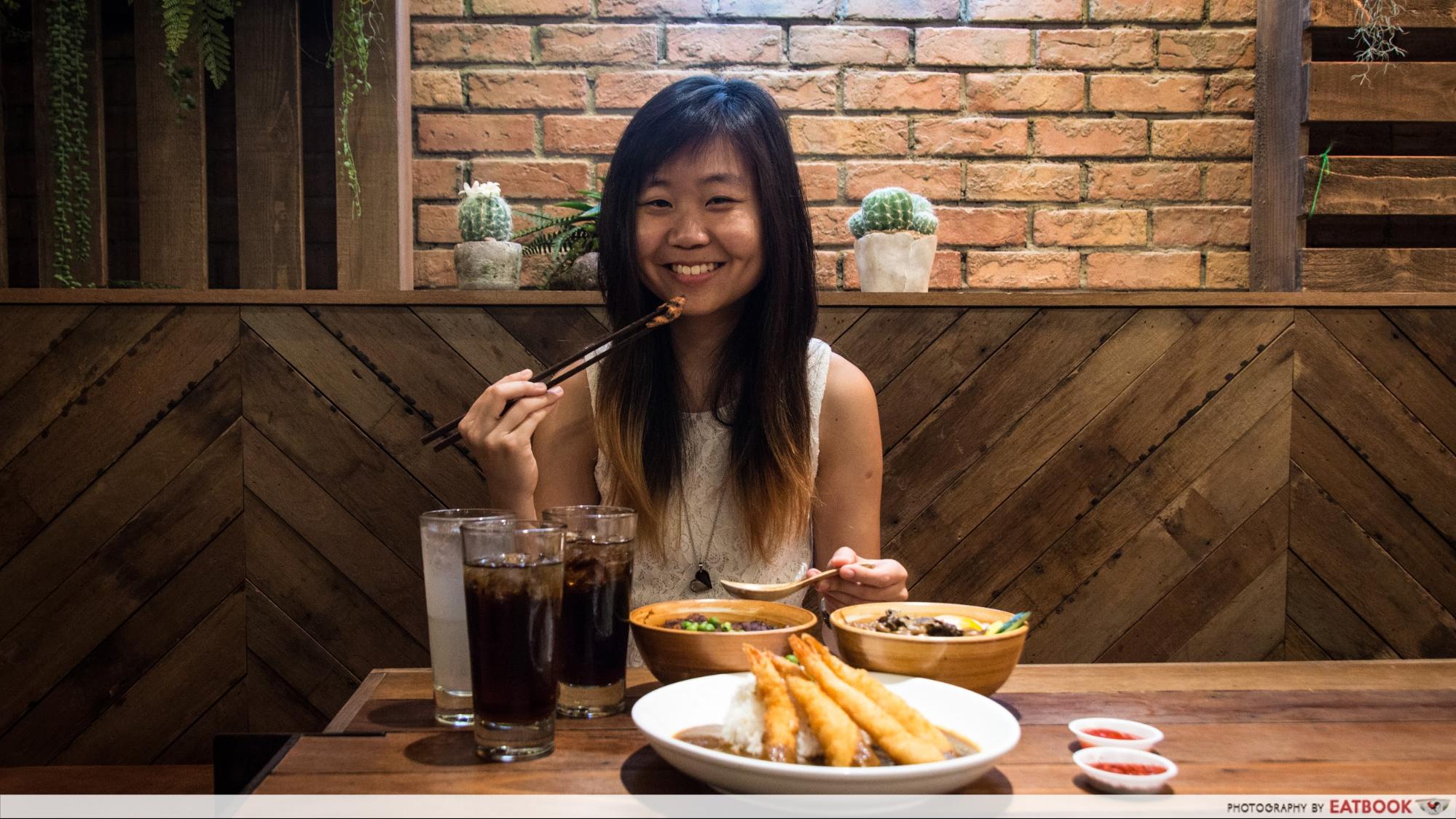 I really enjoyed my Foie Gras RiceBowl. While the food from Ezo Hokkaido Eats isn't as delectable as the dishes from a specialty restaurant, it's accessible and satisfying Japanese cuisine. What's more, the promotional set lunches that go at $9.90+ with a drink are no doubt a steal. Also, the ambience at Picnic is an attractive bonus! For more value-for-money Japanese dishes in town, check out Goen Udon at Wisma Atria or Nantsuttei at Orchard Central!
Address: 435 Orchard Road, #03-15, Wisma Atria, Singapore 238877
Opening hours: Daily 11am to 9:30pm
Lunch promotion runs from 11:30am to 2:30pm on weekdays.
Tel: 6734 8352
Website
Ezo Hokkaido Eats is not a halal eatery.
This is an independent review by Eatbook.sg.
Summary
Pros
– Value-for-money lunch sets
– Relaxing ambience
– Helpful staff
Cons
– Japanese Curry and Butadon can be improved on
Recommended Dishes: Foie Gras Beef Ricebowl ($18+, $9.90+ from 11:30am to 2:30pm)
Operating Hours:
Daily 10am to 10pm
Tel:
6734 8352
Address: 435 Orchard Road, #03-15, Wisma Atria, Singapore 238877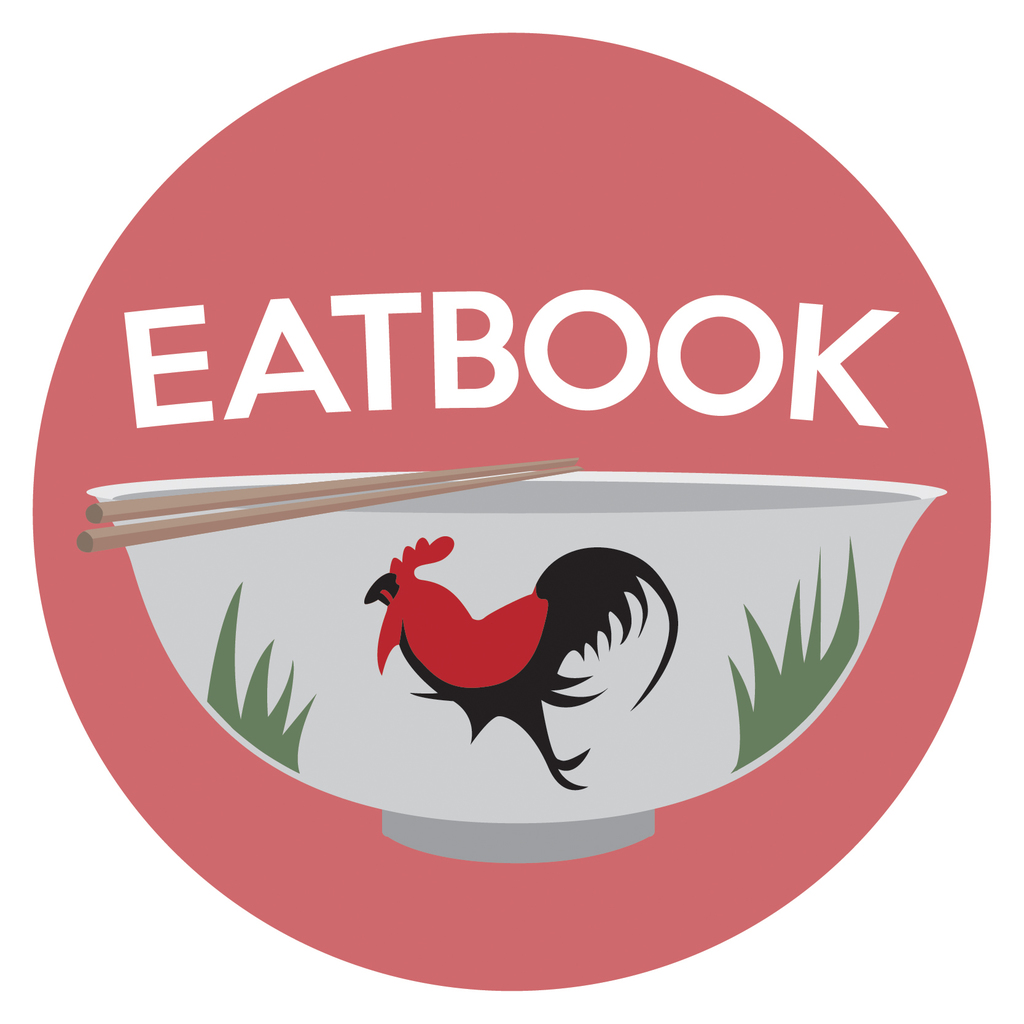 Drop us your email so you won't miss the latest news.