Feng Xiang Bak Kut Teh at Kallang Bahru
Update: This eatery is permanently closed, but there are other outlets across the island.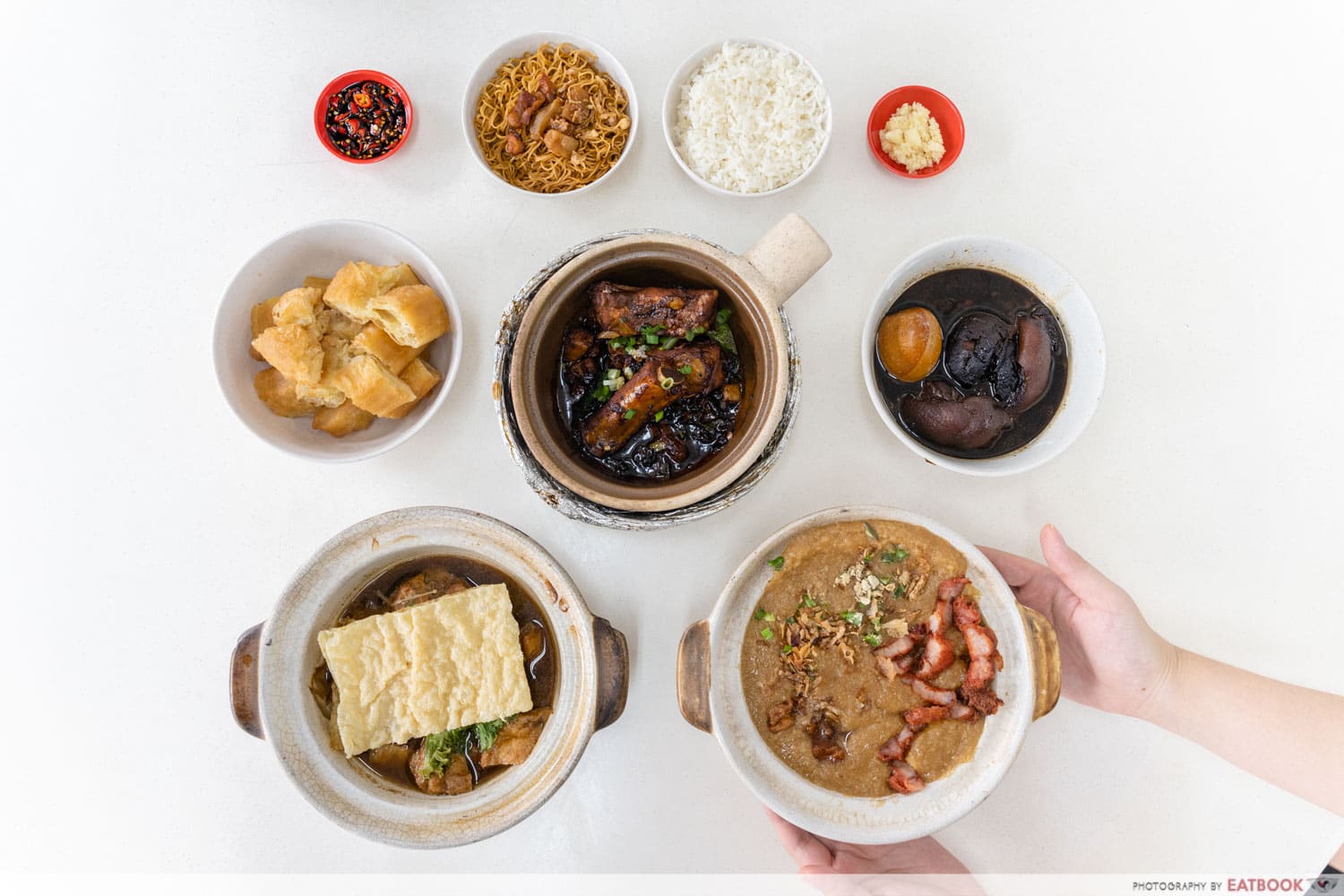 When it comes to bak kut teh, we all have our own preferences. For me, I prefer herbal-style bak kut teh, compared to the peppery bak kut teh that is more commonly seen in Singapore. So when I chanced upon Feng Xiang Bak Kut Teh online, featuring a menu with Klang-style bak kut teh, together with other Malaysian dishes such as dry bak kut teh and fried porridge, it piqued my interest.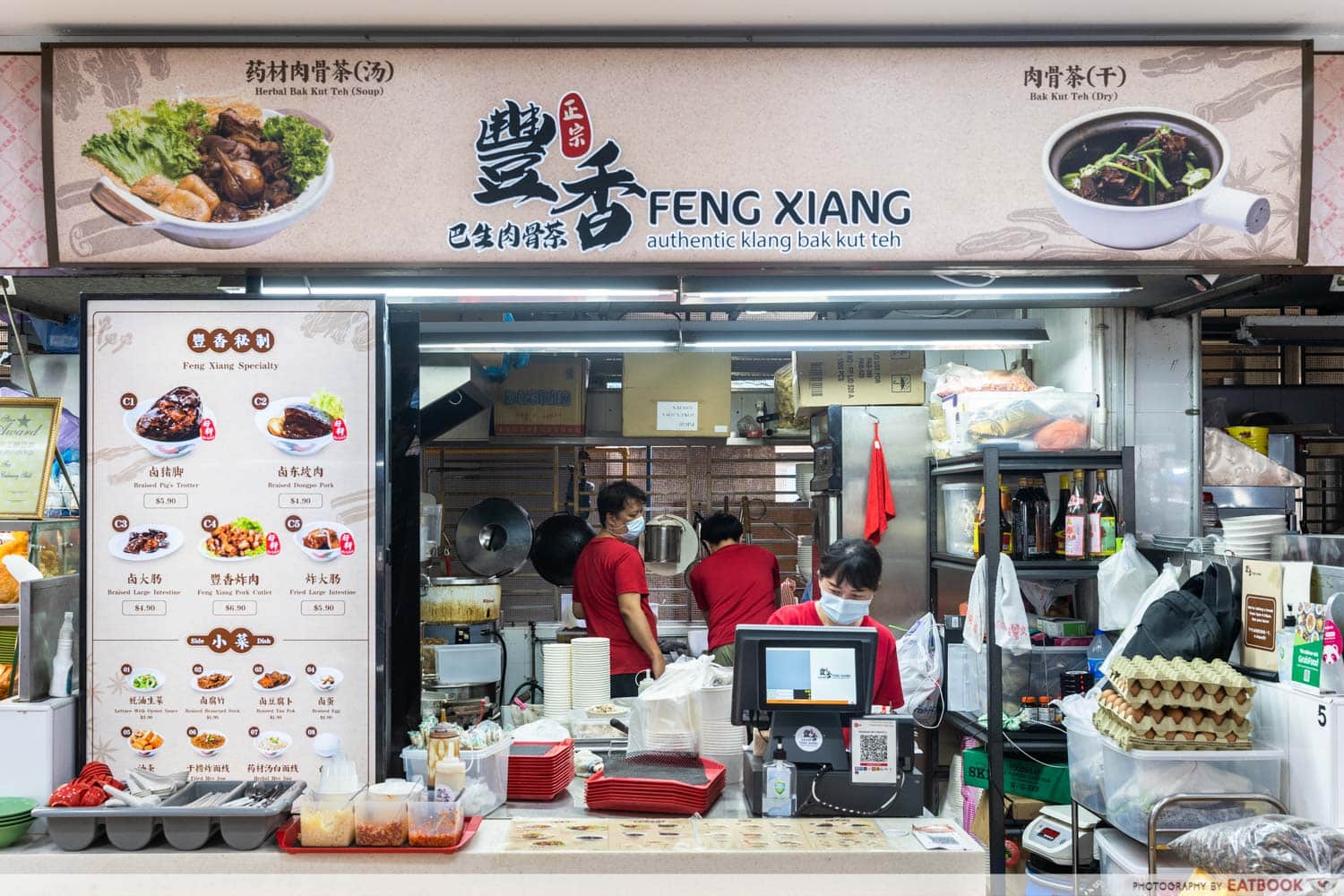 Feng Xiang Bak Kut Teh was founded off one of the co-founders' cravings for food from his hometown , specifically the bak kut teh he loved back home. So with the help of a Malaysian chef, Feng Xiang Bak Kut Teh was created, offering authentic, Klang-style bak kut teh. They currently have two outlets in Singapore—one at Beauty World Food Centre, and another in Kallang Bahru. 
Old Village Review: $2.50 KL Pork Noodles With Long Queues From 8:30am
Food at Feng Xiang Bak Kut Teh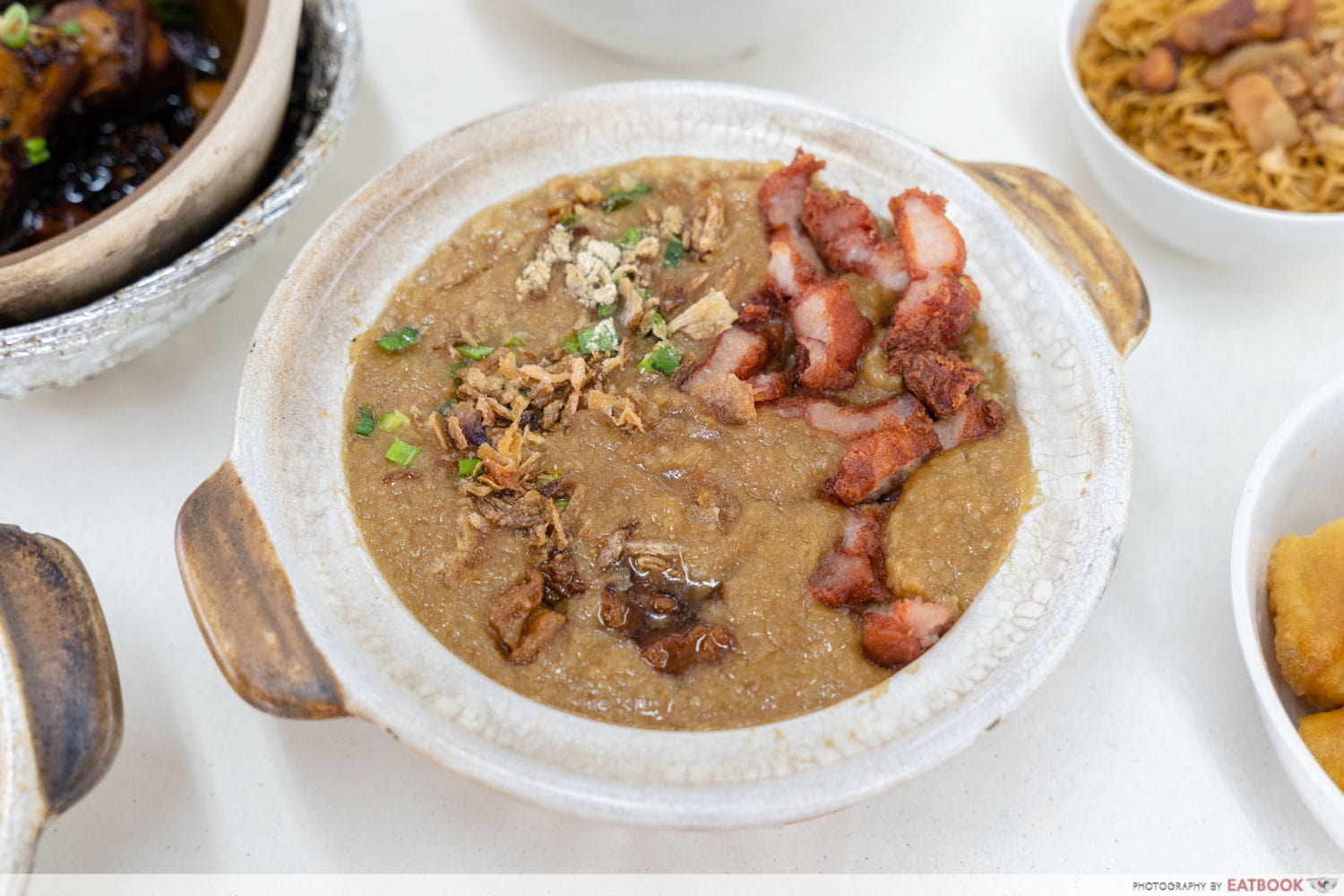 We started off with the Pork Cutlet Fried Porridge ($6.90) which simply comprises porridge, shallots, spring onions, and chopped-up pieces of pork cutlet.  
I was immediately drawn to the strong fragrance of wok hei in this. It translated to a robust, charred savouriness in every mouthful. However, I did find it a bit jelak, so I recommend sharing this.
My main complaint would be the pork cutlet. It was rather thinly sliced, and a tad too dry and tough for my liking, in spite of the visible layers of fat.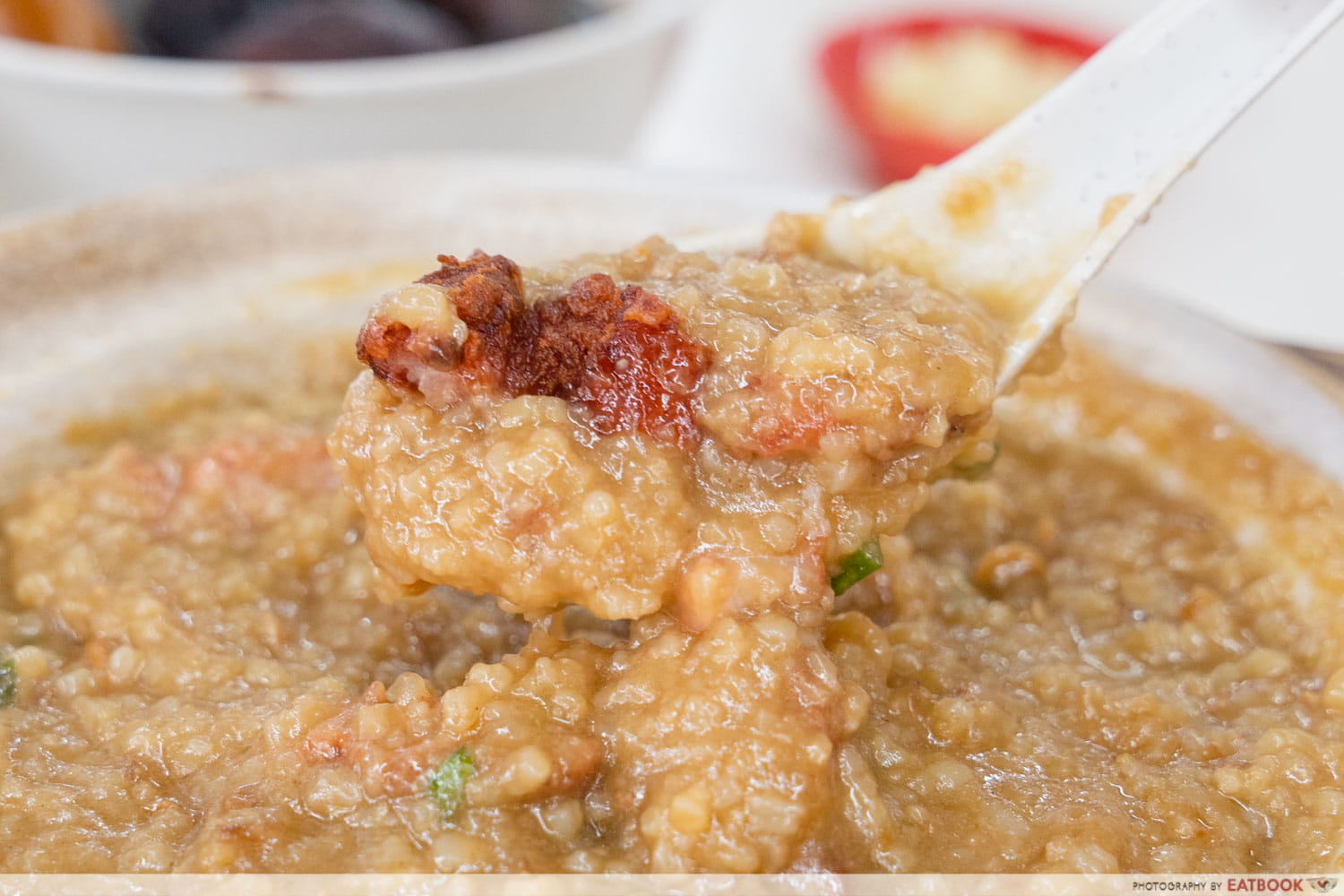 What I did enjoy, though, was the texture of the porridge. It had a thick consistency, with noticeable rice grains, which gave it an interesting and pleasant mouthfeel.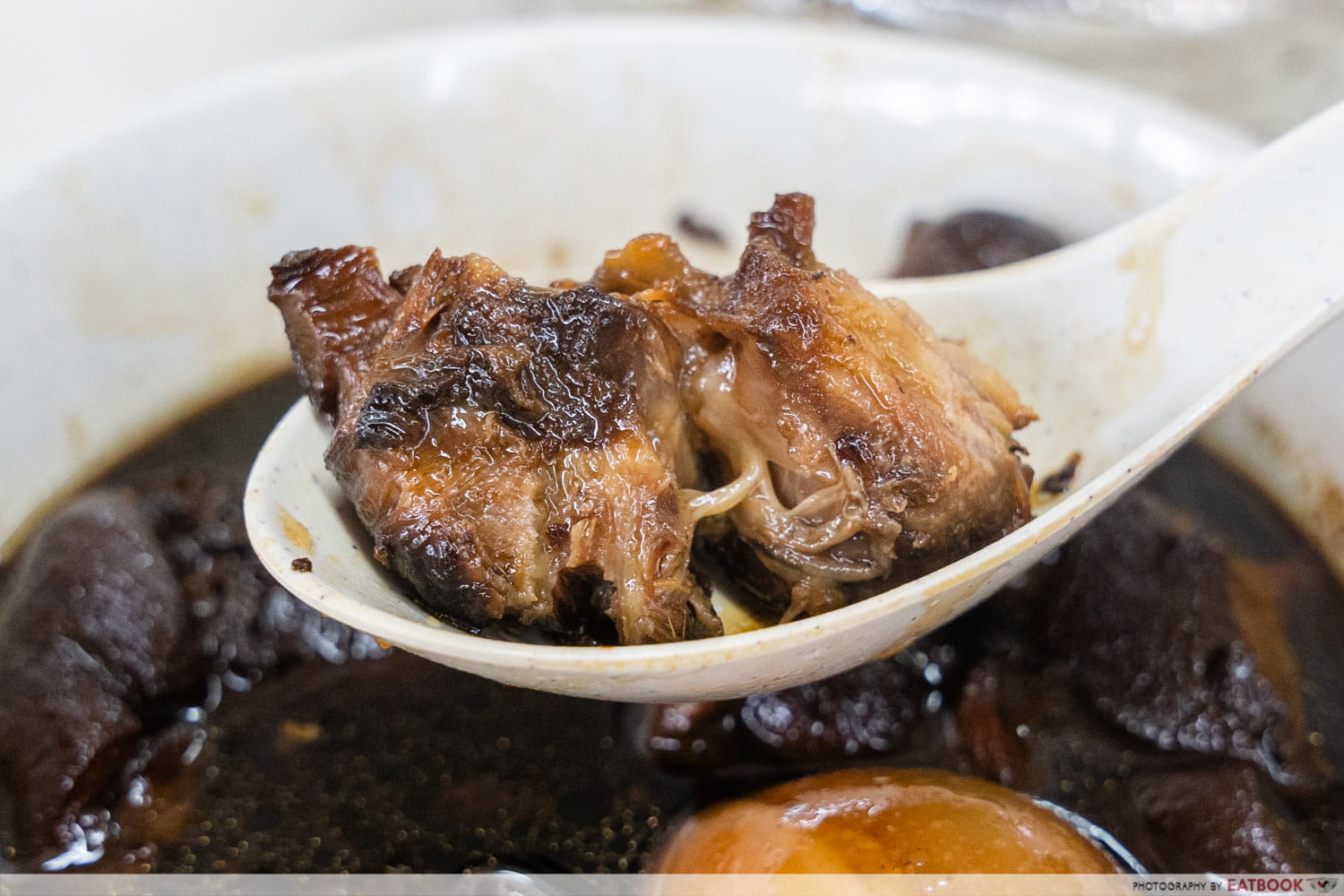 Next, we tried one of Feng Xiang's recommended items—Vinegar Pig's Trotter ($5.90). It came with two pieces of pig trotters and a hard boiled egg in a bowl of black vinegar sauce. 
This was one of my favourite dishes as it was incredibly sour and appetising. I also liked how the vinegar had a slight sweetness, which added depth in flavour. Another plus point was how tender and juicy the meat was, which made me keep going back for more.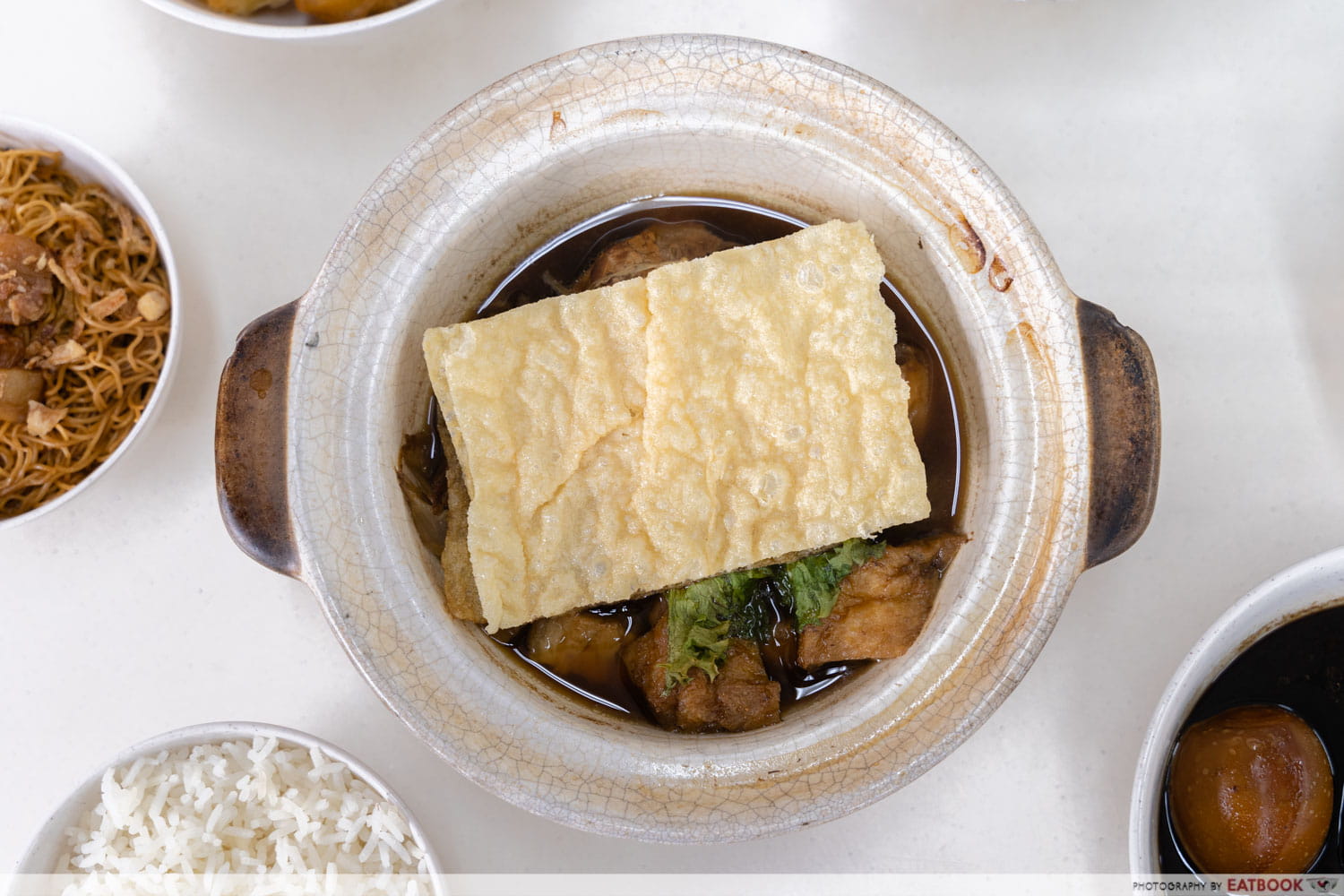 After trying two heavily flavoured dishes, I expected similar punchy flavours for the Herbal Bak Kut Teh Soup ($6.90/$11.90). However, to my surprise, it was rather mild on the palate. 
On this visit, I opted for a large portion of bak kut teh soup, which is suitable to share between two. It came with a few pork ribs, tau pok, pork belly, fried beancurd skin, and lettuce. To complete the meal, I added a bowl of rice ($0.70), and a portion of you tiao ($1) on the side.  
My favourite part of the dish was the herbal soup itself, which I was surprised to find out had no MSG added. It had a light herbaceous note, with a sweet aftertaste. The addition of you tiao also gave the soup a touch of deep-fried, savoury flavour, which I thought married well with the herbal note. Overall, I liked how the flavours were well balanced, and weren't too intense.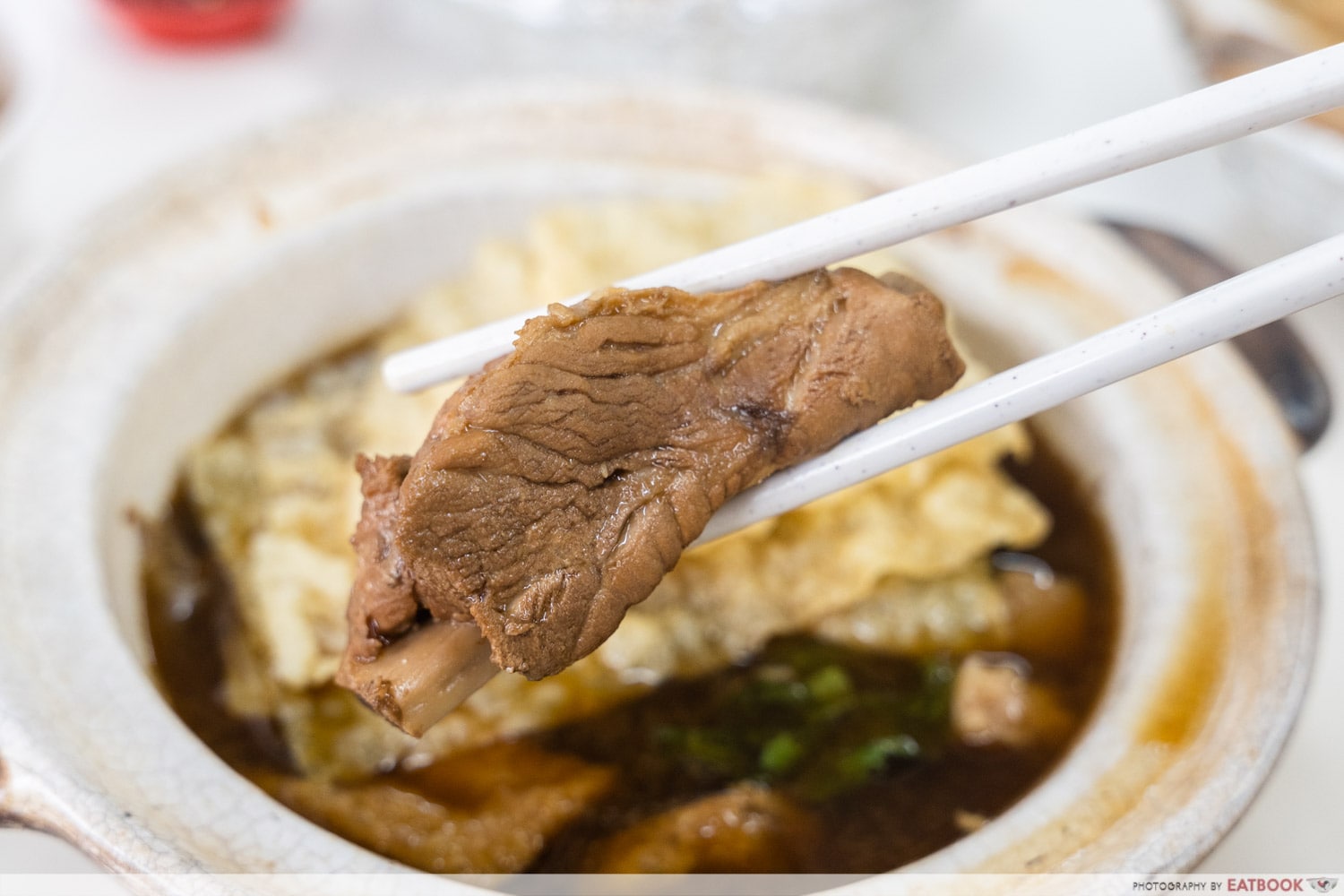 Unfortunately, the ribs were a letdown. As the soup was simmered over long hours, I was expecting fall-off-the-bone tenderness. However, these were rather tough and dry. Texture aside, I appreciated how big and meaty the ribs were.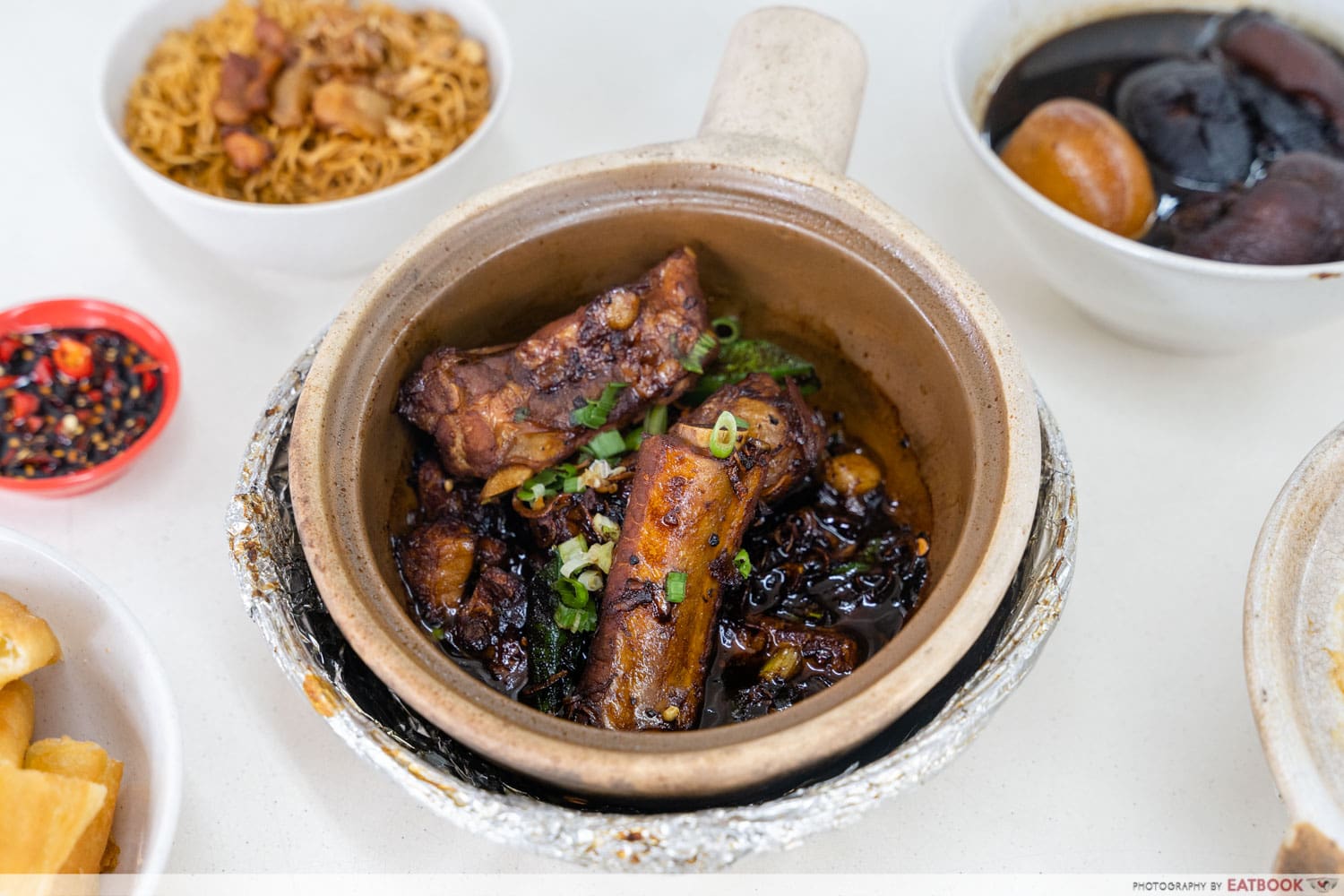 If you prefer stronger flavours, I recommend the Dry Bak Kut Teh instead. As with the soup bak kut teh, the dry version is available in two sizes: small ($7.90) and large ($13.90). This time, we went for the smaller portion, and it came with ribs, okra, and garlic cloves, all doused in a dark sauce. 
I was especially looking forward to the dry bak kut teh as this was my first time trying such a dish. The sauce reminded me of a typical sweet soya sauce—thick, sweet, and savoury—but more robust with a spicy kick. I learned that the dried cuttlefish and dry chilli are the main components that give dry bak kut teh its distinct flavour.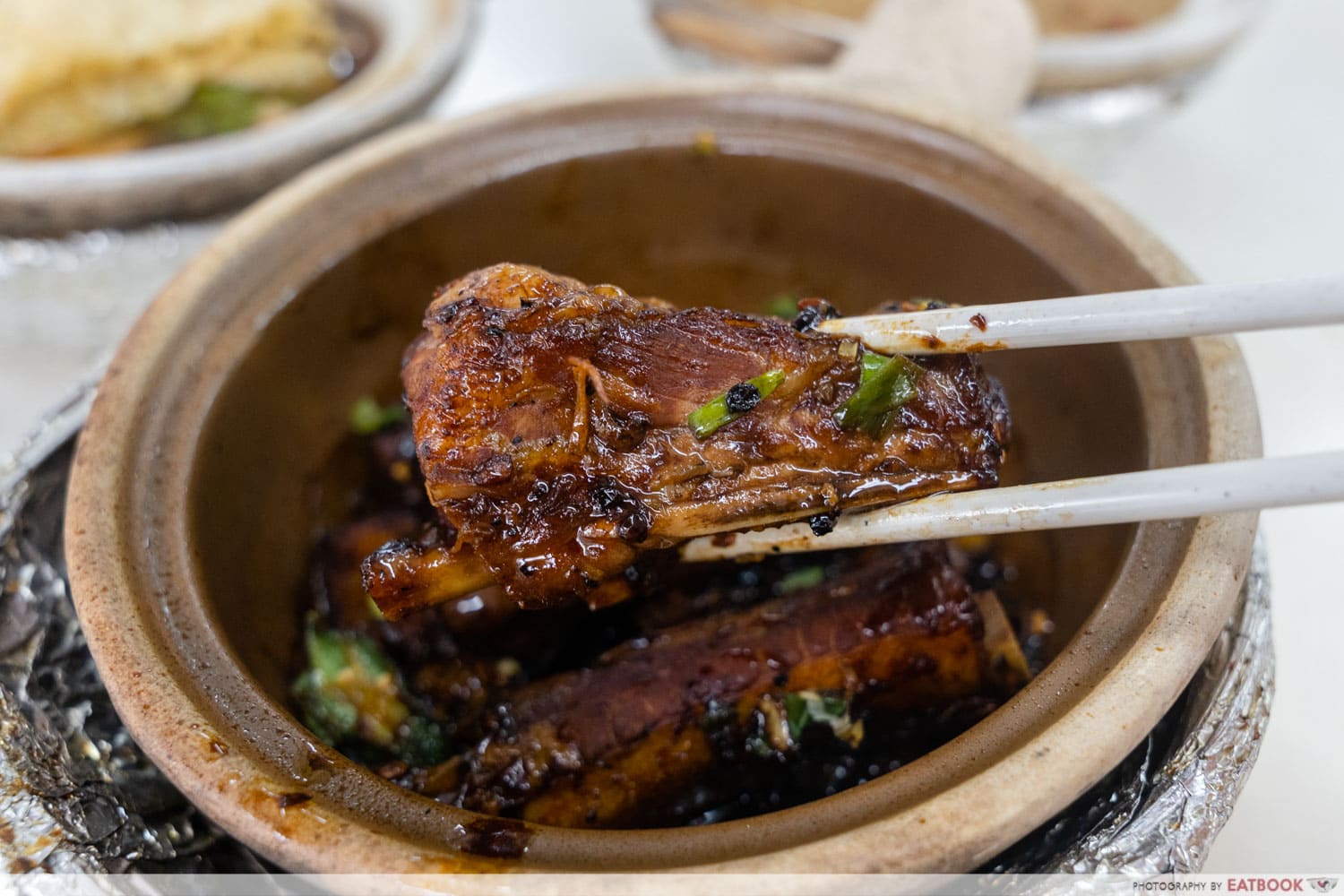 With such a stellar sauce, it was a pity that the meaty ribs were again dry and tough. I did, however, enjoy the okra even though I am not a big fan of this fruit.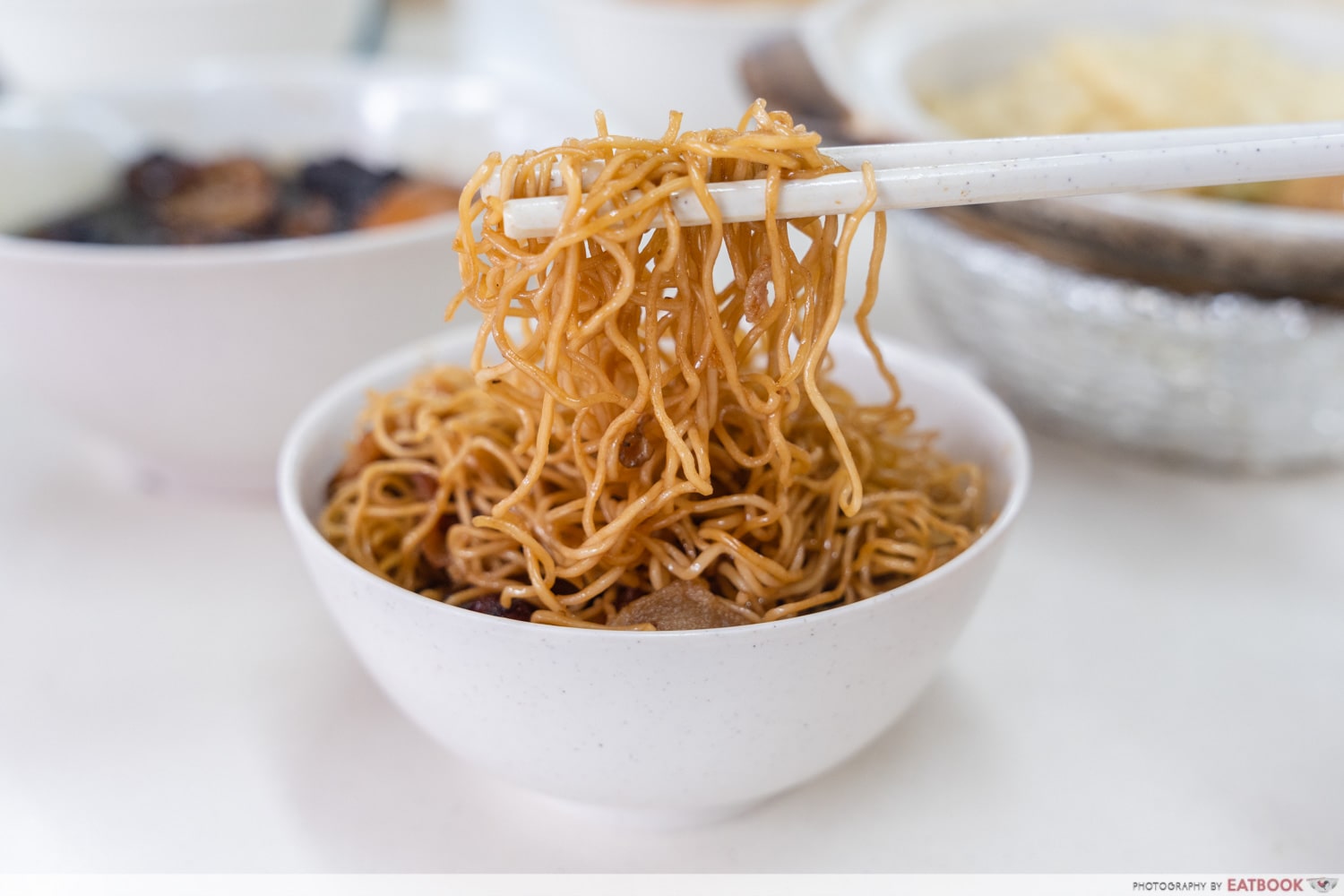 For a different experience than the usual white rice, I paired the dry bak kut teh with a bowl of Fried Mee Sua ($1). It was definitely a tasty and interesting change, but I'd go for a plain bowl of rice the next time I am here, to enjoy the rich gravy of the dry bak kut teh.
Old World Bakuteh Review: Teochew Bak Kut Teh With Fried Porridge And Dry Mee Sua At Yishun
Ambience at Feng Xiang Bak Kut Teh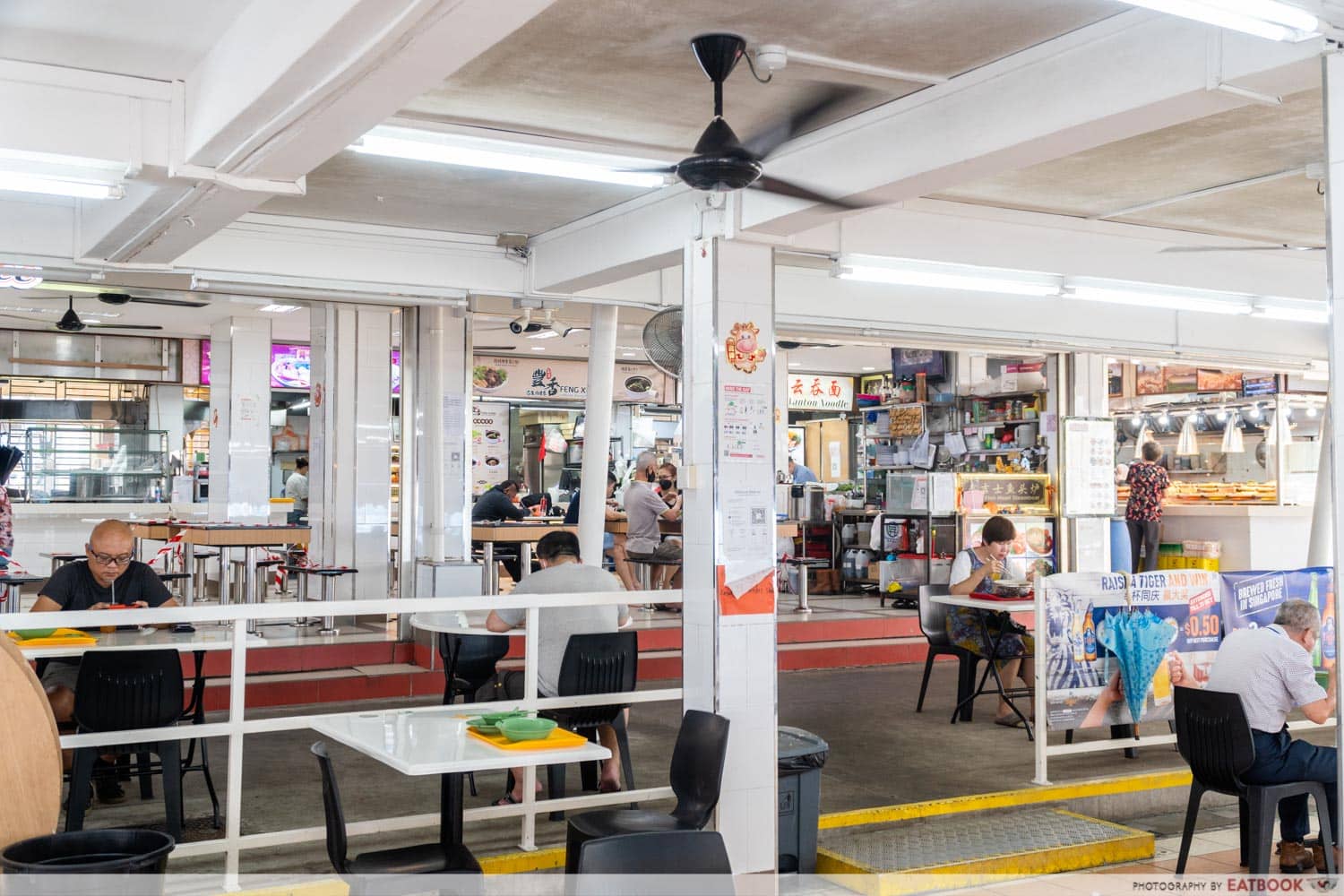 Feng Xiang Bak Kut Teh is situated in Ville 7 Days Coffee Shop, a six-minute walk from Geylang Bahru MRT Station. It might be hard to locate this coffeeshop as it is surrounded by HDB estates, so I suggest using the navigation to guide you whenever in doubt.
As the coffeeshop is quite small, it did feel a little cramped. But the outdoor area, where we dined, was much more spacious and well ventilated. Overall, the area was kept really tidy and clean, making it a pleasant place to dine in. 
The verdict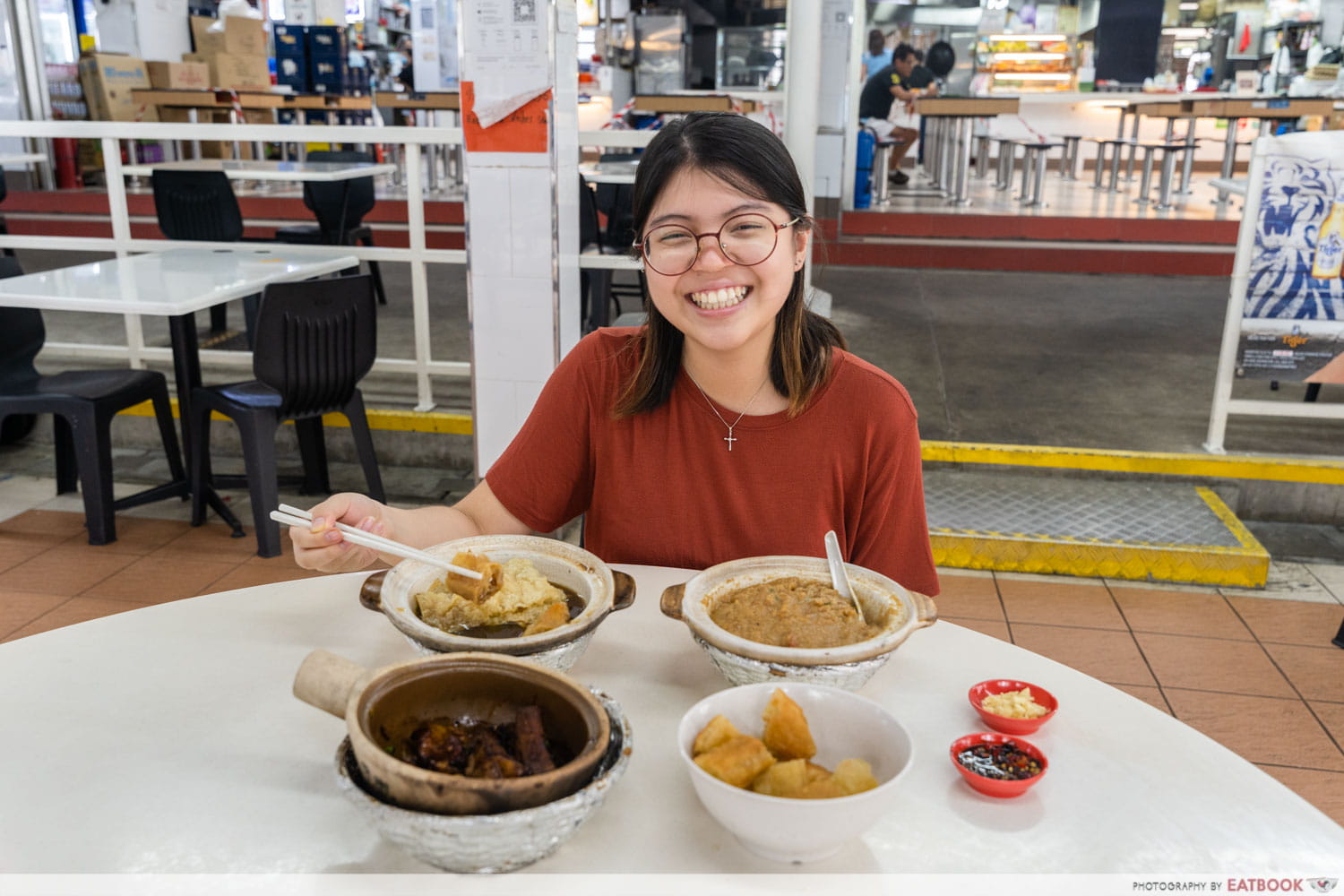 My visit to Feng Xiang Bak Kut Teh was definitely an eye-opening and memorable experience as it was my first time trying out dishes such as the fried porridge and dry bak kut teh. I have to say that the meal left me impressed, even though the ribs were not the best on my visit. Even though I prefer lighter flavours, I truly enjoyed Feng Xiang's flavour-packed dishes, and will definitely come back for more if I am in the area. 
Lim Bo Fruit Rojak Review: Malaysian-Style Fruit Rojak With 40 Years Of History
If you are looking for more Malaysian-style dishes, check out our review on Lim Bo Rojak for a Penang-style rojak, or Old Village for KL-style pork noodles. 
Address: 63 Kallang Bahru, #01-443, 7 Days Coffee Shop, Singapore 330063
Opening hours: Daily 10:30am to 3pm, 4:30pm to 8:30pm
Tel: 9093 4756
Website
Feng Xiang Bak Kut Teh is not a halal-certified eatery. 
Beauty World Centre
Address: 144 Upper Bukit Timah Road, #04-65, Beauty World Centre, Singapore 588177
Opening hours: Mon-Fri 10:30am to 3pm, 4:30pm to 8pm, Sat-Sun 9am to 3pm, 4:30pm to 8pm
Photos taken by Emily Teu.
This is an independent tasting at Feng Xiang Bak Kut Teh.
Feng Xiang Bak Kut Teh Review: Klang-style Bak Kut Teh And Fried Porridge From $5.90
Feng Xiang Bak Kut Teh Review: Klang-style Bak Kut Teh And Fried Porridge From $5.90 -

7.5/10
Summary
Pros
– Fried porridge had strong wok hei flavour
– Vinegar pig trotters was very appetising
Cons
– Inconvenient location
– Pork ribs were too dry
Recommended dishes: Herbal Bak Kut Teh Soup ($6.90/$11.90), Dry Bak Kut Teh ($7.90/$13.90)
Opening hours: Daily 10:30am to 3pm, 4:30 to 8:30pm
Address: 63 Kallang Bahru, #01-443, 7 Days Coffee Shop, Singapore 330063