Fusion Western serves halal Western food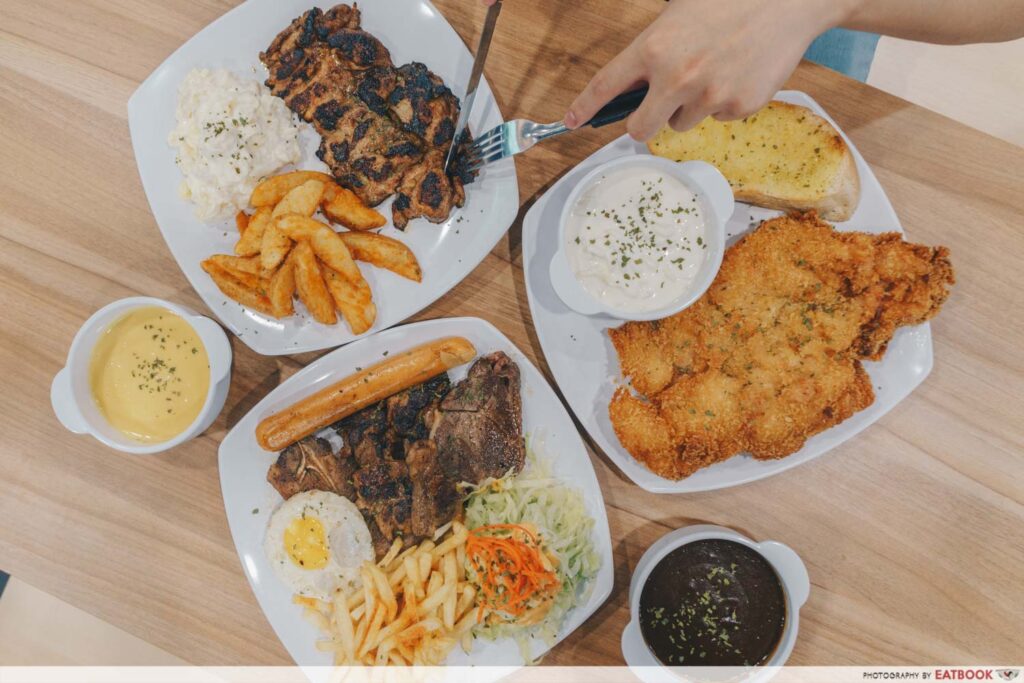 Greasy and hearty Western food was all I craved for in National Service (NS). After a gruelling day in the field, big juicy chicken chops doused in copious amounts of brown sauce was the perfect way to cap off the day. You don't have to go through NS to know how enticing that is.
With outlets at both Clementi and Sembawang—areas with army camps nearby—Fusion Western is a well-kept secret by soldiers and those who live around the area. My colleague recently visited the newer Sembawang outlet and had a positive experience there. Eager to relive a part of my army days, I went down for a taste test.
Food at Fusion Western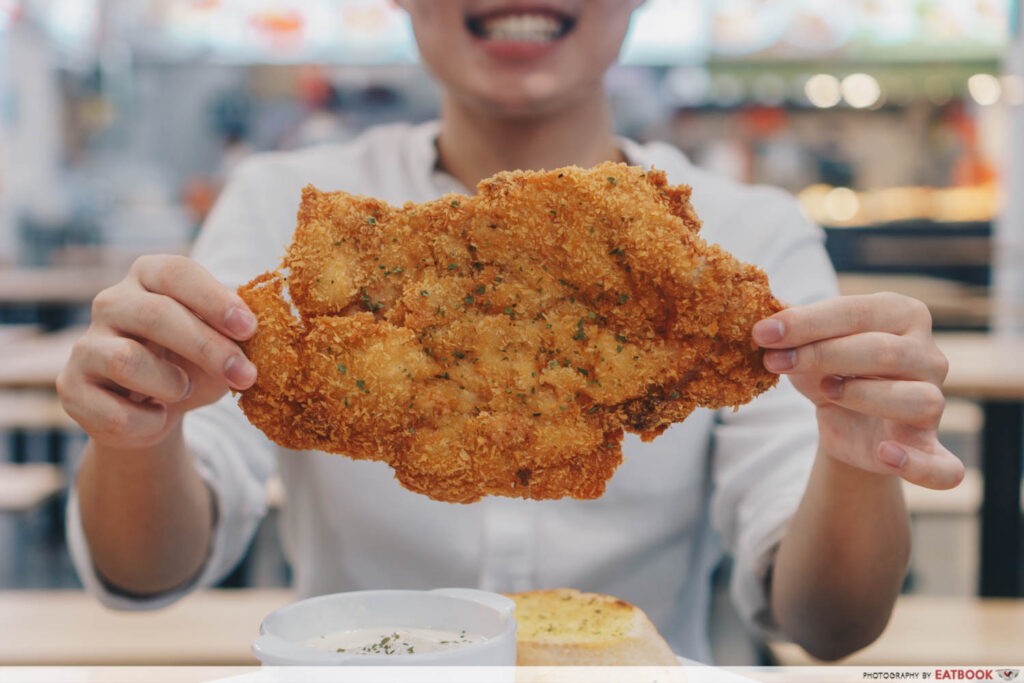 It came as a surprise when I collected the Salted Egg Crispy Chicken ($8.50). Featuring a massive slab of deep-fried chicken thigh, the dish also comes with creamy salted egg yolk sauce that takes it up a notch. 
The clichéd expression of "It's bigger than my face" never felt truer as I propped the chicken towards the camera.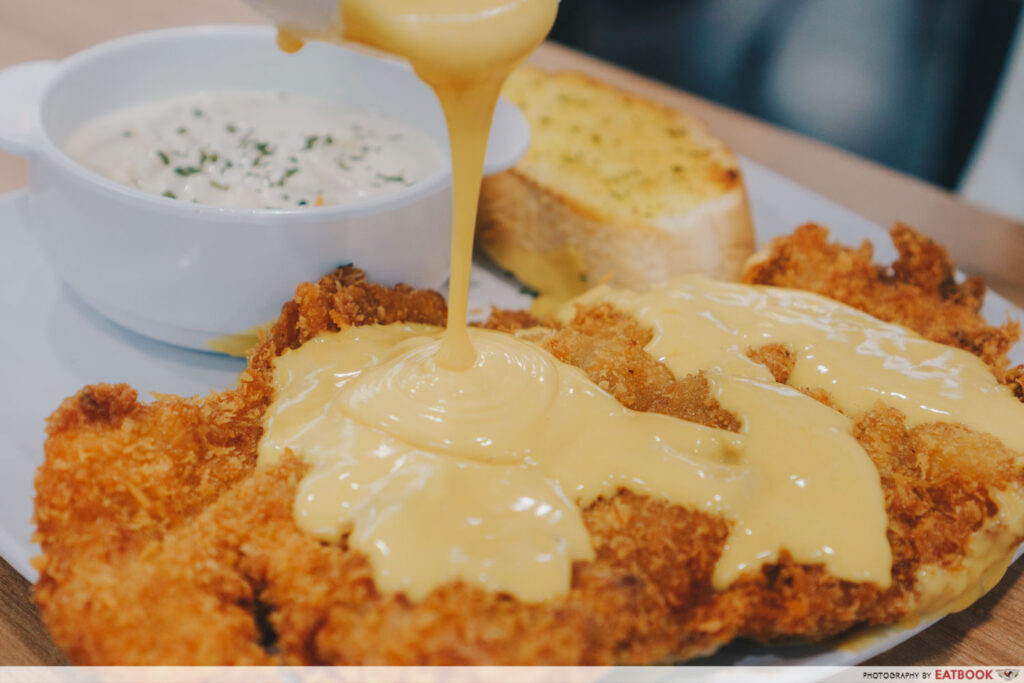 Pro tip: ask for sauce on the side. You'll get more of that golden goodness while making sure that your cutlet stays nice and crispy.
Just for the 'gram, I blanketed all of the sauce onto the cutlet. To my amusement, the huge bowl of sauce wasn't even enough to envelop the entire chicken cutlet.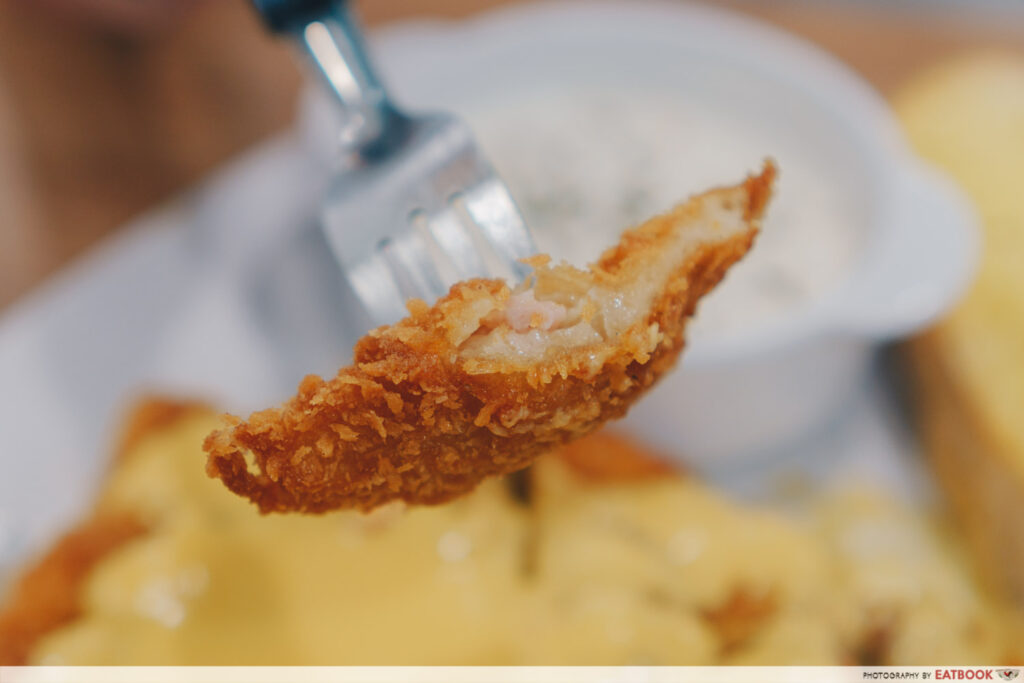 Taking a bite, the salted egg's ubiquitous and salivating brininess instantly hit me. It tasted a tad bit like the Knorr's salted egg yolk powder I use at home, except it had a more rounded taste thanks to its spices and herbs.
It was also smooth and velvety, adorning my tongue like a silky tuxedo.
While some parts of the chicken were thin, it was surprising how juicy it was. I reckon it had been brined or soaked in a marinade prior to frying.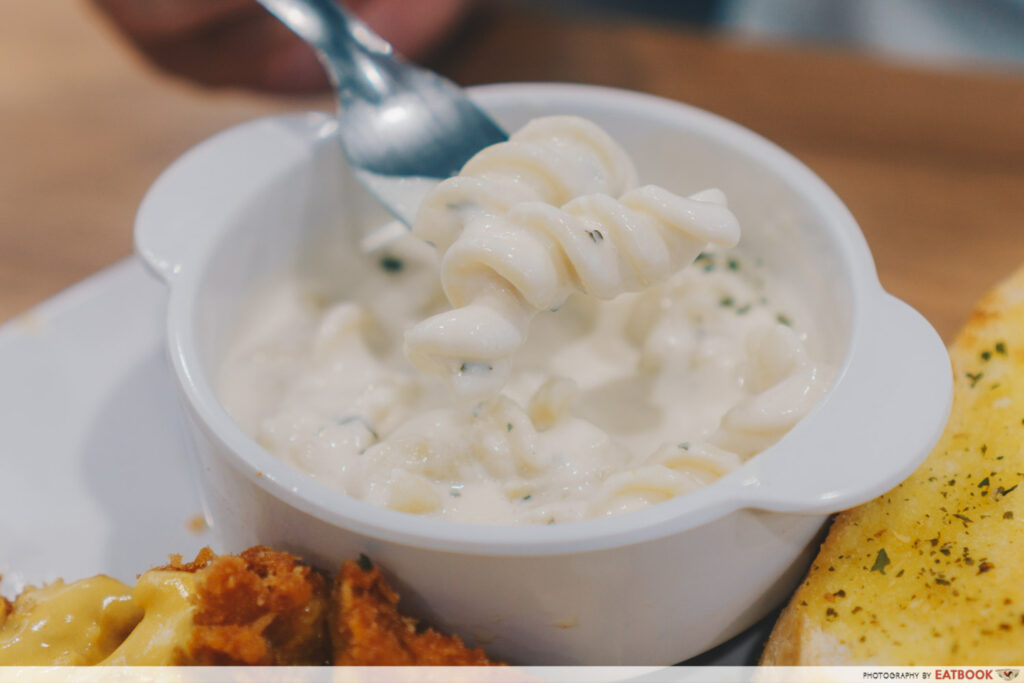 We were also allowed to choose two different sides for the meal. I opted for the cheese pasta as one of the sides. It was an indulgent bombardment of cream and cheese that's blended to form a luxe sauce.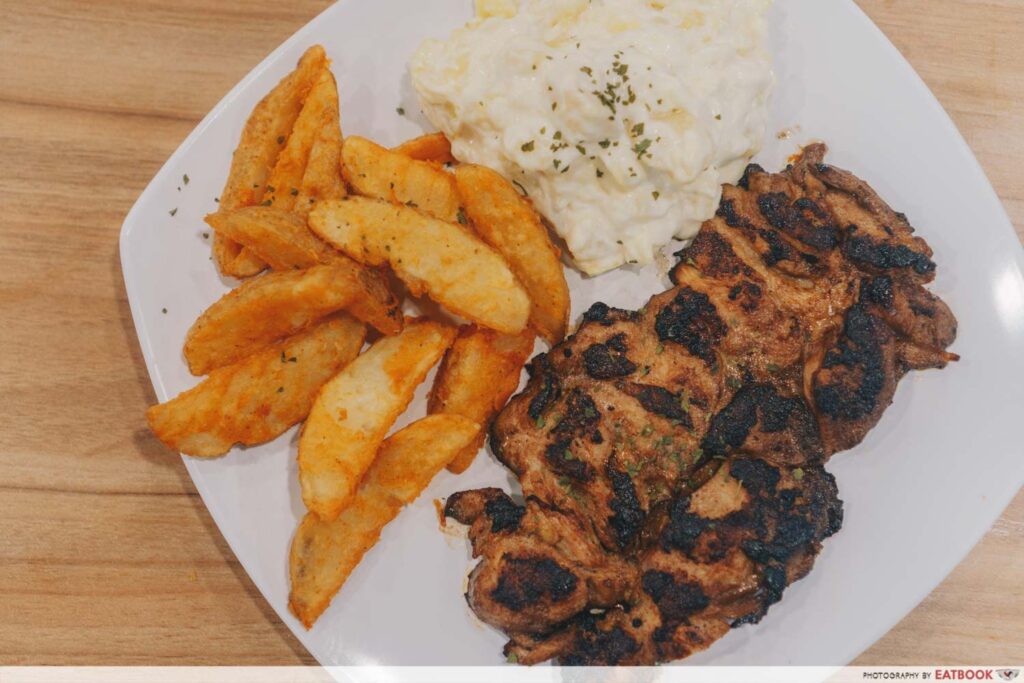 The Black Pepper Chicken ($7.20) did not fall too far behind. You get a lovely piece of grilled chicken here, replete with a douse of piquant black pepper sauce.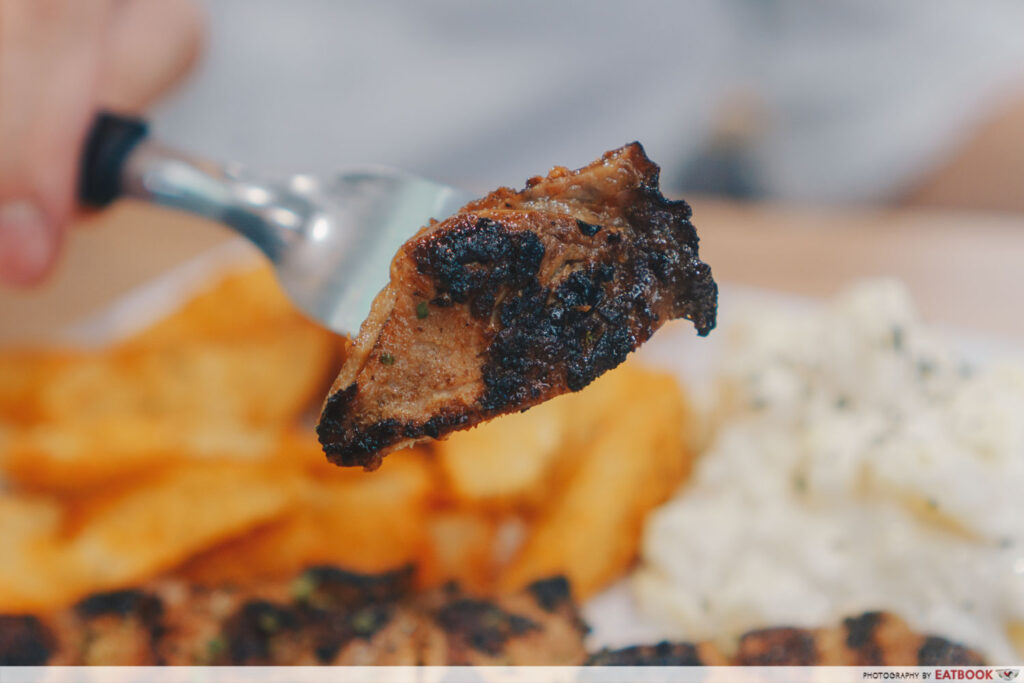 The texture of the chicken was very much like that of the salted egg yolk chicken—soft, tender, and well seasoned.
Instead of the processed store-bought sauce that some stores use, ground pepper was used here—allowing me to taste the spontaneous burst of flavours in the sauce.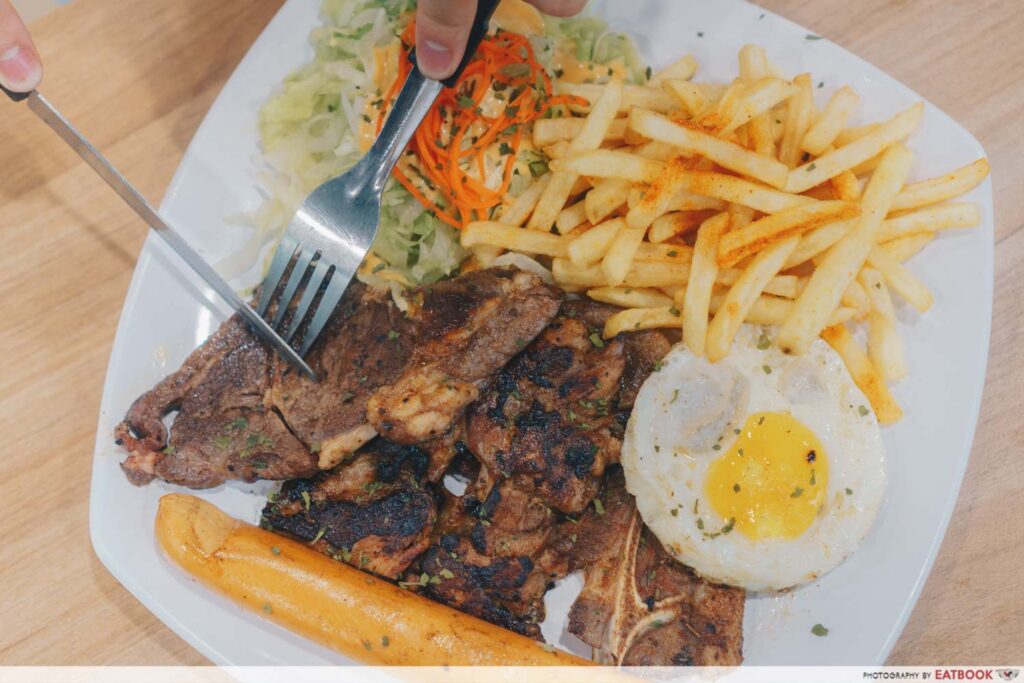 We finally got down to the Fusion Mix Grill ($15.80). The same grilled chicken cutlet came with beef, lamb, chicken sausage, a fried egg, and two sides. I'd say it's worth it for the portion size.
Sadly, I was disappointed by the beef steak. It was tough and riddled with gristle. The greyish hue that's indicative of overcooked meats did not help either. Perhaps the beef had been pounded too thinly and fell victim to overcooking.
Its saving grace was the seasoning used. A generous sprinkle of rosemary and basil added some definition to the otherwise flat dish. The herbs also lightened much of its heaviness.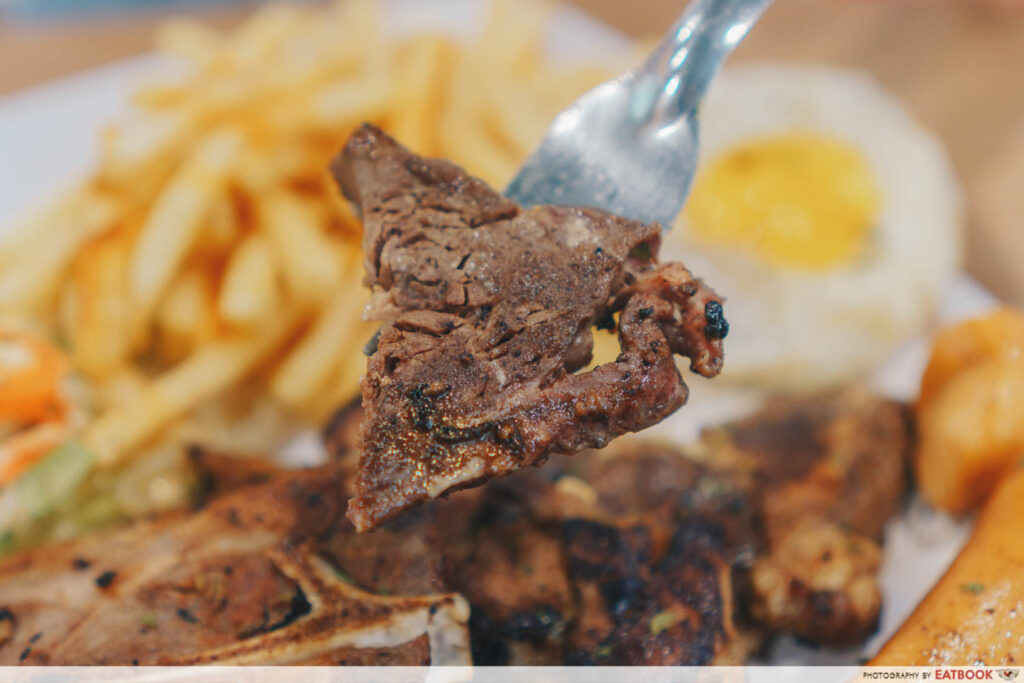 Some qualms I had with the beef were prevalent in the lamb. Though juicy, some parts felt somewhat chewy. Thankfully, the lamb was not overcooked and portions of it were surprisingly tender.
As a fan of lamb, I did not mind its intrusive gaminess. But I would imagine it to be rather strong for those averse to this type of protein. 
Ambience at Fusion Western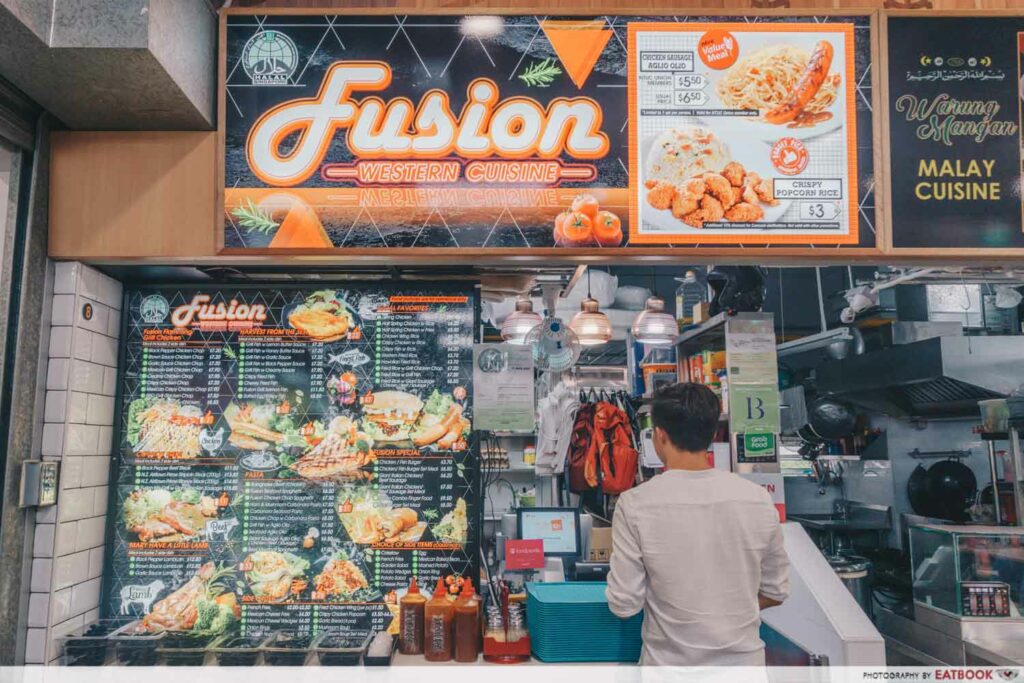 The walk here from Sembawang MRT Station took us 10 minutes under the sweltering weather. By then, my dining companion and I were soaked in perspiration. Thankfully, the coffee shop was well-ventilated and managed to cool us down.
The coffee shop was also brightly lit, clean, and well maintained. It's, by all measures, your typical food centre.
They also have another outlet at 449 Clementi Avenue 3, #01-211, Singapore 120449 if you live in the West.
The verdict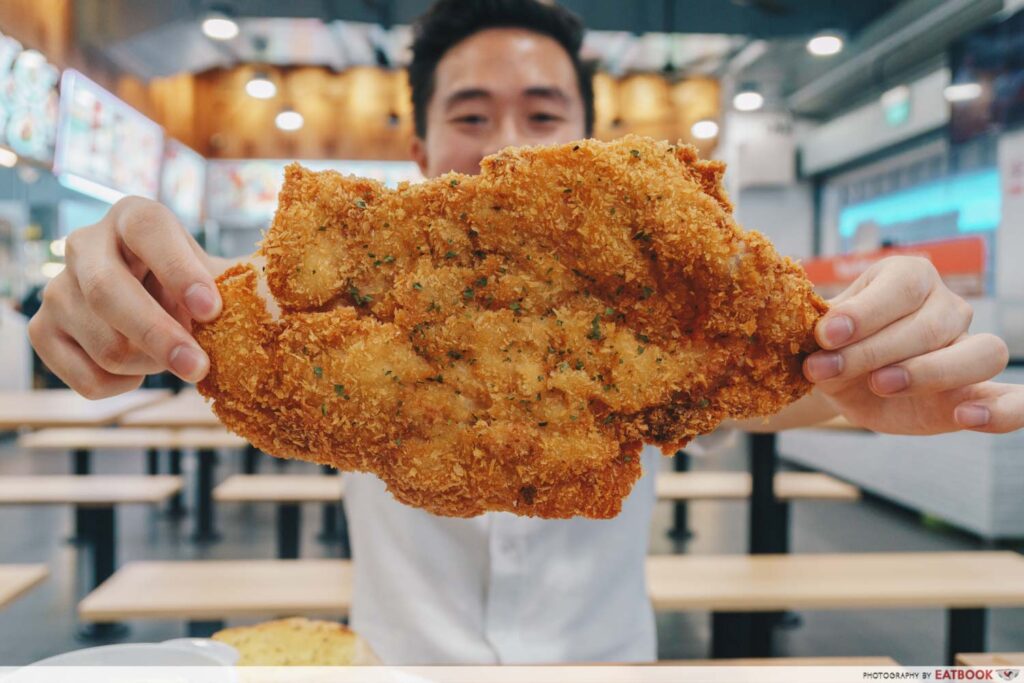 Having been to many respectable Western stalls such as Chicken Supremo and Big Boys Sizzling, I consider myself an armchair expert on chicken cutlets. So being impressed by the size of their chicken cutlet is no loose claim.
Chicken Supremo Review: Huge And Crispy Chicken Cutlet At $4.80 In Jurong!
If you intend to drop by this stall, I suggest skipping the grilled meats and diving straight into the fried goodness that is the Salted Egg Yolk Chicken. Every calorie is worth it.
Address: Blk 361 Sembawang Crescent, #01-01, Singapore 750361
Opening hours: Daily 11:30am to 9:30pm
Fusion Western is a halal-certified eatery.
Photos taken by Adria Tham and edited by Koh Hui Qing.
This is an independent review by Eatbook.sg.
Fusion Western Review: XXL Halal Salted Egg Yolk Chicken Cutlet At Sembawang
Summary
Pros
– Big portions
– Affordable prices
Cons
– Some of the meats were overcooked
– Inconvenient location 
Recommended dishes:  Salted Egg Crispy Chicken ($8.50), Black Pepper Chicken Chop ($7.20)
Opening hours: Daily 11:30am to 9:30pm
Address: Blk 361 Sembawang Crescent, #01-01, Singapore 750361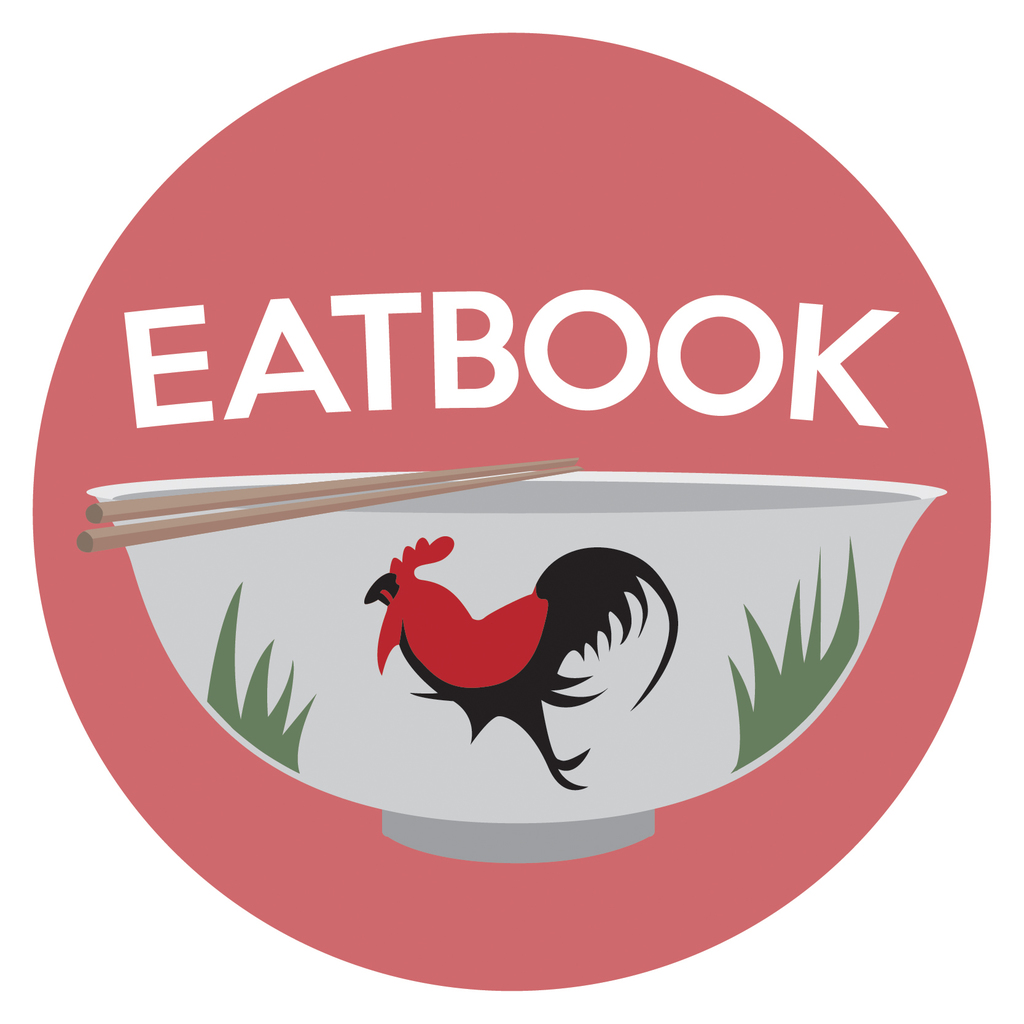 Drop us your email so you won't miss the latest news.