Affordable and tasty ramen at Gonpachi Ramen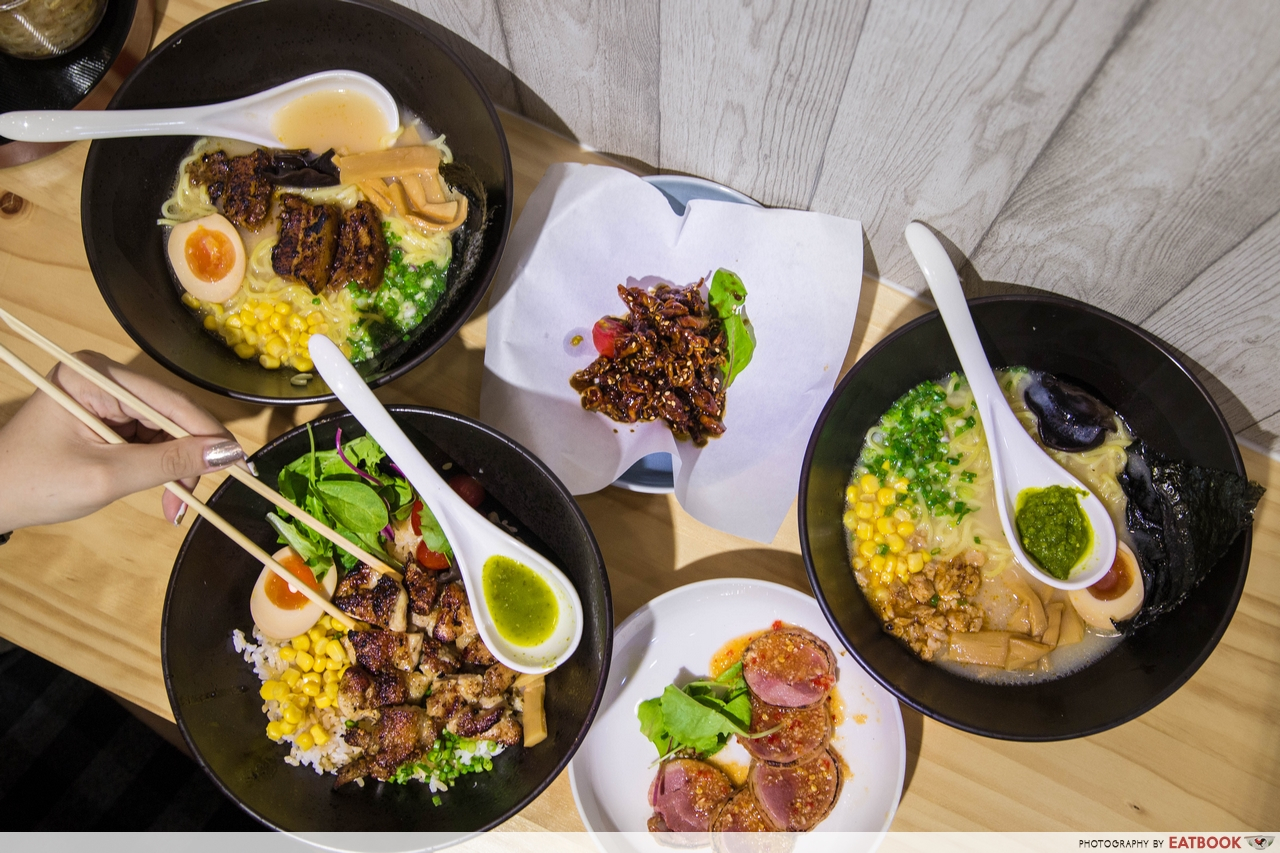 Ramen holds a special place in my heart. From stocking up on instant ramen to rewarding myself with Michelin-starred ramen, this dish of springy noodles dunked in savoury, creamy broth is something I'll never get tired of. Even though Japanese cuisine isn't exactly my favourite, there's still something comforting about having a piping hot bowl of ramen on a rainy day.
Gonpachi Ramen is one to keep in mind for days you want to have ramen without burning a hole in your pocket. This nondescript restaurant might not be convenient for Westies, but it's a place worth hitting if you happen to be in the area.
Food at Gonpachi Ramen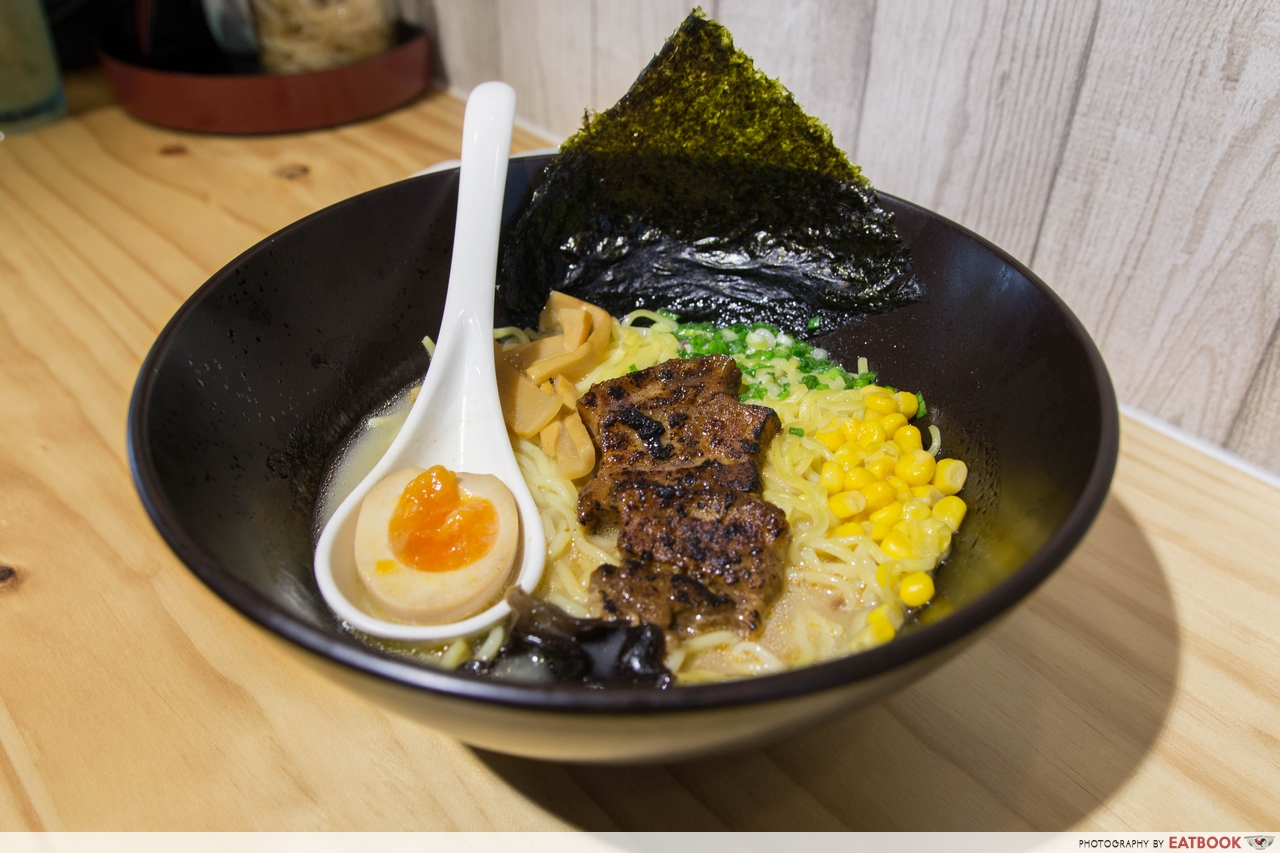 Miso Kakuni Ramen ($7.80) arrived first. Its strong miso fragrance wafted towards our table when it was being served, and set my tummy rumbling. The dish had springy Japanese ramen swimming in a hot miso broth, and was topped with marinated cha shu, black fungus, bamboo shoots, spring onions, half a miso-marinated soft-boiled egg, and a spoonful of sweet corn.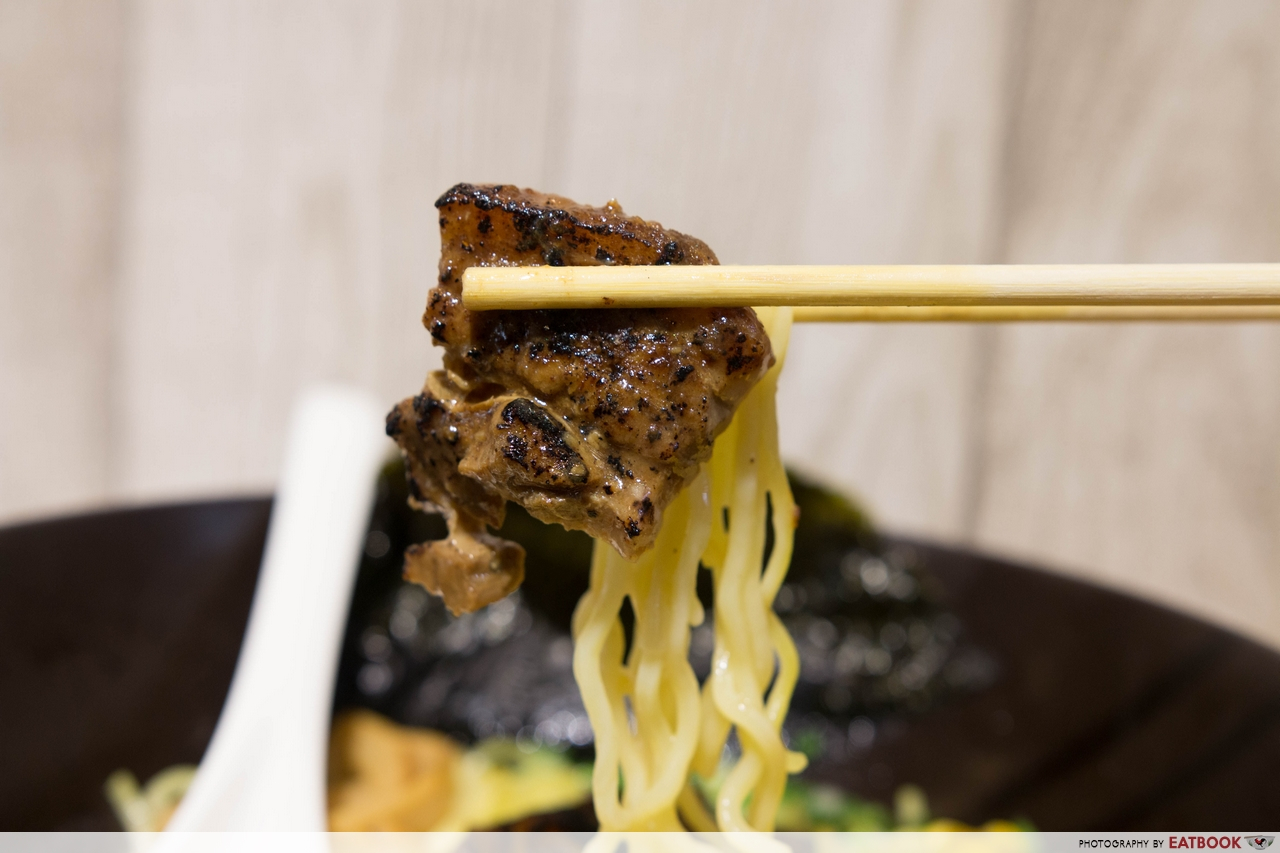 The cha shu was marinated overnight and blow-torched before serving to create a smokey flavour. It was juicy with a good fat-to-meat ratio, bursting with flavour without being overly greasy. It had a melt-in-your-mouth texture, and paired really well together with the hot miso broth.
The broth was made by boiling pork and chicken bones together. Unlike several miso-based ramen that I've had elsewhere, the broth here was slightly thicker and saltier. The soup was packed with miso flavour, and had a tinge of milkiness at the back of my throat. There was a punch of umami in every spoonful that made me go back for seconds. The noodles, however, could have been slightly firmer.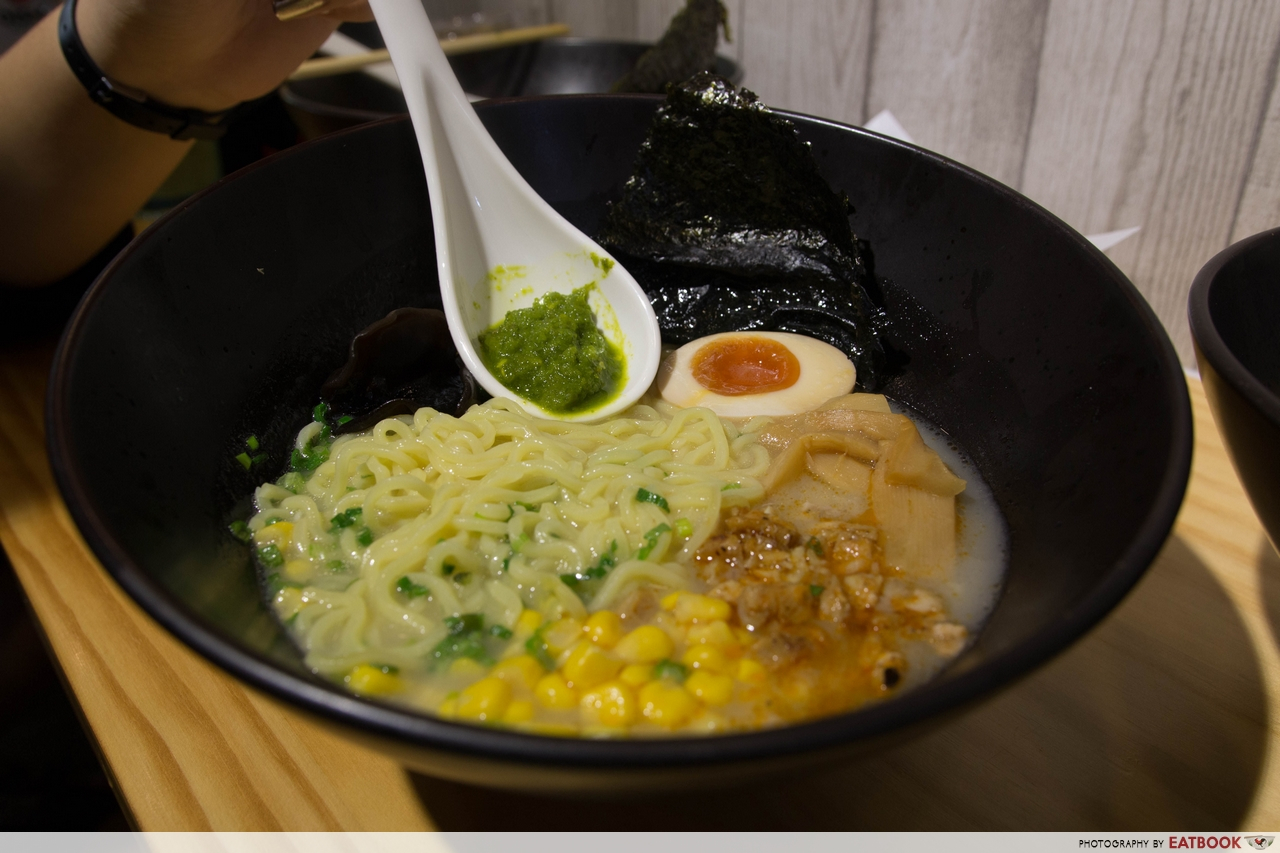 The next dish we got was Seven Wonder Ramen ($7.80). Inspired by the Seven Wonders of the World, this dish consists of seven main ingredients: corn, egg, marinated chicken, prawn, bamboo shoots, spring onions, and their special house-made sauce.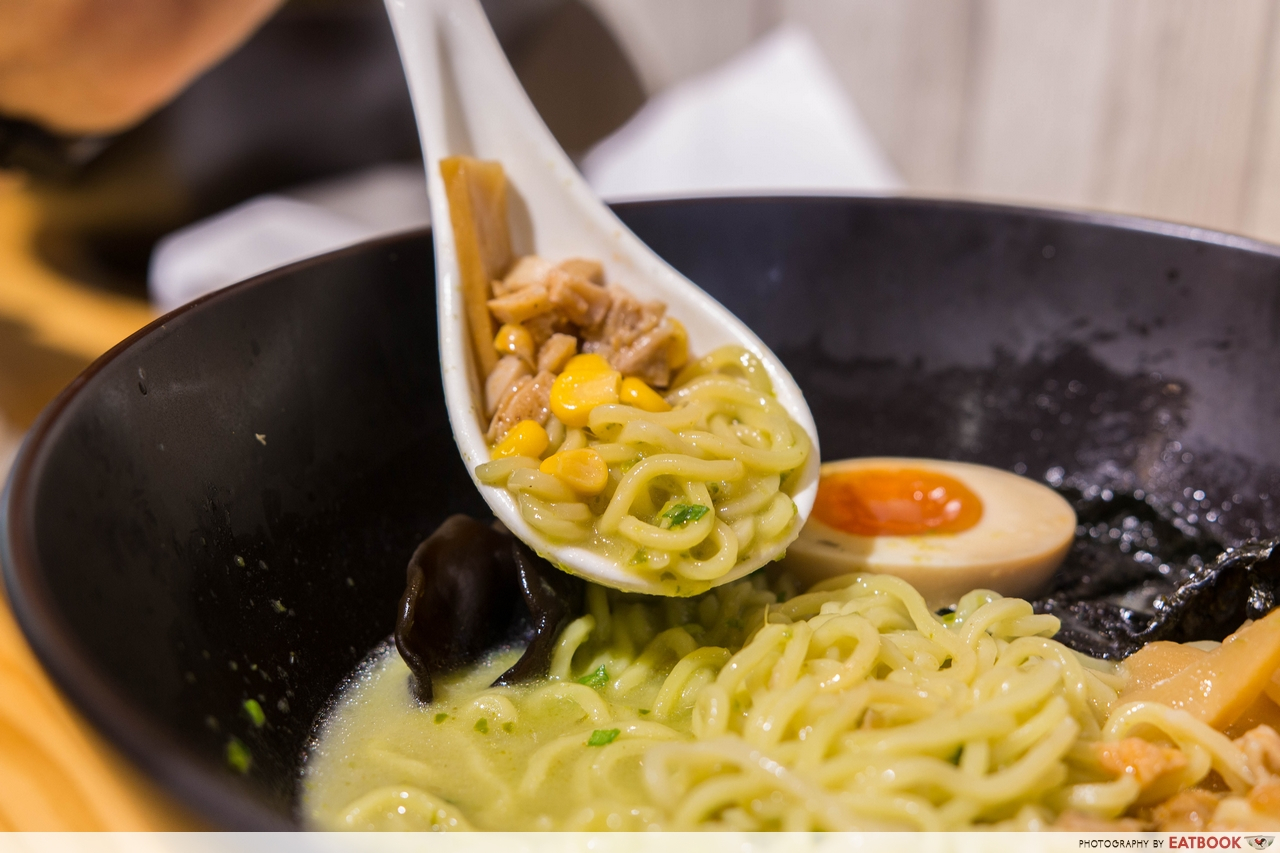 The ingredients were simple and nothing to shout about, but considering its price and quantity, it offers a bang for your buck. The highlight for me was the chicken. Compared to pork, it had lesser fats but still remained succulent. It was marinated in a spice mix that reminded me of tandoori chicken.  
The house-made sauce was very similar to typical Thai seafood dipping sauces. As the sauce was very intense in flavour, it ended up overpowering the rest of the ingredients, including the broth.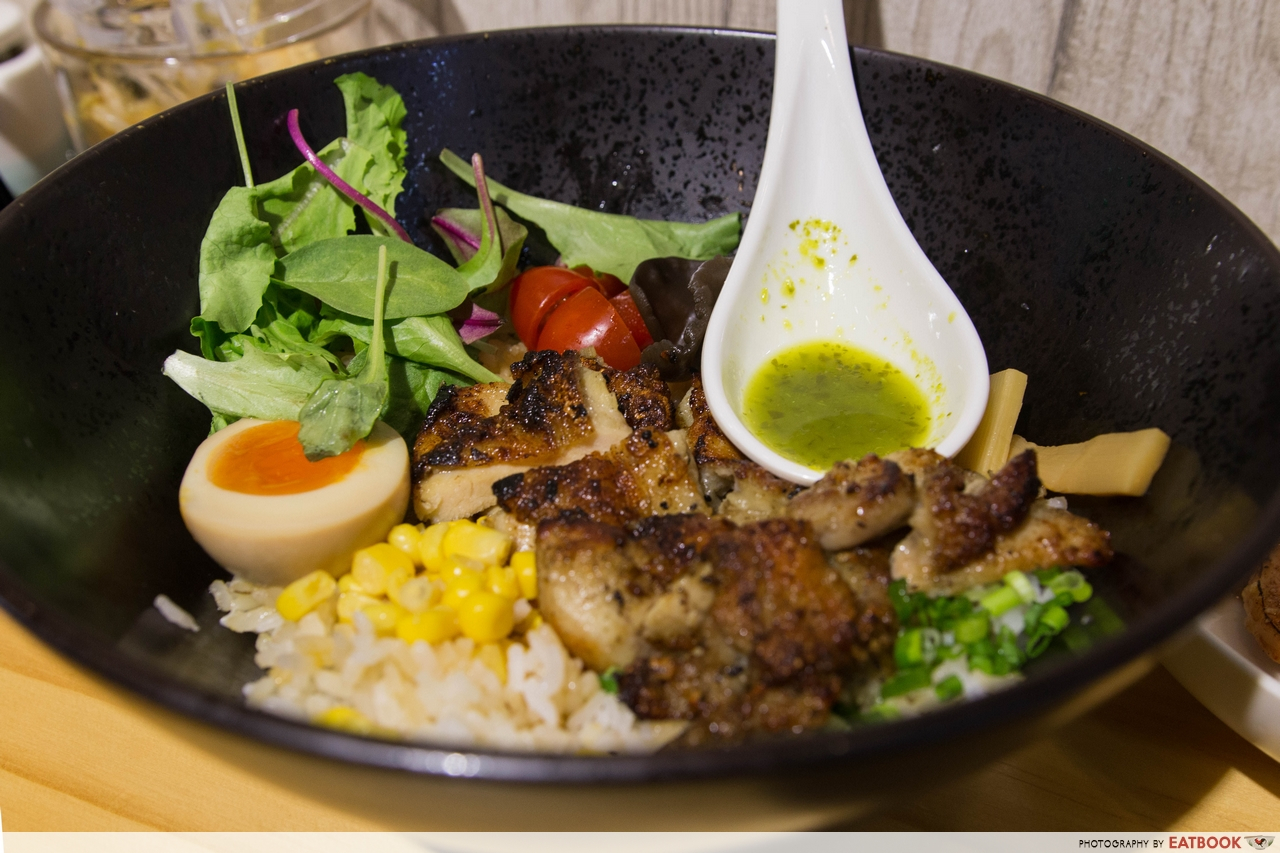 I was squirming in my seat when Spicy Minced Chicken Rice Bowl ($6.80) arrived. It carried a strong fragrance of lemongrass, and I was stoked to try it.
It had a large piece of chicken thigh laid atop fluffy white rice, and other ingredients such as half a miso-marinated egg, salad, a spoonful of corn, and their house-made sauce.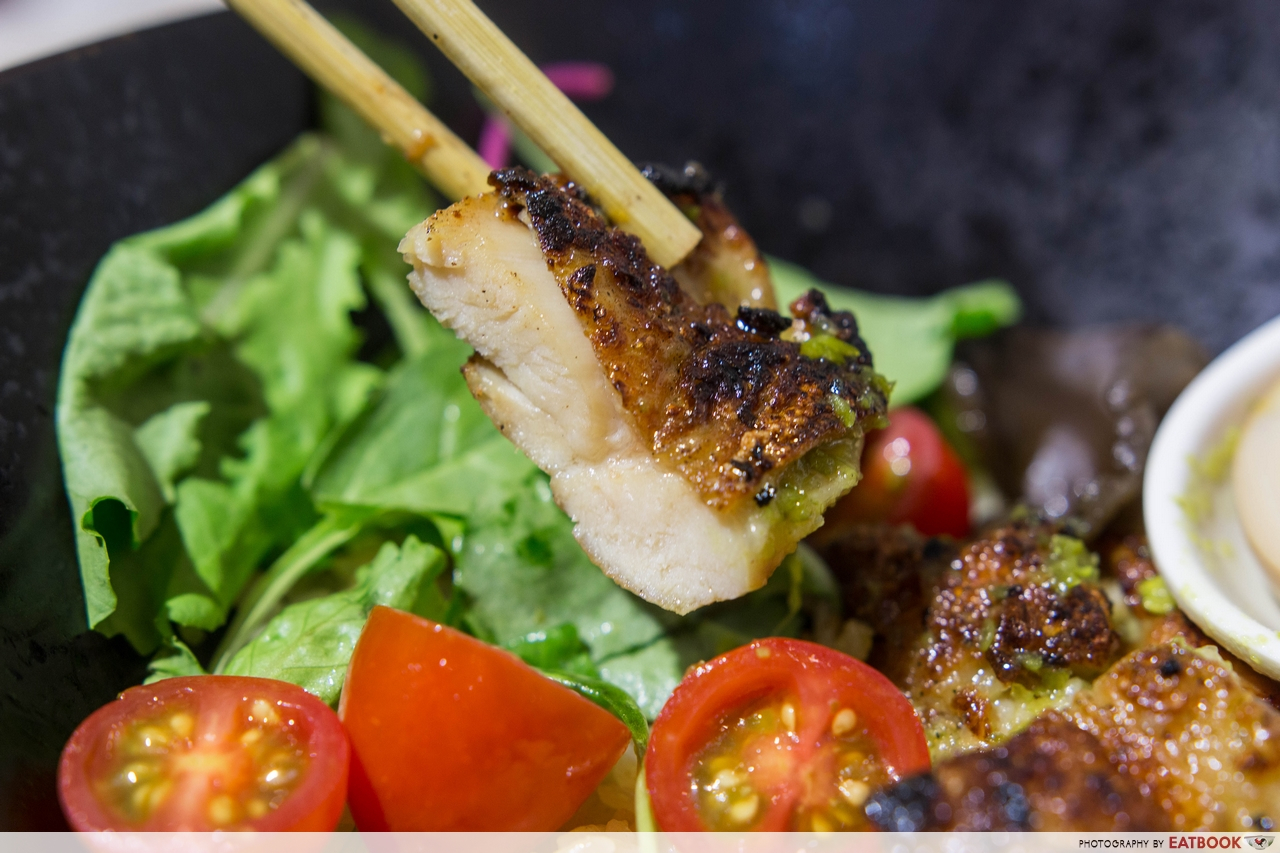 Upon first bite, the chicken was tender and succulent with a hint of lemongrass. The skin was beautifully seared and crispy, adding a contrast in texture to the incredibly moist chicken.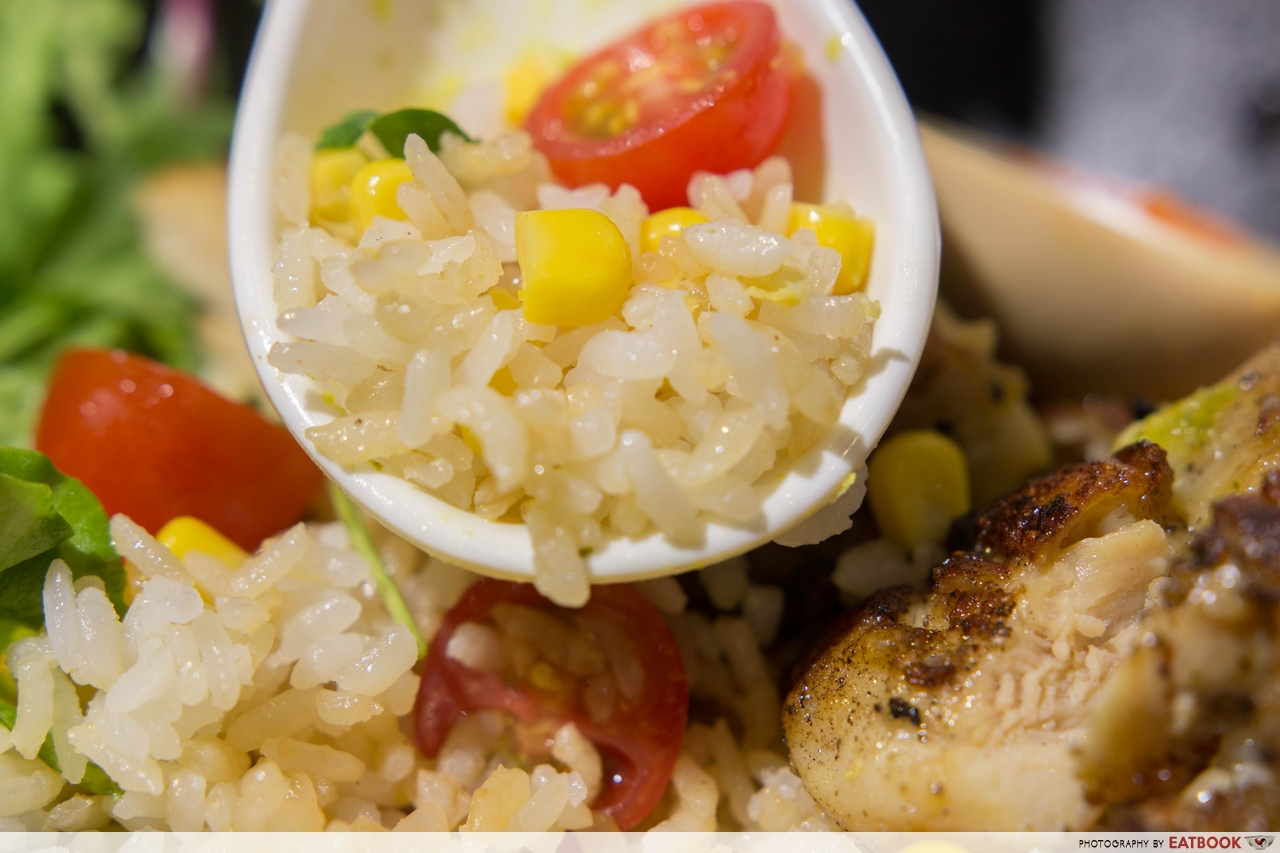 My first mouthful was heavenly. The rice was fluffy and had a waft of shoyu (Japanese soy sauce). I was told the chef uses short-grain rice imported from the USA.
The corn and cherry tomatoes were much welcomed additions, giving the rice added crunch and textures. This dish was also paired with their house-made sauce, which I wasn't fond of – it was just too overpowering.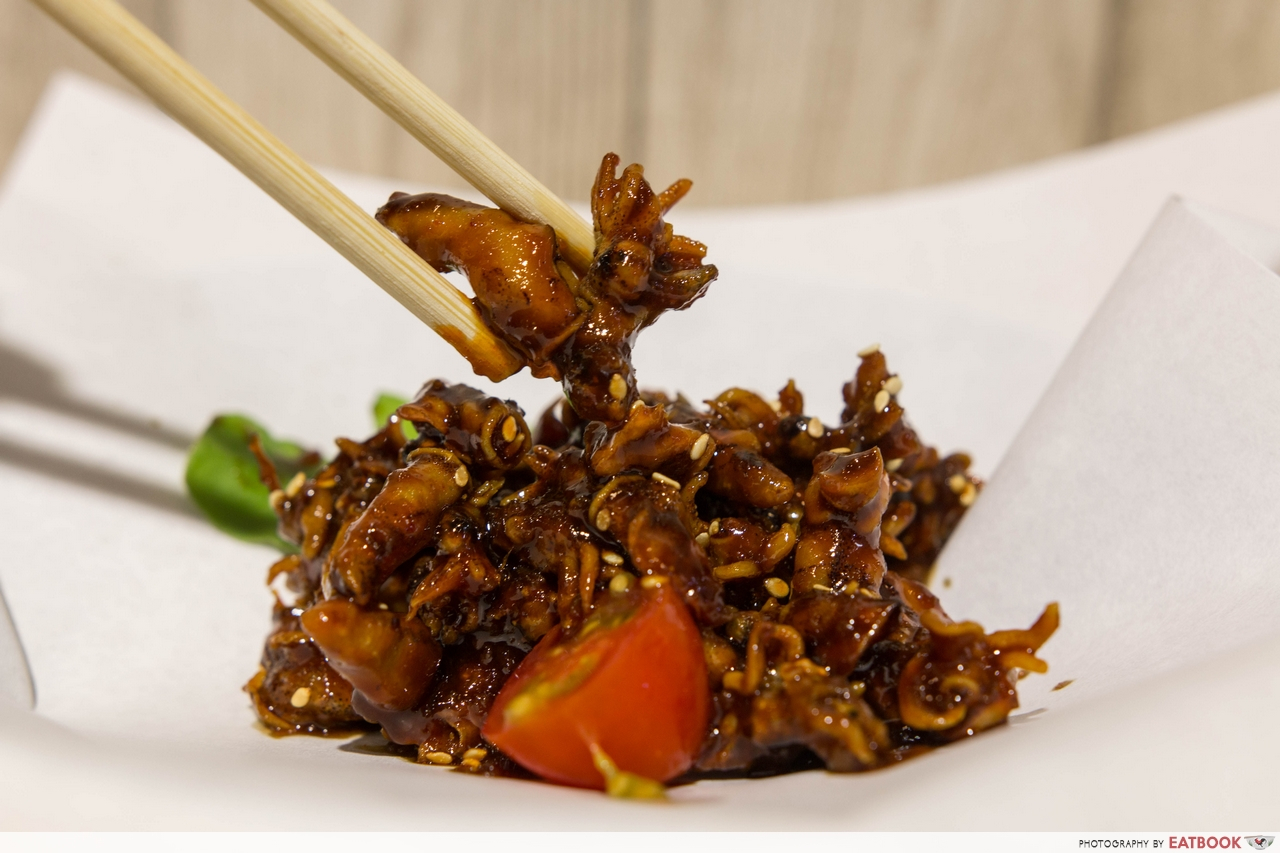 Other than the mains, we opted for some side dishes too. Crisp-Fried Baby Squid ($4) ranks high on my must-order list.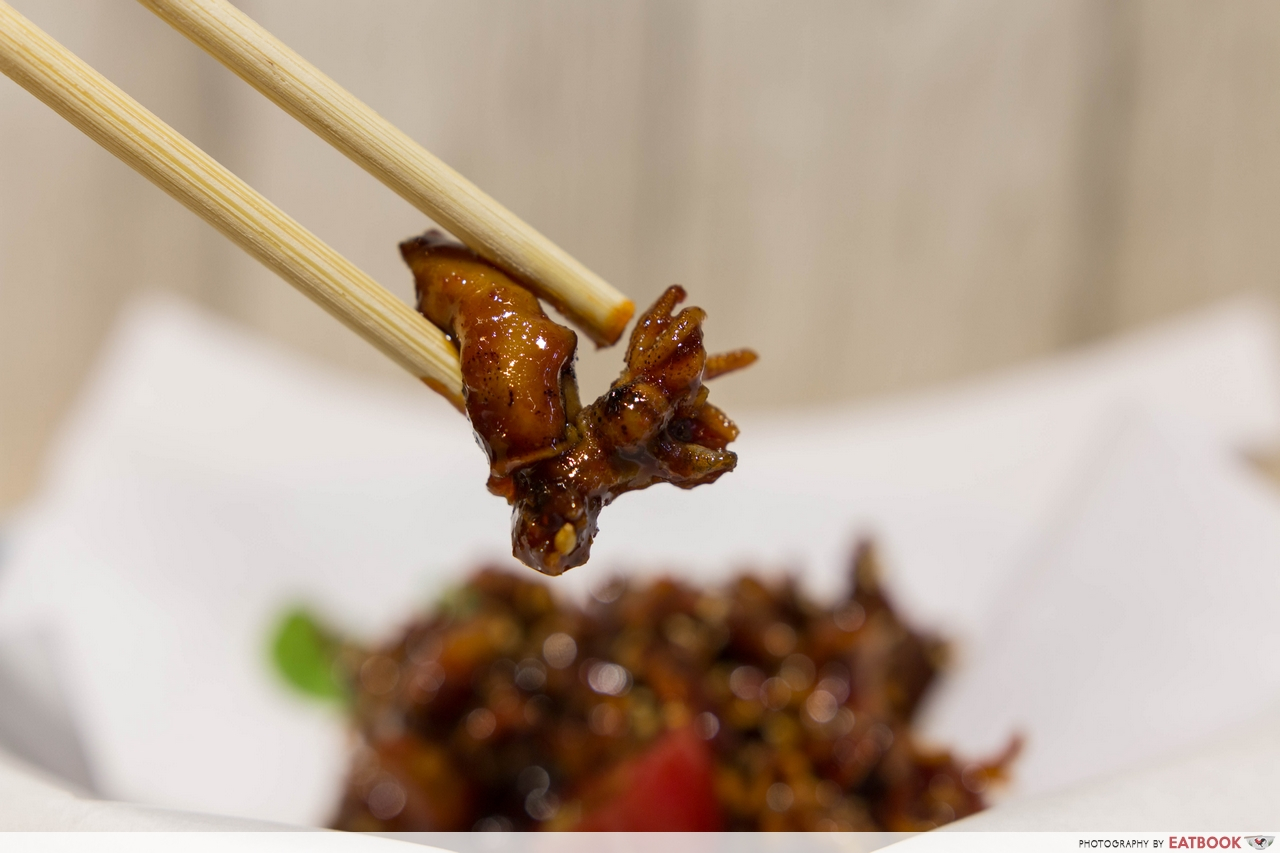 The baby squids were crunchy and coated in a spicy thick brown sauce. The chef first deep-fries the baby squids, then tosses them in a sauce made from dark soya sauce, rock sugar, fried shallots, and their house-made chilli paste. It was so addictive that a part of me wished they'd start selling them in takeaway packs so I could munch on them all day.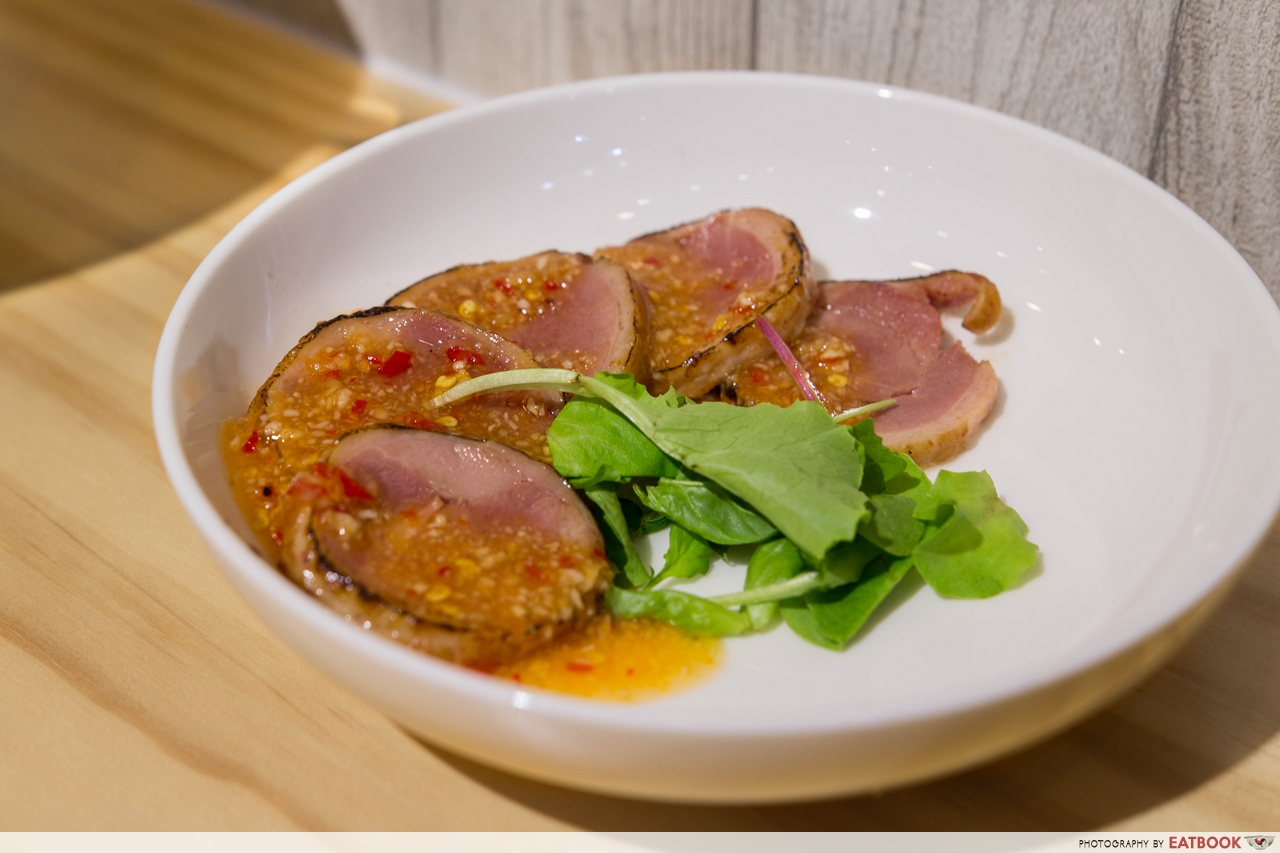 We got Green Tea Smoked Duck ($4), which is one of the more popular items on their menu.  Time to whip out your phones and get ready for this #IGworthy dish. The duck was cut into coin shapes, lined across a bowl, and drizzled with a house-made sauce that tasted like a mixture of minced garlic and Thai sweet chilli sauce. The duck had the right ratio of meat to fat, making each bite juicy and satisfying.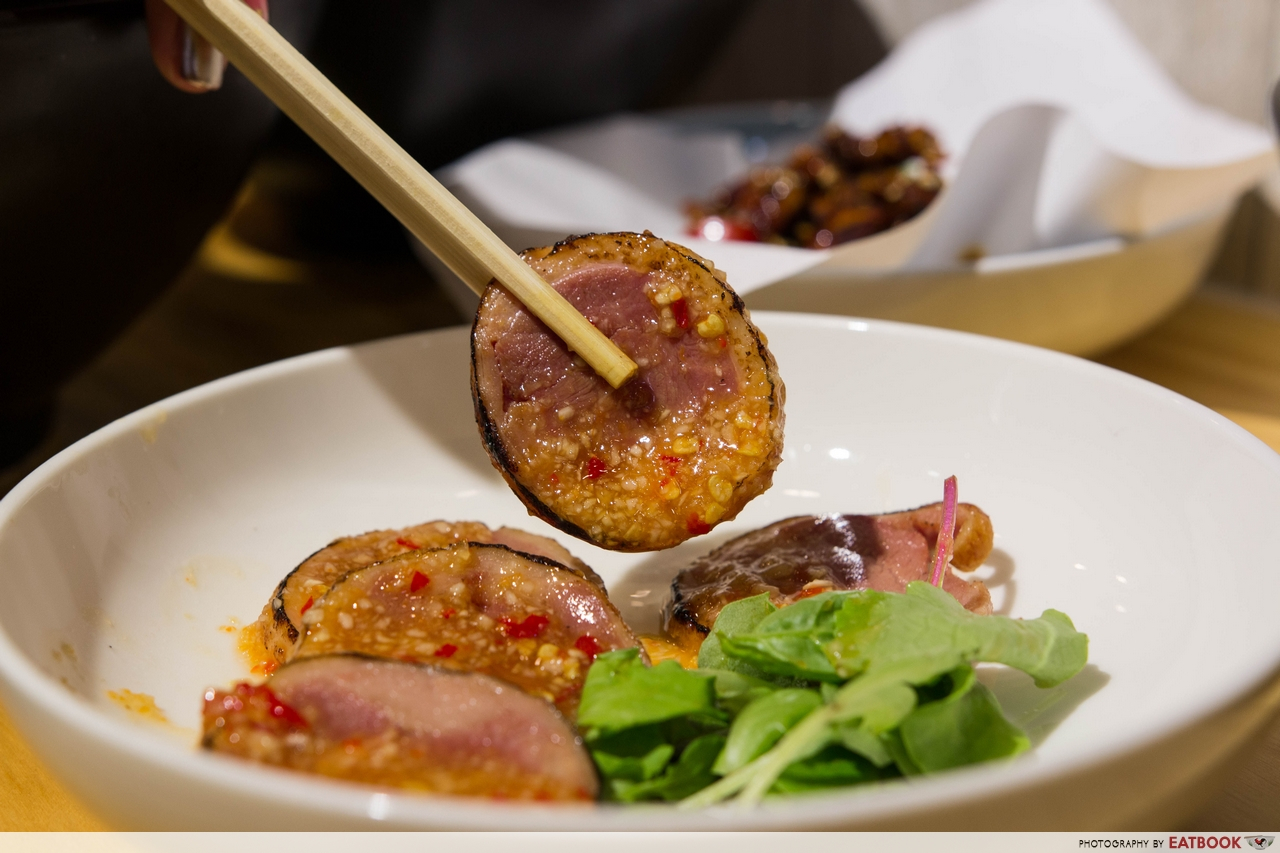 The only downside was the sauce. All I could taste was the intense kick of garlic and sweet chilli, but hardly any green tea flavour. Though using two different types of green tea leaves in the process of smoking the duck sounds unique and novel, it was disappointing in terms of flavour.
Ambience at Gonpachi Ramen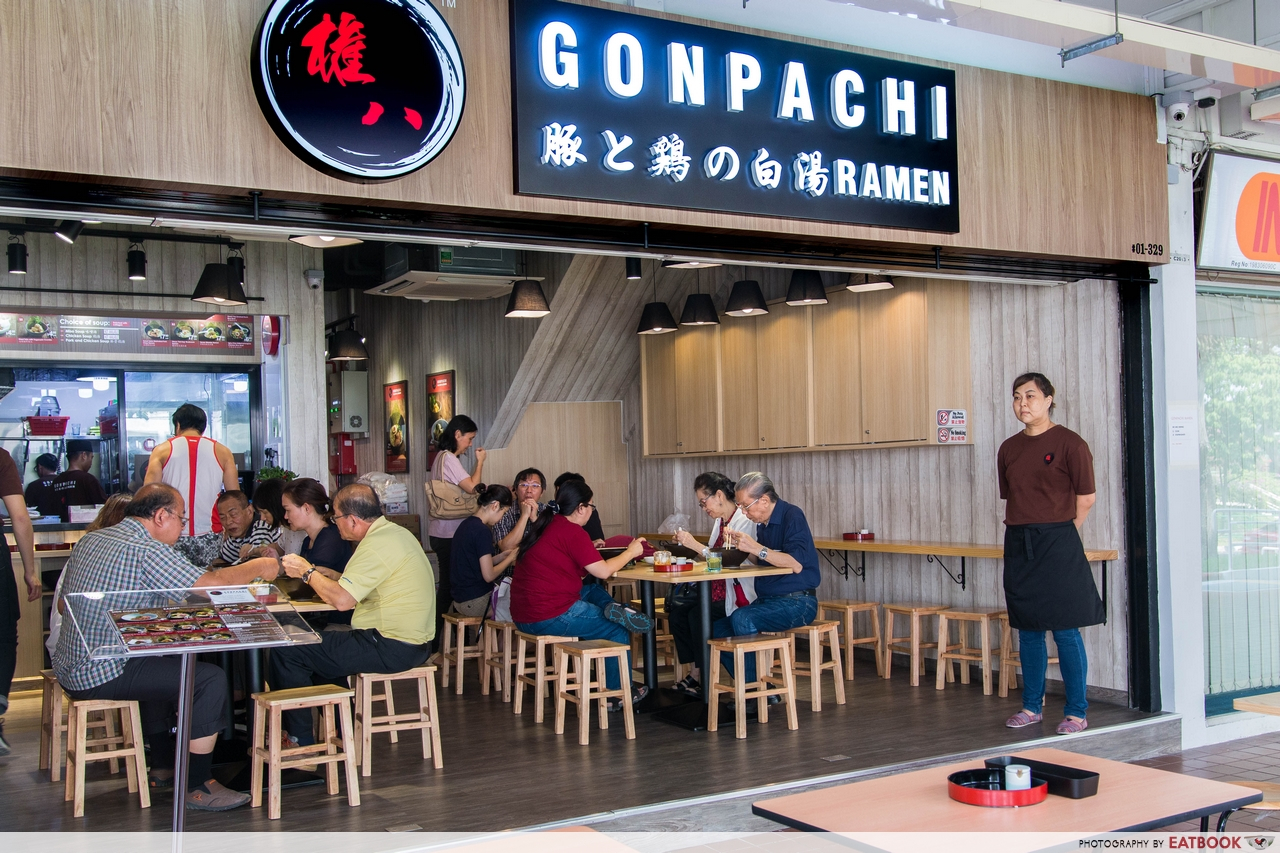 Situated under a block of flats along Hougang Street 21, this family-friendly restaurant is great for a fuss-free meal. The staff members were friendly and efficient, treating all their customers with great hospitality when I was there.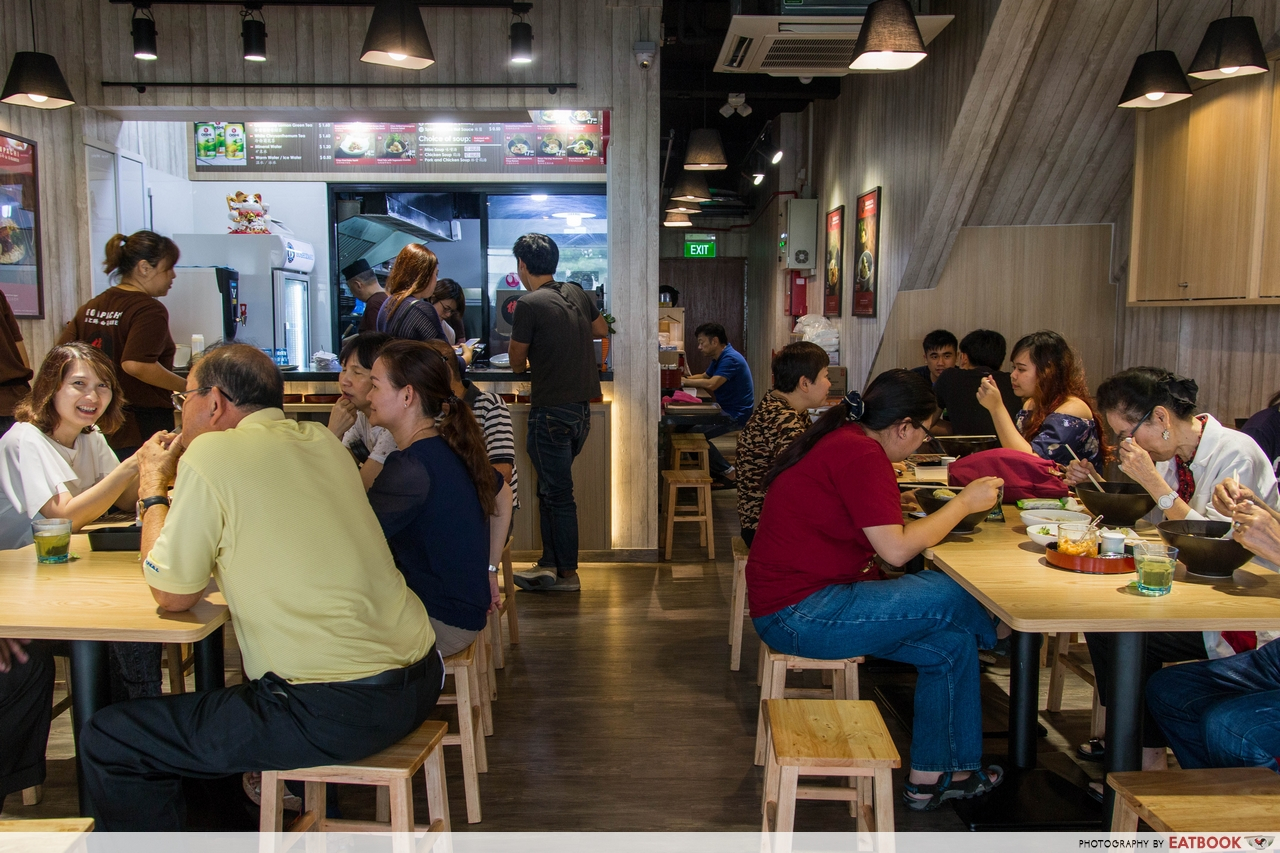 Gonpachi Ramen is decorated with simple wooden furniture and ample lights. We were able to get a table easily when we visited at around 12pm on a weekday. There are many buses from Kovan and Hougang MRT Stations that can take you to this restaurant. Alternatively, you could walk from Kovan MRT Station and reach in about 10 minutes.
The verdict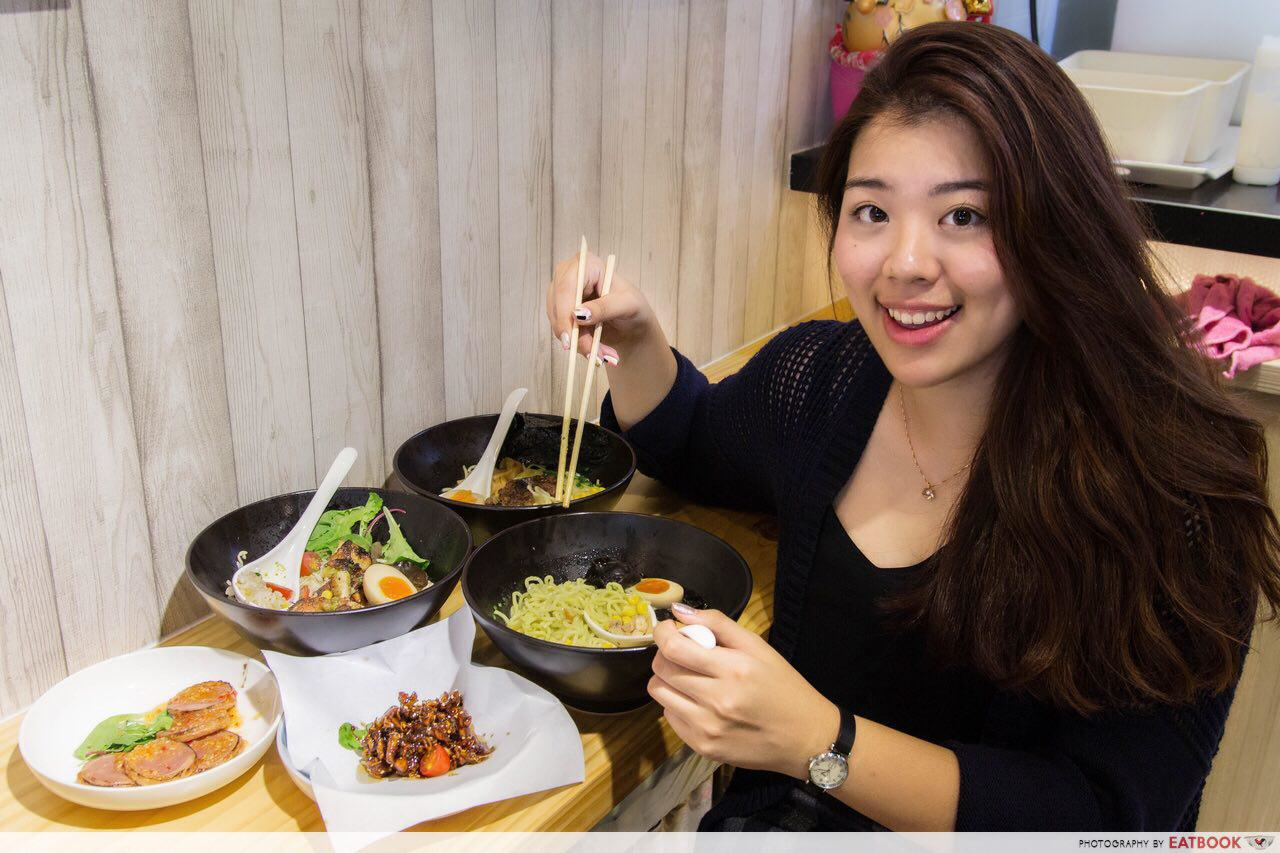 Overall, considering its prices, the standard of food served was quite good. That being said, I felt most dishes carried a Thai flavour instead. The sauces used were overpowering and repetitive, making the dishes taste similar to one another. Despite that, I'd come back for their fried baby squid! For more ramen, check out these cheap and good ramen places around Singapore. If you're not sure what else to eat at Kovan, bookmark this list of Kovan food spots.
Address: Blk 212 Hougang Street 21, #01-329, Singapore 530212
Opening hours: Daily 11:30am to 2:30pm, 5:30pm to 11pm
Tel: 6584 1943
Website
Gonpachi Ramen is not a halal eatery.
This is an independent review by Eatbook.sg.
Summary
Pros
– Affordable
– Efficient staff
Cons
– Might get crowded during peak hours
– Sauces used were overpowering in flavour
– Limited seats
Recommended Dishes: Crisp Fried Baby Squids ($4), Spicy Minced Chicken Rice Bowl ($6.80)
Operating Hours:
Daily, 11:30am to 2:30pm, 5:30pm to 11pm
Tel:
6584 1943
Address: Block 212 Hougang Street 21, #01-329, Singapore 530212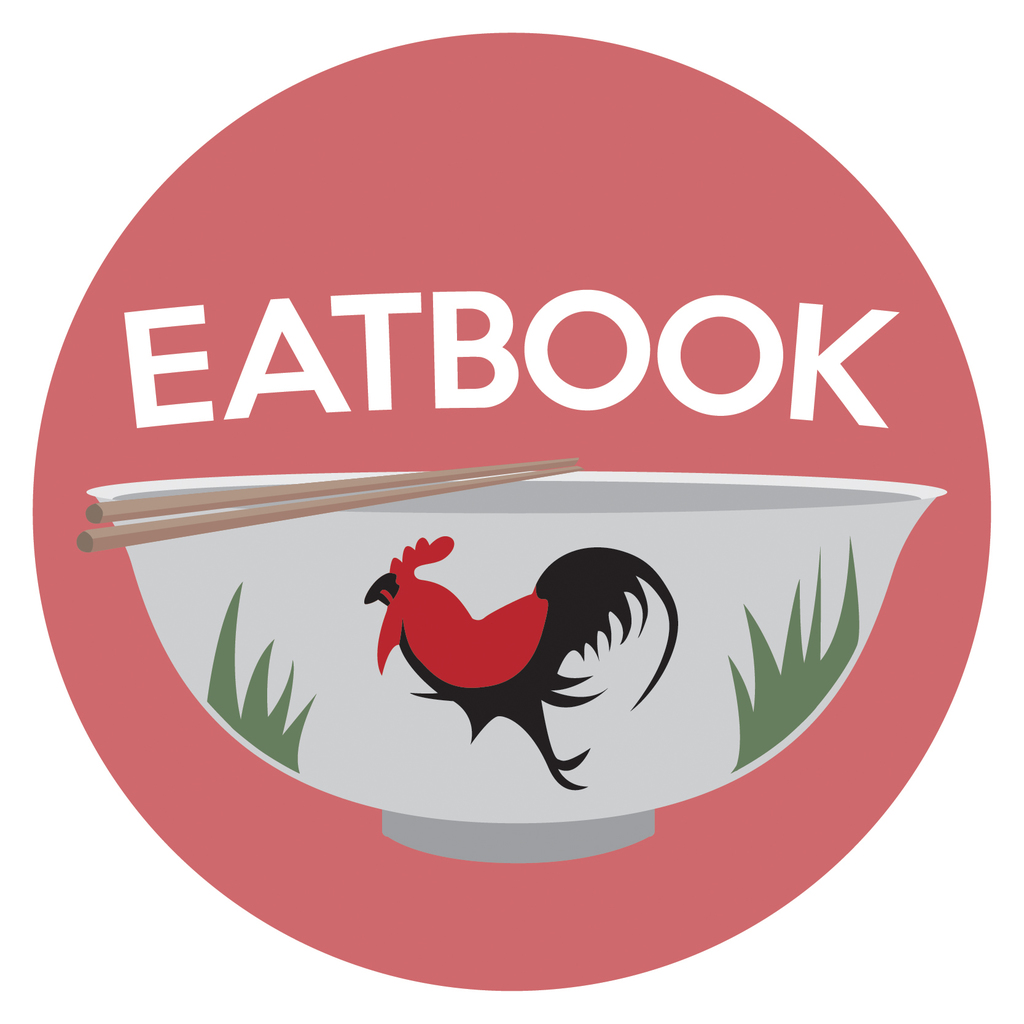 Drop us your email so you won't miss the latest news.