Haku Sushi has affordable omakase at Great World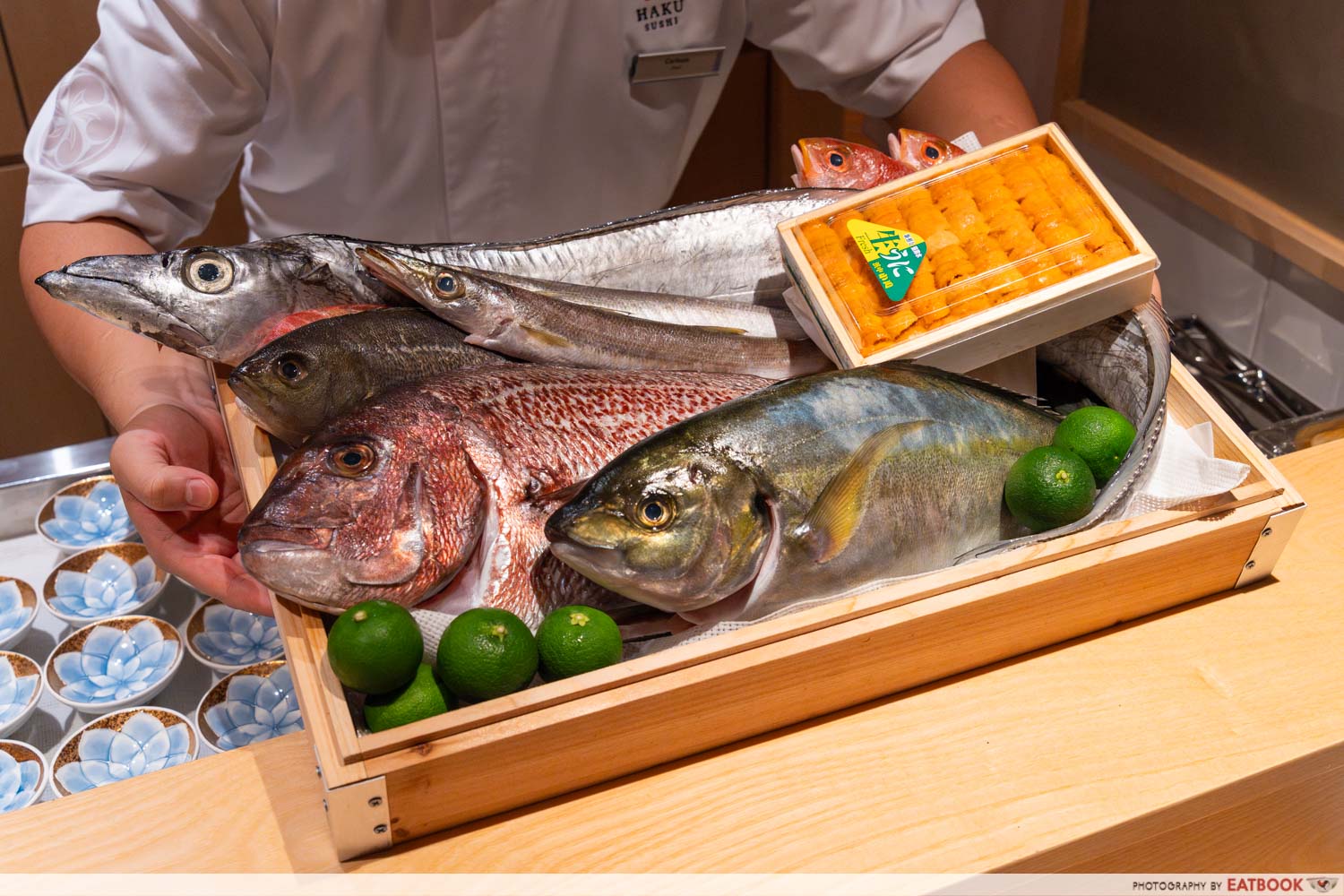 Omakase meals are such a treat, but they don't always have to break the bank. More and more, Japanese restaurants are rolling out wallet-friendly, pared-down versions of their more expensive tasting menus, and Haku Sushi sets themselves up as stiff competition, with their $68++ omakase meals, spotlighting Kansai-style sushi and a super unique red-wine shari (sushi rice).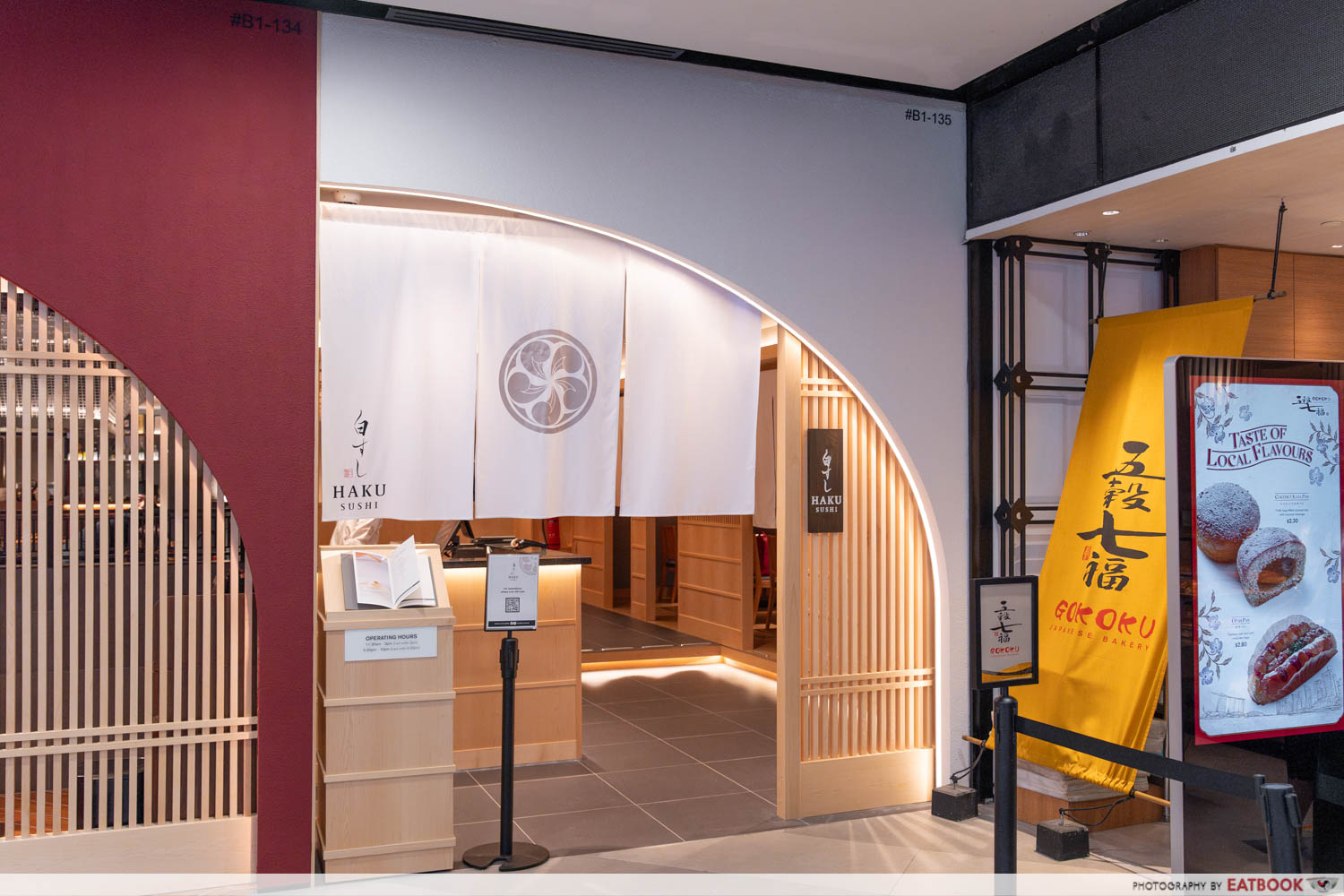 Located in Basement One of the revamped Great World, Haku Sushi is one-half of a dual-concept restaurant; the other half is Kou Teppan, with a first-of-its-kind personal teppan, plus wallet-friendly teppanyaki omakase sets priced from $58++.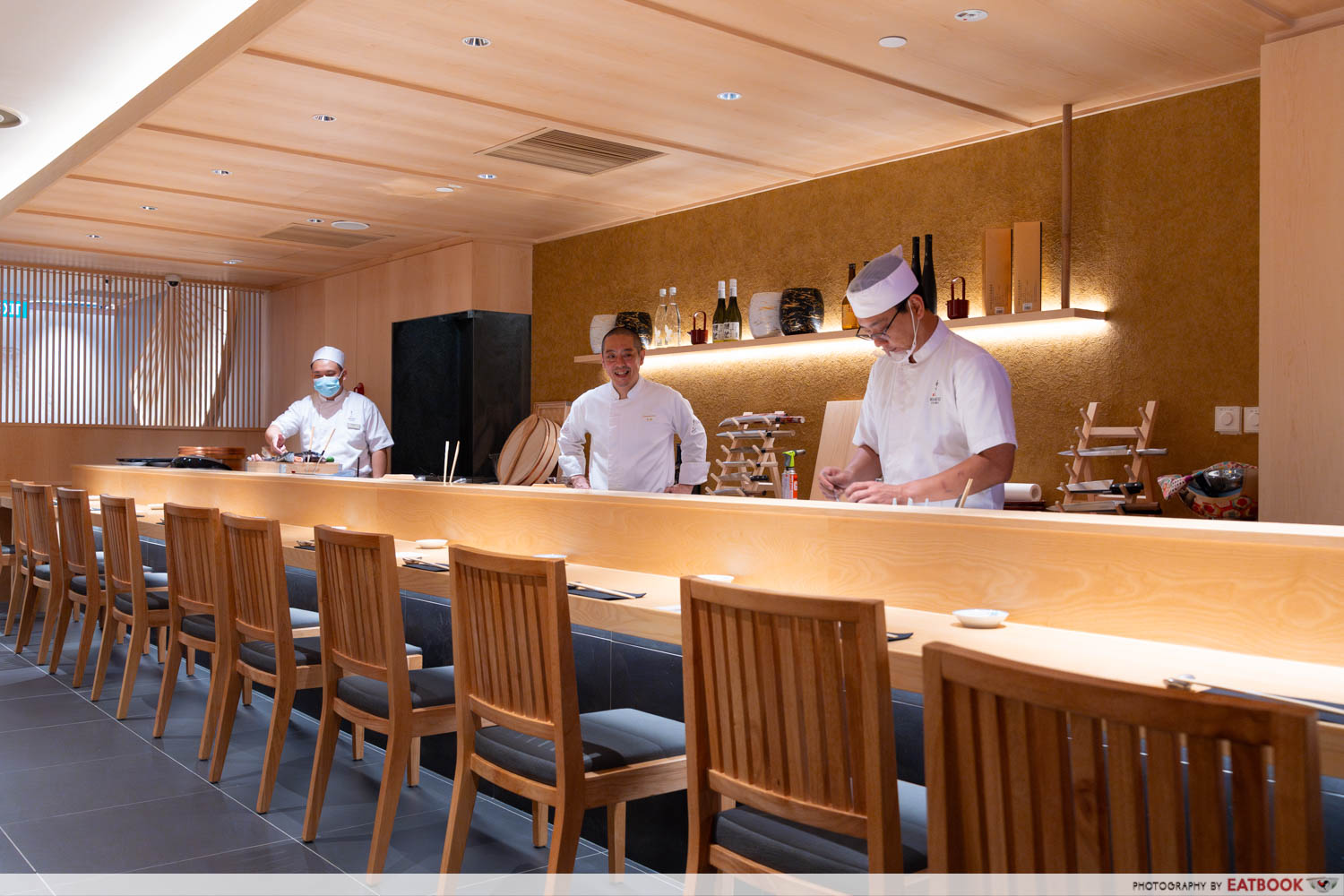 Haku Sushi is led by Chef Yamamoto Yoshiki, whose impressive culinary resume spans more than 35 years at sushi restaurants all over the world, including time at Michelin-starred Sushi Ginza Onodera, overseeing menu development.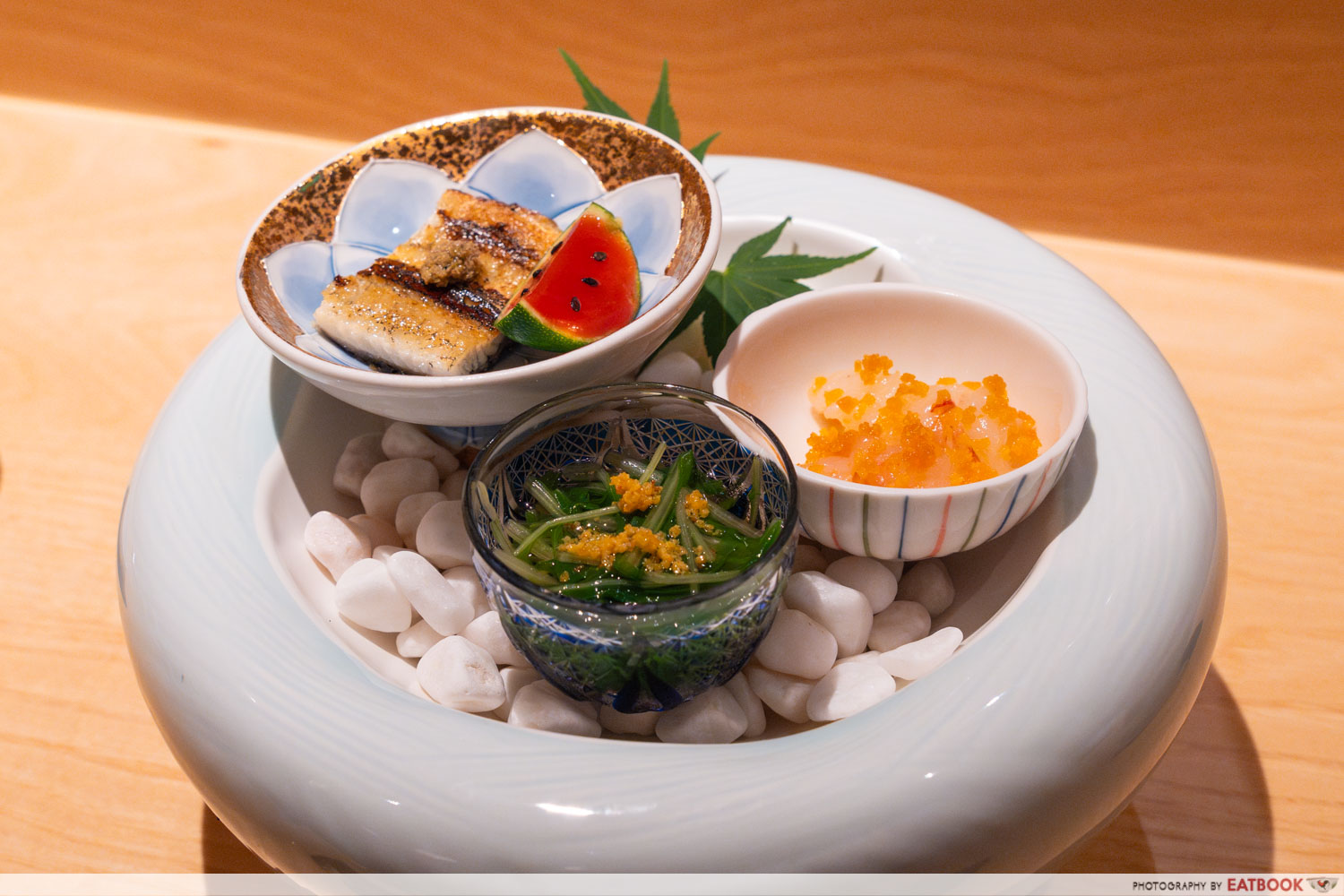 The lunch omakase, or Irodori menu, is priced at $68++, while Nishiki ($88++), which we tried, is only available at dinner. Both of these start with a course of Chef's Appetiser, a trio of Japanese Greens in Dashi, Red Shrimp with Dry Roe, and Unagi Shirayaki, or white-grilled eel—seasoned only with salt.
Also affordably priced is their Sake Pairing, priced at $48++. Otherwise, you might get a Sake Flight, which is just $15++ for three shots of sake.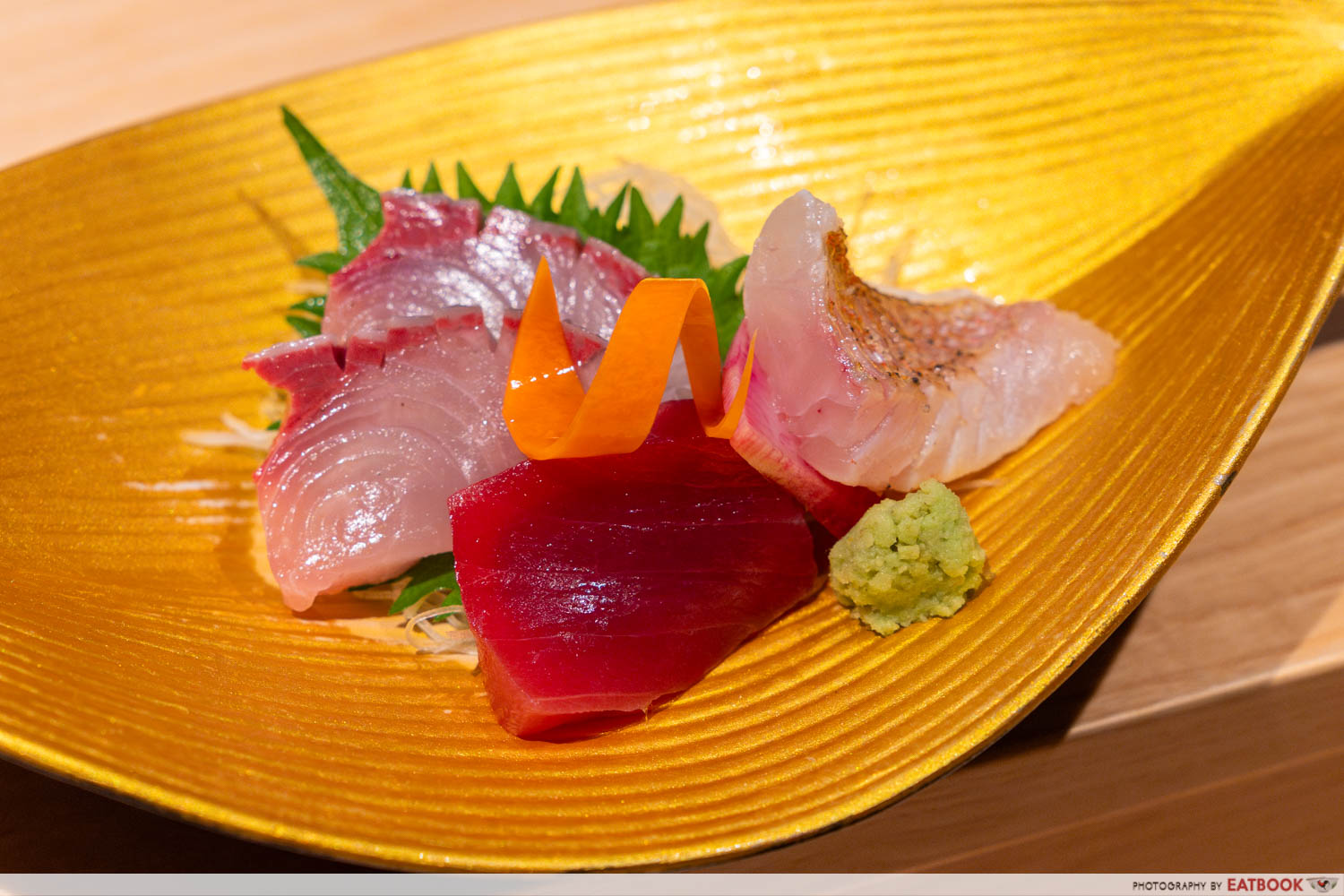 Like all Japanese restaurants worth their salt, Haku Sushi imports their seafood fresh from Japan several times a week. Instead of the more common Toyosu Market, their seafood hails from Osaka. On our Seasonal Sashimi plate, we were served Tai, Kanpachi, and Akami—sea bream, amberjack, and bluefin tuna respectively.
We also got to try Kaki, or Japanese oyster, dressed with ponzu jelly that balanced out the sweet creaminess of the large, meaty shellfish. You'll get this as a fourth sashimi item on this course; otherwise, you can add it to your lunch menu at $6++ a piece.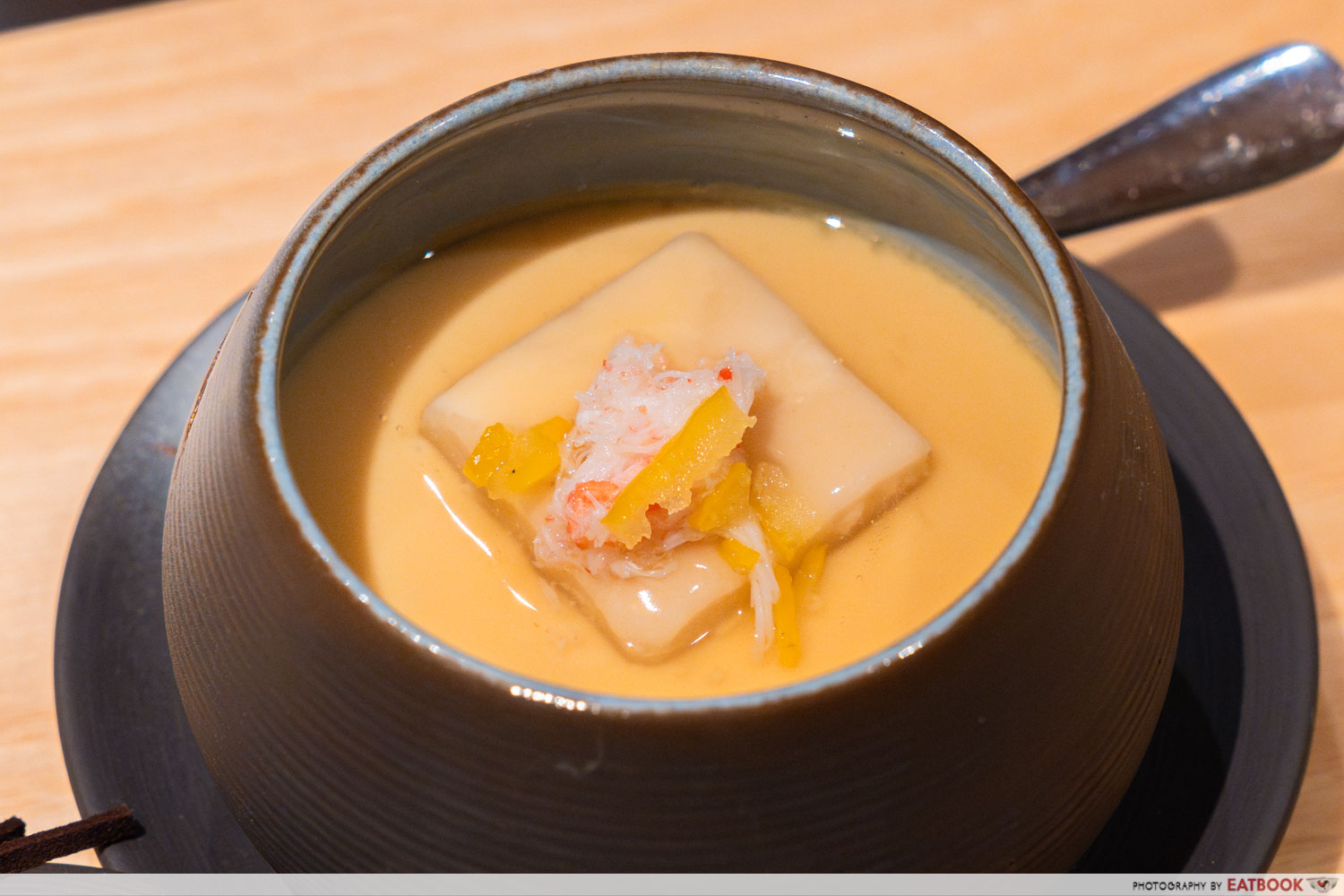 The next course is Chawanmushi, which is topped with seasonal seafood—in our case, snow crab. Slices of yuzu peel brightened each mouthful of the silken steamed egg, while house-made sesame tofu made for a nutty, creamy addition.
On the Irodori lunch menu, you'll be served five kinds of seasonal sashimi, but only three with Nishiki at dinner. These come with Akazu shari, or red vinegar shari, which lends the rice a very light, reddish hue, along with its characteristic umami flavour.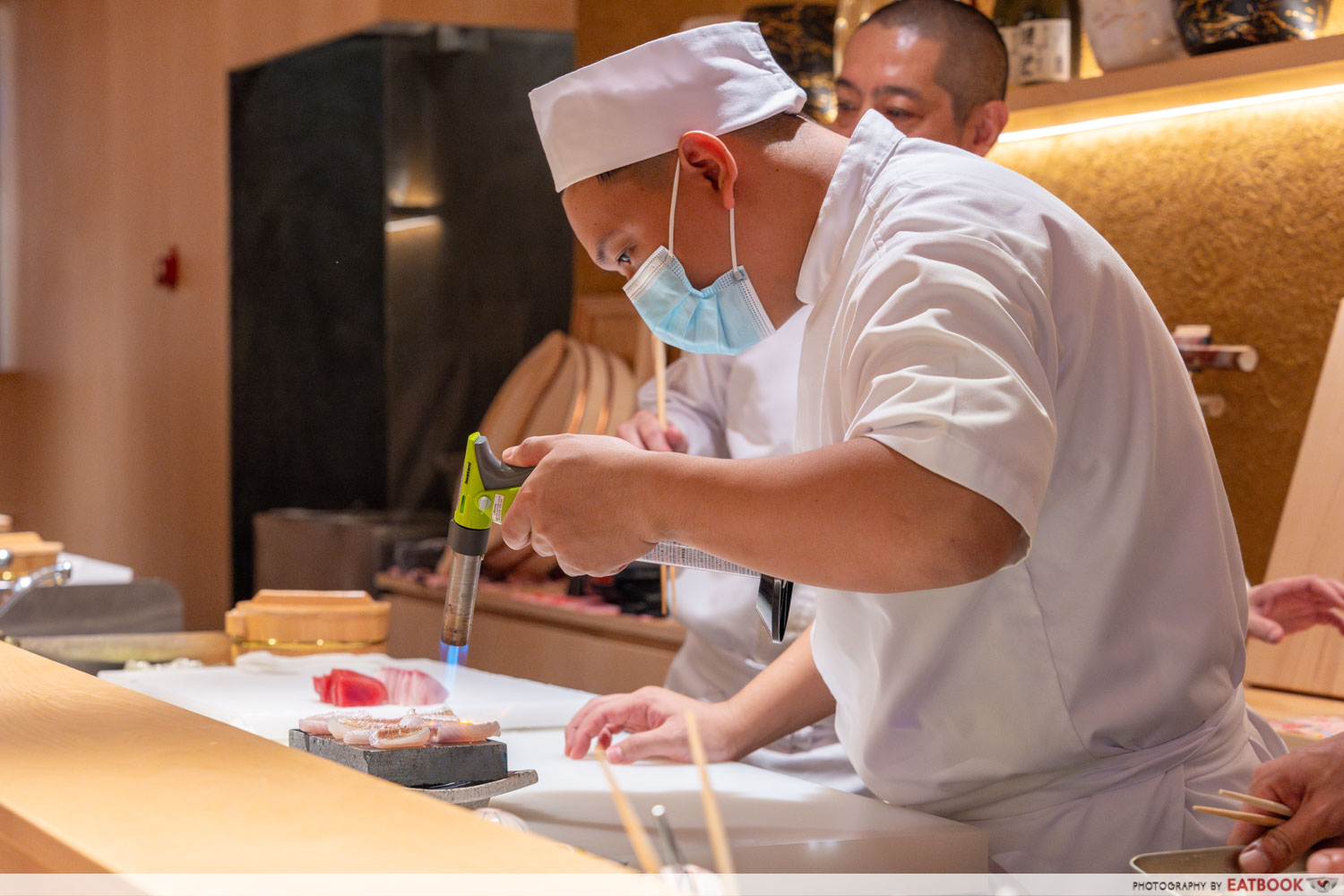 We started with Chutoro, or medium-fatty tuna, and Kanpachi, while our serve of Taichiuo, AKA beltfish, came lightly aburi-ed. Should you be craving tuna, Chuturo Nigiri ($10++) and Ootoro Nigiri ($12++) can be ordered too!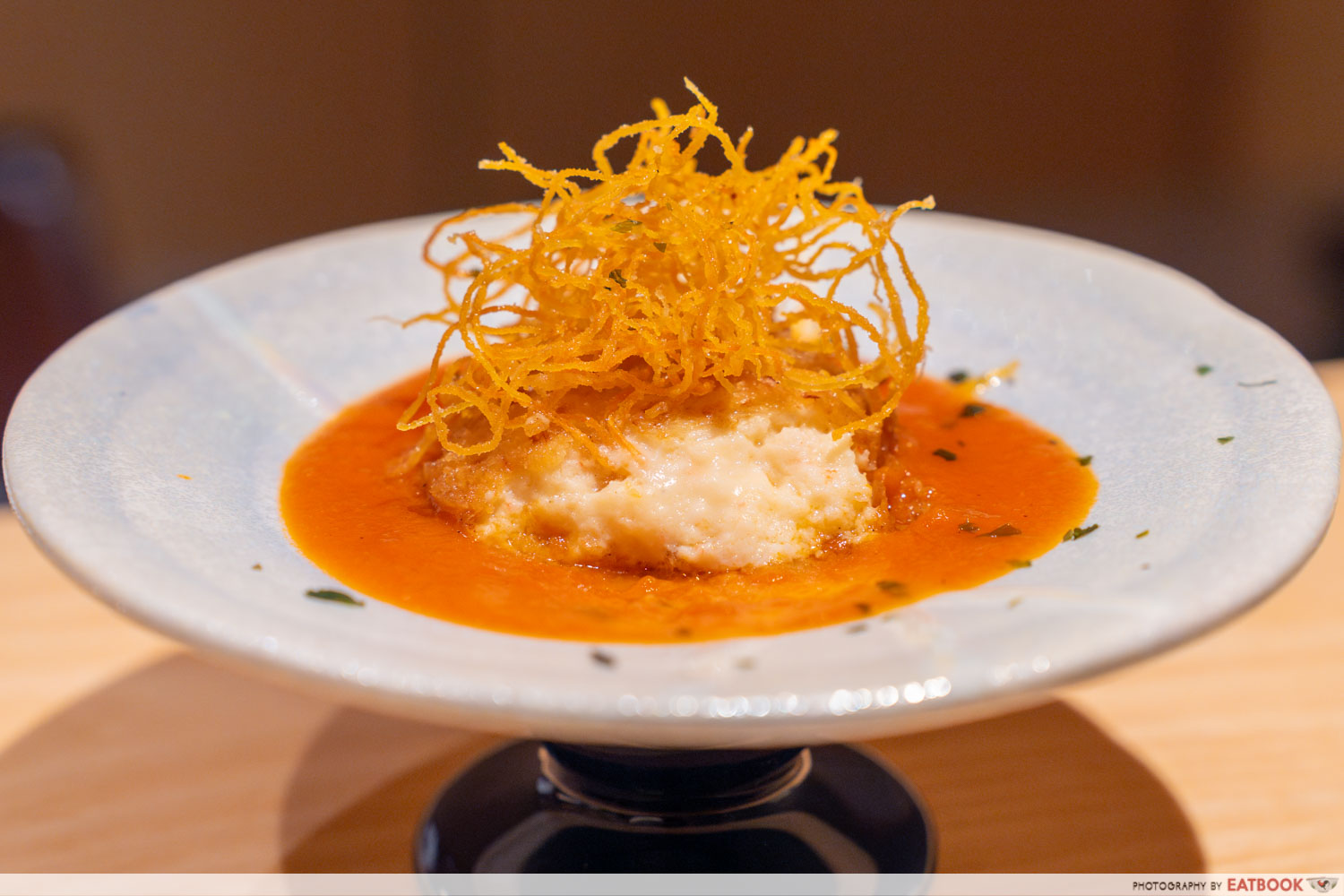 Next up is the Agemono course, which is not included on the lunch menu. Since snow crab was in season, it was transformed into a cream croquette that sat in a tart tomato-based sauce—a nice counter to the rich cream centre.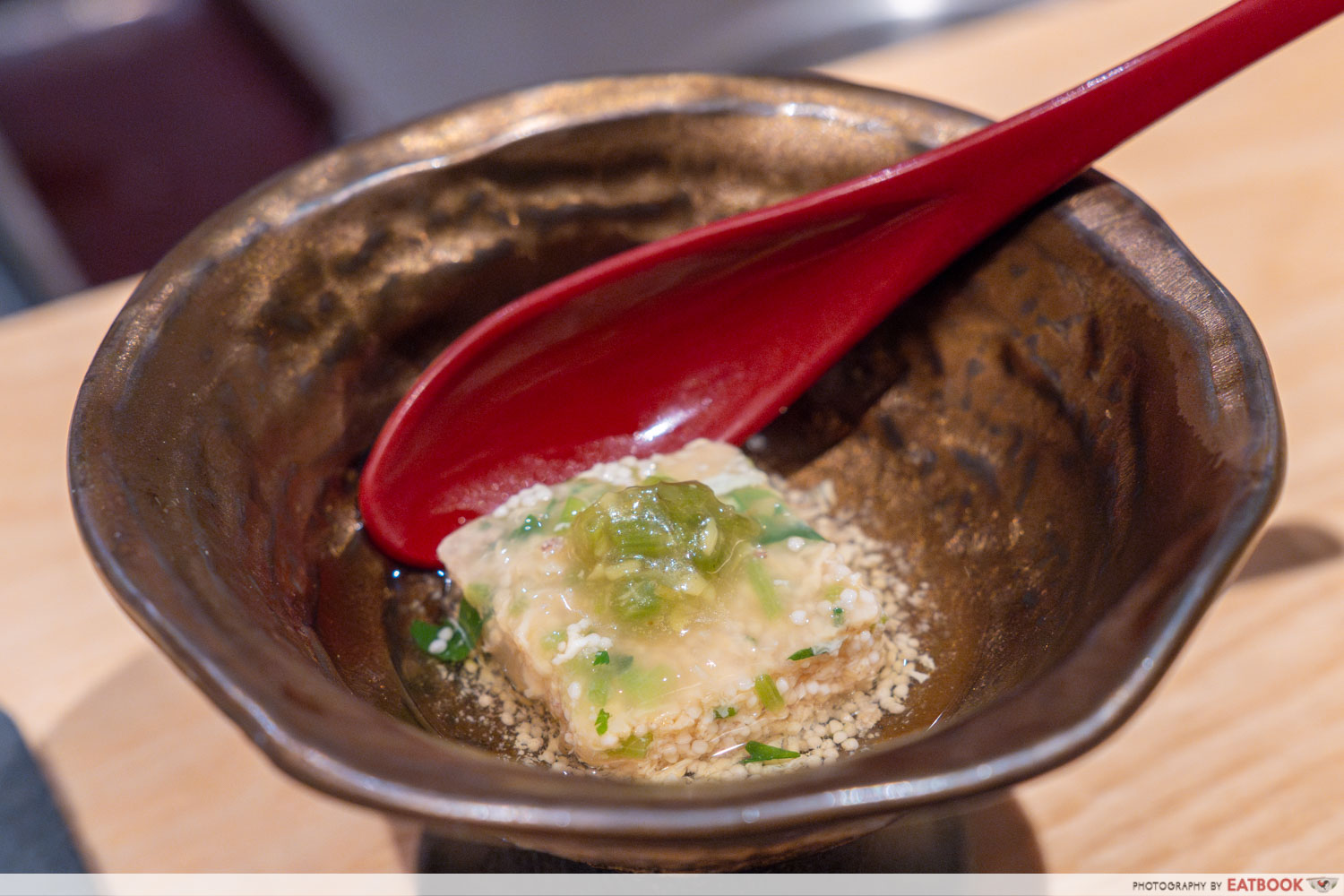 If you're having lunch at Haku Sushi, you'll be served your Hashiyasume palate cleanser course after the chawanmushi, before the seasonal sushi. At dinner, it comes after the decadent deep-fried dish. 箸休め, the Japanese writing for hashiyasume, literally translates as 'chopsticks rest': in other words, to rest your chopsticks between courses. The jellied broth of eggplant and lady's finger, with its light hint of wasabi, definitely did its job.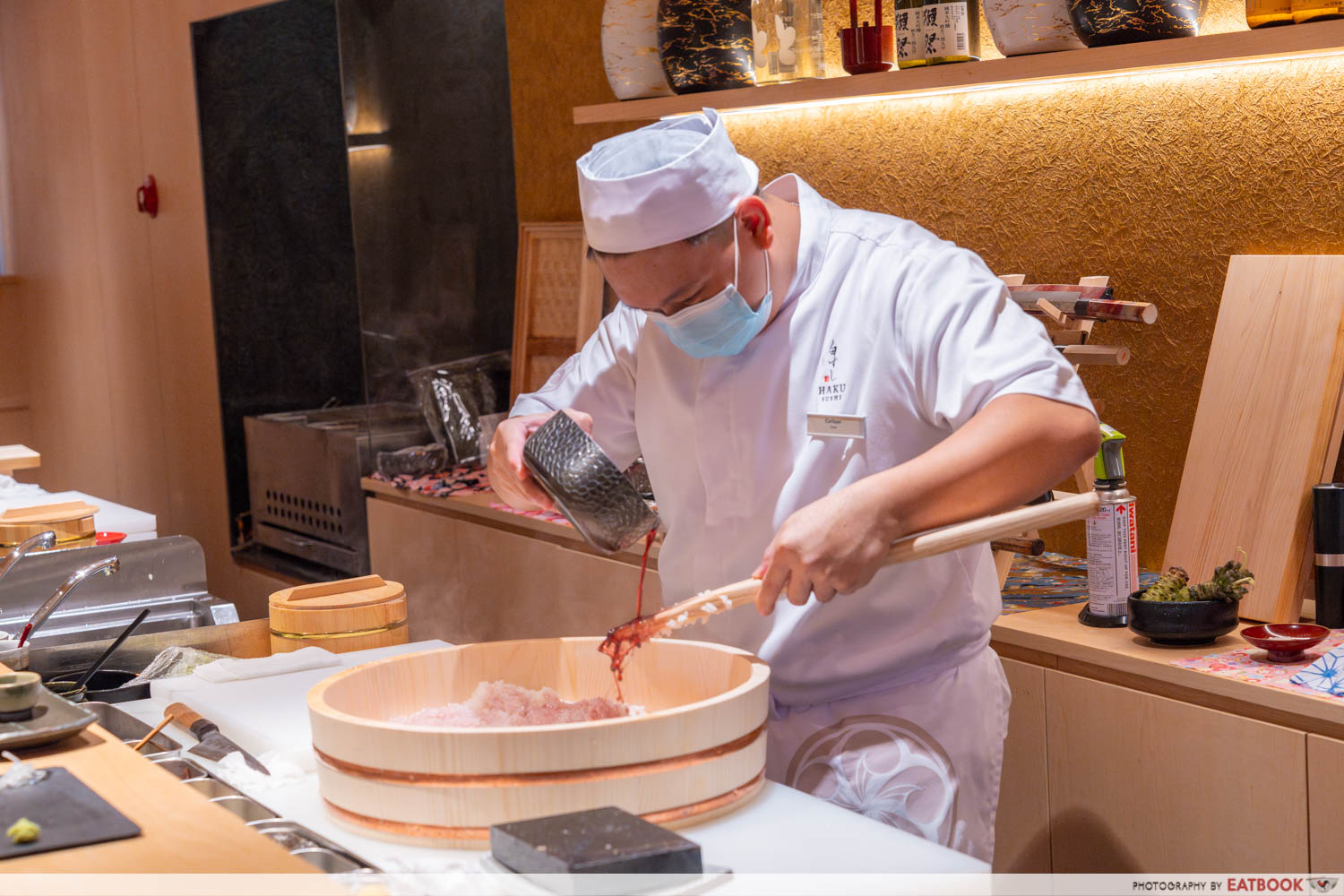 Unique to the dinner menu and Haku Sushi is Chef Yamamoto's signature red wine shari, which sports a darker, maroon tinge. Its smell and taste are faintly reminiscent of grape-flavoured Hi-Chew, which might throw some diners off, but works exceedingly well with the seafood that he pairs it with.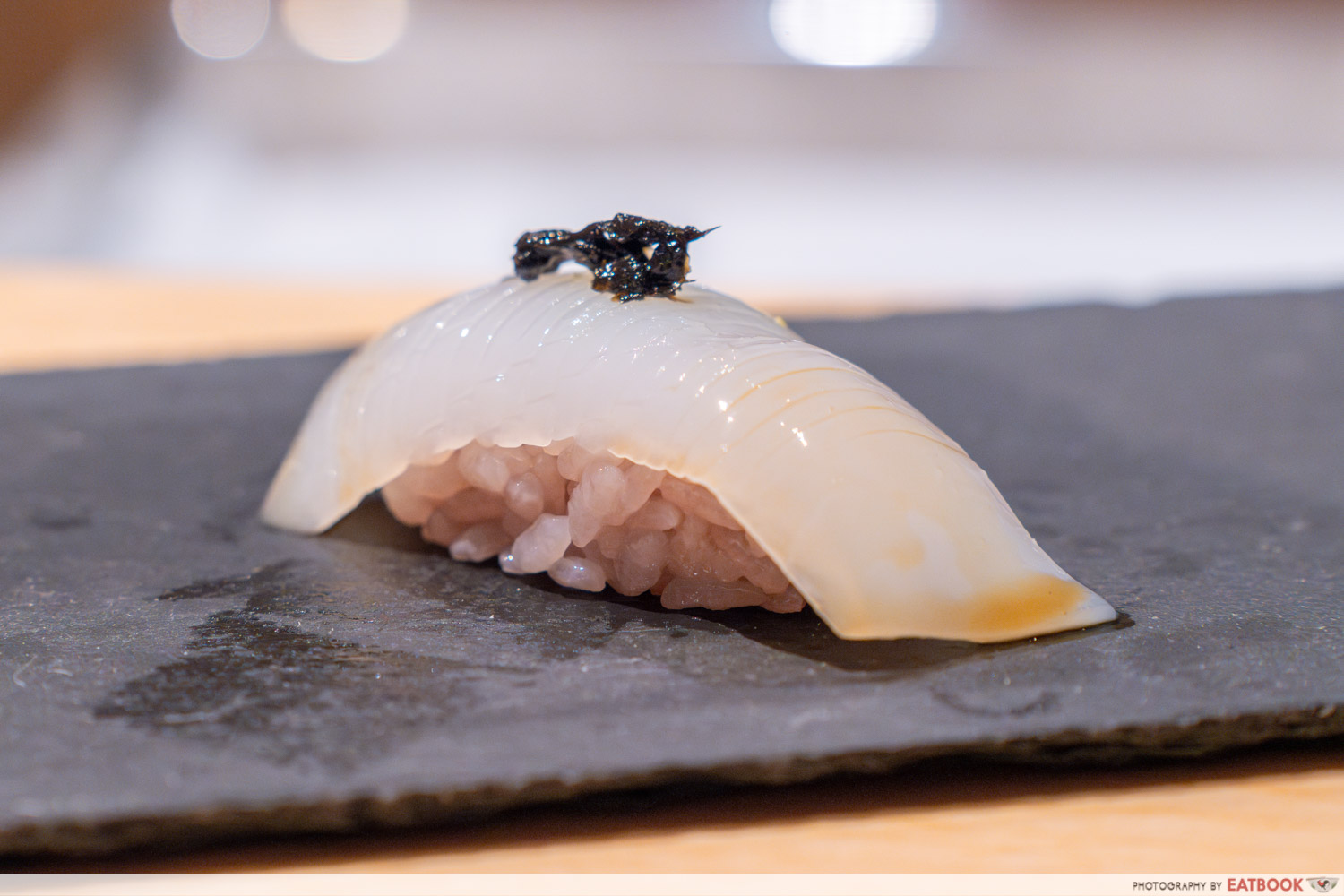 On this, his Tokusen Sushi course, Chef served us Tai, Yari Ika, AKA spear squid, and Ikura.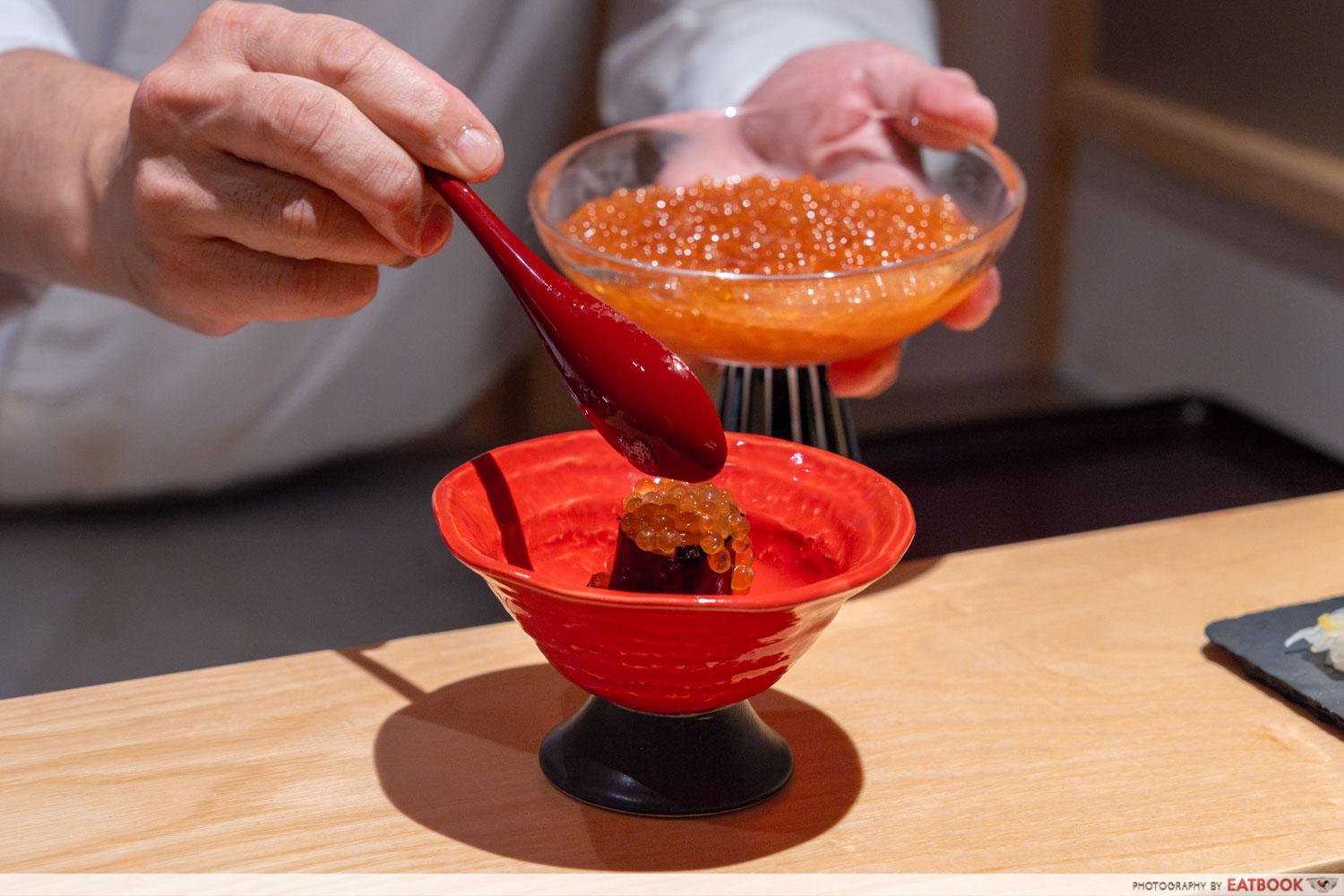 If you're a fan of ikura, or salmon roe, you'll be happy to know that not one of those briny pearls will go to waste, since this gunkan comes in a bowl with the ikura ladled over to serve.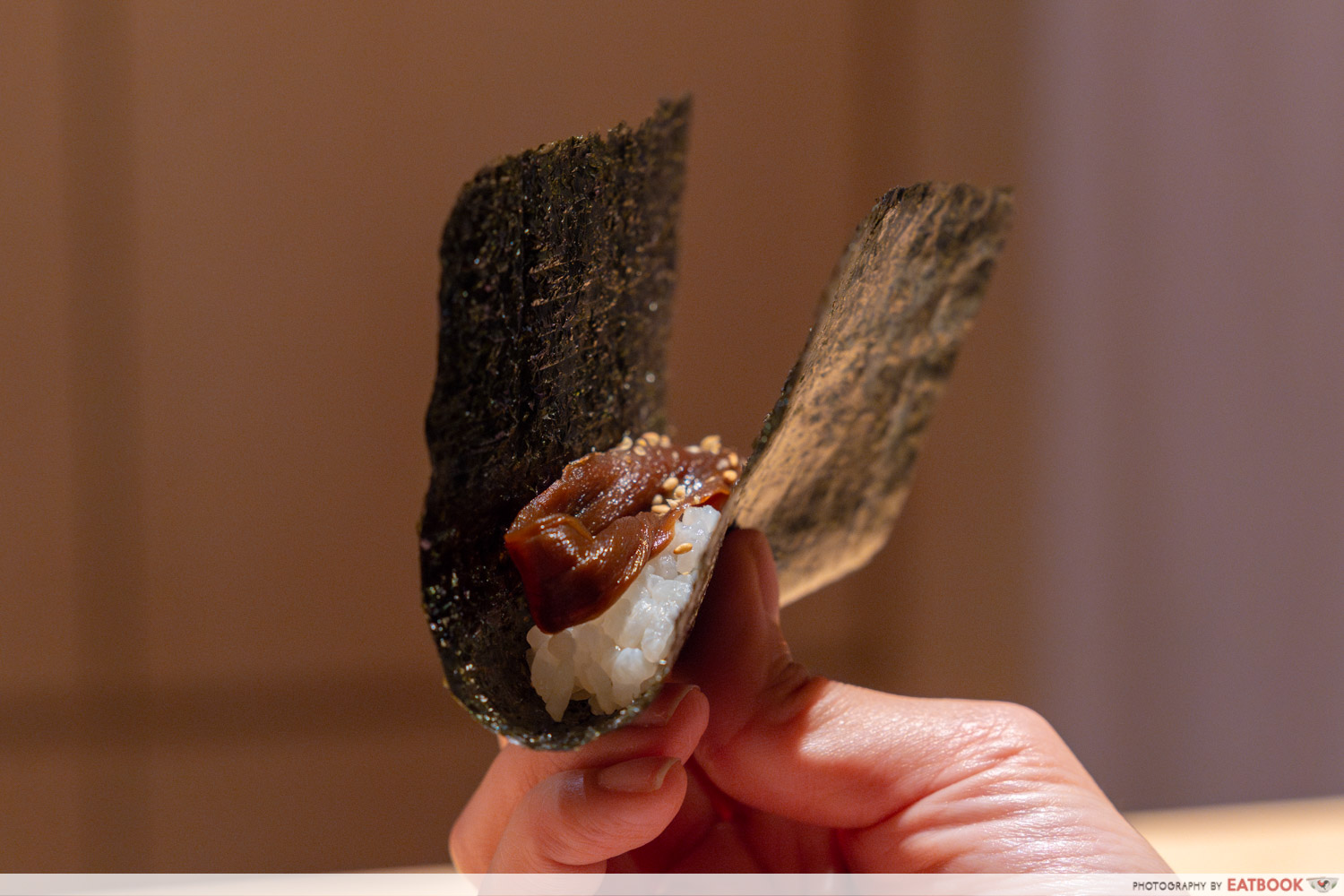 The Handroll course that is included on both lunch and dinner menus stars Kanpyo, or gourd shavings. This wraps up the majority of the meal, though you could also opt for more add-ons.
Fairly reasonably priced is the Uni Negitoro Handroll (+$15++), loaded with fatty minced tuna and lobes of uni. It's absolutely worth the extra expense.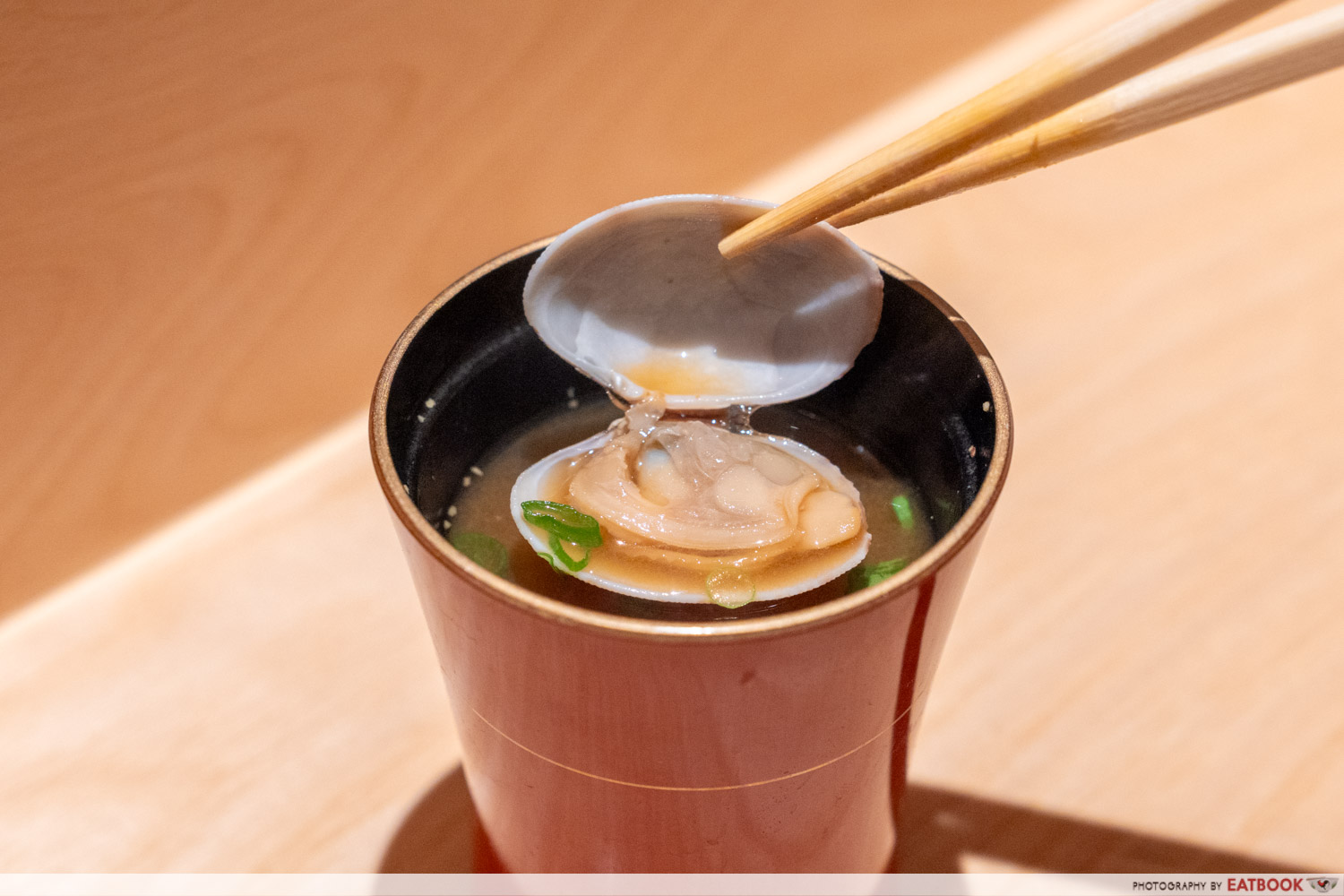 With that, we ended with the Soup course, where we were served Asari Clam Red Miso Soup. We were surprised when we found large clams within, rather than the puny ones we had expected.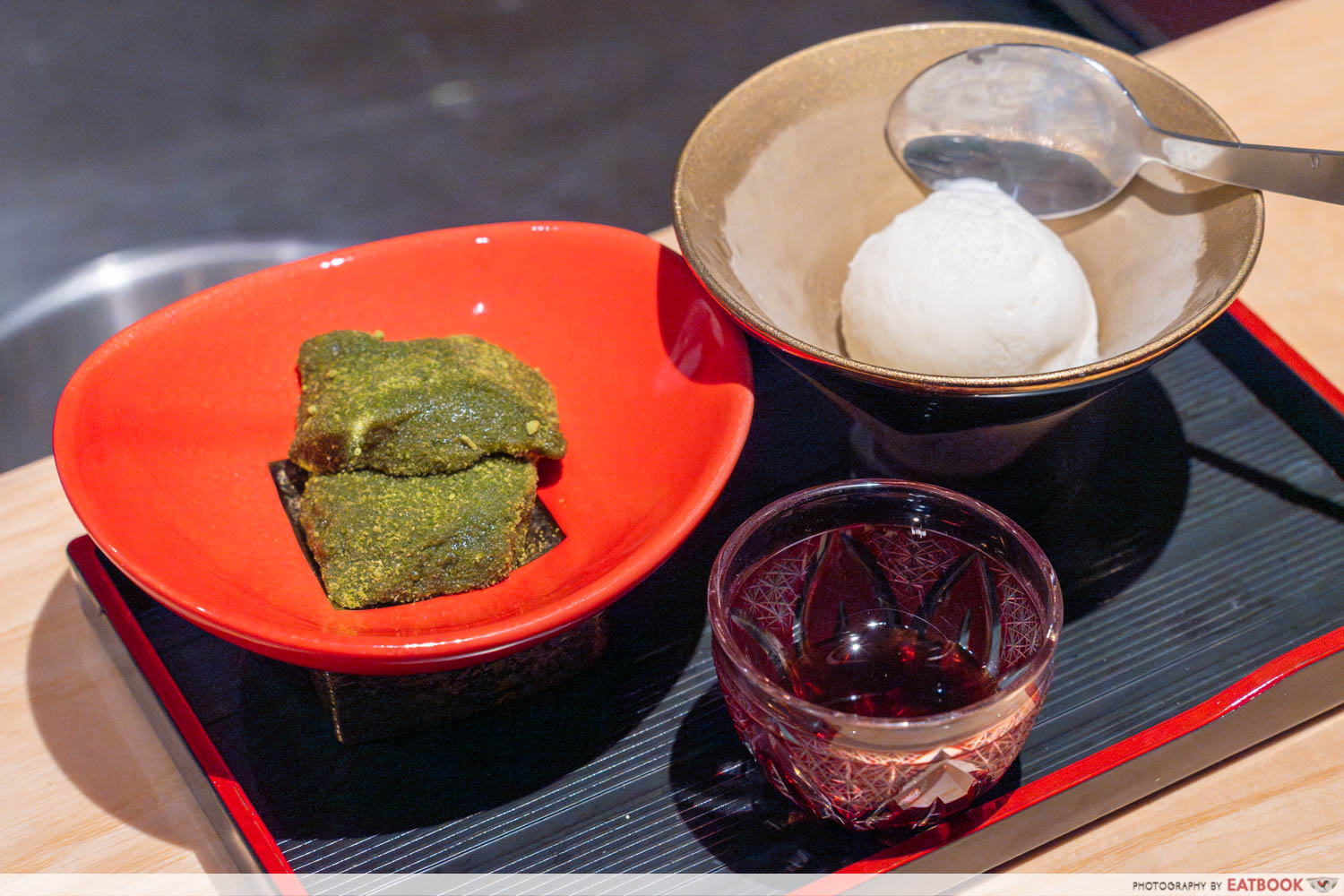 The Chef's Dessert to round up the meal is a duo of house-made matcha warabi mochi with ice cream.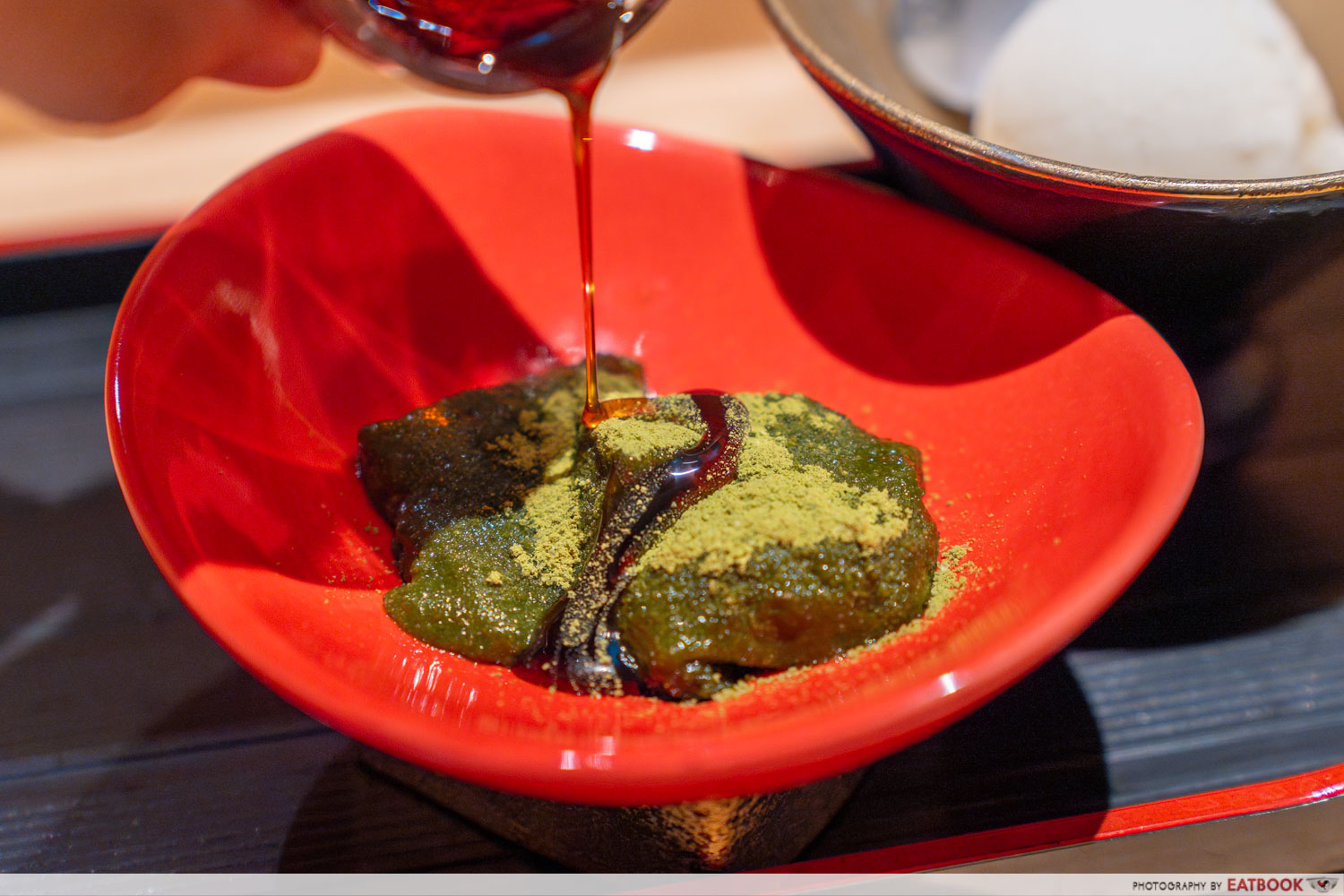 It is paired with kuromitsu, AKA Japanese brown sugar syrup, which added a nice caramel sweetness to the bitter notes of matcha in the mochi.
For more affordable omakase options, check out G-Izakaya at Golden Mile Tower, or NOKA by Tippling Club on the seventh floor of Funan!
Address: 1 Kim Seng Promenade, #B1-134, Great World, Singapore 237994
Opening hours: Daily 11:30am to 3pm, 5:30pm to 10pm
Tel: 6235 1645
Website
Haku Sushi is not a halal-certified eatery
NOKA By Tippling Club Has $80++ Lunch Omakase With Snow Crab, Black Cod Miso And More
Photos taken by Melvin Mak.
This was a media tasting at Haku Sushi.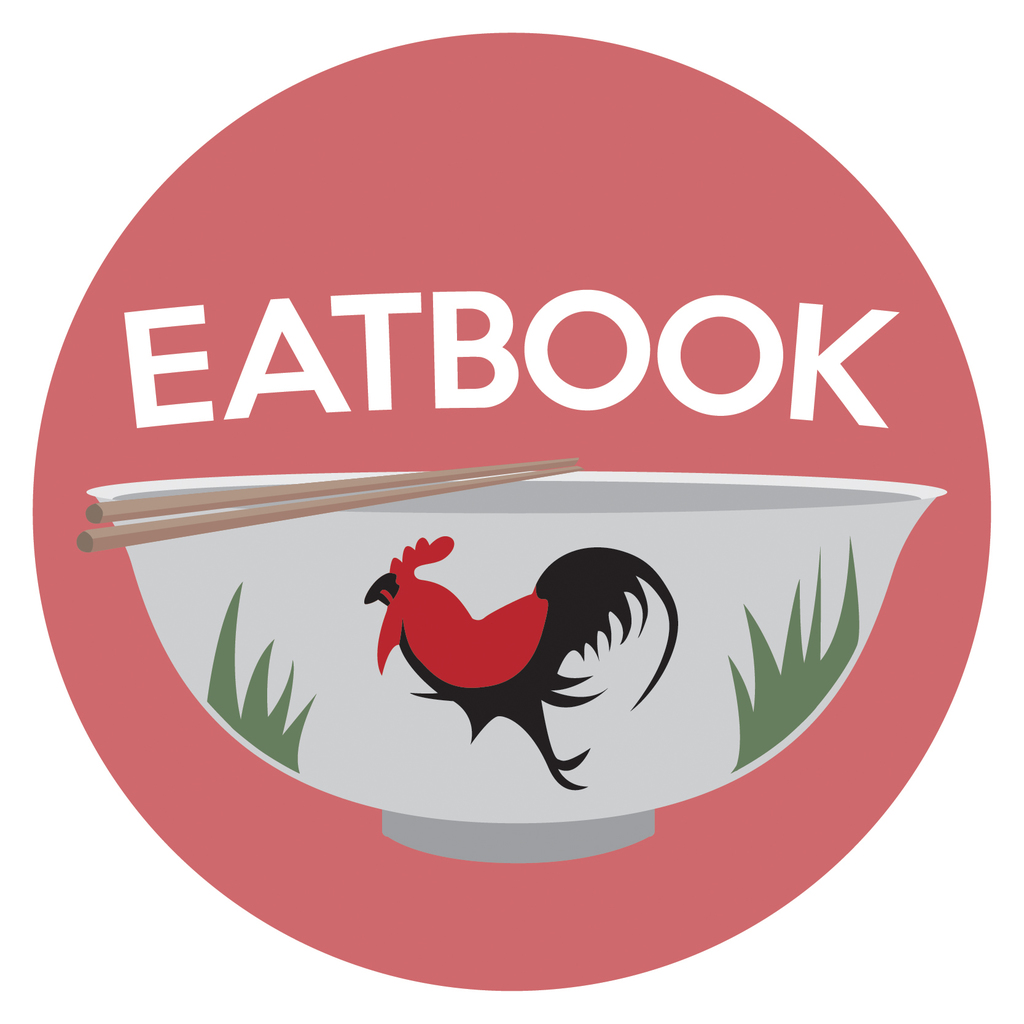 Drop us your email so you won't miss the latest news.