---
Dine at these halal buffets!
---
While the end of the year signifies the anticipation of a well-deserved holiday, it also calls for reunions and team gatherings to celebrate the festive season. For all the fun that comes to mind when we think of these social gatherings, an inevitable struggle lies in choosing a venue that is group-friendly. Working with a huge team of foodies who goes for team dinners every month, I know the pain. So in this list, we have found nine places serving affordable halal buffets, from international cuisines to delicious Indonesian food!
---
1. The Rice Table
---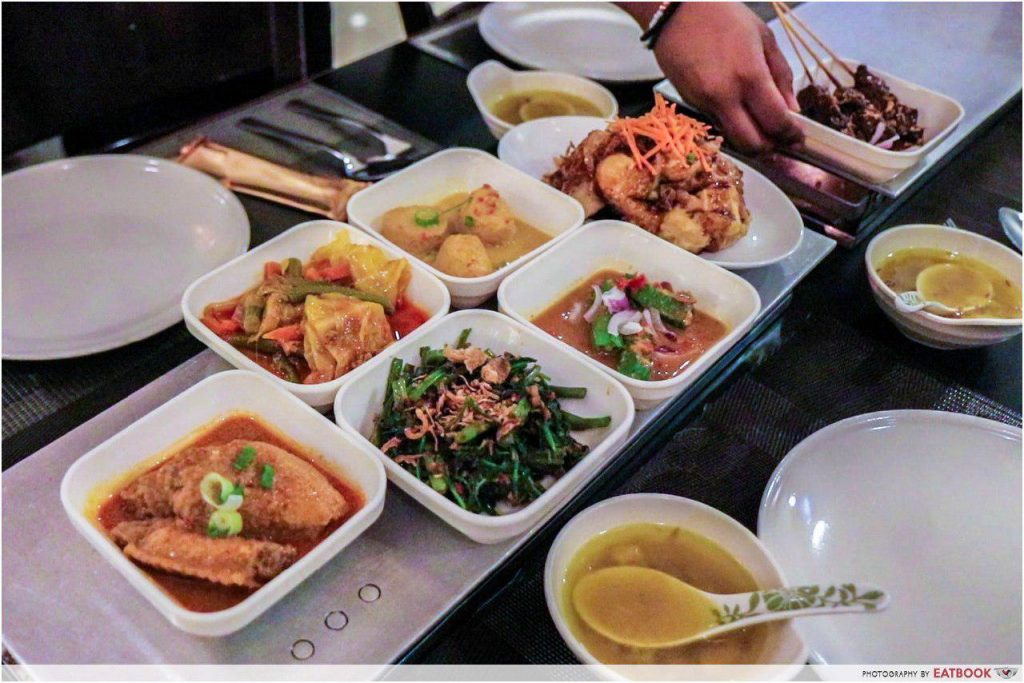 If you think having a good all-you-can-eat meal at Orchard at less than $20 is impossible, you are wrong. At International Building, you can find The Rice Table, a restaurant that has been serving Dutch-Indonesian cuisine for over 20 years. At $18.95, you can get their All-You-Can-Eat Rice Table Lunch that comes with unlimited top-ups of 14 different Indonesian dishes. The 14-course buffet includes vegetables, meat dishes, and a soup. Some of our favourite dishes were their Ikan Goreng, Sate Ayam, and Tahu Telor.
Their 20-Course Dinner Buffet ($29.55), which starts at 6pm, includes additional dishes such as Sambal Udang, Sotong Asam, and Perkedel Jagung!
Check out our full review of The Rice Table!
Address: 360 Orchard Road, #02-09/10, International Building, Singapore 238869
Opening hours: Daily 12pm to 3pm (last order at 2:15pm), 6pm to 10pm (last order at 9:15pm)
Tel: 6835 3782
Buffet prices: $18.95 (lunch), $29.55 (dinner)
Website
*According to their menu, The Rice Table uses halal ingredients but the restaurant is not halal-certified as they serve alcohol.
---
2. Aroma Kampung 
---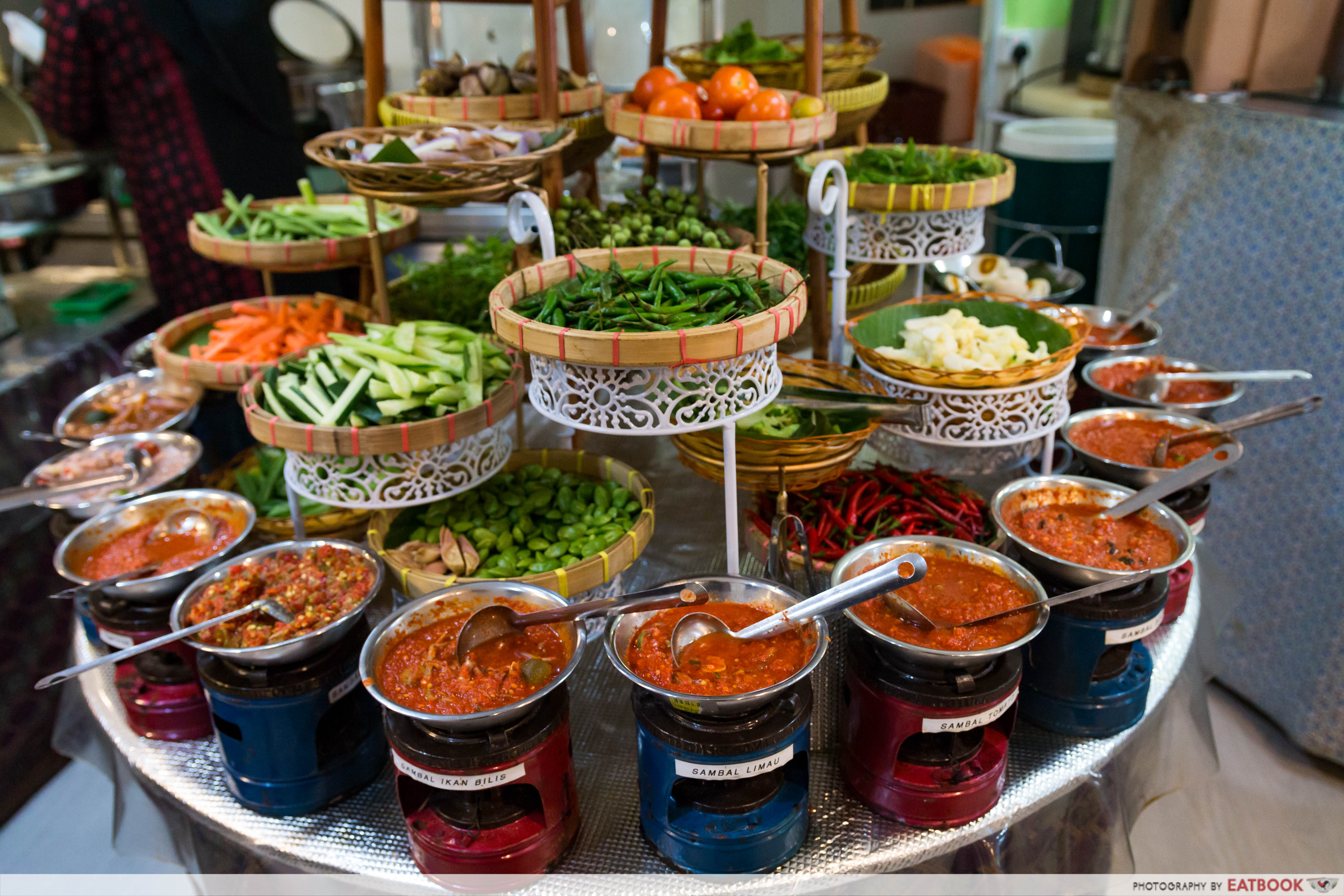 If you are one who loves spicy food, especially sambal, Aroma Kampung is your heaven. This Muslim-owned eatery specialises in nasi padang buffet, with more than 40 dishes and 12 types of sambal, namely kosong, kecap, petai, ikan bilis, limau, belimbing, budu, mangga, tempoyak, selasih, tomato, and cincalok.
Out of the 40 dishes, some of the must-haves here are Deep-Fried Chicken Skin, Ayam Lemak Chilli Padi, and Siput Sedut Lemak Chilli Padi – snail flesh cooked in chilli padi gravy. Of course, a nasi padang is not one without the nasi. At Aroma Kampung, you can get two types of rice: white rice and nasi kerabu, which is stained blue with butterfly pea flowers.
Aroma Kampung Review: Nasi Padang Buffet With Over 40 Dishes And 12 Types Of Sambal
Address: 2 Joo Chiat Complex, #03-1111, Singapore 420002
Opening hours: Daily 9am to 7pm
Tel: 8750 0089
Buffet prices: $25.90 (Mon-Thur), $27.90 (Fri-Sun)
Website
Aroma Kampung is a Muslim-owned eatery.
---
3. Sakura International Buffet Restaurant 
---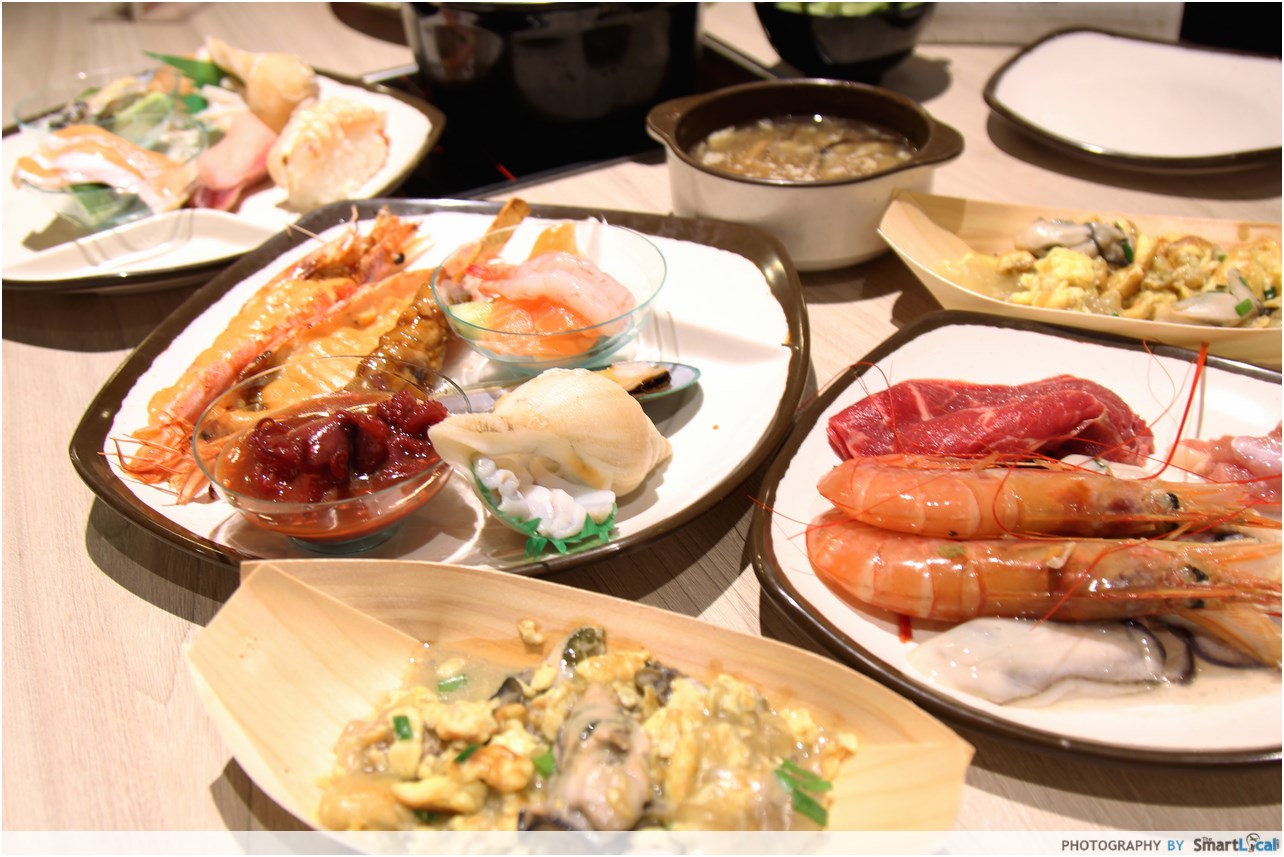 If there is anything better than Portuguese Bird Nest Egg Tart, Hiroshima Oyster Omelette, and Signature Boston Lobster & Argentine Red Prawn Hokkien Mee, it would be having unlimited portions of them. At Sakura International Buffet Restaurant, that is exactly what you can get.
Starting at $24.80++ for a weekday lunch, you can also expect a huge variety of dim sum, Thai food, and sushi. Although it's hard to resist, try to leave a little space in your stomach for their desserts like Bu Bu Char Char, Lava Cake With Haagen-Dazs Belgian Chocolate Ice-Cream and Dark And White Chocolate Mousse!
Address: 1 Pasir Ris Close, #02-302/305, Downtown East, Singapore 519599
Opening hours: Mon-Fri 12pm to 3pm, 6pm to 10pm, Sat-Sun 11:30am to 3:30m, 5:30pm to 10pm
Tel: 6754 8197
Buffet prices: $24.8++ (Mon-Fri lunch), $34.80++ (Sat-Sun lunch), $38.80++ (Mon-Thur dinner), $44.8++ (Fri-Sun dinner)
Website | Full list of outlets
Sakura International Buffet Restaurant is a halal-certified eatery.
---
4. Jin Shang Yi Pin Buffet Hot Pot
---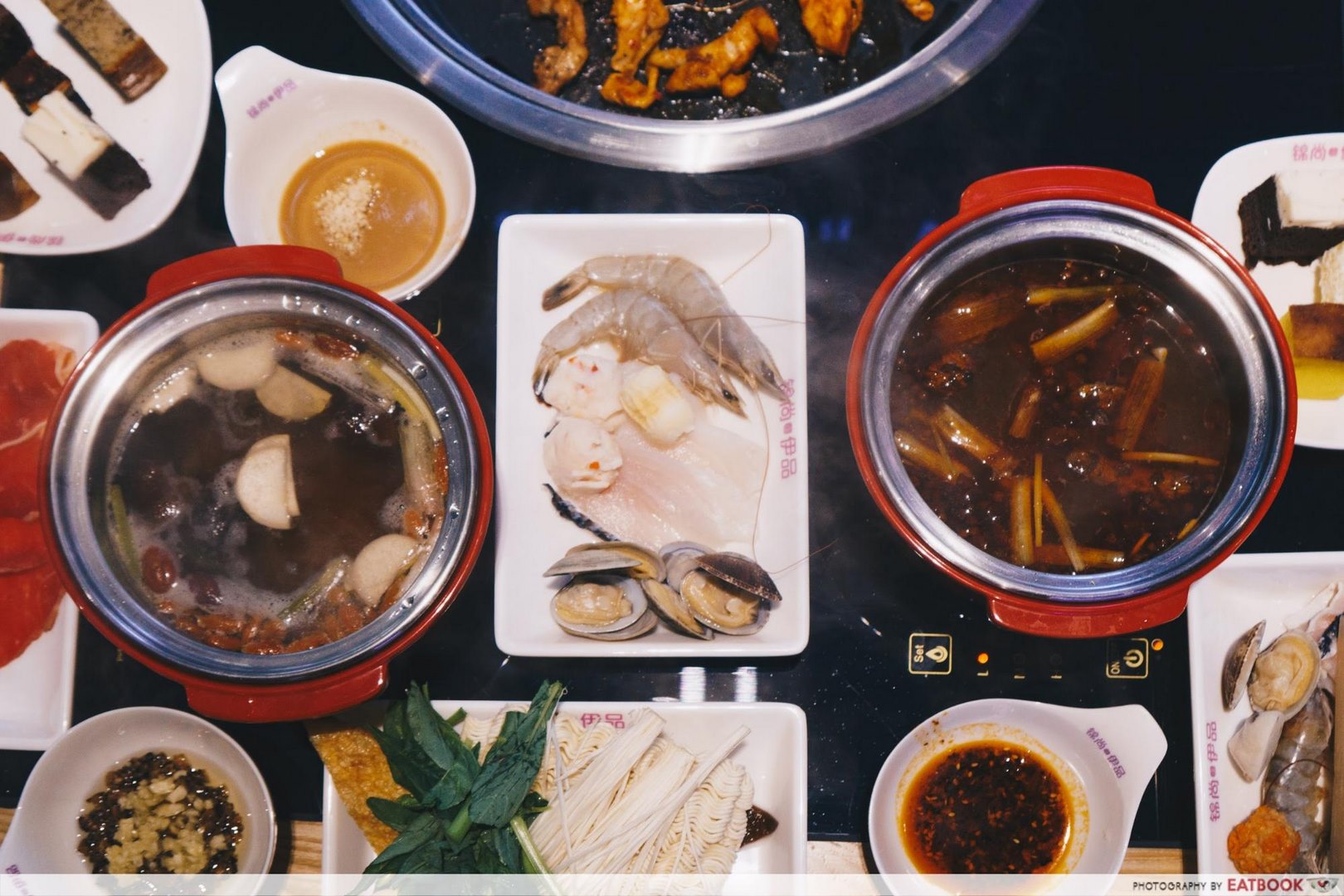 Owned by Muslims who hail from China, Jin Shang Yi Pin Buffet Hot Pot is as authentic as a halal Chinese hotpot restaurant in Singapore could ever get. The buffet is priced at $35++ for adults and $22++ for children, and includes a pot for each diner, as well as unlimited meats, veggies, drinks, rice and desserts. For an additional $4.90++, there's also the option of a barbecue grill.
Fans of all things spicy should definitely get the mala broth that's loaded with peppercorns, giving you a lip-numbing sensation. The restaurant also has a dessert corner and a sauce station with over 10 options from creamy peanut sauce to savoury mushroom sauce. Best part is, there's no time limit so feel free to indulge to your heart's content.
Jin Shang Yi Pin Buffet Hot Pot Review: Halal Steamboat Buffet With Free-Flow Meats And Desserts
Address: 3 Simei Street 6, #01-20, Eastpoint Mall, Singapore 528833
Opening hours: Daily 11am to 3pm, 4pm to 10pm
Tel: 6909 7355
Jin Shang Yi Pin Buffet Hot Pot is Muslim-owned.
---
5. Chickata
---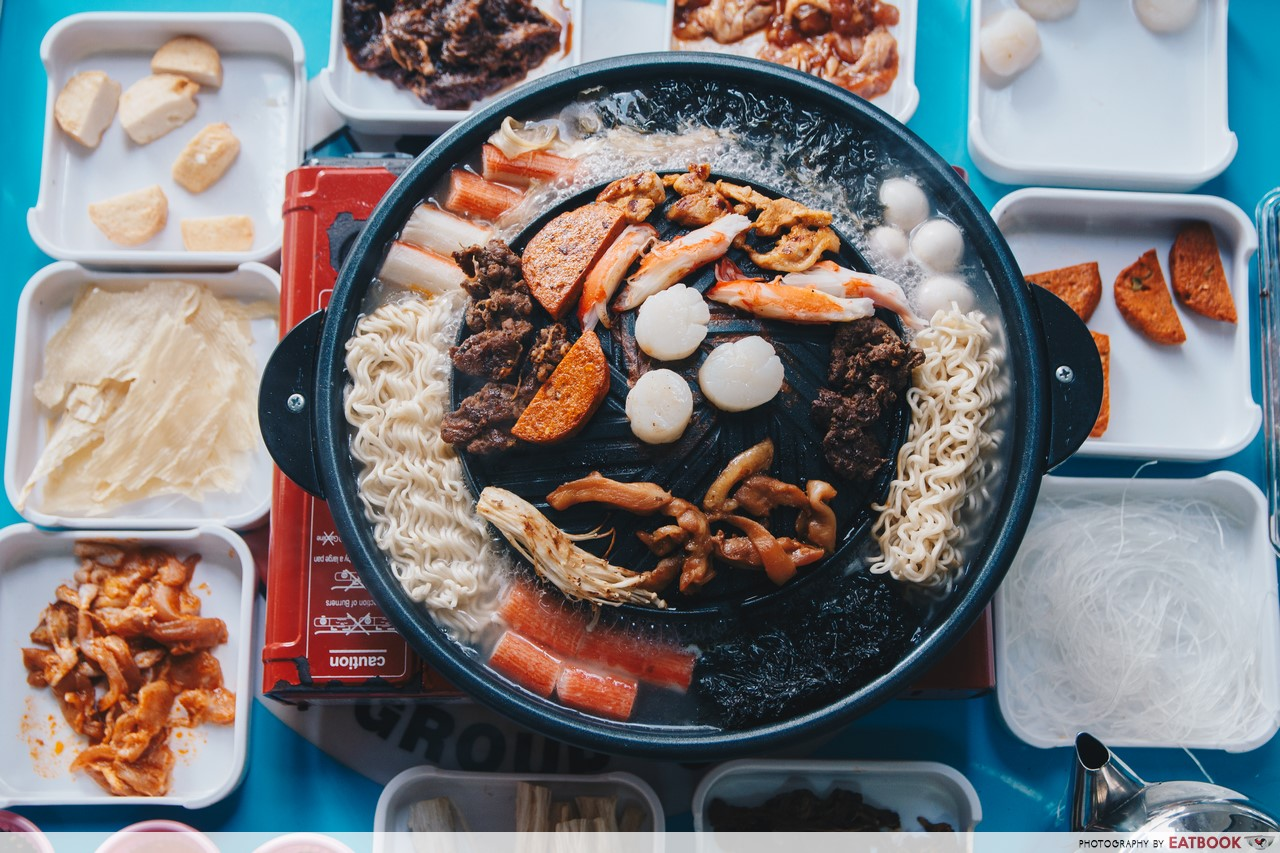 Westies can now enjoy halal-certified mookata at a spot in Jurong East called Chickata! Their 90-minute a la carte buffet ($18.80 for adults, $9 for children aged 7 to 12) is only available every Monday to Thursday, 3pm to 11pm, and includes a spread of meats, seafood, veggies, and staples.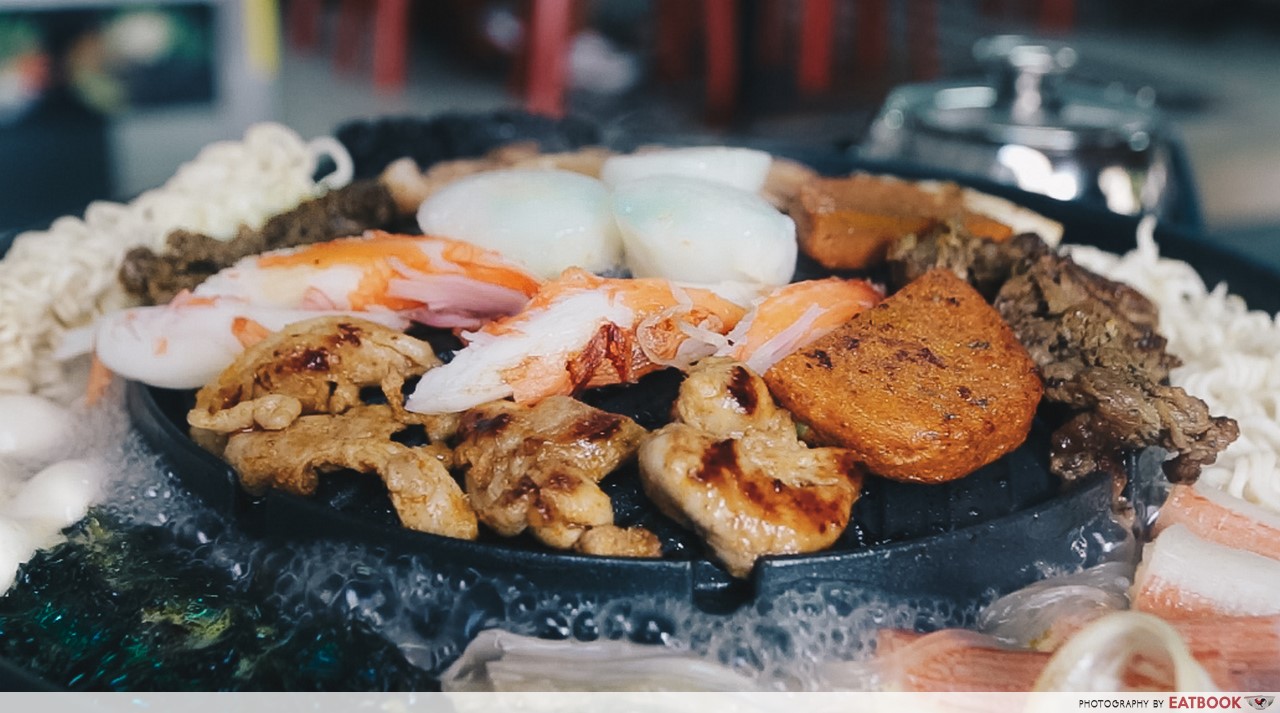 Recommended dishes include tom yum chicken, teriyaki chicken, black pepper beef, and black pepper lamb which all came in huge portions. The tom yum chicken absorbed the spicy and sour marinade well, and retained its juiciness and tenderness despite being grilled for a while.  If you're not in the mood for mookata, they also have Western food platters you can enjoy with your family or friends.
Chickata Review: Halal-Certified Mookata Buffet At $18.80 Nett At Jurong East
Address: Blk 326 Jurong East Street 31, #01-118, Singapore 600326
Opening hours: Mon-Fri 3pm to 11pm, Sat-Sun 11am to 11pm
Tel: 8440 4938
Website
Chickata is a halal-certified eatery.
---
6. The Landmark
---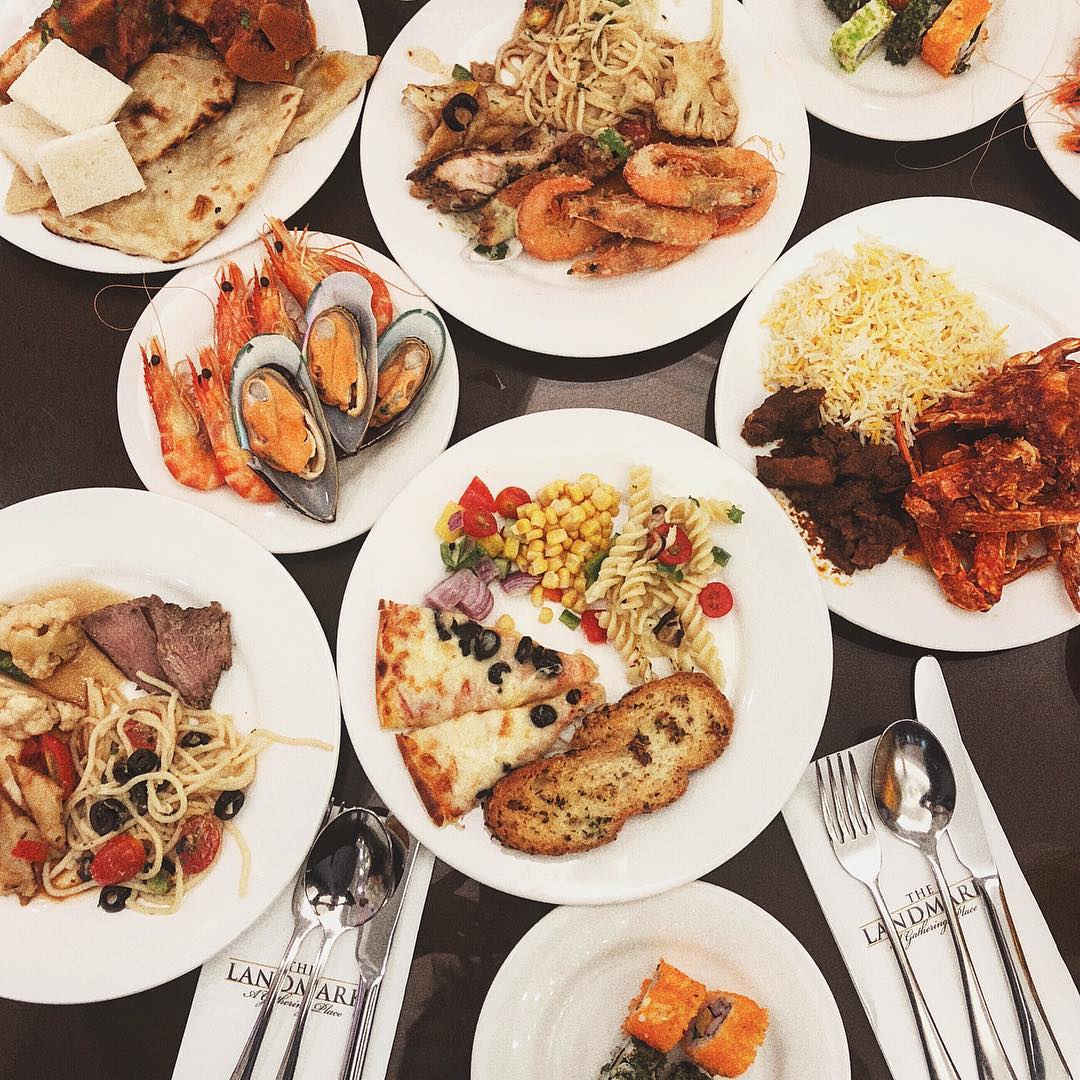 Image credit: @drrickjl
Located a short walk away from Bugis Junction, The Landmark is one of the largest halal-certified buffet restaurants in Singapore that offers Western, Mediterranean, Northern Indian, and Asian cuisines.
At $25++, the variety and quality of food that you can expect at their lunch buffet is almost too good to be true. For seafood lovers, you will be thrilled to know that they serve crabs, Spanish green mussels, and scallops every day! Some other interesting dishes that you can also find at the restaurant are Stuffed Grilled Chicken with Rosemary Sauce, Fish Head Curry, and Assorted Naan & Tandoori Chicken!
Address: 390 Victoria Street, #05-01, Village Hotel Bugis, Singapore 188061
Opening hours: Daily 12pm to 10pm
Tel: 6299 7786
Buffet prices: $25++ (Daily lunch), $30++ (Mon-Thur dinner), $35++ (Fri-Sun dinner)
Website
Menus
The Landmark is a halal-certified eatery.
---
7. Kublai Khan Mongolian BBQ 
---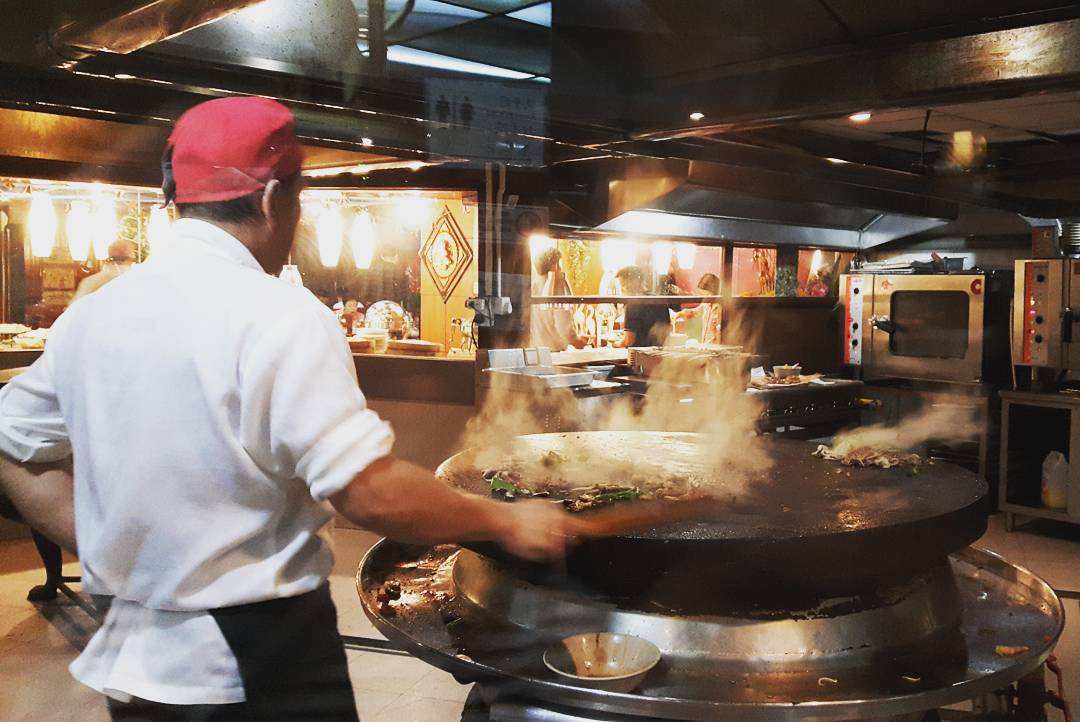 Image credit: @cloudy.day
Overlooking the Singapore River, Kubai Khan Mongolian BBQ is a buffet restaurant located on the second level of Clarke Quay Central. The highlight of this restaurant is the gigantic barbeque pit that their chef uses to cook meat. Prepared in Mongolian style, a variety of meats such as chicken, lamb, and beef are barbequed on the spot.
Besides Mongolian barbequed meat, the restaurant also offers Japanese cuisine with sushi and sashimi selections, Chinese cuisine, and a wide variety of desserts. Some of their most popular finger food that you can expect include Mongolian Mushroom Balls, Breaded Salted Egg Squid, and Vietnamese Spring Rolls!
Address: 6 Eu Tong Sen Street, #02-01, Clarke Quay Central, Singapore 059817
Opening hours: Daily 11:30am to 3pm, 6pm to 10pm
Tel: 6334 4888
Buffet prices: $18++ (Mon-Thur lunch), $20++ (Fri-Sun lunch), $29++ (Mon-Thur dinner), $30.80++ (Fri-Sun dinner)
Website
Kublai Khan Mongolian BBQ is a halal-certified restaurant.
---
8. Marina Bay BBQ Steamboat Buffet 
---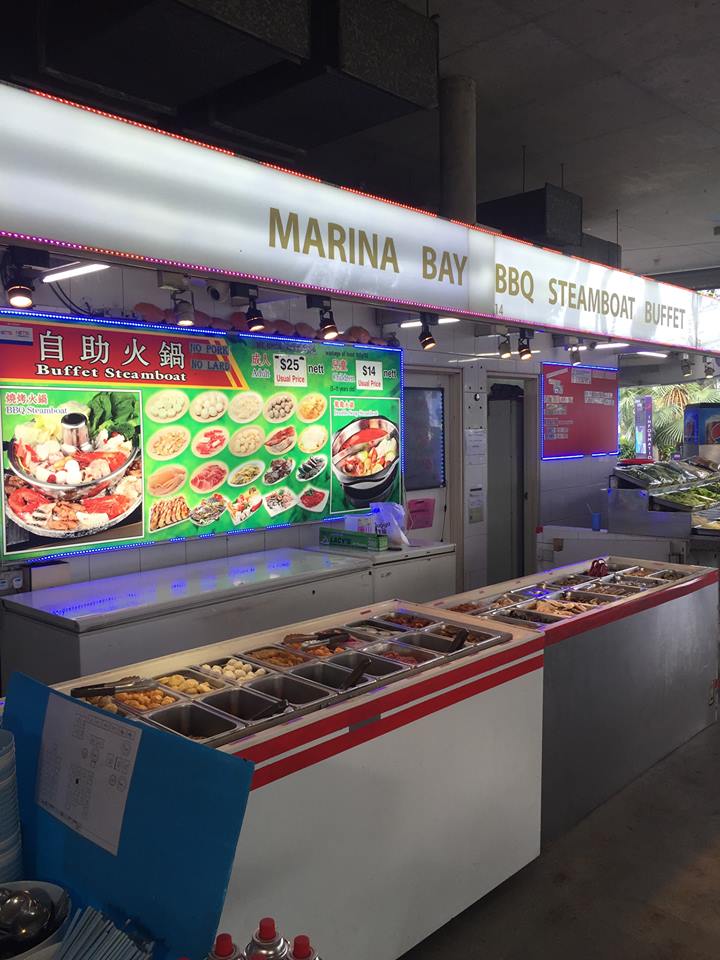 Image credit: Marina Bay BBQ Steamboat's Facebook page
Mention a buffet at Marina Bay and you probably can't help but imagine the exorbitant price tag that comes with the meal. Marina Bay BBQ Steamboat Buffet, however, gives restaurants in that area a run for their money as they offer seafood buffet from just $27+ per person. Located minutes away from Marina Barrage and Gardens By The Bay, the eatery is found in Satay By The Bay.
In terms of food variety, you can expect to find not just seafood, but also marinated meat, yong tau foo pieces, and vegetables. Besides free-flow soft drinks, the buffet also comes with complimentary ice-cream for you to end off the meal with something sweet!
Address: 18 Marina Gardens Drive, #12/13/14, Satay By The Bay, Singapore 018953
Opening hours: Daily 5pm to 11:45pm
Tel: 9131 1272
Buffet prices: $27+ (Mon-Thur), $29+ (Fri-Sun)
Website
Marina Bay BBQ Seafood Buffet is a halal-certified eatery.
---
9. Captain Kim Korean BBQ & Hotpot Buffet
---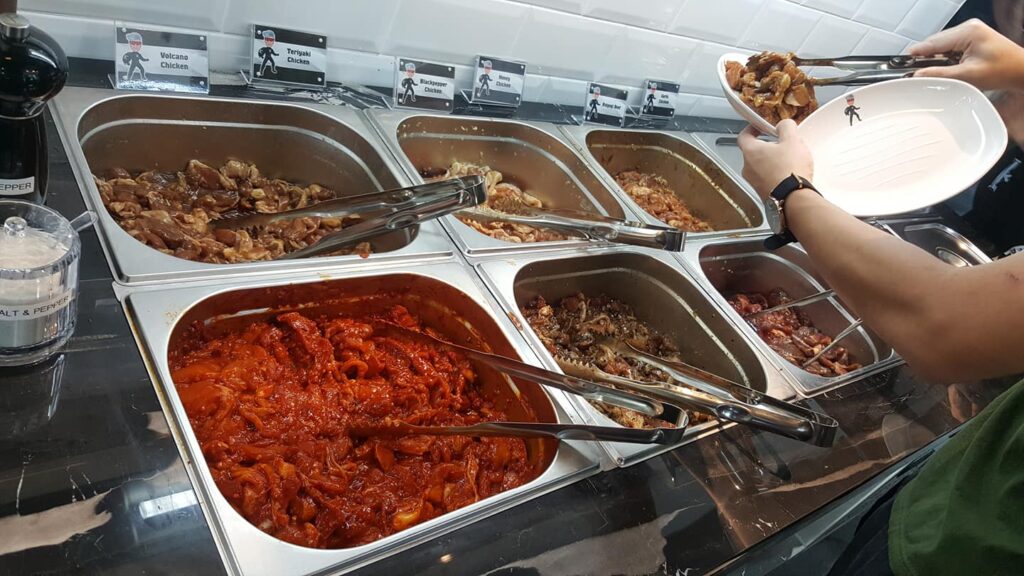 Image credit: Captain Kim Korean BBQ & Hotpot
There are not many halal Korean BBQ in Singapore, so we were glad to find out that the famous I'm Kim Korean BBQ at SOTA finally opened a halal-certified branch*! Situated at Tampines, Captain Kim Korean BBQ & Hotpot Buffet offers a slew of scrummy food. Their marinated meats include xinjiang mutton and peppermint beef, both of which are super scrumptious and will make you go back for more and more helpings.
Aside from being able to grill your meat, you can even DIY your own korean army stew with free-flowing prawns, chicken franks, mussels and korean ramyeon. The place is constantly packed though, so be prepared to join the queue!
Address: 300 Tampines Avenue 5, #01-06 NTUC Income Tampines Junction, Singapore 529653
Opening hours: Mon-Fri 11:30am to 3:30pm, 5:30pm to 10:30pm, Sat-Sun 11:30am to 10:30pm
Tel: 6260 4247
Buffet prices: $16.90++ (Mon-Fri lunch), $26.90++ (Mon-Thur dinner and Sat-Sun lunch), $27.90++ (Fri-Sun dinner)
Website
*Captain Kim Korean BBQ & Hotpot Buffet has applied for halal certification and is currently awaiting approval
---
Halal buffets in Singapore
---
If you think this is finally the time to start your diet, forget about it and just enjoy the coming months of feasting! While this list of halal buffets should suffice to last you till the next year, we also have a list of hotel seafood buffets for those who are looking for something more atas!