Viral TikTok McDonald's hash brown-McFlurry sandwich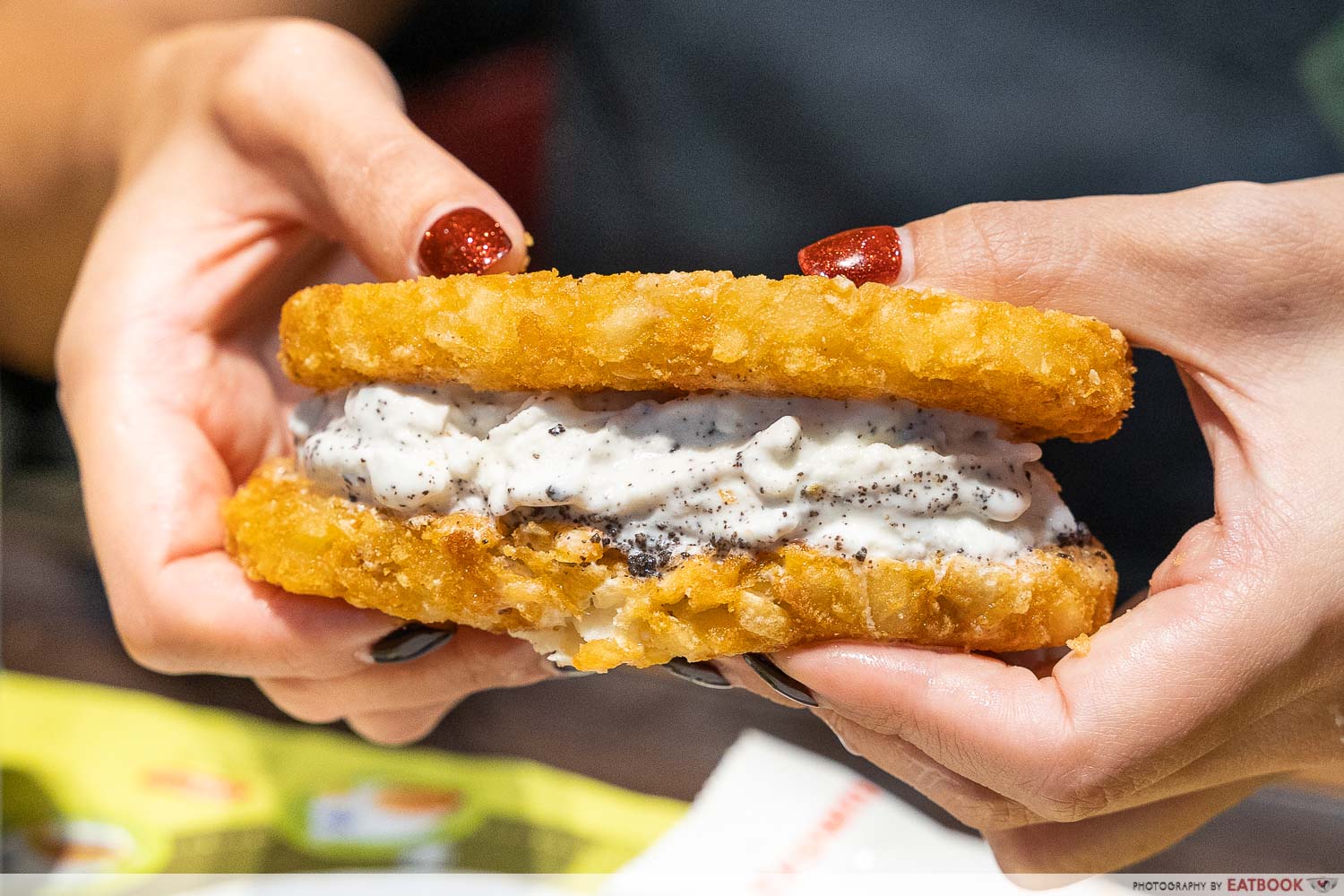 The internet is full of weird food combinations, some of which gain popularity for actually tasting great, while others go viral for all the wrong reasons. The latest of these is a McDonald's Hash Brown-McFlurry sandwich that has blown up on TikTok since it was posted two weeks ago.
Here's more: McDonald's is giving out free Hash Brown-McFlurry sandwiches for one day only, on 9 June 2023 from 9am to 11am! This offer only applies to the outlets at NTU and Temasek Polytechnic, with a limit of 50 redemptions per location.
All you need to do is flash their IG post above to redeem the freebies, specifically two hash browns and one Oreo McFlurry to DIY your own ice cream sandwich.
With more than six million views on the original TikTok at the time of writing, a "10 out of 10" rating, and more than 700,000 on a second iteration starring an M&M's McFlurry, we decided to hop on the trend and try the combination out for ourselves.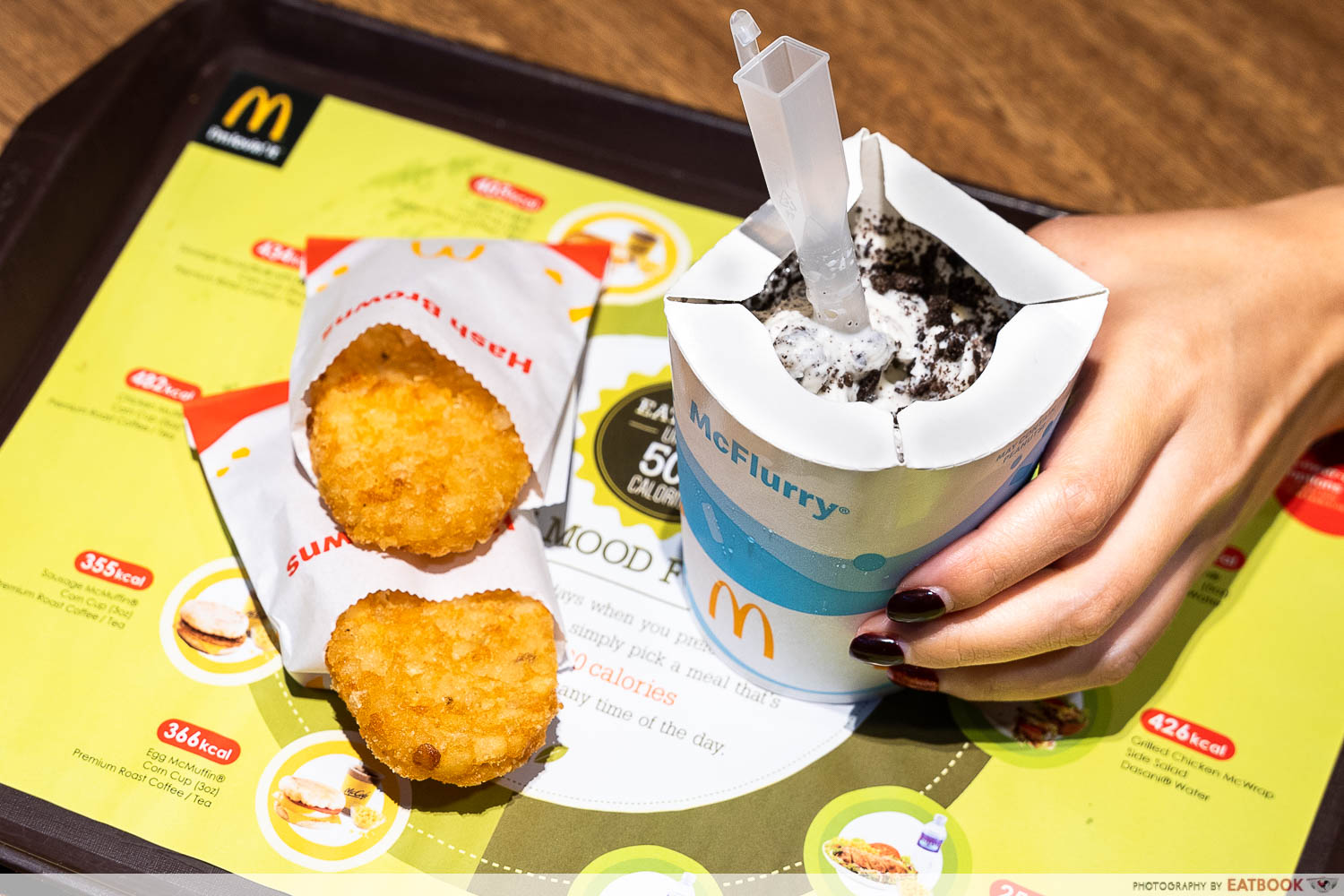 Since the Hash Brown ($2.30) is a breakfast-only item at our McDonald's, you'll be needing to stomach this in the AM, or go the extra step to reheat your hash browns later in the day. Get two of them for your sandwich, as well as a McFlurry ($3.55) to go along with the pair.
At this moment, McDonald's is only serving a Coconut McFlurry, since they introduced the Coconut Cone ($1.20) last week—so that's what we went with.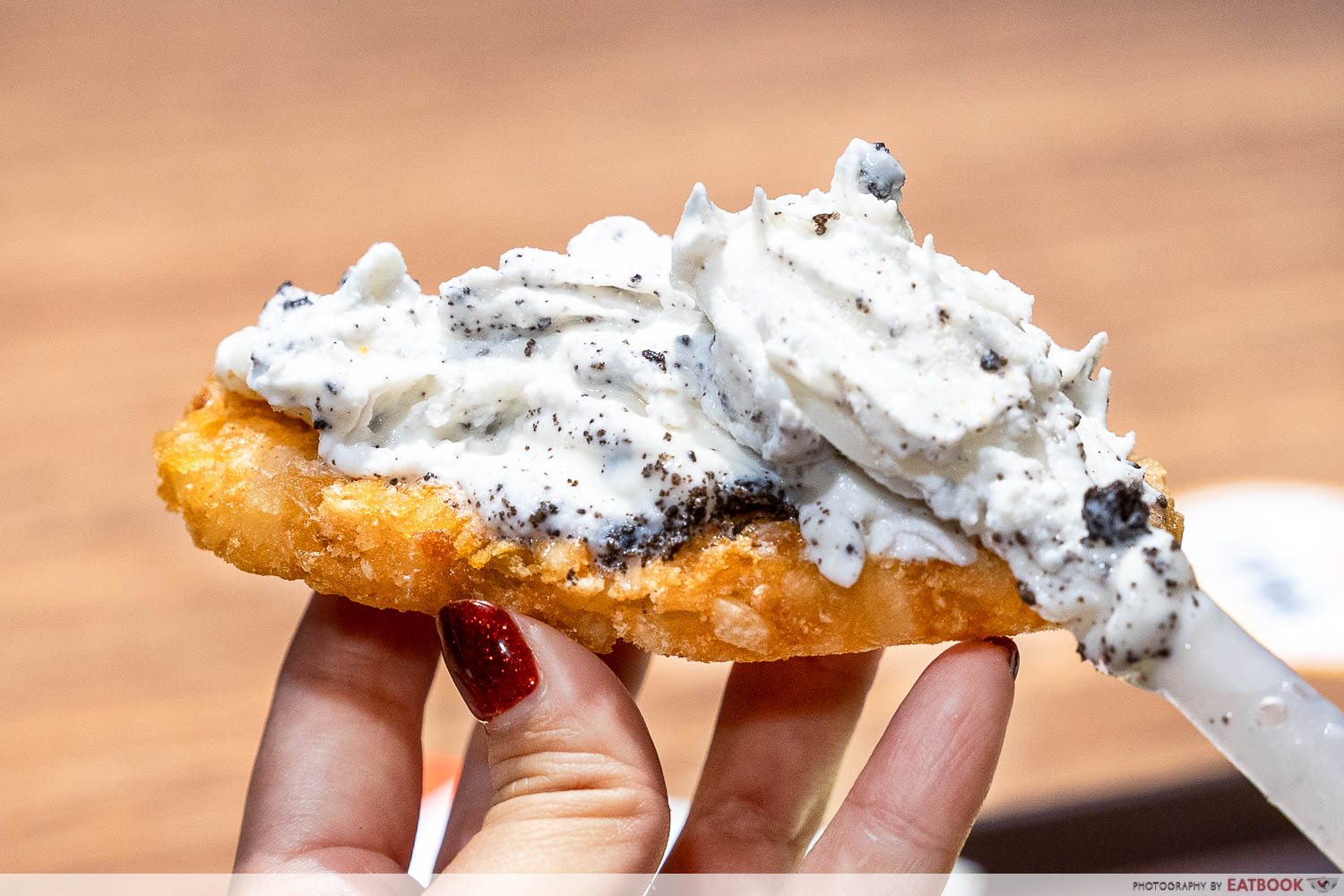 The Coconut Soft Serve had rave reviews for its rich, coconutty finish, but the McFlurry comes speckled with Oreo bits. Spread it generously on a hash brown, and do it quickly to enjoy the hash browns at their crispiest.
Squish the McFlurry with your second hash brown, and tuck in ASAP. It's a little perplexing at first bite because you get hot, crispy potato, then cold, creamy ice cream all in one bite. Then there's the saltiness mingled with sweet coconut, plus little hints of chocolate from the Oreo bits.
@eatbooksg

Another day another weird tiktok hack we have to do… This time round, thanks to @arvanfamily we had to make a trip down to McDonald's just to test if this new combination would actually suit our Singaporean taste buds. But for breakfast???? Our asian mother would be very disappointed in us. Comment down below if you have your own weird McDonald's combinations that we should try out! #mcdonalds #hacks #weirdfood #icecream #hashbrown #shotoniphone
If you were one of those who enjoyed Burger King's Mashed Up Fries, AKA sundae and fries in a cup, you might well enjoy this Hash Brown-McFlurry sandwich.
McDonald's Has New Honey Butter McShaker Fries And Cajun Sauce, Spicy Nuggets Return Too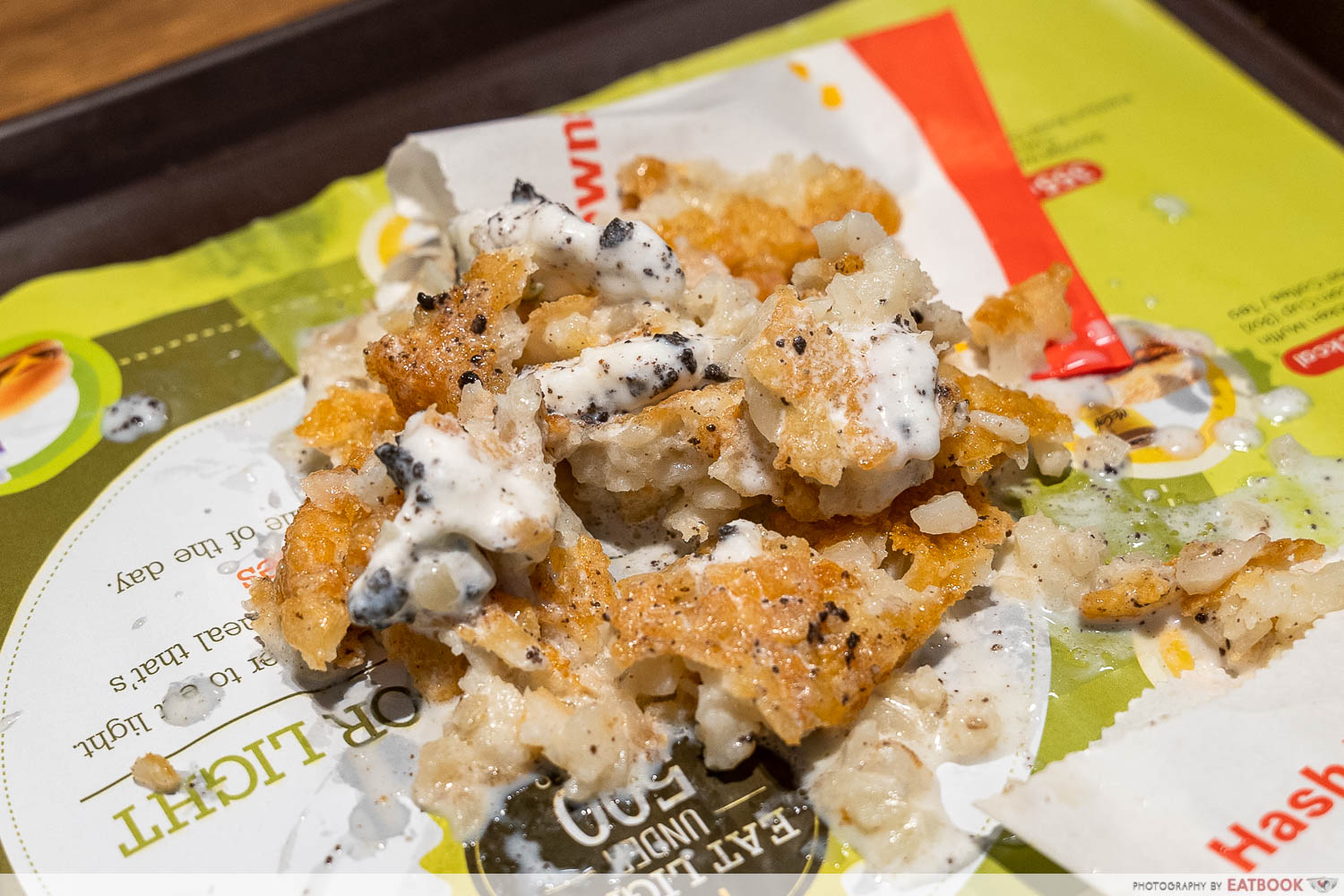 Unlike the French fries and sundae in a cup, though, this DIY McDonald's Hash Brown-McFlurry sandwich can get real messy, real quick. We tarried a little too long, and the entire sandwich fell apart into a melted, lumpy sich of potato bits and melted ice cream.
In more McDonald's news, they've brought back their spicy nuggets with new Honey Butter McShaker Fries! Burger fans, check out Burgs' new burgers, with prices starting from just $4.80.
Website
Full list of outlets
McDonald's is a halal-certified eatery.
Burgs Has Cheap New Burgers In Flavours Such As Mushroom Beef, Tempeh And More
Photos taken by Tanya Tham.
This was an independent visit by Eatbook.sg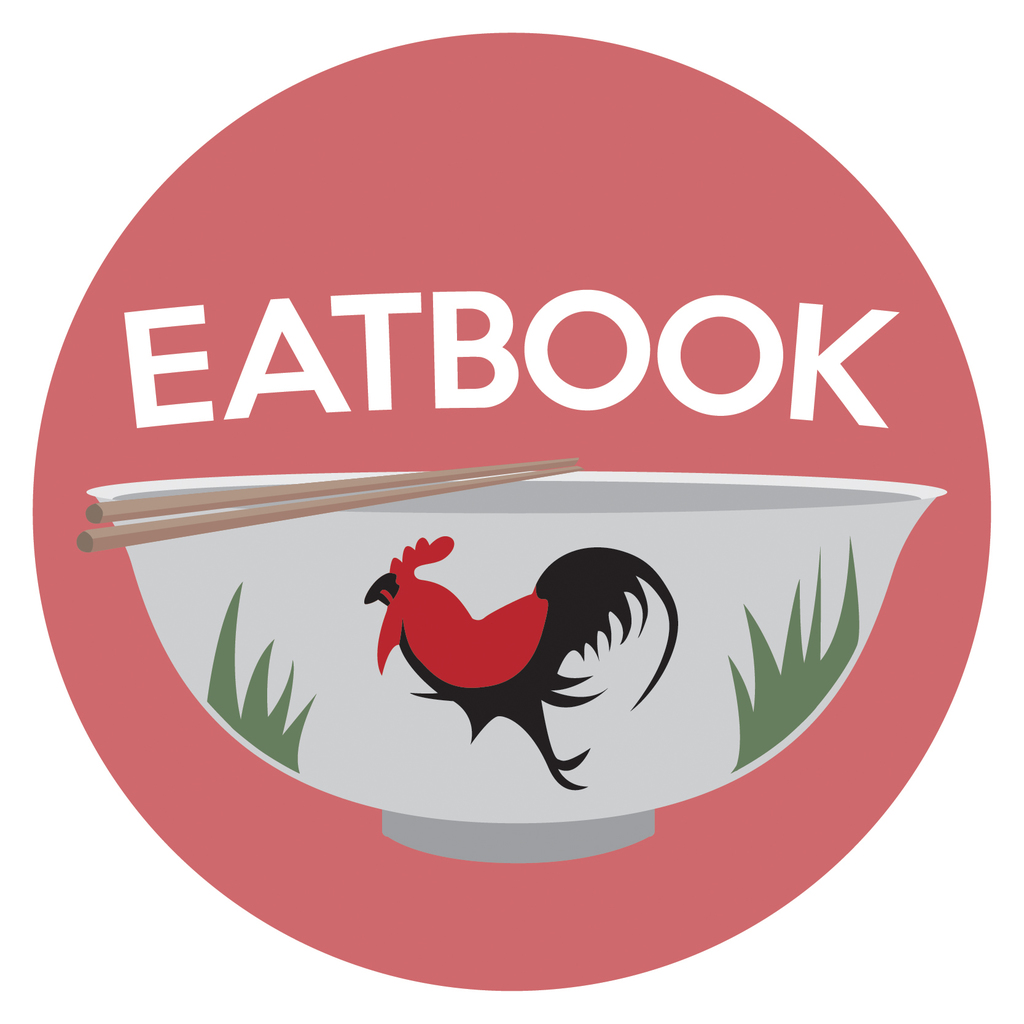 Drop us your email so you won't miss the latest news.