Haven Bistro has quality teppanyaki at amazing value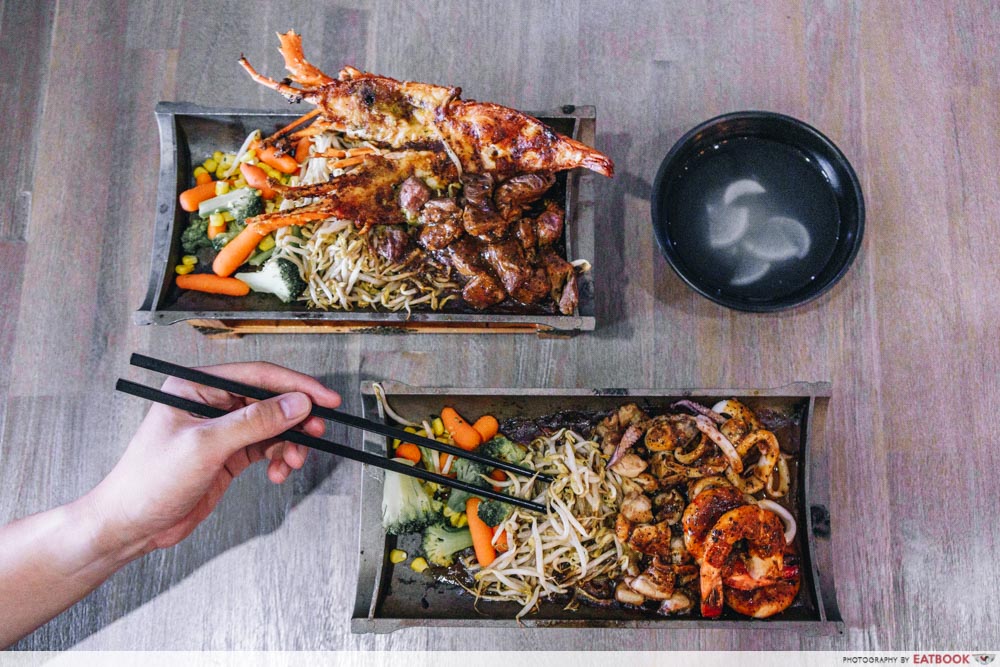 Quality teppanyaki is often an expensive pursuit. Either you're paying through the nose for undersized cubes of wagyu beef, or you have to contend with frozen ingredients and ready-made sauces at more affordable joints. Haven Bistro seeks to solve that dilemma, serving up affordable teppanyaki sets from $12.90 that don't skimp on portions or quality.
Chef Eric and his wife originally operated a food court stall, but set out on their own in early March, opening this little Jalan Besar cafe. Let's be honest: food courts are known more for convenience than quality, but these Food Junction alums don't subscribe to that theory. Virtually everything here is made from scratch, taking extra steps like hand-peeling prawns and hand-cutting squid to ensure quality.
Unfortunately, all that effort comes at a cost. Following recent media hype, this humble bistro has been getting queues out the door everyday. And with only one chef and two other staff manning the restaurant, they've been struggling to cope with the crowds. That means you should expect a long wait for your food, up to an hour during peak periods.
We headed down to brave the queues and find out whether the hype was warranted.
Food at Haven Bistro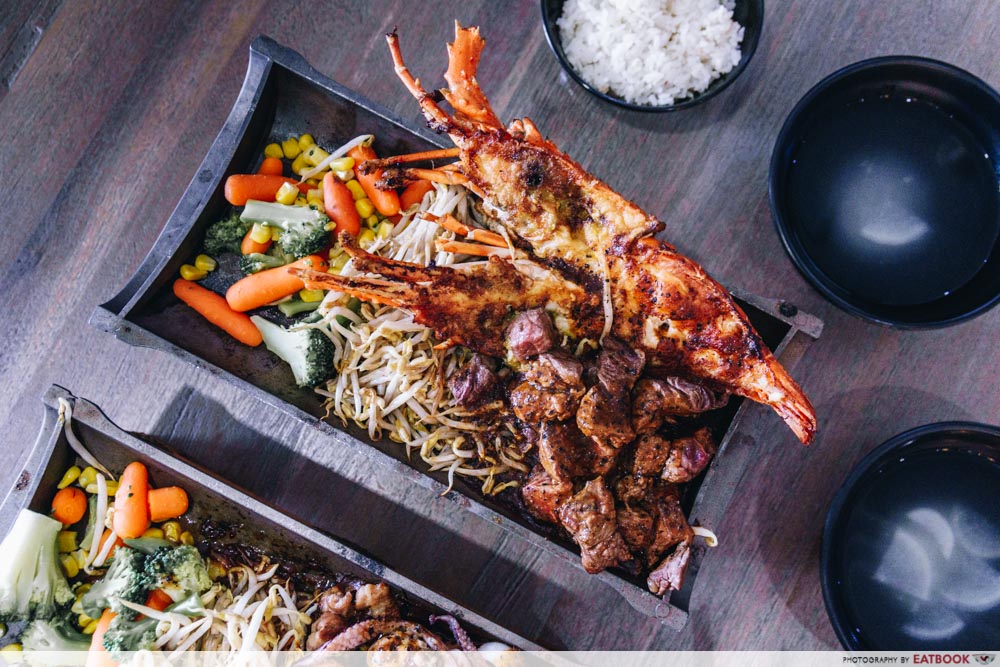 The Mr. Lobster Combo ($29.90) made a grand entrance, sizzling furiously and crowned by a massive Indian Ocean lobster. This wasn't some spindly crustacean with miniscule amounts of meat. It was more reminiscent of a lobster you'd expect to receive in a fine-dining restaurant—or Larry the weightlifting lobster from Spongebob Squarepants.
This set packs a second protein as well, with a choice of beef, chicken or fish; we selected beef. Coming along for the ride is a bowl each of white rice and mellow radish soup, as well as a garden of bean sprouts and mixed vegetables, all smothered in black pepper sauce.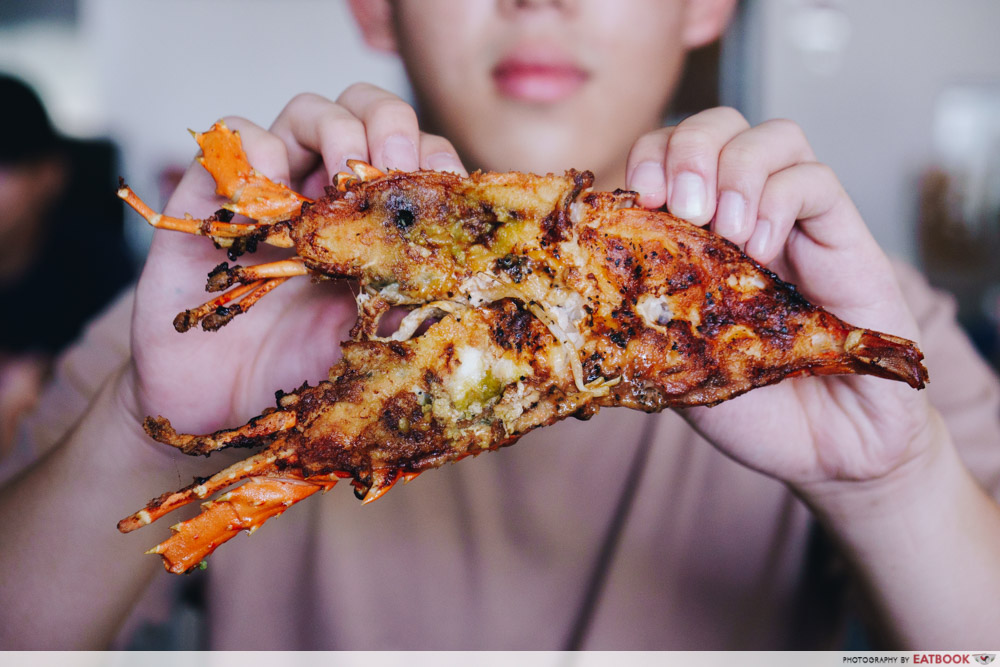 Our lobster didn't just look the part. It lived up to its hype in the flavour department, flaunting robust, bouncy meat with a hint of sweetness. It was also well-seasoned, with a caramelised layer of spice that enhanced rather than overshadowed the lobster's natural flavour.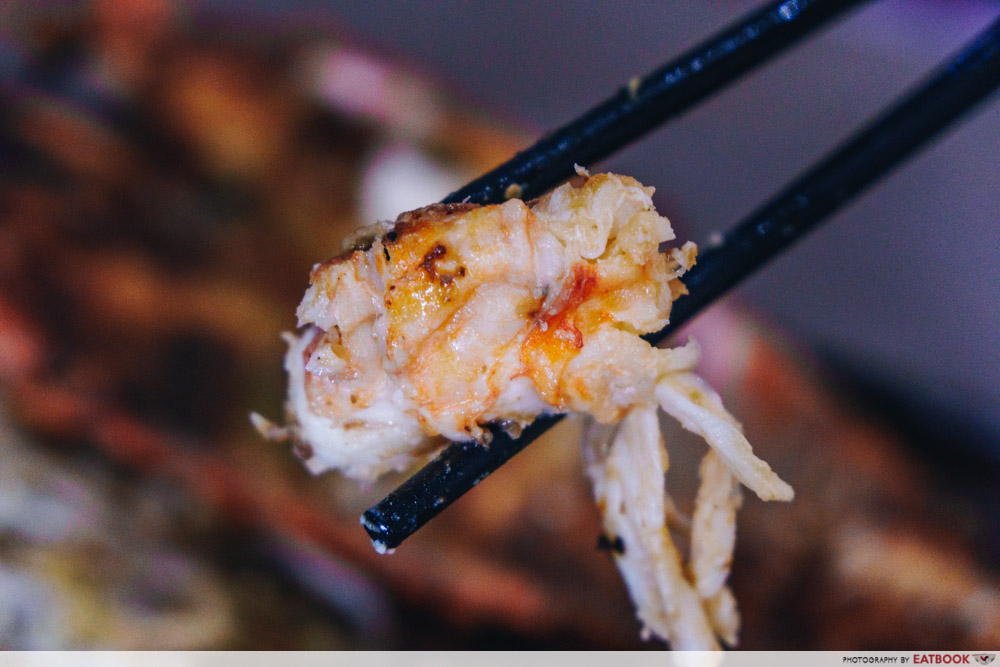 Even at expensive hotel buffets, it's all too common to find overcooked lobsters with rubbery and powdery flesh. This casual bistro offered up legit lobster that skirted this pitfall effortlessly, leaving us genuinely impressed.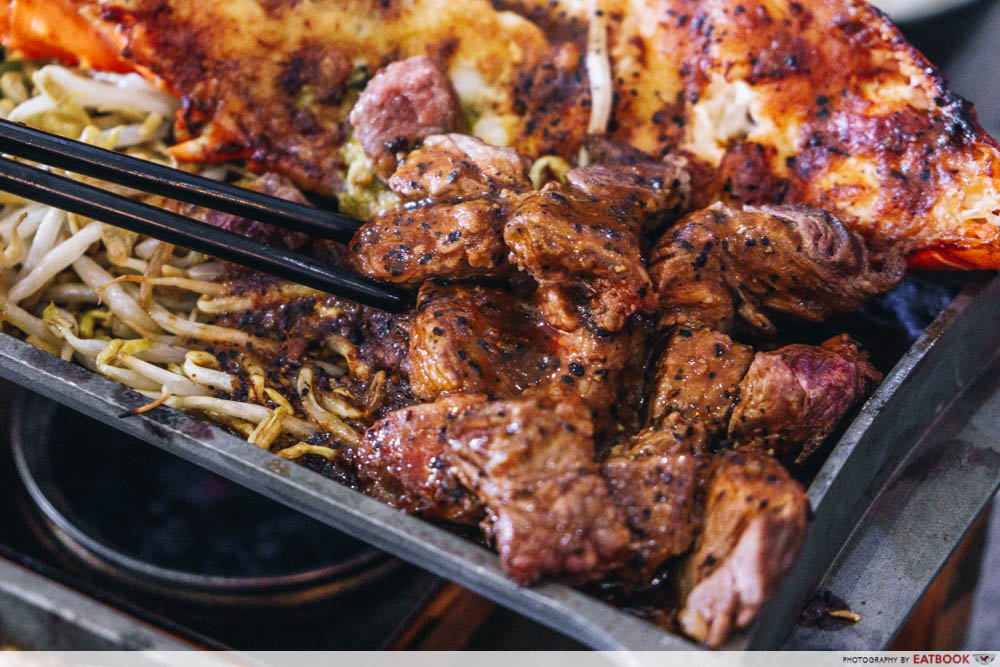 Unfortunately, the beef cubes that kept our lobster company were slightly disappointing. They were decently juicy, but required some jaw action before going down, even when eaten immediately.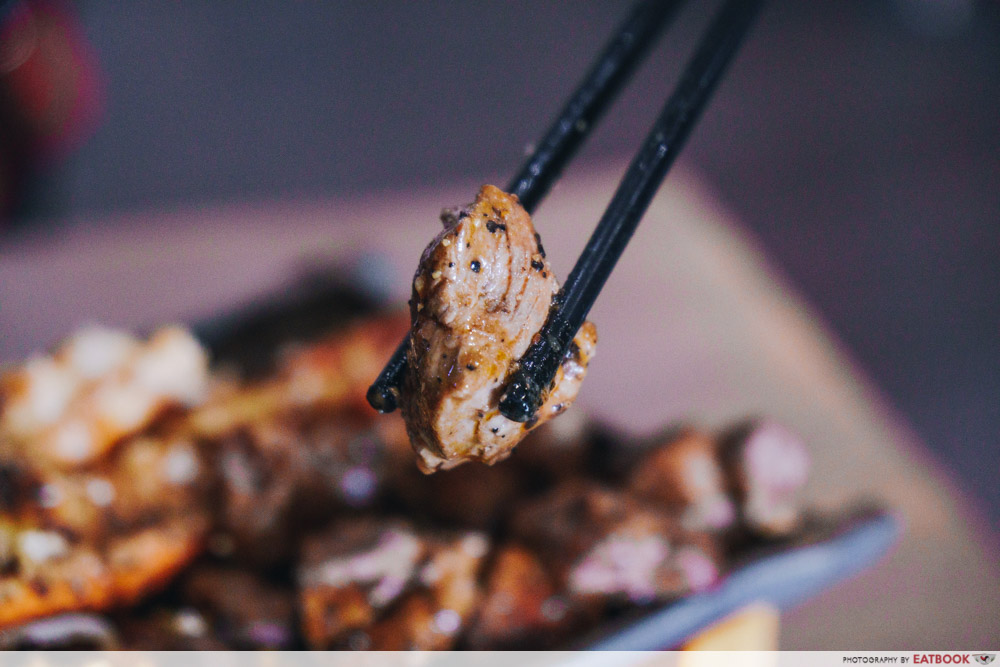 They also didn't seem to be seasoned, relying entirely on the black pepper sauce for piquancy. That meant the meat itself was bland and unexciting, paling in comparison to its tasty crustacean counterpart. A simple sprinkle of salt and pepper before searing would have made a world of difference here.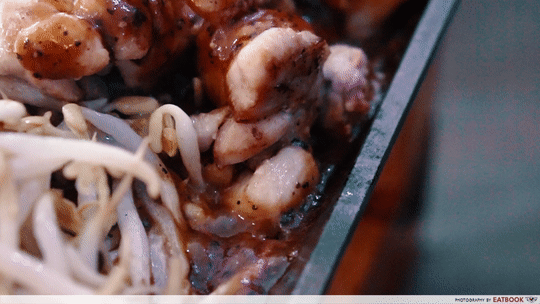 Teppanyaki is usually served with black pepper sauce, but this cafe's bubbling rendition was punchier than most⁠—perhaps a touch overly so. That was evident from its appearance, as specks of black pepper thoroughly dotted our meats, hinting at its pungent, nose-clearing heat.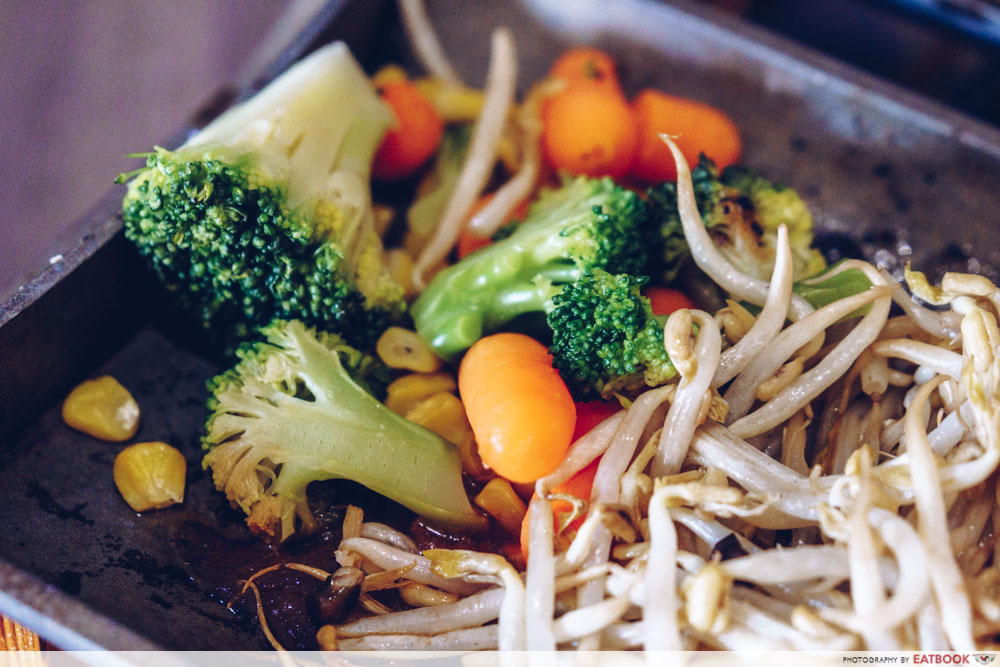 Out of the forest of veggies we were served, the bean sprouts were head and shoulders above its colourful counterparts. Slightly wilted but still crunchy, these tau gay soaked up the sauce while taking the edge off its peppery kick.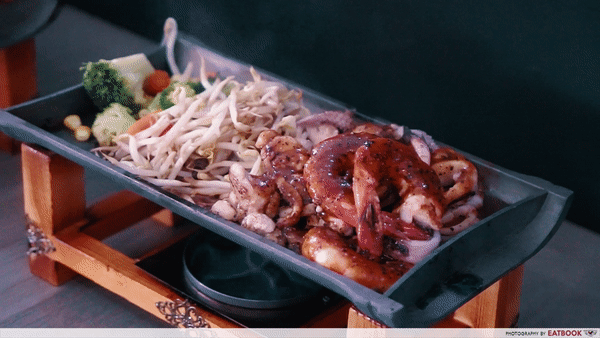 We didn't have lofty expectations after forking out only $12.90 for their most popular item, the Teppanyaki Combo 1. However, we soon realised why this dish has been drawing in crowds, as a surprisingly large heap of prawns, squid, oysters and chicken sizzled seductively in front of us.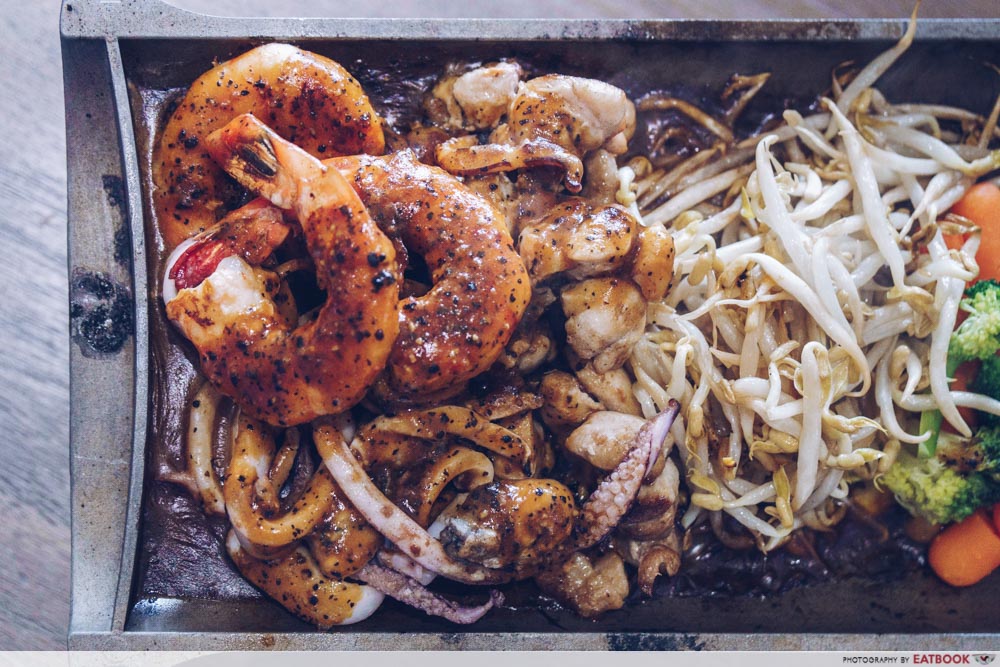 This is a considerable portion of protein, all fresh and prepared by hand. Considering that it comes with vegetables, rice and soup as well, this hot plate is the definition of value for money. It was no slouch in the flavour department either. Our first set was impressive and great for an occasional treat, but this is the dish we will make frequent returns for.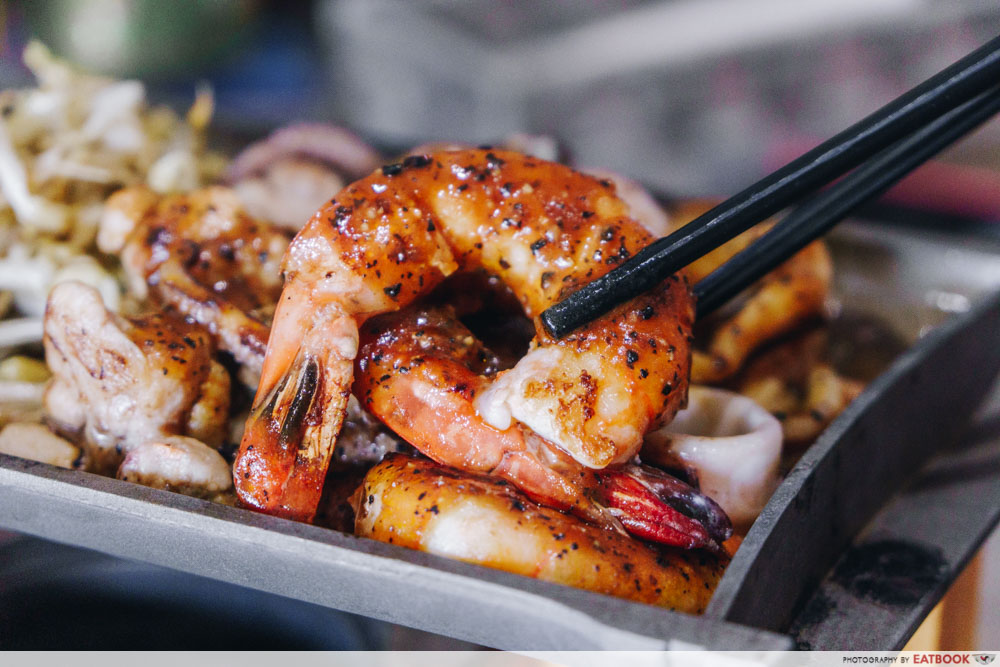 At this price point, we half-expected paltry pieces of shrimp that are barely worth the effort to peel. However, our perceptions were confounded, as we were greeted by a trio of vividly orange, plump prawns reclining snugly on our hot plate. They were cooked well too; bouncy and brimming with sweet seafood flavour.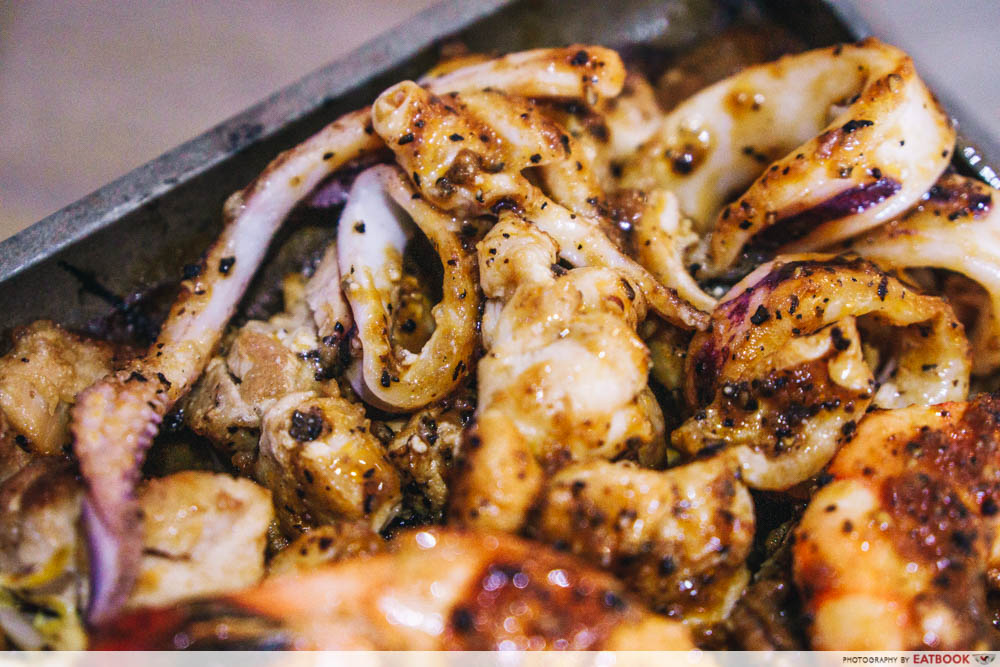 The hand-cut rings of squid fared similarly well. They were tender and springy, never becoming a chore to chew. Its relatively milder flavour managed to stand out against the barrage of pepper, as gentle streaks of briny flavour sneaked onto our taste buds.
Prawns and squid are two of the hardest proteins to cook, and since the food continues to cook on the sizzling hot plate after being served, slightly overdone seafood is likely. Yet, rubbery pieces of prawns and squid were few and far between, with most morsels fresh and tender.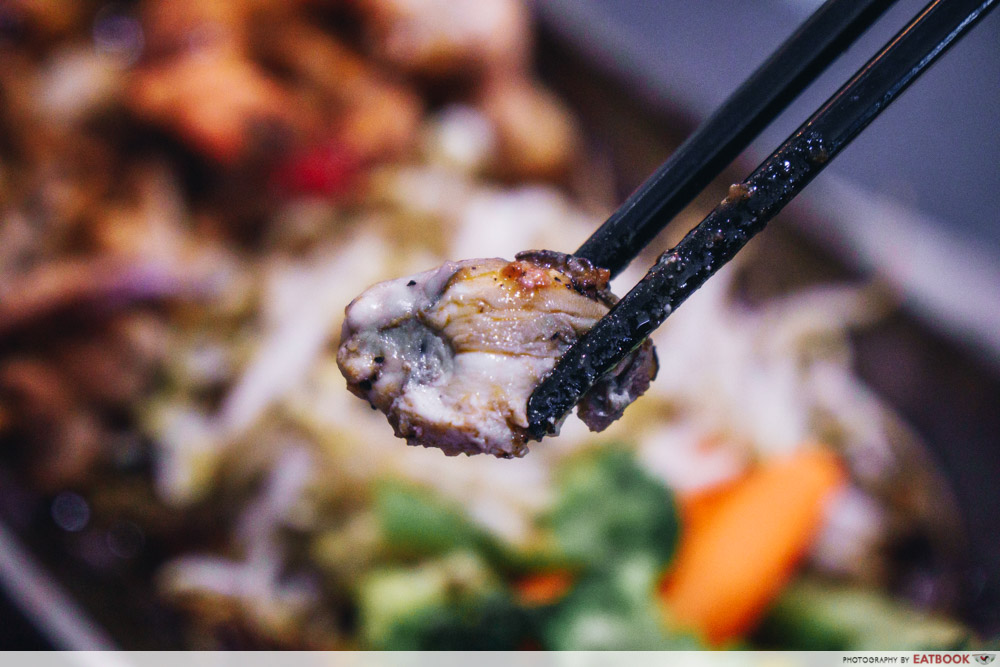 Our trio of seafood was completed by a handful of oysters, akin to the type you'll find in orh luak. While these briny hunks weren't mind-blowing, they were devoid of the unpleasant stale funk that plagues some hawker centre oyster omelettes.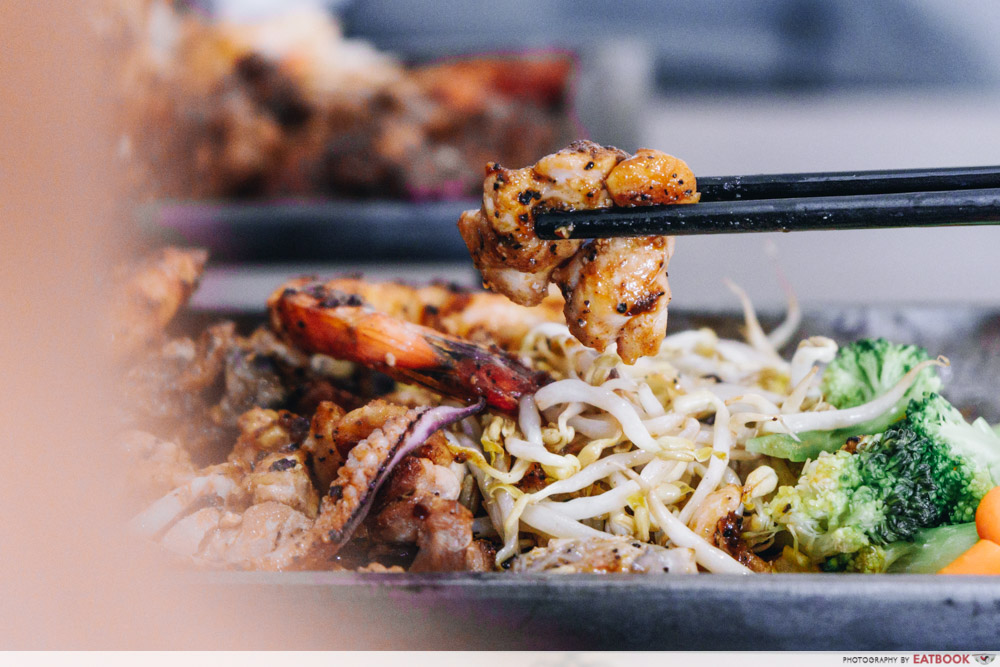 The hot plate was rounded off by chunks of tender chicken. They were decent rather than spectacular, with a light sear from the hot plate and nice balance of flavour from the teppanyaki sauce and seasoning.
After polishing off this meal, it wasn't difficult to deduce the reason behind this new bistro's explosion in popularity. With prices constantly climbing in Singapore, getting four types of meat and seafood at this quality under $15 is tremendous value. We'll let you decide if it's worth waiting in line.
Teppanyaki is what has led to this casual joint's rise, but they also boast a full all-day menu with a mix of Asian and Western cafe fare, such as Pinky Salmon ($9) and The LA-LA EVO ($9.50), a laksa spaghetti dish.
Ambience at Haven Bistro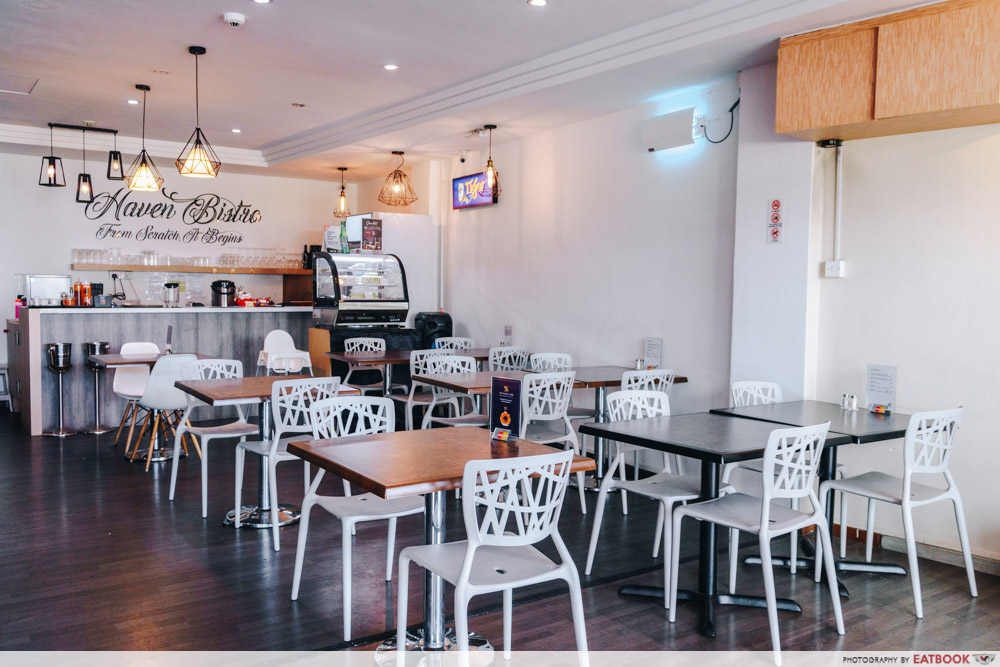 This new bistro is located on the first floor of The Noble Hotel, a short walk from Bendemeer MRT. Decor-wise, everything is simple and unfussy, with plenty of natural light streaming in. While it's probably not a place to come for your IG feed, you'll be happy to spend a lunch break here, chilling and chatting with friends.
The verdict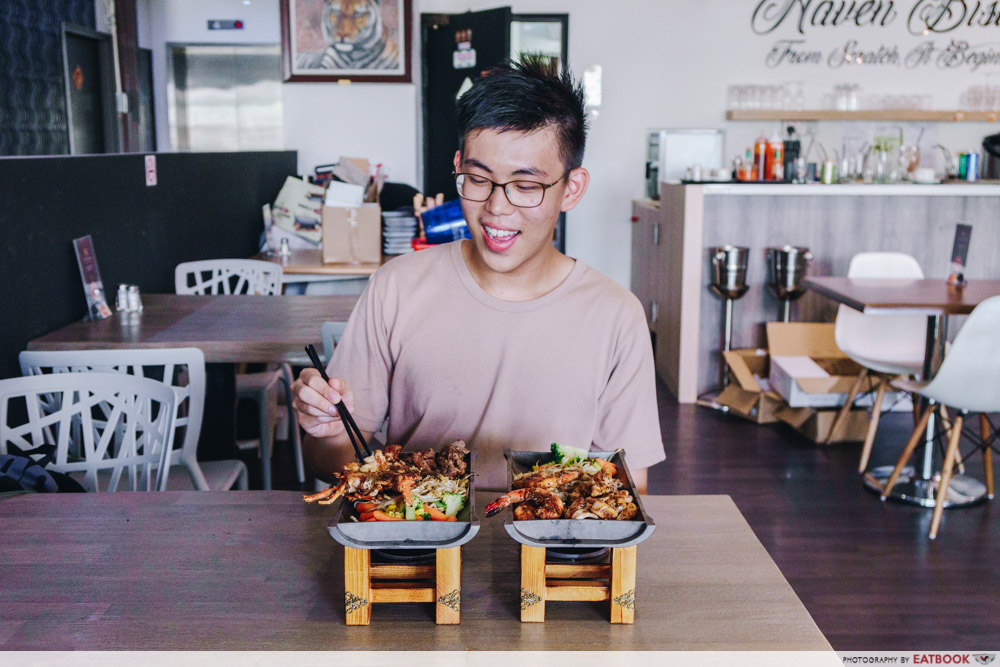 Simply put, Haven Bistro provides restaurant quality teppanyaki at budget prices. That's a recipe for success no matter how you spin it, and we have massive respect for Eric and his wife's commitment to using fresh ingredients and preparing everything from scratch.
While it may be tempting to head down now for a taste, we recommend holding on for a couple weeks. They've been struggling to handle demand, and giving them some time to get used to the added workload while letting the hype die down slightly is probably a good idea.
For more food in the vicinity of Bendemeer MRT, check out our list of 10 Bendemeer food places and our review of Black Fairy Coffee.
10 Bendemeer Food Places Near Bendemeer MRT Station Including Blue Nasi Lemak And Unicorn Pancakes
Let us know your favourite teppanyaki spots in the comments below!
Address: 407 Jalan Besar, The Noble Hotel, Singapore 209012
Opening hours: Mon-Sat 11am to 3pm, 6pm to 10pm
Tel: 6817 0639
Website
Haven Bistro is not a halal-certified eatery, but does not use pork or lard.
Photos taken by Sharlene Lau.
This is an independent review by Eatbook.
Summary
Pros
– Incredible value
– Fresh seafood
– Massive portions
Cons
– Long wait
– Beef cubes were lacklustre
Recommended dishes: Teppanyaki Combo 1 ($12.90)
Opening hours: Mon-Sat 11am to 3pm, 6pm to 10pm
Address: 407 Jalan Besar, The Noble Hotel, Singapore 209012