Hoodadak Korean Restaurant has pork soup and rice
in One-north
As a Korean native, personally, there's nothing a warm bowl of gukbap AKA Korean pork soup and rice can't fix. This dish is treasured as one of my comfort foods to have at the end of an exhausting day, so I've embarked on a personal journey to look for restaurants in Singapore that would momentarily bring me back home. My attempt has been like finding a needle in a haystack—until Hoodadak Korean Restaurant in One-north came through. 
A plethora of dishes is served here, including crowd favourites such as sundubu-jjigae and jajangmyeon. But my personal pick is undoubtedly the Dwaeji Gukbap, the classic Korean pork soup and rice dish, as this alone has made me a returning customer in a short span of two months. 
Food at Hoodadak Korean Restaurant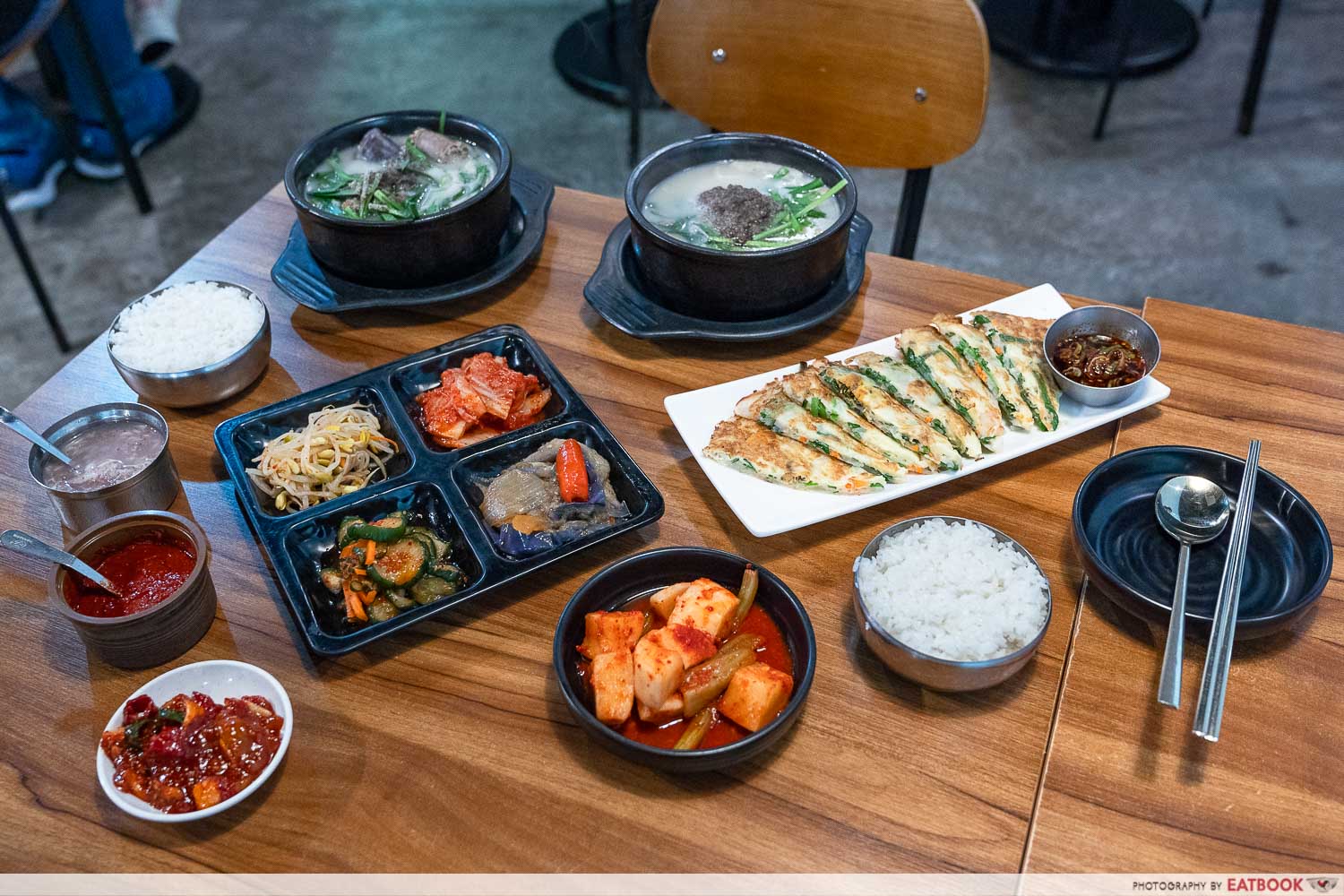 While conversing with the restaurant i-mo (aunt), it came to my knowledge that soup dishes sell like hotcakes here. There are two types of gukbap to choose from: Sundae Gukbap and Dwaeji Gukbap. The only difference between these two dishes is that the former includes both pork and sundae (Korean blood sausage), while the latter only features pork.
If Dwaeji Gukbap sounds familiar, that's because the dish rose to fame when famous Korean restaurant Um Yong Baek landed on our shores last year. I've yet to try the uber-popular restaurant due to their long queues, but my dining companion had the privilege to when they first opened.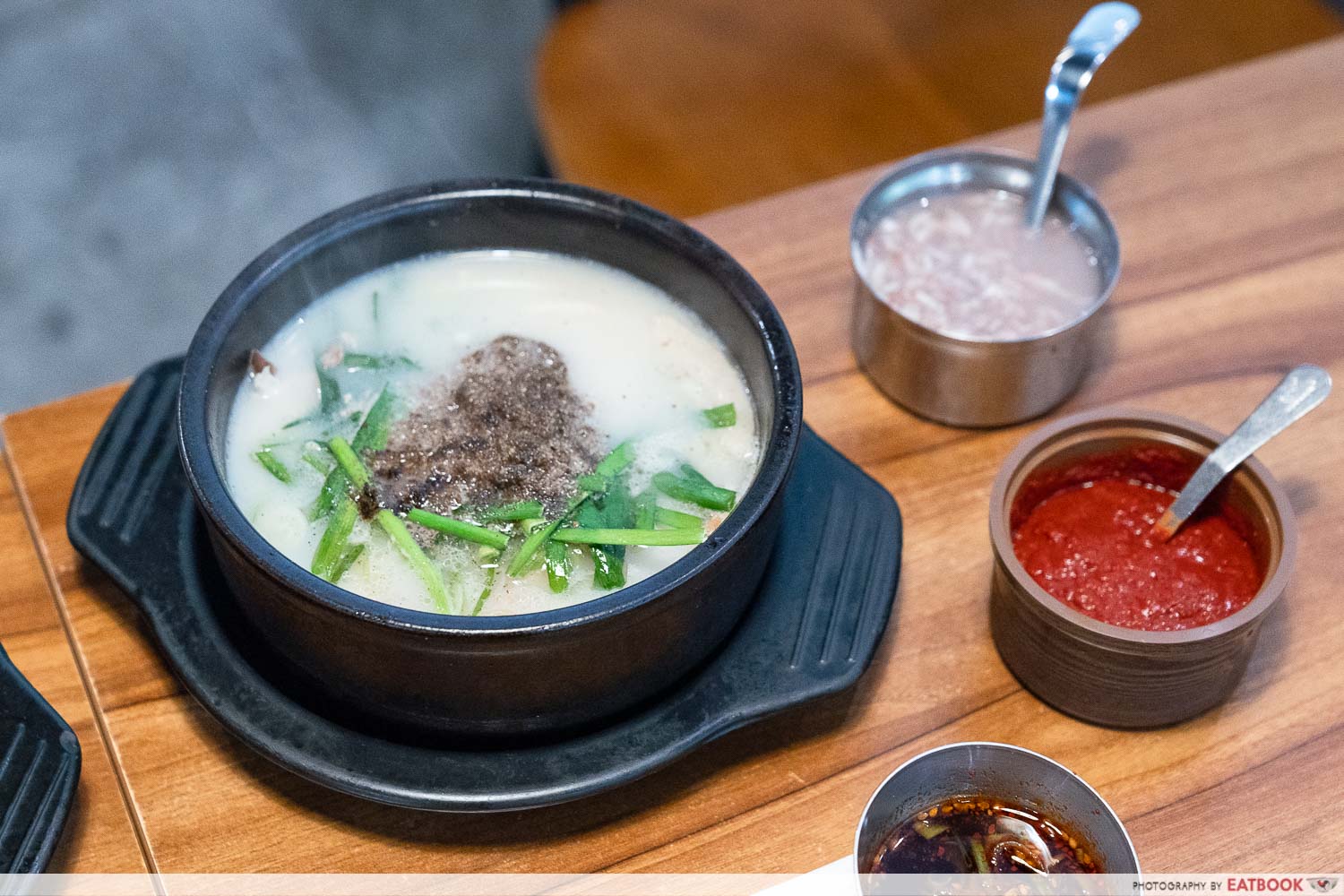 Back to Hoodadak: starting on a high note, their signature Dwaeji Gukbap ($17++) boasts a rich broth, generous portions of pork, and strands of chives.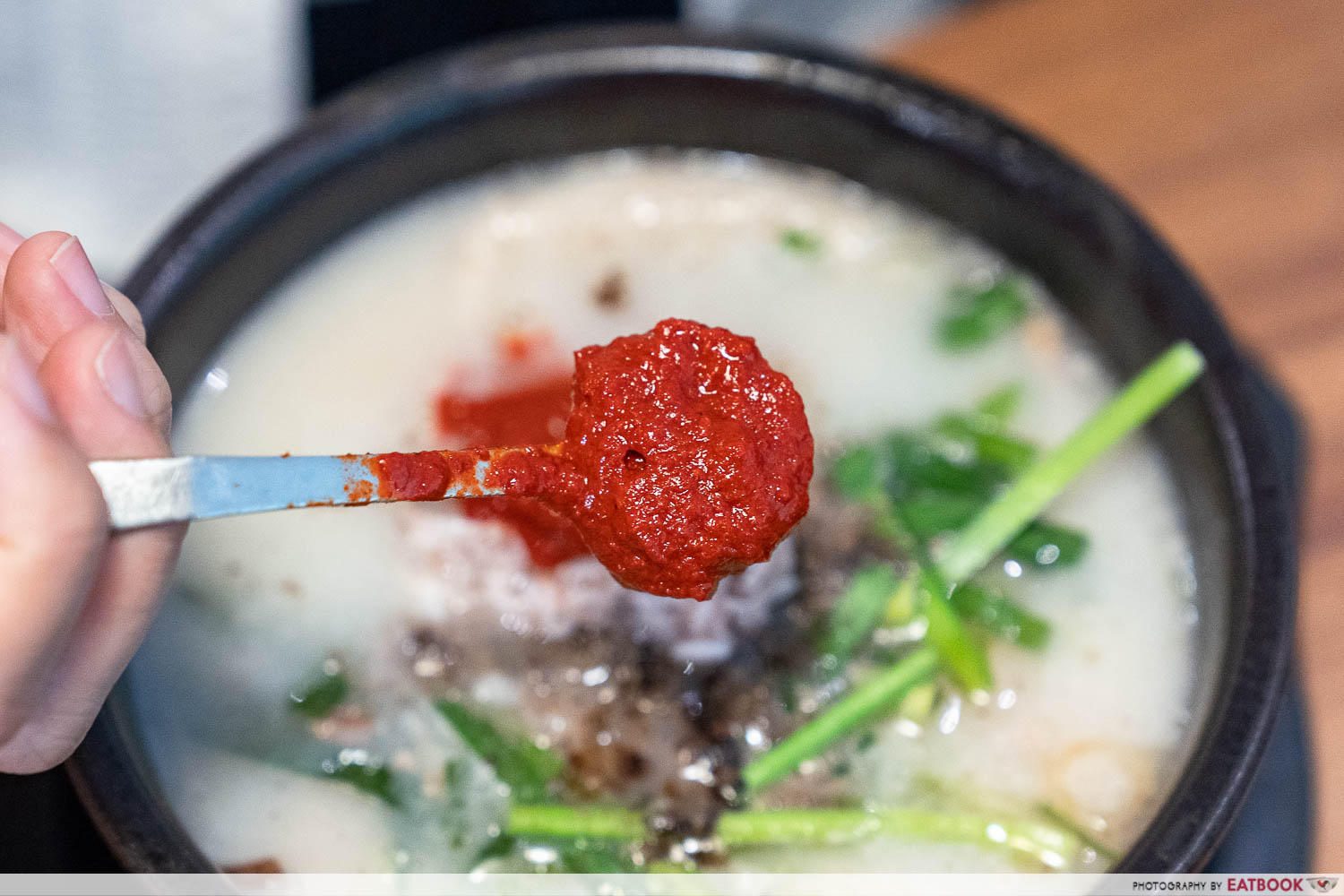 Those who prefer a cleaner-tasting broth are good to go without the additional condiments served on the side. But for those with a penchant for heavier flavours, I highly recommend adding two huge scoops of the salted fermented shrimp as well as three scoops of their house-made seasoning sauce. Don't let the red colour of the latter scare you—it's barely spicy.
According to my dining companion, when compared to Um Yong Baek's version, this pork soup tasted more homemade, though less polished. Hoodadak's dish is also slightly cheaper than its counterpart, plus you don't have to face the insanely long line, so it's a big win in her books.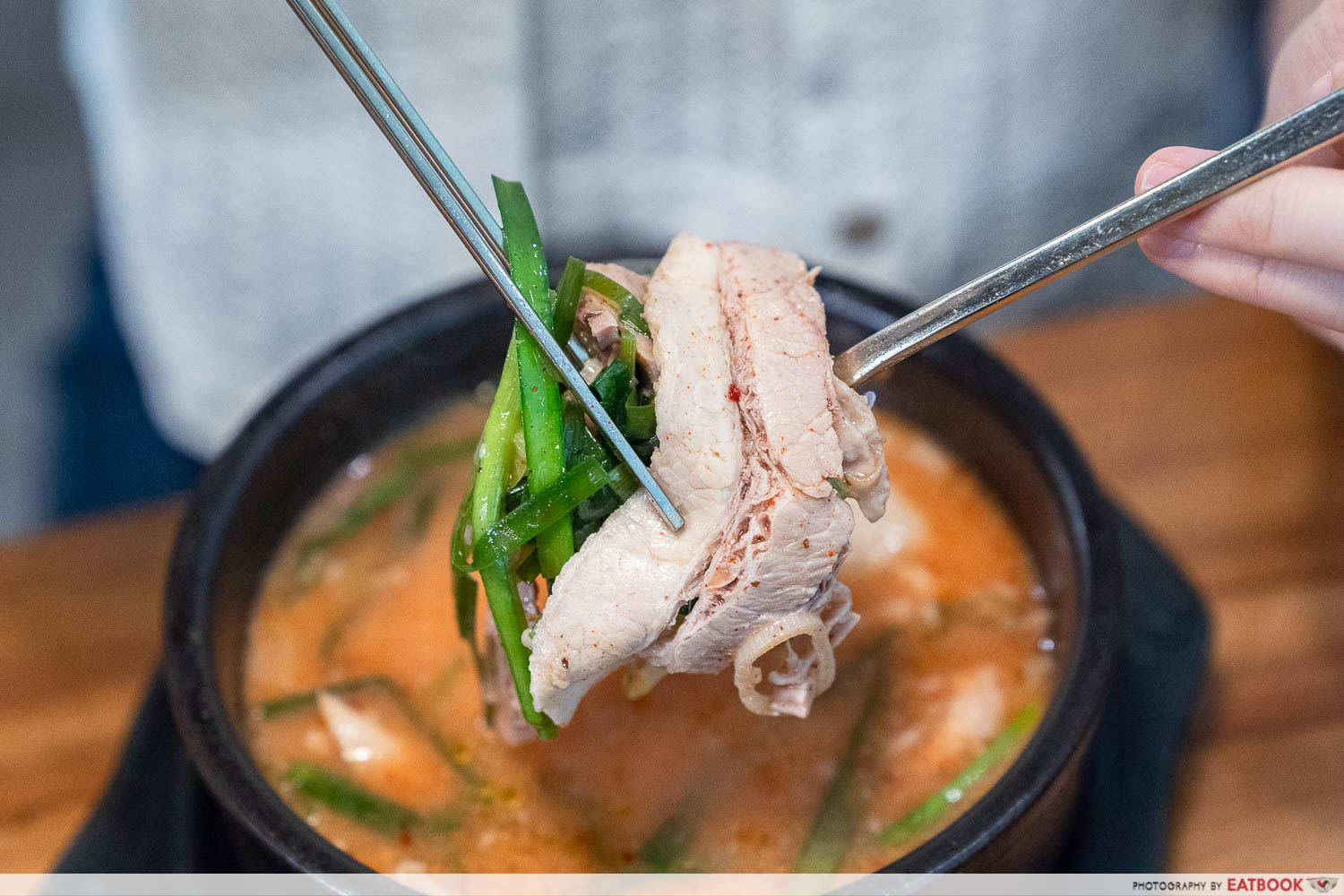 Every gukbap restaurant has a different take on the types of meat used, but pork leg and cheek are the most common parts you can find, and that was what we were served here. Though not the most tender, the gukbap meat was tasty with the right amount of porky flavour. Also, you get a generous portion of pork slices in each bowl for the price you're paying.
If there's one thing you must know about gukbap, it's the unalterable fact that the dish is best paired with kkakdugi AKA diced radish kimchi. Trust me when I say you'll find your fingers reaching out for the radish kimchi more than the regular cabbage version.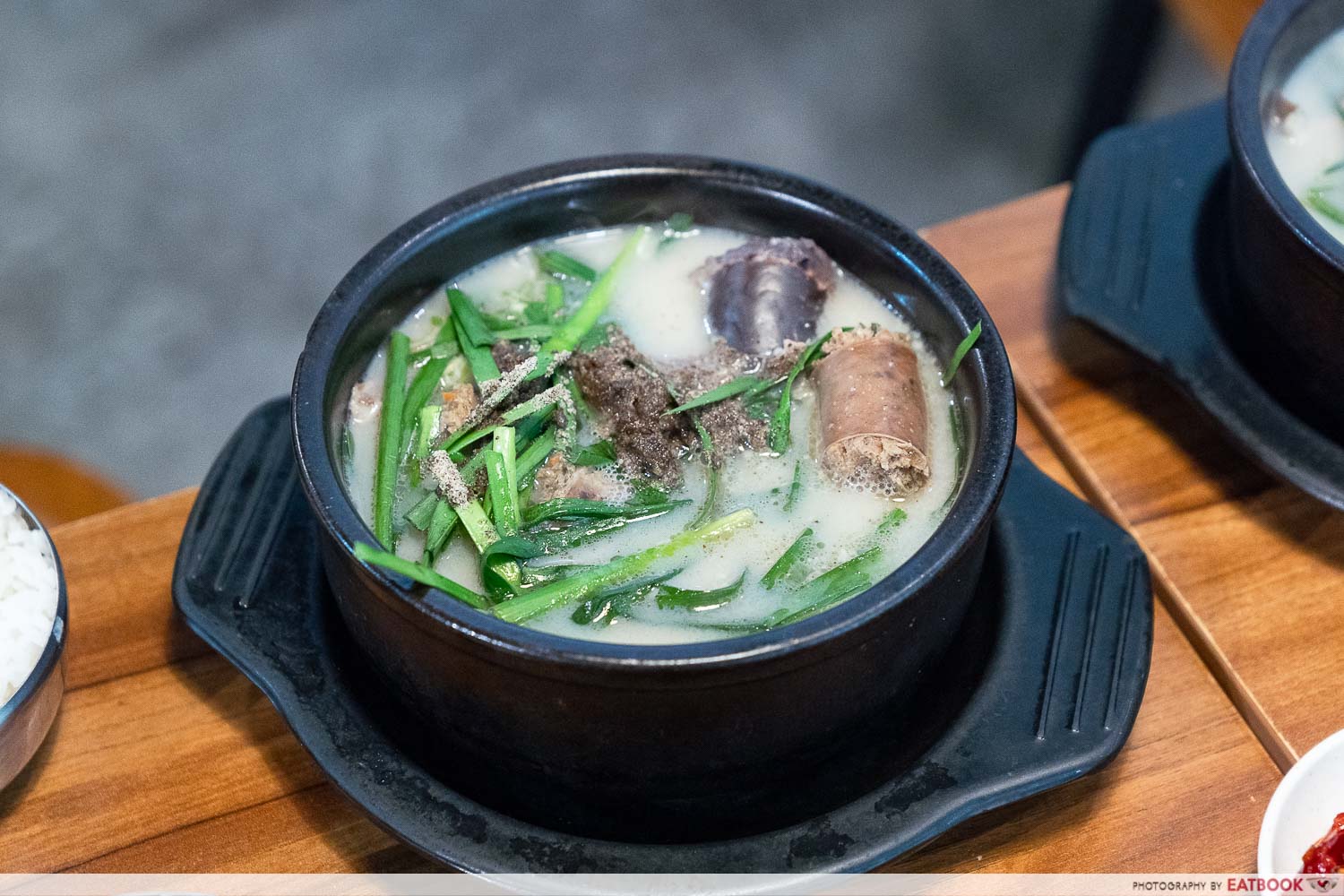 An elevated version of the Dwaeji Gukbap is Sundae Gukbap ($19++), which features a glorious combination of pork, chives, and sundae (blood sausage). Don't let the label "blood sausage" give you the impression that sundae is rather bizarre and unpleasant—you'd be surprised to find out that it's not meant to taste funky or strange.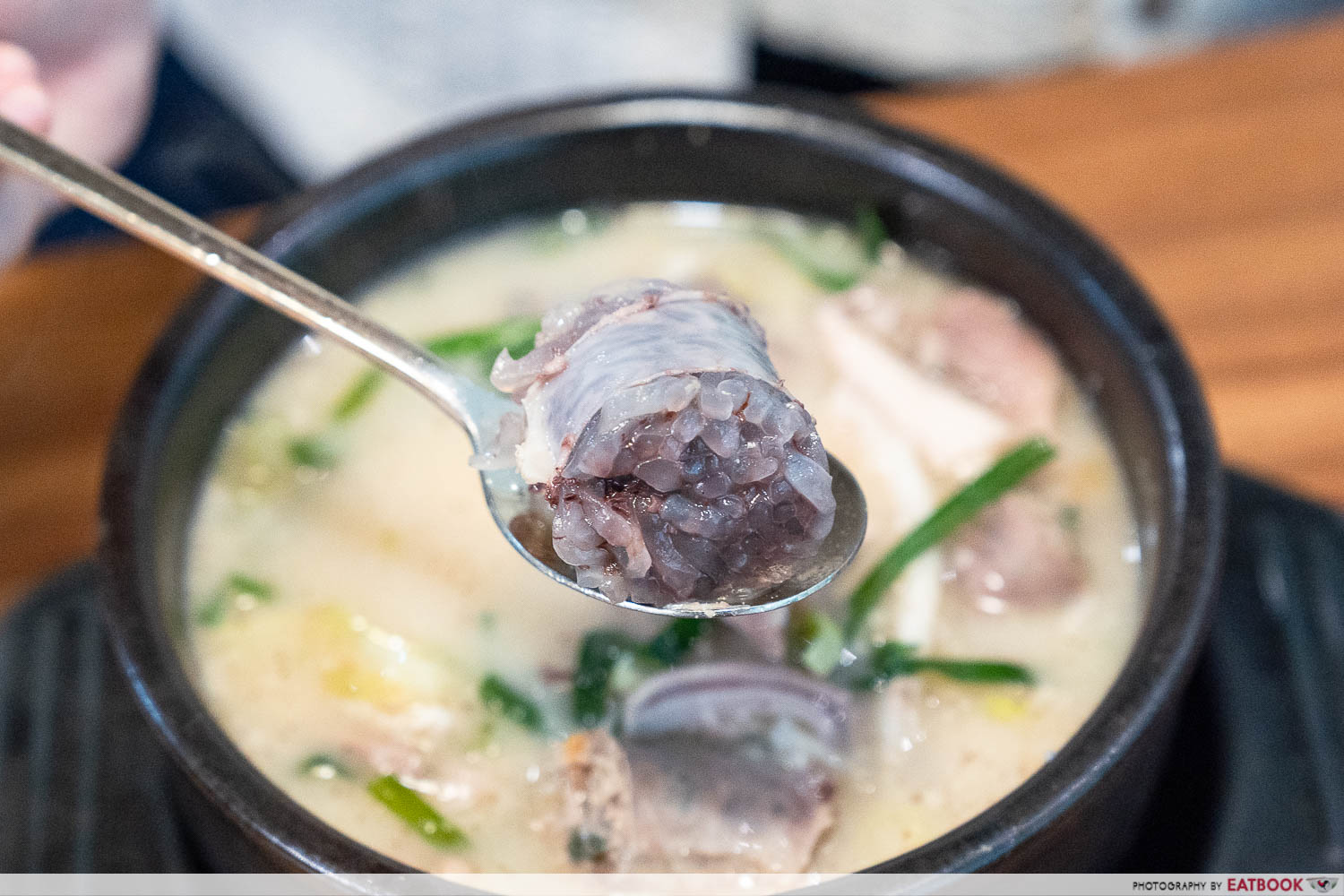 The Sundae Gukbap features two types of sundae: one is packed with Korean glass noodles, while the other comprises more ingredients, such as pork and chives. According to the restaurant i-mo, the former is store-bought whereas the latter is hand-made. Appearance aside, the taste between the two is distinctly different—I preferred the hand-made sundae as it was generously packed with filling.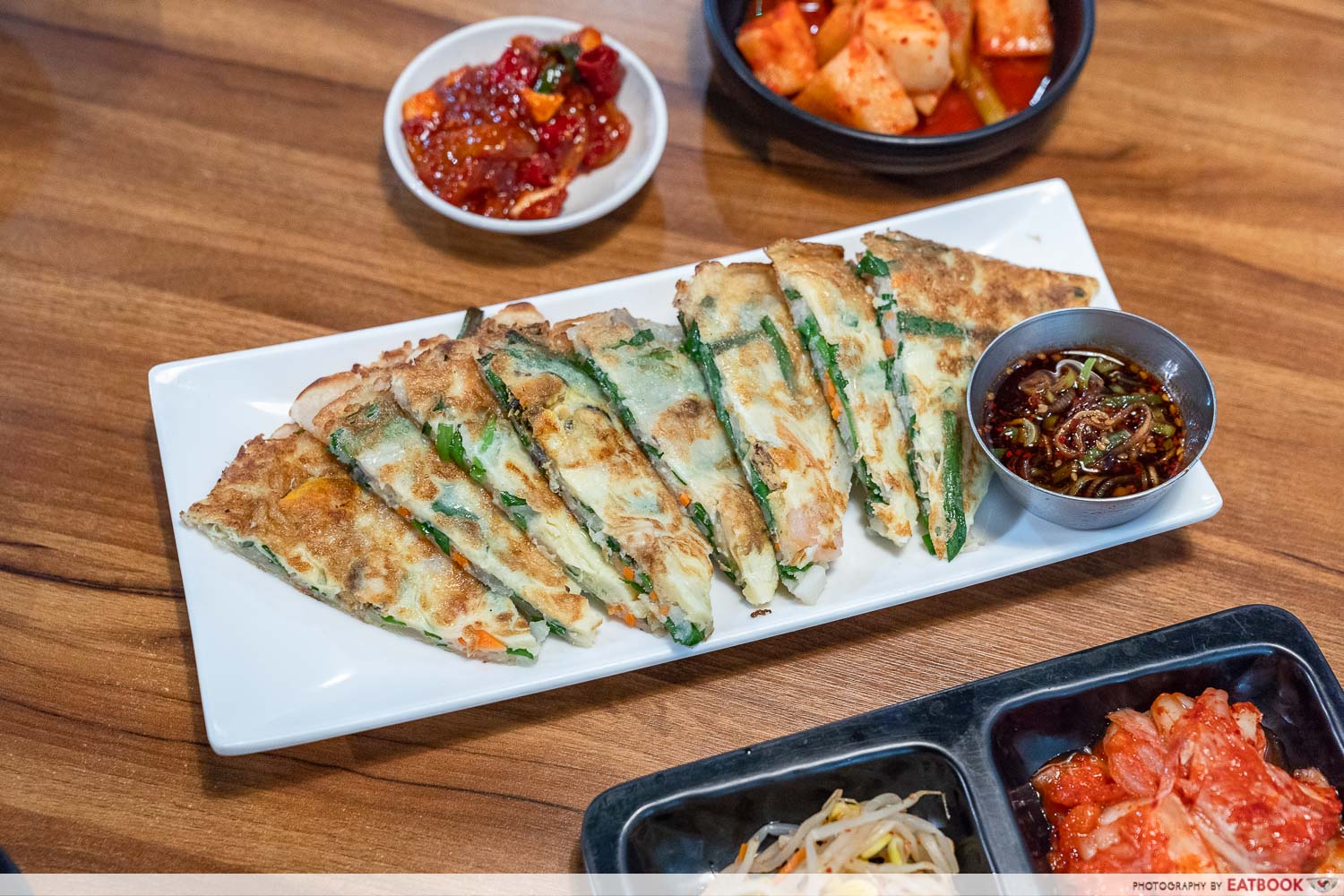 While we're here, we couldn't possibly pass on their signature Seafood Pancake ($19++), which was sliced into eight triangles for a mess-free eating experience.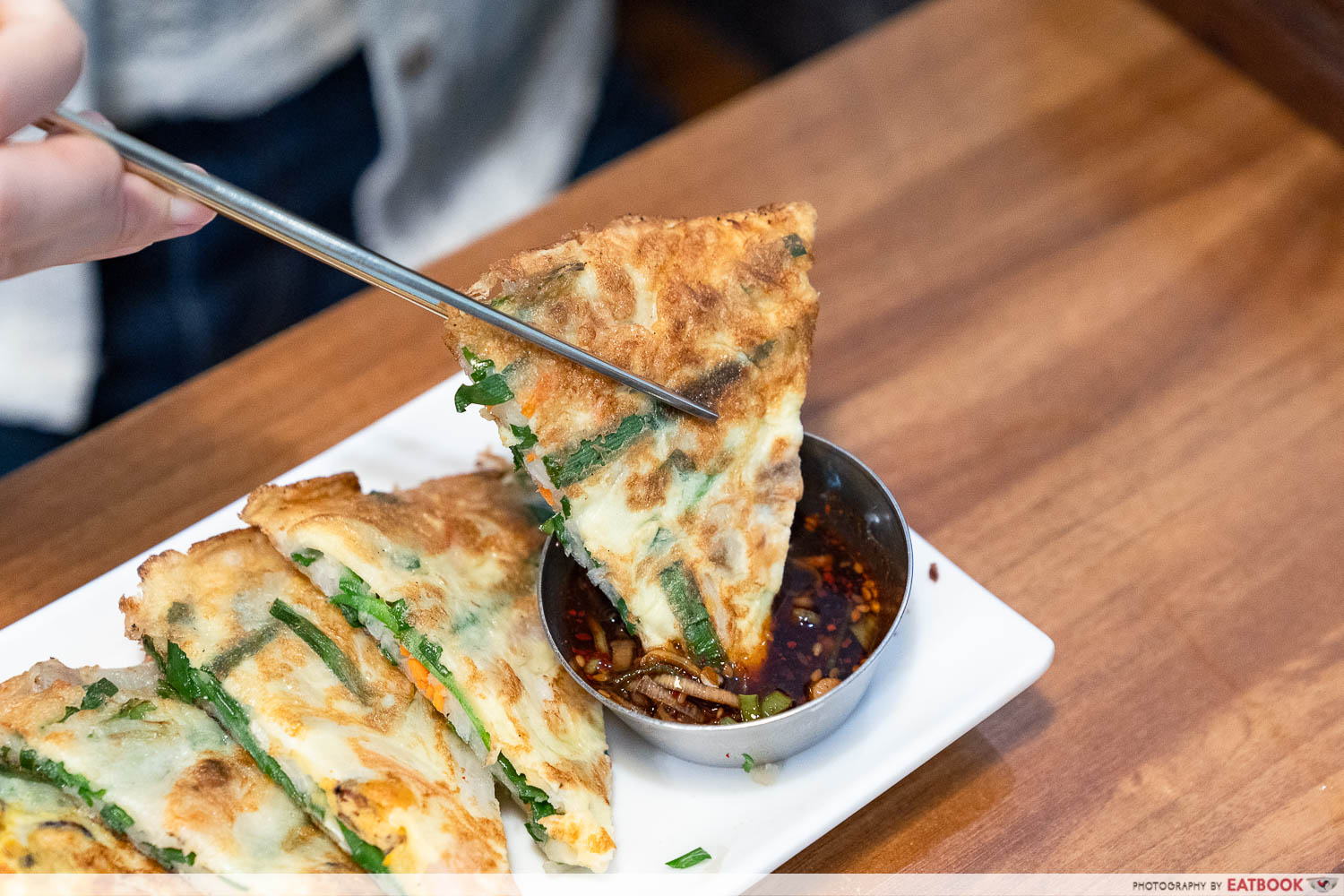 Packed with a variety of vegetables and seafood, the Seafood Pancake makes for a great dish to share with your friends and family. These Korean pancakes are best paired with the dipping sauce, which is mainly a combination of soya sauce and chilli powder. 
There are two other pancakes, namely the Kimchi Pancake ($18++) and Seafood Pajeon ($20++), but the Seafood Pancake is said to be the most popular among the three.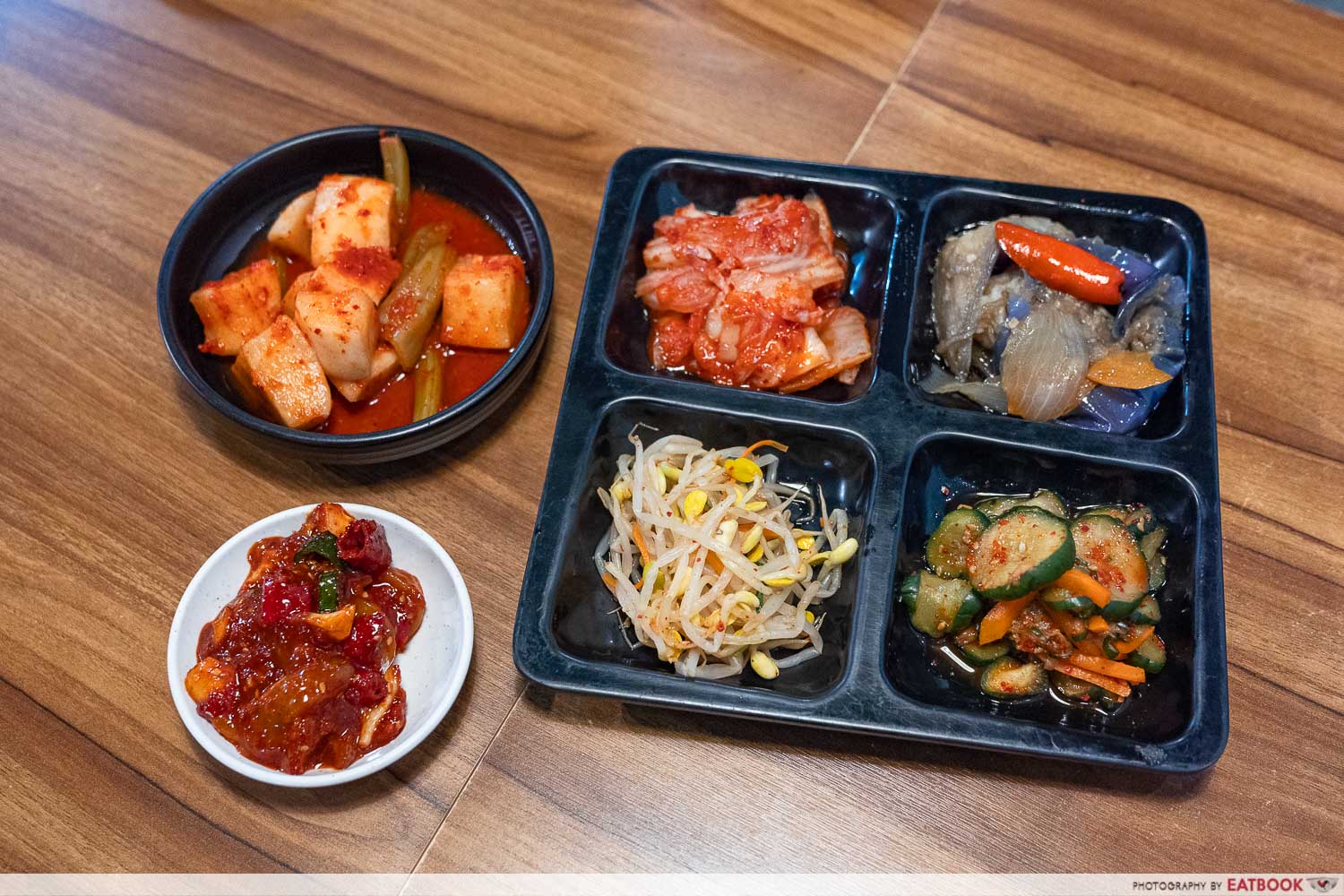 At most restaurants, the mains often steal the limelight, but the best way to judge a Korean restaurant is by taking a bite of their side dishes. The banchan at Hoodadak Korean restaurant are not only hand-made with love, they are also switched up every now and then, which means you might get to try a new side each time you visit.
There were four different side dishes during our visit: kongnamul-muchim (soybean sprout), gaji-bokkeum (stir-fried eggplant), aehobak-bokkeum (stir-fried zucchini), and kimchi. It'd be helpful to note that side dishes here are not free-flow, and they can only be refilled once. 
A quick shout-out to my fellow Koreans residing in Singapore: don't forget to make yourself known as a Korean to the staff as you'll be given an additional side dish! Koreans get free ojingeo-jeot, which is also known as salted fermented squid side dish. This special treatment is quite the tearjerker for those living away from home. 
Ambience at Hoodadak Korean Restaurant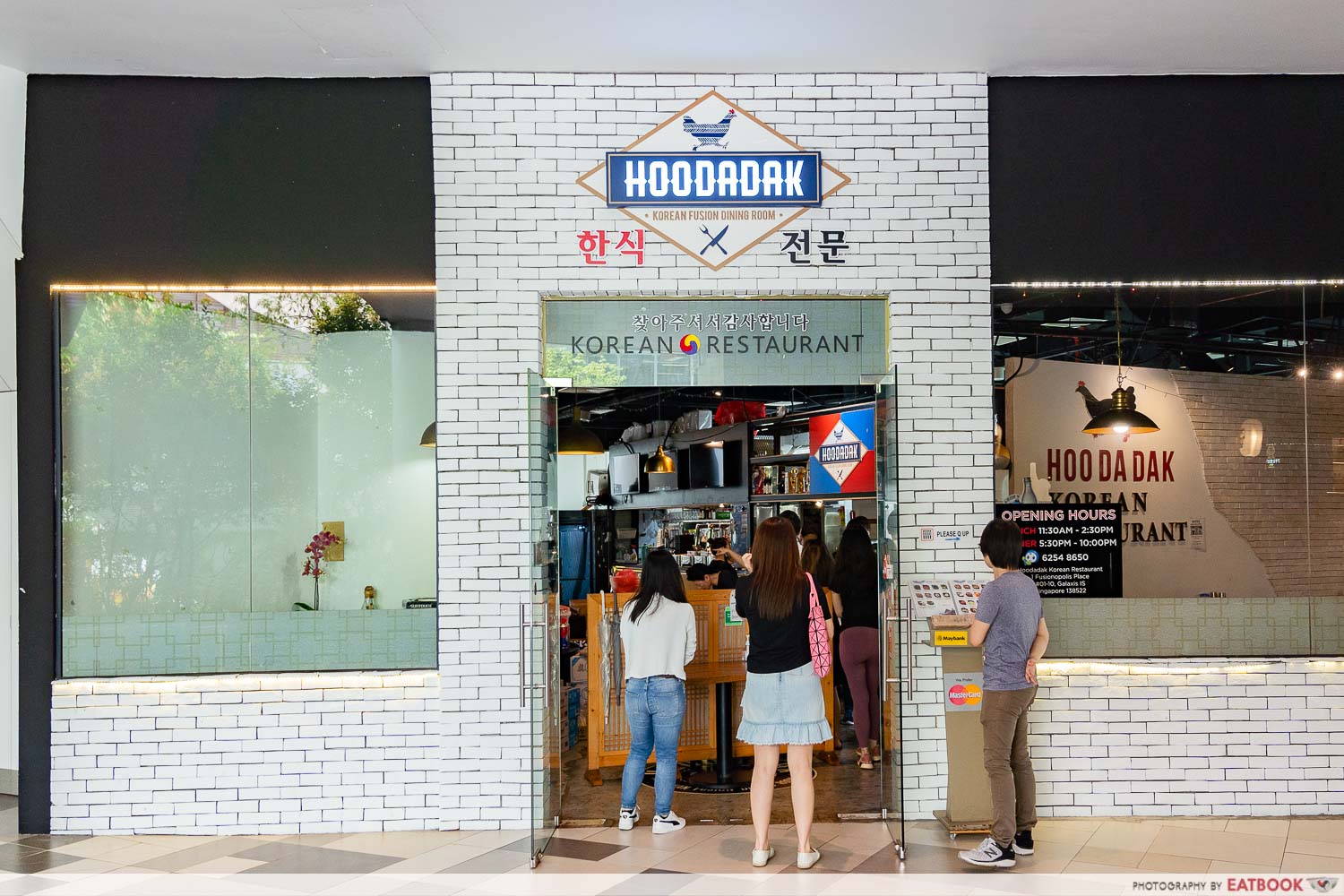 We were the first to set foot into the restaurant when it opened its doors at 11.30am. In less than 30 minutes, the busy footsteps of those working in the vicinity made their way over, and the restaurant was completely occupied in no time. There were a few Korean customers in sight, which I believe sets a benchmark for how bona fide the restaurant is.
Since this area is recognised as a business park brimming with startups and research institutions, it's not the most frequented area for food. While Hoodadak Korean restaurant is not the most centrally located, it's only a one-minute walk from One-north MRT Station. So if you're in the area, you can consider dropping by the restaurant for a satisfying meal.
Another note to all Korean patrons: you don't need to pay service charge here—just take it as the i-mo's fondness for her people. 
The verdict
Hoodadak is helmed by three Korean chefs, so it's not difficult to see why Koreans flock here for their authentic Korean pork soup and rice. Rewarding myself with a piping hot bowl of gukbap after getting through a long day always hits the spot, so I'll be back for more!
If you'd like to try Singapore's first duck KBBQ at Telok Ayer, you can head down to SODENG Korean Restaurant. Otherwise, check out Bulgogi Syo, a Korean hotplate restaurant with a unique three-step grilling process.
Address: 1 Fusionopolis Place, #01-10 Galaxis, Singapore 138522
Opening hours: Daily 11.30am to 2.30pm, 5.30pm to 10pm
Tel: 6254 8650
Hoodadak Korean Restaurant is not a halal-certified eatery. 
SODENG Korean Restaurant Review: Unique K-BBQ Duck, Duck Mandu And More In Telok Ayer
Photos were taken by Zi Hui Tan and edited by John Lery Villanueva.
This was an independent visit by Eatbook.sg.
Hoodadak Korean Restaurant Review: Legit Korean Pork Soup And Rice In One-north 
Hoodadak Korean Restaurant Review: Legit Korean Pork Soup And Rice In One-north  -

8/10
Summary
Pros
– Offers a variety of Korean dishes other than Gukbap
– Soup was rich and delicious
– Gukbap is reasonably priced
Cons
– Lunch and dinner crowd can get overwhelming
– Not the most centrally located
Recommended dishes: Gwaeji Gukbap ($17++), Sundae Gukbap ($19++) and Seafood Pancake ($19++)
Opening hours: Daily 11.30am to 2.30pm, 5.30pm to 10pm
Address: 1 Fusionopolis Place, #01-10 Galaxis, Singapore 138522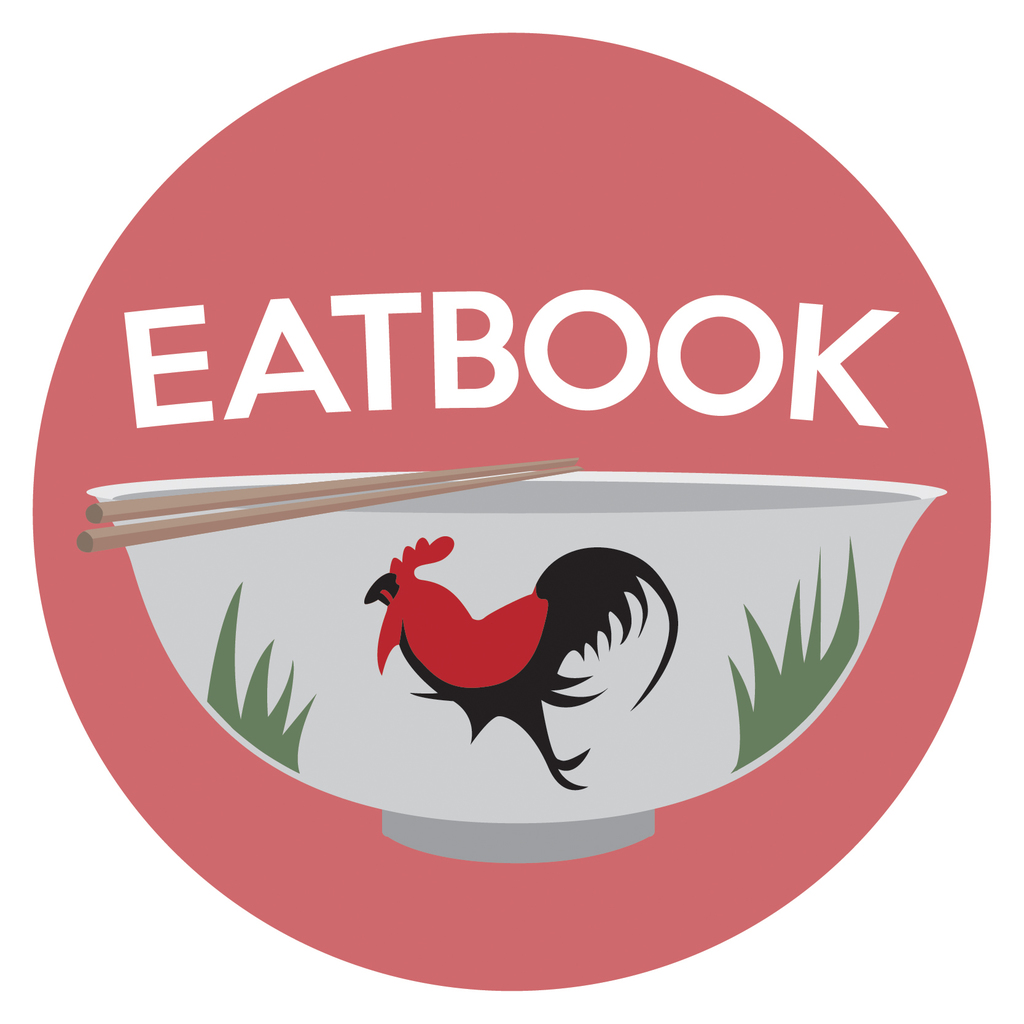 Drop us your email so you won't miss the latest news.