Hua Yi Kitchen – The OG master of XLB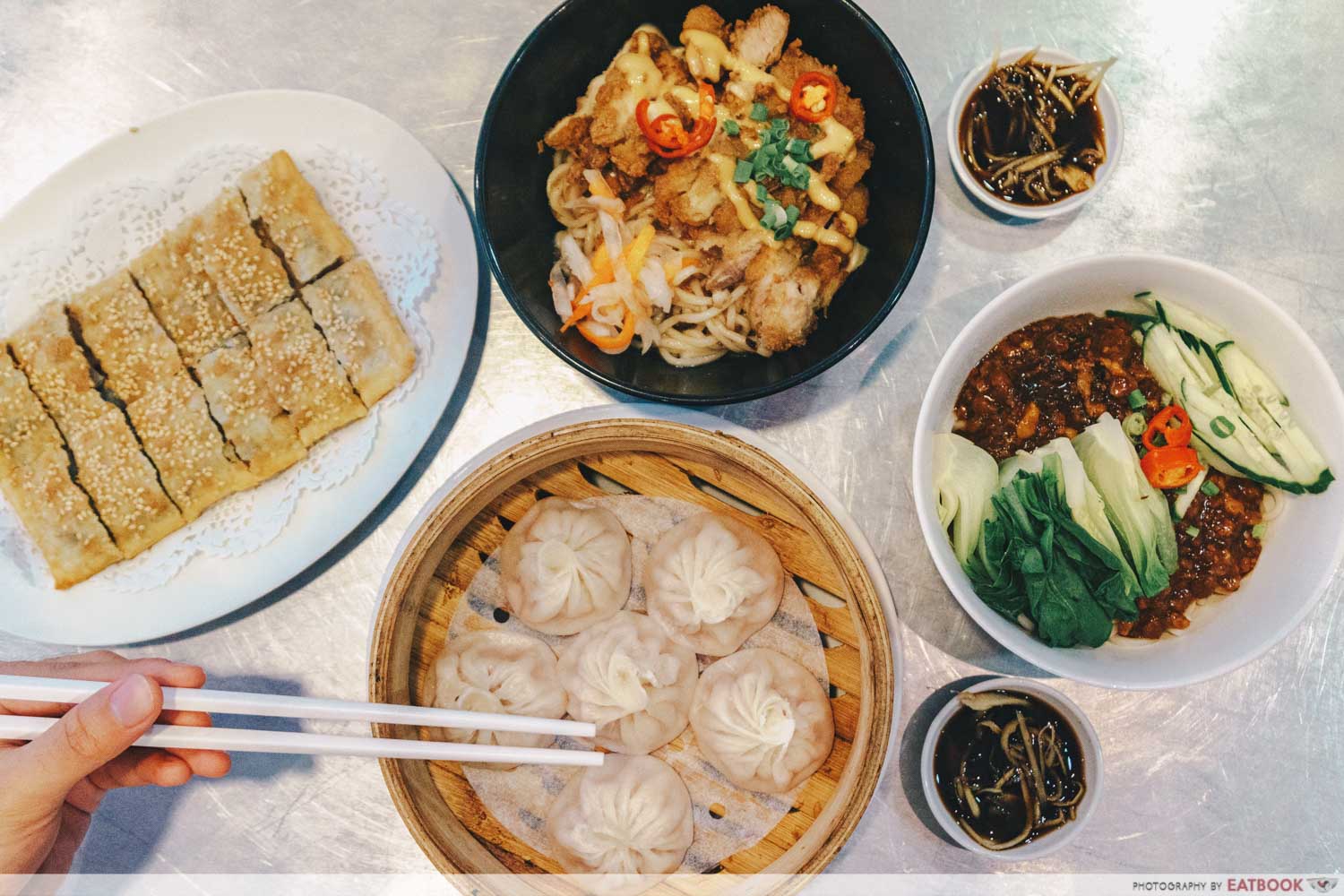 Restaurants such as Din Tai Fung and Paradise Dynasty usually come to mind when our cravings for xiao long bao strike. However back in the days before these joints opened, Hua Yi Kitchen was the go-to place for legit XLB. Hiding in a quiet corner of Orchard, this homely eatery impresses with its selection of Shanghainese dishes.
Food at Hua Yi Kitchen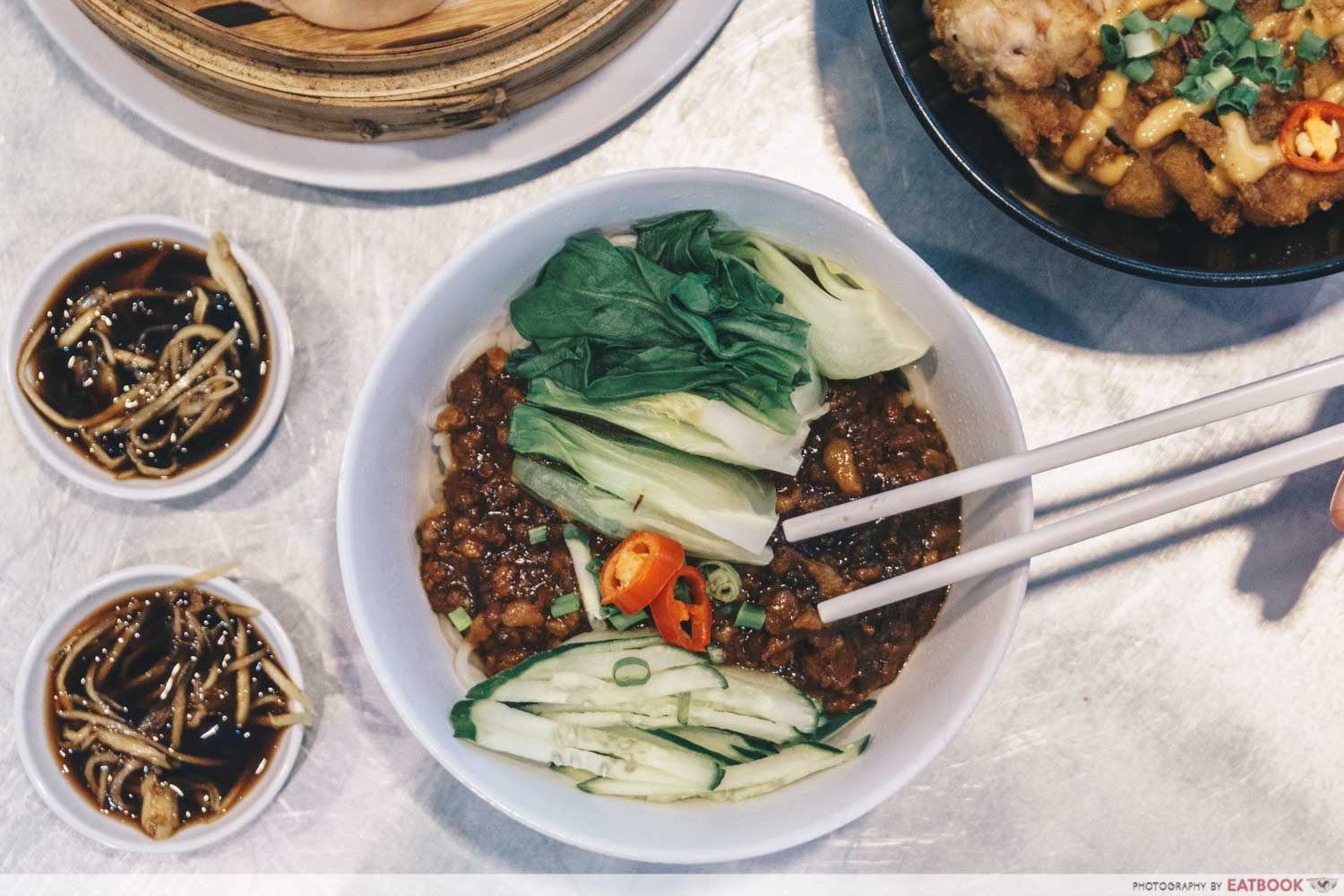 What keeps people returning to Hua Yi Kitchen is their signature Minced Pork Noodles ($6.80+). Also known as zha jiang mian, the dish showcases hand-pulled noodles smothered in a thick gravy and garnished with chye sim, julienned cucumbers, and sliced chillies.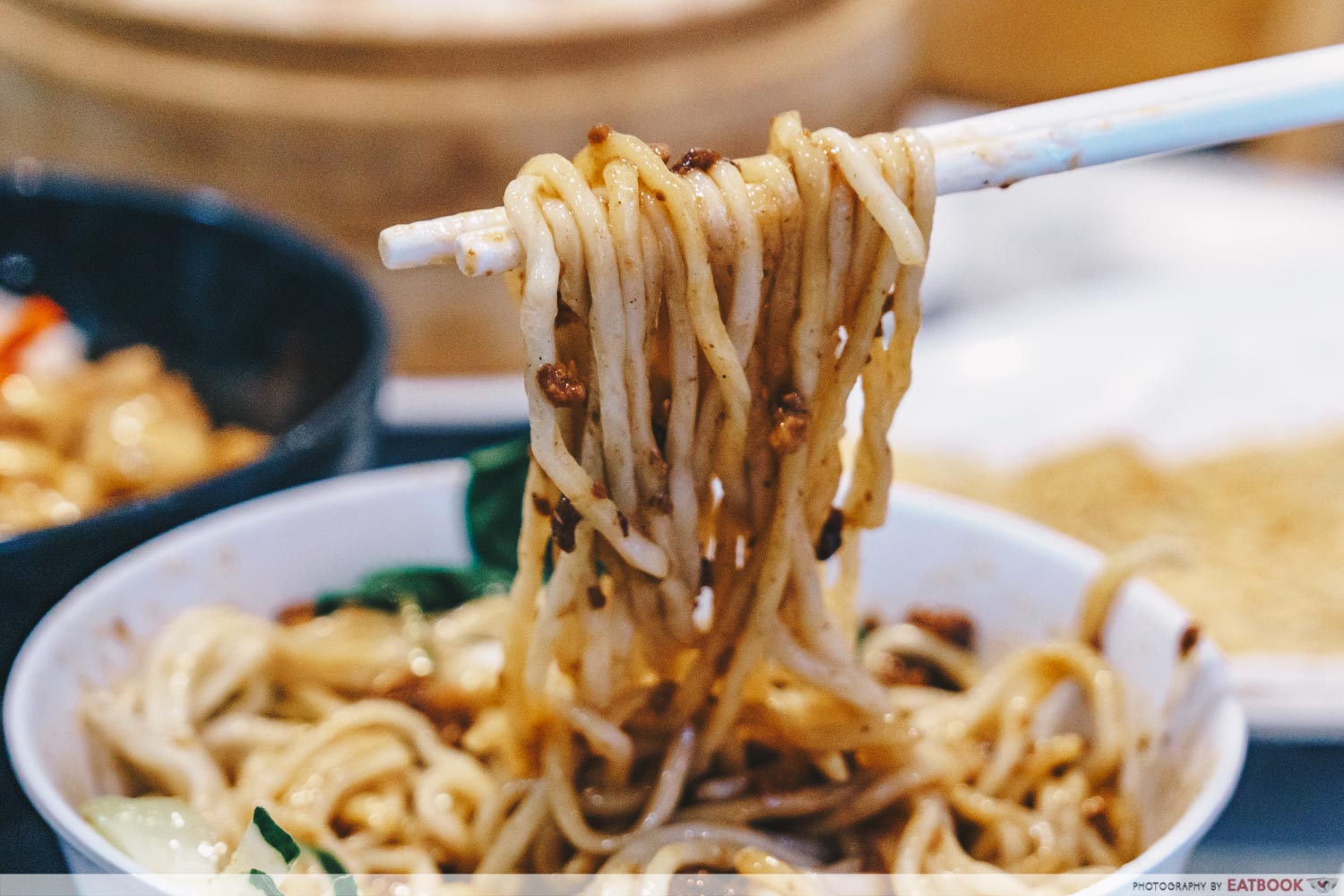 Cooked al dente, the noodles wowed me with their bouncy bite. As these noodles were made purely from flour, salt, and water, they were untainted by an alkaline aftertaste.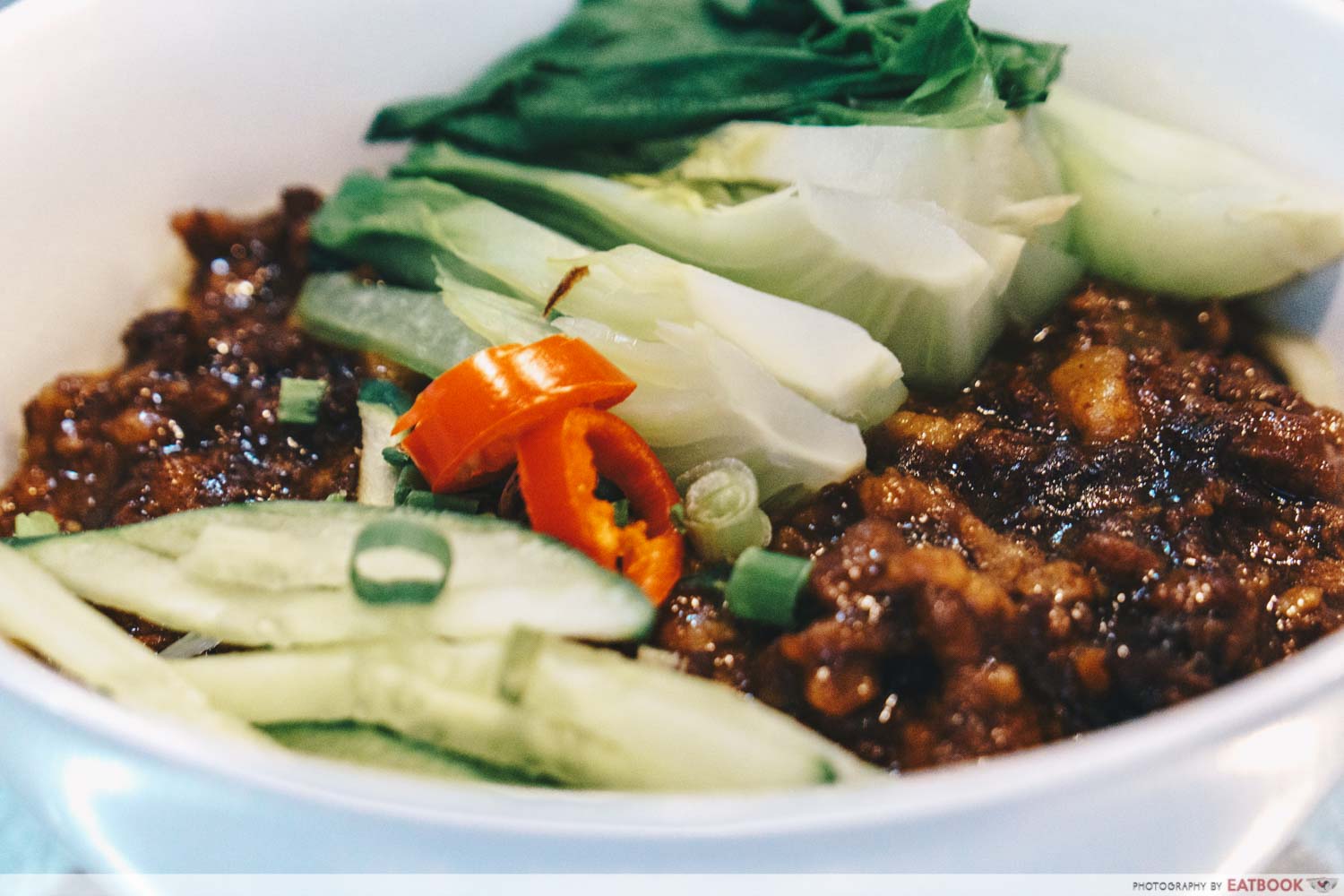 Zha jiang translates to "mixing of paste" in Chinese – a reference to how the gravy is prepared with a blend of soybean paste and fermented wheat paste. For their minced pork noodles, a higher proportion of wheat paste seemed to be used, as their sauce had a light bitterness and an overall gentle sweetness.
Furthermore, I appreciated that the sauce wasn't as oily as other zha jiang mian I've tasted. This gave the la mian a cleaner tang and spared me from the dreaded clutches of jelak-ness.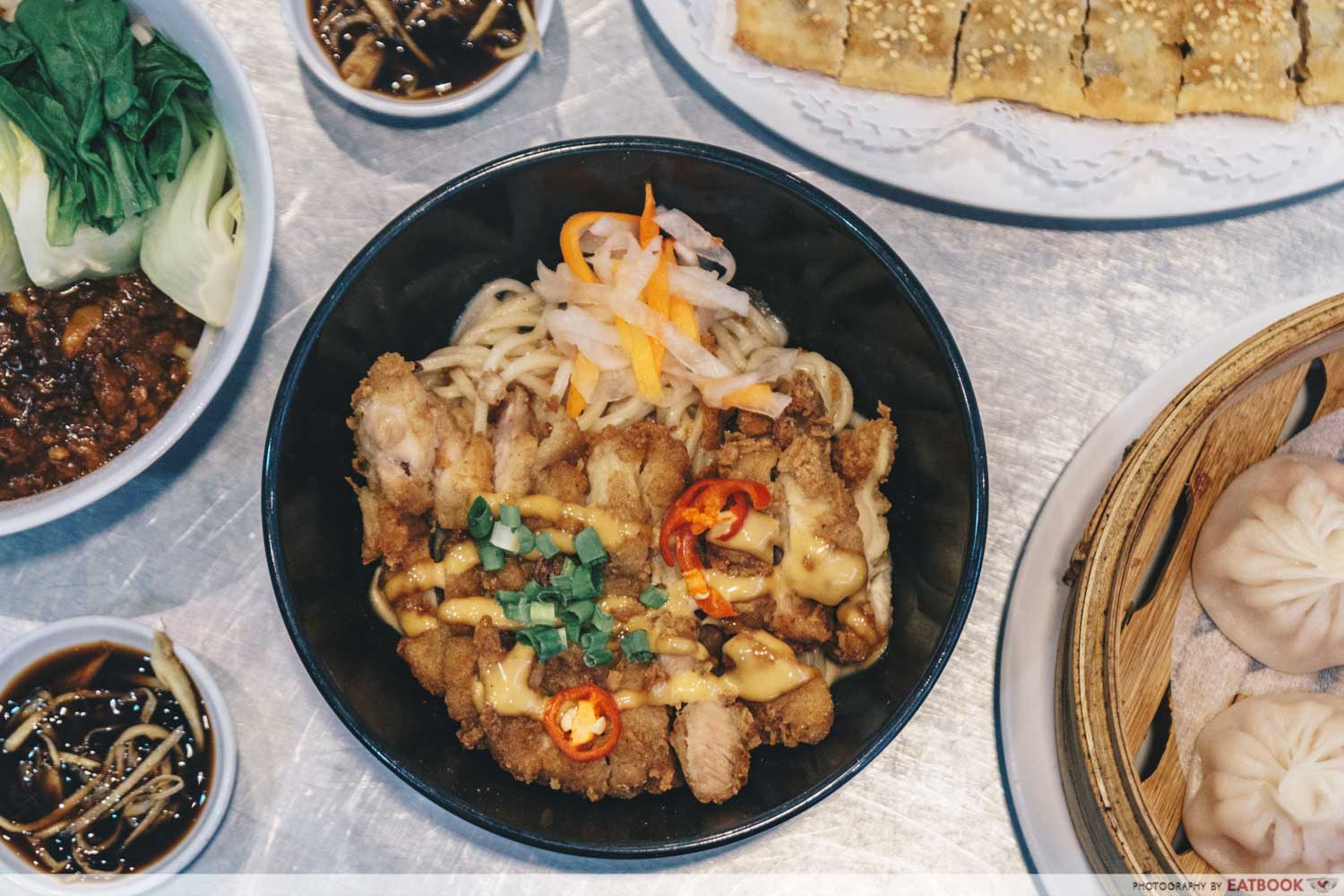 Unlike the minced pork noodles, the Dry Chicken Cutlet Noodles ($7.80+) left a strong impression with their robust flavours. Every mouthful of noodles brought forth an explosive burst of salty and peppery notes, which was zhng-ed up by a jolt of umami. This electrifying potpourri of tastes created a carbolicious treat, and I found myself wolfing down the la mian in record speed.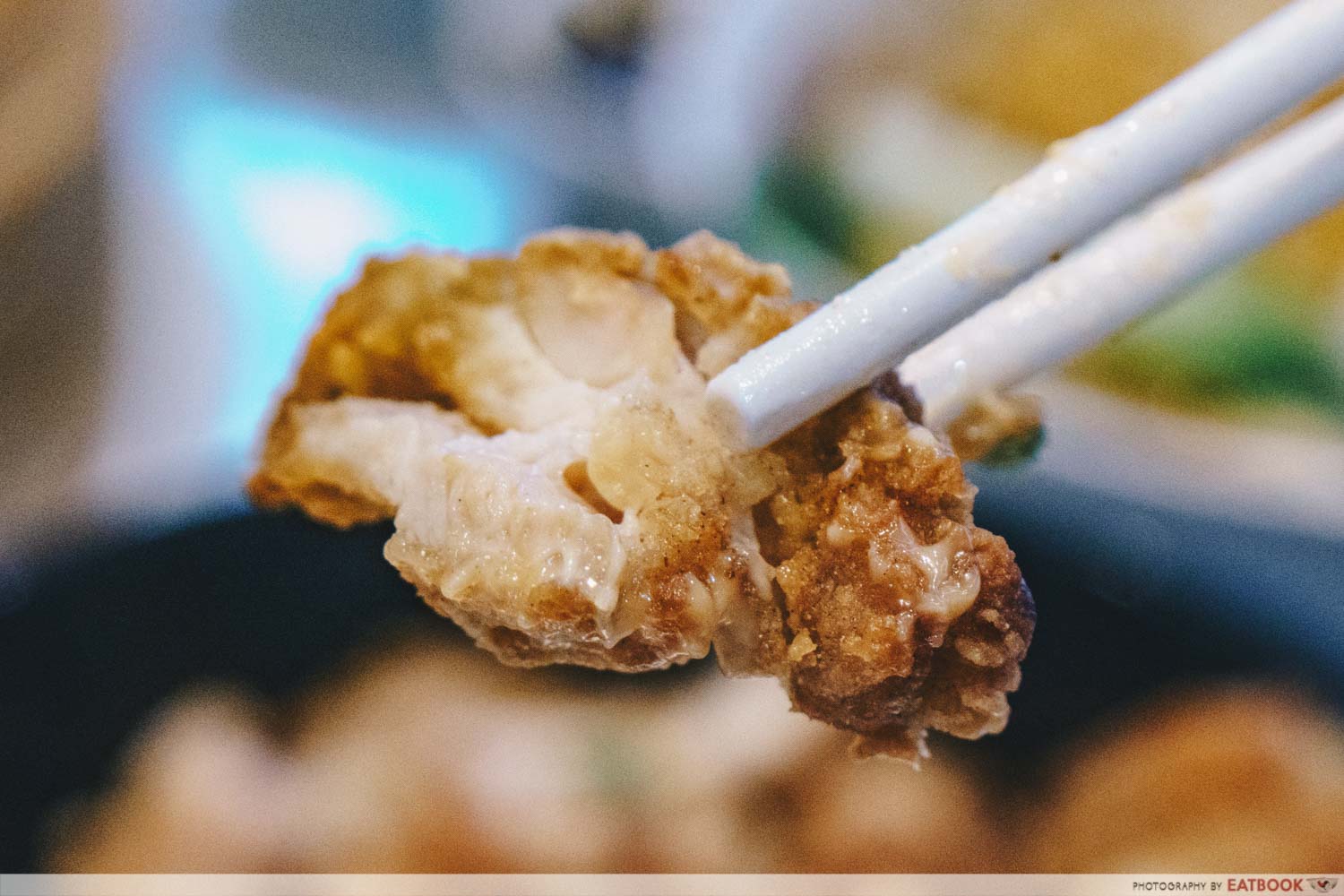 Now onto the star of the show: the fried chicken cutlet. It boasted a succulent bite while also retaining a crunchy exterior. It was also lightly seasoned with salt and pepper, which added depth to the protein.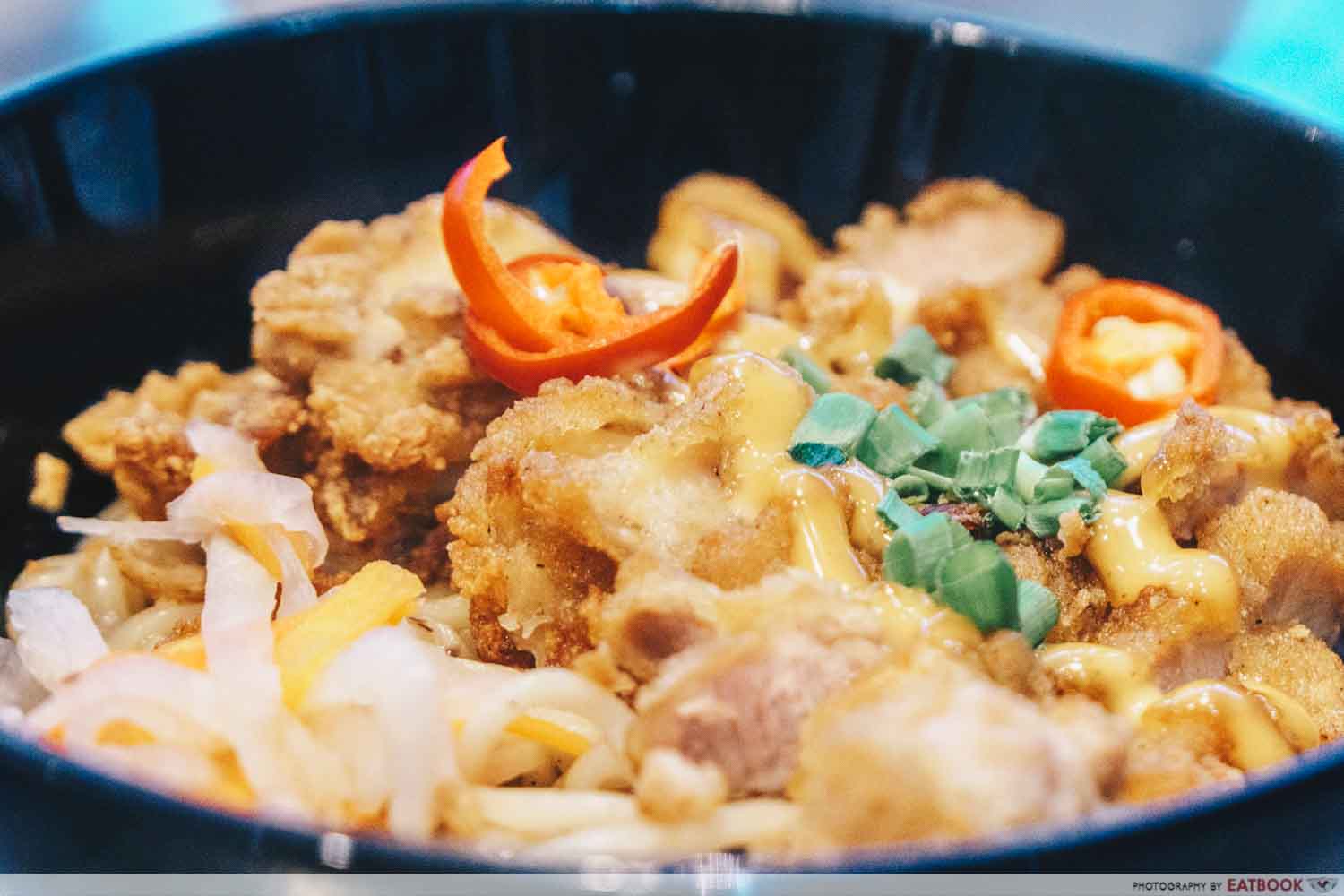 Their house-made dressing was the icing on the cake. Intriguingly, it reminded me of nacho cheese sauce, and bolstered the meat with its creamy and savoury flavour.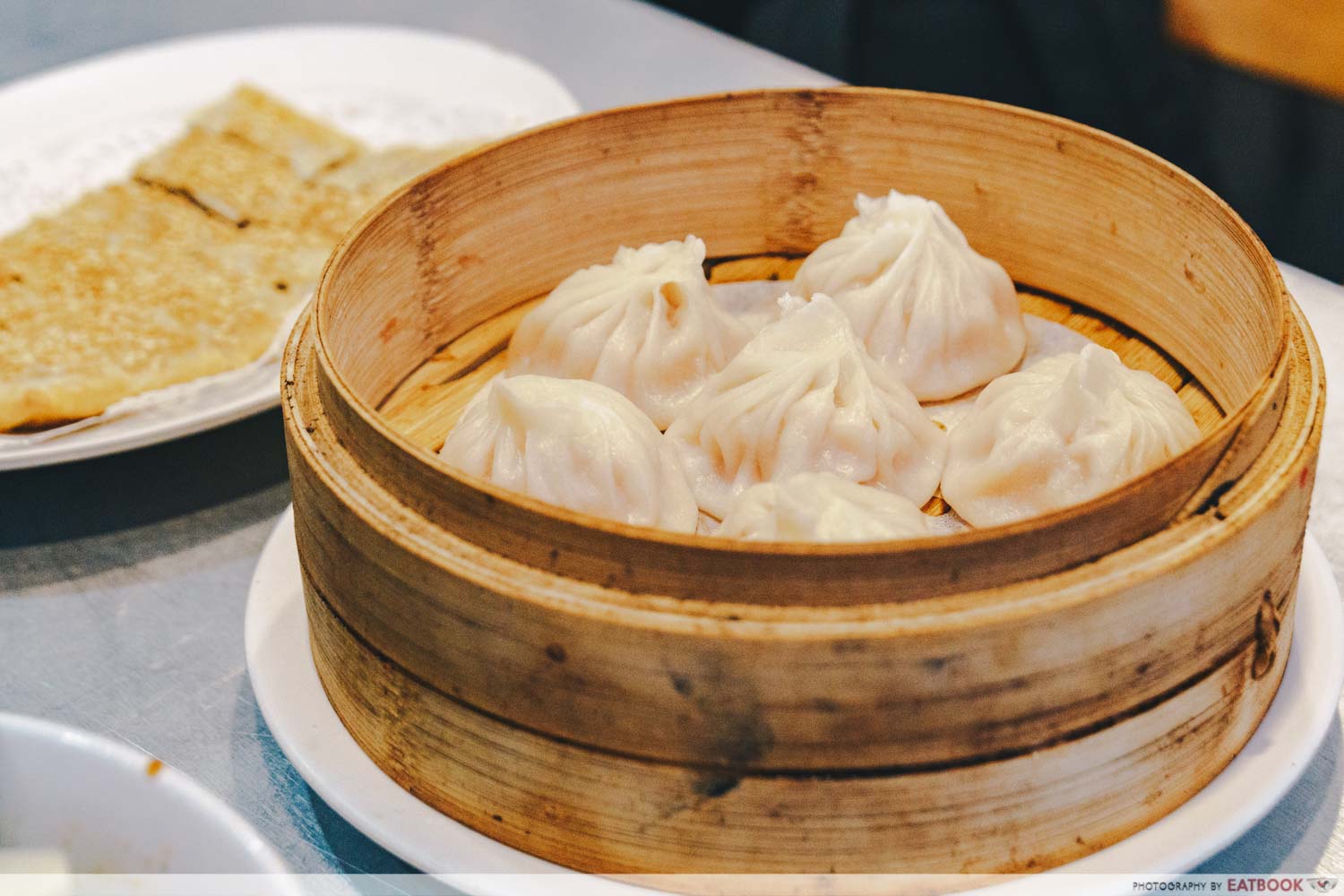 No trip to a Chinese restaurant is complete without xiao long bao and I was eager to try their Steamed Juicy Minced Pork Dumpling ($6.50+). What I loved most about the dumplings was their multifaceted filling, which rivalled those dished up at Din Tai Fung.
7 Cheap Xiao Long Bao From $0.60 Per Piece For Your XLB Cravings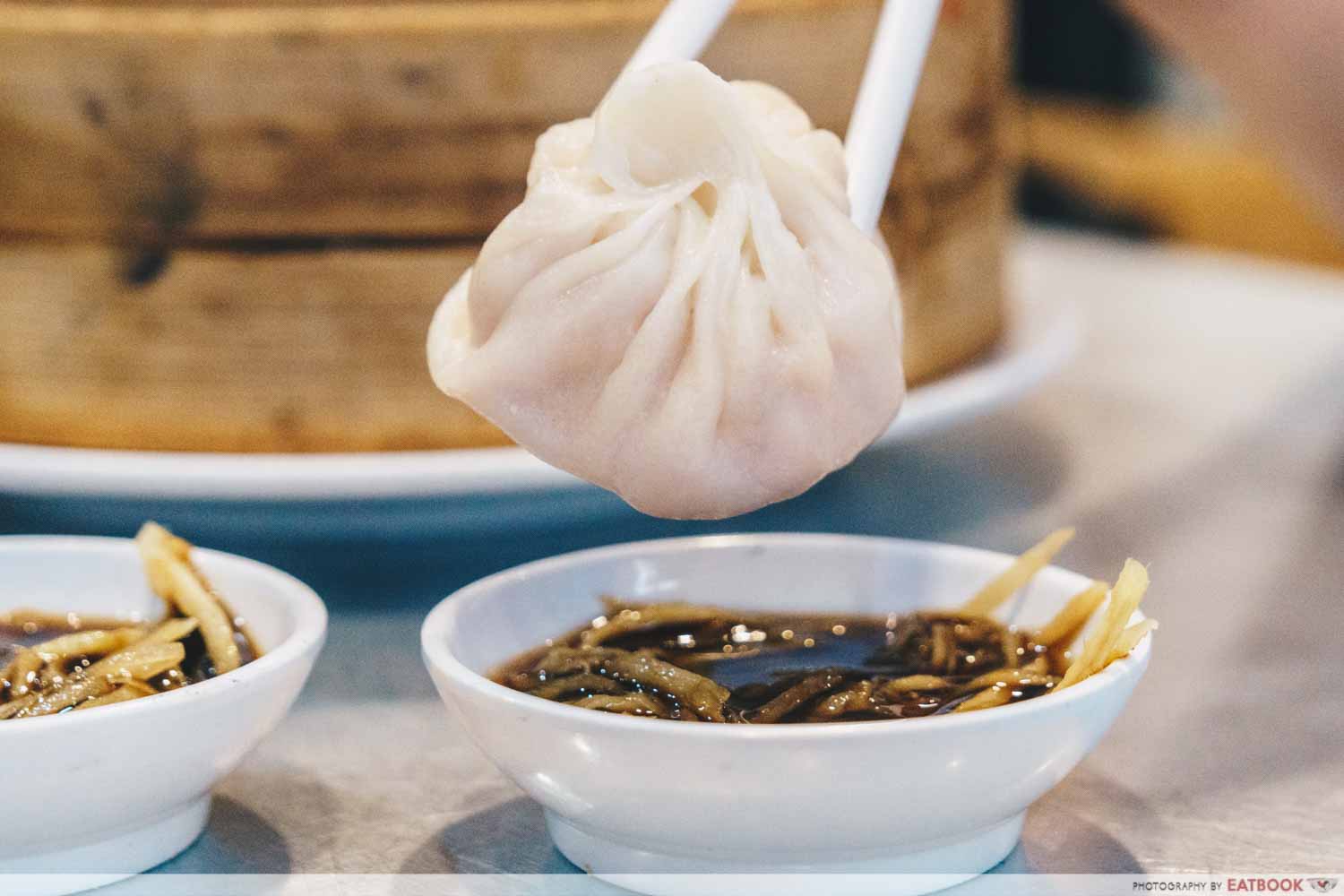 The rich broth set the stage before the minced meat breezed past me with its porky richness. I also detected whiffs of ginger, which balanced the heavier elements with its refreshing taste.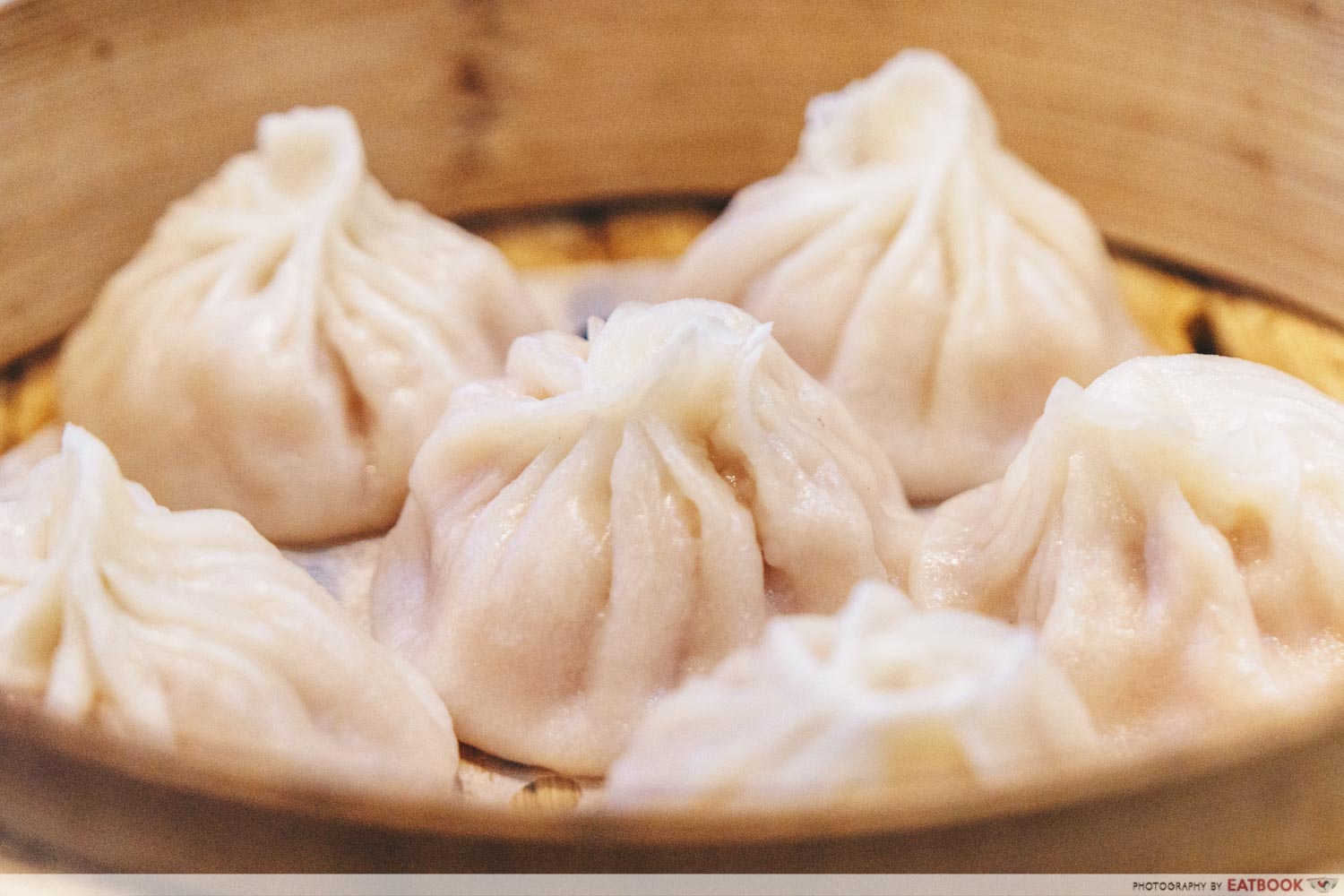 However, I felt that the texture of their xiao long bao could be improved. As the folds were of unequal thickness, the dumplings had an uneven bite to them.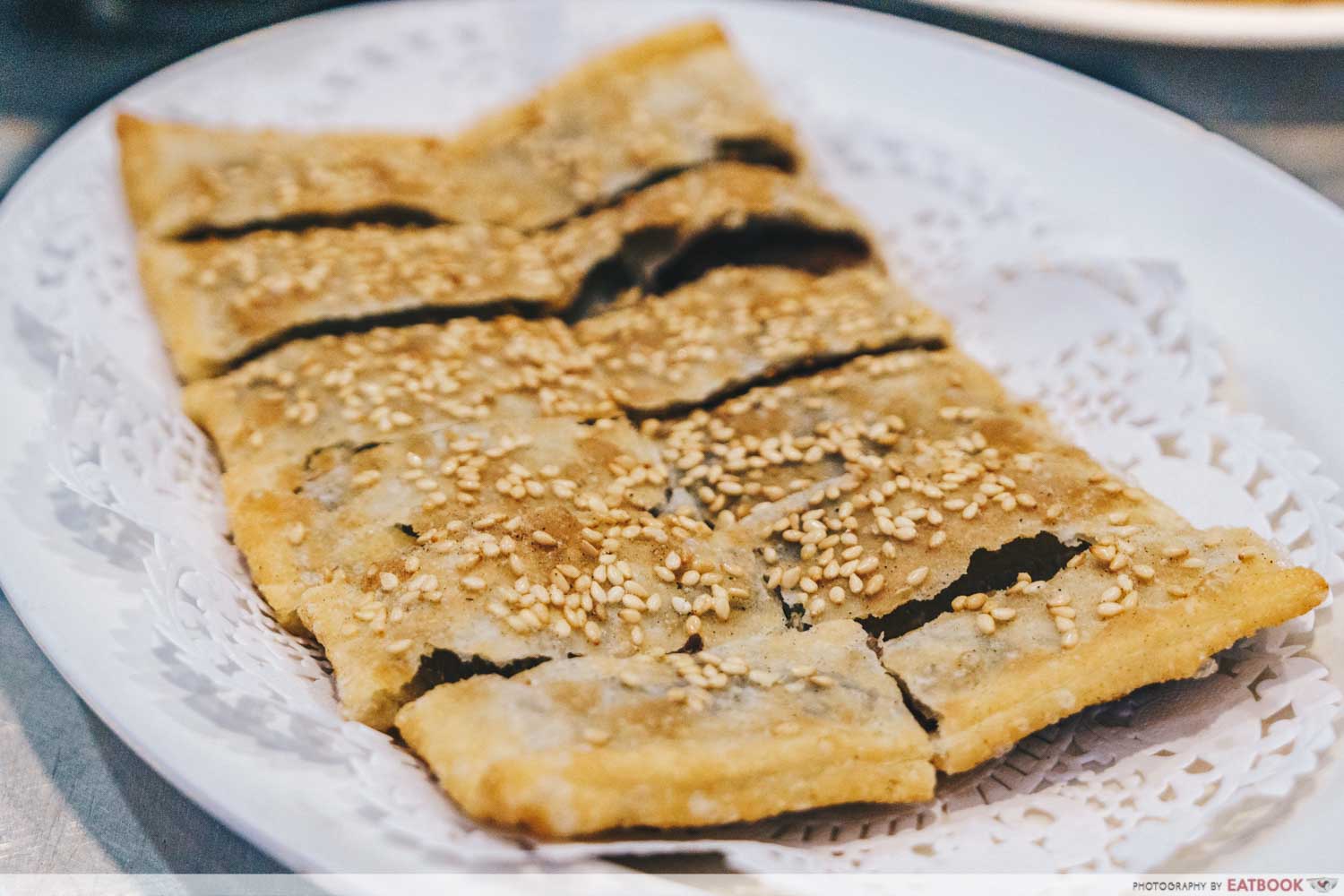 If you are yearning for something sweet, be sure to try their Red Bean Pancake ($6.80+).  This candied treat offered a refreshing duality of textures – its crisp exterior contrasted superbly with the mochi-esque interior.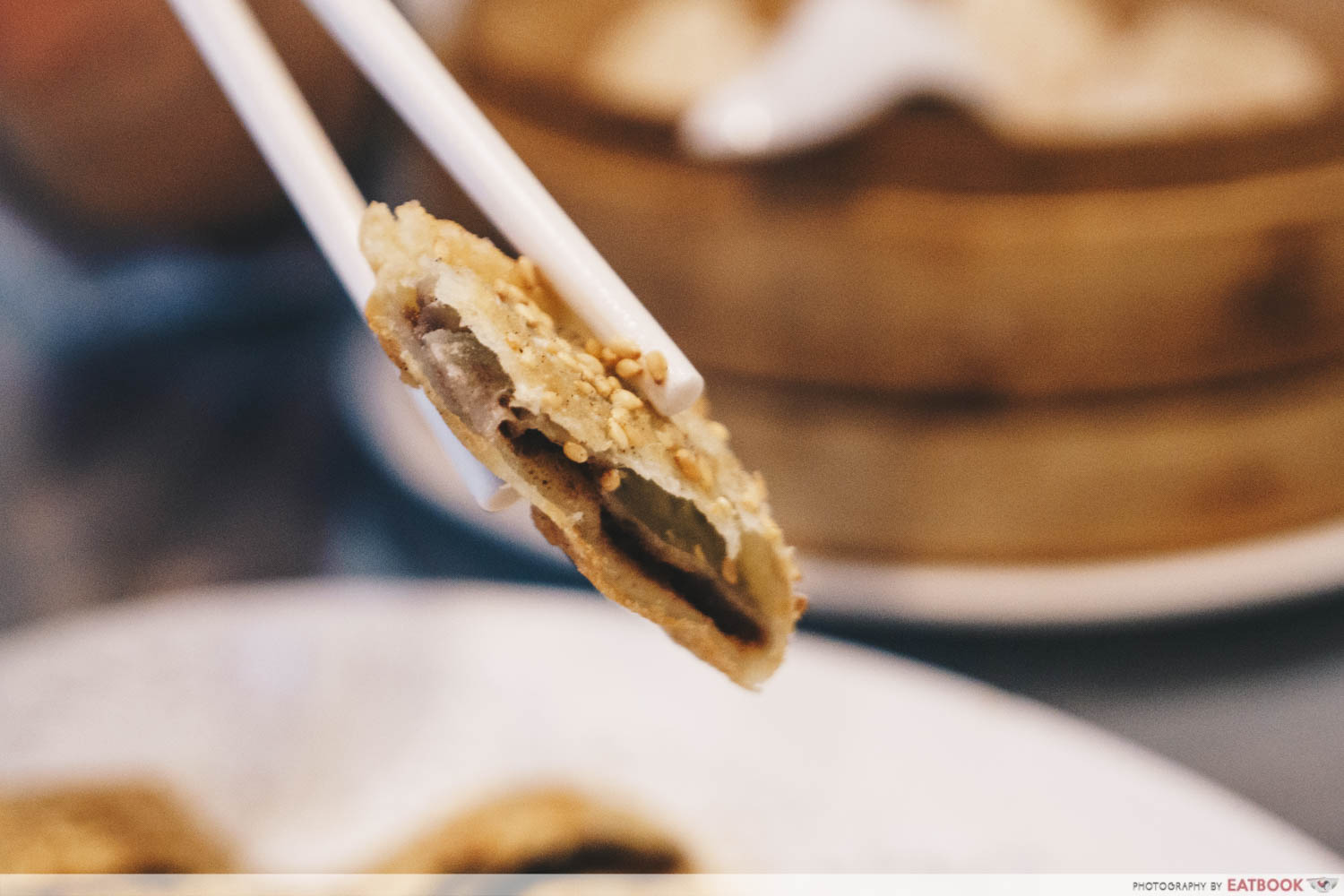 Similar to a well-stretched prata, the pancake had a nice chewiness. It was bouncy enough for me to savour the luscious filling, yet it wasn't springy to the extent I was trapped in a frustrating jaw tussle.
Sesame seeds were another thoughtful addition, as they supplied a savoury nuance with their nutty zing.
Ambience at Hua Yi Kitchen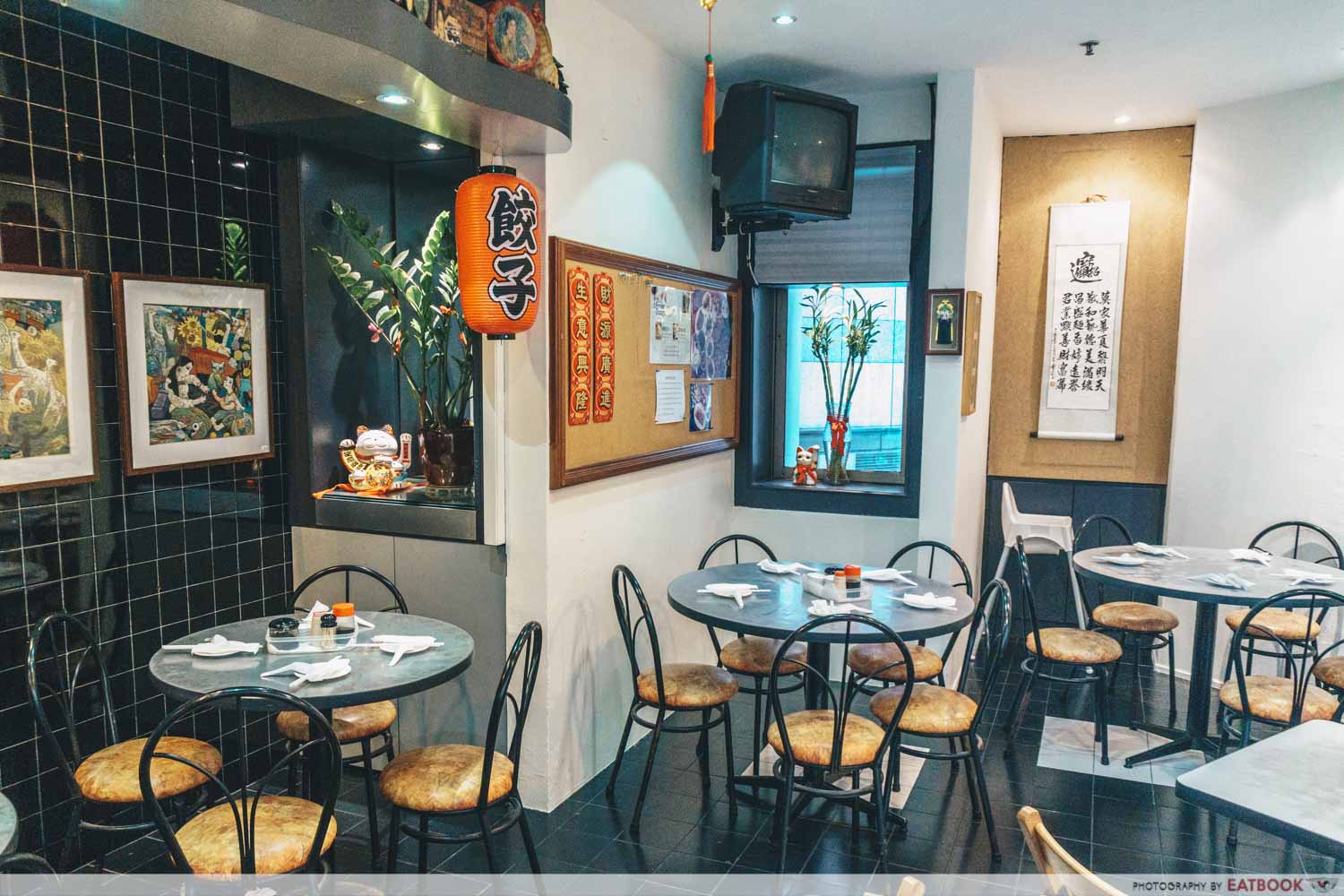 The unassuming decor of Hua Yi Kitchen seems to reflect their quiet confidence. Other than the Chinese paintings adorning the walls, nothing particularly catches the eye. Not to mention that it's rather cramped with their closely packed seats.
That said, this layout has been steadily preserved for the past two decades. No need for change, no need for flamboyant decor, no need to flaunt  – great food is all the restaurant needs.
The verdict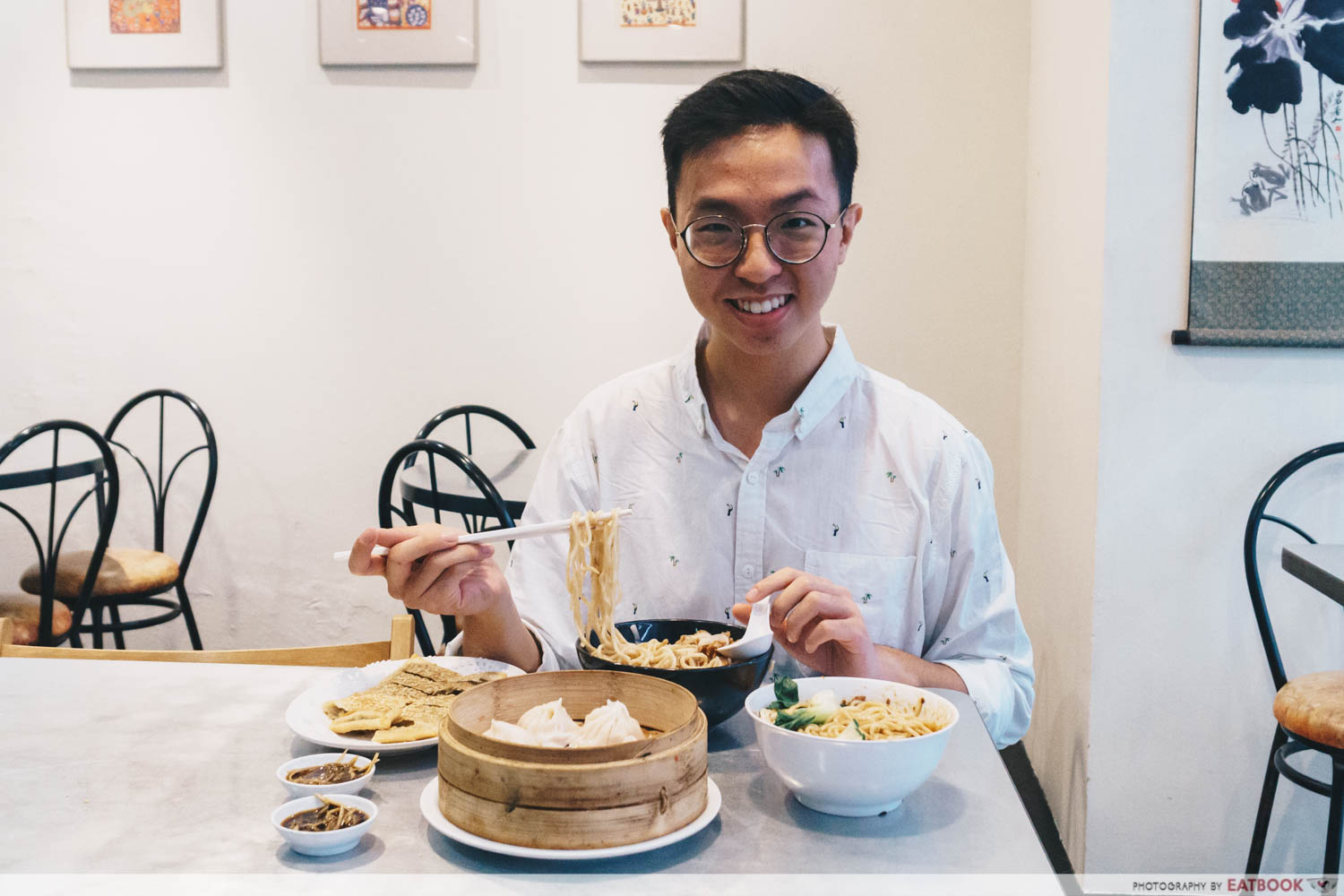 "Form is temporary, class is permanent." – Bill Shankly.
A good restaurant is not defined by huge crowds and long queues. Rather, it's defined by its ability to maintain the consistent standards of food regardless of its popularity. And that's what Hua Yi Kitchen has done for the past twenty years. Although it has faded from the limelight in recent years, it remains a fantastic option to enjoy xiao long bao and legit Shanghainese fare on a budget.
While you're there, be sure to check out The Rice Table, which pampers you with an All-You-Can-Eat Rice Table Lunch for $18.95 nett! And if you're searching for more affordable food options, be sure check out these 10 low-key Orchard food gems.
The Rice Table Review: 14-Course Indonesian Lunch Buffet At $18.95 Nett At Orchard
Address: 360 Orchard Road, #02-11/12, International Building, Singapore 238869
Opening hours: Daily 11:30am to 3pm, 5:30pm to 9:30pm
Tel: 6235 3156
Hua Yi Kitchen is not a halal-certified eatery.
Photos taken by Crystal Tan.
This is an independent review by Eatbook.sg.
Summary
Pros
– Convenient location
– Affordable prices
– Delicious noodles
Cons
– Cramped setting
Recommended Dishes: Minced Pork Noodles ($6.80+), Dry Chicken Cutlet Noodles ($7.80+), Red Bean Pancake ($6.80+)
Opening hours: Daily 11:30am to 3pm, 5:30pm to 9:30pm
Address: 360 Orchard Road, #02-11/12, International Building, Singapore 238869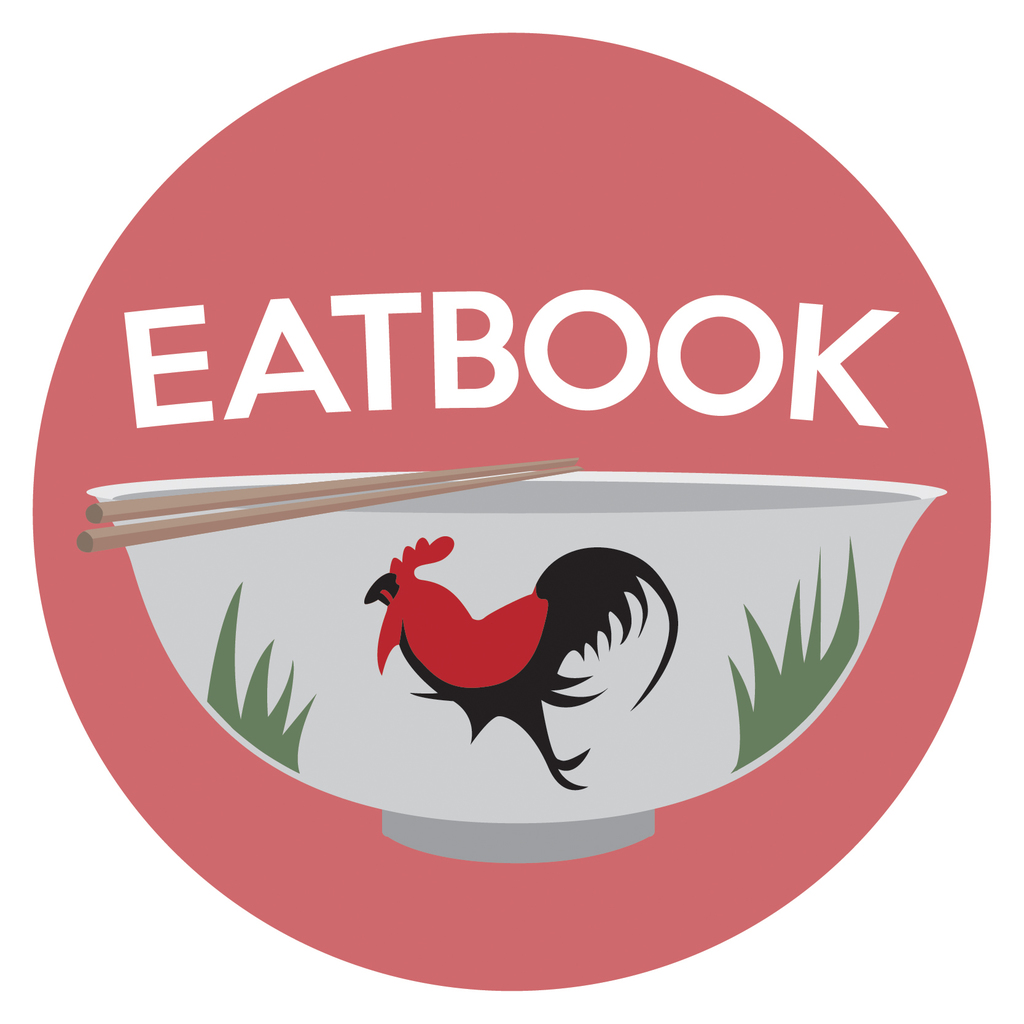 Drop us your email so you won't miss the latest news.