Ima-Sushi in SMU has affordable Japanese food

Student or not, wallet-friendly places to eat are always nice finds—all the more so when they serve food that's actually good too. Toss in a third tick for being centrally and conveniently located, and it's like you've hit jackpot. Ima-Sushi is one such gem.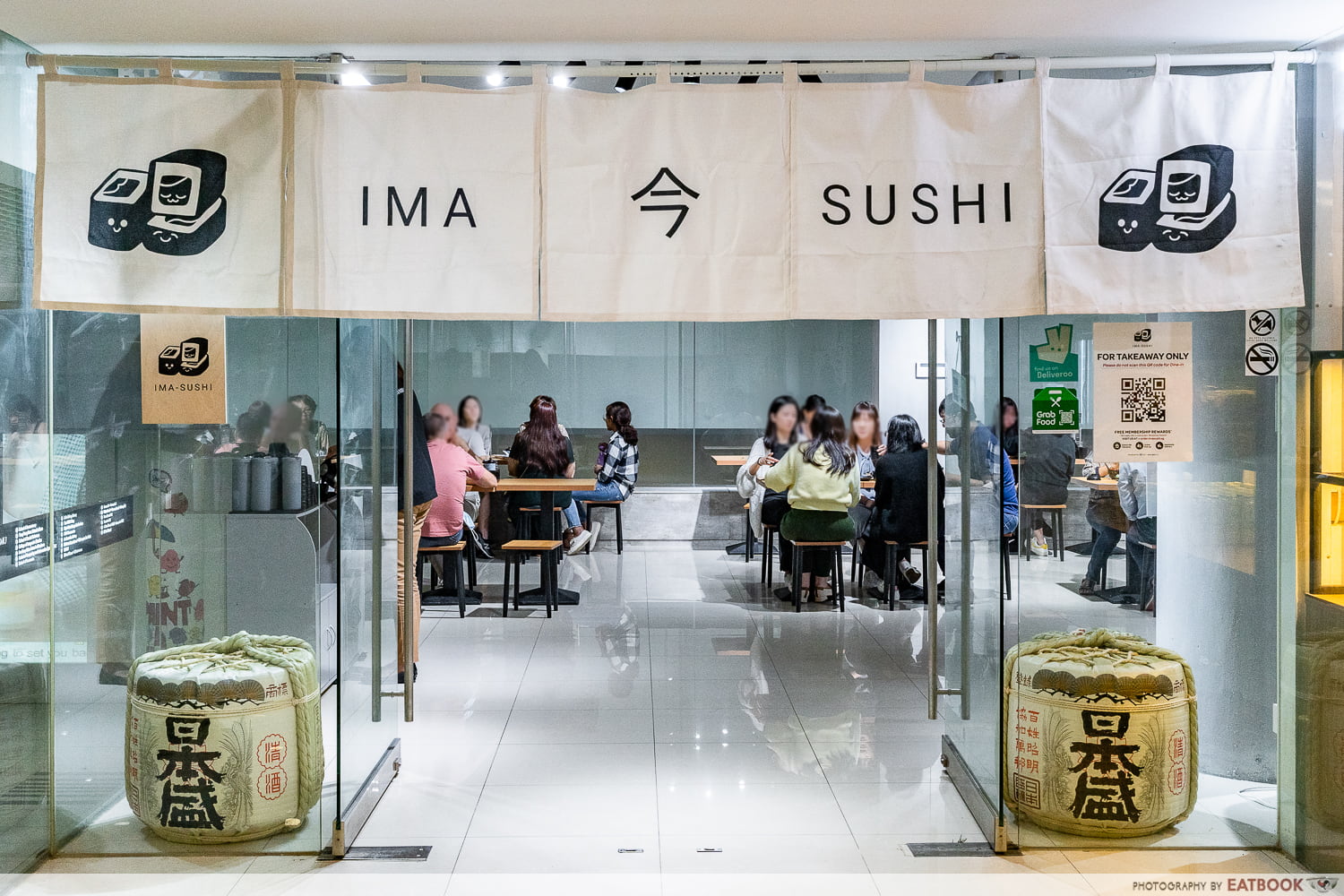 Located in the basement of SMU's Li Ka Shing Library, the four-month-old Japanese restaurant is run by the same team that brought us Burnt Cones. Heads up, you'll be able to get selected flavours of their gelato here too, albeit without their signature chao ta wafer cones.
Burnt Cones Review: New Clementi Cafe Open Till 12am For Waffles And Gelato Such As Yam And Pistachio
Food at Ima-Sushi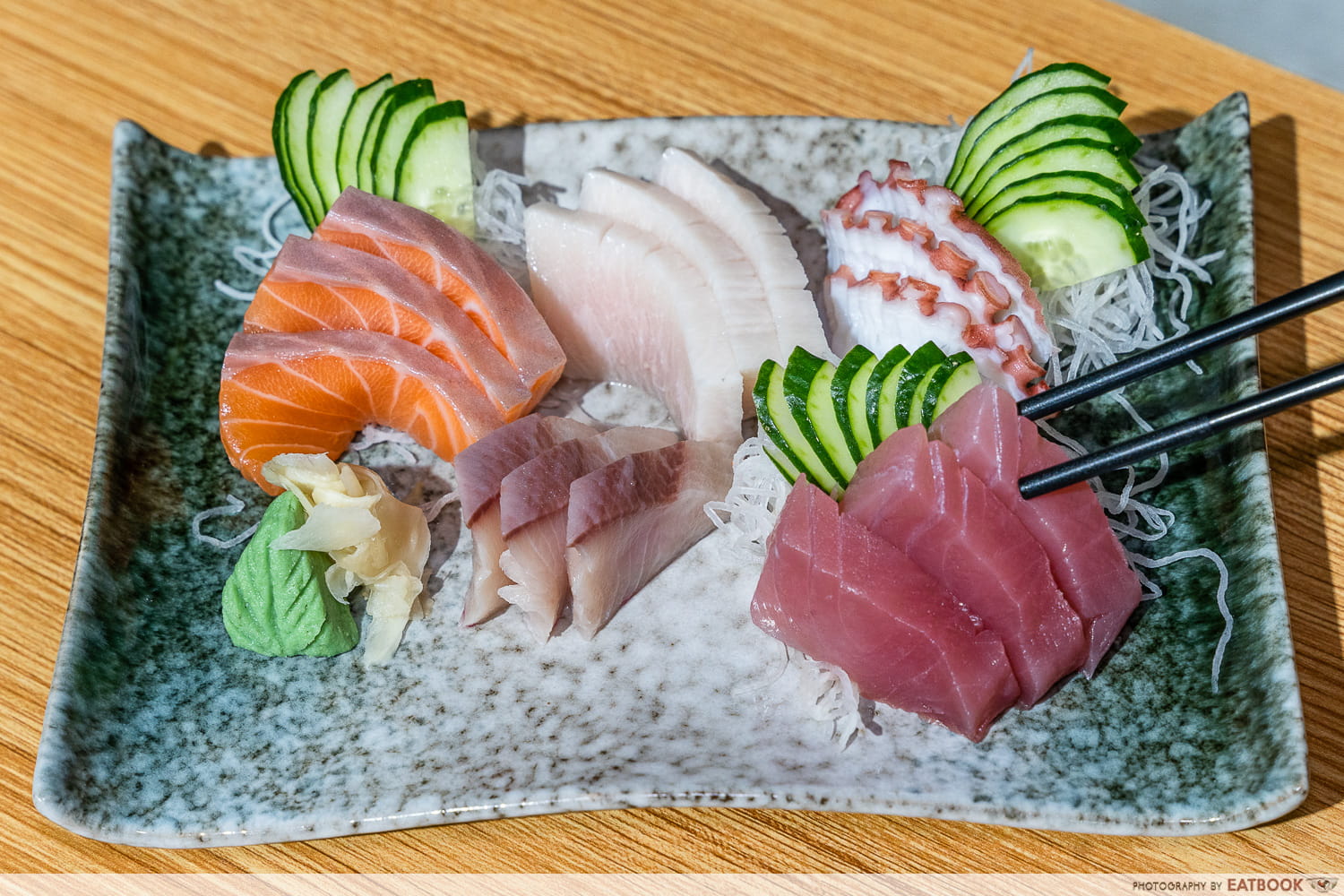 The primary diner base here is made up of SMU students and their accordingly tighter budgets, so Ima-Sushi keeps the prices on their menu on the low side of things. Ringing in the till at $23.80, or $21.42 if you're a student, is Sashimi Moriwase, which comes as a platter of five sashimi variants, each served in three fresh, thick-cut slices.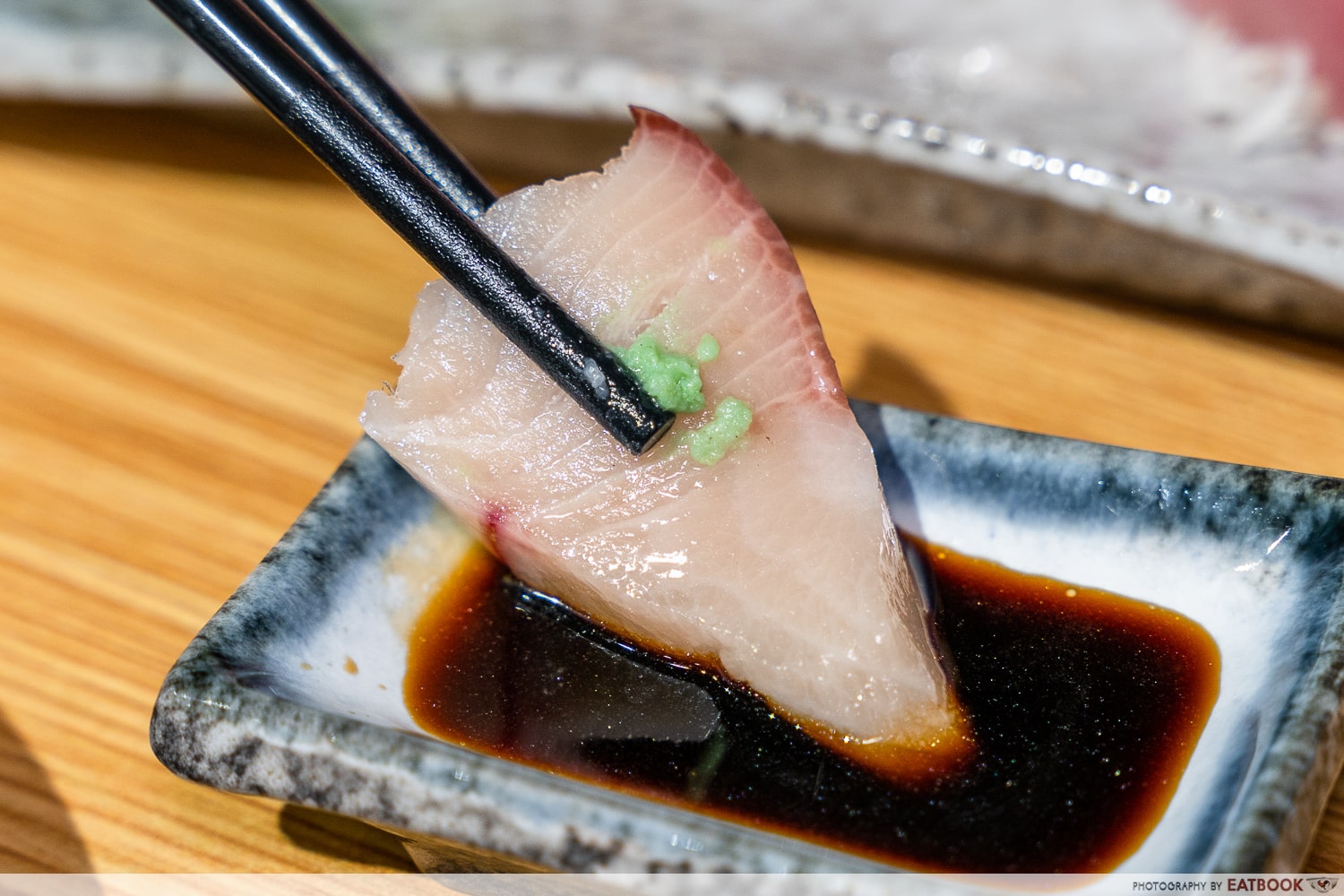 Of these, you'll find hamachi, tako, mekajiki, maguro, and sake, AKA salmon. The wasabi is of the artifically green variety rather than fresh-grated, but you can't quibble about that when the whole platter costs just a little more than $20. I also personally prefer thinner slices, but my dining companion loved these meaty ones.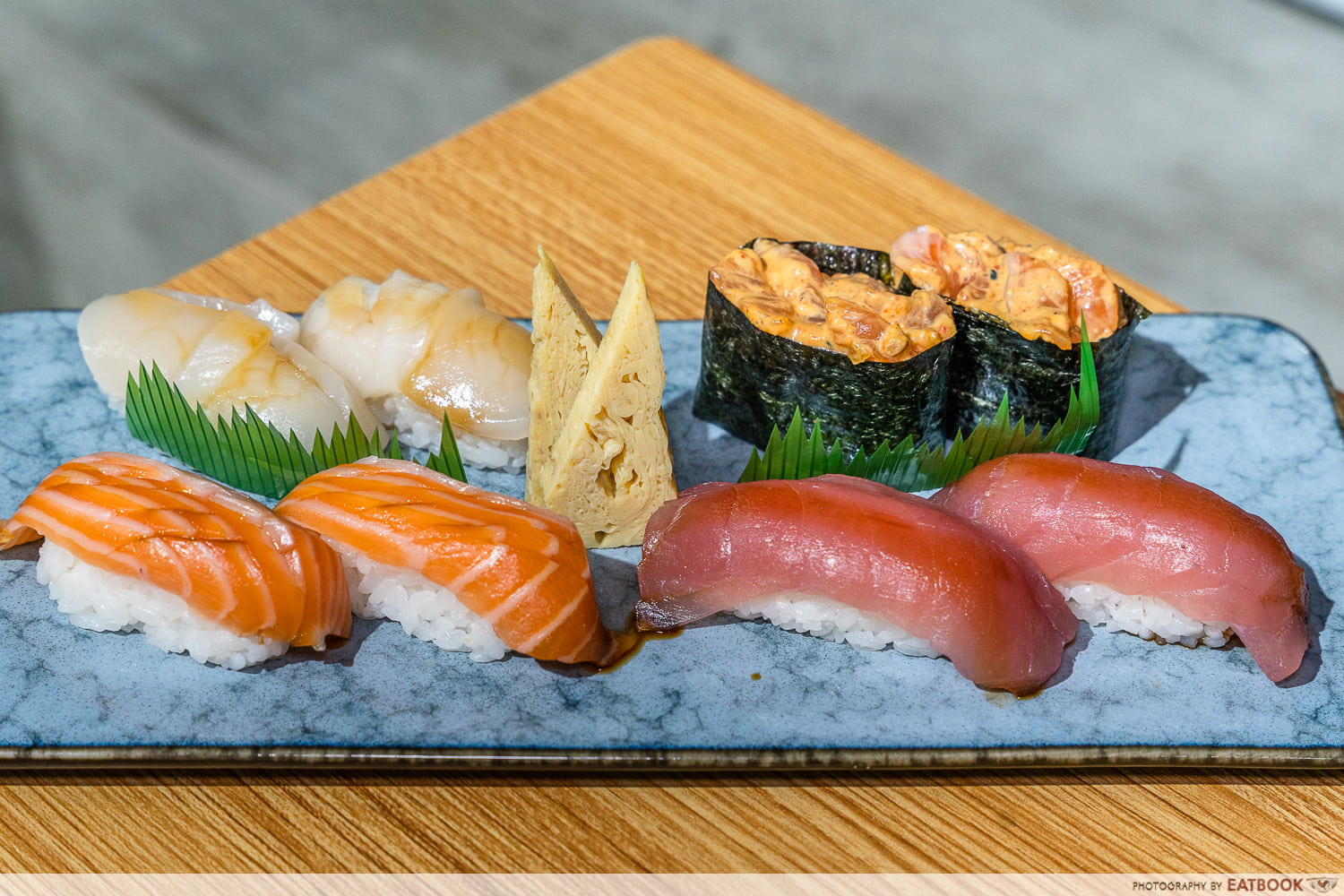 Ima-Sushi describes themselves as specialising in Australian-style sushi rolls, which essentially are maki rolls served uncut. You'll find these in the fridge by the ordering counter, though we didn't try them.
Instead, we sampled a selection of their nigiri and gunkan, including Salmon Sushi ($2.16/$2.40), Hotate Sushi ($3.96/$4.40), Maguro Sushi ($2.16/$2.40), and Spicy Salmon Gunkan ($2.52/$2.80). If you do the math, a piece of salmon sushi here is just a smidge more than $1 for SMU students!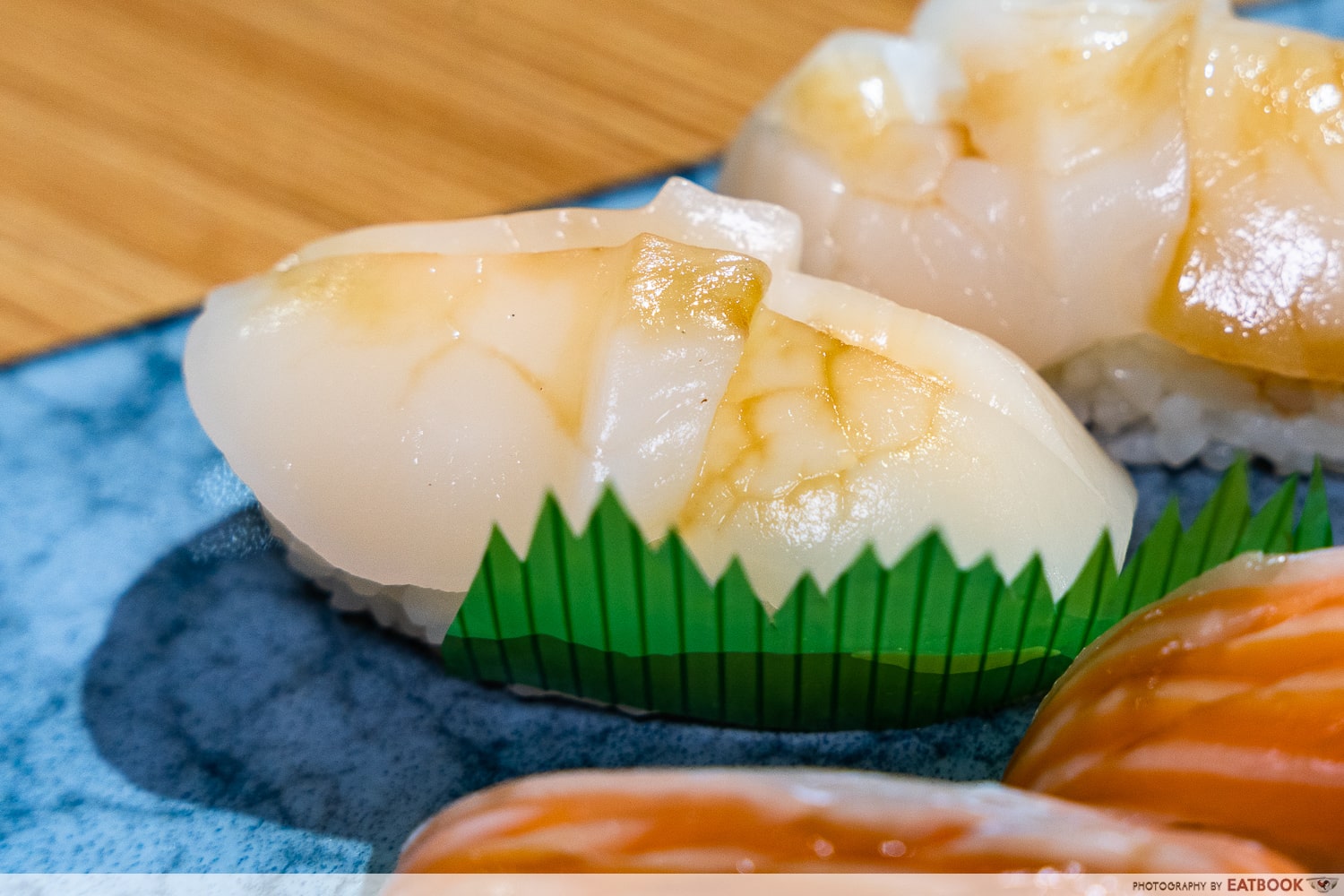 Each order comes with two pieces of sushi; as with the sashimi on the moriawase platter, the seafood here was fresh and sliced generously.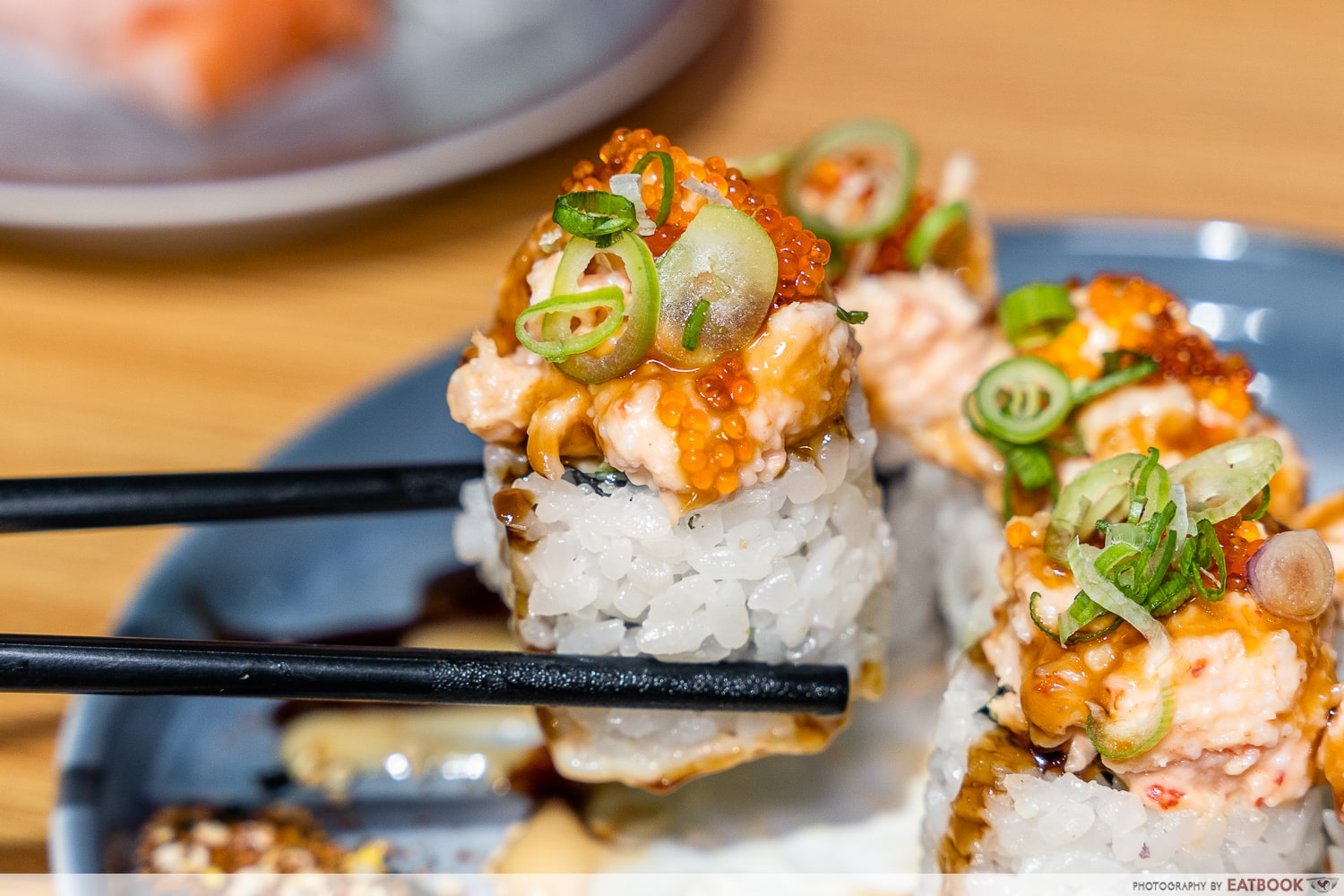 Another of Ima-Sushi's specialities is creative maki rolls, and so their namesake IMA Roll ($14.31/$15.90) was an obvious choice. This house special is a lobster salad reverse maki, topped with crunchy, briny tobiko. Alternatively, check out SMU Roll ($13.41/14.90), starring a trio of spicy tuna, salmon, and creamy avocado.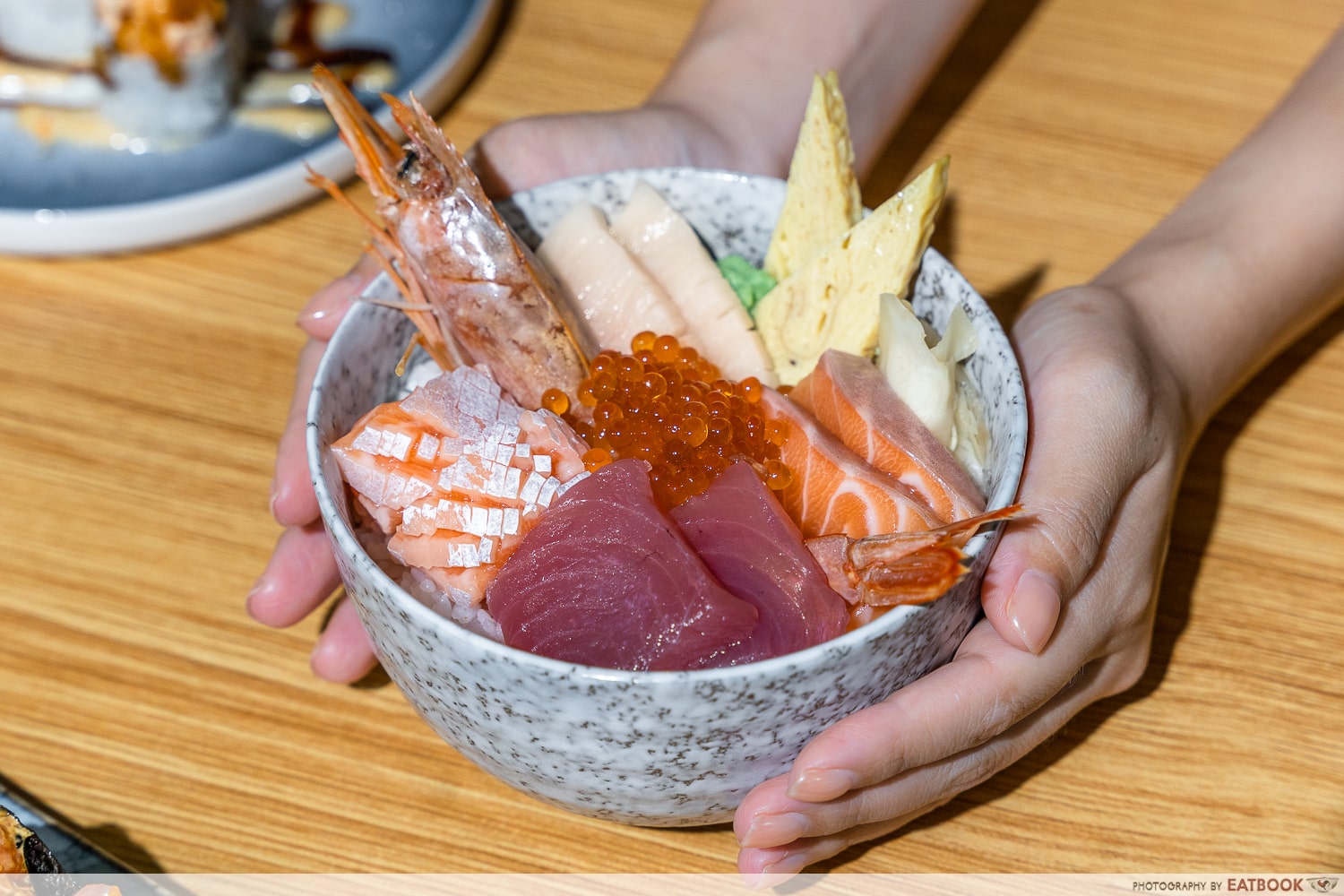 If sashimi is not filling enough, and sushi isn't enough carbs, then the Kaisen Chirashi Don ($19.71/$21.90) is what you should go for. They've got Bara Chirashi Don ($15.21/$16.90) and Black Truffle Chirashi Don ($17.91/$19.90) too, but none as show-stopping as this.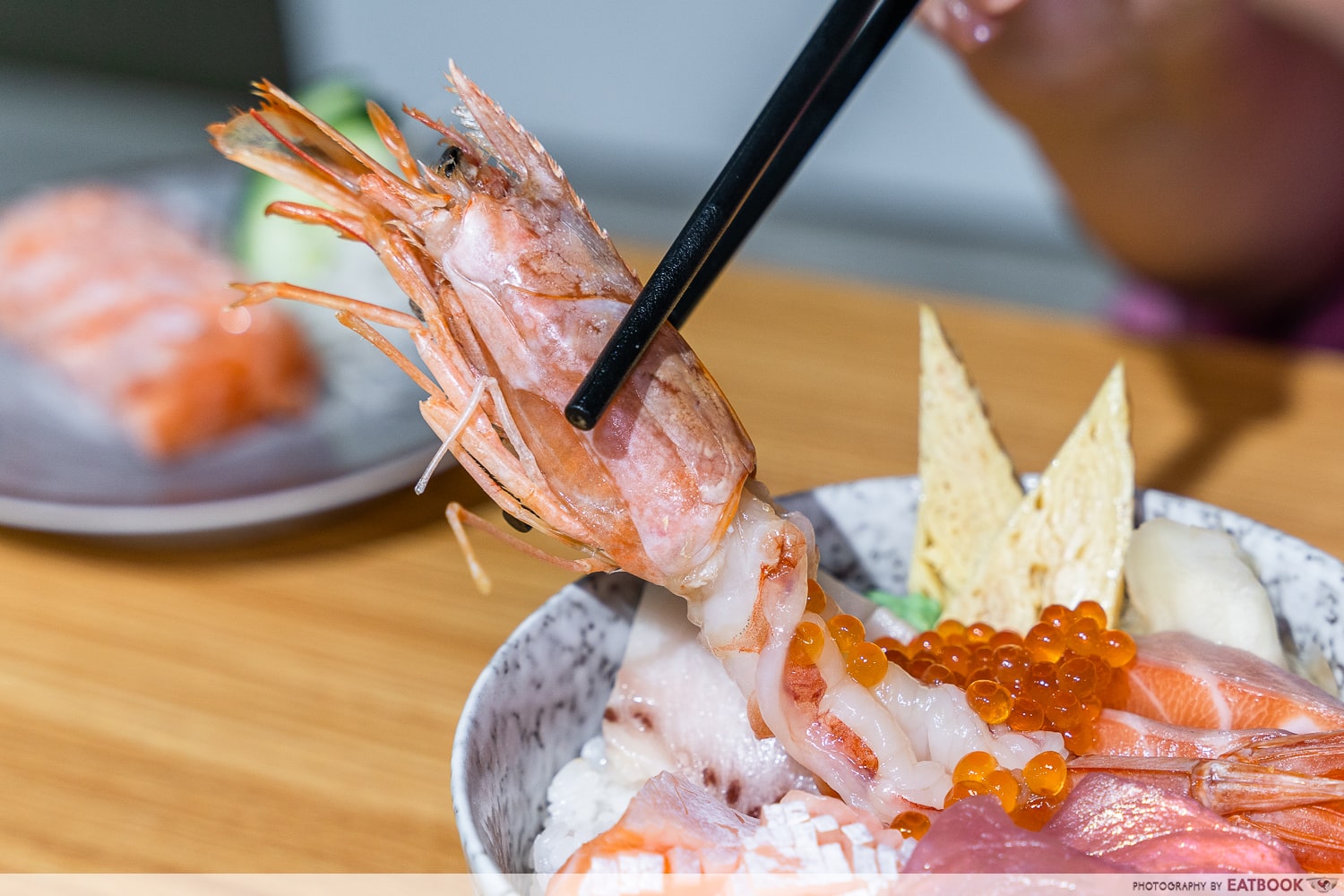 There is, after all, a whole aka ebi headlining this bowl. Its head is left on too—perfect for those of us who find it to be the best part of the prawn.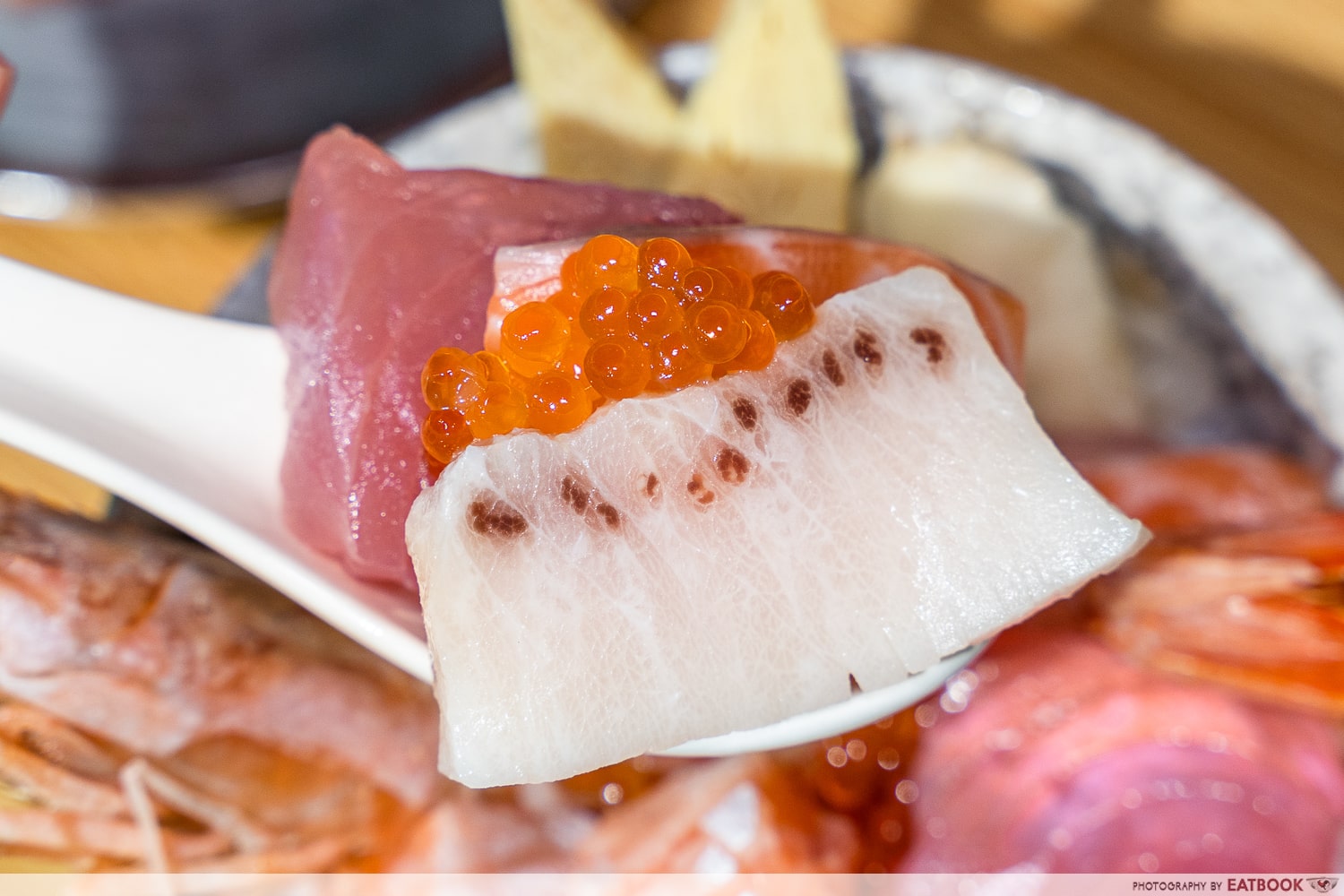 The other toppings on this bowl of sushi rice are mekajiki, maguro, ikura, and two different cuts of salmon sashimi, including fatty belly slices. If you're an SMU student, this entire bowl won't even pass the $20 mark.
For smaller eaters, they've got mini versions of their other bowls too. The Mini Maguro Don, Mini Salmon Don, Mini Bara Chirashi Don, and Mini Aburi Salmon Mentai Don are priced under $10, except for the Mini Spicy Salmon Don, which costs $10.20 at the non-discounted rate.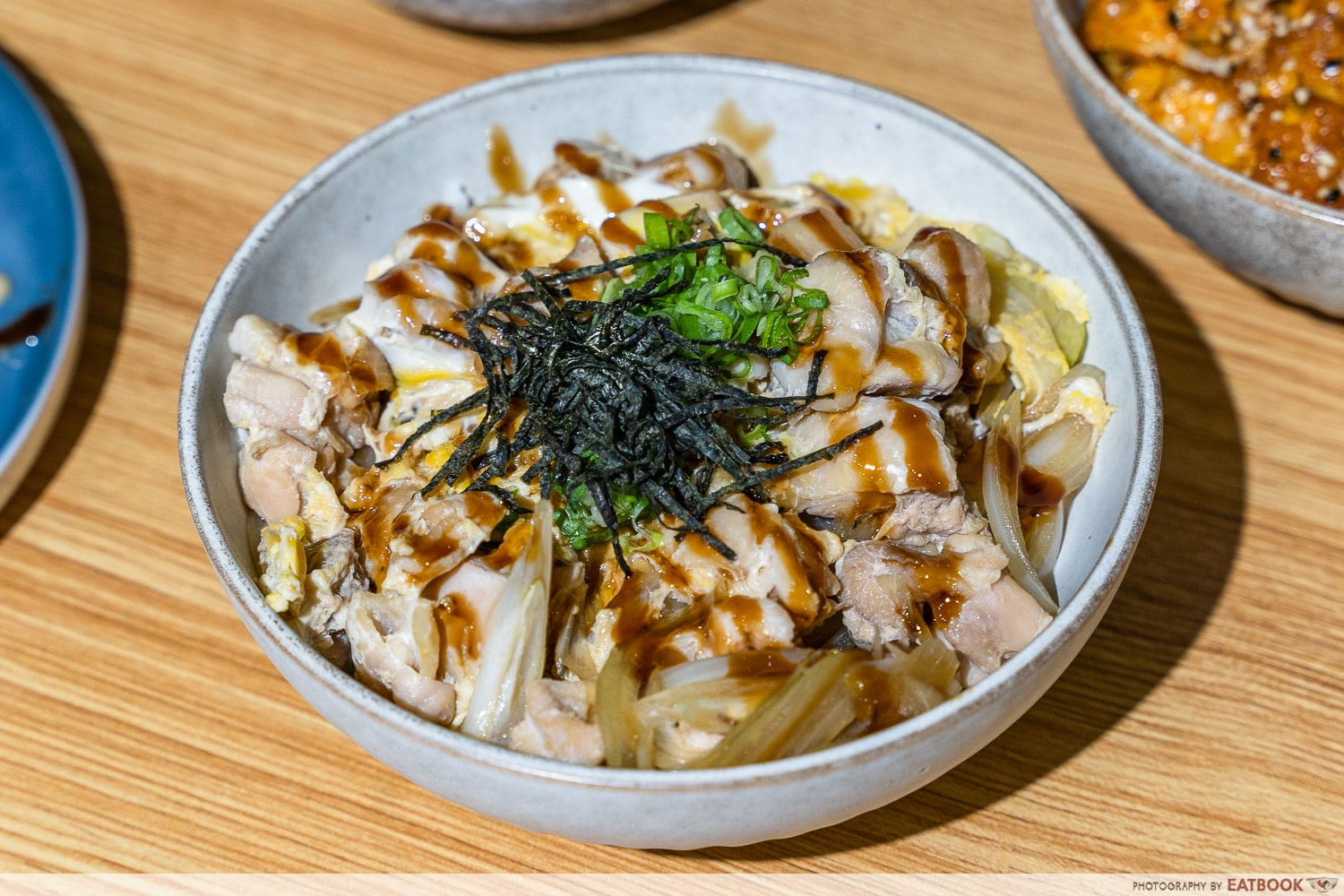 If you're looking for a hot meal, Ima-Sushi's Oyakodon ($6.21/$6.40) checks the list for being super affordable too. It's the classic Japanese rice bowl, whose name, if you didn't know, means 'parent and child donburi'—for the chicken and egg that sit atop this bowl of rice.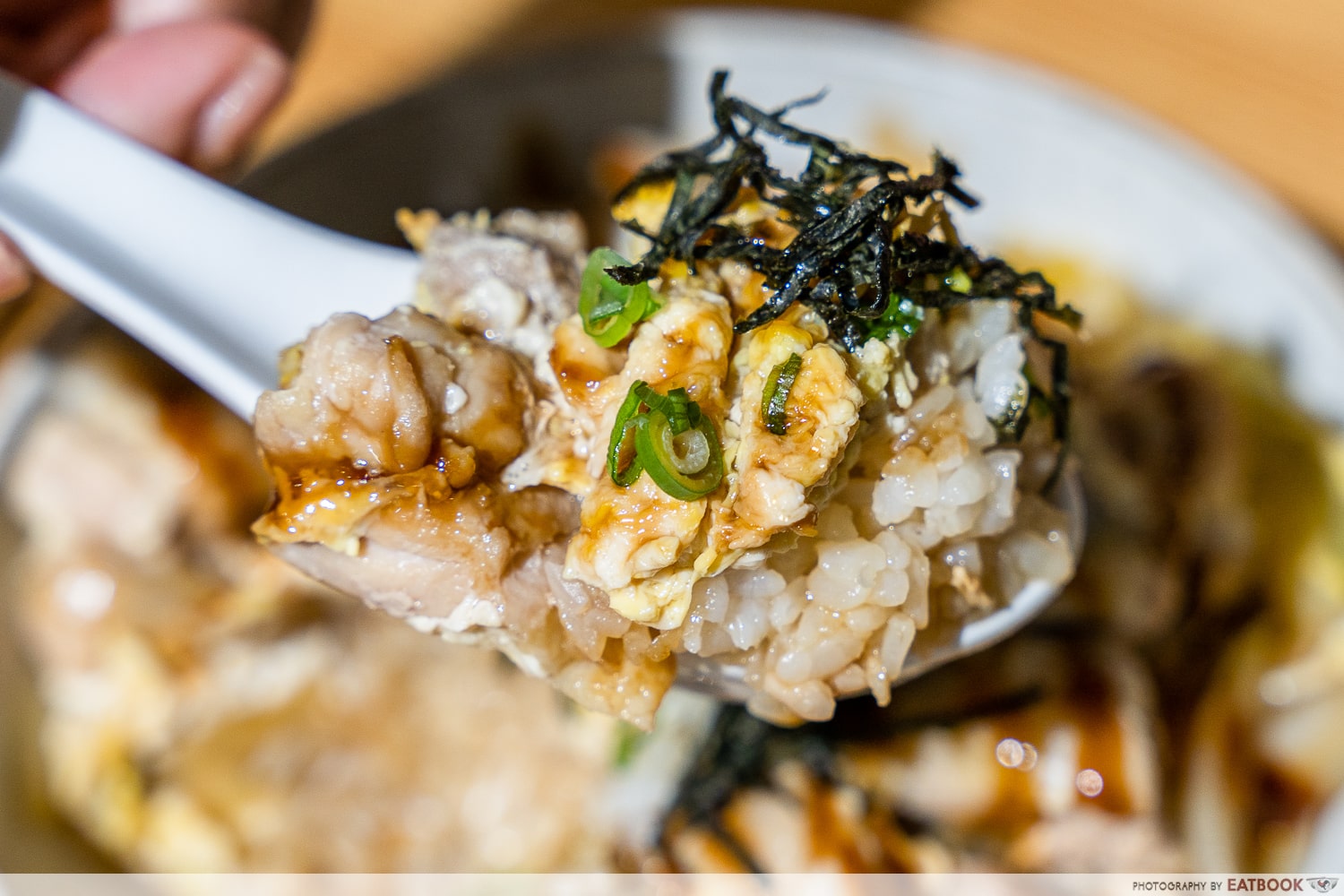 Oyakodon is comfort food for me in its homey simplicity, though I like mine with quite a bit more of the lightly savoury sauce. Small issue, though, because I'm sure you could request they add more.
Moving on from comfort food, we also got the Spicy Tori Karaage Don ($7.92/$8.80), where chopped up chicken karaage is tossed in a creamy, spicy dressing, and laid on rice.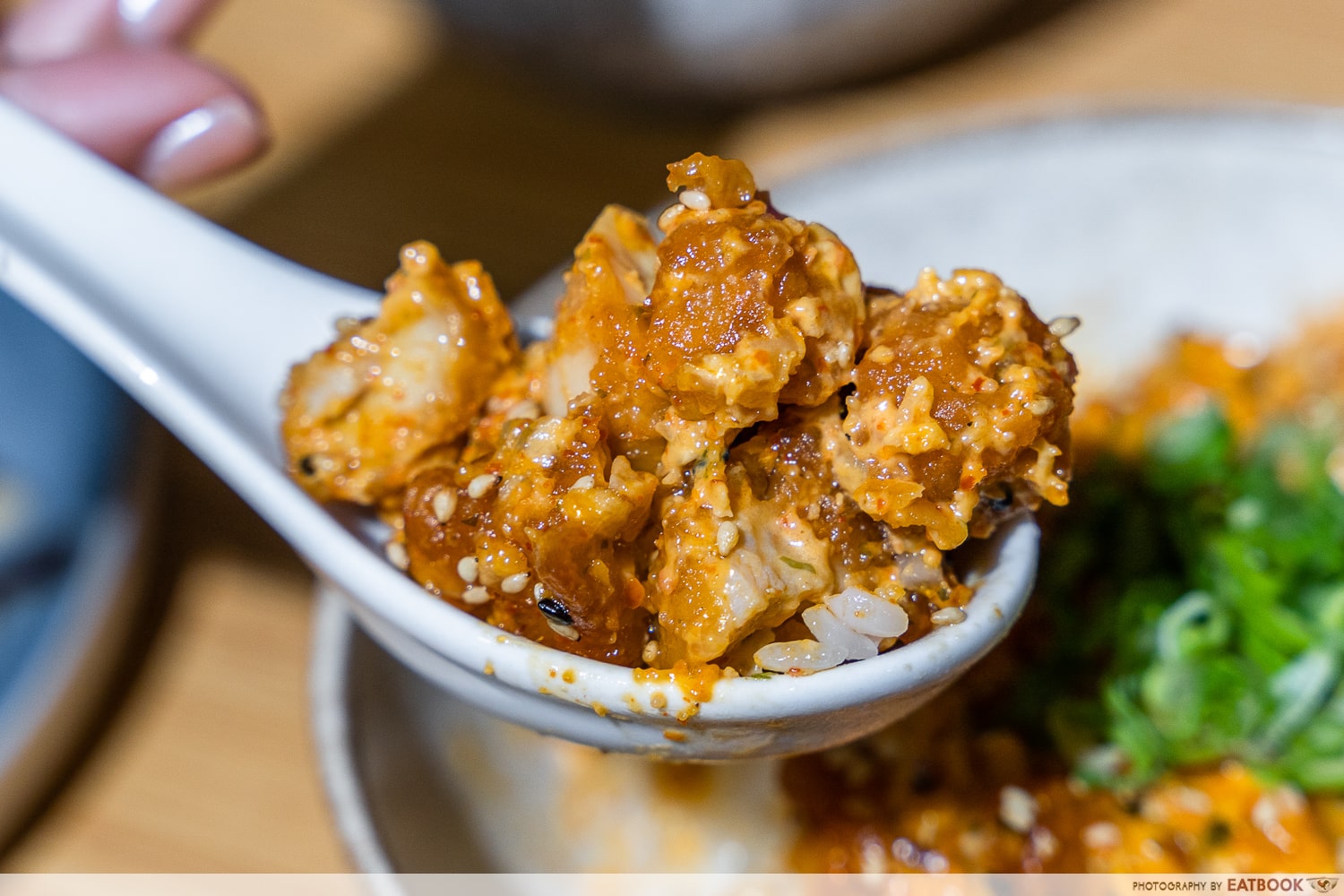 If you ask me, this might possibly be my favourite dish of the meal. I do have a weakness for karaage, and the tangy, spicy dressing really made it pop. Plus, having it chopped up made it all that much easier to spoon it all together with the short-grained rice.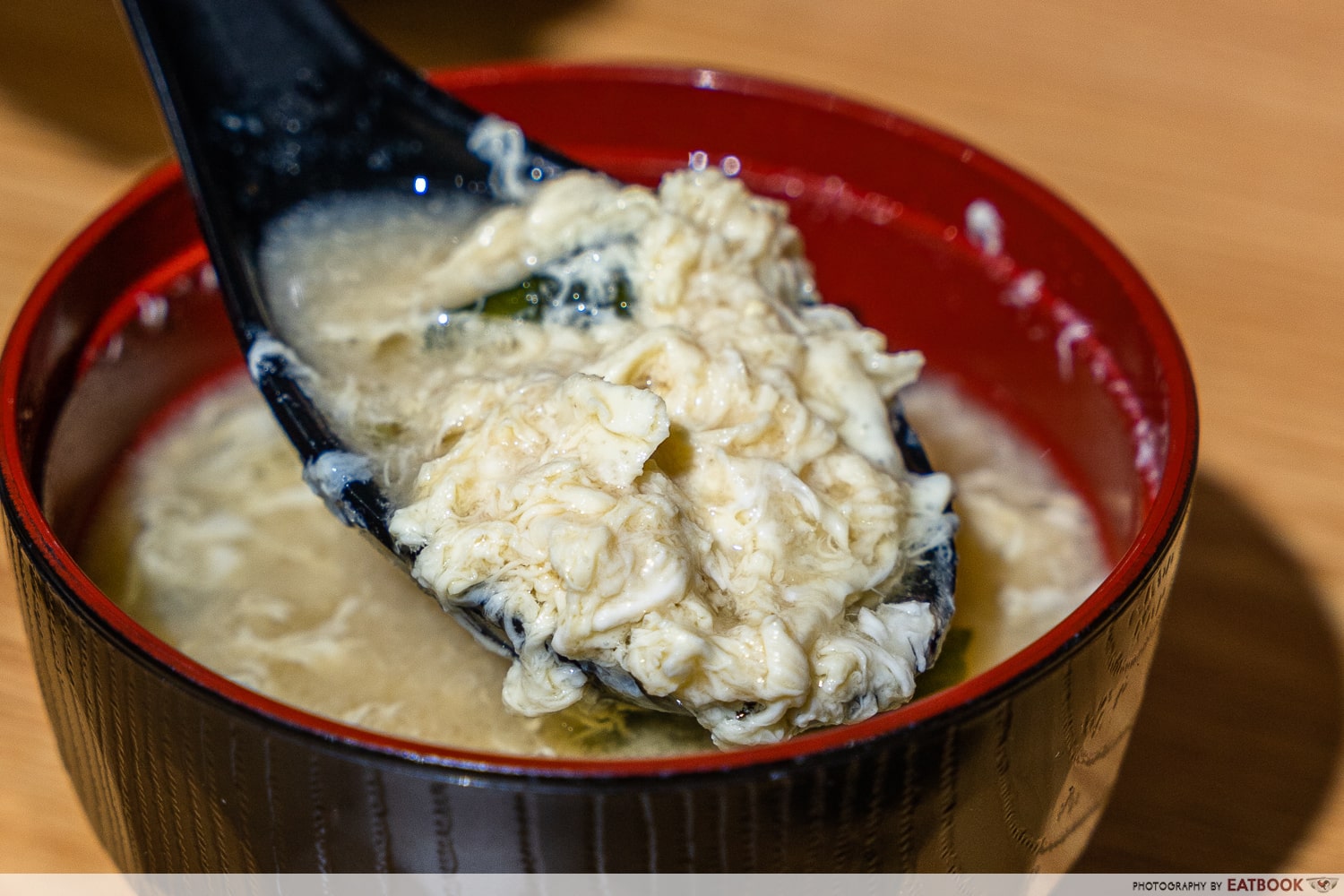 I typically wouldn't pay much heed to Miso Soup ($1.62/$1.80), other than it being there as part of the meal. I was surprised to find this bowl laced, not just with a few measly bits, but what looked like a whole egg-full of wispy, beaten egg. Just hand me a bowl of rice to have with this and I'd be sorted.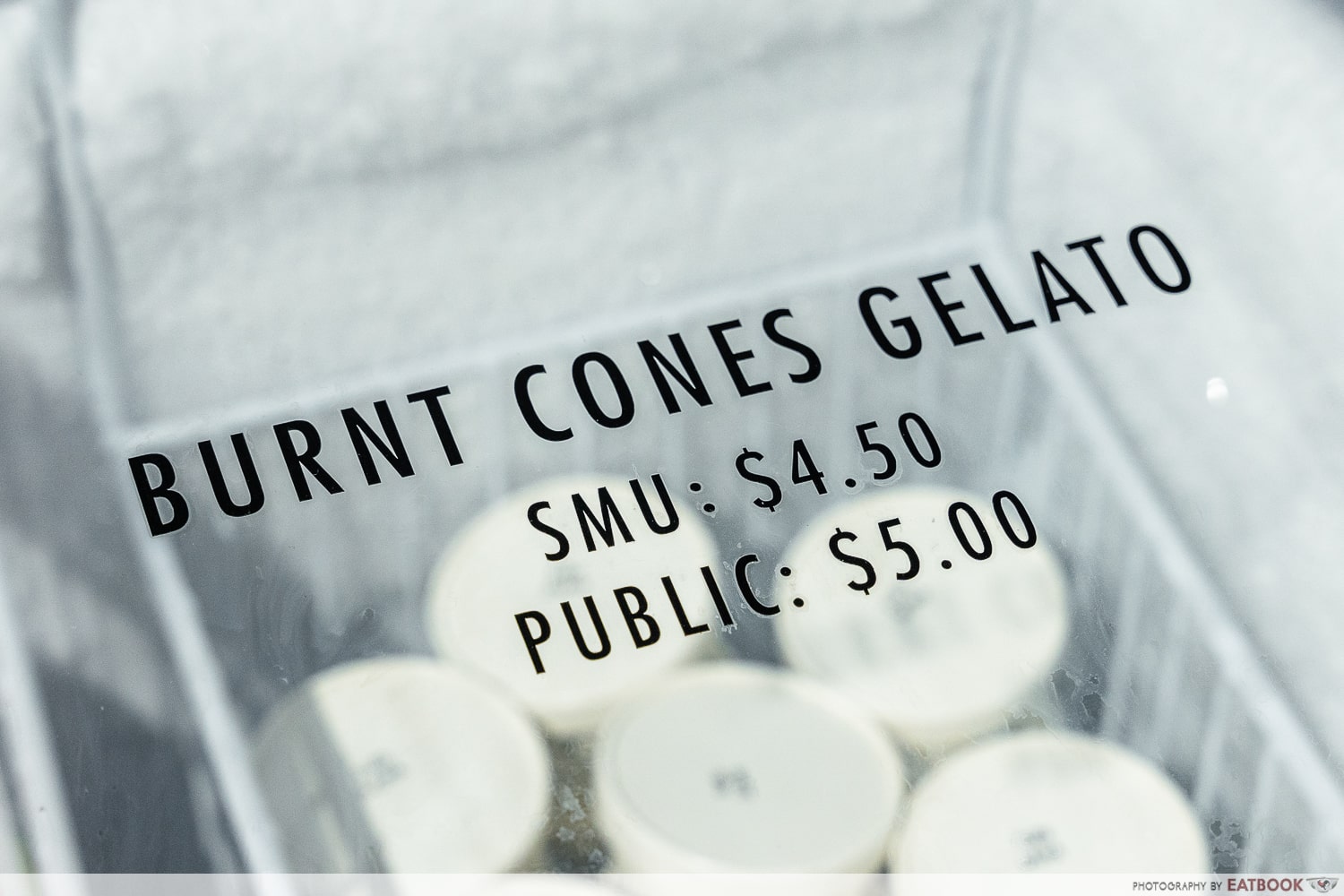 Of course, you can't leave without having a cup of Burnt Cones gelato ($4.50/$5). You'll get flavours such as Uji Matcha, Kuro Goma, Yuzu Sorbet, and Speculoos here, stored in a chest freezer right by the counter.
Omote Review: Popular Japanese Restaurant With Mentaiko Chirashi Don And More In City Hall
Ambience at Ima-Sushi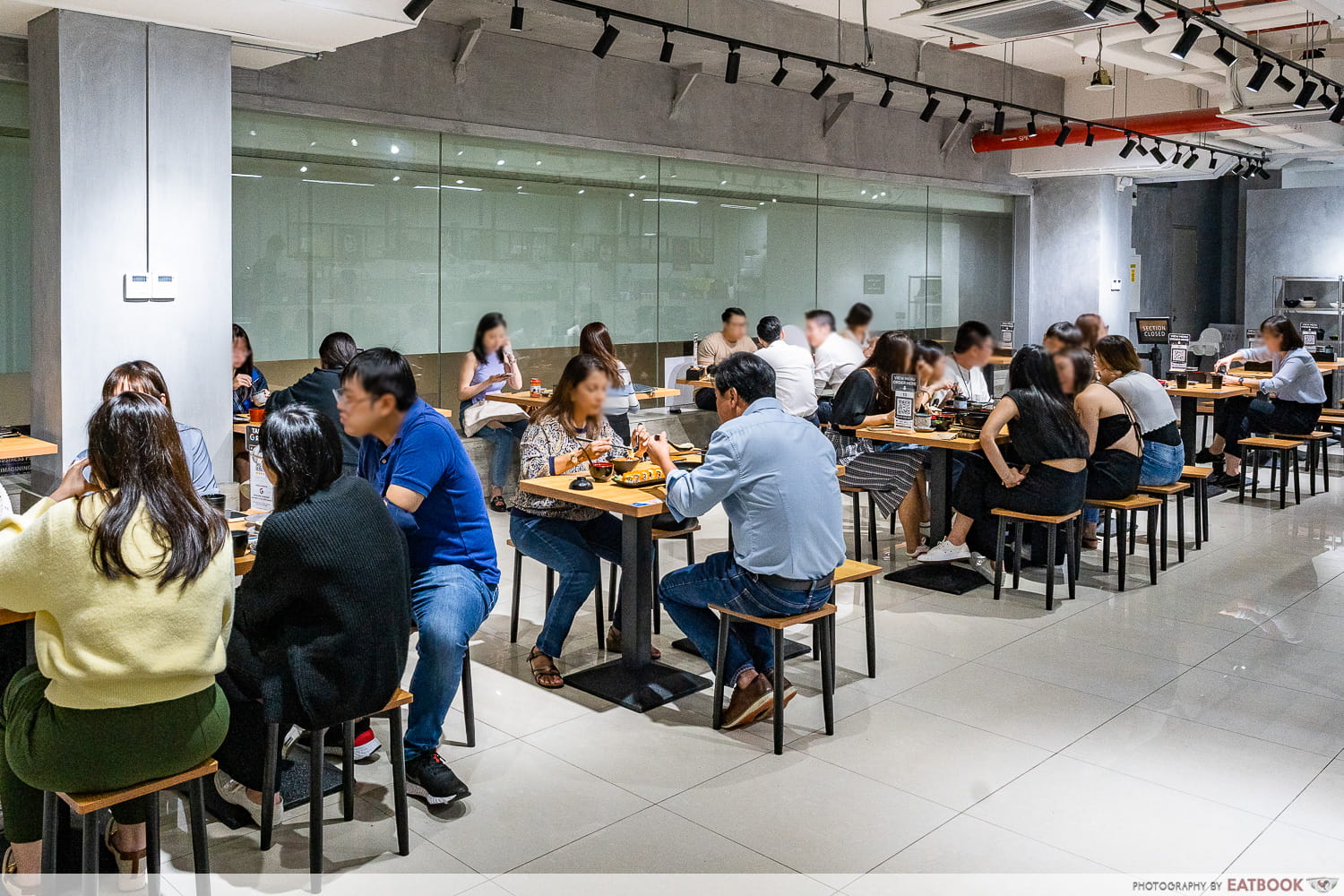 Comfort isn't key at Ima-Sushi, but you get air-conditioning and a brightly lit space, with tables that aren't all squished up against one another. It's an eight- to nine-minute jaunt from both Dhoby Ghaut and City Hall MRT Stations, or three- to six-minutes from Bras Basah and Bencoolen MRT Stations—making Ima-Sushi easily accessible by five different train lines.
It does get pretty crowded here; we encountered a full house at 11am, which trickled off by the 1pm mark. Come at off-peak hours for a more peaceful meal.
The verdict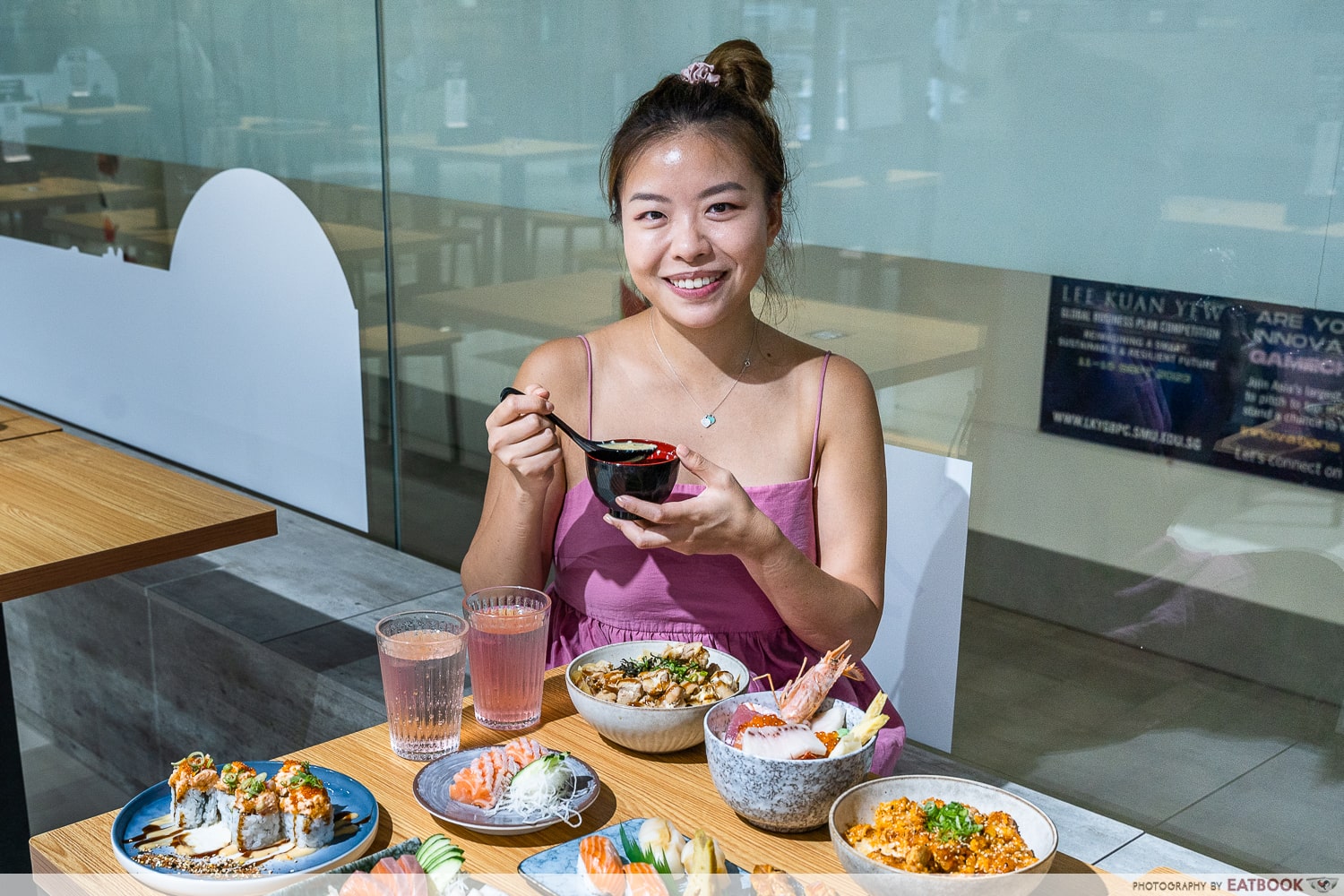 It's no wonder that Ima-Sushi is so popular. They've even got noodle options, such as Kitsune Udon for just $5.90 for an unsubsidised bowl. My dining companion couldn't approve of the meal soon enough. And me, I left wishing I could be a student here, so I could have more reason to come back for that Spicy Tori Karaage Don.
For more Japanese eats, check out Omote at Raffles City for mentaiko chirashi don and more! Otherwise, Gyutan-Tan is Singapore's first-ever ox tongue speciality restaurant.
Address: 70 Stamford Road, #B1-24, Singapore Management University, Li Ka Shing Library, Singapore 178901
Opening hours: Mon-Thurs 11am to 8pm, Fri 11am to 9pm, Sat 11:30am to 2:30pm
Website
Ima-Sushi is not a halal-certified eatery.
Gyutan-Tan Review: Affordable Ox Tongue Shabu Shabu And More In Tanjong Pagar
Photos by Lau Hui Hui and Tan Zi Hui.
This was a media tasting at Ima Sushi. 
Ima-Sushi Review: $1 Salmon Sushi And Affordable Chirashi Bowls In SMU
Ima-Sushi Review: $1 Salmon Sushi And Affordable Chirashi Bowls In SMU -

8/10
Summary
Pros
– Low prices, good portions
– Fresh sashimi
– Very accessible
Cons
– Sashimi slices might be thick for some
– Only SMU students enjoy discounted prices
Recommended dishes: Spicy Tori Karaage Don ($7.92/$8.80), Sashimi Moriwase ($21.42/$23.80)
Opening hours: Mon-Thurs 11am to 8pm, Fri 11am to 9pm, Sat 11:30am to 2:30pm
Address: 70 Stamford Road, #B1-24, Singapore Management University, Li Ka Shing Library, Singapore 178901