Handmade noodles and flavourful soup at Jiak Song Mee Hoon Kway 
If you've seen our post on the hottest newcomer to the Telok Blangah food scene, you'll know that former MasterChef finalist, Aaron Wong, has recently opened a stall selling the humble mee hoon kueh. Jiak Song Mee Hoon Kway has taken social media by storm, so we decided to find out if it is worth the hype.
7 Telok Blangah Crescent Food Centre Stalls To Check Out After Your Visit To The Wet Market
Jiak Song Mee Hoon Kway opens its shutters at 9am and as expected, there was an endless (and growing) line of eager customers like ourselves.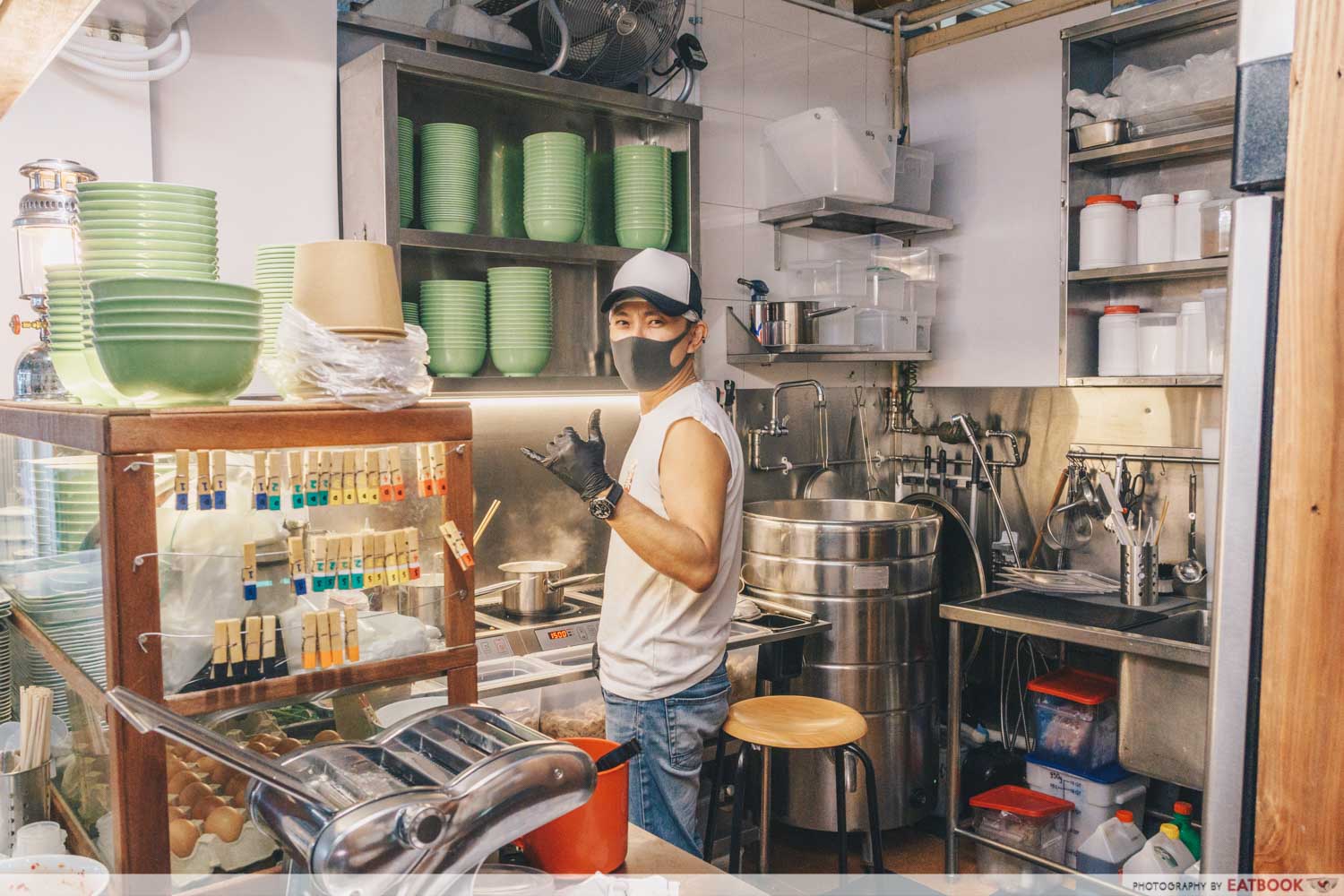 Clad in his iconic trucker cap, the jovial ex-MasterChef star was in his element, churning out steaming bowls of noodles by the minute.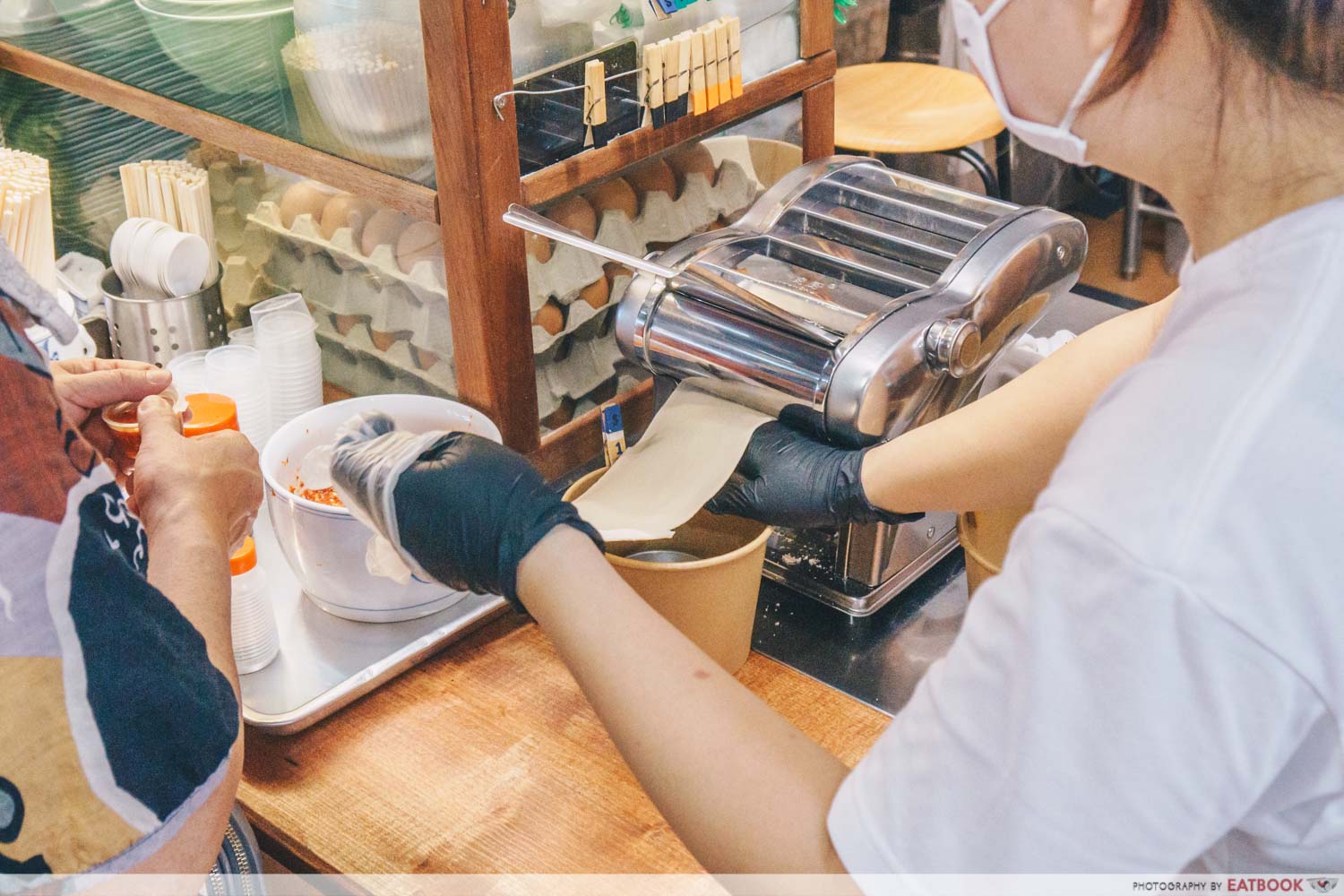 I was impressed with their dedication to serving a good bowl of noodles, which are made to order. Visible at the storefront is a noodle roller, which is constantly fed with balls of dough. The resulting sheets of dough are later sliced behind the scenes into Jiak Song Mee Hoon Kway's delicate noodles. Aaron also offers a choice of ban mian if you prefer thinner noodles. 
Food at Jiak Song Mee Hoon Kway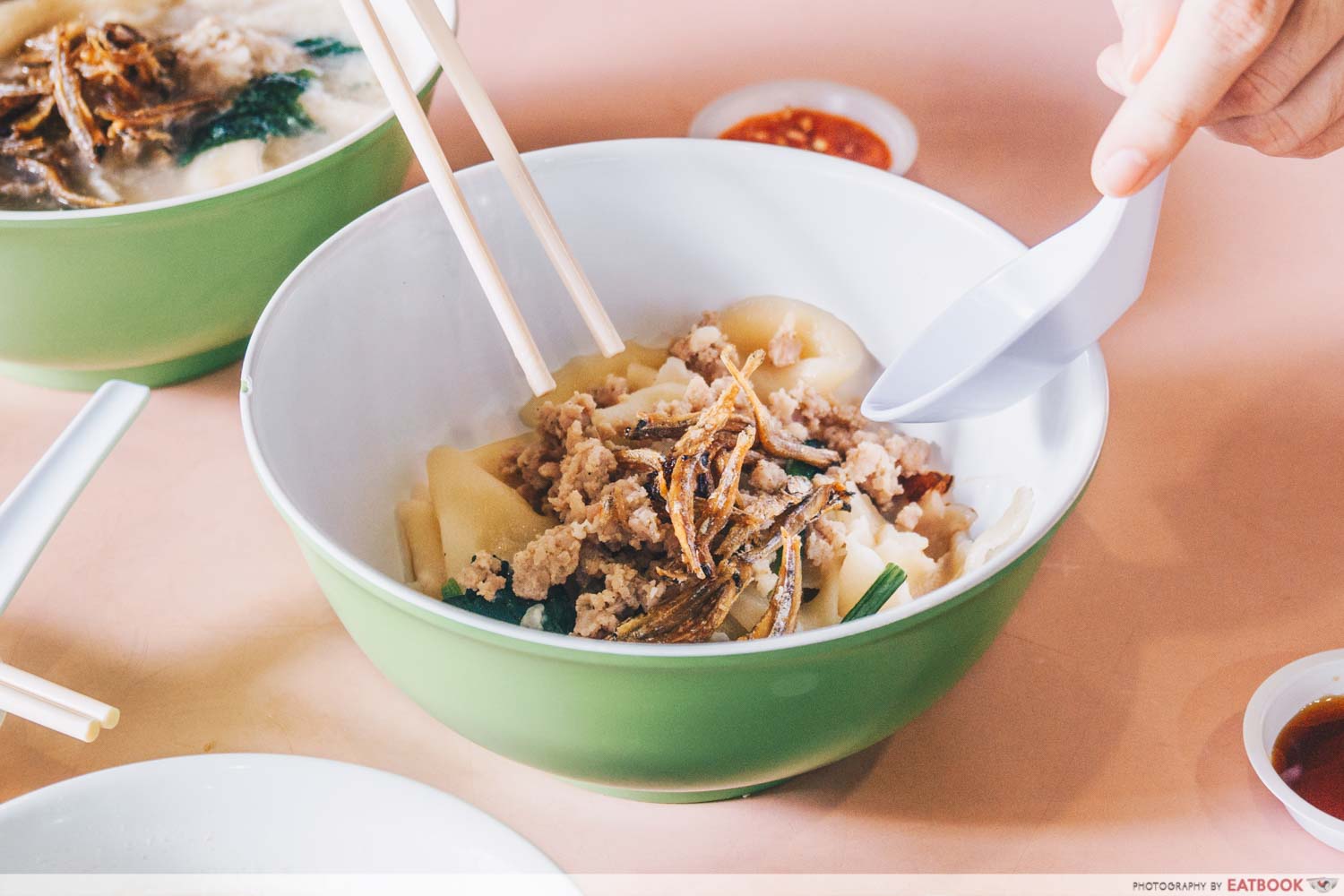 We went with the Signature Dry Mee Hoon Kway ($3.50), their most basic option which came with the usual suspects ─ minced pork, spinach and egg, and a topping of fried ikan billis. At first glance, the bowl of noodles seemed pretty plain but it began to take on the rich, dark colour of the sauce below as I gave it a good mix.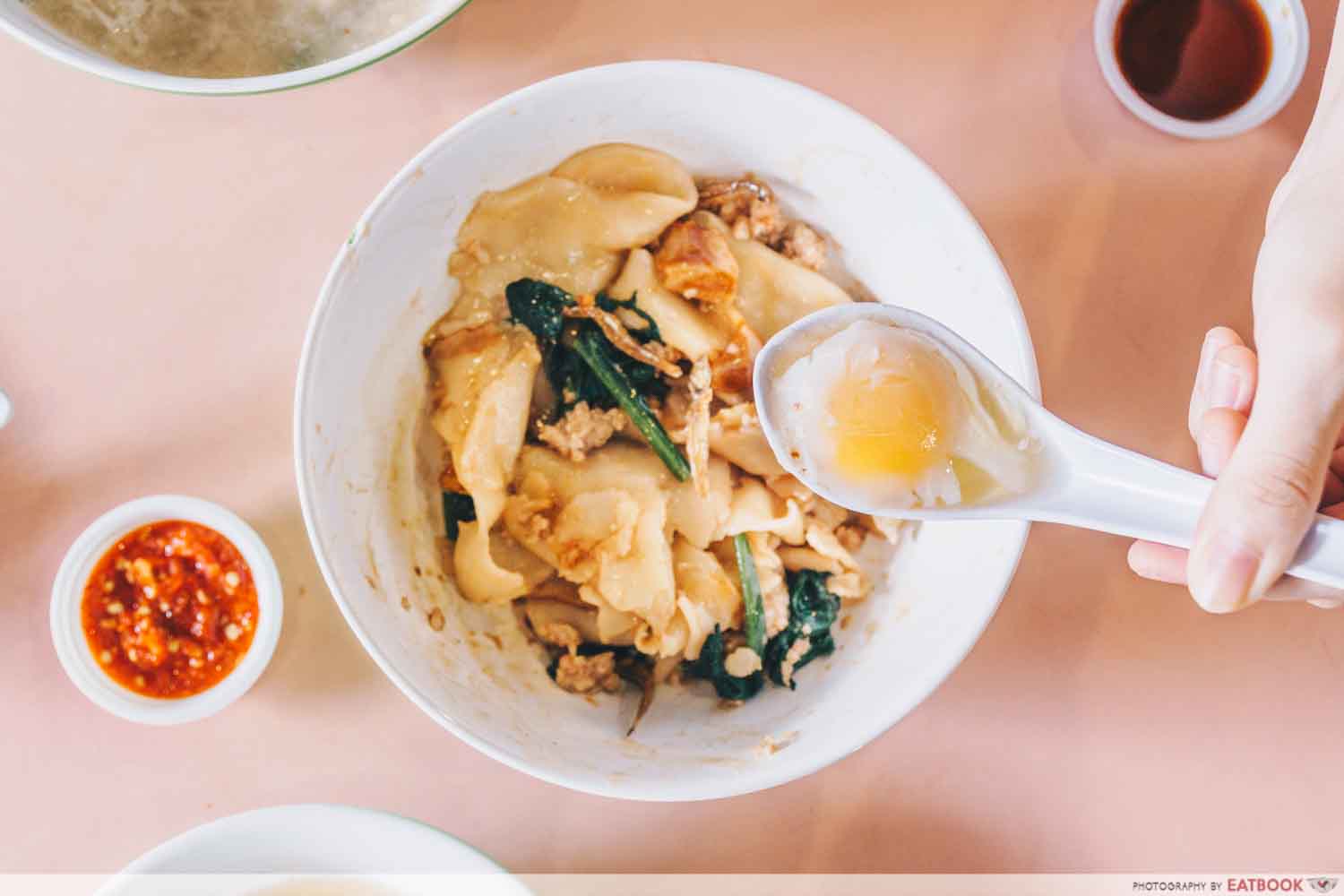 If the semi-cooked egg in your usual ban mian is your favourite part of the bowl, you'll find Aaron has included this on the side with the Signature Dry Mee Hoon Kway. I found my egg to be a little too undercooked for my liking, possibly because the bowl of soup is too small to cook a raw egg more thoroughly.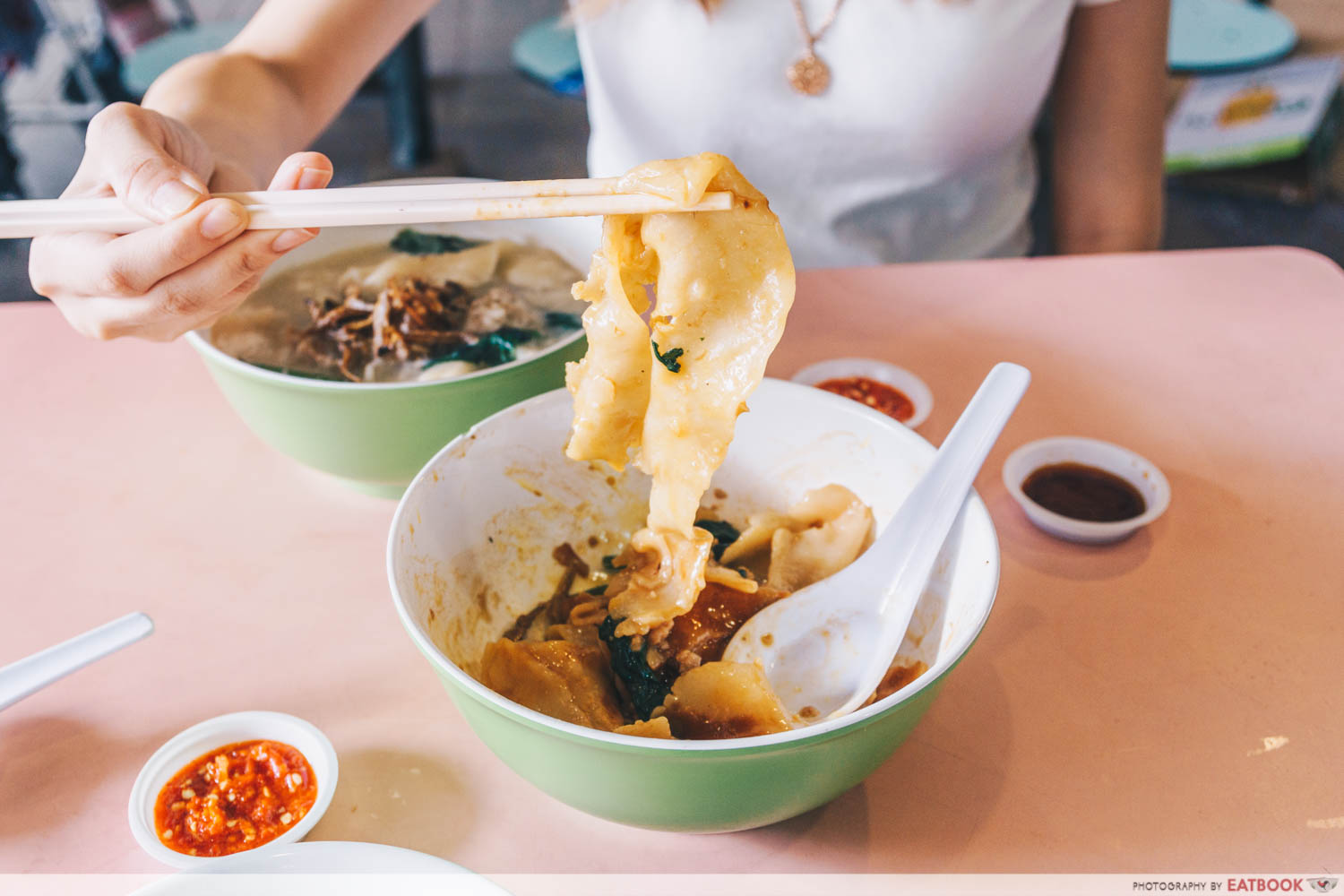 The al dente noodles had a superb, pleasantly chewy texture. The sauce was mixed perfectly, with a subtle tinge of smokiness. The addition of the runny egg yolk bound the dish together with a rich finishing touch, given that I enjoyed mixing it into my noodles so it coats everything. I would recommend doing this, instead of having the egg separately.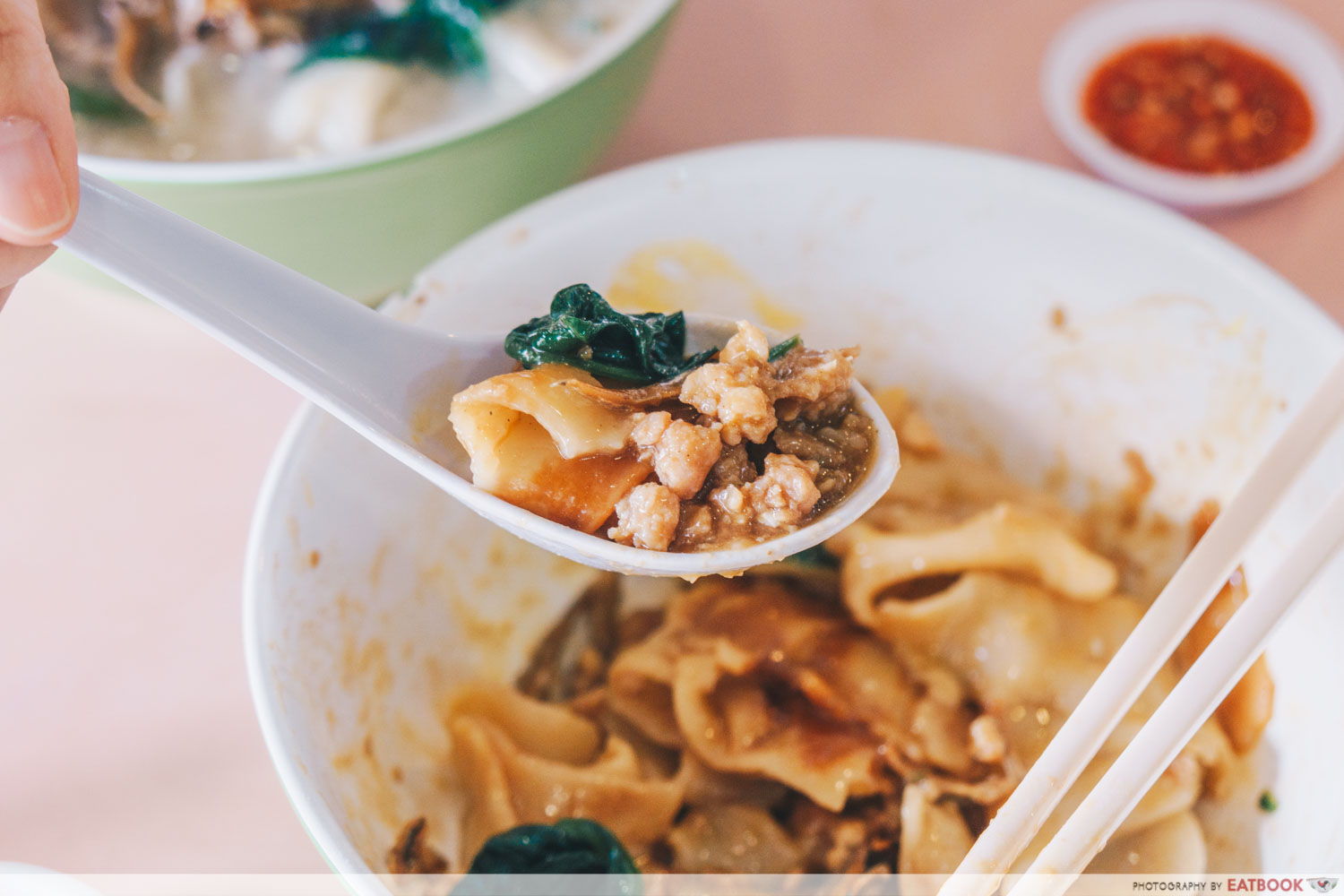 Each element in the mee hoon kueh was good enough to eat on its own. Even the minced pork, plain as it looks, was well-seasoned and surprisingly flavourful.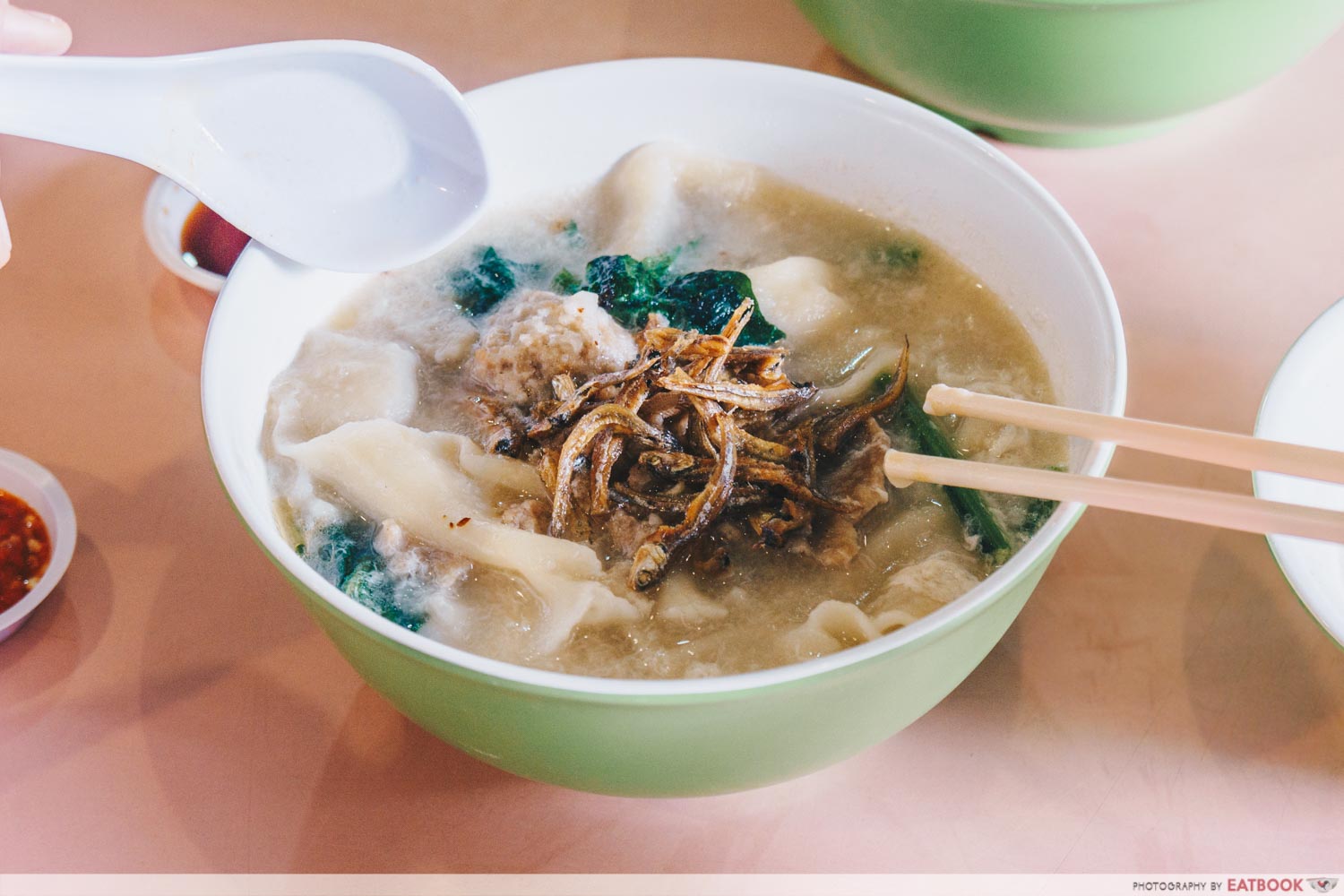 For an upgrade on the regular mee hoon kueh, go for Jiak Song Mee Hoon Kway's Signature All-In Combo Soup Mee Hoon Kway. Priced at $5, this bowl includes more ingredients including pork slices, a pork ball and a shrimp ball.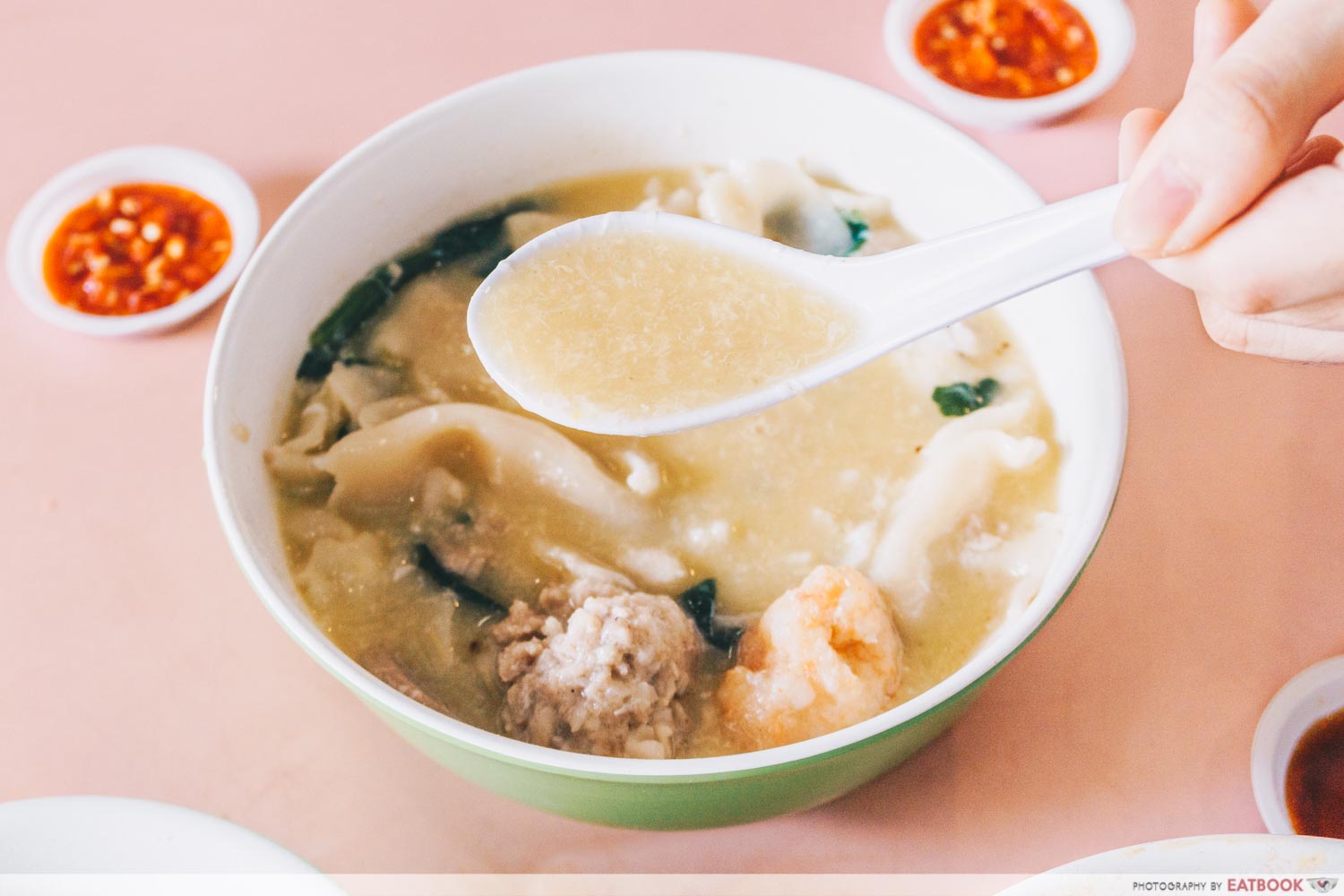 Without hesitation, I dived straight into the soup and immediately fell head over heels in love with it. You can tell that it's made with a concentrated pork-based broth that's been simmered for many hours. The soup had such depths of flavour and was incredibly rich. I couldn't stop myself from drinking it all. The soup was thickened with the swirls of egg white that had cooked into the piping hot noodle soup, unlike the little bowl that came with the dry version. The egg also gave the soup even more body, so break it into the mee hoon kueh before it gets entirely cooked through!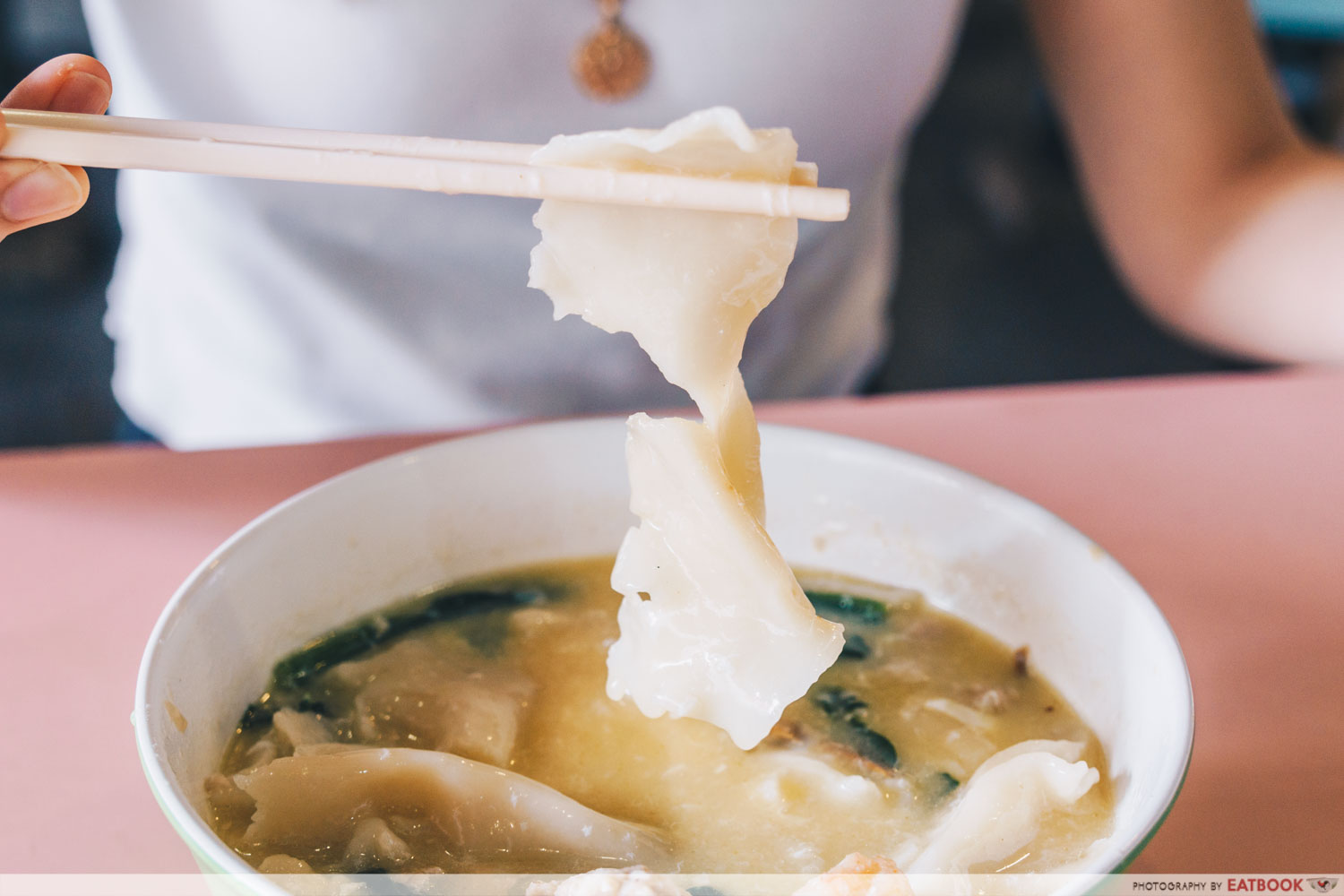 Even though the noodles came in the soup, they were still al dente and had a good bite, like the bowl of dry mee hoon kueh.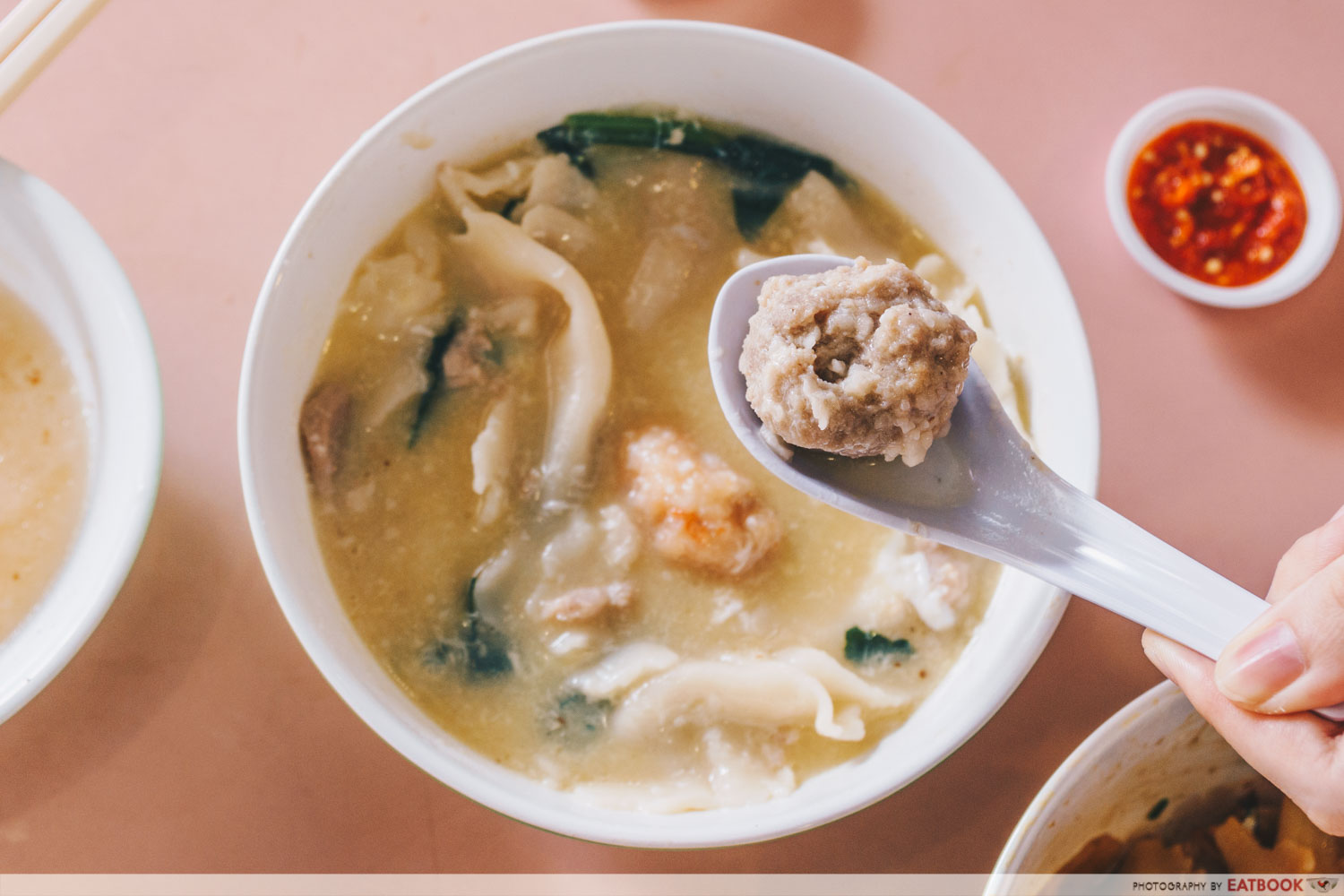 The handmade meatball that came with my bowl of Signature All-In Combo Soup Mee Hoon Kway was generously-sized and juicy, in spite of it being in a bowl of soup. It was so tasty, I wished I could have a bowl of meatballs on the side. The pork slices were also tender and seasoned to perfection.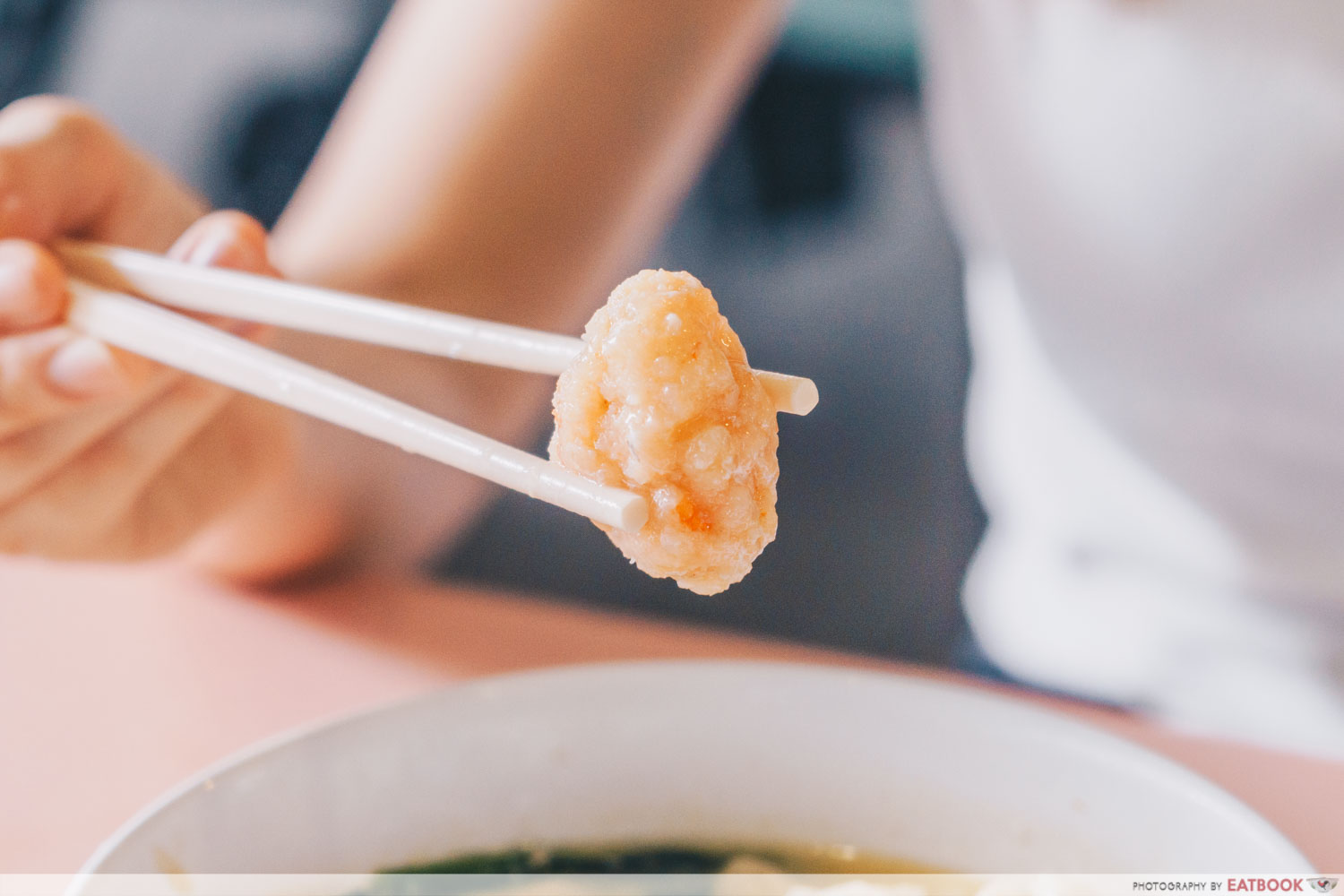 On the other hand, I found the prawn ball a little under-seasoned. However, I still enjoyed its springy texture and the natural sweetness of the prawn.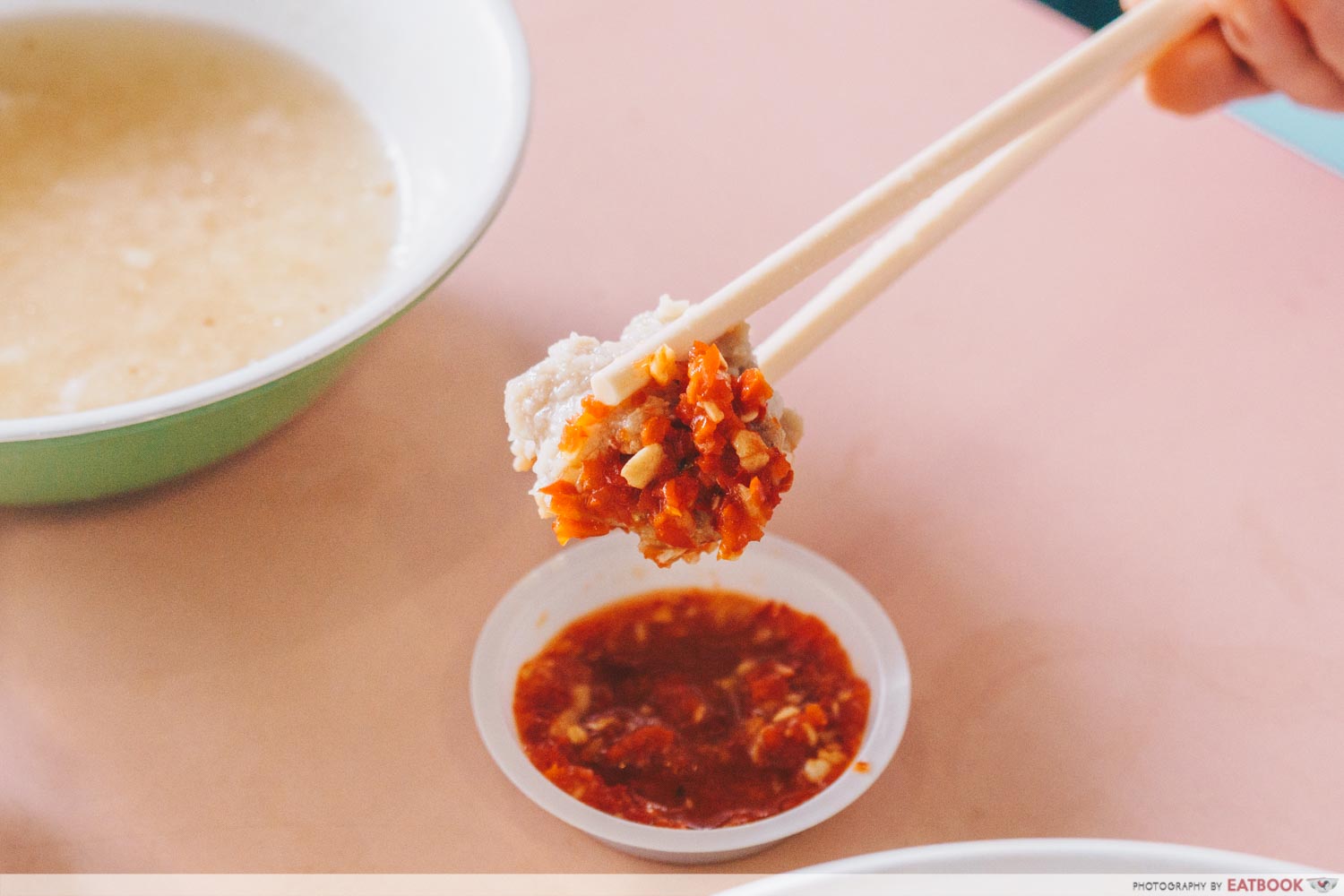 I have to give a special shout out to the chilli at Jiak Song Mee Hoon Kway. As an avid spice lover, I am very particular about my chilli and I was impressed with Aaron's well-rounded and punchy chilli sauce. Besides being spicy, I could just taste the addition of tau cheo (fermented soybeans) which gave it an earthiness, complemented by the sharp acidity of what I suspect is vinegar.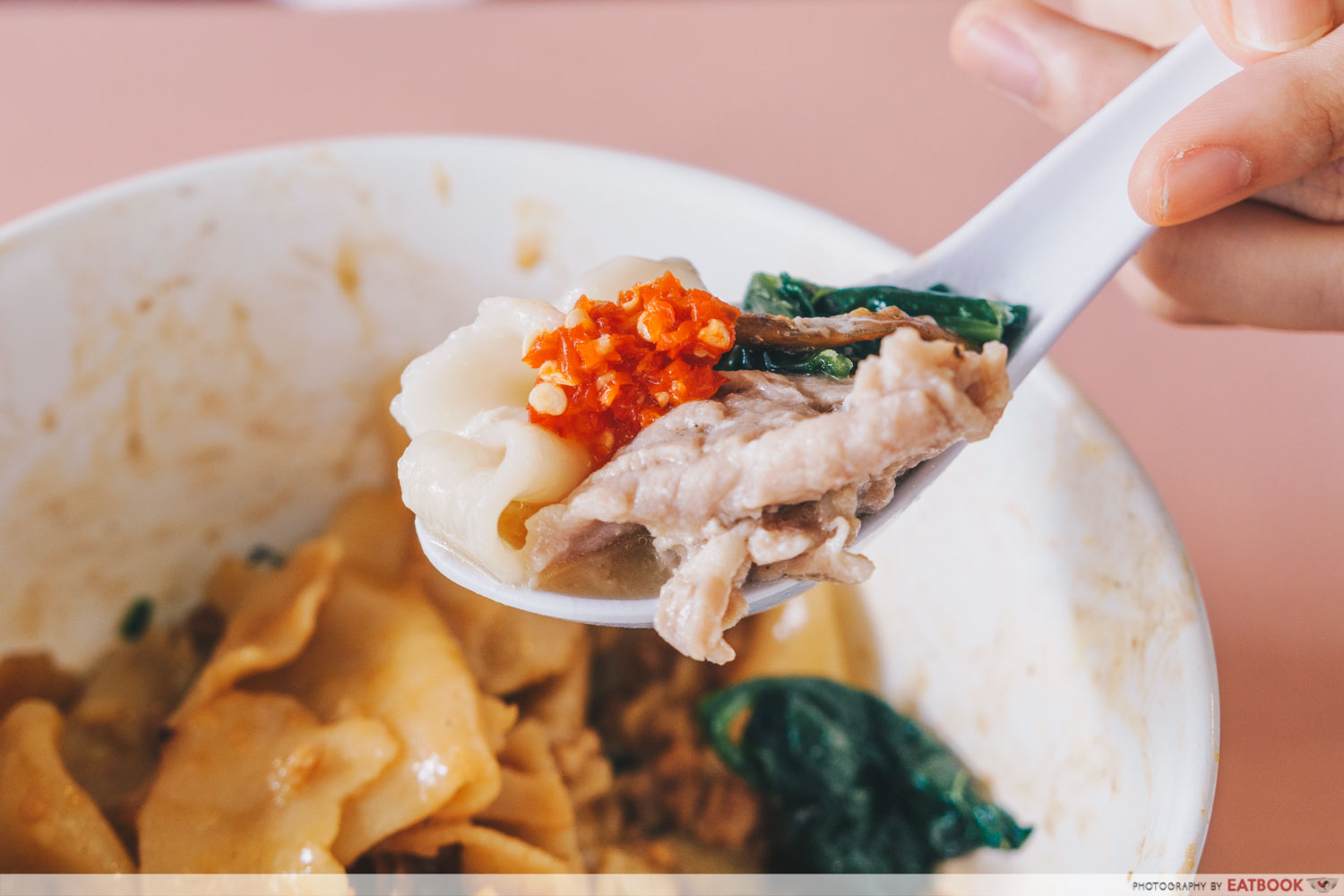 The chilli for me went really well with the ingredients in the noodles and heightened the bowl of mee hoon kueh. 
Ambience at Jiak Song Mee Hoon K
way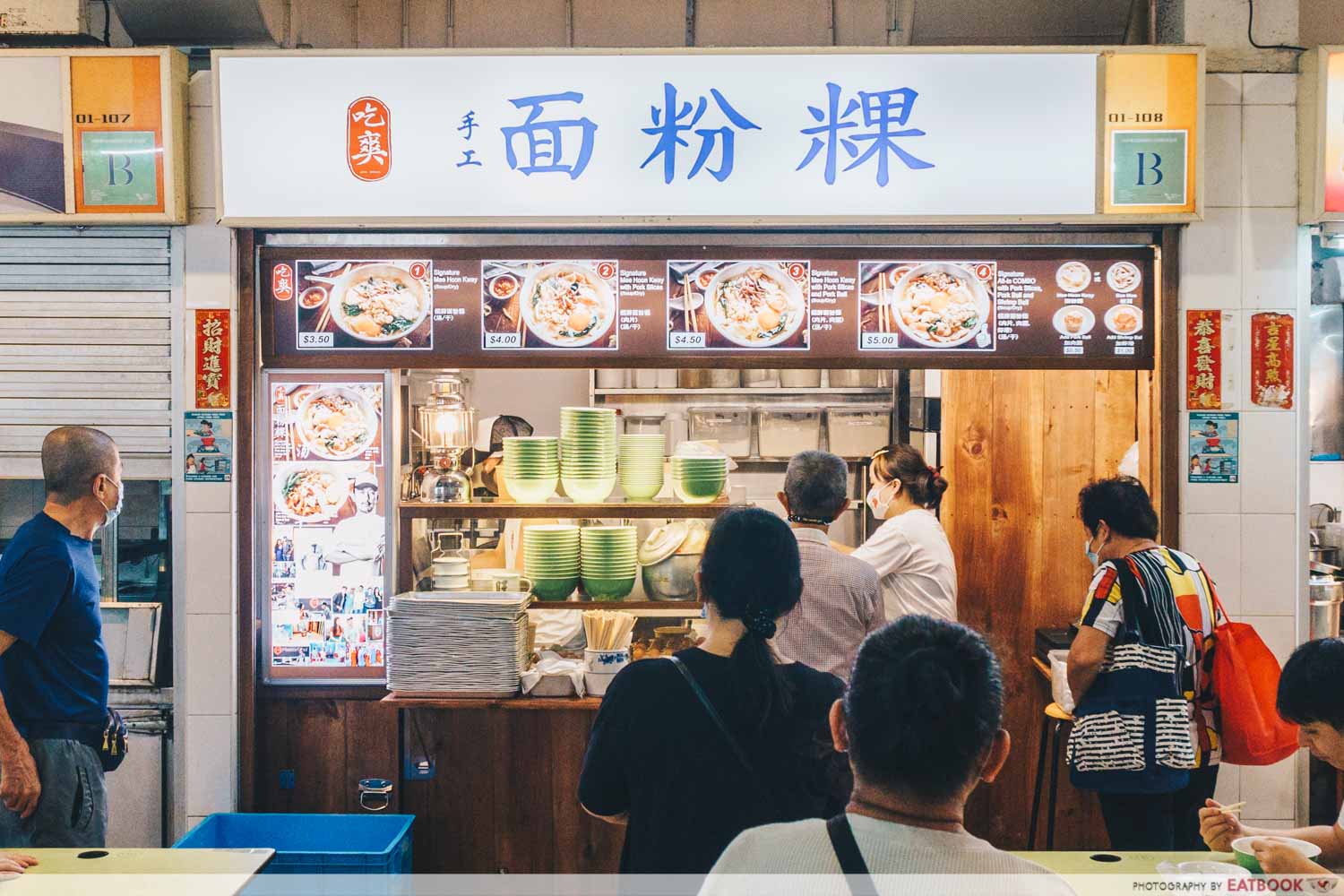 Jiak Song Mee Hoon Kway is situated right at the heart of Telok Blangah Crescent Market and Food Centre. Despite being regarded as one of the more underrated hawker centres in Singapore, it was considerably crowded on a weekday morning. 
By 11am, there was a snake-like queue in front of Jiak Song Mee Hoon Kway that stretched past four to five stores. Hence, I would recommend you to head down when they open at 9am to beat the crowd.   
The verdict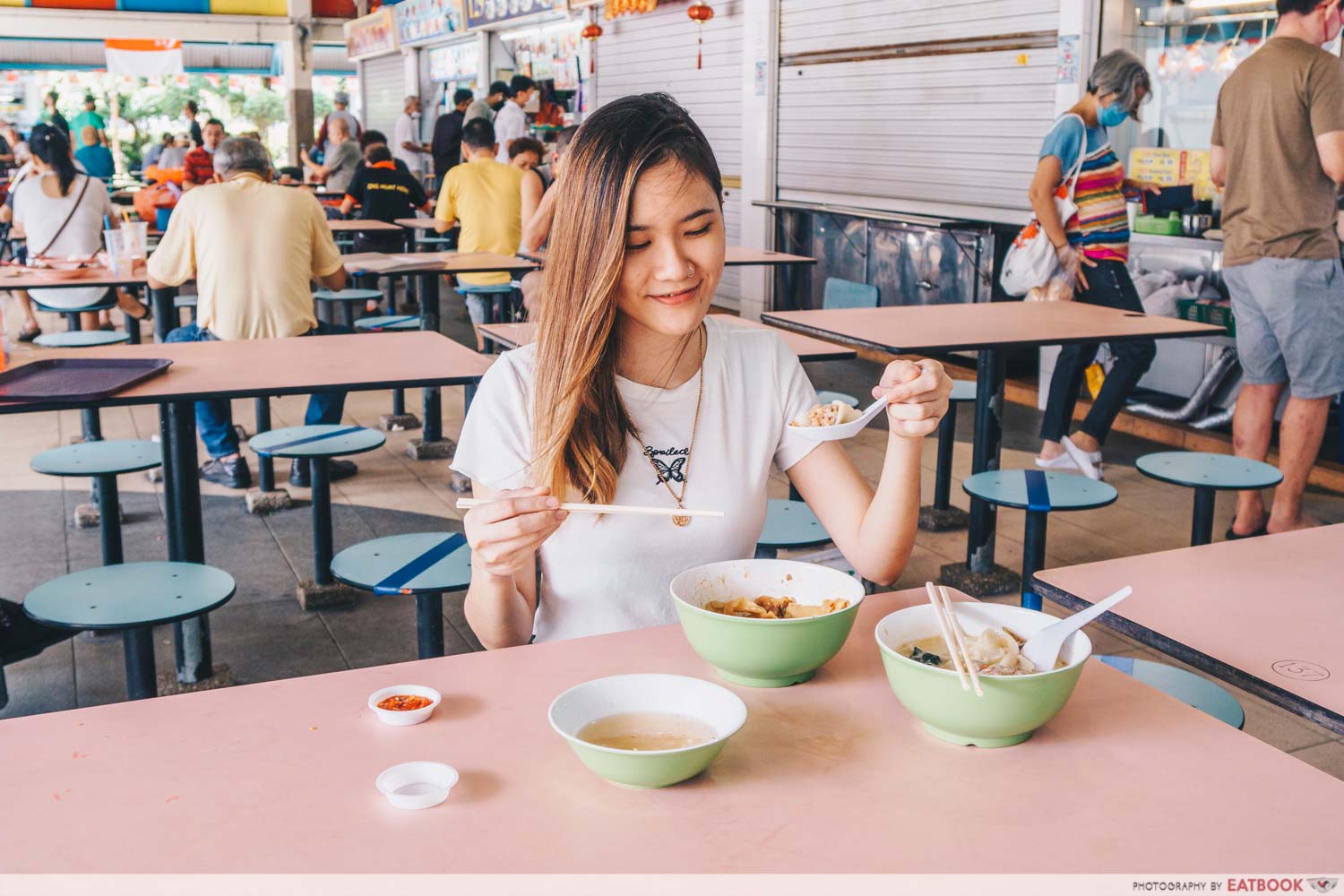 To me, good food is always worth the wait, and that would be the case for Jiak Song Mee Hoon Kway. Despite it being a simple dish, most of the elements were well-executed, from the life-changing broth and the al dente freshly-made noodles to its chilli sauce. All it took was a single bite for me to realise why people are going nuts for this. It's truly a bowl of mee hoon kueh that's MasterChef-worthy.
I am eager to return to Jiak Song Mee Hoon Kway with my family in the near future to share this great new find with them.
Boon's Noodles Review: Handmade Mee Hoon Kueh Stall At Golden Mile Complex
Check out our review on Boon's Noodles for more handmade mee hoon kueh. Otherwise, watch us cook mee hoon kueh from scratch on Eatbook Cooks! 
Address: 11 Telok Blangah Crescent, #01-108, Singapore 090011
Opening hours: Daily 9am to 1pm (or until sold out)
Website
Jiak Song Mee Hoon Kway is not a halal-certified eatery.
Photos taken by Muhammad Hafiq.
This is an independent review by Eatbook.
Summary
Pros
– Al dente noodles
– Flavourful broth
– Well-seasoned meat
Cons
– Long queue
– Egg in dry mee hoon kueh was a little raw
Recommended Dishes: Signature all-in combo Mee Hoon Kway ($5)
Opening hours: Daily 9am to 1pm (or until sold out)
Address: 11 Telok Blangah Crescent, #01-108, Singapore 090011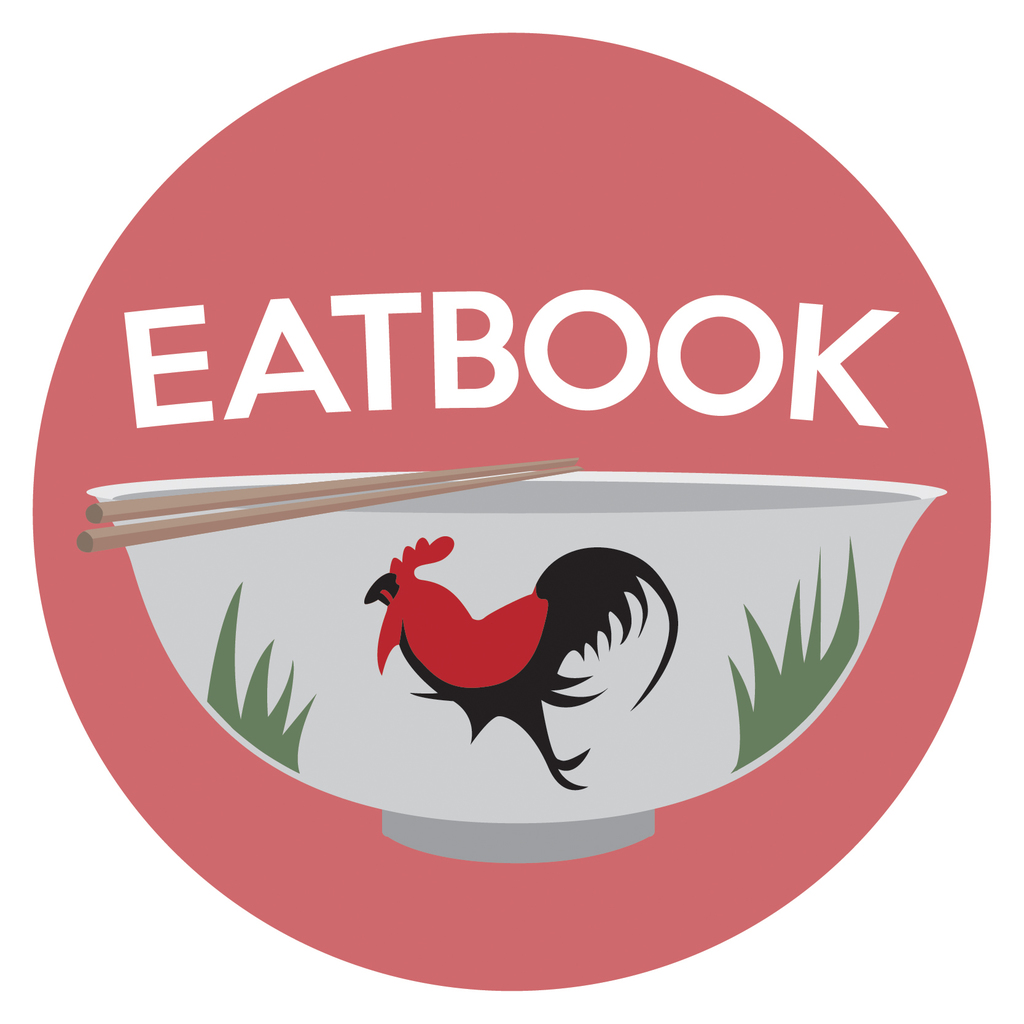 Drop us your email so you won't miss the latest news.