Ju Hao sells legit Chinese noodles in Punggol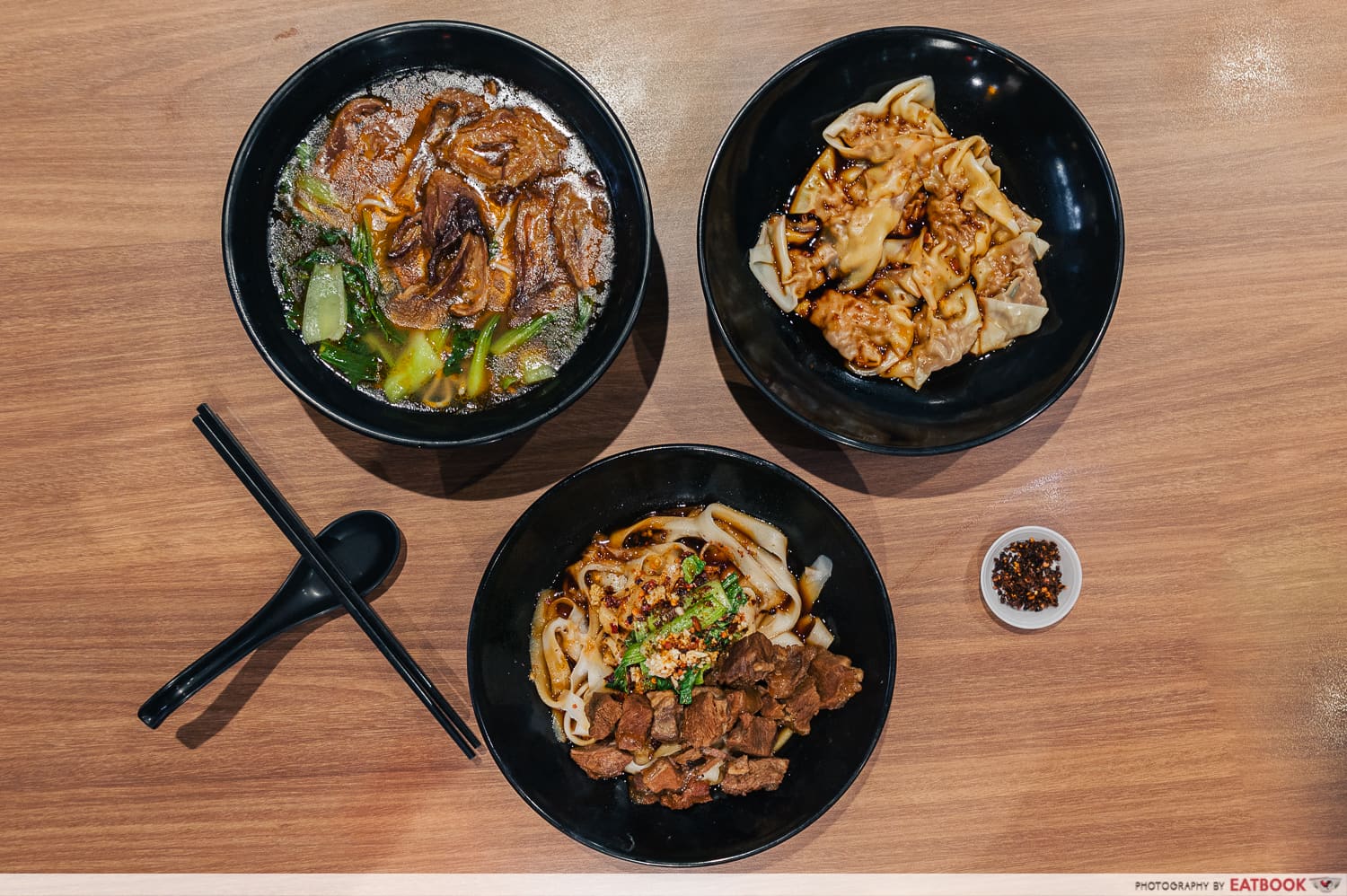 Growing up, I always debated if I preferred noodles or rice, but handmade noodles definitely tip the scales for me. If you're anything like me, you must check out the newly opened Ju Hao, a hawker stall in Punggol. They've been around for half a year and recently gained popularity online for their handmade noodles and dumplings.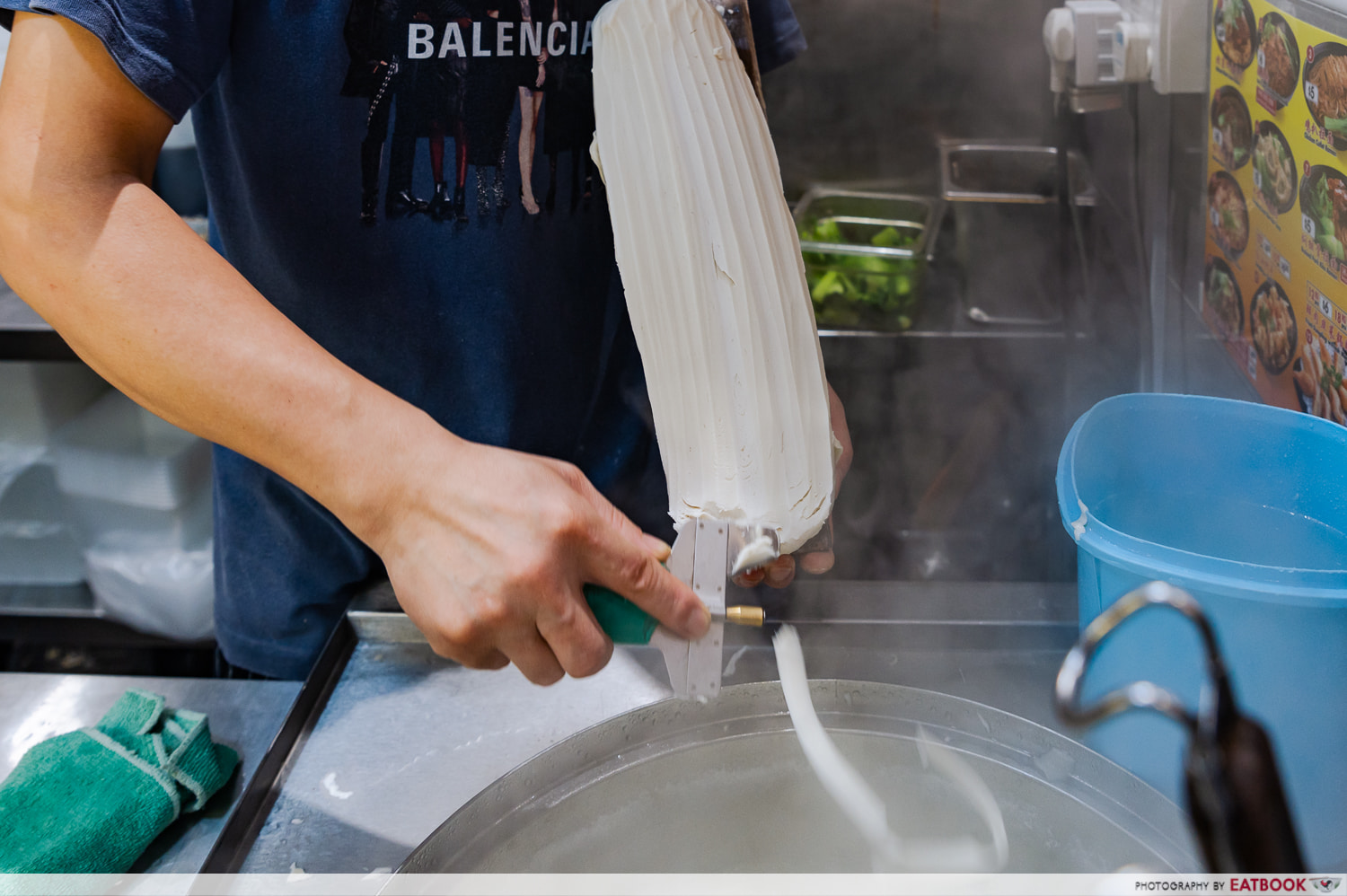 They sell three different types of noodles here, including knife-cut and hand-pulled noods. Knife-cut noodles, AKA 刀削面 (dāo xiāo miàn), are made by cutting the surface of a stiff dough with a sharp knife for wide, flat noodles with ragged edges. There's also hand-pulled noodles, AKA 拉面 (lā miàn), which can be found as thin or wide noodles and are typically more springy and chewy. 
Food at Ju Hao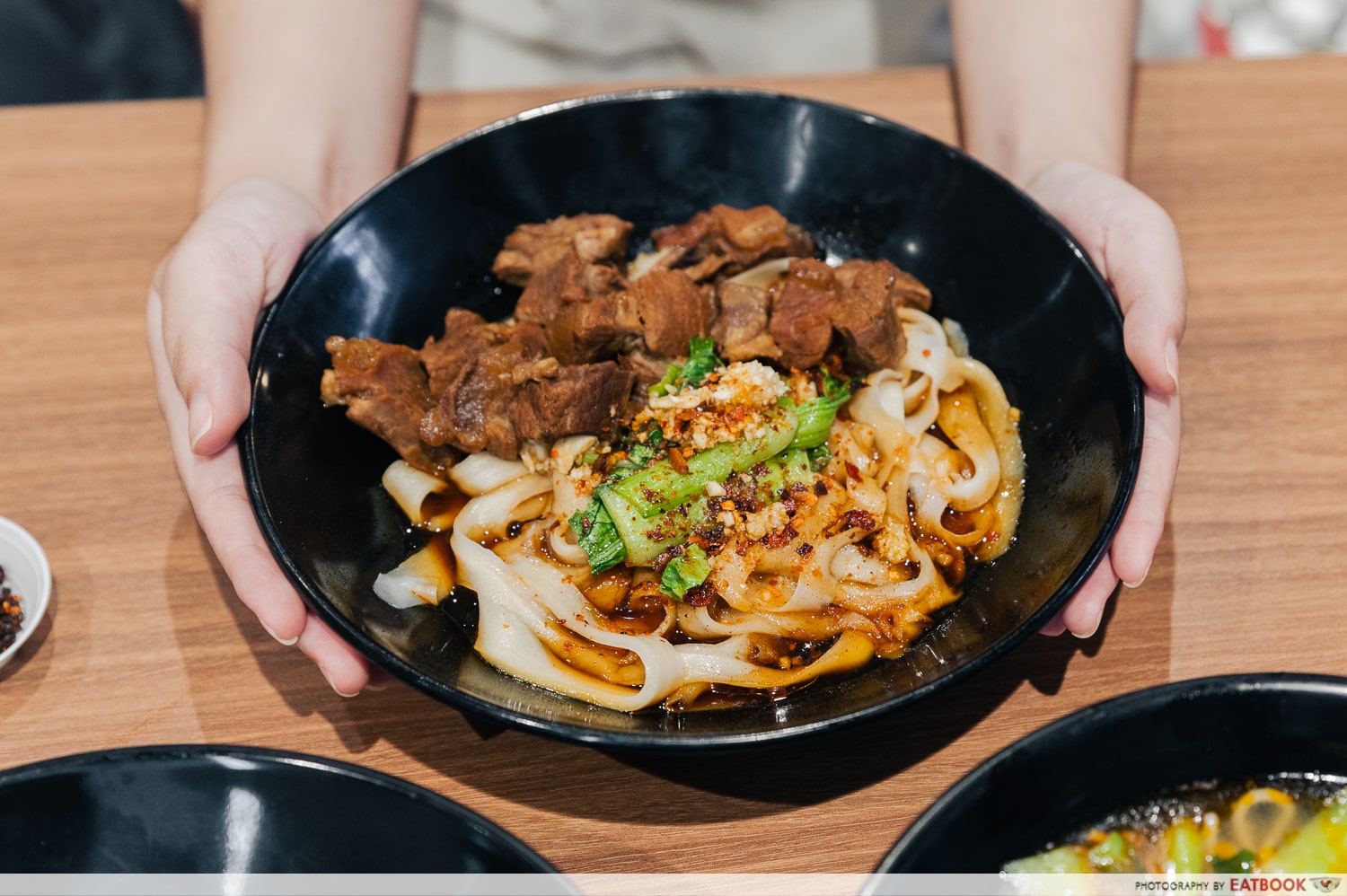 We started with You Po Shave Noodle with Beef ($6.50), which boasts knife-cut noodles tossed in a mix of oils and sauces, served with marinated beef.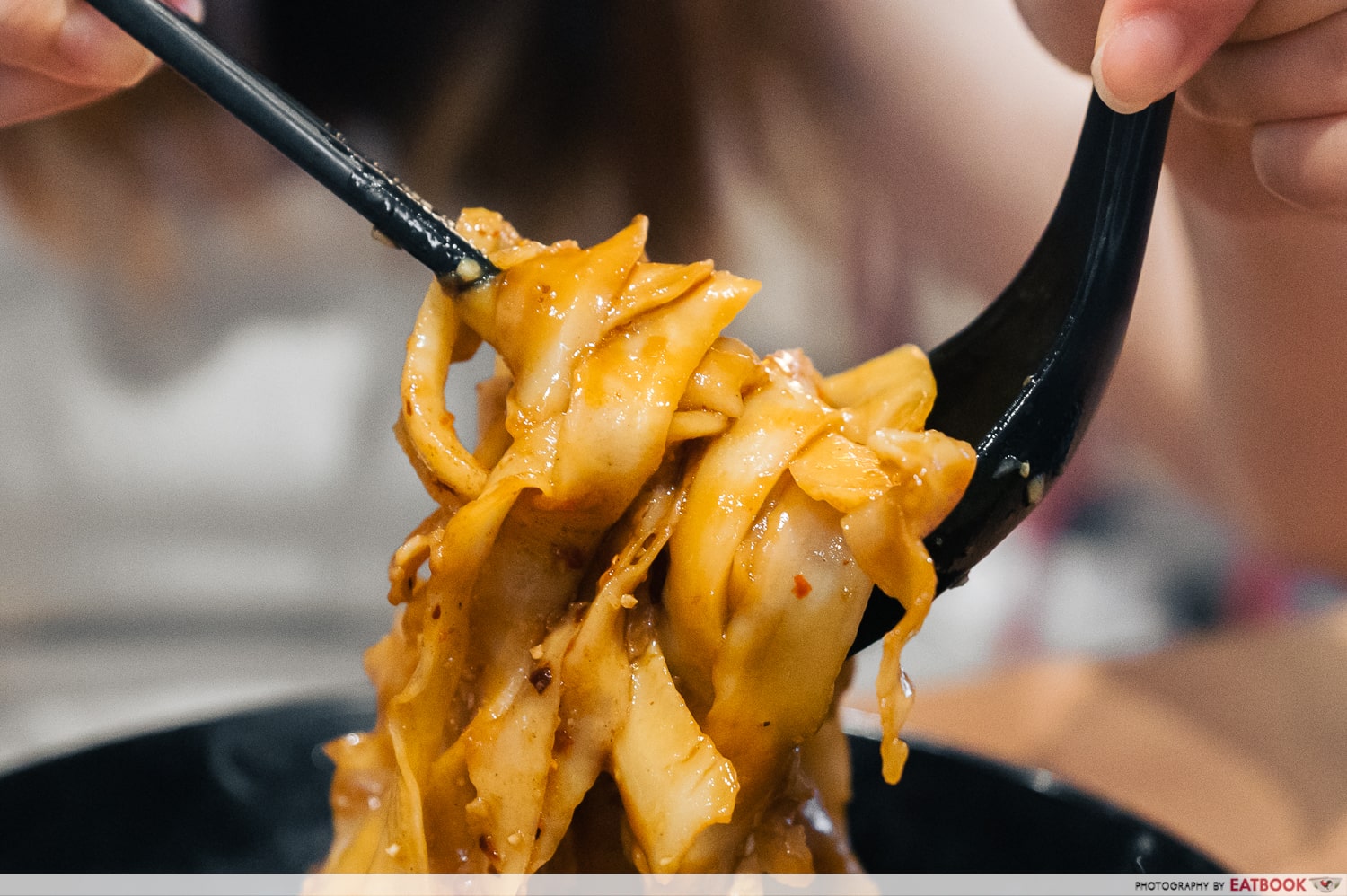 The dish had a mouthwatering fragrance as I was mixing the noodles. Taste-wise, the al dente noodles were savoury and garlicky, with a pop of spiciness. It was also not too oily, which I appreciated, because it wasn't too jelak.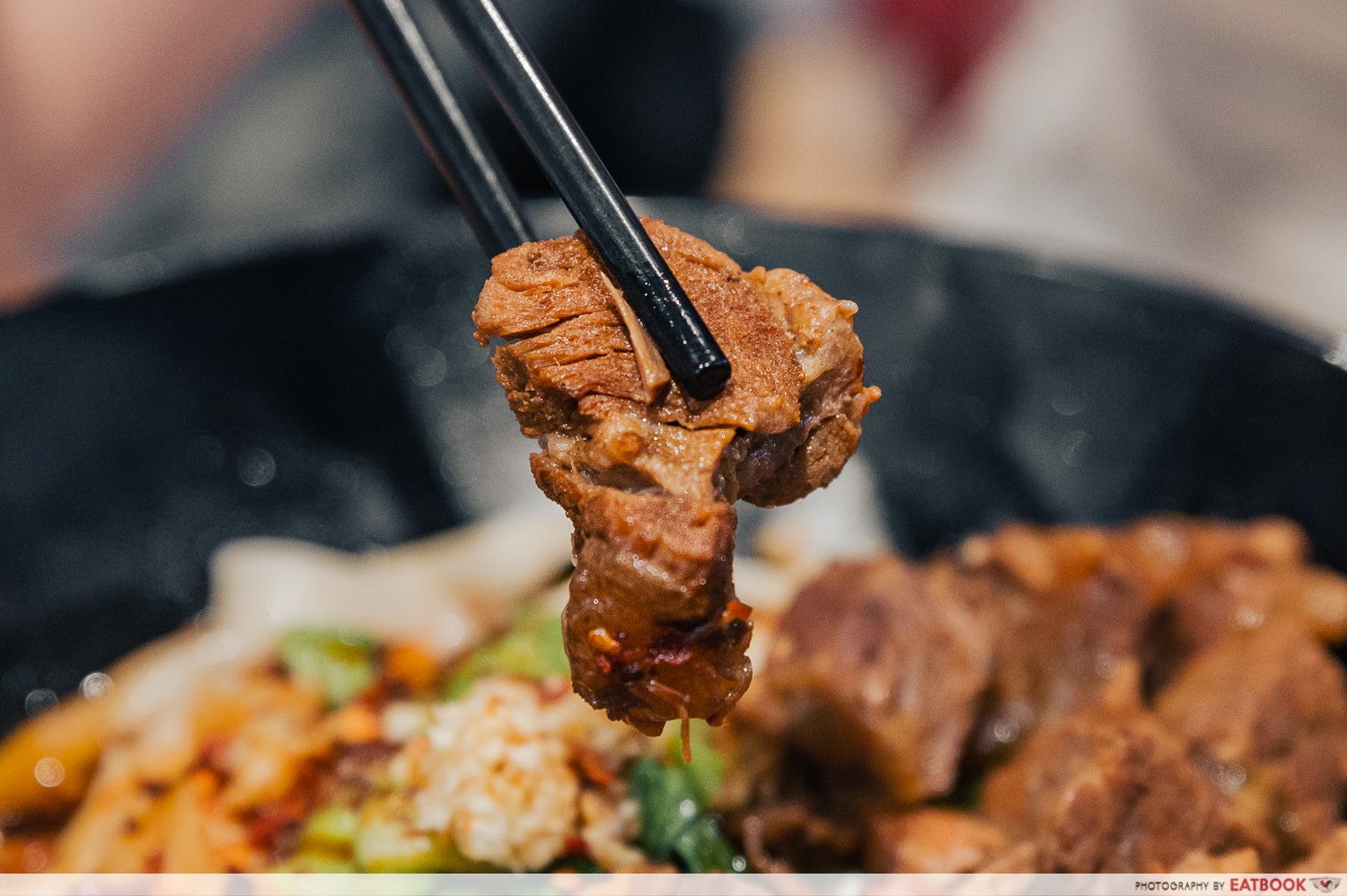 The beef had a pleasant herbal and savoury flavour. Even though we left it out during our shoot, it was still reasonably tender, with tasty gelatinous bits. 
If you wish, you can even get the noodles without meat, though we chose from their add-on options that include intestine and pork ribs.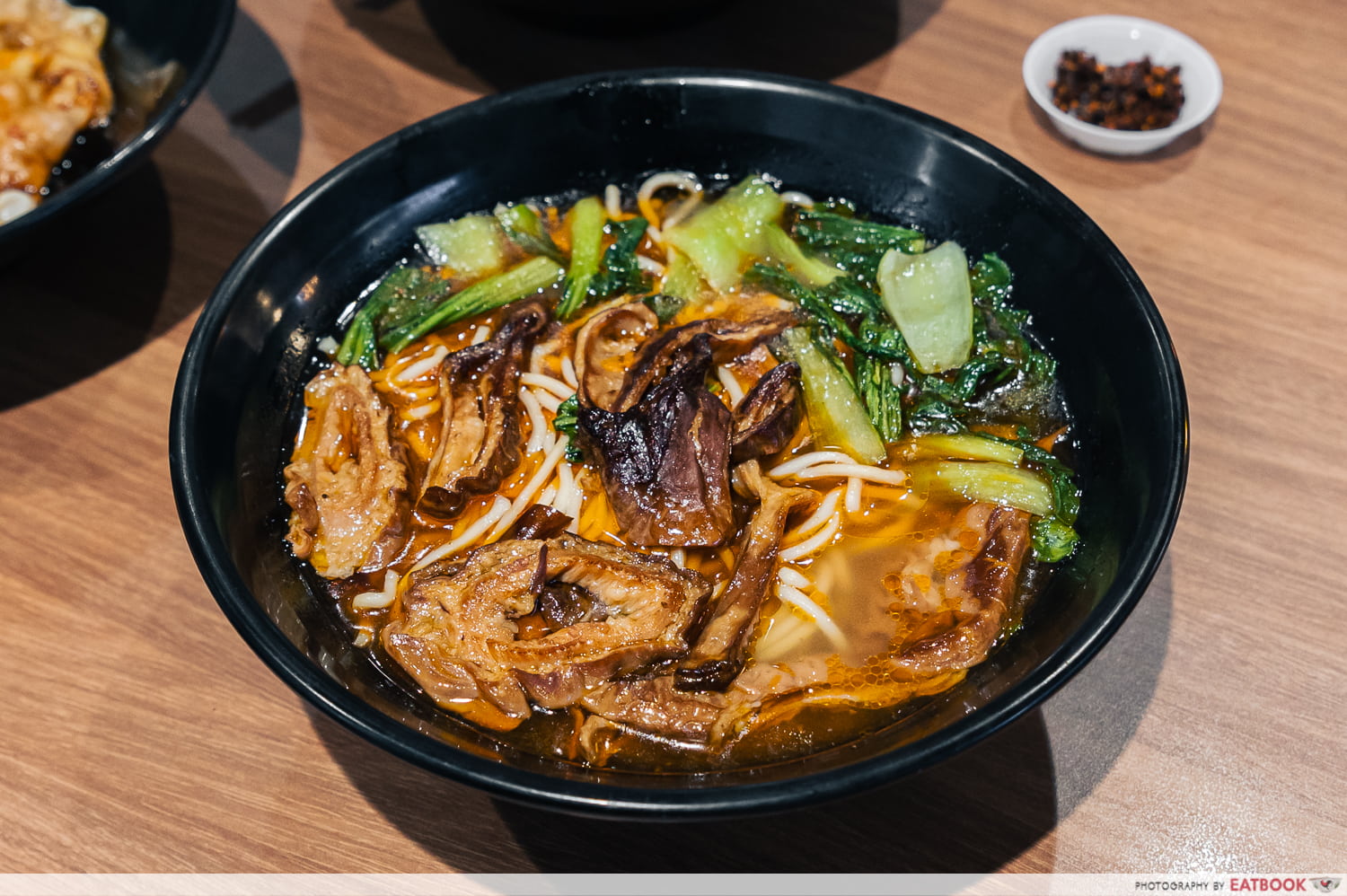 Next, we tried the Mala Intestine Noodle ($6) that features thin hand-pulled noodles, vegetables, and intestine slices in a steaming hot broth laced with red oil.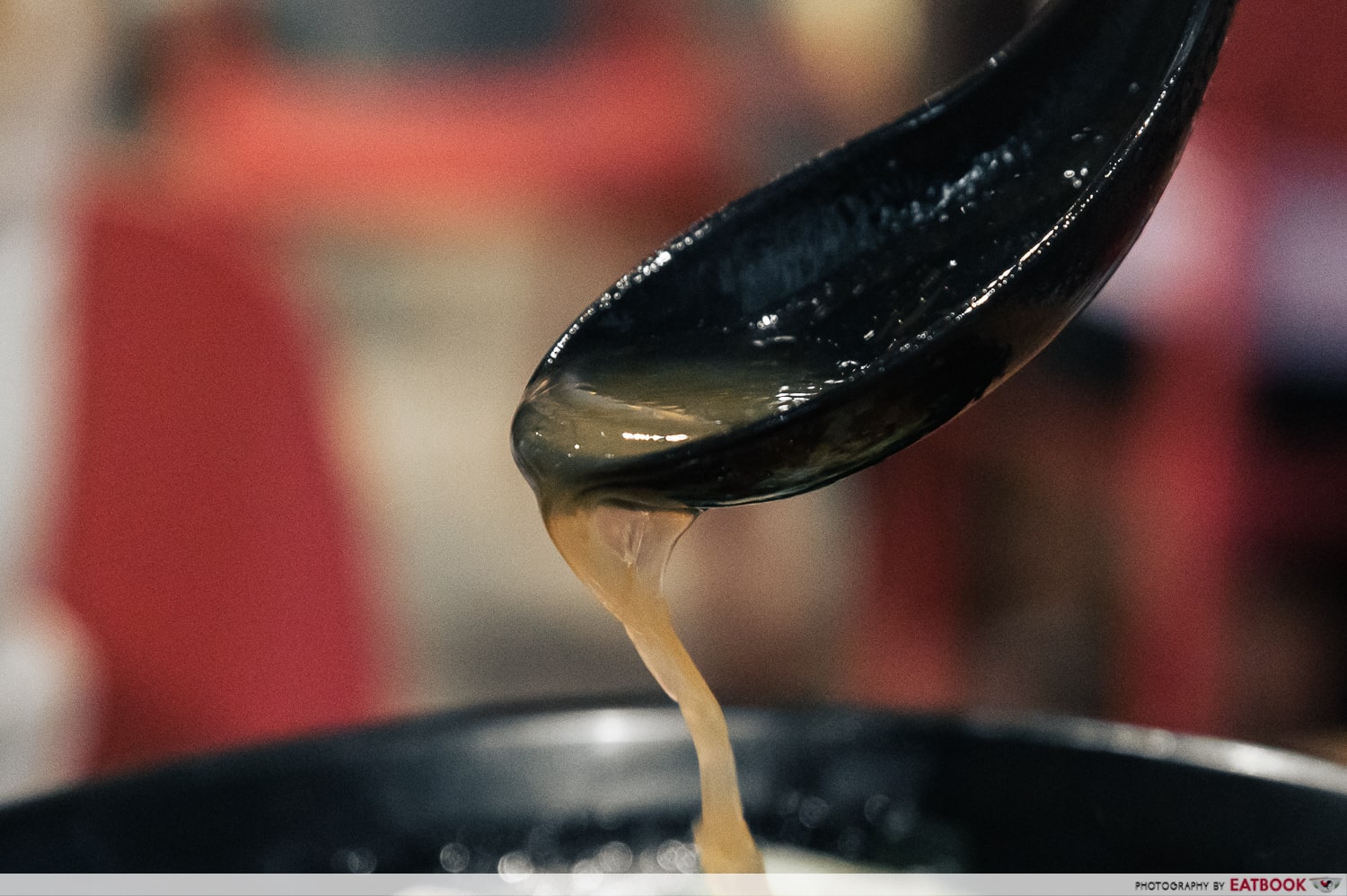 The rich and savoury broth was mildly spicy and sour, with a tinge of numbness. It also held a hint of beefy flavour, which I really enjoyed. However, if you're a huge fan of mala, you might be disappointed with this clean-tasting soup.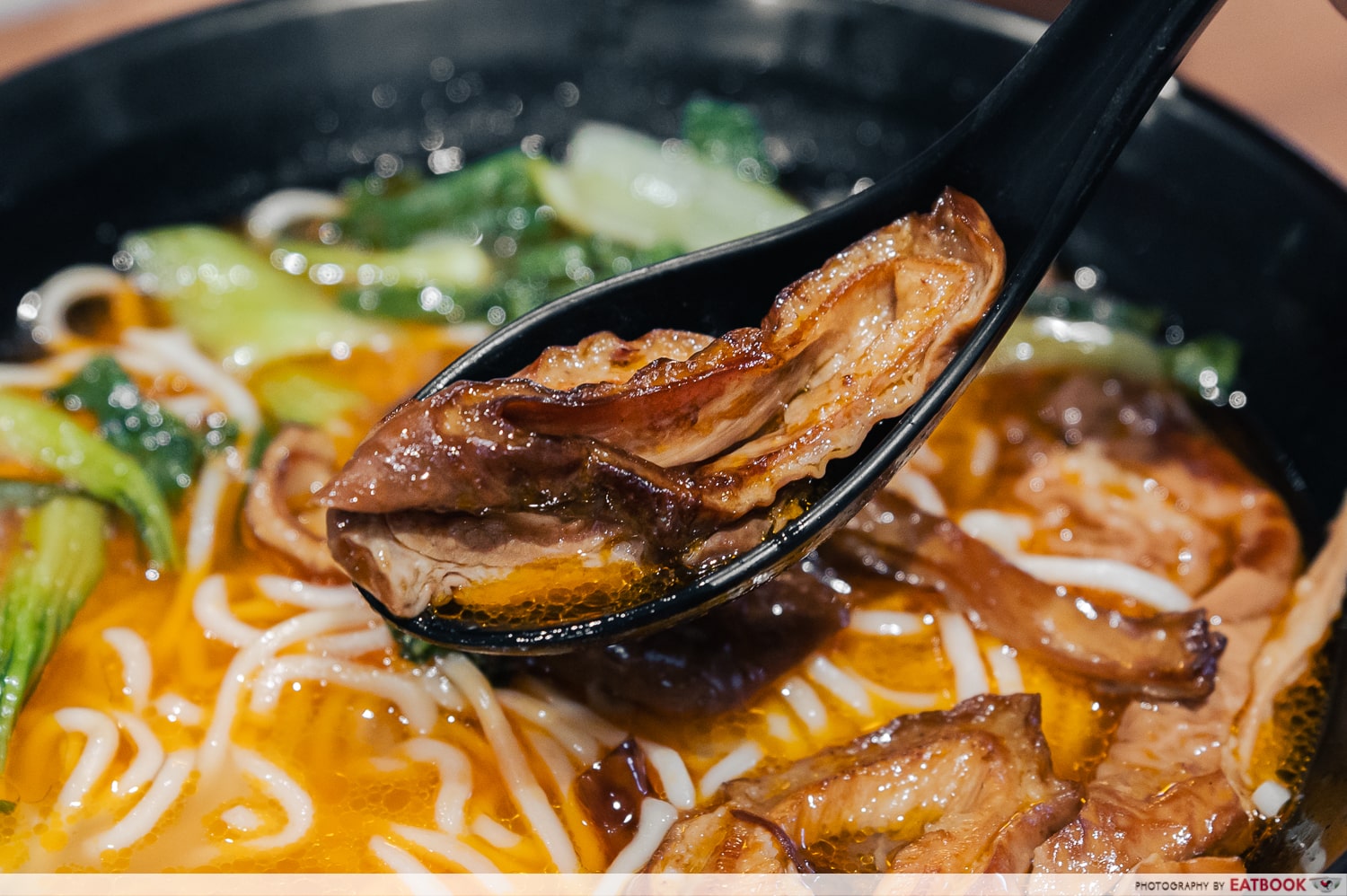 I also enjoyed the chewy and savoury sliced intestine pieces, which were cleaned and cooked well, and didn't have any unpleasant taste that suggests otherwise. They were also a good vehicle for the broth, so every bite was chock full of the rich soup, with a spicy kick at the end.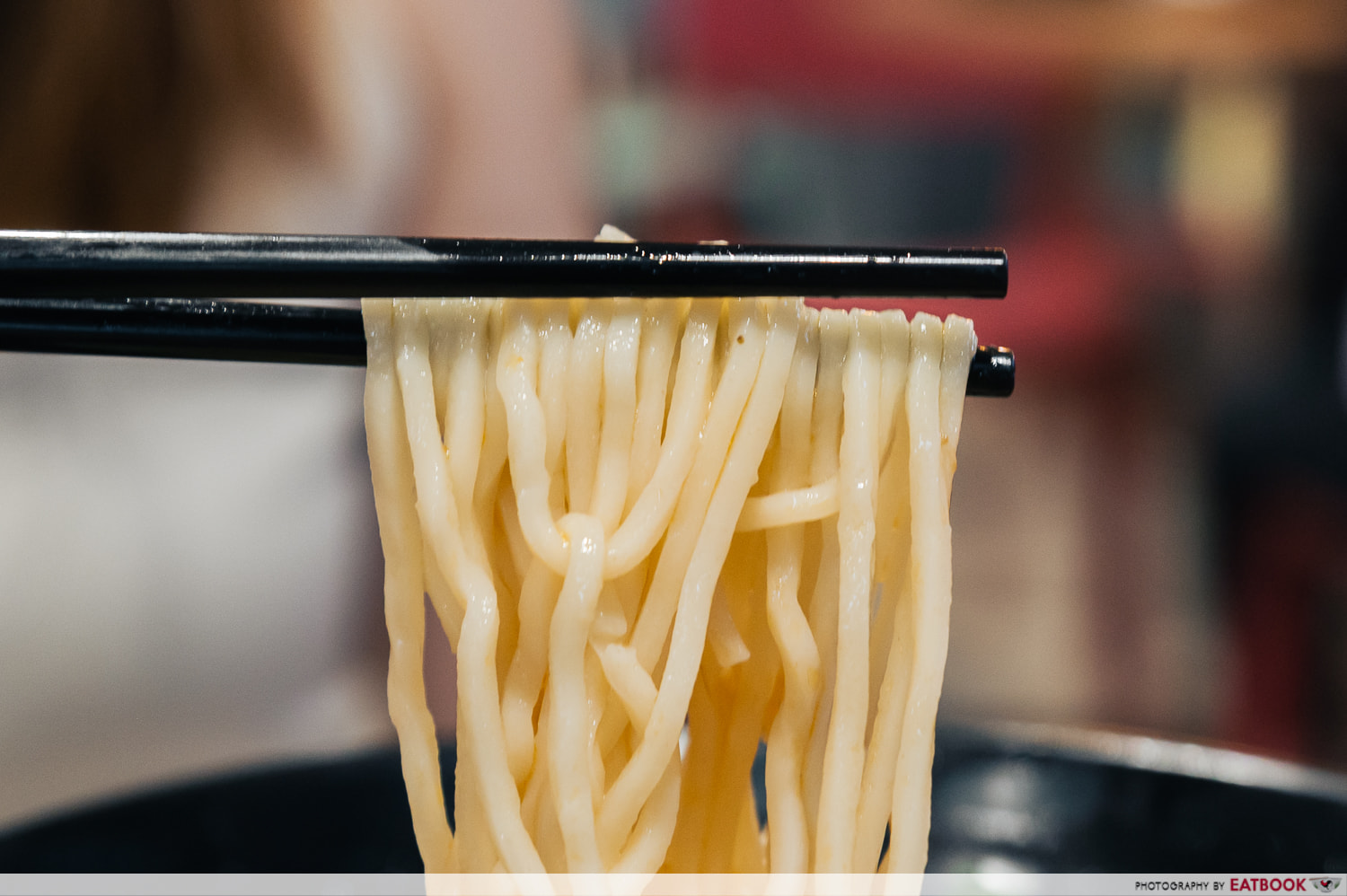 Meanwhile, the noodles were QQ and not at all starchy. However, I still preferred the knife-cut noodles for their texture.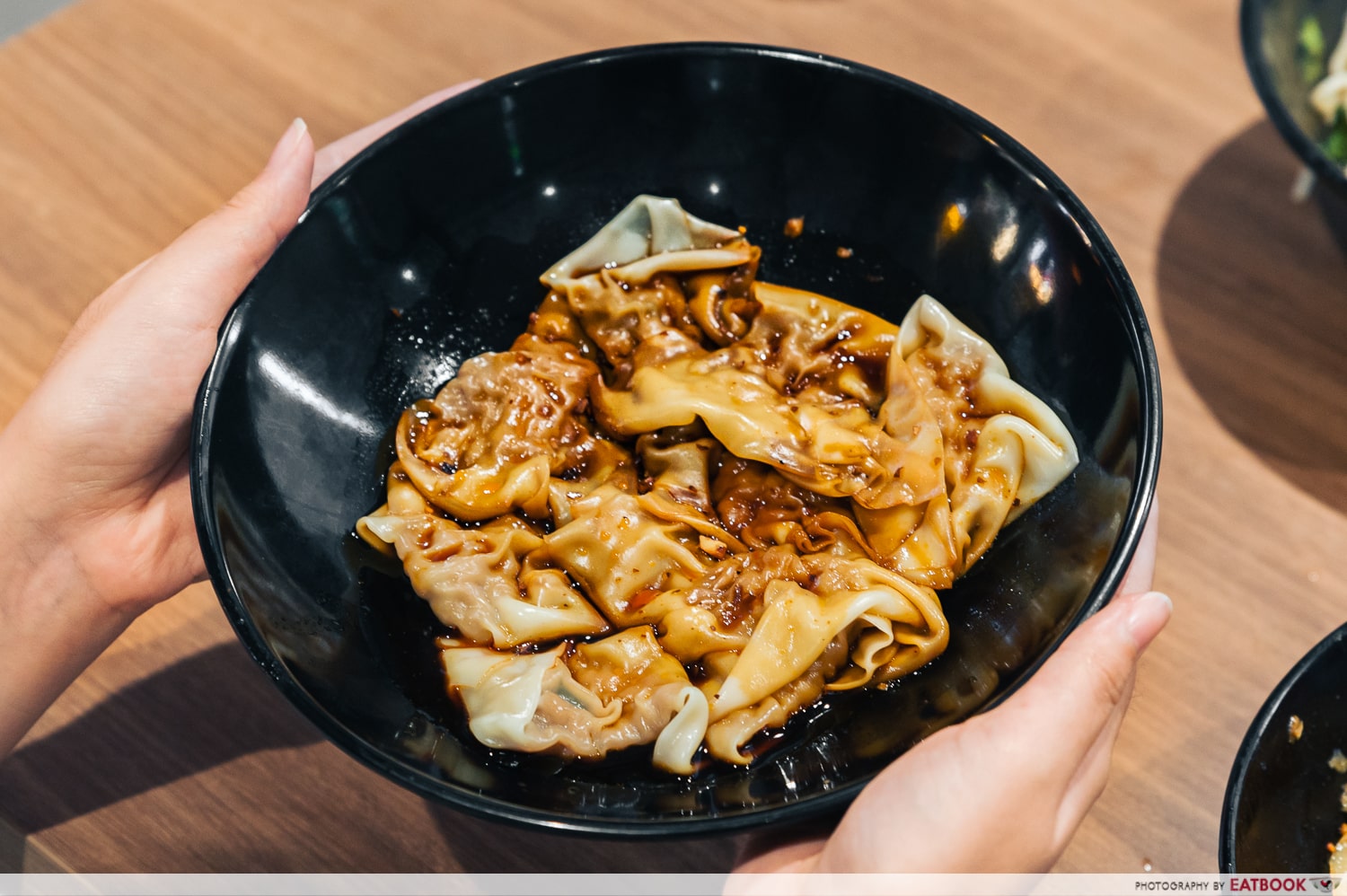 Lastly, we tried the Dumpling with Chilli Oil ($4.50/$6.50). These had minced pork wrapped with house-made thin, silky smooth skin. These were glossy with a sauce mix of vinegar, soya sauce, and chilli oil, and were surprisingly not spicy at all, though there was a touch of numbing spiciness from the chilli oil.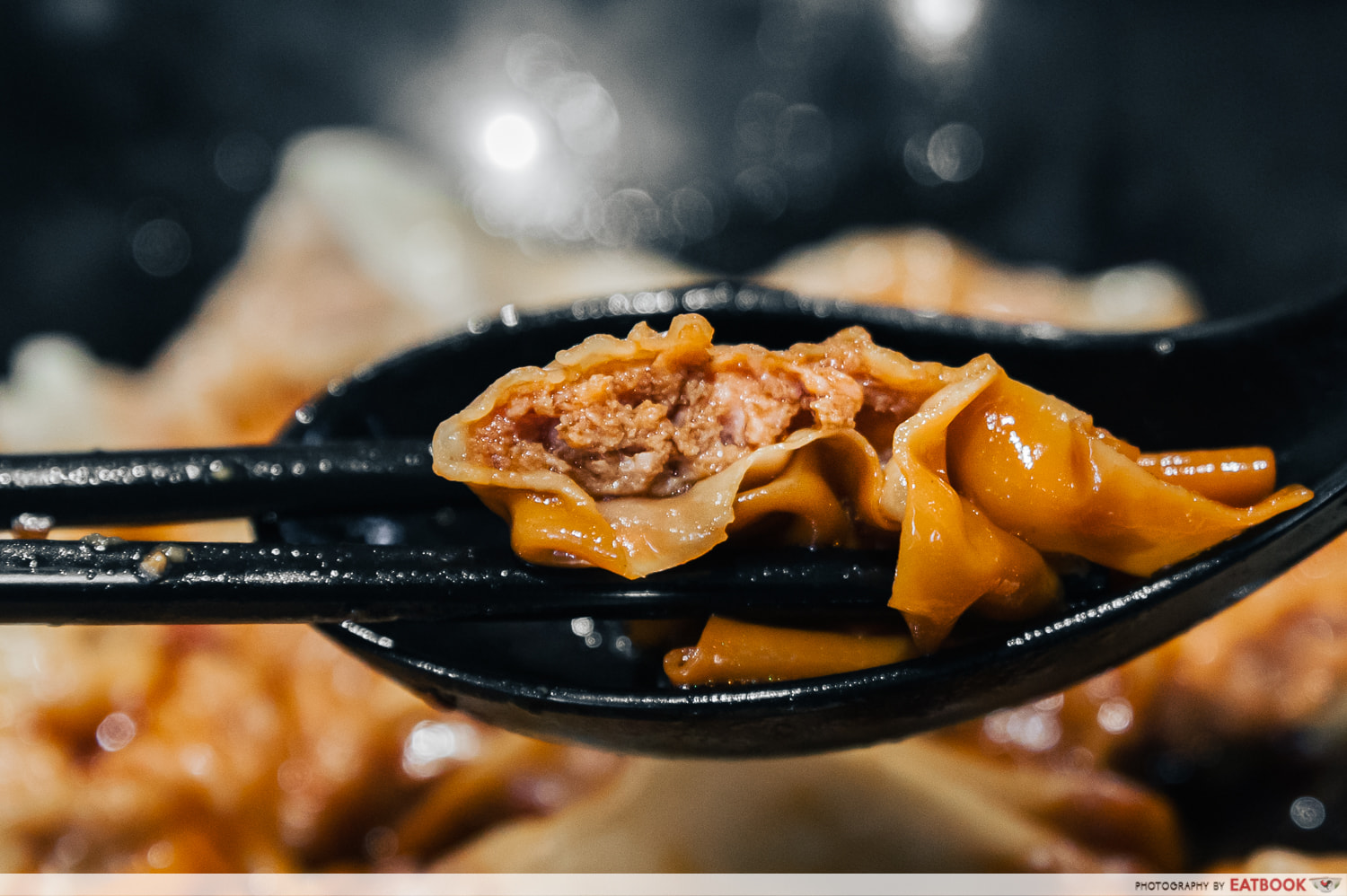 The filling of these dumplings tasted porky and were too salty for me. My colleague, on the other hand, enjoyed this. You can also pair the dumplings with their house-made dried chilli that's smoky and spicy, which on our visit tasted a little bit burnt.
Ambience at Ju Hao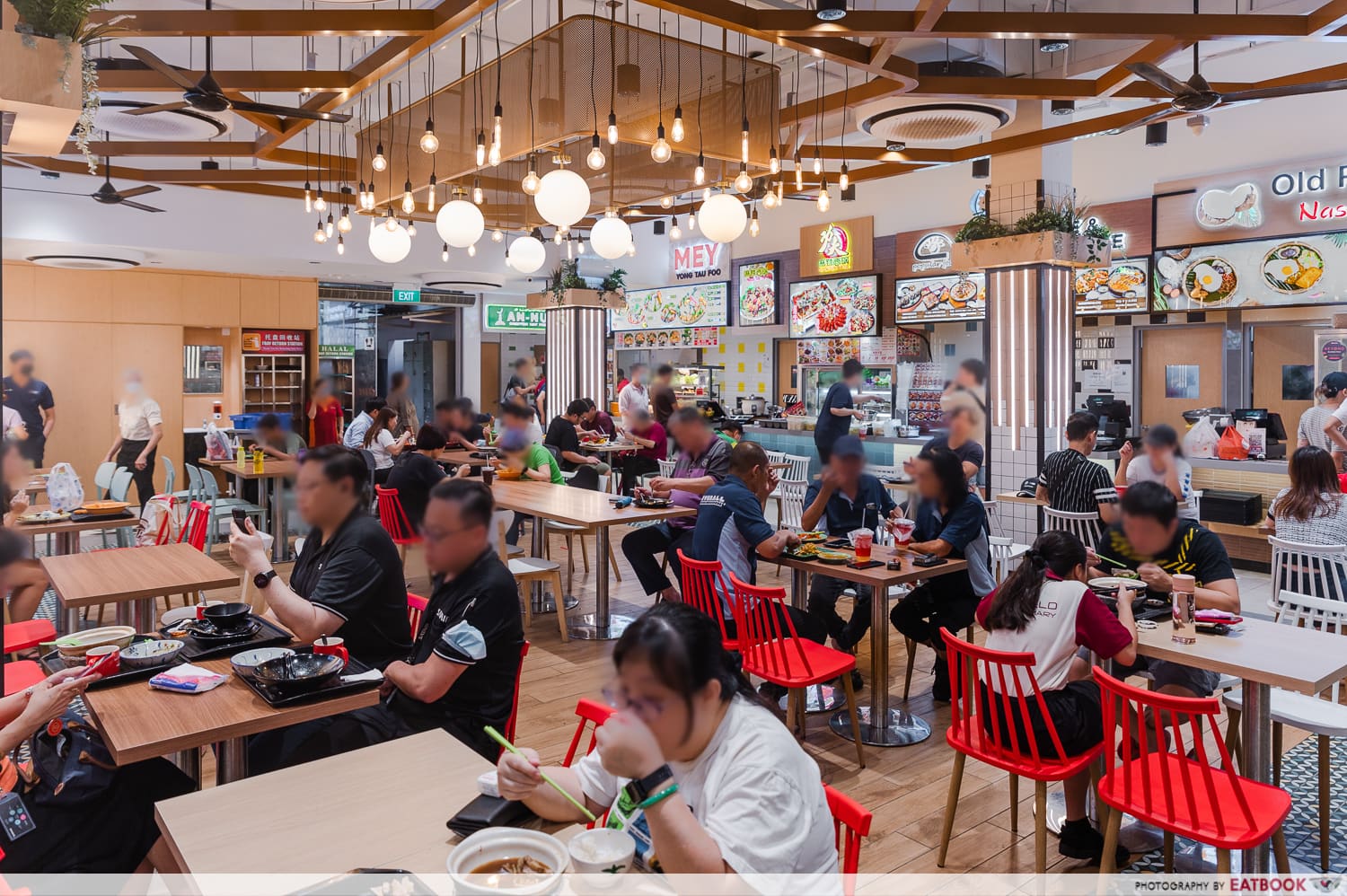 Ju Hao is located in GM Food Centre, directly below Cove LRT Station that's two minutes away by LRT from Punggol MRT Station. The food court is brightly lit and clean, with an air-conditioned indoor area. If you arrive during the peak lunch hour as we did, you could opt to sit in their open-air outdoor space instead.  
12 La Mian Places For When You're Craving Hand-Pulled Noodles
The verdict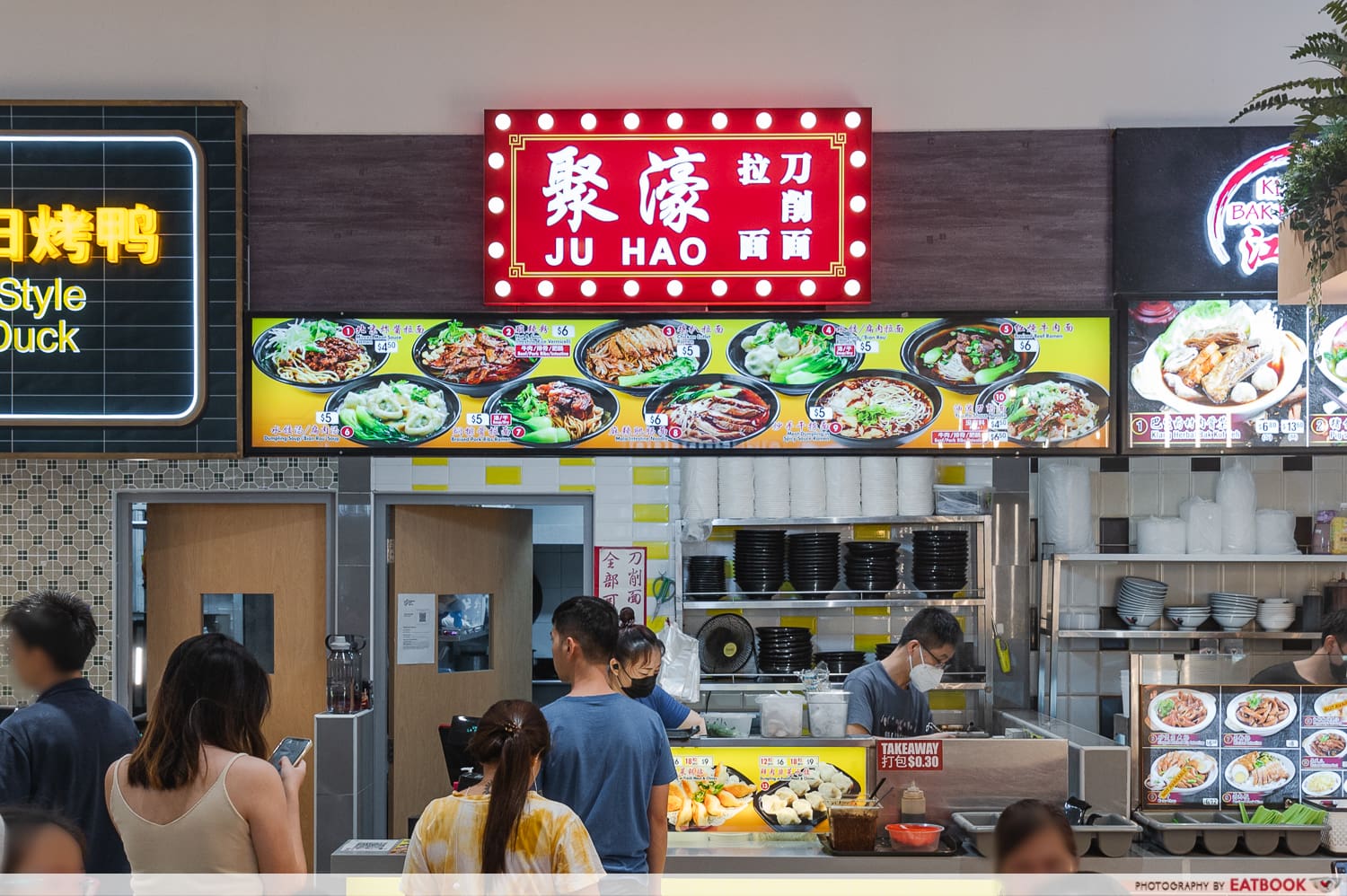 Since I pass by the area quite often, I'm definitely grabbing a friend and coming back for these affordable and tasty noodles. It's not that there aren't any Chinese handmade noodle stalls much nearer to me, but the noodles here just hit the right spot for me. If you're a North-Eastie like me, definitely drop by for a visit!
For more tasty noodles, read our guide to the best la mian places in Singapore. Or if you'd like, take two LRT stops down to Sam Kee and check out the eateries mentioned in our One Punggol Hawker Centre food guide. 
Address: 198 Punggol Field, #01-01, GM Food Centre, Singapore 820198
Opening hours: Daily 9am to 9:30pm
Ju Hao is not a halal-certified eatery. 
One Punggol Hawker Centre Guide: 11 Places For Famous Fried Wings, Michelin Fish Soup And More
Photos taken by Ke-ian J Leong.
This was an independent review by Eatbook.sg
Ju Hao Review: New Punggol Stall With Handmade Shaved Noodles, Mala Intestine Soup And More
Ju Hao Review: New Punggol Stall With Handmade Shaved Noodles, Mala Intestine Soup And More -

8/10
Summary
Pros
– All of the dishes were tasty and reasonably priced
– Beef and intestines were well-cooked
– Spice levels are palatable, with additional chilli provided
Cons
– Dumpling with Chilli Oil was porky
Recommended dishes: Mala Intestine Noodle ($6), You Po Shave Noodle with Beef ($6.50)

Opening hours: Sun-Thurs 8:30am to 9:30pm, Fri-Sat 8:30am to 10pm

Address: 198 Punggol Field, #01-01, GM Food Centre, Singapore 820198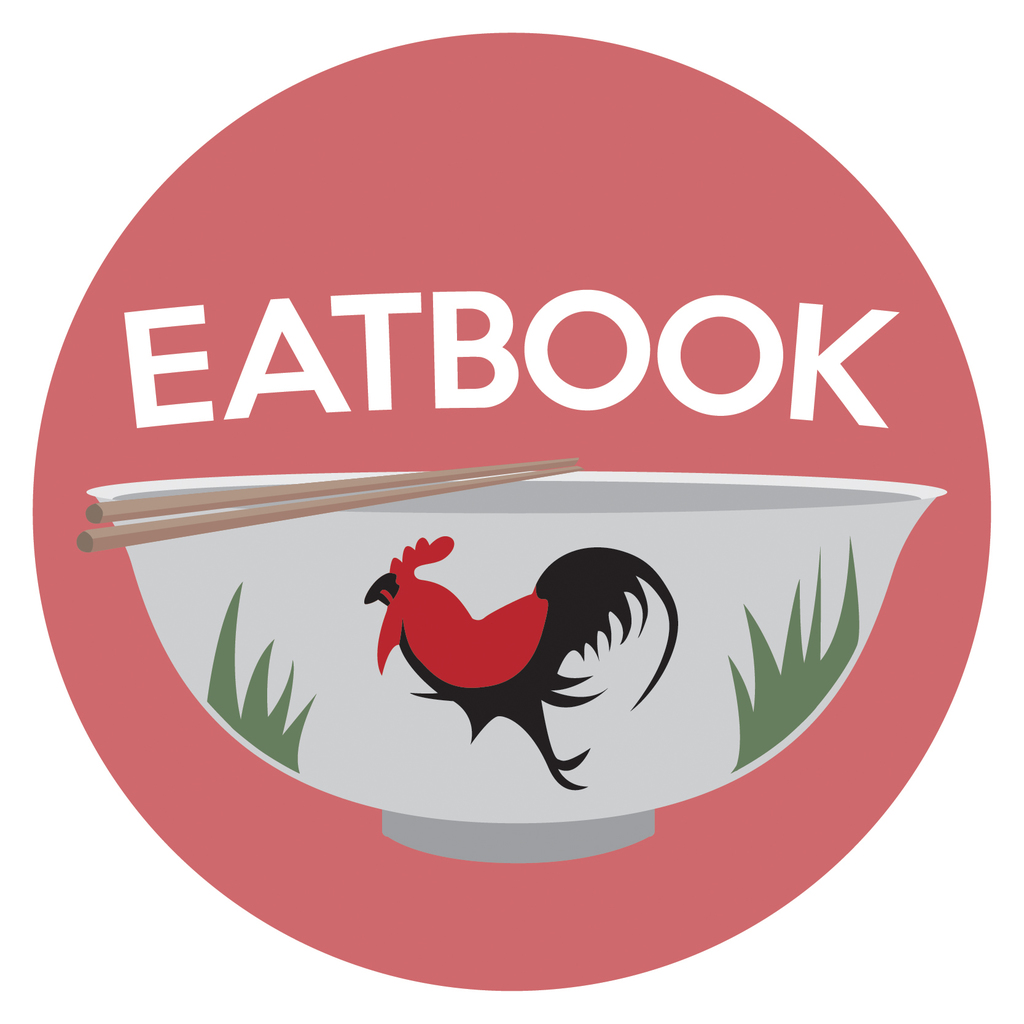 Drop us your email so you won't miss the latest news.