---
One Punggol Hawker Centre food guide
---
One Punggol Hawker Centre opened to great fanfare and excitement for Northeast-side peeps, with more than 30 hawker stalls, a whopping 700-plus seats, and even automated tray return stations. You're literally spoiled for choice here, so we've rounded up some of the best food options for you to check out.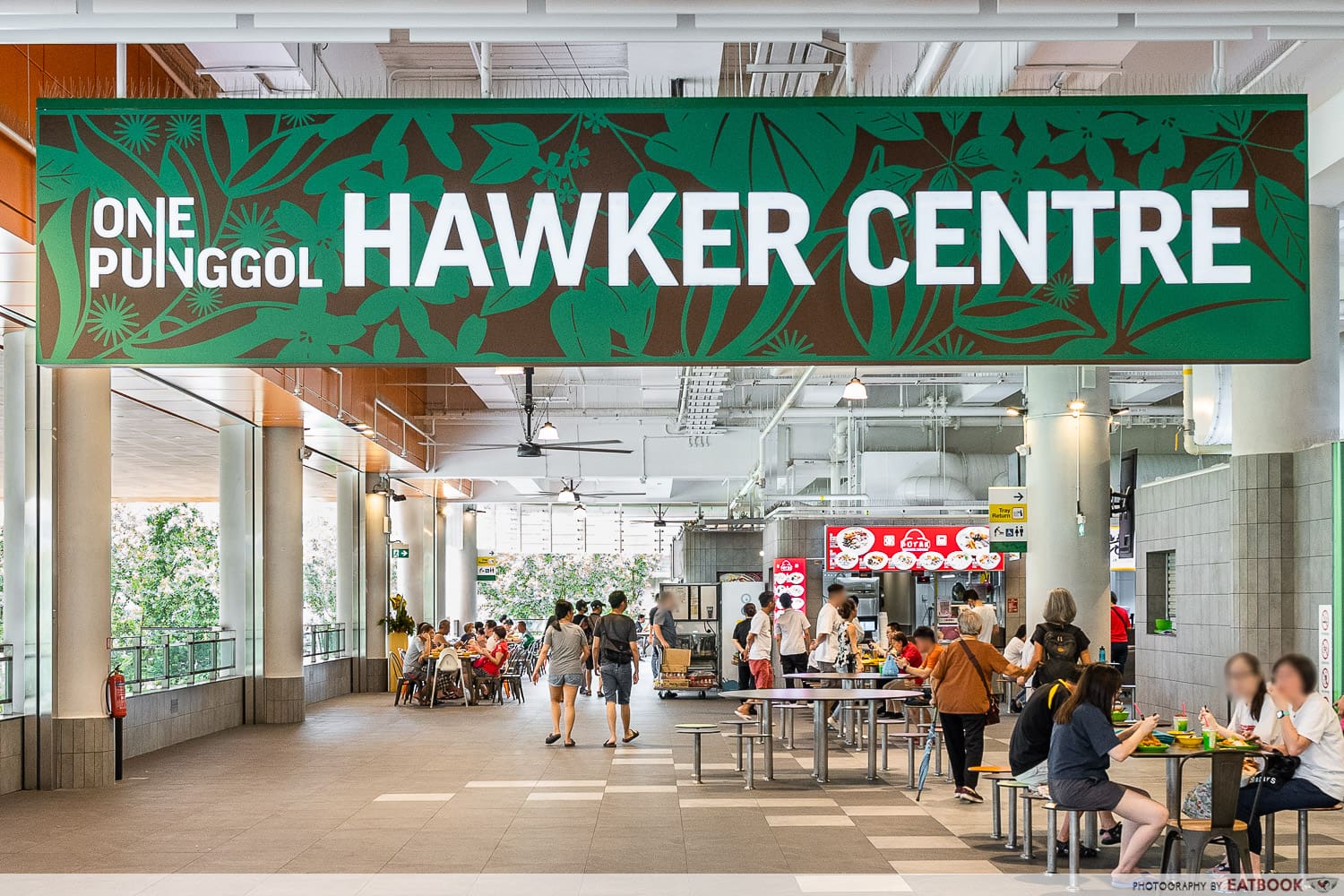 ---
1. Souperb!
---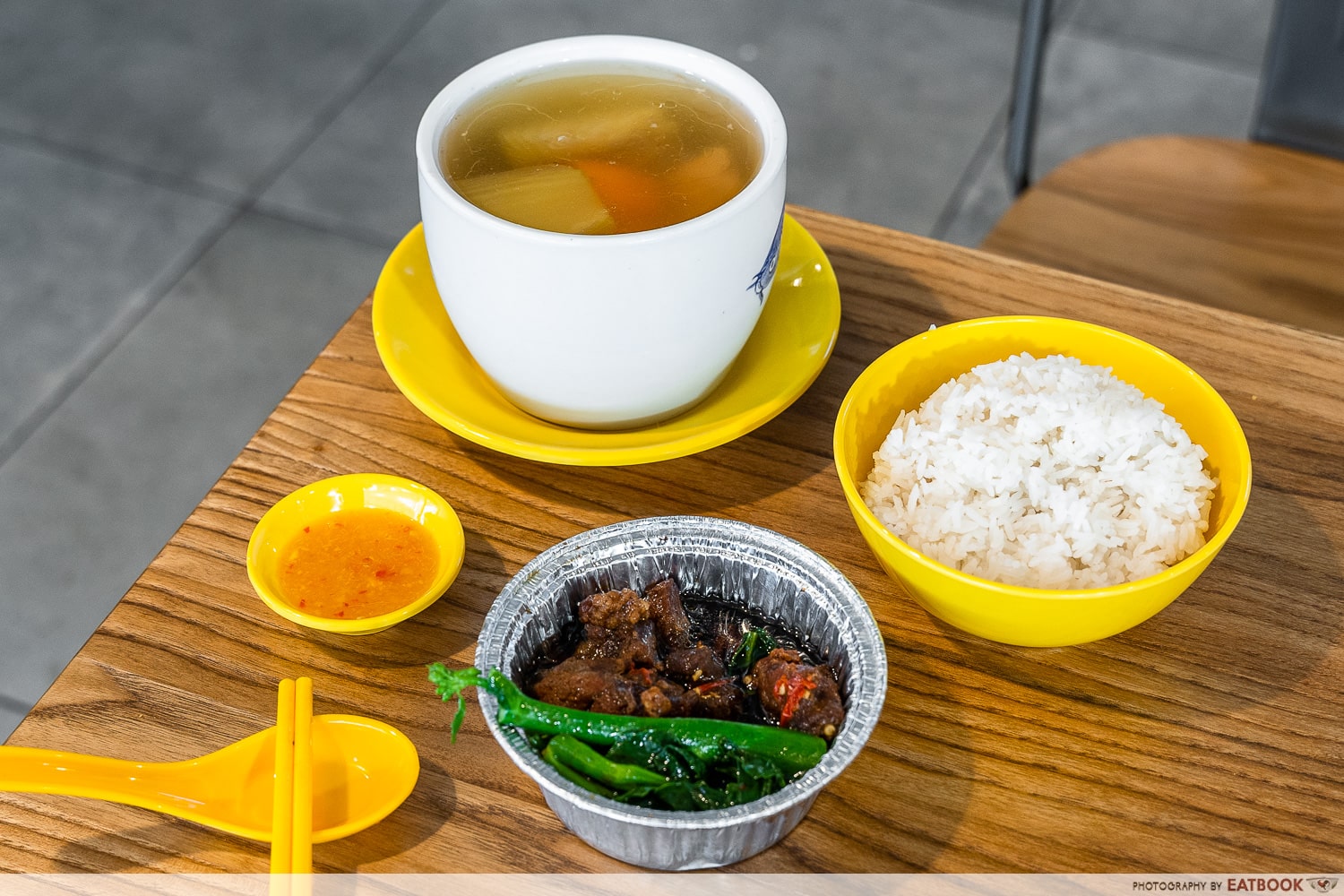 First up is Souperb!, a steamed food stall headed by a hawker who previously spent many years in the kitchen at the Ah Yat group of restaurants. The menu is split into two sections: soup and steamed dishes, which you can order alongside White Rice ($0.60) or Olive Rice ($1).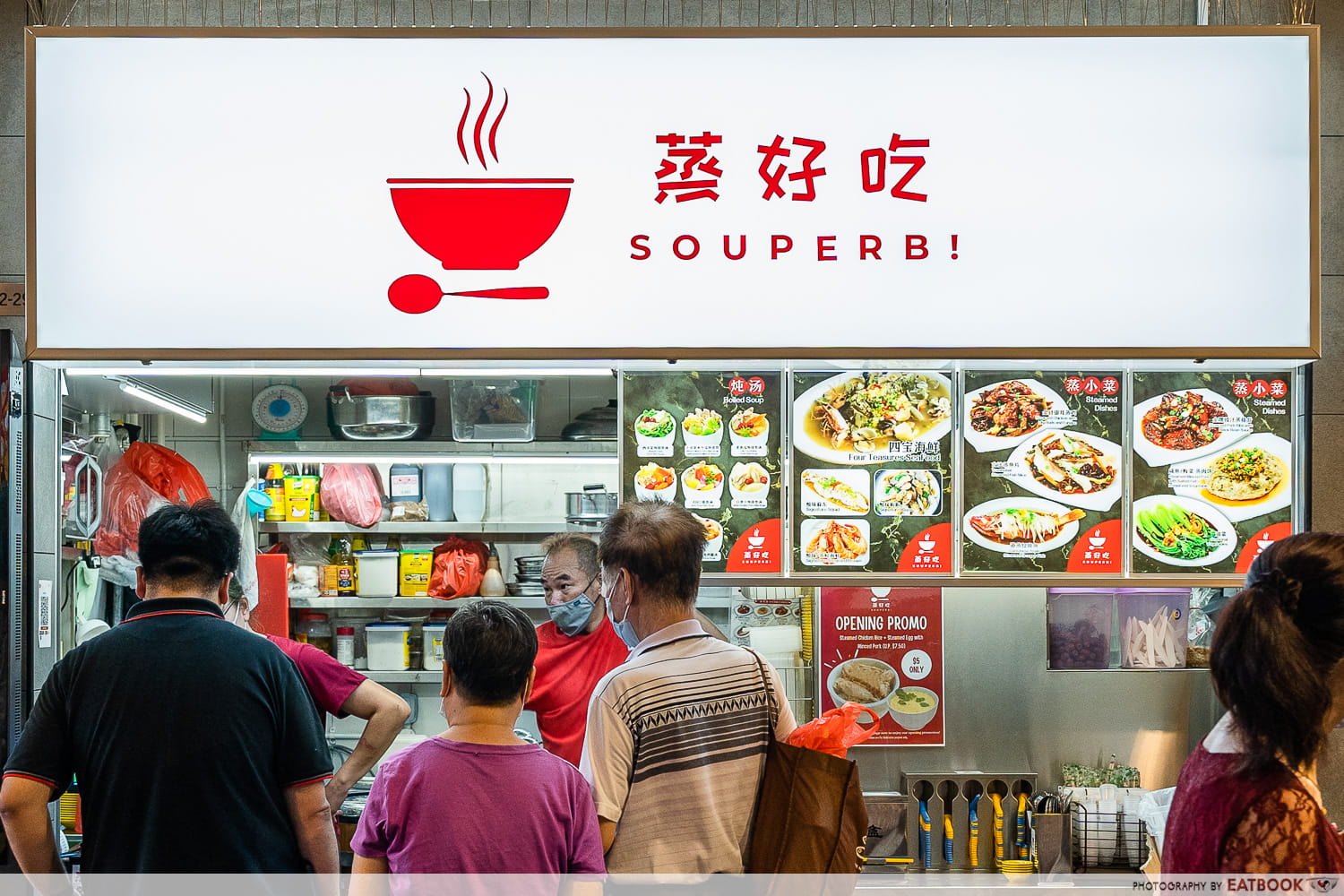 For a simple meal, you can't go wrong with ABC Pork Ribs Soup or Winter Melon Pork Ribs Soup with Dried Scallop and Barley, both priced at $4.50, and a bowl of Black Bean Sauce Pork Ribs Steamed Rice. This is one of four rice dishes, each costing just $4, with another option being the Salted Egg Meat Patty with Steamed Rice. If you're dining with a bigger party, they've got whole steamed fish and more!
Unit number: #02-29
Opening hours: Daily 12pm to 9pm
Website
Souperb! is not a halal-certified eatery.
---
2. Zi Jia Yong Tau Foo
---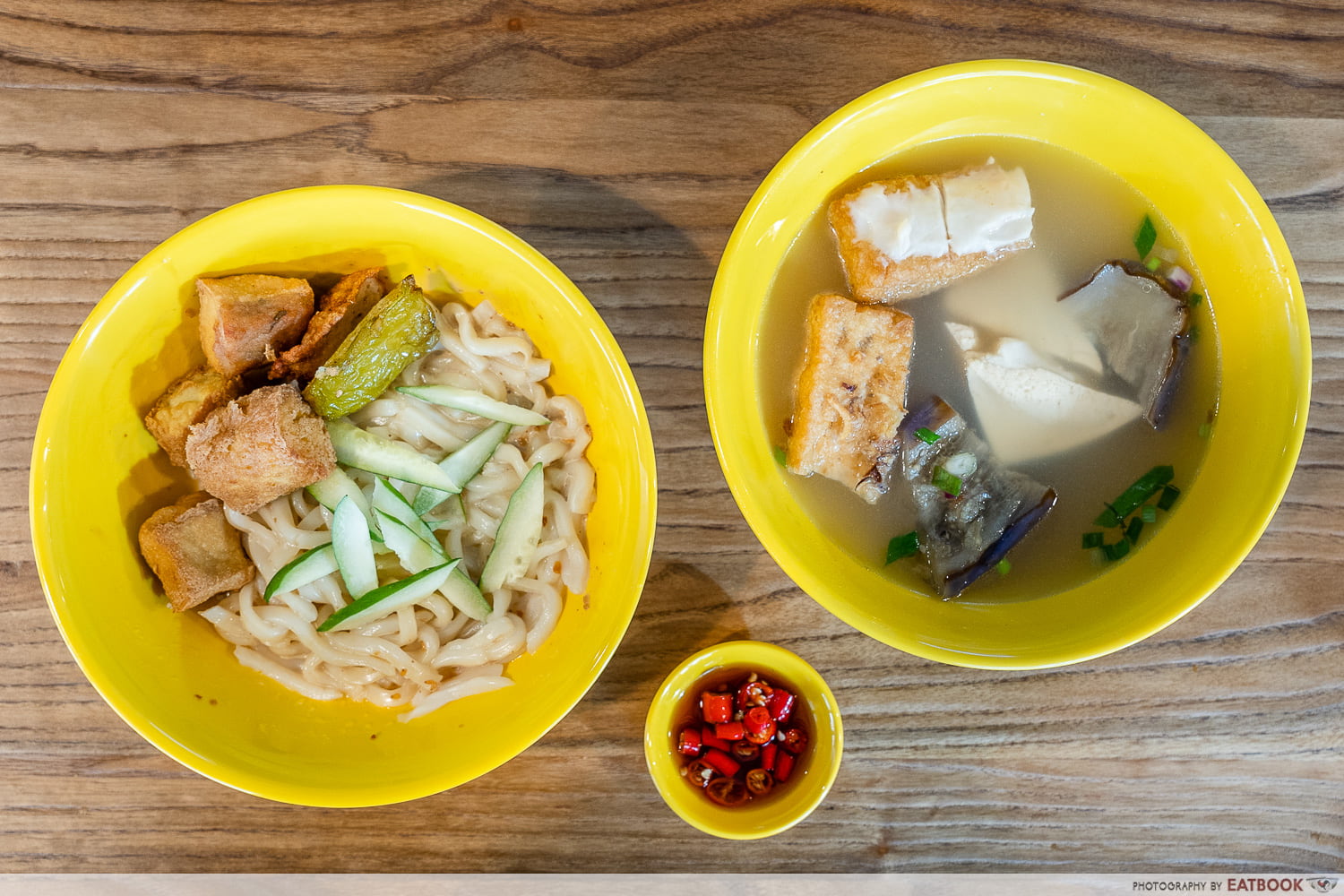 As the name suggests, Zi Jia Yong Tau Foo specialises in house-made yong tau foo. Choose from a spread of vegetables, ngoh hiang, fish cake and more, which are then boiled or deep-fried to order. Pair these with one of nine different kinds of noodles, including udon, mee sua, Koka noodles, and claypot noodles. Otherwise, you can have rice—whichever you choose, it's an $0.80 top-up if you don't pick a set.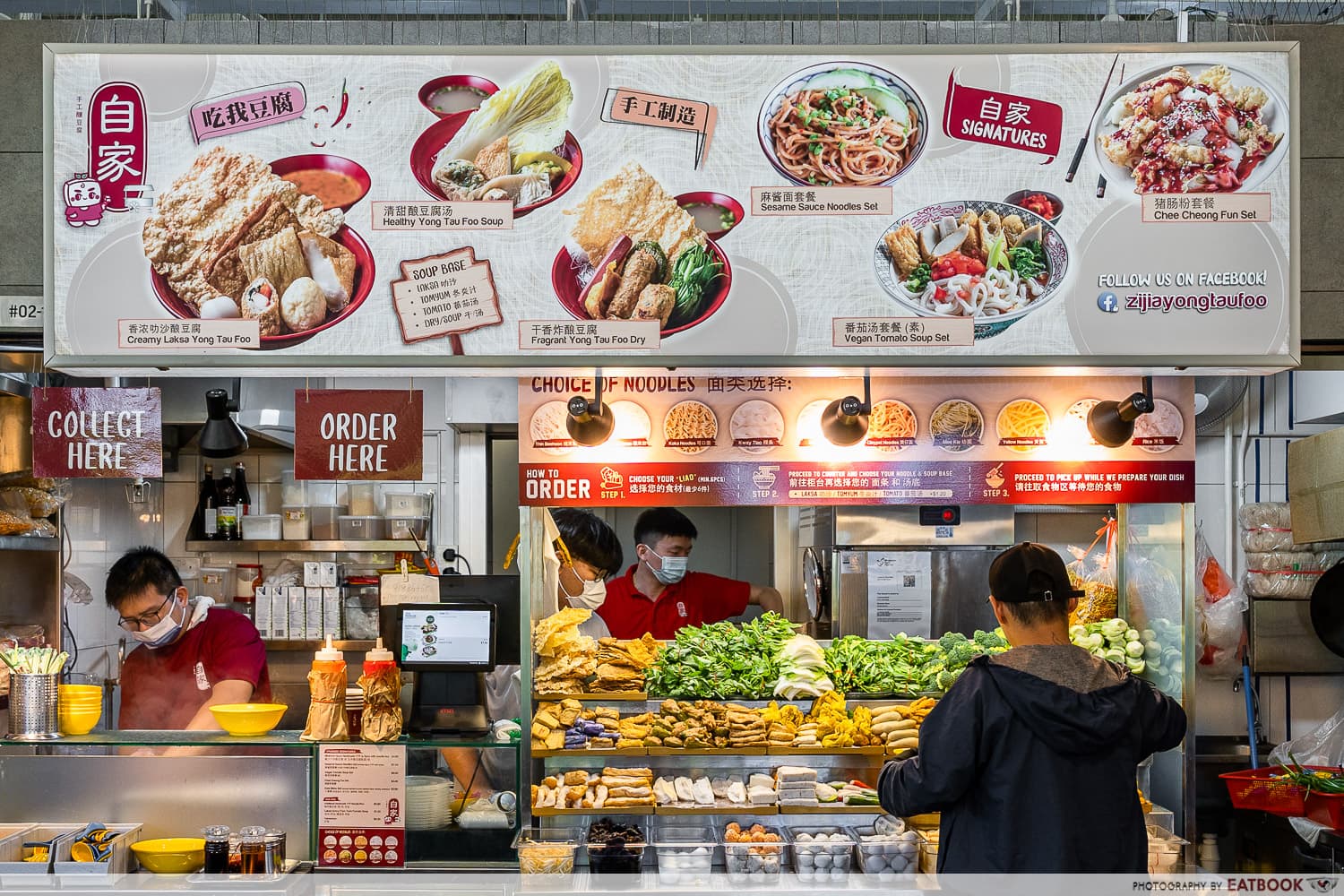 Six pieces of YTF go for $4.80 here, or you could have them as part of thw Sesame Sauce Noodles Set ($7), which comes with soup and udon tossed in a Japanese-style sesame dressing. If you prefer not to have the standard clear soup, top up $1.20 for laksa, tom yum, or tomato soup. There's also Chee Cheong Fun Set ($3)!
Unit number: #02-15
Opening hours: TBA
Website
Zi Jia Yong Tau Foo is not a halal-certified eatery.
---
3. Kwang Kee Teochew Fish Soup
---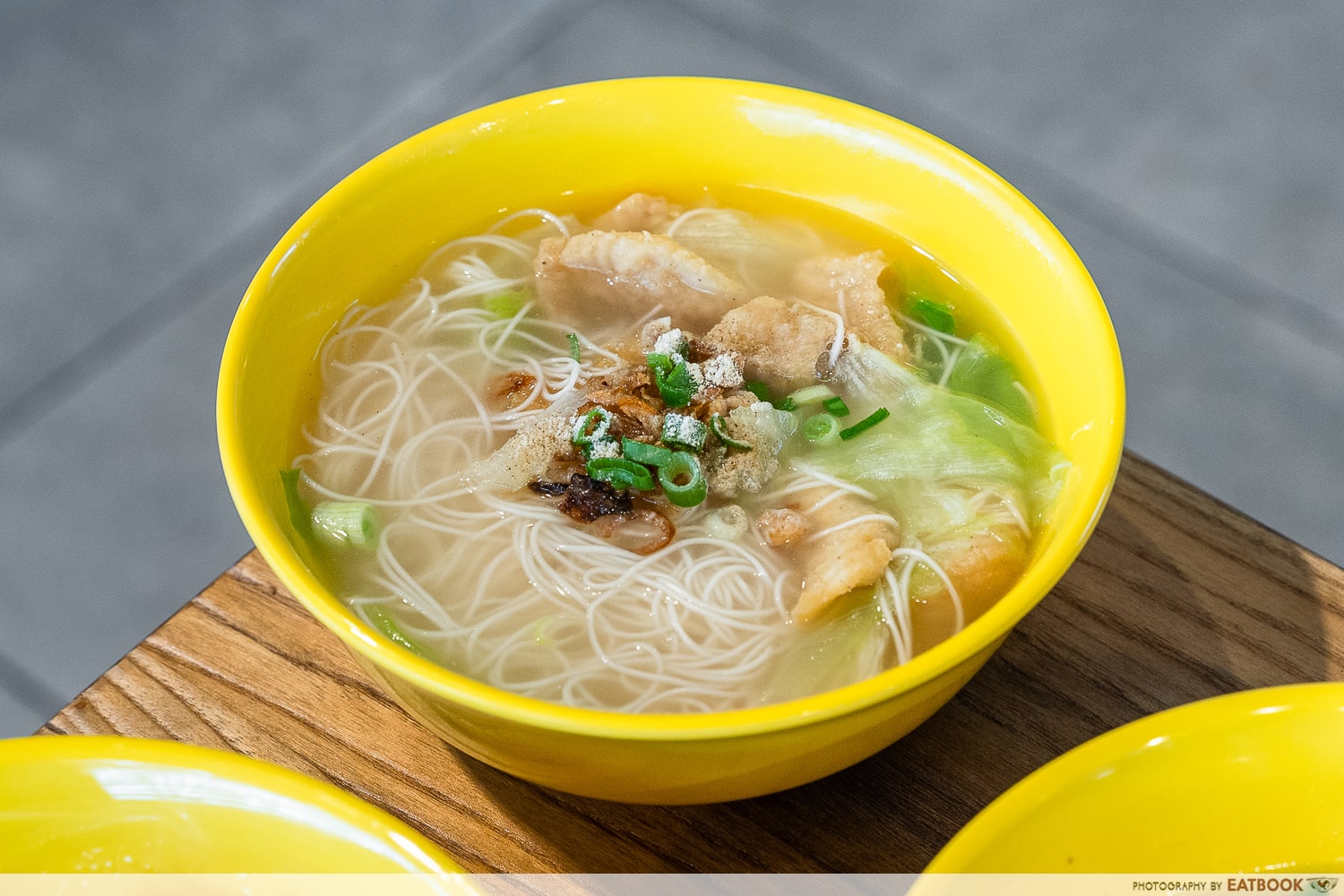 Michelin Bib Gourmand awardee Kwang Kee Teochew Fish Porridge has been around for more than 60 years and has been a long-time institution at Newton Food Centre. Prepared only with fish bones and ti poh, AKA dried sole fish, the broth here is flavourful, but clean-tasting at the same time.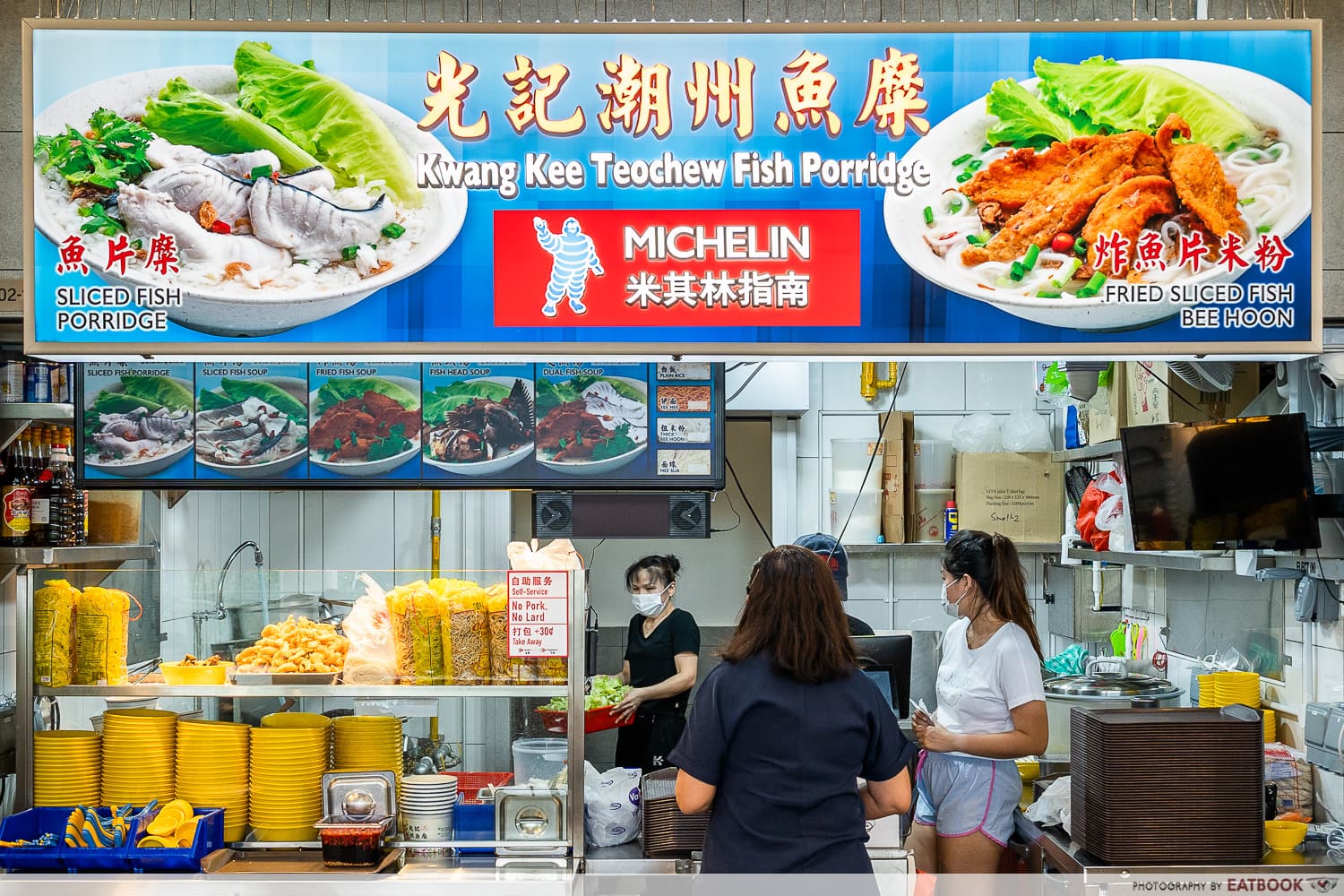 Their signature dish is Sliced Fish Porridge ($6.50/$8.50), otherwise you could go for the similarly priced Sliced Fish Soup, Fried Fish Soup, or Fish Head Soup with your choice of noodles. For the best of both worlds, Dual Fish Soup ($7.50/$9.50) is served with both batang slices and fried Dory chunks.
Unit number: #02-19
Opening hours: Tue-Sun 11am to 8pm
Website
Kwang Kee Teochew Fish Porridge is not a halal-certified eatery, but uses no pork or lard.
---
4. Hi Leskmi Whampoa Nasi Lemak
---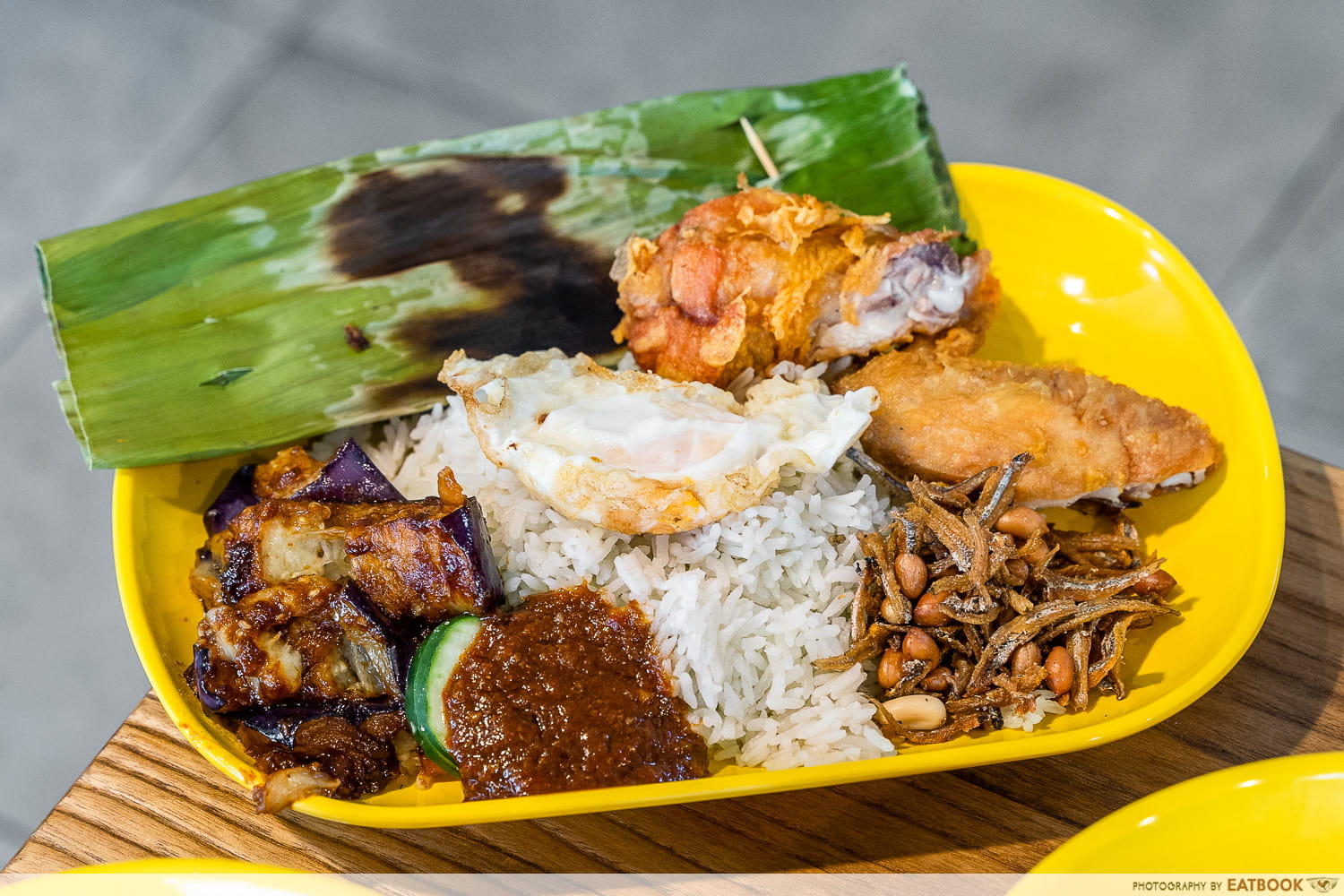 Family-run Hi Leskmi Whampoa Nasi Lemak has been selling nasi lemak since 2002 at Whampoa Market. Their Chinese-style nasi lemak comes with coconut rice that's tinged just the slightest bit of green with pandan, and is both fluffy and aromatic.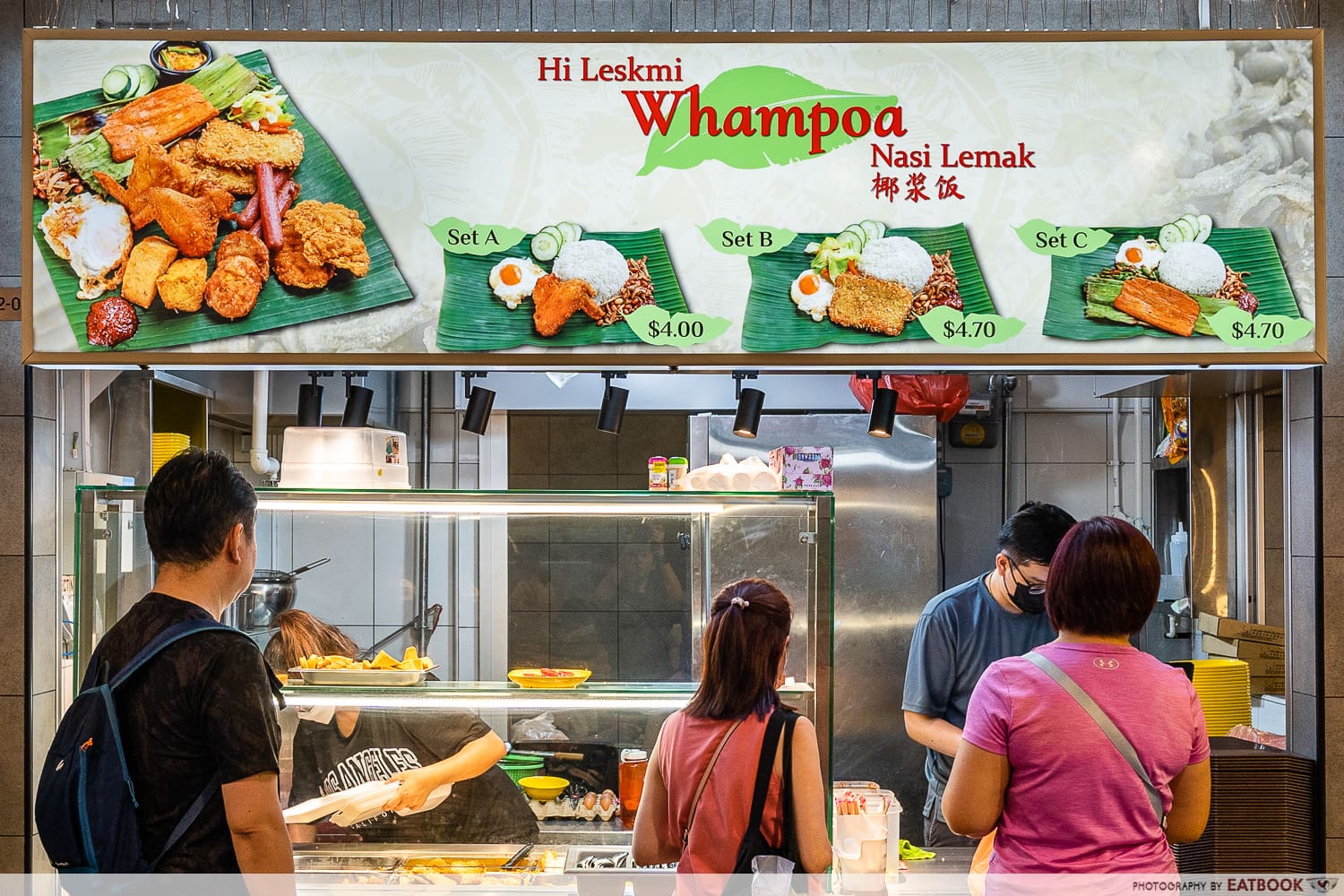 There are three sets to choose from here, simply named: Set A ($4), Set B ($4.70), and Set C ($4.70). Each comes with the standard rice, sunny-side-up, sambal, ikan bilis, peanuts, and cucumber, and with a fried chicken wing, mock fish fillet, and otak respectively. Then, zhng-up your plate with assorted dishes that you can choose from the counter display.
Unit number: #02-09
Opening hours: Tue-Sun 10:30am to 8pm
Tel: 8784 1901
Hi Leskmi Whampoa Nasi Lemak is not a halal-certified eatery.
This New Cafe In Punggol Has Sourdough Pasta, Pizza, And More
---
5. No. 25 Minced Meat Noodle
---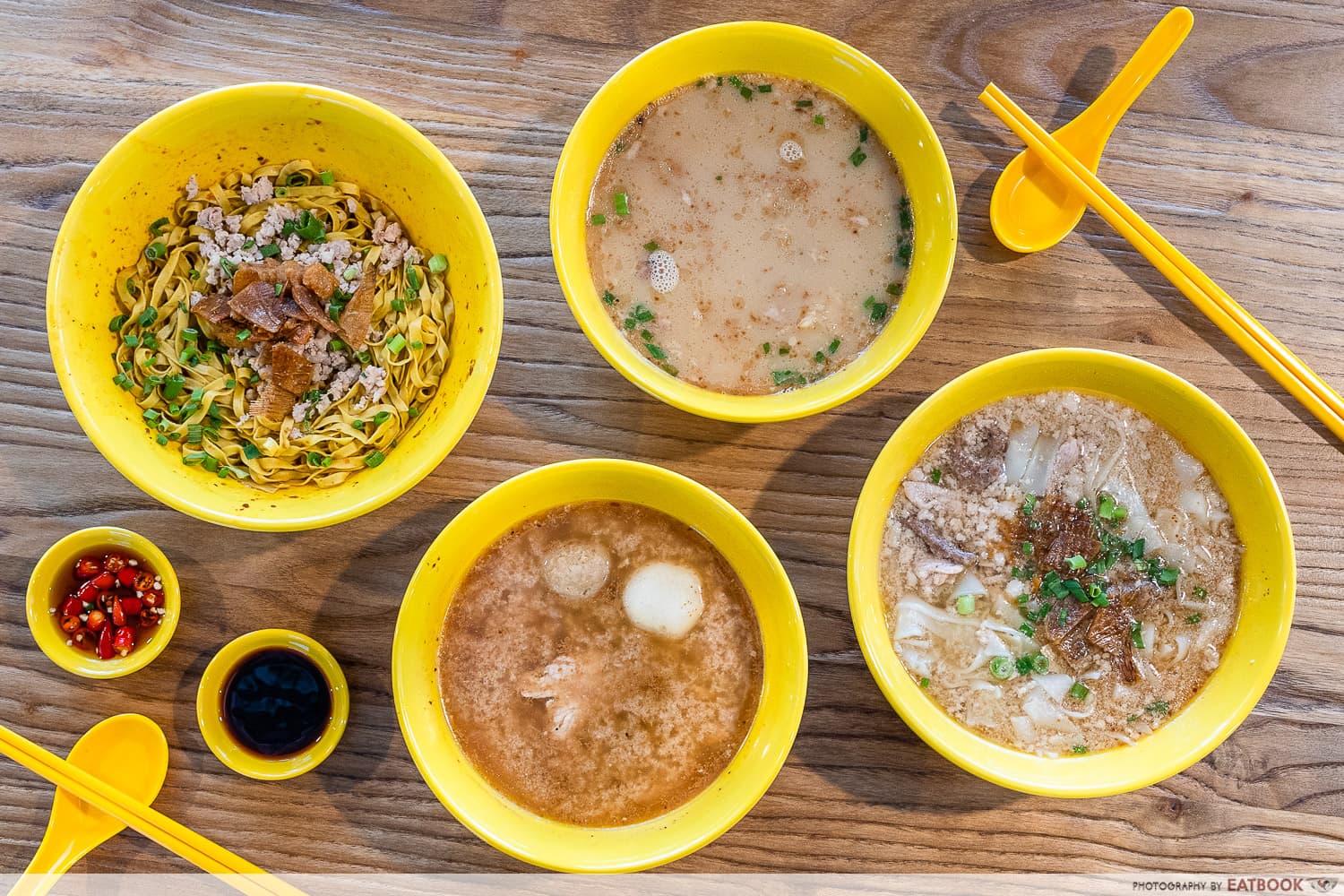 Fans of No. 25 Minced Meat Noodle rejoiced when they announced their opening in Punggol, after the success of their first outlet in Bukit Merah. Founded by an ex-Burger and Lobster chef, they serve bowls of BCM with a super gao soup that's cooked for more than eight hours.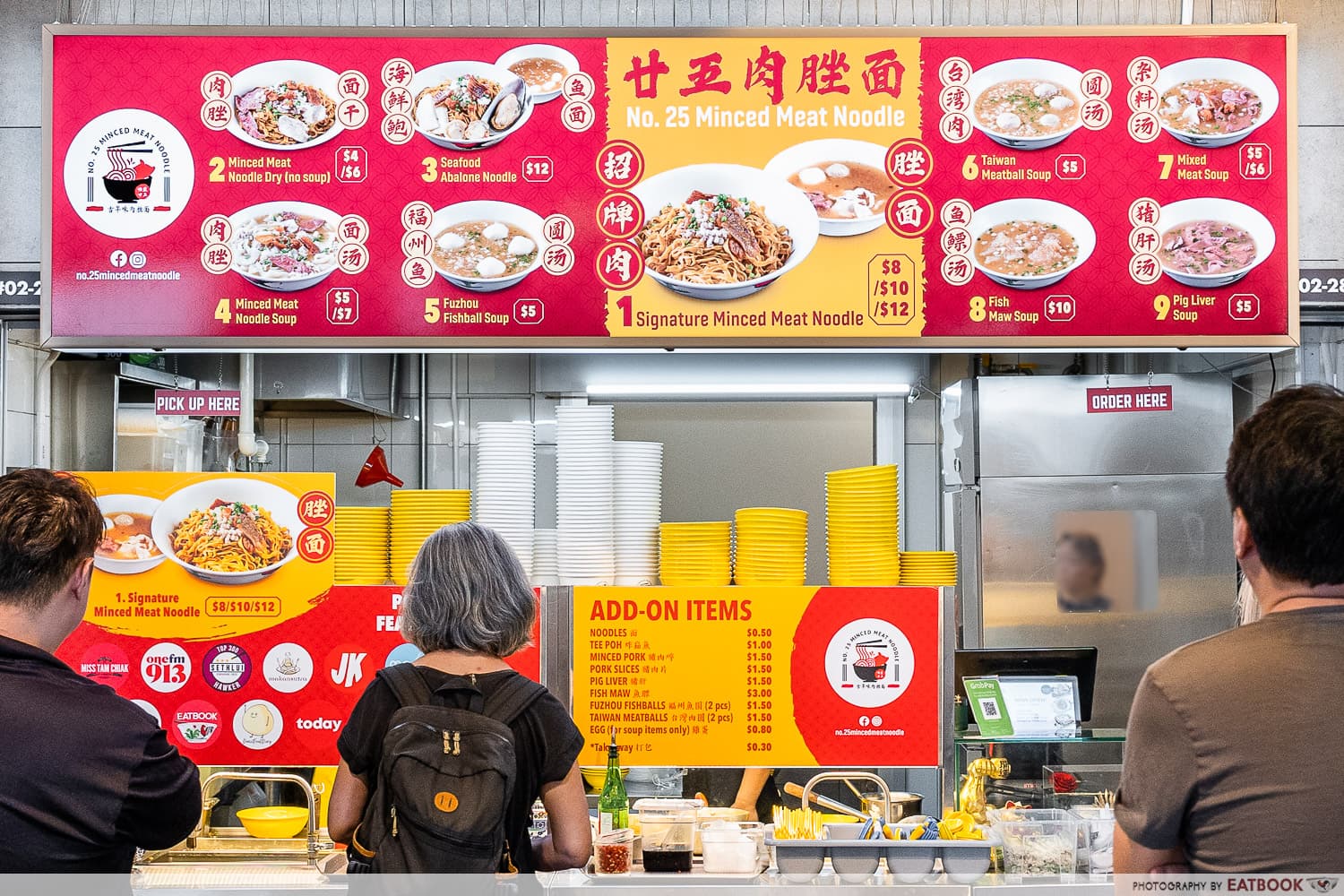 The most basic options here are Minced Meat Noodle Dry ($4/$6), and Minced Meat Noodle Soup ($5/$7). For a bit of everything, including meatballs and Fuzhou fishballs, go for the Signature Minced Meat Noodle ($8/$10/$12). To top it off, their Punggol stall has outlet-exclusive Seafood Abalone Noodle ($12), Fish Maw Soup ($10), and Pig Liver Soup ($5).
Unit number: #02-28
Opening hours: Tue, Fri-Sun 9am to 8:30pm, Wed-Thurs 11:30am to 8:30pm
Tel: 9011 3616
Website
No. 25 Minced Meat Noodle is not a halal-certified eatery.
---
6. Uncle Penyet
---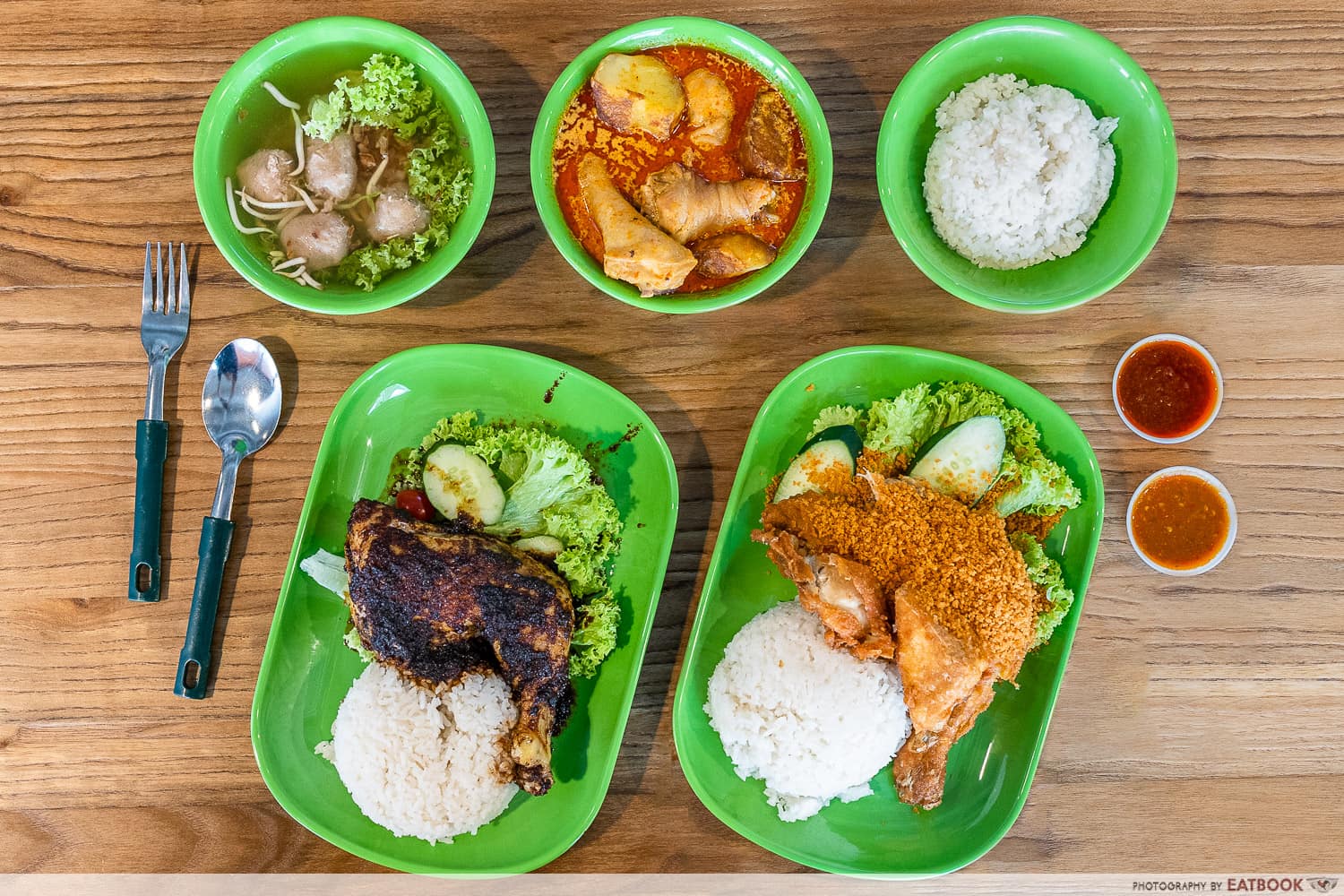 Popular ayam penyet stall Uncle Penyet is most loved for their Ayam Penyet Set ($6.50), or smashed fried chicken, that's fried and smashed to order, and topped with their signature crunchy bits. Each serving also comes with fresh greens and curry sauce to drench your rice with.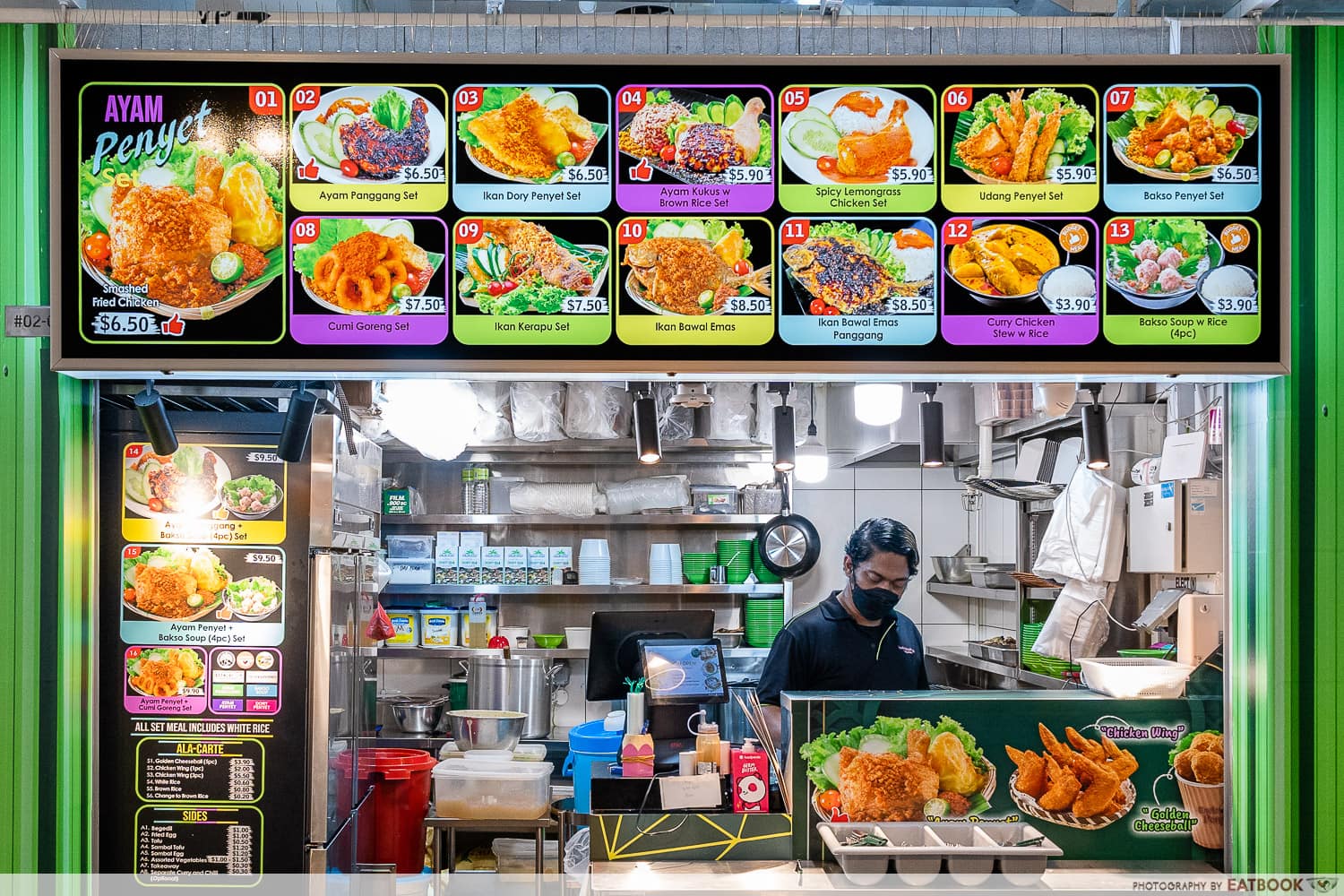 If you're not into the fried stuff, there's Ayam Panggang Set ($6.50) to consider, for a whole grilled chicken leg. Whichever set you order, top up $3 for a bowl of Bakso Soup (4pc), AKA Indonesian beef meatball. For those on a budget, $3.90 gets you a hearty Curry Chicken Stew w Rice!
Unit number: #02-01
Opening hours: Daily 9:30am to 9:30pm
Website
Uncle Penyet is a halal-certified eatery.
---
7. Happy Pot
---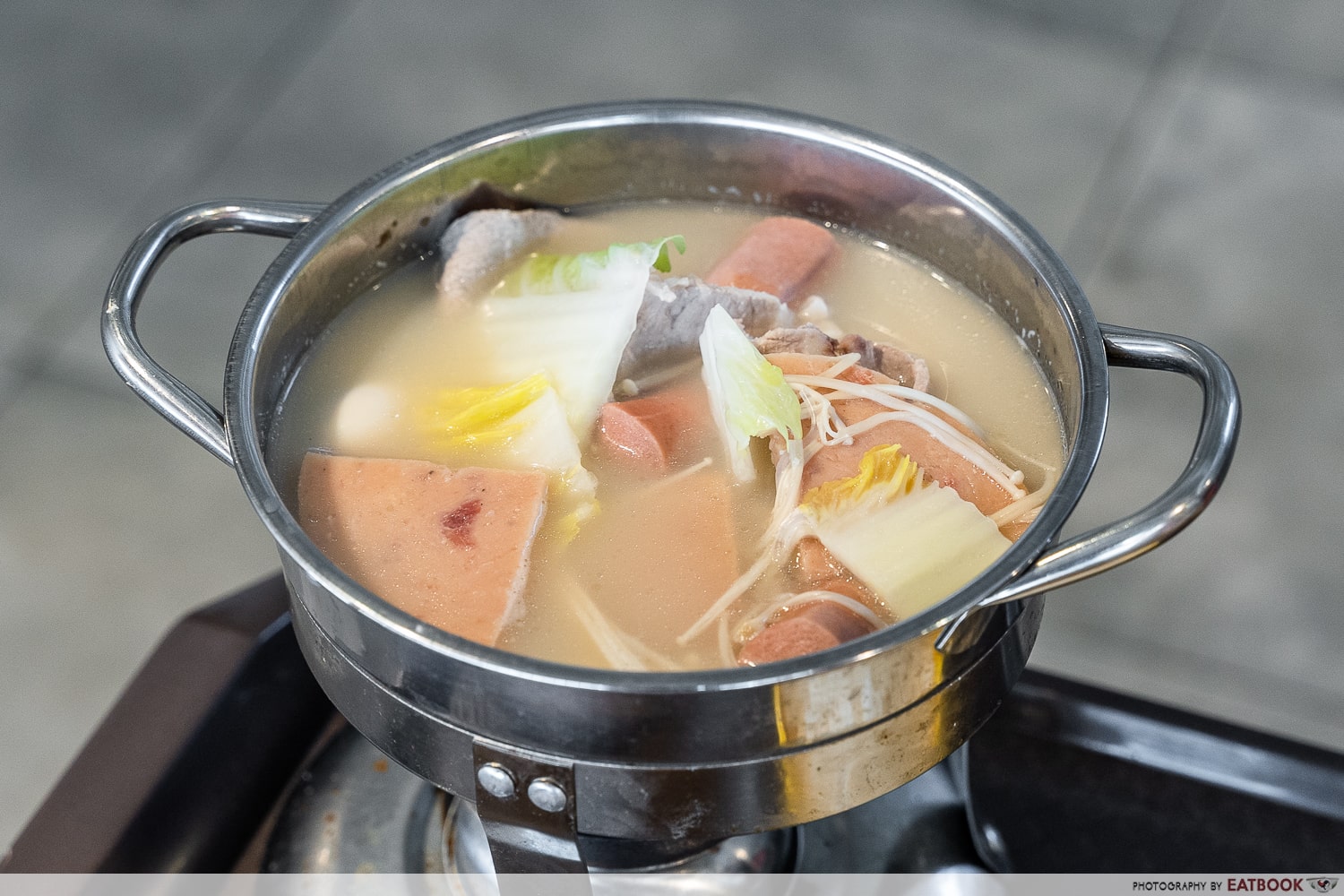 Hotpot lovers, look no further than Happy Pot, where you can order yourself an individual portion for just $5.50 or $6.50, depending on the meat you choose! There's also a BBQ option, where you'll be given a mini hotplate to grill on.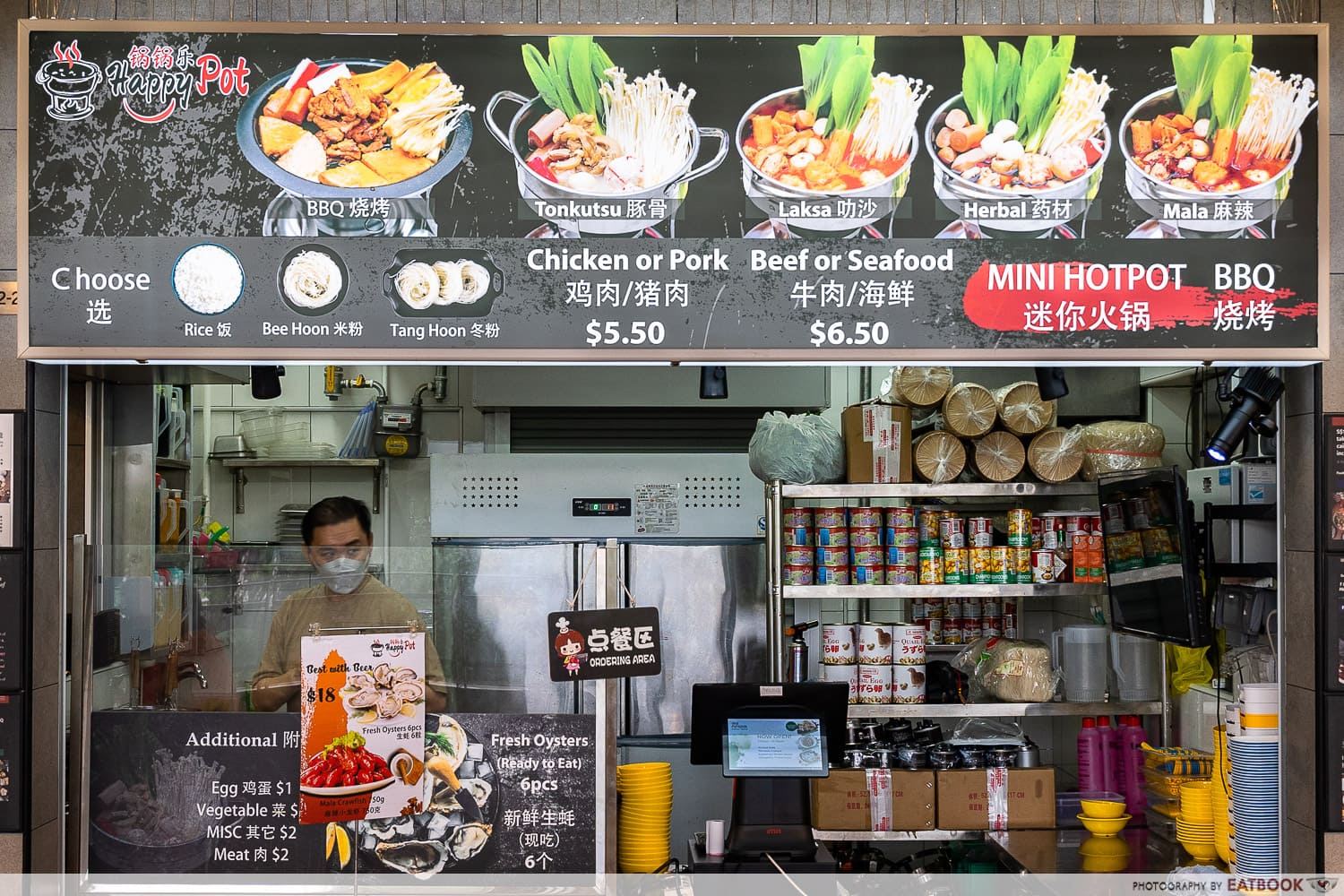 Choose from four soup bases: Tonkutsu, Laksa, Herbal and Mala. Meats-wise, there's chicken, pork, beef, or seafood, in addition to chicken franks, enoki mushrooms, crabsticks, assorted balls and more.
Unit number: #02-22
Opening hours: Daily 11am to 9pm
Website
Happy Pot is not a halal-certified eatery.
Happy Pot Review: 100cm Mookata Platter For $29.90+ In Balestier
---
8. Lim Bo Rojak
---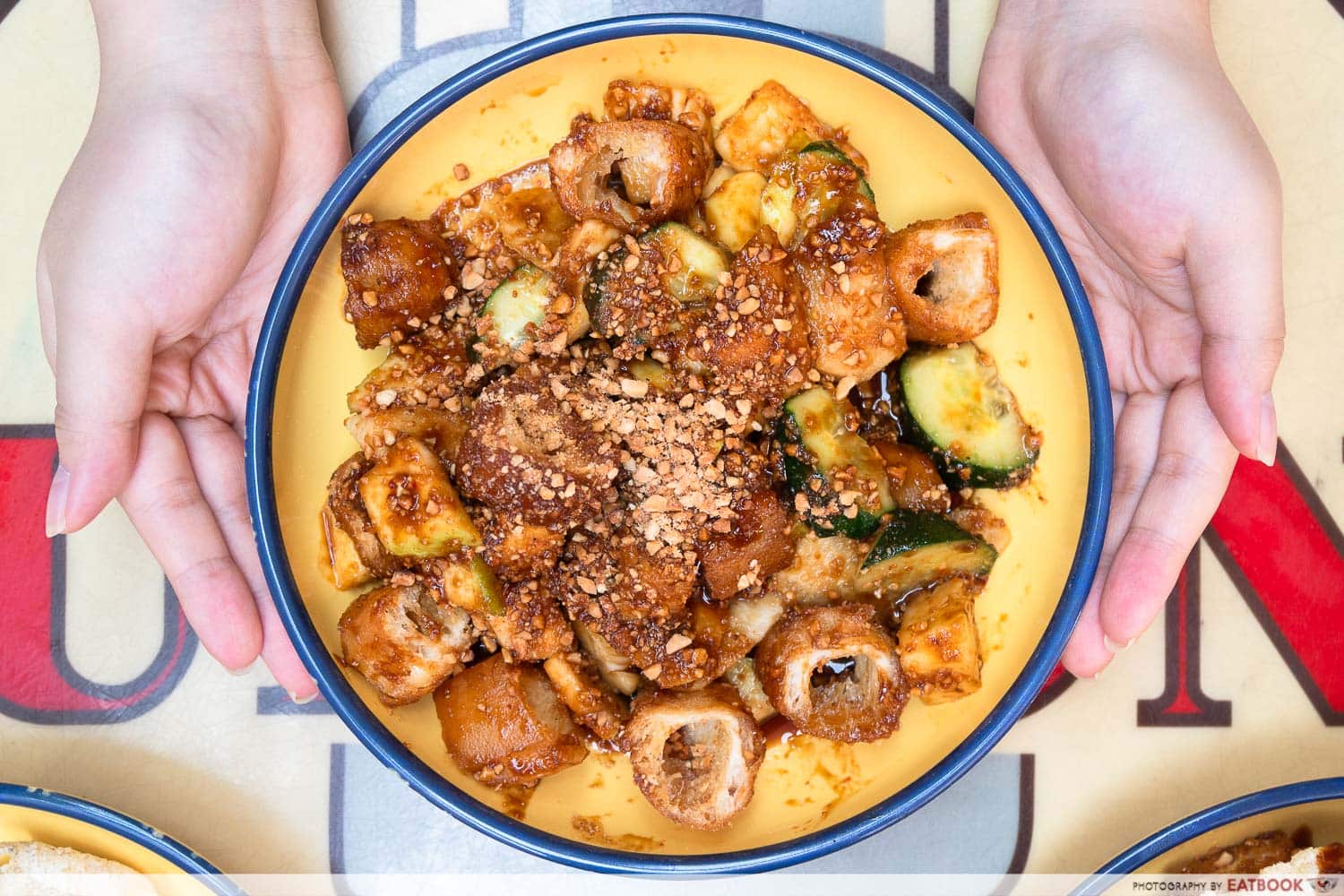 For something different than your usual rojak, check out Lim Bo Rojak, which specialises in Penang-style rojak. Previously located in Joo Chiat, this stall in One Punggol Hawker Centre is now the only place you'll find their fruit-based salad, made with a recipe that's over 40 years old.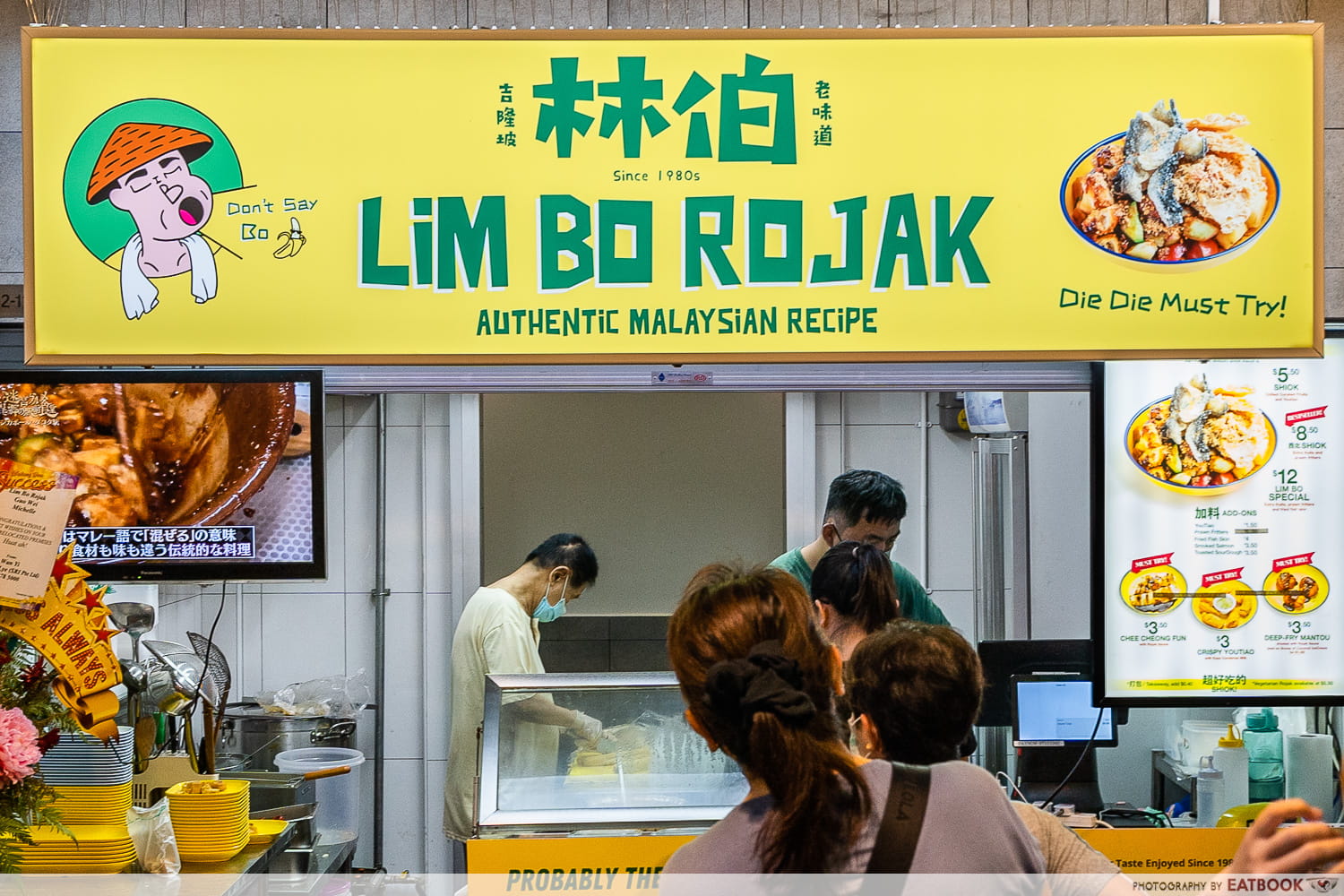 Start with SHIOK ($5.50), the most basic of their options. Upsize it and you'll get Xi Bei SHIOK ($8.50), which comes with extra fruits, plus prawn fritters. The most indulgent portion is LIM BO SPECIAL ($12), which has extra fruits, prawn fritters, and crisp fried fish skin.
Read our Lim Bo Rojak review!
Unit number: #02-11
Opening hours: Tue-Sun 11am to 6pm
Website
Lim Bo Rojak is not a halal-certified eatery.
Lim Bo Fruit Rojak Review: Malaysian-Style Fruit Rojak With 40 Years Of History
---
9. 75 Ah Balling
---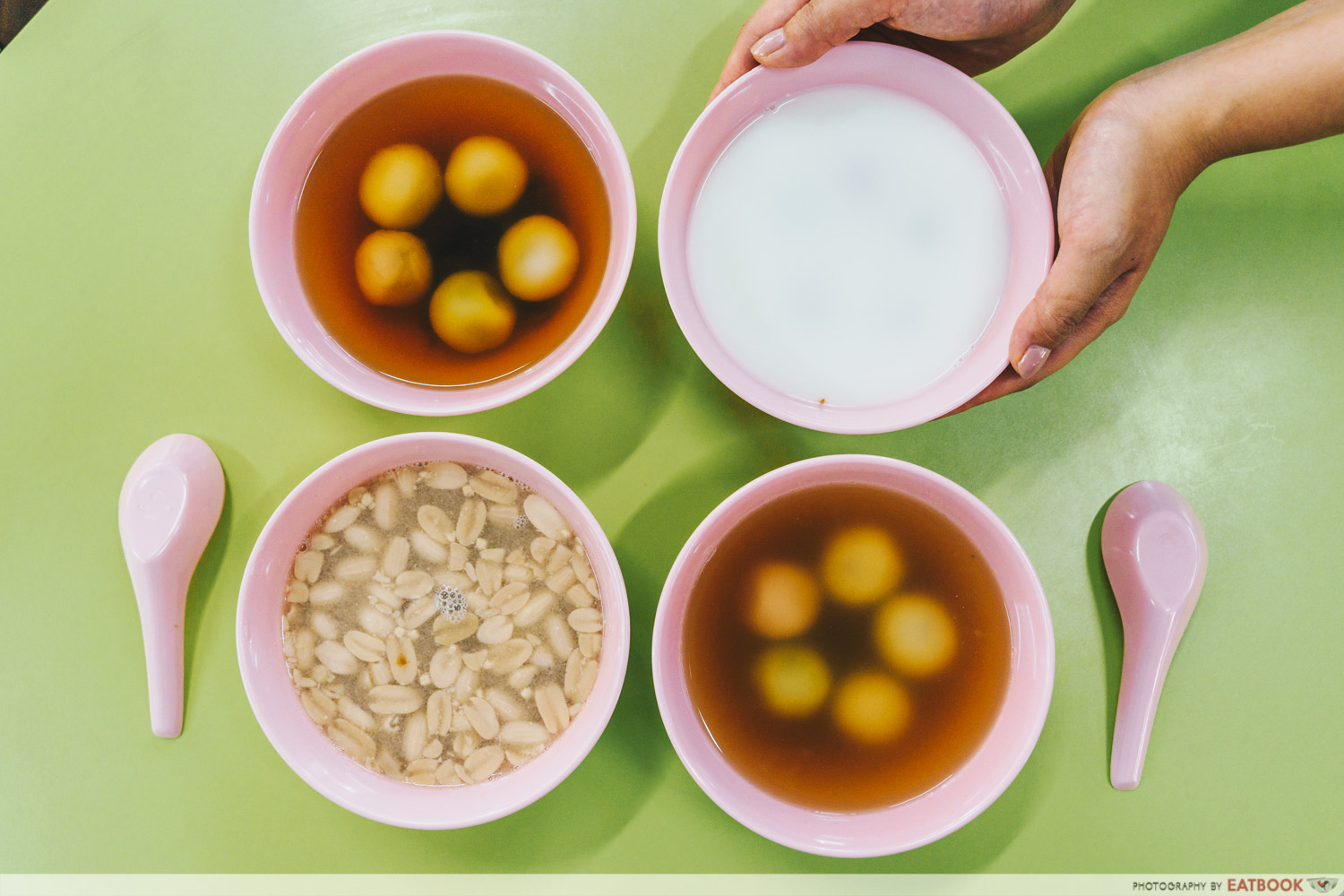 Founded in 1947, 75 Ah Balling specialises in just that: ah balling, AKA tang yuan. There are, however, five kinds of fillings and four different soup bases that you can choose from, including Peanut, Almond Milk, Ginger, and Longan Red Date.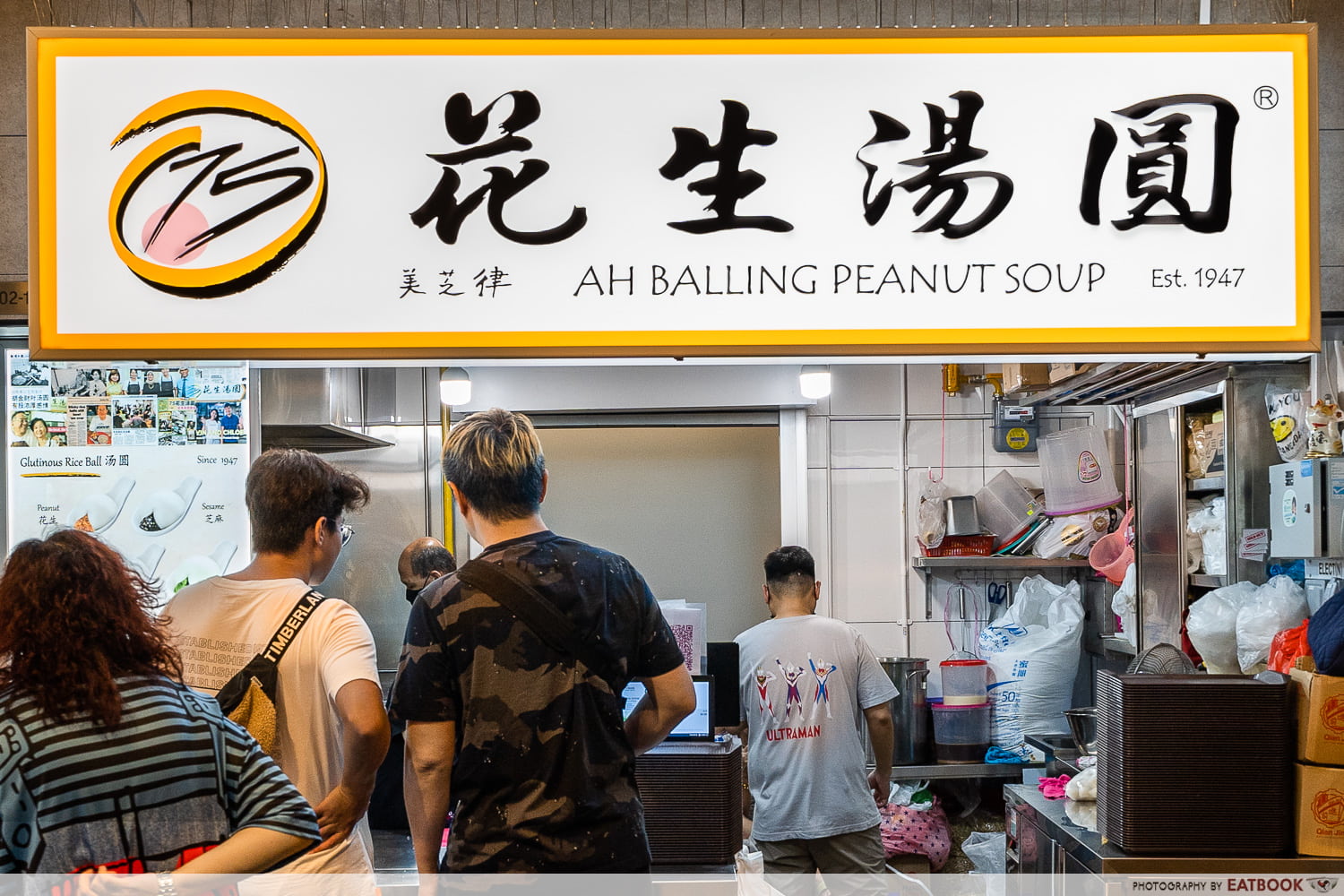 Priced from $2.40 for four tang yuan, to $3.20 for six pieces, you can opt for Peanut, Sesame, Red Bean, Yam, or Matcha ah balling. Their bestselling soup base is the Peanut, which you can enjoy without ah balling for $1.80.
Read our review of 75 Ah Balling!
Unit number: #02-13
Opening hours: Tue-Fri 10am to 9pm, Sat-Sun 9am to 9pm
Website
75 Ah Balling is not a halal-certified eatery.
75 Ah Balling Peanut Soup Review: Third-Generation Hawkers Keeping Tang Yuan Tradition Alive
---
10. Botak Cantonese Porridge
---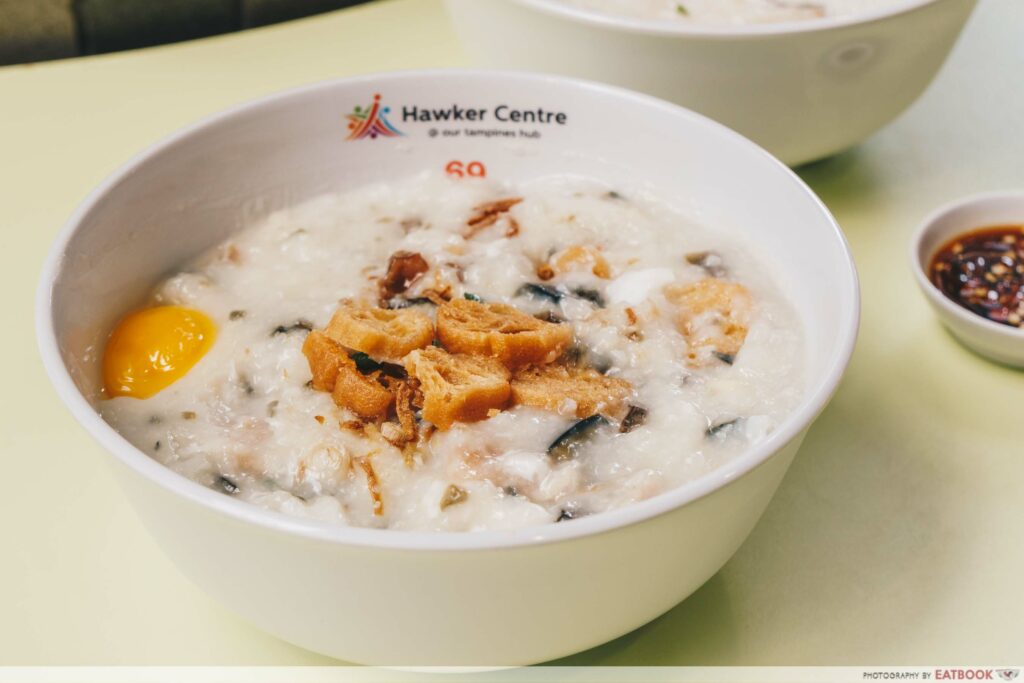 Previously known as Botak Delicacy, Botak Cantonese Porridge made the news for their 20-something year-old owner who inherited the recipes from her parents. There are 10 porridge options on the menu here in classic variants, all priced under $7.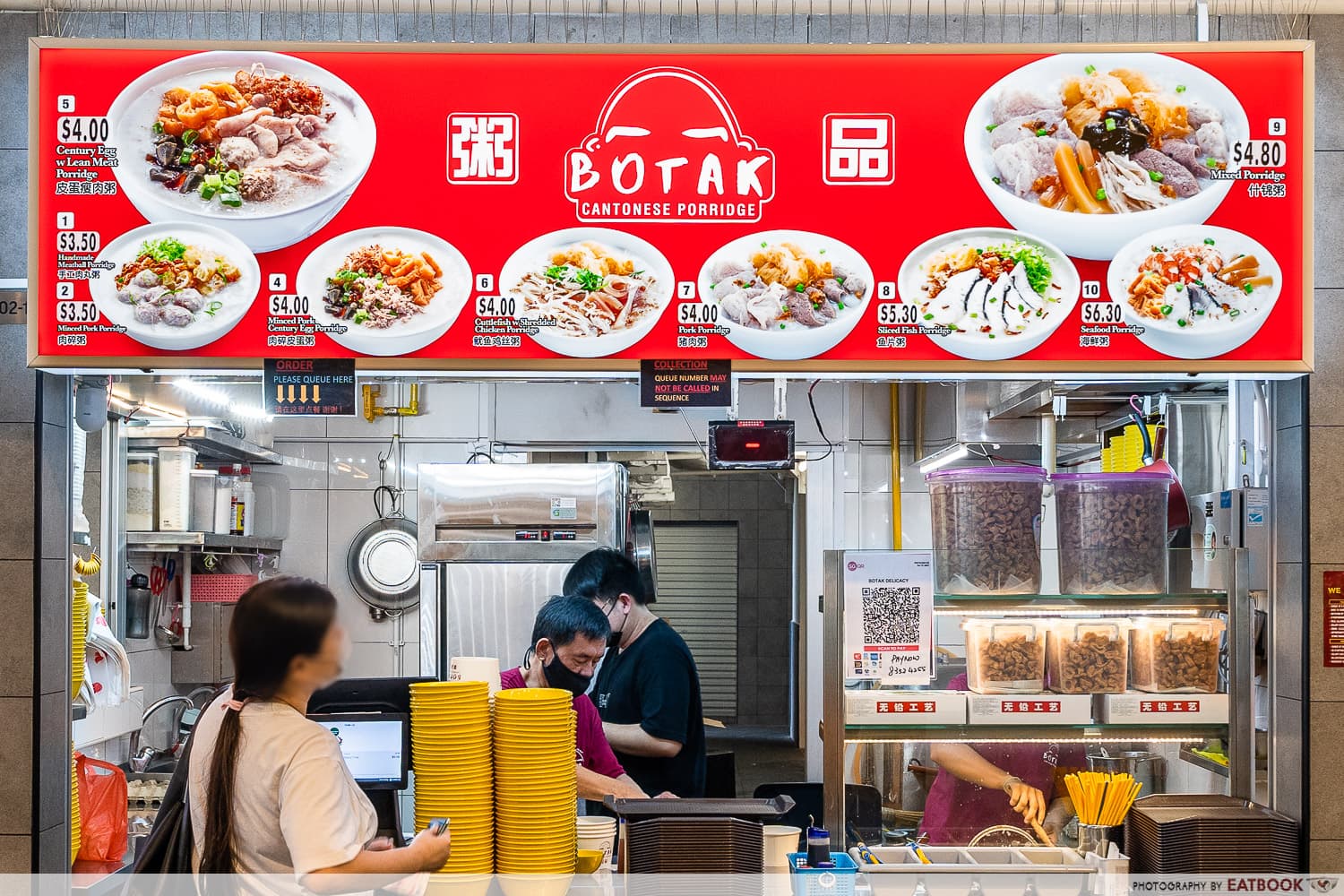 Go for Century Egg w Lean Meat Porridge ($4), which our writer enjoyed. As the congee cooks, century egg is minced and mixed into it. Alternatively, the Handmade Meatball Porridge ($3.50) stars house-made pork balls, said to be made by hand every morning.
Read our Botak Porridge review!
Unit number: #02-14
Opening hours: Mon-Tue, Thurs-Sun 7am to 9:30pm
Tel: 9021 8211
Website
Botak Cantonese Porridge is not a halal-certified eatery.
Botak Delicacy Review: Must-Try Cantonese Pork Congee By A 21-Year-Old At Tampines
---
11. Eng Kee Chicken Wings
---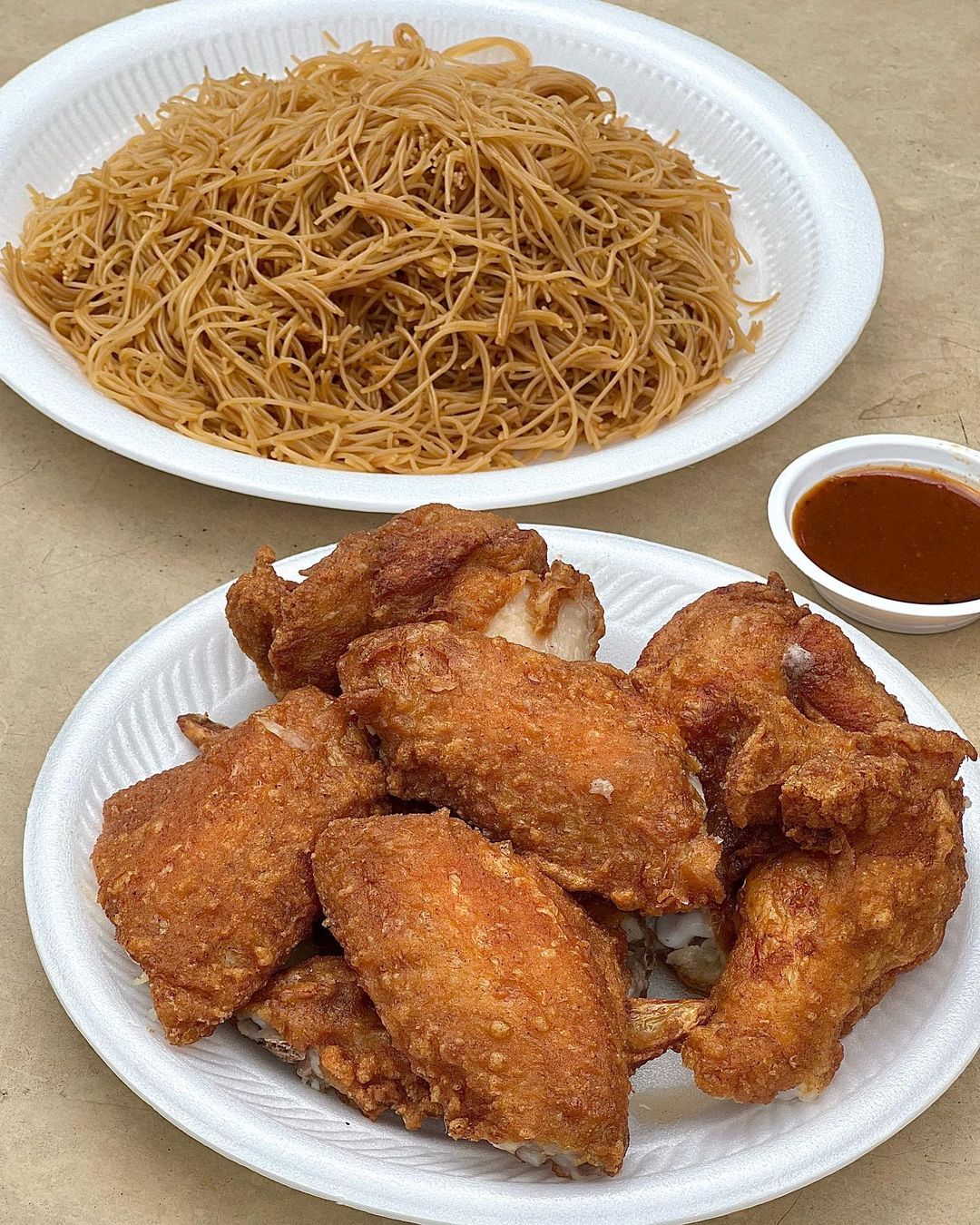 Image credit: @diningcompanion
Eng Kee Chicken Wings needs no further introduction; in fact, they were sold out before 2pm on a weekday when we visited. These ultra-crisp, tasty chicken wings are fried in small batches so you'll always be assured of fresh, hot bites. Each wing is priced at $1.60, and you can get them with the usual suspects of economic bee hoon ($1.20), stewed cabbage ($0.70) otak ($1.50) and more.
Unit number: #02-34
Opening hours: Tue-Sun 8am to 3pm
Eng Kee Chicken Wings is not a halal-certified eatery.
---
Where to eat at One Punggol Hawker Centre
---
Besides One Punggol Hawker Centre, there are plenty of other food options in the area—check out our Punggol food guide for more, or head to Anna's Sourdough, a new sourdough-centric cafe in the 'hood!
Address: 1 Punggol Drive, Singapore 828629
27 Punggol Food Places Including Salted Egg Yolk Zi Char And Korean Smashed Burgers
Photos taken by Tan Zi Hui.
Feature image adapted from @diningcompanion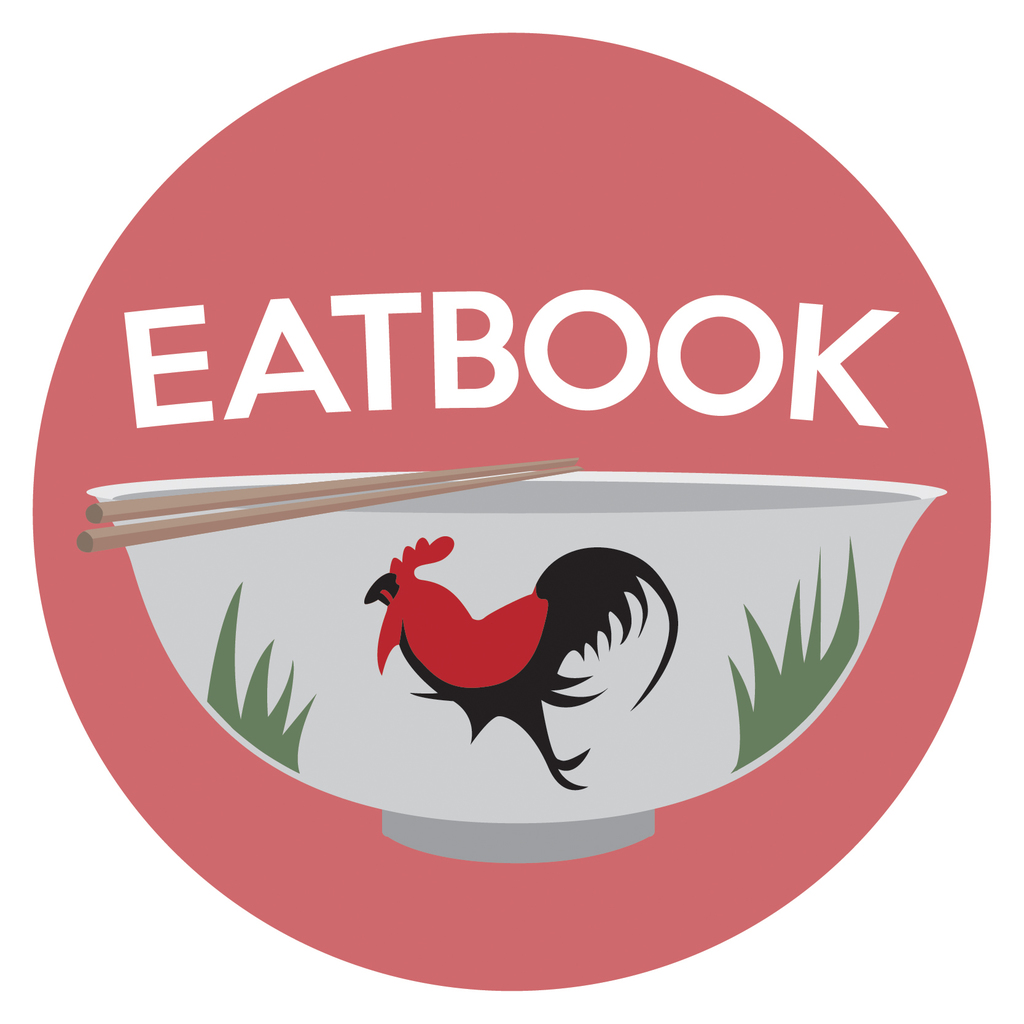 Drop us your email so you won't miss the latest news.