Kava serves value for money lunch sets
Update (23 August 2019): Kava has relocated to 142 Arab Street, Singapore 199828 with a new management team. The menu, lunch sets and prices have been changed as well.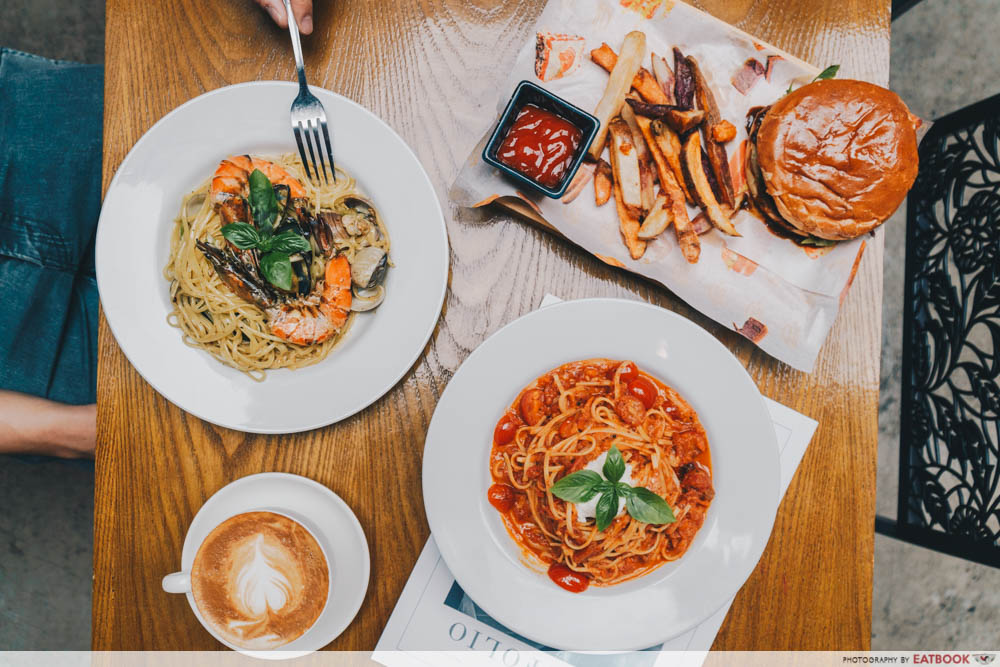 Kava started off as a joke between Dan and his friend in a Melbourne apartment. Now a couple of years on, that throwaway comment about opening a cafe has become a reality.
Nestled at the foot of a boutique hotel in Arab Street, Dan's Muslim-owned cafe is cosy and comfortable—nice for a relaxed catch-up session over lunch. 
But there's a place fitting that criteria on every other street these days—the cafe scene in Singapore is supersaturated. That means a new cafe has to do a lot more than offering a nice atmosphere to stand out from the crowd.
As Singaporeans' voracious appetite for cafe fare continues to rise, cafe prices have risen in equal measure. That's why this unassuming bistro caught our attention, offering up $12 lunch sets with free soft drinks. We headed down to find out whether that affordability came at the expense of quality.
Food at Kava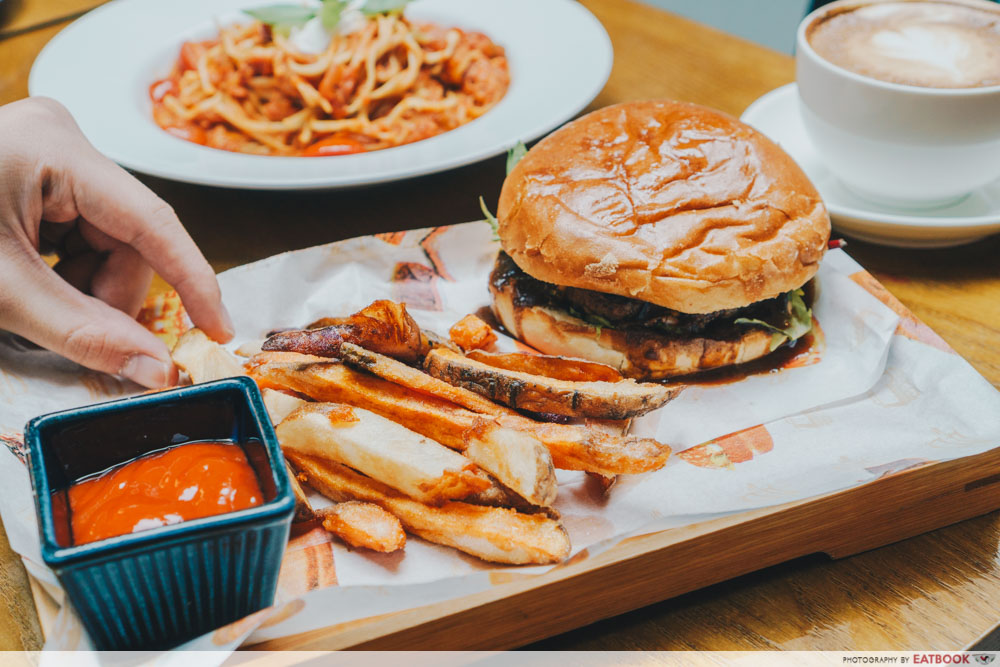 Most cafe burgers follow the same script: brioche buns, melted cheese, a mundane patty and some vegetables. The Kava Grilled Burger ($12 for lunch set) puts in a little more effort. Caramelised onions dress a thoroughly grilled patty, before being coated by a luscious layer of demi-glace sauce.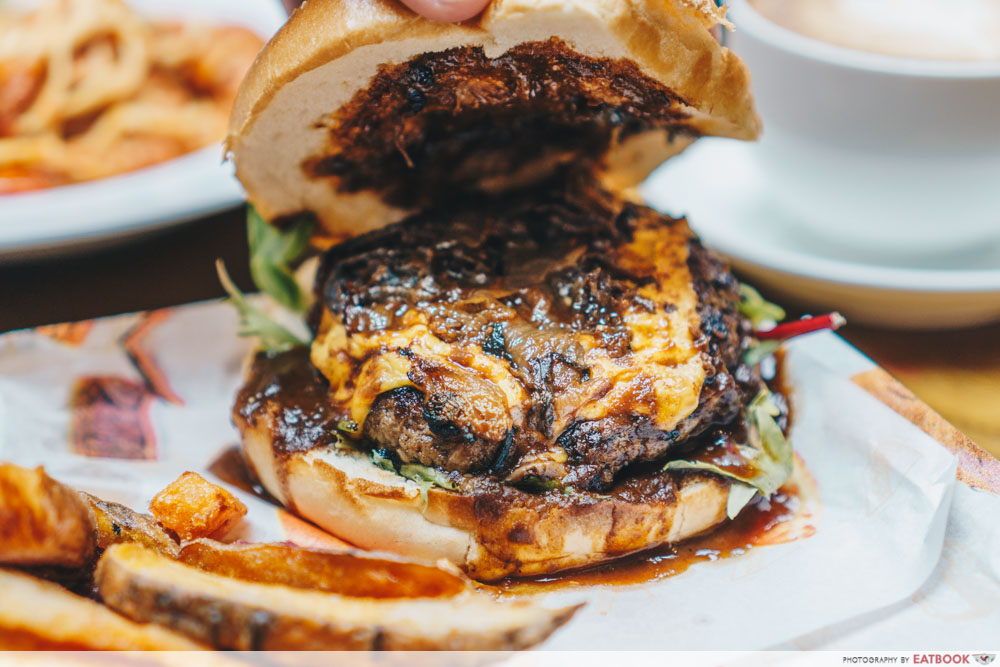 Demi-glace is a traditional French brown sauce that may be more familiar to locals as the sauce that drenches Japanese hamburg steaks. It also happens to be this burger's secret weapon. The sauce's rich and savoury flavour grants the burger an additional layer of meatiness that's bolstered by bits of mushroom. As with any saucy burger, you'll have to wolf this down quickly, before the absorbent buns get soggy from the demi-glace.
The demi-glace's umami flavour complemented the thick beef patty that headlined this burger. It mingled alluringly with the smoky crust of char that enveloped the burger—the result of a searingly hot grill. To compensate for the potent demi-glace, the patty was lightly seasoned, allowing its natural beefy flavour to flex its muscles.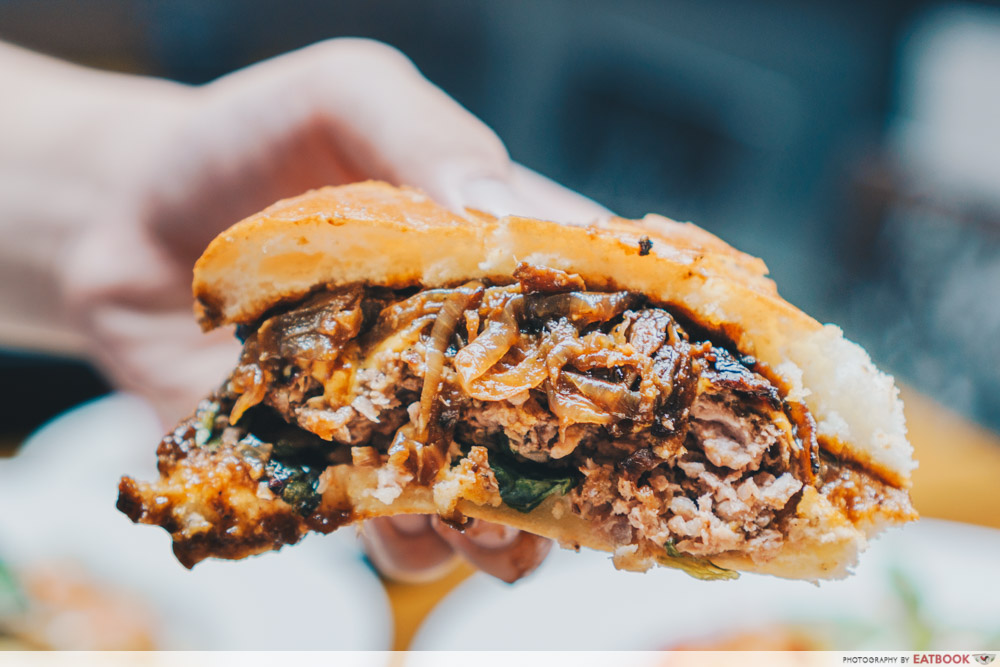 Personally, I like my burgers medium rare, slightly red in the middle. This burger was closer to medium, brown all the way through. Despite that, it was still tender, and while it isn't easy to navigate the tightrope walk between meatiness and juiciness, they got it pretty much spot on here.
That modest sheet of caramelised onions proved to be an unsung hero. With its own smoky sensibilities, it reinforced the nicely charred patty while adding a hint of sweetness. In contrast, its fellow topping of cheese didn't add much to the flavour department, assuming a background gooey textural role instead.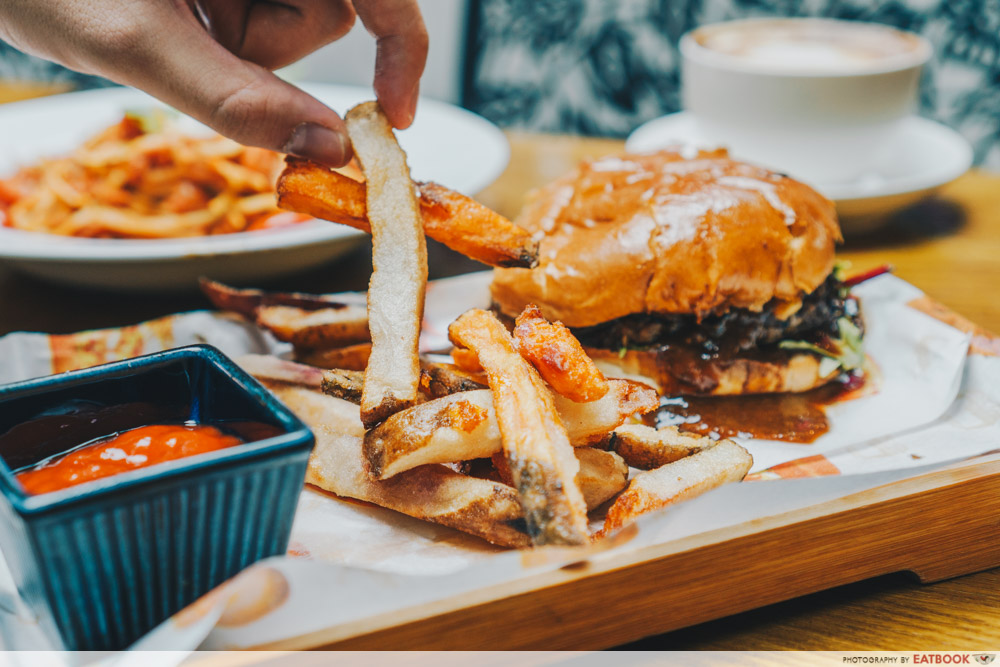 Fries are the universal burger accessory, and these were a cut above most. Three tones of thick-cut taters lay on our plate, with regular tubers joined by orange and purple sweet potatoes. We appreciated the variety of colours and textures, as the sweet potatoes added pops of sweetness to complement the standard fluffy fries. Regardless of their hue, each fry was fried till golden-brown, crisp on the outside and moist within.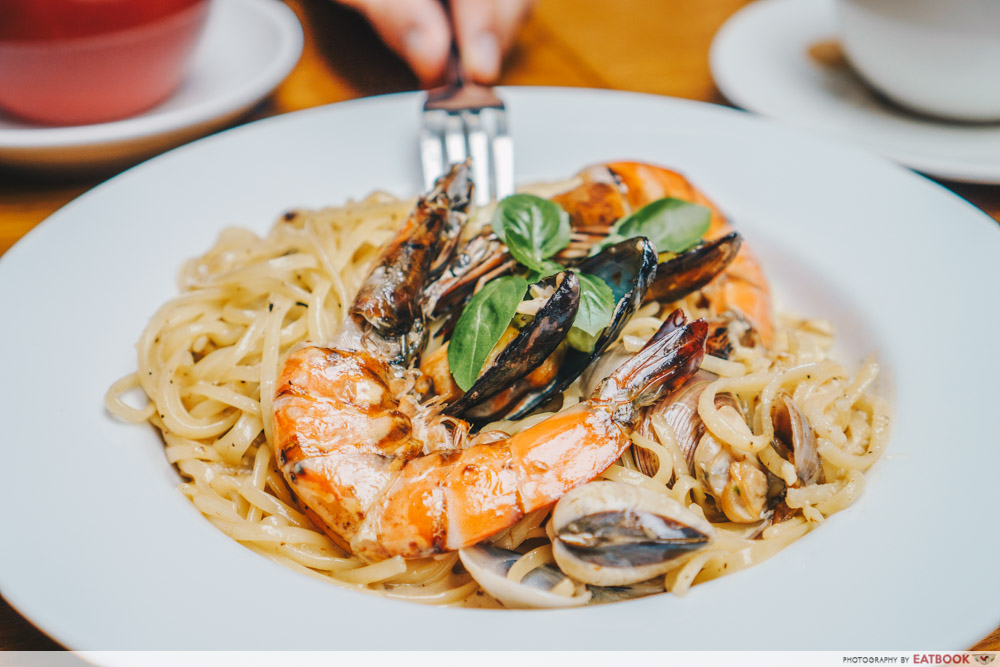 Budget seafood pasta often skimp on the headline act, with stingy portions of fish, squid and prawns atop a heap of noodles. That's why we were pleasantly surprised to see a duo of plump tiger prawns curled up on our Seafood Cream Pasta ($12 for lunch set), along with a trio of mussels and a handful of clams.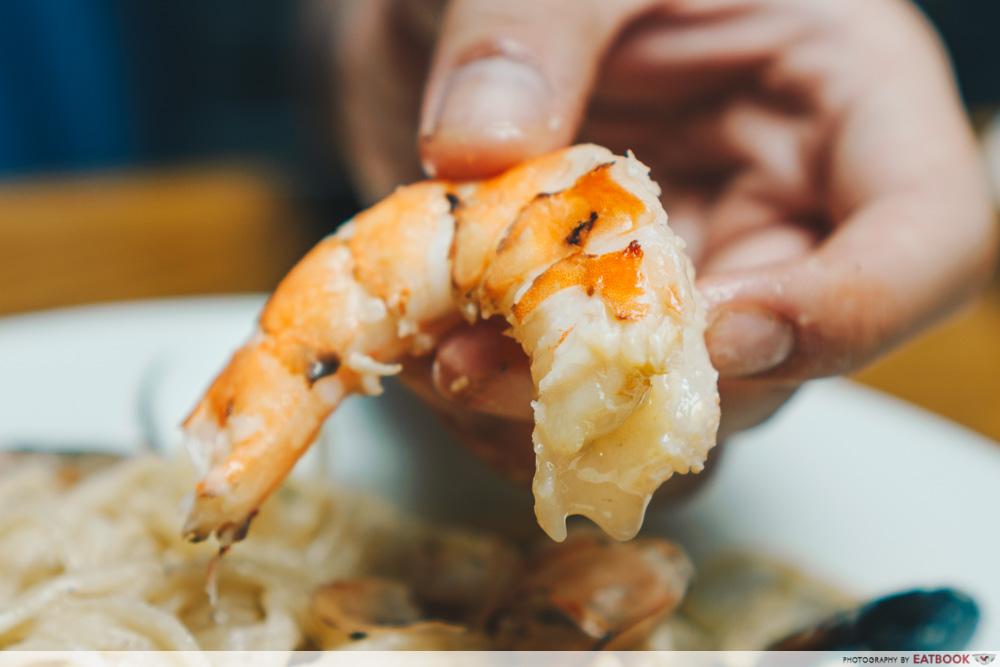 Those prawns lived up to expectations on the palate, nicely tender and lightly translucent within. It was mildly creamy rather than bouncy, an indication that our shrimps were quickly seared on high heat.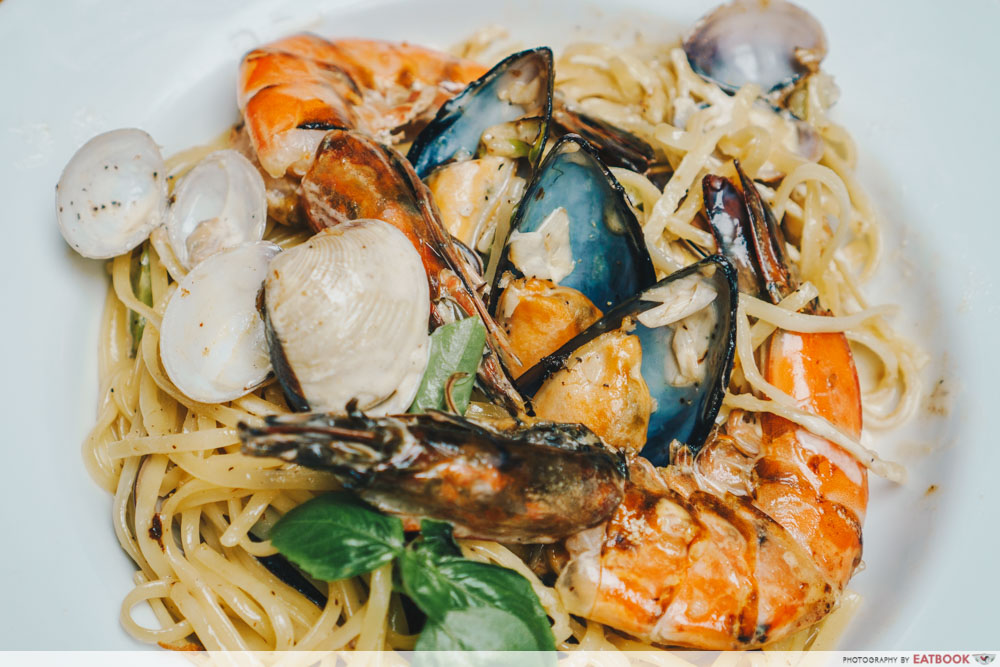 While we held the tiger prawns in high regard, its shellfish companions left a weaker impression. The clams, in particular, were tiny—flashing barely any meat and adding minimal seafood flair to the plate.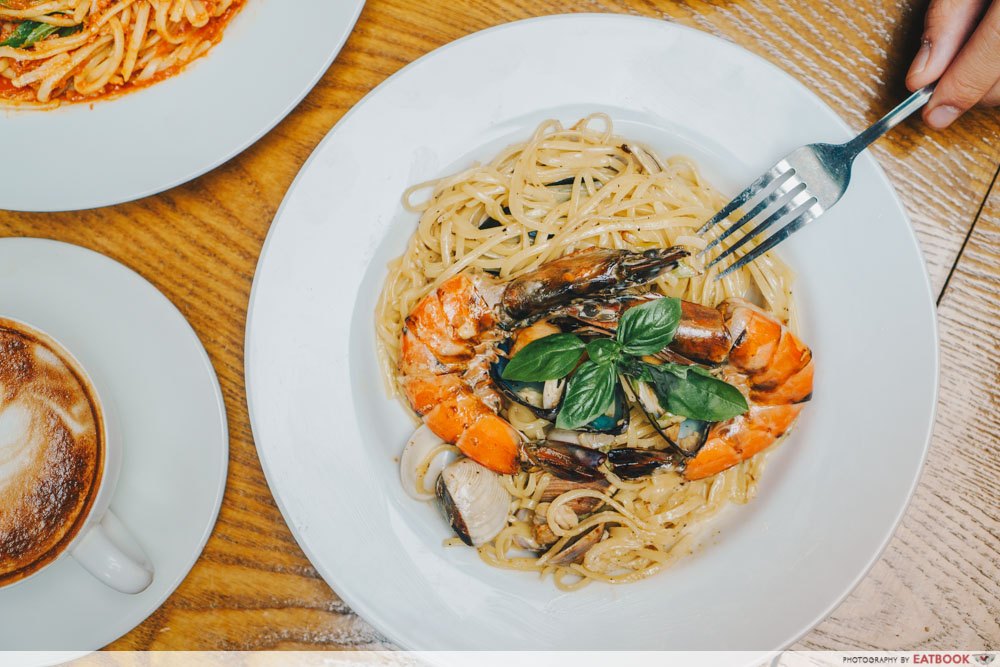 We were also left wanting by the sauce, which was exceptionally smooth and creamy but lacked flavour. A couple of ladles of seafood stock would have worked wonders, adding a depth of umami flavour to complement the trio of seafood toppings.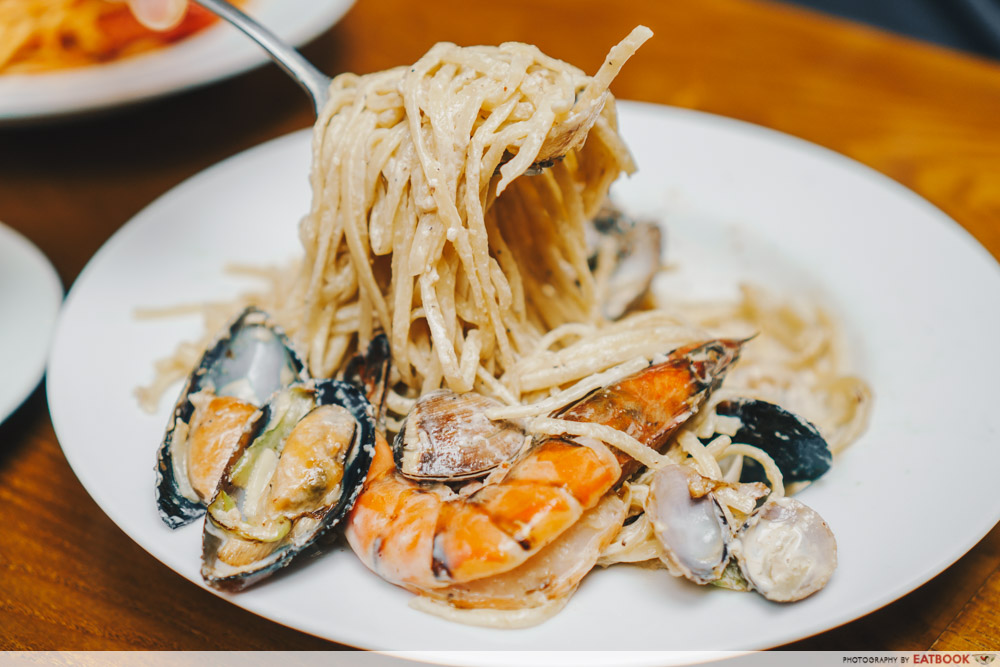 Rather than the stock-standard spaghetti or linguine, both dishes we ordered used a less common pasta that was somewhere in between—tagliolini. Narrow and slightly rounded, they were a pleasant change of pace from the usual cast of noodles, and were cooked until al dente for a gentle chew.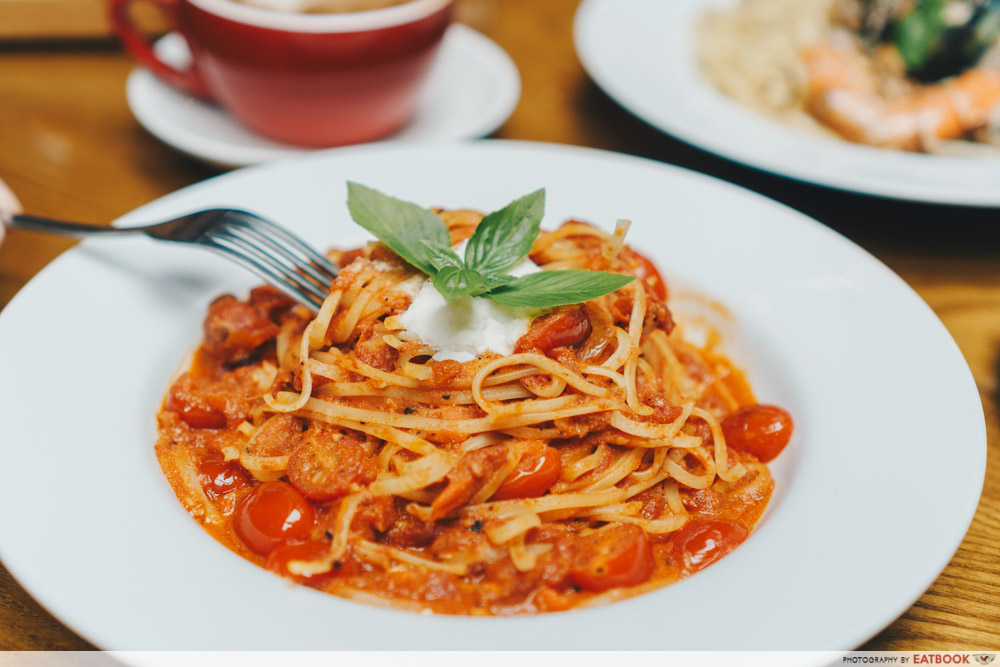 We rounded off our meal with a tomato-based pasta: the Tomato Ricotta Pasta ($12 for lunch set). Half-spheres of blistered cherry tomatoes hid among the mountain of red noodles, capped by a snowy dollop of ricotta cheese.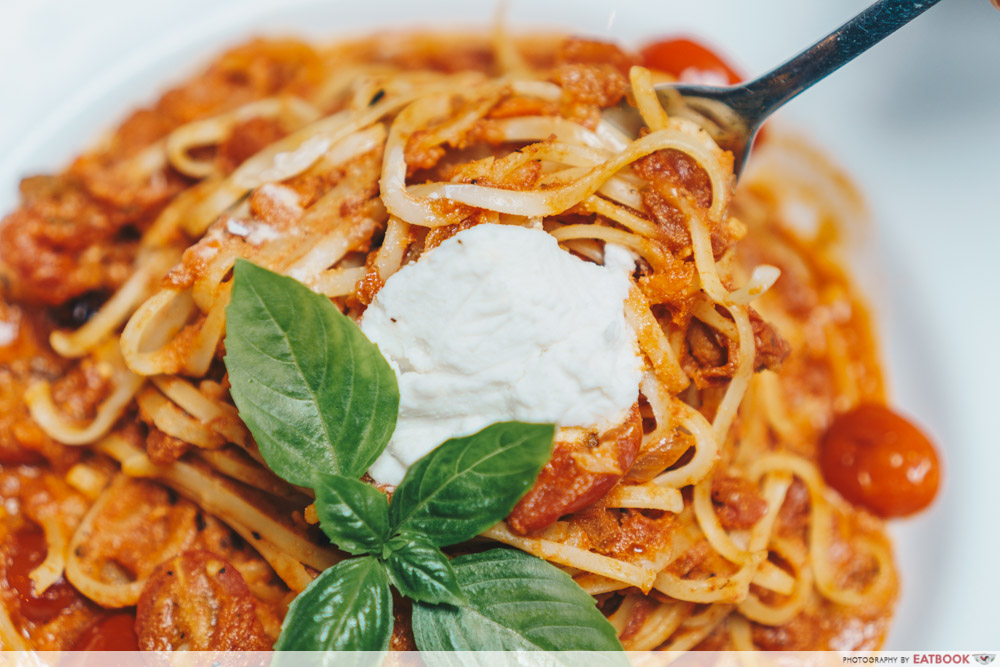 Make no mistake, this is a basic bowl of pasta, but it was executed well. The flavours were well-balanced, as sweetness and acidity from tomatoes, ricotta creaminess and wisps of smokiness all meld together in harmony.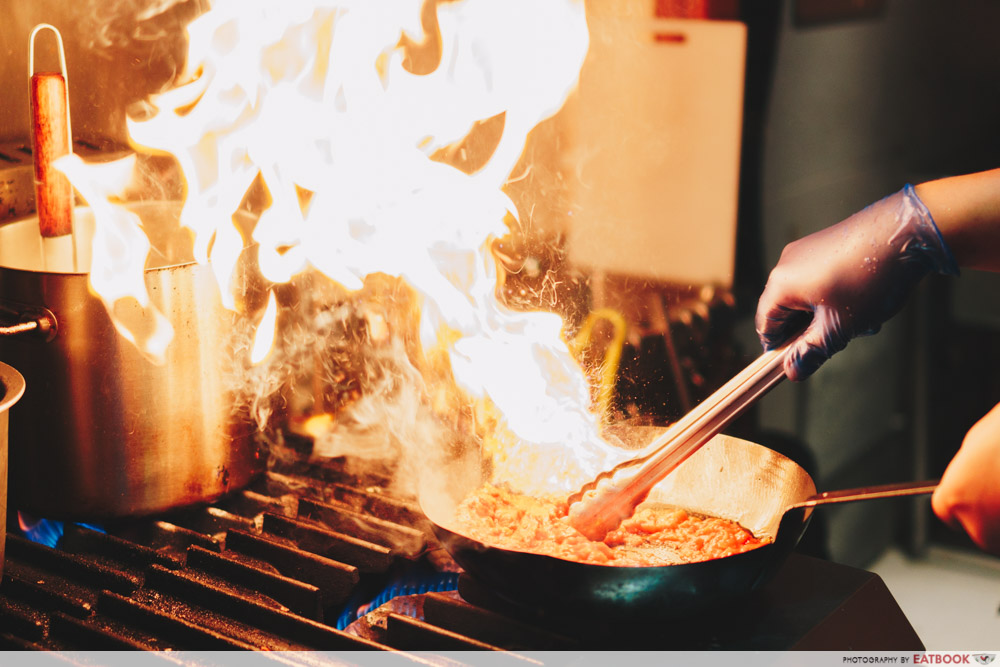 I'm a big fan of having a hint of smokiness in my pasta—sort of like Italian wok hei which adds an extra layer of fragrance to the plate. That aroma is a result of frying noodles and sauce together on high heat rather than simply incorporating the sauce into the pasta off the stove.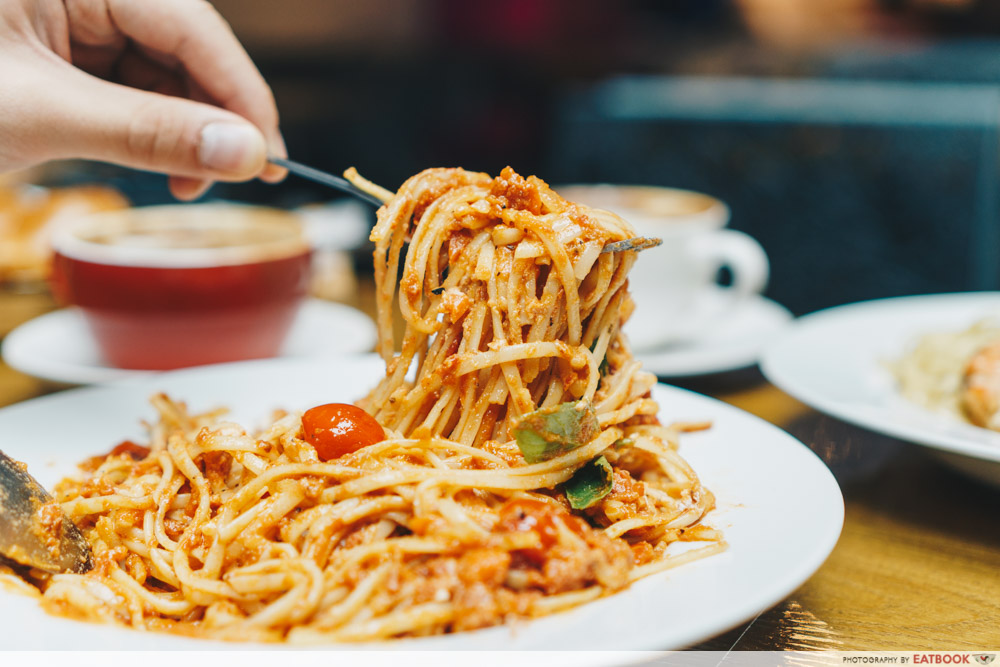 That said, it would be a struggle to polish off an entire bowl. Without any source of savoury meatiness, either from mushrooms or actual meat, the dish becomes slightly one-dimensional after a few bites. Considering that this commands the same price tag as both our previous dishes, we'd rather opt for a satisfying burger.
Ambience at Kava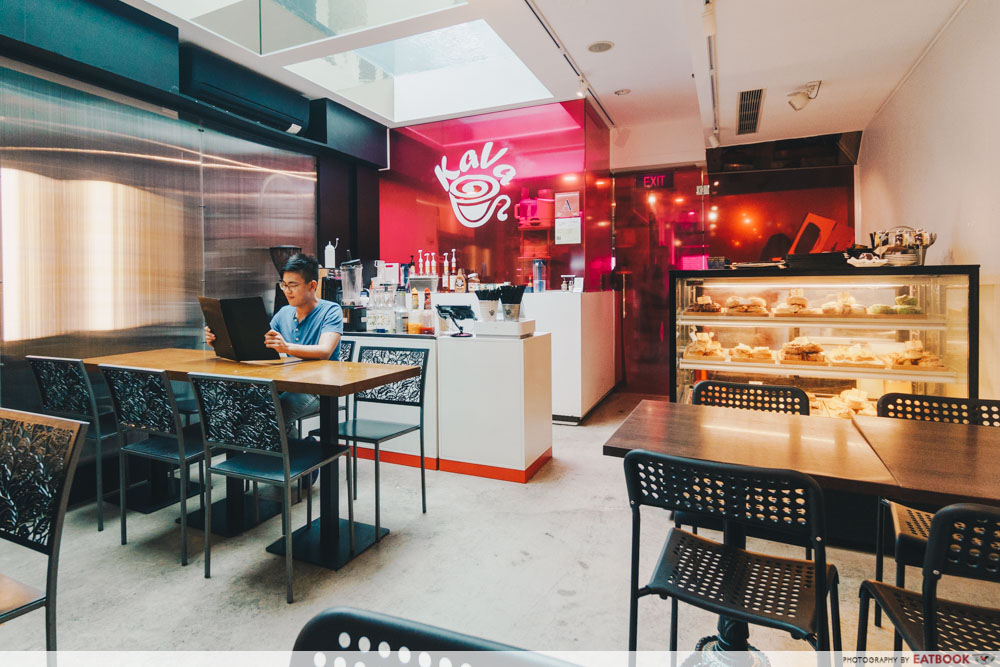 Tucked behind the lobby of XY Hotel Bugis, this cosy cafe isn't obvious to passerbys. Once you find it though, the interior is comfy and welcoming, with rays of sun streaming in and a view of the pool overhead. That mood extends to the service, which is warm and cordial.
The verdict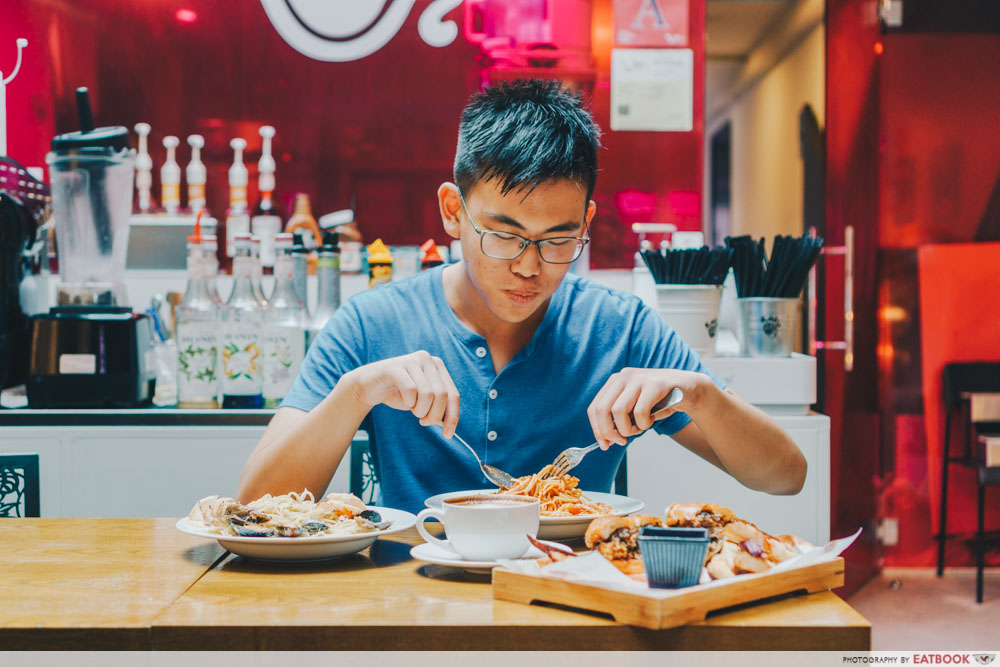 For someone whose previous working experience was in the AV sector, Dan has done an admirable job building up Kava. While there are a couple of things that can be improved, this humble joint has the potential to blossom into a stalwart of the Muslim cafe scene if they can keep cranking out dishes like the Kava Grilled Burger.
For more cafe-hopping ideas, check out our reviews of Micro Bakery & Kitchen and Obsessive Chocolat Desire. There's plenty of food in the Arab Street area such as Earlybird, and you can discover more with our list of 10 Haji Lane food gems!
Micro Bakery & Kitchen Review: Neighbourhood Bakery Serving Artisanal Bakes And Hearty Sandwiches At Bukit Timah
Let us know your favourite halal-certified cafes in the comments below!
Address: 11 Jalan Klapa, XY Hotel Bugis, Singapore 199323
Opening hours: Tue-Thur 12pm to 10pm, Fri 2:30pm to 11pm, Sat-Sun 11am to 11pm
Tel: 8660 7441
Website
Kava is a Muslim-owned eatery.
Photos taken by Tan Wen Lin.
This is an independent review by Eatbook.
Summary
Pros
– Affordable
– Friendly atmosphere
– Great burger
Cons
– Pasta dishes could be improved
– Slightly hidden location
Recommended dishes: Kava Grilled Burger Lunch Set ($12)
Opening hours: Tue-Thur 12pm to 10pm, Fri 2:30pm to 11pm, Sat-Sun 11am to 11pm
Address: 11 Jalan Klapa, XY Hotel Bugis, Singapore 199323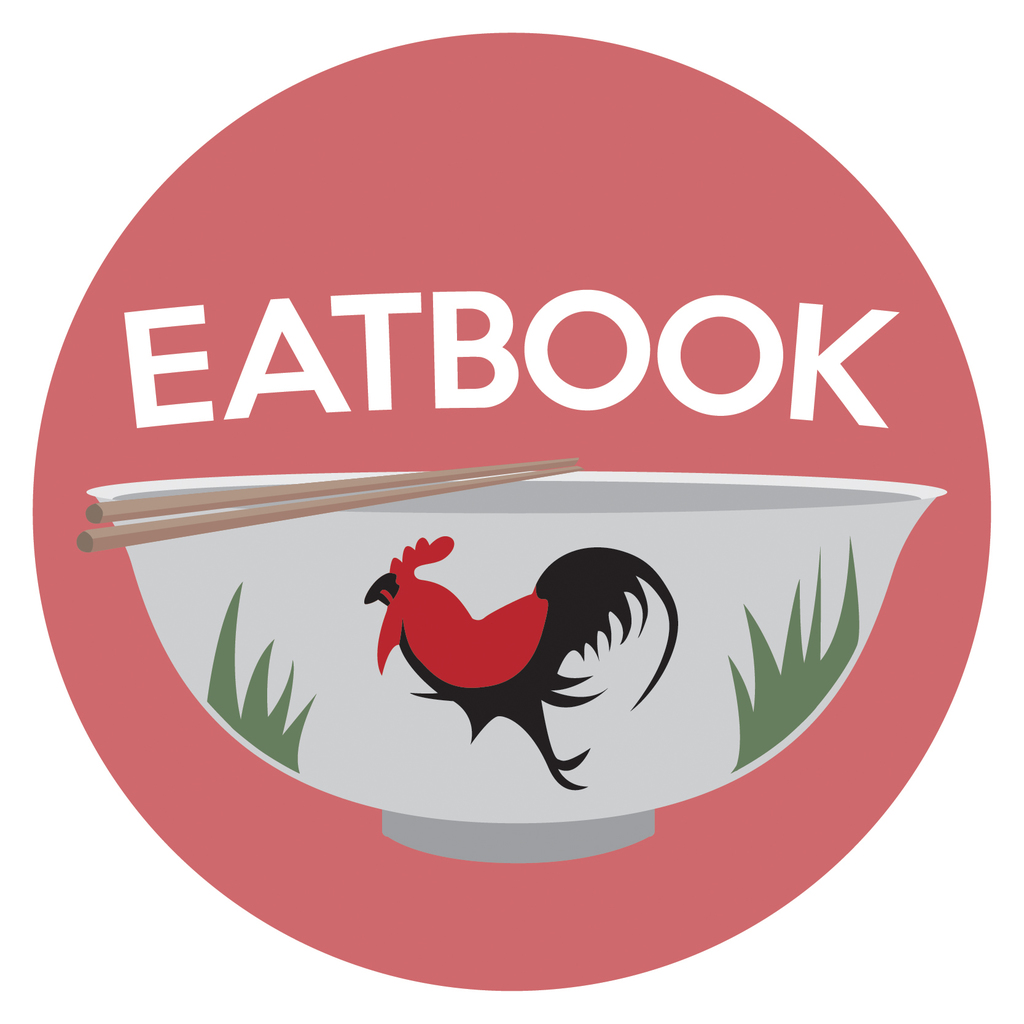 Drop us your email so you won't miss the latest news.