---
Feast on unique Haji Lane Food
---
Haji Lane strikes me as one of Singapore's most vibrant areas. The street is a living organism – the vibes there is constantly shifting as eateries enter and exit, each hoping to leave its unique imprint on the neighbourhood. If you are spoilt for choice in a street teeming with cafes and restaurants, here are 10 Haji Lane food gems you absolutely must visit!
---
1. Krave
---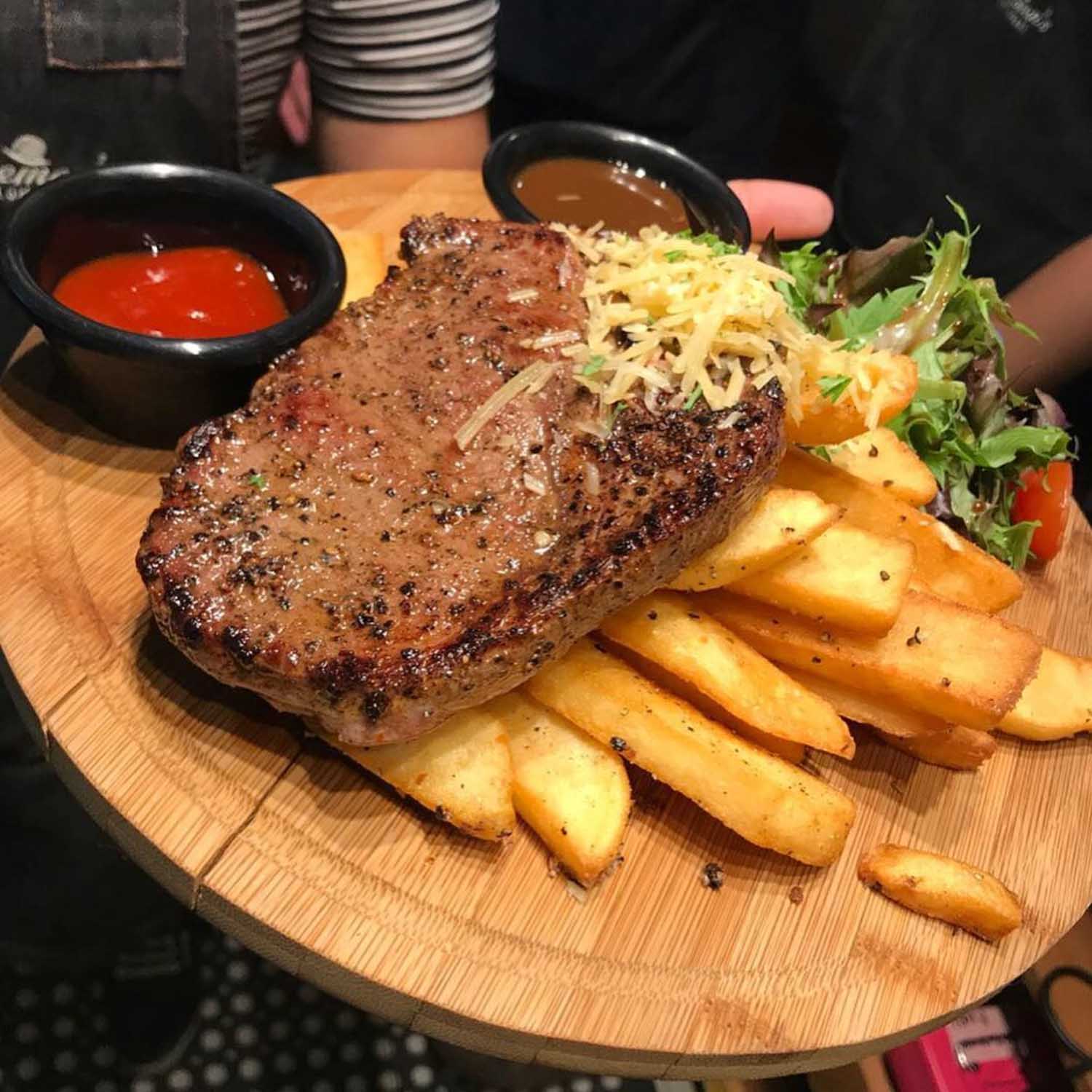 Image credit: @kravecafe
Bamboozling you with an expansive menu of dishes at nett prices, Krave is one of the more recognisable names around Haji Lane. Rally your friends to try the signature Steak 'N' Chips ($27), which stars a whopping 200-gram slab of ribeye, accompanied by steak-cut fries and salad. The protein is grilled to your desired rarity and excites with its succulence. You can also add Duck Foie Gras to your meal for $8!
Address: 28 Bali Lane, Singapore 189864
Opening hours: Tue-Thur 11:30am to 10pm, Fri-Sat 11:30am to 11pm, Sun 11:30am to 10pm
Tel: 9856 4249
Website
---
2. Bergs
---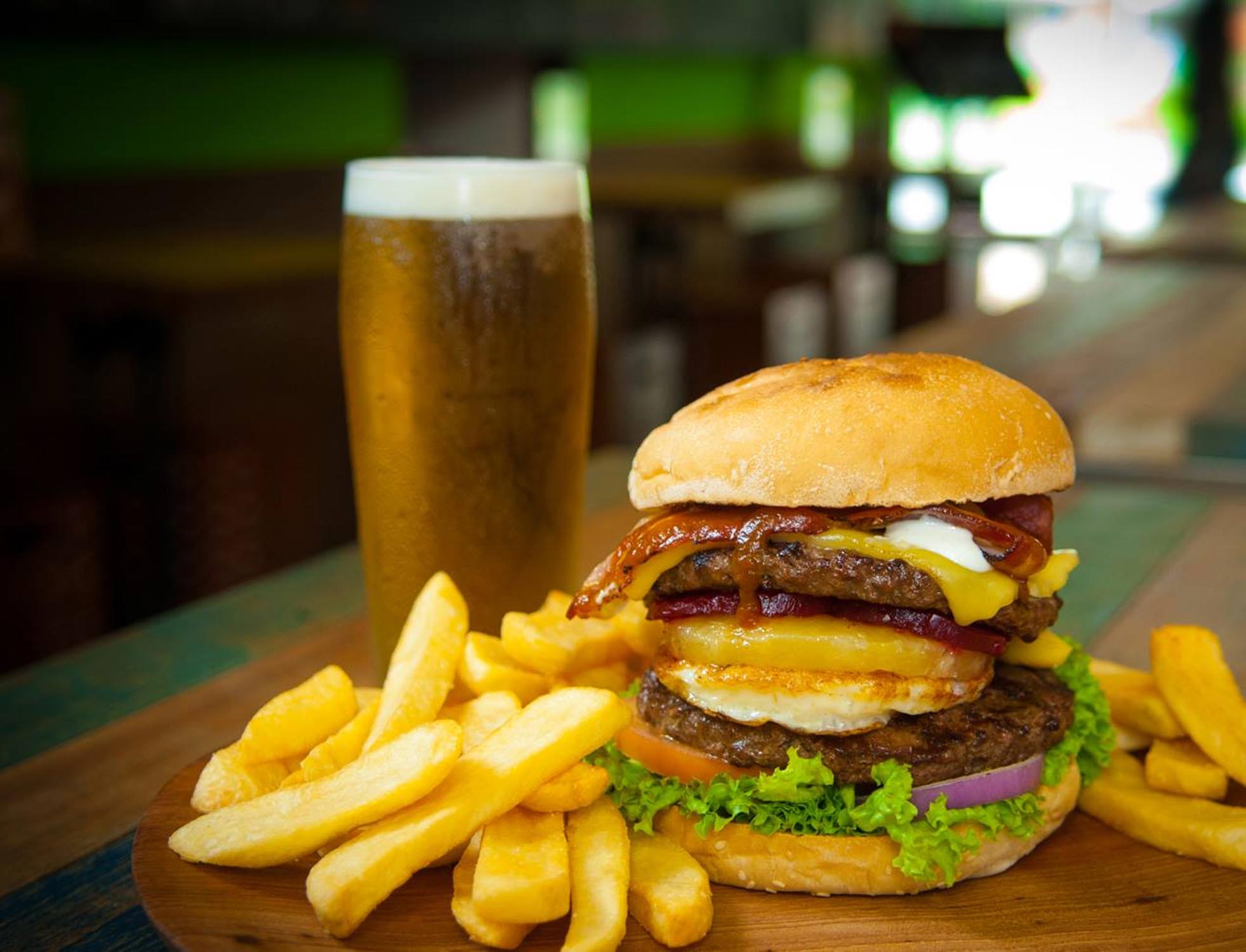 Image credit: BERGS' Facebook Page
Stuff yourself full with the decadent BFB ($18+/$20+) at BERGS! This gigantic burger stacks double prime beef patties with streaky bacon, sunny-side-up, cheddar cheese, and assorted vegetables. There is also a slice of pineapple hidden within the BFB, injecting a fruity and zesty dimension to the robustly flavoured meat.
Address: 10 Haji Lane, Singapore 189203
Opening hours: Sun-Thur 11am to 10pm, Fri-Sat 11am to 11pm
Tel: 6293 3424
Website
---
3. Limaa
---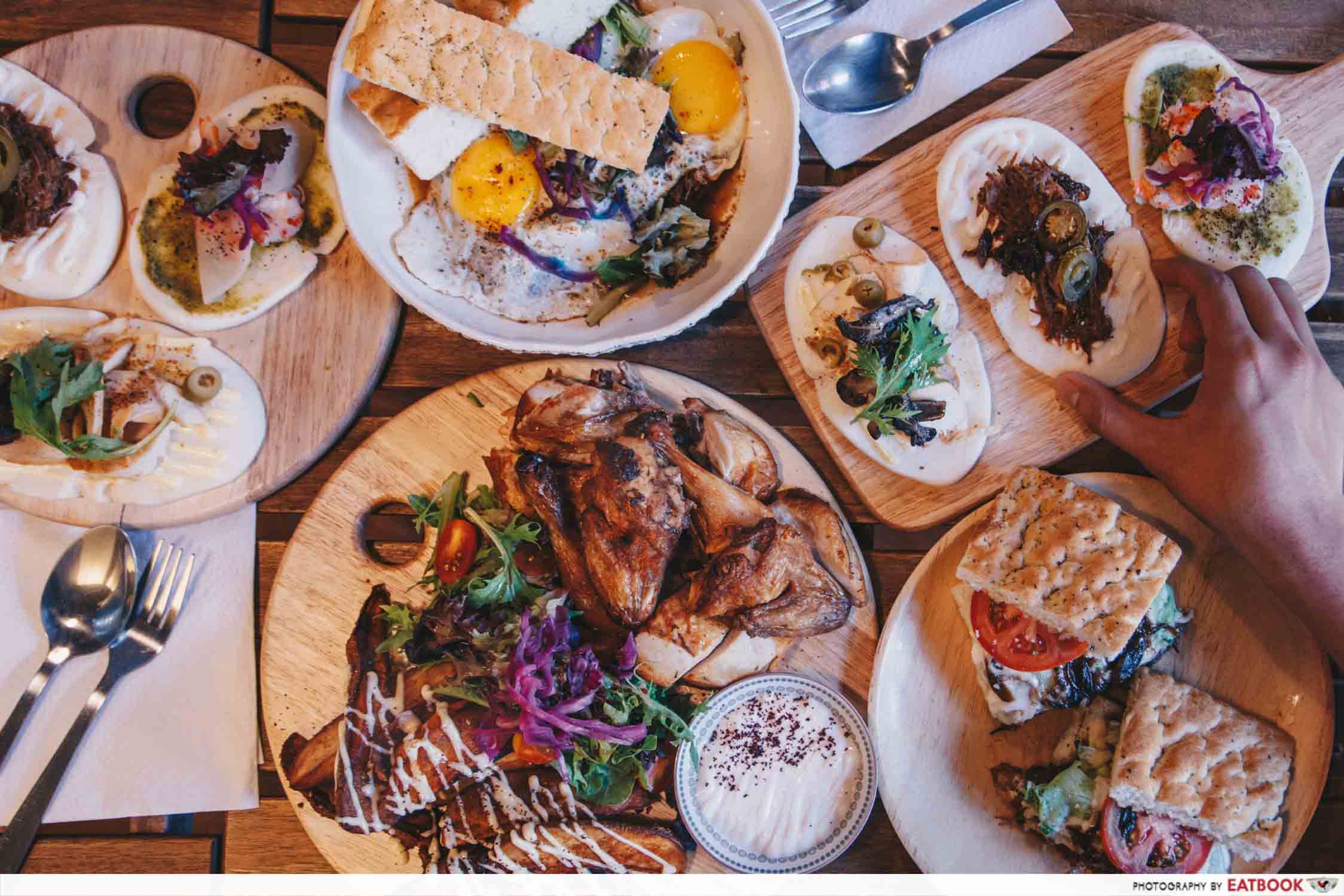 Limaa offers an assortment of #eatclean meals that steers away from the conventional salad. Big eaters can consider the Chic Platter ($17.90/$32.90), which indulges you with an entire roasted chicken and sides such as sweet potato wedges and salad. Pair the chicken with the garlic dip, should you still find the meat a tad dry.
Check out our full review of Limaa below!
Limaa Review: IG-Worthy Cafe At Haji Lane With A Wide Variety Of #EatClean Dishes
Address: 51 Haji Lane, Singapore 189244
Opening hours: Wed-Mon 9:30am to 8pm
Tel: 9362 0242
Website
---
4. The Mad Sailors
---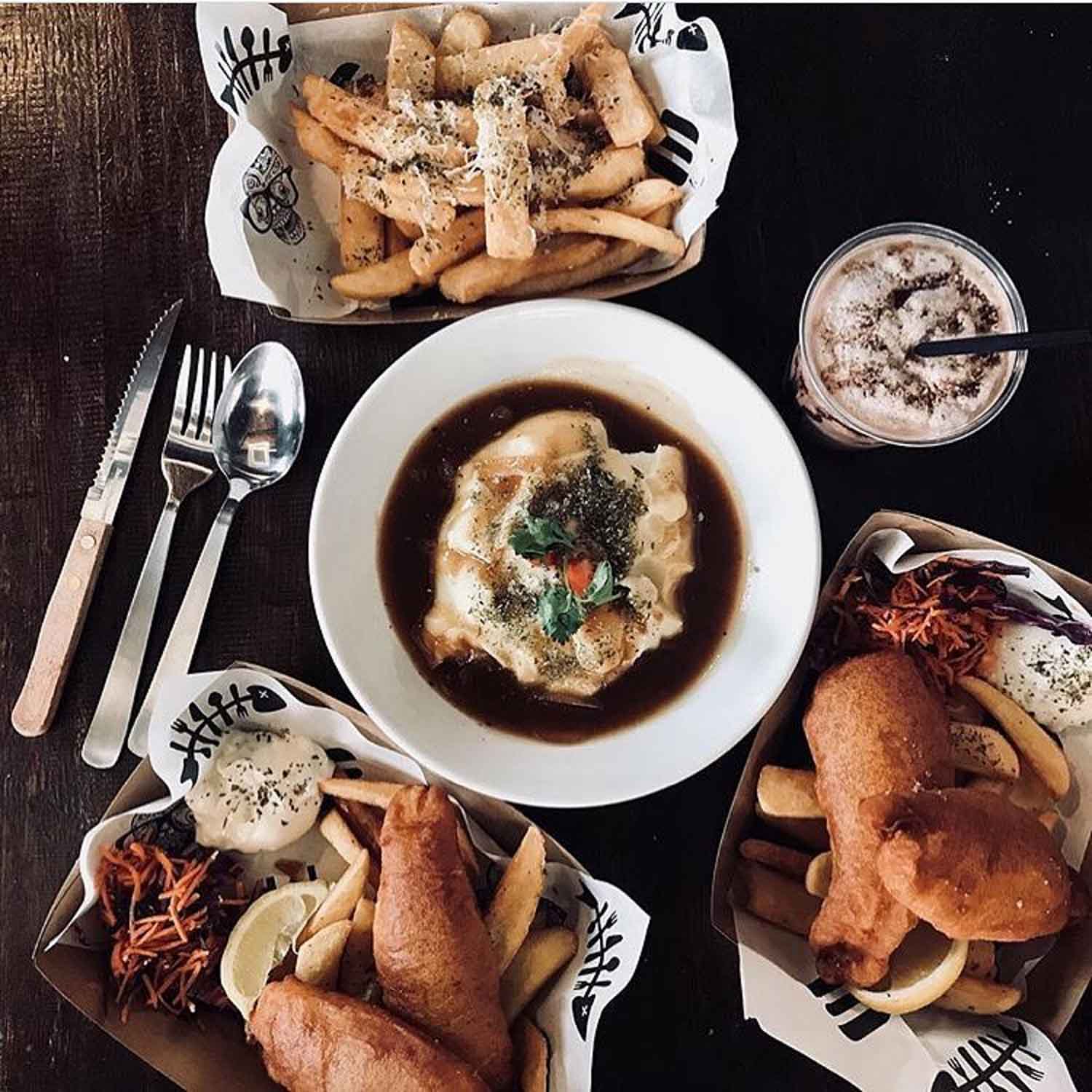 Image credit: @themadsailors
The Mad Sailors is difficult to miss with the rainbow-coloured murals decorating its storefront. Among its spread of halal British nosh, be sure to try its Bangers and Mash ($18). I adore how the caramelised onion gravy complements the peppery sausages to create a more full-bodied flavour.
For a trip to Hogsmeade and back, Potterheads can order their House Butter Beer ($8)! Entirely non-alcoholic, the milky and fizzy "booze" reels you in with its candied tang.
Address: 24 Haji Lane, Singapore 189217
Opening hours: Mon-Thur 12pm to 10pm, Fri 12pm to 11pm, Sat-Sun 10am to 11pm
Tel: 8768 0465
Website
---
5. Ciao
---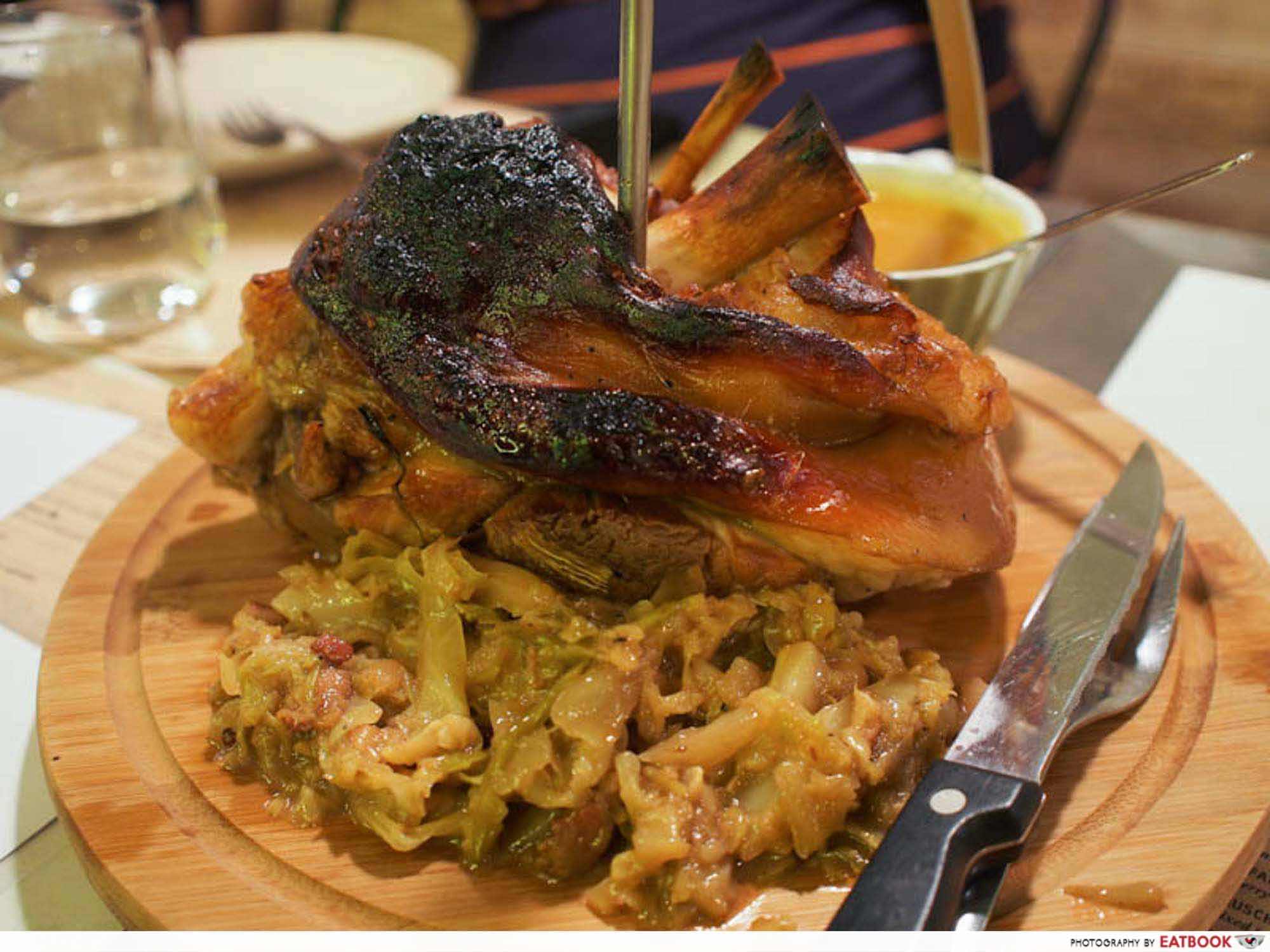 Ciao translates to "hello" in Italian and the eponymous restaurant will greet your famished bellies with traditional Italian fare. The Stinco Di Maiale Alla Birra ($42++) is skilfully prepared, as the flesh of the pork knuckle effortlessly falls off the bone. Seasoned with balsamic vinegar, the white cabbage cleanses your taste buds of the unctuous meat with its refreshing zing.
Check out our full review of Ciao here!
Address: 8 Haji Lane, #01-01, Singapore 189201
Opening hours: Tue-Sun 11:30am to 2am
Tel: 9726 3688
Website
---
6. Moosh
---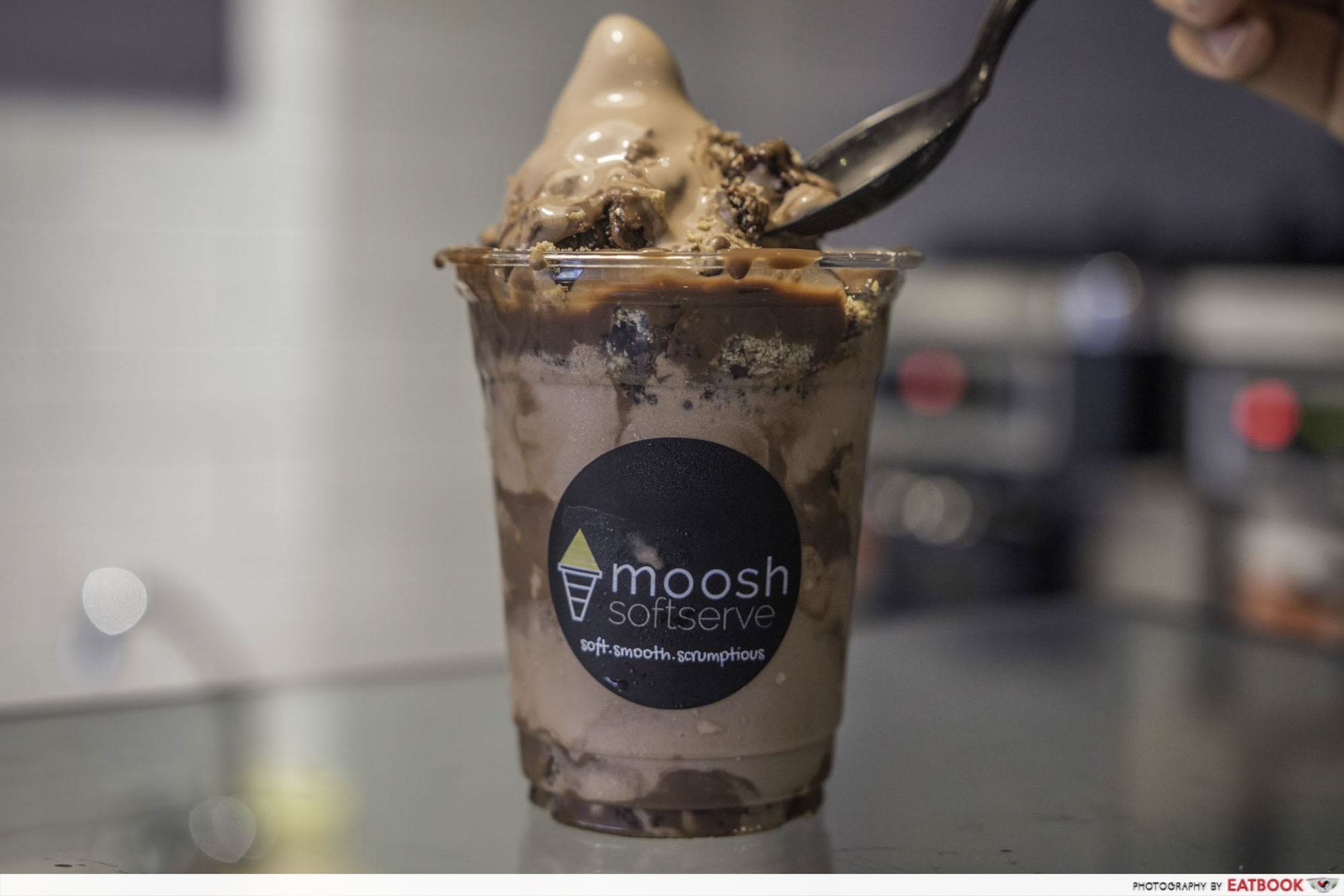 With its eclectic selection of soft serves, Moosh offers a brief respite from the sweltering weather. The Nutella Brownies Cheesecake ($4.50/$6) is chocolate bliss, where Nutella soft serve is topped with chocolate malt, brownie crumbs, and a shower of chocolate sauce. Laced with a tinge of hazelnut, the ice-cream carried the appropriate level of sweetness.
Check out our complete review of Moosh below!
Moosh Review: Nutella Brownies Cheesecake And Ondeh Ondeh Soft Serve At Haji Lane
Address: 44 Haji Lane, Singapore 189237
Opening hours: Mon-Thur 11am to 8pm, Fri-Sun 11am to 9pm
Website
---
7. LittlePo
---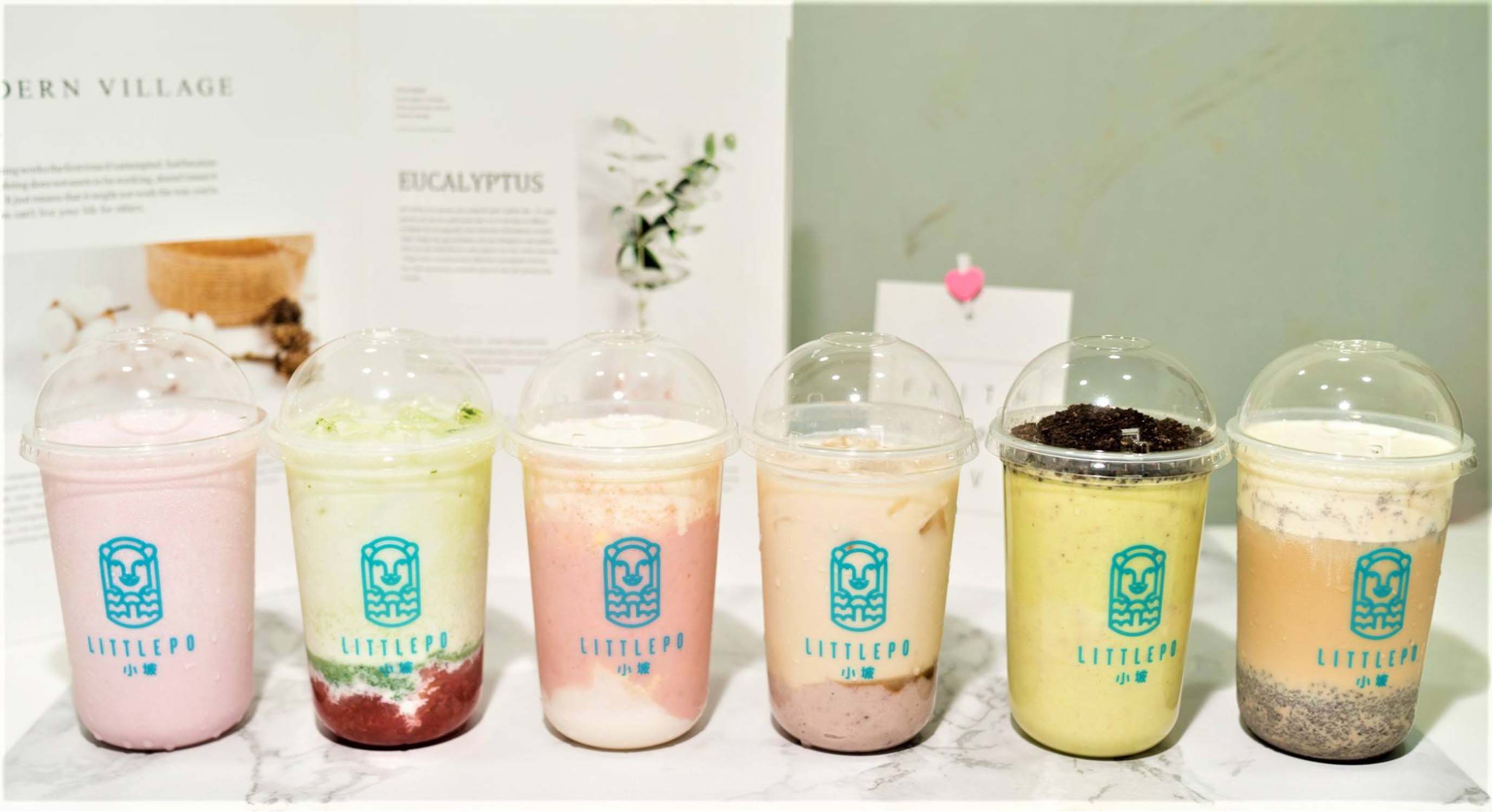 Image credit: Littlepo's Facebook Page
Recently opened in January, LittlePo is a minimalist cafe serving up one-of-a-kind bubble teas and smoothies. Try the unique Mexican Avocado Banana ($7.90) smoothie! Prepared with fibre-rich fruits, the smoothie can fill the hungriest of bellies.
If you are more a tea person, the Lapsang Souchong Milk Tea ($4.90) will thrill you with its velvety body. As their milk teas have a fixed 25% sugar content, they are a healthier solution to your bubble tea cravings.
Address: 67 Haji Lane, Singapore 189260
Opening hours: Mon-Sat 9am to 5pm
Tel: 6909 6347
Website
---
8. I Am…
---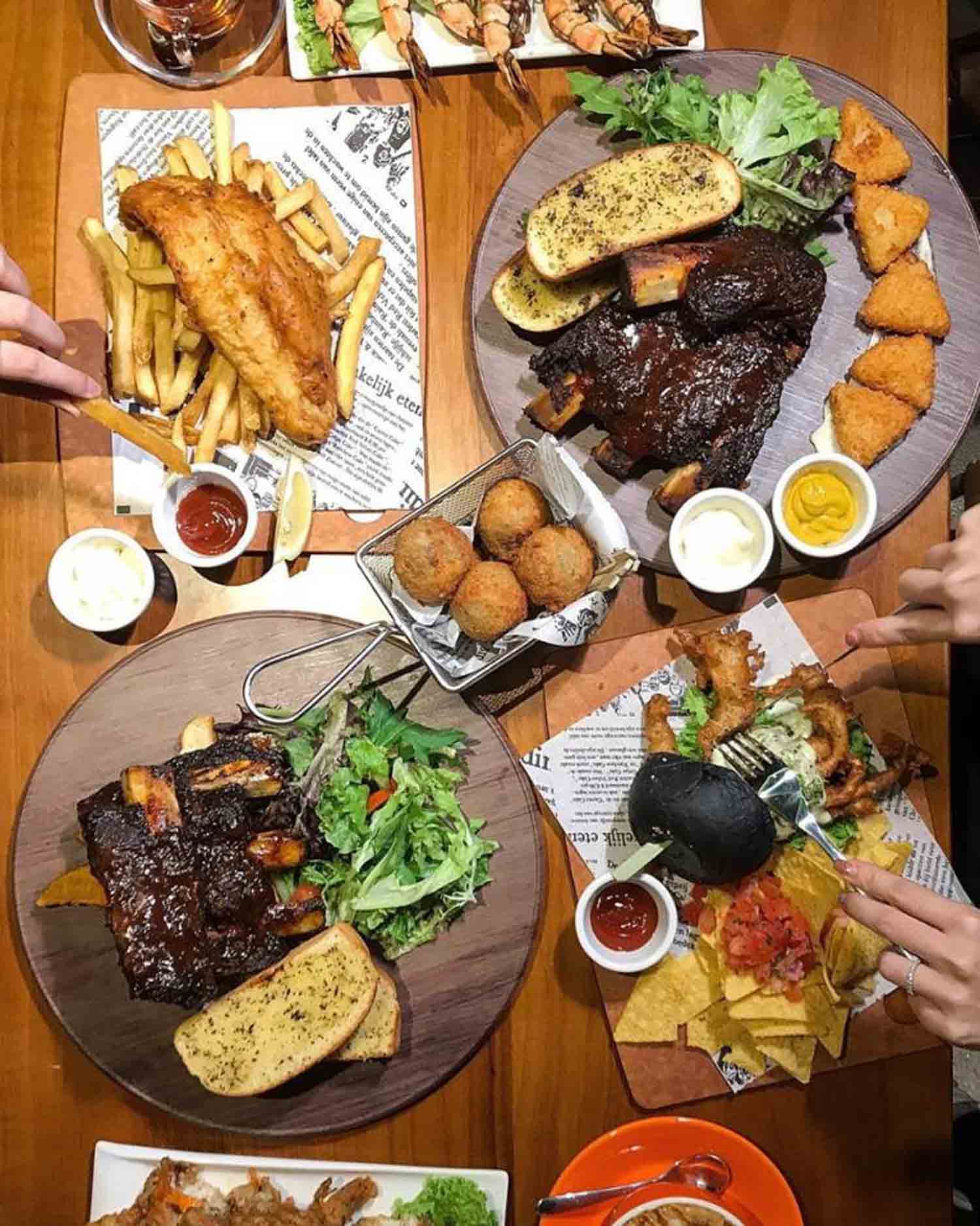 Image credit: I am's Facebook Page
Inspired by his trip to Amsterdam, owner Jam opened I Am…, an al fresco cafe which showcases a litany of halal Dutch-inspired dishes. The most impressive is undoubtedly their Bitterballen ($10.90). These meatballs were tweaked for one and a half years, as Jam attempted to replicate the original flavour without the use of lard.
Address: 674 North Bridge Road, Singapore 188804
Opening hours: Mon-Thur 9am to 11pm, Fri 11am to 1am, Sat 9am to 1am, Sun 9am to 10pm
Tel: 6295 5509
Website
---
9. Fluff Bakery
---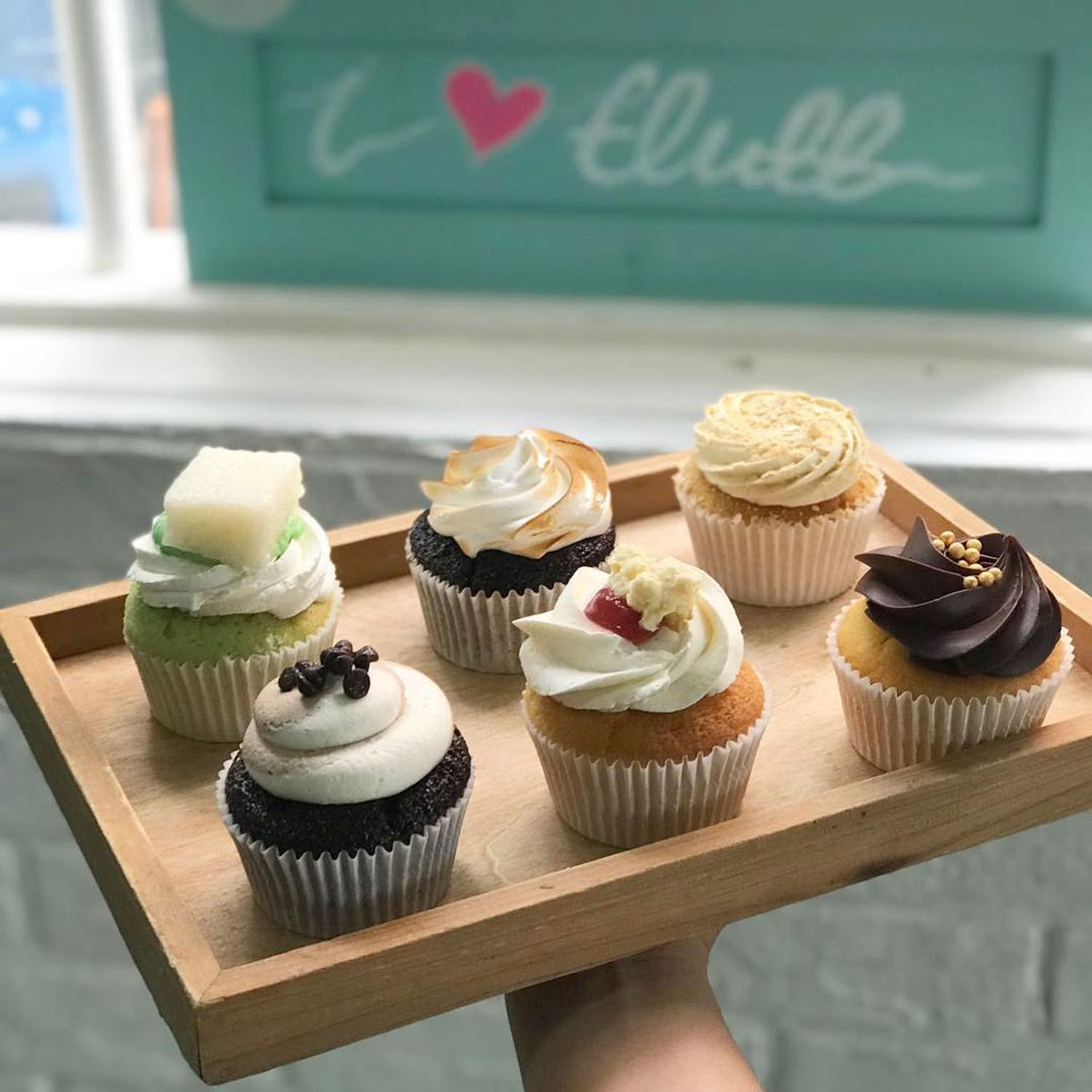 Image credit: @fluffbakery
Fluff Bakery impresses with its constant innovation, for their menu here rotates weekly. To date, the patisserie has experimented with more than 100 flavours, concocting novel creations such as Ondeh Ondeh ($4) and Horlicks ($4). Each cupcakes have a surprise centre, making sure every bite unleashes a torrent of filling in your mouth.
Address: 4 Jalan Pisang, Singapore 199071
Opening hours: Tue-Sat 12pm to 7:30pm, Sun 11am to 5pm
Tel: 9660 3541
Website
---
10. Blu Juz Cafe
---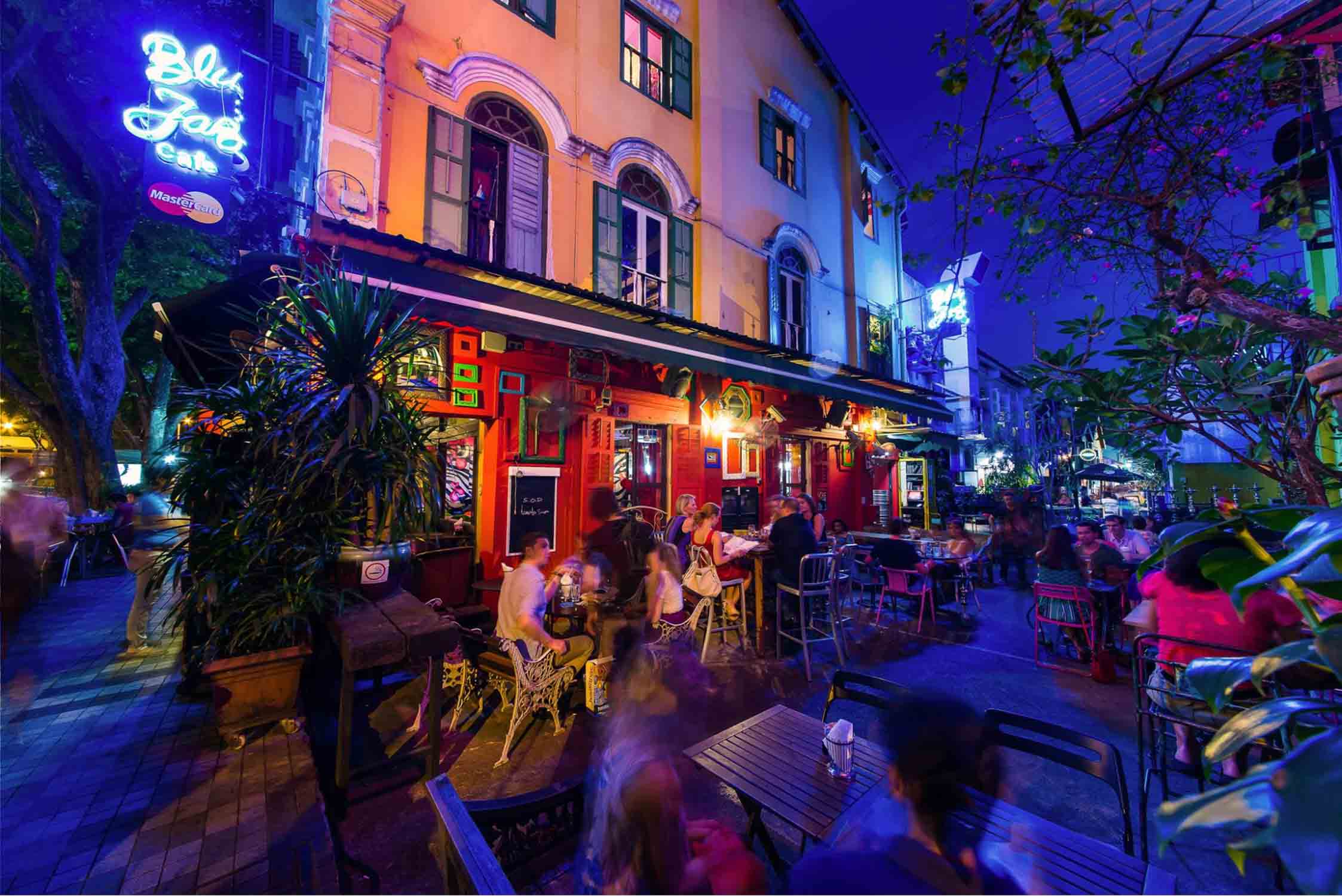 Image credit: Blu Juz Cafe's Facebook Page
Adorned with neon lights, Blu Jaz Cafe erupts to life at night in a kaleidoscope of vivid colours. The eatery is a popular haunt for aspiring musicians, with artists such as Nathan Hartono having performed there.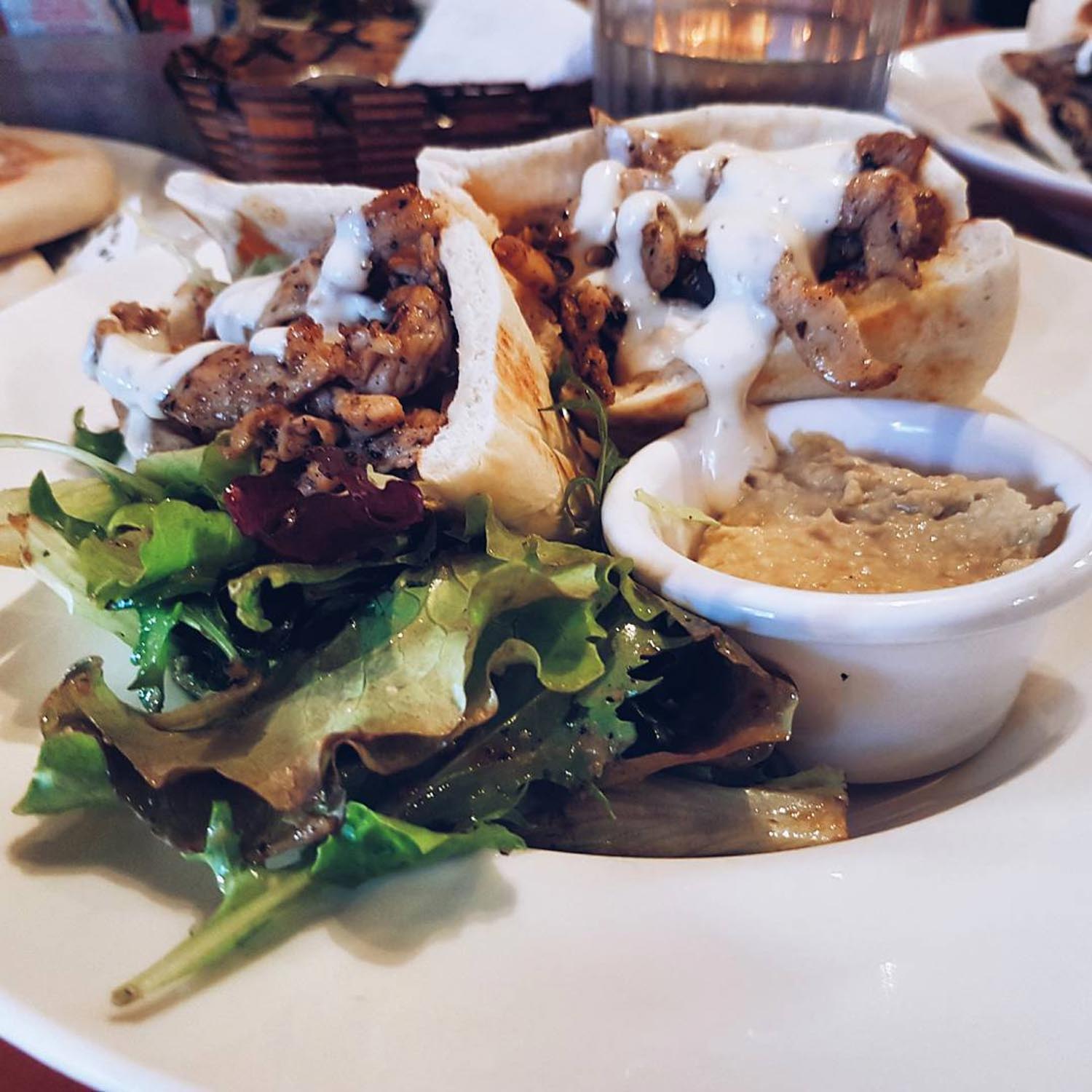 Image credit: @shovethisinyourface
Blu Jaz Cafe is not only a treat to the ears but also a feast for your tummy with its myriad of Mediterranean dishes. A familiar name is its Shawarma, a fluffy pita bread that is stuffed with either Shredded Chicken Fillet ($12.90) or Marinated Grilled Lamb ($14.90). Like traditional shawarma, hummus is provided on the side, which injects a sweet whiff of tahini to the meat.
Address: 11 Bali Lane, Historic Kampong Glam, Singapore 189848
Opening hours: Mon-Tue 12pm to 2:30am, Wed-Thur 12pm to 1am, Fri-Sat 12pm to 3am, Sun 12pm to 1am
Tel: 9199 0610
Website
---
The perfect weekend at Haji Lane
---
Relax and soak up the gorgeous vibes of Haji Lane while indulging in the scrumptious food there! Leave us a comment below if we have missed out on your favourite spots at Haji Lane.
Should you be searching more food around the area, check out our guide on Bugis cafes for aesthetic gems with cotton candy coffee and rainbow cheese dippers.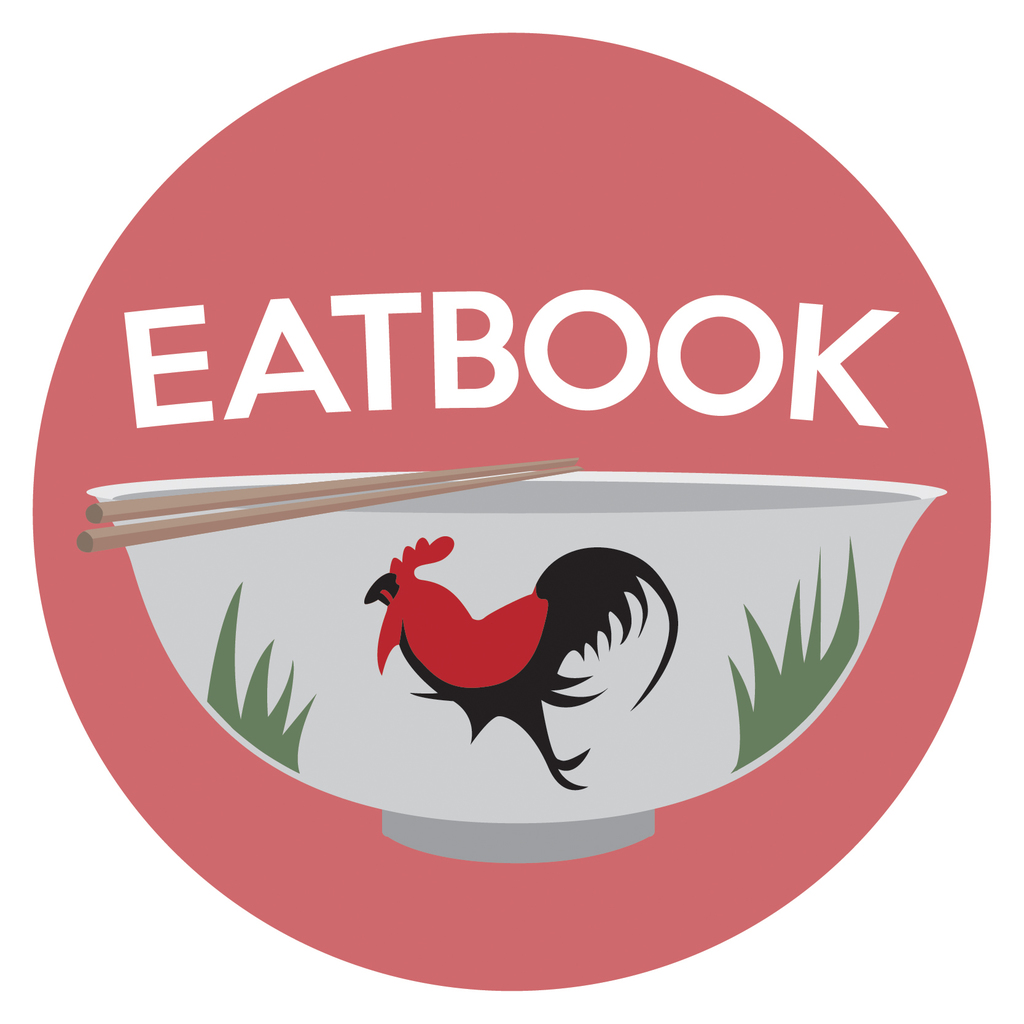 Drop us your email so you won't miss the latest news.