Kerabu By Arang has modern Malay nasi kerabu in Yishun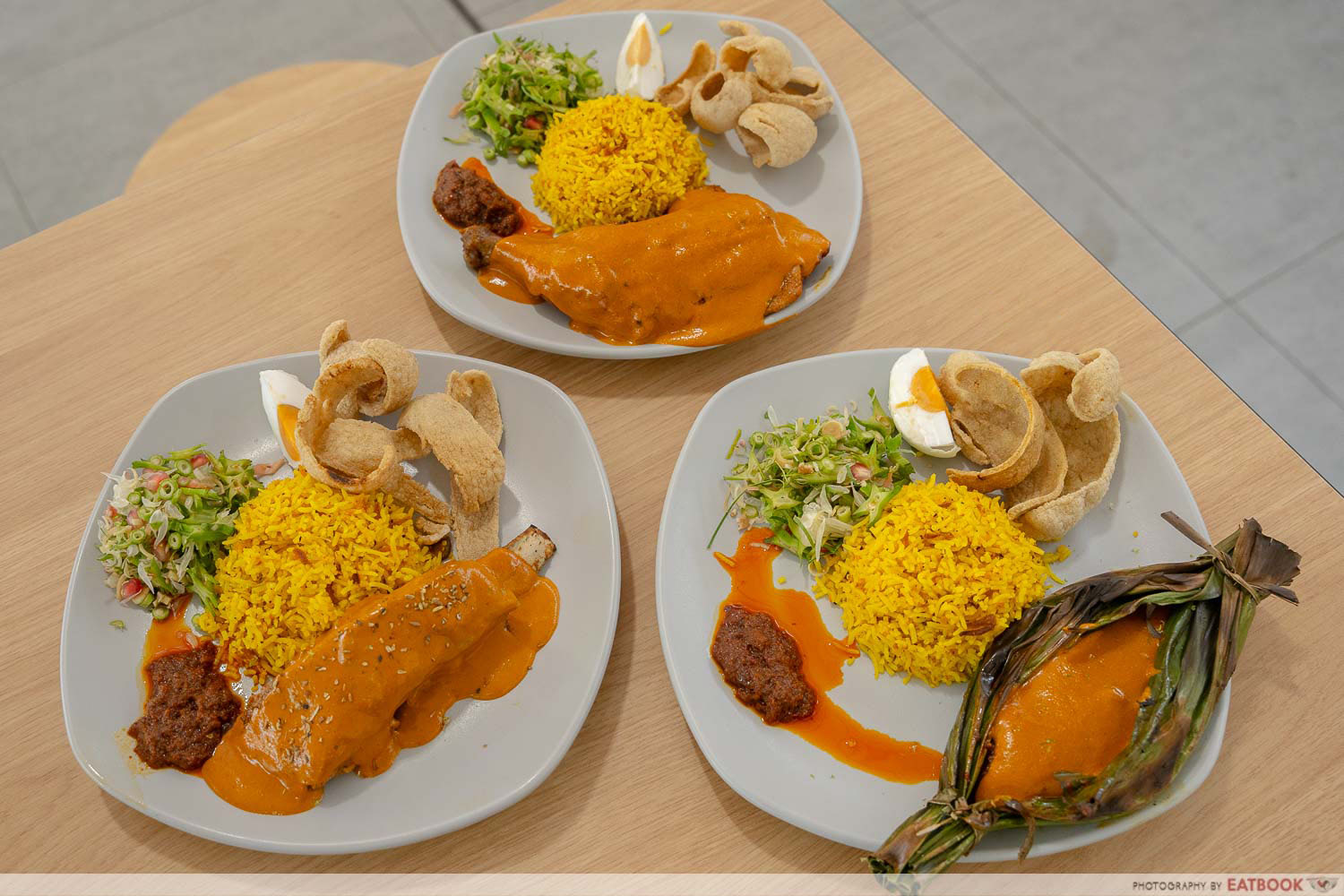 You may not have heard of 32-year-old Chef Nurl Asyraffie Bin Mohamed Shukor, but you might have heard of Arang, with its sold-out drops of contemporary Malay food on Instagram during the COVID-19 years. He subsequently ran an eponymous private diner, which sadly saw the end of its run earlier this year, but instead of a permanent spot for that concept, he's back with Kerabu By Arang, a hawker stall in Yishun Park Hawker Centre!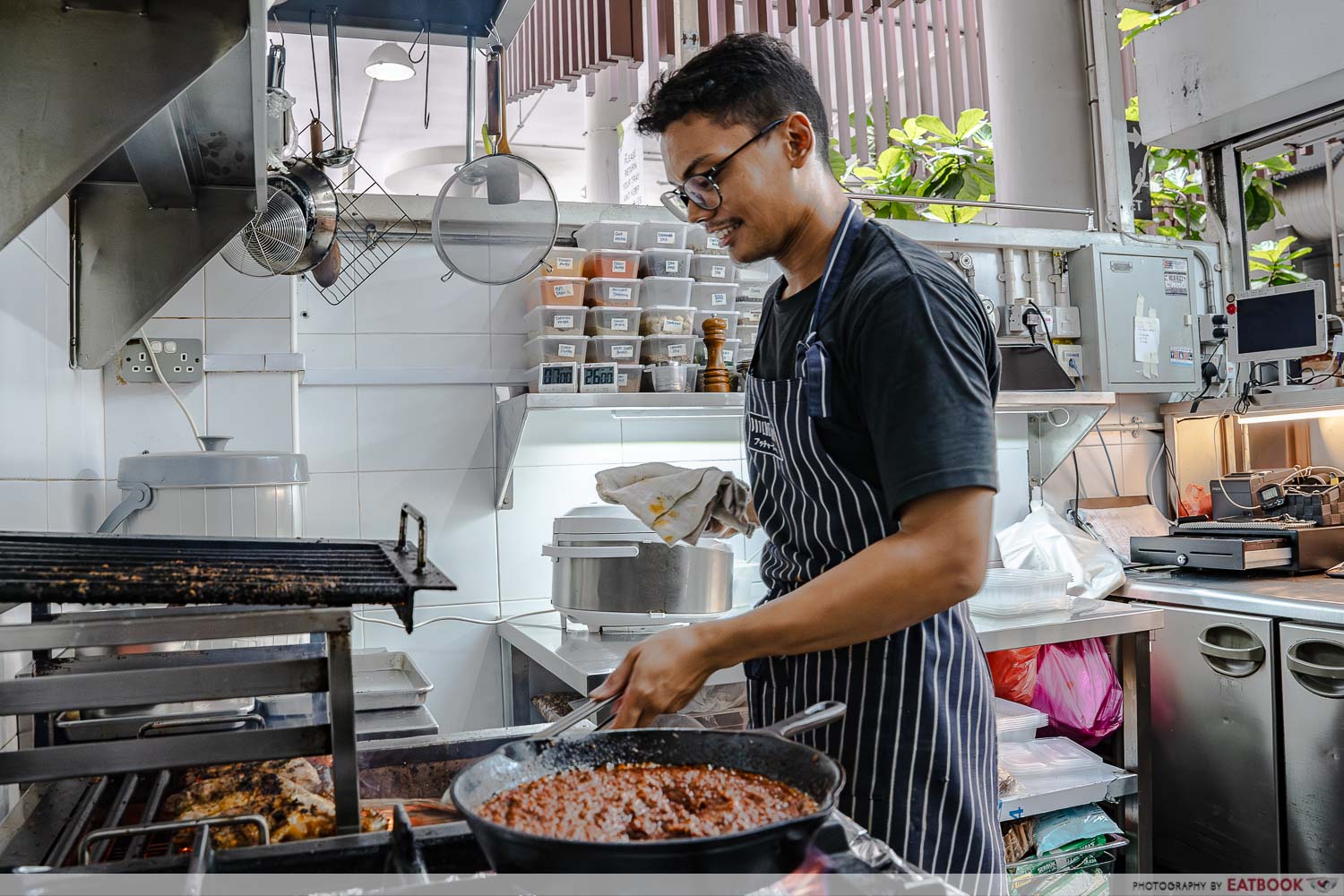 Chef Afy's credentials are rock solid: the SHATEC graduate started his career at one Michelin-starred Iggy's, before he moved to one-starred Corner House in Botanic Gardens, which has since shut. Then, he cheffed at two-starred Gaggan in Bangkok, which also held the honour of being named first in Asia's 50 Best Restaurants a record-breaking four times, and finally at two Michelin-starred Thevar, right here in Singapore.
If that's not a superstar career enough, Chef Afy ran a pop-up at Thevar before he ventured out to start Arang; this year, he also collaborated with Indian grill restaurant Revolver for a one-night-only showcase.
12 Best Yishun Hawker Stalls You Must Try—928 Yishun Laksa, Nasi Lemak And More
Food at Kerabu By Arang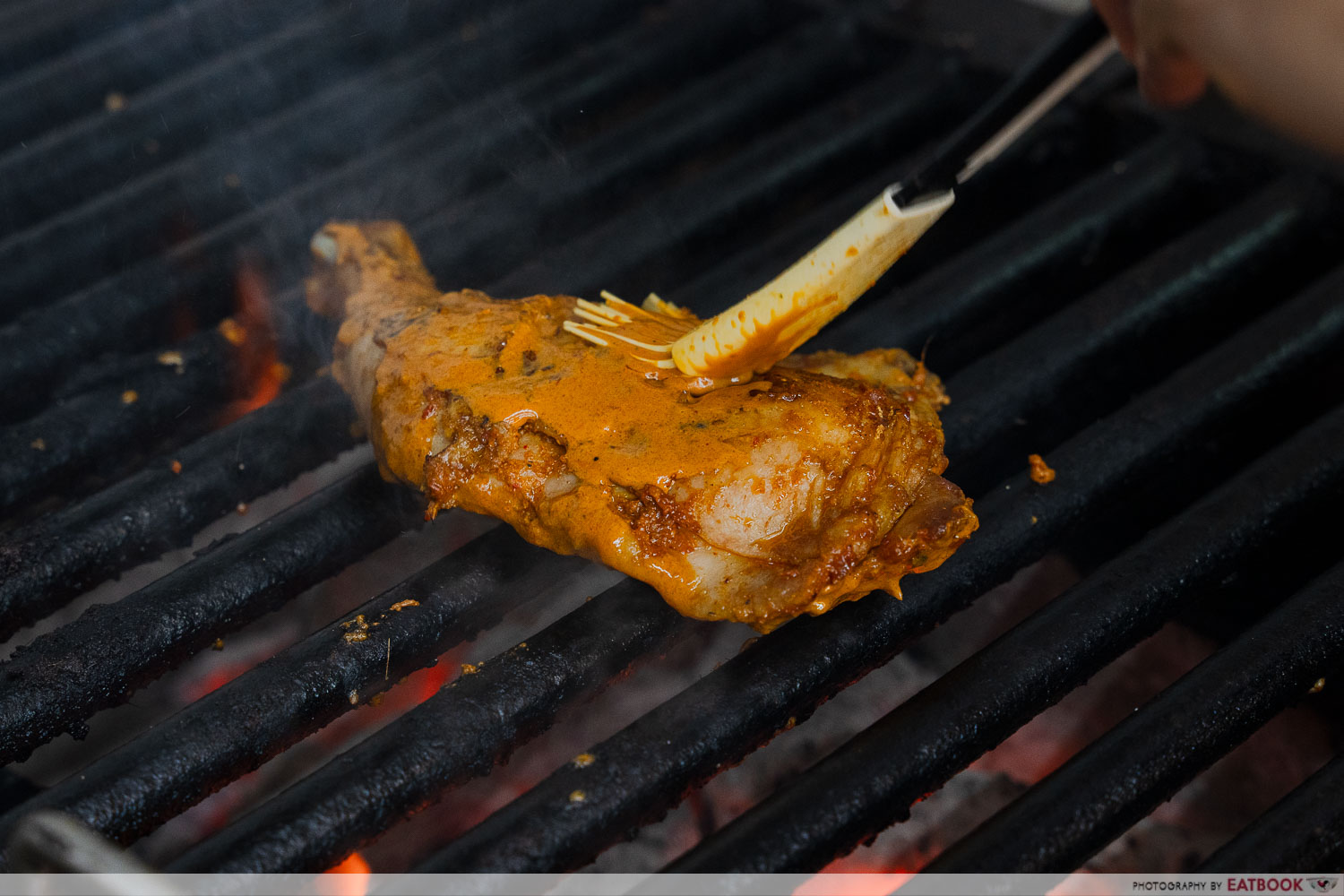 Finally, there's no need to camp on Arang's Instagram page for the elusive nasi kerabu and nasi ulam drops, nor wait with bated breath for Arang to reopen—all you have to do is head to Yishun Park Hawker Centre, where prices for his super shiok modern Malay food start from $8.50 for Nasi Kerabu with Whole Chicken Leg, smoked and finished on the grill a la minute.
P.S.: if you're looking for his next nasi ulam drop, there will potentially be one before the end of the year.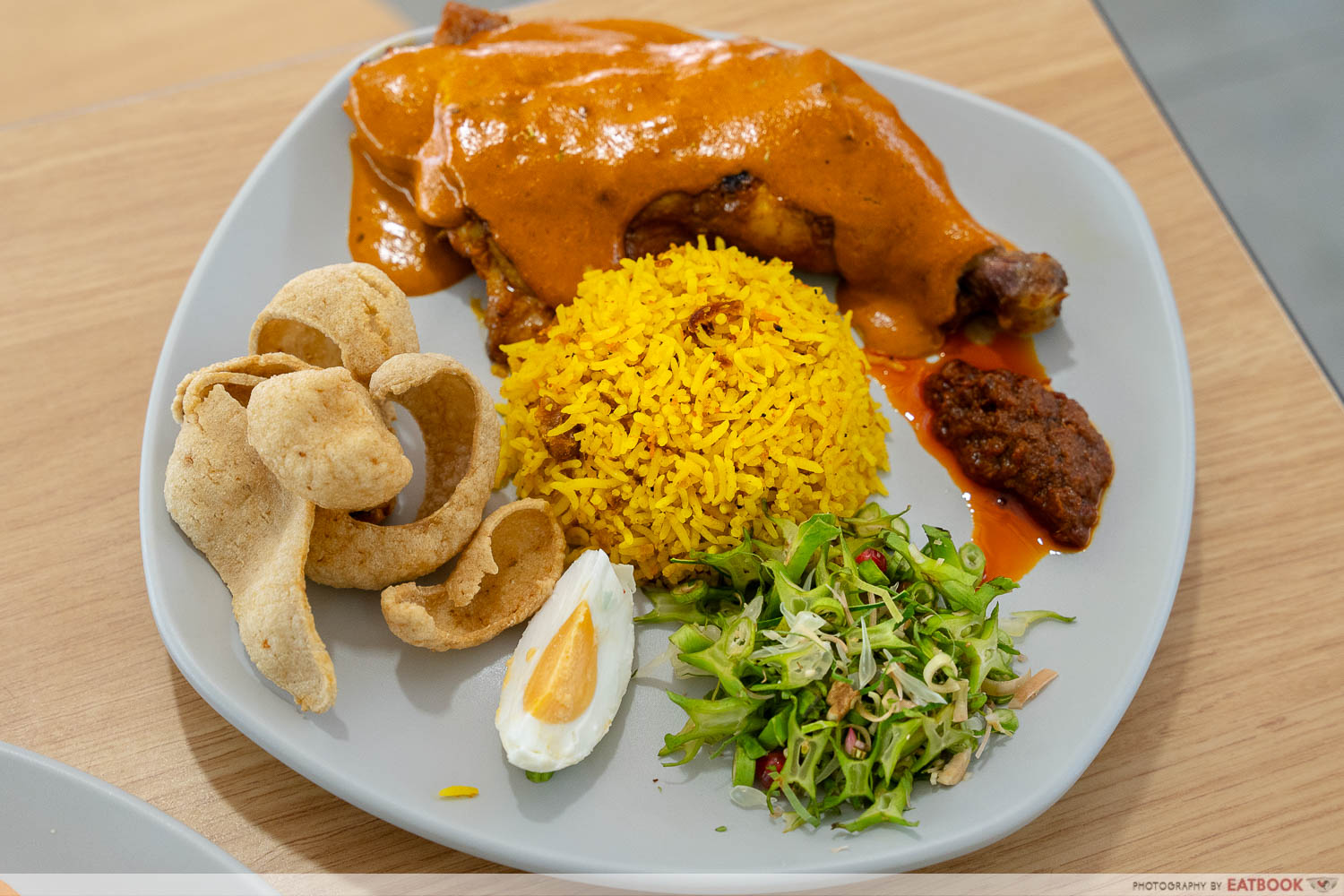 Each plate of nasi kerabu at Kerabu By Arang comes with a quarter of a salted egg, which Chef Afy tells us is for you to enjoy with the rice should you want a touch more savouriness in each mouthful. There's also keropok ikan, AKA fish crackers, kerabu salad, and sambal budu: a fermented anchovy-based sambal that's native to Kelantan and Terengganu, on the North-East coast of West Malaysia.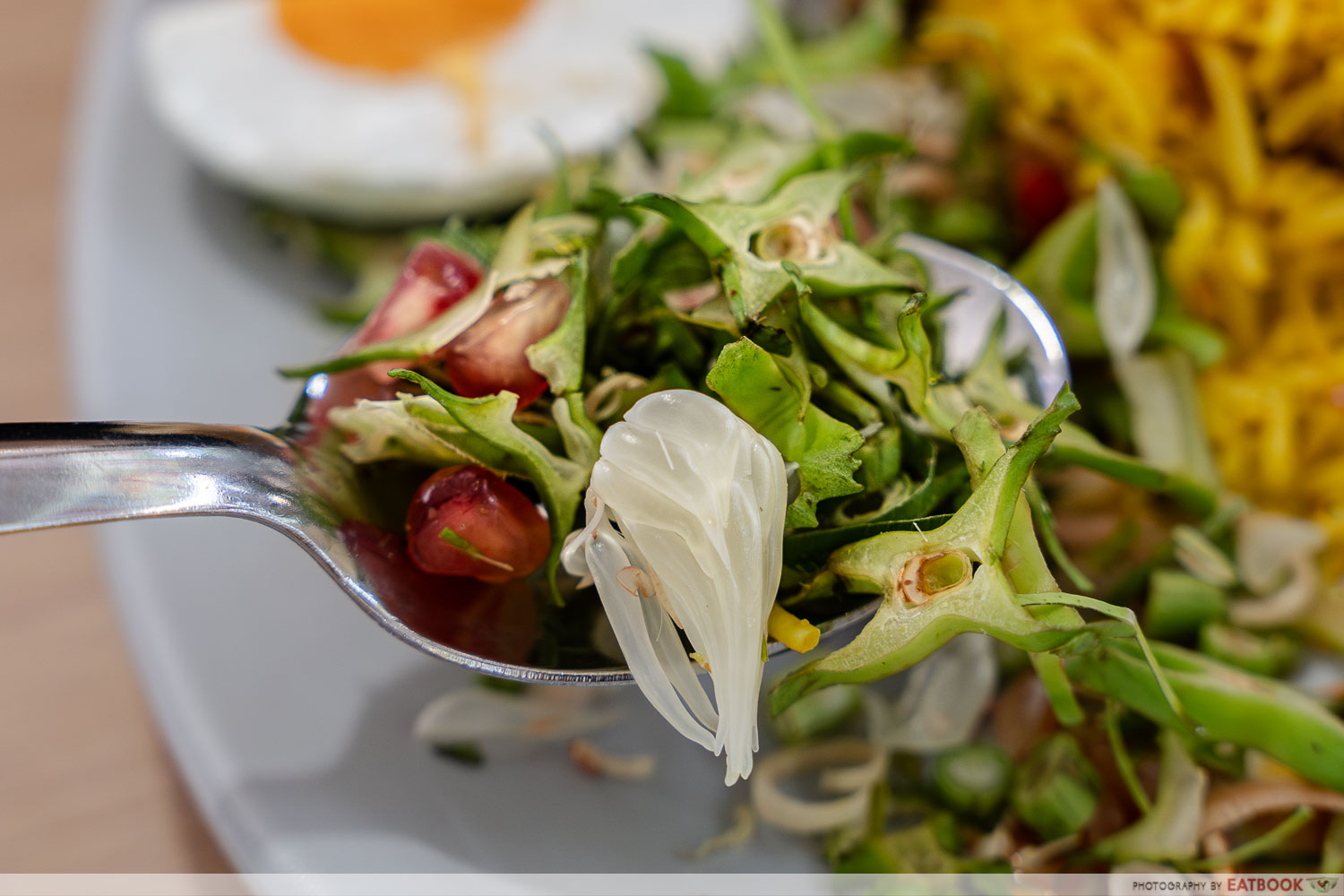 Nasi kerabu, for the uninitiated, is a rice dish from Malaysia, traditionally enjoyed in Kelantan and Terengganu. The name of the dish, translated, reads "rice with salad", where kerabu refers to the vegetable element that's served alongside the rice. We absolutely loved this winged bean salad—they were so finely sliced, it didn't taste green at all, in spite of the beans being raw. This was accented with pearls of pomegranate, pomelo pulp, lemongrass, and chiffonaded kaffir lime leaves and thus, extremely aromatic.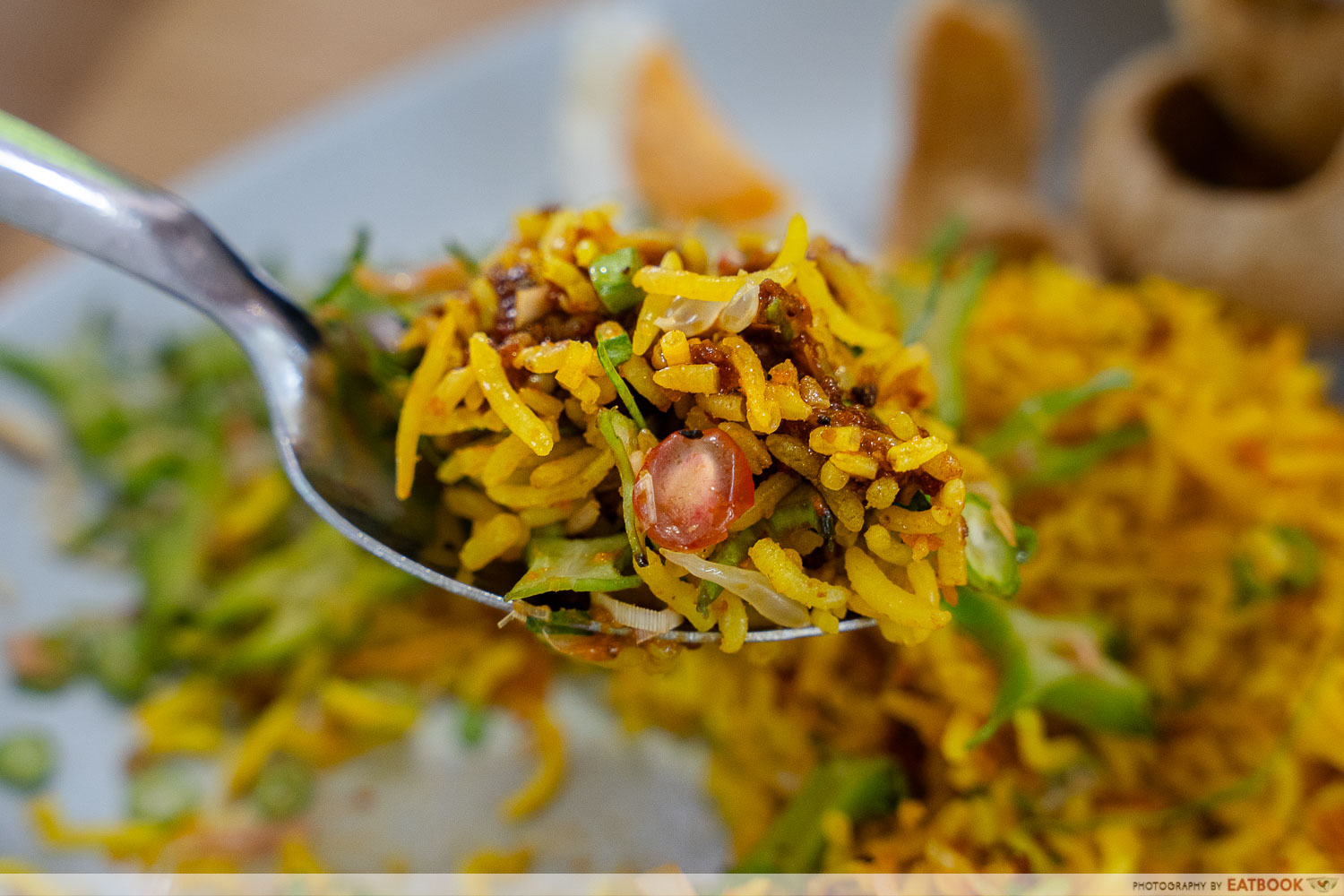 Mix it in with the rice and sambal budu for a good mix of flavours: zesty, sweet, and savoury. When you layer this with the grilled meats and percik sauce, the party in your mouth truly levels up.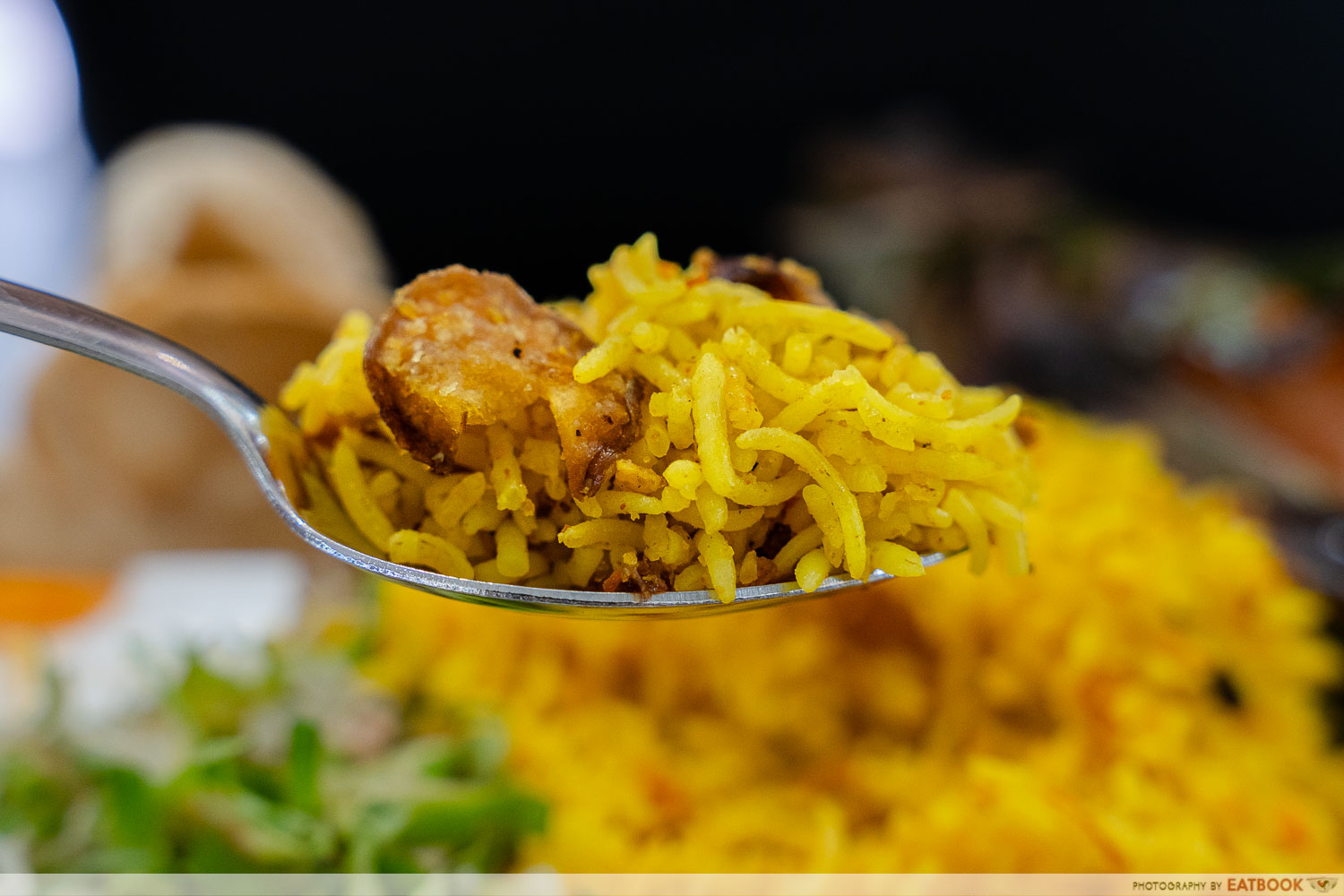 Before we get there, you'll find here that instead of the classic butterfly pea-stained blue, you get nasi kunyit, or turmeric rice, stained a bright yellow from the root. I did wish there was a little more rice in the serve, but it wasn't so little that it left me unsatisfied.
Even when prices go up a couple of dollars post-November, you will still get a whole chicken leg with the most affordable set on the menu. We found this nicely charred, with that smoky flavour that it gets from being grilled over an open fire. Blanketed in Chef Afy's gorgeous percik sauce, this won over my colleague, especially with the kerabu salad cutting through the heavier flavours of the meat and sauce.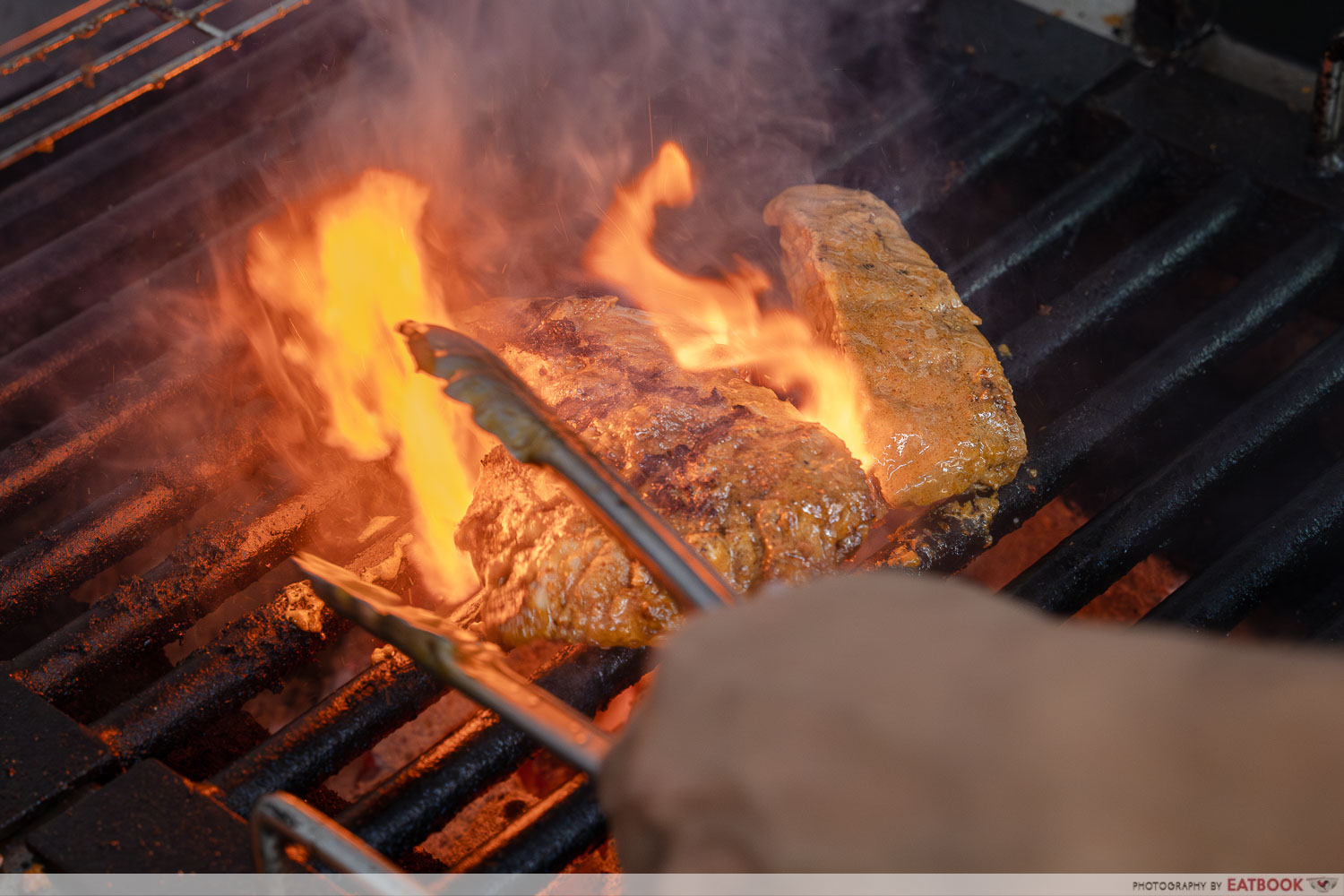 My favourite by a mile, on the other hand, was Nasi Kerabu with Lamb Ribs ($15.50), which is the most expensive item on the menu. I'd had the ribs previously with Arang's nasi ulam drops, and am happy to report that they are as good as ever.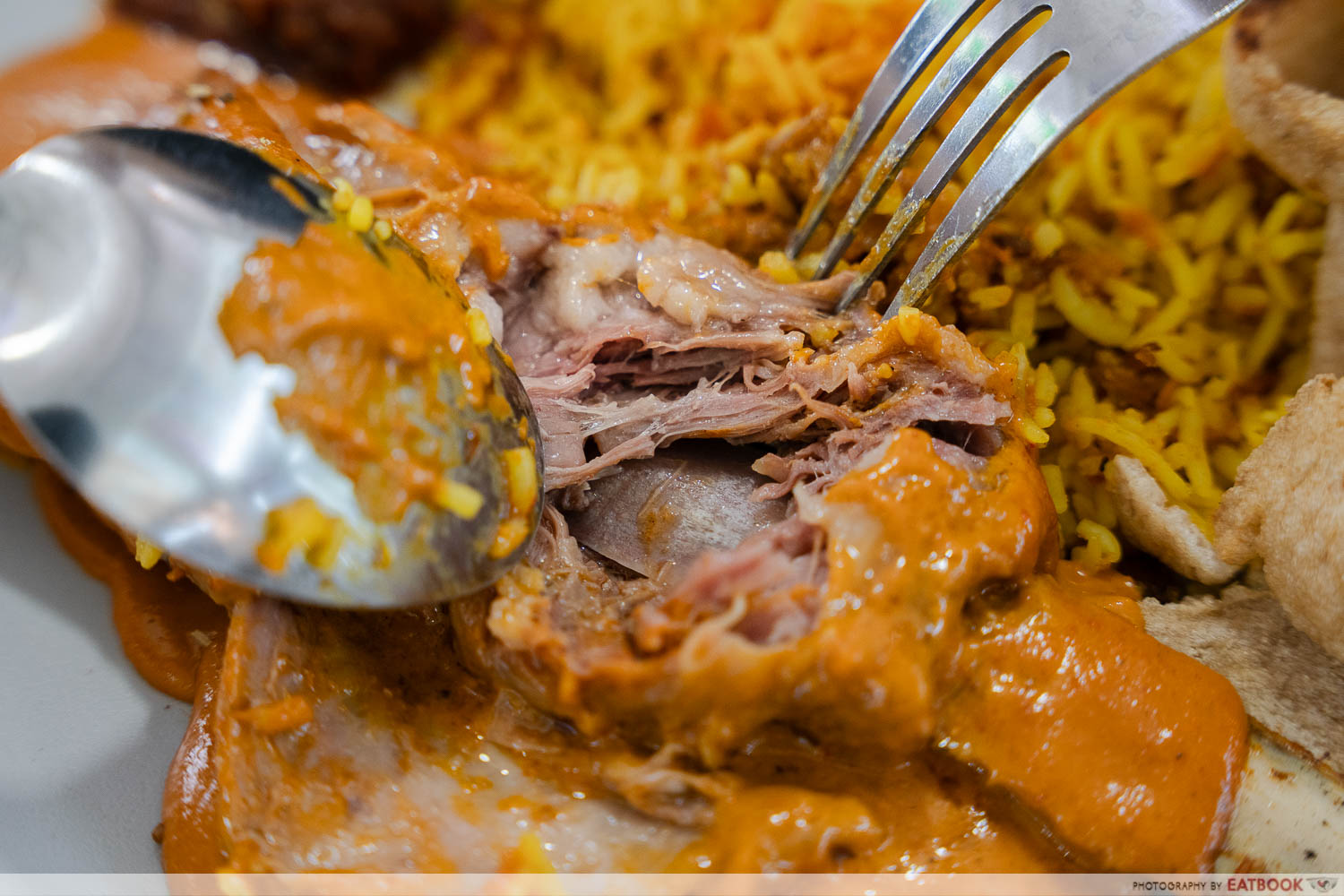 Think incredibly tender meat that cuts with barely any effort, with melting layers of fat. My colleague who doesn't eat lamb, actually enjoyed this and went back for seconds—there was hardly any gaminess to the meat, yet it carried that robust meatiness you only find in red meat.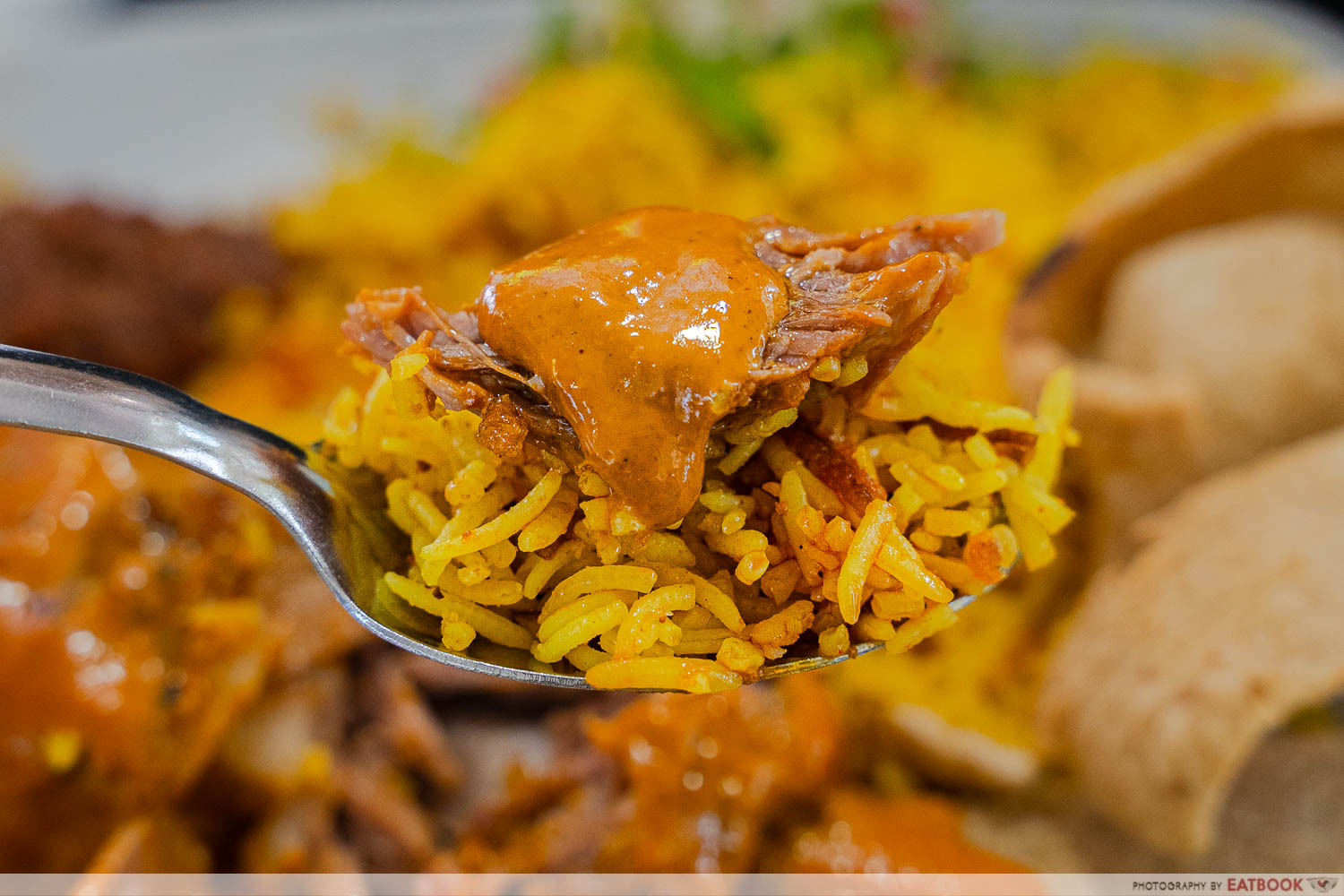 Lamb Ribs, as stated on the menu, is a bit of a misnomer since you only get one on each plate. But I expect that more might make the dish too heavy for the regular diner.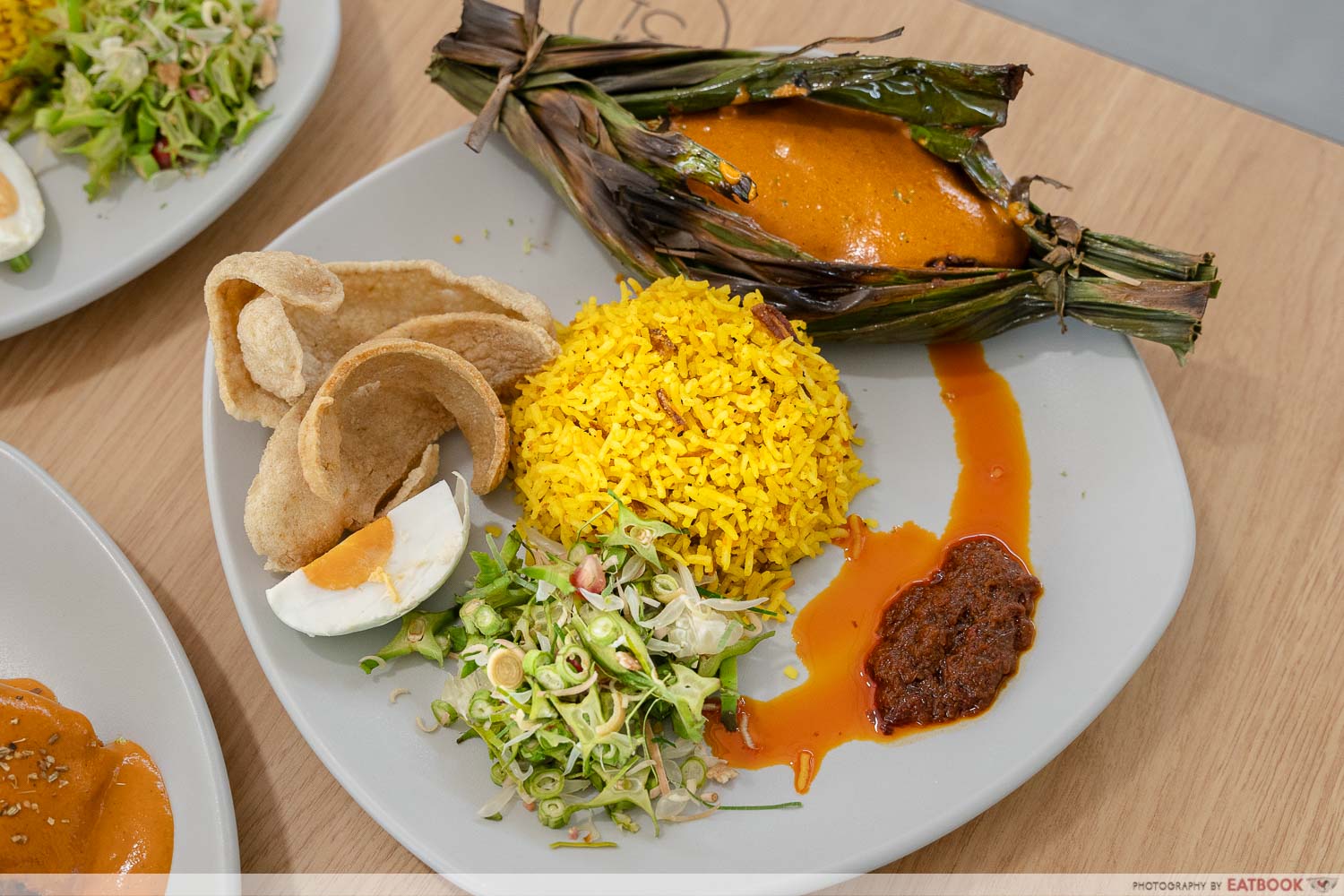 The final item on the menu—for now—is Nasi Kerabu with Pomfret Fish ($11.50). You can expect the menu to maybe expand, or be rotated with other options down the line. This is the only protein that is grilled in banana leaves, imparting a light fragrance, as well as serving the purpose of keeping it all intact.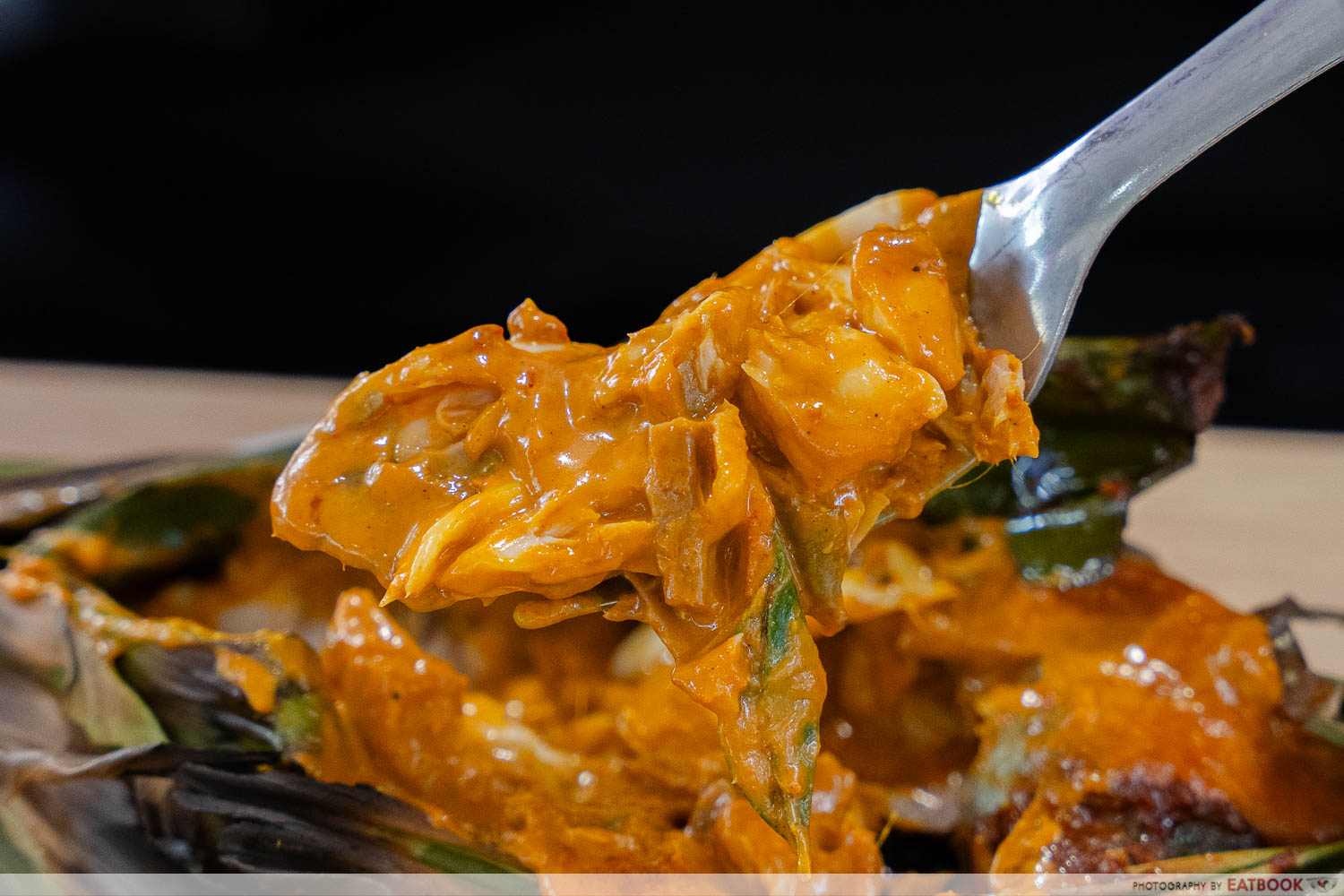 Of the three, this was my least favourite, though not by any fault of the dish. I would have preferred a fattier, flakier fish, but one: that is a personal preference and two: you couldn't expect that to be served at this same price. In case you missed it, lime is also zested on each of the proteins before it's served.
Bismi Briyani Review: XXL Briyani Platter With Lamb Shank, Lamb Chop, Chicken And More At Yishun
Ambience at Kerabu By Arang
It was my first visit to Yishun Park Hawker Centre, which is a 21-minute journey from Yishun MRT Station—regardless if you are on foot or taking the bus. My colleague and I were impressed with the spacious, breezy space, and the wide selection of other stalls you can find there, including the popular Ah Tan Wings, who are har cheong gai specialists, Bismi Briyani, and our team's favourite Munchi Pancakes.
When we got there at 11am on a weekday, we saw a whole lot of bulk takeaway orders, and a steady stream of diners. This grew into a line towards lunch; we hear that in the evening there might be as many as 20 people in the queue. Portions are limited at this time, so it's best to head down earlier.
Munchi Pancakes To Open At Lau Pa Sat, Get Halal Min Jiang Kueh With Black Sesame And More
The verdict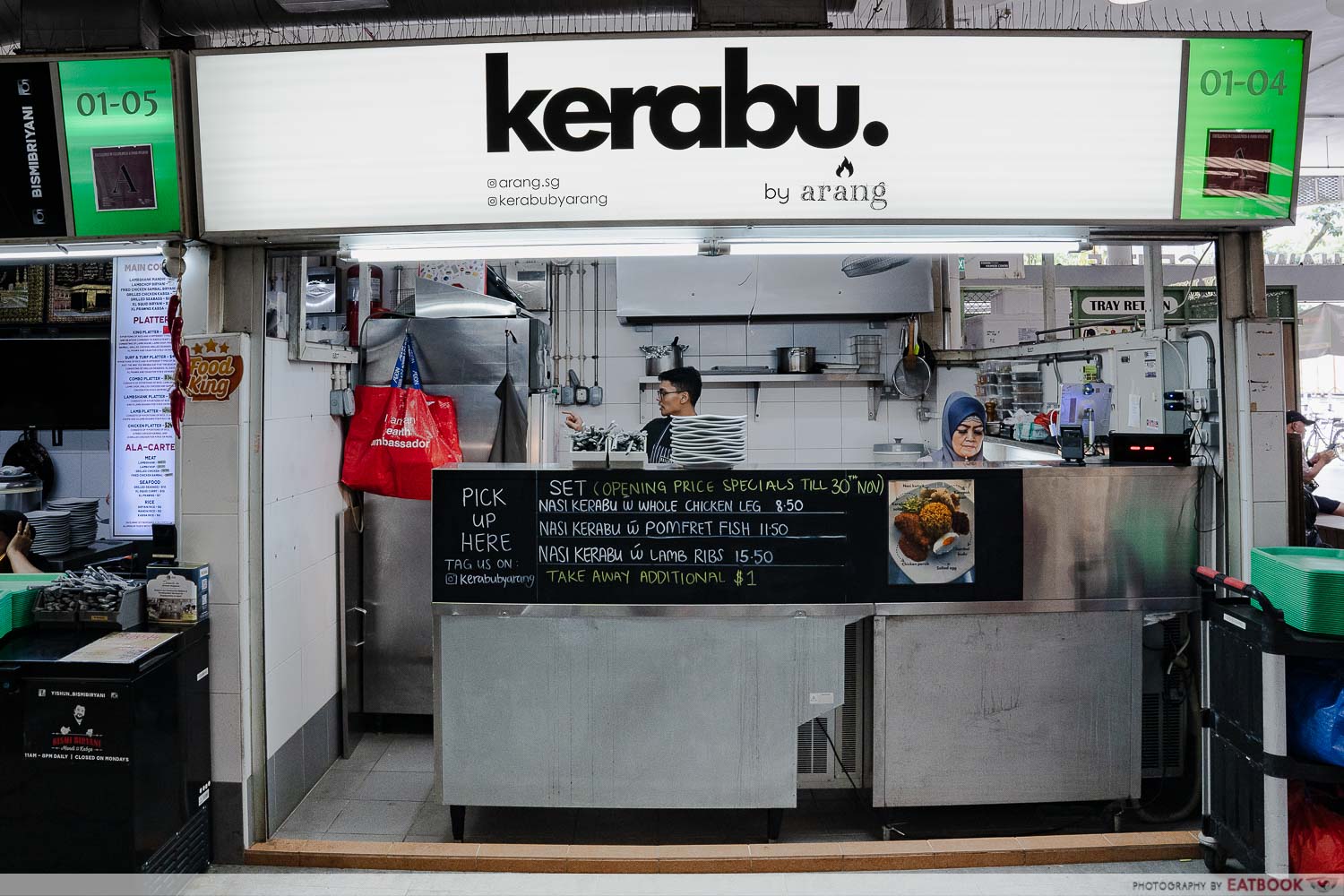 "It's a nine out of 10 for me," quipped my colleague, who was impressed with her first taste of Chef Afy's food, but like me had had to travel more than an hour to get to Yishun. As much as we would, ourselves, be willing to shell out for these nasi kerabu sets even after the prices go up in December, they are a smidgen more costly than your average hawker meal. You should, however, pause to consider the amount of prep work, ingredients, and effort that goes into all the labour-intensive components on each plate.
Do note that Chef Afy is running this gig on his own most of the time, with the proteins grilled to order. Have a care and be prepared to wait! If you're headed to Yishun, check out our guide to the best Yishun hawker stalls to try. You could also head to Numnum Thai Kitchen for legit Thai crab omelette and more!
Address: 51 Yishun Avenue 11, #01-04, Yishun Park Hawker Centre, Singapore 768867
Opening hours: Sun-Fri 11am to 2:30pm, 5pm to 9pm, Sat 11:30am to 2:30am (or sold out)
Tel: 9787 2351
Website
Kerabu By Arang is a Muslim-owned eatery
Nummun Thai Kitchen Review: Legit Crab Meat Omelette And More In Yishun
Photos taken by Casandra Nicholas.
This was an independent review by Eatbook.sg
Kerabu By Arang Review: Ex-Fine Dining Chef Sells Nasi Kerabu In Yishun Park
Kerabu By Arang Review: Ex-Fine Dining Chef Sells Nasi Kerabu In Yishun Park -

8.5/10
Summary
Pros
– Excellent lamb rib
– Tasty percik sauce and wingbean salad
Cons
– Will be slightly pricy after November
– Yishun is not a central location
Recommended dishes: Nasi Kerabu with Lamb Ribs ($15.50), Nasi Kerabu with Whole Chicken Leg ($8.50)
Opening hours: Sun-Fri 11am to 2:30pm, 5pm to 9pm, Sat 11:30am to 2:30am (or sold out)
Address: 51 Yishun Avenue 11, #01-04, Yishun Park Hawker Centre, Singapore 768867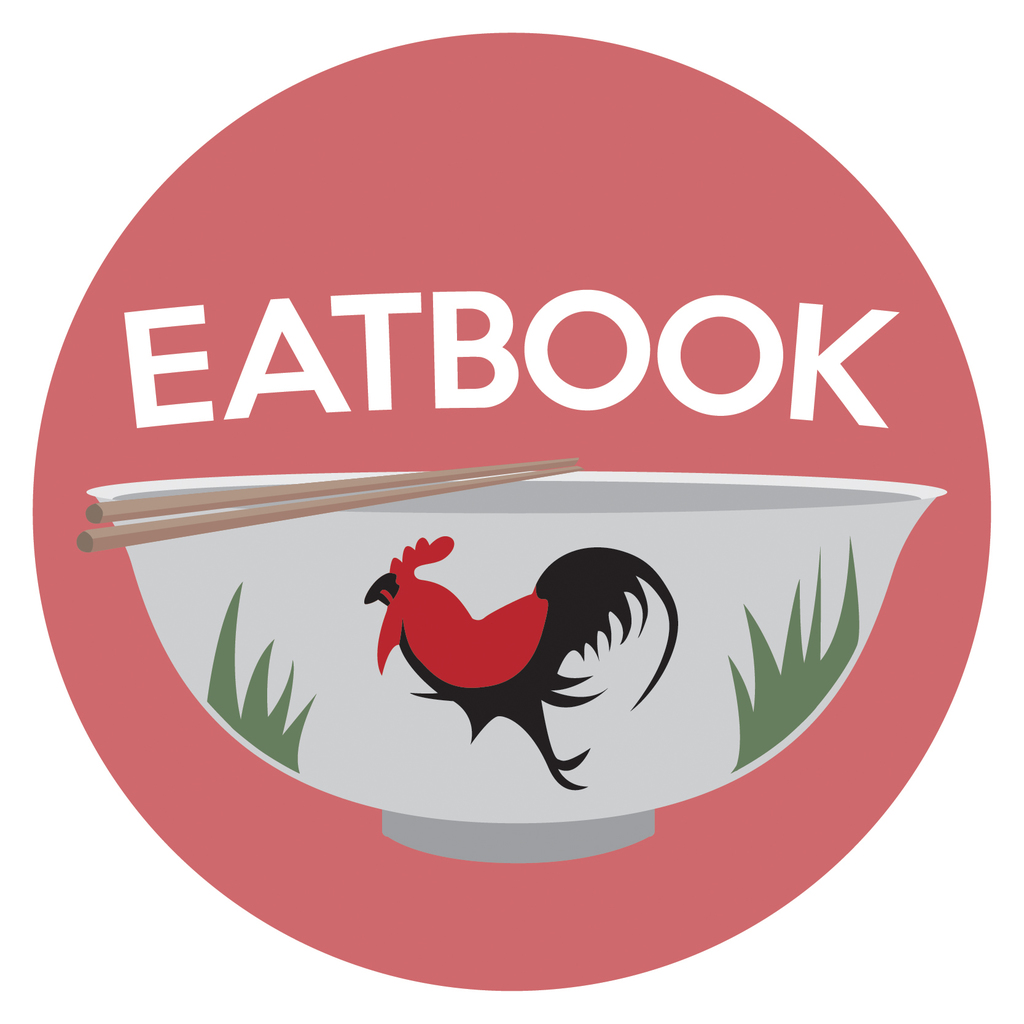 Drop us your email so you won't miss the latest news.