Mango ice-cream at Kiss n' Mango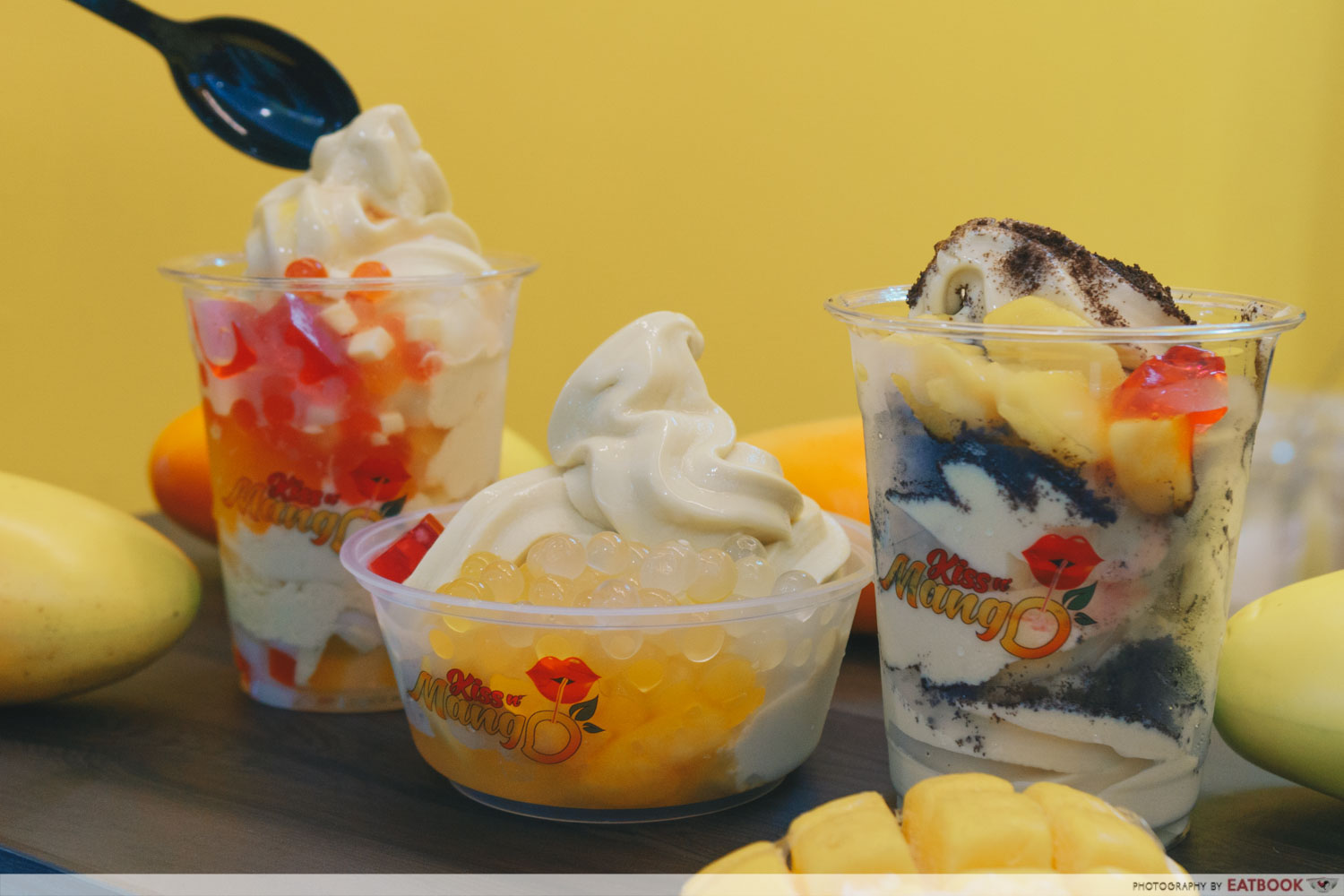 Taking shelter in air-conditioned malls or carrying around a small, portable fan are means for us to survive the intense all-year-round summer heat. Another great way to beat this heat is with some ice-cream. From big brand names to local joints, ice-cream options are plentiful in town. Unfortunately, they tend to come at a steep price. Fret not as Kiss n' Mango provides a great respite from the warm weather with their range of mango-centric desserts.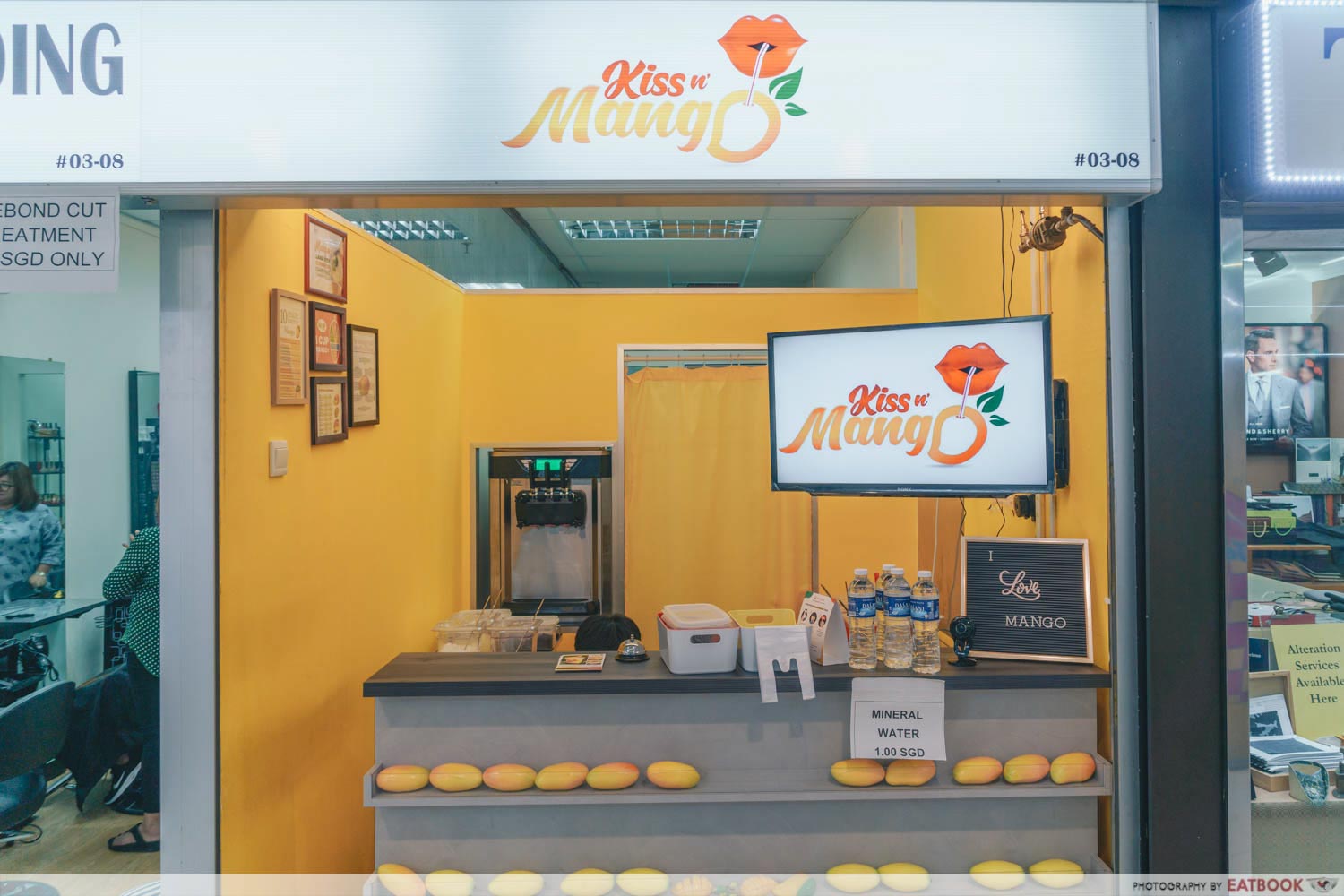 This dessert kiosk in Lucky Plaza was set up by Filipinos who wanted to bring their popular native treats to our sunny island. Filipinos who frequent this mall can get a taste of home, while locals have a chance to try out a foreign dessert.
Food at Kiss n' Mango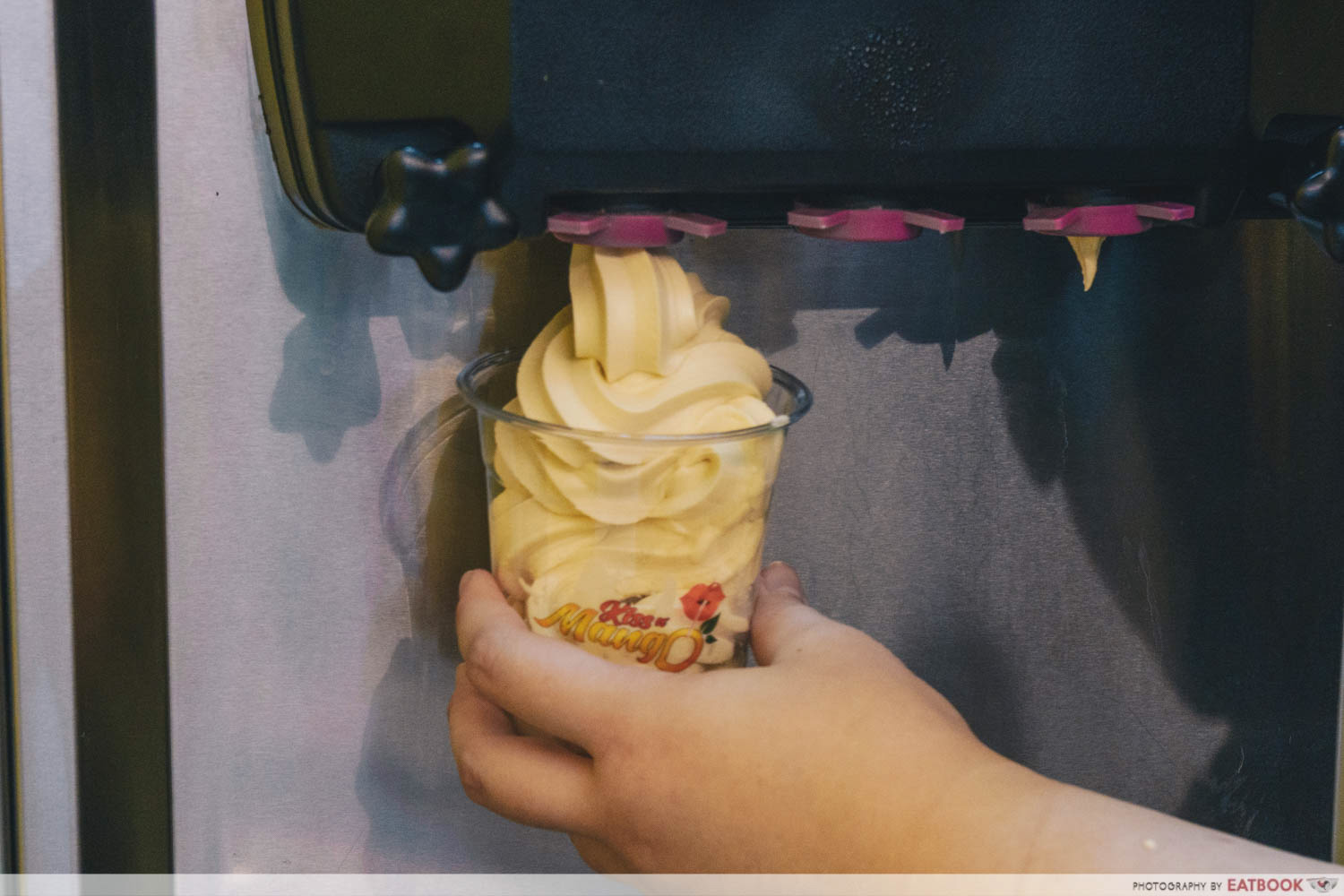 Their simple menu focuses on mango-based desserts, which feature house-made soft serve. The mangoes used to make these treats are imported from Thailand or the Philippines, and are blended to form a puree. 
This fruity mix is then churned with Meiji milk to produce their in-house soft serve. By the way, I'm digging the fact that they don't add any preservatives or sugar to this frozen treat.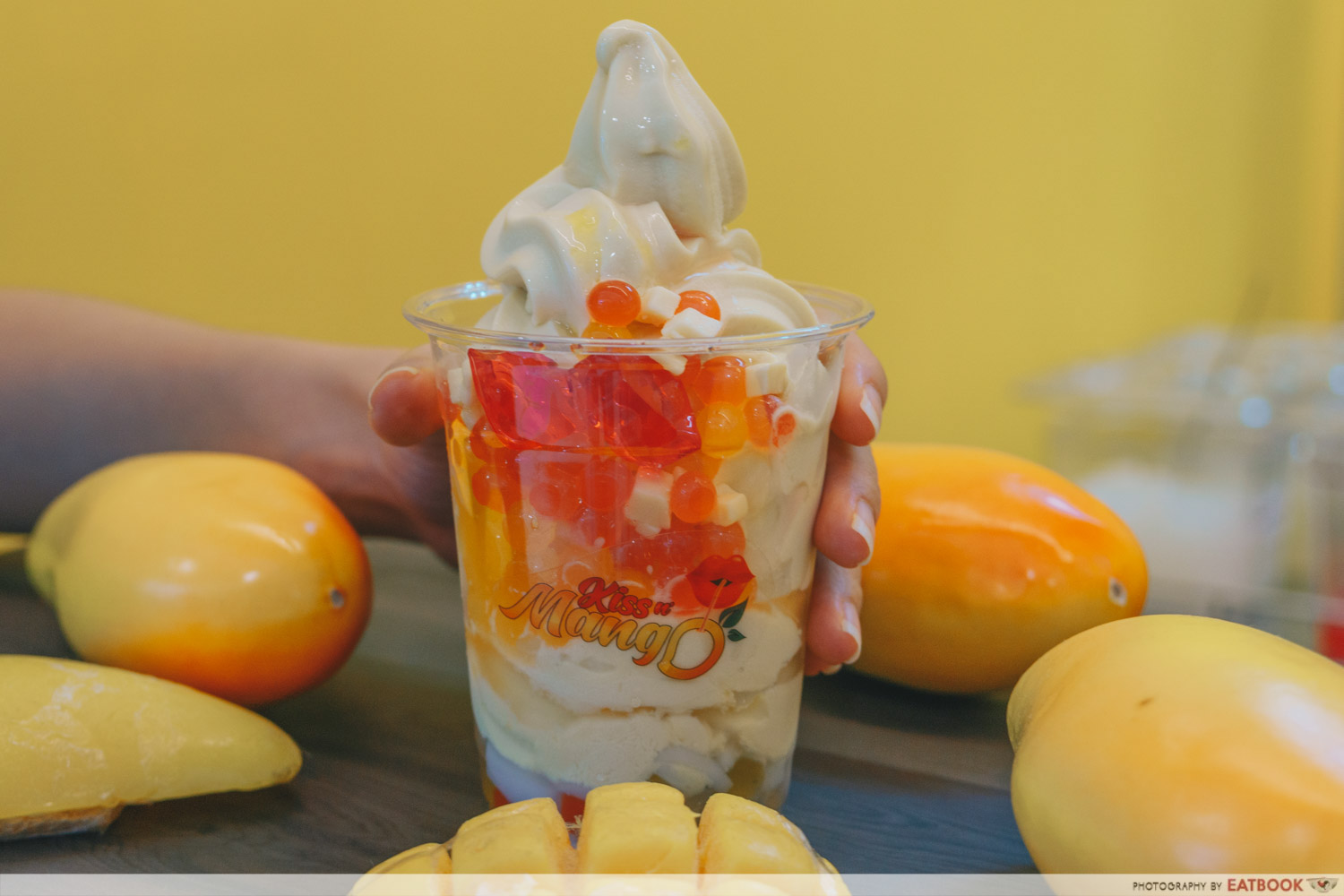 I went for their Mango Halo Halo ($5 for medium, $10 for large), a classic Filipino dessert akin to our local cendol. I opted for a medium serving to make space for the rest of the desserts I'll be having.
Swirls of mango soft serve filled up the cup, along with a colourful mix of jellies. These included their house-made lychee jelly, chewy nata de coco, strips of coconut jelly, and pearls.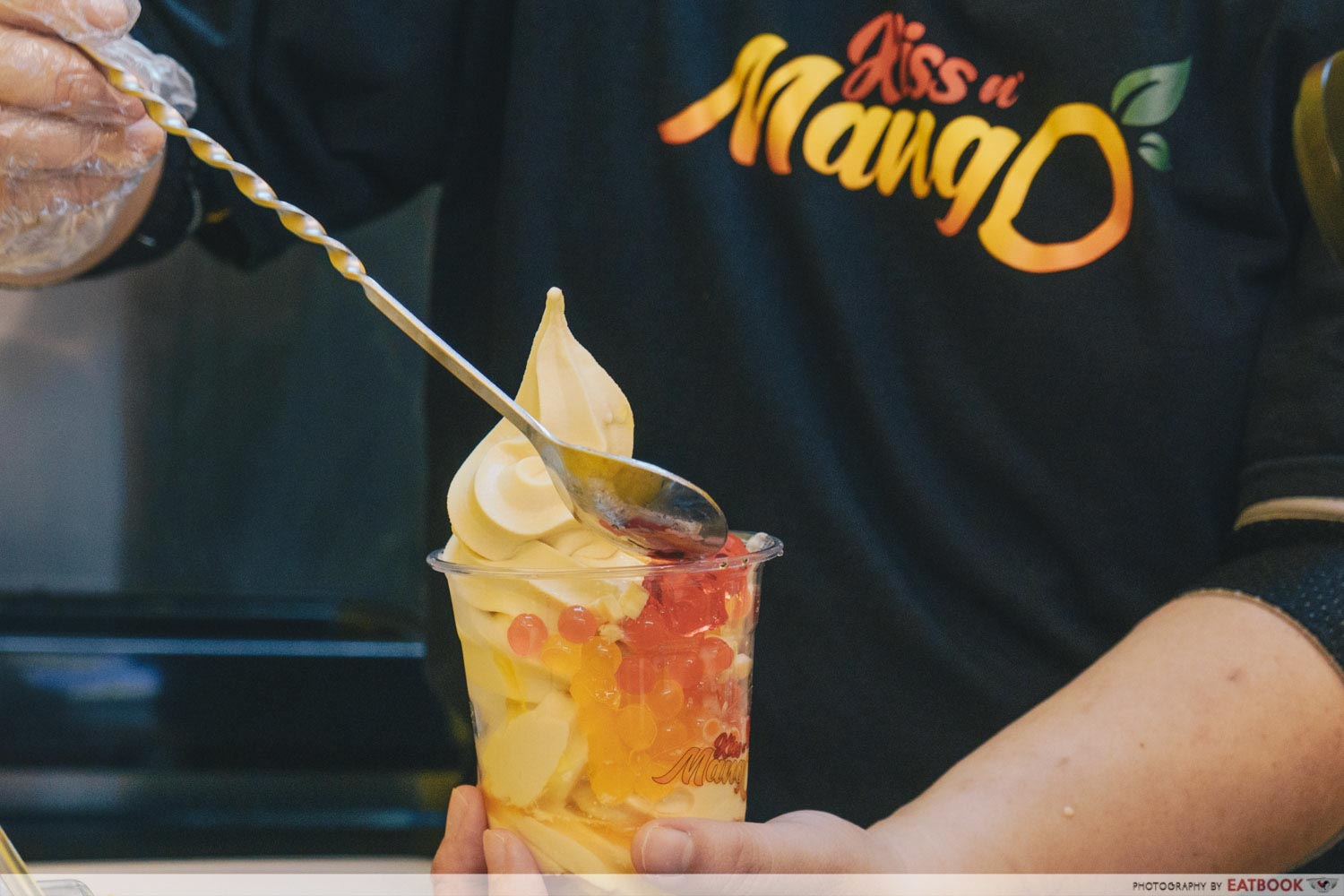 I was low-key shook after taking a spoonful of this dessert as it was overly sweet. The sugary jelly overpowered the mango soft serve, leaving me little room to appreciate the natural sweetness of this frozen treat.
The strawberry syrup-filled pearls burst with sweetness when I bit them, providing an interesting mouthfeel.
I hoped that the chunks of cheese would help cut through all the sugary action. However, there was not enough cheese to have caused such an effect.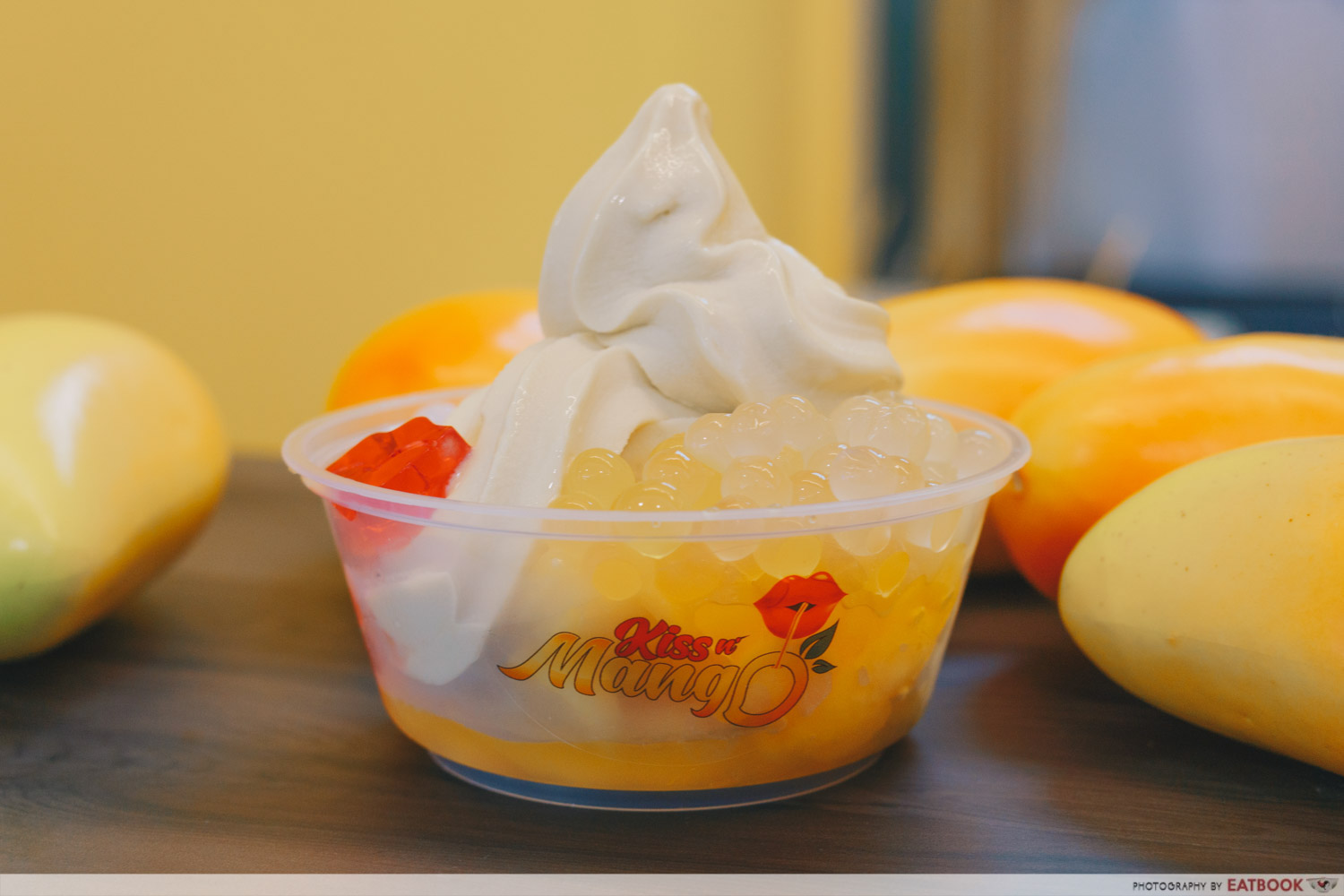 Moving on to the fusion desserts Kiss n' Mango offers, I went for the Mango Popping ($5 for medium, $10 for large). Learning my lesson from how sickly sweet their treats can get, I settled for a medium.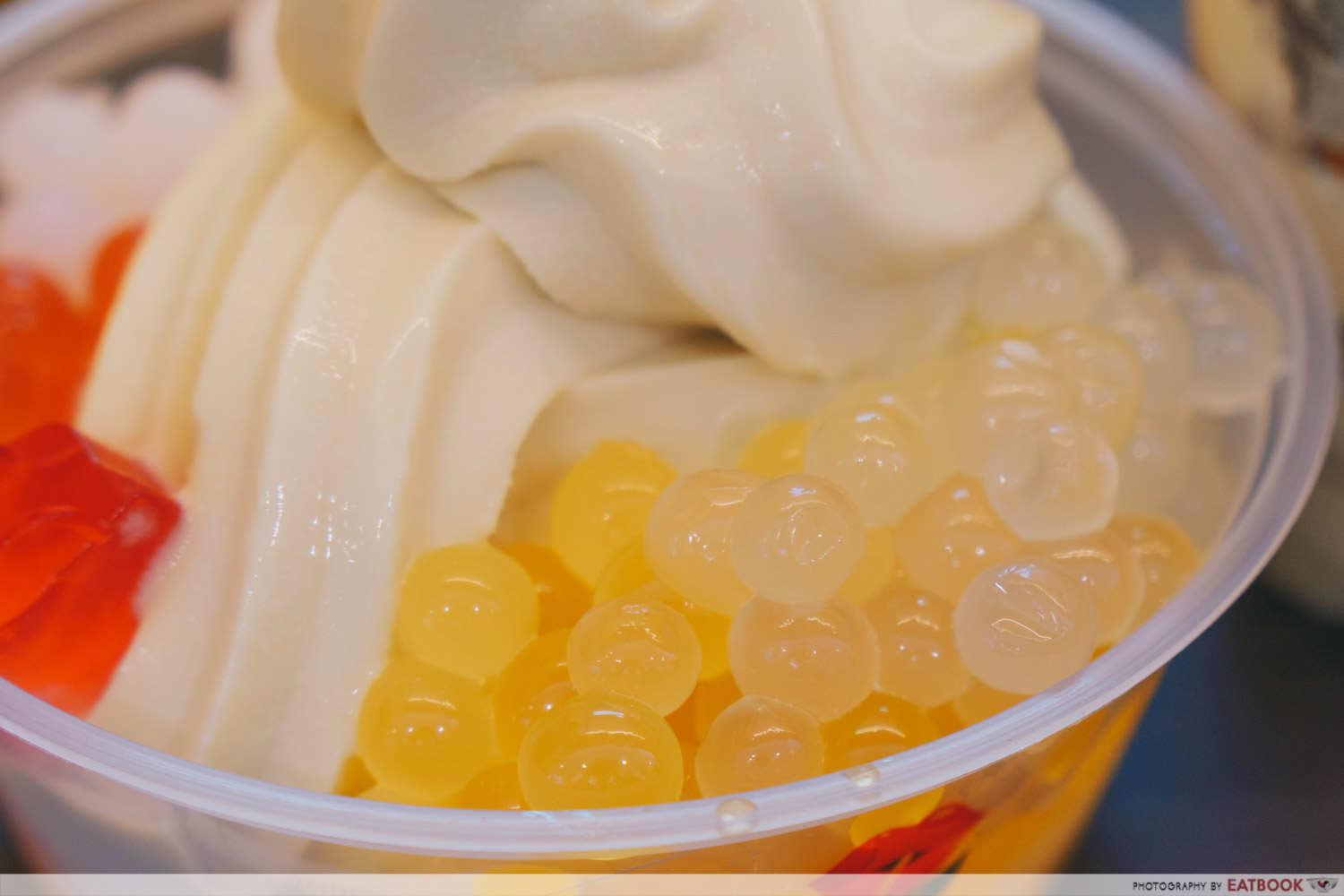 Vibrant popping pearls dotted the generous mango soft serve. A bite of these sugar-filled balls burst out multiple flavours, namely yoghurt, lychee, strawberry, and mango.
Even with a sweet tooth, I found these pearls way too sugary for my liking. The fresh mango slices helped to balance this out, but I wished there were more of it.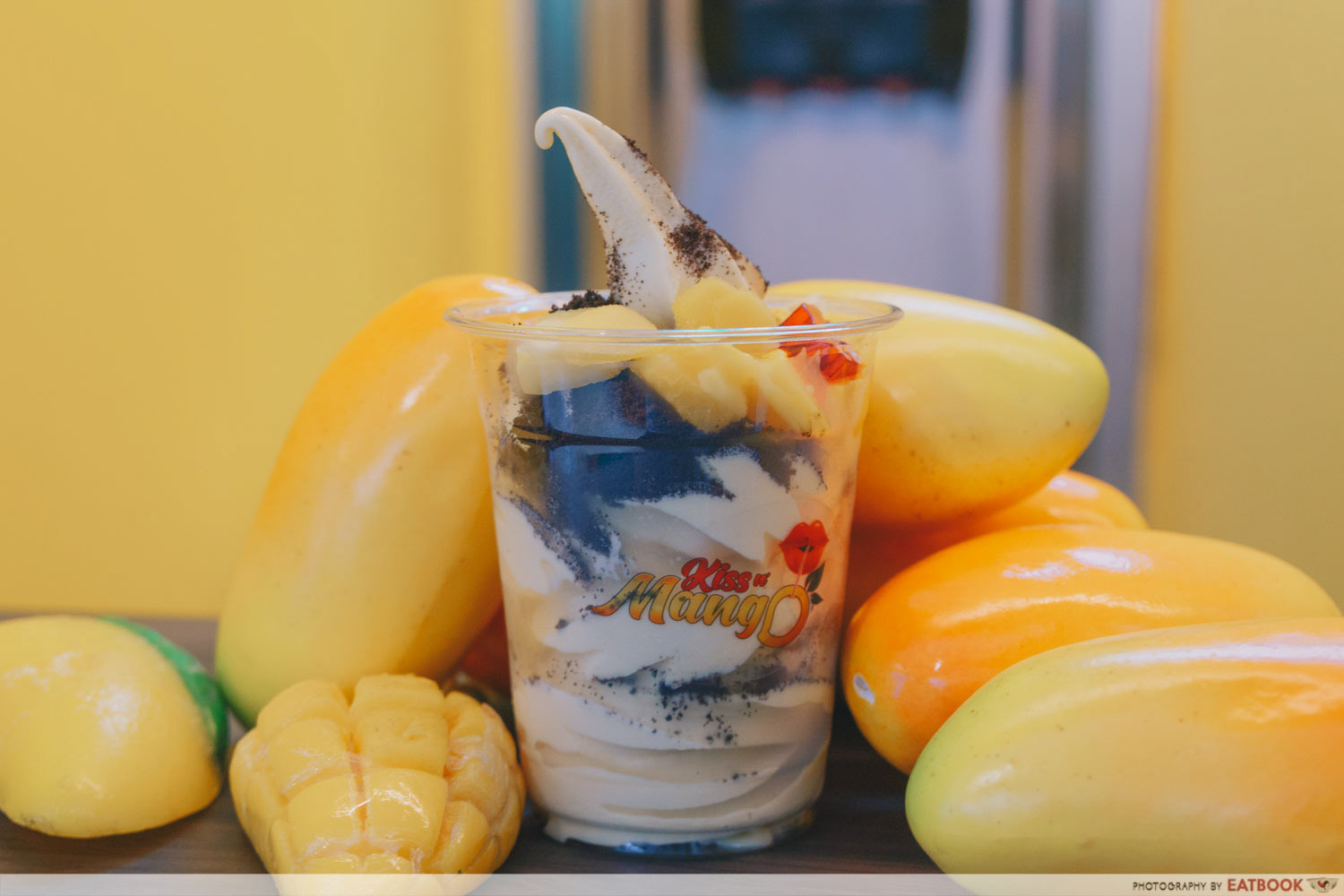 Their Mango Oreo Sundae ($4.50 for small, $5.50 for medium, $9.50 for large) is another twist on a popular Filipino dessert. This mango soft serve included nata de coco, chunks of fresh mango, and a liberal sprinkling of crushed Oreo biscuits.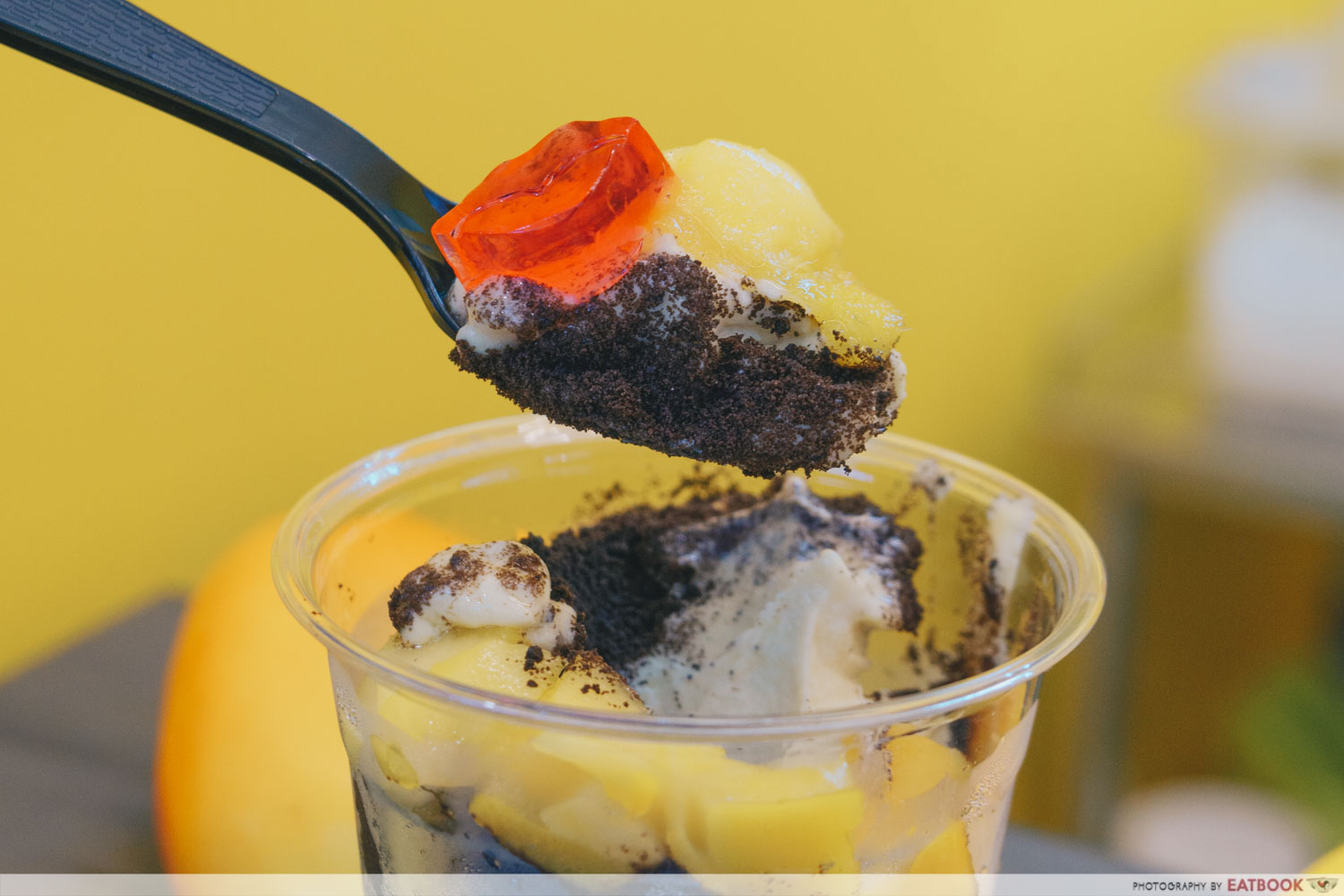 This dessert was the least sweet out of the three which we ordered. The Oreo biscuit and mango pieces countered the syrupy nata de coco. As the cloying toppings were minimal, you'll get a better chance to appreciate the mango soft serve on its own.
Ambience at Kiss n' Mango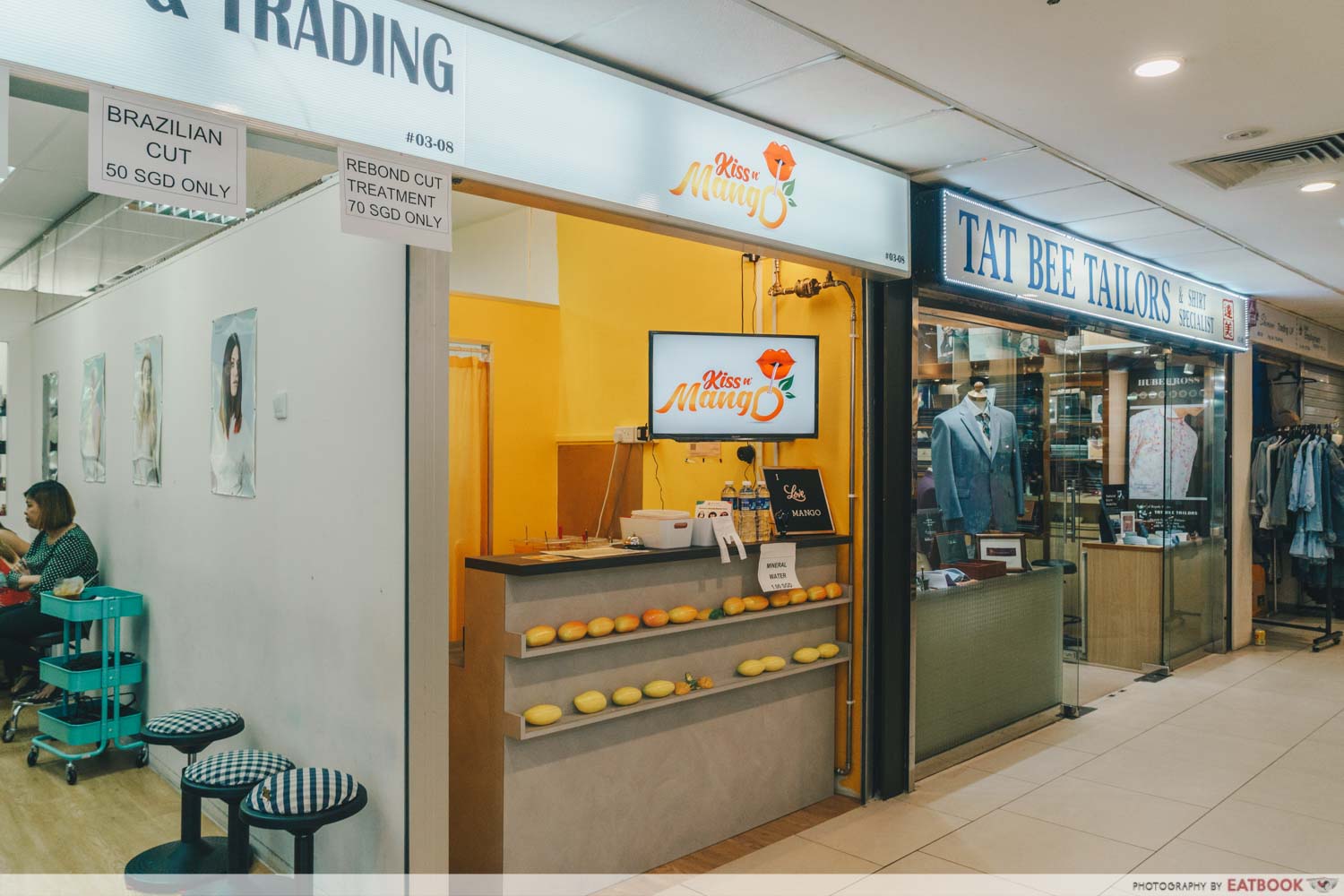 Operating as a dessert kiosk in Lucky Plaza, Kiss n' Mango doesn't offer any seating options. Instead, you have to eat their mango desserts on the go while roaming this mall and learn more about Filipino culture by visiting the various ethnic shops here.
The verdict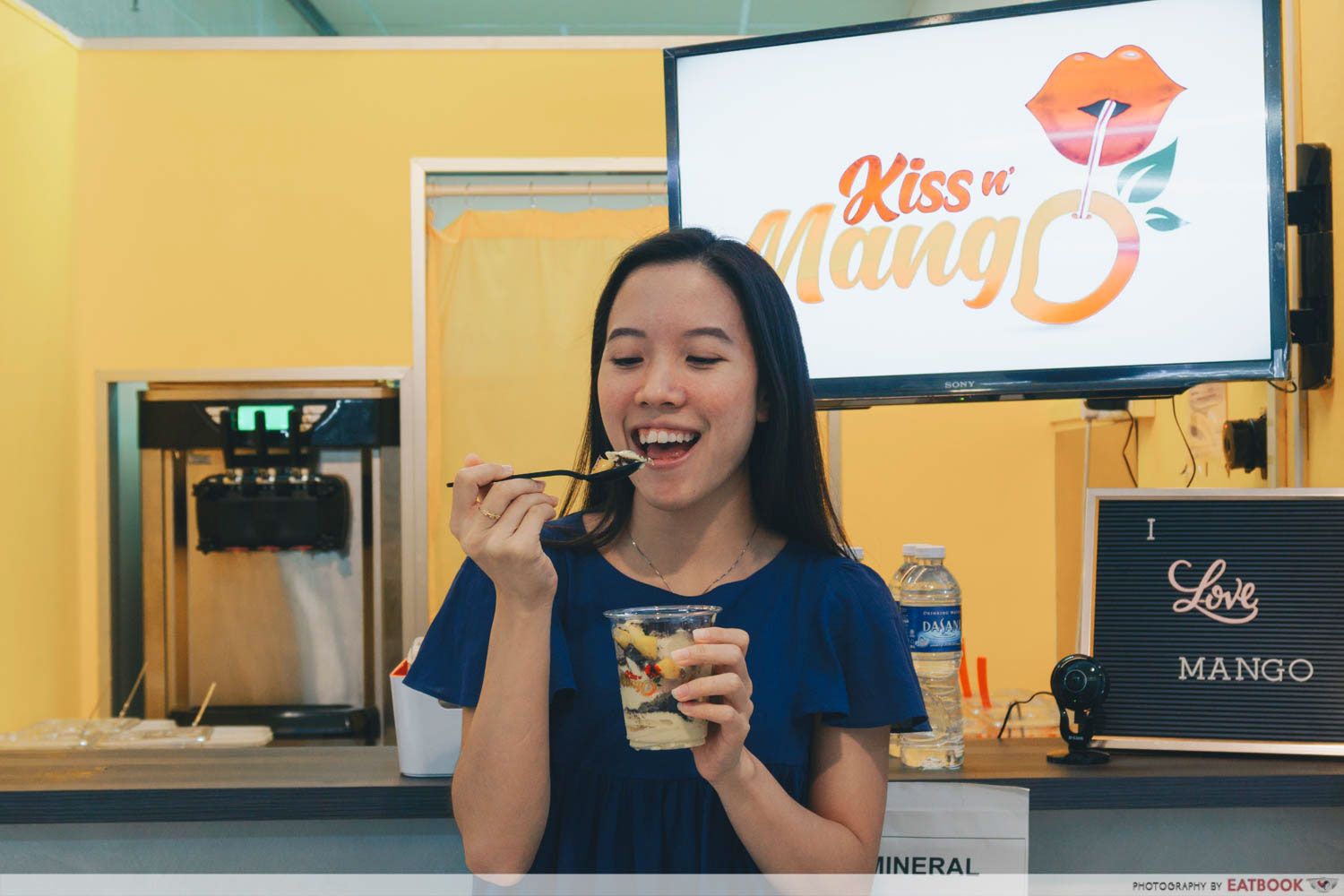 Kiss n' Mango is average at best. Though the mango soft serve was yummy on its own, there wasn't anything spectacular about it to warrant a second visit. It doesn't help that the cloying toppings overwhelmed the natural sweetness of this soft serve. However, my colleague who went to the famed Maxi Mango also didn't like the ice-cream there either. Perhaps these sweet mango treats are created purely for Filipino taste buds. 
If you're looking for a more filling meal in Lucky Plaza, check out our full review of My Favourite Cafe!
Address: 304 Orchard Road, #03-08, Lucky Plaza, Singapore 238863
Opening hours: Mon-Sat 1pm to 6pm, Sun 11am to 6pm
Tel: 9273 9861
Website
Photos taken by Julia Thong.
This is an independent review by Eatbook.sg.
Kiss N' Mango Review: Mango Halo Halo At This Hidden Ice-Cream Joint At Orchard
Summary
Pros
– Prices are reasonable
– Generous portion of mango soft serve
Cons
– Overly sweet toppings
– Average tasting mango soft serve
Recommended dishes: Mango Oreo Sundae ($4.50/$5.50/$9.50)
Opening hours: Mon-Sat 1pm to 6pm, Sun 11am to 6pm
Address: 304 Orchard Road, #03-08, Lucky Plaza, Singapore 238863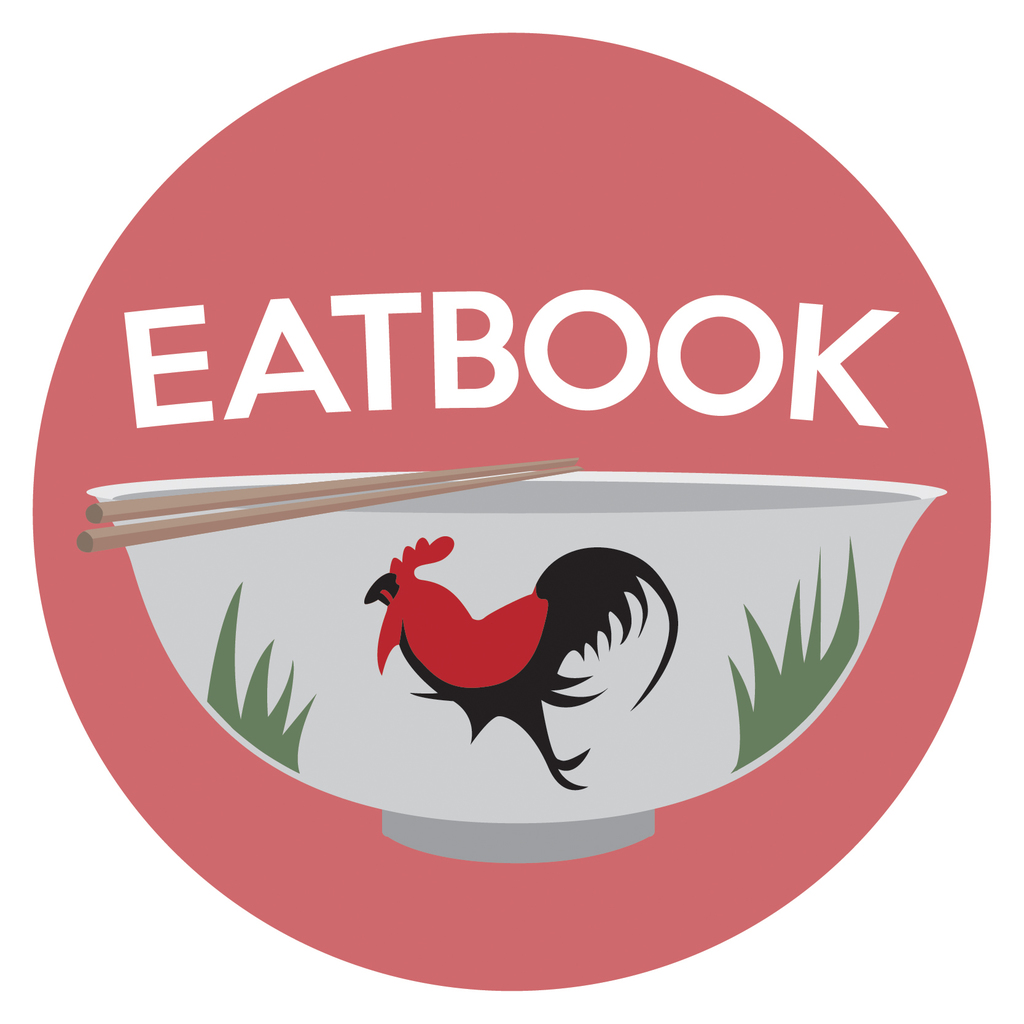 Drop us your email so you won't miss the latest news.