Konditori Artisan Bakes at Bugis 
I don't patronise artisanal bakeries often, but once in a while, I'll splurge on their pricier bakes to treat myself. This time, Konditori Artisan Bakes' pastries enticed me with their various flavours and pretty adornments, inspiring me to brave their snaking queues and find out what the hype is all about. 
Food at Konditori Artisan Bakes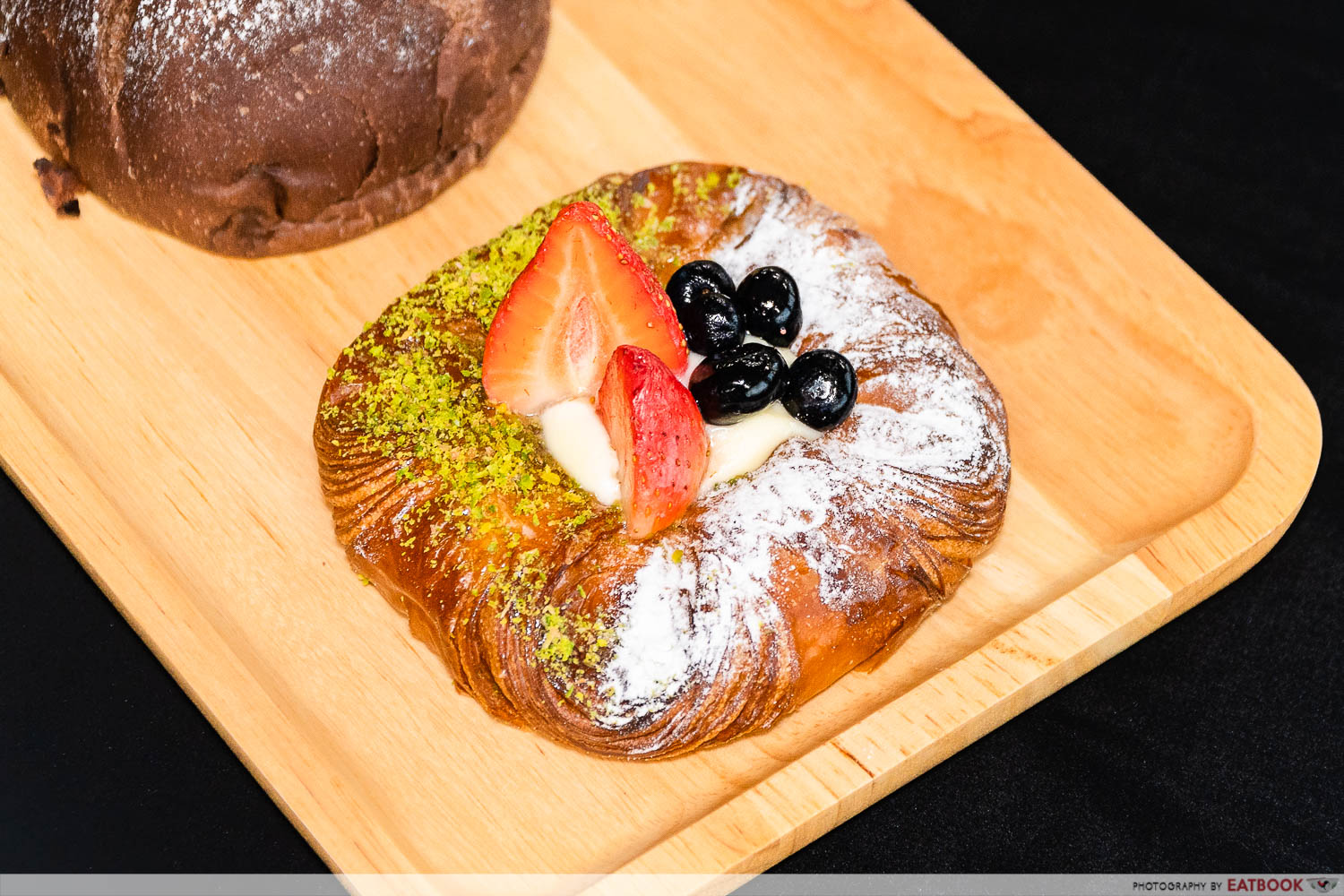 My colleague and I started off with their bestseller, the Strawberry Cream Cheese Danish ($5.90+), which came with crushed pistachio sprinkled on one half, powdered sugar on the other, as well as a handful of fresh fruits in the middle.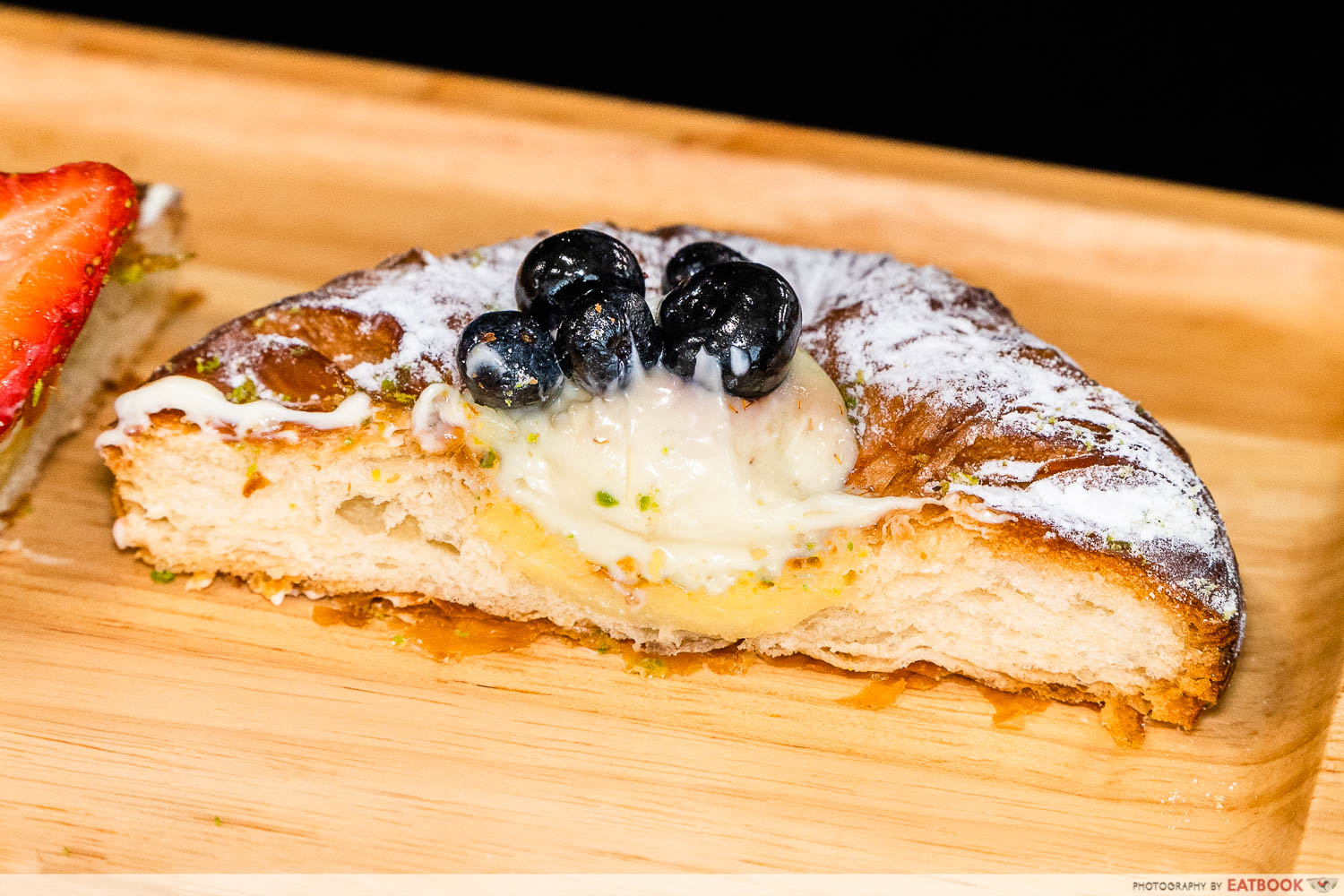 There's no other way to describe this combination of cream cheese and pastry except as 'luxuriously simple'. The smooth cream cheese, when eaten with the layers of pastry, made for an indulgent afternoon treat.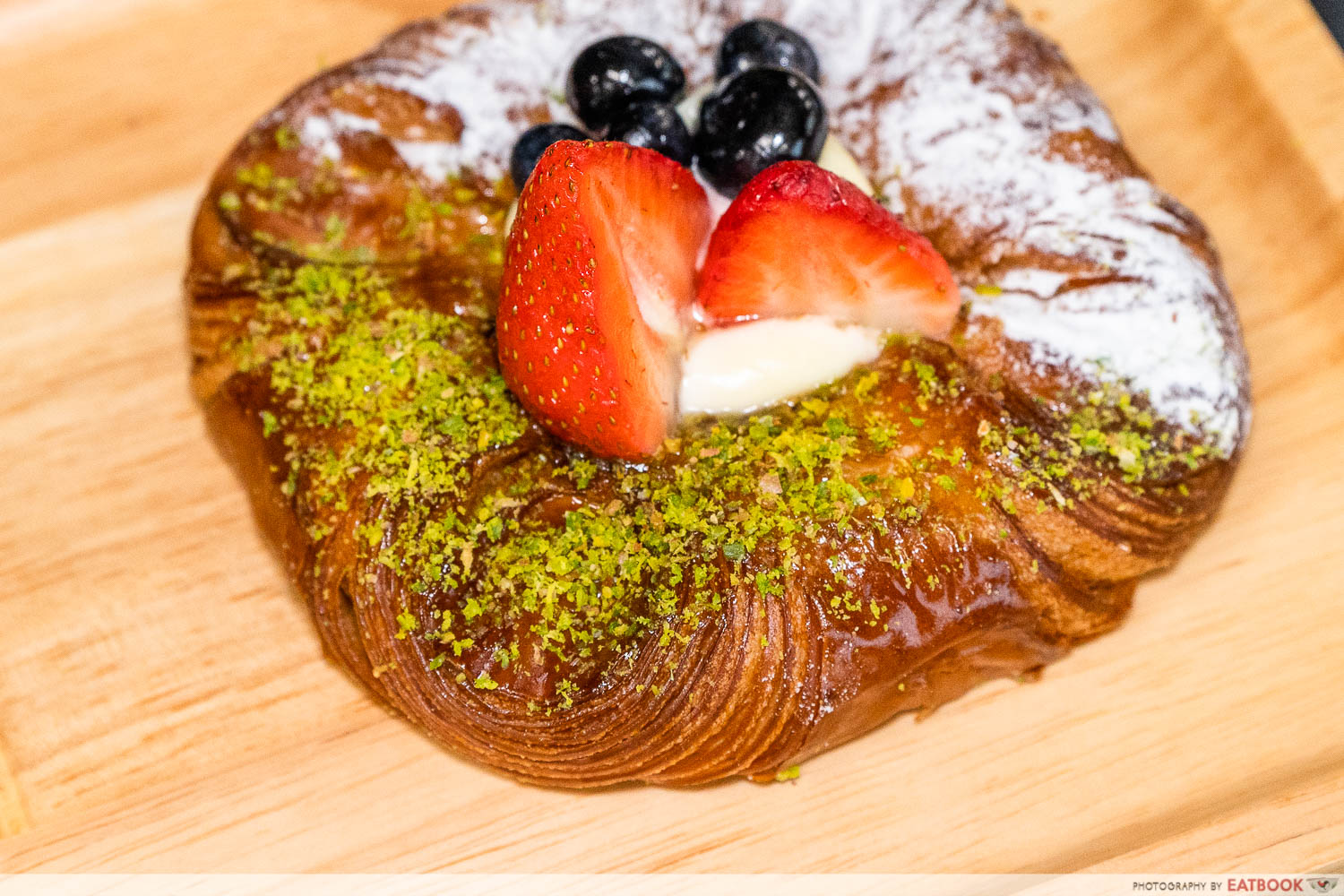 Though I felt the additional pistachio bits didn't contribute much flavour to the overall taste of the danish, I especially liked the fresh cut strawberries and blueberries, as they balanced the cream cheese with a touch of tartness.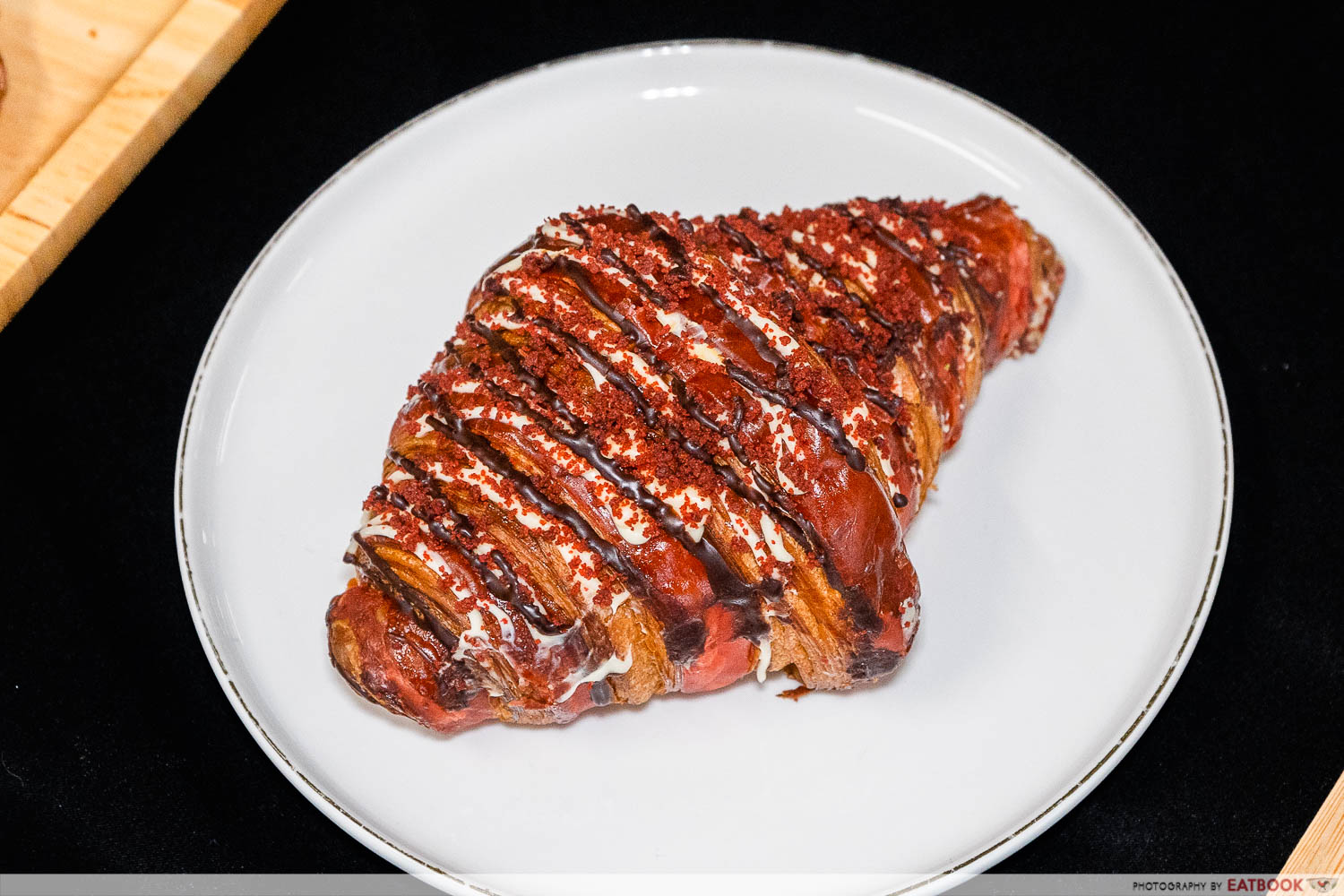 Also filled with cream cheese was the Red Velvet Croissant ($5.90+), which was arguably the prettiest item of all the pastries we tried. Its alternating colours of red and brown, drizzles of chocolate and cream cheese, and red velvet sprinkles beckoned me to take a bite.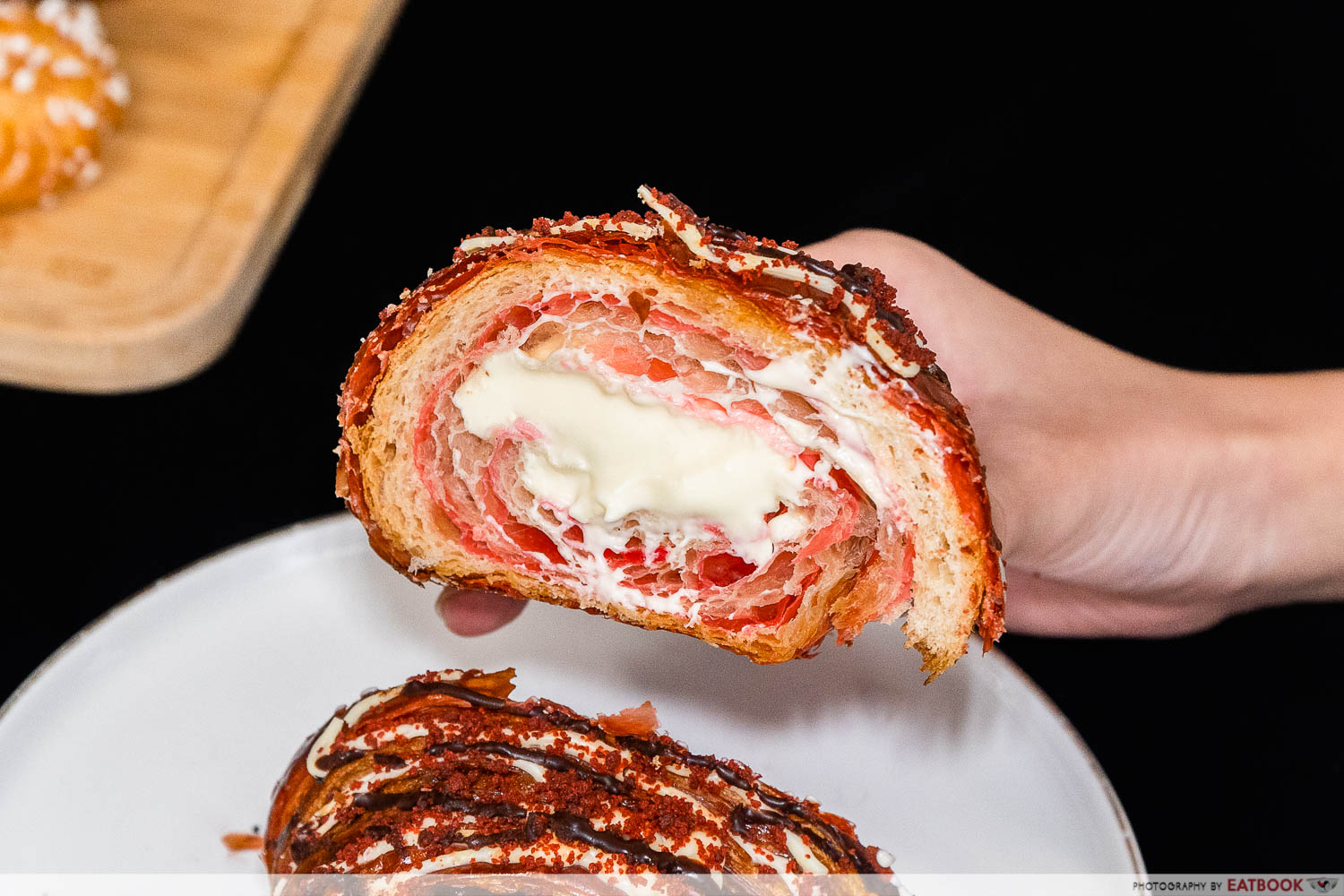 Yet, as I gave in and took a bite, this item left me wishing for more, and not in a good way. Though the combination of cream cheese and croissant layers were pleasant, I couldn't help but find the taste of the chocolate lacking. 
I was slightly disappointed as the promising pinkish-red layers had led me to believe that I would be getting a delightful mix of cream cheese and chocolate in every bite, which wasn't the case here.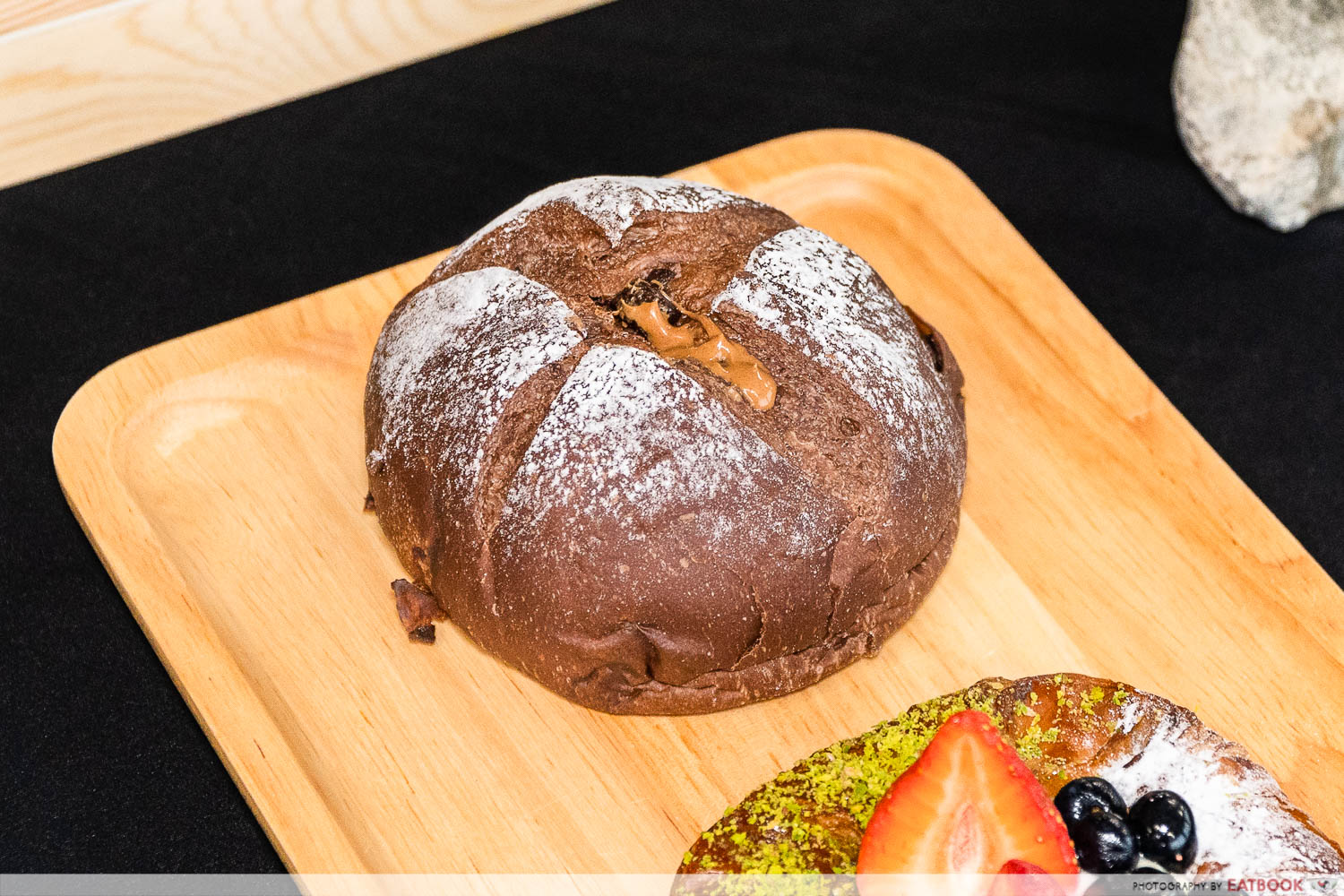 I was also excited to try the Dark Angel ($4.50+), intrigued by its mysterious-sounding name. Its scored top hinted at the velvety hazelnut praline cream on the inside.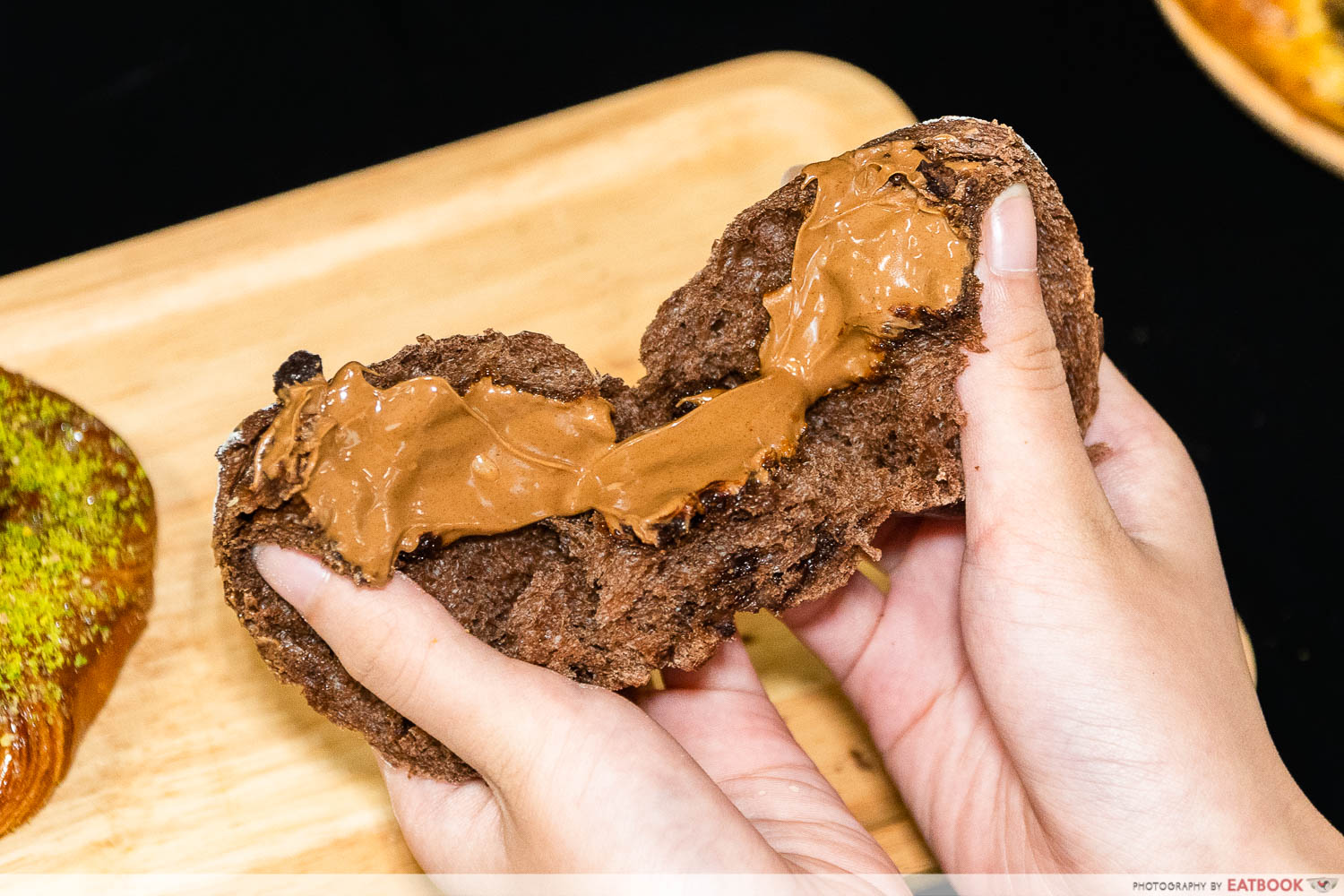 The praline cream was undoubtedly gao, and tasted like a boujee version of Nutella. With moist and fluffy bread spotted with Veliche Belgian chocolate, this was a delectable bun at a great price point.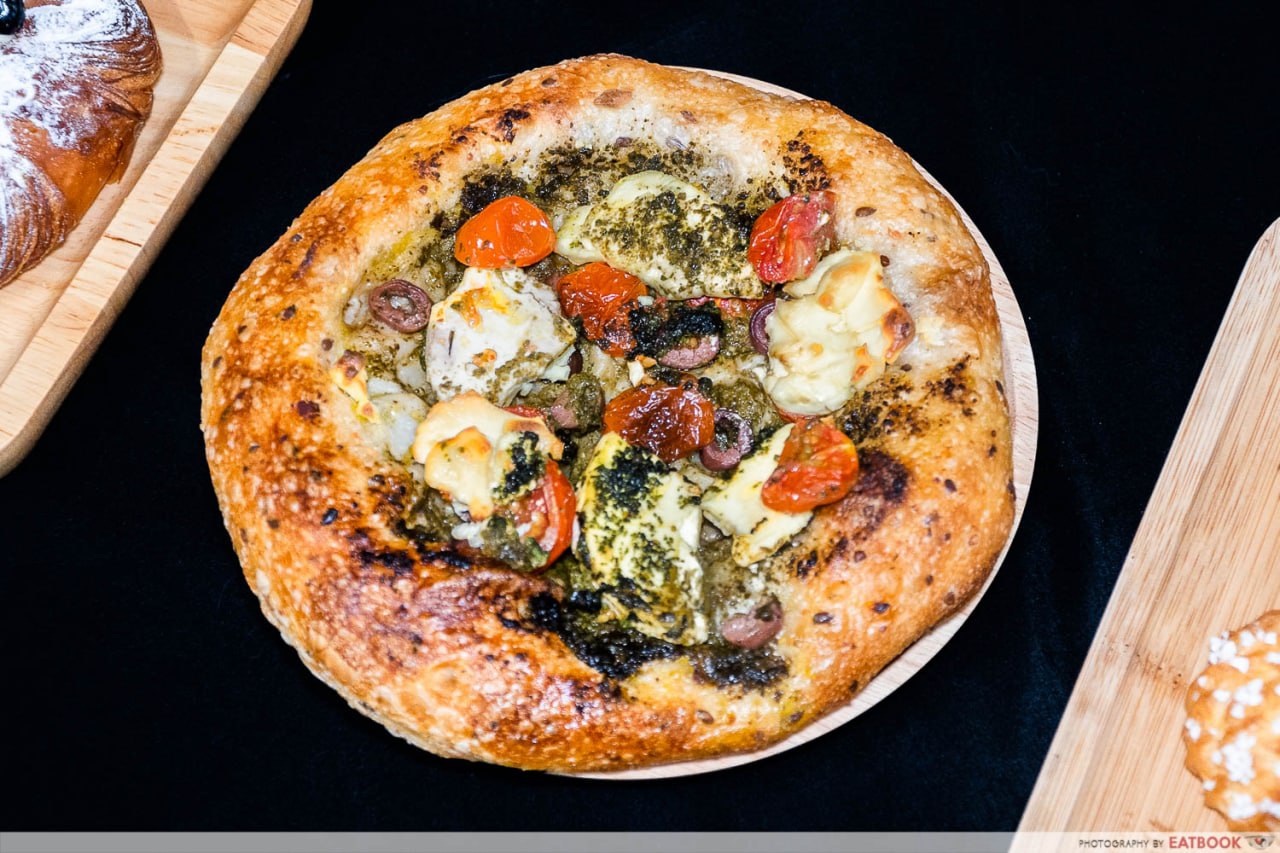 Moving on to their selection of savoury bakes, the Sun-Dried Tomato and Cheese Basil Pesto Sourdough ($8.90+) was one of their heftier items, with its shape and size almost comparable to that of a pizza. Made using a house-made starter, the sourdough was light and airy, with a pleasant chewiness.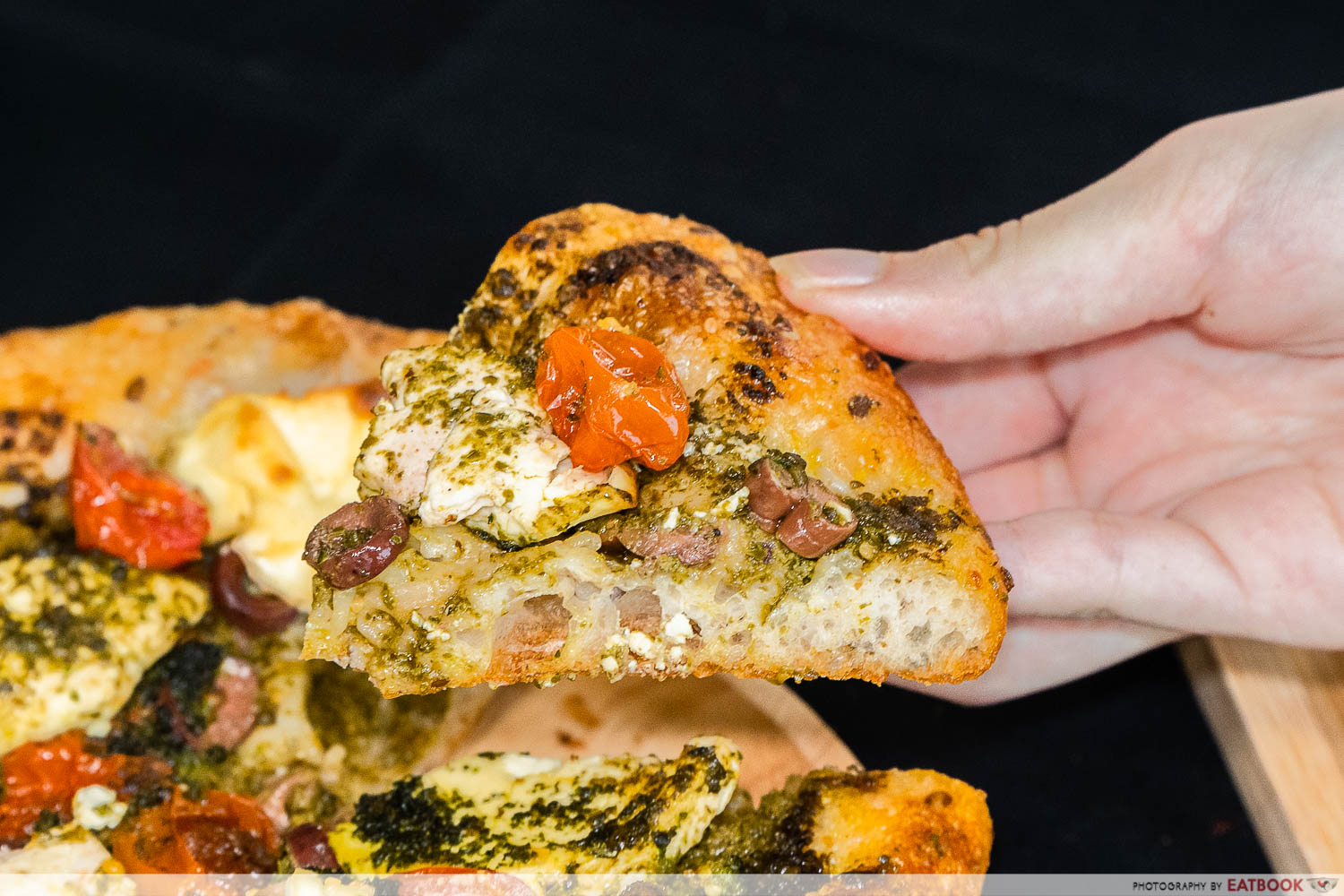 Though I really enjoyed the herby, nutty flavour from the pesto, I found the cubes of halloumi cheese too chunky for my liking, and thus got rather cloying at times.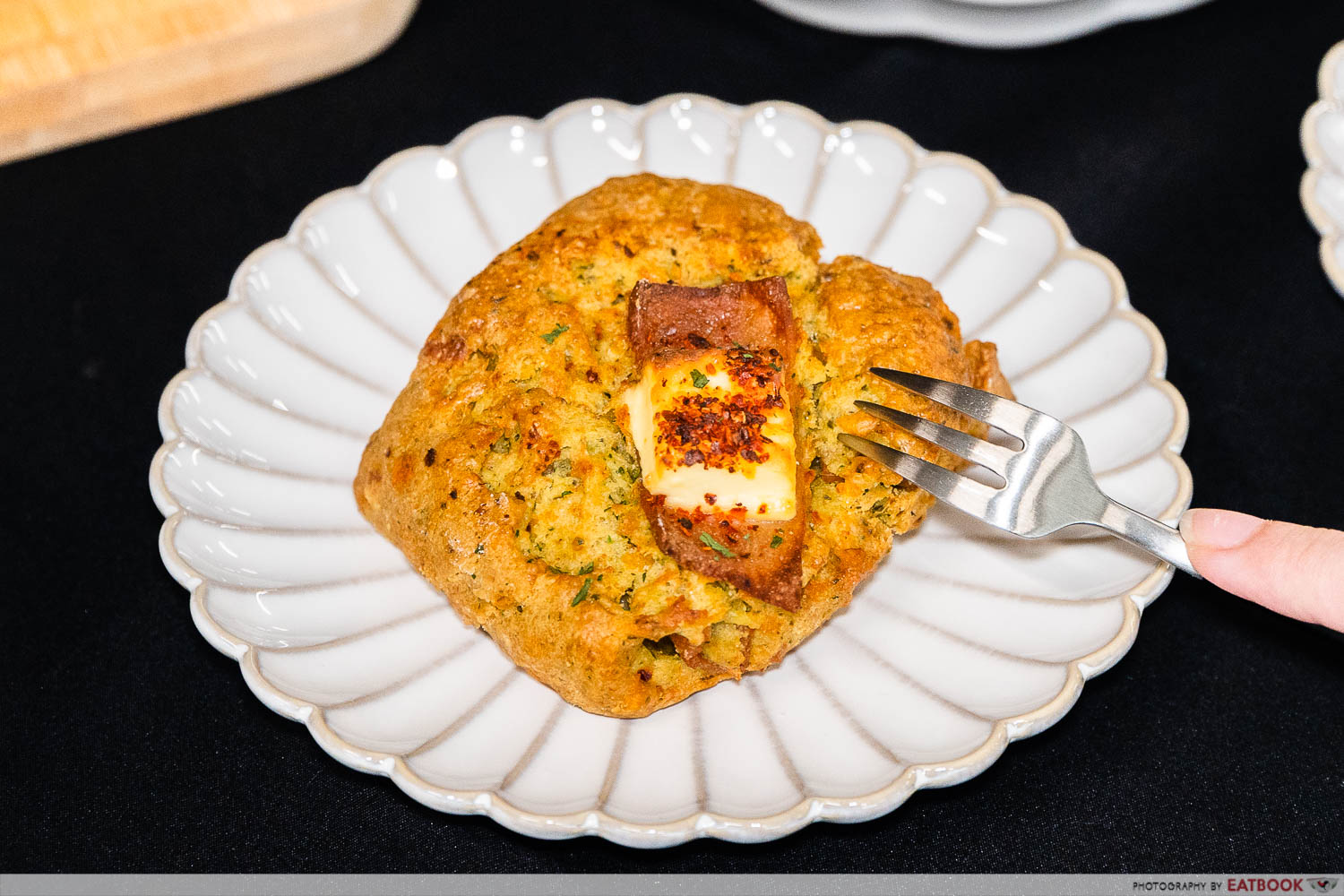 Another pesto-flavoured item available here is the Pesto and Bacon Scone ($3.50+). Topped with a slice of bacon, cream cheese, and a touch of red pepper, this rather unassuming bake managed to bring a surprisingly complex flavour profile to the table.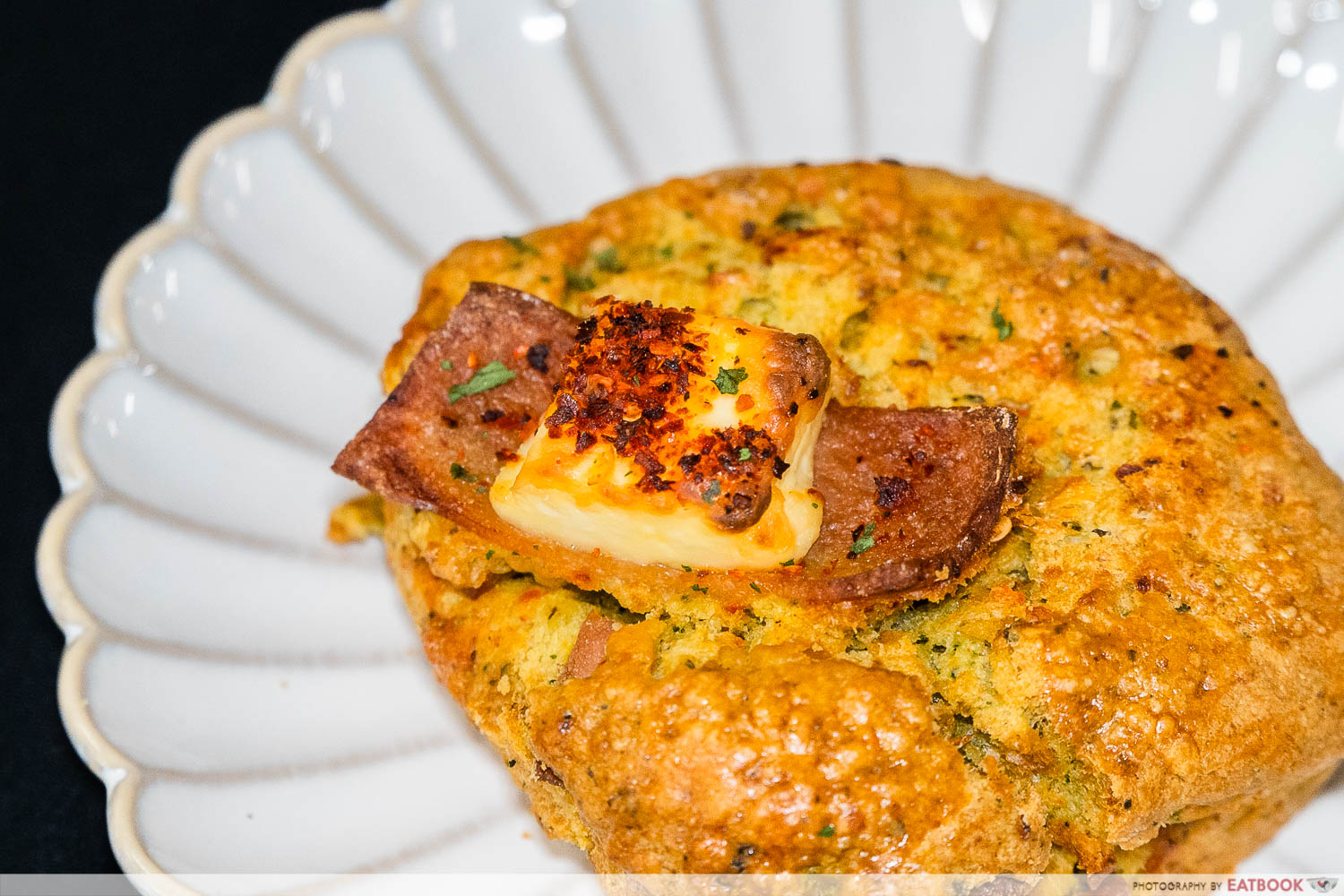 With a dough that was laced with red pepper flakes, each bite of this dense scone not only carried the taste of the herby pesto, but also brought a subtle heat to it. 
However, I felt that the scone would've done better with more slices of bacon to counteract its dry texture.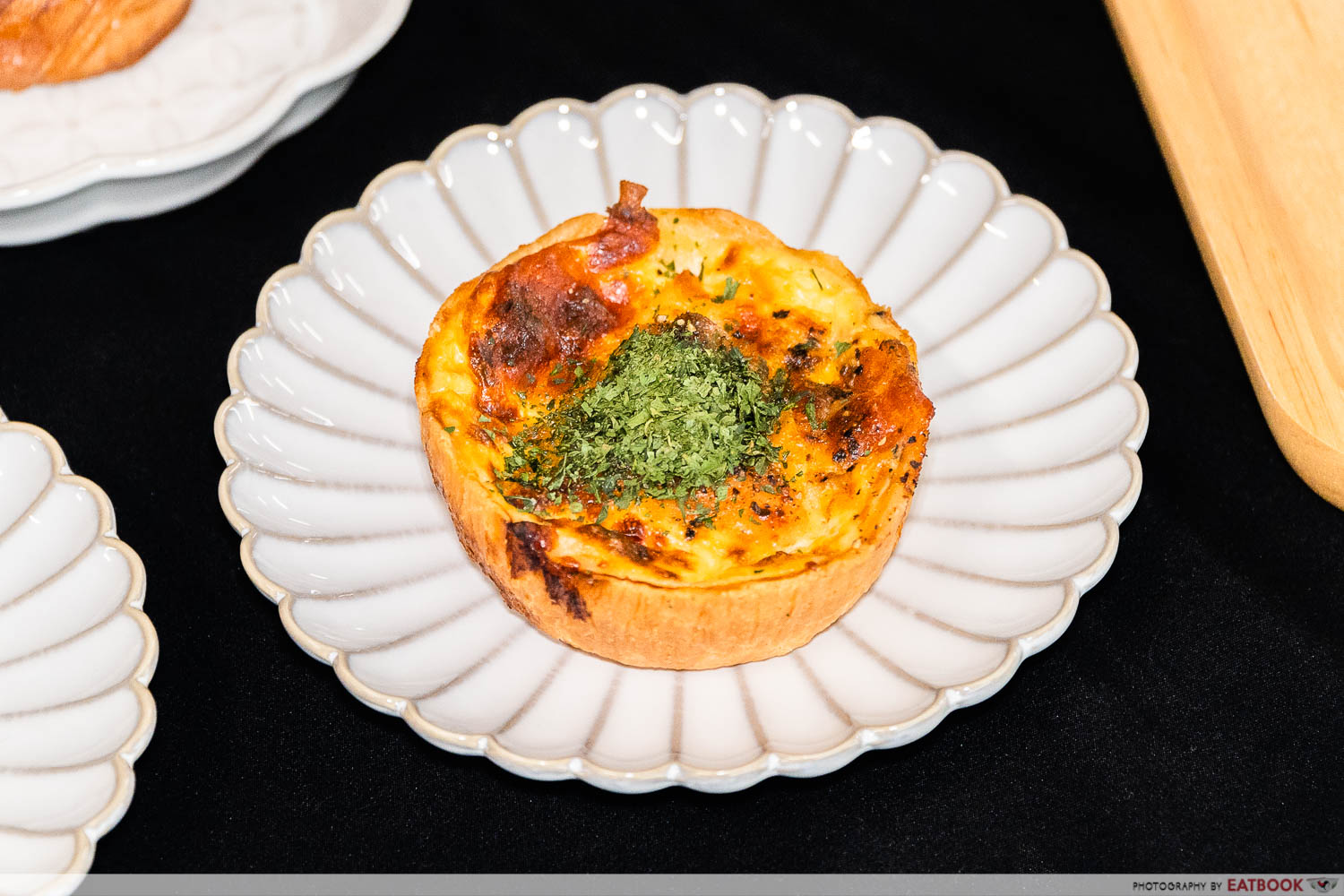 Konditori Artisan Bakes also offers a variety of quiches, including a Smoked Salmon Quiche ($8.50+), which comes generously garnished with parsley.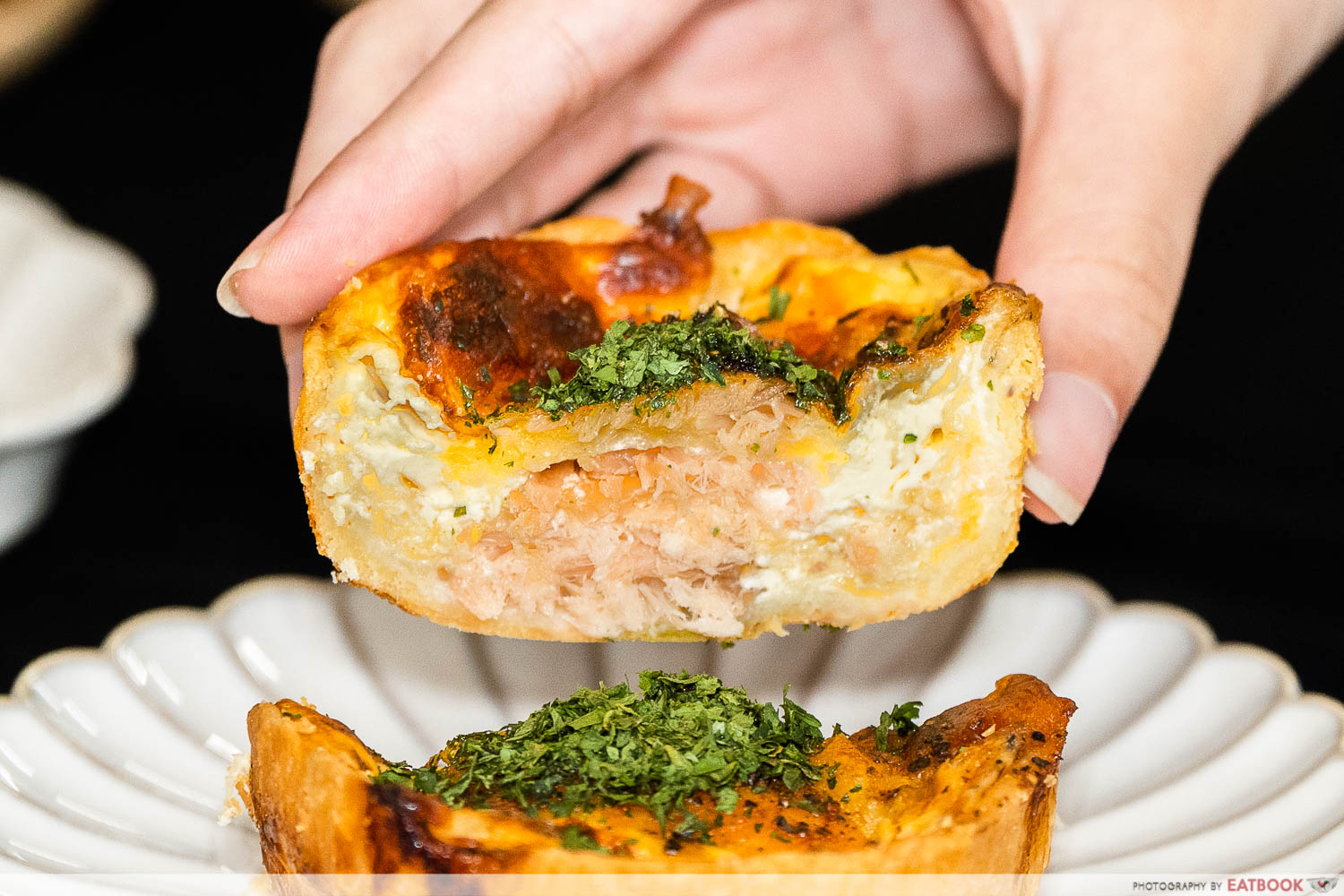 Though the salmon ended up being more cooked than smoked, I'm not complaining as the savoury fish went well with the creamy, eggy custard.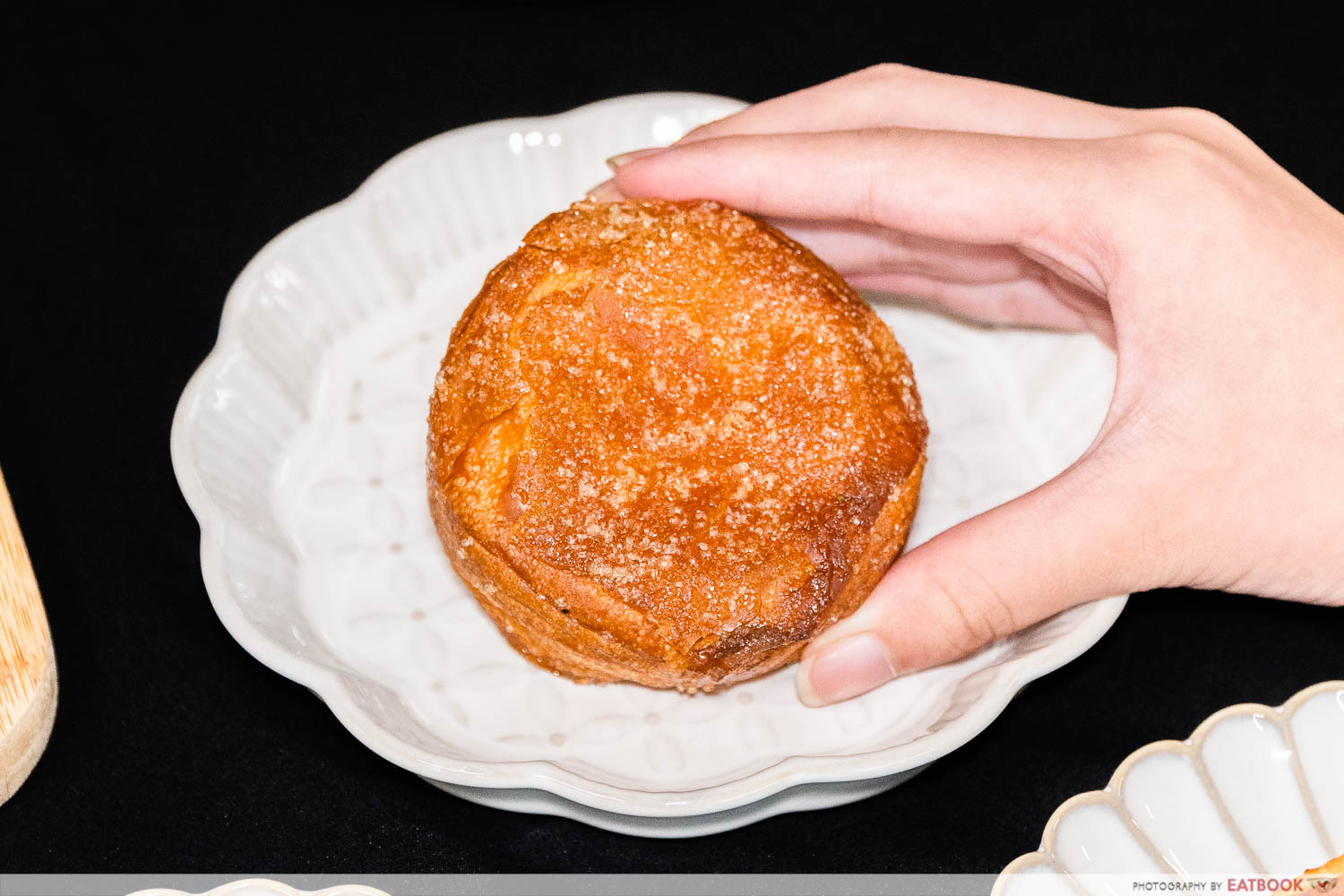 For something sweeter, try the Kouign Amann. It's one of Konditori's cheaper items, going at $2.90+.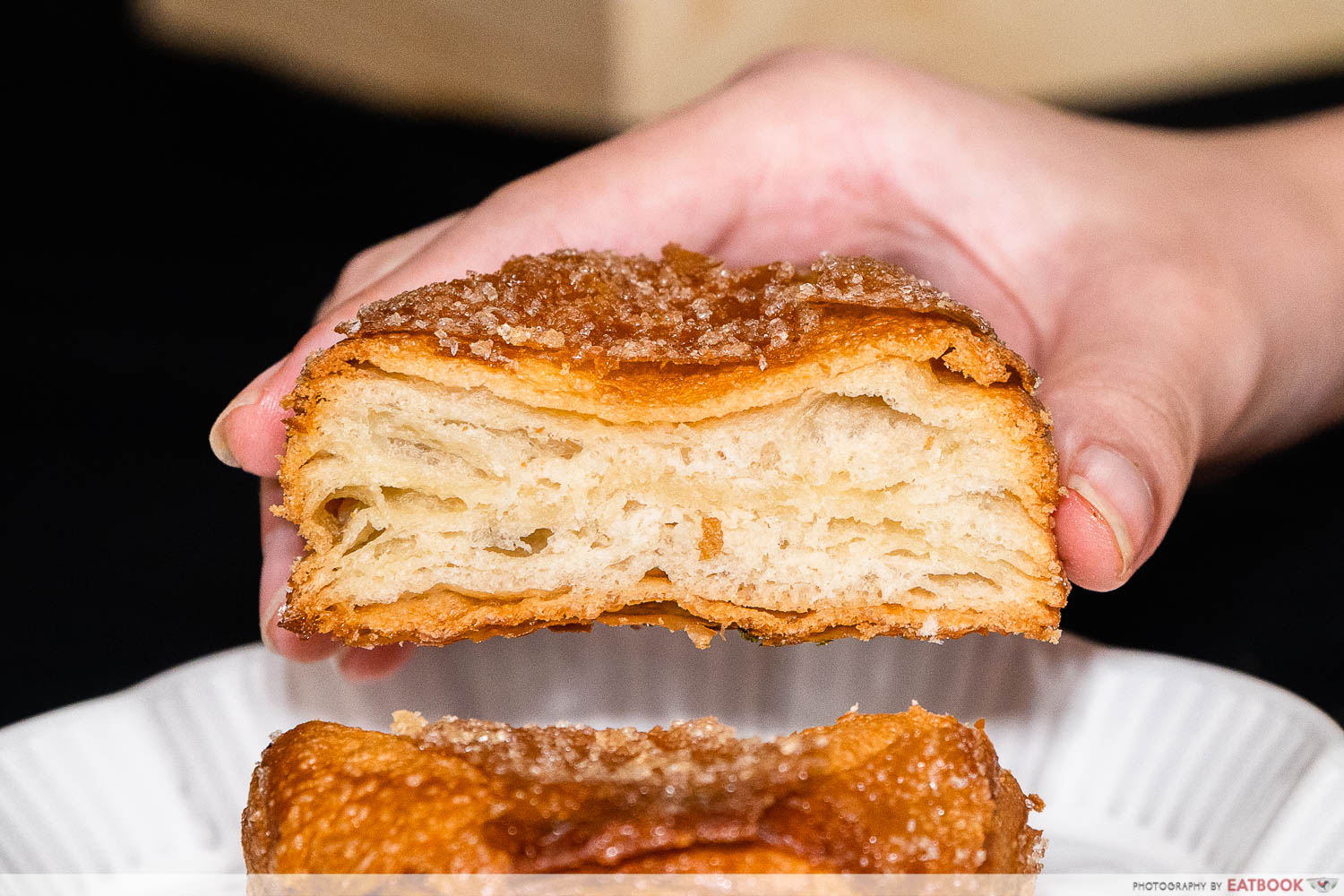 Unfortunately, Konditori's rendition lacked the iconic caramelised layers quintessential to this French pastry. Though it still remains a decent bake, it was overshadowed by the other items on the menu, which had stronger flavours.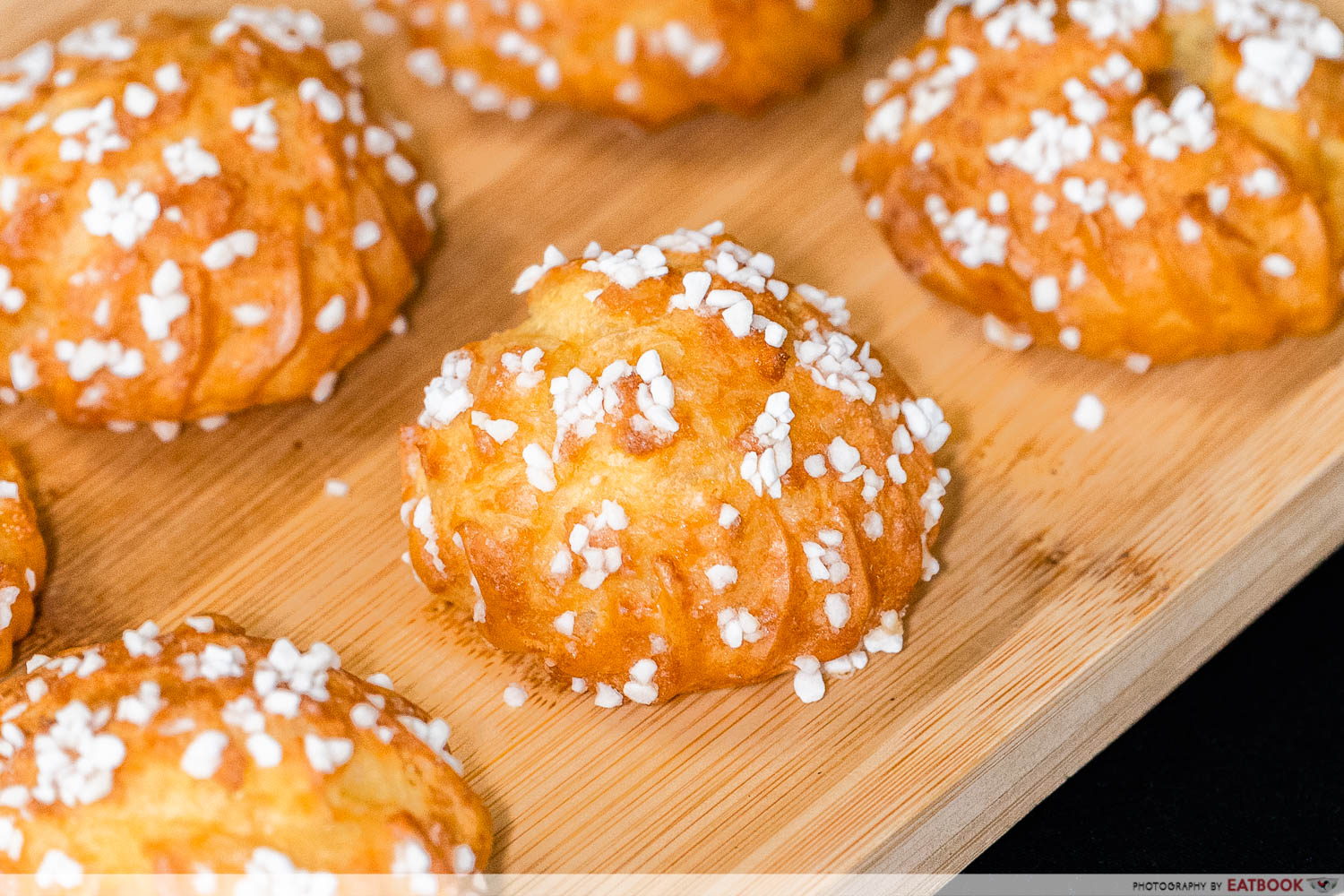 We also tried the Choquettes ($4.90+), which come in a box of six. They were characteristically light and full of air, with the pearl sugar bits adding some greatly-needed sweetness and crunch. 
Ambience at Konditori Artisan Bakes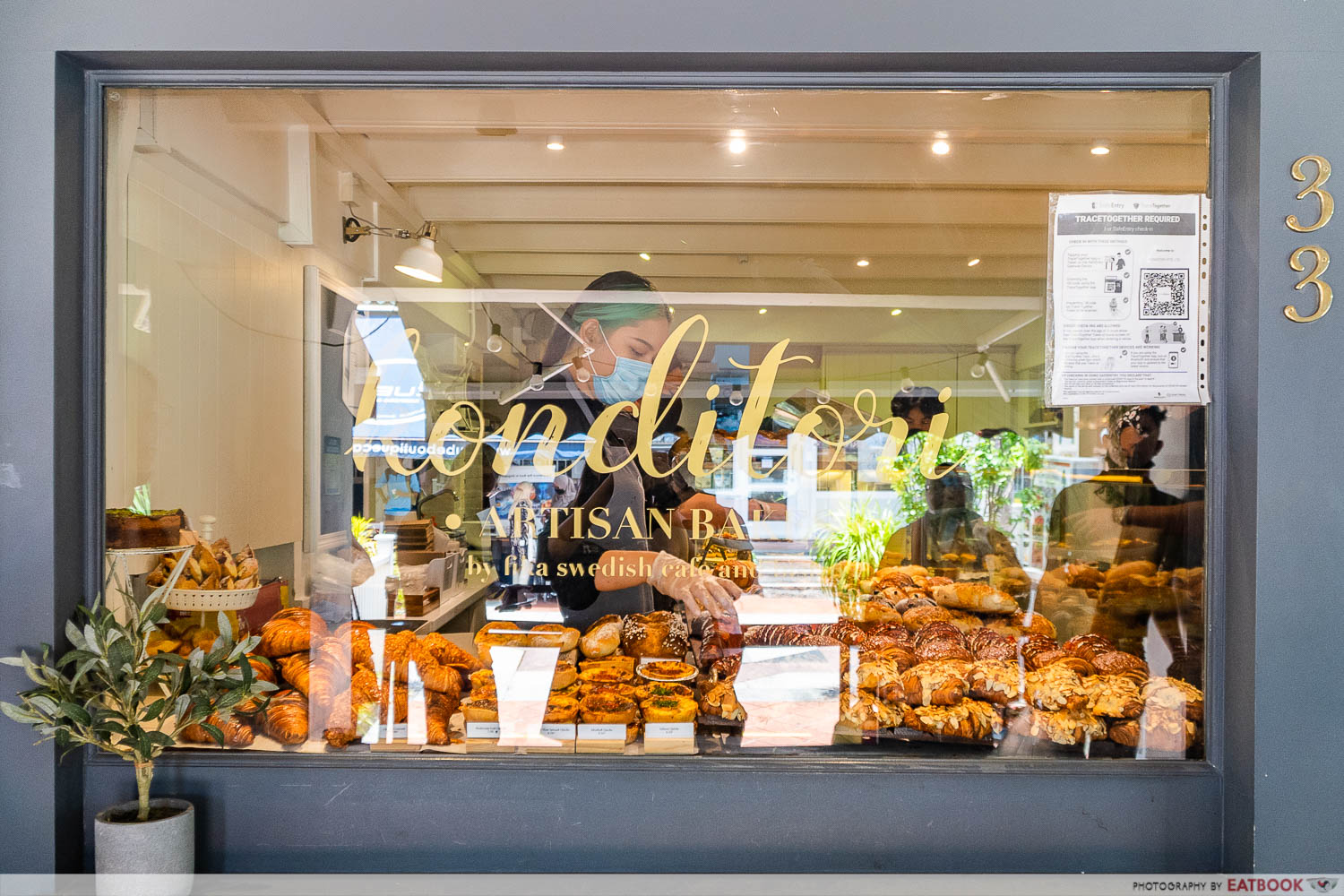 Konditori Artisan Bakes has no dine-in space, and only three people are allowed in the store at any given time. This means that you're more likely to spot the 15-minute long queue before the Konditori logo itself. 
Getting there requires a 10-minute walk from Bugis MRT Station, but a good indicator that you're nearby is when you spot the Sultan Mosque.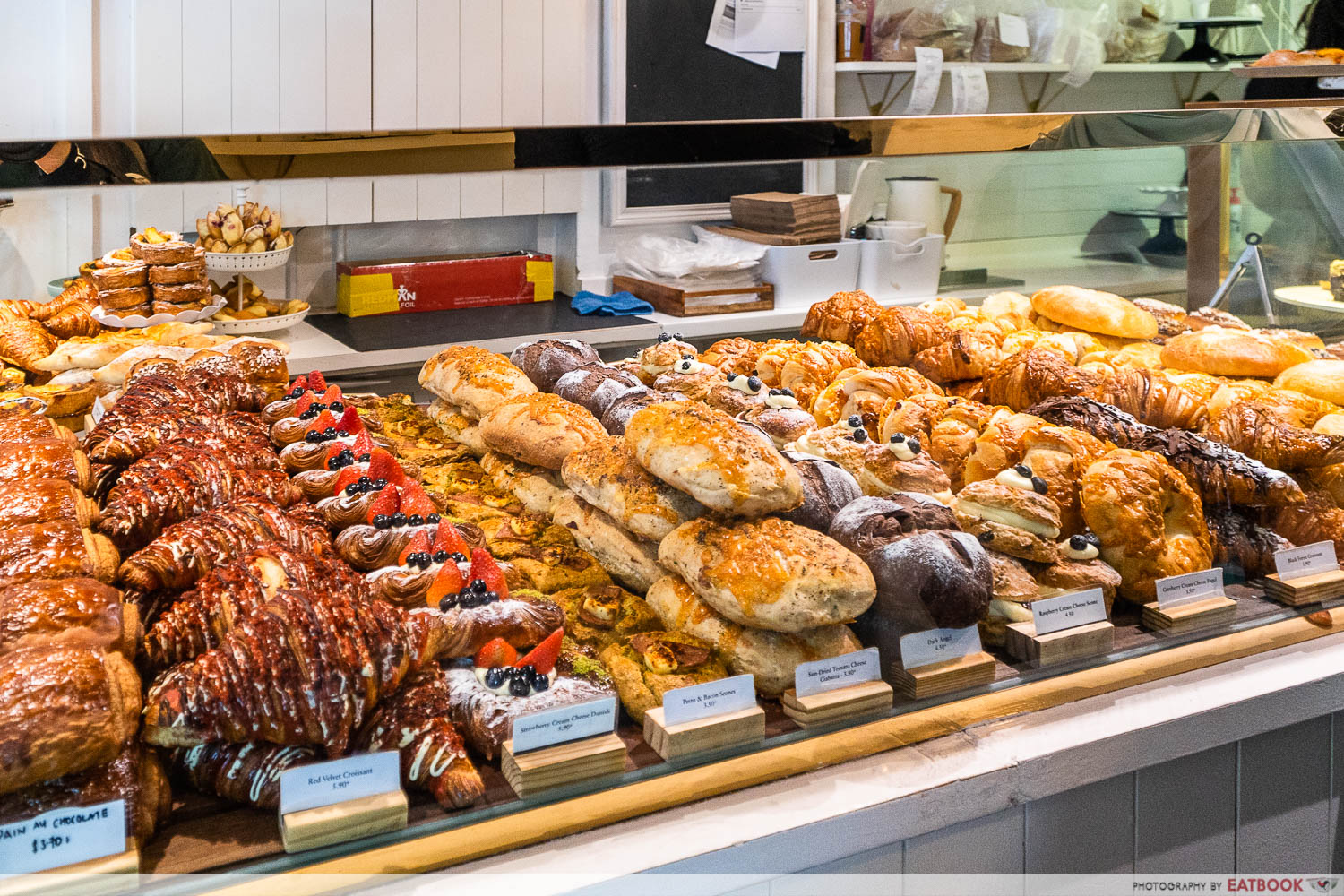 To say that Konditori offers a wide range of pastries would be no exaggeration. Upon entering the shop, you're greeted with the addictive smell of freshly baked goods, as well as a feast for the eyes with their stacks upon stacks of bread, croissants, and more. 
However, do note that their undying popularity usually means that their items sell out pretty quickly. For example, we were unable to get our hands on the popular French Charcoal Cheese Bun ($3.50+), as they were in the midst of making another batch. 
The verdict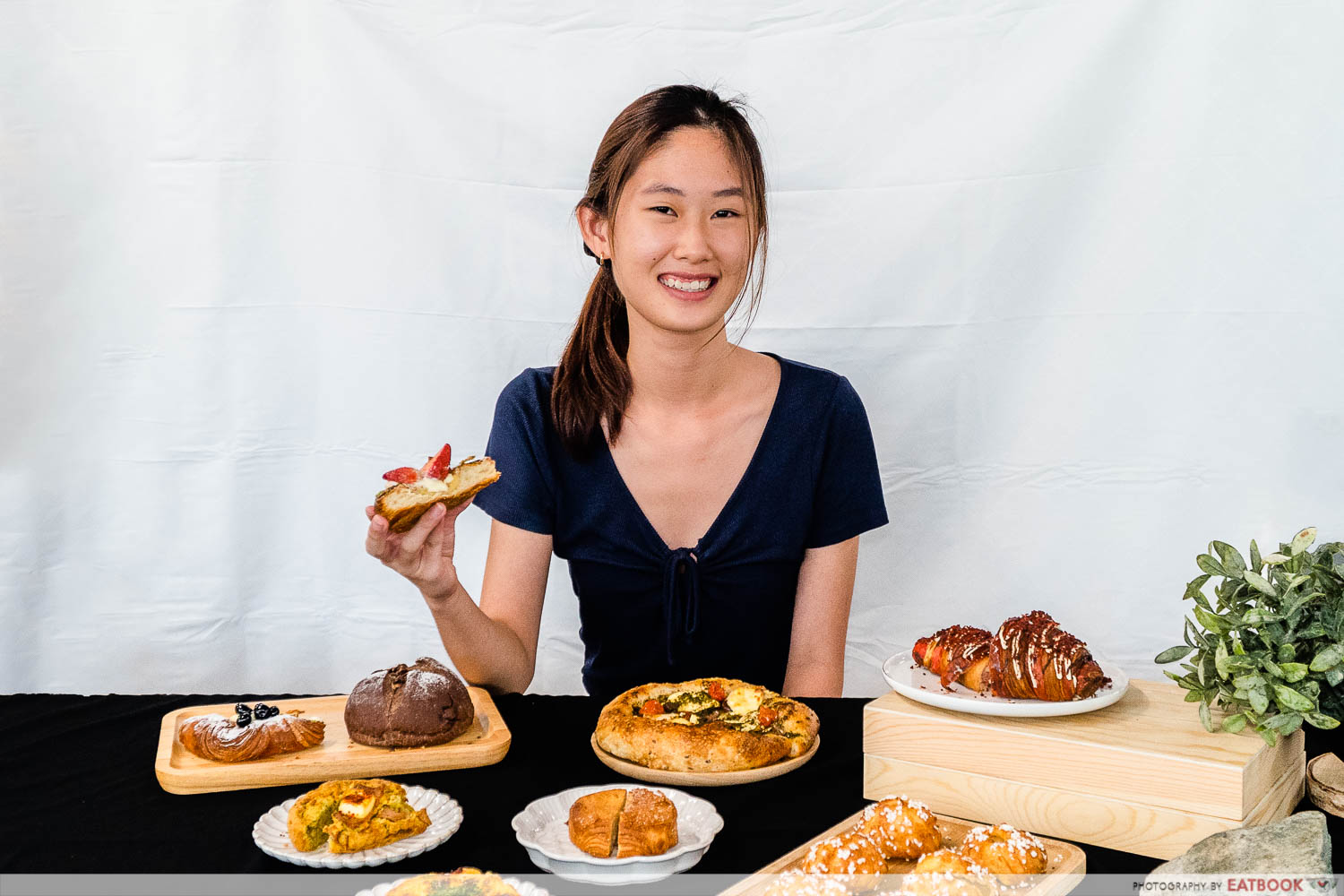 All in all, given Konditori Artisan Bakes' extensive menu, there's definitely something that will tickle everyone's tastebuds here. The quality of the bakes is impressive and in my opinion, worth the long queue if you pick the right items. Though, I would recommend dragging along a companion to keep you company as you wait in line. 
For more halal bakeries, check out our Fluff Bakery review for Horlicks cupcakes, maple cinnamon doughnuts, and more. For other cafes in the area, check out our Smile Dessert review for black sesame souffle pancakes, sweet potato crepe cakes, and more. 
Address: 33-34 Bussorah Street, Singapore 199451
Opening hours: Daily 10am to 6pm
Tel: 6209 8580
Website
Konditori Artisan Bakes is a halal-certified eatery.
Fluff Bakery Review: IG-Famous Halal Bakery With Horlicks Cupcake, Maple Cinnamon Doughnut And More
Photos taken by Zi Hui Tan.
This is an independent review by Eatbook.sg.
Konditori Artisan Bakes Review: Halal Artisanal Bakes Including Red Velvet Croissant and Basil Pesto Sourdough With Long Queues
Konditori Artisan Bakes Review: Halal Artisanal Bakes Including Red Velvet Croissants and Basil Pesto Sourdough With Long Queues -

7.5/10
Summary
Pros
– Hazelnut praline cream in Dark Angel was rich
– Wide range of items available 
Cons
– Far from MRT station
– Red Velvet Croissant could do with more chocolate
Recommended dishes: Dark Angel ($4.50+), Basil Pesto Sourdough ($8.90+) 
Opening hours: Daily 10am to 6pm
Address: 33-34 Bussorah Street, Singapore 199451