Refreshing and creative dishes at Kumoya
Update: Kumoya is now hosting themed-cafes including a Pusheen Cafe!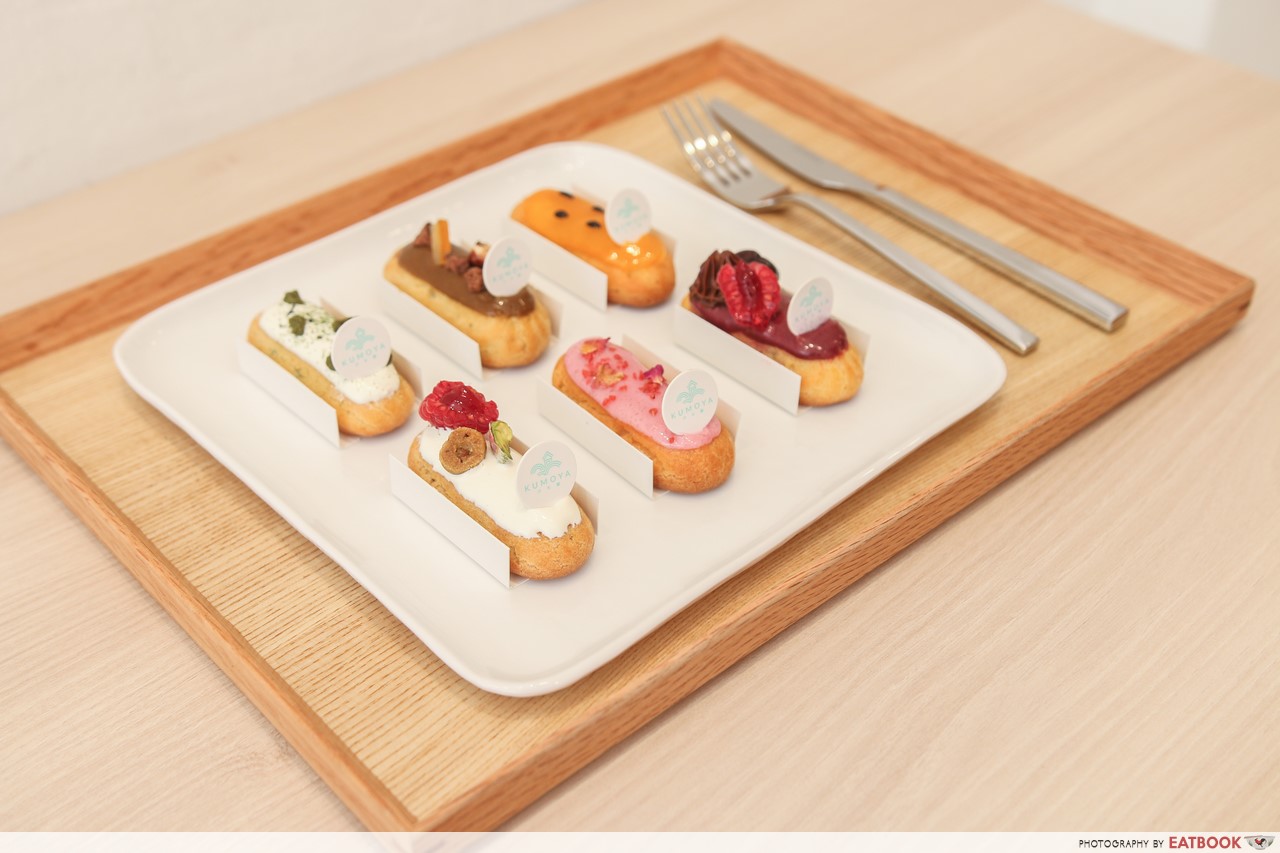 Adding to the lineup of Insta-worthy cafes near Haji Lane is Kumoya, a re-branding of Karafuru Desserts. This sunlit cafe retains eclairs and plated parfaits from Karafuru, with an expanded menu that includes savoury mains, as well as drinks from Compound Coffee Co..
There is a heavy Japanese influence in many desserts and mains, with flavours such as matcha and yuzu being featured prominently. You may have a hard time choosing what to order here because almost everything looks too pretty to be eaten. The question is, will Kumoya's dishes taste as good as they look?
Mains at Kumoya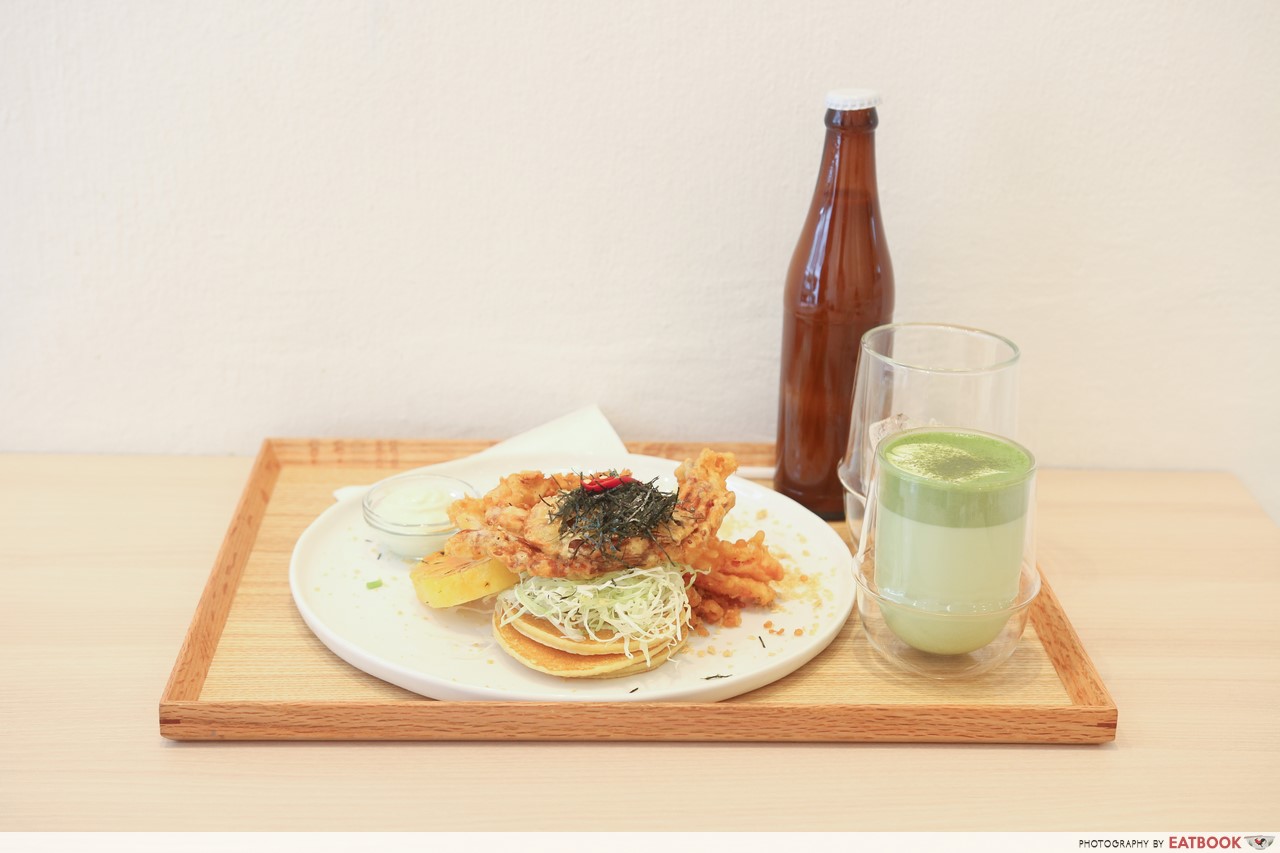 We kicked things off with one of Kumoya's new mains, Tempura Soft Shell Crab Pancakes ($17.90). The stack comprises of a whole battered soft shell crab, capsicum tempura sticks and a ring of grilled pineapple, which dwarfed the three mini-pancakes it was piled upon. This came with an accompanying dip of wasabi mayo.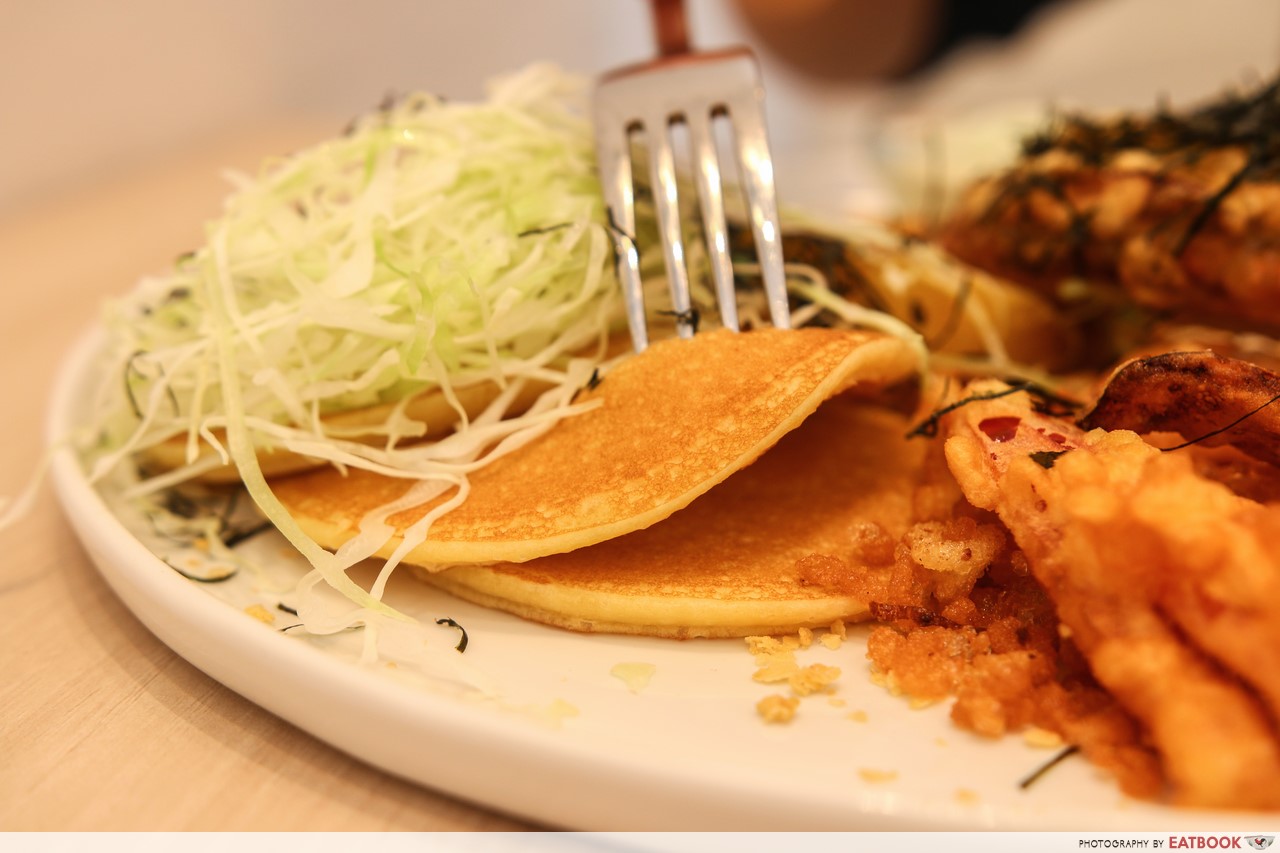 The thin pancakes had an interesting savoury profile that worked well with other components in this dish. Although the capsicum sticks were nothing to speak of, the soft shell crab was satisfactorily juicy, with a good crunch.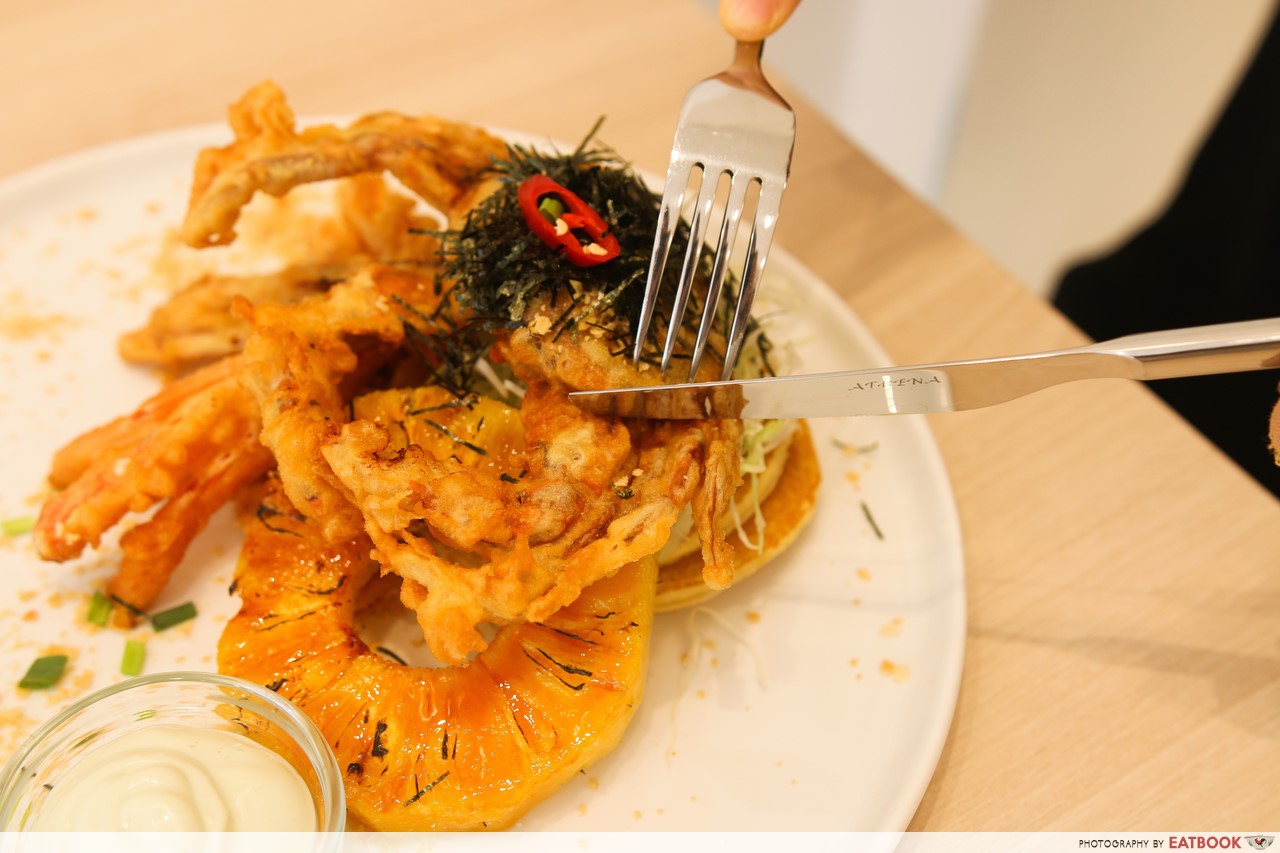 The pancakes and tempura crab could start to get dry when eaten on their own. I recommend cutting a wedge of pancake and smearing a smidge of wasabi mayo on it, before layering on some soft shell crab and a slice of pineapple.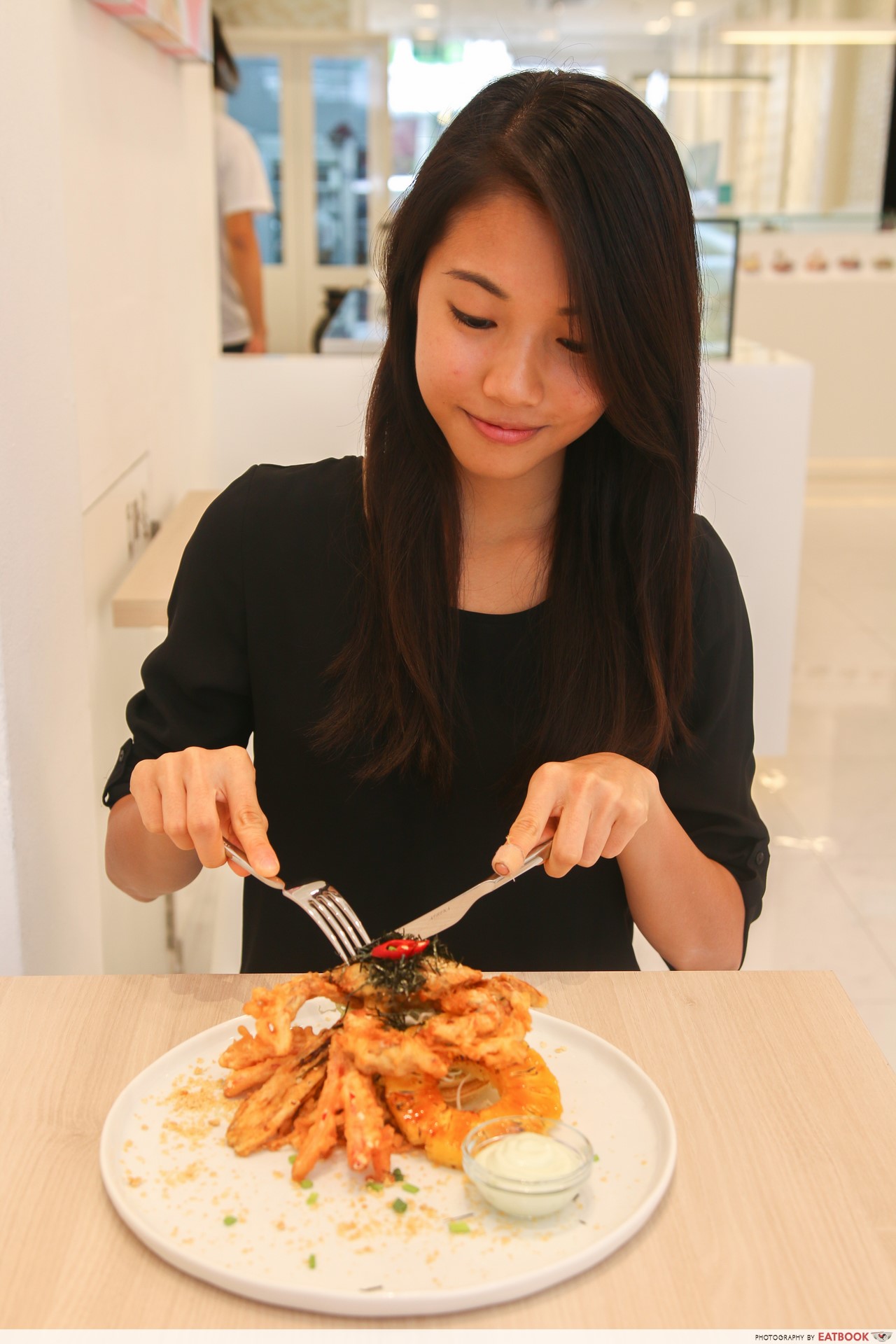 For a deep-fried dish, this was surprisingly light. The pineapple and wasabi mayo made all the difference by adding a crisp sweetness that cut through the crunchy battered crab. Overall, this wasn't too heavy or overwhelming, which means ample space for DESSERT.
Plated desserts at Kumoya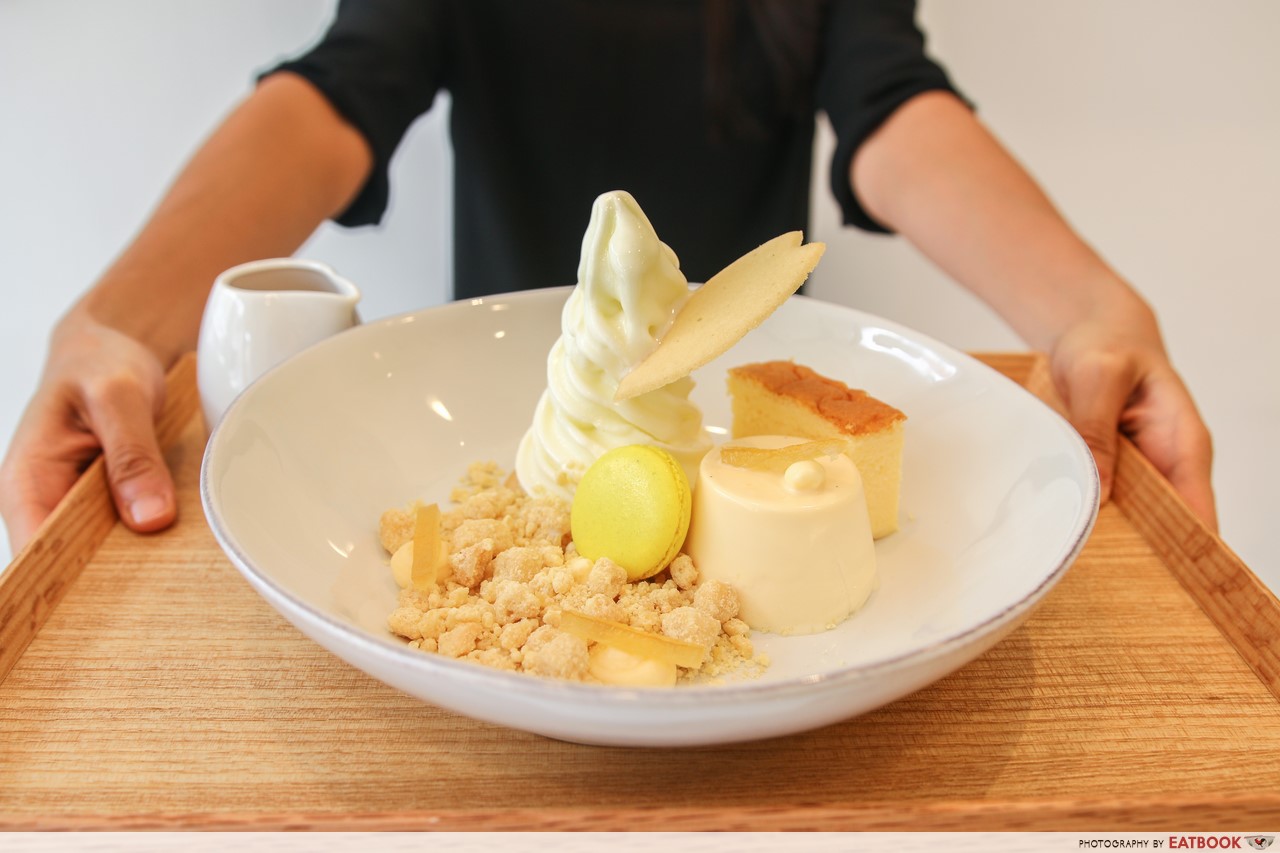 The summer-hued Yuzu Parfait ($15.90) is made up of yuzu souffle cheesecake, vanilla bean milk pudding, frozen yogurt and a yuzu macaron atop a bed of popping white chocolate butter crumble. This pretty confection is then topped with candied yuzu peel and a langue de chat (cat tongue) cookie, with a pot of house-made yuzu sauce on the side.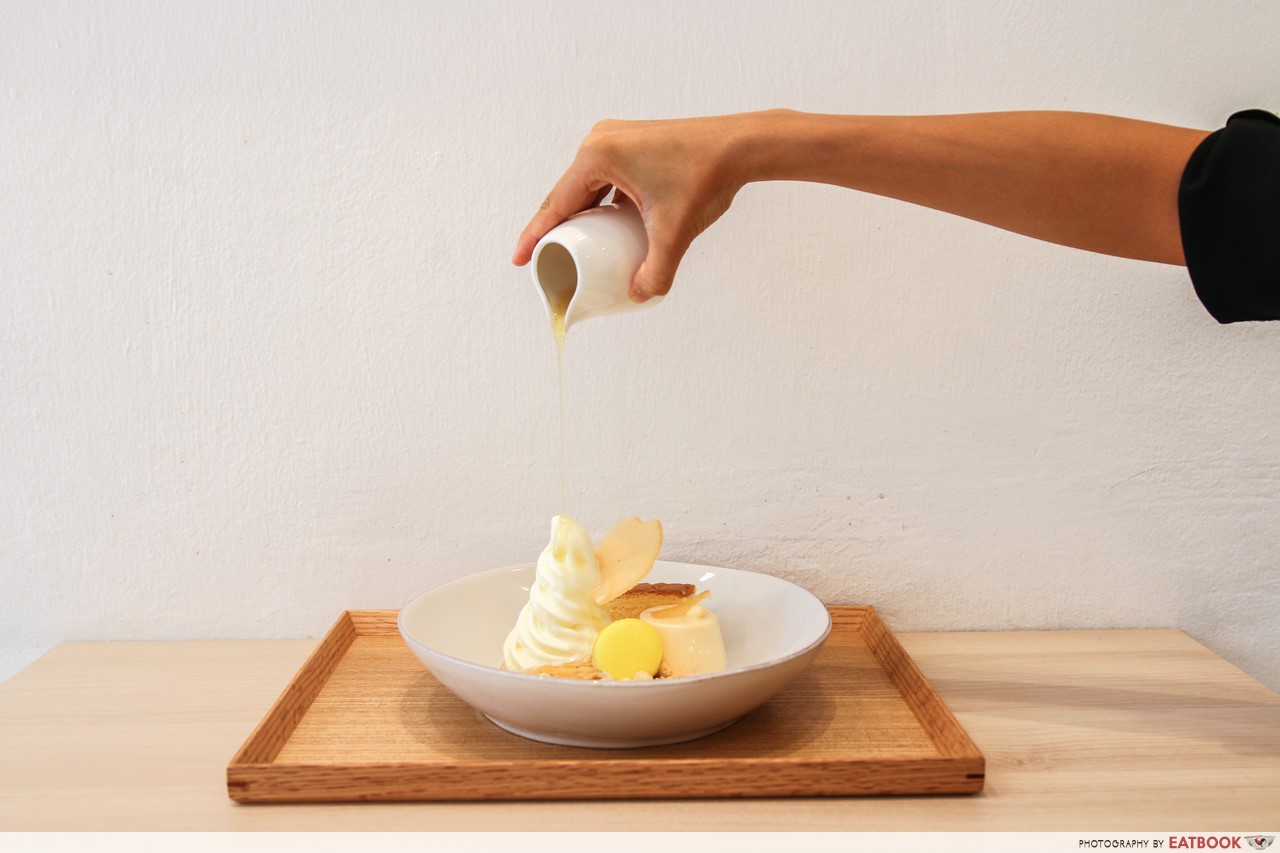 The component that stood out most was the yuzu sauce. Not saccharine at all and with an uplifting natural sweetness, this sauce packed a punch of yuzu flavour, alongside a crisp tartness that shone through.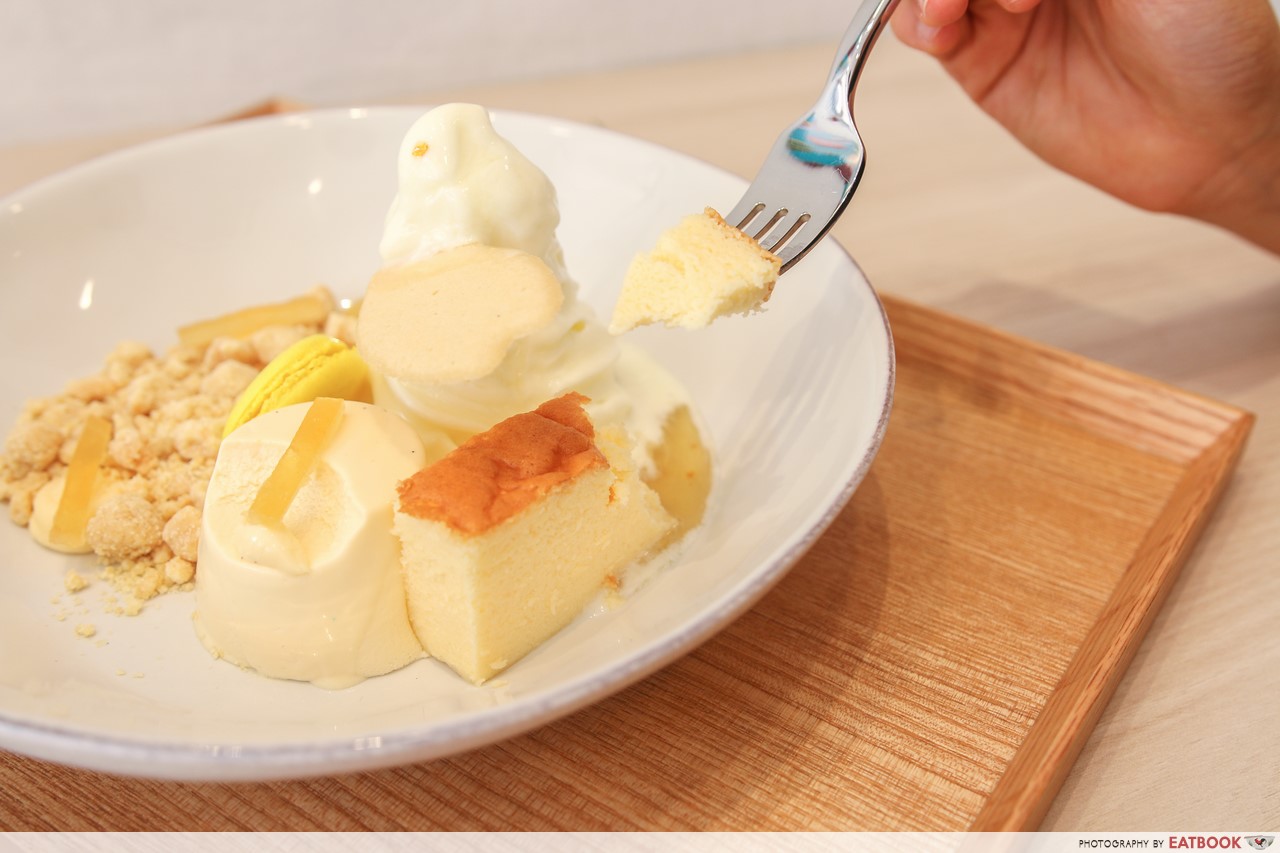 The cheesecake itself had a slight yuzu flavour. Its fluffy texture contrasted nicely with the creamy vanilla bean-speckled milk pudding, along with the element of surprise in the sweet Pop Rocks-laced crumble.
Unfortunately, the frozen yogurt was a let-down. It was flat and icy, with no discernible taste of its own. If not for the froyo, this would have been a perfectly harmonious dessert.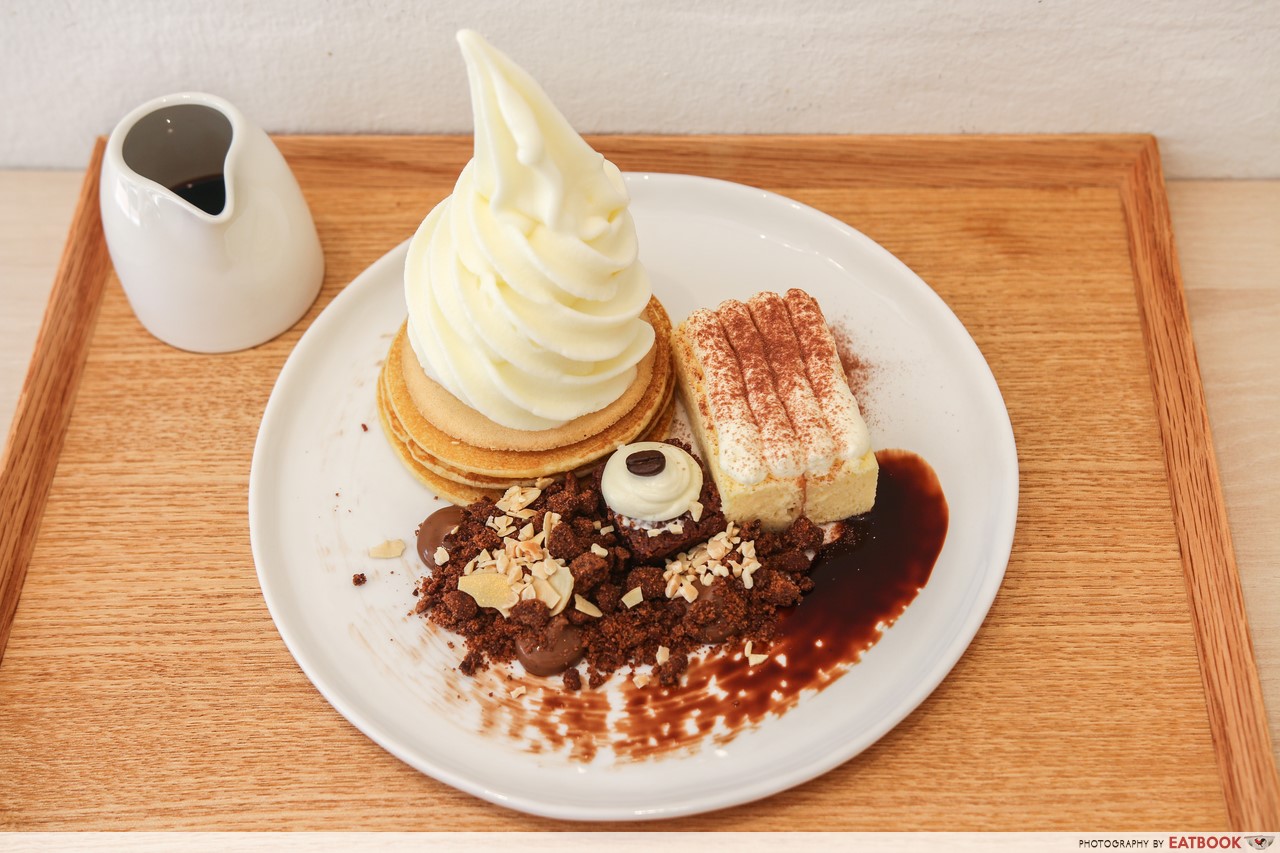 The next dessert was the non-alcoholic Tiramisu Pancakes. It consists of three mini-pancakes topped with a swirl of frozen yogurt, accompanied by a cocoa-dusted tiramisu block, brownie cube, dots of chocolate cream, chocolate crumble and slivered almonds. The coffee component comes in the form of an espresso shot, which is poured over the dessert.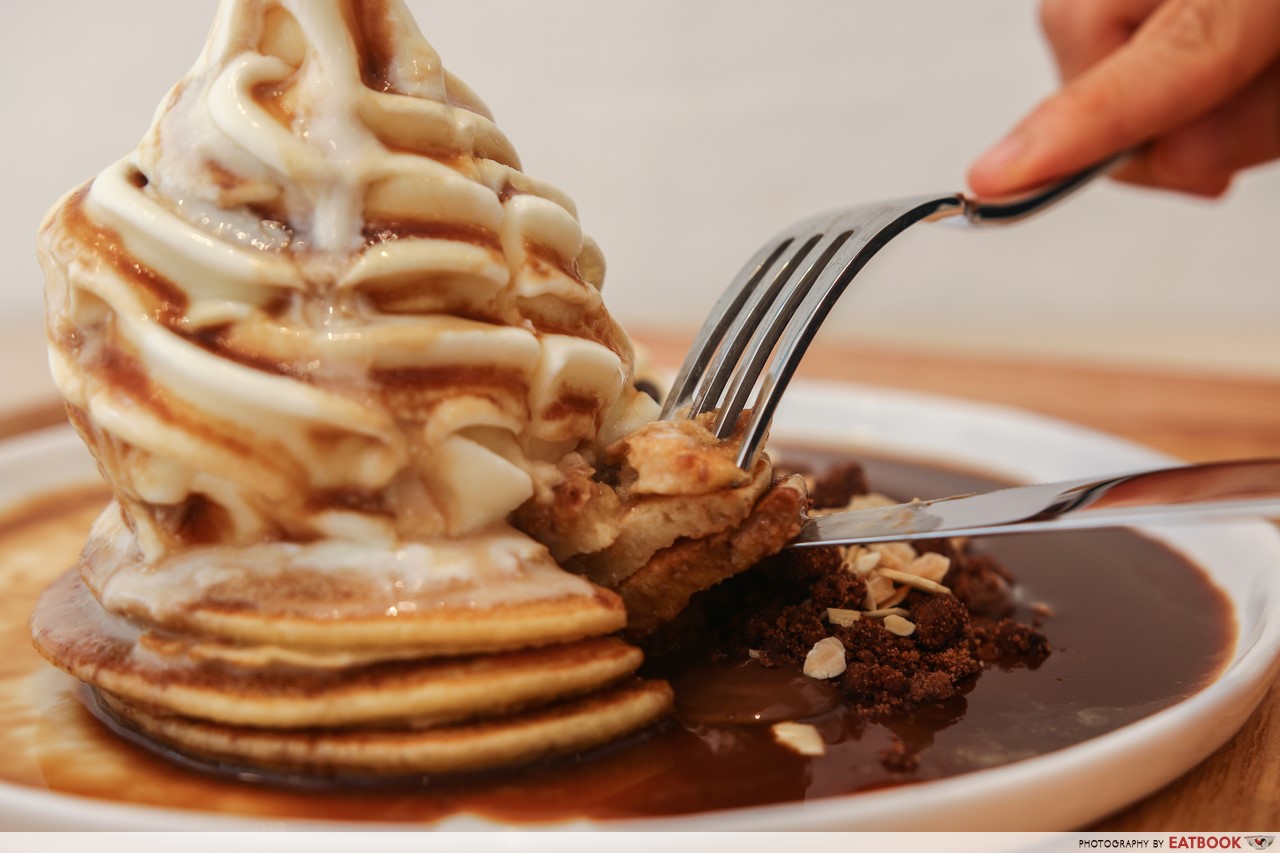 This was distinctly less balanced than the previous yuzu dessert. The same kind of savoury pancakes as the Tempura Soft Shell Crab Pancakes was used here, adding a jarring saltiness that left my taste buds confused. While the espresso enhanced the dessert's chocolate notes, it failed to stand out on its own. The pancakes didn't soak up the espresso shot, and the tiramisu block tasted like a mild cheesecake, leaving the dessert absent of a distinct coffee character.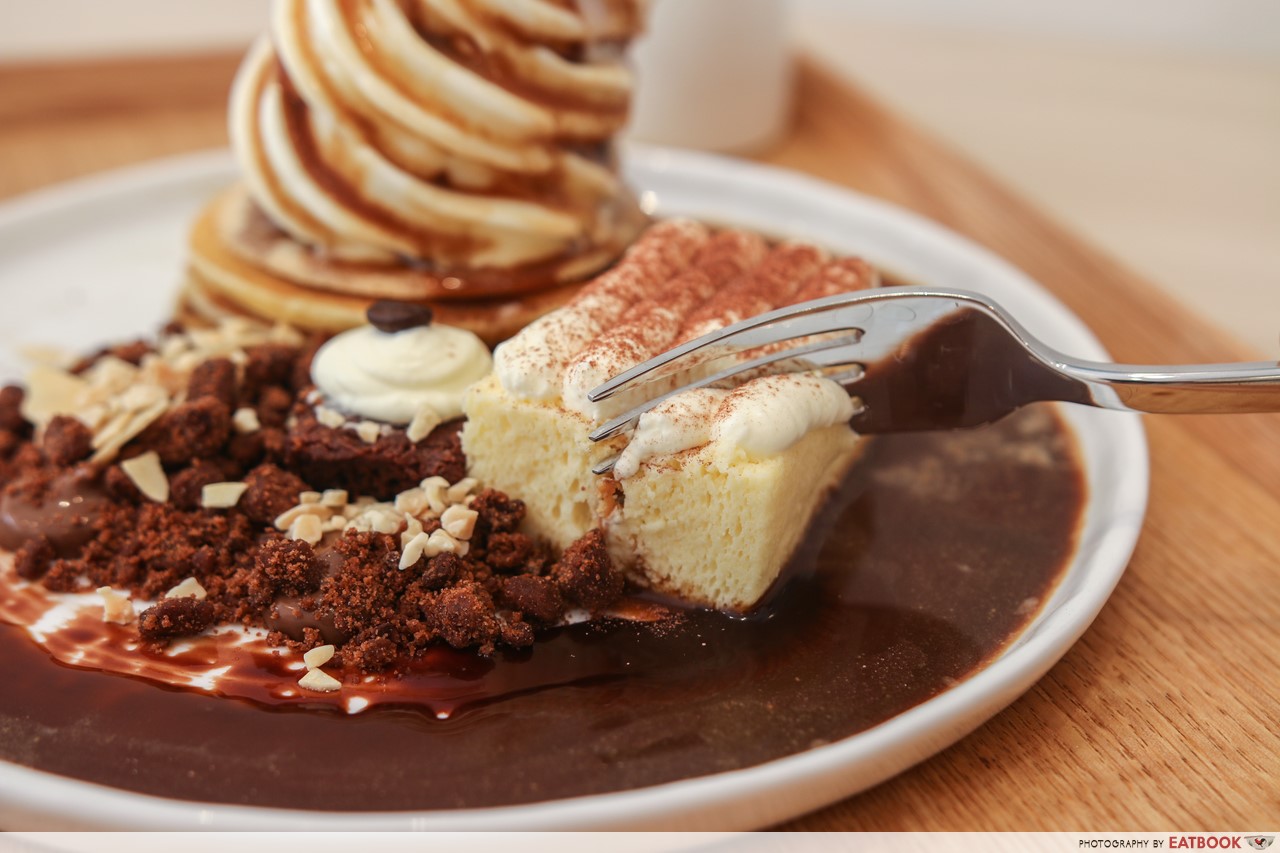 I did like the thick chocolate cream and buttery chocolate crumble. As a tiramisu-inspired dessert, however, this tiramisu pancakes didn't quite live up to its name.
Eclairs at Kumoya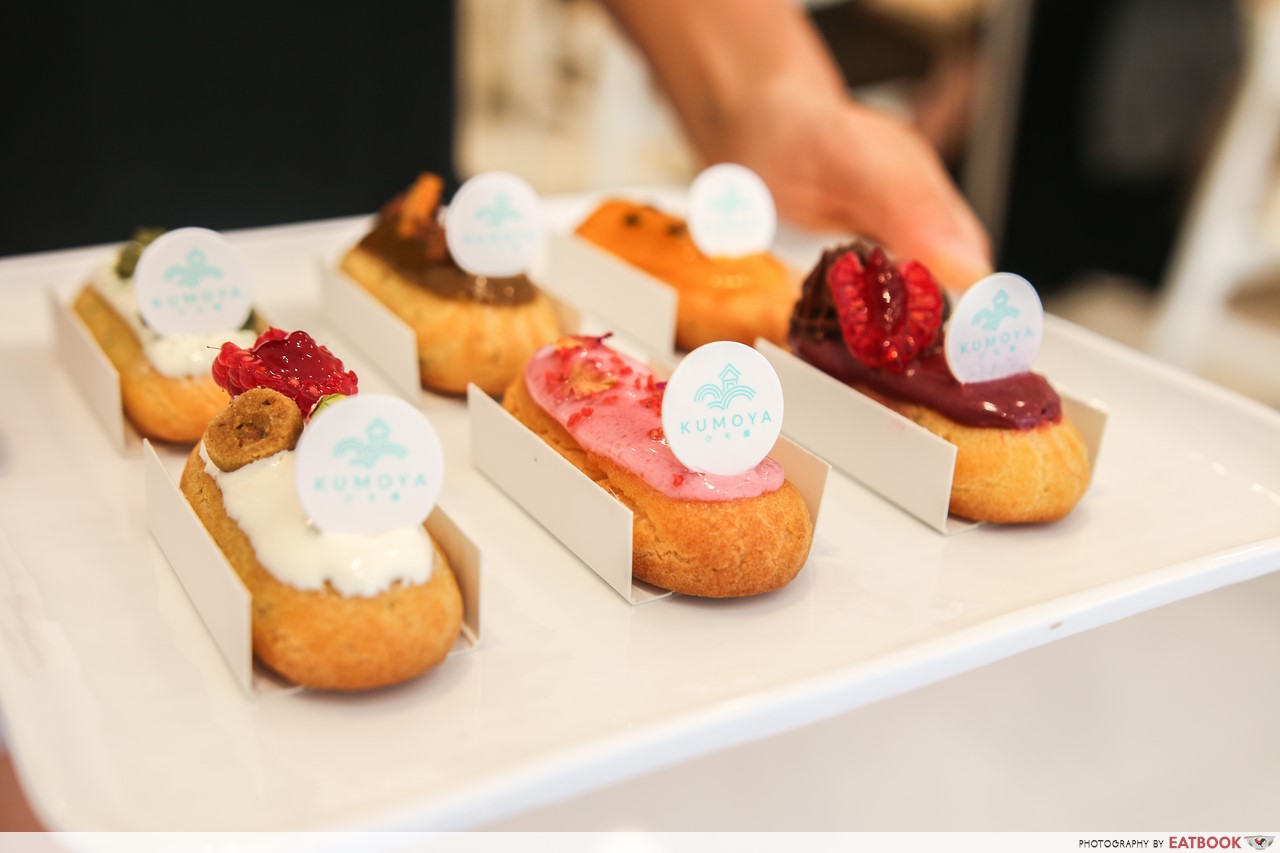 Kumoya has a range of nine Petite Eclairs ($3 for one, $8.50 for three, $16.50 for six, $31.50 for 12) that are almost too pretty to be devoured. Each decorated eclair is around the length of an index finger, making them easy to sample and share without feeling jelak.
We tried the matcha, hazelnut chocolate, passionfruit, pistachio, sakura and blackforest eclairs, with hazelnut chocolate and sakura being my personal favorites. The chocolate hazelnut had an outstanding hazelnut flavour that was much more potent than your usual Nutella, with a roasted hazelnut on top sealing in the nuttiness.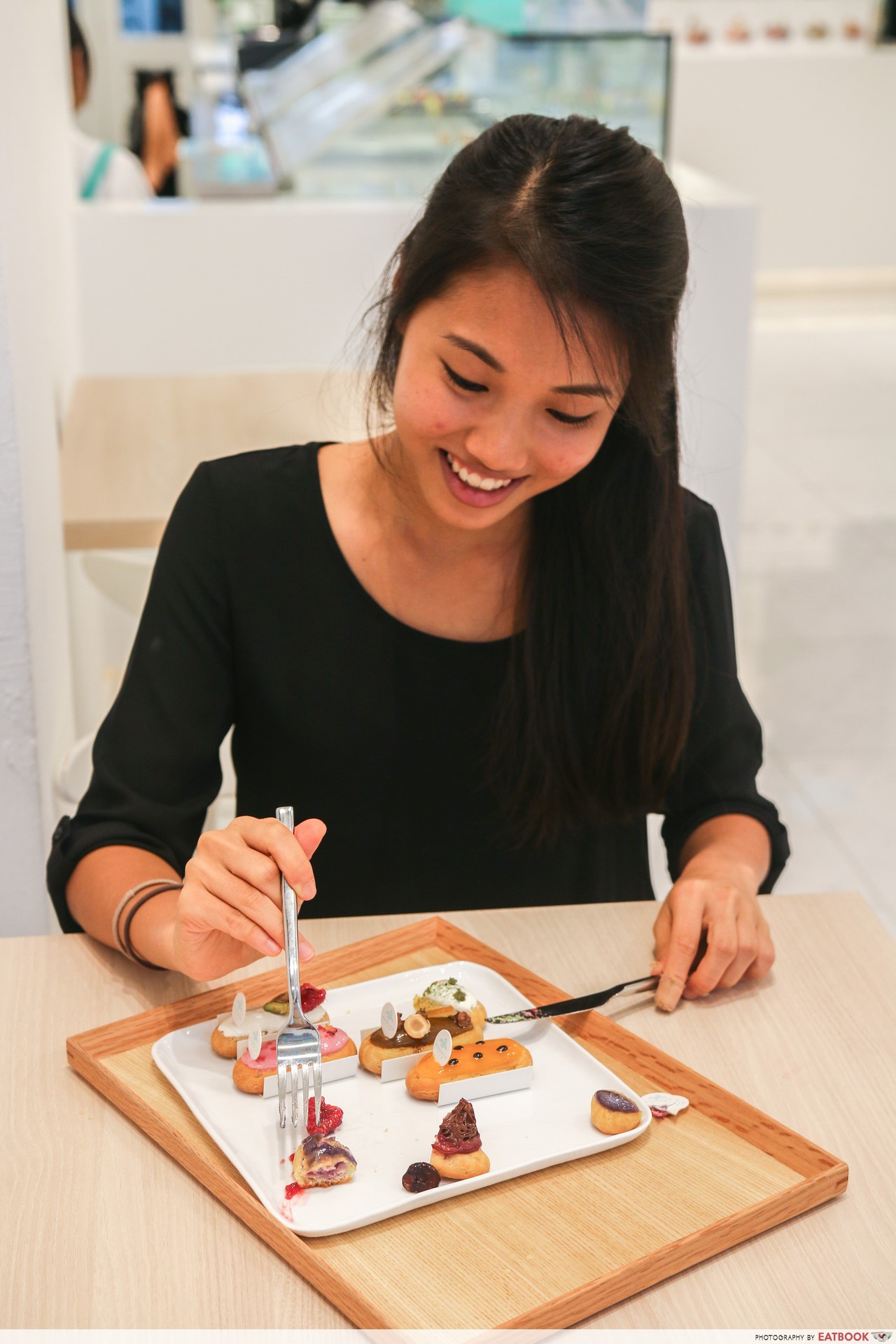 For the sakura eclair, I was expecting the taste of cherry blossom to be quite mild, and was pleasantly surprised by how rich the sakura rose cream was. The choux pastry, on the other hand, was too hard and dry. It also had a pronounced eggy taste that overwhelmed some of the eclairs, which were generally forgettable.
Drinks at Kumoya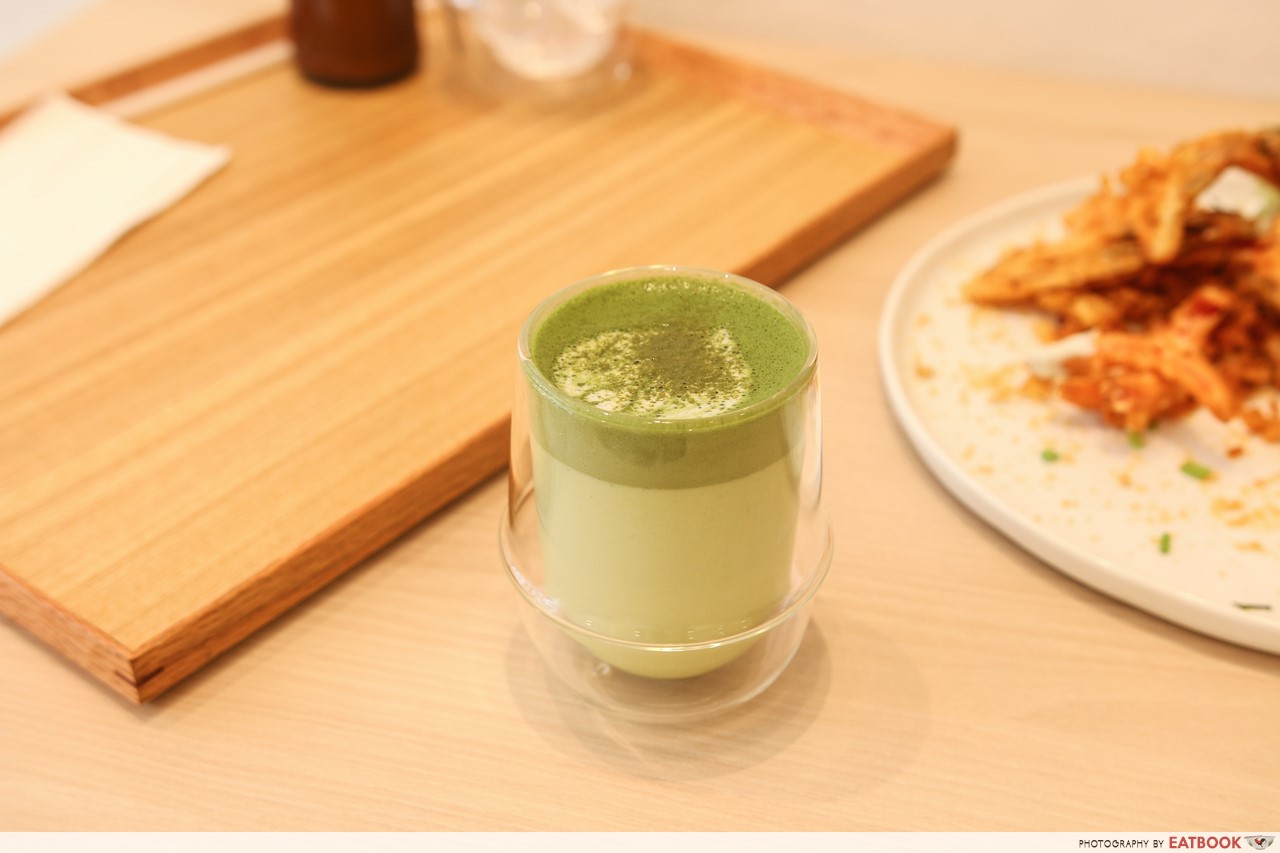 This Hot Matcha Latte ($6) was quite unlike most matcha lattes I've come across in Singapore. It has a thick foamy top liberally dusted with matcha powder, which requires constant stirring for the matcha to be evenly distributed. 
Without the distraction of added sweeteners, I could really taste the Kyoto-sourced matcha that remained prominent throughout the thick, creamy latte. This could be overwhelming if you aren't a huge fan of matcha, but matcha-purists will enjoy this to the last sip.
The verdict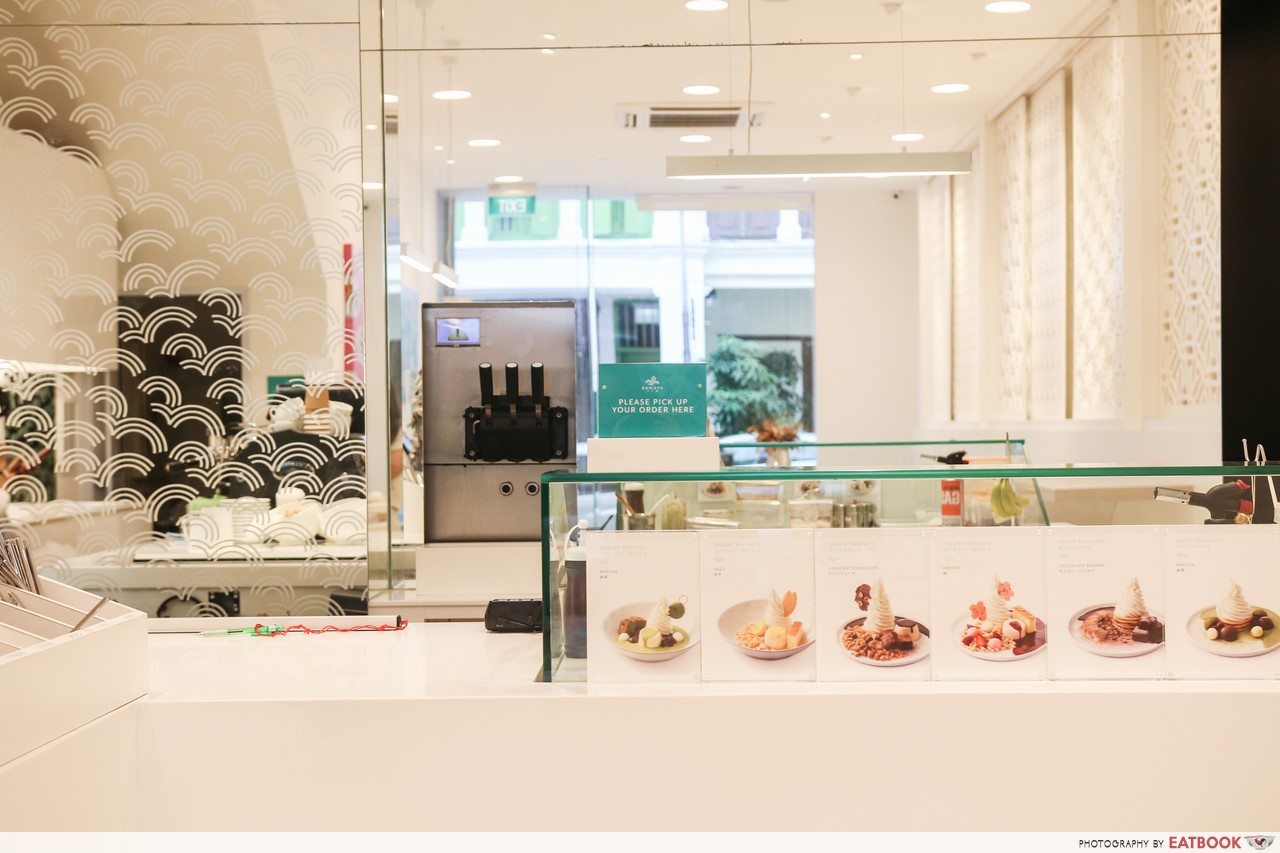 The creative dishes at Kumoya were refreshing and light on the palate. Almost all components are made in-house, leaving their desserts as natural as possible. I really appreciate how they strive to keep sugar levels low, allowing me to leave without a sugar-induced coma despite all the sweets consumed.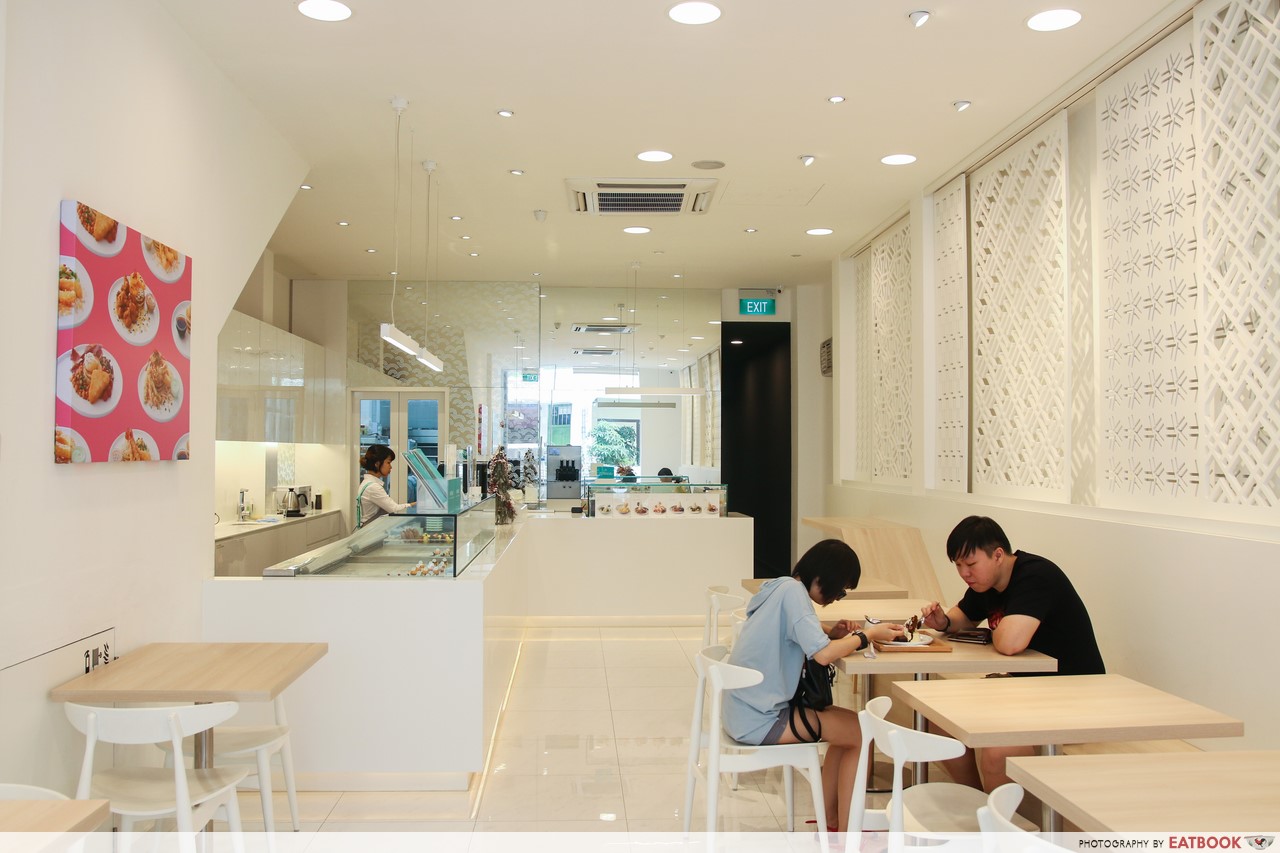 Kumoya could do with some tweaks, particularly for the dessert pancakes and the frozen yogurt. Overall, the desserts were more stunning visually, rather than in terms of taste. However, Kumoya does put a lot of heart into cobbling their dishes together, and are receptive to customer feedback. With some adjustments to their dishes, I'll consider a return trip.
This was a media tasting at Kumoya.
Summary
Pros
– Pretty desserts
– Clean and minimalist decor
– Nett prices
Cons
– Hit-and-miss dishes
Recommended Dishes: Yuzu Parfait ($15.90), Sakura Petite Eclair ($3), Hot Matcha Latte ($6), Tempura Soft Shell Crab Pancakes ($17.90)
Operating Hours:
Tuesday – Thursday 12pm to 10pm
Friday – Saturday 12pm to 10:30pm
Sunday 12:30pm to 10pm
Tel:
6297 3727
Address: 8 Jalan Klapa, Singapore 199320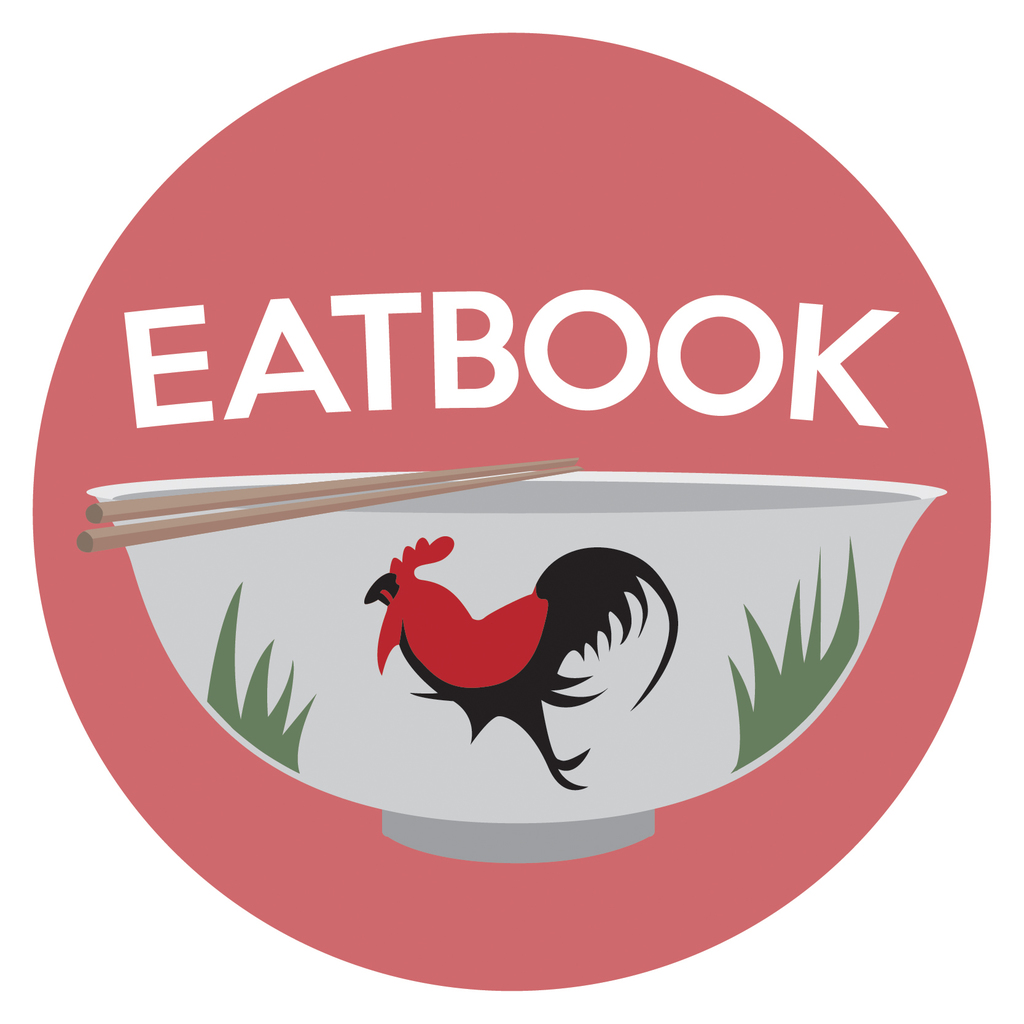 Drop us your email so you won't miss the latest news.