---
While away at these late-night cafes
---
With exams coming up, the need for a caffeine fix in the wee hours can be very real. While Singapore's daytime cafe scene is vast and vibrant, the city's night time coffee scene is unfortunately rather sparse except for the usual Starbucks and Coffee Bean. Hence, we have curated this list of hip late-night cafes for all you night owls needing a cup of Joe, a space to clog in a few extra hours of mugging time or simply just to bond with your friends until the wee hours like Monica and Rachel in Friends.
---
1. Lola's Cafe
---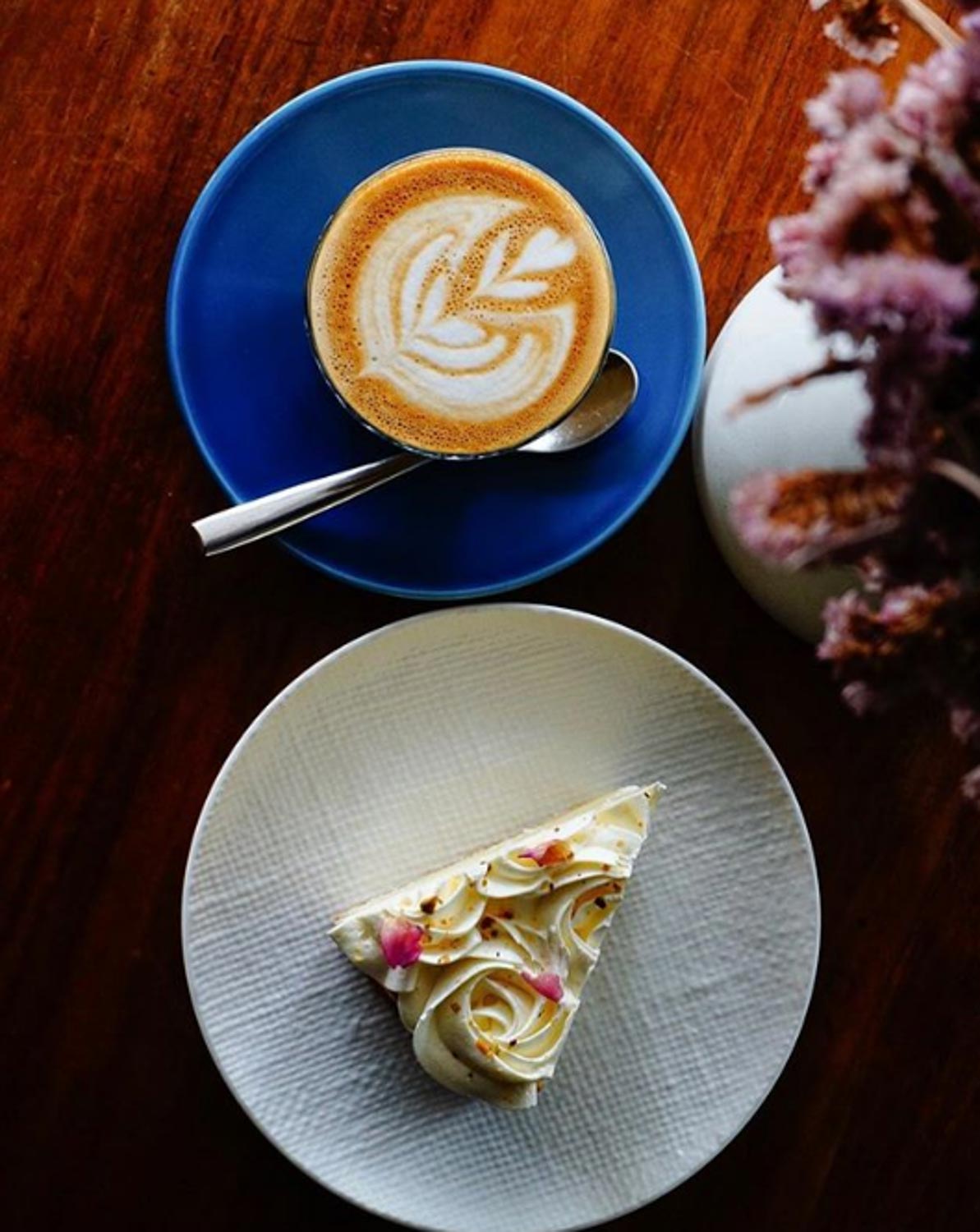 Image credit: @lolascafesg
A popular cafe spot for North-Easties, Lola's Cafe is best known for their hearty food, gorgeous desserts, and chill ambience. The best part about this bustling cafe is that they are opened till midnight on weekends, making it a great spot for a tea spilling session past 10pm. Plus, Lola's Cafe rich, aromatic coffee will definitely help you stay awake, leaving you buzzing with productivity through the night.
Address: 5 Simon Road, Singapore 545893
Opening hours: Tue-Thur 10am to 11.30pm, Fri-Sat 10am to 12am, Sun 10am to 11:30pm
Tel: 6284 0349
Website
---
2. Cook and Tras Social Library
---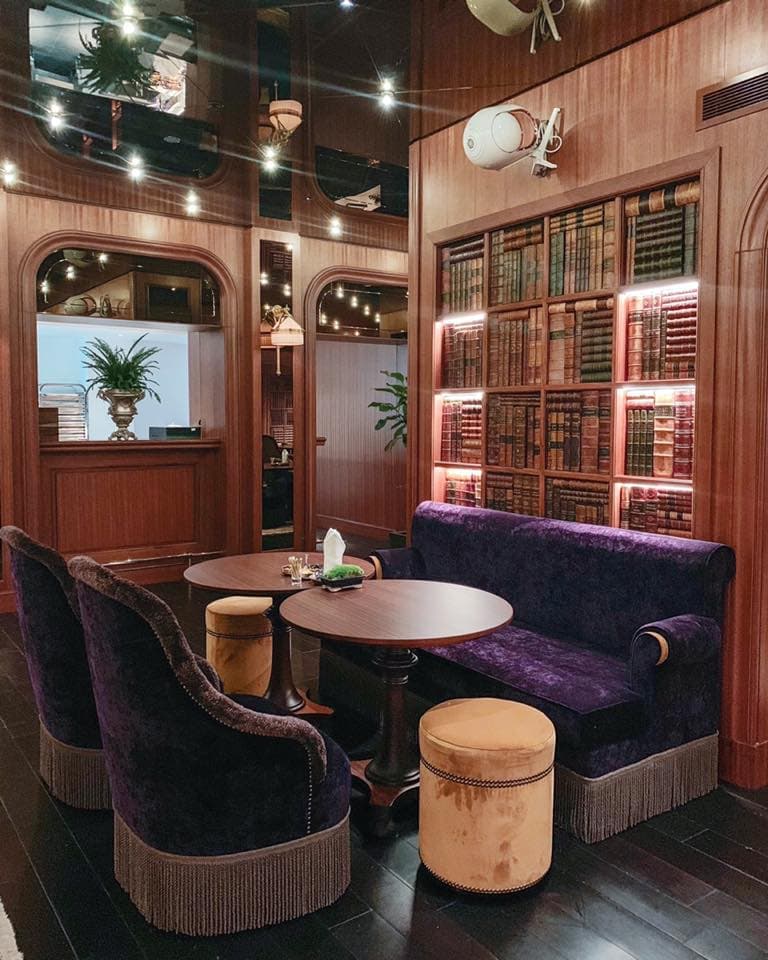 Image credit: @cookandtras
Cook and Tras Social Library is every bookworm's dream. The cafe holds one of the most luxurious and cosy interiors, and houses 3000 books for visitors to browse, as well as plenty of power points and good Wi-Fi. This gorgeous cafe opens from 7am to midnight, perfect for those wanting to clog an extra few hours of work before heading home. While food is a little pricey and it's more of a  "cocktail cafe", you can grab a nice cup of Latte at $8++, or a beautiful selection of teas such as Blueberry Merlot, and White Ginger Pear at $12++. Or kick back after a long day of work and enjoy some of their Signature Cocktails, such as their C+T Shakerato ($25++) featuring strong cold brewed coffee with vermouth.  
Address: 2 Cook Street, Six Senses Maxwell, Singapore 078857
Opening hours: Daily 7am to 12am
Tel: 6914 1421
Website
Menu
---
3. Jen's Kitchen On The Go
---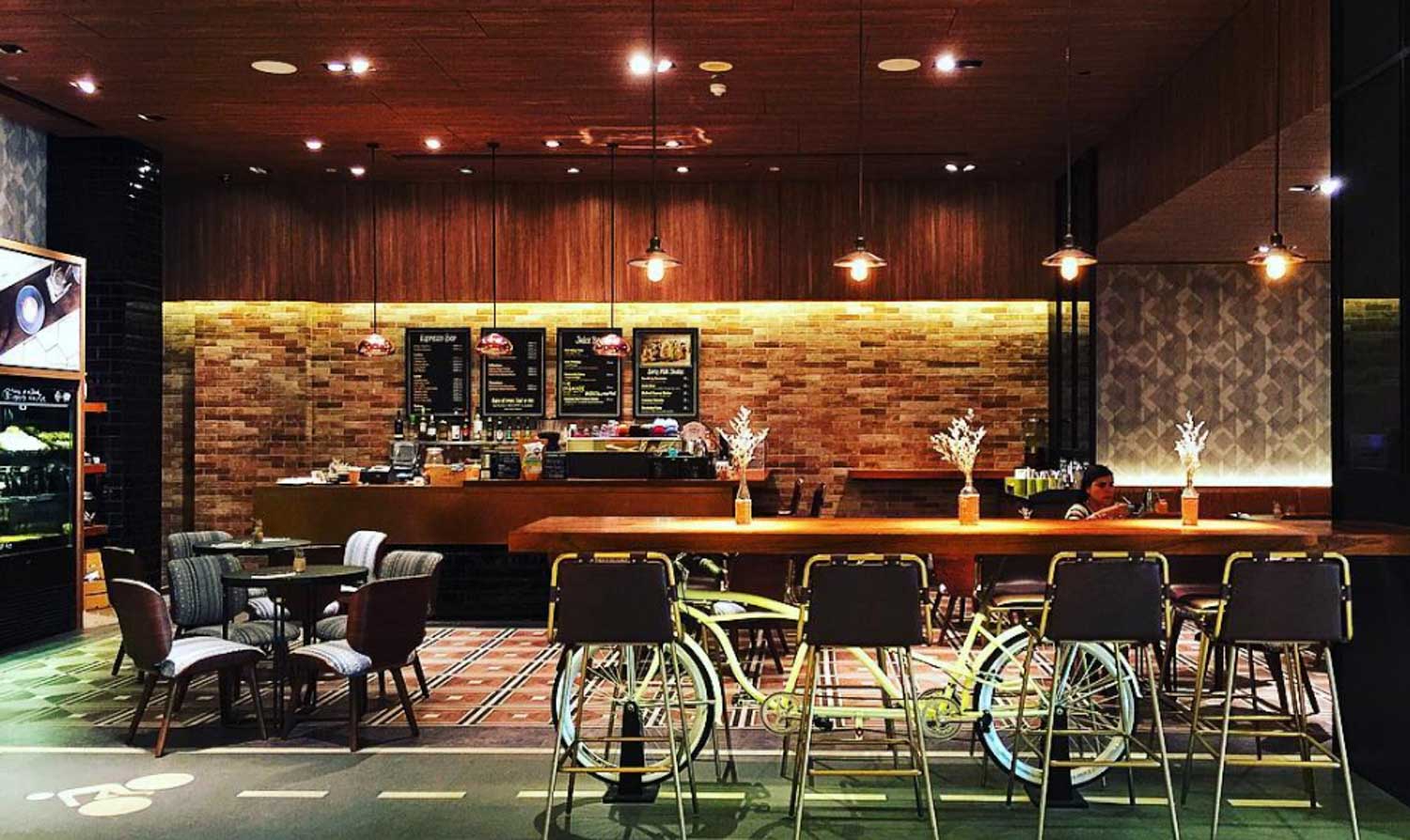 Image credit: @ze_boe
Located right in the city at the lobby of Hotel Jen Tanglin, Jen's Kitchen on the Go is unlike any hotel cafe, with retro vibes and cute bicycle decors to match. Opened everyday till 12am, the cafe serves a range of drinks, from coffee to tea, juices and milkshakes. Their menu features a range of mains, soups, wraps and snacks, such as a hearty Croque Monsieur ($20++). If you prefer something lighter, go for the appetising bowl of Granola, Yogurt and Berry Pot ($10++).
Address: 1A Cuscaden Road, Lobby Level, Hotel Jen Tanglin, Singapore 249716
Opening hours: Daily 6:30am to 12am
Tel: 6831 4374
Website
Menu
---
4. The Reading Room
---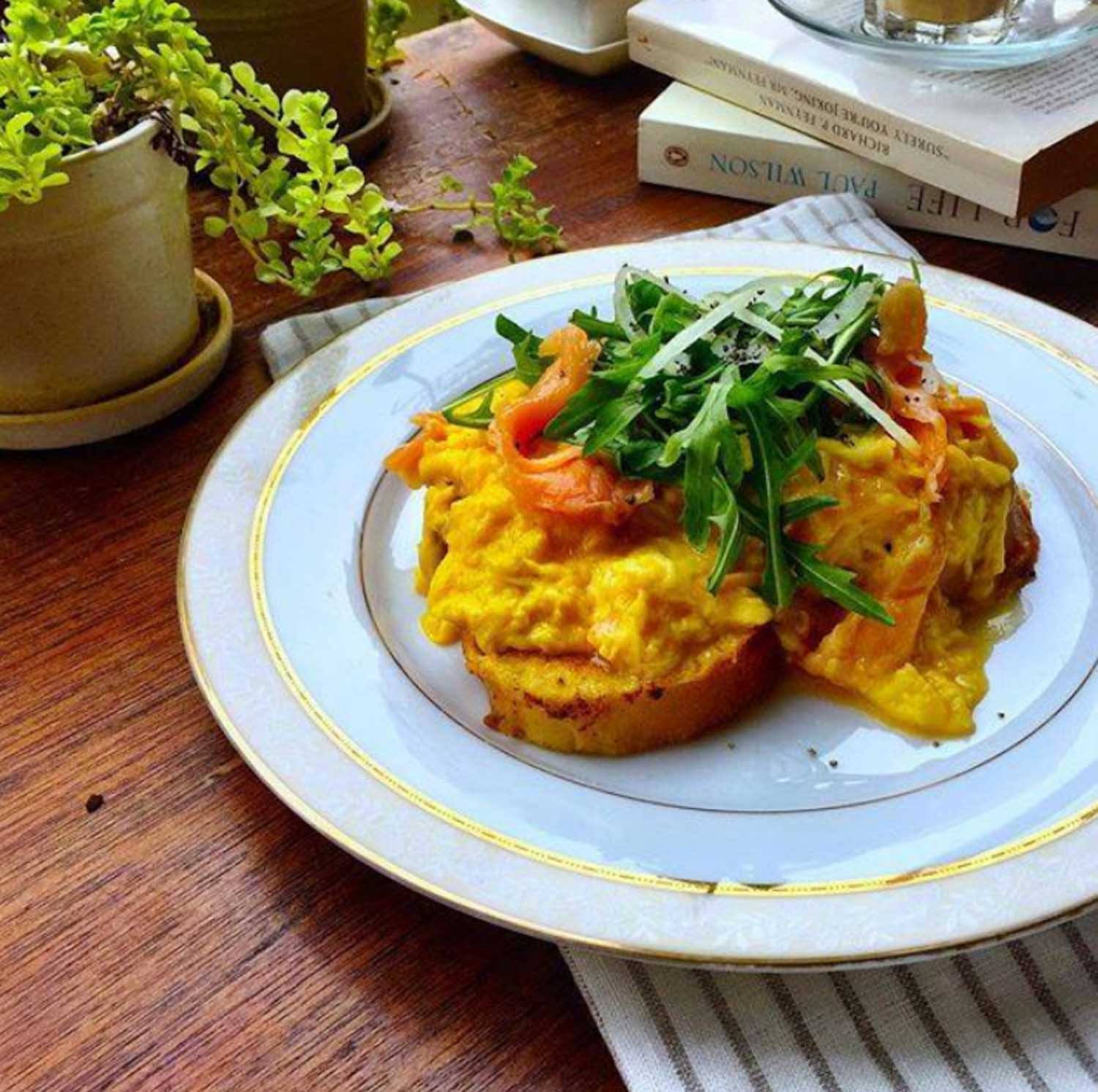 Image credit: The Reading Room's Facebook page

The Reading Room is a quaint cafe with vintage decors, maroon walls, and books from different genres decked on bookshelves. Feel free to browse through their books before lounging on their cushioned seats with a cup of Himalayan Salt Coffee ($5). This space usually opens till 1:30am between Friday and Sunday. But while you can still get your cuppa during the wee hours, do note that they turn into a bar at night, so you can expect a few revellers there as well.
Address: 19 Bukit Pasoh Road, Singapore 089833
Opening hours: Mon-Fri 11am to 1.30am, Sat-Sun 9.30am to 1.30am
Tel: 6220 9019
Website
---
5. Salted Caramel
---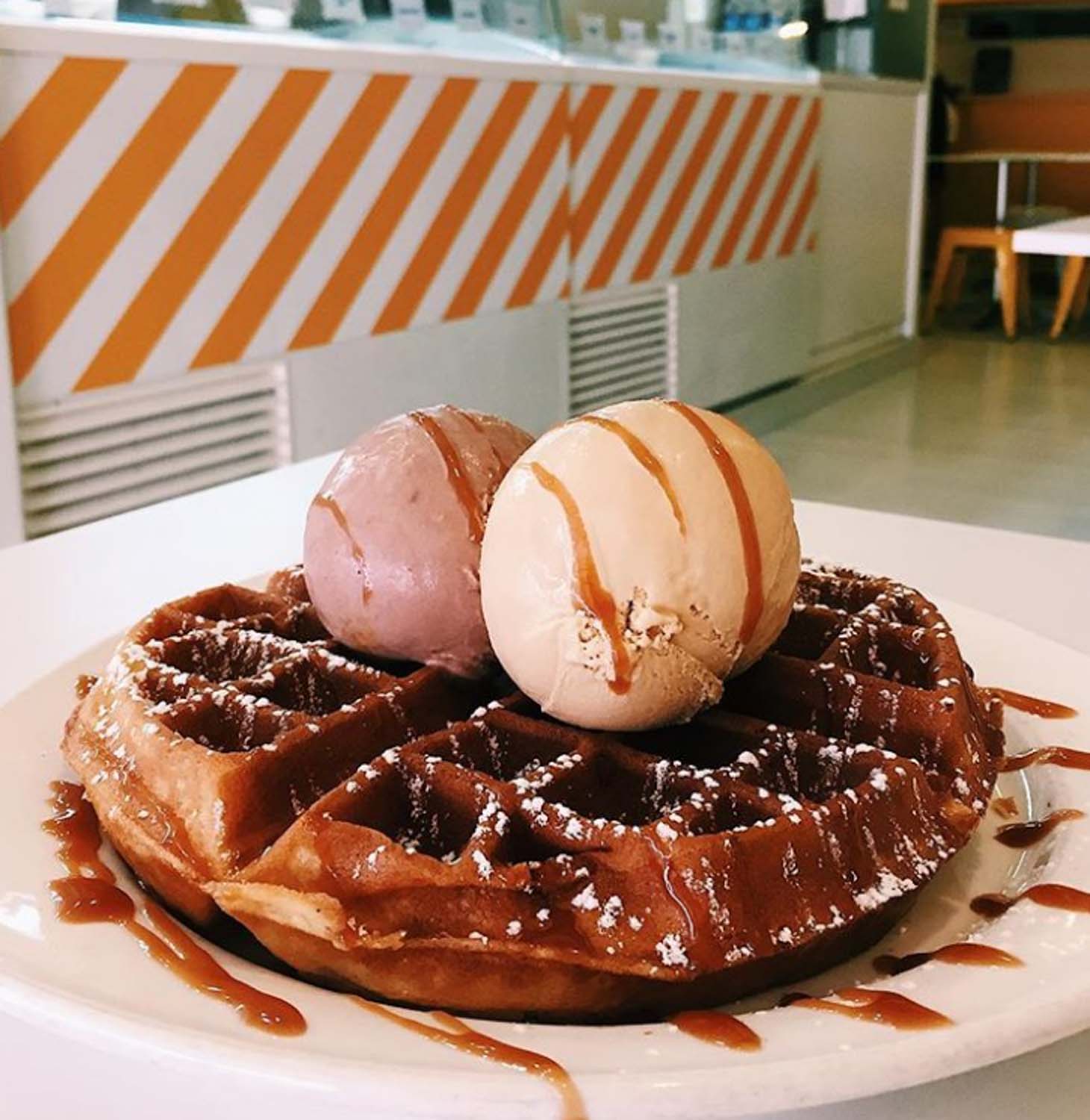 Image credit: @hungryjezzy
If coffee is not your cup of tea, go grab some ice-cream instead. Salted Caramel serves toothsome ice-cream with waffles, making for the perfect comfort food at night. Some of the local favourite flavours include Horlicks Tim Tam, Milo, as well as Salted Caramel ice cream ($3.60 for one, $6.40 for double scoop).
Address: 246F Upper Thomson Road, Thomson Garden Estate, Singapore 574370
Opening hours: Mon-Thur 12pm to 11pm, Fri-Sat 12pm to 2am, Sun 12pm to 11pm
Tel: 6753 1718
Website
Menu
---
6. My Awesome Cafe
---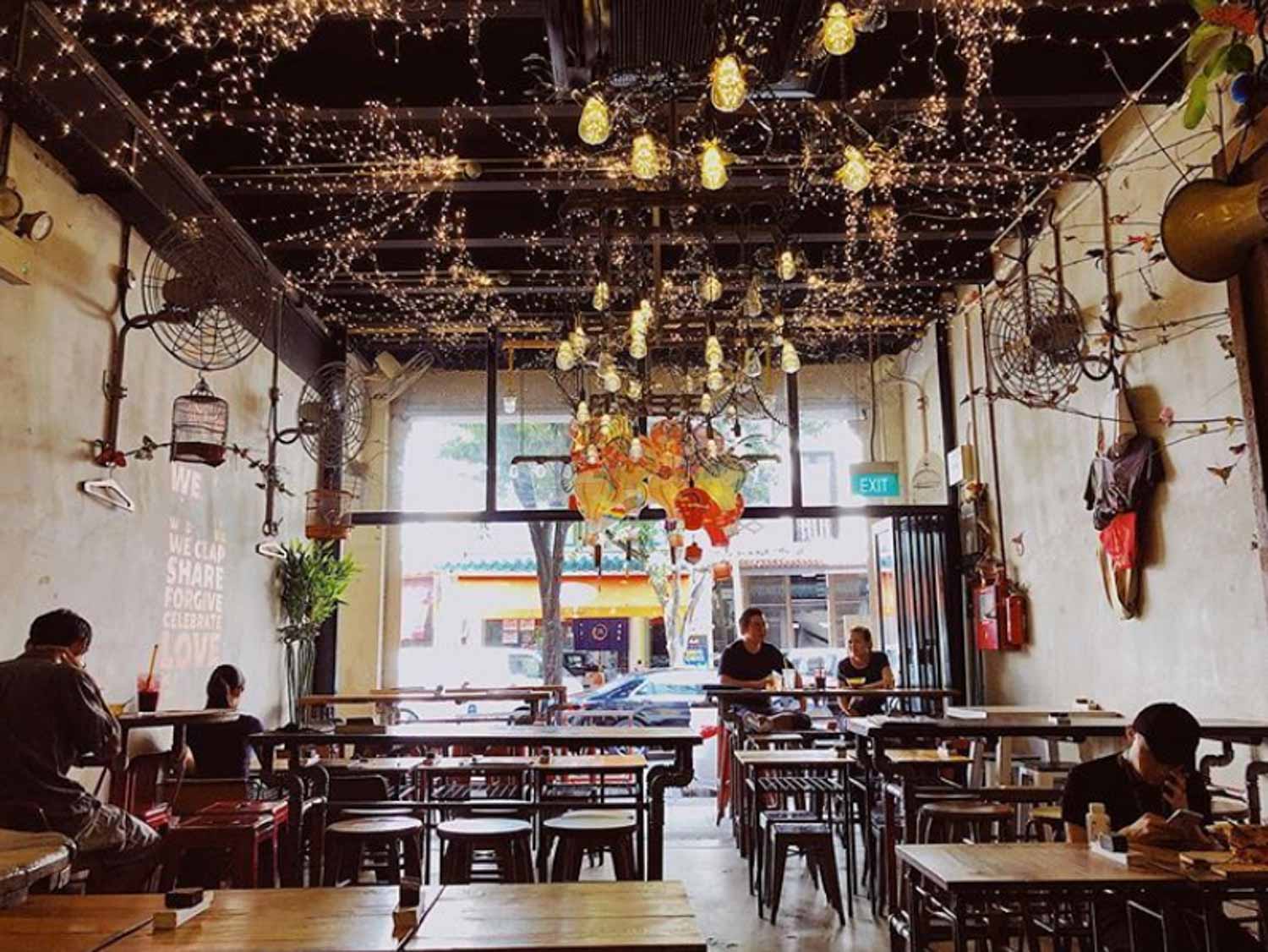 Image credit: @jasminehow
An industrial chic cafe situated at the heart of Telok Ayer, My Awesome Cafe is the place to go to for some perk-me-up coffee whenever you OT. If you are looking for some late-night supper, the cafe offers a wide range of healthy food items. My Awesome Salad ($15++) gets you smoked salmon, herby chicken breast, and duck rillettes tossed with fresh avocado and tomato salad. If you prefer something heavier, opt for a hearty Beef Lasagna ($16++). Do note that the kitchen closes at 11.15pm, so don't wait until the last minute to order. 
Address: 202 Telok Ayer Street, Singapore 068630
Opening hours: Mon-Fri 8.45am to 12am, Sat-Sun 8am to 12am
Tel: 6222 2007
Website
---
7. Herit8ge
---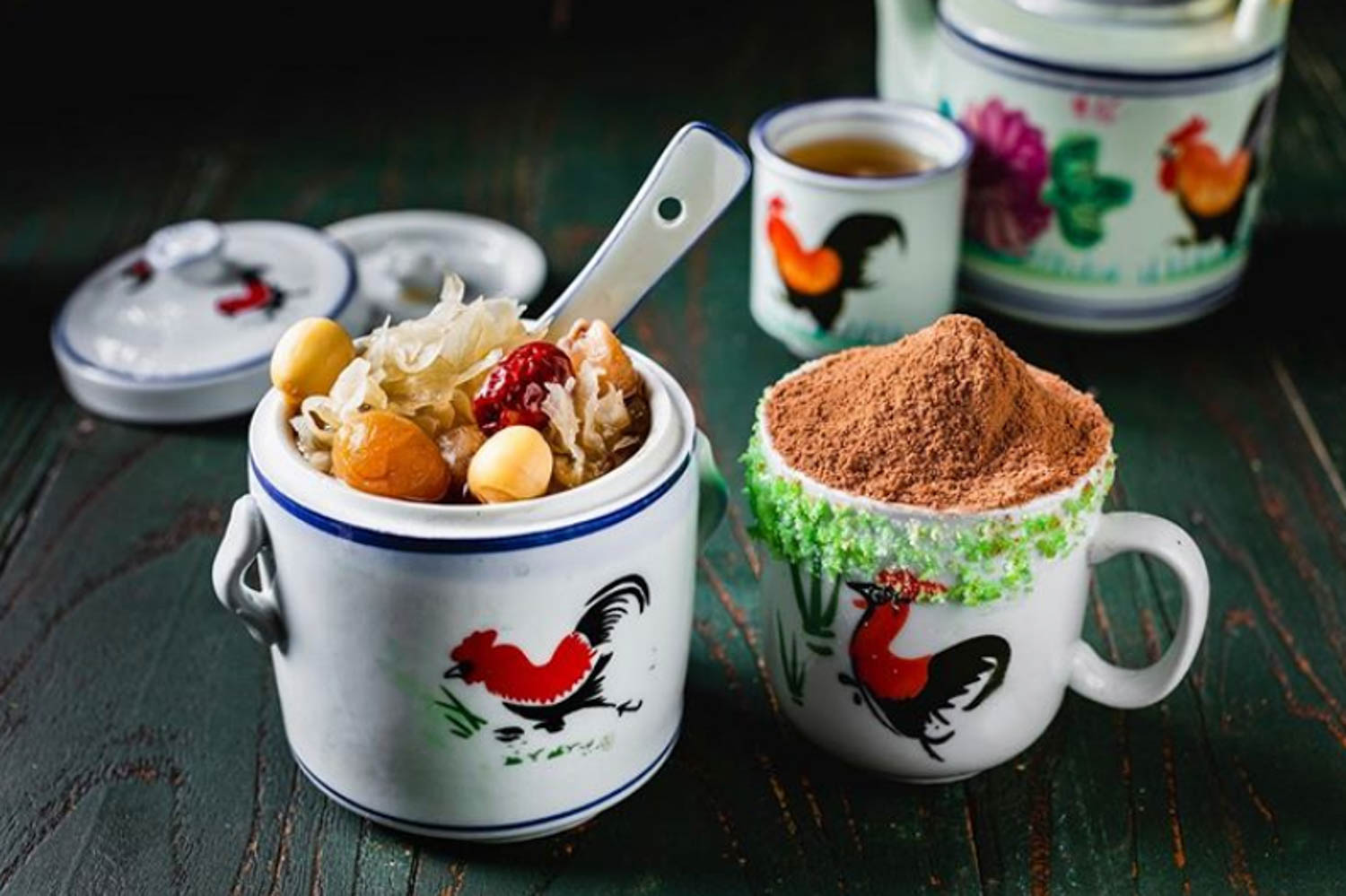 Image credit: @herit8ge
A new cafe by the famous Fresh Fruits Lab Cafe, Herit8ge pays homage to local flavours from the yesteryears by recreating familiar local cuisines. This cafe opens till 3am, so you can definitely grab a bite while burning the midnight oil. If you are one for specialty coffee, do head down to try their innovative concoctions such as their Chendol Kopi ($8++) or Bundung Latte ($7.50++) for an elevated cup of coffee with a touch of nostalgia.
Address: 78 Airport Boulevard, #05-206, Jewel Changi Airport, Singapore 819666
Opening hours: Daily 9am to 3am
Tel: 6962 7720
Website
Menu
---
8. Lickers
---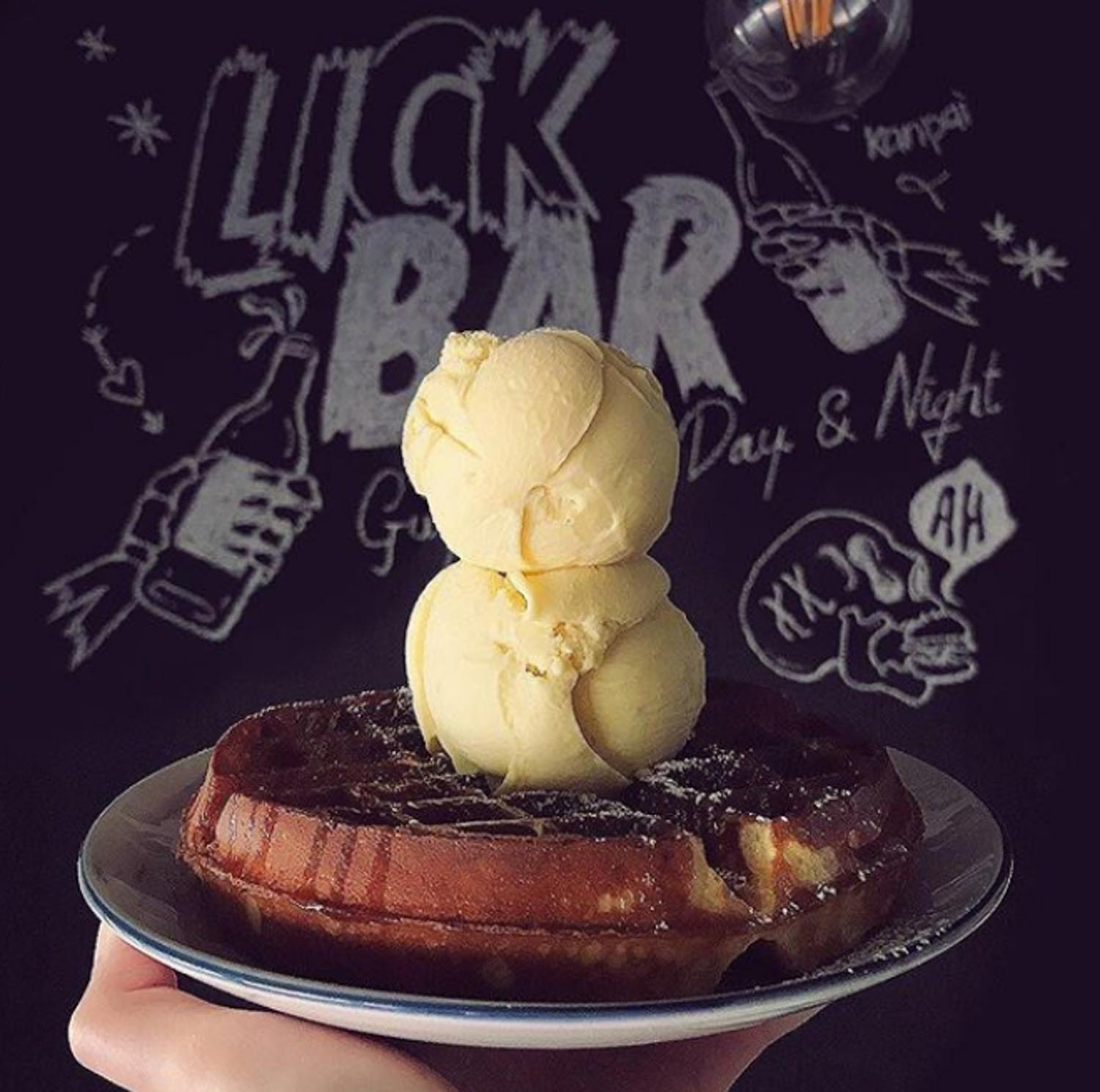 Image credit: @lickerssg
Adorned with cheeky neon lights and a cool vibe to match, Lickers serves plates of warm, fluffy waffles with unique ice-cream flavours till 2am each day. For an affordable $10, you get a fluffy piece of waffle with two scoops of ice-cream. If you're lost for choice, we recommend their novel flavours, such as their Yakult Oreo ($3.50) and Oolong with Lavender ($4.30). This sweet treat is sure to wake you up, especially after tiresome muggin sessions.
Address: 124 Hougang Avenue 1, #01-1446, Singapore 530124
Opening hours: Tue-Thur 1pm to 2am, Fri-Sun 12pm to 2am
Website
---
Hang out at these late-night cafes in Singapore
---
Though late-night cafes may be a great spot for studying while grabbing a bite, do be mindful and considerate when hanging out at the cafe. Be sure to not be a seat hogger especially when the cafes get crowded!
For those who prefer to study in the day, check out Cafe De Nicole's Flower instead. Hidden in a quiet neighbourhood in East Coast, this floral-themed cafe provides a calming setting for full day study marathons.
Cafe De Nicole's Flower Review: Beautiful Floral-Themed Cafe Serving Equally Gorgeous Brunch Food