---
24-hour restaurants for supper
---
Whether you feel like nibbling on something before bed, or wake up in the middle of the night to the alarm of a growling stomach, these 10 restaurants that are open 24/7 are perfect to satisfy late-night cravings. Plus, they're some of the best supper places in Singapore.
---
1. 126 Dim Sum Wen Dao Shi
---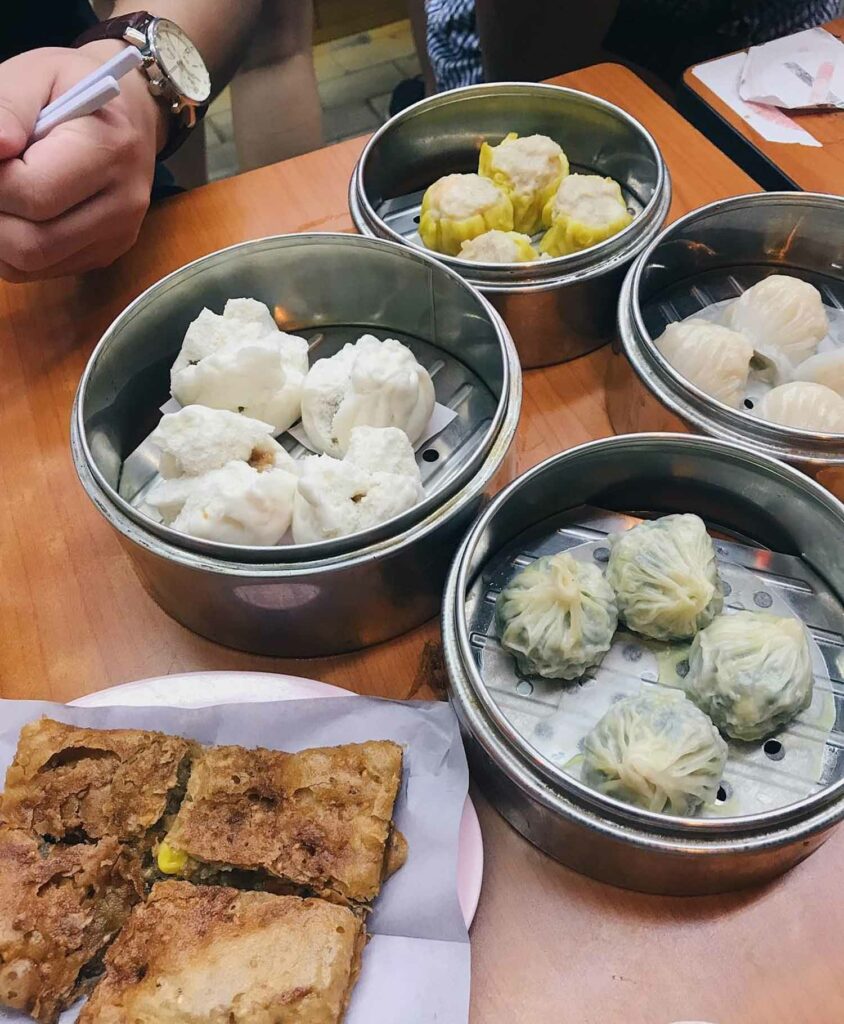 Image credit: @vscookin
Those who want a few light bites predawn can pop by 126 Wen Dao Shi for a large range of affordable dim sum. Their fried options fare better than their steamed ones, and we recommend their Shrimp Dumplings ($4 for four pieces) that are filled with generous servings of prawns and has a silky smooth skin.
126's Chee Chong Fun (from $4) is another must-order for a different version from the usual—these are coated in a thick, sweet sauce instead of the more common light soya sauce.  
Address: 126 Sims Avenue, Singapore 387449
Opening hours: Daily 24 hours
Tel: 6746 4757
Website
126 Dim Sum is not a halal-certified eatery.
---
2. Srisun Express
---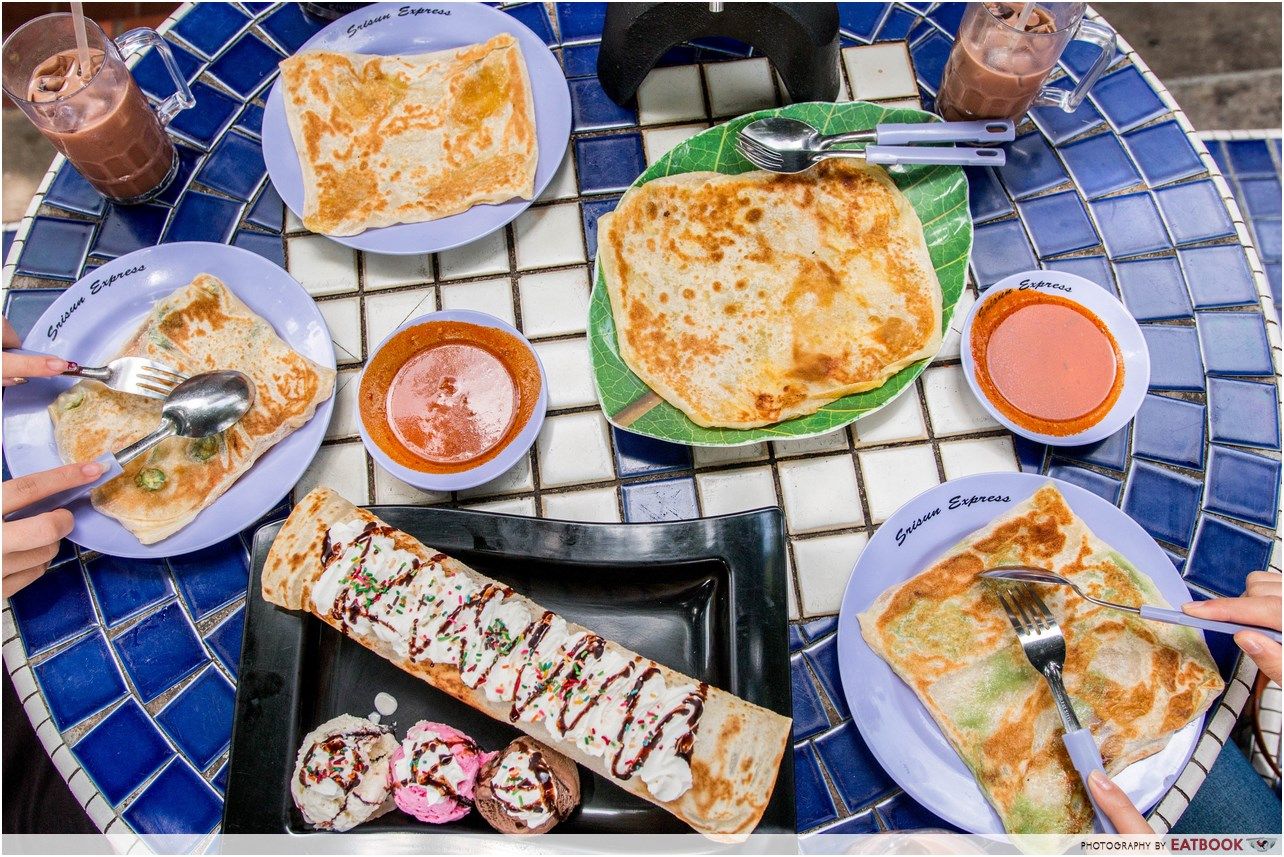 We can't talk about supper haunts without bringing up prata. Srisun Express offers over 50 varieties of prata in addition to a menu of Indian cuisine and massive drink towers, making it perfect for group outings. If you can't decide between sweet or savoury, get Prata Bom with Cheese ($6+) for a sweet-salty combination of stretchy cheese and syrupy condensed milk. They also have 3L towers of drinks such as Milo and Bandung, priced from $13.
Read our full review of Srisun Express.
Website
Full list of outlets
Srisun is a halal-certified eatery.
Srisun Express Review: 24-Hour Prata House With Massive Drink Towers and Unique Prata
---
3. Yong He Eating House
---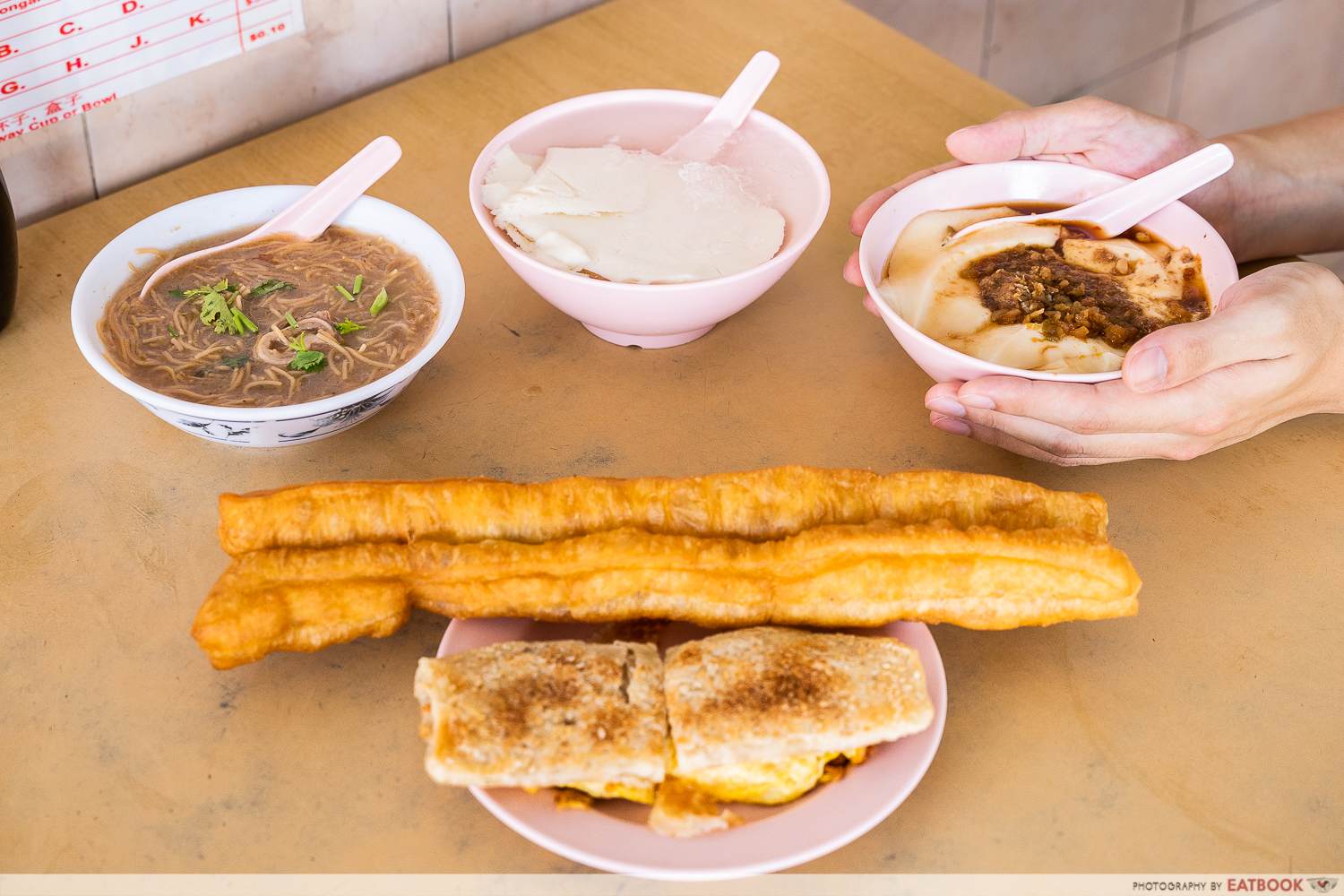 Change up your supper routine with Yong He Eating House's Taiwanese breakfast fare. The less common Saltish Beancurd ($2.20), which pairs the mild sweetness of tau huay with minced meat and sesame oil, is worth a try.
Nibble on You Tiao ($1.80) between spoonfuls for some crunch. For something more substantial, slurp your way through a comforting bowl of Mee Sua ($4.50) or Braised Meat Rice ($4.50) that are available from lunchtime onwards.
Read our Yong He Eating House review.
Address: 517 Geylang Road, Lorong 27A, Singapore 389417
Opening hours: Daily 24 hours
Tel: 6745 5682
Yong He Eating House is not a halal-certified eatery.
Yong He Eating House Review: 24/7 Taiwanese Eatery With Famous Salty Beancurd In Geylang
---
4. Fei Fei Wanton Mee

---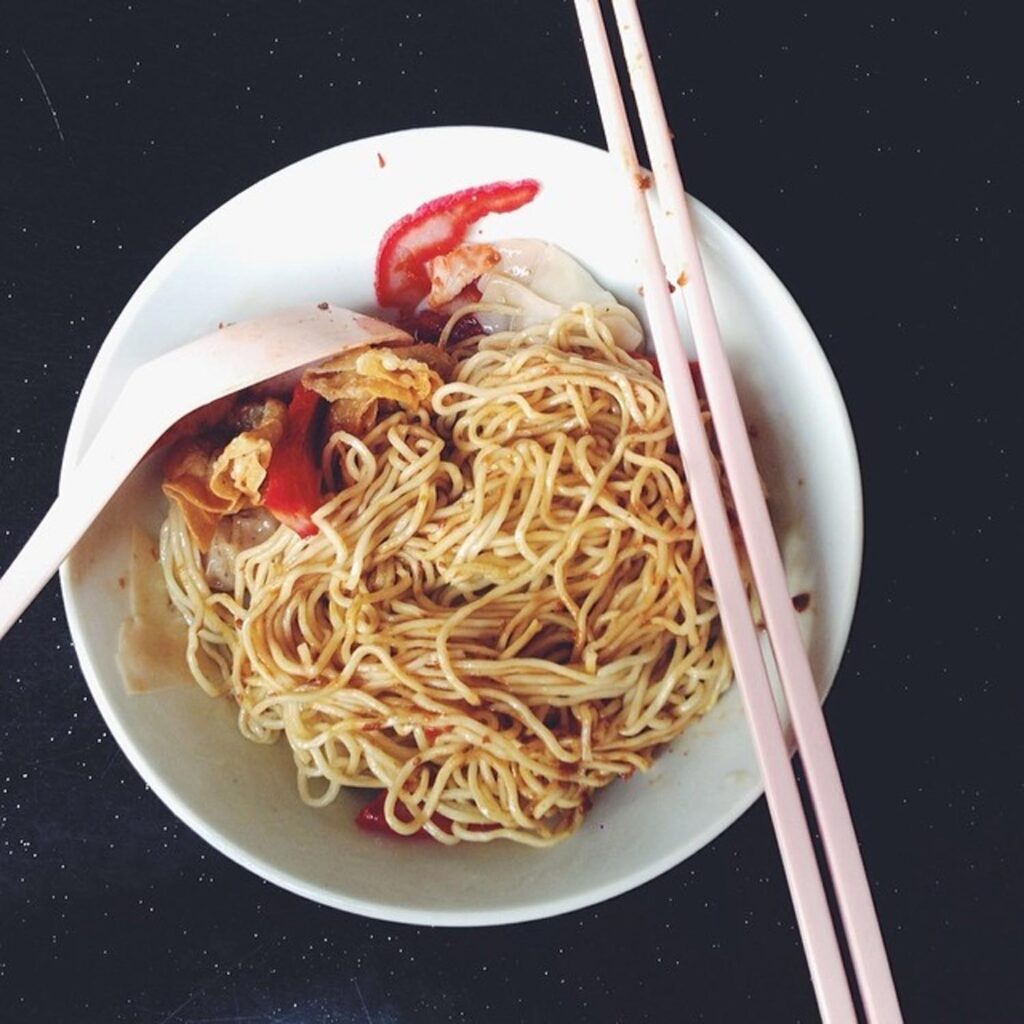 Image credit: @geraldinegisele
Something about Fei Fei Wanton Mee's Wanton Noodles ($4/$5) evokes childhood memories. Springy and bouncy egg noodles, a generous amount of lean char siew, and dumplings bursting with meaty flavour make a satisfying meal any time of the day. Fei Fei's wanton mee is on the savoury side with lard-fragranced noodles. Stir in a spoonful of their signature chilli paste for added flavour.
Address: 72 Joo Chiat Place, Singapore 427789
Opening hours: Daily 24 hours
Fei Fei Wanton Mee is not a halal-certified restaurant.
---
5. Al-Jasra Restaurant

---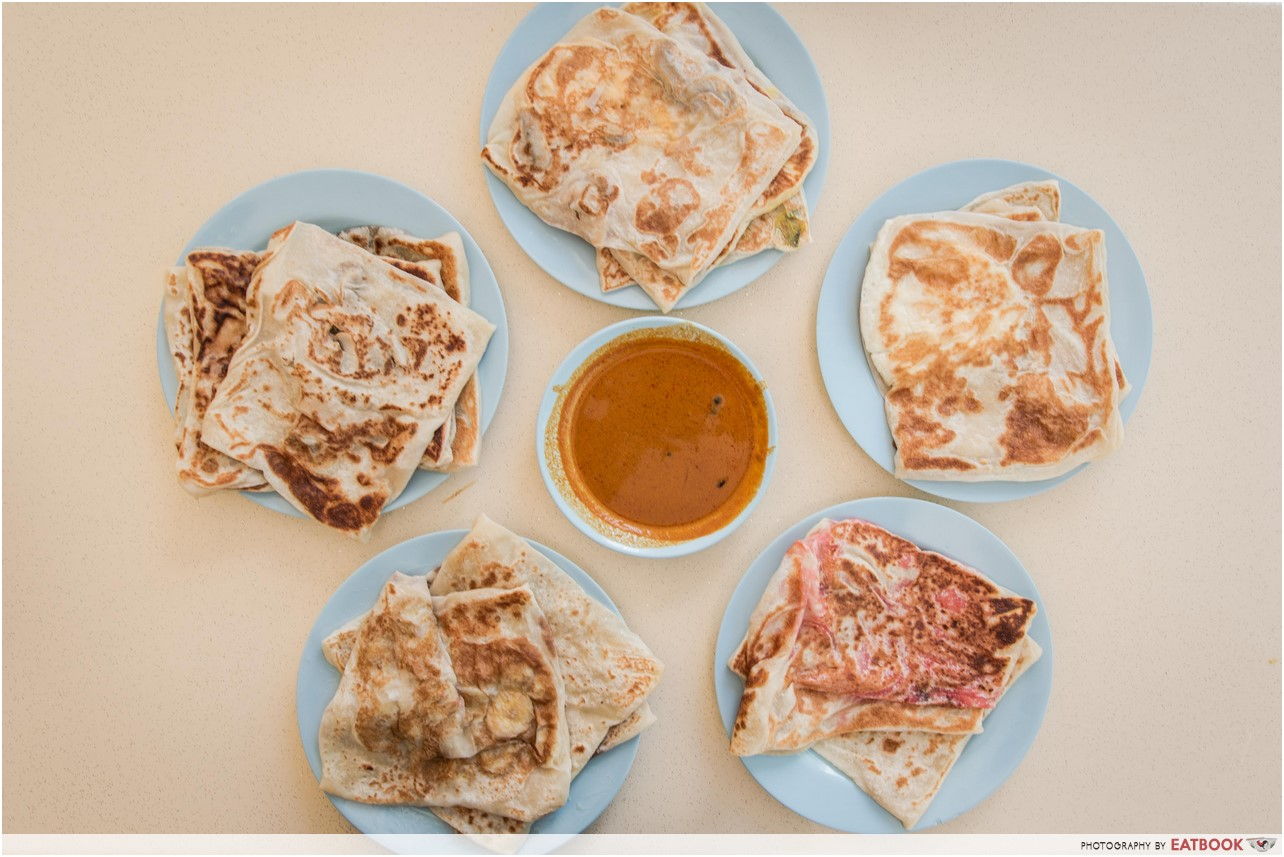 Drifting off to sleep on a full stomach is perhaps one of the most blissful feelings. That's where Al-Jasra's Prata Buffet ($7.90) can help. They have over 16 types of prata on their menu, covering sweet and savoury options.
We liked their Masala Prata best for its masala curry filling, so intensely flavoured we didn't even need to dunk it in curry. The Honey Prata was unexpectedly impressive, tasting like a better version of plain prata dipped in sugar and could almost pass off as a thicker version of dessert crepes you'd find in cafes.
Read our full review of Al-Jasra's prata buffet.
Address: 459 Changi Road, Singapore 419882
Opening hours: Daily 24 hours
Tel: 6742 5786
Website
Al-Jasra is a halal-certified restaurant.
Al Jasra Restaurant Review: All-You-Can-Eat Prata Buffet For $7.90
---
6. Thohirah Cafeela Restaurant
---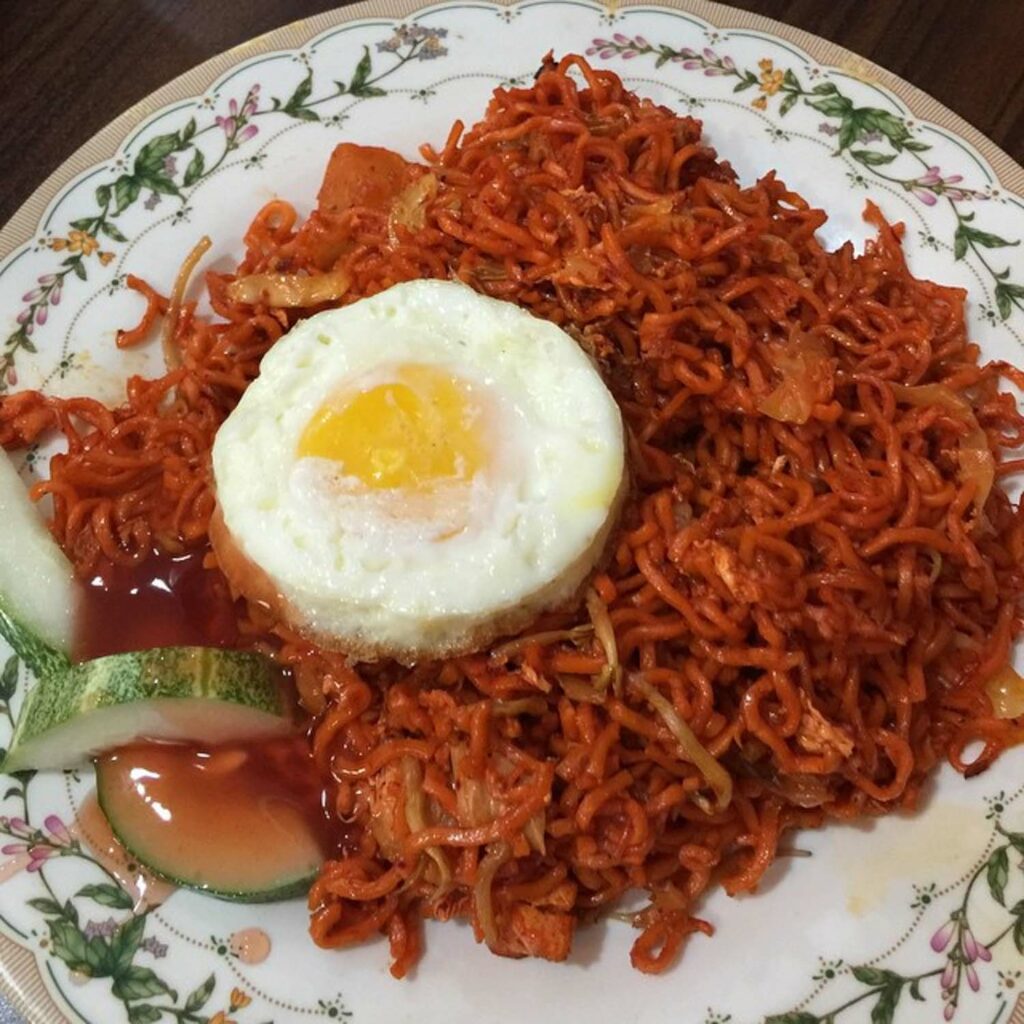 Image credit: @nicezacawaii
For those who stay in the North or North-East side of Singapore, it's never too late or too early to satisfy prata cravings at Thohirah Cafeela Restaurant. The halal-certified eatery serves Indian, Chinese, and Thai cuisine, but you'll find us here for classic Egg Thosai ($2.90) and spicy Maggi Goreng Thai ($6.30).
Address: 258 Jalan Kayu, Singapore 799487
Opening hours: Daily 24 hours
Tel: 6481 2009
Thohirah Cafeela Restaurant is a halal-certified restaurant.

---
7. Ming Fa Fishball
---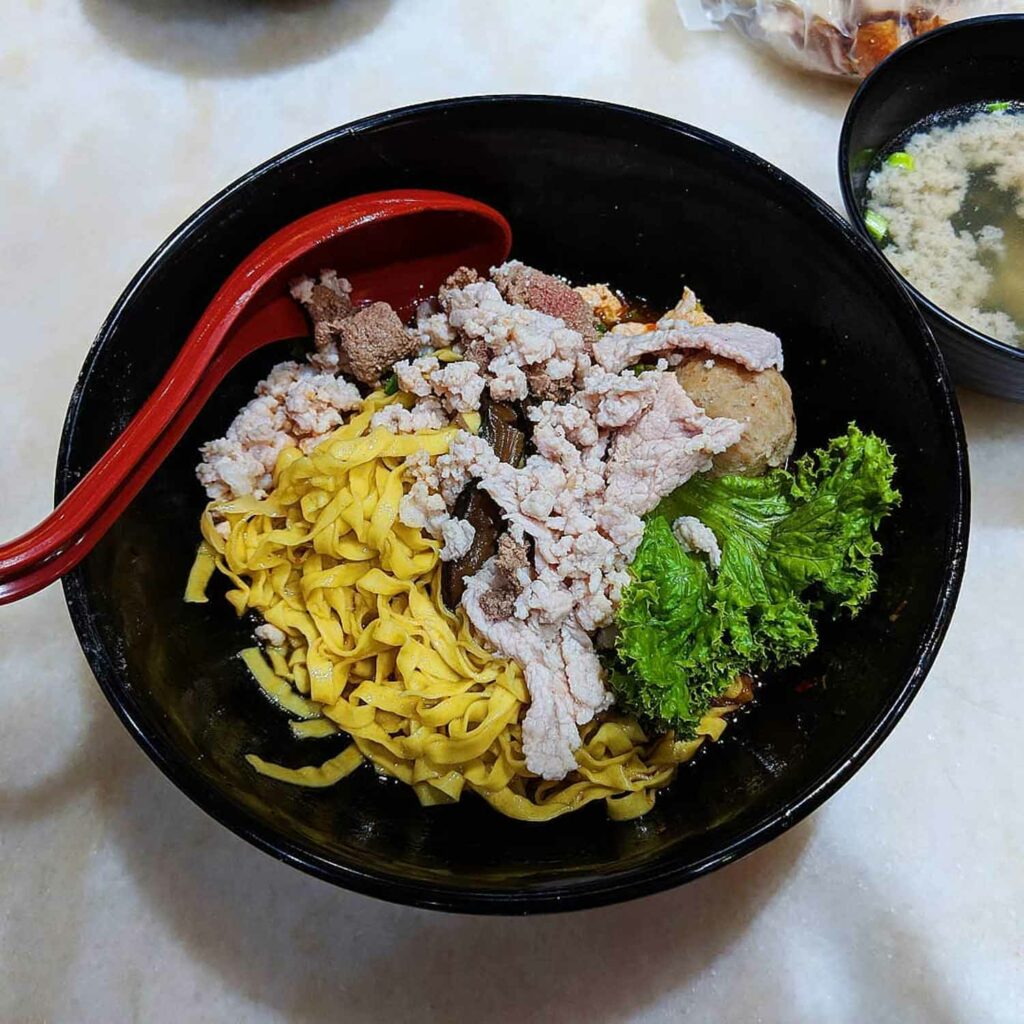 Image credit: @derekcdh
With 13 outlets around Singapore, Ming Fa Fishball is a big player in the noodle business. However, their Ang Mo Kio outlet is the only one that's open 24/7.
The star dish here is their Mushroom Minced Meat Noodle ($4). We're big fans of their large and chewy meatballs that are made and sold on the spot. The pork slices and liver are also cooked till tender and the braised mushrooms packed in loads of flavour.
Website
Full list of locations
Ming Fa is not a halal-certified eatery.
---
8. Akbar 24 Hours Restaurant
---
Indian-Muslim eatery Akbar is one to visit if you're in the Tanjong Pagar area and have some late-night cravings. Located within the Klapstar Boutique Hotel, this eatery has a variety of prata dishes, and mamak staples, ranging from mee goreng to murtabak that'll hit the spot. They're surprisingly affordable for the Tanjong Pagar 'hood too, with meals setting you back $3 to $5 with a drink. Note they also have a drive-thru concept for drivers who can order now, and pick up later.
Address: 2 Lim Teck Kim Road, Singapore 088933
Opening hours: Daily 24 hours
Tel: 6324 2559
Akbar 24 Hours is a Muslim-owned eatery.
---
9. BK Eating House
---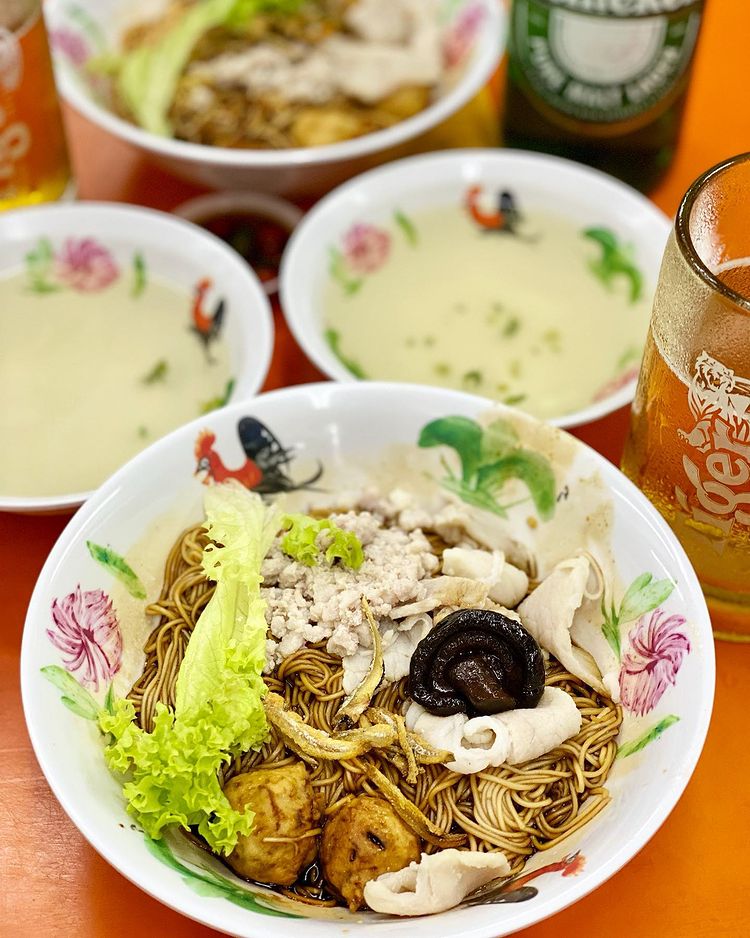 Image credit: @jon.soh
BK Eating House is a Clarke Quay classic for late-night feasts, especially if you're just done clubbing. There are a handful of Asian food stalls, including Thai and Indian-Muslim food,  it the main attraction is the bak chor mee stall and their Dry Mee Sua ($5), which comes with a heaping dose of minced pork, sliced pork, pork balls, and liver, all tossed in a mouthwatering chilli sauce. 
Address: 21 South Bridge Road, Singapore 058661
Opening hours: Daily 24 hours
BK Eating House is not a halal-certified eatery.
---
10. RK Eating House
---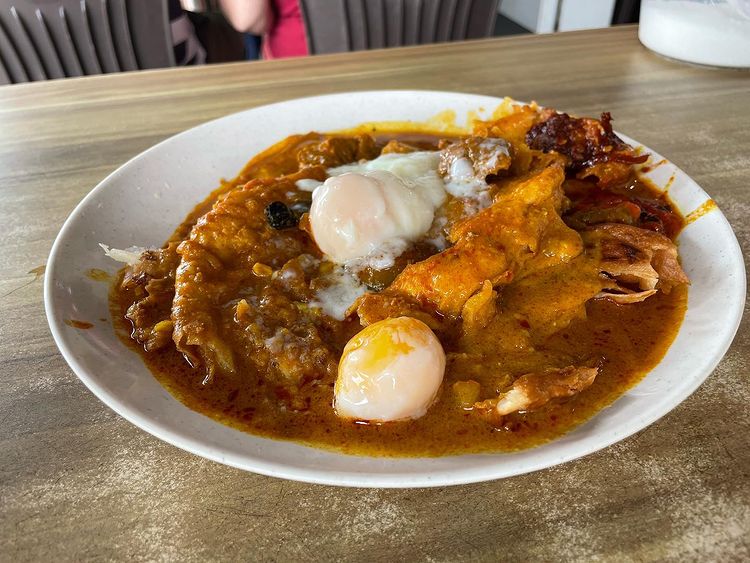 Image credit: @yuanyangprince
RK Eating House is a stanchion in the Serangoon Gardens area, thanks to their varied prata menu, and other Indian-Muslim food options served up till late. Prata prices start from around $2, and you can pick different types, whether it be plaster prata, coin prata, or your regular filled prata. One must-try here is the RK Special Prata (from $12), also known as the Tsunami Prata. This ugly delicious delight sees two plain prata doused with curry and sambal, served with tandoori chicken and mutton pieces, all topped with a runny egg.
Address: 1 Kensington Park Road, Singapore 557253
Opening hours: Daily 24 hours
Tel: 6289 5379
RK Eating House is a halal-certified eatery.
---
11. McDonald's 
---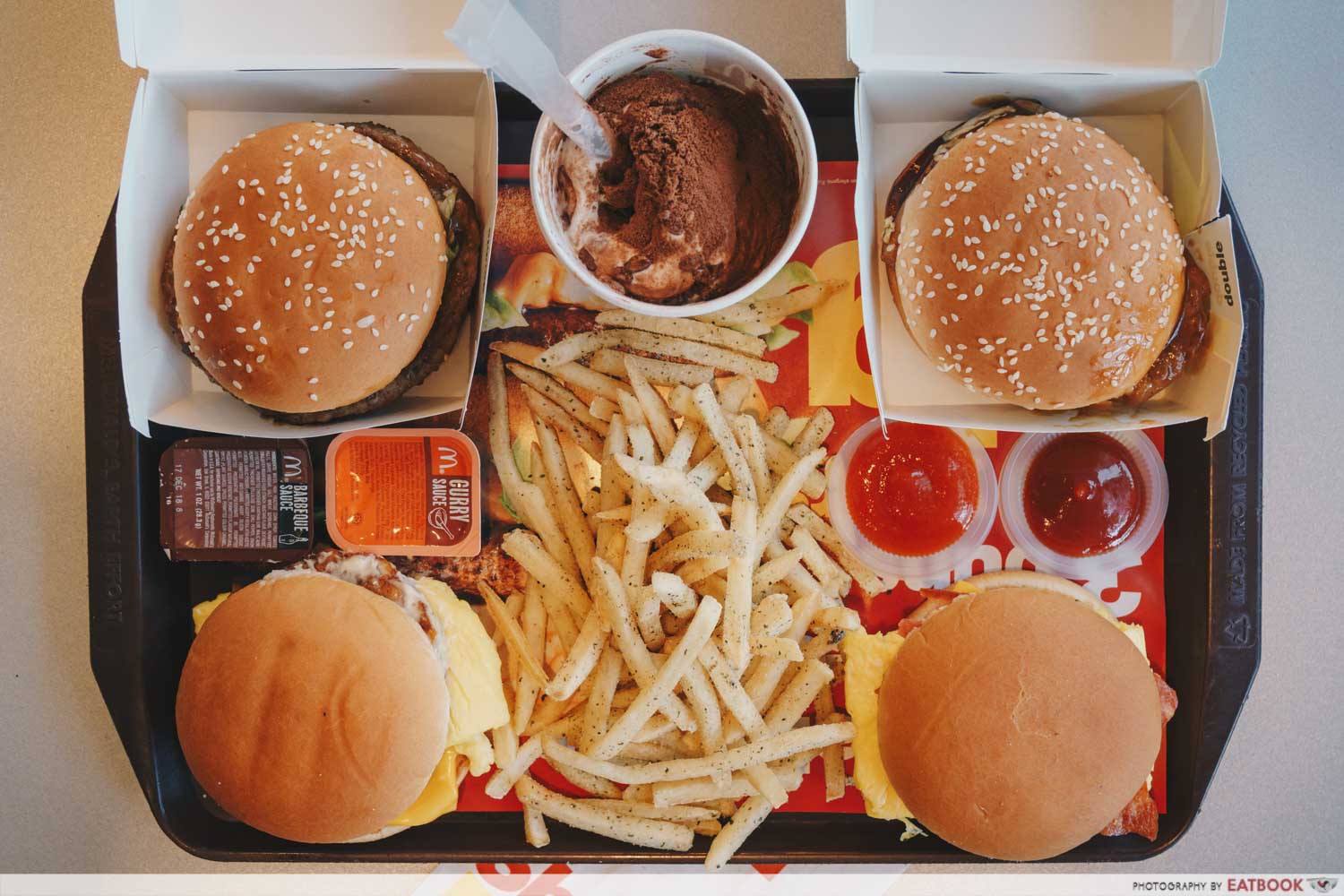 It wouldn't be a list talking about the best 24-hour supper spots in Singapore without mentioning the perennial favourite, McDonald's. This fast-food giant has outlets across the country, including 24-hour eateries in Orchard, Toa Payoh, Serangoon, Ang Mo Kio, and plenty more. Some of these have drive-through options too! Swing by any of these to pick up your late-night McSpicy fix and more. If you're watching the World Cup till late this coming month, you can check out their seasonal specials, including a Hawaiian Grilled Chicken Burger.
Website
Full list of locations
McDonald's is a halal-certified eatery.
---
12. Smile Dessert
---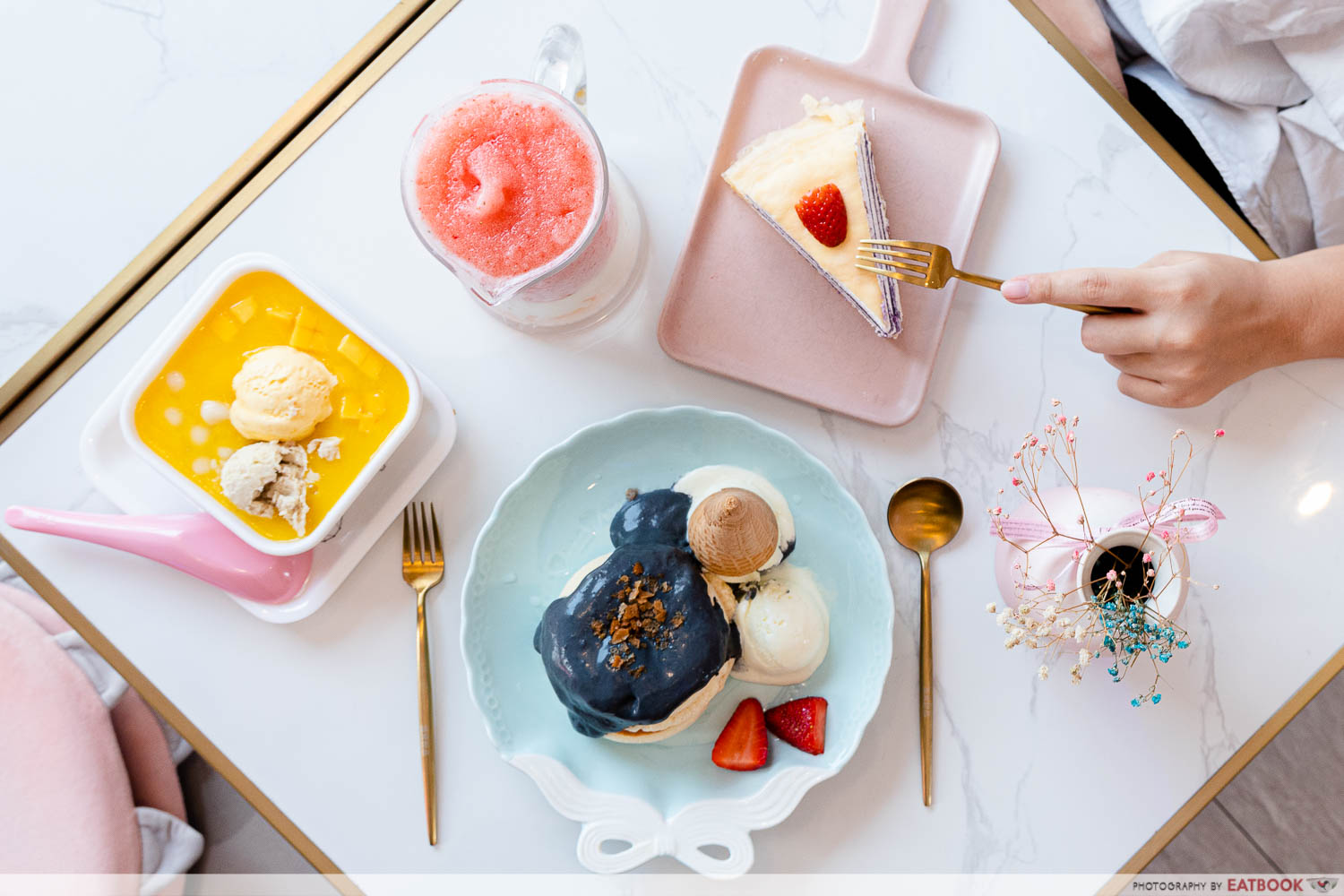 Singapore is home to many dessert cafes open till late, but few of them open 24 hours. Smile Dessert in Bras Basah is an exception. The three-storey dessert cafe made waves for their IG-worthy decor, as well as their variety of souffle pancake and bingsu desserts. Goma lovers can try their Black Sesame Soufflé Pancake ($15.90), which comes with a rich, black sesame sauce and airy pancake rounds. Otherwise, the Taro Matcha Snow Ice ($15.90) is another bestseller, where aromatic green tea snow ice is served with condensed milk and QQ taro balls.
Read our Smile Dessert review.
Address: 534 North Bridge Road, #01-01, Singapore 188749
Opening hours: Daily 24 hours
Tel: 6232 7801
Smile Dessert is not a halal-certified eatery.
Smile Dessert Review: Pink Cafe With Black Sesame Souffle Pancakes And Sweet Potato Crepe Cake
---
13. Meng's Kitchen
---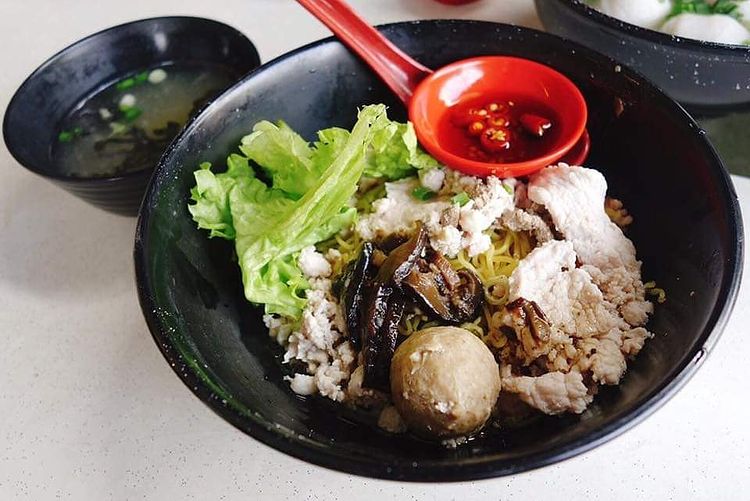 Image credit: @mikey_wes
Also known as Ming Fa, this fishball noodles and bak chor mee joint along Upper Thomson Road has been a beloved 24-hour supper staple for ages. Some say their bak chor mee rivals with some of Singapore's best stalls, and it is no surprise, given that their recipe dates back to 1946. If you're looking for something a little different to the usual BCM, try their Chicken Cutlet Noodles (from $6), which comes with crispy chicken katsu, and QQ noodles.
Address: 246B Upper Thomson Road, Singapore 574370
Opening hours: Daily 24 hours
Tel: 6455 4890
Meng's Kitchen is not a halal-certified eatery.
---
Supper in Singapore at these 24-hour restaurants
---
24-hour restaurants mean there's no excuse not to have good food at any hour of the day. We'd love to know where your favourite supper spots are, so email us at hello@eatbook.sg with you recommendations! 
For more food places open till late, check out our guide to late-night dessert cafes and 24-hour supermarkets.
14 24-Hour Supermarkets In Singapore For Late-Night Groceries And More