Angus Mushroom Supreme at McDonald's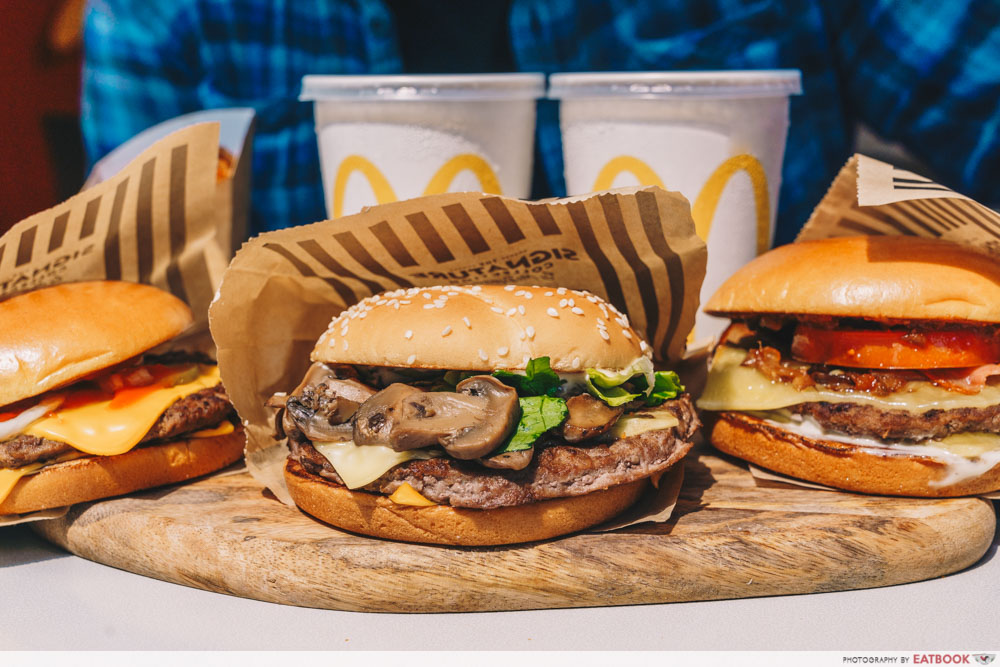 Absence makes the heart grow fonder. This is especially true for McDonald's limited-edition items which usually grace our shores once every few years, bringing with them long queues. Although it's a lil' too early to tuck into the likes of Nasi Lemak and Samurai burgers, you'll soon be able to indulge in another perennial favourite: the Angus Mushroom Supreme. 
Available from today, 28 November 2019, the mighty burger features an Angus beef patty that's topped with grilled mushrooms for a full punch of savoury flavour. Joining it on the menu board are other returning treats including Potato Wedges and Dinosaur McFlurry.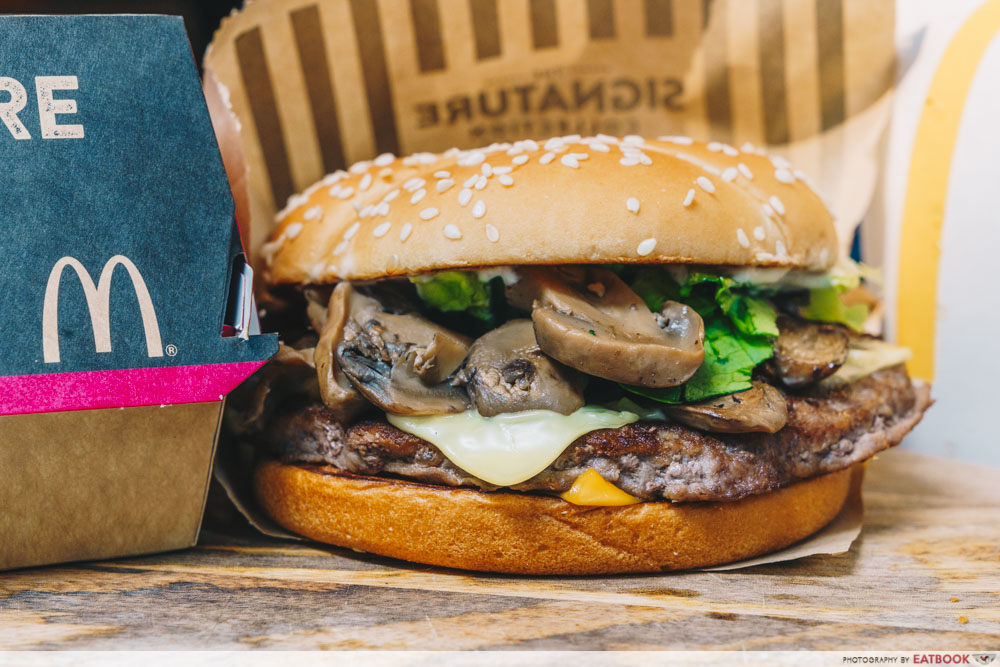 As someone who's a die-hard fan of mushrooms, I was impressed by this burger. Every inch of the patty was topped with fabulous shrooms which were beautifully grilled, sporting a nice sear while retaining their juiciness.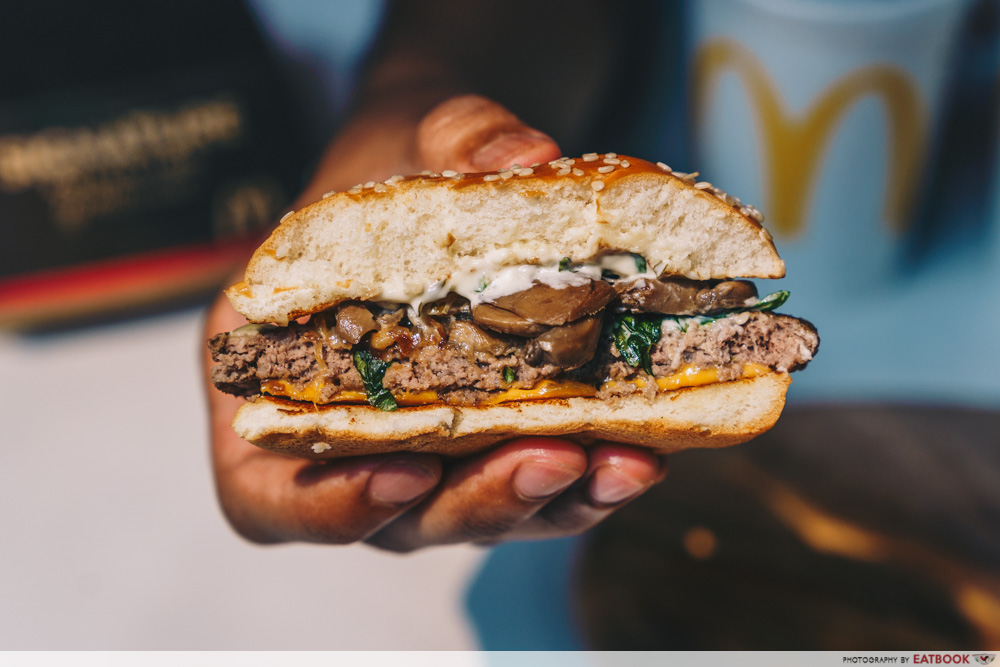 The robust and juicy grilled mushrooms, combined with the tender beef patty, took the burger's umami factor up a notch. Thankfully, this savouriness did not overpower the burger as the tartness of the smooth herb aioli and the sweetness from the caramelised onions provided a greater depth of flavours. The toasted sesame buns also did well to hold the stack of ingredients together.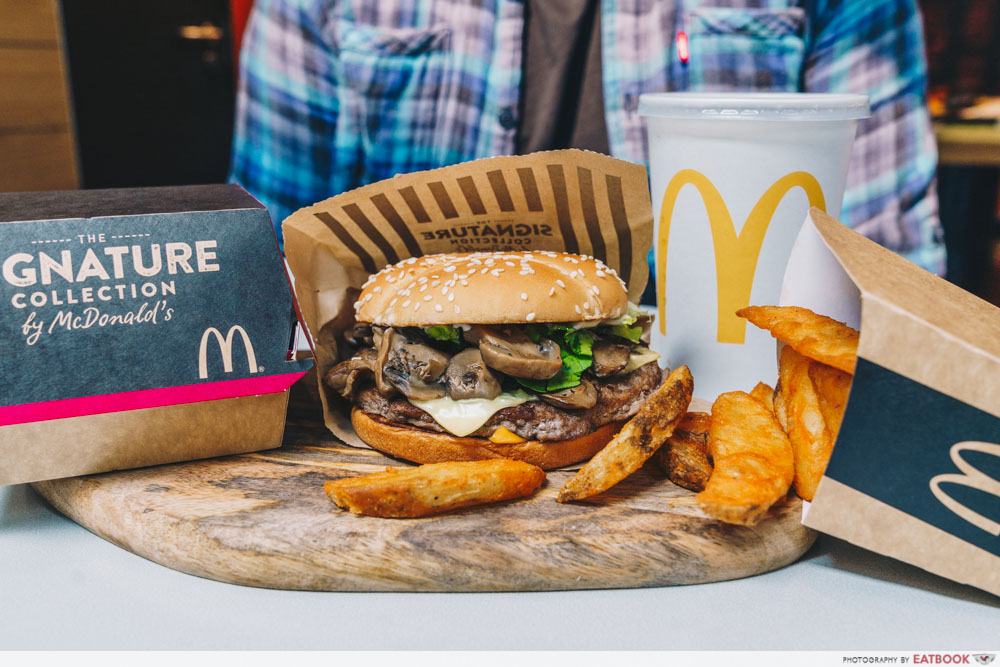 From $6.95 for an à la carte burger, the Angus Mushroom Supreme offers value for money—given the multitude of ingredients it contains. However, if you wanna go all out and treat yo'self, opt for the Angus Mushroom Supreme Special (from $9.75) which comes with potato wedges and a small Coke.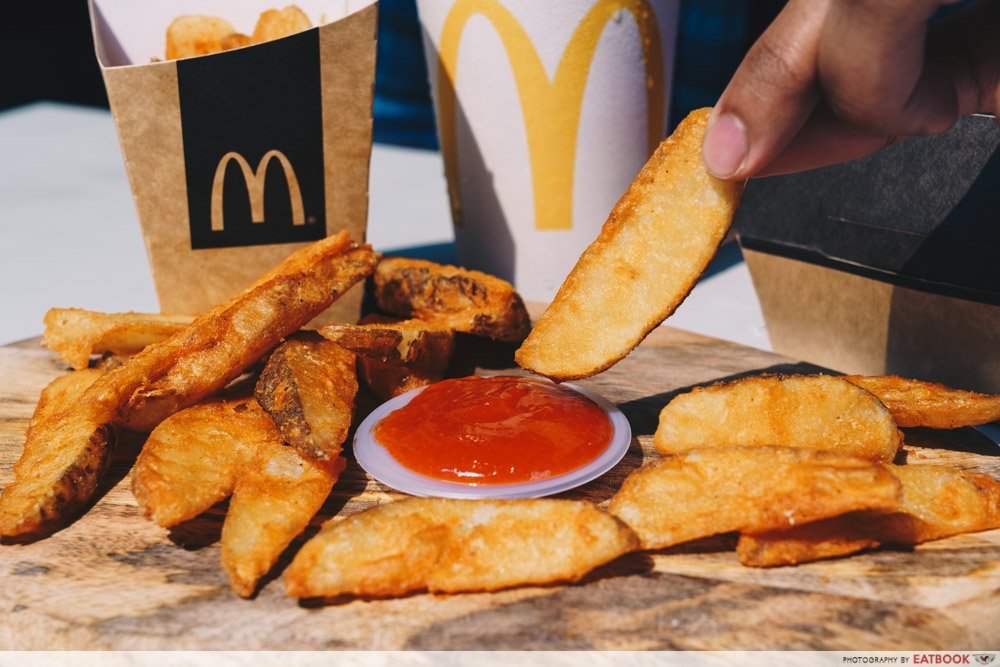 A step up from regular French fries, these wedges boast a crunchy exterior and fluffy interior. Plus, they're not oily at all which makes them addictive to eat. As such, they're well worth the $0.80 top-up from medium fries.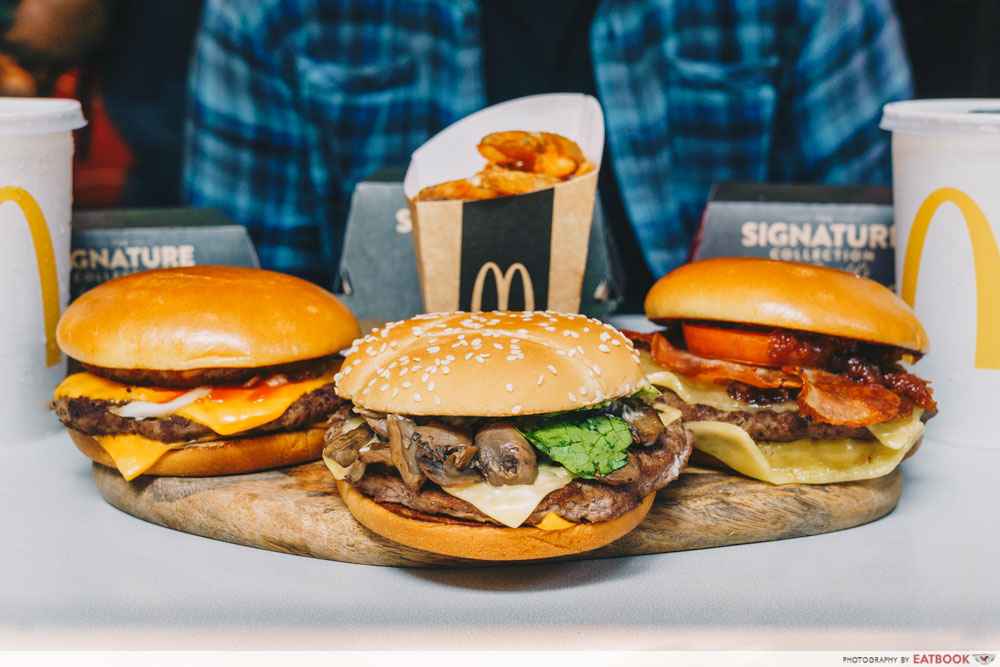 The Angus Mushroom Supreme isn't the only beef burger in McDonald's Signature Collection. Depending on your taste, you can opt for the other two Angus variants: Classic Angus Cheese (à la carte from $8.95) and Original Angus Cheeseburger (à la carte from $6.40).
The former tantalises with juicy streaks of chicken bacon that mesh nicely with the piquant tomato jalapeno relish, leaving a slightly spicy finish.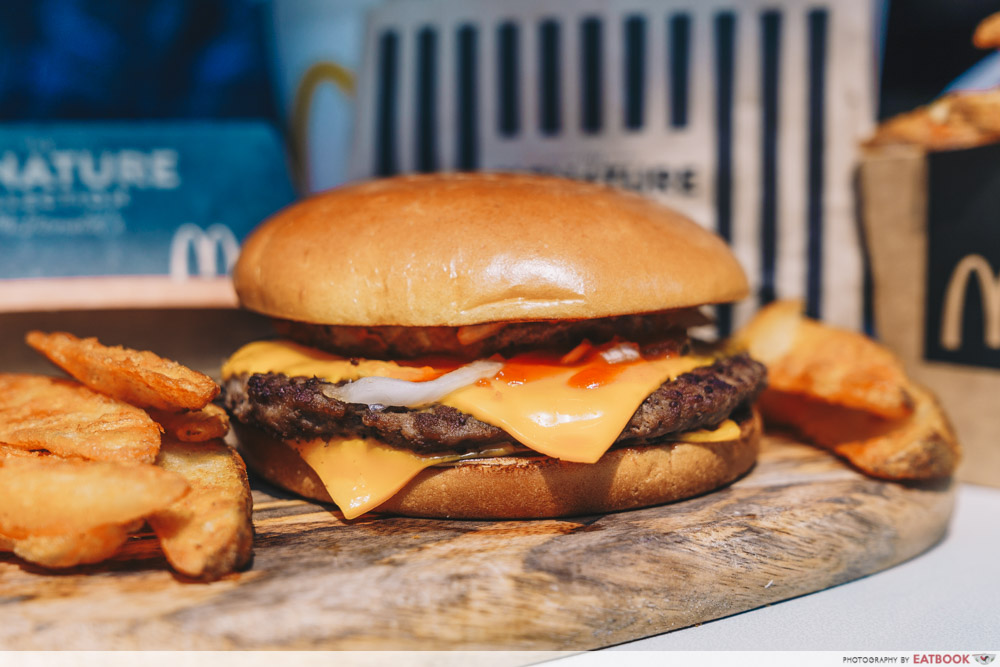 On the other hand, the latter offers a juicier patty than your regular cheeseburger with its glazed bun giving a hint of sweetness.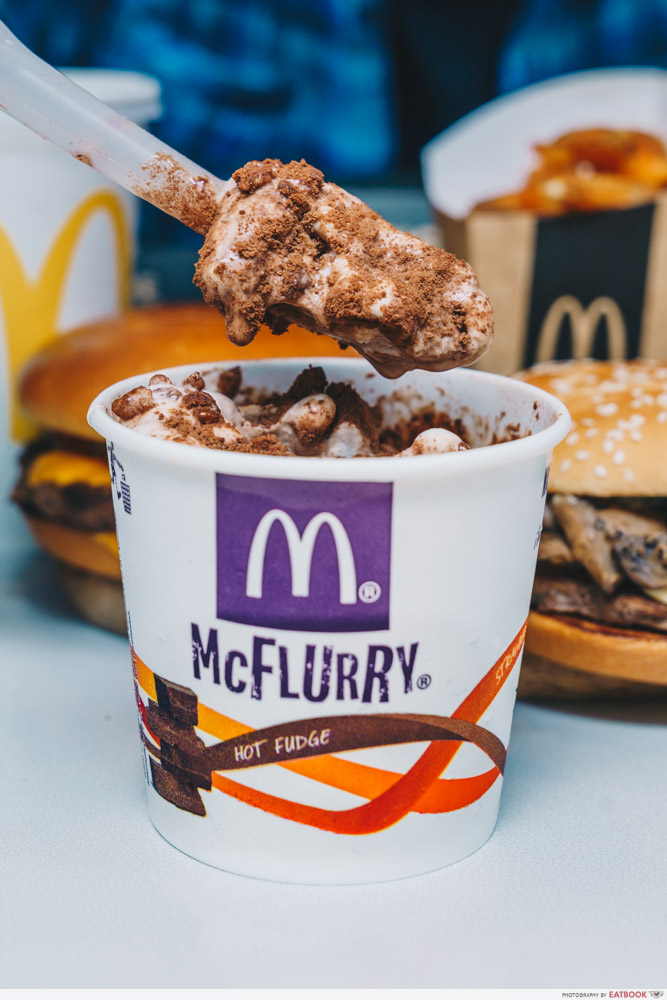 Personally, the Dinosaur McFlurry (from $3.20) is the first thing I'll grab once it hits the stores. Available at all outlets and dessert kiosks, the item features a canopy of decadent MILO powder and coco pops. The creaminess of the vanilla ice cream acts as a great canvas for the malty toppings to shine.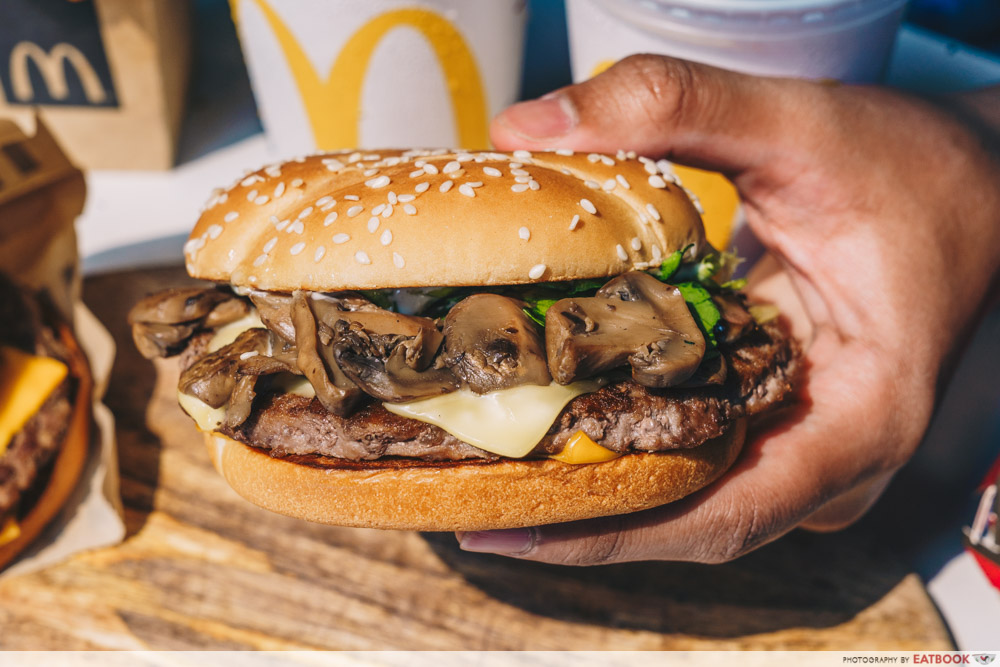 Mushroom burgers are rarely found in McDonald's, so you can bet I'm making a beeline for the nearest outlet later during lunch. Filled with loads of grilled mushrooms, the burger lives up to its name.
For those who walk on the sweet side of life, the Dinosaur McFlurry will keep you satiated with its MILO powder and coco pops.
Photos taken by Joshua Ryan.
This post is brought to you by McDonald's.